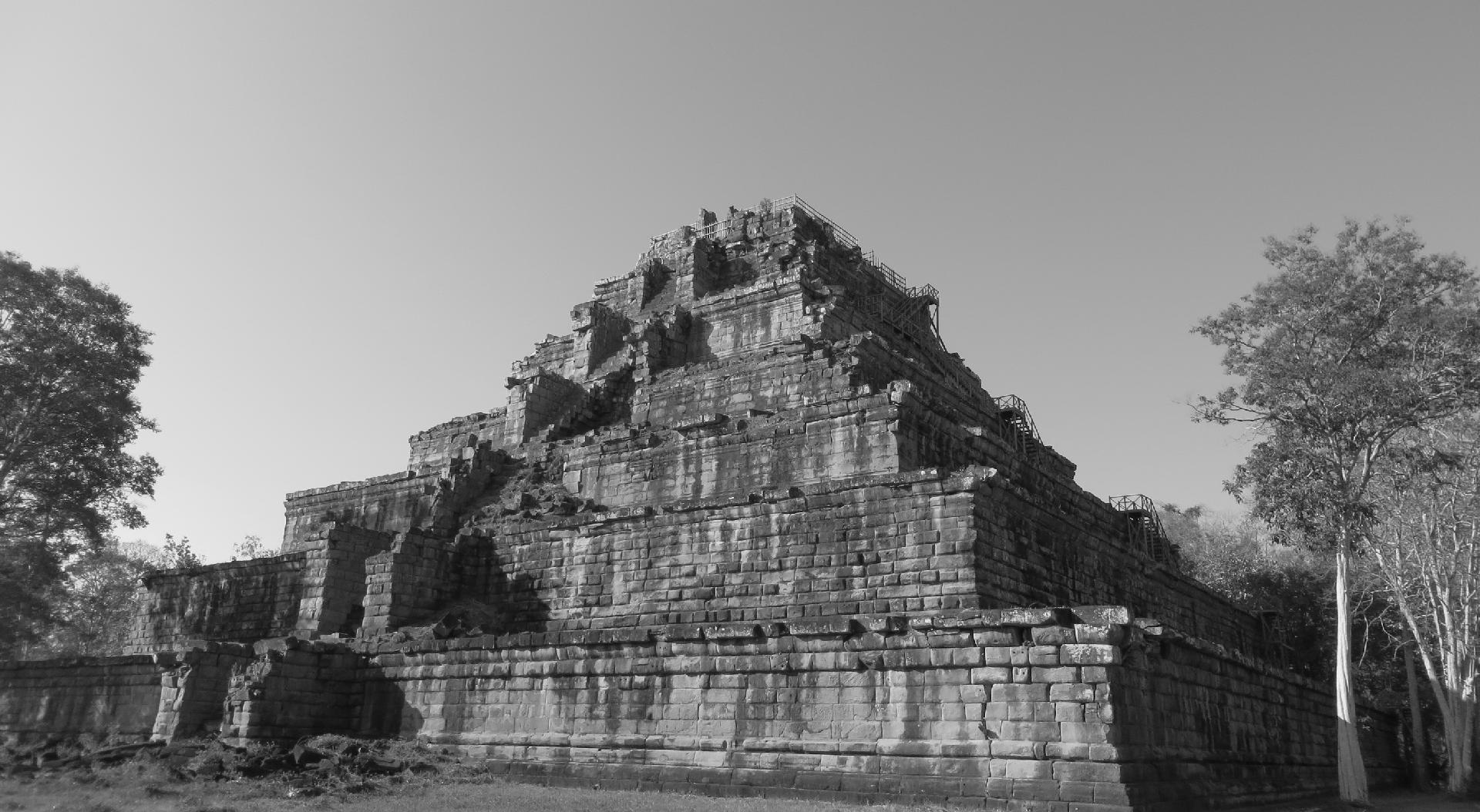 20:53 Wednesday, January 01 2015
Cambodia - Siem Reap area (1/2)
This post is part 1 of the "cambodia-2015" series:
I've just returned from spending two weeks exploring Cambodia. Overall, I had an amazing time, seeing a pretty decent swath of the country. I spent the first half based in and around Siem Reap, and the second half gradually travelling overland to a few small cities northeast of the capital, Phnom Penh.
Days 1 & 2
My flight out of SFO pushed back about an hour late. I had this young Mormon backpacker couple sitting beside me on the plane. They were super friendly initially,wanting to tell me about how they're going to Thailand for 6 weeks. Other than that the in flight map for my entire row was broken for the entire flight. The flight crew tried to reboot the computers several times, but it never helped. As a result, i was never exactly sure how long we were from landing, and i was quite worried about missing my 55 minute connection in Incheon. Despite that, we landed about 15 minutes early, and i ran like mad. Of course, i got to my gate before they even started to board. It was a much smaller plane, just 3-3 across, and the flight was full. Even once we had boarded, we sat waiting for people from other delayed flights, and as a result, didn't push back until we were 35 minutes late. The flight had this odd assortment of about 85% Koreans, and the rest were mostly elderly Americans who were either on some church mission, or volunteering at orphanages. The flight crew was mostly incompetent, taking nearly 3 hours into the 5.5 hour flight to finish dinner service. By the time they got to me they had run out of the Bi Bim Bap, and i got stuck with this horrible spaghetti with meat sauce. I noticed all the koreans were squirting their gochujang on it, and i figured that it couldn't hurt.
The airport in Siem Reap reminded me a lot of Arusha in Tanzania. Very small, and darkness everywhere outside. We walked across he tarmac to the terminal. I had to complete 3 different forms prior to landing. One was he standard arrival card, the 2nd was customs, but the 3rd was for ebola screening. It might have made sense except the guy collecting them as we entered the terminal wasn't even reading them, and just dumped them in a pile. Either the Koreans were not permitted to get the e-visa, or didn't bother. They were all crowded and fighting for attention filling out their visa forms while i breezed through the entire arrivals hall. I had no problems finding the guy who picked me up to go to the hotel, and off we went on the 8km drive in his tuk-tuk. It was slightly different than the kind we rode in the Philippines, as the motorcycle was in front,pulling the cart with 2 rows of 2 seat benches. Despite the fact that it was nearly 11pm, there was a decent amount oF traffic. It was surprisingly not a hot as i feared, and was kinda pleasantly warm, despite the humidity. We passed through 2 round-abouts, and each had huge Buddha statues in the center. I got checked in, and went to sleep shortly afterwards. The bed is Asia style hard. Despite that i slept ok until about 4am when i was wide awake with jetlag. Around 5am, i started to hear Buddhist monks chanting in the distance, which reminded me of the dawn call to prayer in Oman in a lot of ways.
Day 3
I had breakfast at the hotel, and it was decent. They had a fixed menu of meals to choose from, and 6 of the 7 were boring western food like omelettes or pancakes. However, i ordered the fried noodles with pork. It came with an assortment of vegetables mixed in. But the highlight was this pumpkin soup with coconut milk that was delicious. After breakfast the front desk called me a tuktuk driver to drive me to and around Angkor Wat for the day. I was originally debating borrowing a bicycle from the hotel, and doing it by myself, but i'm glad that i didn't. For starters, its about 6 or 7 miles from the hotel just to the park entrance. On top of that, each of the sites are a few miles apart, and each site is huge, so there's a ton of walking with many steps. I think i would have ended up completely exhausted early on, and then struggled to ride back. I arrived at the park just before 8am, and while it wasn't super crowded yet, it wasn't empty either. Everything was impressive. The scale of the buildings, the detailed carvings. This one temple was the equivalent of a 6 story building. The weather was surprisingly not as hot as i had anticipated. While it was definitely warm, i never felt like i was dying from the heat. My feet are kinda beat up from all the walking. At most of the Angkor sites there were little kids, no more than 7 or 8, selling postcards. Or more accurately, harassing people and begging them to buy the postcards. Many of the kids were barefoot too. It was really sad. The only nongood part of the day was lunch. Most of the large sites have these encampments with tents where they're selling crappy souvenirs and there are small restaurants. When i asked my driver about a good place for lunch, he just pointed me at the nearest food tent. Their menu actually didn't loo bad, but the food was awful. I ordered fresh coconut to drink, and rice lemongrass with pork. while i got the coconut, the food was this bizarre mess of a lot of onions and tiny pieces of chicken on rice. It had no flavor. All that food was \$8 which seemed like a ripoff considering how bad it was. By the afternoon the park was getting very crowded. I saw a lot of Chinese & Koreans, and smaller numbers of Russians, English and French tourists. I finished the last site of the day around 2pm, and then returned to the hotel to rest up a bit. The fee for the driver for nearly 7 hours was \$20, which i think was reasonable.
Day 4
I had a really amazing crazy weird day. My driver to take me to Battambang arrived on time at 7am. 0nce we got a bit outside of Siem Reap the crazy motorbike & tuktuk traffic thinned out considerably. The terrain is super flat, and just about entirely farm land. I could see for miles in all directions, and other than a few random palm trees sprinkled about and an occasional temple, it was vast emptiness of rice fields. The road varied in quality from quite good to a potholed mess. We stopped briefly for gas and got to the hotel just before 10am.
The guest-house that i'm staying in looks really nice, and is run by a French couple. I got settled in my room, and then they called my tuktuk driver for my tour. My driver spoke really good English, and we made stops at large number of extra places. The first stop was this old house that had been owned by the same family since 1902. It had a lot of antiques plus they explained the architecture of a typical Cambodian house. Next we drove along this dirt road that ran beside the river. We stopped at an operating rice mill, and i got to see how the rice is hulled and sorted. Afterwards we drove a bit further to a farm where they were growing cauliflower, corn and eggplants. The eggplant bushes were huge, and all had dozens growing on them. The property next door was a mushroom farm, and they showed me the entire process of how they grow wood ear mushrooms. Oddly enough they were also running a cock fight at the time. I watched for a few minutes, but it was just too disturbing, and also kinda boring. Next we went to Cambodia's only winery. Before i went wine tasting, there was a road side food stand just across the road. I wandered over with the driver thinking it would be ordinary food, but nope. They were grilling rats. Oh and they had fertilized soft boiled chicken eggs steaming. The driver had a sly grin and asked if i wanted to try anything. I called his bluff and ordered and ate 1 large rat for \$1, and 3 eggs for \$1. I figured, I ate cui in Peru, and that was a rodent, so why not rat? It tasted mostly like chicken, although there honestly wasn't much meat. I let the driver enjoy the tail. The eggs were ok, but the skull was developed enough that it was quite rubbery. I washed it all down with a 50cent fresh coconut. I went into the winery and for \$2 got to taste their red wine, a glass of their sherry, a shot glass of grape juice, and a shot glass of ginger honey. The wine tasted as if if were half way to becoming vinegar, and was disgusting. The sherry may as well have been paint thinner it was so strong. If there was anything unsafe in the rat or eggs, that sherry definitely sterilized my entire stomach. The grape juice tasted as if they added sugar to it. The ginger honey was actually quite good. I'm not sure what it says about a winery when their best product is not made from grapes. Next we drove to Wat Bannon, which had these old Khmer ruins, now a Buddhist temple, at the top of a mountain. Of course the road did not go to the summit, so i had to climb 369 steps in the 90F heat. It was awesome up there though. The views were great, and the ruins were very different from all the sites that i explored at Angkor the day before. As i was getting ready to walk down the steps, things got weird. I noticed that this group of Cambodian teenage girls had been following me around and giggling. Then suddenly one of them ran up to me put her arm around me and gave me this awkward hug, and several of the others took my picture at the same time. Then the hugger ran back to her friends and they all scurried off together giggling. I guess it was all some kind of dare? I dunno it was just bizarre.
After that we drove for quite a while on a very bumpy, rutted dirt road, across open farm land. Every so often we'd pass some kids playing at the side of the road, or there would be a thatched roof house up on stilts. Another thing was many of the children that i saw today were super friendly, waving enthusiastically and screaming 'hello'. There was this one boy standing by the side of the road wearing a shirt, who couldn't have been more than 4. He was completely naked from the waist down, yet he was grinning from ear to ear, waving, and screaming hello repeatedly.
We finally reached the last stop of the day a bit after 3pm, Wat Sampeau. It is a mountain, with a large modern temple complex at the summit, a huge bat cave on one side of the mountain, and the killing cave on the opposite side. Once again i had a crazy huge staircase to the top. However, this one didn't go straight up the side but instead snaked its way around. Also there were monkeys all over the place about half way. The views from the top were even better than the previous temple maintain. The temple was quite impressive too. In one part there was this staircase that went straight down into a cave, with scary statues on either side. It kinda looked like something out of an Indiana Jones movie. Next i went to the site of the killing caves, where the Khmer Rouge massacred and dumped hundreds of bodies. Finally at sunset, i returned to the bottom of the mountain to wait for the bats to exit their cave. It was a fairly impressive sight when millions of bats suddenly streamed out of the cave all at once. Finally we drove back into Battambang to the hotel.
The hotel recommended a great Cambodian restaurant for dinner which was within walking distance. It was quite good. I got fresh pineapple stir fried with cashews & pork over rice, an Ankgor beer, and an avocado shake for dessert. Actually choosing dessert was the hardest part, as they had dozens of exotic fruit combinations to choose from. They even had durian and sour sop. Apparently Saturday is the big wedding day, and i passed several. They all were held in these huge pink tents, with tons of silver & gold streamers. I could always hear them before i saw them as there was always loud Cambodian music blasting.
Day 5
It was a long day but it was good. Breakfast in Battambang was nice. The guest house bakes their own bread, and it came with butter and guava jelly. They also made me the most amazing omelette, plus a fruit salad with mango, dragon fruit and papaya, and what was possibly the best green tea I've ever had outside of Japan. Following breakfast the same tuktuk driver as yesterday picked me up, and we headed south of the city for a half day tour. The first stop was this area where almost every family makes rice paper to sell in markets. i saw the entire process, and then i purchased and ate a few freshly made spring rolls, which were tasty.
Next the driver tried to get me drunk again, when we stopped at this house where they operated a still to make rice wine. he claimed it was sold for medicinal purposes, but they sold the stuff in 1 & 2L old soda bottles. they showed me the entire process from how they cooked the rice, to the spices they added to flavor the alcohol, and the actual still which was actively producing the stuff. Then they encouraged me to sample a few different recent batches for free. Holy jebus, that stuff was super foul. It burnt my tongue before i even swallowed it. the sherry that i tried the previous day seem delightful in comparison. It must have been well over 50% alcohol.
Afterwards we drove out to Phnom Ek, which was a site that had a modern Buddhist temple, and Angkor era ruins. The temple was huge and gorgeous, while lots of colorful statues, plus a 5 story tall concrete Buddha beside it. The ruins were in quite poor condition, and gave a glimpse of what the Angkor Wat complex would likely look like if it wasn't receiving any funding.
The next stop was a small village which was one of the Khmer Rouge era massacre sites. Several thousand people were tortured and brutally murdered there over the span of a few weeks in 1975. They built this huge shrine, which is filled with the bones of the dead that they found at the site. It was all quite creepy, morbid and depressing. The driver told me that they used to have a large banana farm there, and every time they went to dig a hole for a new tree, they'd find more bones in shallow graves.
The last stop was at a rice noodle factory, although calling it a factory was a bit generous. Again, it was operating out of a family's home. It was still really cool to watch the entire process in action.
One thing that I've found kinda fascinating is how different countries allocate aid for projects. Some are surprisingly subtle and aside from a small sign or plaque, there's no other indication that they funded anything. Then there's China who has signs plastered everywhere, effectively bragging how their money was used to restore this particular Angkor ruins. Also, i've noticed that each country has a specific focus with their aid. Japan likes to build schools a lot, and they're surprisingly unsubtle about advertising it, painting "sponsored by the generous people of Japan" on every external wall of the schools. I was also kinda surprised how low key the US is, rarely even mentioning the full name of the country. most US sponsored projects seem to be agriculture related,and usually just have a small USAID logo and sometimes also state "a gift from the American people". Sweden definitely won the prize for most humble, never even mentioning themselves by name, and only using their flag image. They like to sponsor climate change related projects.
Once i returned from the tour, it was a bit past noon, so i got lunch. I had a really tasty sour chicken & mushroom soup with rice. I also got a sour sop shake with it, which was fantastic. The taxi driver arrived at 2pm to drive me back to Siem reap, and i got there a bit before 5pm.
Day 6
My tuk tuk driver arrived at 8am, and we toured around the northern side of the park. Several of the sites were really awesome to explore. One was like a maze of passageways, with huge trees growing on top of the stone buildings. Another was in the middle of a lake, with a stone bridge leading to it. A third looked like this huge medieval fortress, with massive stone turrets, and carved elephants at the 4 corners. The odd thing is that we finished seeing everything by 11am, so i still had most of the day free. The driver claimed that there were actually 3 more very distant sites that i had not yet seen. However, 2 of them took about 90 minutes to drive to, and the 3rd was another hour drive from the other 2. He didn't think there was enough time left today to see all 3 plus do all the driving before it got dark, so i'm going to see them tomorrow. Right now, i'm not sure if he's being honest, or not. I guess i'll see how it turns out tomorrow, and if the times don't match what he claimed, i'll deal with him once i return to the hotel (and he expects payment).
Since i had so much time, i decided to borrow a bicycle from the hotel, and bike the 6 miles into the center of town to find lunch. I studied my map before heading out, but i still ended up going a different route than i had planned. Most of the problem is that none of the streets have signs, so i can't tell for sure that i'm at the right intersection without stopping, whipping out my phone and waiting for the gps to sync up. Despite that, i found the area ok, because I knew that i had to cross a bridge over the river that ran north-south through town. Once i got to the old market area, i locked the bike to a tree, and started wandering to find somewhere good to eat. The area is full of shops and restaurants (many of which are very touristy). However, i ended up eating at Khmer Kitchen ( http://www.tripadvisor.com/Restaurant_Review-g297390-d1509915-Reviews-Khmer_Kitchen_Restaurant-Siem_Reap_Siem_Reap_Province.html ). I got spring rolls for an appetizer, a mango shake, and Prahok katih. I chose the prahok katih, because it was one of the few items on the menu which wasn't translated into English (although everything also had a description). They described it as ground pork with chilies and fish paste in a red curry coconut sauce, with assorted local vegetables. while the description was more or less accurate, what it failed to mention was that all the vegetables were on the side, and raw. so the pork curry fish paste concoction came out in a bowl, with a plate of cucumber, raw cabbage, raw green beans, and raw sliced eggplants. As bizarre as it sounds, it actually worked really well and was easily the most delicious thing i've had to eat thus far. plus i think that you would have enjoyed it too, as the chillies gave it a pretty good spice/heat level. I just dipped the vegetables into the sauce, and they were good. Btw, even thought was in the touristy part of town, the food was still quite cheap. My entire lunch (drink, app & main) cost \$8. Also beer is super cheap here. I've yet to pay more than \$1.50 for a bottle, and while wandering earlier, i saw multiple places advertising happy hour drinks for \$0.50/each, including draught beers.
Once i wandered back to the bike, i had the challenge of finding my way back to the hotel, without the luxury of having a natural landmark (river) that i'd be able to count on hitting eventually. Of course i got lost quickly, and ended up on a dirt road, with rice fields and water buffalo on both sides of me. Thankfully gps came to the rescue, and other than getting slightly turned around one other time i made it back in about 40 minutes.
I received a bunch of bad news today that had the potential to impact the 2nd half of the trip (after i left siem reap on Thursday morning). First, my flight from siem reap to Phnom Penh had its time changed significantly from a 6:40am departure to an 8am departure. On top of that the bus that i planned to take from phnom penh to kratie (for a kayak trip) changed its departure time from 10:45am to 9:45am. Basically i've gone from having nearly 3.5 hours to make that plane bus connection to just 1 hour. I had strong doubts whether i can make the connection as everything i read suggested that it took at least 45 minutes to drive from the airport to the bus station under ideal conditions.
Day 7
My tuktuk driver picked me up a few minutes early this morning, just before 8am, and we headed out on the long drive north. One thing that has surprised me quite a bit is that the weather has not been anywhere as hot or humid as i anticipated. Its actually somewhat chilly in the mornings, and today it was somewhat cloudy too. I was downright cold as we drove this morning, and actually put on my flannel shirt. The drive took just over an hour to get out there. The terrain was noticeably different than the other Ankgor sites closer to siem reap. It was hilly, with a lot of trees. I think i was the first person of the day out there, as the parking area was empty. This site turned out to be more of a hike through through the jungle than exploring ruins. it was about 1 mile of hiking over hilly, rocky terrain to reach a 15ft waterfall. Initially i thought that was all there was to see, but the trail continued up to the top of the falls, and then along a stream that fed the falls. After a few minutes, I noticed that the stream bed wasn't soil or random rocks, but was actually a carved pattern out of stone. Somehow the ancient khmer had laid down flat lengths of carved stone on the stream beds, which, despite nearly 1000 years of erosion, was still mostly visible today. It was amazing, as this site was deep in the jungle. There was also a very small waterfall, maybe 3ft tall even further upstream, which had the rock face on each side of the falls carved out into detailed pictures. By the time i had reached the larger falls, other people started to show up behind me, and when I was done exploring, the entire area was crowded with a lot of French & Chinese tourists. I ended up spending nearly 100 minutes total at that site, including hiking time.
Afterwards, we drove about another 30 minutes to a different site. This site was unusually well developed as nearly all the other sites were fairly primitive. Few had paved parking areas, even fewer had toilets, none had any informational signs. This site today had all of those things, although its a mystery why it was so well developed. The ruins themselves were beautifully carved red sandstone towers, tightly clustered together, with a large lake on one side. after exploring the site, i went looking for lunch, as it was nearly noon. I was rather concerned that lunch would end up being an overpriced disaster, since the last time i ate lunch at an Angkor site, it was terrible. I wandered over to the food tent area, and immediately a woman started harassing me to sit down at her table. I noticed that there were no other customers in her tent, and i kept walking. the next tent had people eating at a few tables, so i asked to see the menu. There was an 'Asian' section, a 'Western foods' section, and a Cambodian food section. the Cambodian section sounded good,but everything was ridiculously expensive. \$7 is an awful lot when i paid half that just the day before in siem reap. Also, i was still worried that it was bland tourist food. The guy there tried to convince me to sit down, but i figured that I'd check out the other tents before deciding. The guy panicked, and then told me that i could get anything on the menu for \$5. For a moment i was tempted to try and bargain him down lower, but figured it wasn't worth trying to save a few more dollars when that money means a huge deal more to him then it will ever mean to me. i ended up ordering fish amok and a coconut shake. The shake was yummy, but the fish was absolutely amazing. This page describes it better than i could ( http://www.thecitykitchensf.com/2012/03/cambodian-fish-amok/ ). This definitely ties yesterday for best lunch of the trip so far.
After lunch we drove to the very last Angkor site. For reasons that i still don't understand, it was a ghost town. I saw exactly 2 other people the entire time I was there. It was another of the walled fortress sites, with many smaller rooms and towers inside the wall. It wasn't huge, but it had a decent number of pretty stone carvings.
Once i finished up there we drove back towards the hotel, i had the driver stop briefly at an ATM to get some cash, and then he dropped me off at the hotel.
In other news, somehow i saw a car here 2 days ago with a Mississippi license plate. And it wasn't a fake license plate as far as i could tell. I'm not sure how someone decides to move from Mississippi to Cambodia, and bring their car with them, and not be required to get valid Cambodian plates. Maybe it was one of those 'we could live like kings' talks that they actually followed through with.
Day 8
My driver arrived a few minutes before 6am, and we set out north for the Koh Ker (pronounced like croquet, minus the R) ruins. A little after 7, he pulled over in this small village, and said that he wanted to get breakfast. We wandered into this open air 'restaurant' which had quite a few locals already eating, and the driver insisted that i have some coffee. They brought me this small drinking glass, maybe 3 times the size of a shot glass with condensed milk at the bottom and coffee at the top, with a tiny baby spoon. I mixed it up, and drank. I'm definitely no coffee expert, but it wasn't bad at all. While i was doing that, the driver ordered himself a plate of food. He got a plate of rice (because Asia!) with a quarter roasted chicken, some sliced cucumber and this fried pancake looking thing. It actually looked good, so i asked him to order me one as well. The pancake looking thing turned out to be a fried egg which was breaded and fried again. The chicken was quite good, and the rest was decent. When we were getting ready to go, i asked how much i owed for the food, but he insisted on paying for both of us, and handed the lady \$5.
We drove past tiny villages, farm land, and forest and arrived at Koh Ker just after 8am. At one end of the empty parking lot there was this huge sign advertising that the area had been declared land mine free back in 2012. The site was absolutely amazing, and might be my favorite of all the ruins that i've seen. Initially, it was fairly normal single story carved stone walls, columns with statues. However once i walked through that initial section, and passed through a stone archway, this absolutely massive 7 story pyramid structure, which was wider than it was tall stood before me. It looked very much like an Aztec pyramid, with 7 square layers stacked on top one another, with a steep staircase running up the front side. I circled around it clockwise, and at about the 1pm area, there was a wooden staircase, which snaked its way up to every level, all the way to the top. The views from the top were amazing, as i was well above the tree line, and could see all the way to the horizon in every direction. Possibly what made the site even more special was that i was the only tourist there. I finished just before 9, and we continued driving northwest, towards Preah Vihear. It took another 90 minutes to get there, plus another 20 minutes to be driven up the side of the mountain to the site of the ruins. This is the site which sits on a cliff overlooking the Thai/Cambodian border, which the two countries actually deployed their military to fight over a few years back. The UN eventually mediated the dispute, siding with Cambodia. What's kinda creepy and weird is that Cambodia still has military actively deployed 'guarding' the site. Everywhere i went, i saw men in fatigues or police uniforms idly standing around, as if they were anticipating the Thai army to storm up the hill at any moment. To be honest the ruins themselves were not all that impressive. All that remained were single story walls, and a few stone walkways and 1 staircase. Had the site not been part of a border dispute, i doubt most people would ever bother to visit. However i saw many Chinese & French tourists doing their thing. Once i finished looking around, i spotted a toilet sign, and wandered over, anticipating some unholy cesspool. I was pleasantly surprised to find it relatively clean, and odor free. There was no running water or toilet paper, and the door didn't lock, but otherwise it was a perfectly serviceable bathroom. Once i finished up, this old toothless guy came over to me and started gesturing frantically for me to pay him for having used the bathroom. I dug in my wallet and pulled out a 100 riel bill, and handed it to him, and he started chuckling. 100 riels is about 2.5 cents. I have to assume that he was amused at how little i gave him, but seriously, what did he expect? I wasn't about to pay him \$1 for a bathroom that had no water, no toilet paper, and a door that didn't lock.
Once i got back down off the mountain, i found the driver, and he called me over to join him in the restaurant next tot the parking area. It was just about noon, and i was hungry for lunch. I asked what he was eating, and he said it was rice (duh), bits of fried pork, and spicy pickled vegetables. I decided to order the same. It was nothing special, but decent. I paid \$1 for that lunch, and then we started the drive back to siem reap. At this point, according to the road sign, we were 205km away. The drive back was long, but otherwise uneventful. I got back just before 4pm.
I noticed while in the car earlier, that some insect feasted on my feet today. I have about a dozen small bug bites on each foot. Thankfully so far, they don't hurt or itch.
One thing i noticed, especially today, is that Cambodia is apparently one of those countries where they set fire to the fields once they finish harvesting. I lost count of the number of fires and distant plumes of smoke that I saw today, but it was rather noxious at times.
Day 9
I got up at 5am, showered, packed up my stuff, and then checked out of the hotel to meet my tuktuk driver to take me out to siem reap airport. The domestic terminal is a joke. Two gates, which really are doors leading out to the tarmac. When they gave me my boarding pass, i noticed they dumped me in row 23, so i asked if there were any seats close to the front of the plane. Then i got row 15, which turned out to be the exit row. My boarding pass claimed that they would begin boarding at 7:30am for the 8am departure. In reality, we started boarding at 7:55am, and didn't take off until 8:15am. The plane was at least 2/3 empty for the 30 minute flight. we landed at 8:50am, and i ran through the airport. I got the slowest tuk-tuk in Cambodia. Seriously, he was getting passed by kids on bicycles. on top of that traffic was awful. Finally we pulled up to the bus station at 9:35am, and i ran to the ticket counter. Somehow, i made the connection. Even more amazing, i was assigned a seat on the bus without anyone beside me. The bus actually pulled out about 15 minutes late, and lumbered through the chaotic phnom penh traffic for much of the next hour. The driver put on some laughably horrible Cambodian karaoke music videos for a while. once we got out of the city, the road degraded to bumpy gravel for many miles. The bus was mostly full, with a mix of Cambodians and western backpackers. About 2 hours in we pulled into a rest stop which had a bathroom and some food stalls. As I had been living off of Kind bars since waking up, i was ready to settle on anything. I got this plate of boney chicken bits with lemongrass and green beans for \$1, and then a bag of what they claimed were potato chips for another \$1. The chicken was pretty bad, but i didn't get ill (yet). The chips were actually covered in honey, and were kinda weird, but ok. In the afternoon the road improved, and we came close to the Vietnamese border for a while (there was a sign at a turnoff). It also started
to look like wild west towns. The main road through towns was paved, but everything else was this reddish brown dusty dirt. We drove past huge rubber plantations for a bit. Just before 5pm we pulled into kratie, about 7 hours after starting. I bought my bus ticket for Saturday's trip southward, then walked the mile to the hotel. About half way there i ran into this couple from New Orleans who were hoping to get a room at the same hotel as i was staying. We chatted briefly as we walked. They had only been in the country for 4 days but planned to stay for another 3-4 weeks. The hotel is really nice, especially considering how i'm paying \$15 for the night. I got dinner at a small place a block from the hotel, which was ok, but nothing special.
All of the 800+ photos that I took are posted HERE. Note this is the first trip with a brand new camera (Canon SX280), which auto tags photos with the GPS coordinates of their location. If you click the 'Info' link for any picture, you can see the coordinates.
This post is part 1 of the "cambodia-2015" series: