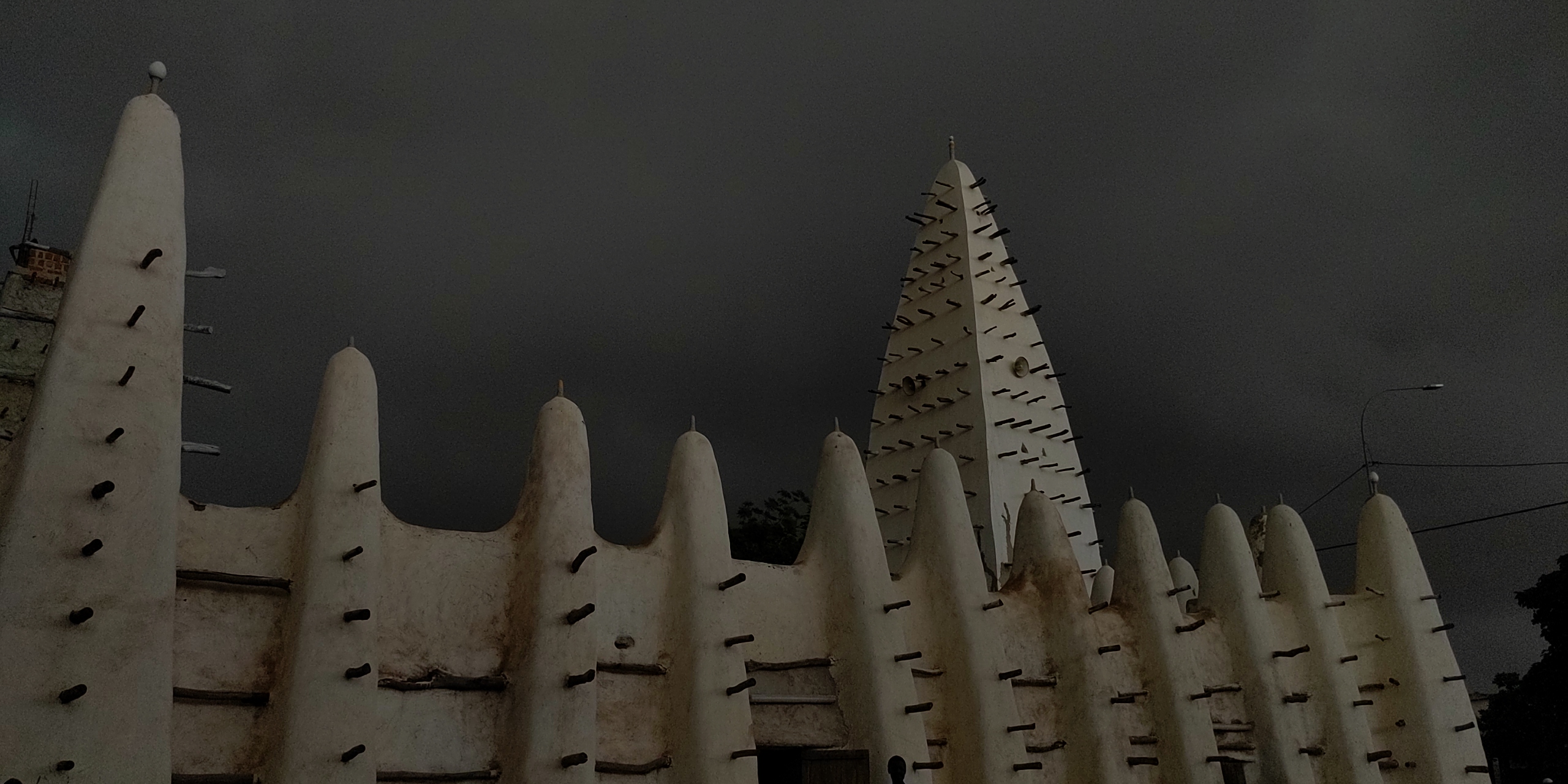 16:17 Wednesday, July 07 2021
West Africa (1/2)
This post is part 1 of the "west-africa-2021" series: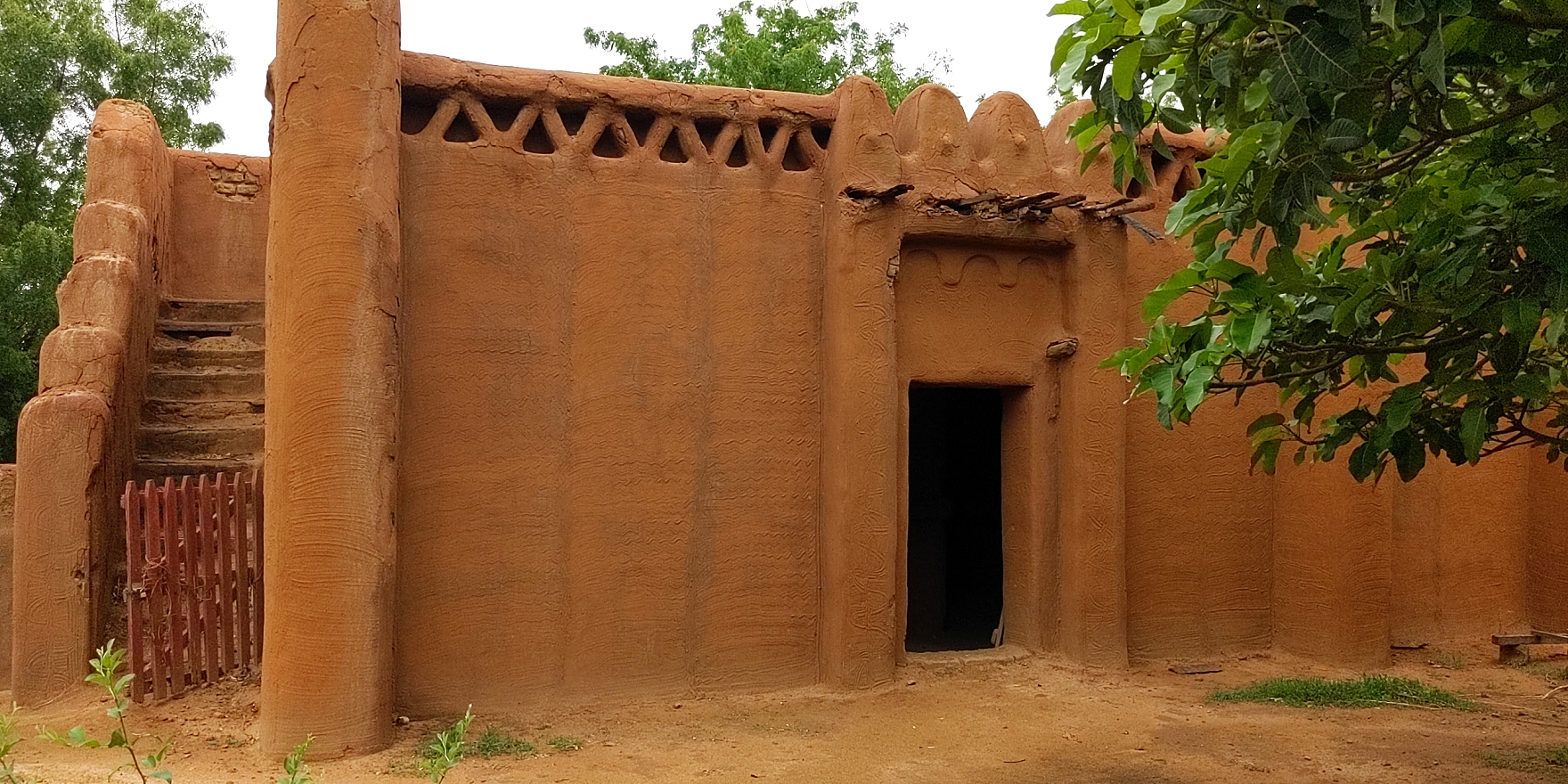 days 0 and 1
We departed for the airport (JFK) a bit before noon. All seemed to be going well until i realized that the A subway line forked a few stops before the airport, and we were on the wrong fork. that mistake cost us 30 minutes. also it was raining. once we reached the airport at 2pm, we found a massive line to get boarding passes, and it was barely moving. we needed over an hour, then another 30 minutes for security. there was still a huge line behind us too. by the time we reached the gate the flight was delayed by 40 minutes.
the flight took off 45 minutes late. overall it was fine, and somehow managed to land 15 minutes early to a rainy Paris.
we had a long taxi upon landing at CDG then a long walk plus security to reach our gate for the flight to Bamako, Mali. we had nearly 4 hours for the connection. the flight started boarding an hour in advance, and it still was insufficient. it was a chaotic fiasco, with tons of small children, people in wheel chairs, and lots of carry-on baggage. we took off an hour late and landed about 30 minutes late.
then we started a multi hour process of passing through airport bureaucracy. first there was a boarding pass check. then a dude in a dirty lab coat was half heartedly checking COVID19 tests. then a dude was checking visas. then the insanely long immigration line, which took nearly a full hour. the immigration guy was wearing sunglasses, and asked what my job was then stamped me into country #54.
once we entered the arrivals hall, i quickly found an ATM, and had no issues withdrawing cash. we then wandered out side into a huge crowd and stifling heat and found our guide. the drive to the hotel took about 30 minutes. There were lots of motorbikes, lime green van buses, and ancient yellow Mercedes taxis everywhere. plus youngish kids selling random stuff on the street.
just after 6pm a dark storm cloud drifted in, and it rained hard for about 20 minutes. this created large red mud puddles everywhere.
we ended up having dinner at the hotel, which was a surprisingly good french bistro.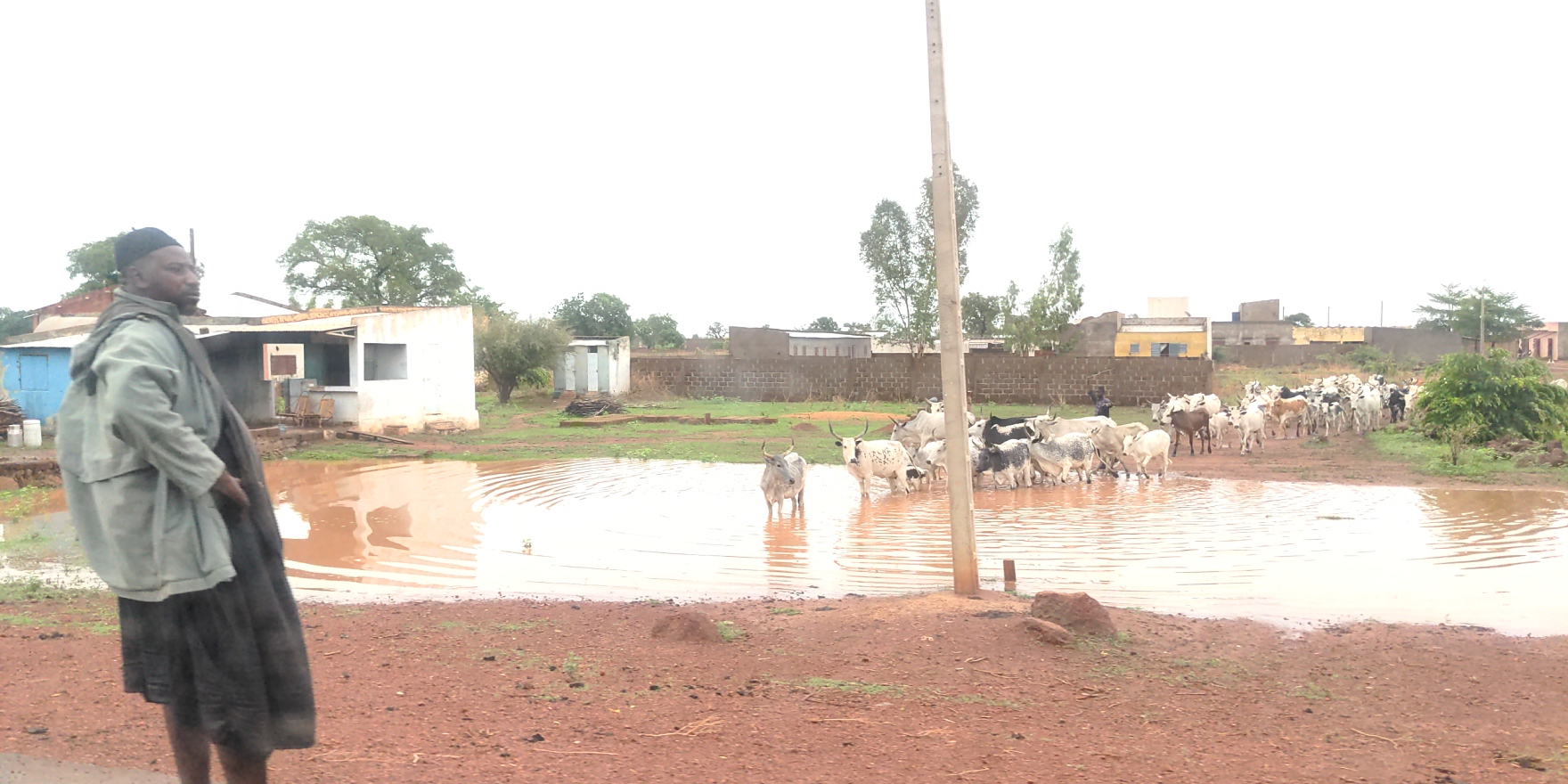 Day 2
We slept amazingly well, and were up for the day with the alarm at 6:45am. it rained again during the night, and was tapering off as we got up. Breakfast was fine, but nothing special.
We departed 8am, in the rain. We had a 135km drive east towards the city of Segou. The road and traffic out of Bamako were awful, with bumpy, unpaved areas and red mud everywhere. the rain diminished quite a bit once we were out of the city. the rest of the drive was through mostly flat lightly forested farm land. there were lots of goats & cattle too. we passed through a few police checkpoints, quickly. Not much traffic, other than trucks hauling cargo and a few long distance buses.
Around 11am we reached the ancient village of Sekoro, which was the capital of the Bambara empire (which stretched from Senegal all the way down to Ghana) back in the 18th & 19th centuries. The village is still populated today, mostly with the traditional mud walled homes. we saw the old palace, met the current village chief (who went blind a few years ago), and saw all the mosques. Lots of curious & friendly children were everywhere. thankfully the rain had stopped by that time.
After that we walked down to the Niger river, and boarded a small boat. the boat took us the remaining 7km to Segou, and they served us a rather bland lunch of rice, fried fish and boiled cabbage.
once in Segou we drove about 15 minutes to the very tiny guesthouse (3 rooms) for the next 2 nights. we dropped off our stuff, and then headed back into town. we walked along the riverfront to see the bustle of boats coming & going, then explored the outdoor market which was rather crowded. there were people selling everything, including fish, spices, produce, cooking supplies, and much more. our guide, warned us about pick-pockets, and he caught one attempting to rob a lady.
we returned to the hotel in late afternoon to rest for a bit and enjoy the AC. at 7pm they took us to dinner at a small local place. we ordered 2 beers, fried local fish, fries & veggies. they didnt have cold beer, and went out to buy us sone from around the corner. it ended up being slightly cool. what they served us was fish fingers a hot pocket thing with onion & tomato inside, and an avocado salad.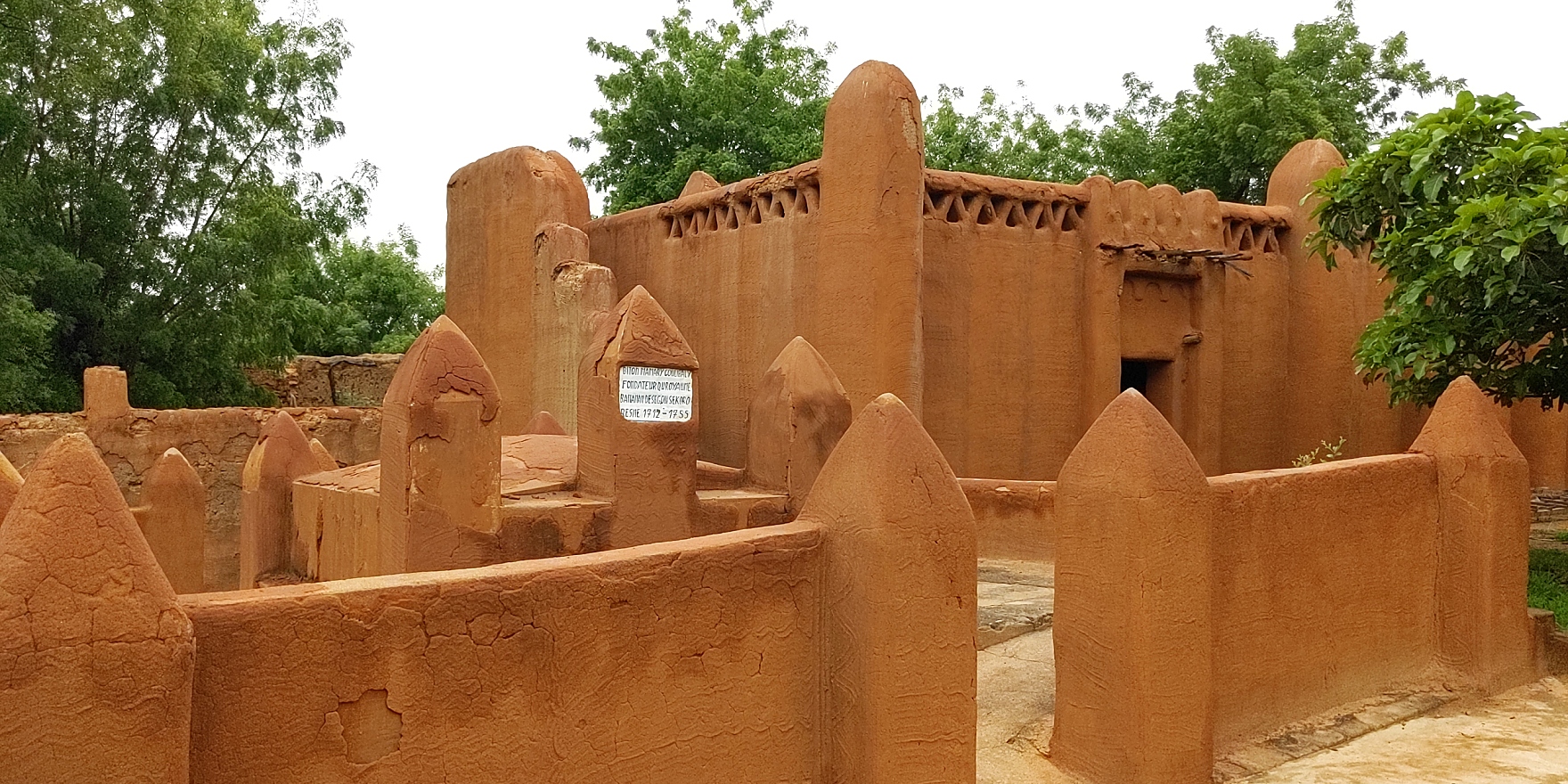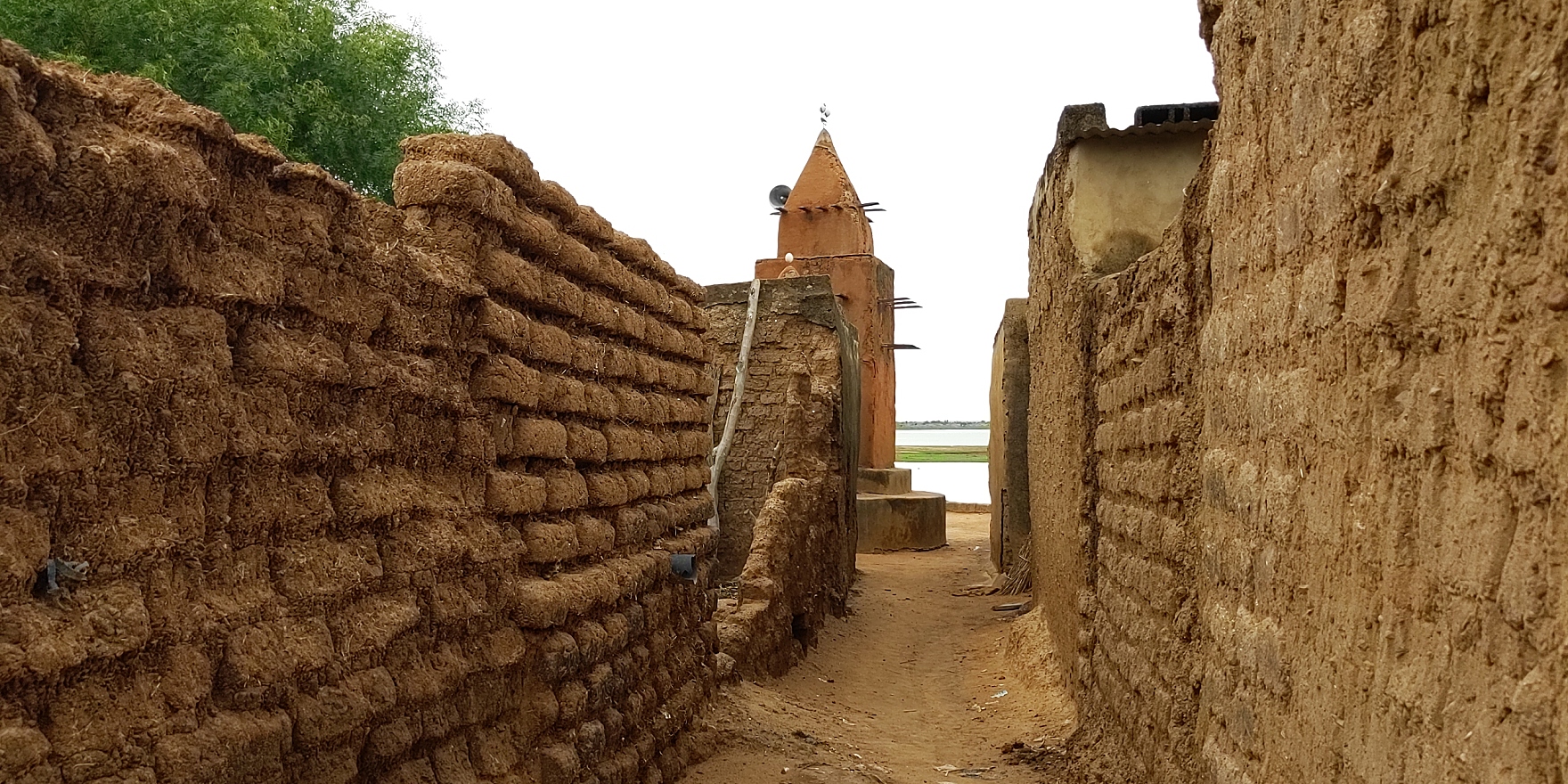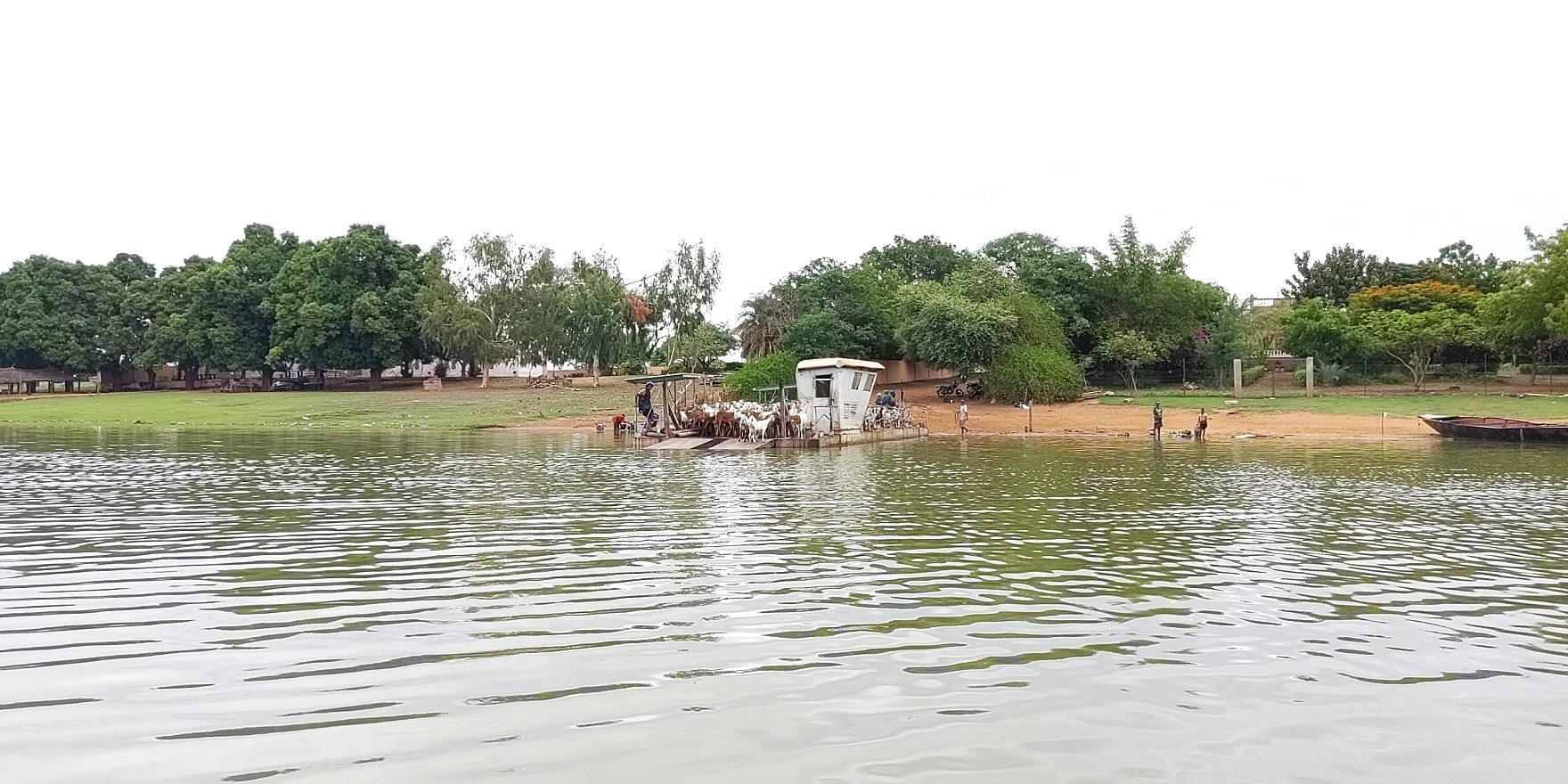 Day 3
we didn't sleep all that well because the bed was small, rocky foam, and ironically the AC was too cold for the thin sheet 'blanket'. we were up for the day at 6am. breakfast was at 8am.
our first stop of the day was the home of a woman who would be making our lunch. it was down a dirt alley, with mud brick walls. her kitchen was in the courtyard. we went to the market to buy the ingredients to make lunch. the market was packed with people, all squeezing down 2ft wide aisles between the stands. she purchased tomatoes, eggplant, peppers, peanut sauce, spices, oil, and dried smoked catfish. after that we returned to her home, where denise assisted with the meal prep. we also had some very good bissap tea. all of the pots stood on charcoal burners. while lunch cooked, we headed a bit out of town.
we stopped by a village that makes most of calabash (gourd) bowls. we saw the entire process, from cleaning to curing to decorating them. next we visited the Christian part of town, where many families make millet beer for extra income. they showed us the process, and then we got to sample the beer. there was a drunk guy already there. the beer was surprisingly not awful. it was a bright orange gold color, was slightly tangy, with a lot of funkiness. after that we returned to have lunch. the food was pretty good, but the heat and swarming bugs made it a bit unpleasant.
the final two stops of the day were the old French colonial government buildings, and the mud cloth 'factory'. the buildings were on a tree lined street. nearly all of the trees were full of huge, squawking bats. the buildings were 3 story tall hulking concrete buildings, with odd decorative flourishes, such as small turrets. the factory felt sorta like a tourist trap. apparently there is a cloth dying process which results in the local mud staining a dark grayish-brown color. we got to try it out on a small patch of fabric, then they marched us through the gift shop.
throughout the entire day it was blazing hot (upper 90s) & humid, with clear skies.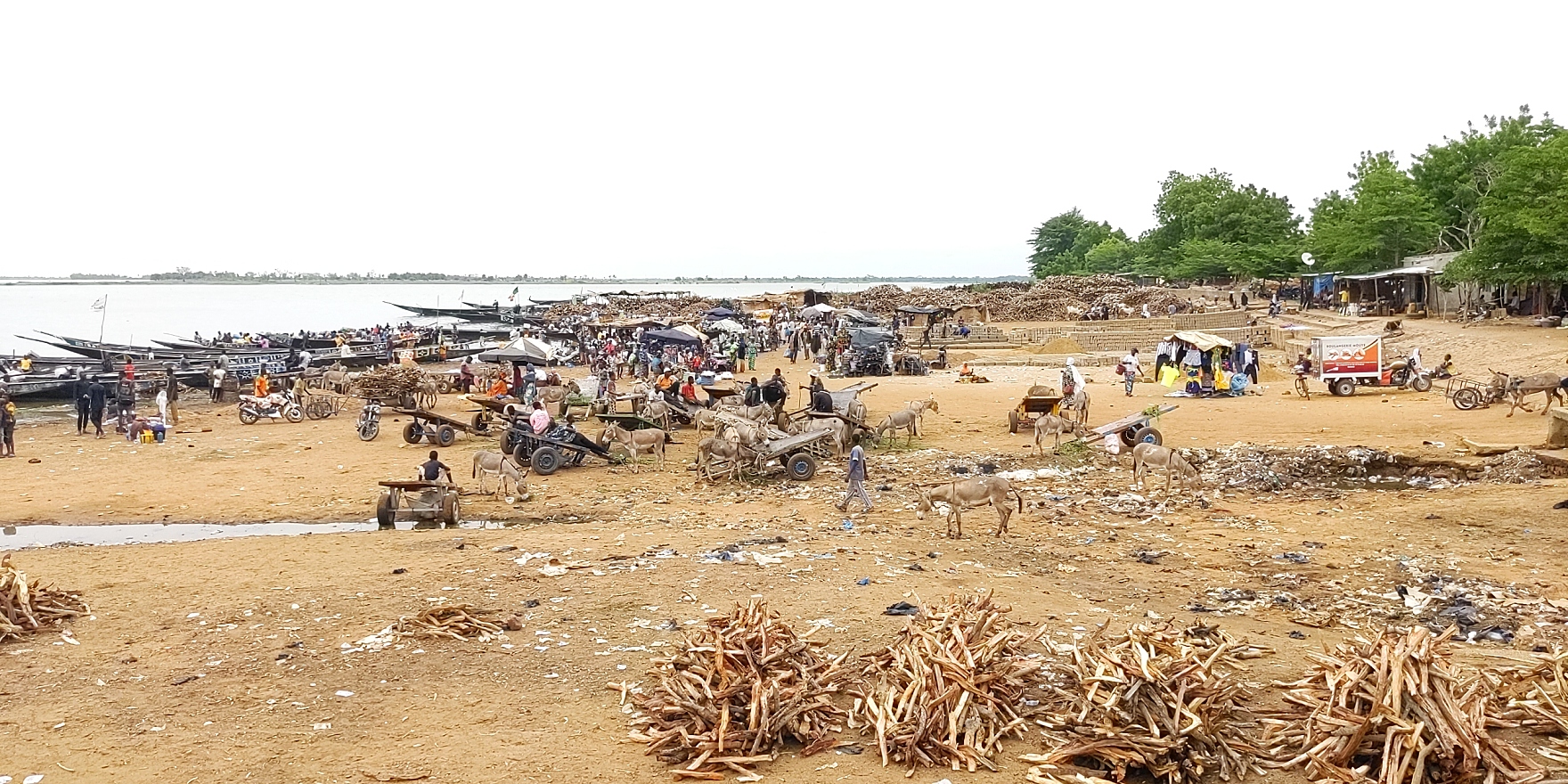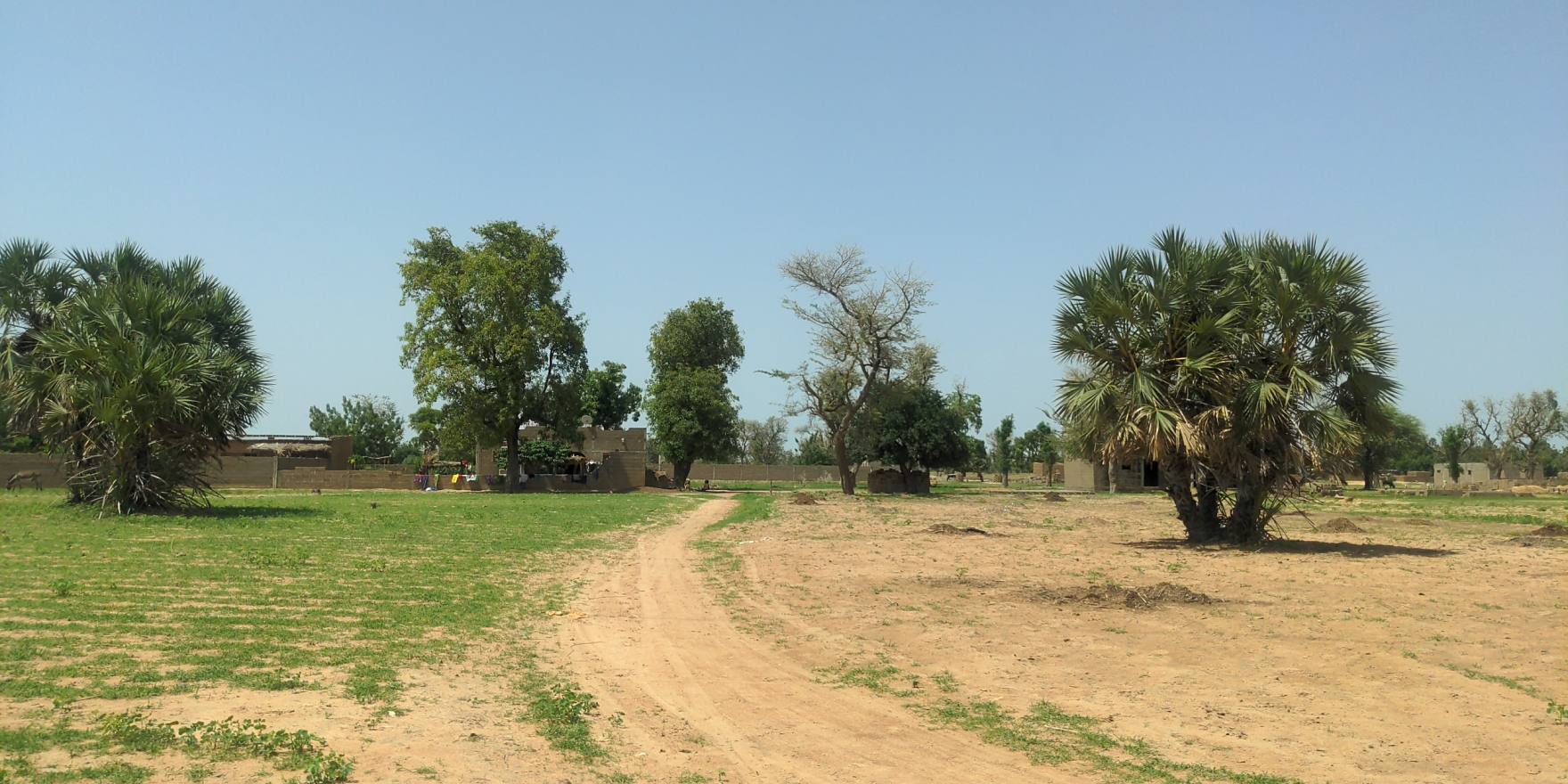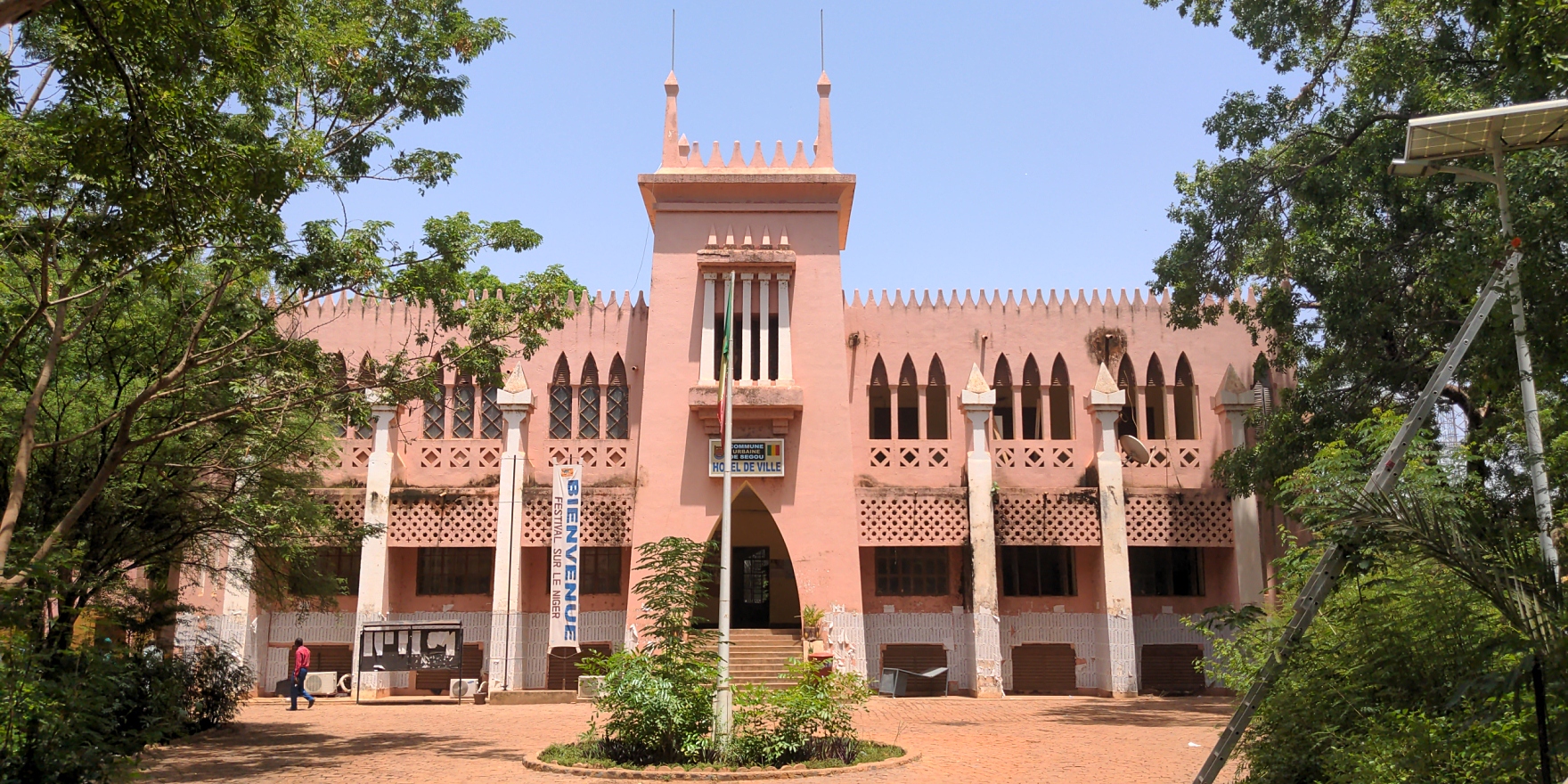 Day 4
we were awake around 6am for the day. breakfast was onion & eggs in a baguette with black tea. we were on the road back to Bamako just after 8am. Most of the drive went smoothly, although we hit the anticipated Bamako traffic. the skies were clear when we left Segou, but grew increasingly overcast, with some wet roads as we neared Bamako.
we did our COVID19 tests up the nose for 25,000 cFa each just before noon. then we plodded through awful traffic to drop off our bags at the hotel. then another drive through traffic to get lunch. the place was down this narrow street which had a diabetes clinic on one side, and tiny shack motorbike repair shops along the other. the food was wonderful. Denise got a half chicken braised in an onion tomato sauce, with couscous and a tomato, onion, cabbage, eggplant soup. i had grilled chicken with plantains and a small salad.
once we finished lunch, we visited the national museum. it was nice with three large exhibits showing the cultural highlights of Mali. the first was textiles, with several distinctive styles on display. the second had ancient clay sculptures. the third were ceremonial masks. other than a small school group and a couple others, it was empty. all the interpretive signs were in French only.
the last stop of the day was a drive up to Point G, mountain top view point, overlooking the entire city. The president's mansion is not far away. the view was nice, despite the 96F heat, a nearby garbage fire and poor air quality. we could see the entire Niger River winding through the city.
afterwards we returned to the hotel for our last night in Mali.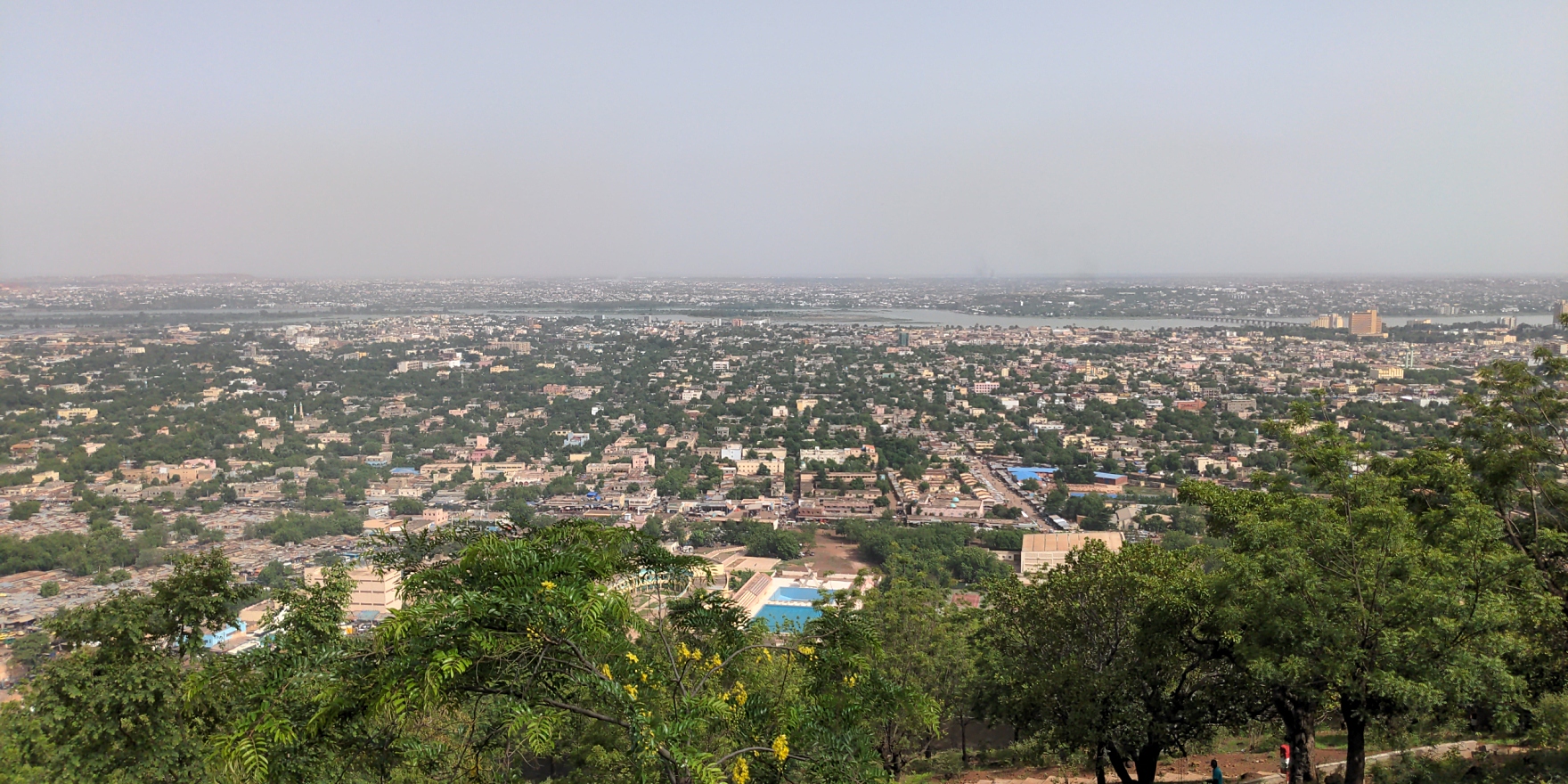 Day 5
We were up for the day just after 6am. We had breakfast, and headed out at 8am for our last day in Mali. morning rush hour traffic was fierce. Some of the roads and bridges were changed to one-way traffic to help move traffic into the central part of the city. We saw a UN caravan drive past at one point.
Eventually we reached the river on the southwest side of the city, where the sand fishers operated. This area was also used as the shipyard for repairing and building boats used by the sand fishers. they literally would take the boats far up river and fill them with sand, then return to have the sand offloaded. Women would fill large buckets with 10-20lbs of wet sand from a boat, and haul it up the river bank to dump it in a pile. then men would use small shovels to load the pile of sand into a large dump truck, which would haul it away for sale. this happens for 13 hours/day. there were easily dozens of boats, each with 8-12 women hauling sand away, stretching for a kilometer down the river bank. there was 'daycare' for the women's kids in a small area beside the sand piles. there were small tents where the boss men sat in the shade to observe.
Next we drove to the central market. its a small tent city, absolutely packed with people & vehicles. we wandered around for a while, despite the high humidity, heat & dense crowds. Afterwards we went to the old, colonial era railway station which once linked Bamako with the capitol of its neighbor to the west, Senegal. the train cars still sit on the tracks, but its essentially abandoned now.
After that was lunch, through some wretched traffic. then back to the hotel to rest a bit before trekking down to the airport for our flight to Burkina Faso. on the drive to the airport, the car broke down. it simply died, and would not start again. apparently it ran out of fuel, and after running down the street to fetch a fuel can, we were moving again.
we arrived at the airport at 4:30pm for our 19:40 flight, and of course, the ticket counter hadn't opened yet. the counter finally opened at 17:45, and we got our boarding passes without too much trouble. Emigration & security were ridiculous. no one spoke english much, yet got annoyed when we couldn't understand their heavily accented, broken English. also, security insisted on hand inspecting all of our bags, and removing shoes. they also attempted to joke that we couldn't board the flight because we didn't speak Bombara. the terminal has 9 gates, and just one sad food stand.
thankfully the flight boarded & departed on time, and was uneventful, and we arrived in Ouagadougou just before 9pm.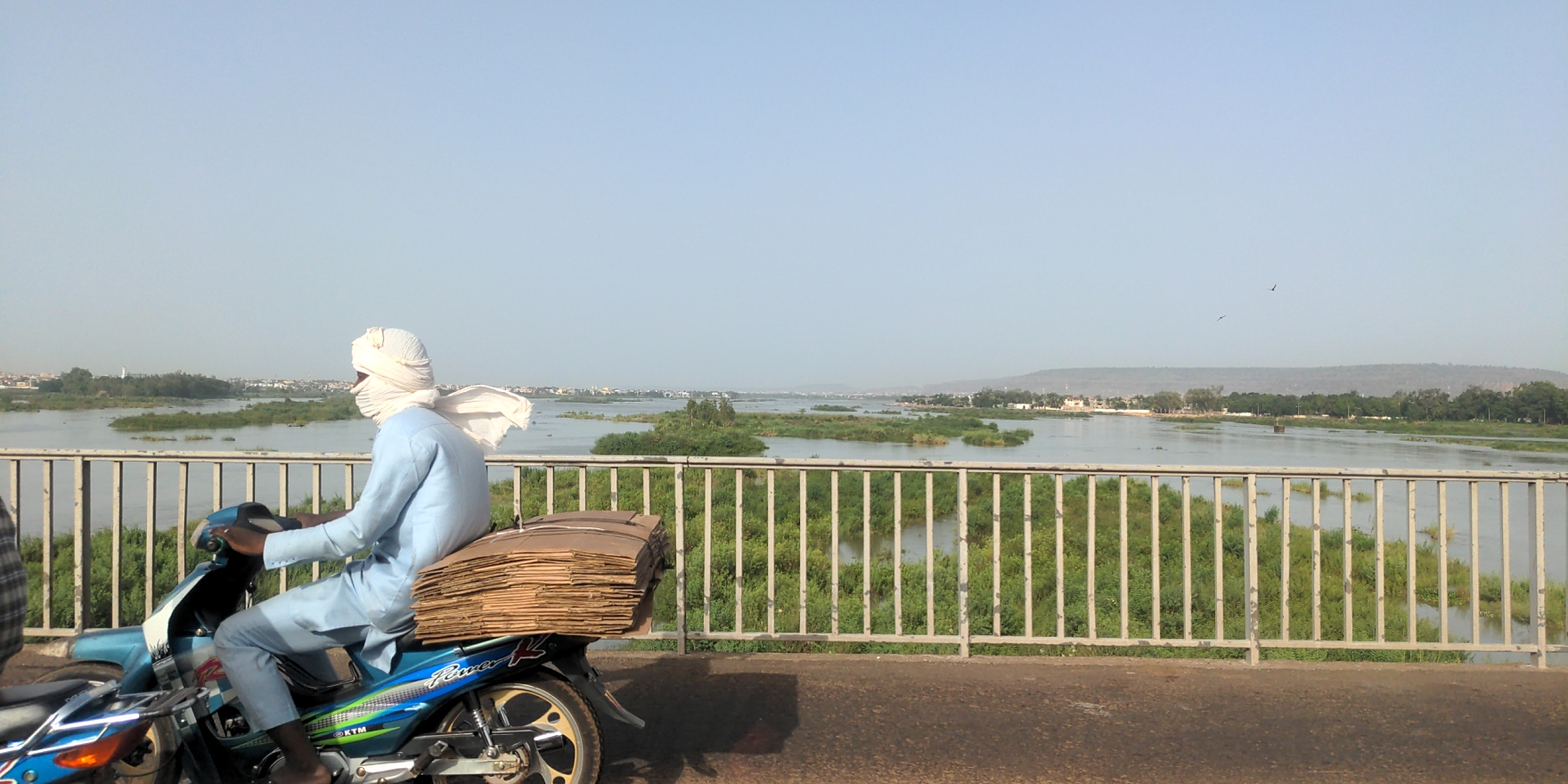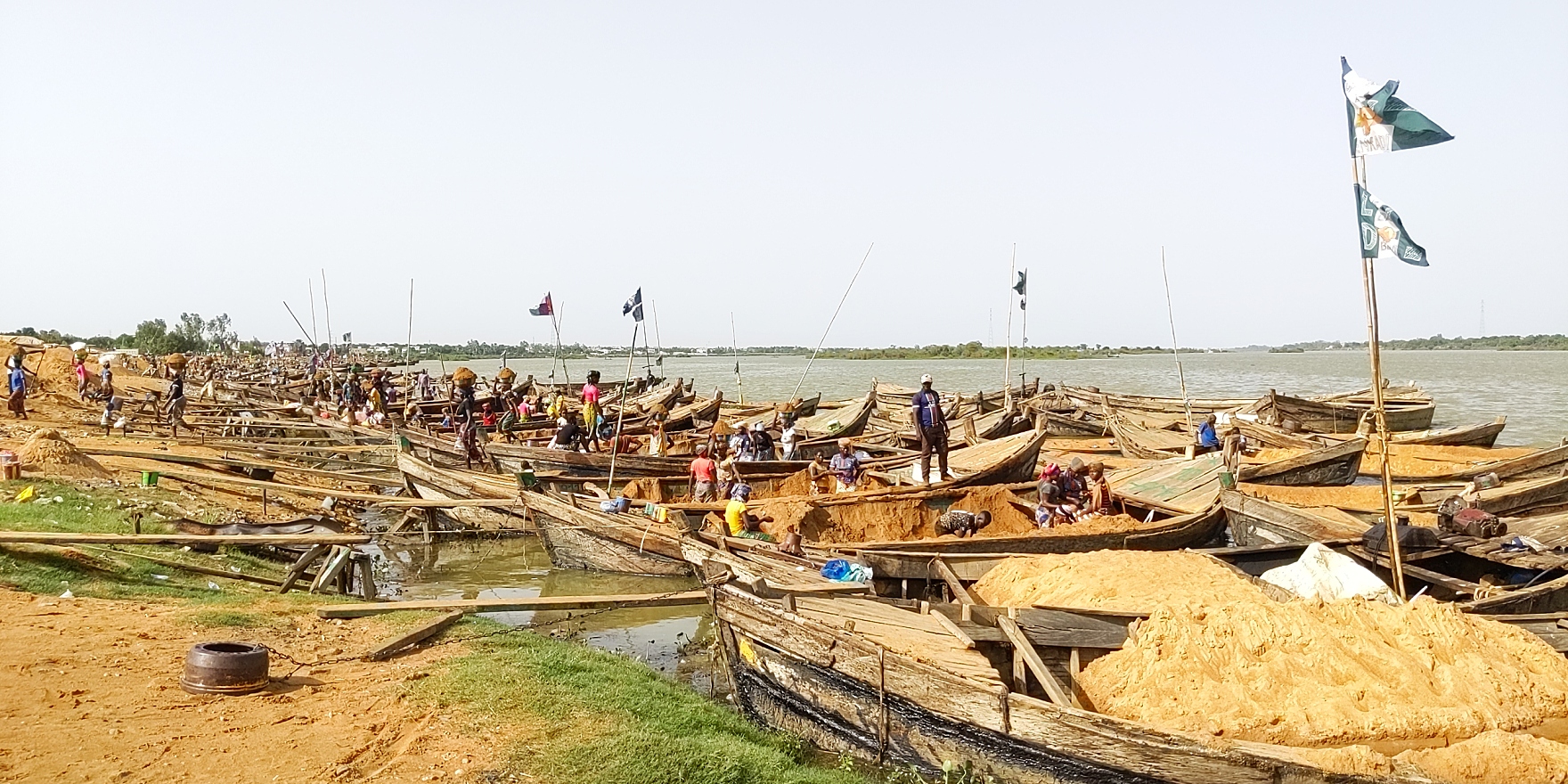 Day 6
We woke before 6am, because the AC didn't work well and it was warm. Last night the hotel claimed breakfast started at 6am, but there was nothing. Our driver & guide met us at 7am, and we headed out. first stop was breakfast at a patisserie. then an ATM for cash, and finally the COVID19 test. the test center was ridiculously inefficient. first there was the line to pay for the test, which took about 20 minutes for a single person queue. next was the line to enter the data into the computer, which had 4 people, but was super slow, and took another hour. finally there was the actual test which had no line, because it was much faster than the previous step. it was a super lazy tongue swab. we didn't get out until nearly 10am.
After that we started the 365km drive to Bobo-Dioulasso. It was slow traffic initially until we got out of Ouagadougou. The road was largely in good condition, but every tiny town had huge speed bumps at both ends. Much of the scenery was similar to Mali, although it seemed greener & wetter. However it seemed less developed, with mud brick homes, and thatched roofs in many places. Lots of women out in the fields working the farms.
We stopped for lunch just before 1pm in Bororo. We were served rice, bits of mystery fish (with random bones & scales) and cooked greens. it was about as good as it sounds. when I inquired about a toilet, our guide commented that it wasn't clean. it was basically a shower stall, but was far from the worst toilet i have ever seen.
The remainder of the drive went ok, and we arrived in Bobo just before 4pm. Our fist stop was the old, original mosque and the original village. We started to tour the village (where people still reside), and saw the animist section, the beer brewing area and the fetish/sacrifice sites. We also saw a woman frying up whole caterpillars as a snack, but didn't get a chance to try thrm. The storm got closer, with thunder and we opted to stop for the day rather than getting soaked. We headed to the hotel just as the downpour began, with strong winds & thunder. The hotel decided that the wifi had to be turned off whenever it rained, for reasons.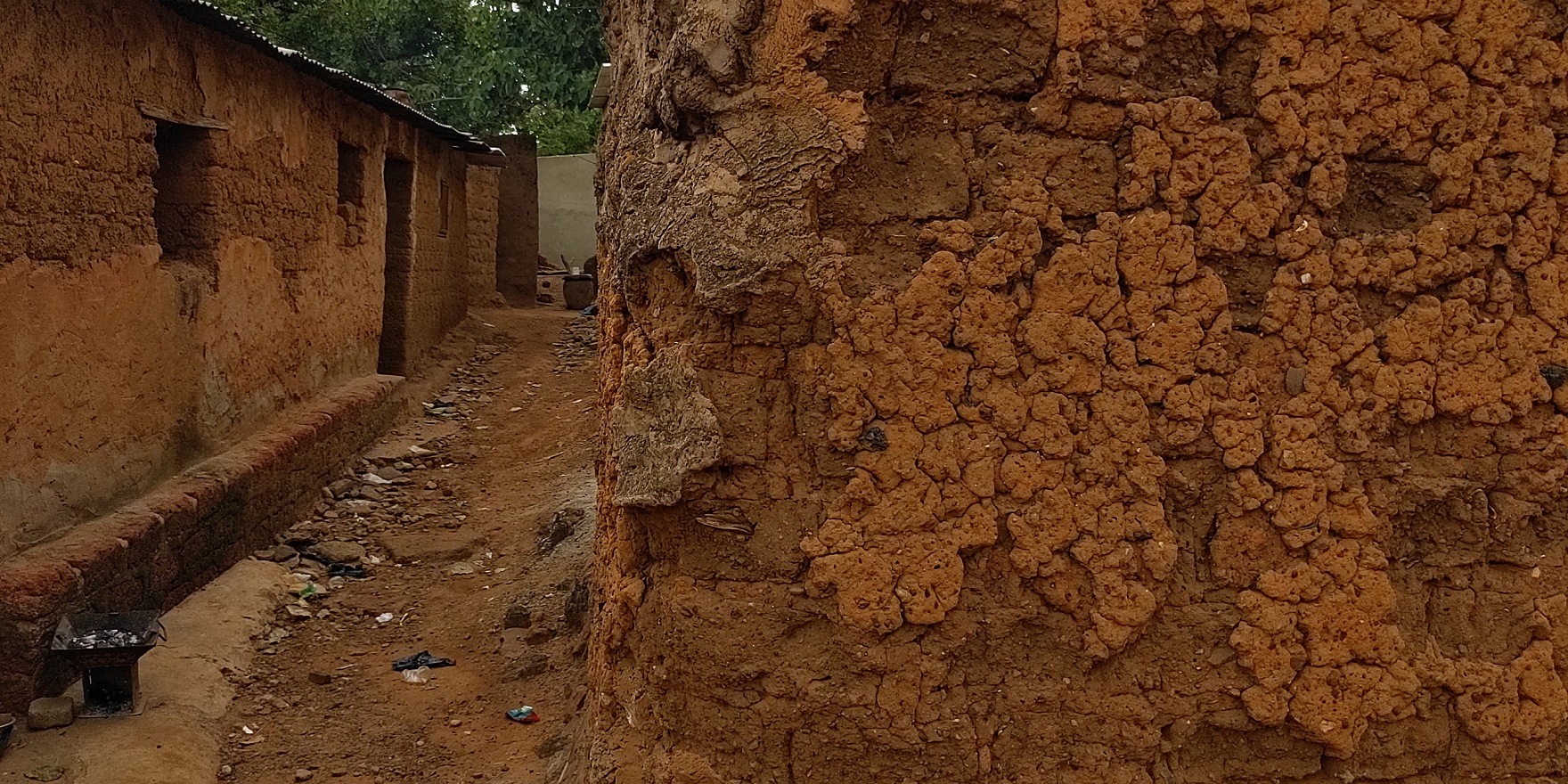 Day 7
In the middle of the night, the smoke detector started the 'dying battery' beep, and i had to find someone, and explain in French, what was going on. thankfully, i found a guy easily, and he was able to remove the entire thing from the ceiling. i woke around 6am for the day. it was still cloudy, but wasn't raining. we had breakfast, and departed at 8am for the day.
we returned to the old mosque, which dates back to the late 19th century, and toured the interior. it was a maze of narrow aisles, all whitewashed, with tree branches supporting the ceiling & roof. we also went up to the roof, which had small holes for light & ventilation. next we finished the tour of the old town, which included lots of small children playfully screaming 'toubab' (white man).
once we finished up, we drove about 85km southwest to Banfora. the rain resumed while driving. we also saw lots of double level trucks, hauling cows on the bottom, and sheep on top. The scenery also grew much more lush & verdant as we neared the Ivory Coast border region. There were a lot of sugar cane farms.
Our first stop was the Febedougou Domes, which are water and wind eroded rock formations. it looked very similar to the Bungle Bungles in Australia, only with more trees and fewer people (we were the only ones visiting). I also climbed near the top of the formation for great views. Next we drove a bit further and parked to hike up to Karfiguela Falls. The trail passed through dense jungle with huge mango trees. The falls were nice, as they crashed down the cliff. There was also a stairway to the top of the falls, where another set of falls was a bit further up the river. The sun started to break through at this point.
For lunch, we went to McDonald's. No, not the burger chain, a sorta copycat place. it was actually pretty good, although we didn't get burgers. We had plantains, couscous with chicken & tomato onion sauce, and beef kebabs.
After lunch we got on a boat to see hippos on Lake Tengrela. It was a small pirogue, which could only hold 7 people max. A guy paddled out across the lake until we spotted a few hippos. We watched them for a bit, until they started swimming towards us.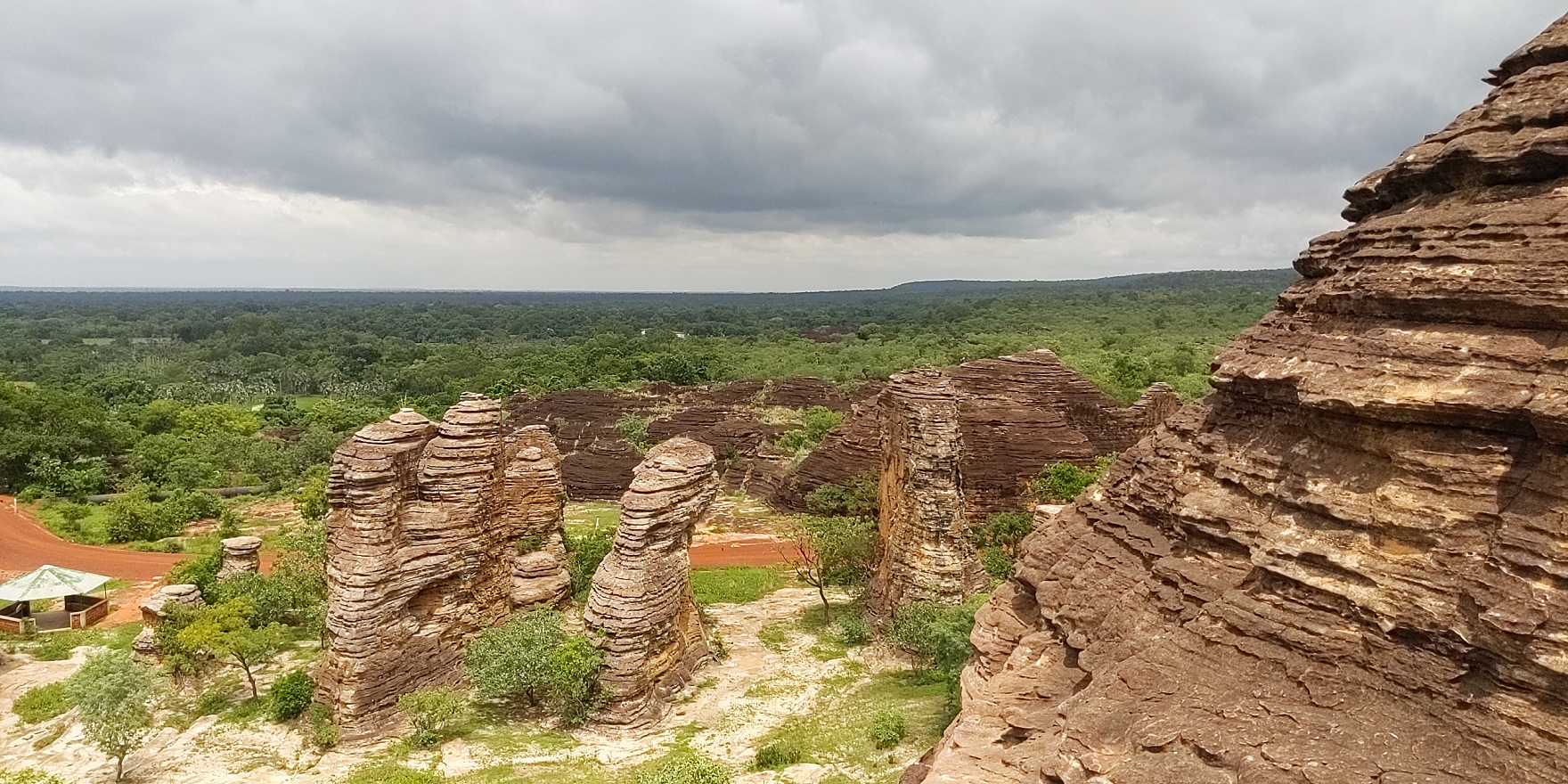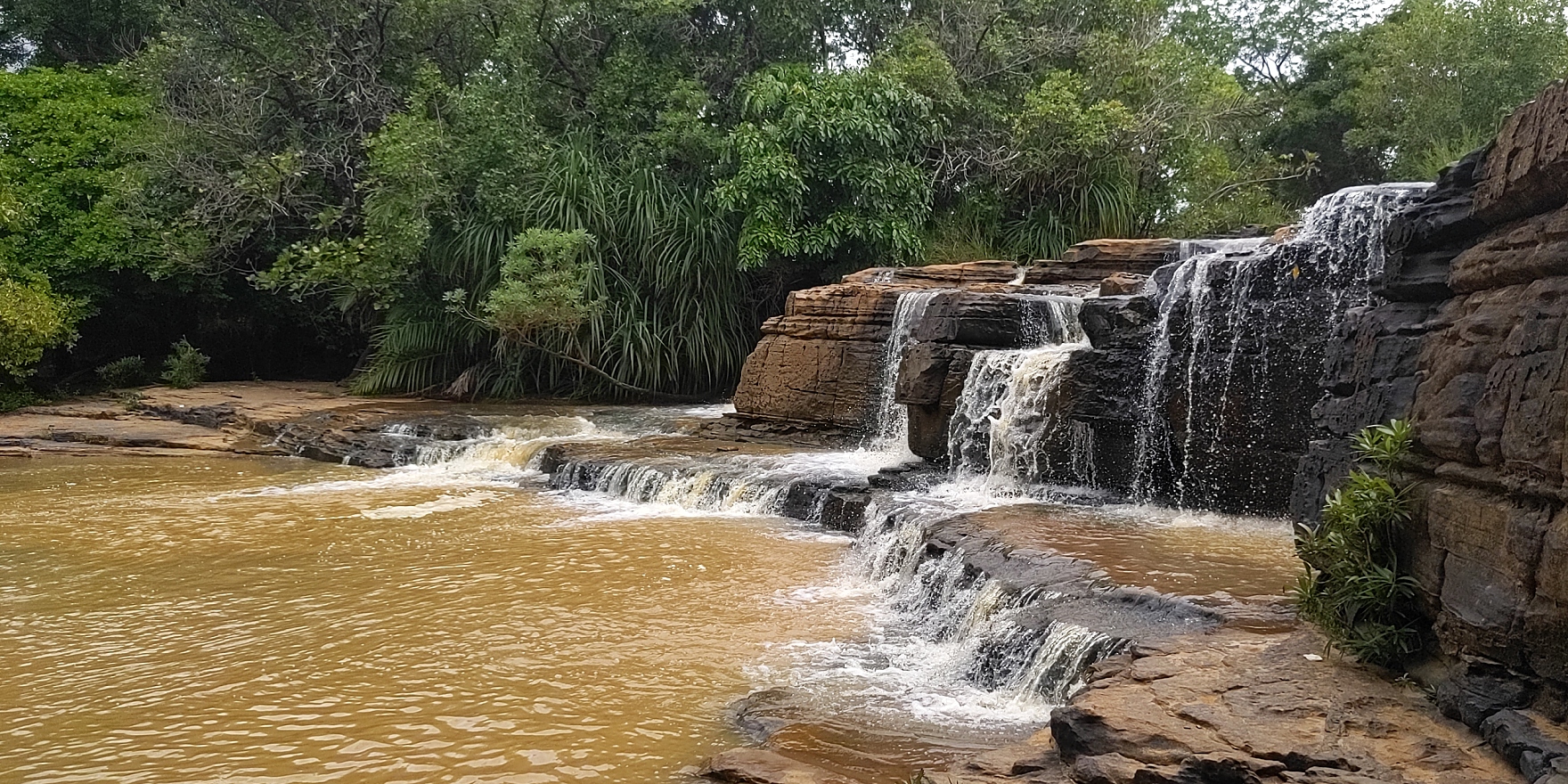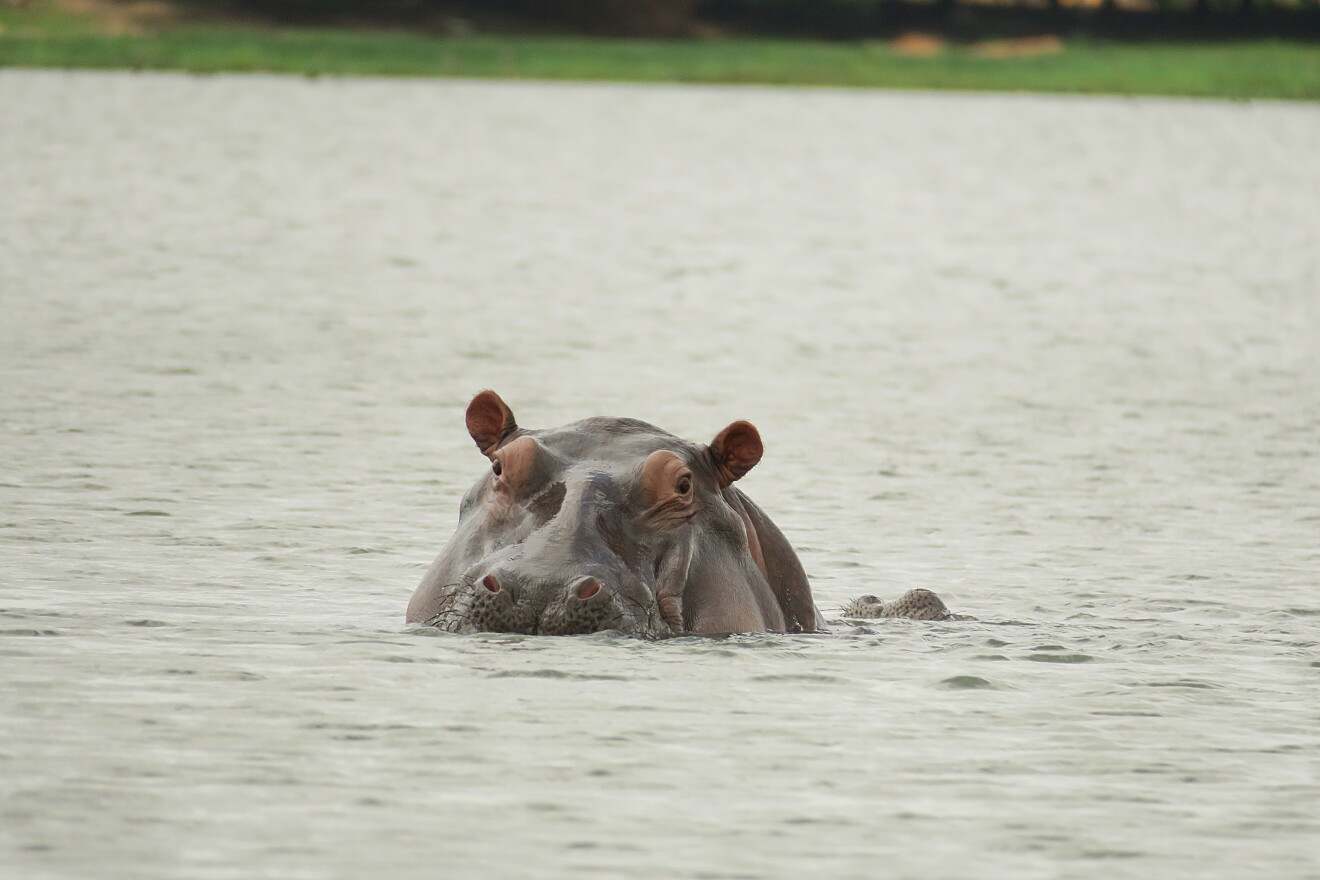 Day 8
We were awake for the day at 6:00. Breakfast was another vegetable omelette (with carrot slices because why not?), and we were on the road back towards Ouagadougou by 8am. As it was a 5-6 hour drive, I played some license plate bingo. I ended up seeing trucks from Ivory Coast & Ghana.
Around noon we stopped to get lunch at a small local place (4 tables, all outside). They had tou, which is like polenta, only made with ground millet. It came with fish & greens in a peanut sauce. It was kinda good, although swarms of insects were everywhere.
We drove for a few more hours to the village of Bazoule, to see their 'sacred' crocodiles. They were supposedly more docile and would tolerate human contact. In reality, the 90 year old female was too old & slow to attack, and that was the only one that was safe to approach & touch. There were about a dozen others there. Then a guy tied a live chicken to a stick, and dangled it above one of the younger, spritely crocs. It leaped into the air, grabbing the chicken and swallowing it whole.
After that we finished the drive into Ouagadougou. We stopped off at the airport to pick up our COVID19 tests, then finished at the hotel for the night.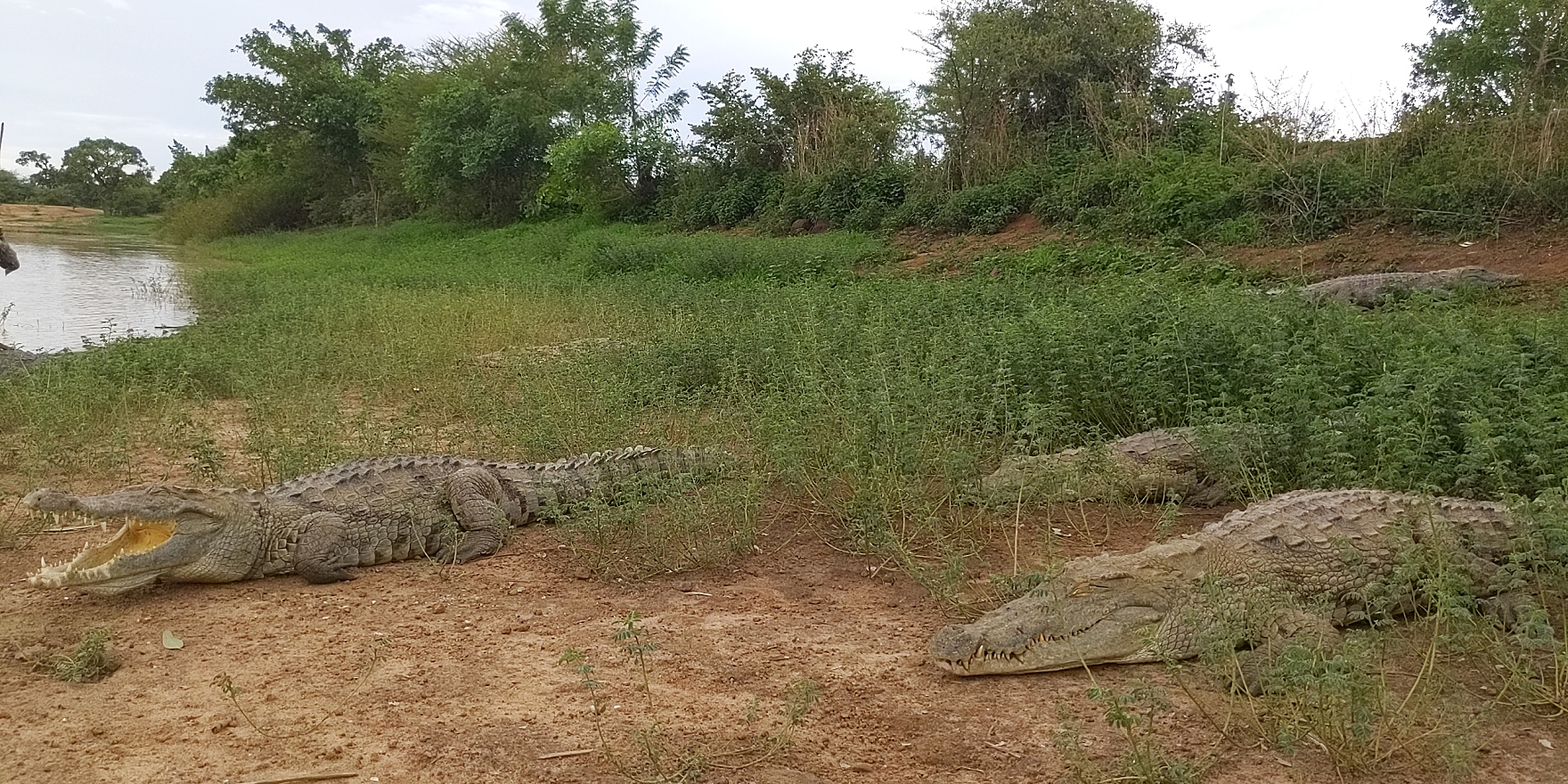 Day 9
Yesterday, when we arrived at the hotel, they told us breakfast started st 6am. This morning, we wandered outside at 6:10am, and found no one & nothing. After waiting in the humid air for a few minutes, we gave up and returned to our room to wait until 7am for our ride to the airport. At 6:40am, a guy knocked on our door and said something in French, that we assumed meant that our driver had arrived. We grabbed our bags, wandered outside to find someone maybe making breakfast, and no driver. they gave us tea & a baguette, and nothing else. At nearly 7am, they started to grab eggs, and we told them not to bother. Our driver showed up a few minutes later and we departed for the airport.
Unsurprisingly, the airport was a mess. First was a dude checking ID to drive through the gate. Then another guy checking ID again to enter the terminal. Once inside, it was unclear where to go next. It seemed like everyone was filling out a health form, so we did that, but when we handed it to the woman, she seemed to say that we didn't need it. So we got in the next line to get the departure card, and waited in a line for boarding passes. At the counter we learned that we were in the (unmarked) Asky Air line, and not the Burkina Air line that we needed. We changed lines, and were told that we had to wait until 8am to get boarding passes for our flight to Lome, Togo. So we got out of line and waited until 8am.
When we got back in line a guy insisted that it was still too early. We pointed at the woman who told us 8am, and then he changed his excuse and claimed we were missing a visa for Togo. we told him it had visa-on-arrival, and he was confused and had us step aside for several minutes. Finally he permitted us to get back in line, and we got our boarding passes.
Next was the line for emigration, which took 25 minutes, but was thankfully drama-free. After that was security, where they freaked out over my bag, and pulled nearly everything out, searching for something. Eventually we learned that my electric shaver was somehow forbidden in the plane. they kept suggesting that I put it in a bag and check the bag. After a lot of back & forth and me asking 'ce bon?' (everything is good?) a few times, the guy eventually gave up, and let us go.
There were 2 gates, both of which were bus gates. Our flight didn't start boarding until 10 minutes after the departure time. Then yet another line, where they checked boarding passes and ID yet again. Then the 5 second bus trip to the plane. Then another boarding pass check, and finally we got on the plane. We took off 40 minutes late for the 65 minute flight.
The flight landed late as well, and then we had to ride a bus from their old terminal, to the new one. When we entered the terminal we spent 2 hours waiting in lines. First was a temperature. Next was yellow fever card. Then a very long wait to get the visa, which involved 3 separate lines. After that was the COVID19 test, which was also 2 lines (throat, not nose). Finally the line to exit the terminal.
We found the guide easily, and then went to the hotel, which was not far from the airport in Lome. After resting for a couple hours, we headed out with our guide to walk to the fetish market. It took about 20 minutes to walk there, and we passed through a bustling neighborhood with people selling all sorts of stuff. The fetish market was interesting, with many stands selling desiccated animals carcasses. We saw everything from monkey skulls to birds to chameleons. the guide also explained the meaning behind everything, and we met with a shaman to watch him perform a ceremony. He also attempted to sell us a fetish, which we declined.
Afterwards, we rode moto-taxis down to the waterfront, where there were huge beaches with huge cargo ships out on the Atlantic off in the distance. there were also beach cafes. it was close to sunset at that point, so we rode back to the hotel (which overlooks a lagoon), and had a few beers.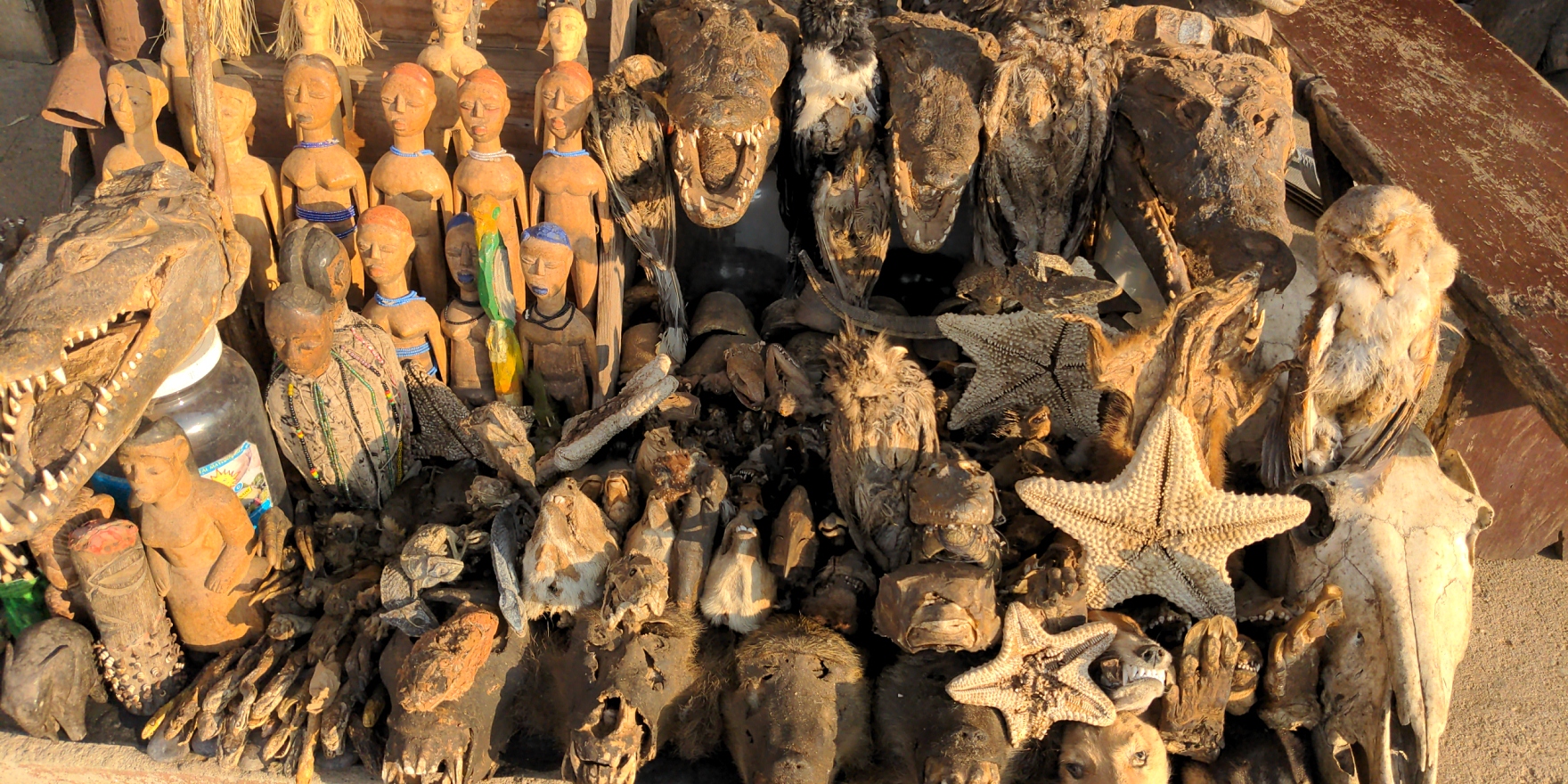 All of the trip photos are posted HERE.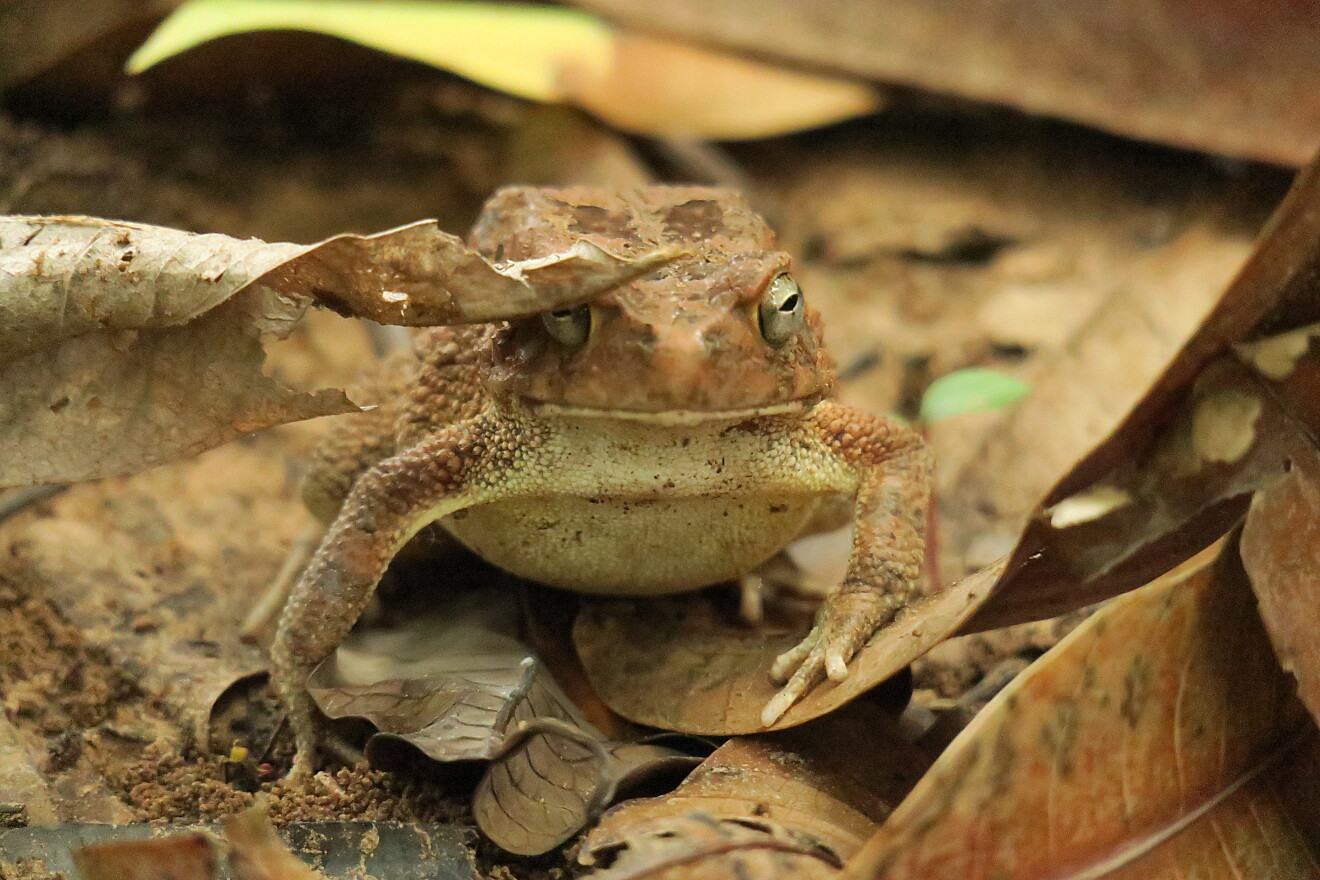 This post is part 1 of the "west-africa-2021" series: