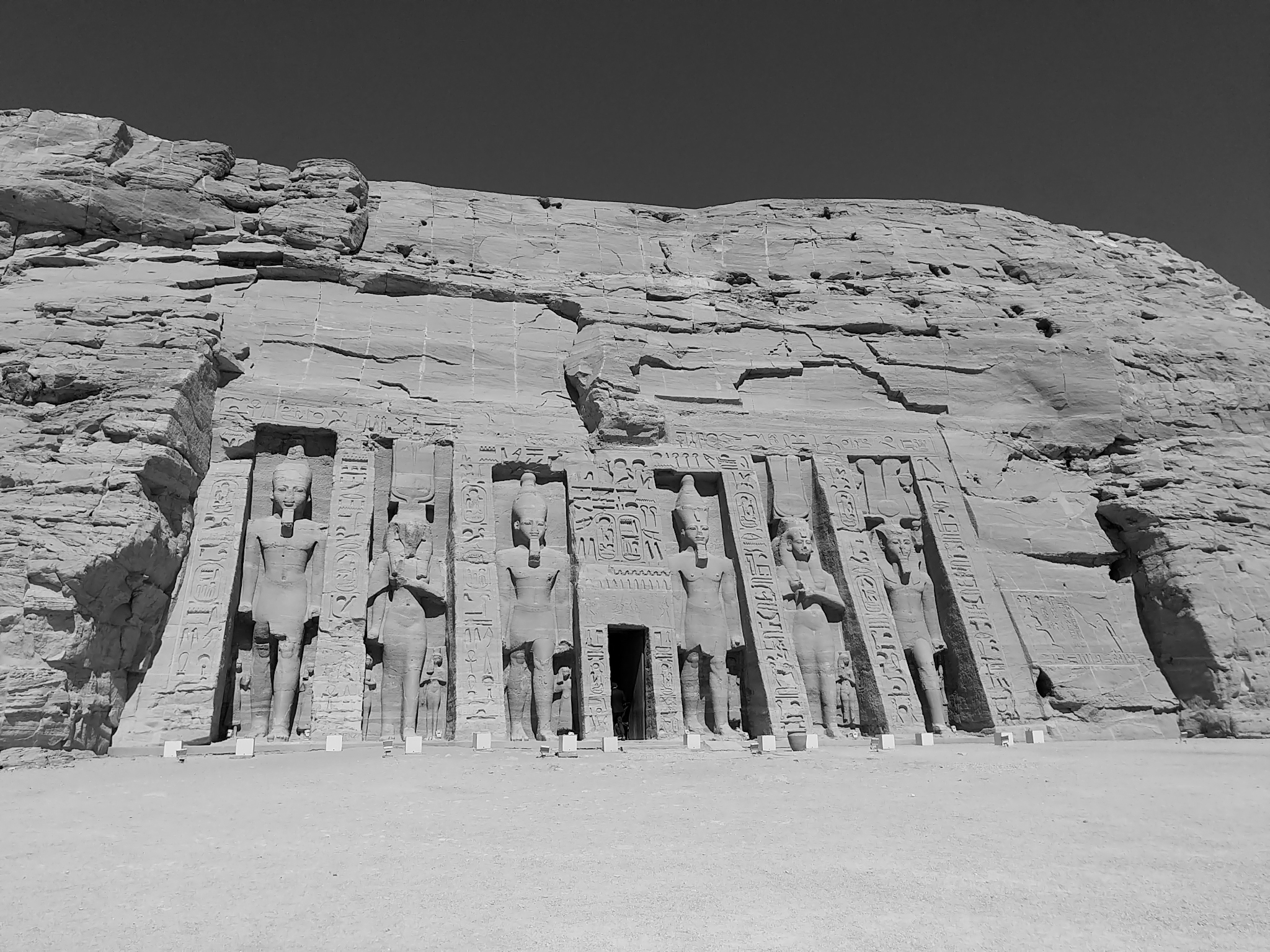 23:20 Friday, March 03 2021
Afghanistan & Egypt (2/2)
This post is part 2 of the "afghanistan-egypt-2021" series: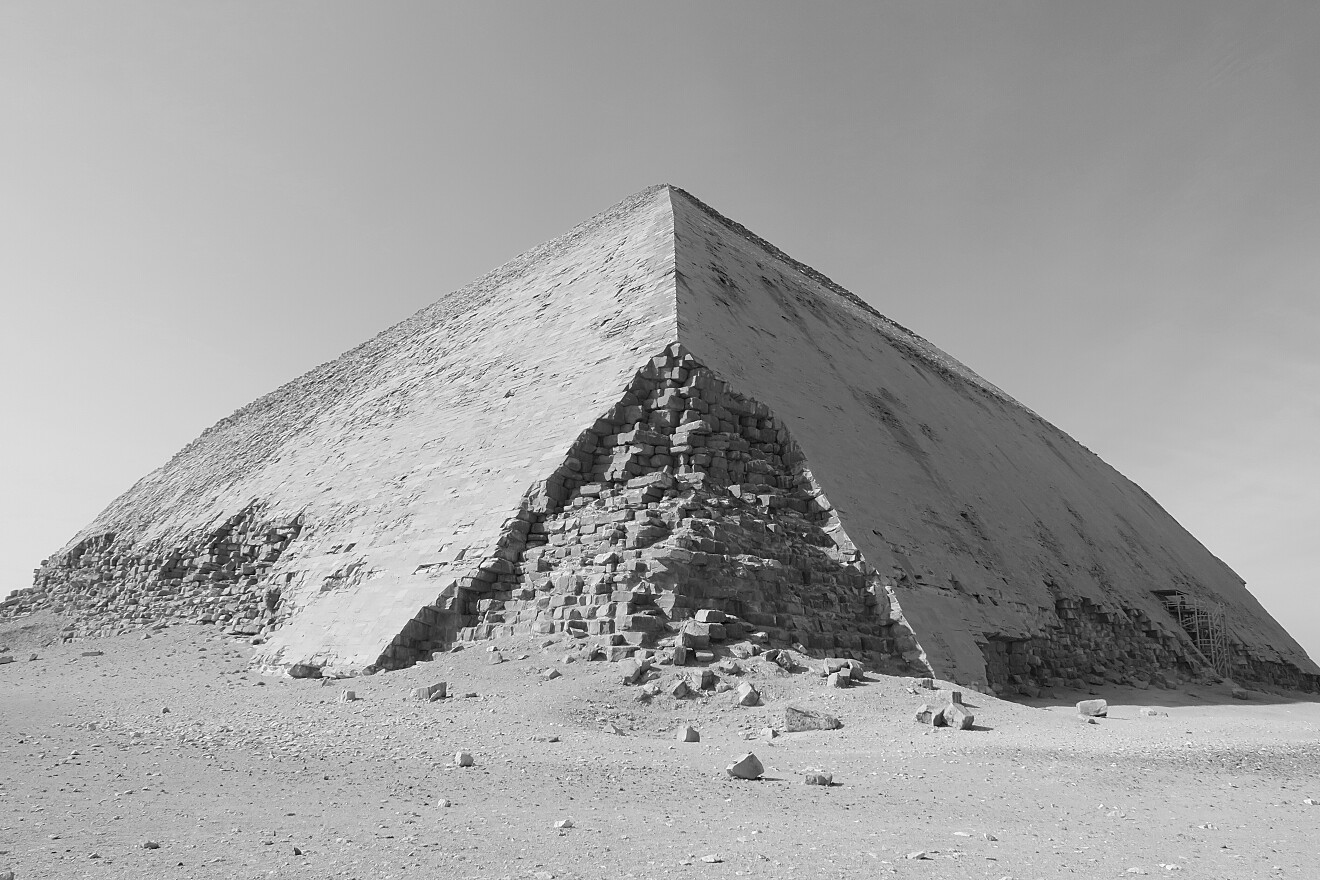 Day 9
We woke at 5:15am for our flight to Cairo (via dubai). We had to clear way too many security and document checks to reach the plane. We pushed back on time, but then sat on the runway for no reason for nearly 20 minutes. the flight was easily 90% empty. We landed in dubai on time. It took about 30 minutes to change terminals for our flight to Cairo. We got lunch, and our gate had opened. We boarded early, and again the flight (on a huge A380) was 80% empty. We took off on time, and landed 20 minutes early.
We breezed through a COVID19 test check and immigration. There was some confusion about where to catch the Uber. After walking around outside for 15 minutes we figured it out. The uber ride to the Fairmont Nile City hotel took about 40 minutes. Our room is very nice, overlooking the Nile from the 9th floor.
Day 10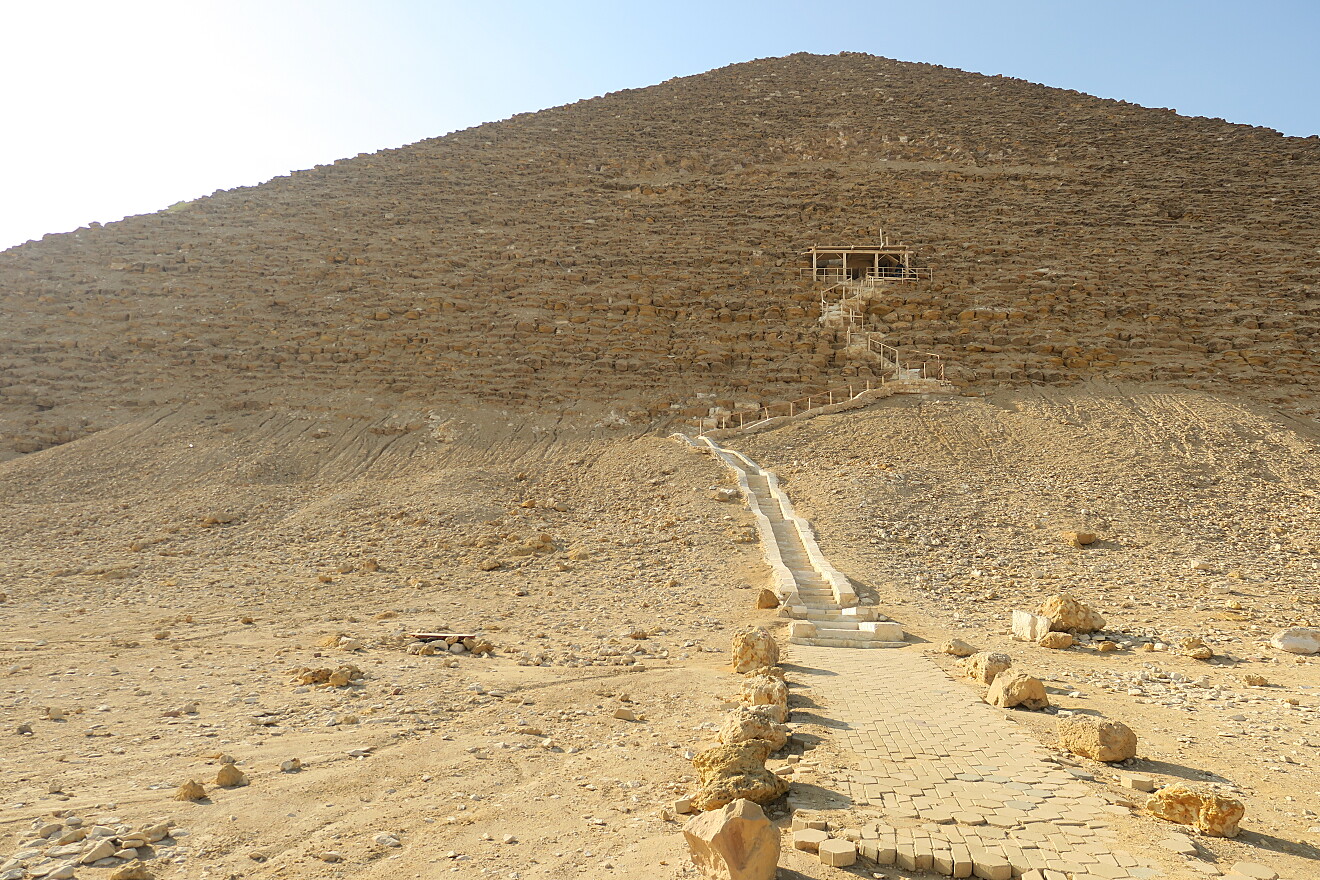 We met our guide in the hotel lobby at 7:30am. We drove south west out of Cairo to start off by visiting the Dahshur pyramids, which are 40km south of the city. We arrived before 9am, and had the entire site to ourselves. We climbed a steep staircase on the exterior of the pyramid to the entrance tunnel. Then there was a steep ramp descending into the interior, which was barely one meter tall. As a result we walked bent over the entire way down. At the bottom, there were three rooms, each with a sharply vaulted stone ceiling. Once we exited back the way we came, we drove a short distance to see the 'broken' pyramid, which had a different angle of inclination for the upper third. Our guide discouraged us from entering, as the tunnel was extremely long & steep. Instead we walked the perimeter. Afterwards we got back in the car for a half hour drive north to the Saqqara pyramid group.
This site had other tourists, but was not too crowded. In addition to the pyramid, there were extensive other ruins, including a huge structure full of carved art & hieroglyphs. They were spectacular. We also descended into a tomb which had more carvings.
Afterwards we drove back towards Cairo to visit the Giza pyramids. However, it was midday, and we made a lunch stop first. Just after arriving, as i was walking to the washroom to wash my hands, i missed a small step, tripped, and managed to cut open the bottom of my right big toe. It hurt a lot but at first, i didn't realize how bad it was, but washroom attendant had a panicked look, and when i looked down at my foot, there was blood pooling in my sandal. I washed my foot in the sink, but saw a huge gash running around the bottom of my toe. I knew it was bad, and figured that i may need medical attention. We all decided to go to a clinic immediately. They saw me as soon as I arrived, and the doctor examined the wound. He felt that I needed sutures to close it up, as it was too long & deep. The pain while he worked on me was intense. He then bandaged me up, and told me to wash the wound daily, and have the sutures removed in 7-10 days. He also prescribed an anti-biotic to prevent infection. At this point, i hobbled back to the car with Denise's assistance. We decided to attempt to finish the day's itinerary, and head to the Giza pyramids.
My toe hurt, but it was manageable pain. There were definitely many more tourists, but it wasn't too crowded. I mostly viewed the pyramids from the car, as Denise and the guide explored more. We also saw the Sphinx.
Afterwards, we returned to the hotel, but traffic was horrible, and it took 90 minutes.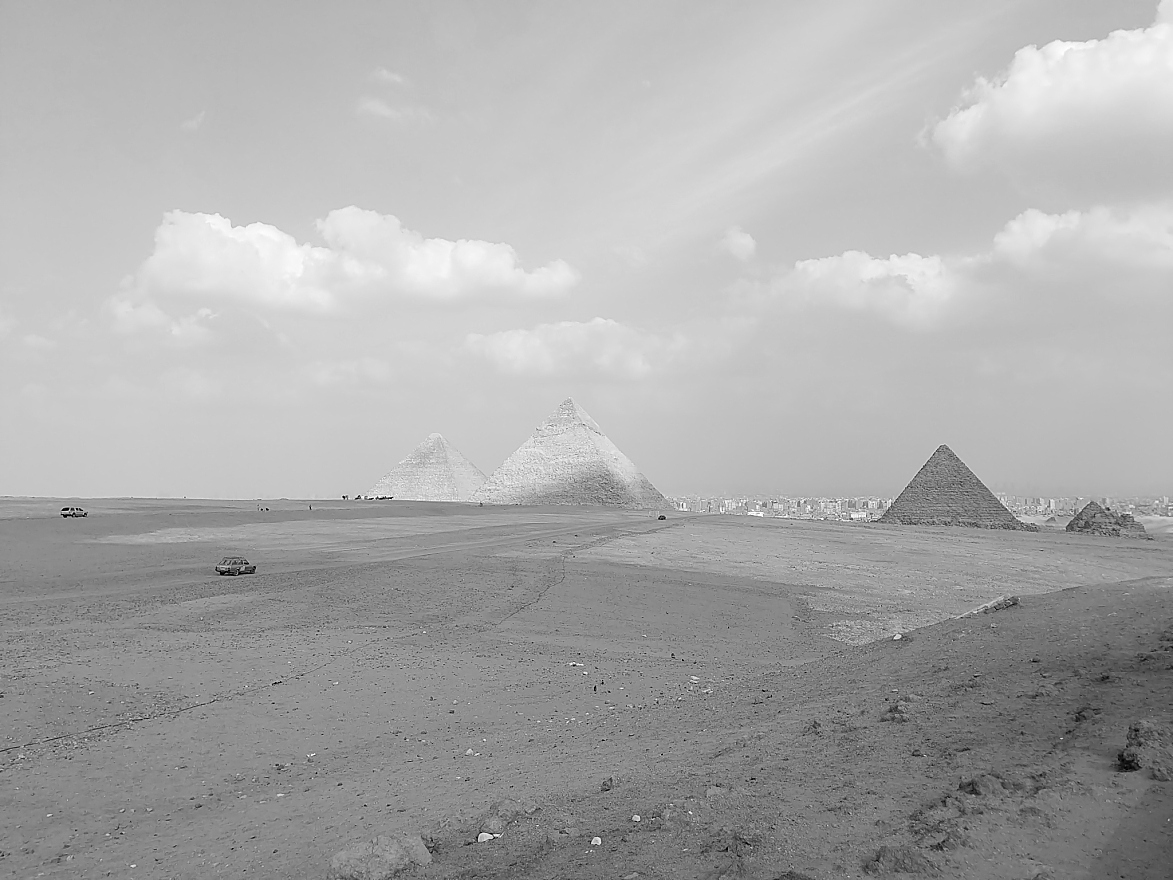 Day 11
My toe stopped hurting during the night and I slept well. We met our guide again at 8:30am, and we headed to the original (old) Egyptian Museum first. We spent over 2 hours and saw so many amazing artifacts. Initially it was fairly empty, but filled with large Russian tour groups after a while.
Afterwards we drove to the 'old cairo' neighborhood to see the Coptic Christian churches. We stopped at two churches during their services. Lunch was a fairly generic pre-fix meal at a touristy restaurant. Next we were supposed to visit Al Andalus Garden, but it was closed for restoration, so we wrapped up early and returned to the hotel.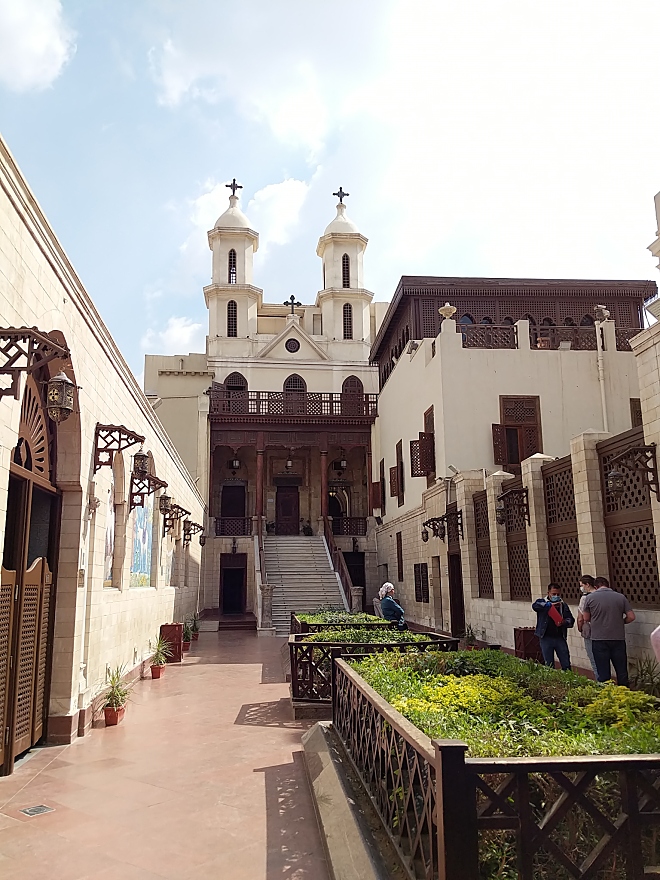 Day 12
We were awake just before 7am. We checked out of the hotel, and took Uber to Cairo's Ramses Railway Station to catch our 10am train to Luxor. The station was crowded & chaotic, with no clear signs indicating which platform we needed. Denise found a helpful station agent who guided us to the platform. We were nearly an hour early, and watched people for a while. Our train pulled in about 20 minutes early, and we found our seats. Our car was 3 across in a 1-2 configuration. The train pulled out nearly on time, but was slow going for over an hour, with several stops both at other stations and at random places. The scenery was mostly irrigated farm land with lots of date palms.
Just after noon, the train stopped between stations for no apparent reason, and sat there for an hour. The rest of the trip was long and fairly boring. We arrived in Luxor 2 hours late, and were met at the station to be taken to the hotel.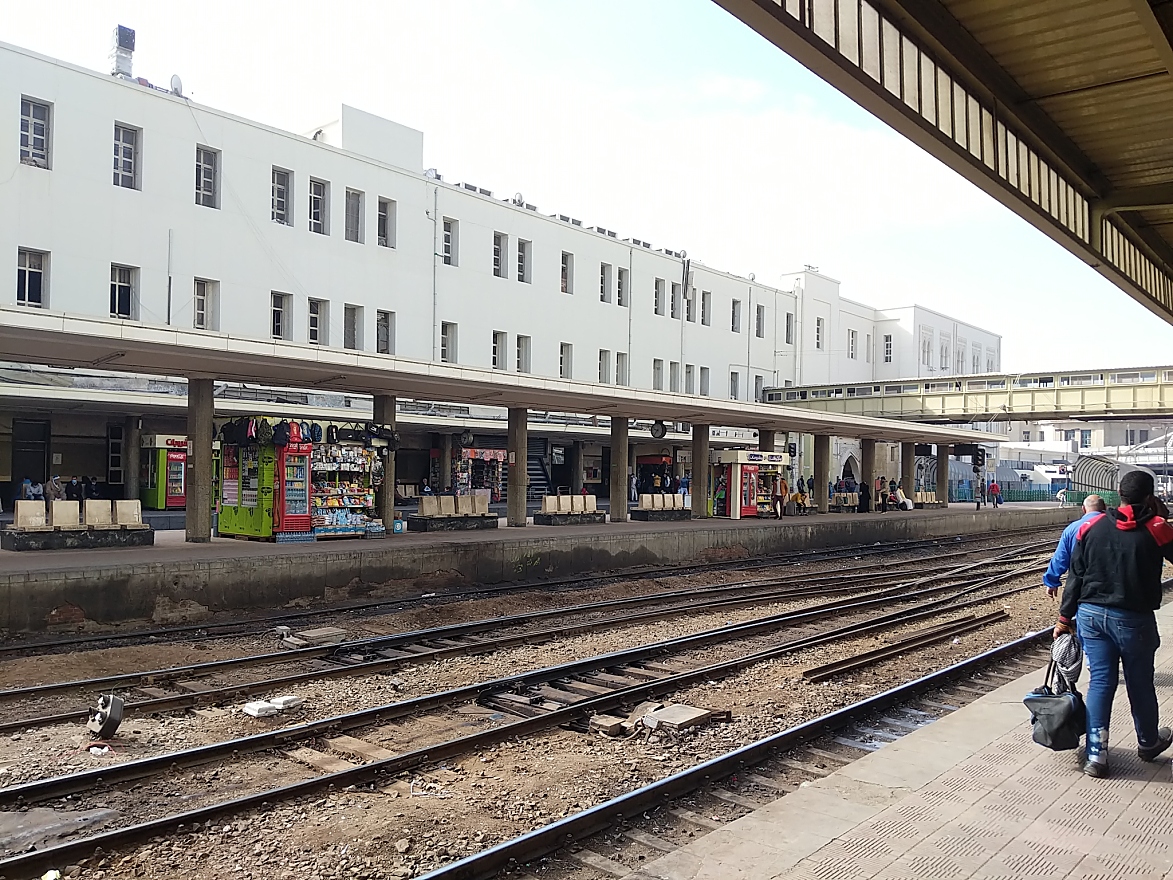 Day 13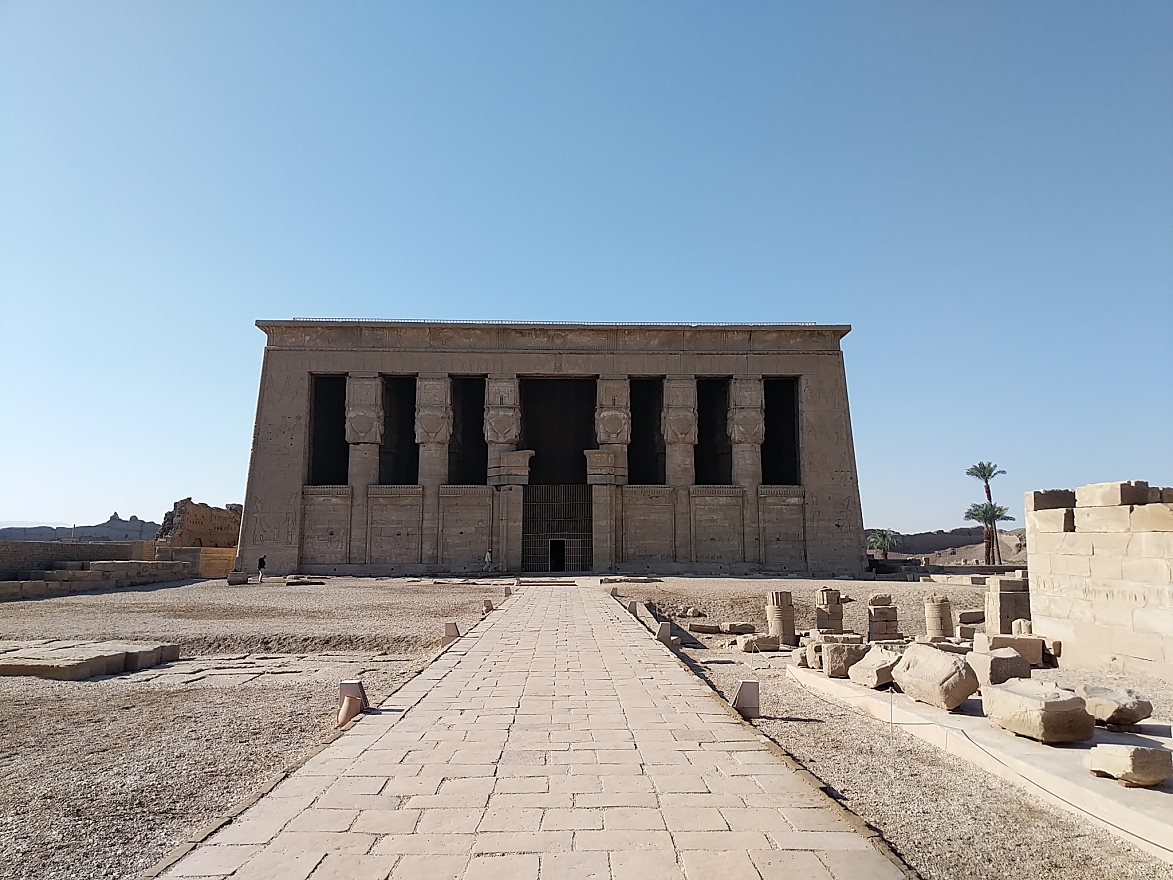 We were up for the day at 5:30am. We got a nice breakfast at the hotel and then met our guide at 7am to see the east side of Luxor. First we had an hour drive north to the Dandarra Temple. The temple was actually from the Roman era, with a fusion of Egyptian & Roman art & design features. It was absolutely stunning, with massive columns, Egyptian art carvings, and 'hidden' chambers behind stone walls & tunnels.
Afterwards, we drove back into Luxor to see the Temple of Karnak, which was a sprawling complex of massive walls, columns, obelisks and columns. It was semi crowded with large Russian tour groups. Finally we drove to the Luxor temple, which was somewhat similar, although it had some Roman era art as well.
We returned to the hotel by mid-afternoon. We enjoyed gorgeous views west across the Nile, and relaxed.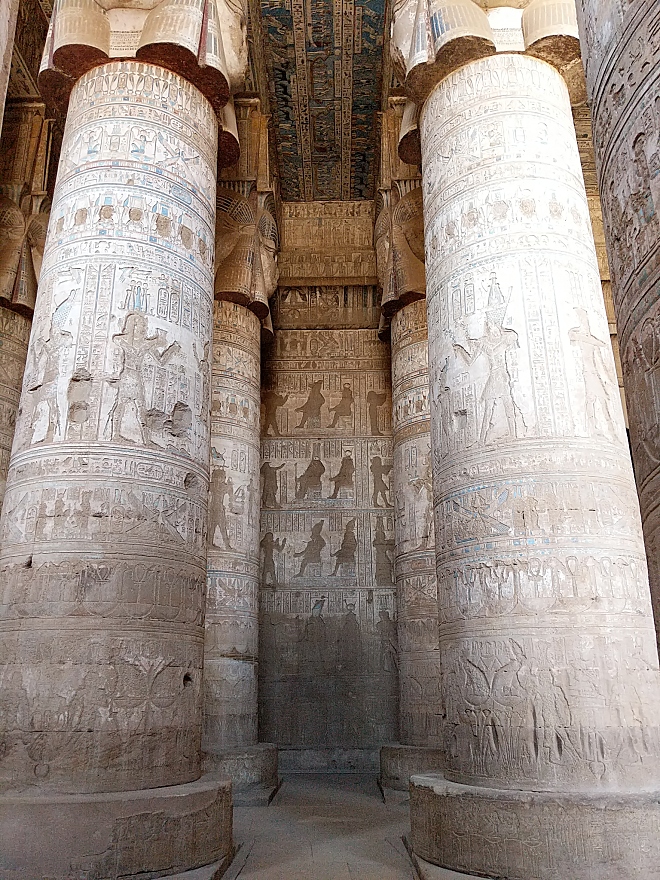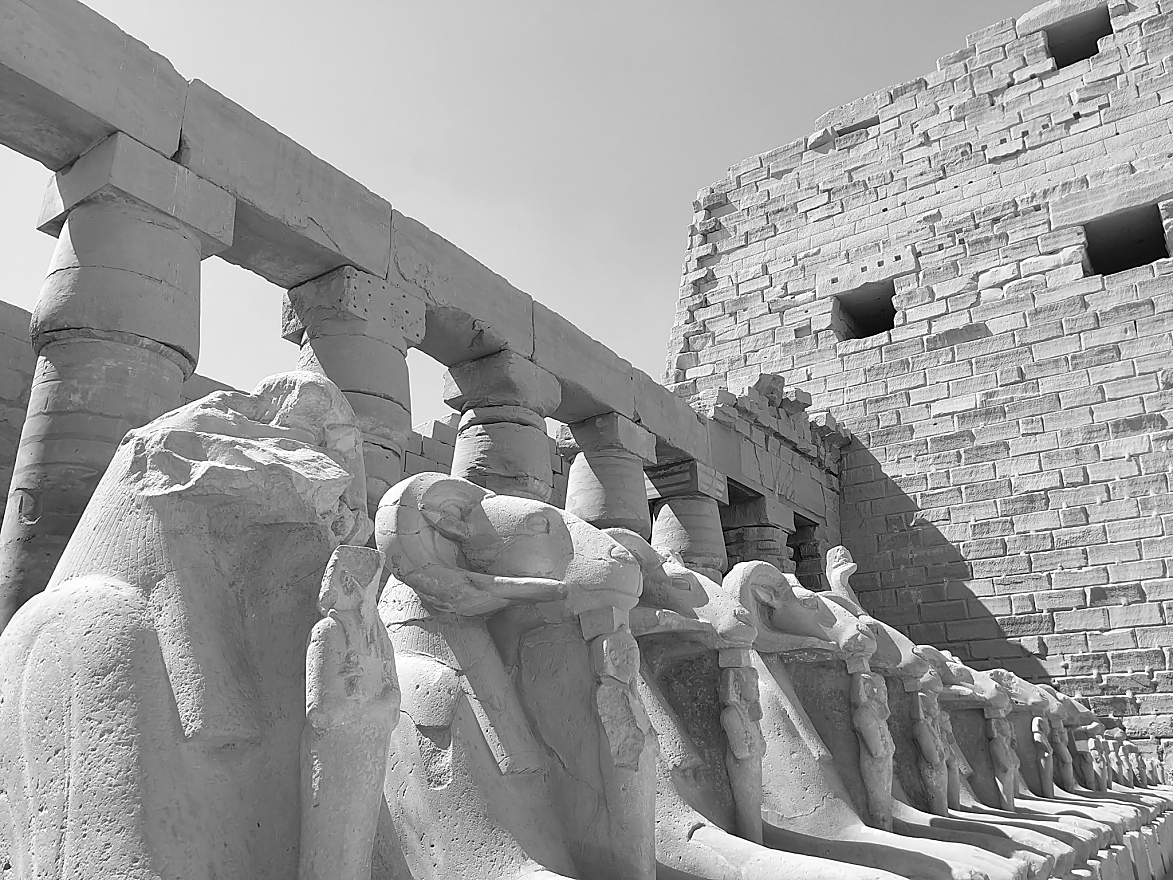 Day 14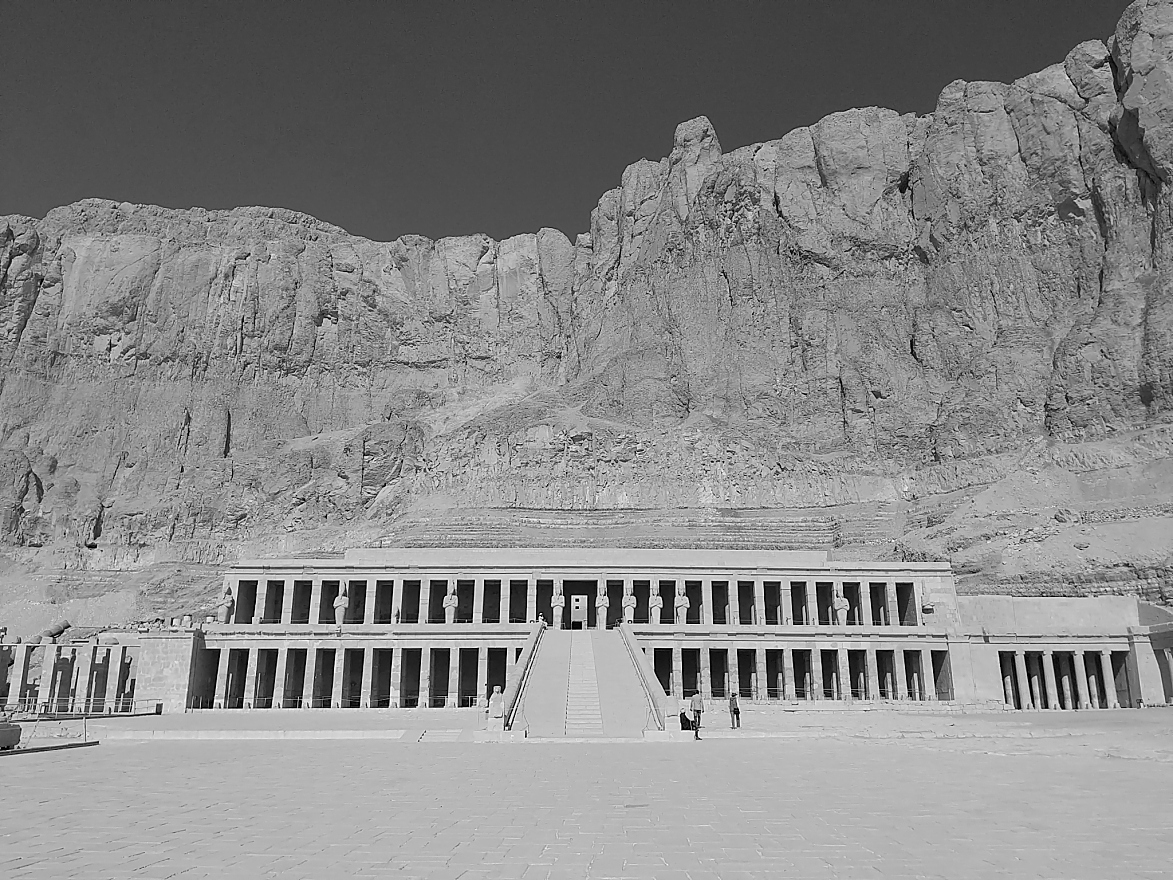 We checked out of the hotel at 7am for our last day in Luxor. We went to the major west bank (of he Nile) sites. First was the valley of the kings, which has 62 different burial tombs (including King Tutankhamun). Its more of a desert canyon than a valley though. We entered three tombs, which had lots of art & hieroglyphs on the walls & ceilings. We were the first visitors of the day, and had the entire site to ourselves. Next was Queen Hotshepsut's Temple. Its a broad 3 story temple at the back of a canyon. Its quite impressive looking from the distance. However up close there wasn't much to see. Finally, we went to the valley of the queens, which are the burial tombs of the queens. We entered 3 tombs, but they were far less impressive, with dull art.
We finished up at noon, and returned to the hotel. Just before 1pm a driver arrived to take us south to Aswan. The drive took about 4 hours. Much of the scenery was small town, with a lot of sugarcane fields. Tons of speedbumps and slow traffic accounted for much of the driving time.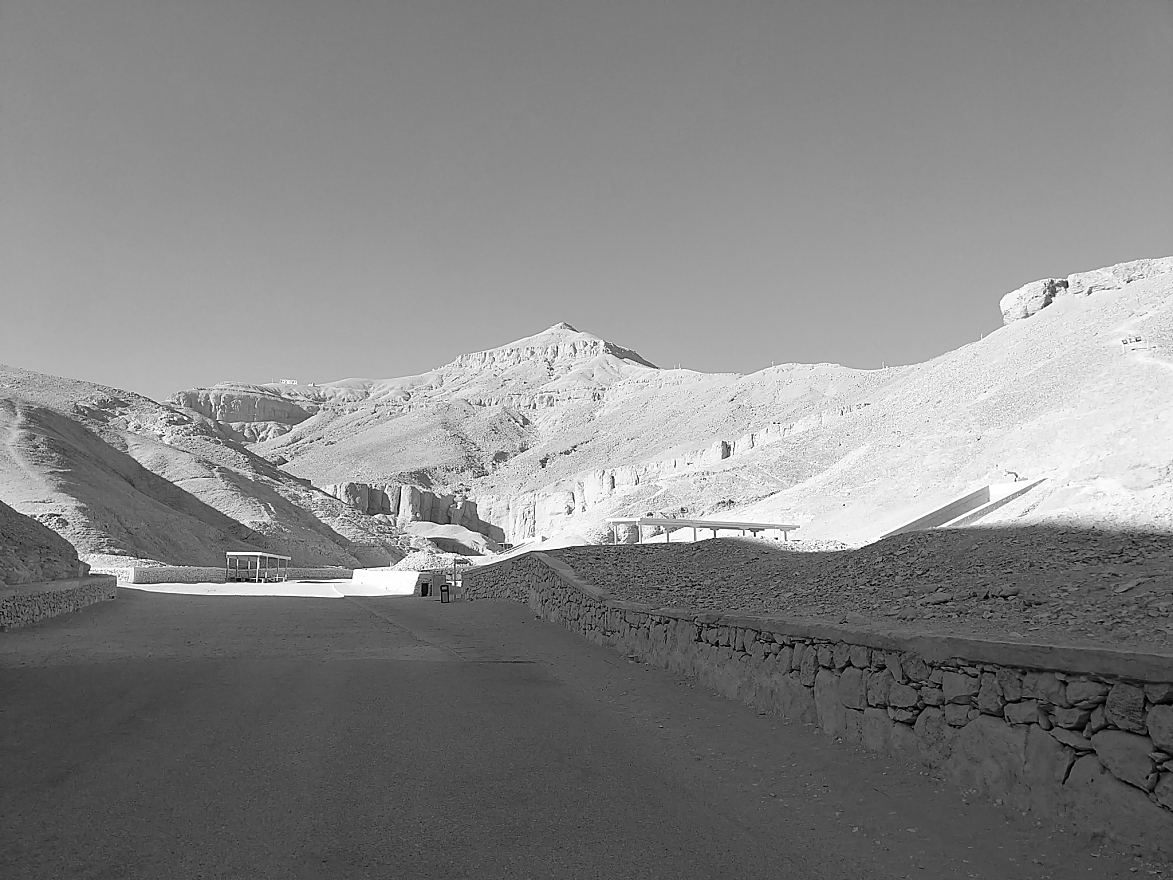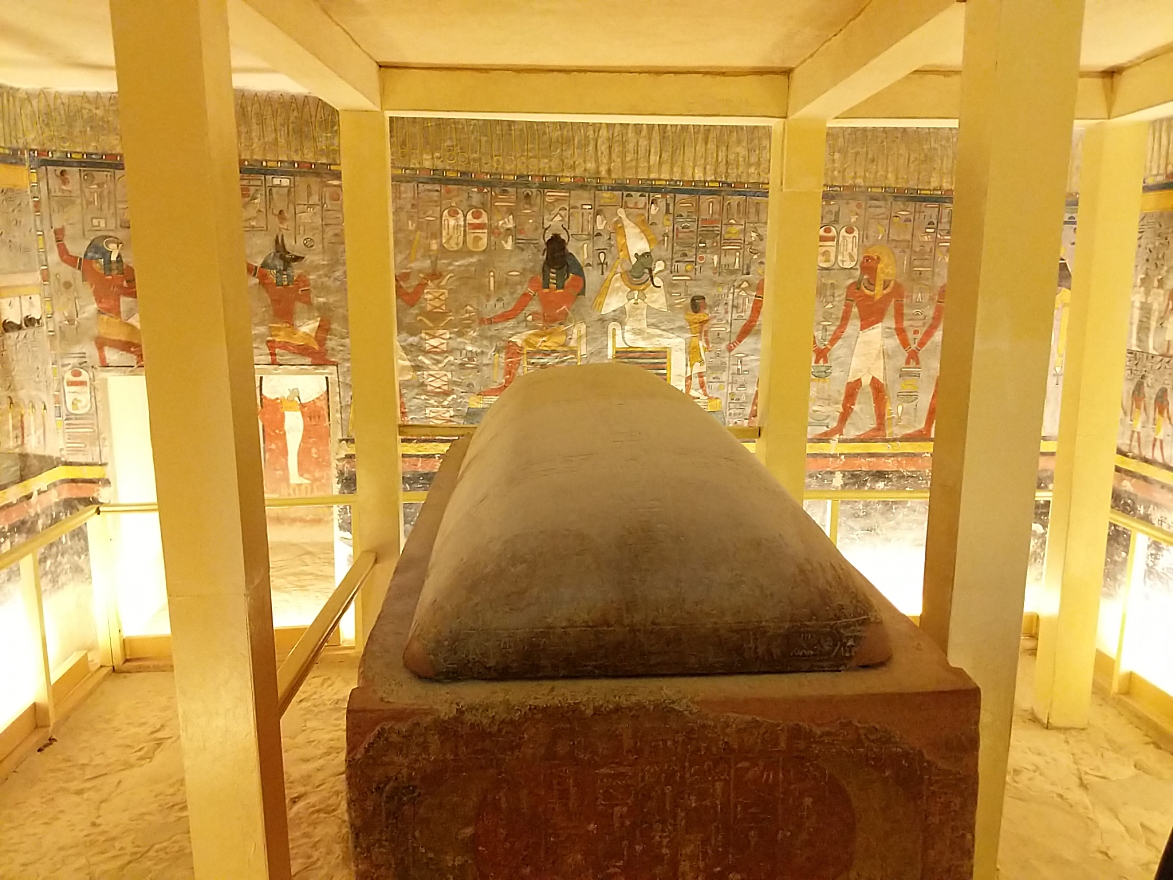 Day 15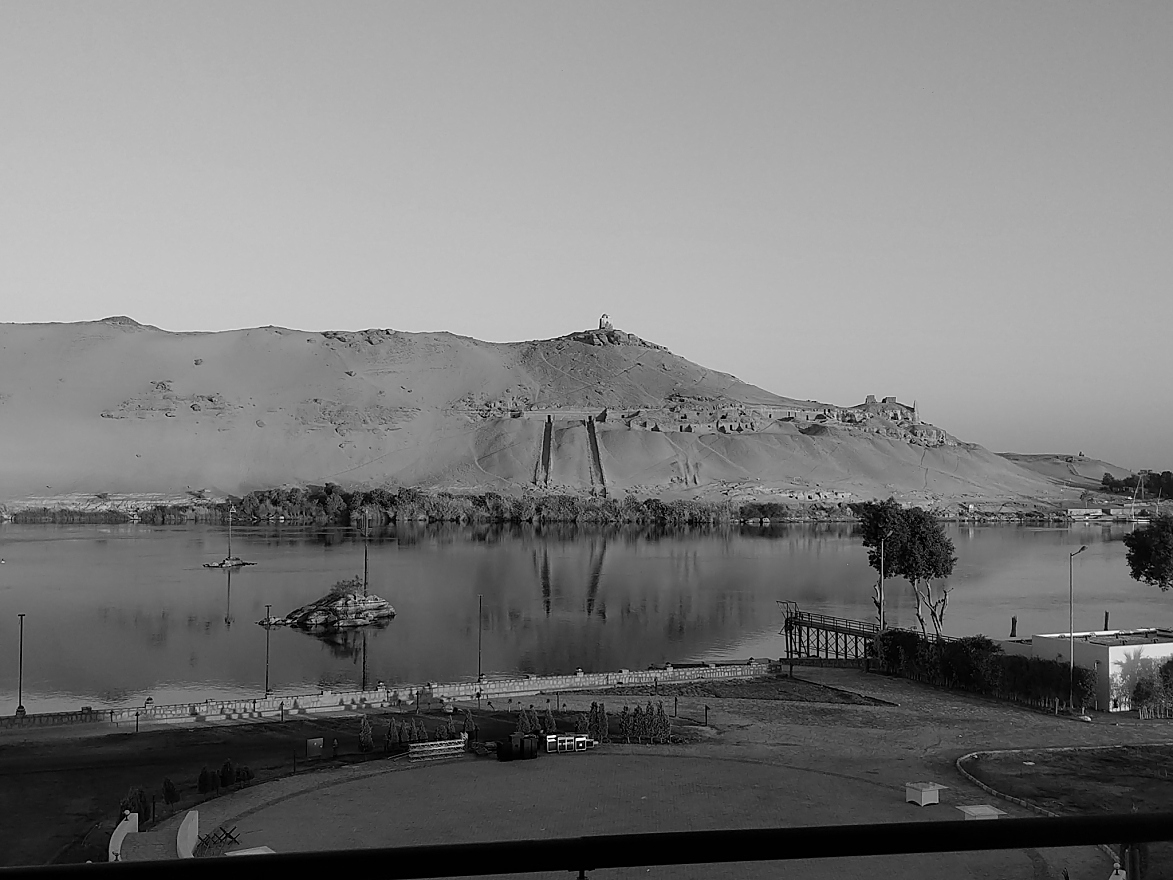 We were up at 6:30am, had breakfast, and then took the ferry back to the city to meet our guide at 8am. The first stop was the Phillae Temple, just outside of Aswan. The temple was huge, and in excellent condition, sitting on an island in the center of the Nile. Lots of statues and wall carvings. We had the entire island to ourselves for nearly the entire time.
Afterwards, we drove back into the city to meet with our falluca (boat) for the day. Abdullah took us on a fantastic 7 hour trip. First was a stop at the tombs on a large mountain directly across the river from the city. From the water it looked daunting to climb up there. However after we landed, and walked around there was a well marked staircase leading to the top. An armed police officer self appointed himself our guide. We entered 3 different tombs carved into the mountain. The first was open to everyone, and had some nice art on the walls. The other two were behind a locked gate that the policeman opened just for us. It was really nice, and gave us access to an area that most people never see. We ended up hiking back down through the deep sand on a camel trail.
Once back at the boat we headed a bit further south and stopped at Kitchener Island to see the botanical garden. It was nice, and fairly peaceful.
Next was a longer trip further south towards the 'Nubian Village'. The description made it sound like a tourist trap. It took over an hour to get there as the wind kept dying, leaving the boat adrift. When we finally arrived we ordered lunch and it took quite a while to be prepared. We ended up with a massive quantity of food, including beef kebabs, grilled chicken, flat bread, rice, a tomato potato stew, cheesy mashed potatoes, a salad, pasta with chicken ina rich tomato sauce and tahini. So much food. The village itself wasn't anything special. We returned to the boat for the trip back to the hotel.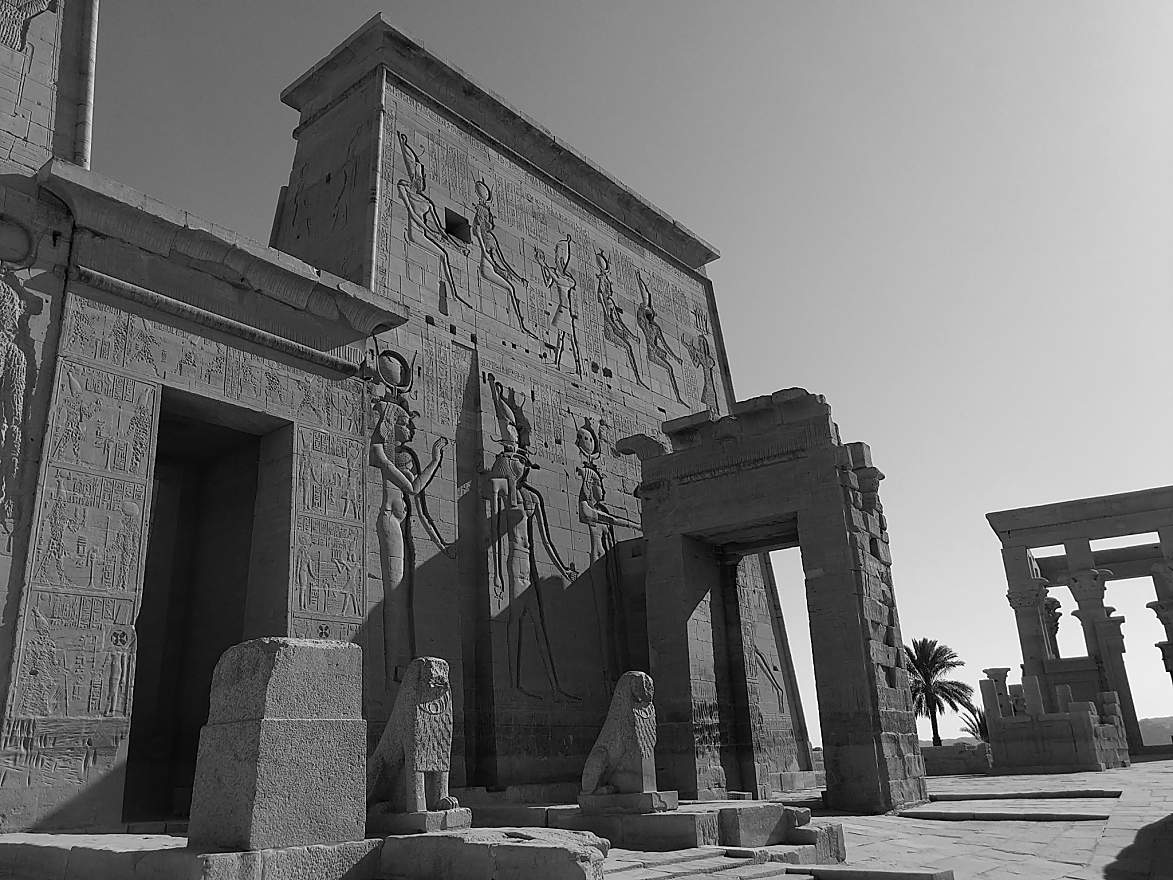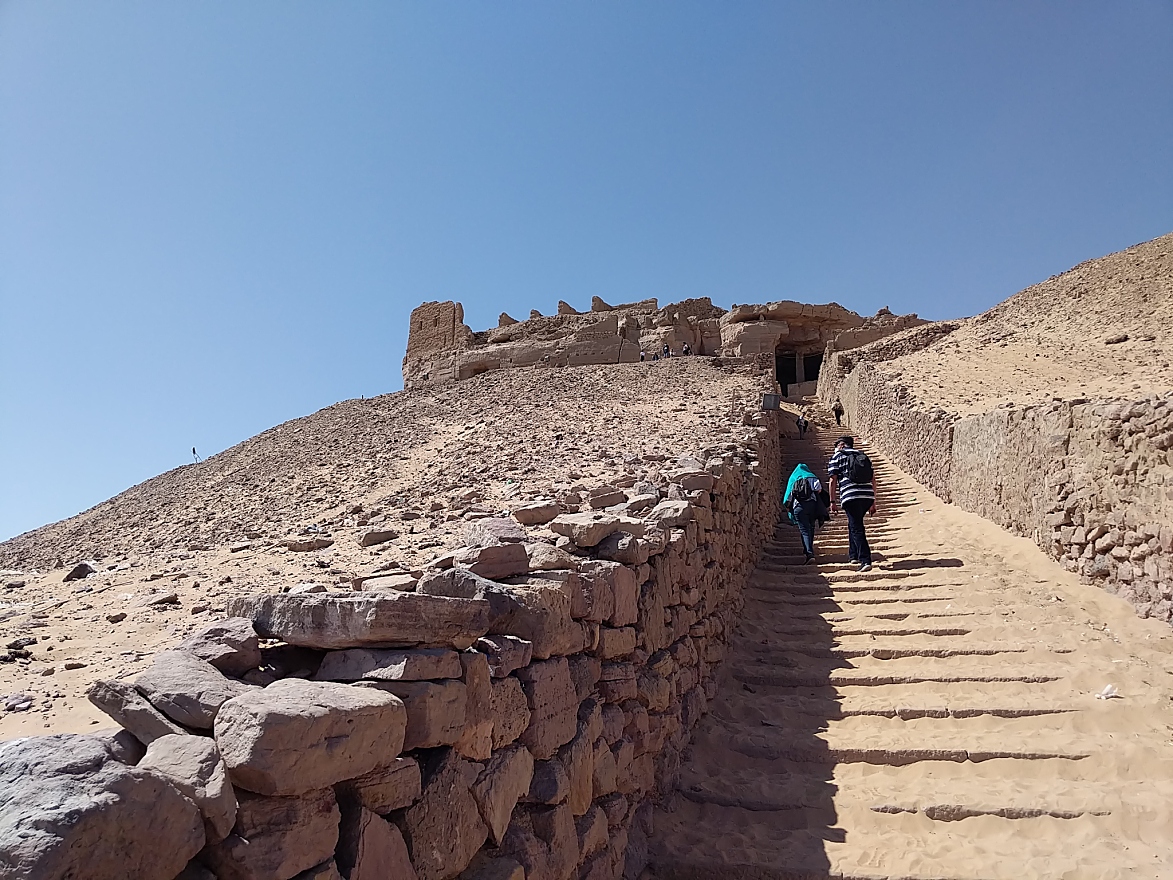 Day 16
I was up for the day at 7am. We had a late large breakfast, and checked out just before Noon. We caught the ferry back to the city, and our driver for Abu Simbel arrived shortly afterwards. After escaping city traffic, much of the drive south was surprisingly fast & efficient. It likely helped that the road veered away from the Nile, and so there were virtually no towns. Lots of open, sandy desert with black rocks. At one point there was a ridiculously long (miles & miles) stone wall running along the road. As we got closer to Abu Simbel, we started to see irrigated farms, and traffic bound for the Sudanese border crossing. The last few miles into town had plenty of speed bumps. We arrived at the hotel just after 3pm.
The hotel is just a few minutes away from Abu Simbel temple, and sits on the shore of Lake Nassar.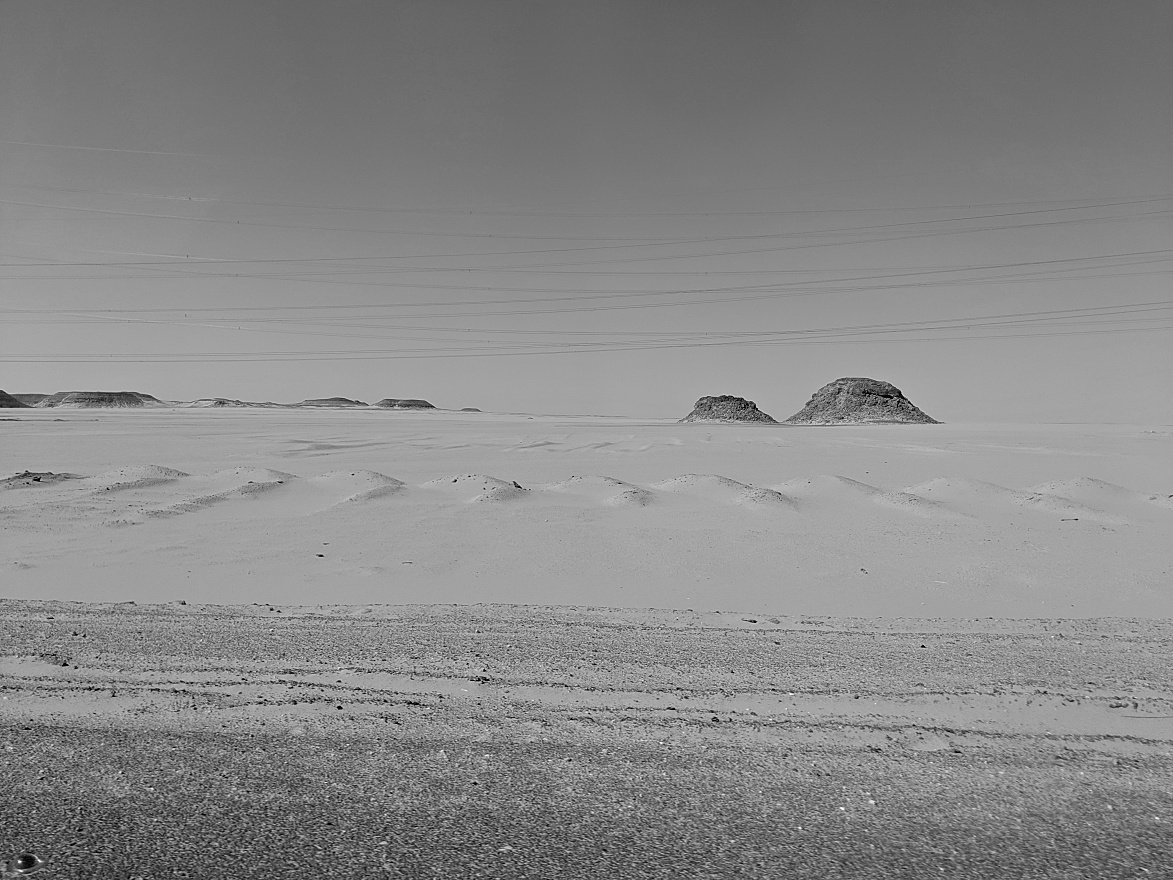 Day 17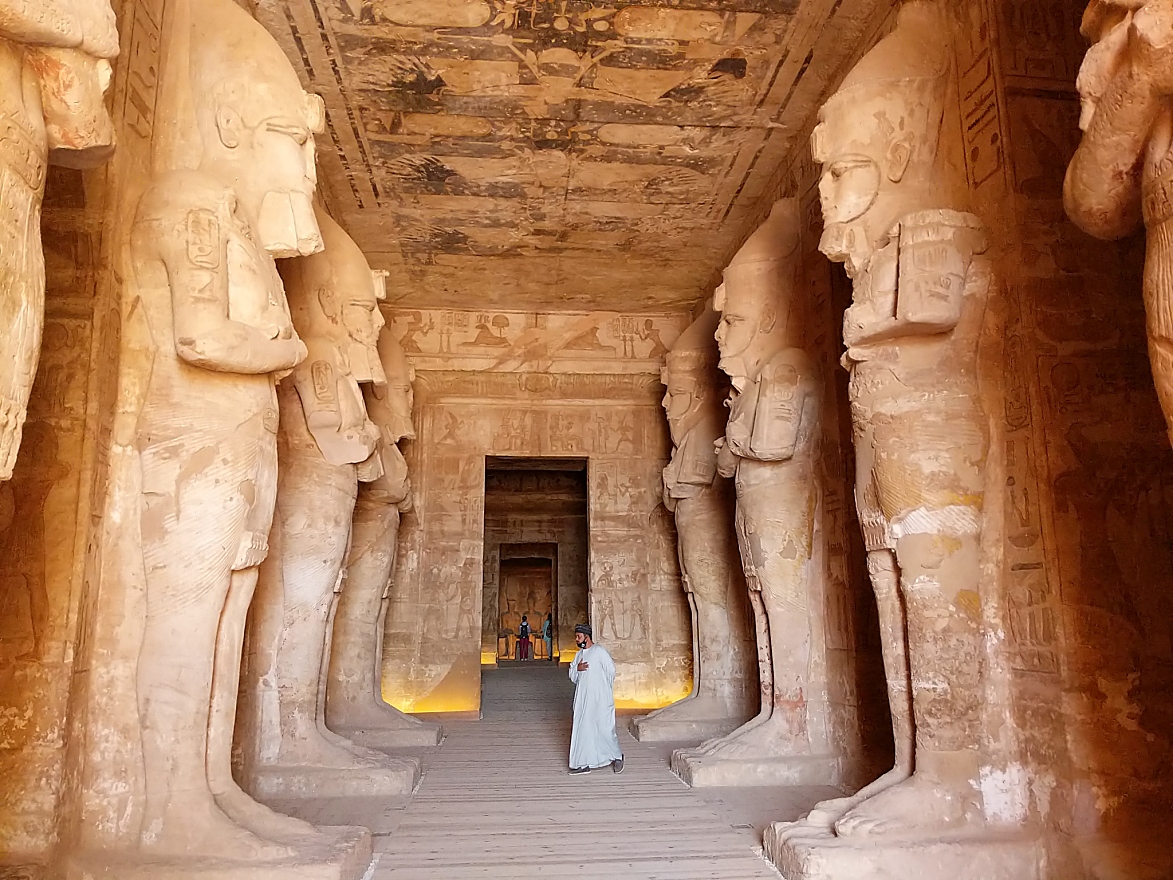 I woke for the day at 6:30am. We hae a mediocre breakfast at 8am, and checked out at 10am. The drive to Abu Simbel temple took just a few minutes.
Other than 2 large tour busses, the large parking area was empty. The site sat on a narrow strip of land jutting into the lake. There are two temples, both carved into the mountain. the first has 4 huge sitting pharaohs out front, and several rooms with carvings on the walls. The second was much smaller, but otherwise similar. Overall there weren't many others there, and it was nice to get away from crowds and guides to explore at our own pace. We spent about 90 minutes total, then returned to the parking area where our driver waited.
The 2.5 hour drive to Aswan was uneventful. We got a nice late lunch at a small restaurant around 3pm, and then drove about 30 minutes south of the city to the airport (which was also used by the military). We arrived just before 5pm for our 8pm flight to Cairo. The terminal was closed for cleaning, so we waited at the airport staff cafeteria to kill time.
Airport security was the usual joke. They thought my bandaged toe was suspicious, and insisted on swabbing it for explosive residue. Also, they required everyone to remove shoes. The airport still has their Christmas display up, with a huge snowman, in March. The flight departed & arrived on time.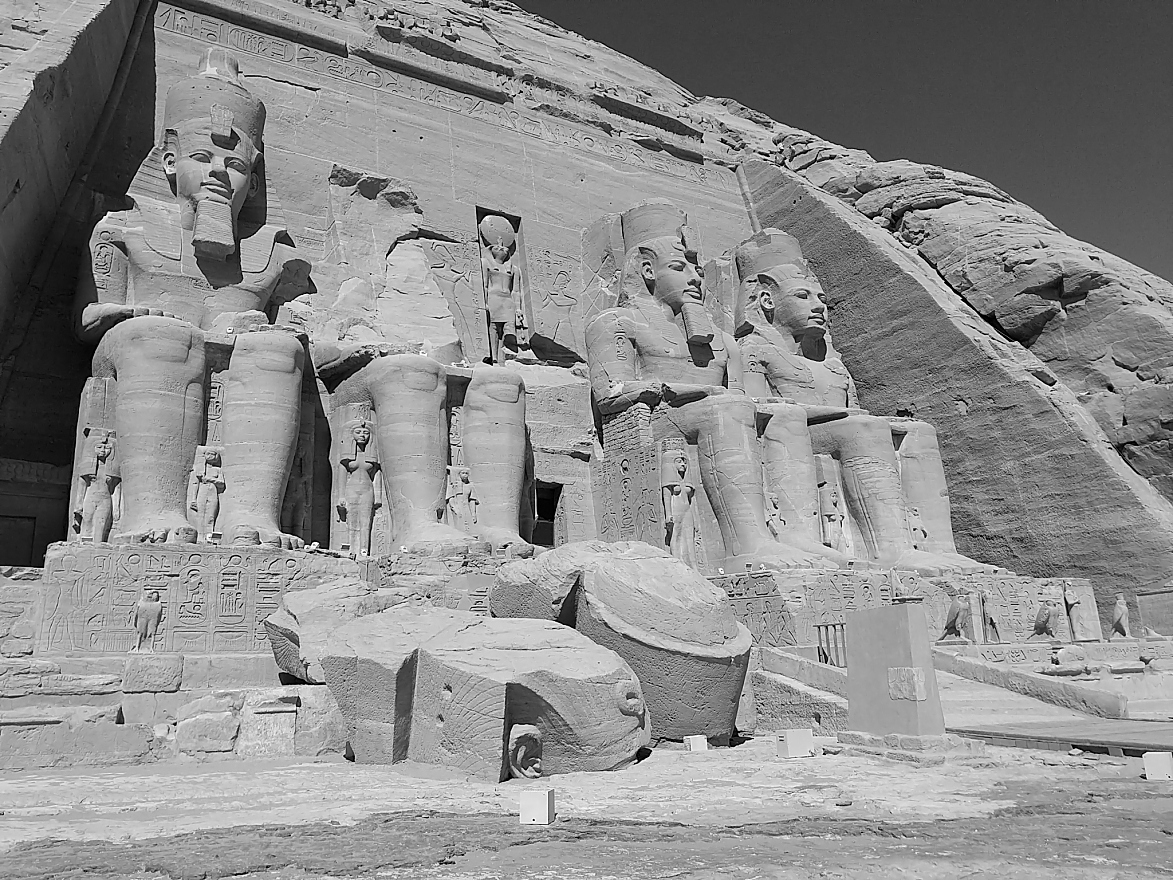 Day 18
Today was supposed to be our rest day, as it was our last full day before flying home. We spent much of the day in the hotel relaxing. However, we needed to sort out getting a COVID19 test for the flight home. Thankfully, the hotel doctor was available to administer the PCR test. We got that done in the early afternoon, and got the (negative) test result at 11pm the same day.
We had a lovely breakfast in the hotel's executive lounge. Lunch was on the balcony overlooking the Nile.
For dinner we took an insane, incompetent uber to an Italian restaurant, that ended up being rather disappointing. Poor, slow service, crappy drinks, and mediocre food at Lucca.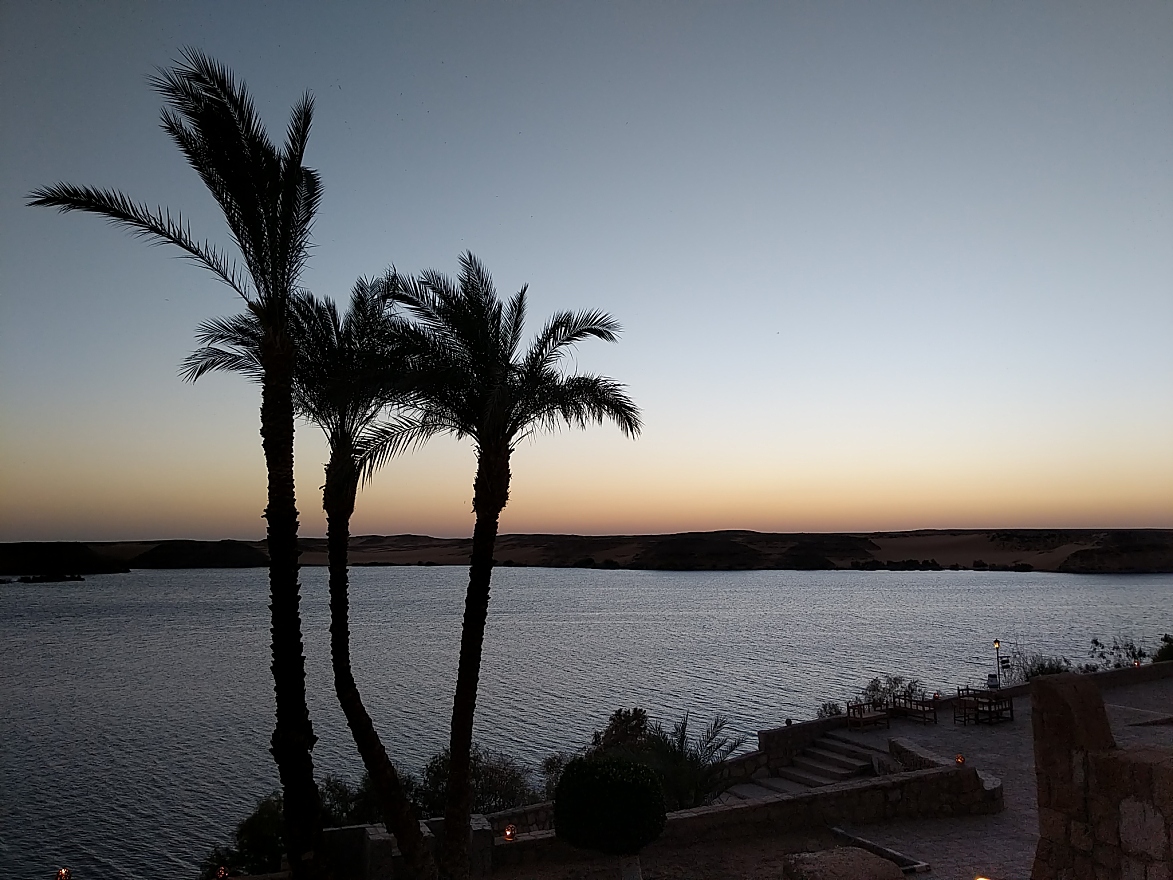 Day 19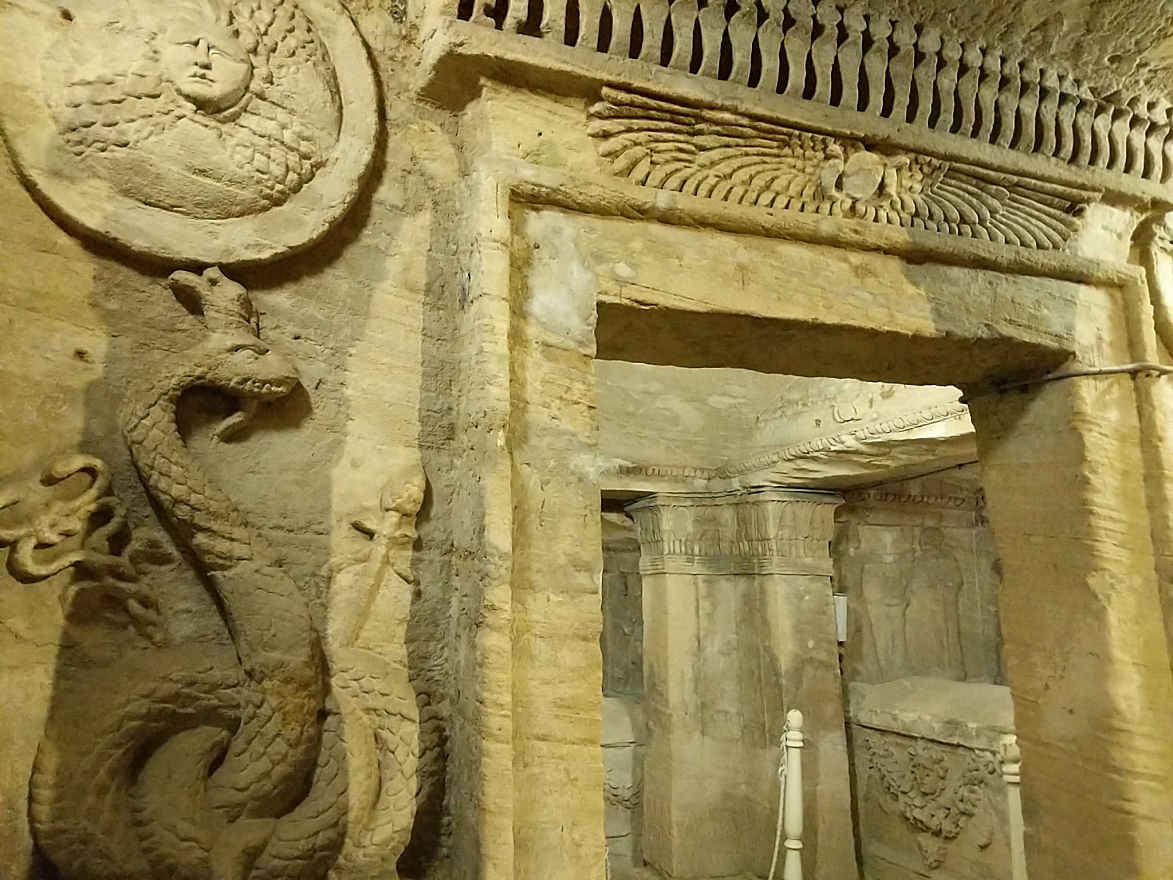 We were up for the day at 6:30am, had breakfast, and checked out by 8am. We booked a tour up to the city of Alexandria. The driver was a few minutes late picking us up. They claimed it would take 3.5 to 4 hours for the 225km drive. An hour into the drive, on a good freeway, he needed to stop for gas. Less than hour later, they stopped yet again for coffee. We ended up getting to Alexandria,at 11am.
The first stop was the Catacombs of Kom El Shoqfa. This was a Roman era series of underground burial tombs; it was pretty cool to explore. Next was the Pilar of Pompey, a Roman era 80m tall pillar. There were also a bunch of other artifacts on display. While we were there a brief rain shower moved through. Two small gray kittens were all wet, and wanted love. After that we visited the Mediterranean water front near the Citidel of Qait Bay, which was quite pretty. We had a seafood lunch nest, which was yummy but very overpriced. The final stop was the site of the original Library of Alexandria. It was kinda boring.
The drive back to Cairo took about 2.5 hours, as we raced at nearly 150kph for much of the distance. Once back at the hotel, we relaxed for several hours before heading to the airport for our 01:55 Lufthansa flight to Frankfurt. The ticket counter took forever to open, but after that we sailed through, and waited for our flight in the lounge.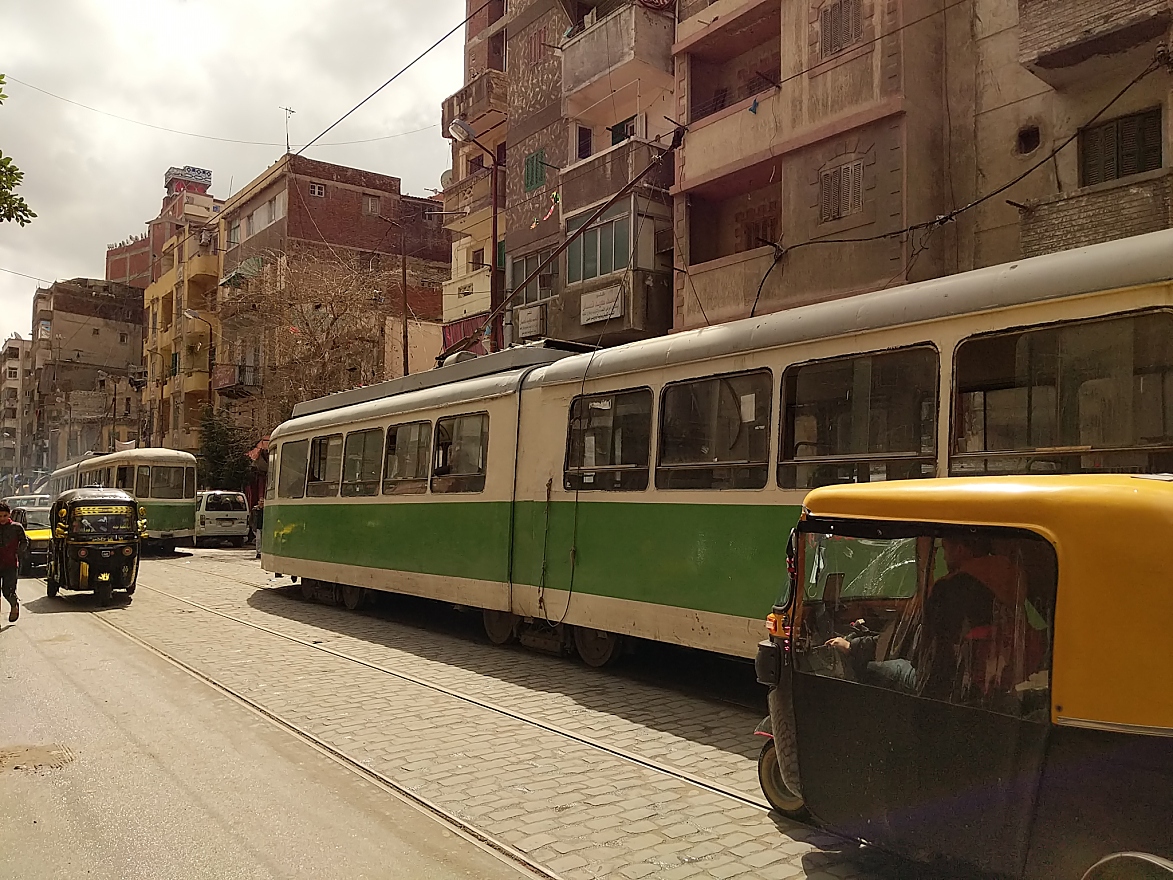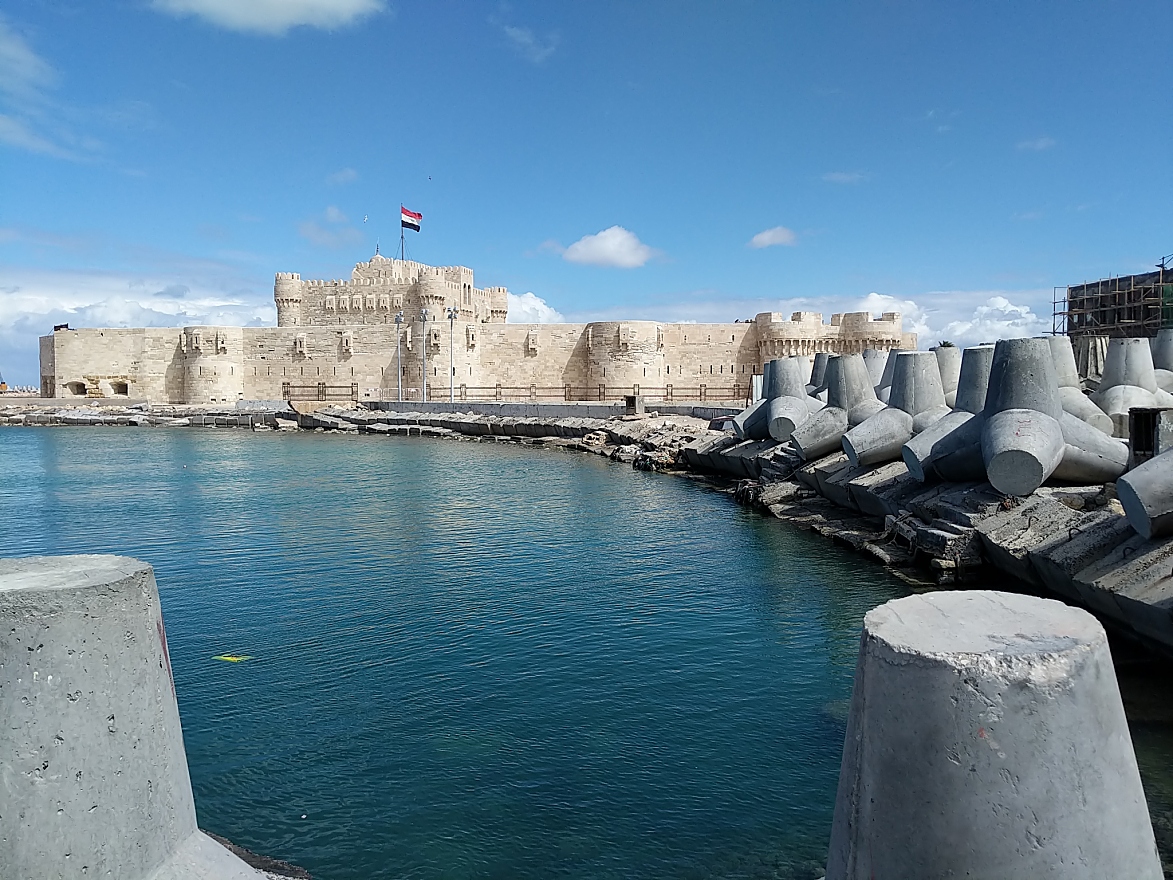 A gpx file for the trip (with key waypoints) is available HERE
All of the trip photos are posted HERE.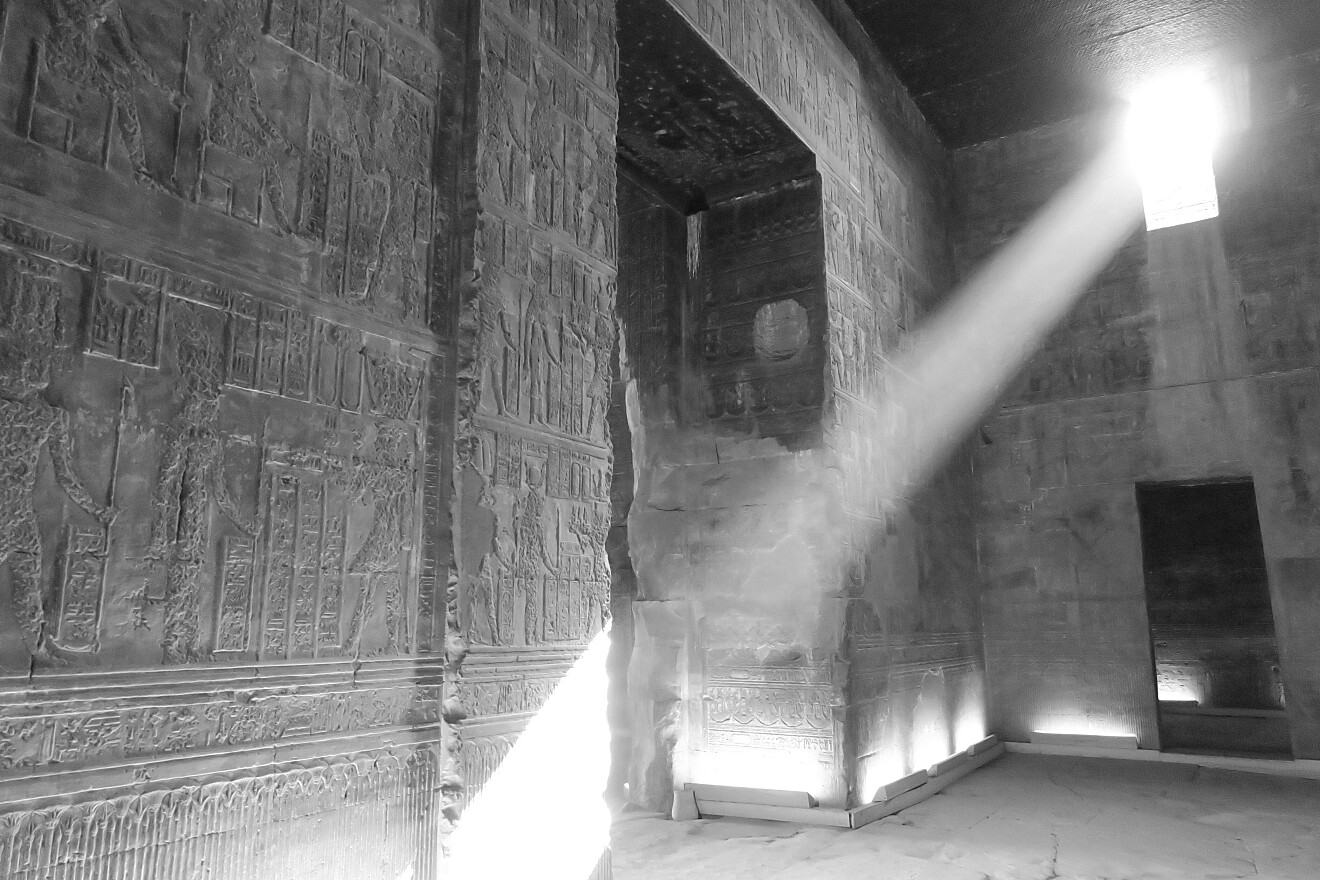 This post is part 2 of the "afghanistan-egypt-2021" series: