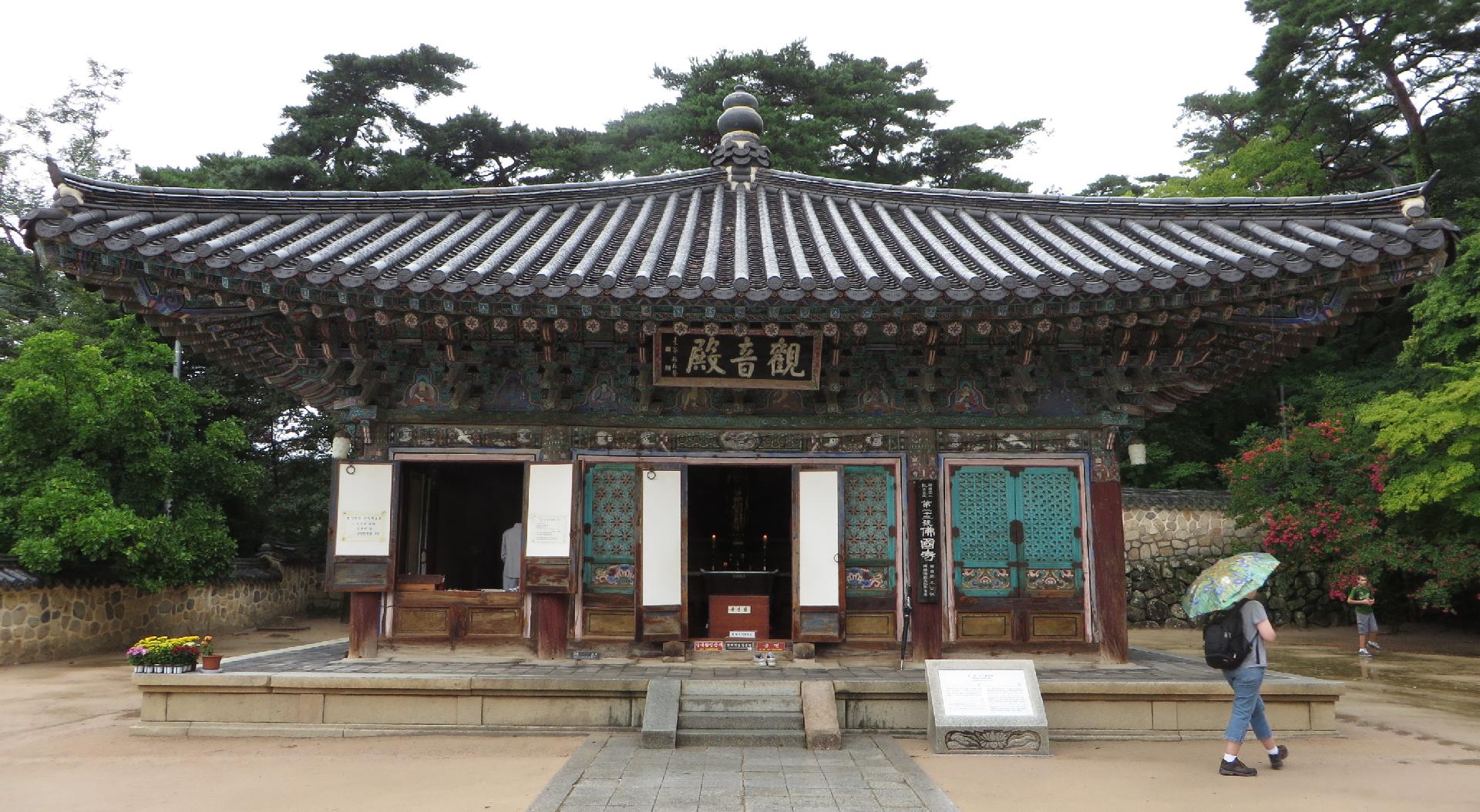 17:37 Tuesday, September 09 2015
South Korea - northern half (1/2)
This post is part 1 of the "south-korea-2015" series:
We've just returned from spending nearly two weeks travelling around South Korea. This was my third trip, and the second for David & Denise. While we flew in & out of Seoul, the majority of the trip was spent travelling in a giant loop, clockwise around the country.
We flew to Korea on Singapore Air, which has historically been one of the best airline experiences we've ever had. Sadly, they seem to have slipped over the intervening years. While they're not bad, they are much less amazing than they once were. The food was perhaps marginally better than their competition, and the overall service was fairly average over all. What made this particular flight quite different is that we ended up being diverted enroute due to a medical emergency. One of the passengers seemed to have gone into diabetic shock, and despite much effort during the flight, they needed to land in Tokyo/Narita to offboard the guy so that he could receive emergency medical attention. This caused our 10 hour flight to become nearly 14 hours long, as we sat on the ground in Tokyo for nearly 2 hours. Once we landed in Korea(ICN), we then had over an hour train ride out to the part of Seoul where our hotel for the night was located. It was after 11pm by the time we made it to the hotel, and our room. Sadly, we had to get up at 5am for the next day's travel & activities.
We awoke the following morning, checked out of the hotel, and made our way to DongSeoul bus station. I was anticipating mass chaos & confusion, but the process of purchasing our bus tickets went surprisingly smoothly. Thankfully I did come prepared with our destination printed in Korean. We were bound for the city of Sokcho, which is in the northeastern corner of the country, not far south of the DMZ. The bus itself was fairly nice, with just 3 seats across. The ride was relatively pleasant, taking about 2.5 hours. We made our way out of Seoul, and then took a mostly freeway route past mountainous scenery, often going through tunnels. Upon arriving in Sokcho, we walked about 2 blocks to our hotel for the night, dropped off our bags, and then caught a local city bus about an hour southwest to Seoraksan National Park.
Seoraksan is one of Korea's most famous parks, known for its steep granite mountains, waterfalls, and several Buddhist temples. Upon arriving, the first thing that we did was purchase tickets for the cable car that would take us much of the way up the mountain side. The ride up was amazing, with incredible views in all directions. We could even see all the way out to the East Sea, and Sokcho (nearly an hour away). Once at the top, we did a relatively short hike further up the mountain to the summit, for even more impressive views. After returning back down the mountain, we explored the area around one of the temples. This included a very impressive 4 story tall buddha, a mountain stream, and several temple buildings. Following the temple, we wandered back to the central area of the park, and had a fantastic lunch, which included a seafood pancake & bibimbap.
After lunch, we did a 2.4km hike to Biryong Falls. The first 2km meandered through the forest, and was fairly flat & easy. The last half km or so was almost entirely up hill, alternating between rocky uneven steps, and steep switchbacks. However, the hike was worthwhile, as the falls were gorgeous, cascading down the slick granite. At this point, we'd spent close to 5 hours in the park, and had seen everything that interested us. The bus ride back into Sokcho was uneventful. Jetlag coupled with sleep deprivation had caught up with us, and we all took a long nap that afternoon.
We awoke early the following morning, to catch a long distance bus to the small coastal city of Gangneung. The Sokcho bus station actually had an electronic ticket machine, with English, but for whatever reason refused to list Gangneung as a destination, so we were forced to wait for the ticket counter to open. We knew the bus we wanted departed at 6:20AM, yet the ticket window didn't open until 6:10AM. It all worked out ok, and our bus was actually more than half empty when it departed on schedule. This was one of a few days on the trip that we had plans to go far far off the beaten path, to the tiny town of Hwaam, to see the Hwaam Cave. This meant that we had to ride several additional buses, to increasingly remote corners of the country. We pulled into the Gangneung bus station a few minutes early, and wandered around. This was a fairly large bus station, with numerous small shops and restaurants. This time the electronic ticket machine actually cooperated, and I quickly & easily purchased three seats on the next long distance bus to the small city of Jeongseon. While the previous bus trip to Gangneung ran primarily on modern freeways, there were none going to Jeongseon, and the route followed a mountainous, twisty route, past small lakes and farms. Once we arrived in Jeongseon, we needed to catch yet another bus, but this time it was a local bus, to Hwaam. This is where we started to have problems. The information that I read online in advance suggested that we needed to catch any one of three non-numbered buses (with just a sign in Korean in their window). However, upon exiting the tiny bus station in Jeongseon, we weren't even sure where to find the buses. We sat under a bus shelter at the street in front of the bus station for nearly an hour, and no buses ever stopped (with or without the sign that we were seeking). Eventually we wandered back into the bus station, attempting to seek assistance. At this point, we couldn't find anyone who spoke much English. I did have the name of the cave printed in Korean (화암동굴), and showed it to a woman at the bus station ticket counter. However, she couldn't speak any English, and kept gesturing back outside of the bus station, and handed me a slip of paper with just the number 10 printed on it. Initially I assumed that meant that we needed to catch the #10 bus. There were local buses stopping directly outside the bus station, so we sat out there, with all our bags, waiting & hoping that a #10 bus would pull up. After sitting there for nearly a half hour, Denise wandered over to an older man who seemed to be just hanging out, and showed him a brochure for the cave. This man actually spoke enough English to explain that what we really needed was bus 5 or 6, which was actually going to depart in a few minutes. This man also escorted us back inside the bus station, into the ticket office, and arranged to let us store our bags there. We finally boarded the bus, and it pulled out of the station a few minutes later. As it was pulling away, I noticed that painted on the ground, just under where the bus had been stopped was a large number 10. Thus, this was the stop the woman in the ticket office was trying to tell me to use earlier. The bus ride out to the cave was quite scenic, initially winding through the small city of Jeongseon, and then through a river valley past rice fields and small farms. After about 45 minutes, we reached the stop for the cave, and we got off the bus.
The area around the cave was setup as a large square, with a huge parking area in the center, and the cave visitor center at one corner, and an assortment of restaurants, cafes and gift shops running around the remaining perimeter. As it was already past noon, we decided to find lunch before going into the cave. We were naively hoping to find somewhere that had a menu in English, or at least photos of food, but alas that was not possible. We settled on a place that seemed to be fairly popular. Of course as they couldn't understand any English, we ended up using the wander & point method of ordering food. We ended up getting a bowl of seafood tofu soup, and bibimbap, with a nice assortment of banchan. It was quite tasty.
After lunch, we walked over to the cave. The entrance to the cave is actually near the top of a mountain, so to get up there its either a long uphill walk, or a tram. We opted for the tram, which slowly climbed the hill. The cave itself was bizarre on many levels. Granted, we expected some weirdness in advance, but no review or description can fully convey how weird this cave truly is. Unlike most caves in North America, Korea seems to feel compelled to add stuff to their caves. Exhibits, colorful lights, sound effects, weird statues. This cave had all of that and more. Initially the cave appeared to be detailing the history of gold mining, with odd exhibits showing miners. All of the signs were in Korean only. After a while we entered a portion of the cave that had bizarre alien looking statues, with colorful lights and sound effects. There was an under the sea motif. A christmas area. And so much more weirdness. Eventually we reached a very long series of staircases, which descended hundreds of steps downward. That section dumped us into the only part of the cave that looked like a natural cave, with natural formations, stalactites, and stalagmites. It was a huge room, and kind of impressive, but that was the only room that felt like a real cave. After that, we wandered further, and finally exited the cave about 2/3 of the way back down the mountain from where we had entered earlier. To add a more touch of bizarre, there was a bathroom building just to the right of the cave exit, and it had a huge (like 15ft tall) bat shaped sign in front of it for some reason. We walked the rest of the way down the hill, and back to the bus stop. There was some confusion for a while on whether we were at the right location to catch the bus back to Jeongseon. But after a while a group of seniors showed up (in their snazzy hiking gear), and we assumed that they were also heading back into town. Thankfully we were at the right place, and we got back to the Jeongseon bus station fairly quickly (fewer stops, with fewer people), and then caught a 4:10PM bus back up to Gangneung. From there we took a taxi to our hotel for the night. For dinner that night, we went to the Chodang Sundubu Tofu Village, which is famous for their freshly made tofu. It was quite amazing, with easily the freshest tofu we've ever had.
The following day was a transit day, with no special plans to see or do anything. We needed to get to the city of Gyeongju, which was between 6 & 9 hours south, depending on which long distance bus connections we made. We got up early, caught a taxi back to the Gangneung bus station, and then the next bus to the city of Pohang. While waiting for our bus to depart, we got breakfast, and got ensnared by an older man who was either very drunk, or insane. Initially he came across like a super friendly Korean guy who wanted to practice his English. But after several rounds of him make bizarre comments about America, and spitting while he talked, we realized this guy wasn't quite right. The final straw was when he attempted to give me a shoulder massage. At that point, we claimed that we needed to board our bus, and wandered outside to wait away from Mr. Crazy Pants. The bus ride was ideally supposed to take about 3.5 hours, but in reality took just over 4. Despite the length of travel, it was a fairly pleasant trip. We mostly drove southward along the east coast, past numerous small towns & cities whose primary livelihoods were quite clearly dependent on the sea. Nearly every place had large & small signs promoting crabs or other sea creatures. We pulled into Pohang, bought tickets for a connecting bus to Gyeongju, and about an hour later we arrived.
One constant throughout the entire trip was lots of heat & humidity. We knew that Korea had kind of oppressive weather in the summer, but coming from dry, fairly temperate northern California made the contrasting weather so much more uncomfortable. Basically any physical activity outdoors (even just walking down the street) would cause us to start sweating copiously within a few minutes. Adding to the discomfort is the fact that Koreans on the whole don't seem to like to use air-conditioning, and even when they do use it, its rarely set to a cold temperature. Most of the time, going inside just meant that it was slightly less humid, and somewhat less hot. Thus, the walk from the Gjeongju bus station to our lodging (for the next 3 nights) was a miserable experience. The hotel itself was designed in the traditional Korean Hanok style, and was quite pretty, even though it was in the center of the bustling city. Despite the old fashioned appearance, it still had modern conveniences (AC, indoor plumbing, wifi, etc). Despite that, there were no western style beds. We had traditional Korean bedding, which was literally a thin foam mat on the floor. It was rather uncomfortable, and provided very little padding. That night we explored the neighborhood a bit (it was this odd combination of semi-industrial hardware shops, clothing stores, and tons of small restaurants & cafes). We ended up eating at a Korean chain called 'Jaws Jjimdak', which basically makes braised chicken with glass noodles, mandu, vegetables, rice cake and loads and loads of cheese. They also have an option to get a super spicy version. We ended up ordering the normal version and the spicy version. It was bizarre. Not bad, but a combination unlike anything I've ever eaten before. The spicy version was nuclear spicy. After just a few mouthfuls I couldn't taste anything but searing heat & spice. Denise absolutely loved it. I ended up retreating to sharing the non-spicy one with David.
For the first time on the trip, we slept a bit later (just past 6AM), ate some breakfast, and headed out for the day. Our plan for the morning was to take a local bus about 40 minutes north of Gyeongju to the old Yangdong Folk Village. The village still has about 200, mostly elderly residents, living in an assortment of tradition homes. Nearly all of them are farmers, with few other jobs in the village itself. We actually arrived just before they opened at 8AM, and had the entire town to ourselves for quite a while. The village was quite charming. Verdant, with lots of farms of varying sizes growing all sorts of stuff from rice to melons to peppers. There were also interpretive signs (in Korean & English) which explained the history of the older, and more notable buildings in the village. We finished exploring in about 2 hours, and caught the return bus back to Gyeongju.
By the time we got back into the center of the city, it was lunch time and we were looking for somewhere good to eat. Seongdong market a large indoor market (occupying several blocks not far from the train station), so we started to wander around there. Initially, it looked like only fresh/raw produce & meat, but as we walked deeper into the complex, we came upon several aisles with small prepared food stands. The women running the stands were rather eager for business and started to beckon us to sit down at their counter. Eventually we found one that looked appealing. It was amazing. The setup was a counter with over a dozen different types of banchan sitting out like a buffet. As we sat, the woman handed each of us a plate, a small bowl of white rice, chopsticks and metal tongs, and we placed our orders. We each got a different type of soup broth, and started to serve ourselves from the banchan bowls that were set out. The lady then handed each of us a bowl of broth & vegetables, and we went wild. The banchan buffet had 3 or 4 different types of kimchi, lot of different pickled vegetables, boiled potatoes with pepper paste, rolled omelettes, and a few types of cured meat. So much food, and it was all delicious. We spent roughly US\$15 on the entire lunch, and we were stuffed.
After lunch we caught a city bus for about 10 minutes to visit Bunhwangsa Temple. This is a rather old temple (dating back to the 7th century), which is relatively small, but quite pretty. It took all of maybe 15 minutes to see the entire thing (including a rather bizarre looking fish sculpture).
We had initially planned for a full hour at the temple (plus 4+ hours for Yangdong earlier), so we were running quite a bit ahead of schedule for the day. After some debate & confusion over what to do next, and how to get there, we eventually decided to walk to the National Museum, which was less than 2km south. The walk itself wasn't too bad (despite the stifling humidity). There were huge rice fields on both sides of the road, a decent, well maintained side walk, and distant green mountains. There was one flaw in our plan. The museum wasn't opened on Mondays, and I had forgotten about that fact until we got to the museum to find that it was closed. At this point, we had to revise our plans yet again, since it was only mid-afternoon. We decided to walk north to Gyeongju's most famous attraction, the Daereungwon Tomb Complex. The tombs are massive 2+ story tall, grass covered burial mounds. Most of the mounds remain undisturbed from when they were created over a thousand years ago. However, one was excavated about 40 years ago, and its possible to enter through a tunnel, and view the well presented contents. The park is quite pretty, with the huge mounds spaced about (in addition to a number of other mounds spread around the city). There were surprisingly few other people in the park, and we nearly had the entire place to ourselves.
The following morning we caught a bus nearly an hour south east of the city, to the Bulguksa temple complex. This was also the first day of the trip that we had to deal with actual rain. It was never hard rain, but coupled with the humidity everything felt damp and muggy. However, the rain likely kept many of the less adventurous tourists away, and we had most of the temple to ourselves. We arrived just after 8AM, and got to explore without any lines or pesky people wandering about with their silly selfie-sticks. The buildings themselves were fairly typical Buddhist temple architecture, however the grounds were amazing. They had clearly put a lot of effort into landscaping, as the trees & water features were spectacular.
After the temple, we caught the bus back into town, and got off at the National Museum, for attempt number 2. But first we wanted to get some lunch. The museum had a cafe, but it was almost useless, as it only served drinks and snacks. We ended up having to walk a good 20 minutes away to hunt down a decent place to eat. It turned out to be a good choice, as they not only had English on their menus, but the food was great. We had a vegetable pancake, plus noodle bowls made from fresh noodles. After lunch, we walked back to the museum, and finally got to look at the exhibits. The museum focuses exclusively on artefacts from the Silla dynasty, which was centered around Gyeongju. The exhibits were quite nice, and nearly everything was presented with English descriptions.
That night we had dinner at an all you can eat korean BBQ place, and it was awesome. So much meat+food for about US\$12/person.
Hundreds of other photos from the trip are posted HERE.
This post is part 1 of the "south-korea-2015" series: