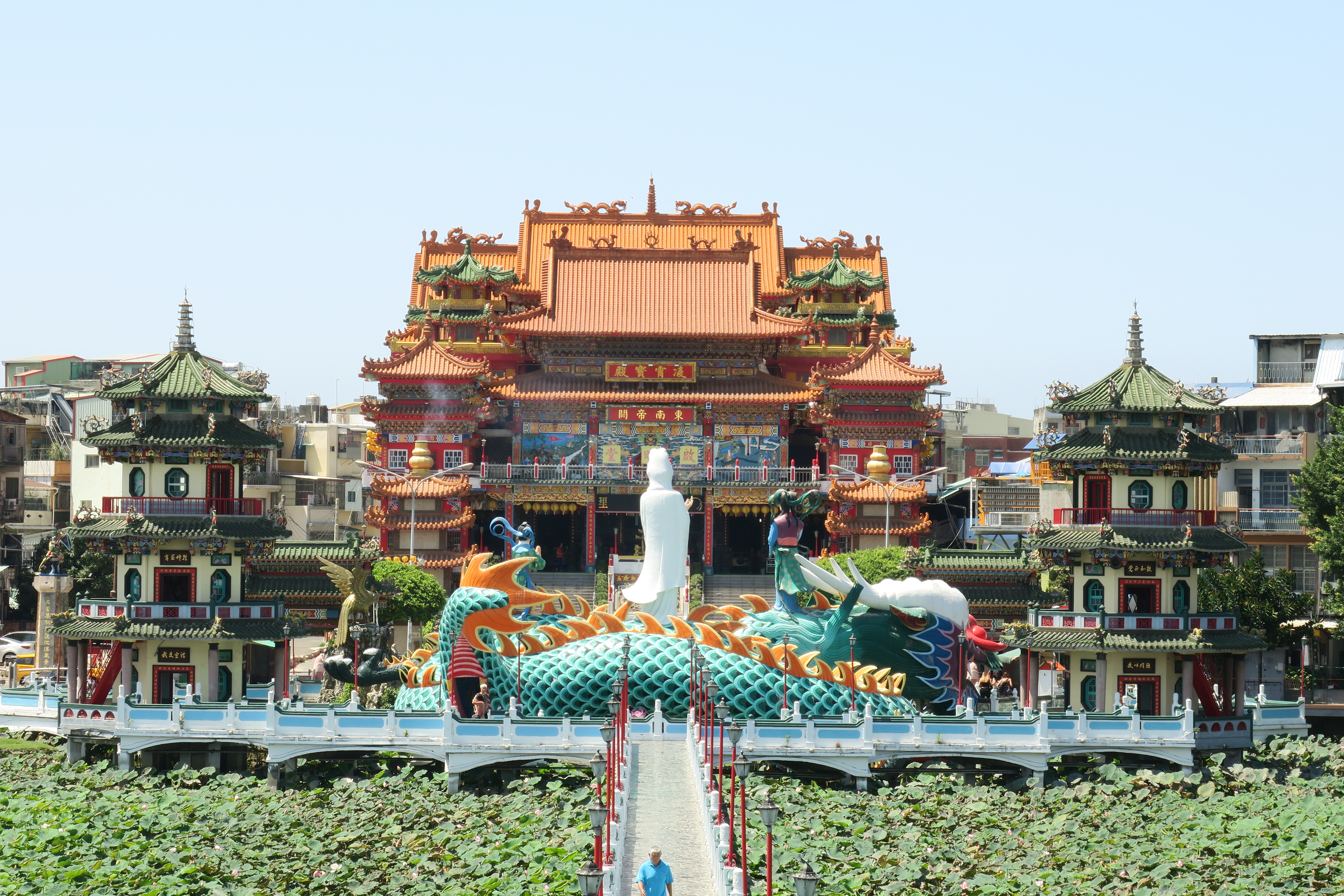 12:59 Sunday, March 03 2019
Okinawa (Japan) & Taiwan (2/2)
This post is part 2 of the "okinawa-japan-taiwan-22" series:
I recently returned from a trip to Okinawa (Japan) and Taiwan. It was a fun trip to a corner of Asia that I'd never been before. Overall, the trip went incredibly well, even if the weather was a bit cranky at times.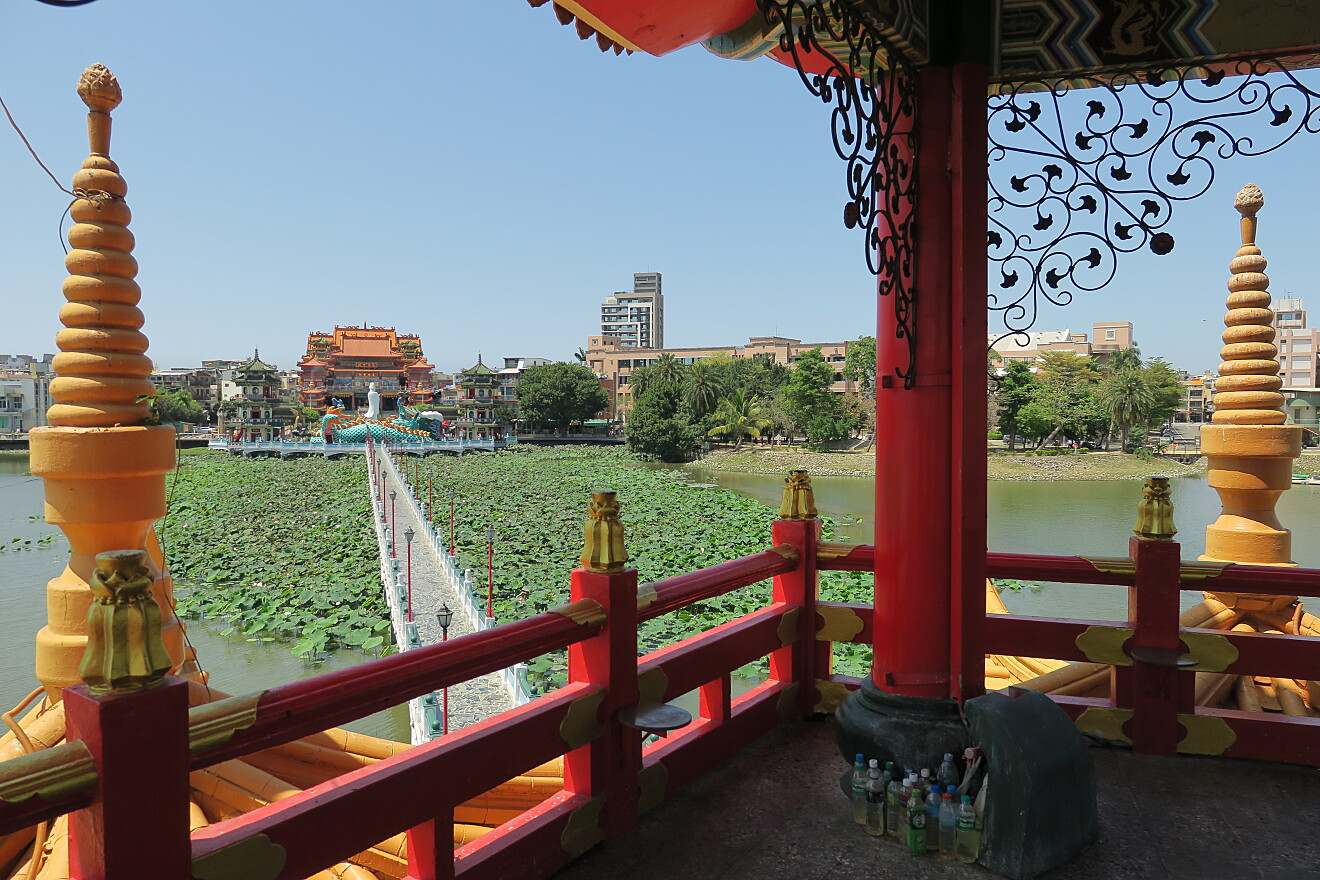 Day 7
I slept fitfully because the bed was hard, i had 1 tiny pillow, and the room was too warm. I got up for the day at 5:15am, showered, and checked out. The hotel called me a taxi, and it was a 5 minute ride to the airport. its raining, so that should be fun. i had to take the silly shuttle to the cheap airline terminal, since i'm flying Peach. i walk into the terminal, and its dead. There are a few ticket agents behind the Peach counter, but its still roped off because the counter doesn't open until 6:15am. Then i spot another sign that security doesn't open until 6:55am. Eventually i got my boarding pass, and cleared security & emigration. This is the lame terminal that is basically an aircraft hanger with prefab walls. There was nothing past security, but for a few lame vending machines, so no breakfast today. peach is militant about boarding order/groups, which added to the chaos. once i was allowed to board, they were handing out bright pink umbrellas for the 10 second walk out to the plane. Then collecting them again at the base of the staircase to the plane. Such a silly gesture. The flight was fine, although the plane was a filthy mess.
My legs are a bit sore from yesterday's hiking. Most of my sunburn is much improved, except for a bright red strip running around the back of the base of my neck.
Once i got off the flight, i had a bunch of chores. First, i exchanged my remaining Yen for Taiwanese dollars, and got out some extra cash from an ATM. Then i got a SIM card for my phone. They are so cheap here. I got a 10 day unlimited data plan for about \$18. Then i needed to get picked up for the rental car. I went to the tourist info desk, and they tried calling, but no one was picking up. I started getting concerned, but after a few minutes they answered and said someone would come in 10 minutes. The guy showed up, and drove me back to their office, where it became obvious why no one was answering their phone. He seemed to be the only employee. After i was there for a few minutes a 2nd guy showed up. They seemed kinds nervous about letting me rent the car. They kept pointing out how new it was (about 1300 miles), and how i need to drive slowly. Its a Mitsubishi something (4 door). Its nothing fancy, but fine. At that point i was ready to drive. however they gave me the car with a nearly empty tank, so i had to get gas immediately. Thankfully the weather was clearing, and there wasn't any more rain for the rest of the day.
I didn't have any issues driving, other than buses are assholes and almost hit me 2 different times. My first stop was Yehliu Geopark. Its this thin rocky peninsula at the northern tip of the country that has tons of bizarre rocky formations due to sea erosion. The road for the last few km of the drive there was almost empty, making me think i'd have the park to myself. Boy was i wrong. Apparently all the tour buses arrived earlier in the morning, and the place was a zoo. The first challenge was parking. They had a lot with a what looked like a ticket machine, but it gave me this plastic coin. Ok, then i couldn't figure out where too park. Eventually a guy pointed in the direction of the auto lot. Then i saw a payment machine, but i couldn't figure out if i had to pay by the hour or a flat rate (it was flat rate). After that i found the restroom, and noticed a ton of food stalls. They mostly all had the same stuff. Assorted breaded/fried sea creatures and seaweed tempura. I got 1 of the seaweed, and 1 of fish that kinda looked like smelt. The fish were yummy, plus they were stuffed with scrambled egg too. Next i paid the park admission, and started to wander amongst the crowds. While there were way too many people doing selfies in front of bizarre rock formations, the views were incredible, bright blue sea, huge forested mountains, and a few small rocky islands. eventually i noticed that the farther i walked from the entrance the fewer people were around. After a while it was just me climbing a hill at the tip of the peninsula, with a lighthouse at the top. On the way back down, i ran into a French woman who said 'i am so happy to find you', and i was super confused as i'd never seen her before. I think it was just her english wasn't quite perfect, as she just wanted someone to take her photo.
I made it back to the car, paid the parking fee, and then started driving towards Houtong village, which is the (famous?) cat village that used to have a gold mine. The drive there was pretty, as the road wound around steep mountains, with a river at the bottom of the valley. Once i got there, i parked, and then it was just wandering around. There are really cats everywhere. Plus they have cute cat houses for them to sleep in, and bowls of food are all over the place. It wasn't super crowded with people, but i could see it becoming crazy in the summer. I spent maybe an hour there, and then headed to Jiufen, where i'd be sleeping tonight.
Jiufen is supposed to be this super cute, quaint mountain town, that evokes what people think for a village from ancient Chinese art. At least that's what everyone said. From a distance it kind of does look that way. However once i got there, it was completely overrun by tourists, and every alley way is lined with nothing but shops catering to hordes of tourists. And its ridiculously crowded too. Maybe 5 or 10 years ago it was still untouched by mass tourism, but now, there's little there that looks or feels authentic. Just tons of cafes, trinket shops, tea shops, & food stalls all basically selling the same stuff. Plus, since the entire town is on the side of a mountain, there are so many steps. And the narrow roads are crowded with massive tour buses and taxis. Trying to find my guesthouse was a bit of an adventure. I had the location on the map, but there wasn't any road on the map. After wandering up and down a hillside for a while, i did find it. The owner is a jovial, friendly woman who sort of speaks a little english. she showed me to my room, and its really nice, plus i have magnificent views all the way to the ocean.
Anyway, after getting settled into my room, i climbed the crazy steps into the center of town, and wandered past the shops with the masses. One thing that i noticed quickly is that there are a lot of koreans & japanese tourists, and since they can't speak chinese, they're using english to communicate with the shop owners. After i completed one circuit of the town, it was late afternoon, so i found some stuff to eat for dinner. First was beef noodle soup, which is the big deal in Taiwan. It was decent, although i'm assuming i ended up with a lower quality tourist version. Then i had a grilled pork & sticky rice sausage (on a stick), which was tasty. I got some passion fruit green bubble tea, which was very yummy. And i stumbled across this super generic, basic place that appeared to specialize in stinky tofu. So i got some, deep fried, with pickled cabbage & spicy-ish red sauce. It was not bad.
By the time i finished eating, it was starting to get dark, and i was a bit concerned whether the staircase back to my guesthouse would be well lit, so i headed back. i got barely started walking, and there was a massive pedestrian traffic jam. apparently everyone else had the same idea as me, and they were crowding into the narrow alleys and steep steps all at once. It started turning into people pushing and shoving, and i decided i needed to get out of mess before it turned into a stampede where people got injured. I turned down a side alley, walked the long way around, and came out far enough down hill that most of the crowd had dissipated. Surprisingly the entire stairway back was light up, but i had no regrets, as there really wasn't much else to see or do anyway.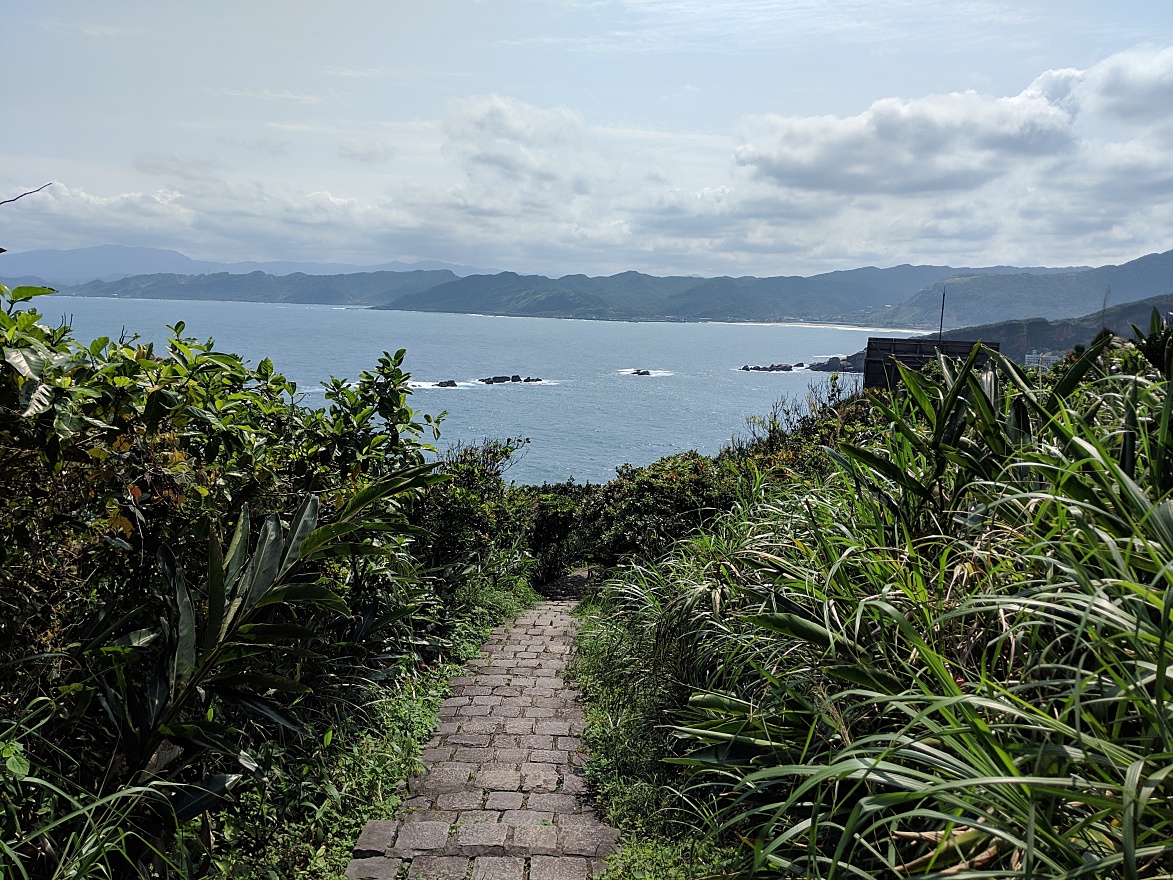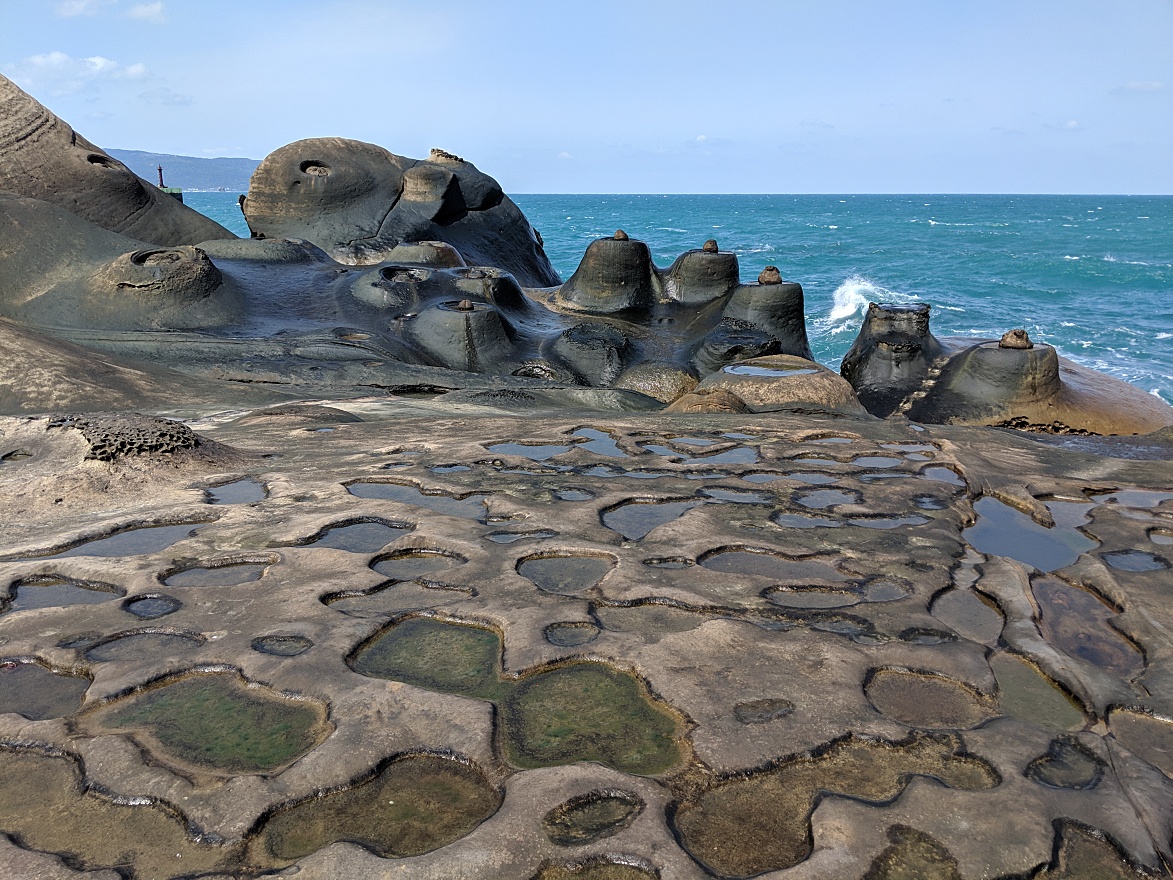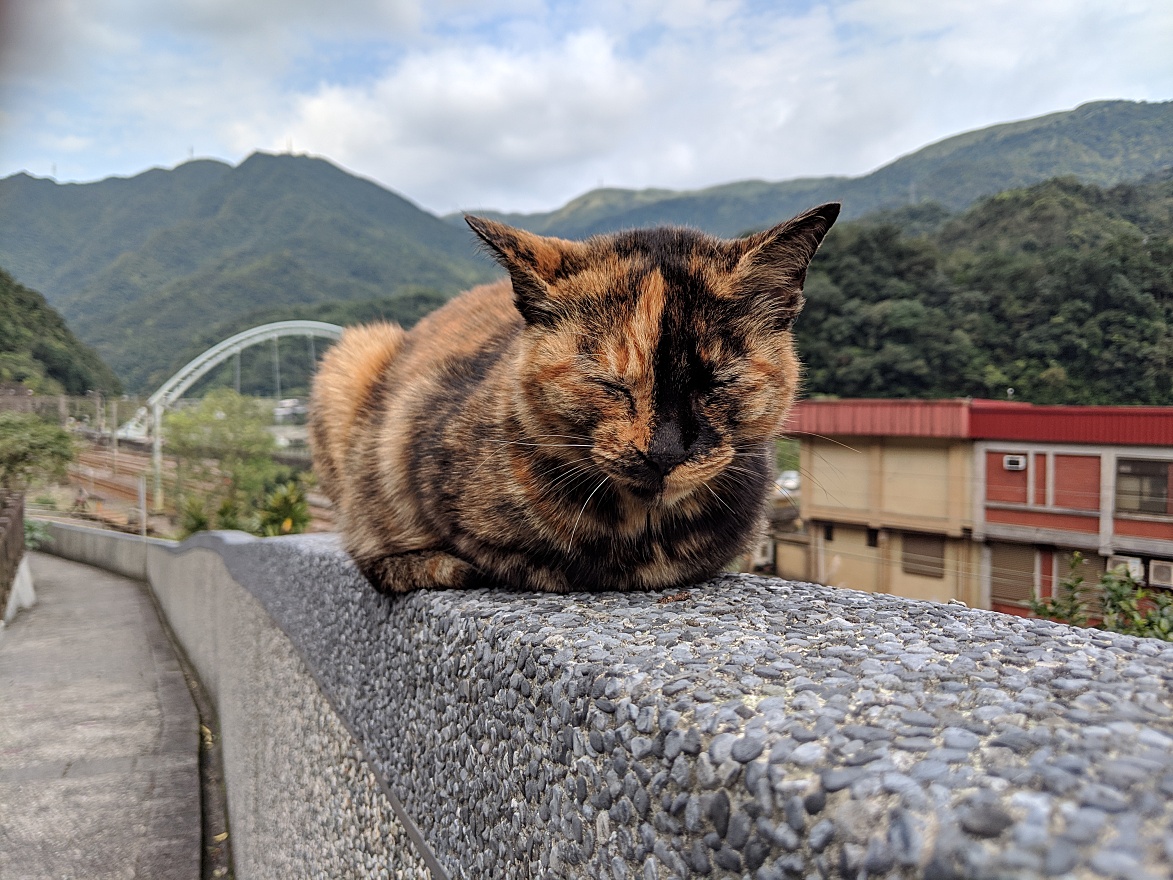 Day 8
I slept fairly well, but there were lots of noisy birds around sunrise, so i was up for the day at 6am. Breakfast was kinda weird. I was served a plate with sliced fruit, a sandwich with ham & cheese, and a huge strip of bacon sitting on top, and what looked like taco salad on the side. The 'salad' had iceberg lettuce, shredded purple cabbage, raisins, crumbled tortilla chips and thousand island dressing. It wasn't bad, but still odd. After that i checked out, and the woman gave me a fridge magnet in the shape of taiwan.
I drove about 25 minutes to the Sandiaoling falls trailhead. The sky was overcast and cool, but it wasn't raining. This trail was really nice, and well maintained. The first part was this crazy stone staircase climbing up the side of the mountain. But once at the top, it was almost completely flat for a while, as it ran through a dense forest full of ferns and other huge leafy plants. It reminded me a lot of the forests in New Zealand. There were a few others hiking, but not a lot. The first waterfall had a nice observation platform. After the first falls, the trail got a bit more difficult, with some rocks and small hills. There were also 2 rope-cable bridges that i needed to cross. The 2nd falls were super tall, coming off of a cliff. After that, the trail got a lot more difficult, with boulders, and an insane metal staircase (which was so vertical that it was nearly a ladder), and then a stone ladder with ropes. That led to the last falls which were also very tall. At that point i could continue further to a Buddhist temple higher on the mountain, or turn back. I decided to turn back, as i was already kinda freaked out over the stone ladder. It wasn't fun going back down, but i managed, and i finished the trail just before noon. The (very small) village of Saniaolin was where i parked, so i looked for somewhere to get lunch. I found a place with customers, and the owner beckoned me inside. He handed me the all-chinese menu. I attempted to let google translate, but it mostly failed. So, i winged, and ordered randomly. It wasn't a complete disaster, but not exactly great. I ended with a hacked up (bones, bones, bones) boiled chicken with rice and super spicy soy sauce, and a huge serving of shave ice with mystery orange fruit bits. The chicken was good, although the bones were so frustrating. The shave ice was meh.
After that i drove to Shifen on this mountain road that had some crazy switchbacks. Apparently this town's big thing is its huge waterfall, and the lanterns that people can write on before igniting and releasing into the sky. I wandered the old town for a bit, which was packed with people. Lots of koreans (i could tell by what they wrote on their lanterns). Then i hiked over to the waterfall area which was about 2km outside of town. So many people there too. The waterfall seems to be referred to as taiwan's niagara falls. I can sort of see it, if you shrunk niagara by 75%, and surrounded it with forest. After that, i hiked back to the car.
I then made the 20 minute drive to Pingxi, where my Airbnb was for the night. I had a bad vibe about this place from the day that i booked it last September. While it had tons of positive reviews, they were nearly entirely in Chinese, and usually a single meaningless sentence. the problem was that there were very few other options in the area. Upon booking, the 'address' was something that google couldn't find. I contacted the owner, and she responded only in chinese, which made little sense when i ran it through google translate. Eventually i got a 'real' address, but it seemed like i had to go to that address to meet someone called 'Mr. Lai' who would then give me the actual info to access the property. When i arrived just after 3pm today, the address was locked, with no one present. it had a sign claiming to be a B&B, but it looked like some weird store, on a block full of tiny shops. I knocked on the door, no answer. I emailed the property owner, and got no response after several minutes. I tried calling, and the number went to voicemail with a chinese msg. then it started raining. At that point, i started to make contingency plans. I tried calling again, someone answered, speaking chinese, and then hung up. I called a third time, more chinese, and hung up on me again. While this was going on, a family arrived, and entered a passcode, which got them inside, and i followed them in. they seemed to be guests maybe, but none of them were mr. Lai. Then my phone rang, and it was a lady, with a strong chinese accent, who spoke english. she seemed to acknowledge that i was supposed to stay at her property. I told her that i didn't have the address, and i needed a link to a map. She said she would send it in 5 minutes. I got a text, in chinese with the address of the "b&b" where i was currently. It made no sense. I called her again, rather annoyed, as it had been over an hour at this point since i arrived. Apparently the missing piece of information was that my airbnb *is* the 'b&b'. I still have no clue who mr. Lai is, as this property seems to be completely un-staffed. I got an electronic key code to enter my room, which was a fairly basic motel room. It does match the listing. I can't figure out if a language barrier caused all the confusion, or if they're just incompetent.
After all that nonsense, it was after 5pm, and i wandered out to find dinner. There weren't many choices. It was basically some grilled sausage places, traditional chinese noodle/soup places, and 7-11/family mart. I almost settled on a noodle place, until i saw the cook smoking while handling food. I wandered some more, and found a place with a partial photo menu (the chinese menu had about 20 items, there were just 9 photos). I ordered dry(no broth) 'sand' noodles and chicken sausage. The noodles were decent, with some greens & bean sprouts, and a mystery brown sauce. There was a jar of red chili sauce on the table that i added for kick. The sausage was a mixture of ground chicken, sticky rice, and other spices, in a natural casing with a vinegar based sauce. Overall it was decent, but not amazing. What was amazing was that i paid about \$3 for this dinner. After that, i wandered over to the family mart, and got a green tea ice cream sandwich (dessert), 2 rice balls and a lemon basil seed drink (for breakfast, my room has a small fridge).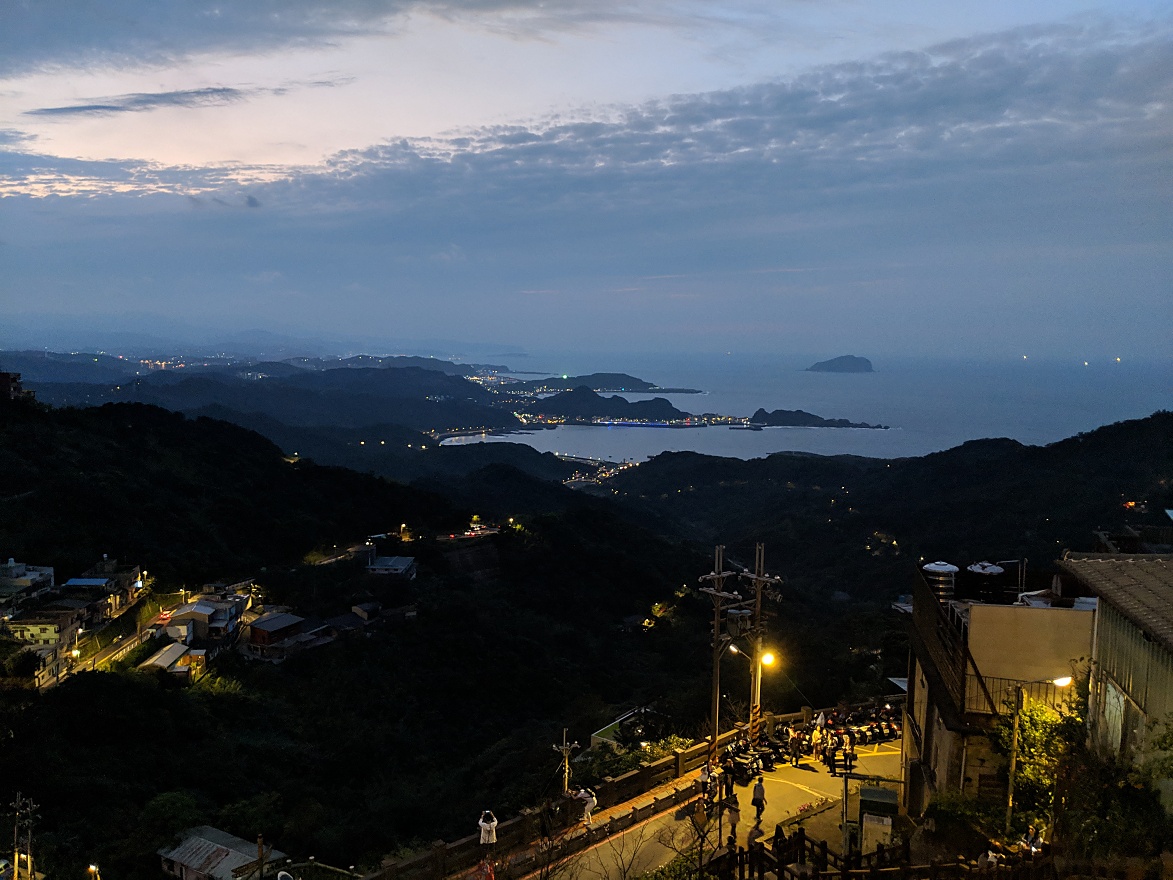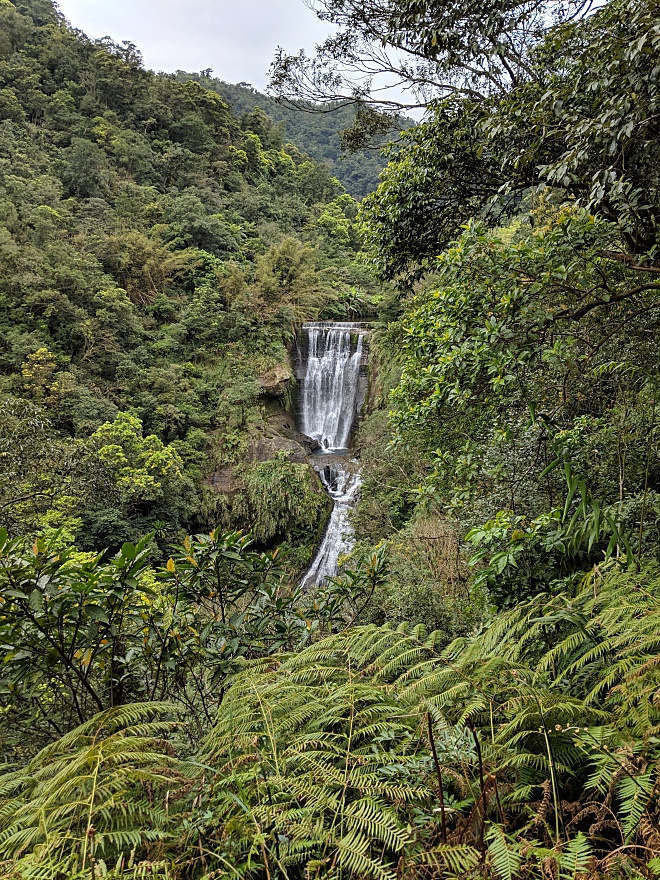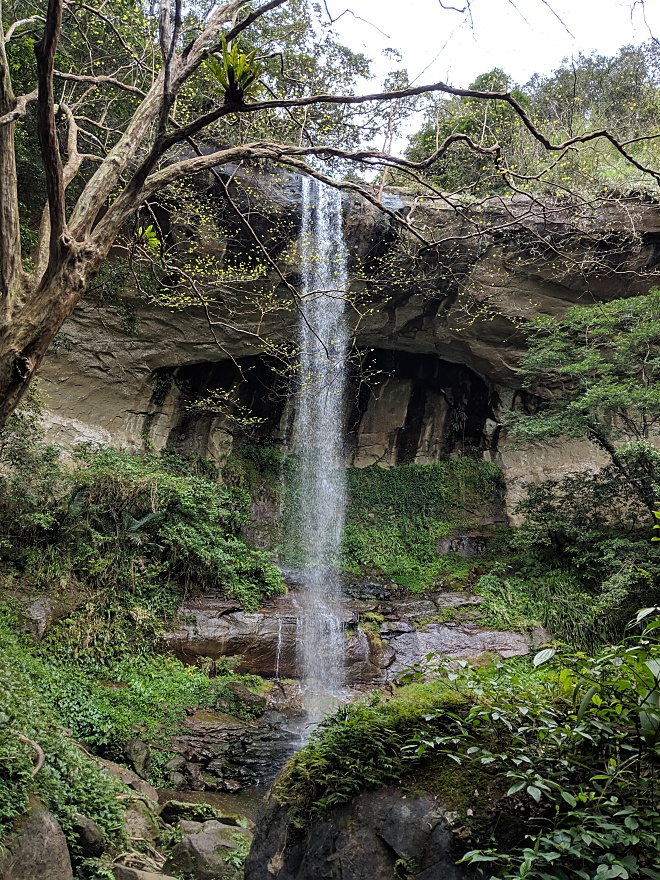 Day 9
I had a semi-crappy night because the bed was super hard (even by asian standards), and there were noisy people being loud. I got up for the day at 6am, ate my breakfast, showered, and was driving a bit after 7am. It must have rained a lot overnight, as everything was wet, and it was still drizzling a bit, and gloomy.
The drive to Wulai Falls was mostly on twisty mountain roads, past tiny towns. Lots of big mountains and fog, but the rain stopped. I got there at 8:30am, walked a short distance, looked at the huge falls across the river and called it done. The falls were tall and nice, but i'm not sure it was worth the drive, as i had to backtrack a lot of the way afterwards.
Thankfully, i got routed onto a freeway after 30 minutes, and then it was fast & straight. Taiwan's solution to avoiding mountains & valleys is to tunnel through them, and build ridiculously elevated roads. I lost track of how many tunnels i went through, but it was definitely more than 10. And some of them were disturbingly long. One that i drove through was 10km long. It had 39 emergency evacuation exits. I started to get claustrophobic after a while, wondering if it would ever end. Once i got to the east coast the freeway ended, and then i drove south on Taiwan's version of the PCH. It also occurred to me that i've now spent 3 Sundays in a row driving along the Pacific, in different countries (US, Japan & Taiwan). The drive was nice, without much traffic (oddly all the tour buses were heading north). I think the sun came out for maybe 20 minutes the entire drive.
I reached Taroko National Park a bit before noon and stopped in the visitor center. I got a rather nice English park map & trail guide, and then had lunch (it was mediocre, but i didn't want to spend time driving to the nearest town). after lunch, i drove further west into the park and turned off at the Skakadang trail. To access the trail, i had to cross a giant red bridge, then walk down 5 flights of steps. The trail itself ran beside a river, at the bottom a steep canyon. The water was bright turquoise in many places, with massive granite boulders. When it wasn't beside the water, it went through dense forest. It was about 8km round trip. I finished in less than 3 hours, and drove back out of the park to check into the guesthouse for the next 2 nights.
The guesthouse is really nice. Its run by an older couple, and was built to blend into the surroundings. They've got at least 6 cats roaming around too. When i checked in, the owner gave me a hand drawn map of the town, with landmarks & restaurants, and he made a few recommendations. However, the problem is that the names of everything is in hand written chinese, so even comparing it to signs was difficult. I might have found one of the places, but wasn't open. I think i found a 2nd place, so i had dinner there, and it was kinda awful. Basically americanized chinese food. I can't tell if this guy is recommending what he thinks westerners like, or if i failed to match up the chinese characters correctly. After that debacle, i walked 2 blocks over, and attempted to get a grapefruit green tea boba. I say attempted because somehow the tea shop (their name was literally 'little tea cafe') was out of boba. That's got to be a crime in taiwan, right? Anyway, i ended up getting it without the boba, and its still pretty good. Then i went another block to the family mart. And got a matcha ice cream cup, and it was yummy.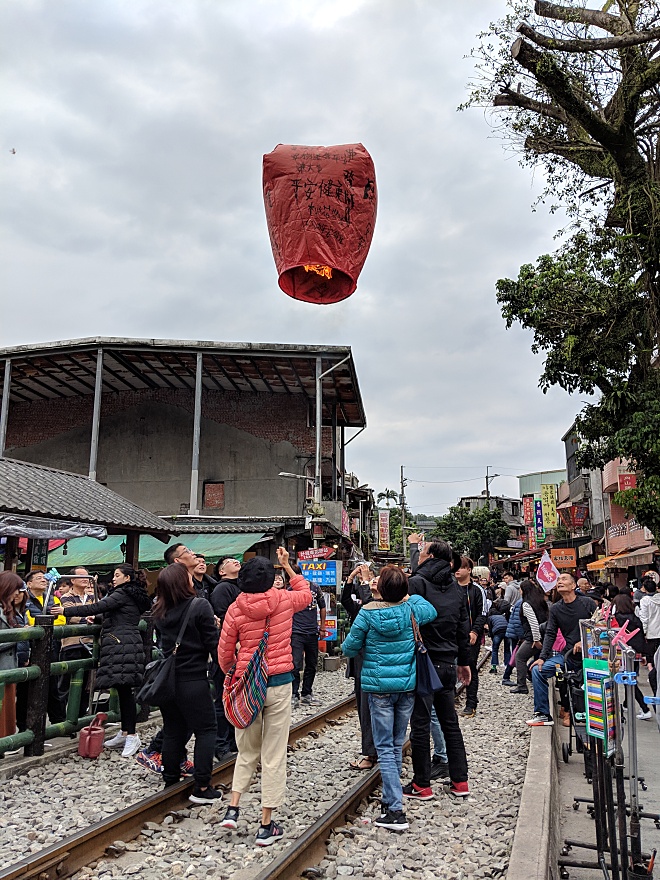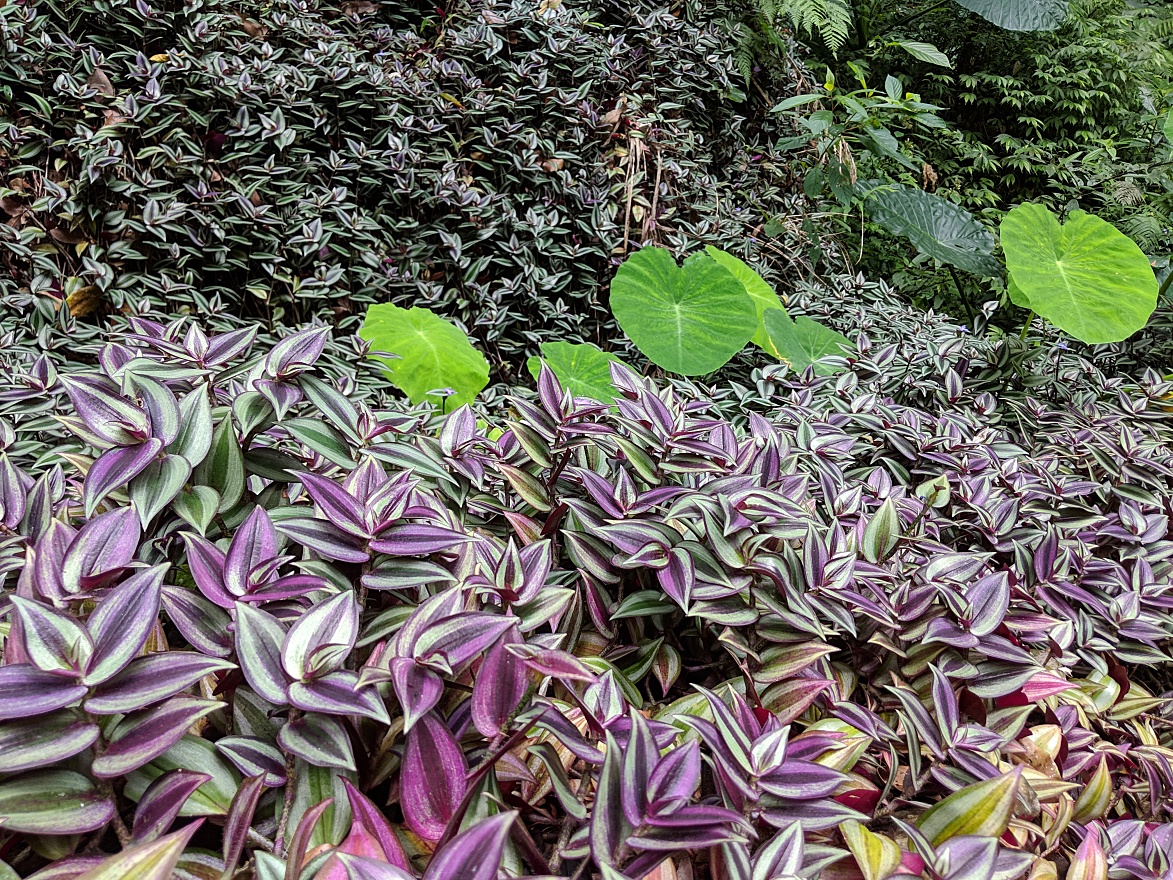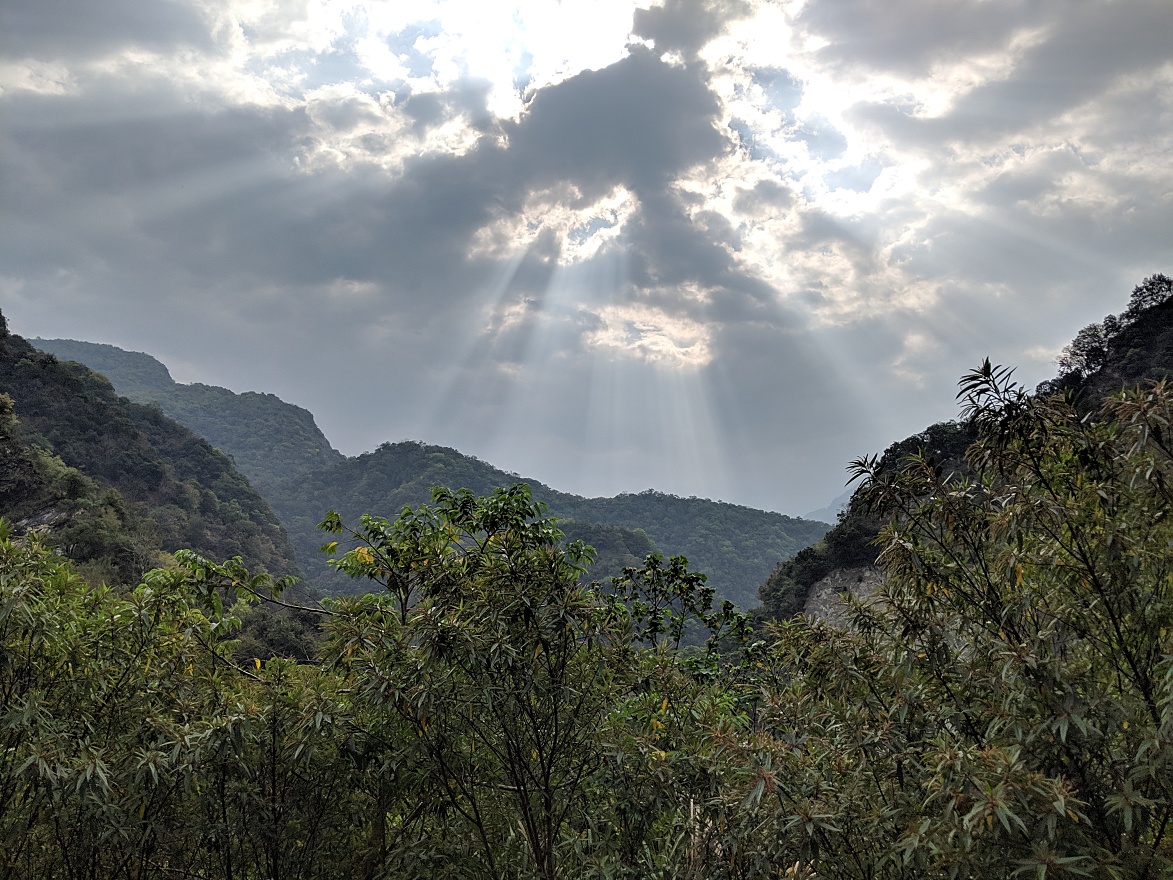 Day 10
I slept fairly well until 6am. The sun is out! I had breakfast at 7:30am. It was interesting. There was toast, congee, stir fried green beans & carrots, sauteed spinach, and a fried egg with soy sauce.
At 8am, i drove back into the park for about a half hour to the Baiyang (water curtain) trail. This hike was fun. The trail has 6 tunnels, some of which are wet. The last tunnel has an actual river flowing through it, with water running down the walls, dripping from the ceiling, and flowing along the narrow trail. When i arrived before 9am, there were just 2 other cars in the lot. the parts of the trail not in a tunnel ran along side a cliff, over looking the raging river below. There were also a few bridges and waterfalls. On the hike out, i only saw 6 other people. At the last observation platform this older couple were having a small picnic. The guy saw me, and started yelling and gesturing for me to come over. They insisted on sharing some of their food, at least i think that's what they meant, as they didn't speak any english. I had some fruit and a few cherry tomatoes, and thanked them. The last tunnel is the actual water curtain, where the volume of water falling from the ceiling is so great, it seems like a curtain. I tried to explore, and got maybe 100ft. before giving up and turning back. I was getting soaked and it wasn't even the really wet section. I walked back to the car after that, and passed lots of people along the way.
After that, i drove a bit and decided to find somewhere for lunch. There was a small tourist village which had a bunch of small eateries. I ended up going to one that had an english menu with dozens of choices. I ordered a seafood noodle stir fry and a fried egg with radish. The food was ok. Then i drove a bit further to hike the Lushui trail. On paper it sounded nice. But in reality, it was mostly boring. There was one section that ran along the edge of a cliff with great views, but the rest was in a wooded area with no real scenery. Finally, i drove to a temple that was built to honor those who died building the road across the park (and island) back in the 50s. The temple was perched at the base of a waterfall, which made all of the water flow from below the temple. It was quite pretty, but also crowded.
For dinner, i went to a hole in the wall place with 7 tables that actually had a bunch of local people. They had 1 english menu, and it looked good. I ordered preserved egg with bitter gourd, spicy braised pork belly noodles, and pork with garlic sauce. All of it was delicious, and cost exactly half as much as last night's crap.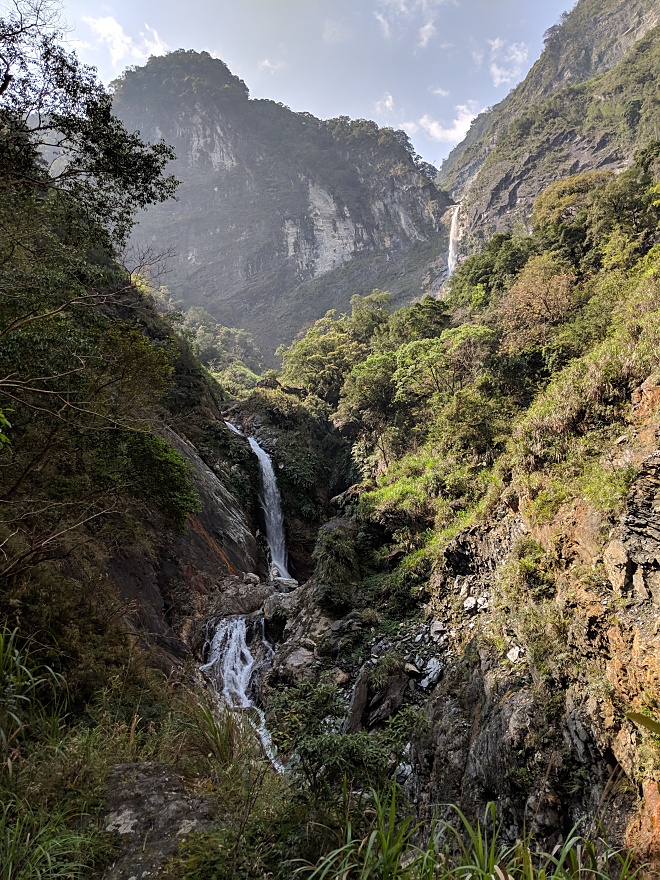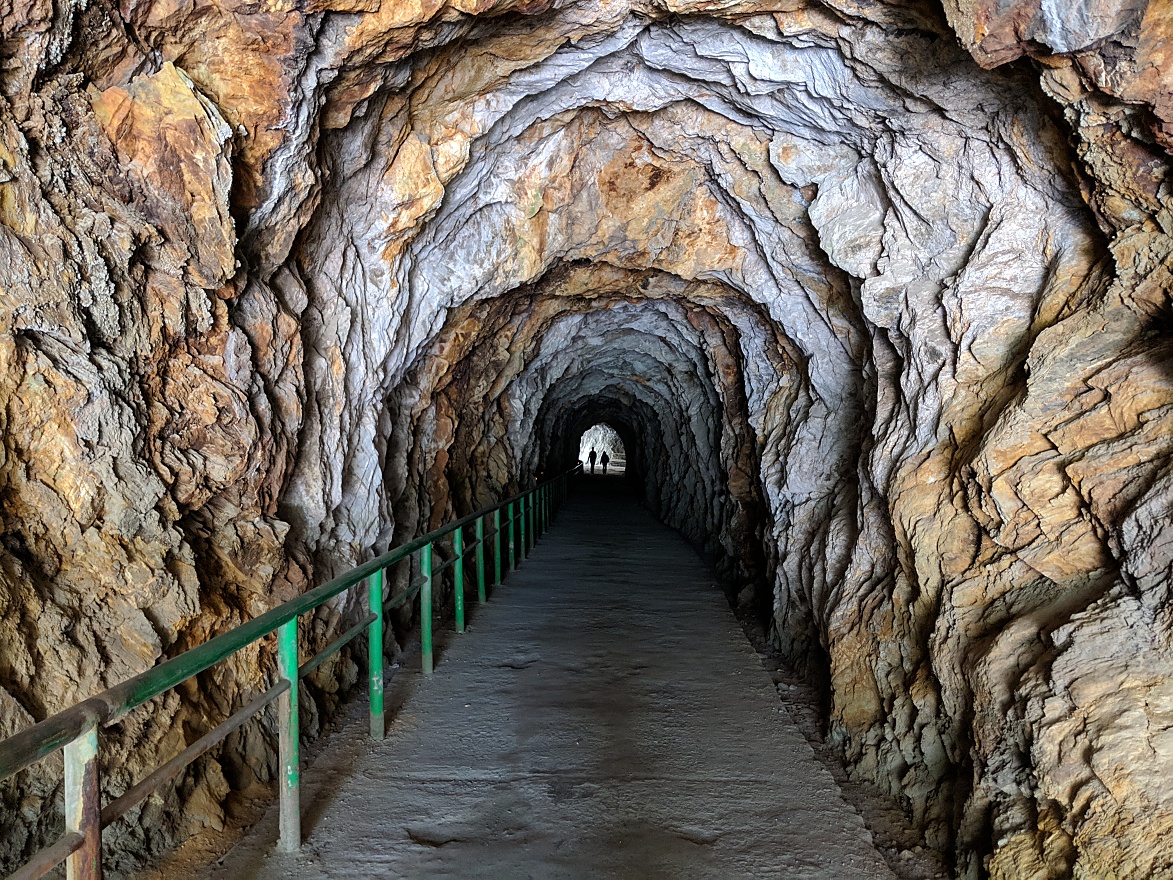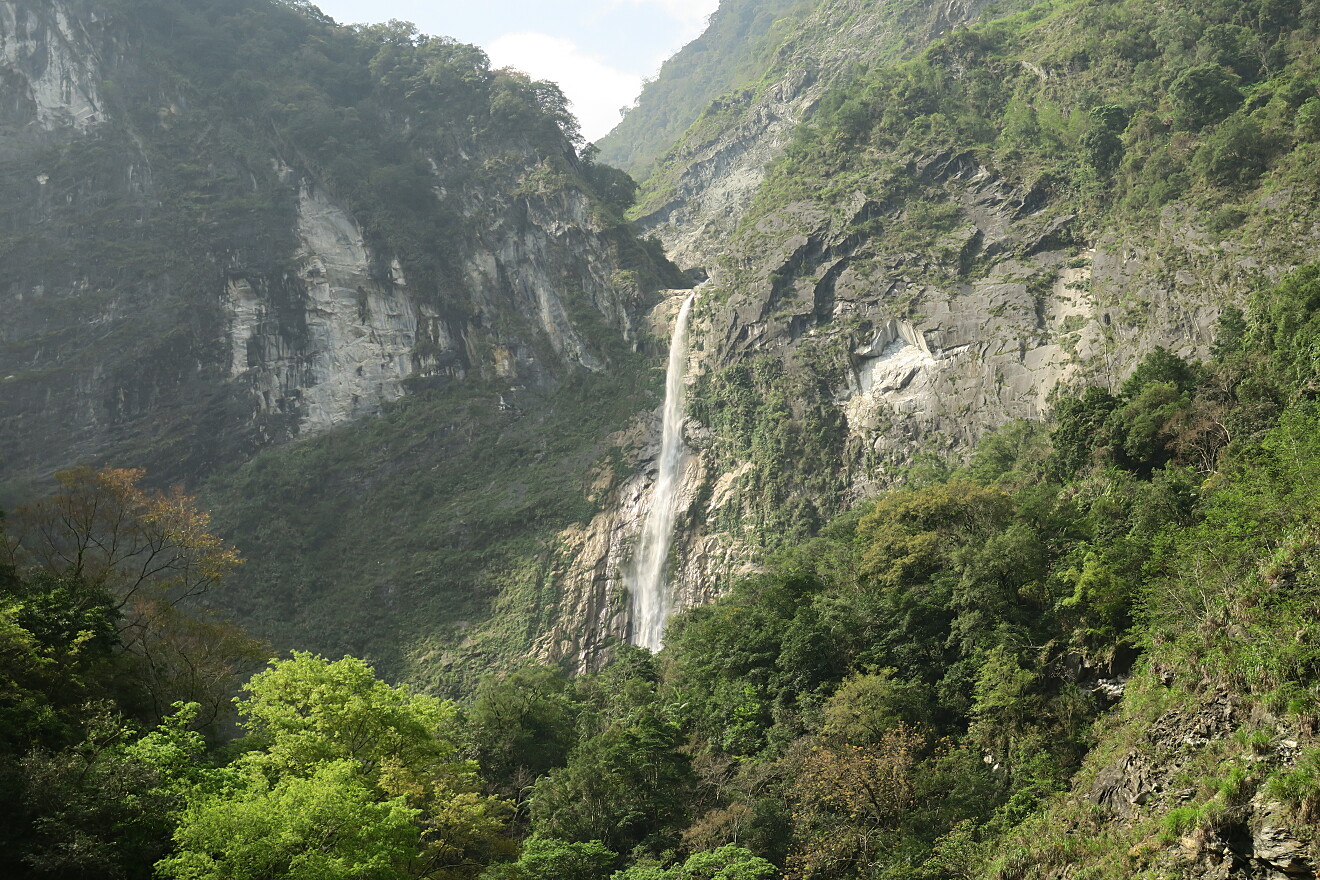 Day 11
I slept well until 4am when the smoke detector started doing the 'battery is dying beep'. I yanked out the battery and managed to sleep for another 2 hours afterwards. My left eye feels irritated since i woke up, for no obvious reason.
The weather is back to rain & clouds again. It was drizzling for much of the morning drive. the road ran right along the coast nearly the entire drive. It would have been gorgeous if the weather was better. At lunch time i stopped in the town of Dulan, which was roughly the half way point of the drive. I had dumplings and soup. There was a lot of construction after lunch where they were widening the road by somehow having it hang over an ocean cliff. In other places they were building new tunnels. By mid afternoon the sun came out and the temperature climbed to 31C.
I reached the hotel just before 4pm. Apparently Kenting is the beach, honeymoon and partying destination of taiwan. Which is why i came here to go hiking!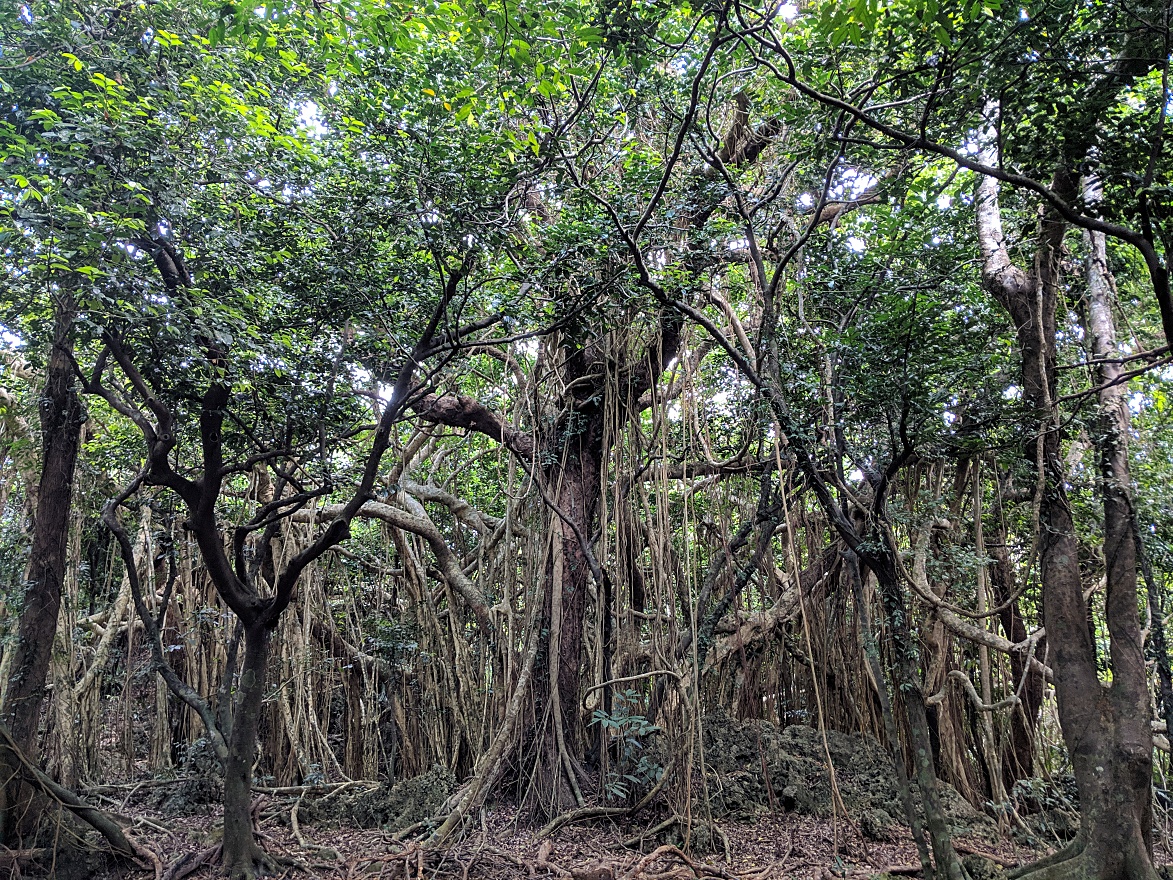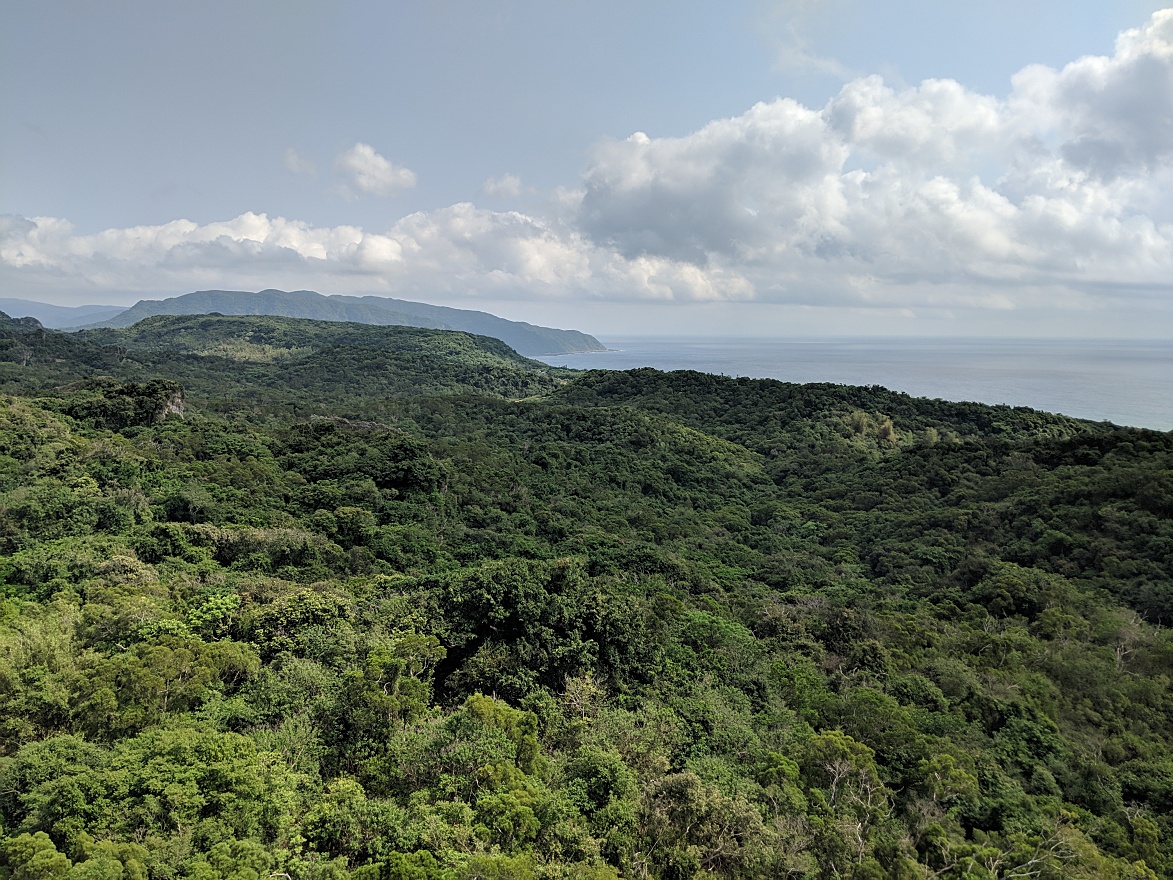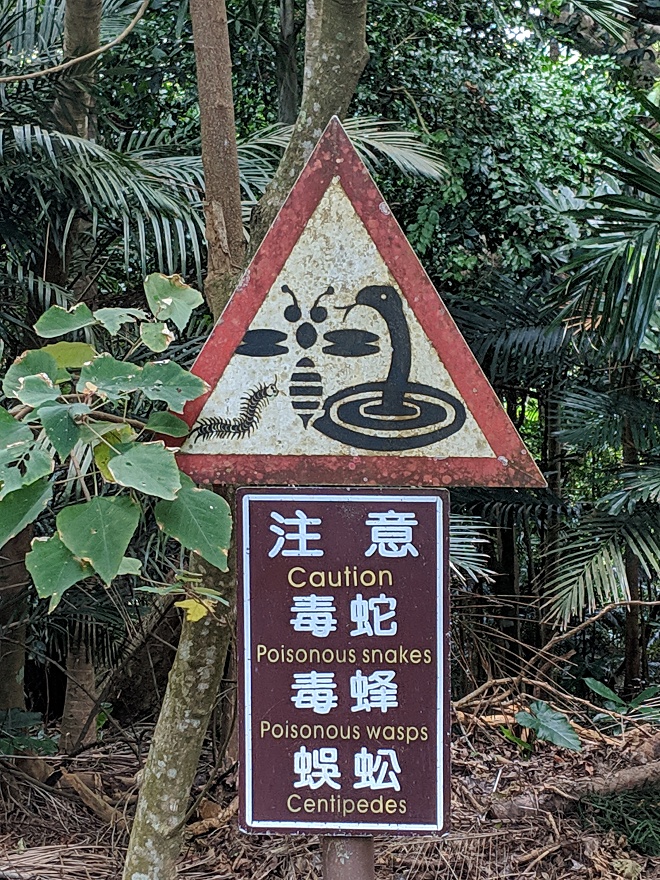 Day 12
I slept over 9 hours last night. Breakfast was mediocre. It was white toast, eggs, bacon, ham and watermelon. They asked if i wanted my eggs scrambled or fried. I said scrambled, and got fried anyway. The bacon was soggy. The ham smelled like acid. And i don't like watermelon. I'm thinking i'll just skip breakfast tomorrow.
The weather today was mostly sunny, but that also meant that it was extra hot & humid. For my first stop, I drove about 10 minutes north of the city to Shedding Nature park. I had to pay for parking, but it was about \$2, and i understood how the token system worked. The park used to be below sea level, but due to plate tectonics, its now a forest with huge coral reefs. I hiked a trail that made the longest possible loop through the park. There was a lot of dense jungle, butterflies, and ants. Thankfully not many people. There were also a few place with great ocean views. Then i got a good scare when a small raccoon sized animal growled at me and then darted into the jungle. At the time all i saw was a gray furry thing. But later in the day, i saw 2 more (who weren't growling) and googled and figured out that they are 'gem faced civets'. I finished that hike just after 11am, and then drove 10 minutes further up the road to to Kenting National Park.
I had to pay for parking again (in a lot that could have held over 100 cars, yet i was the 3rd one there). I wanted to eat lunch, so i wandered around a bit and found a generic restaurant. Their menu was only in chinese, but the guy knew enough english to ask if i wanted 'fried rice', and i agreed. For about \$2.50, it was ok, with bits of egg, pork and a few vegetables.
After that, i actually entered the park. Its split into a lower section (which is mostly like a botanical garden), and an upper section which has geologic formations (similar to Shedding) and wildlife. I ended up doing a huge loop through both sections. the signs were really good, in both chinese & english There were a few caves and slot canyons, plus lizards, civets, butterflies and macaques! After about 2 hours i finished my loop, and drove back to the hotel.
Surfing seems to be a thing down here. I saw multiple cars with boards on the roof. Dinner was pizza (don't judge). I finally hit rice fatigue, and didn't feel like translating menus tonight. It wasn't awful (the Philippines still holds that prize), but it definitely wasn't great either.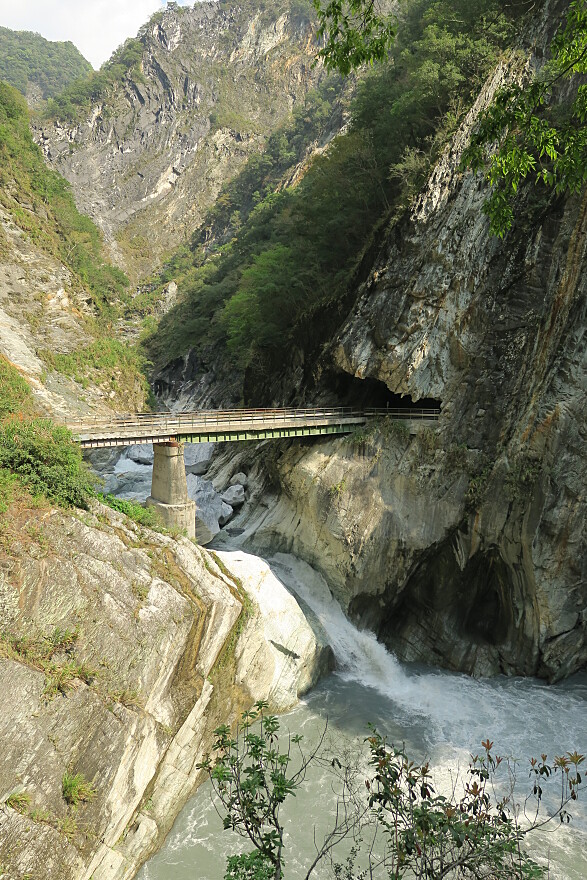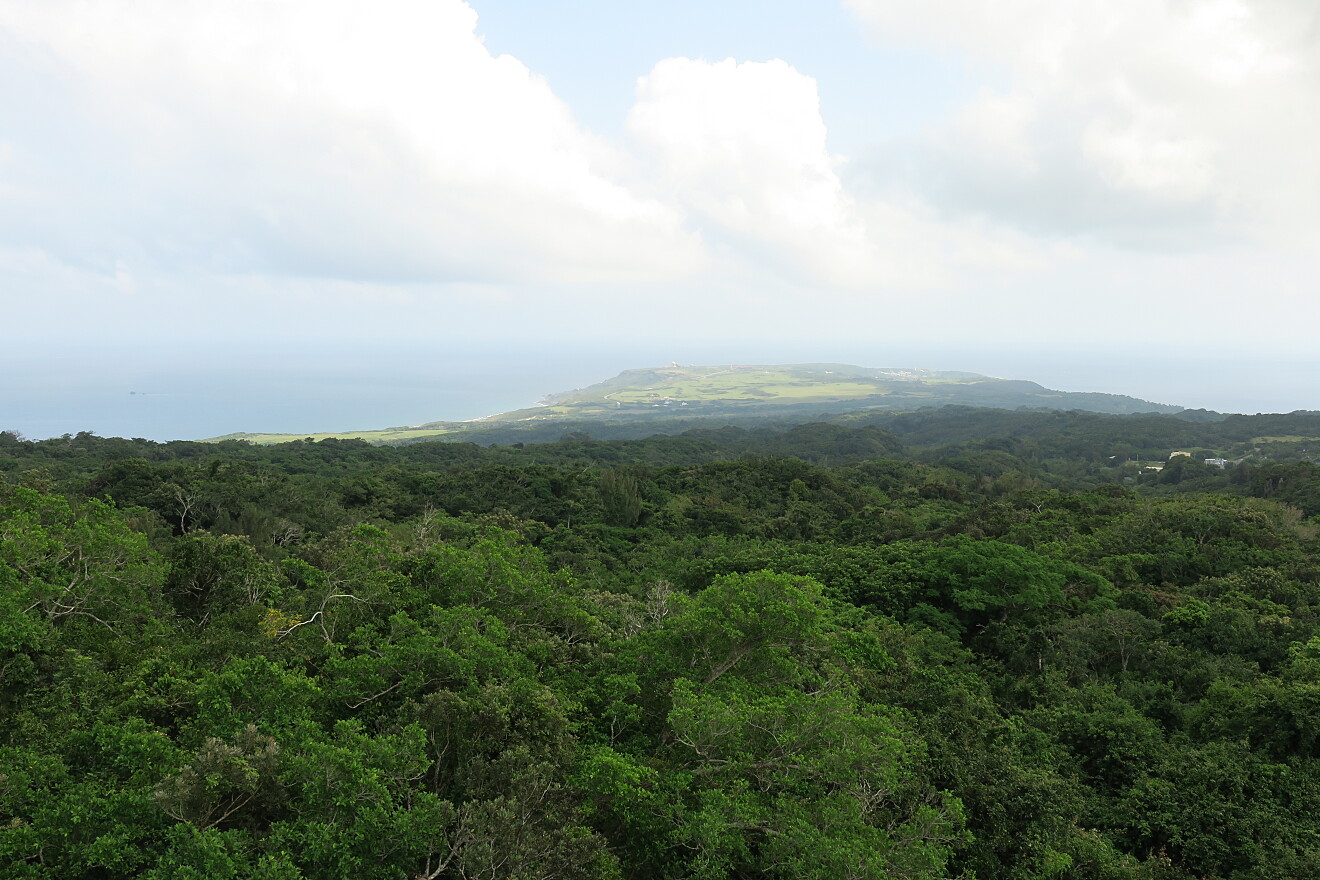 Day 13
I had weird bad dreams for much of the night and woke for the day at 7am. I was on the road by 8am. The weather was clear, hot & humid. when i stopped for gas they handed me a box of tissues with the receipt. No clue what that's about.
Much of the drive was past small towns and farms growing coconuts, bananas, mangos and cashews. Once i got closer to Kaosiung, the road turned into a freeway, and filled up with lots of traffic. For a few minutes i was stuck in heavy slowly crawling traffic. I got to my primary destination, Lotus Lake just after 10am, and found a parking lot nearby that was nearly empty, and no obvious way to pay either (more on this later). I lathered up with sunscreen, and headed a couple blocks to the lake.
The lake's primary draw are a bunch of pagodas, temples & elaborate shrines that run around the perimeter. my first stop was the dragon & tiger pagodas. Sitting side by side, jutting out into the lake are a pair of 7 story pagodas, each with enormous dragon and tiger tunnels leading to them. Its quite the sight, where you walk across a short bridge, and then walk into the dragon(or tiger's) mouth. Inside each creature are elaborate murals depicting some ancient Buddhist stories, involving the creature. Then you exit out its butt, and the pagoda is in front of you. There's a spiral staircase leading to the top. The views are great, since you get to see where you've just walked, plus the other 'attractions' further along the shore of the lake. Also directly across the road from this stuff is the actual ridiculously ornate multistory temple.
After finishing up the dragon & tiger, it was after 11, and i was super hungry for lunch, since i skipped breakfast. The night before i did some research, and found what was supposed to be a very good beef noodle place 3 blocks away. I walked over, and despite the place being open barely 20 minutes, it was already bustling with people. There was no english anywhere, and to add to my confusion, they had some quasi-buffet line thing going on with a cashier. I observed for a bit, and saw people grabbing plates and putting assorted stuff on them with tongs, but also grabbing other small plates that already had various food items on them. But none of that was a hot bowl of beef noodles, because apparently they also had dry-erase menu cards to fill out. I knew that the menu was a lost cause. So i served myself some stuff from the buffet that looked interesting, then pulled up a photo of beef noodles on my phone and showed it to the cashier. She seemed to understand, and held up a calculator showing that i owed about \$6 for everything. That seemed surprisingly cheap, but its not like i could question it, so i paid, she handed me a receipt (without a bowl of beef noodles), and I wandered into the seating area very confused. A guy directed me to a table, grabbed my receipt, and came back a few seconds later with a huge bowl of beef noodles. It looked and smelled amazing. I ended up with purple eggplant in garlic sauce, marinated tofu, tripe, kelp, and green onions. All of it was really yummy. Definitely the best lunch that i've had in Taiwan.
After that i wandered back to the lake, and continued from where i left off. The next thing was a weird semi-coiled dragon, which exited to a long bridge that ended at a 3 floor pagoda. At this point it was above 90F and i was sweating like crazy. There was a tea shop across the street, where i got a mango green tea (for about \$1.50), which was cold and refreshing. Next was this 6 story tall statue of some buddhist deity, which, of course, you could walk inside. There was also karaoke going on in the parking lot for some reason. It was all so weird.
Afterwards, i continued my walk around the lake, and eventually reached the opposite side, where there was a temple with 2 large smoke breathing dragon horses (head of a dragon, body of a horse, incense burner below for the smoke to rise out if its mouth), and then a huge stone Buddha sitting on the roof of the actual temple. They had an elevator to the 5th floor observation level, which was just below buddha's feet. It was nice to see all the previous temples across the lake from there.
At this point it was nearly 2pm, and i'd stopped at all of the lake front attractions. Today was really the first day in taiwan that i saw a decent number of Western tourists. i walked back to the car, where i found a slip of paper on the windshield. It looked like a parking ticket, although it was all in chinese other than my license plate and a few other random numbers. I figured that i'd ask at the hotel what it was. The drive to the hotel took about 20 minutes. I parked in front of the lobby, and got checked in. I showed them the 'ticket' and they confirmed it was definitely a parking violation (although i still have no clue how or where i could have paid to park earlier). The good news is that i had until april 9 to pay it, and the fine was about \$1. Yea, its bizarre. That's less than i was paying to park when i could find the fee box. Also, i could pay in any 7-11 or FamilyMart, and there was a FamilyMart next door to the hotel. So i paid my fine, took a photo of the receipts that they gave me, and called it done.
For dinner tonight, i ended up going to a fancy asian buffet. There's a high end hotel about a 20 minute walk which is supposed to have an amazing buffet, so i decided to give it a try. The buffet is on the 43rd floor. It was quite impressive. It was a Vegas style setup, and 90%+ was asian stuff. They had the most elaborate sashimi station i've ever seen on a buffet with over a dozen types of fish, including some i've never heard of before. The sushi was really good too. They had a boba bar, with every imaginable ingredient (multiple types of tea, 5 types of pearls, jellies, flavorings, beans, etc). They had more shellfish than i've ever seen at a vegas buffet. There was korean, thai, japanese, chinese. It was nice, and the place was packed.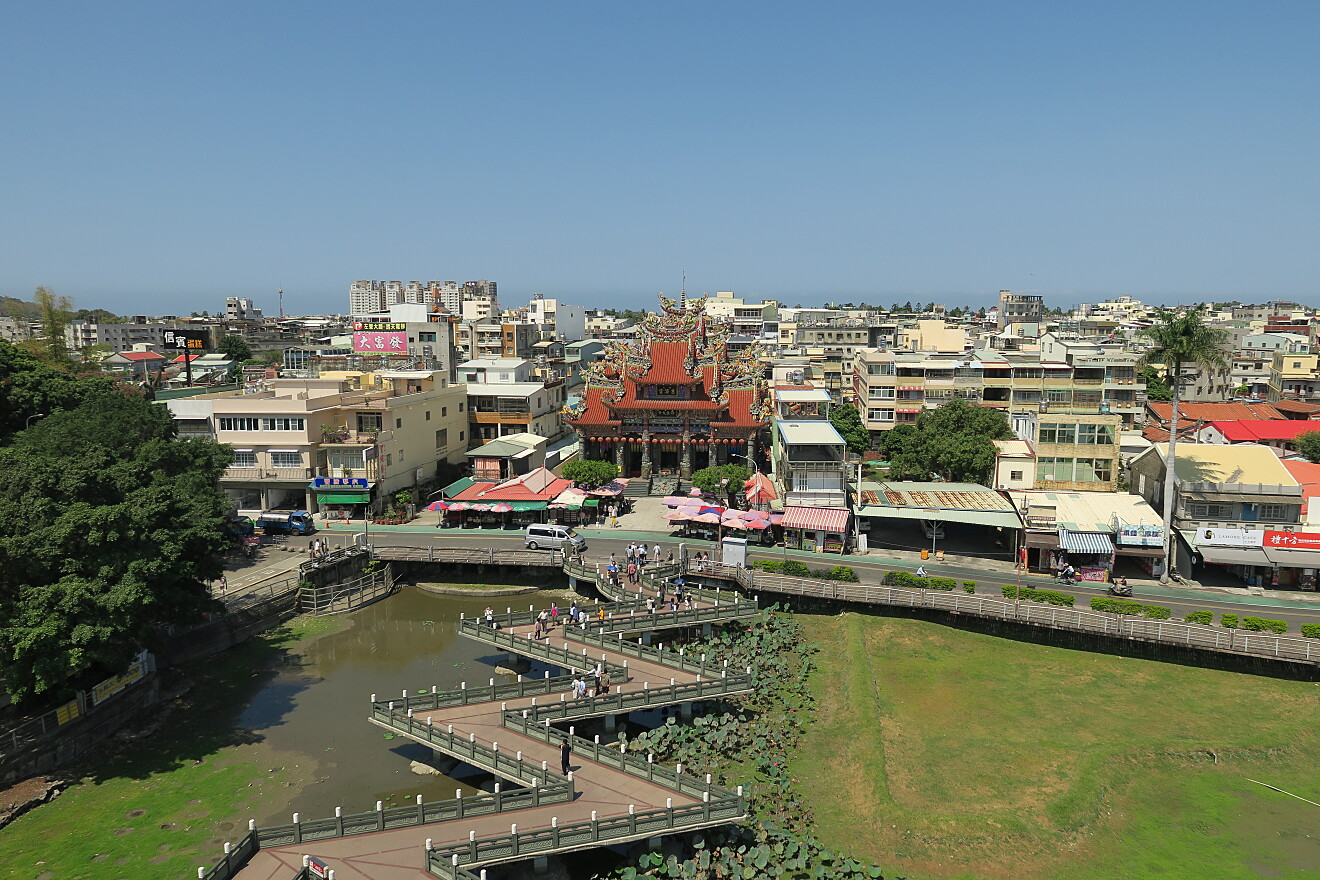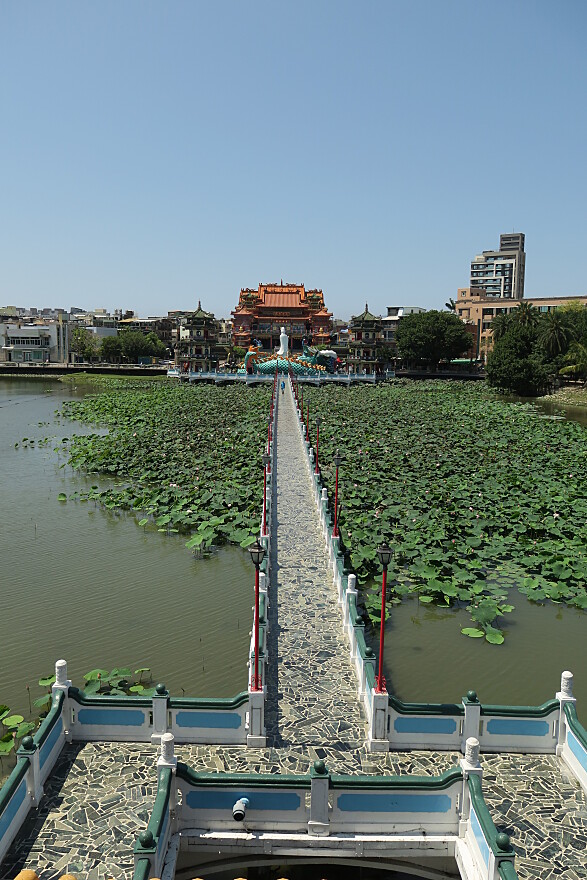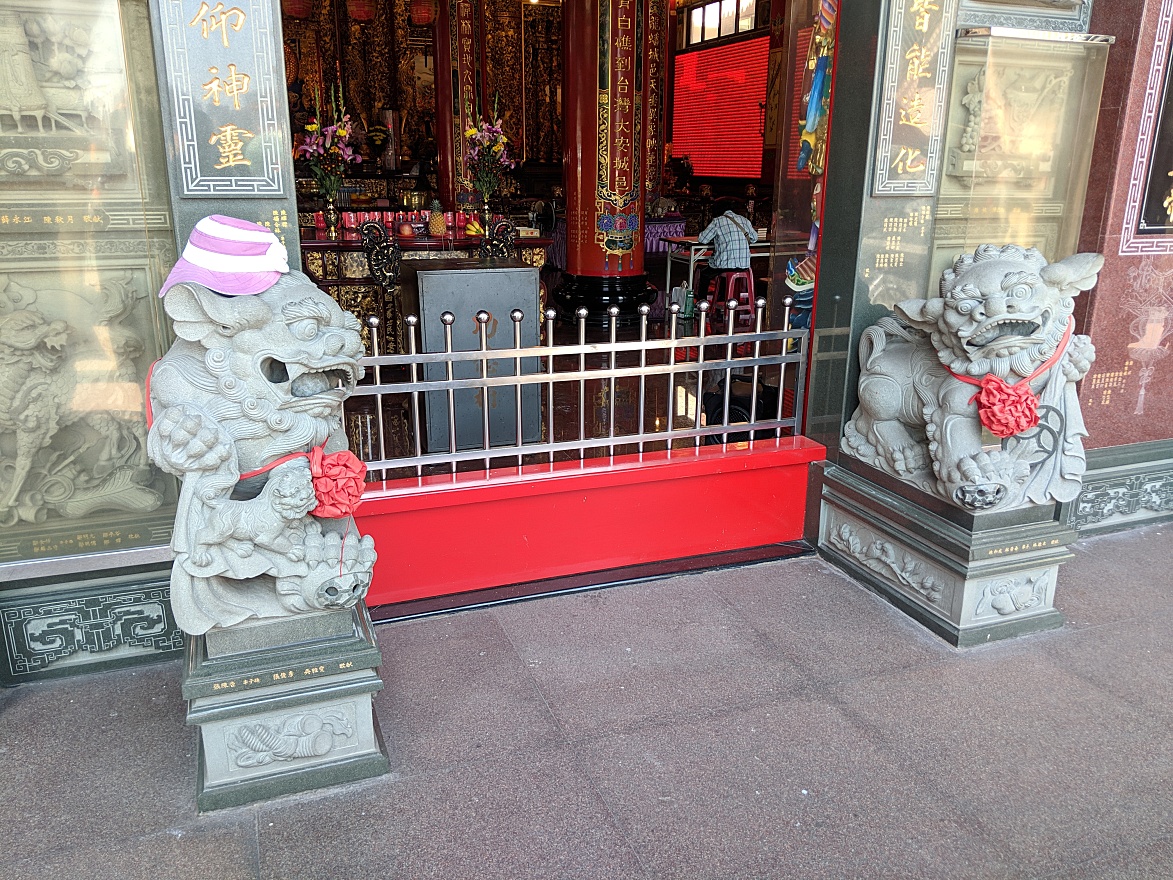 Day 14
I slept ok and was up for the day at 5:30am. I checked out and was driving north by 6am. The weather started off clear for the first hour, but then clouds moved in for the rest of the drive. I made good time and arrived to drop off the car just before 10am. That's when they let me know that I owed nearly \$20 in freeway tolls, because Taiwan does electronic toll collection. It wouldn't have changed my route, but it would have been nice if they at least mentioned it when i picked up the car.
When they dropped me off at the airport i had a bit of a walk to the MRT station, then i needed to buy the fare card, and wait for a train towards the city. The 'express' train (which skipped 75% of the stops) took 30 minutes. Then i needed to change to 2 other trains to get to the hotel at Daan station. After checking in and dropping off my bags, i headed out.
First stop was lunch, to a(nother) beef noodle place. The one that i went to has been in business since 1963, and is considered to be one of the best. I got there and found a line out the door with over 20 people waiting. Thankfully the line moved quickly, since a grouchy woman basically was managing seat assignments. I ended up at a table with a group of 4, and an older guy. Their 9 item menu has photos, plus is in both english & chinese, so it was super easy to order (plus the staff spoke english). I got beef & cow tendon noodle soup, with a small plate of a cucumber salad and a small plate of bean sprout salad. The food came out fast. It was yummy although subtly different than what i had yesterday. The noodles where thinner, and the chunks of beef were larger.
After lunch i decided to hike Elephant Mountain (Xiangshan), which is a small mountain on the edge of the city with great views. Of course, it started raining as i climbed. Not hard, just a light drizzle. Apparently it always rains when i go to Taipei. The forecast is for clouds and light rain for the rest of my time here. There were quite a few others on the trail (which was mostly a stone staircase). after that i returned to the hotel for a few hours to rest.
A bit after 5pm i headed out to the Raohe Night market. Its supposed to be a 'smaller' less touristy market. It was already kinda crowded when i arrived. The first thing that I ate were baked pork buns that had tons of green onion inside and sesame on the outside. They were fresh out of the oven, and really yummy. After that it was a bit of a blur of food stalls and food. I had a pork sausage thing that was inside a rice sausage bun. I had 2 different boba teas (milk & sesame). I had grilled squid. And then it started raining hard. Some people had umbrellas, and were swinging them all over the place. I didn't stay much longer at that point.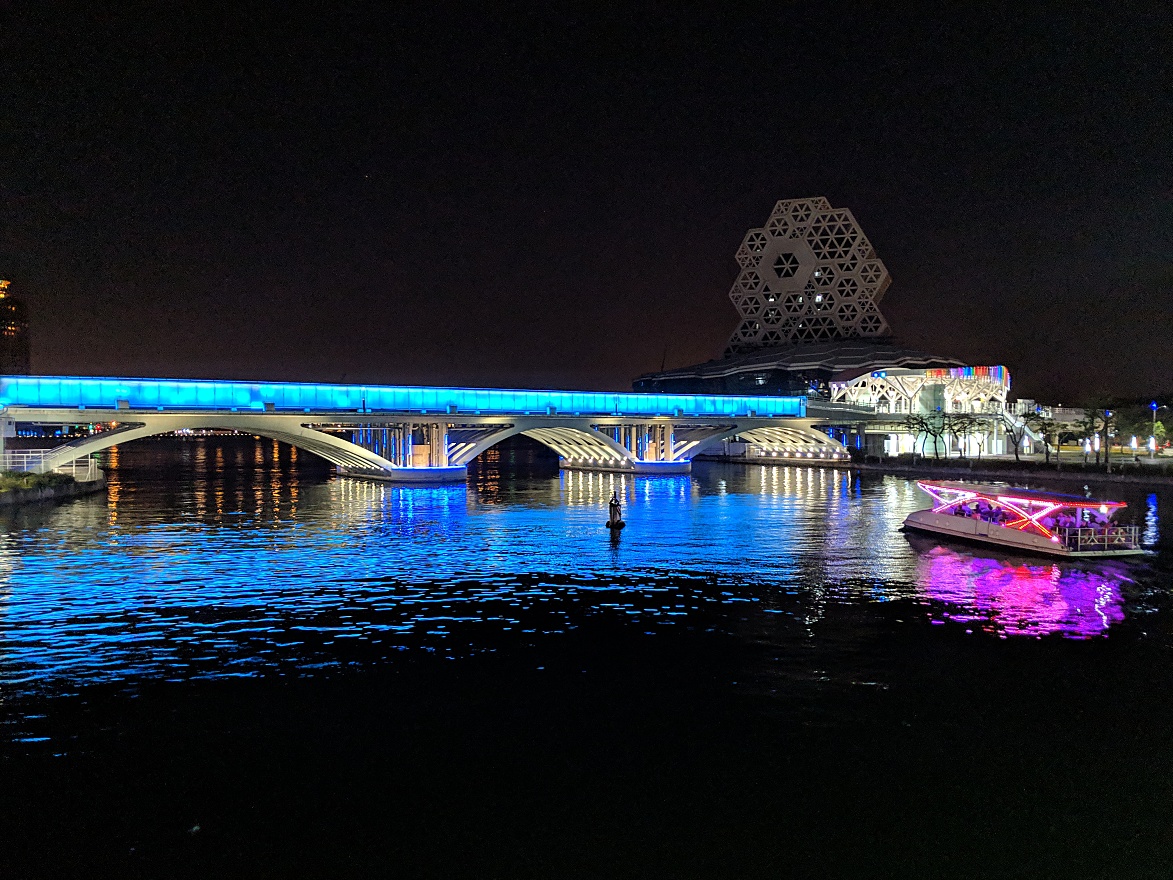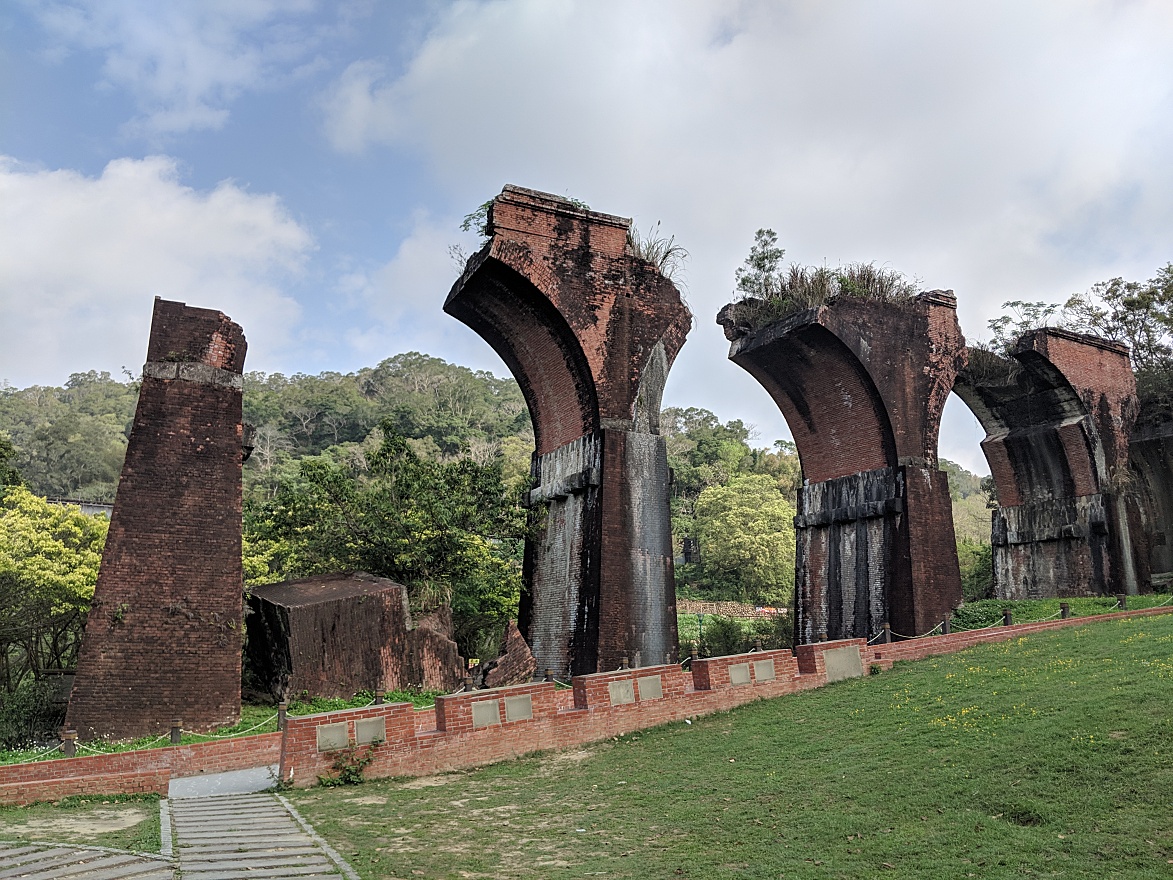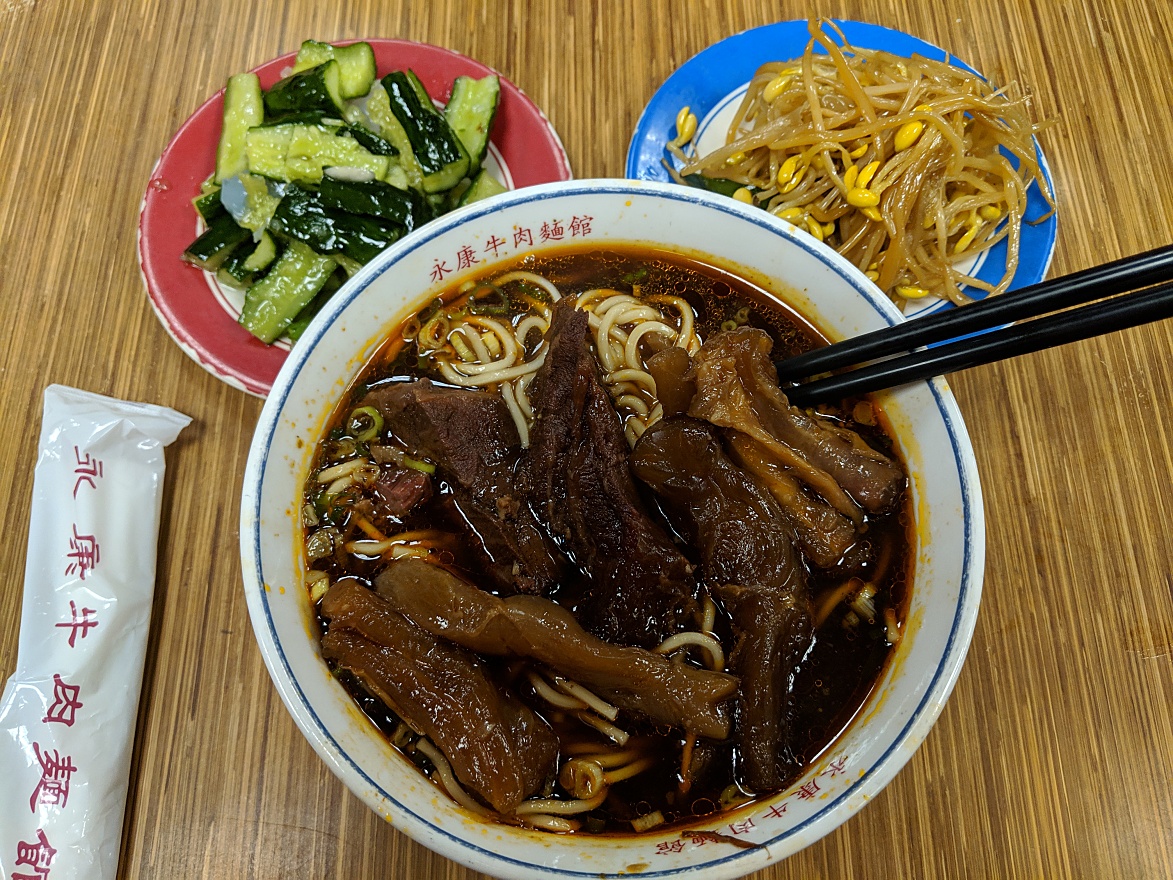 Day 15
I slept fairly well until almost 8am. The hotel breakfast was all fancy with a menu, table service, 5 types of juices, and 4 types of bread. I had a salmon benedict which was decent, although they botched poaching the egg, and somehow the white was runny in places.
After that i went to the Chiang Kai Shek Memorial. Its a huge park, with a gargantuan fortress pagoda building in the middle. On the top/4th floor is basically a Lincoln Memorial style statue of the nation's founder sitting in a huge chair, staring off into space with a vague grin. Also they have ceremonial guards (wearing very shiny metallic helmets), who perform a changing ceremony every hour. I arrived just as the guards were doing their ceremony. It was kinda boring. Very slow movements, and it took a good 10 minutes. After that, i went to seek lunch.
I went to Lan Jia Traditional Taiwanese Snack (the chinese version is much shorter), which is a hole in the wall place in an alley that serves about 5 different popular foods. They had it all on an english menu, so ordering was easy. I got a pork bun thing, and what is described as a 'chinese tamale' (Zong Zi). Its this fist sized ball of sticky rice, with a mixture of pork, peanuts, random chopped vegetables, and boiled egg in the middle. They also had a sweet chili sauce on the table. It was pretty tasty. By the time i left just after 11am, they had a line running down the block.
Next was the National Palace Museum, which was not a short trip. It took just over an hour, as I had to take 2 trains, and a bus to get there. Its on the northern edge of the city. Unsurprisingly, on a saturday afternoon, it was absolutely packed. so many awful, obnoxious, rude tour groups. But it was worth it. Lots of really great exhibits on 3 floors. There were religious artifacts, pottery, painting, calligraphy, jewelry, and a bunch more. I spent over 3 hours there, and enjoyed it.
It was nearly 4pm at that point, so i started pondering dinner. I read about a few different night markets, and basically they're all quite similar in terms of food. There are a few minor differences, but it would essentially be a repeat of last night. I didn't want to eat the same stuff all over again. I started thinking about how i've been craving sushi ever since that day in Okinawa when the place wasn't open. So i did some research on good sushi restaurants, and found 1 that's tiny (just 10 counter seats), and does only omakase. I gave them a call and got a 7pm reservation for tonight. Even better, its a 15 minute walk from the hotel. It was amazing. Here's what i had:
Coedo hefeweizen
Green tea
Conch soup
Baby squid from Toyama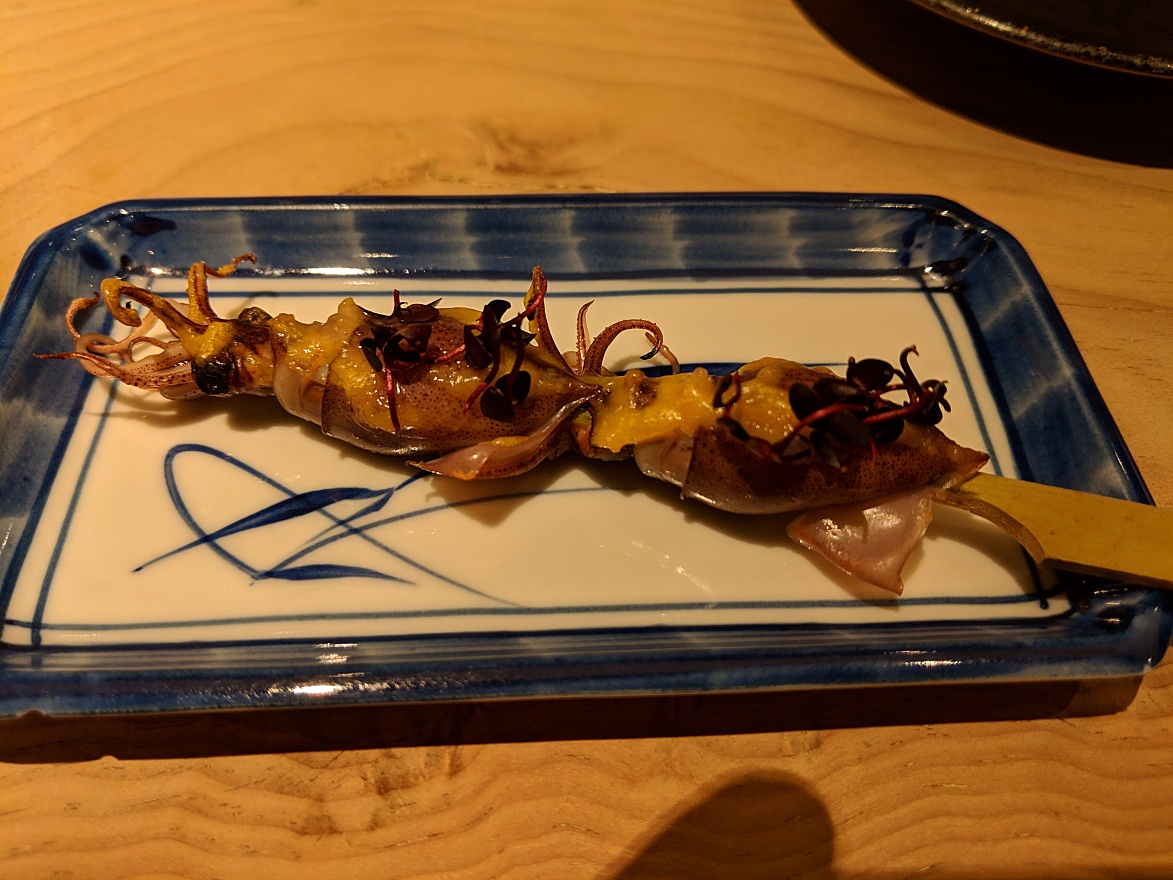 Toro & scallion hand roll
seared Octopus tentacle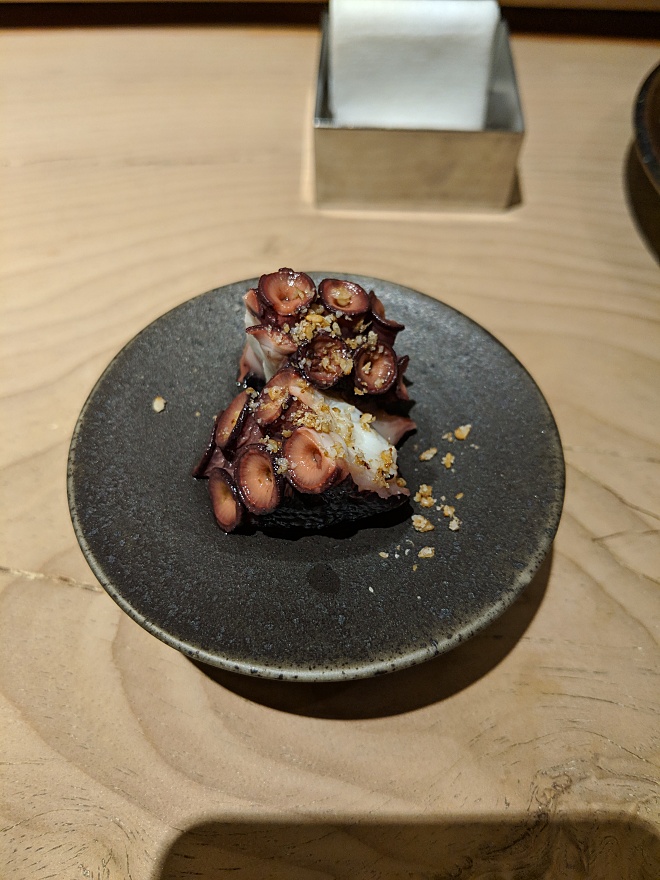 Conch sashimi from Hokaido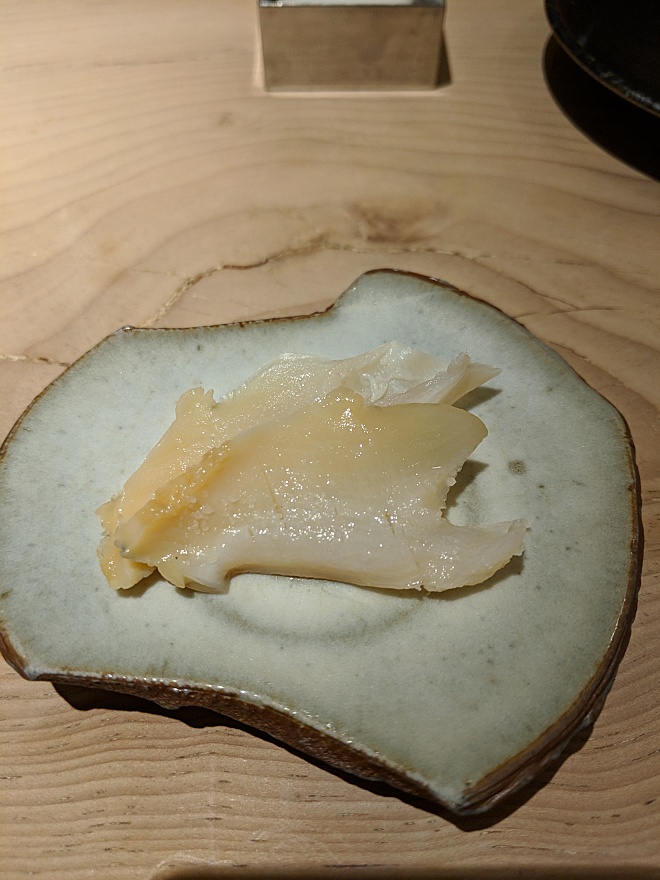 Ikakyi oyster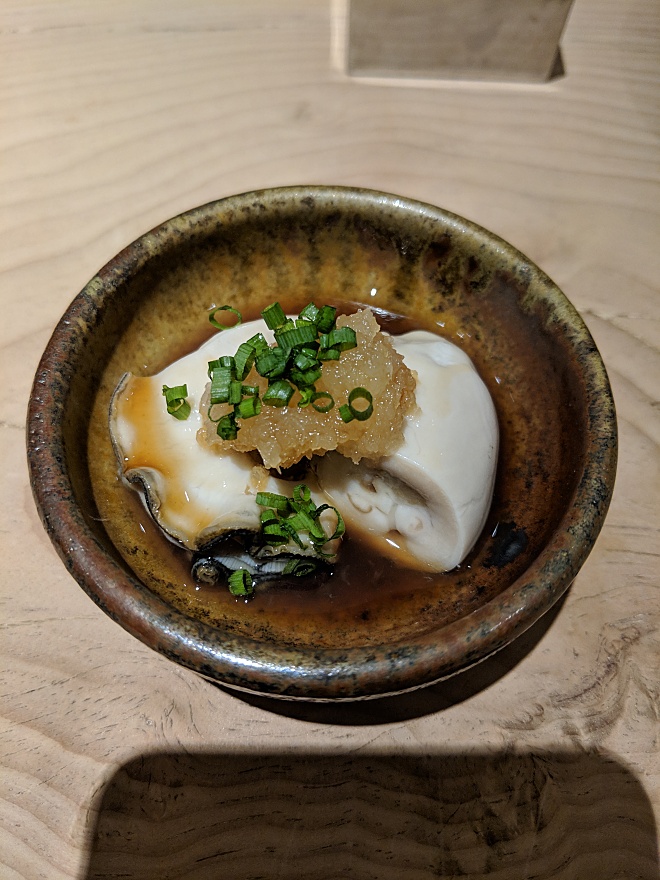 Bonito sashimi with dijon mustard
Yellowjack sushi
Trigger fish sushi with trigger fish liver on top
Uni in broth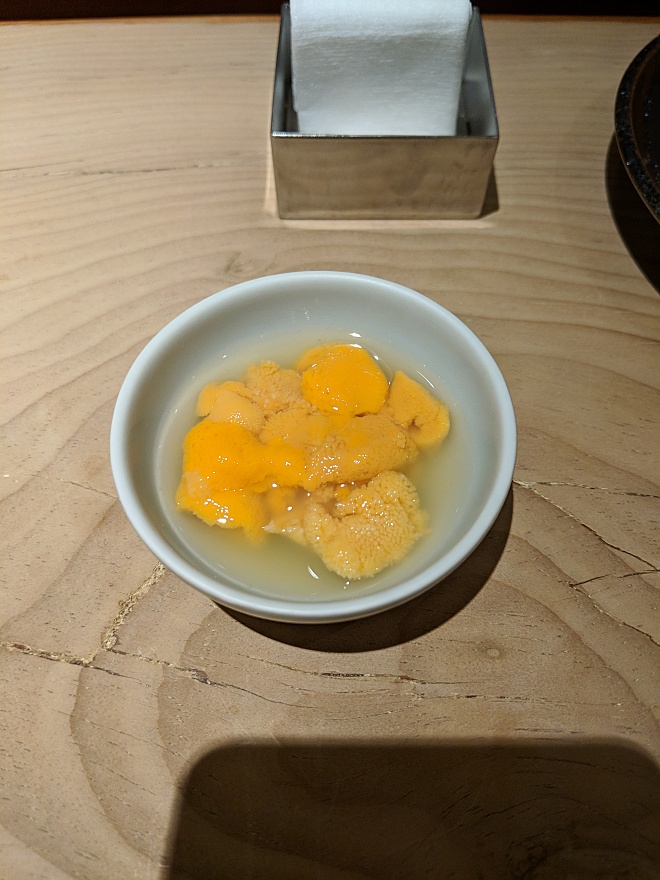 Maguro (bluefin) sushi
Otoro sushi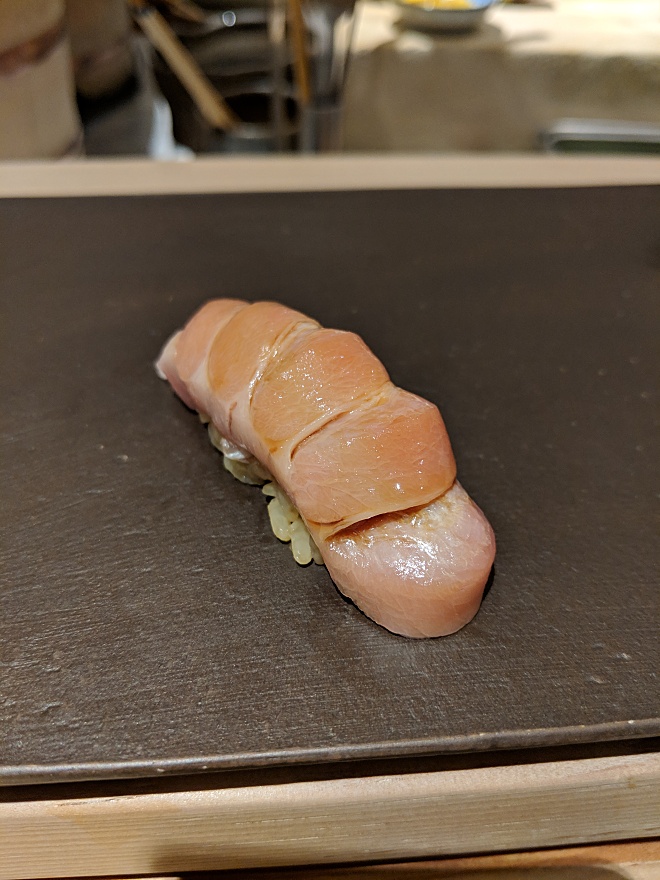 Scallop (cooked) with ponzu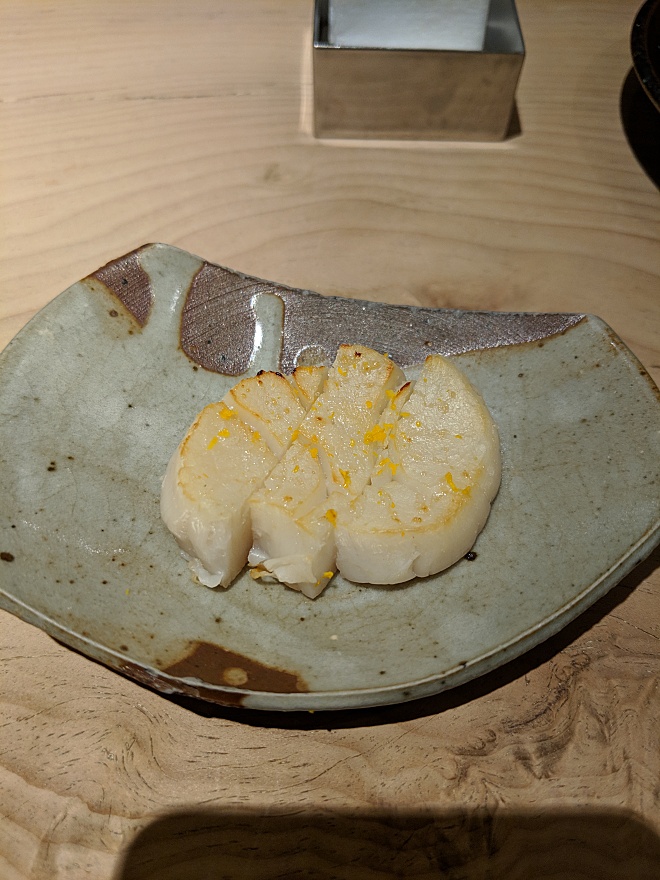 Baby white shrimp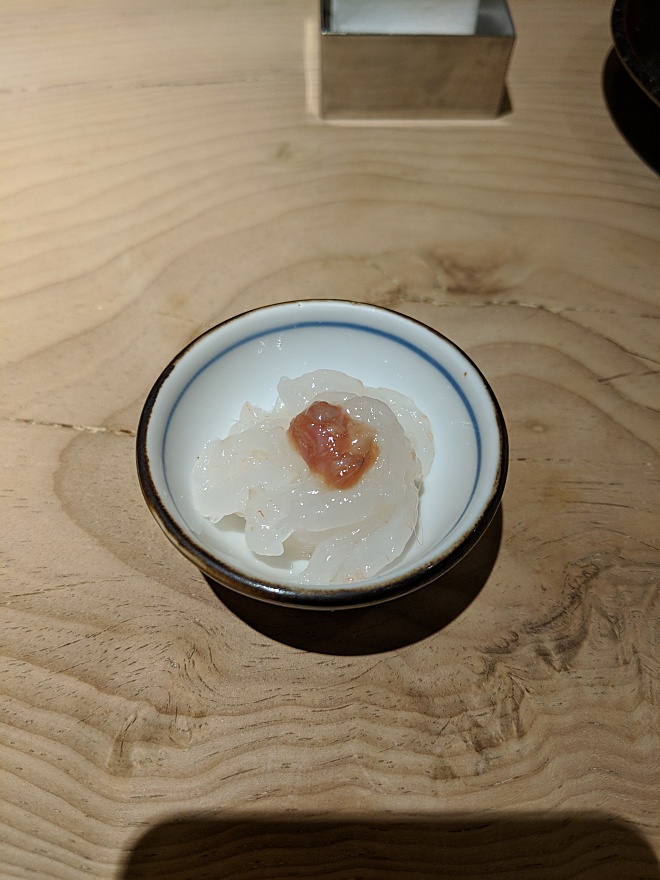 Uni hand roll
Sweet prawn sushi
Hairy crab cooked in custard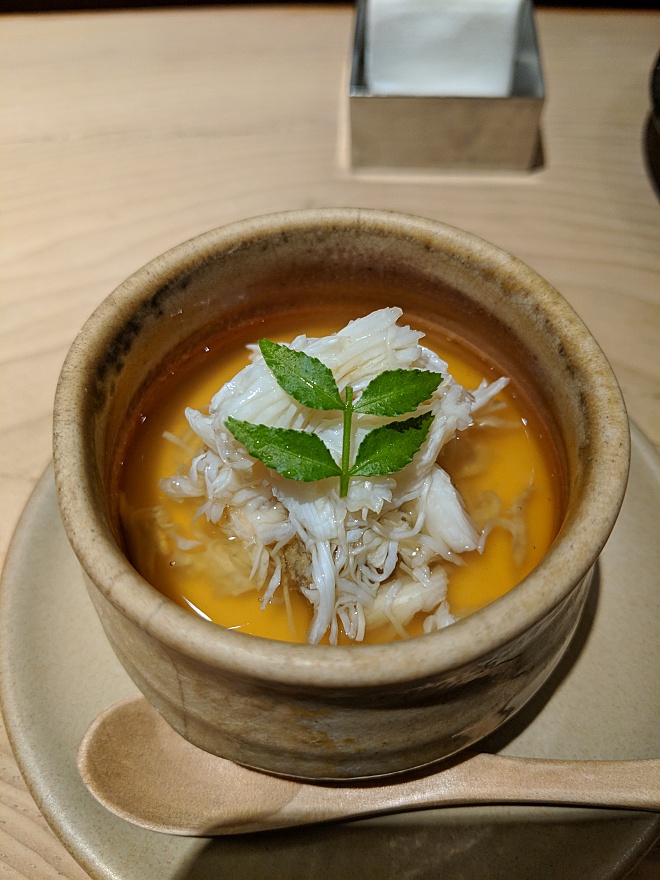 Poached sea bream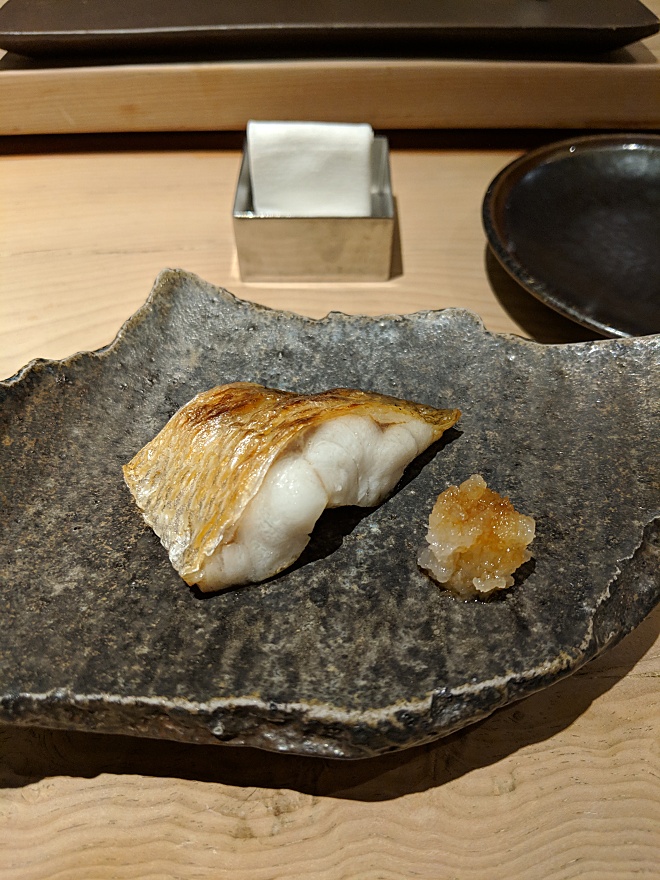 Fugu (shirano)
Monkfish liver on tomago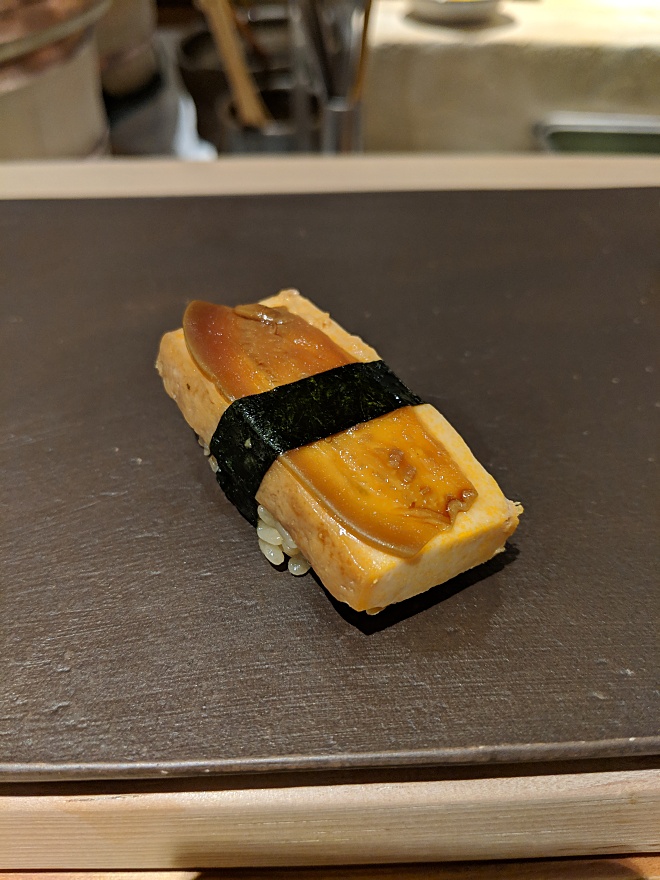 Seared snapper with ponzu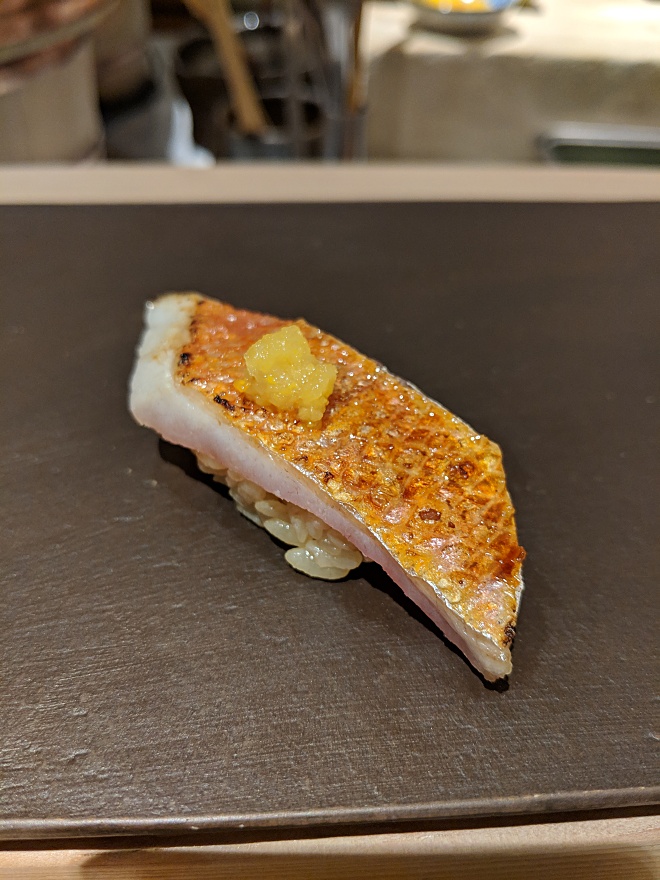 Unagi sushi
Red miso soup with clams
Puffed red rice in green tea with matcha
Olive oil ice cream with yuzu paste
Day 16
I slept well and was up for the day just before 8am. i had breakfast and then checked out at 10am.
I went to a Din Tai Fung that was in the basement of a huge shopping mall. The mall opened at 11am. i got there a bit early and got to see the mall opening ritual, which included a lot of bowing and synchronized door opening. I assumed i'd be the first person at Din Tai Fung, but somehow they already had a lot of people seated. It was fine, i got a a table quickly. This place is a well oiled machine. They have 'tea ladies' going around with pots in cute blue & green plaid tea cozies. They have waiters & waitresses buzzing around taking people's orders, and then servers in snazzy all white uniforms (with wacky hair nets). I ended up ordering 2 appetizers (marinated cucumbers & their daily special which was a mixture of glass noodles, kelp and bits of tofu), 5 shrimp & pork dumplings, hot & sour soup, and 5 xiao long bao. It was pretty good although i'm not really sure what all the rabid enthusiasm is at home for them.
After that i went to the fine arts museum, which is supposed to be their version of MOMA. They got rid of the admission fee which prolly should have been a sign. Nearly all the galleries were closed while staging new exhibits. The only gallery open had this retrospective of the past decade's 'best' exhibits. They were all incredibly bizarre. Trees growing out of furniture, 'gold' nuggets randomly placed on stuff, a house with furnishings all made from cardboard boxes. It was just bizarre.
After that i still had a lot of time to kill, so i googled for craft beer bars. I found one that brews their own stuff on the metro line back to the hotel, ZhangMen. They had 20 of their beers on tap, and it was a very diverse selection of beers ranging from IPAs to stouts, fruity spurs, german stuff, and odd ones like 'pepper ale'. i started with their kumquat sour which was decent. I also had their dunkel which was not bad either.
afterwards, i headed back to the hotel, picked up my bags, and spent nearly 90 minutes making my way to the airport.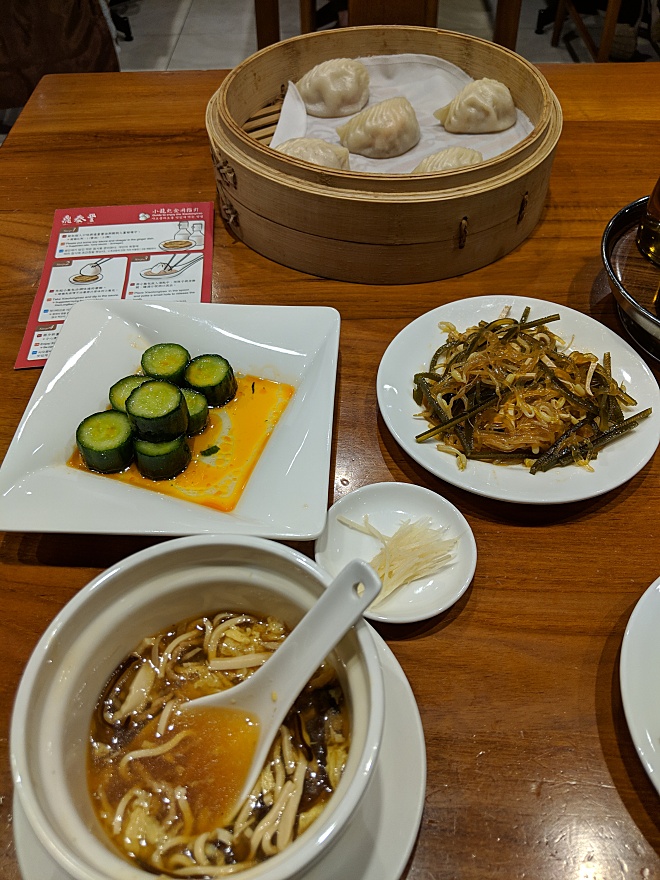 Hundreds of other photos from the trip are posted HERE.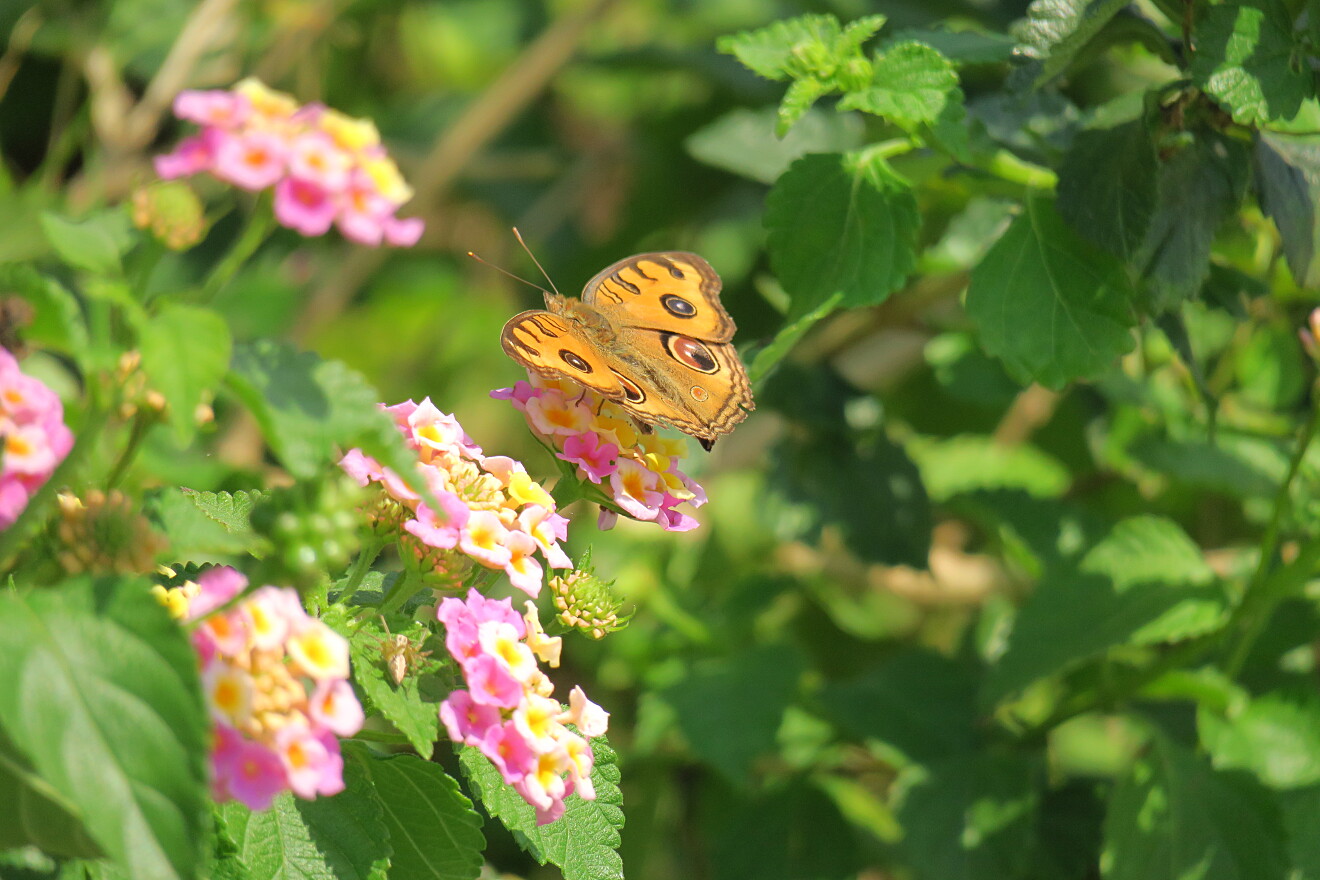 This post is part 2 of the "okinawa-japan-taiwan-22" series: