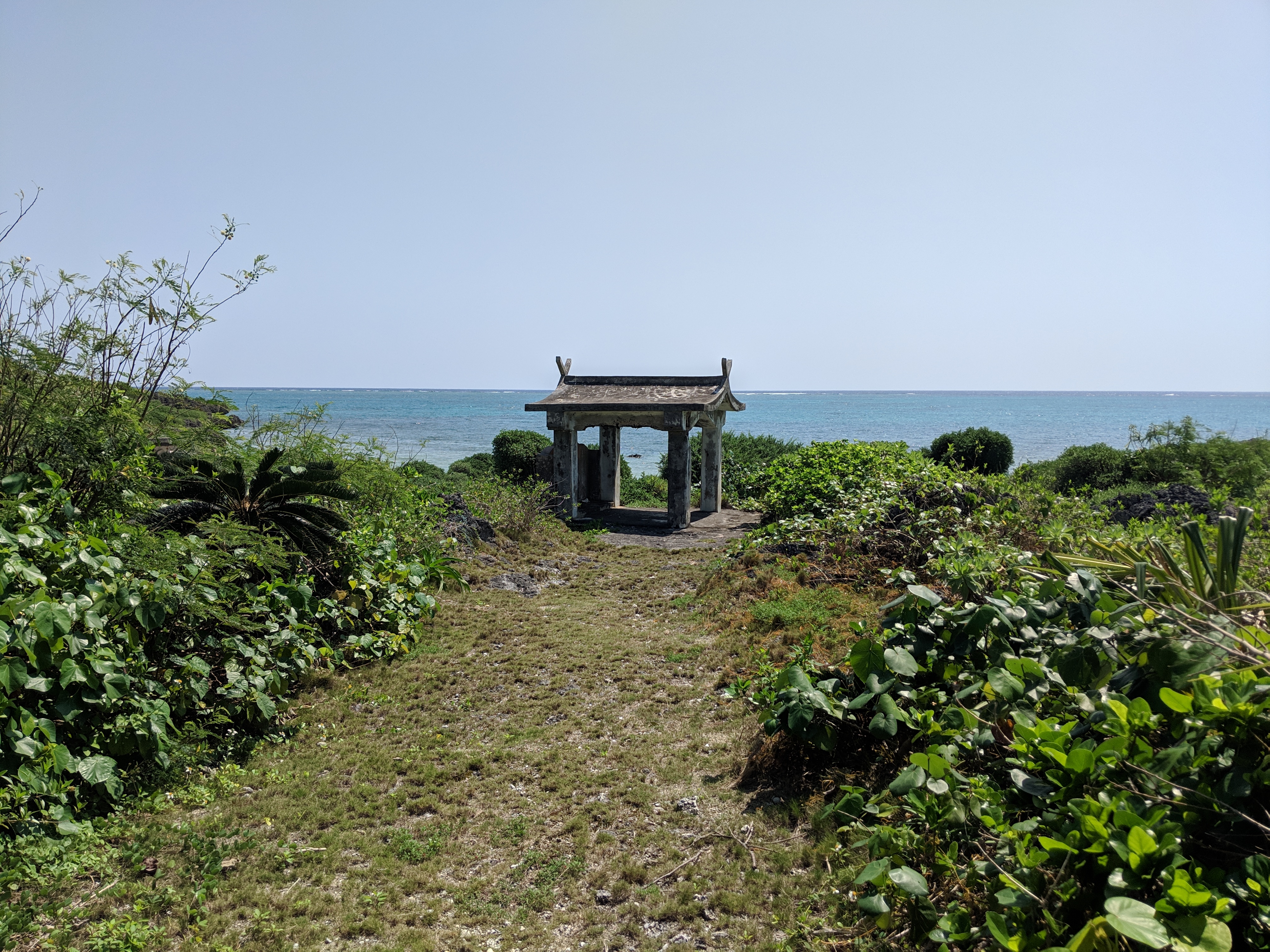 12:58 Wednesday, March 03 2019
Okinawa (Japan) & Taiwan (1/2)
This post is part 1 of the "okinawa-japan-taiwan-22" series:
I recently returned from a trip to Okinawa (Japan) and Taiwan. It was a fun trip to a corner of Asia that I'd never been before. Overall, the trip went incredibly well, even if the weather was a bit cranky at times.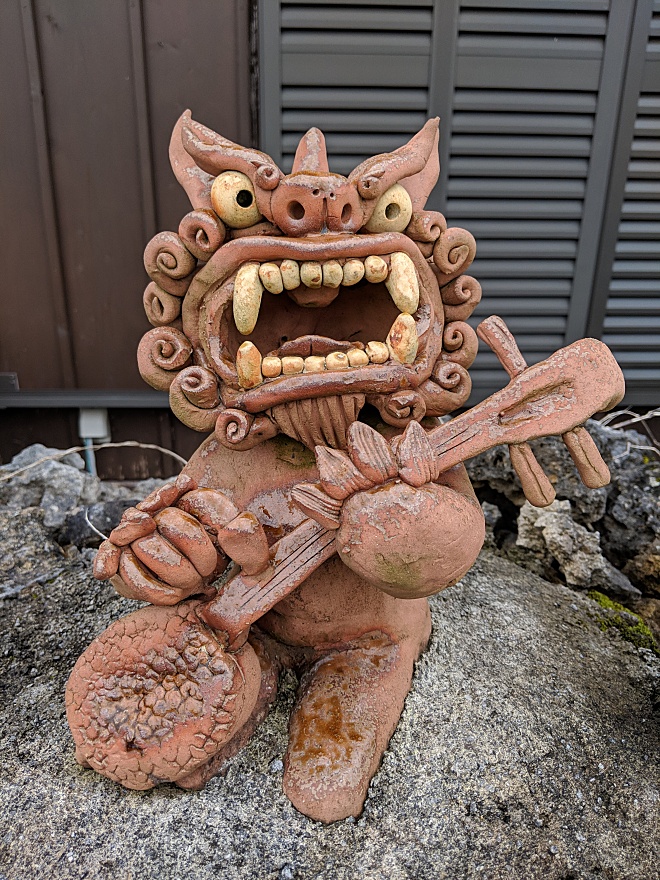 Day 1
No drama at SFO, and this may have been one or the most smooth boarding operations ever. Somehow i was assigned boarding group 2, which helped. But even so, everyone lined up at the right time, there were no special families or handicapped, and we started boarding just 2 minutes after the officially posted time. Turned out that the flight was more than half empty.
I ended up with this wacky vegetarian in the seat beside me, who felt the need to introduce herself to me. Yet she failed to pre-order a special meal, and then got indignant every time the crew wasn't able to accommodate her food expectations. The flight itself was ok, although i kept getting weird cramps in my right shoulder.
We landed a few minutes early to a foggy, rainy airport. A bunch of flights from china arrived just before me, so i ended up in a long line of Chinese tour groups while waiting for immigration. Thankfully, they had a bunch of lanes open, and the line moved quickly. The agent was super friendly, even wishing me a nice day as she returned my passport.
I found an ATM and got some taiwanese dollars, then had to literally hike to the far side of the terminal to catch the hotel shuttle. The ride to the hotel took barely 5 minutes, check in was easy, and that's it for today.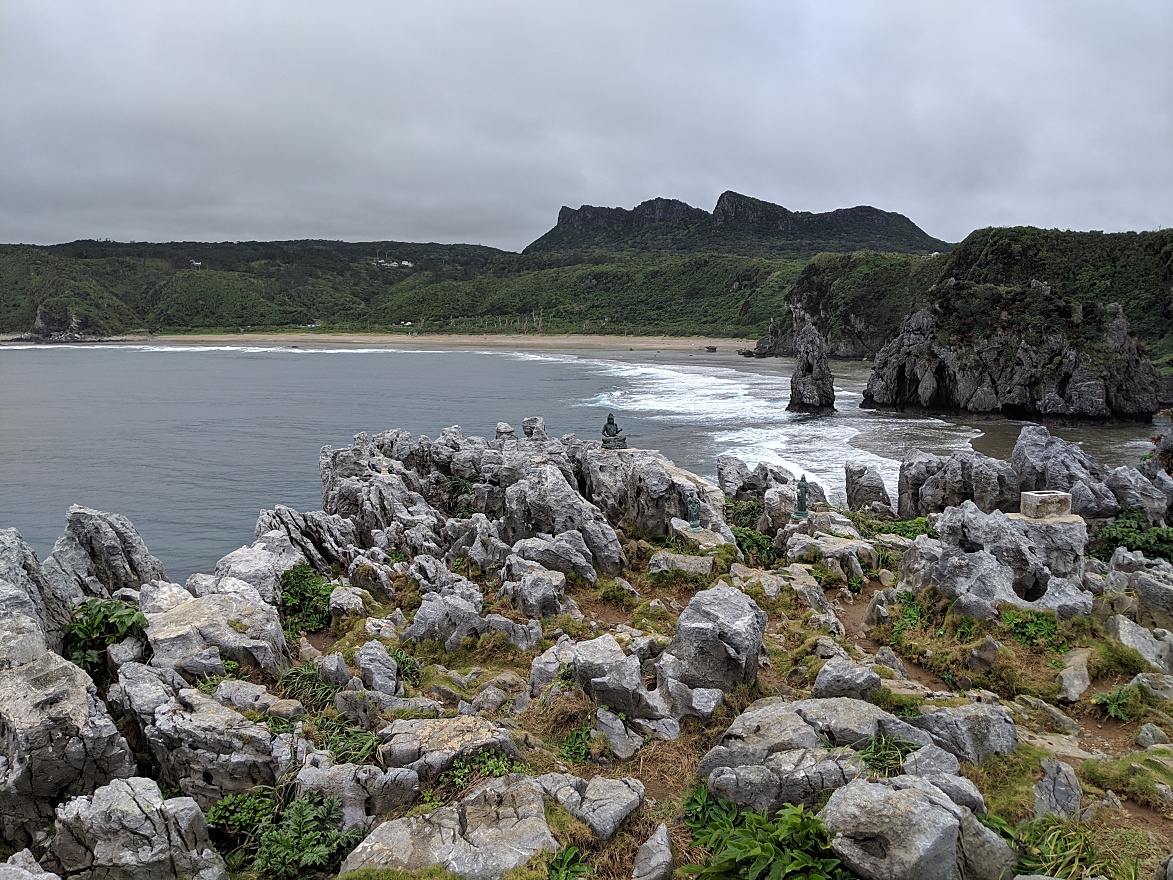 Day 2
I went to bed at 8pm and slept well until midnight. After that i was mostly wide awake. I gave up at 2:30am, got a shower and killed time until i decided to check out at 3:40am. I stepped off the elevator into the hotel lobby and there was a huge line at the front desk. Apparently some air china flight was cancelled or massively delayed, and they sent the entire plane to the hotel with vouchers. After waiting 20 minutes, and the line barely advanced, i flagged down the concierge and she helped me get checked out. Its pouring rain outside. Because its so early the hotel shuttle wasn't running yet, so i had to take a taxi. This driver was absolutely insane. He was driving over 100kph in the dark rain. Thank jebus it was only a 10 minute ride. I got to the airport at 4:10am, and the vanilla air ticket counter had a long line, with a sign that they didn't open until 4:35am. Just before they opened a lady made this lengthy announcement in chinese, and i was fearing for the worst. But no one reacted, and then they opened the counter. I got through security & emigration quickly, to discover that just about nothing in the airport, other than duty free is open at this hour. I was hoping to get breakfast. After wandering past gates for a while, there was 1 coffee shop open, with a massive line. I got a crappy ham sandwich, and then went to my gate.
The flight boarded and was packed, yet oddly very few people had any carryon bags, and the overhead bins were nearly empty. The flight was fine, although they didn't even give out water. It was overcast when we landed. This airport is weird. All the cheap airlines are confined to a separate terminal at the edge of the airport. We had to take a bus to the terminal, which was basically a huge warehouse. i was the first off the bus and into the terminal. Immigration & customs treated me like a criminal. The woman at immigration kept asking how many times i'd been to japan, but kept searching my passport for my first visa, but couldn't find it. She searched 5 times (and got distracted by my Iranian & Guinea-bissau visas), before she finally found it. Then i went to customs assuming that i'd get waived through like in every other country on earth. Nope, the guy started interrogating me on how many times i've been to japan then demanded to search all of my bags for who knows what. By the time i finished all of that nonsense, most of the flight got ahead of me, and i had a 20 minute wait for a shuttle bus to the 'main' terminal. Once i got there, i went inside and found an ATM inside a Lawson convenience store. Then wandered back outside to find my car rental company shuttle stop. Thankfully the shuttle was already there. But they had some bonkers system where they give each person a ticket with some seemingly random number (i was 5003). Then once you get to their building, they have an electronic board that shows the numbers for people who can get their car. Thankfully, i only waited a few minutes, and then it went pretty fast. I ended up with a silver Nissan Note, which was small, but not clown car small.
Japan drives on the left. I think i've now done that enough times, that it doesn't even phase me. I just pulled out, and was fine. However the stupid gps in the car took some getting used to, and i ended up missing several turns early on, which wasted a lot of time. once i stopped getting lost, i ended up on the 'okinawa expressway' (route 58), which is a toll road. Thankfully the rental guy explained how to deal with tolls (i pay them, don't use the japanese equivalent of fastrak, ETC). The road was in excellent condition, although it had this laughably slow speed limit of 80kph, which absolutely no one was obeying. After an hour of driving on the expressway, i was getting hungry. They actually had rest stops on the road, so i got off at one. Initially it looked really dumpy and run down, but that turned out to be part of its charm. At first, i only found a convenience store, but then i noticed this huge menu board (with photos), and realized that i could order from the menu board directly. At least, i could have, if only i could read the instructions. I selected what i wanted, inserted 10k Yen, and then got stuck. Thankfully a woman behind me showed me what to do, and i got my order ticket from the machine. then another guy noticed me wandering about holding a ticket, and directed me to the order lady at the food counter. I gave her the ticket, she gave me a number beeper, and i was good. A few minutes later the beeper went off, i exchanged it for my tray of food, and i grabbed a table. I ordered a small plate of karage, random cooked vegetables, rice, and a bowl of ramen with pork belly. All of it was yummy.
After lunch i continued driving north towards cape hedo (the northern most point of the island). It was raining off & on. the toll road ended (and i had to pay 1020Y), and then it turned into a narrow winding road hugging the coast. At one point i drove through several mountain tunnels, including one that was 2.5km long. Also, every toll booth collector was super cheery & friendly, and attempted to speak english. I reached cape hedo just after 1pm. It was really pretty. That end of the island was mostly volcanic, with tons of lava everywhere, and jungle growing on all the hillsides. It reminded me a lot of kauai.
For much of the drive back south, it was raining harder, and quite windy. About 75% of the way, i stopped to explore the Nakagusuku Castle ruins. Its a unesco site, with the ruins of a 16th century castle. The castle sits at the top of a hill overlooking the ocean, and the views were amazing. Its prolly even better when the sky is clear. As i was leaving, a huge chinese tour bus rolled in.
After that i drove to the hotel, got checked in, and dropped off my bags. Then, i gassed up the car, and returned the car. I took a taxi back to the hotel (there's no uber here, unfortunately). by that point it was after 5pm, so i researched places to eat, and one that was supposed to be amazing, and just a 10 minute walk away. I got there before 6pm, and they claimed to be fully booked already. I was disappointed, and started wandering the neighborhood looking for a good alternative. Oddly lots of places were closed on sundays. Others had no customers. Eventually i found a bustling izakaya, but no one spoke english, and their menu wasn't translated either. I figured i'd make the best of it, and they sat me at the counter, in between 2 couples. The main menu did have lots of photos, but the specials menu was hand written in vertical japanese, which google translate laughed at. I looked around at what others were eating, and went with that. It was great. I had agadashi, tempura, sushi, fried mackerel, and this breaded tofu omelette thing. Oh and a generic japanese beer. All of it was super yummy.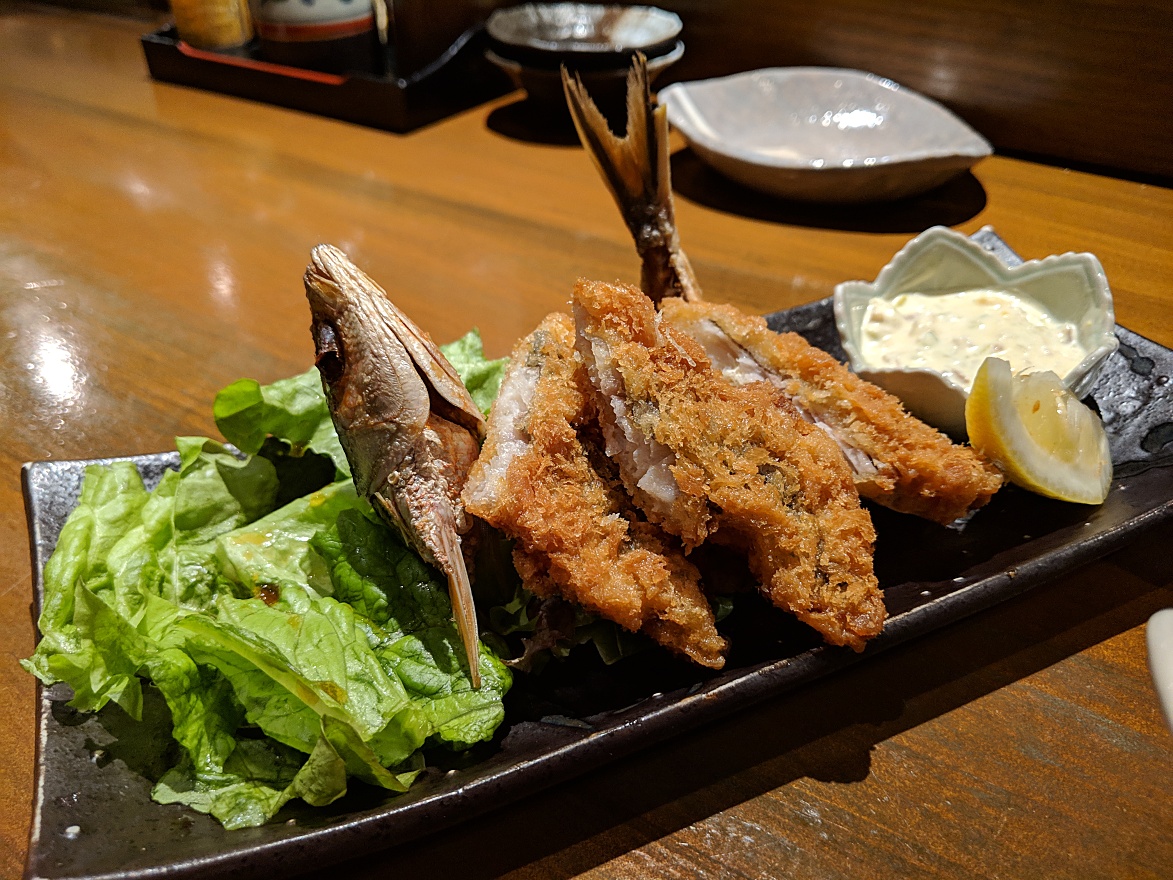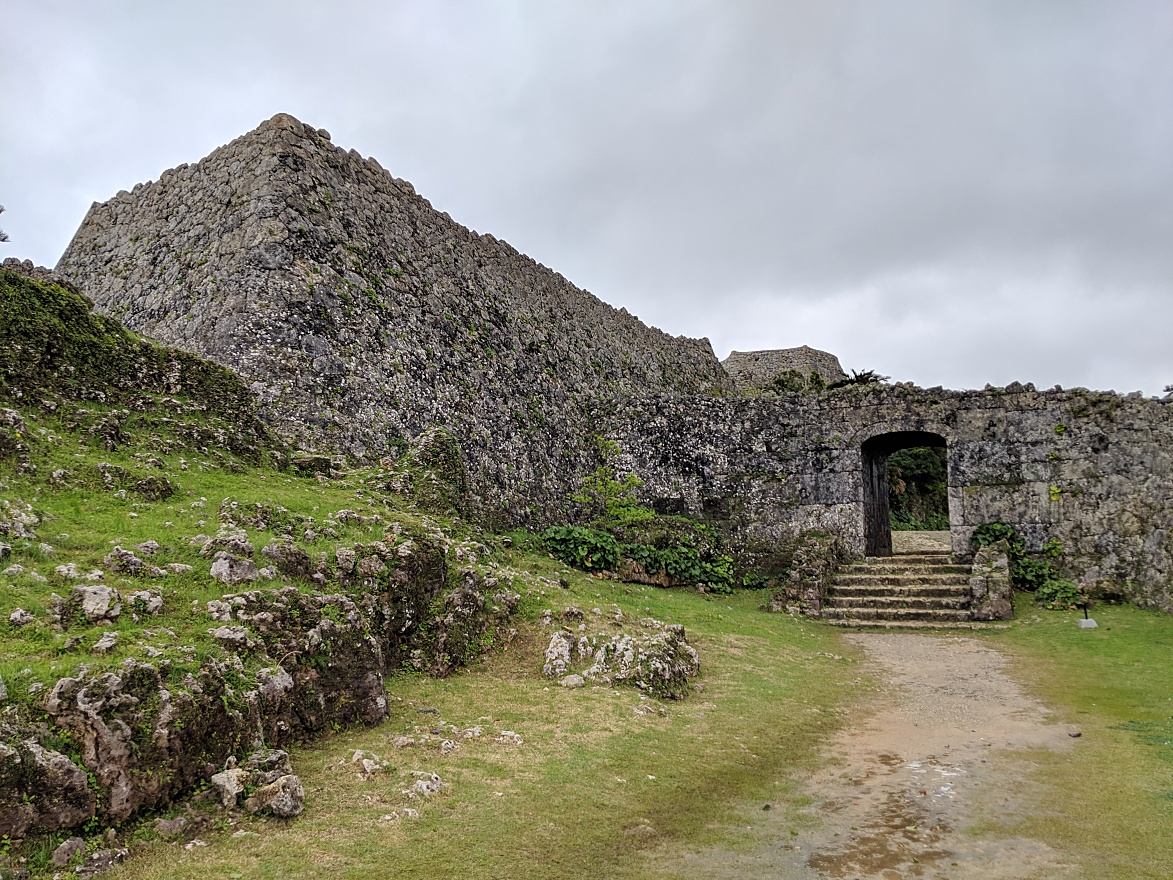 Day 3
I slept much better, and woke up at 4:15am. I forgot to mention yesterday that Naha has a huge monorail system that goes all over the city. I kept humming the song. I showered, and the taxi for the airport was waiting for me just before 5am. the driver seemed a bit confused about which terminal i needed, even though i kept saying 'domestic'. He pulled up to a terminal and it was completely dark inside. Then i saw a sign indicating that it didn't open until 6am. I wish the hotel would have mentioned this when i asked them to get me a 5am taxi.
Once the terminal opened i went to the JAL ticket counter. The lady behind the counter seemed like she wanted to practice her english, as she started asking me silly questions like 'how do you pronounce your name' and 'where do you live in america'. After i got my boarding pass. I found a familymart and got some breakfast, then went to security. They were so bizarre. I brought an unopened 2L bottle of water, that they didn't care about at all. Instead they freaked out over my spare pair of eye glasses and these bamboo disposable chopsticks which have been in my bag for years. After sending my stuff through the scanner 3 times, they finally let me go. I'm at my gate, and there's a weird JAL plane that is painted bright pink with white spots, in the shape of a shark.
My flight was 'special'. When boarding, i had 6 different people greet and bow. The plane itself was an ancient 737-400, that had velvet seats with ash trays in the arm rests. They handed out candy to everyone before take off. Keep in mind this a 40 minute flight. After we pushed back, the entire ground crew stood in a line and waived as we taxied away. the same thing actually happened yesterday morning on my flight from taipei, and i figured it was just some taiwanese thing, but i guess not. The flight was fine. originally i was planning to take a taxi to the ferry terminal. But when i saw an info booth in the airport, i figured i would ask if there was another way. Turns out there's a 4 bus that runs between the airport & ferry, and it was leaving in 5 minutes. It took 30 minutes, and cost 540Y.
When i got to the ferry terminal i purchased my round trip ticket to Taketomi for 1330Y. The terminal is actually kinda big with food stalls, and 6 berths. I wandered over to my ferry and got a seat. It ended up filling up, with over 100 passengers.
The ride over only took 10 minutes, but we still managed to hit a few large waves for a couple minutes. Once i get on the island, it started to rain just enough to be noticeable. The walk to my hotel took about 30 minutes. The island is basically the japanese version of kauai, with lush vegetation everywhere, dense jungle in places, and fairly few people. While walking i passed a farm with cows, then a bunch of horses were just wandering around. I saw more animals than cars. The hotel let me drop off my bags, and gave me a comically huge umbrella, and i wandered off to explore. the 'village' where the few hundred residents of the island live is in the center of the island. Everywhere else is jungle, beaches and farms. There's basically 1 paved ring road, and most of the roads in the village are sandy dirt. the rest are sandy tracks & muddy 'roads' through the jungle. I spent about 2 hours wandering the western side of the island, outside the village. There were a few decent looking beaches, several religious burial shrines, and oddly, free wifi in places that you'd never expect (like a jungle path or an empty beach). The rain would come & go, never enough to open the umbrella. Eventually packs of day trip tourists started showing up riding bikes everywhere.
just before noon i decided to walk into the village to get lunch at this noodle restaurant that everyone who visits the island raves about. Its run by this elderly couple who make fresh noodles every day, for ramen, and once they run out, they're closed for the day. when i got there, they already had a short waiting list to be seated. It was sorta amusing, as people just added their names to the list, and mine was the only one not in japanese. After a few minutes they seated me at the (small) counter (just 3 seats). I fumbled through the menu with google translate, and then the guy noticed and handed me the english version. I ordered pork rib ramen, and it was so good. The ribs were falling off the bone, the noodles were firm enough, and the broth was meaty. While i was slurping away, this guy sitting beside me started talking to me in english. Turns out his daughter went to uc berkeley, and he currently lives in tokyo. Somehow he wanted to play the 'guess how old i am' game, and he thought i was 30. Then i guessed he was around 55, but he swore he was 80. He looked amazing for 80. He was also impressed with my youthful good looks. after lunch, i wandered around the village for a while. I stopped to try some Okinawan purple yam ice cream (it was decent, but the flavor was very subtle). Then i decided to head back to the hotel, and borrow a bike to do the eastern side of the island. The east side is mostly just a small number of muddy roads through the jungle, leading to a few beaches. After that it was a bit past 3pm, and i rode back to the hotel, and got into my room. Its very japanese, with a crazy 15 button toilet, rice pillows, and traditional pajamas.
Dinner was included at the hotel, and was crazy. They brought out a tray with 9 different dishes, including raw beef & pork over a sterno thingy, that i cooked at the table. There were 2 different sushi plates. Another with a prawn the size of my hand. Miso. Smoked duck. Rice. Some vegetables. it was all quite good.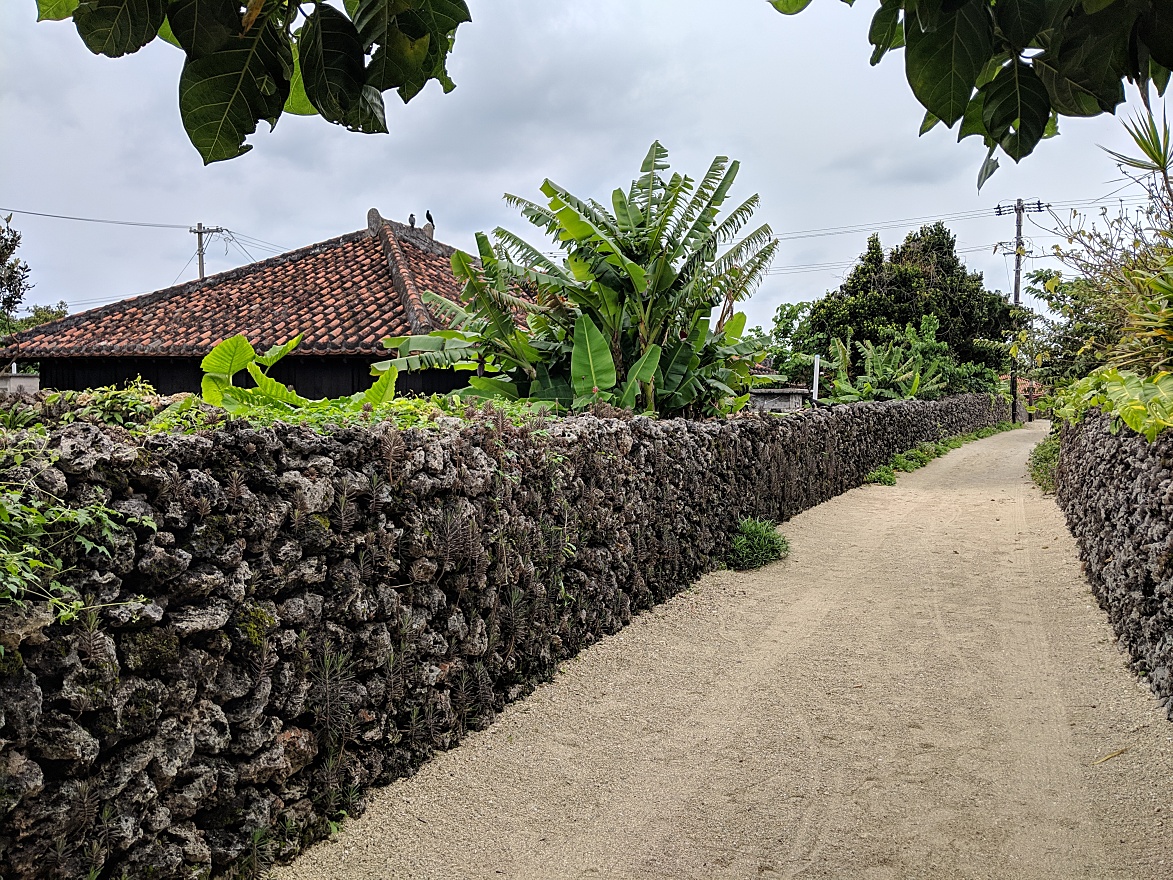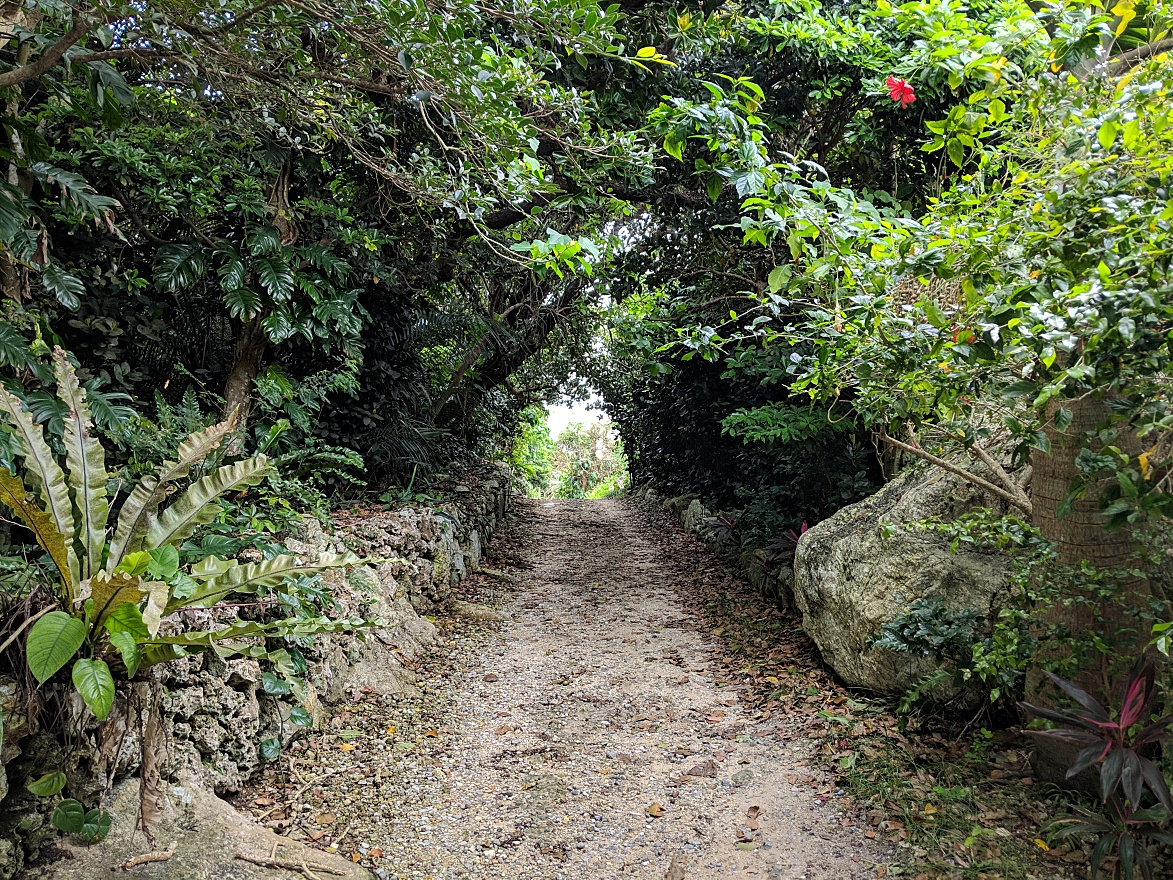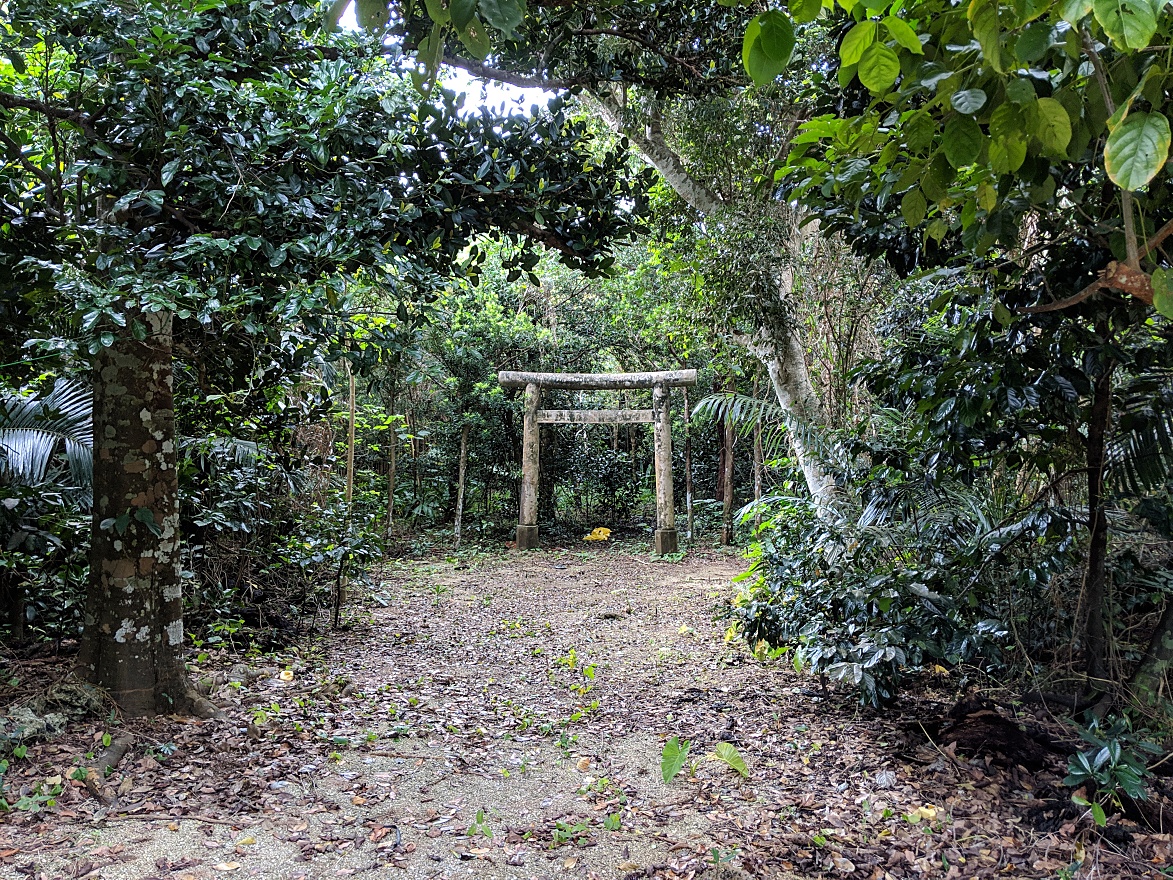 Day 4
All of the walking and biking yesterday, coupled with sleeping insufficiently, and i went to bed last night at 8pm, and slept until nearly 5am. I had breakfast at 7am, and it was the full japanese breakfast. It included grilled mackeral, tomago, assorted pickles, natto, rice, and miso soup. The soup had a bunch of tiny clams (the size of a finger nail), and was yummy. After breakfast, i checked out, and walked to the ferry terminal. The sun was out for the first time since i left home. A much smaller ferry pulled up, about 20 people got off, and 5 people (including me) got on. the water was much calmer today too. We pulled into ishigaki at 8:30am, and i went to the ticket counter to buy my ticket to kuroshima (35 minutes). The next ferry was at 9:30am, so i had a little time to kill. The ferry terminal is basically the equivalent of a bus station, except it didn't feel run down or grimy. It was bright, airy & bustling, with lots of people, and small shops selling food and trinkets. I was tempted to buy something to eat, but figured i'd find somewhere nice for lunch later.
The ride to kuroshima was fine, with maybe 20 passengers. This island is noticeably different than taketomi. Its mostly farms, with cows. The walk to the guesthouse was a bit of a slog with my bags, and took 40 minutes on a mostly straight road with cow pastures on both sides. When i got there, i couldn't find anyone. I kept calling out, and nothing. I went to use the bathroom, and as i came out, i saw a guy. Not sure where he was hiding before, but he was friendly enough, but spoke almost no english. He said his wife spoke english and was currently shopping over on ishigaki, but would return in the afternoon. We used google translate for a bit, and then he took my bags, i grabbed my camera & water, and he pointed me at the bikes to borrow.
unlike taketomi, there is no ring road here. Its just a patchwork of random roads going here & there, with most only connecting at the center of the island where most people live. But even there, its just a few blocks of houses, a post office, school, firehouse and 2 small cafes. the guesthouse was basically at the 6 o'clock position, and I decided to work my way around counter-clockwise. The first stop was a pretty beach, which had wifi, and no other humans. In fact, other than occasionally seeing farmers, i saw very few people the entire day, and even fewer obvious tourists. Around noon, i made my way to the center and found an open cafe, with a few people. They only had a japanese menu, but the ramen all had pictures, and everything else seemed to be various beverages. i pointed to the most interesting ramen photo, plus a 'green smoothie'. The ramen was really good, and unlike any ramen i've seen before. It had soba, broth, soft tofu, pork, and then a thick layer of bright green chopped kelp floating on the surface. The smoothie turned out to be a matcha milkshake, which was tasty too. After lunch, i continued to make my way around the island. At one point there was a huge tori on the side of the road, that had a path leading into the jungle. Eventually it ended at a small shrine overlooking the ocean. There's at least 1 peacock roaming the island. I saw it today, and then later heard it calling in the distance.
Later on i passed a farm with a barn that had 13 cats lounging in the shade. on my map, the west side of the island appeared to have a road that ran mostly parallel to the coast. In reality it was a crude, muddy, sandy track through dense jungle. I kept fearing that it was going to become impassable, or disappear, and i'd have to turn back. Thankfully, it was ok, and i got back to the south side of the island just after 3pm. I spent a little time at the visitor center using their wifi, then returned to the guesthouse at 4pm.
I got checked in, and shown to my room, which was bamboo flooring with tatami mats, and the futon mattress. dinner was nice. There was some sashimi (i think it was snapper), bitter melon, spinach with bits of cooked salmon, miso with a crazy amount of fresh kelp, & soft tofu with ground pork.
i ended up getting badly sunburnt today. I was an idiot, and didn't think about how spending 6+ hours in the sun would not end well. Basically my face, neck and arms are all hot and bright red now.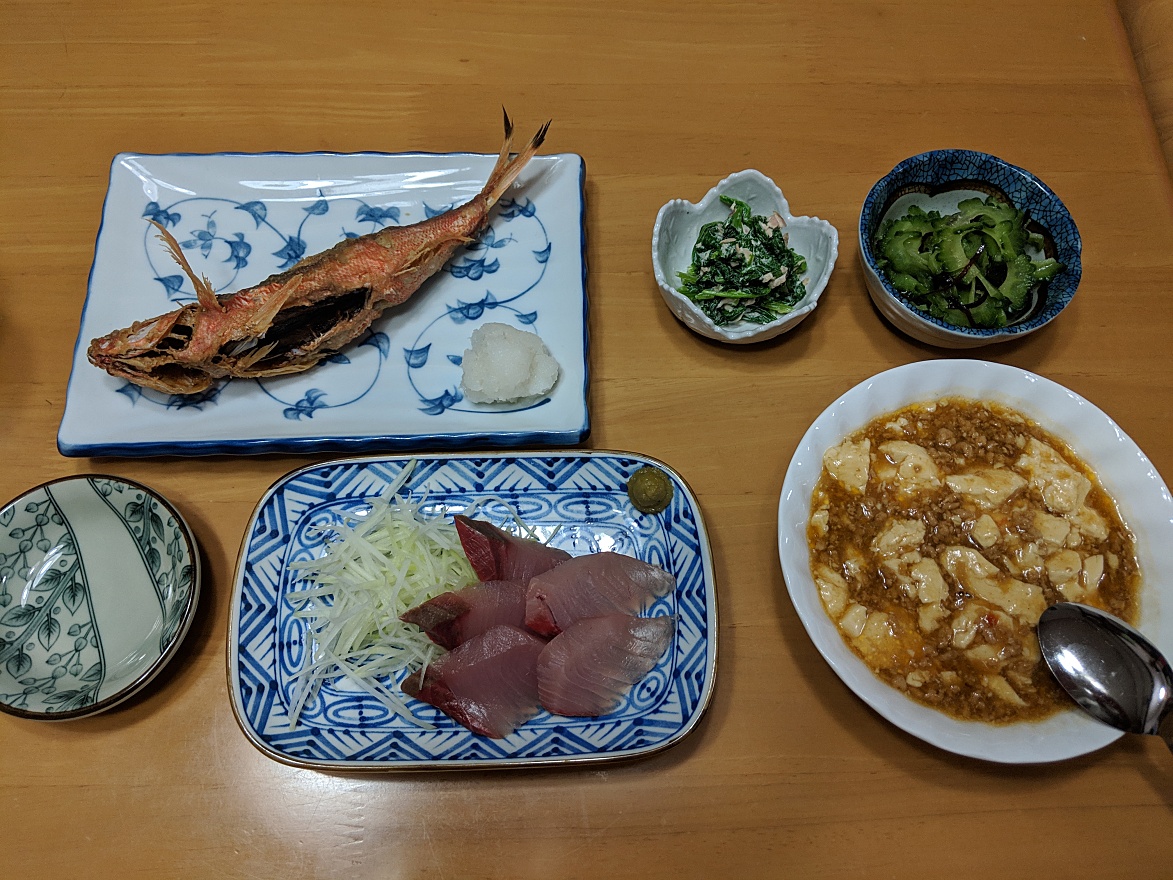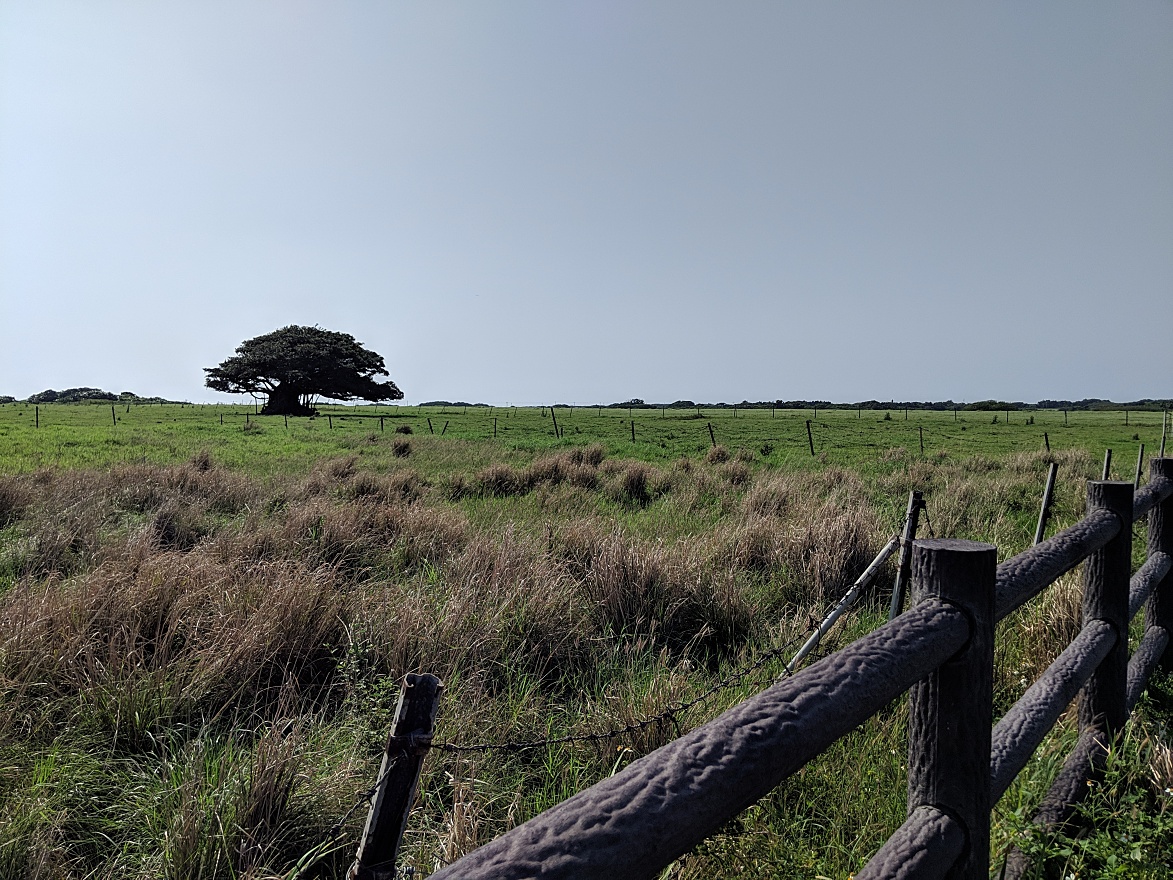 Day 5
I slept well until around 4am, when peacocks started calling out. Then someone's phone alarm was going off for 30 minutes. I sort of cat napped after that, but never slept well. I gave up at 6:30am. This place only has communal bathroom/showers, so i had to grab my clothes and go down a flight of stairs to shower. The water pressure was crappy, and the shower stall was like a phone booth, but i managed.
I keep forgetting to mention the crows. Every island has them everywhere. They are loud, obnoxious and annoying.
Breakfast was ok, but not all that special. There was a small plate with pickled ginger, another with spinach and bits of scrambled egg. A large plate with a salad, a weird sausage and weird ham, and a bright yellow scrambled egg. A bowl of miso soup, and a bowl of rice.
I finished packing up my stuff, and then they drove me & the other guest 5 minutes across the island to the ferry terminal. The weather isn't as nice as yesterday. Windier and partly cloudy, although its not supposed to rain. We pulled into ishigaki a few minutes early. I went straight to the ticket counter and got my round trip tickets for Uehara/Iriomote Island, and then went back outside and boarded the ferry for the 1 hour trip.
Iriomote is a huge island, compared to where i've been for the past few days. As we got closer to the port, i saw a huge waterfall cascading over a cliff in the distance. We docked at 11:40am, and i wandered out of the terminal to find the bus stop. I found it easily enough, and it even had the full bus schedule & route printed in english. Unfortunately, that allowed me to figure out that i missed the previous bus by 20 minutes, and the next one was over 3 hours away. For some reason, the bus only runs twice in the morning, and then twice in the late afternoon. I figured, i'd suck it up and take a taxi, but apparently there are none on this island. So my only options were wait around for 3 hours or walk 3.5km. i decided to walk, which was, in hindsight, the wrong decision. The sun finally came out full blast, and most of the walk was uphill. I stopped in a market along the way to get some lunch, but most of their refrigerated case was empty (how do you run out of sushi??) So i ended up buying some rice balls, which were ok, but not really what i was hoping for. The rest of the walk wasn't awful, but hauling my bags made it kinda miserable. There were pretty views of the mountains and the sea, and i passed a pineapple farm.
I got to the hotel a bit after 1pm. It sits on a hill above the beach, with pretty views. They insisted that checkin didn't start until 3pm. They took my bags, and informed me that the wifi only worked in the main building (which had a gift shop & restaurant). I wandered down to the beach for a bit, but there was no shade, and there were oddly multiple naked children playing in the sand. And they weren't small children, they looked around 7-ish. No one else seemed to think it was unusual, so i guess i learned something new about japan today. I walked back to the hotel, and found a picnic bench in the shade and killed time there. Just before 3pm a woman approached me to give me my room key. Of course my room is no where near the main building, so there's no wifi. But it does have a fantastic ocean view. Also futon tatami floor sleeping.
The sushi place that i was planning for dinner was supposed to open at 5pm (even said so on their website). When i arrived at 5:16pm, they were dark and empty. I waited until 5:50, and still nothing. At that point i walked a bit further down the road to my second choice, an izakaya which was supposed to open at 6pm. Thankfully that worked out. This place was legit. Run by an older couple. They had sumo wrestling on the tv. Every one else in here was very clearly a local. These 2 senior couples came in, ordered drinks, and kept toasting each other. Okinawa has this special kind of alcohol called awamori (similar to sochu). This place had a huge english menu including drinks. I ordered Seihuku Umesyu and it was so good. Very strong plum flavor. There's also a yuzu flavored version called Seihuku yuzushu. I ate pig ear with tofu in sesame sauce, octopus karage, braised pork belly, and vegetable tempura. It was all good, but not great. The walk back (about 15 minutes) was kinda weird, as its a fairly rural area, with few street lights, and it was already after sunset.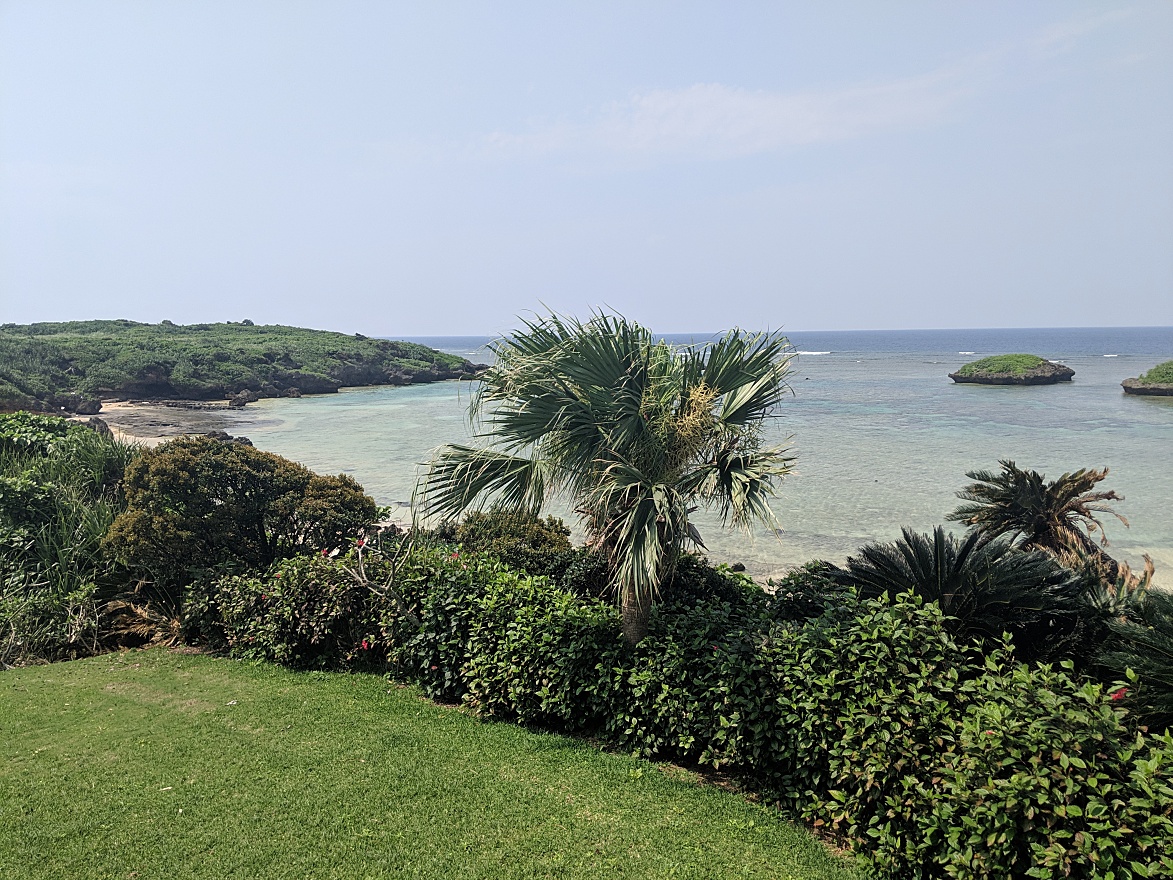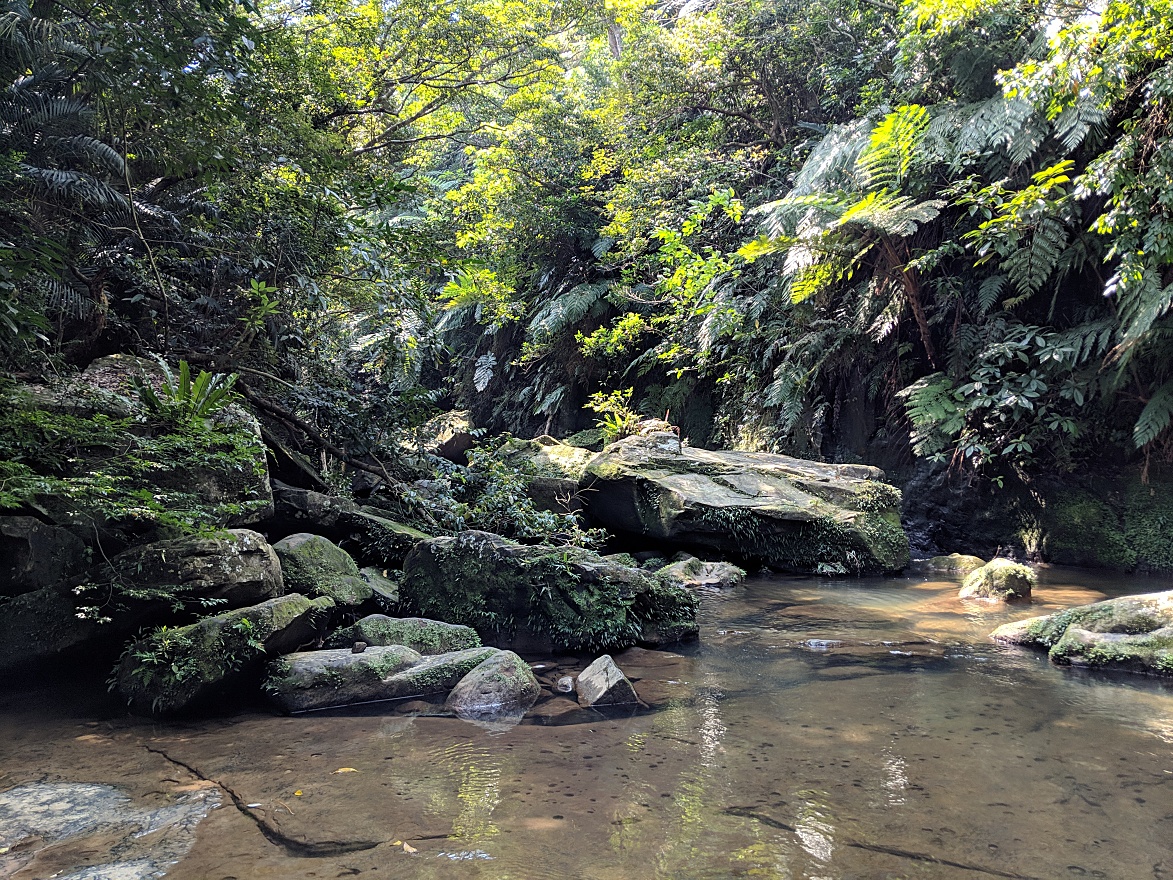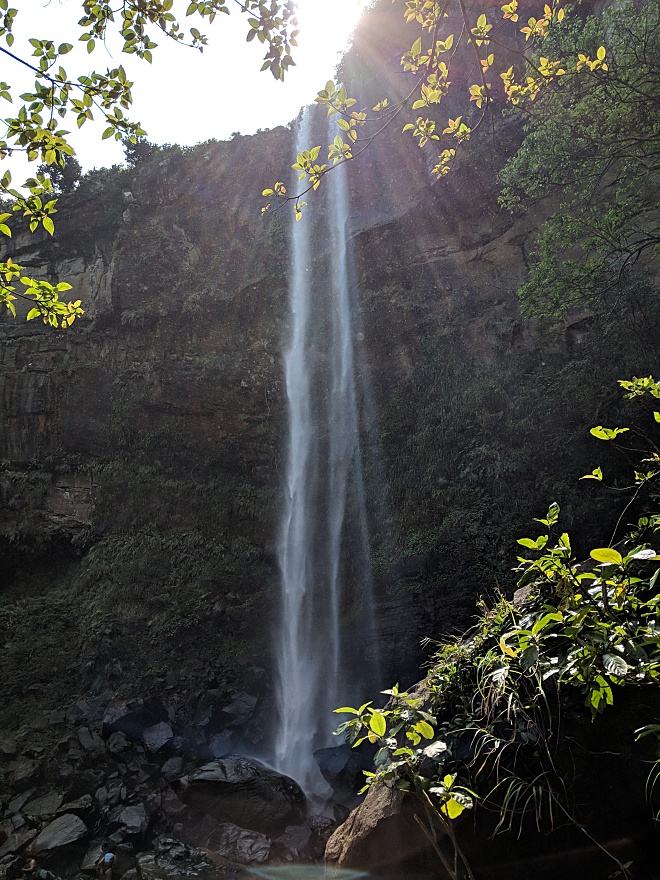 Day 6
I went to bed at 9pm, and slept all the way until 6am. It was wonderful. i got my shower, and wandered over to use the wifi. My sunburn was much improved on my arms, slightly better on my face, but still bad on my neck. Since i was doing a lot of outdoor activities today, i knew i needed to get sunscreen to avoid making things worse. There was a small store a 20 minute walk away, so i went there and got 50spf for the royal sum of 1200Y. By the time i got back, it was 8:25am, so i had breakfast (which wasn't anything special), got my stuff packed up and checked out. The tour pickup arrived at 9:15, and drove me about 5 minutes to their office in town. After a few minutes a bunch more people arrived. They gave everyone a wet bag, backpacks, and wet shoes. Then they split us into groups. I ended up in a group of 5, with 3 other americans and a woman from hong kong. We all got in a van, and drove about 10 minutes south into the jungle. From there we walked a short distance to a mangrove river, and we all got kayaks. The weather was fairly nice. We kayaked for about 40 minutes down river. Then got out and started a 40 minute hike through the jungle, and up the mountain to reach the top of the waterfall. 5he trail was more mountain climbing than hiking in places. Once we reached the waterfall, we walked across/through the river and near the edge of the falls. The views were amazing. i could see all the way to the sea, plus down to the river where we were kayaking earlier. There was also a smaller waterfall a bit further away along the cliff. Our guide then unpacked a ton of stuff from his bag and cooked us lunch.
Lunch was ramen with pork & beef. Then he had this small unlabeled plastic bottle that he said was 'alcohol spicy sauce'. It definitely had some kick. After lunch we had to return the way we came, which meant going back down the crazy steep mountain. The walk down wasn't quite as bad as i feared (even though 1 section required a rope). Once at the bottom, we hiked another 20 minutes to the base of the falls. It was really pretty. They served us hot tea and purple (okinawan sweet potato) mochi. Then hiked back to the kayaks, and 40 minutes later we were back at the van for the 15 minute trip back into town. After that they dropped me off at the port just before 4pm to catch the 16:40 ferry to Ishigaki.
Somehow the ferry came in nearly 20 minutes early. The line was huge, easily over 100 people. I got on, and after maybe 20 people after they stopped taking more passengers. It seemed like every else was going to have to wait another hour for the next ferry. Then another ferry pulled up a few minutes later. It had no arriving passengers, so i have no clue, unless they know this one is always full and they sent a 2nd. We pulled away first. A few minutes into the journey, multiple people were asleep. I don't understand how they do it. Its super noisy, we're blasting over waves, and they are somehow napping through it all.
Because japan requires everything to have an impossibly cute mascot, their coast guard's mascot is a dapper smiling seal in a crisp navy blue uniform. Also, the coast guard ships all have huge LED signs on them. And one of the ships that i saw today had some japanese message scrolling across the sign, with their mascot at the end of the message. Seriously, if some nation's coast guard was ordering your vessel to stop, and they had the image of a cartoon character, would you take them seriously? Japan, you are so weird at times.
We approached the port and apparently ferries have rush hour too. 3 were pulling out and we sat and had to wait for an open berth. I raced off the ferry to the bus stop and there was a nice helpful sign in english with the time table. I had a 10 minute wait for the next 10 bus to the airport. For a while, i seriously started to doubt that my bus was going to reach the airport in time to catch my flight. It was making all sorts of weird detours around Ishigaki, but eventually it got me to the airport in 45 minutes. I got my boarding pass, cleared security (apparently unopened drinks are perfectly ok going through security), and made it to my gate 30 minutes before boarding. Then there were a bunch of japanese announcements and finally we started boarding 12 minutes before departure. It was a prop plane. Flying over the ocean. I didn't even think that was a thing since the 1960s. But nope, i was on a DHC8-Q400CC (or so the safety card said).
The flight landed on time, but since it was a toy plane, we needed a bus to get to the terminal. i quickly located the taxi stand, and thankfully there were zero issues getting to my hotel. I checked in, and my room was a furnace, and i couldn't find any way to adjust the temperature. I went back down to the lobby, and they explained that its 'still winter' and so the heat is on for everyone's comfort. The guy helpfully explained how to turn off the blower, and suggested that i open the window for cool air (i'm on the 9th floor). Earlier 9n the day i was considering walking (15 minutes) to a ramen place. But at this point (its already 9pm), i was completely exhausted, and didn't have the motivation. I ended up eating dinner at the hotel restaurant, which was quite the mediocre buffet. I guess if i don't have food poisoning by morning i'll call it a win.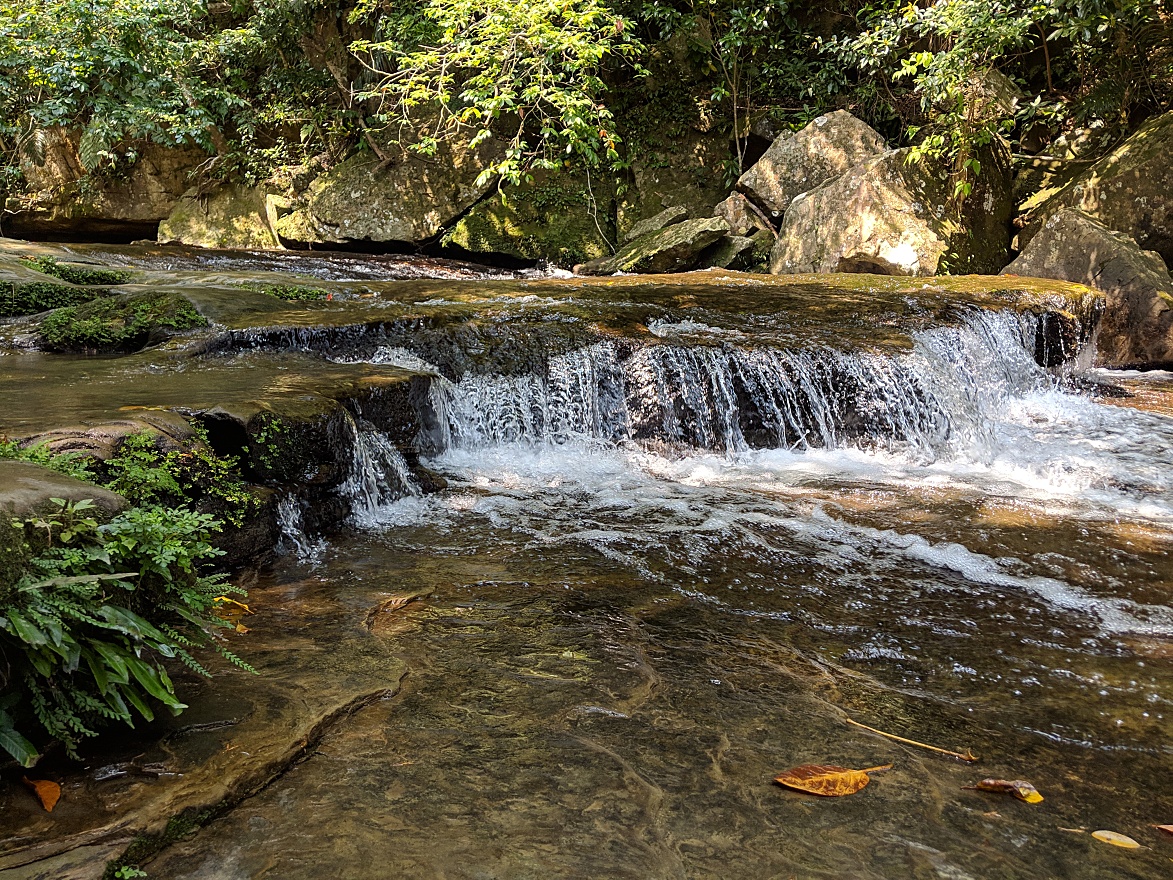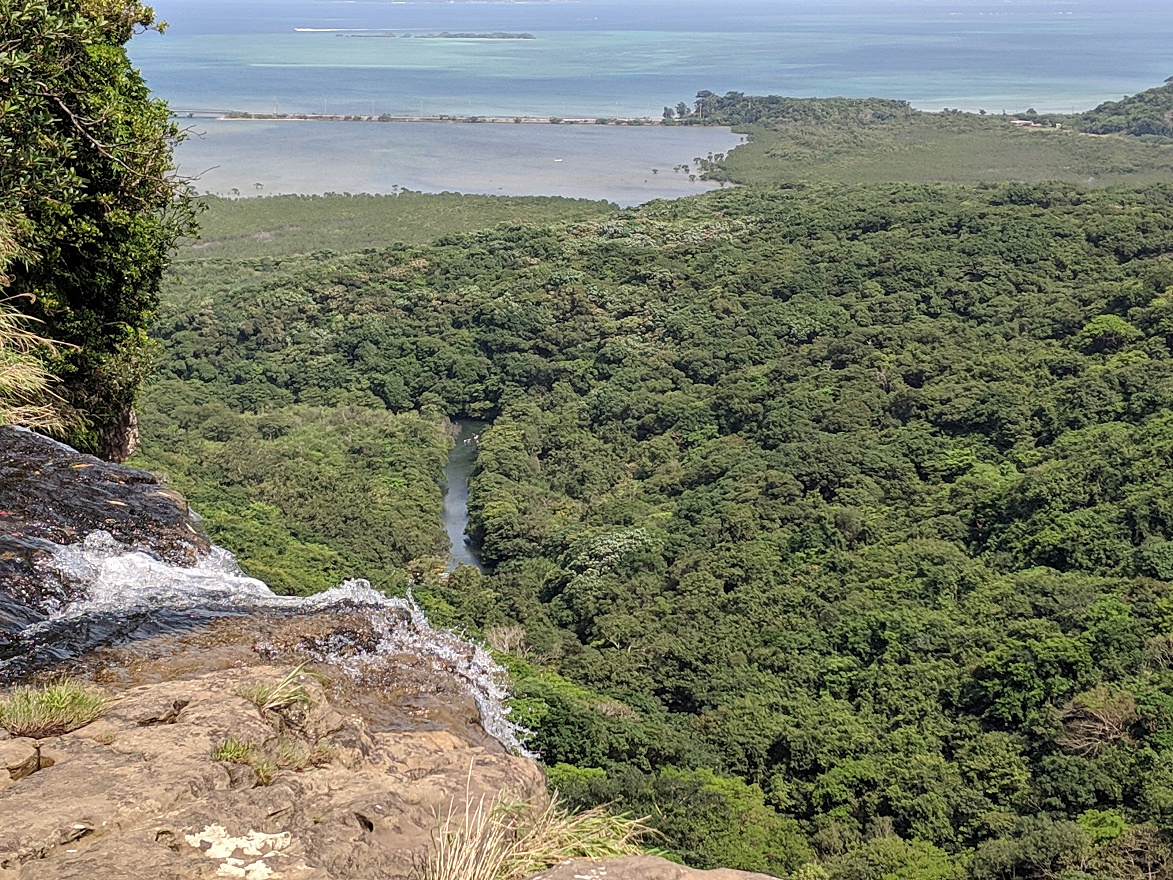 Hundreds of other photos from the trip are posted HERE.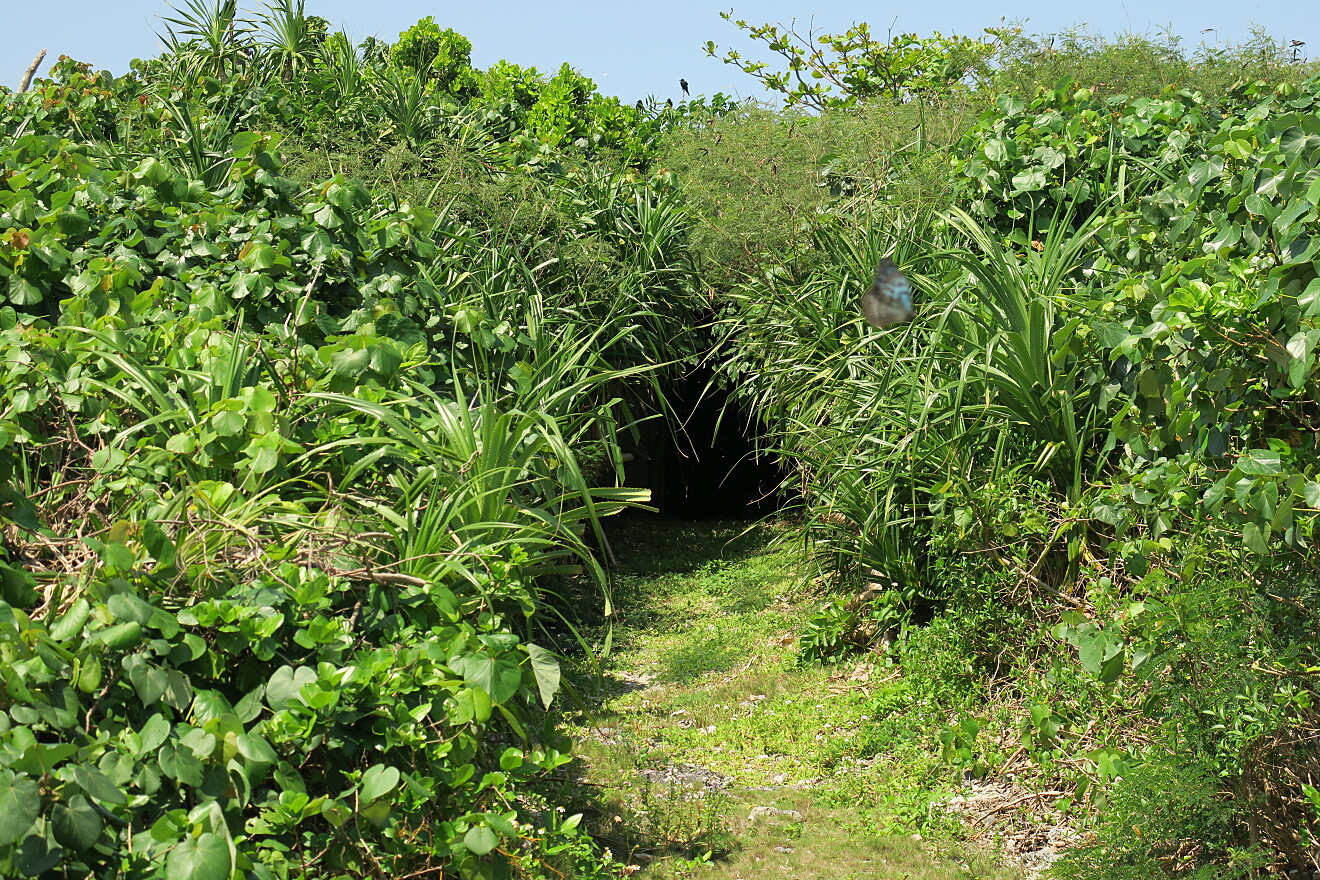 This post is part 1 of the "okinawa-japan-taiwan-22" series: