16:50 Monday, November 11 2021
Iraq, Kurdistan & Qatar (1/3)
This post is part 1 of the "iraq-kurdistan-qatar" series:
The pandemic continues to make travel challenging, and this trip was no exception. The original plan was to spend the entire trip in the nation of Chad, in central Africa. That fell apart in early October, due to COVID testing requirements which were impossible to satisfy. Some very last minute scrambling resulted in the Iraq and Qatar trip that actually happened. Although a very last minute mistake by our airline sugested that we would not be permitted to board the flight to Iraq, but thankfully that turned out not to be true in reality.
day 1
the drive to the airport was uneventful, and i arrived just after 10am. the ticket counter for QatarAir didn't open until 10:30, and there were already a few groups in line. this included a family of 4 with two huge luggage carts stacked with 20 bags. i hope they are moving, cause otherwise, its just crazy. getting my boarding pass was surprisingly & thankfully drama free. other than asking to see a photo of my CDC vax card, and fumbling through reading my PCR test result, it was easy. not even a question about a visa, or objecting to my carryon only bags.
i breezed through security, where they were handing out laminated PRECHECK cards and forcing everyone through a single line. fit was fine, if not awkward. my gate was a ghost town over 3 hours before departure. my plane arrived about 2 hours before departure. there was some sort of ground delay, as the crew came to the gate at 1pm and were turned away. finally they were permitted to board at 1:30pm, but that delayed my boarding until 2pm.
there was some weird new nonsense just before the jetway. USCBP goons were interrogating everyone about their destination and job. it was basically the same nonsense that they do when entering the country. wasted a ton of time, and delayed boarding even more. we took off 45 minutes late. the flight was ok overall. i had chicken biryani, but portion sizes were tiny, and i was hungry an hour later. They served a mini breakfast burrito thingy at the half way point, and then dinner (i had chicken green curry) 2 hours before landing. We landed just before 5pm.
it was a sorta long walk to my gate, with a security screening. the terminal looked similar to Istanbul, which was kinda lame. also, its a bus gate, and smelled like crushed dreams & feet. dylan landed 20 minutes after me, and we swung by a lounge, since he had priority pass with free guest. the lounge was packed, and the food was mediocre.
we wandered down to the gate at boarding time, but they were refusing to board anyone who wasn't in group 1. even though it was a small plane & a bus gate. we waited nearly 30 minutes before they did group 2, and then we ended up on the same bus where the group 1 people were waiting. then we did a huge loop around the terminal, drove to the far side of the airport, and finally boarded the plane. the flight was less than half full.
the flight was uneventful. they served dinner which was some sort of vaguely indian thing with rice, chicken, curry and raita. it was ok. we landed 10 minutes early. it was a fairly short walk to immigration, where we had to complete a visa form, and then wait. so many men with Saddam Hussein style mustaches. after waiting about 10 minutes the visa was ready for \$77 (despite the sign saying it was \$75).
There was a bit of a line to get stamped in, a baggage screening, and we were done. no issues with the ATM, and our driver to the hotel found us. the drive to the hotel was kinda crazy, but we made it ok. we are staying at the same for 4 nights.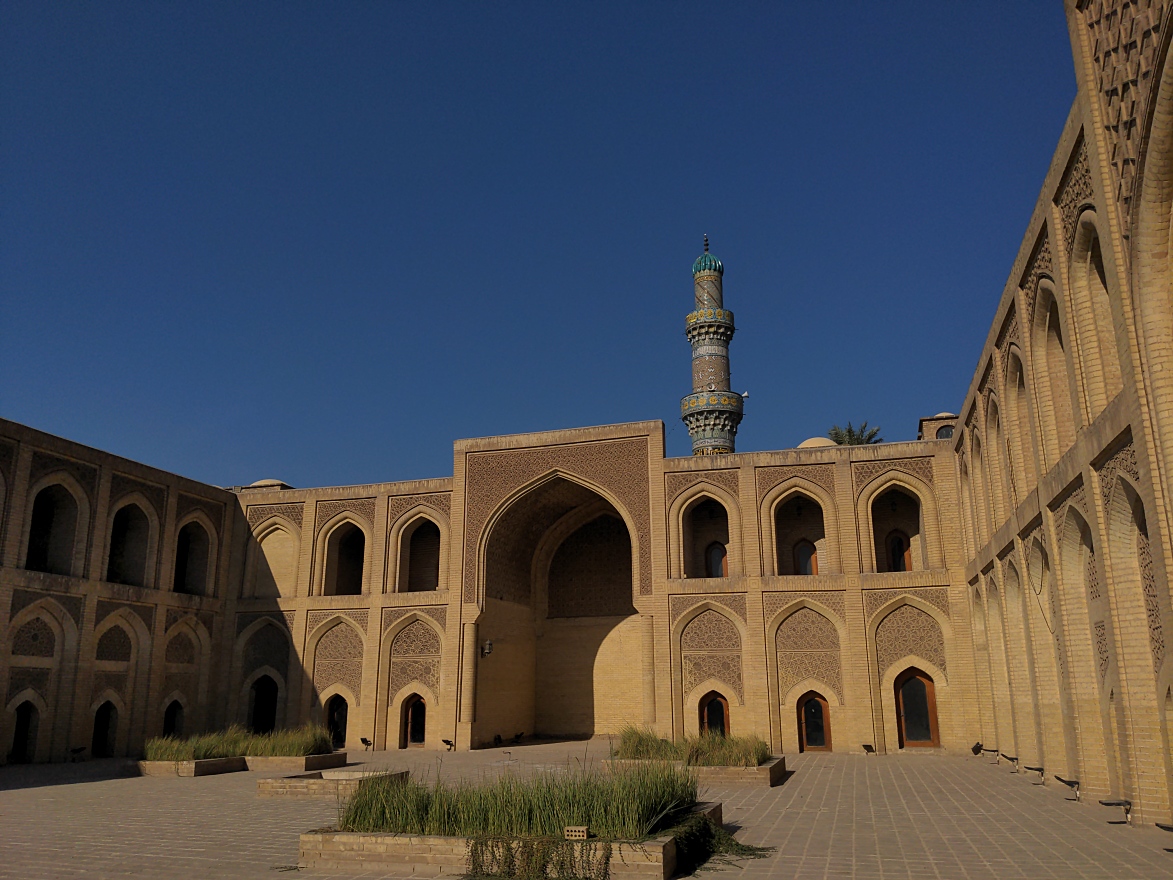 day 2
i managed to sleep until just after 6am, despite an arabic wrong number phone call at 4am. I was up for the day at 6:30am. Breakfast was a huge buffet, with lots of good stuff, including olives, hummus, tahini and breads.
We departed just after 8am for the national museum. it wasn't a long distance but traffic was crappy. The museum has been officially closed for nearly 2 years due to the pandemic. we got a private tour from a museum employee. The museum had a lot of ancient artifacts, going back ten thousand years. it was well organized, with signs in English.
We drove to a traditional Iraqi restaurant for lunch. traffic was horrible, and it took nearly an hour to go about 3 miles. i ate hummus, chicken kebabs and drank lime with mint. it was pretty good.
After lunch we had a 90 minute drive south to the ancient site Taq Kasra - Ctesiphon. Traffic was once again awful. Also jetlag caught up to me, and i fell asleep a few times in the car. this was a really cool, impressive massive 6 story arch dating back to the Persian empire. the structure is not in great condition, such that they fenced it off to keep people away when it inevitably collapses. while circling the structure, there was very light rain for a few minutes. also a group of middle school boys wandered by and were instantly fascinated by the americans and took a ton of selfies. so i am likely on some 15 year old's facebook timeline. the drive back to the hotel took over 2 miserable hours of crawling traffic, horns and exhaust fumes.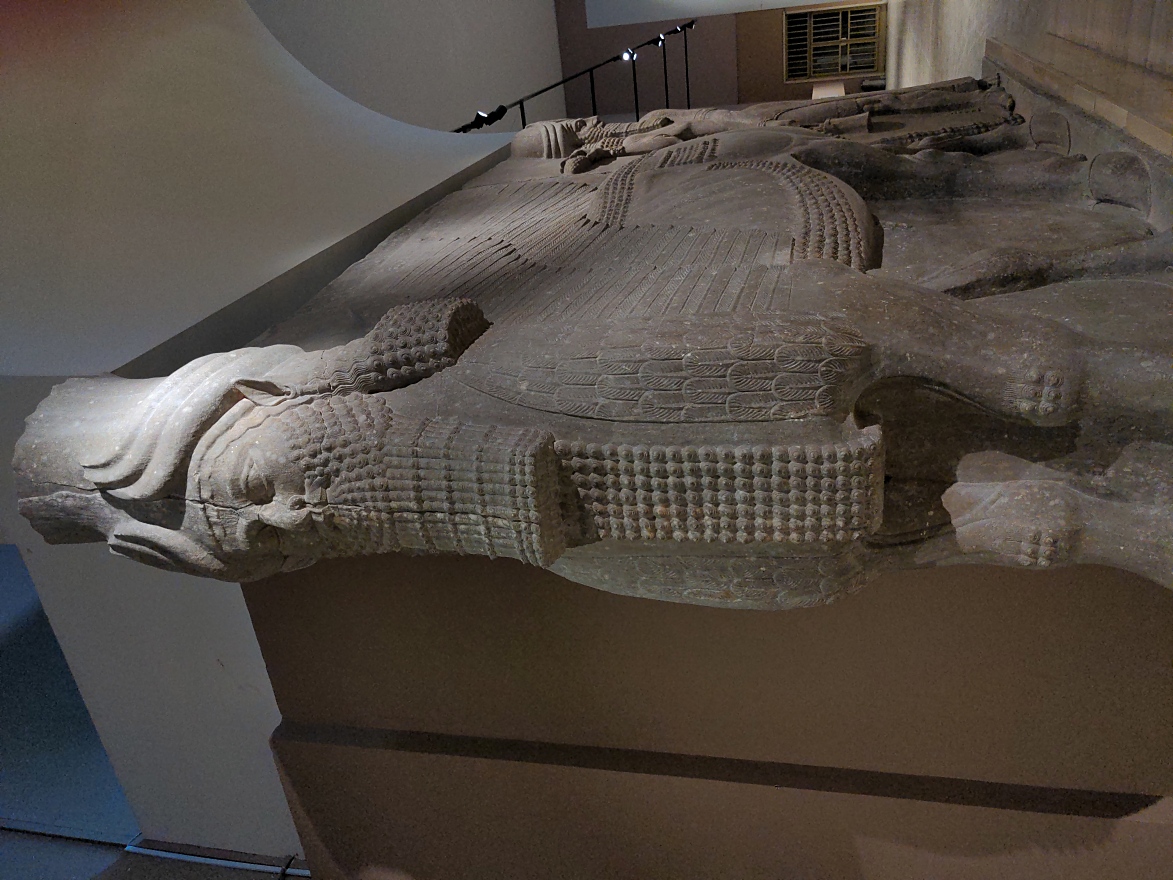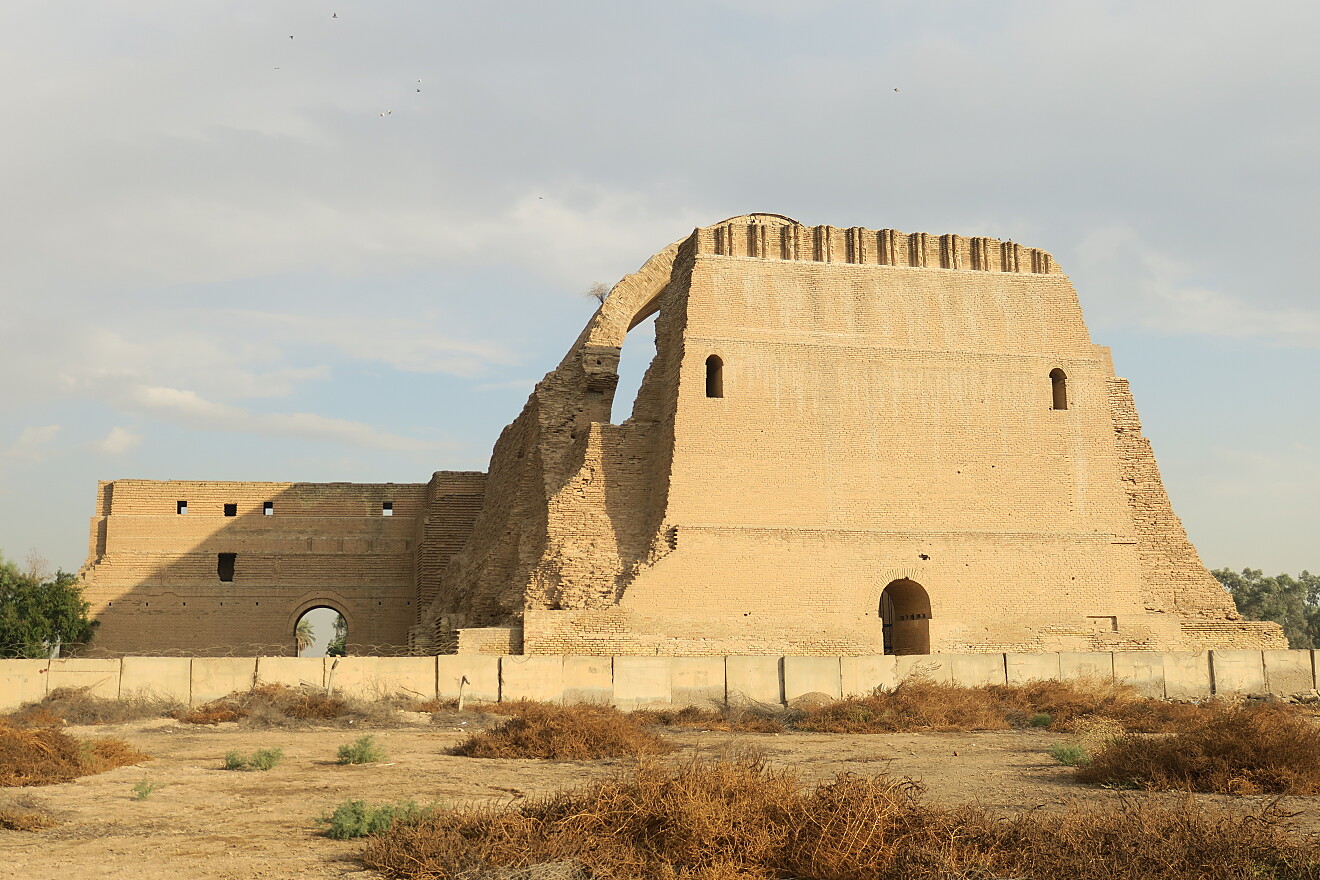 day 3
i went to bed last night before 9pm, and slept like dead until midnight. after that i was awake every few hours. i was up for the day at 6:30. i had breakfast and we left at 8am for Samara. there was the usual traffic for the first hour, then it thinned out as we left the suburbs, heading west. just before 10am we passed a checkpoint where they pulled us over, and demanded our passports. the scenery was mostly open desert, with palm groves and small farms. there was another checkpoint about 20 minutes further down the road where all the military guys were super curious & friendly to meet Americans. each of the checkpoints were manned by a different militia, with different allegiances.
once we reached Samara, the first stop was the ziggurat, a 6 story spiral made from brick, outside the walls of a destroyed mosque. we were able to walk all the way to the top. there was a handrail on the inside wall of the spiral, but nothing on the perimeter. after the ziggurat, we drove to the center of Samara to visit the shrine of Two Shia Imams. its one of the major shrines in Iraq, and attracts worshipers from as far away as Pakistan. the shrine was bombed by terrorists in 2006 & 2007, and its still being restored. as a result, we had to pass through 3 layers of security to enter. once inside the complex, we needed to remove our shoes to enter the shrine itself. the inside was gorgeous, with Persian style decorations, including mirrored tiles, and lots of arabic script. it reminded me of many of the Iranian shrines that i visited.
we stopped at a roadside restaurant for lunch. i got a huge plate of basmati rice, with yellow raisins, a lamb shank, and a bowl of tomato okra soup. plus they brought out what i can best describe as Iraqi banchan. 6 small plates of food, including tabbouleh with pomegranate, hummus, stewed apricots with walnuts, and an eggplant pepper salad.
while driving back towards Baghdad we passed a large bus that was going to Istanbul, Turkey. Once we got back into Baghdad we stopped at the Al Khalili mosque & shrine. its a Suffi shrine, and was different from the Shia shrine. more colorful, and it felt less formal. a relatively short drive further was Tahrir Square, which was where the modern country was founded back in 1958. it was full of traffic and angry looking police with huge guns, so we didn't stay long.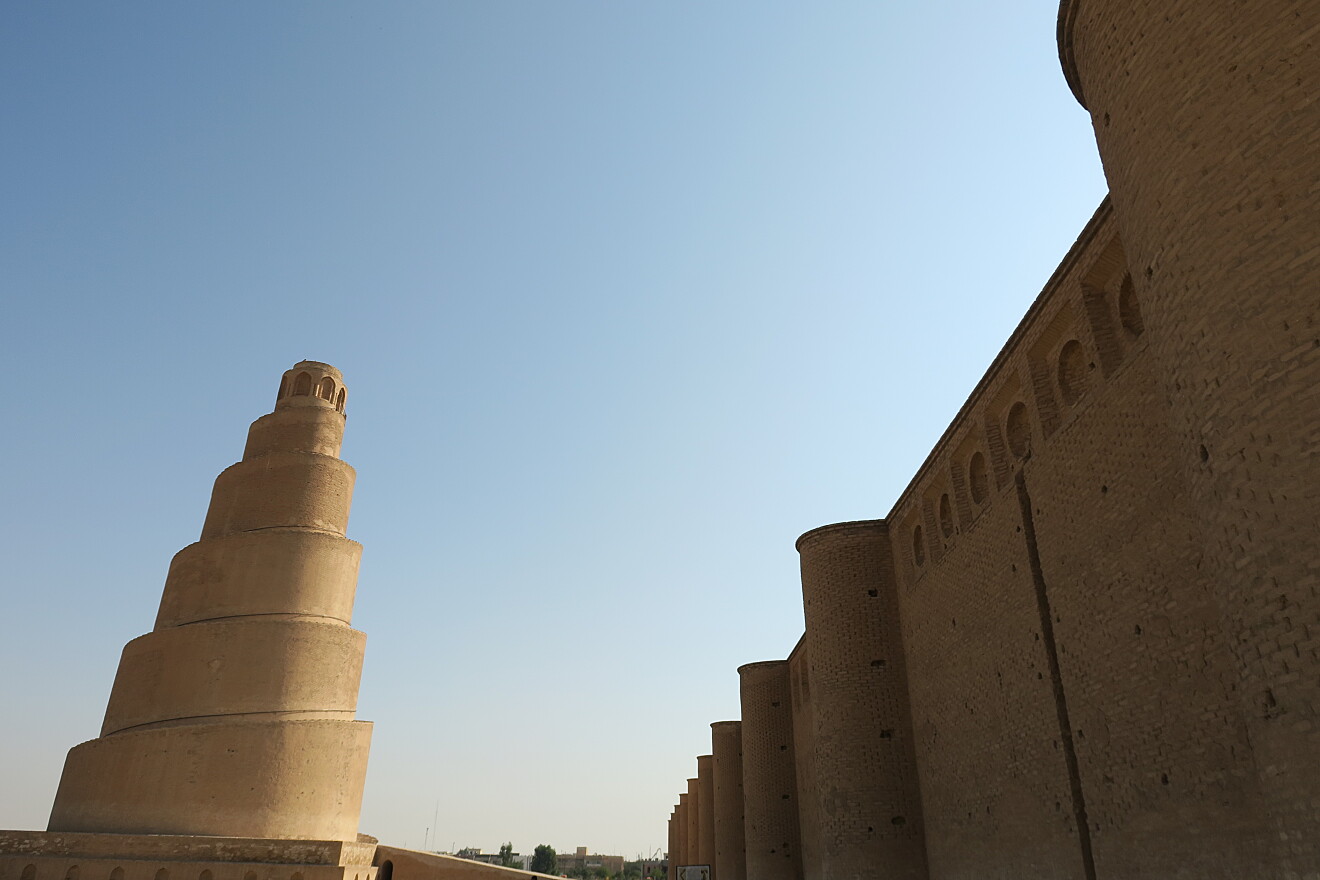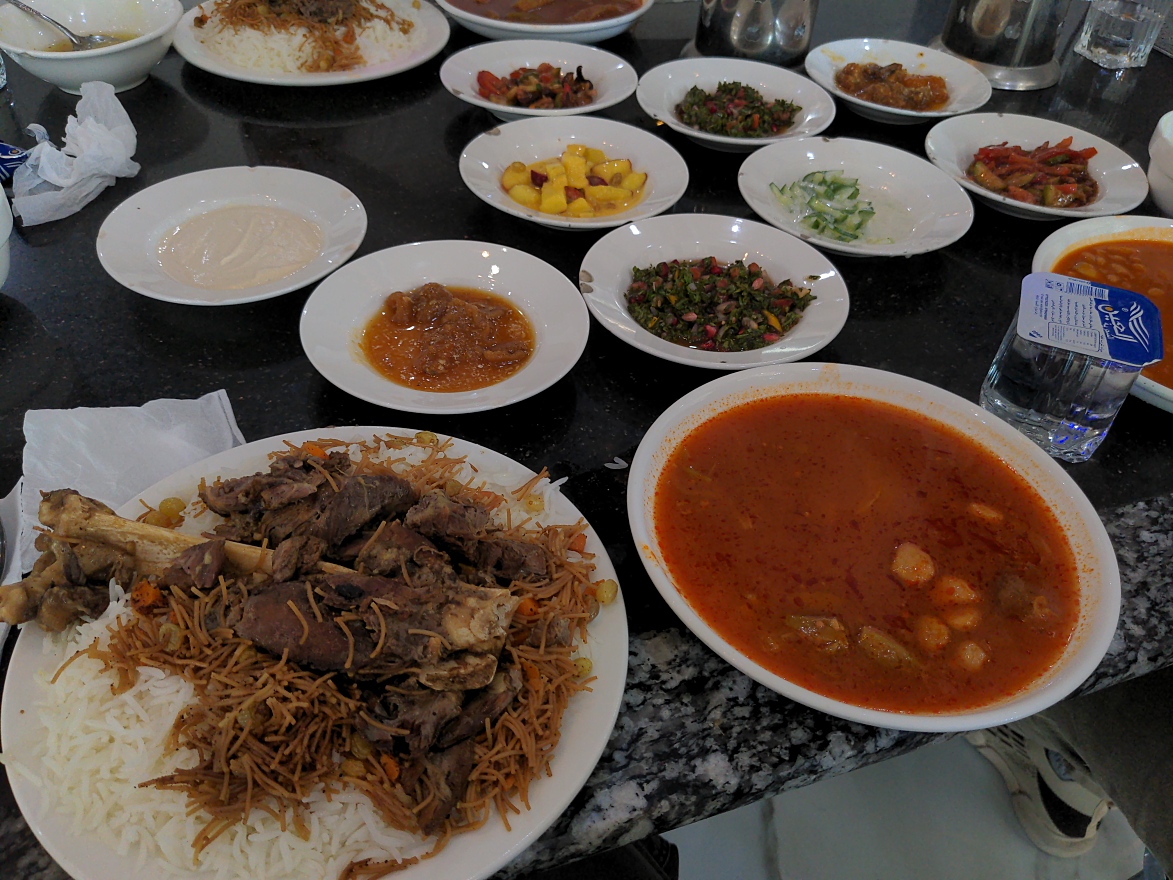 day 4
i woke for the day just before 7am.
we spent the day inside Baghdad. the first stop was the Al Muttanabi market area. We wandered around for a bit then tried to get into a madrassa. at first the caretaker refused to let us enter, but then our guide bribed him, and we got inside. the carvings and geometric patterns were gorgeous. we got to wander around through the halls and into the classroom spaces.
next we stopped in one of the oldest continuously operating tea shops in Baghdad, and had some very sugary tea. we spent time wandering the market some more, and then went to the Baghdadi Museum. this museum was supposed to explain the cultural traditions of Baghdad. unfortunately, they used comically awful mannequins in every exhibit, often with bad wigs, hideous clothes and ridiculous sound effects.
after the museum, we hopped into a tuktuk to get lunch. i want to say, cramming 4 adult males into a tuktuk (plus the driver) is not enjoyable, especially when weaving through awful traffic. thankfully, lunch was terrific. we went to a hole in the wall place, and i had a bowl with a few layers of tortilla like bread on the bottom, then super tender slow cooked lamb shank, and a rich tomato sauce with onions and peppers, and a salted preserved lemon. there was also hummus and more arabic bread for the table. and they had the same salty yogurt drink that i had in Iran. it was all very yummy.
when we finished lunch, we got back in the tuktuk to return to the car. then fought traffic to go to the Martyr's monument. this is the giant split turquoise dome thingy. we arrived at the gate, and initially the guard refused to permit us to enter. but after a few minutes (and perhaps a bribe), he opened the gate and permitted us to enter. the monument is about 125ft tall, with a man made lake on the west side. other than 3 women in hijabs doing some weird modeling thing, we had the entire site in the late afternoon setting sun. it was nice. following that, we returned to the hotel for our last night in Baghdad.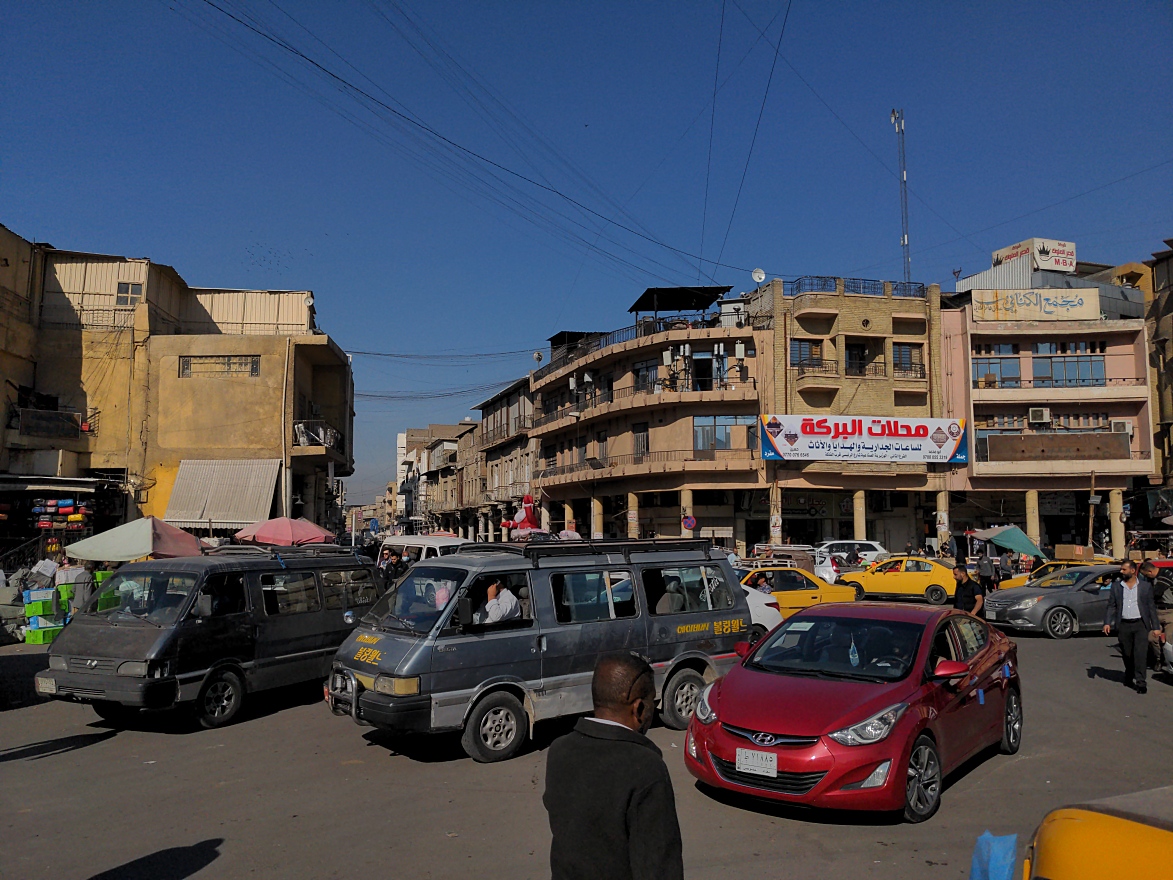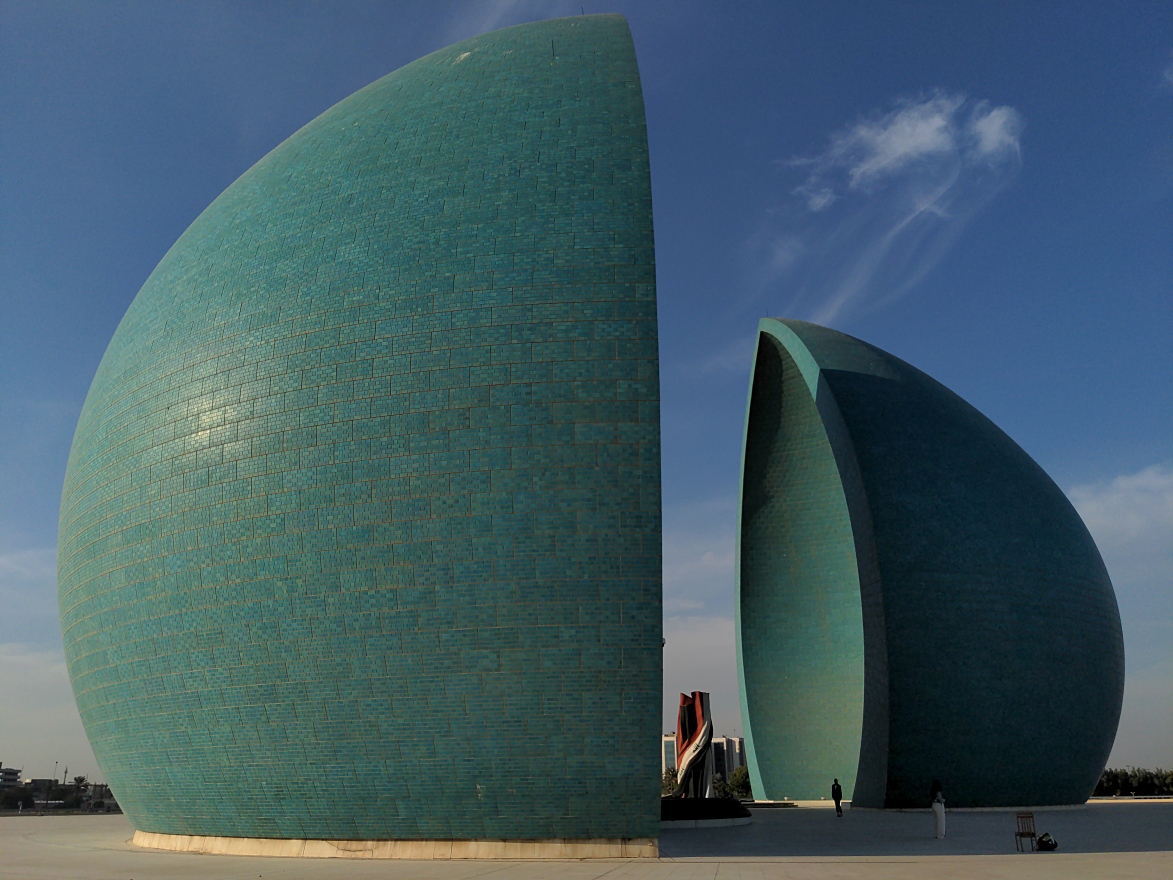 day 5
i screwed up my time zone math and set my alarm an hour early. as a result, i was up at 5:30am.
we departed baghdad for babylon at 7:30am, and made pretty good time, apparently beating much of rush hour. just before 9am we exited the freeway for Babylon and there was a huge police checkpoint, which caused a traffic jam. they were ordering lots of people to pull over and exit their cars. they did the same to us, but none of the police spoke english. after frisking us and reviewing our passports, they let us go.
not too far outside babylon, there was a traffic circle with a 20ft tall statue of Hammurabi, and off in the distance was one of Saddam Hussein's palaces.
We spent about 2 hours touring the ancient Babylon site. it was a really great tour, and we got to visit a locked section of the old gate to the city, the throne room, and the grainery storage vault. we also got to meet with an American archeologist who is working at the site on a 15 year restoration plan.
after we finished at the old city, we visited one of Saddam Hussein's palaces, overlooking the old city. it was basically like an abandoned huge Vegas casino, with tons of Arabic graffiti on the walls. Most everything else was stripped off, except for the marble floors and some ceiling art. Also, the place was packed with university students.
We stopped for lunch at a shawarma place, and then got ice cream next door. i got pomegranate and lemon + mint, which were pretty good. Following the food stop we drove west past Kerbala into the desert. It was very flat, and mostly an expanse of dull sand and occasional small shrubs. At one point we passed a spot where Saddam launched the SCUD missiles into Israel during the first Gulf war. It was a large mound of sand today.
After an hour we reached the Al Khaydhar fortress. This was quite likely the largest fortress I've ever visited. It was absolutely massive with 3 story external walls, turrets, tunnels, death traps, and narrow stone staircases. the entire thing was open for exploration, and it was a lot of fun to explore.
we drove back to Kerbala under cloudy skies. Kerbala is the most holy site in all of Iraq, and the second holiest site for Shia Mecca. Our hotel was in the religious district of the city, which meant that we needed to clear security and walk a few blocks. after dropping off our stuff at the hotel, we walked over to the Al Abbas shrine. it was super crazy crowded, because it was also the start of the weekend. everything was at a huge scale. the size of the building, the sheer number of people. there was a sea of women in abayas around the women's entrance. we dropped off our shoes and waited in line to enter. unfortunately, we arrived just after the call to prayer, and had to wait, since the entire building was at capacity. While we waited, it started to rain. Eventually, they cleared out the prayer crowd and opened the doors. the crowd behind me pushed forward, and everyone moved inside. there was an outer prayer hall, with a lot of people sitting on the floor, that i had to weave around. as i neared the actual shrine, people started to get crazy again. lots of pushing and shoving, as they were trying to touch the shrine. i stuck to the outer perimeter, which avoided most of the chaos. then i exited the inner shrine back to the outside prayer hall, again with people everywhere. by the time i walked back outside the rain had stopped and everything was damp & sticky. i had to walk (barefoot) back around to where i left my sandals.
after that fun we went to dinner, and after a full 12 hours of being out and about, returned to the hotel. it was honestly a great day, but way too long.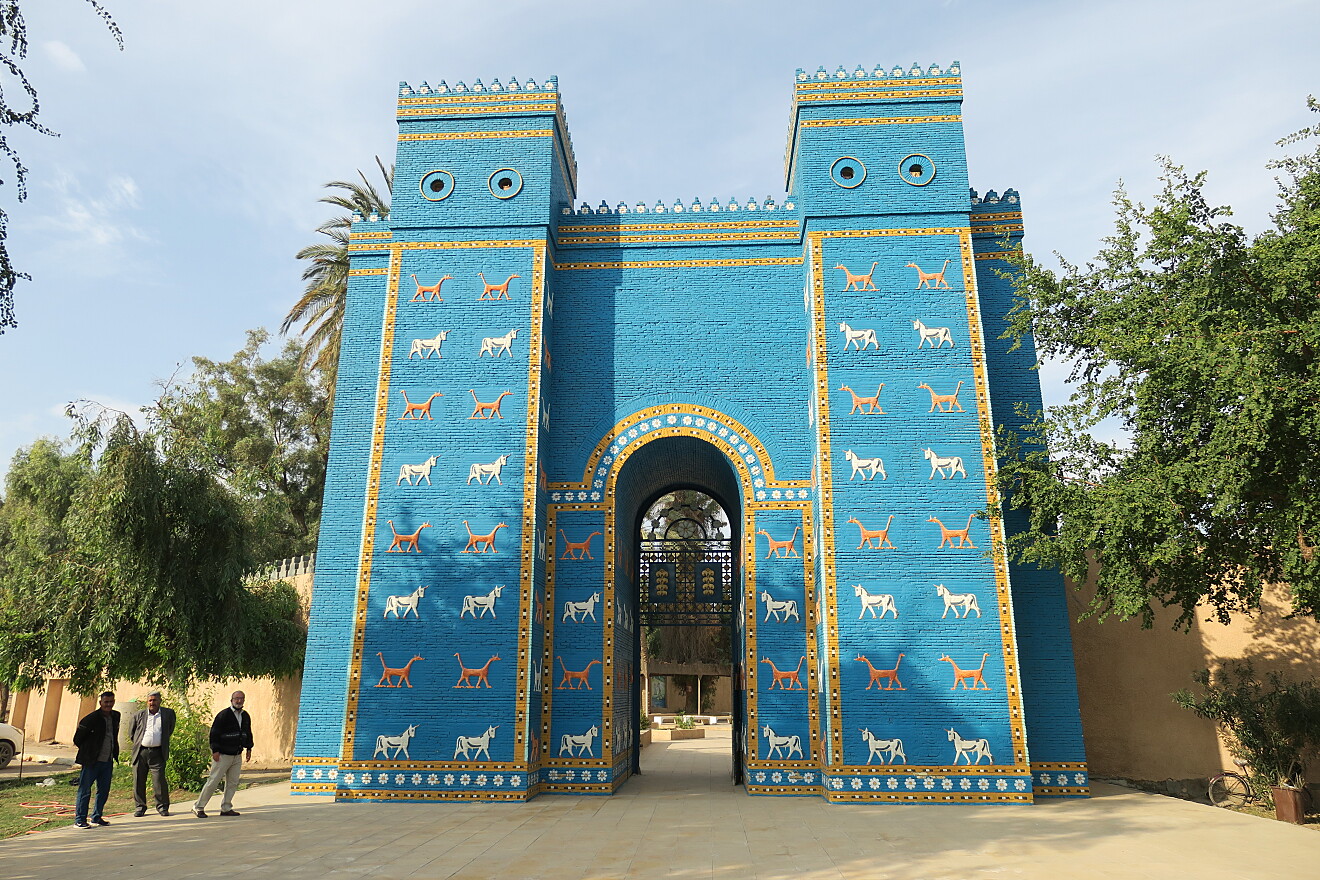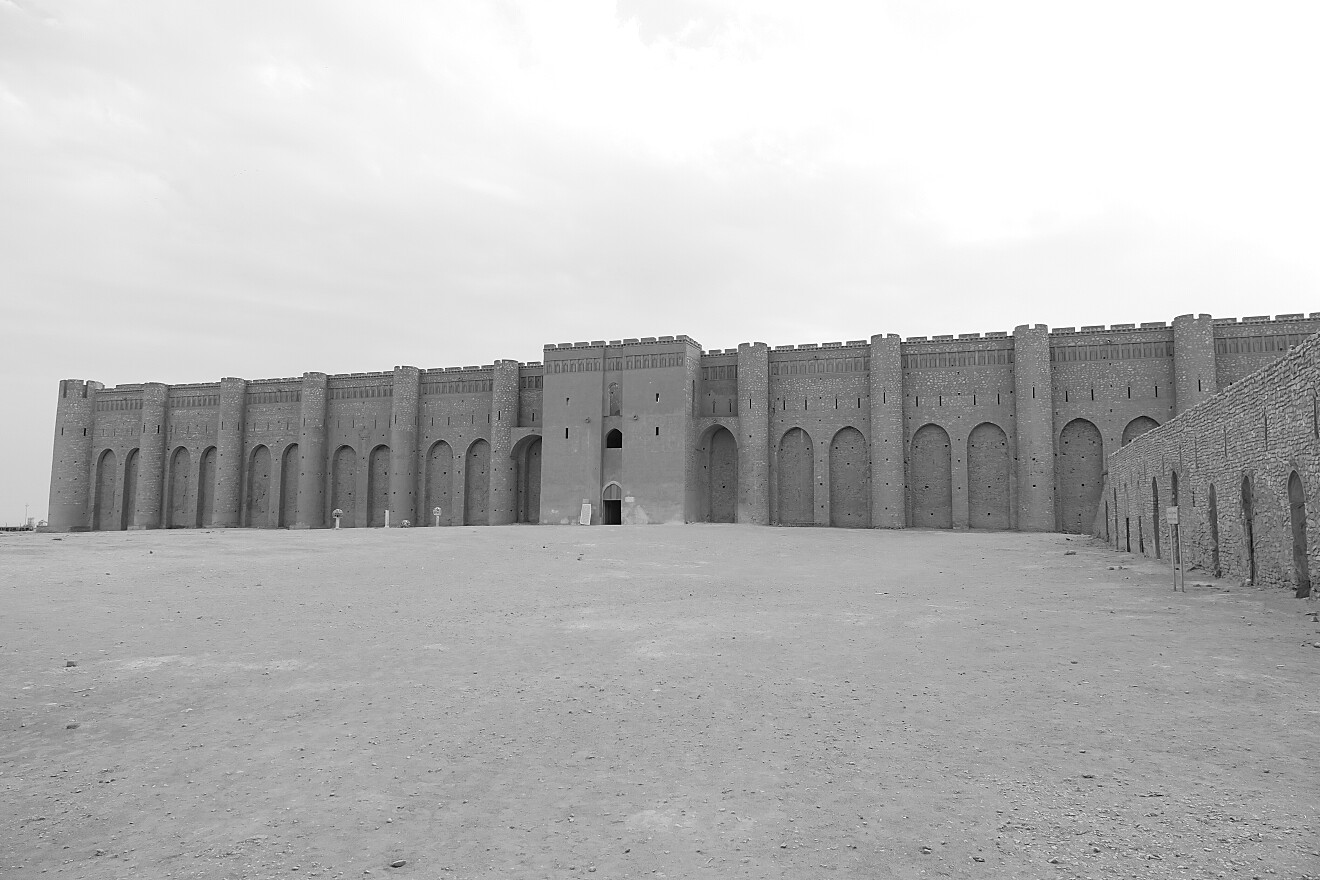 Day 6
last night was rough. the room had a stupid motion activated light near the door which was too sensitive, so even moving in bed would trip it. also, the bed was deceptively harder than it first seemed. i woke up at least once every hour. breakfast was very limited, with just a few kinds of eggs, turmeric fried potatoes, and tea + nescafe.
we got out of Kerbala just before 9am, and continued south towards Najaf. Along the road median were thousands of banners with the photos of men who died fighting ISIS.
Once we arrived in Najaf, we parked and had to take a taxi into the holy district. Then we walked a bit further to a large parking garage and climbed to the upper level. From there, we saw the largest cemetery in the Islamic world, the Wadi Al Salam cemetery. It stretched all the way to the horizon. Not far behind us was the Imam Ali shrine. Thankfully, it was not as insanely crowded as Kerbala. Still, it was quite packed. Again, we left our shoes, and wandered into the prayer hall. Then there was the funnel of people pushing to enter the shrine room. I skirted the perimeter, and then exited.
Afterwards, we drove a bit east to the Kufa Grand Mosque. Supposedly both Adam and the angel Gabriel spent time there. it was much less crowded than the shrine.
We stopped for lunch on the outskirts of Kufa at a place that had just 2 items on the menu kuba, which was a huge cornmeal dumpling filled with ground beef, onions and greens, and a pizza looking thing, which looked quite similar to Turkish pide. it was pretty good overall.
Next, we drove south towards Ur, to see the great ziggurat The drive dragged on and on. Mostly there wasn't much traffic, but it was a long distance, through the desert. And this wasn't scenic desert, just flat, emptiness. About 20km before Ur we came to a checkpoint where they decided to question us. they made us all get out of the car, and about 6 guys in various uniforms proceeded to question us at the side of the road with mostly stupid questions. we did learn that they loved Trump and didn't care for Biden. they asked us the trip itinerary a few times. once our guide returned from being questioned (separately) we were finally free to go. of course at that point the sun had set and it was too dark to visit Ur, so we went to the hotel in Nasariya.
Random thoughts:
* flags are a big deal everywhere, and i don't mean the Iraqi flag. Colored flags with & without Arabic on them are flying all over the place. Mostly solid colors, black, white, red, green.
* So many people with guns. not quite Afghanistan level, but close. Police hiluxes, hummers with manned gun turrets, and random dudes. One night when we had dinner in Baghdad there was a dude with a pistol at the door.
* Nearly every restaurant we've been to has served bottled water as soon as we were seated, and also charge for it.
* the vast majority of cars are used Korean imports, mostly from the US. they have random American auto dealer stickers on them.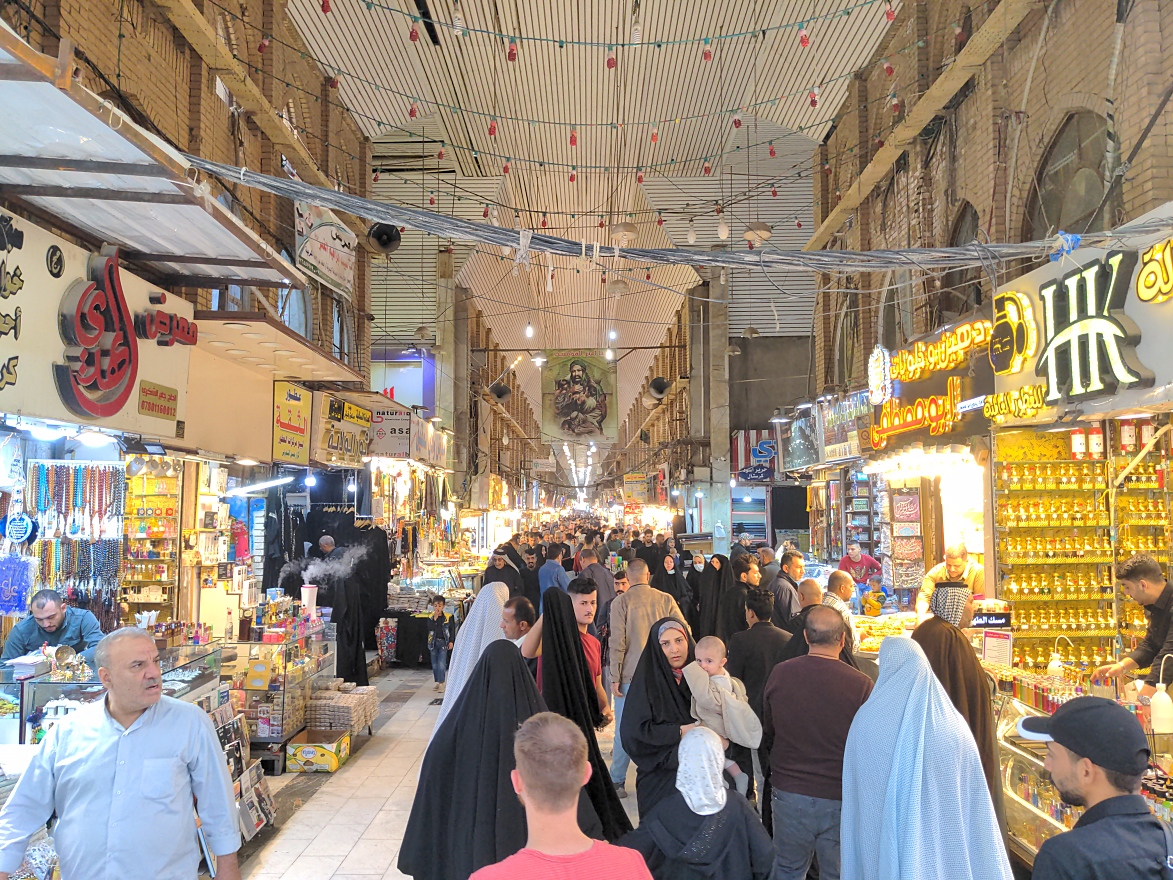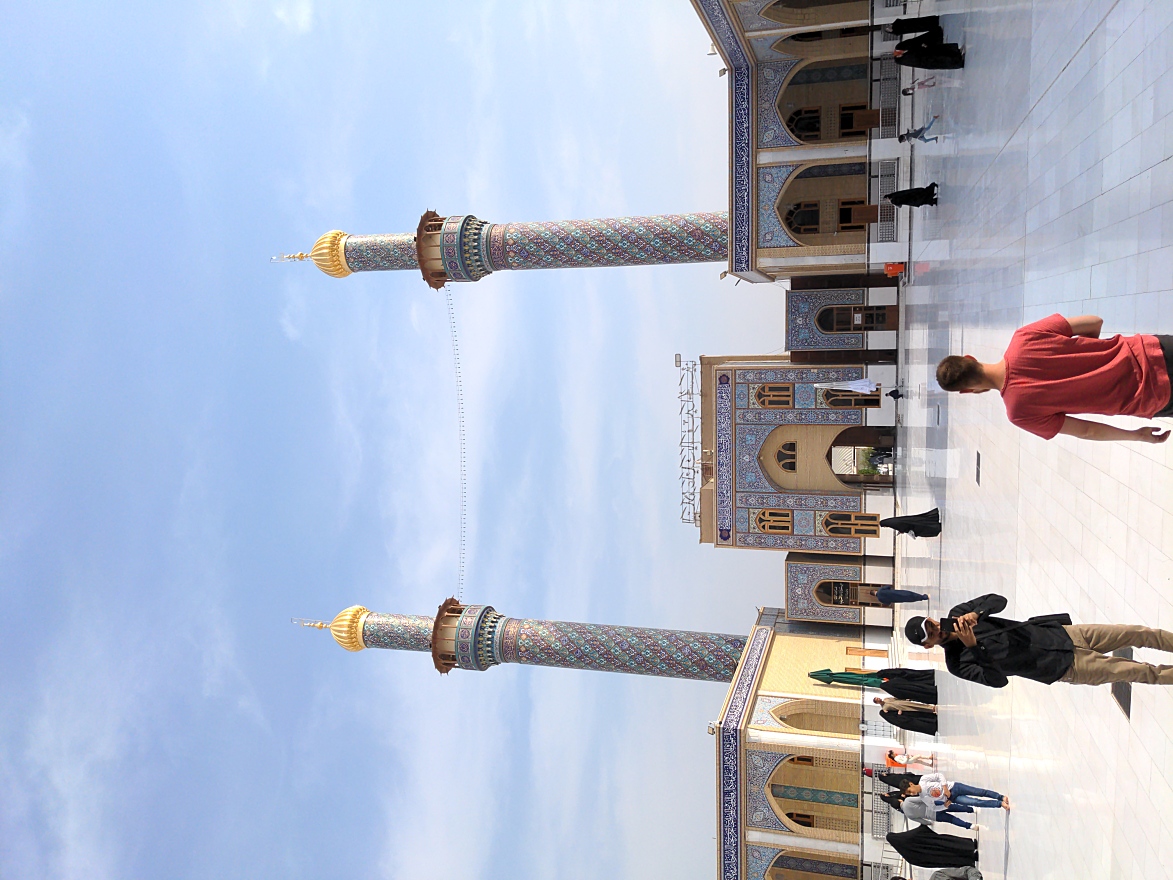 day 7
i was up for the day at 6:20am. the shower had hot water for barely 90 seconds. some large tour group showed for breakfast just before us and literally took all the food. no one bothered to restock anything.
apparently last night's police checkpoint was near the infamous Abu Gharib prison. we passed a different checkpoint this morning that wasn't quite as paranoid. then we drove past the main gate of the prison. currently the prison holds captured ISIS fighters, and some of Saddam's old cronies.
we got to Ur at 8am, but at first the guard didn't want to permit us to enter. after some discussion he agreed if we left our passports with him. the restored ziggurat was fairly impressive, about 3 stories tall, with a stone stairway to the top. there was also some partially excavated ruins in the same area.
after an hour we continued to drive southeast to the marshes. along the way, we passed through a town. at an intersection, a truck failed to stop, and we had to swerve aggressively to avoid getting t-boned. once we got to the marshes, we had tea, then got into a small narrow boat with an outboard motor. we sped off into the reeds, and occasionally saw some birds and cows. random fishing boats would speed past too. it was fine, but got kinda monotonous after a while. at one point, the boat driver spotted a huge turtle sitting on a mud island. he grabbed it and threw it in the boat.
when we returned they setup a big lunch, with whole fresh fish, arabic bread, salad, pickles, rice, fruit, yogurt drink and pepsi. there was also an Iraqi dentist group visiting with their families. many of them spoke decent English and were chatting with us.
we started driving back towards Nasariya at 3pm. then we hit awful traffic as we were driving through the city to the hotel. at one point we didn't move for 20 minutes. then the guide mentioned that university students like to stage protests, and will block at least one of the four bridges over the Euphrates. today, they decided to block 3 of the 4 bridges, which threw everything into chaos. after spending nearly an hour with virtually no progress, our guide suggested that we walk the rest of the way to the nearest bridge, and catch a taxi from there to the hotel. it sounded like a decent plan, but as we got to the intersection in front of the bridge, it became obvious that we were literally walking through the protest, rather than avoiding it. there wasn't any violence, just college kids carrying banners and chanting. that part was sorta ok, but the scary part was the police who were observing, in full military gear, huge guns, humvees with even bigger guns. now maybe it was fine, but also maybe the police could have done something stupid. dylan & I are furious. this was stupid, unsafe, reckless, and unnecessary. had we known that we were going to walk through a protest with armed police, we never would have agreed to this plan. anyway, we eventually got a taxi, and got back to the hotel. we said our final good bye to the guide, and were done with him forever.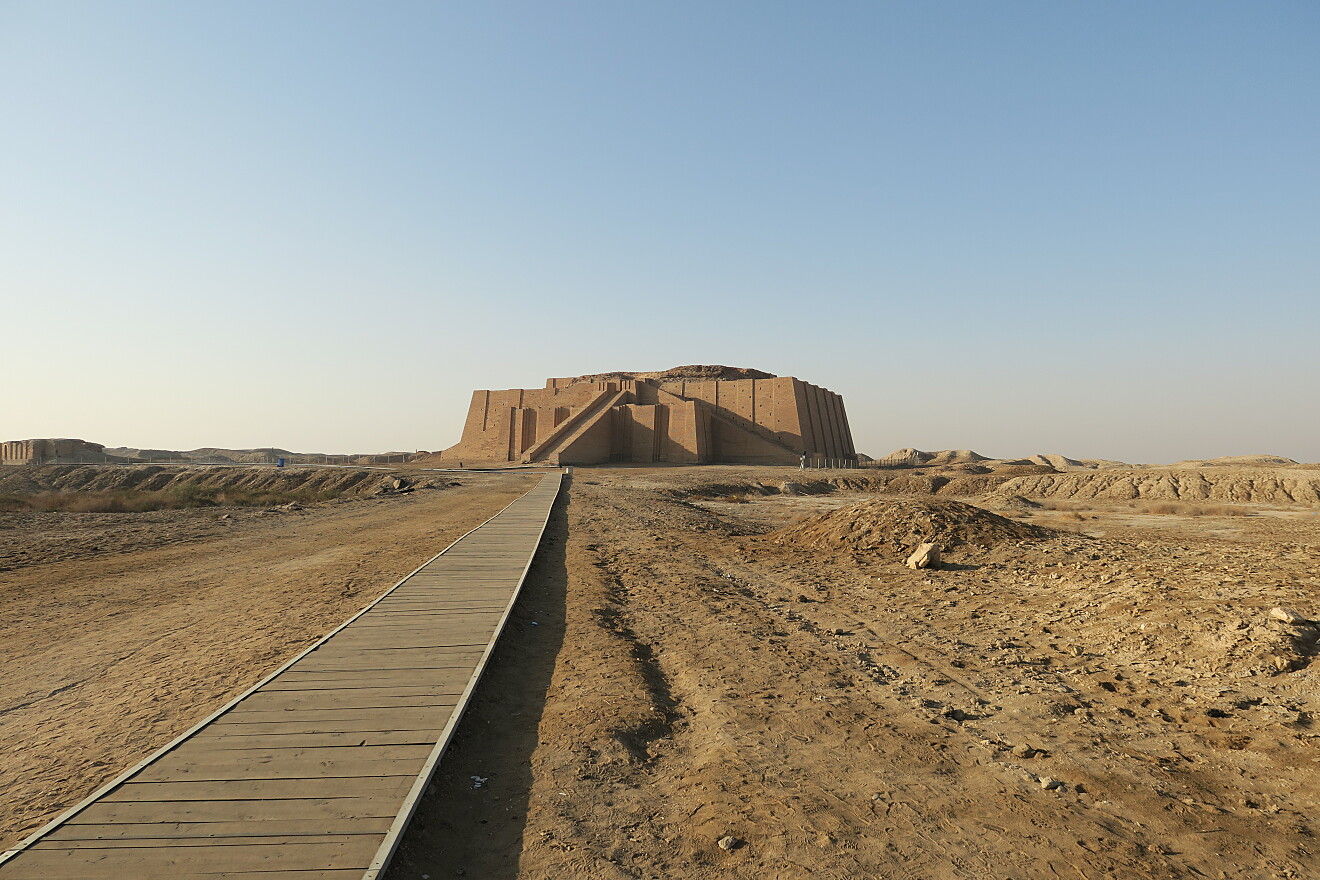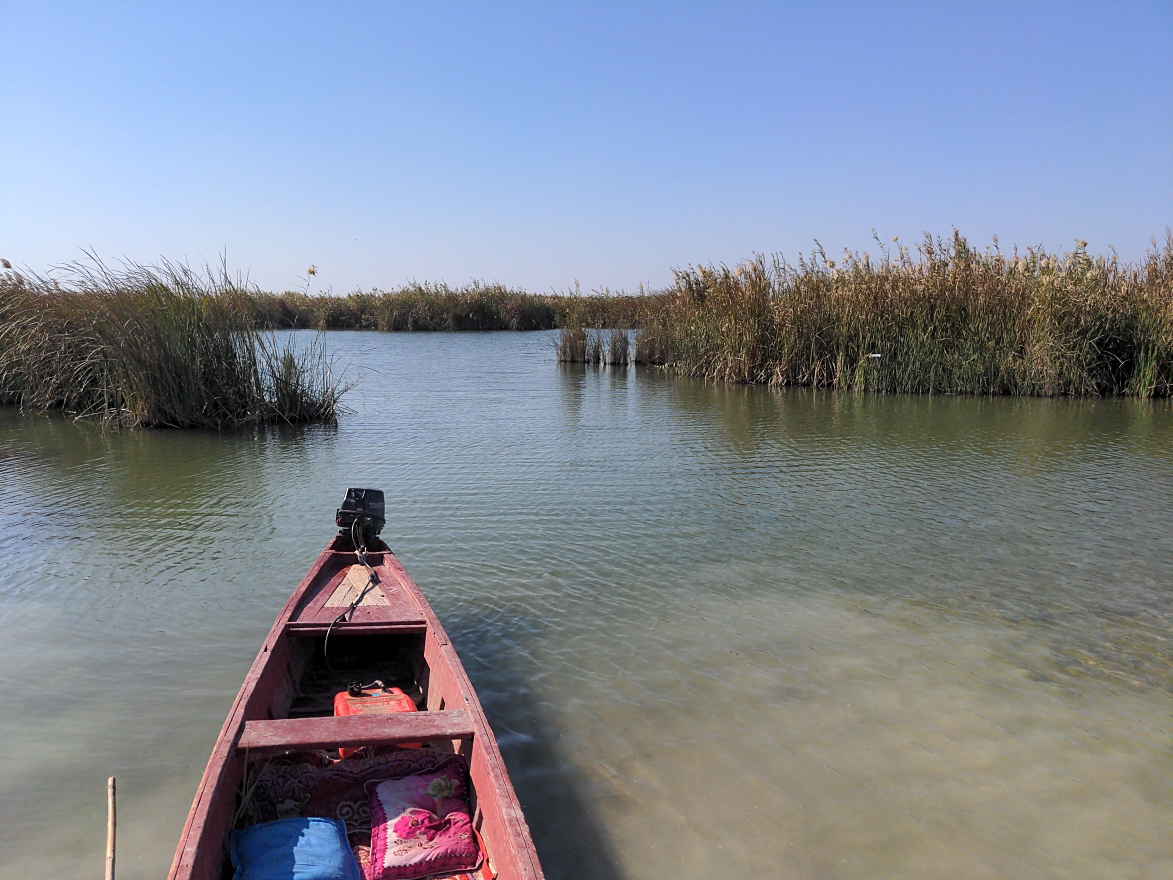 day 8
i was up for the day at 6am. breakfast was a disappointing mess of bread, cheese and hard boiled eggs.
we departed Nasariya at 8am for the 325km drive to Baghdad. we got into Baghdad just before 11am. the airport security is nearly as ridiculous as Kabul (was). About 5km we had to transfer an airport authorized minivan. After a short drive, we came to the first checkpoint, where they wanted to see passports and proof of flight booking, and did a scan of everything. then we drove the rest of the way to the terminal. at the curb they made everyone place their bags on the ground, frisked everyone, and had a dog sniff the bags. then there was another scan to enter the terminal. before we got our boarding passes, there was yet another scan. it was about 1:30pm by the time we got to the gate area. this airport does the thing where gates are not announced in advance, and everyone congregates in a central area. at 16:20 they announced the gate, and sent us through one last round of security, which included shoe removal. we took off 30 minutes late on a mostly full flight.
we landed a few minutes late. the terminal was shiny & modern looking. we had to clear passport control, as kurdistan is an autonomous region, with their own visa system. after a brief ATM stop we caught a bus to the land side terminal, and found our guide Balin, waiting for us.
it was immediately very different. everything is modern, new and developed. roads are in excellent condition, most cars are new or recent models. there are shopping malls and western chains.
we ended up going for chinese food, which was actually pretty good. then we were dropped off at the hotel for tonight.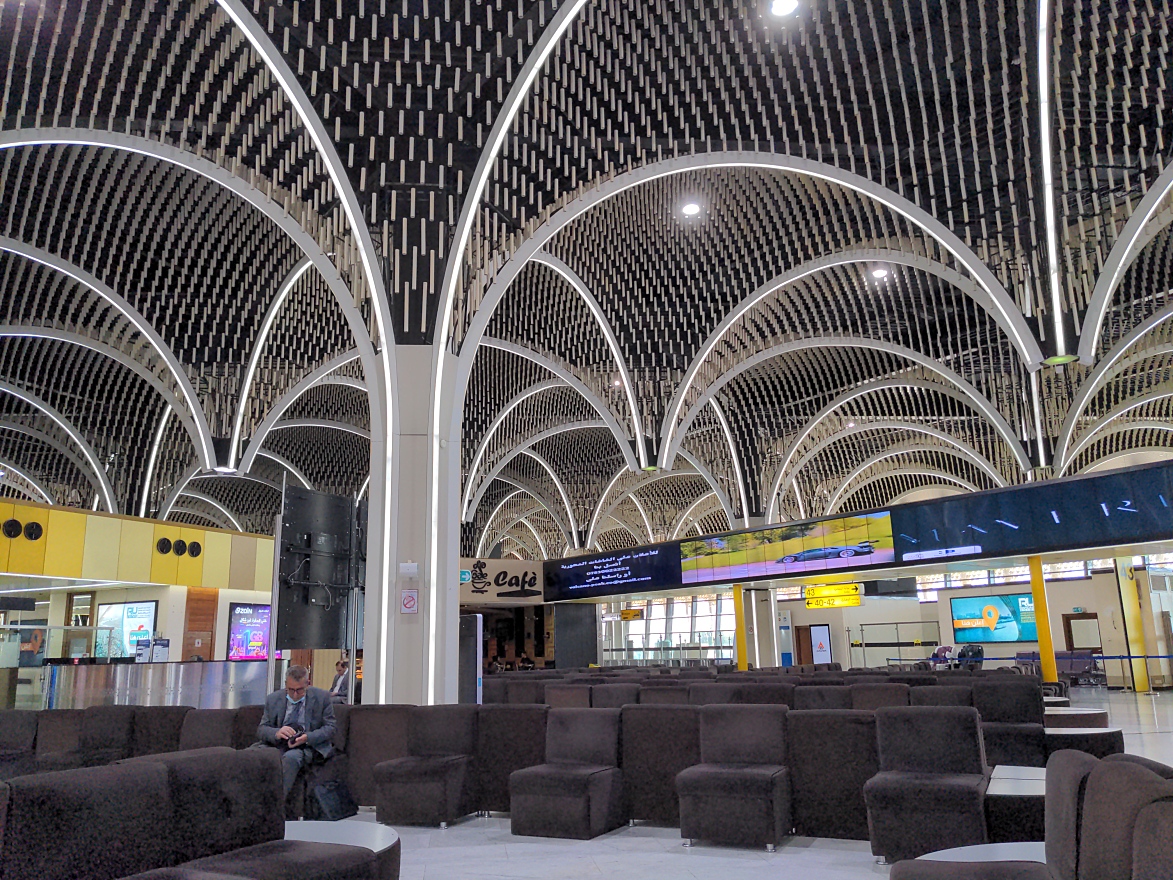 All of the trip photos are posted HERE.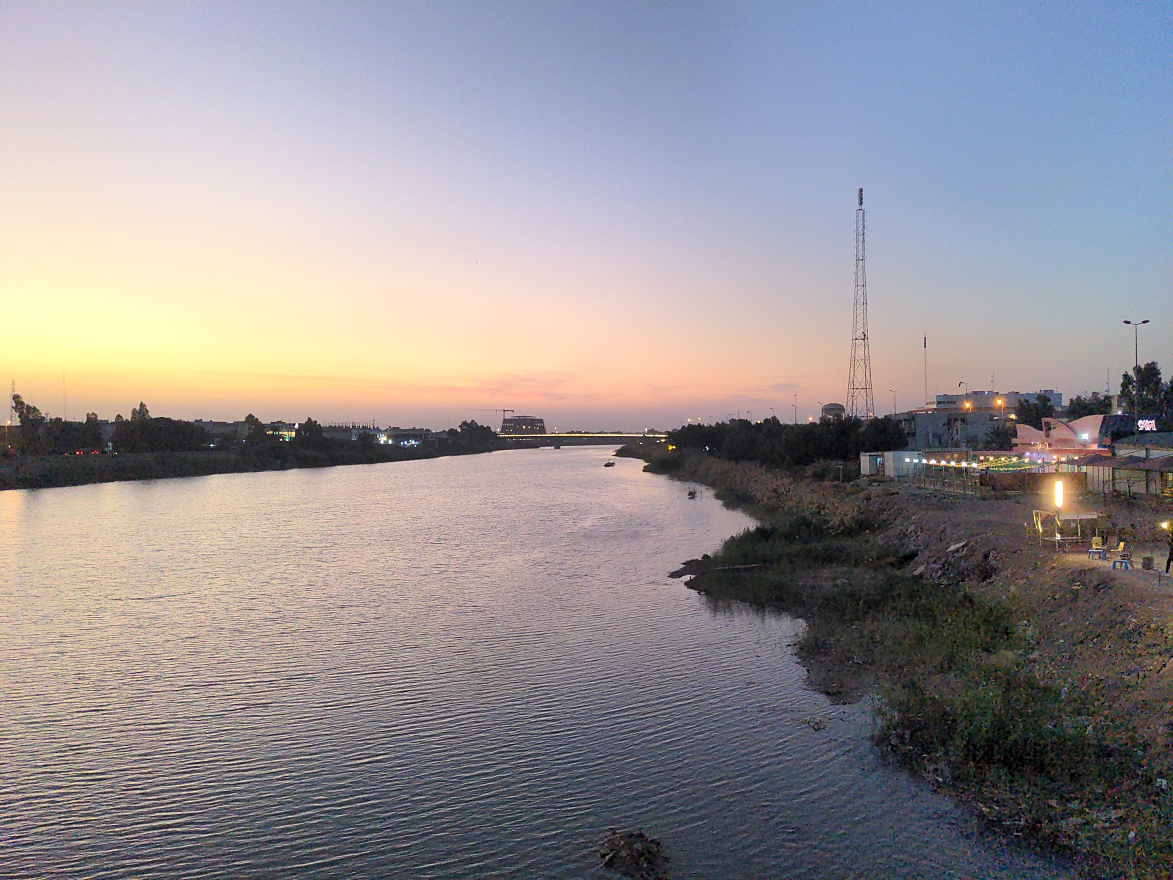 This post is part 1 of the "iraq-kurdistan-qatar" series: