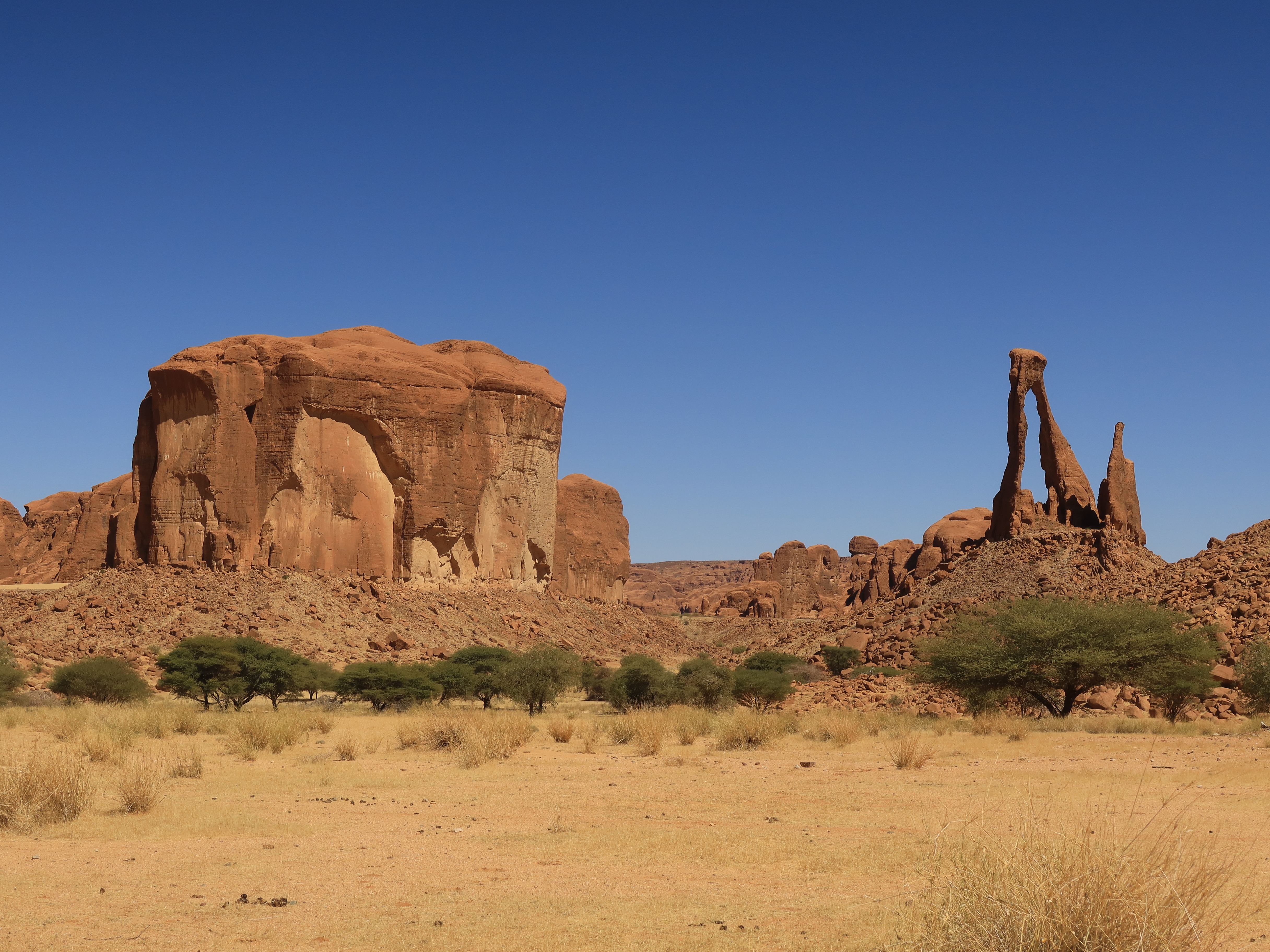 18:59 Monday, November 11 2022
Chad (1/2)
This post is part 1 of the "chad-2022" series:
I spent nearly three weeks in November exploring the African nation of Chad on a small group tour. Chad is in central Africa, with the northern 3/4 of the country deeply embedded in the Sahara desert. This trip was unlike any that I've ever done before. Its not even remotely a tourist destination. Its impossible to travel solo there, as there's basically no infrastructure outside of the capital, N'Djamena. Roads quickly disolve into nothing, and its literally traveling through the open desert, over dunes, around rocks, and past landscapes that are harsh and unforgiving. The trip was 15 consecutive nights of camping (in tents, sleeping on the ground, etc). I had to bring my own sleeping bag, and there were most definitely no comforts or ammenities. No showers, no fancy cooking, and no sleeping in. Everyone woke at sunrise (often around 5AM), and mostly returned to our tents each evening after dinner (9PM). Most days were spent driving 5+ hours. Distances are vast, and we covered about 3000km over the course of the trip. The hardships were more than offset by some of the most spectacular desert scenery found anywhere. Amazing rock formations (arches, spires, canyons), plenty of camels, sand dunes, and rock art.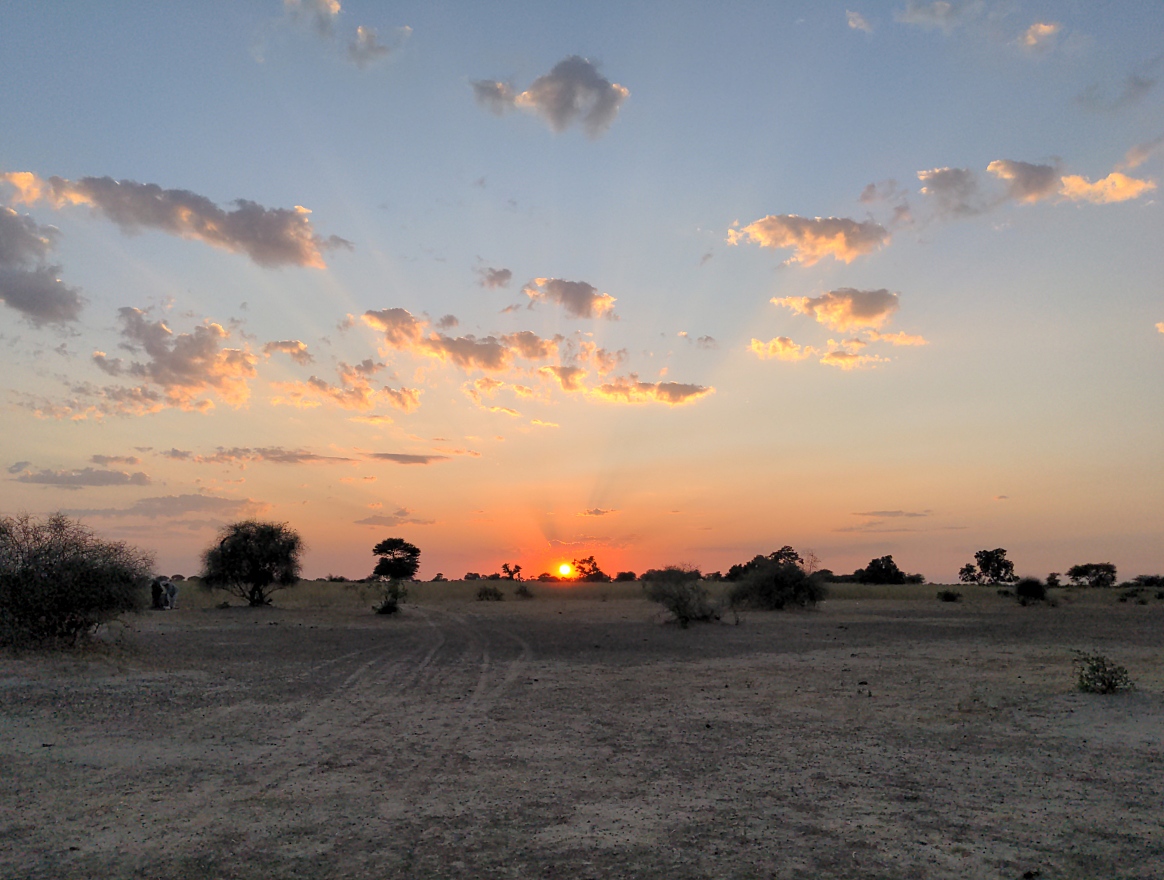 Day 1
Zero issues getting my boarding pass but I never got TSA precheck, and had to do the normal security theater. i know that I provided AirFrance with my KTN so I am confused. Also they never checked my Chad visa or asked to see proof of vax. The flight was ok, but super hot and the guy beside me was manspreading the entire flight. I tried to sleep, but I was too warm and cramped to get comfortable. I landed 40 minutes early, and somehow, I never needed to clear security to reach my connecting flight gate. 
My flight to Chad (which continued to Abuja, the Nigerian capital) was about 1/3 empty. The seat beside me was empty. A weird mixture of nationalities on the flight (French, Nigerians, Americans, Chinese, South Africans and Spanish). We departed 45 minutes late waiting for people on connecting flights. The flight was ok, and we landed about 10 minutes late. The runway had no turn off at the end to reach the terminal. Instead, we had to u-turn at the end of the runway. It seemed like we barely missed going off the runway into the weeds twice during the u-turn. Then we had to u-turn again at the terminal. And it was a bus gate too for some reason, even though this was literally the only flight arriving. As the plane was continuing to Abuja, then returning to CDG, I assumed they would offboard only the Chad people. But nearly everyone stood up to get off the plane, which made no sense.
The bus to the terminal took barely 10 seconds. Then I had to climb outside steps to the 2nd floor. I guy in a lab coat was actually glancing at vaccination cards. Then I walked up to the window to get stamped & finger printed. Then another passport check, and down different stairs to the baggage carousels. I found my guy waiting (Aziz) holding a sign with my name. I stopped at an ATM, and then we walked out of the terminal into the 16C night. Aziz spoke decent English and asked the usual questions (1st time in Chad, where are you from, etc). It was a 3 minute drive to La Residence Hotel. We had to pass through two steel gates to enter the hotel grounds. Checkin was fine, and then I was assigned room 405, which is oddly on the 2nd floor.
I saw 2 small roaches climbing the wall, but otherwise the place looks decent, all things considered.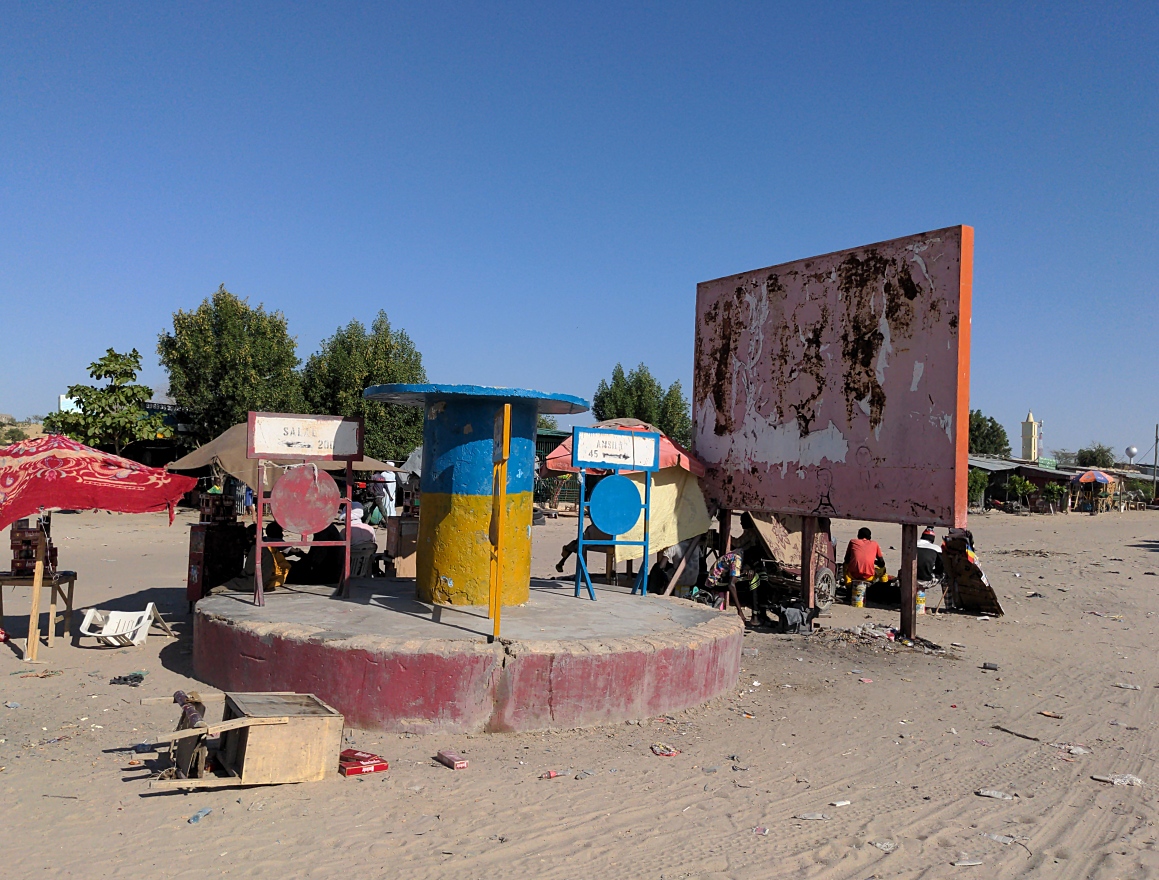 Day 2
I slept straight through until 6:30AM. I got a pretty good hot shower, then went downstairs for breakfast. the entire hotel restaurant was full of Russians in uniforms from Utair, a Russian airline. I guess that removes any questions about Chad enforcing economic sanctions. breakfast was fresh fruit, (real cheeses), and french pastries, plus juice/tea/coffee. it was decent.
I spent the rest of the morning in my room trying to get a SIM card. last night the hotel claimed they knew a guy who could get me a card in the morning. this morning they had lots of lame excuses (he is far away, he is busy, etc). then at 11:25am they said the guy was here, and sure enough he got me setup with 10G of data good for 30 days. i checked out at 11:45am and waited for the driver to take me to the tour company office.
the office of Tchad Evasion was barely 2 blocks from the hotel. when I arrived the tour leader of the previous Chad tour was still there, and the Italian (Sauro) from my tour had arrived last night via Turkish Air. He was upset because Turkish lost the bags of nearly half the flight, and it was unclear how they would relay it to him.
the central african franc looks like monopoly money or like someone made it up for fun. its got almost no decorations, tons of white space, and no distinctive style.
Everyone else arrived at 13:30. Pia looked like someone's grand mother and spoke no English. Ulli looked like an old hippy. Eva was very happy to speak english. Daniella sneared at me as soon as she learned that I was American, and ignored me after that.
We departed in 3 vehicles at 14:45. I was with Sauro (Italian), Pia & Verena (both Swiss). It was 38C as we drove north out of N'djamena. The drive wasn't bad for the first hour. It was hot, dry & dusty with trucks and motorbikes. tiny towns with a mosque, and children begging for stuff. then one of the other vehicles got a flat (and we hadn't even left pavement). or they thought, but a few minutes later they pulled over again due to bumping sounds from the other side. they changed tired again. then a few minutes later they stopped a 3rd time to check the air pressure on the tire that they had just replaced.
Just after 5pm we pulled off the road and drove maybe a mile, weaving around bushes. eventually we stopped in a clearing, and setup camp. everyone had to setup their own tent. it would have been far easier if I had a clue what it was supposed to look like. before dinner there were dates, peanuts, green olives, biscuits, tea (black & hibiscus) and nescafe. Dinner was couscous with beef, onions, carrots & tomatoes. it was fine.
Of the entire group, Verena talked to me a bit in the car. Ulli (the hippy looking dude) was a CFO of some big German company until he retired 15 years ago, and now travels the world. he's the only person who has been to afghanistan & iran before. Apparently he is at least 20 years older than I am, as he was traveling in Iran & Afghanistan in 1978 (when we played what's the craziest country you've ever been, and he topped my afghanistan story). Eva (communications at Mercedes Benz in Stuttgart), is the only person who actually makes an effort to speak English around me all the time. the rest mostly don't even try and ignore me. the guide, Juetta, speaks English but its clear that is not great at it, and would rather not.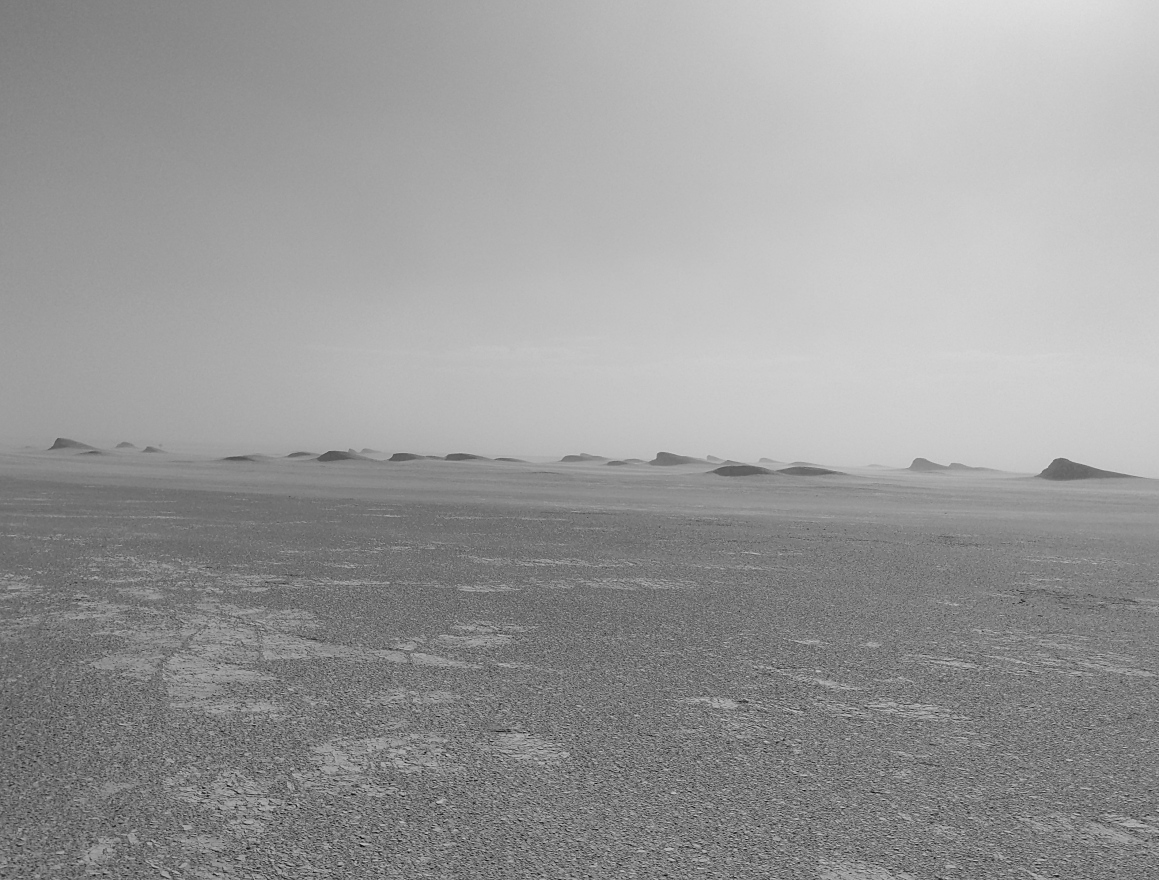 Day 3
Overall, i slept ok. It was fairly warm all night, and I was glad to not have the rain fly on the tent. Lots of noise from trucks on the road, plus birds & cows during the night. Breaking down the tent and packing up took about 25 minutes, which is not bad for the first time.
Breakfast was laughing cow, honey, nutella & crappy baguettes. plus tea & coffee. And a lot of German. They burned all of the trash (including plastics) which was nasty. After breakfast we went for a short hike, and spotted a lot of weaver nests and a few of the birds as well.
The first hour of the drive was on pavement, then we were bumping along on sandy roads with tiny mud hut villages forgotten by time. We saw quite a few camel caravans, with fancy saddles for the women. Lunch was a basic salad with a few tiny pieces of cheese, baguettes, oranges and sugary hot tea (because its the desert).
After lunch it was already near 40C and the road was alternating between soft sand and hard sand. The scenery was a lot of dead brown grass and short twisted trees. Just before 4pm the lead truck (the same that had tire troubles yesterday) stopped because it was having problems with its clutch.
After standing around for a few minutes they drove off again.
At 16:35 we stopped in a village to purchase firewood. finally at 5pm we pulled into camp. Dinner was spaghetti with mutton. It was weird. While waiting for dinner I was talking with more of the german speakers. One of them was stationed in Afghanistan as part of the NATO force in Kunduz.
another is dual swiss german citizen and his grandparents resisted the Nazi's.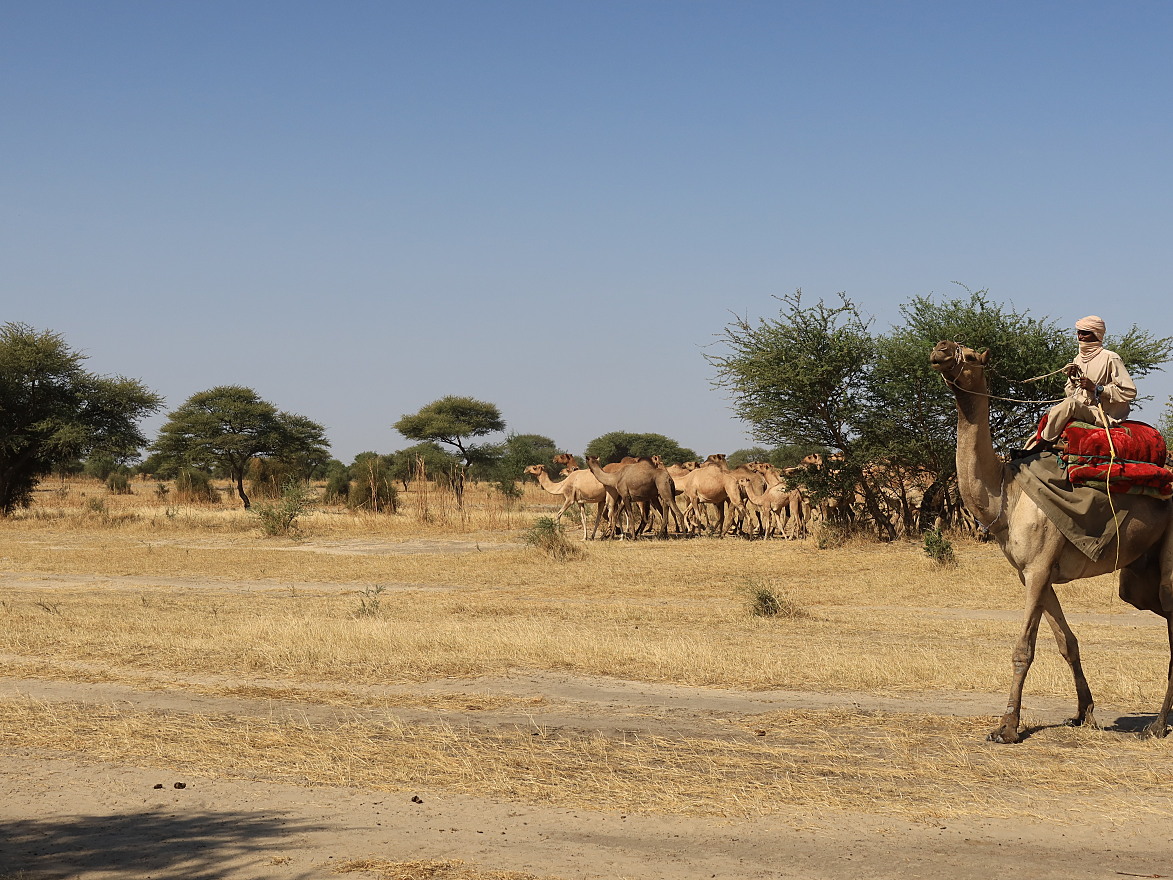 Day 4
I slept relatively well, and it was much more quiet. I woke just before 6am to the sound of men talking and banging. Apparently a replacement vehicle drove all the way from N'djamena (18 hours straight) for the truck that was having all the problems. they were swapping out all 4 tires. Breakfast was the same as yesterday. Its windy and partly cloudy this morning.
The drive north was fairly similar to yesterday, with dusty, sandy and bumpy roads. Over the first 2 hours we stopped 4 times. First to look at 2 cranes standing at the roadside. Then for a huge desert tortoise. Then to buy firewood. Then to tighten lug nuts on a vehicle.
Eventually scenery changed dramatically, and most of the trees disappeared, and everything was flat with short brown grasses. It kinda looked like Kansas with sand. Apparently the wet season this year was the best in decades, and much of thr country us wetter and greener than its been in many people's lives. 
Lunch was a better salad, with tuna, and sugary hot tea. My vehicle has been rotating seating assignments each day, which, while fair, sucks for me.
I got the front seat on monday, and had the window behind the driver yesterday. Alas, I got the rear middle today which was awful. Plus I had Pia on my right and she kept falling asleep on my shoulder, while Sauro was fidgeting beside me with his stuff.
The rest of the drive was through the vast flatness with very little growing, but plenty of wild camels. Just before 16:00 we stopped at a well to resupply. Then a bit later we entered sand dunes, and for some reason there was a town in the dunes. we stopped for fuel, and while waiting everyone got drinks. Every child for miles showed up to beg for a Coke.
I've had some good conversations with Eva & Ulli. Some of the other Germans have started to warm up and chat a little. Surprisingly, most
actually don't speak English very well, which at least explains their hesitance.
We camped in the sand dunes north of the town. The dunes were crawling with dung beetles. In addition to the normal appetizers, they put out these Dorito looking things that were brick red and nice & spicy. Dinner was risotto, which was surprisingly much better than it should have been considering where we were.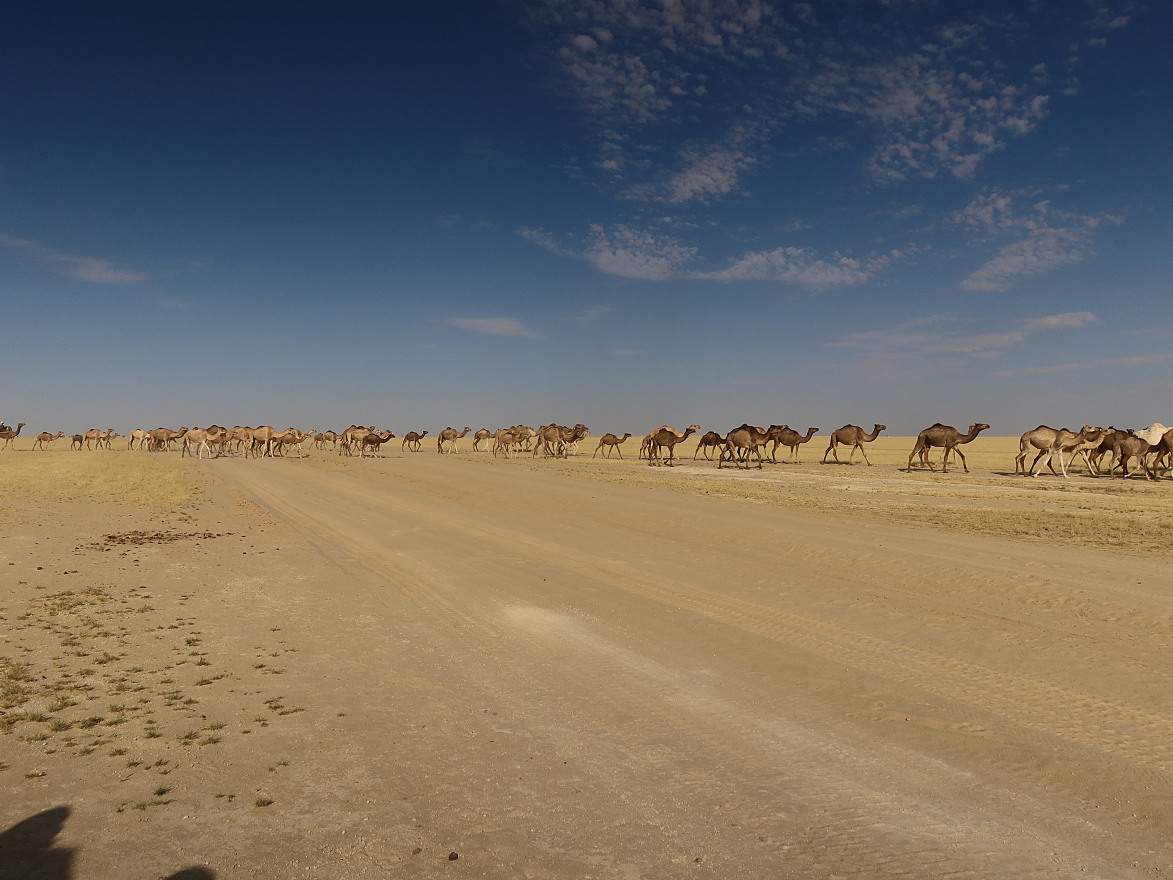 Day 5
It was a bit chilly overnight and I slept really well. The quilt was perfect draped over my body.
Breakfast was the same thing again. After breakfast we went for a short walk on the dunes. We saw some camels feeding, and the wind was starting to pick up. 
We were driving north by 8am, and the wind was raging to a full sand storm. Visibility was quite poor, plus it wasn't much of a road through the dunes. Every kilometer there was a random old tire or oil drum to mark the road. At one point we passed a huge truck over full with cargo and dozens of people clinging on top.
The English 'friendly' Germans started a betting pool to guess the ages of the others. As per usual, everyone assumed I was a full decade younger. Apparently I am ranked 5 of 9 in age order, with the youngest 33 and oldest is 79. Also for the country count rankings, I am 3 of 9. Top two were Sauro (119) and Ulli (105).
Around 09:30 the storm had cleared, but we entered deep sand. Two of 3 vehicles got stuck. We were able to push one free, but the 2nd required sand ladders to extricate. Much of the next 3 hours was spent weaving over dunes. We passed the skeletons of broken down vehicles. There were 25ft tall striped metal poles every so often with tiny distance markers on them. At one point we came upon a beat up old Hilux where they were trying to fix a flat tire and a broken transmission.
At 12:15 we pulled into the wind shadow of a huge curved dune for lunch. It was a salad with cabbage, carrots, cucumber, tomato, sardines & baguettes, with grapefruit & oranges for dessert. I sat in the shade of one truck with the friendly germans (Eva, Ulli & Daniella) to eat and chat. 
Over the course of the afternoon, the scenery changed from tan sand dunes to brown rocks & gravel. By late afternoon we approached the regional capital of Faya. There were a bunch of buttes and red sand dunes. Then we drove into town, which mostly consisted of mud brick buildings and a large camel market. Then we passed many blocks of shops and quite a few people about. It felt like a decent sized town for the first time in days.
We camped in a weird courtyard, that had toilets and cold showers. This may have been the best cold shower of my life. Dinner was rotelle with weird sauce, and was awful.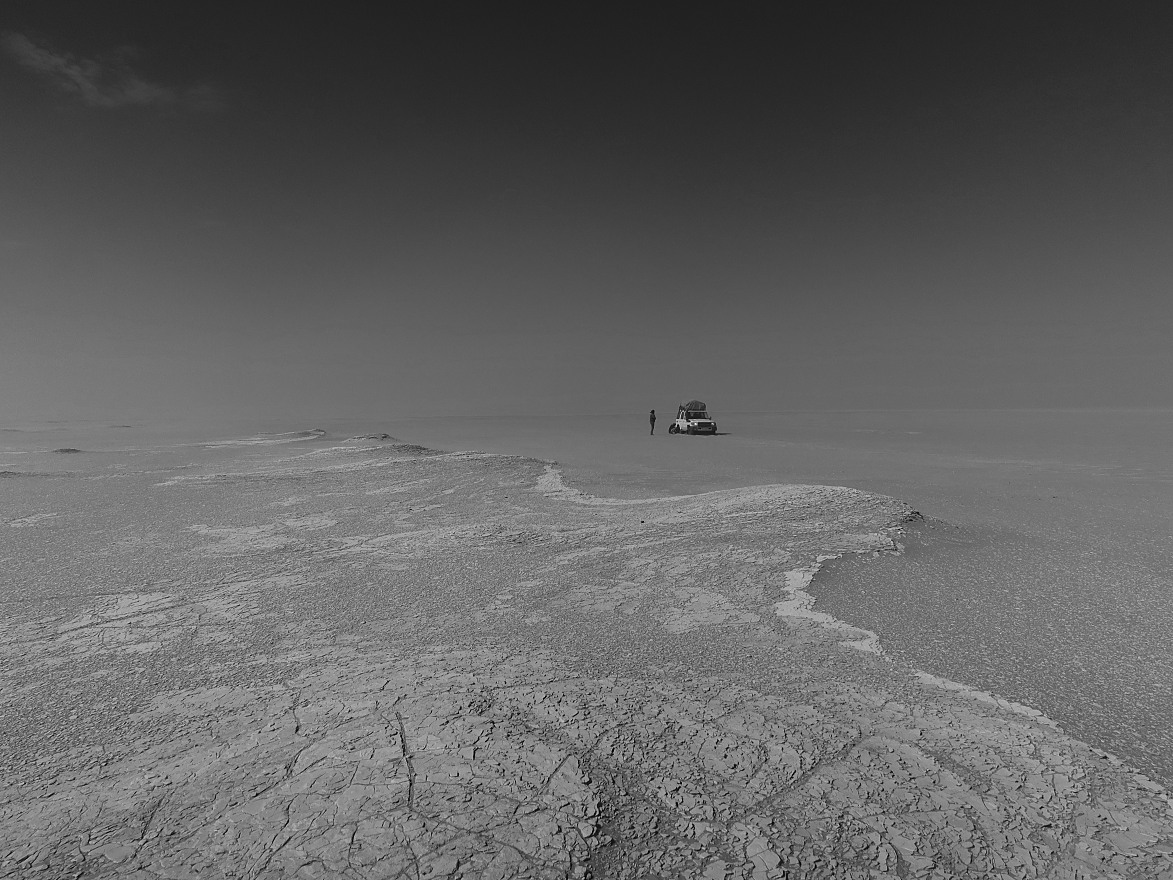 Day 6
Last night was rough. The ground was hard, and a stupid rooster was making noise for much of the night. I gave up at 5:15am.
Breakfast was mostly the same, although we got good flat bread instead of crappy baguettes. After breakfast we walked around Faya for 2.5 hours. Mostly going through the market and down the main road. I saw a UN truck for their displaced persons/refugee program. Lots of friendly children, and some curious women. Women always had their heads covered, but there were varying degrees of facial coverage.
Afterwards, we returned to camp in tuk tuks, and relaxed in the shade. Then we had a lunch of rice salad with veggies & tuna, grapefruit & hot sugary tea. We departed Faya just after 13:00. The terrain was a mix of volcanic rocks, tan dunes, and black buttes, with gray sand. Just before 15:00 the lead vehicle had a flat tire.
After that, the scenery improved dramatically. Huge rock columns, buttes with orange sand running up one side, and many bizarre rock formations. Of course the road degraded too, and we were often crawling over uneven rock or climbing steep dunes.
Our campsite was in some dunes near an oasis with a lot of palms. In the 2 hours between sunset & moonrise, we saw an incredible number of stars, plus some shooting stars and the milky way. For dinner, we had a potato stew with beef. It was ok.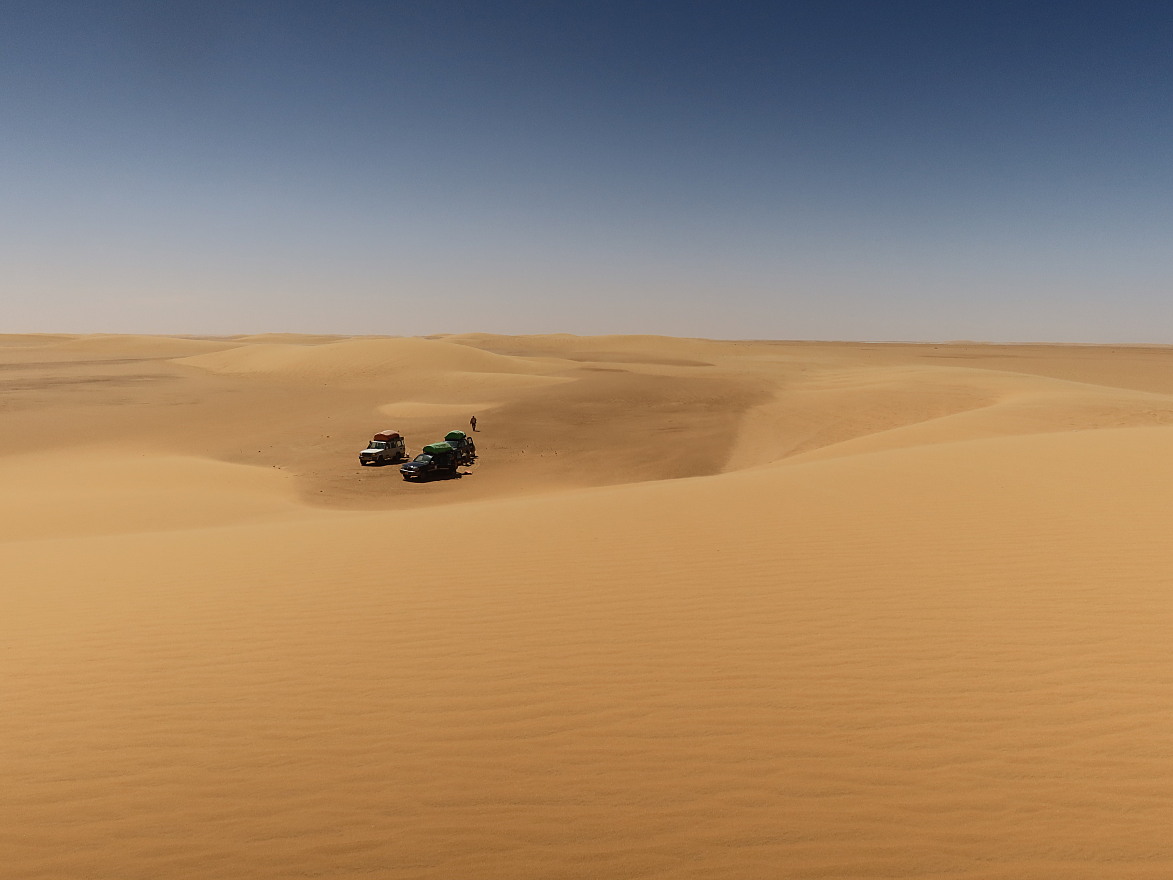 Day 7
It was super windy all night. I slept ok, but the wind made it feel much colder. I was huddled under the quilt the entire night. Breakfast was back to baguettes, but they made hard boiled eggs, and everyone was thrilled. We went for a short walk after breakfast, ans were driving by 7:40. Thia was the coolest start at 18C.
After an hour or so, we stopped beside a mountain that had a small arch. Everyone hiked up, and just past the arch was a bunch of rock art. Mostly giraffes and palms. My vehicle got stuck climbing a dune later, and we had to get out and push. Just before 10am, we descended from the mountains to a flat plain full of small rocks and sand. A bit later we came upon the remains of a tank from the 1980 Libyan invasion (known as the Toyota War, as that's all Chad had in their army). At noon we stopped due to some mystery engine problem. At 12:30 we stopped under a tree for lunch. The ground was littered with random auto parts. Lunch was couscous with some vegetables and sardines.
We pulled into Ounianga Kebir at 14:30. There is a huge lake, fed by an aquafir just outside of town. It kinda looks like Lake Mead or Lake Nassar, with desert in all directions, yet a deep blue lake. We also had to have our passports inspected for some reason. The trucks needed fuel, so they set us loose to wander the town for 30 minutes. It had a market triangle full of stalls mostly selling general store type items. Canned fava beans and pasta were common. All the streets were a mixture of sand & trash. The mosque looked nice enough. A few small kids followed us around for a bit. This town is a smuggling hub for Libya. I saw a few trucks with Libyan plates.
We ended up camping near the lake. Dinner was pasta (yes, again). The next 4 days are supposed to be very remote.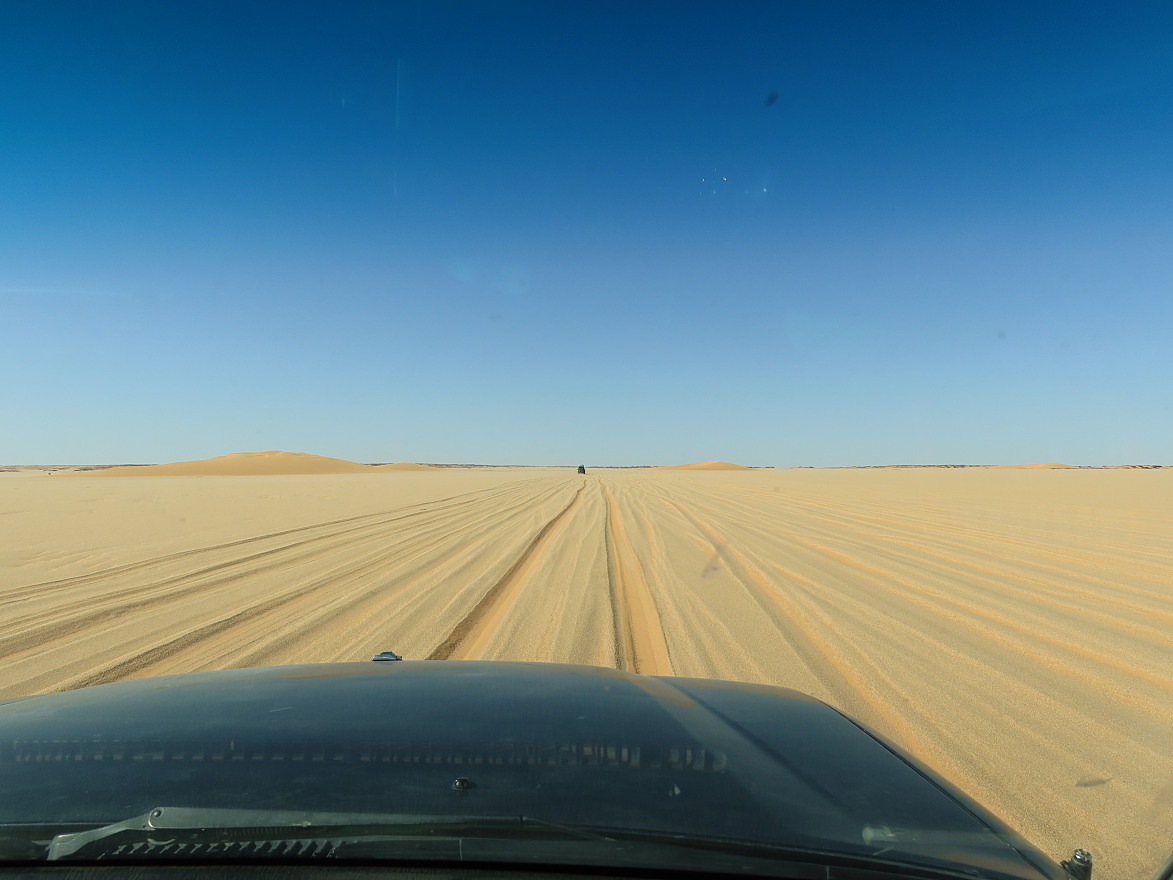 All trip pictures are posted HERE.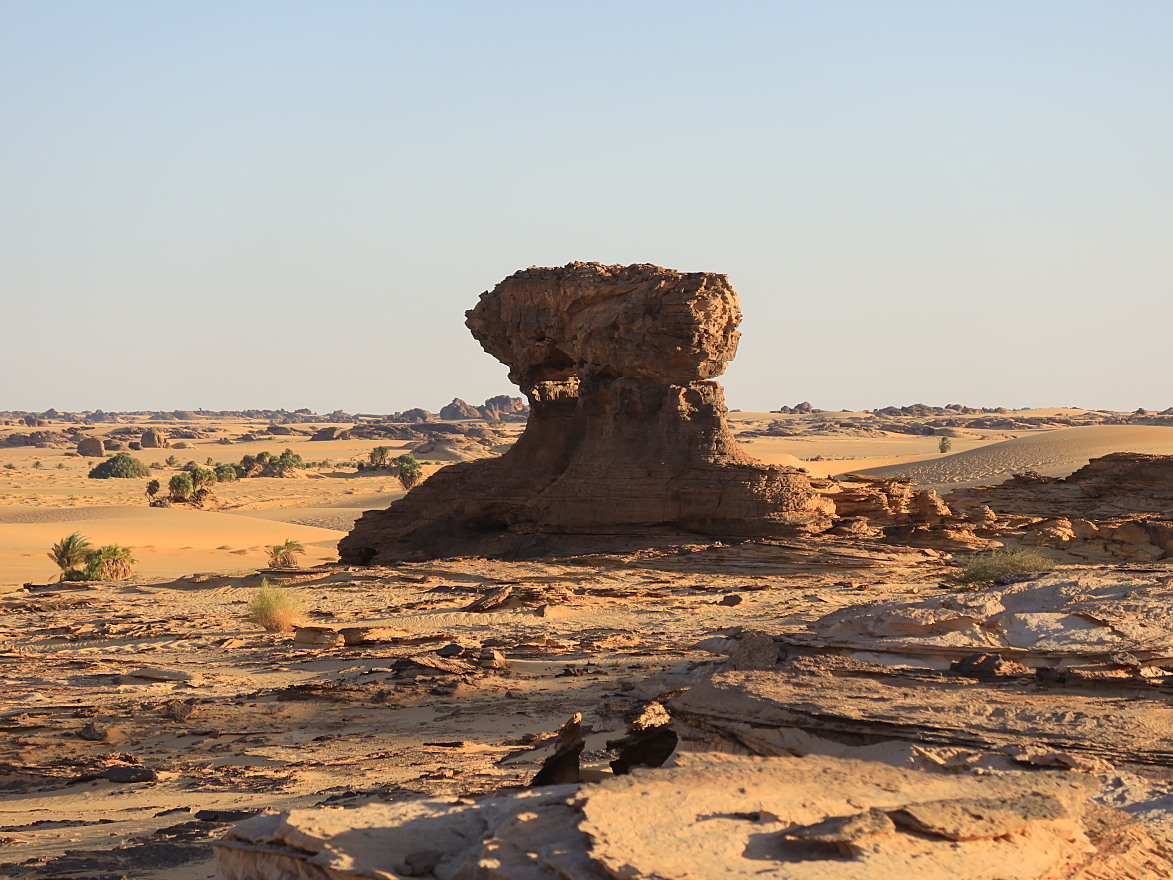 This post is part 1 of the "chad-2022" series: