18:59 Sunday, November 11 2022
Chad (2/2)
This post is part 2 of the "chad-2022" series:
I spent nearly three weeks in November exploring the African nation of Chad on a small group tour. Chad is in central Africa, with the northern 3/4 of the country deeply embedded in the Sahara desert. This trip was unlike any that I've ever done before. Its not even remotely a tourist destination. Its impossible to travel solo there, as there's basically no infrastructure outside of the capital, N'Djamena. Roads quickly disolve into nothing, and its literally traveling through the open desert, over dunes, around rocks, and past landscapes that are harsh and unforgiving. The trip was 15 consecutive nights of camping (in tents, sleeping on the ground, etc). I had to bring my own sleeping bag, and there were most definitely no comforts or ammenities. No showers, no fancy cooking, and no sleeping in. Everyone woke at sunrise (often around 5AM), and mostly returned to our tents each evening after dinner (9PM). Most days were spent driving 5+ hours. Distances are vast, and we covered about 3000km over the course of the trip. The hardships were more than offset by some of the most spectacular desert scenery found anywhere. Amazing rock formations (arches, spires, canyons), plenty of camels, sand dunes, and rock art.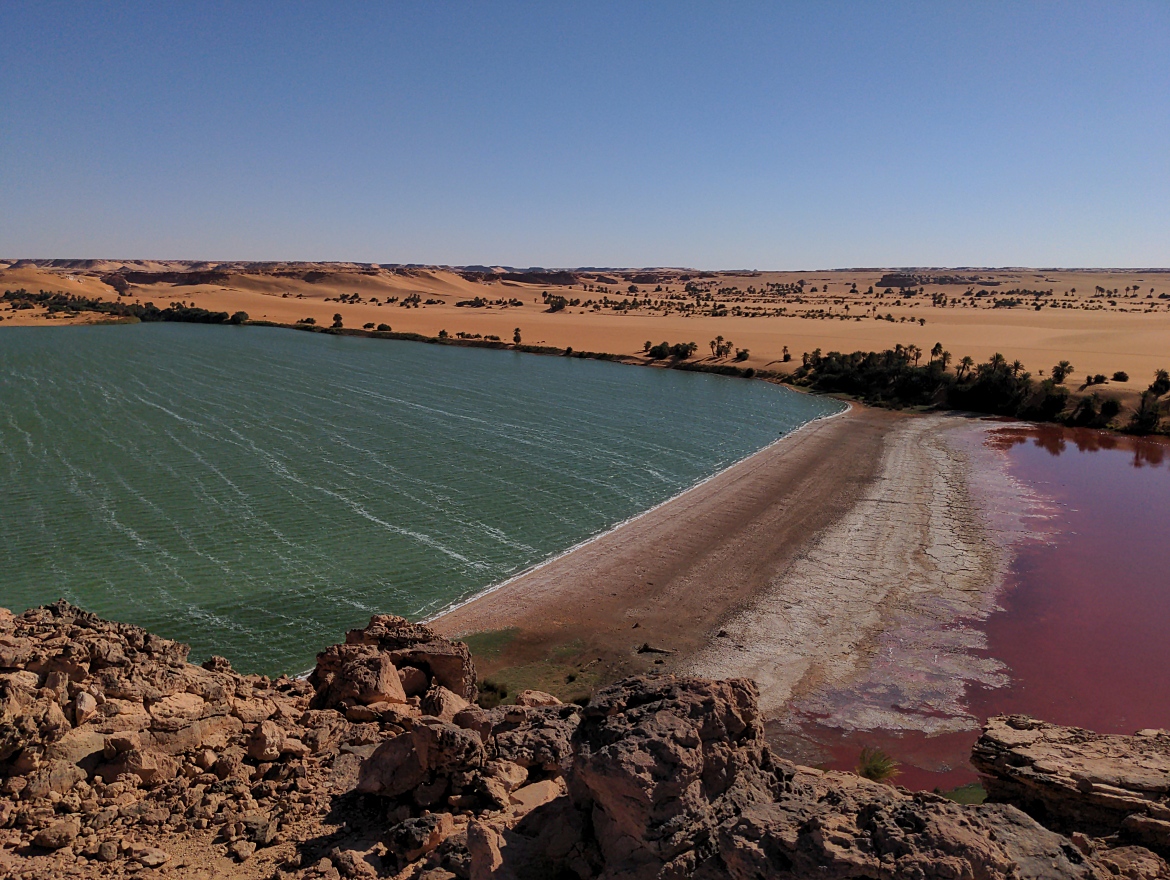 Day 8
I have food poisoning. i had mild diarrhea for the past 36 hours, but it went full force last night. i took immodium & azythro this morning. I skipped breakfast this morning.
The wind was howling all night long. I was a bit chilly, but will prolly use the tent fly to keep out the wind trap heat inside the tent.
After breakfast we walked along the lake up to a bluff. A small portion of the lake had a purple color due to high salinity & bacteria. A bunch of local kids were following us around. After that we drove to several other lakes just to look. Lunch was in a large valley ringed by dunes. I had just bread and water, and took a brief nap in the shade. A separate tour group arrived while we were there, all from Spain. It was the first tourists we encountered.
By mid afternoon we were driving southeast through dunes, when my vehicle started to struggle on hills. The crew fought to fix it for hours, even replacing the fuel pump, but nothing helped. After 2.5 of fighting they gave up for today, and we camped at the base of a nearby dune. Dinner was super lame. Couscous with a bunch of vegetables.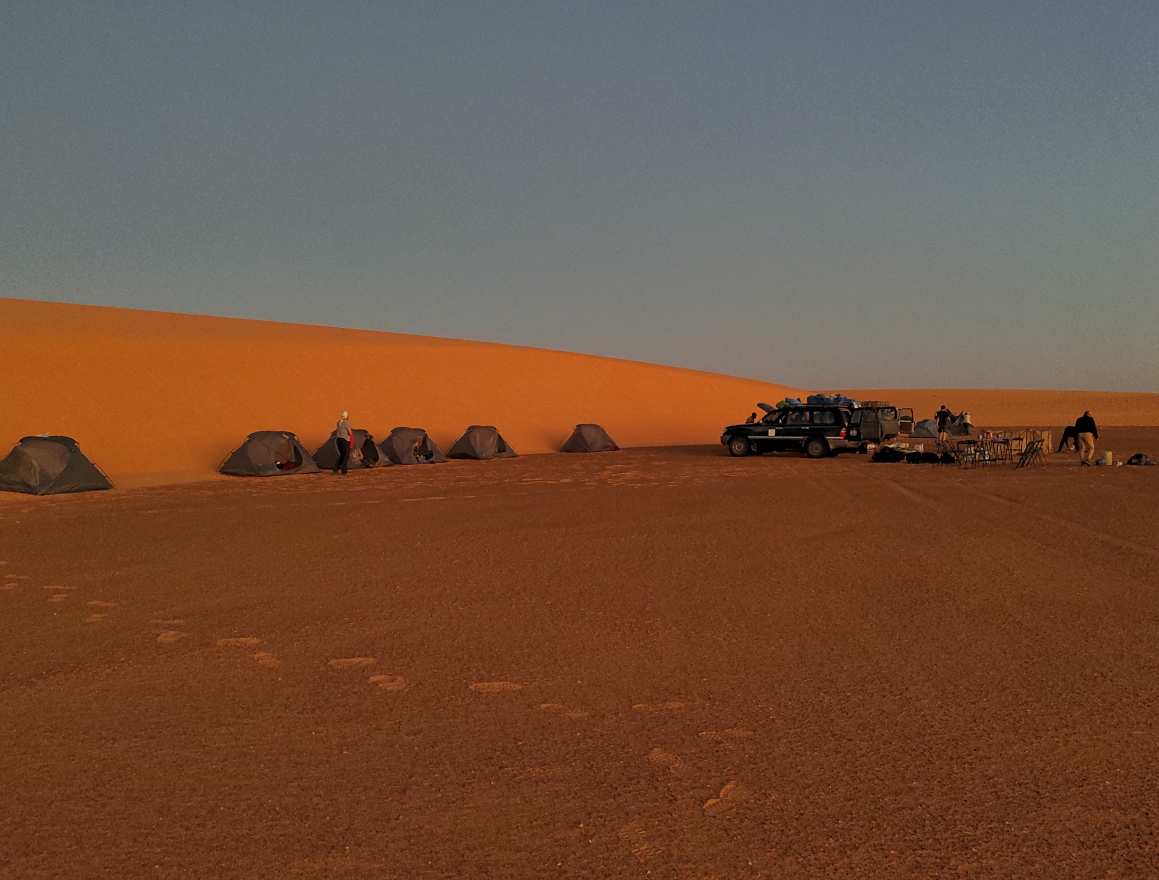 Day 9
I slept fairly well, and my guts seem to be doing much better so far. Zero issues over night. Also very little wind overnight.
The first stop of the day was about 30 minutes drive from our starting point. It was actually where we were supposed to camp last night. The oasis of Salin, which also harvests salt during the hottest & dryest time of the year.
As we drove more & more buttes and mesas filled the landscape, always with sand around them. We stopped in a small village to get well water, and to see a few camel herds up close. The cook also purchased a large bucket of sandy salt. Not long after we resumed driving we saw 3 gazelle sprinting along.
I never thought that I'd say it, but I am tired of eating salads every day for lunch. A week in and there's no variety and its so damn boring.
After lunch, we started driving across the Mourdi depression. Normally, its a flat empty sandy plain, but it was covered in green grass. Our guide said that no one has seen it this green in their lifetimes. There were happy camels grazing.
The last few hours of the drive were spent attempting to cross a steep dune field. Different vehicles kept getting stuck, or we'd end up in a dune bowl that was too steep to exit and we'd have to turn back. Eventually we camped near the south edge of the dunes, where the ground was littered with rocks.
Day 10
It was chilly overnight, with a bit of wind.
The first stop of the day was at a rock art site less than 30 minutes from the starting point. It had a huge elephant/cow looking thing.
Not long after we finally entered the Ennedi region, the reason for driving the past 8 days. Suddenly, all the rock formations were orange & pink sandstone, and it was amazing. Arches, spires, windows, fins, and so many other fantastic shapes.
Just after noon we pulled into the shade of a mesa for lunch. The opposite side had an enormous arch, easily 6 stories tall. Plus it was possible to hike up through the base and out the other side. It was amazing. Lunch was actually new & good. Beets, potatoes, hard boiled eggs, tomatoes & tuna. Also I got to wash my hair (cold water) while waiting for lunch.
After lunch we continued driving south past flat sandy land with huge sandstone mesas and occasional camels. We came up on a long, large mesa and at the far corner were two massive arches sitting at a right angle. Each was taller and wider than the arch before lunch.
We camped amongst a maze of stony spires and curious camels.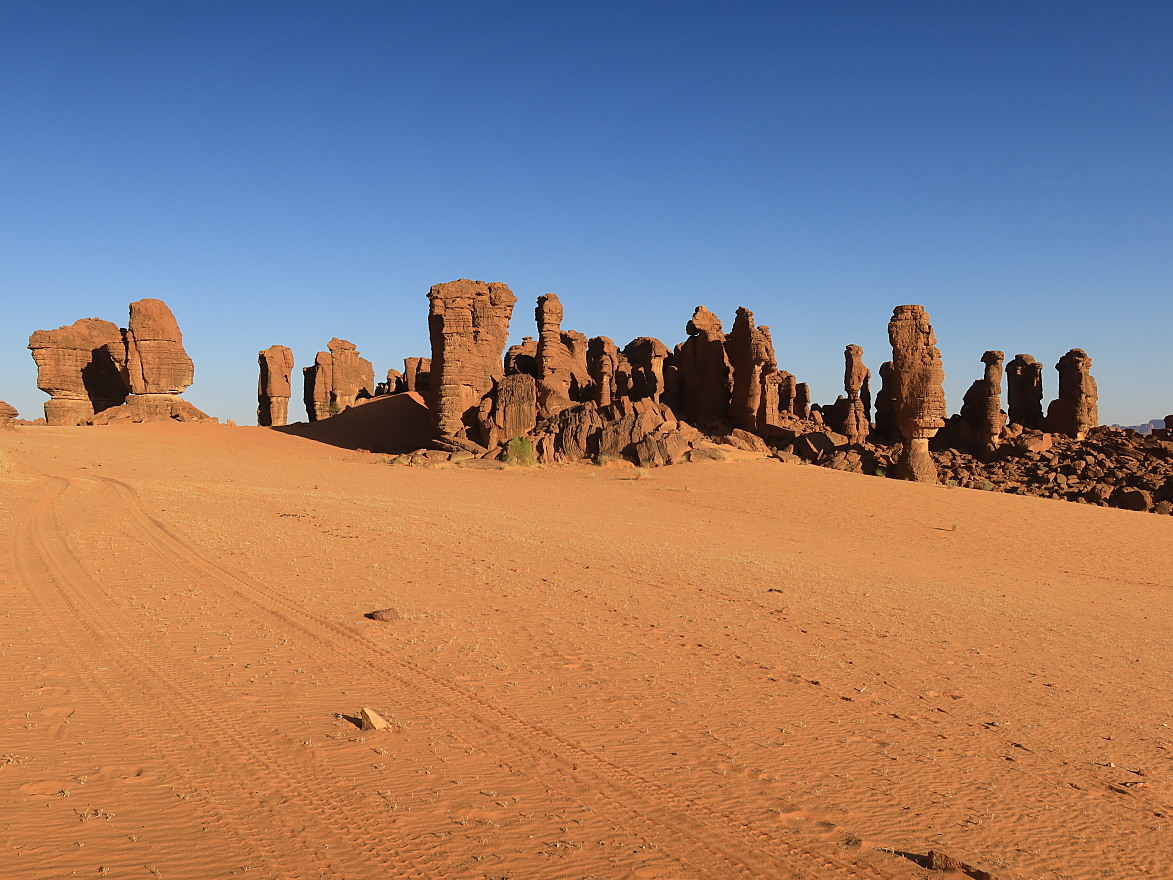 Day 11
It was warm and not windy overnight, and I slept well. Breakfast had omelettes!! why they waited until the 10th breakfast is a mystery. It gives me a glimmer of hope that there may yet be better food.
We drove about an hour to the town of Fada, which is basically the only town for many hours. It had a town square/market and marginally working cell reception (first in 4 days!). seemed kinda sleepy but the people were friendly enough (i got my quota of bonjour and ces va). While I was waiting for the vehicles to be refueled a group of teenage girls wandered over and rapidly exhausted my french, which led to much giggling.
We departed town just before 10am, and not far south we came across 3 wrecked tanks from the Toyota War. Two were sorta in ok condition. Camels were wandering about.
After another hour of great scenery, we stopped at a new huge arch. Not as big as yesterday and more triangle shaped.
By late morning we entered a narrow canyon, with a flat sandy bottom. The walls were hundreds of feet tall, and really pretty. After a while we parked, and the walked a bit further up the canyon. A dozen camels came along, with a boy that looked maybe 8. Then we came upon a well, and not far beyond was a slot canyon forking off. The canyon was maybe 4 people wide, and ran for quite a distance. There was no sunlight for much of the distance. Quite a few birds were nesting on the walls above. At the end of the canyon, it opened to two large water holes.
After lunch, we continued driving south, and crossed what appeared to be a vast, flat grassland. There was so much rain that the grasses had grown a foot tall, and it looked much like the Serengeti (only with camels instead of antelope).
We passed lots of weird, amazing formations over the course of the afternoon. Chimneys, shark fins, twenty foot mushrooms.
We pulled into the camp area on a hill overlooking everything just after 16:00. The sun was already low, and it made all the rocks glow magically. The only downside to this camp area is that it has a ton of mostly dead small plants with tiny microscopic burrs that stick to everything and hurt.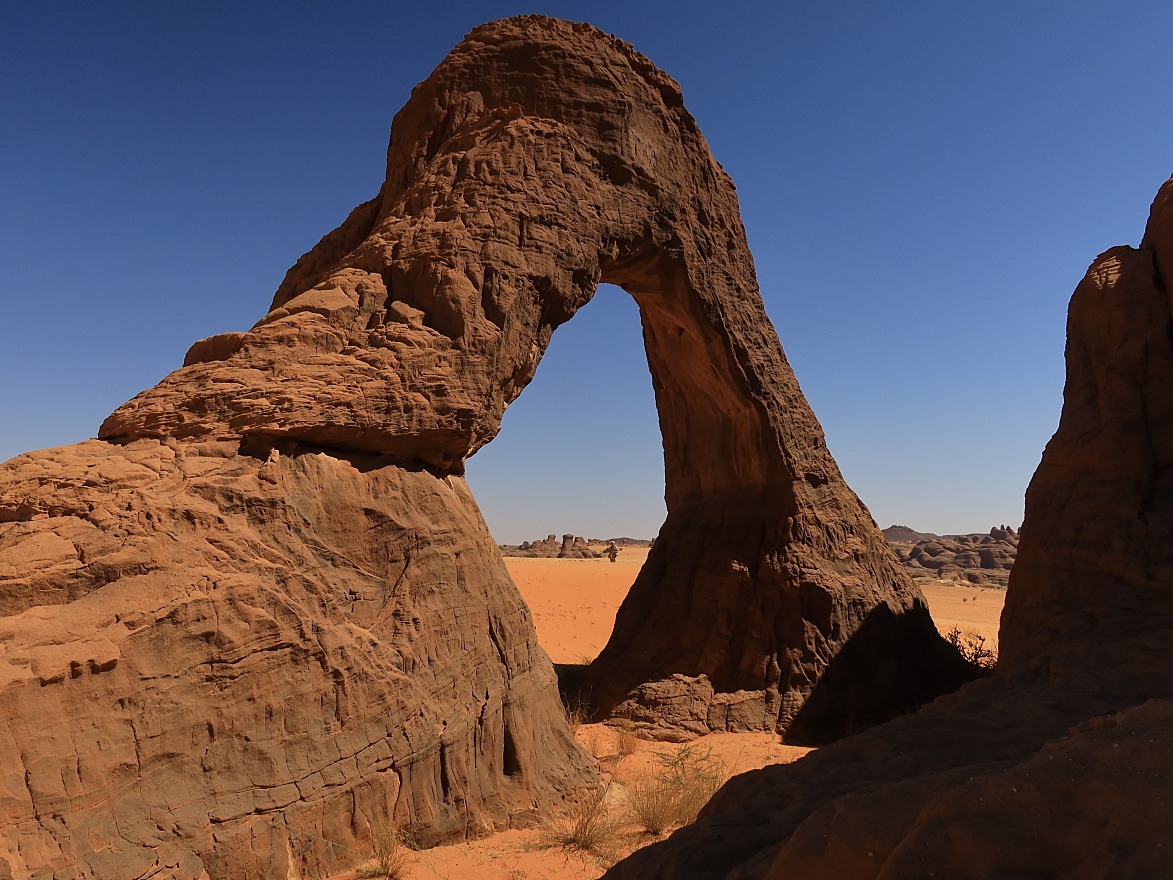 Day 12
No wind and warm temps overnight. There was a curious donkey wandering around my tent for a while. 
We started off driving about an hour east (10km) towards Archei Guelta. This is a canyon that collects rain water that herders have visited with their animals forever. We stopped briefly in a nearby village to pick up the guide for the hike. The guide turned out to be a woman, which was kinda amazing considering how rare its been to see women doing anything other than selling stuff in a market.
The hike started by climbing a steep rock & boulder covered hillside. We weaved around or over the rocks. Once we reached the ridge, we descended into the guelta (canyon), with more of the same terrain. However the far walls were sheer red sandstone. Eventually we reached the bottom, and walked in sand for a bit. Then we started gradually climbing the angled rock wall. It wasn't initially clear why we needed to climb again, until we rounded a sharp corner. We were high above the canyon floor looking down into the narrow path. It was full of water and dozens of camels. It was an amazing view. The camels were making all sorts of bizarre sounds, which echoed off the canyon walls. After enjoying the view for a while everyone had a choice. Walk back the route we just took, or descend from the cliff to the water, and walk out of the canyon, past the camels to the vehicles. Nearly everyone other than me & one Swiss guy (Ulli) opted to walk back. Getting down to the canyon from the cliff was a bit tricky in places. Once at the water, I rolled up my pants, and waded into the water. It came to just below my knees. The camels just kinda gawked at us as we waded past. I was in the water for barely a minute before exiting at the end. Another few minutes of walking on sand and we were back at the vehicles, over an hour before the others.
After lunch, we approached a mesa that was crawling with monkeys. After we parked, there was an entire ancient human settlement about half way up the mesa, with lots of art on the walls. The ground was also littered with evil stabby burrs.
As we drove east, we passed through a landscape full of tunnels, windows and arches. One of the arches, named the Eye of Tokou, was wide enough to drive multiple busses through simultaneously. Another set of windows looked like a smiley face. Then an elephant with an arch between the trunk & body, a window for its eye, and a small tunnel between front & hind legs.
Dinner was kinda awesome. they made fries with leg of mutton (grilled over the fire). all things considered, it was kinda great.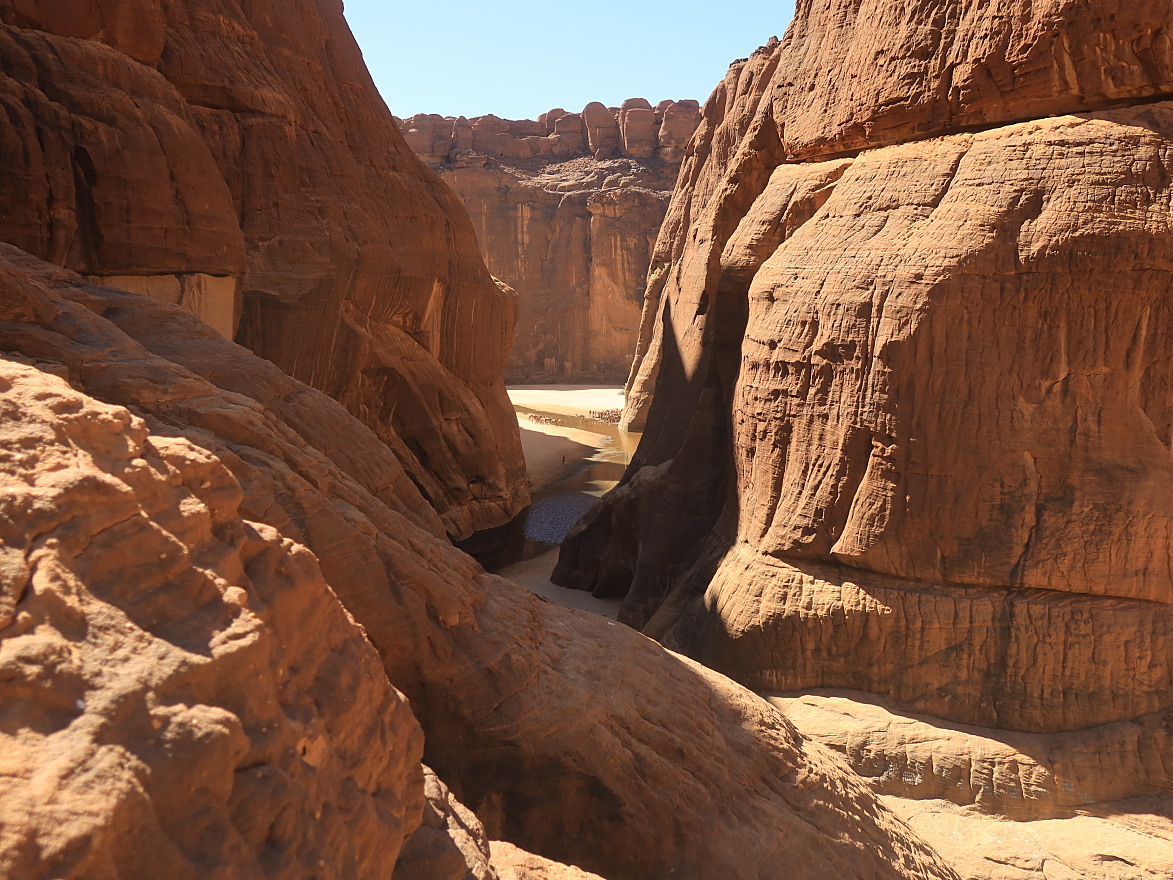 Day 13
Stupid, noisy donkeys were making noise all night long. I gave up and was up for the day at 5am.
After breakfast we walked out to a tunnel that had some rock art above it. Then we drove east for an hour to see Five Arch Rock. It was literally as the name suggested. There were also two other arches not far away. After a bit more driving we spotted a bunch of ostriches hanging out with camels.
An hour of driving and we circled around a cluster of buttes and had Aloba Arch in front of us. This arch is the 8th largest in the world (all others are in China or Utah). Its absolutely massive and dwarfs every other arch we saw this week. About 240ft tall, and 125ft at its widest point. It was amazing, and we got to walk through and explore the area on both sides.
We started driving south, and we saw more small settlements with goats & sheep. Sadly a bunch of children begging at the roadside too. There was one more arch, which was bizarre. It was a tall twisted rectangle shape. We drove up a fairly wet wadi into a gorge to stop for lunch. 
The remainder of the afternoon was spent driving, and failing to find a working well. Our campsite was in a valley surrounded by rounded brown chocolate colored rocky hills.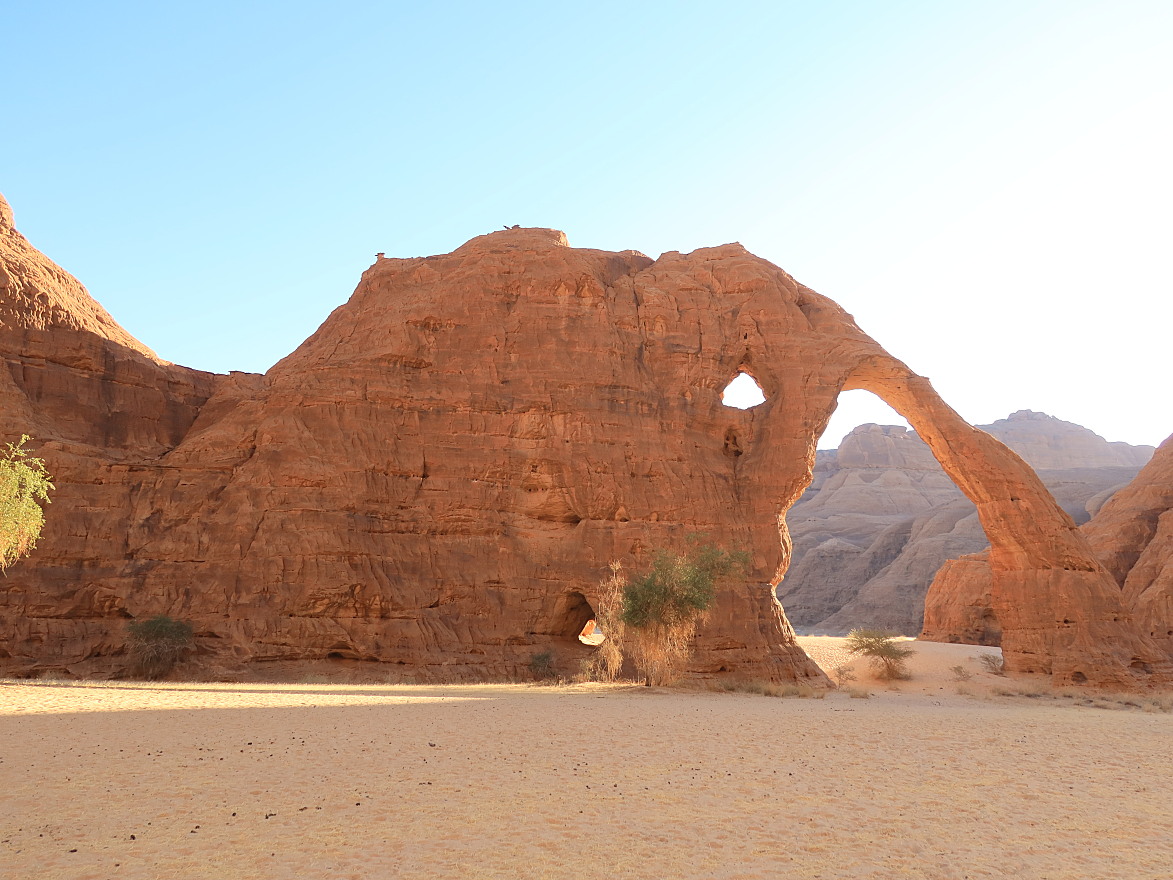 Day 14
It was occasionally windy overnight, and a bit chilly. No donkeys though.
We spent the first half of the morning skirting the southern edge of Ennedi before starting the long drive back towards N'djamena.
The first few stops this morning were at a series of 6000 year old rock art sites. They showed humans, horses & cows. 
Just before 10am, the front passenger tire was flat and had to be replaced. After that the terrain completely flattened out and was incredibly dull.
Mid afternoon we pulled into the bustling metropolis known as Kalait. We got water, fuel, patched the flat, and wandered the market. An 'army' truck pulled into town. It was a tan Hilux full of heavily armed guys in cammo attire and sun glasses.
tonight's campsite is brown grass amongst boulders.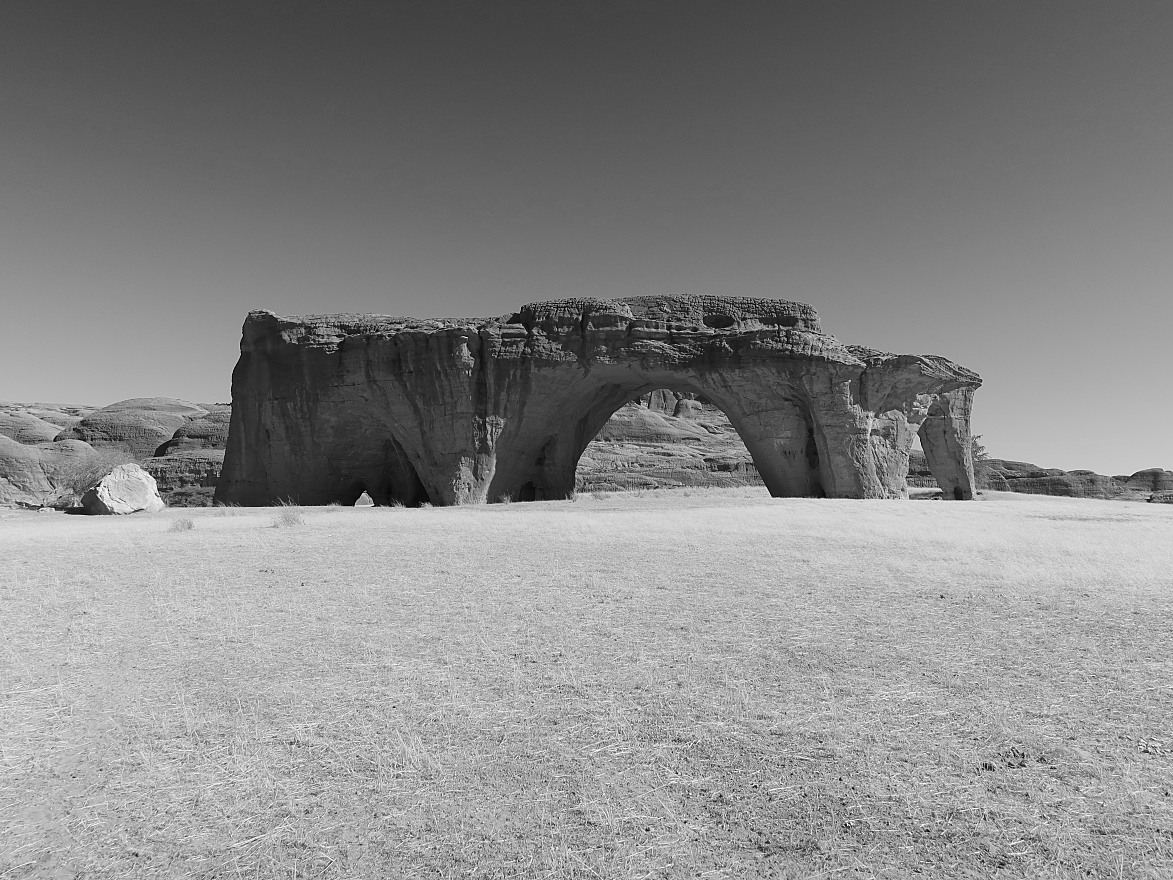 Day 15
Overall, sleeping went ok.
We're definitely back in the 'populated' part of Chad now. There's a real road (not paved), other vehicles driving, occasional cell service, and small villages. Then for many many miles huge mounds of dirt piled on the road every 50ft intended for a grading project. The road is not good. Very dusty & bumpy, with frequent side roads to detour around the worst rutted spots.
At 10am we stopped briefly at a village with many round pointed thatched roofs. Oddly, no one was home.
Its getting hotter after a week of relatively pleasant weather. Yesterday peaked at 36, today was 38.
We passed through Abeche in mid afternoon, after a military checkpoint. Its was a huge metropolis with a traffic light, paved streets, real buildings. Crazy. Also saw the first a COVID19 vaccination poster and random people wearing masks. pavement continued as we drove south out of the city.
tonight's camp was not far from the road, near a hill covered in boulders.
Day 16
I slept ok, until some donkeys decided it was party time around 4am. Then the rooster joined in and I gave up at 5am. We had omelettes with flat bread for breakfast which was pretty good.
The end of the trip is near. Just one more night of camping before we (hopefully) return to N'djamena.
Lots of driving today. Roads were (mostly) paved. Many small towns, goats & sheep. We passed through a small city at 9am which had a bridge over a river with actual water. It was miserably hot, hitting 38 at 11am. All the bottled drinking water was super warm.
We pulled into an actual working gas station in Mongo just after 14:00, and a woman was selling spicy fried grasshoppers. I wanted to try them but no one believed me. We passed a wedding later in the afternoon. Lots of colorful clothes & dancing.
just before 17:00, we pulled off the road to camp a few miles west of Bolong. the last night of camping. i was singing "One Last Time" as I was setting up my tent for the night.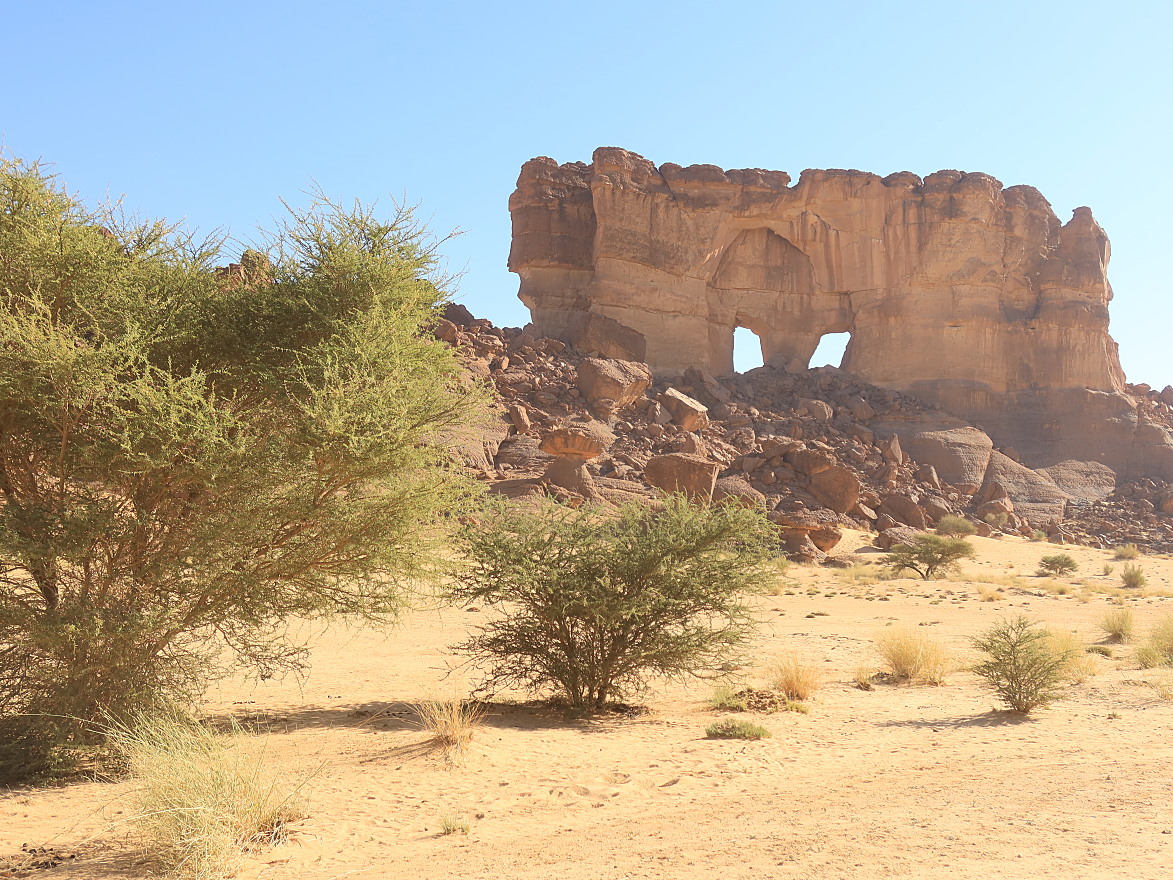 Day 17
It was so noisy overnight. barking dogs, donkeys, birds, cows, goats, distant trucks, then the call to prayer before dawn. it never stopped. we're clearly out of the desert now.
We started the day just under 400km to N'djamena. At 9:30, the lead vehicle got a flat. An hour later, the third vehicle got a flat. The road got crappy with massive potholes. We kept diverting onto dusty, bumpy side roads to avoid the problems on the paved road.
By lunch time we had about 150km left to drive. We made it to the outskirts of N'djamena by 15:00. Traffic was terrible and the last 15km took 90 minutes.
When we got to the hotel there was a screwup, and they didn't have enough rooms for everyone. Apparently there is a govt conference and they filled all of the hotels. Of course that meant the English speaker got screwed. First they tried to convince me to stay at a Chinese hotel across the street, which I rejected. Then the tour leader claimed we would go to the man who owned the tour agency to find a solution. After a 45 minute drive across the city we ended up at the guy's house, but he wasn't even there. Then they decided that I would sleep at this guy's house. Everything is filthy, there's no soap or towels. I complained to the tour leader, but she is utterly useless. She gave me a bar of soap, and I got a hot shower. I dried off with my dirty clothes. Then we got back in the car to drive back to the hotel to get dinner. Traffic wasn't too bad and that took 20 minutes.
I got two German beers at the bar. Then everyone went to dinner and I got a pizza and a gin & tonic. But they had no tonic water and gave me Sprite instead, which was very wrong. The pizza was ok. I returned to the crap "hotel" with the tour leader after dinner.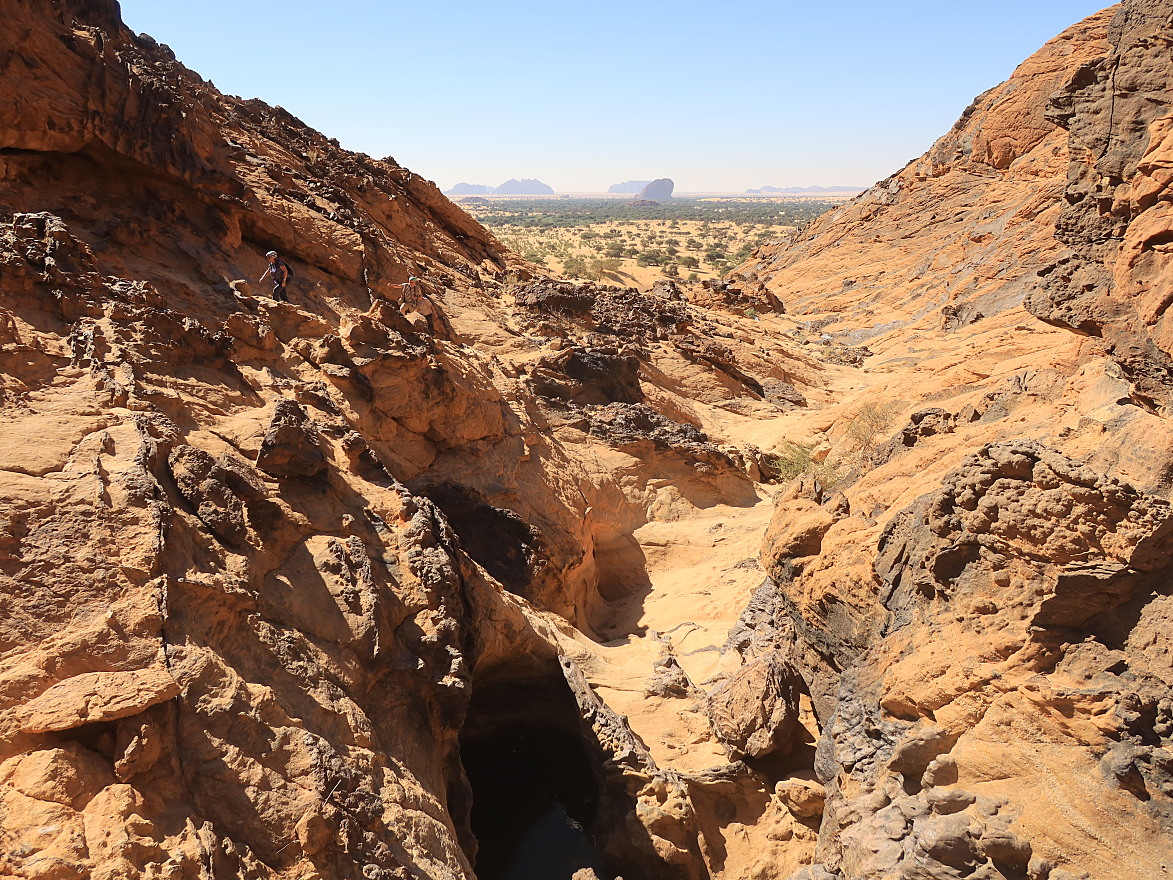 Day 18
i slept relatively well on a real bed, but was up at 6am for the day. I returned to the real hotel at 9am, and got a decent breakfast.
I was given access to a room for the day just before 11am. I got a nice, hot shower, then relaxed for the rest of the day. At 15:00 I got some lunch.
My ride to the airport was supposed to come at 17:30. At 17:00 the phone in my room rang and it was the driver ready to go. Not wanting to tempt fate, I packed up my stuff and went down to the lobby. The drive to the airport in moderate traffic took 10 minutes. The airport was the usual fiasco of security theater and people abusing their tiny shred of power. They pulled most everything out of my bags, insisting that I had a forbidden lighter. They were randomly demanding that people remove shoes (but not me). They also didn't care about my 1.5L full water bottle strapped in the external side pocket. It was barely 17:45 when I completed all the formalities for my 20:30 flight. Unsurprisingly, there was no wifi and no food at the "gate" (all 2 of them).
Before boarding the bus to the plane, they subjected everyone to another round of security. Then finally on the plane for the first flight home. That flight went relatively smoothly. CDG was fine, and my final flight departed just a few minutes late, but was otherwise uneventful.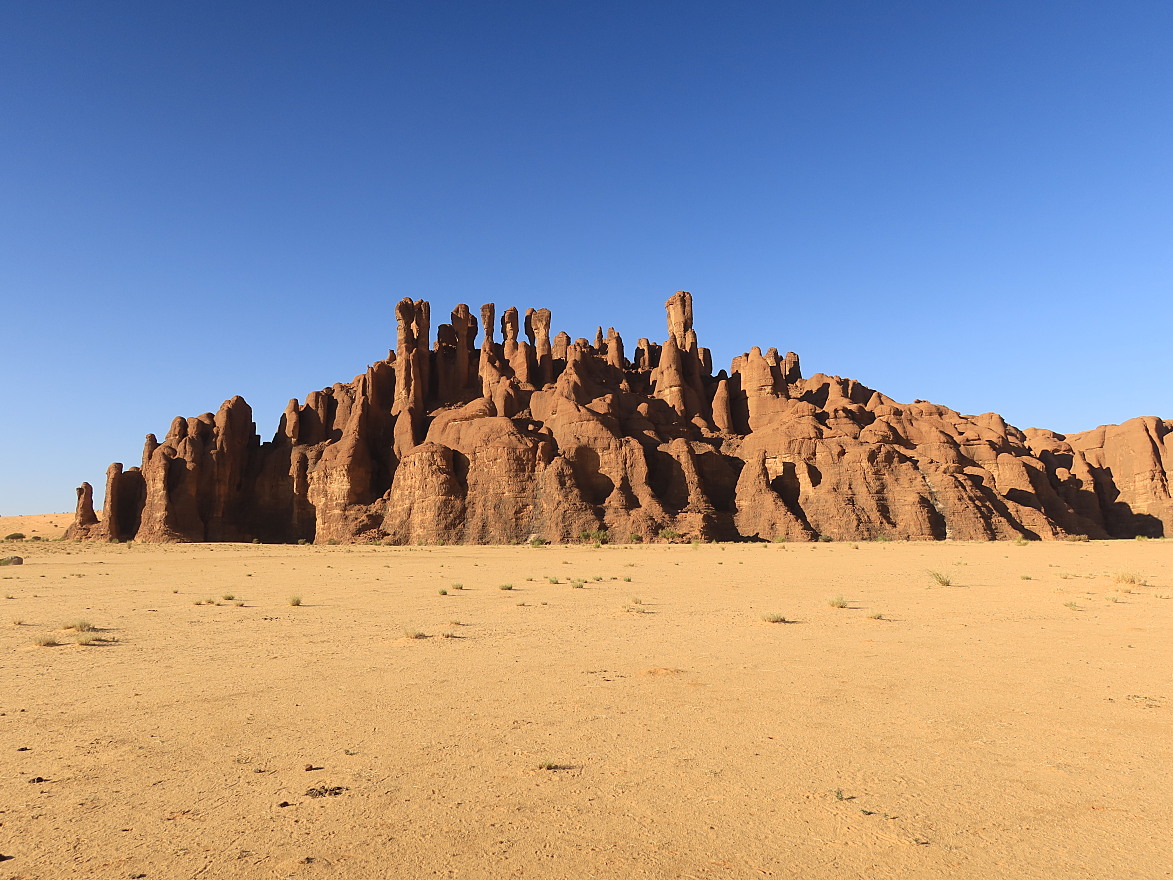 A GPX map track from the trip is:
All trip pictures are posted HERE.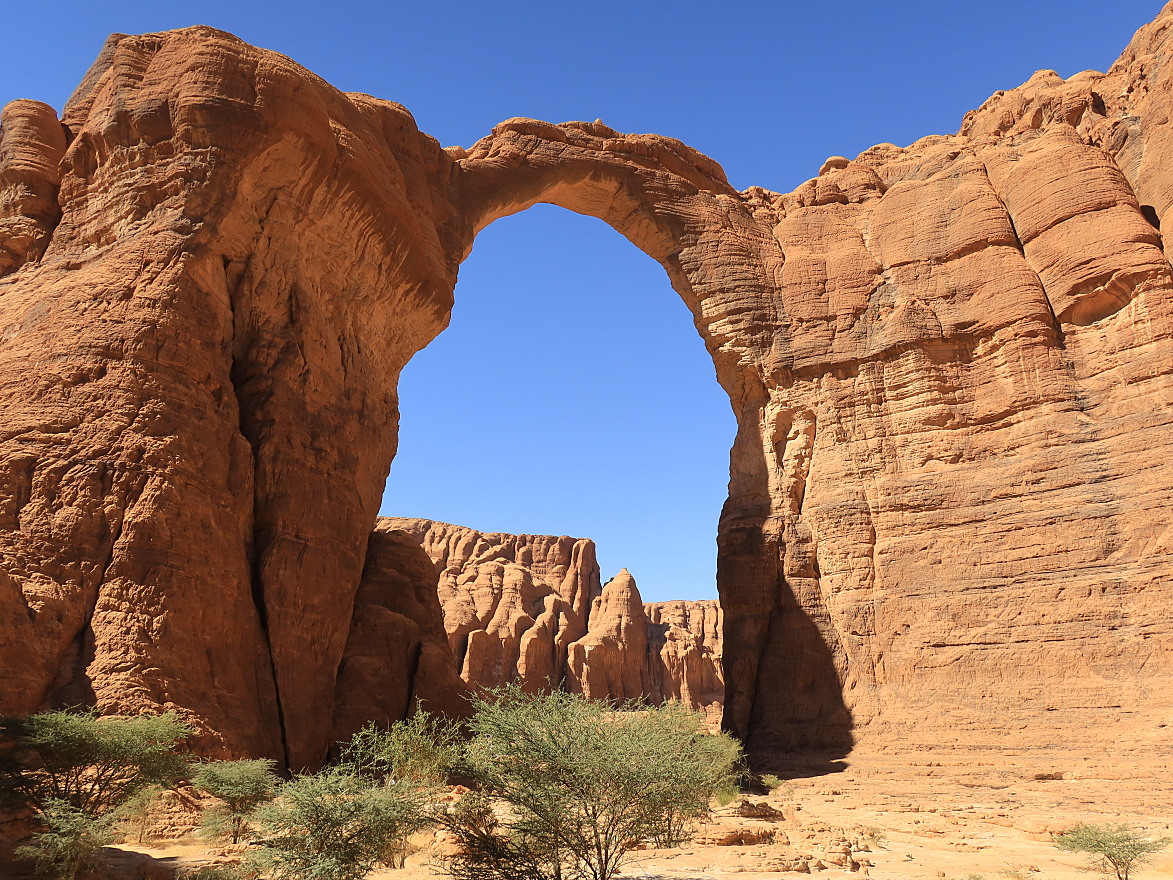 This post is part 2 of the "chad-2022" series: