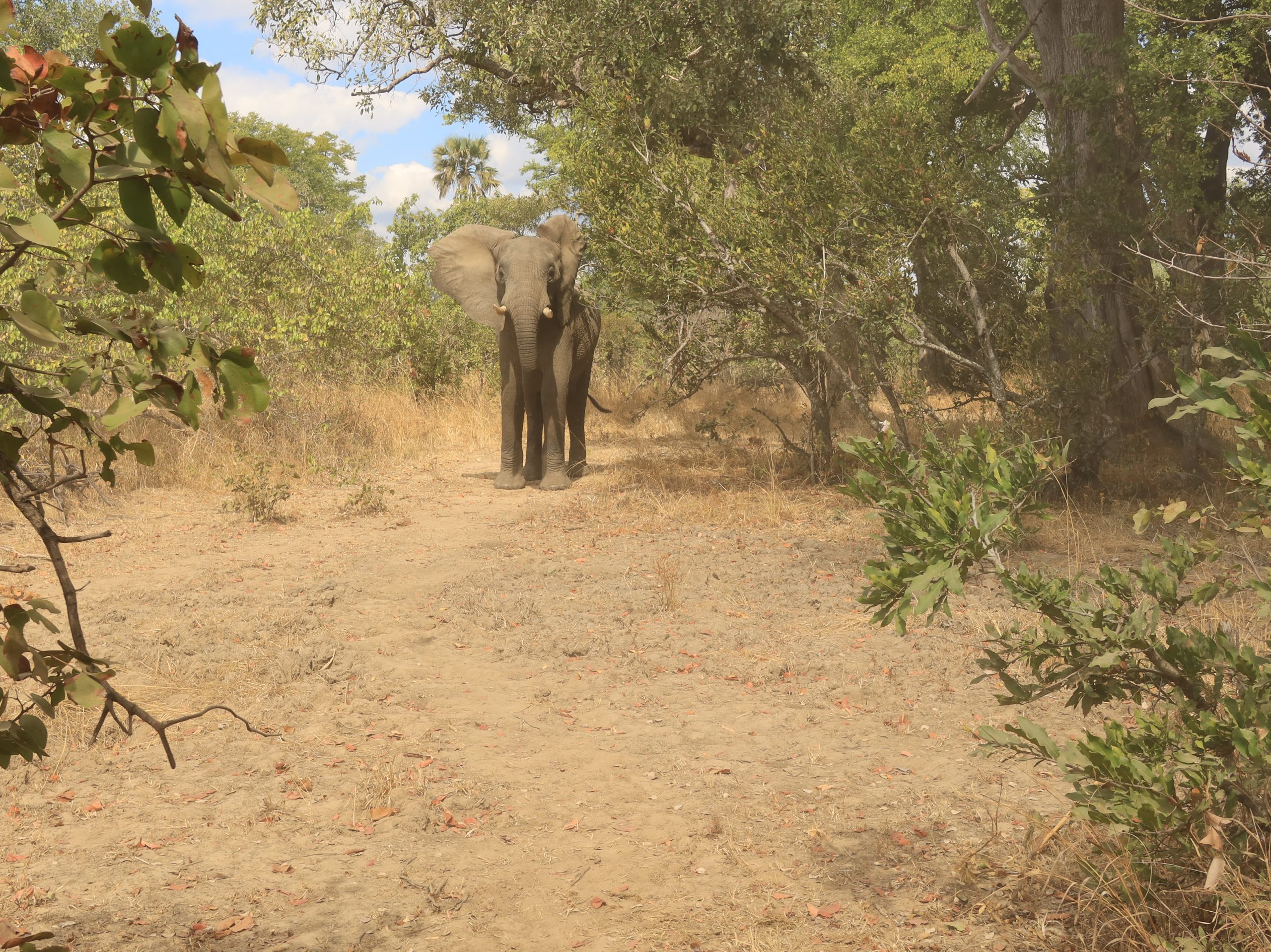 08:58 Thursday, July 07 2022
Southeastern Africa (2/2)
This post is part 2 of the "southeastern-africa-2022" series: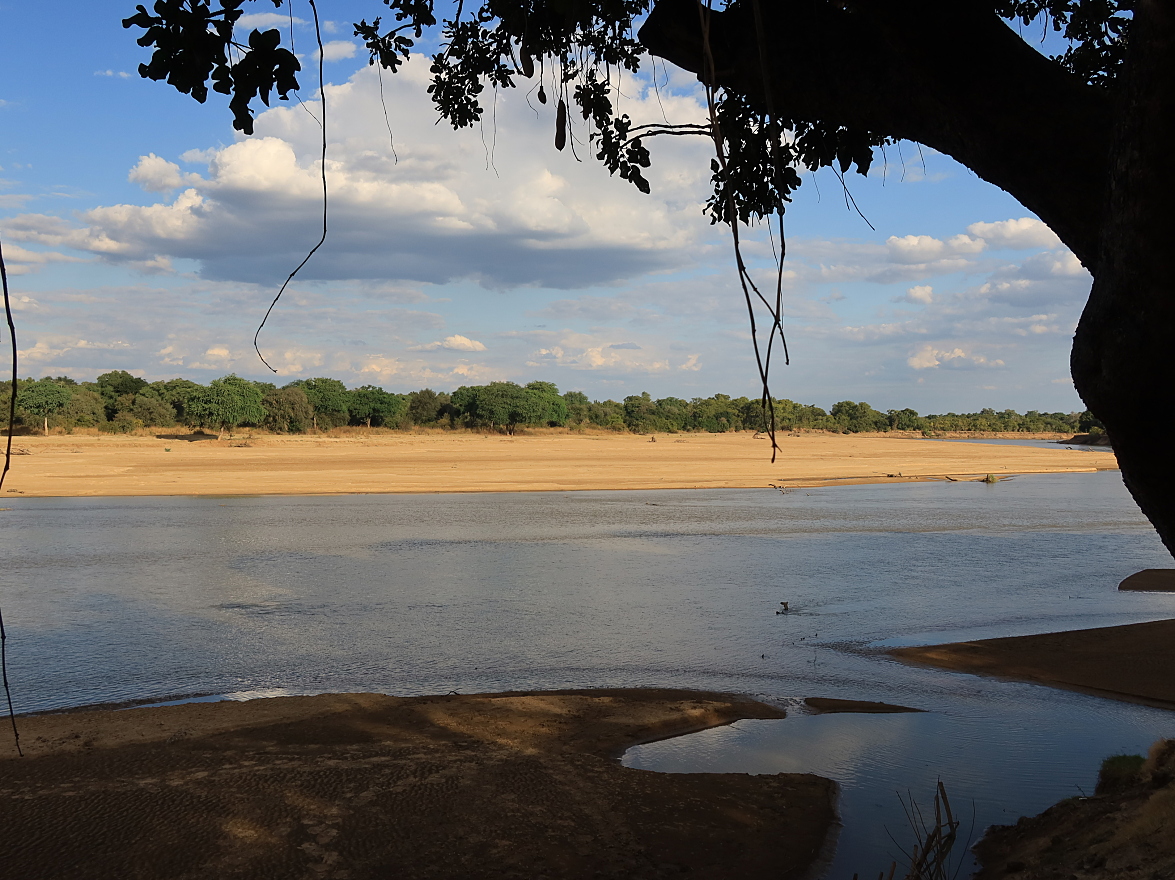 Day 12
I mostly slept ok, but all the stress and worries about whether the driving would end in another dead end woke me at 4am. As I laid in the tent, I heard weird dripping sounds outside, but it didn't sound like rain. I started packing up and figured out that the dripping sounds were water from thick fog. When I got into the car, I found tiny spiderwebs everywhere, with tiny spiders. Apparently all the driving through tall grass, bushes & trees splattered them into the car. I later found random other insects in the car as well. I was driving by 5:30am, but the fog was making things difficult, in addition to the road itself.
When the truck fell into the ditch last week, I could see that the impact had damaged the front bumper. At the time, it looked fairly minor, with the bumper drooping down barely an inch. However, all of the driving chaos over the past 24 hours aggravated things. Now the entire left side of the bumper had fully pulled away, and the plastic wheel well enclosure had partially ripped from the screws that anchored it to the bumper. The result was that the wheel well was now mostly sitting (and rubbing) on the wheel, making a rubbing sound. I knew that I couldn't ignore this, as it was going to increase fuel consumption, and worse, wear out the tire both prematurely and unevenly.
Just before 8am, I finally made it to the road that would, in theory, finally lead me out of the bush, and towards Malawi. At this junction, there was a large village with tiny shop stalls on both sides of the road. I stopped in front of one that appeared to sell assorted hardware. I fired up google translate, and asked the guy if he had any metal wire to fix the truck. My plan was to use the wire to tie back and anchor both the bumper and wheel well to keep it in place. Obviously not an ideal solution, but it was the best that I could come up with when I was still a many hours of driving away from civilization. I lead the guy to my truck and showed him the problem. He then lead me to a completely different shop, and he talked to the guy there. After digging around for a minute, he pulled out two spools of metal wire. As far as I could tell they were the same gauge of wire, just different lengths. I paid for the smaller of the two (about 80 cents), and went back to the truck with the two guys following me. Thankfully, the truck came with a small toolbox, which included plyers and wire cutters. As I was trying to figure out how to do the job, the second guy sprung into action, and started working. A minute later an older guy showed up to assist. Either these guys have had to repair stuff similar to this before, or they are just naturally skilled at handy work. In just a few minutes they had wired everything back into place, and it looked clean & tidy too, with no extra wire dangling about. I thanked them profusely, and tried to offer them some cash, but they declined. Time would tell how well this fix would hold up.
I resumed driving on what I hoped would be the last dirt road of the day. This was, thankfully, I real road, but it was not in great shape. Bumpy, even and full of mud pits, progress was around 40kph much of the way. Finally at 9:30, I got back to pavement for the first time in over 24 hours. At this point, I had about 4 hours of driving remaining to the Malawian border. For the first hour, the road wasn't in the best condition (potholes), but it was still a real, paved road. At the first town with a gas station I filled up, and bought more water and some snacks. After this point, road quality improved, but there was also a lot more people on the road. Most were walking, some on bikes. At one point it seemed like an entire town was walking along the road, there were so many people. It was puzzling, as I didn't understand where they were all going. Eventually, the number of people thinned out, and the road quality improved to the point where it was easily the best road of the trip thus far. I made very good progress. It also helped that there were few checkpoints.
At 2pm I pulled into the border town of Melange, to fuel up before attempting to cross the border. The town itself was busy & hectic, with money changers literally running into the middle of the road to get attention. However, when I reached the actual border post it was sleepy. I walked into the customs & immigration building, and there was no one else there besides the bored staff. They collected the temporary import permit (TIP) for the truck. Immigration fumbled around stamping me out for a couple minutes, but then that was done too. They did insist that I complete an exit card, which was unreadable, as they had been making photocopies of photocopies. I completed maybe a quarter of the silly form, and they didn't care. I thought that I was done, but no, they insisted that I needed to pay an exit road tax too (I paid an entry road tax when I entered the country). Finally done, I drove up to the gate where a stern guard demanded to inspect the inside of the truck. A few more minutes of wasted time & effort, and finally I was out of Mozambique after 10 frustrating, stressful days.
About a minute of driving through no man's land, I reached the Malawian border post. It, too, was dead. Despite signs everywhere, no one cared about COVID19. I could have been unvaccinated and no one would have known. Malawi seems to love their bureaucracy. So much paperwork needed to enter the country. Despite requiring an eVisa for all foreigners, getting stamped in still required completing an entry card (which duplicated all the information required to get the eVisa), and a 20 minute wait for some official to call some other official. Everything required entering info into a massive ledger. Once I was stamped in, I needed to take care of the truck's formalities. Thankfully, there was a friendly fixer guy there who I later figured out was there to funnel customers to his auto insurance office. He filled out all the paperwork for me, dealt with the officials, and generally made the process as painless as possible. If that meant paying a bit extra for the required insurance, it was worth it. In the end, I had to pay for the TIP, carbon tax, and road tax. It took another 20 minutes, and then I was done. A super friendly female border agent asked if I had any "bad things" (her words) in the truck. I laughed and said no, she took my word, and then asked if I had 'anything' for her. I laughed again and offered her a ginger cookie, which she declined, and then I was free to drive into Malawi.
But I wasn't done yet, despite spending nearly an hour there. I still had to get the stupid insurance. The original fixer was waiting for me, and guided me to his blue shipping container office where a few guys behind filthy computers completed the insurance paperwork. That took another 10 minutes, plus a ridiculous stack of more papers. Next, I needed to get Malawian Kwacha, and a SIM card. I saw zero banks or ATMs. From the dozens of chaotic, crazy, bustling random shops, I chose one at random. The guy in there was all too happy to service all of my needs. First he lead me to a different currency exchange shop, where I got rid of my remaining Mozambique Meticals for Kwacha. Then, we went to a different shop for a SIM card, which he helped me setup. At this point it was over 2 hours since I started the entire border crossing experience, and I was finally done.
I started driving north towards Zomba, the town where I'd spend the night. The drive took me through scenic tea plantations, with a huge mountain range behind them. There were also a few dumb police checkpoints, but nothing bad. The roads are noticeably different as compared to Mozambique. First, tons more traffic. Cars, bikes, pedestrians. There is nearly always something or someone sharing the road, often moving slowly and blocking traffic. Also, the roads are much more hilly and twisty, and they love their speed bumps at each end of town. Despite all that, and daylight fading fast, I made reasonably good time. It was after 6pm, and dark by the time I reached Zomba. I did manage to find an ATM in a gas station, and then got to the hotel for the night.
Malawians seem to have a really bizarre accent. It almost sounds Scottish, and I seriously struggle to understand their English much of the time. The hotel is more of a 3 room guesthouse run by Italians, with a restaurant. I got checked in, then had a dinner which honestly (or sadly?) was the best meal of the trip, thus far. I ordered a salad, pizza, aperol spritz, and sparkling water. They also brought out roasted eggplant with bread as an appetizer. It was all yummy. Plus they make their own gelato, and I got one scoop each of rhubarb & tamarind.
With Mozambique behind me, I could finally pick up the remaining tatters of my itinerary and try to enjoy the rest of the trip.
Day 13
I slept well until around 3:30am when I needed the toilet and tons of dogs started barking. While waiting for breakfast, I was chatting with two Dutch women. One of them lived in Malawi for 23 years, the other was her friend. Breakfast was fine, and I started my drive north just after 8am.
Apparently today is Independence Day. Lots of traffic for a while but then it thinned. So many damn checkpoints. One guy demanded to see my license and TIP. Another wanted to see proof of insurance. Then came the shakedown stop. Apparently my left rear brake light was out, and this cop acted as if I was the most hazardous vehicle in the entire country. He kept emphasizing how it was a "legal offense" as if he was going to arrest me. Eventually he told me the fine (about \$10), but I had to pay the "cashier" waiting in another vehicle parked along the road.
While driving in the middle of no where, I saw this guy in what kinda looked like a full body gillie suit with a crazy mask dancing along the roadside. Then I saw several more, and it clicked that it was one of those tribal ritual things. It was super cool to just see them doing it, rather than performing for tourists.
I learned the hard way that apparently many of the gas stations don't accept credit cards. I always asked before pumping in Mozambique, but foolishly assumed it would be a sure thing here. In the end, very few gas stations took cards in Malawi.
Later in the day, I started passing boys at the side of the road selling something on sticks. Eventually i stopped to figure it out, and they were dead/cooked(?) mice for about \$1 each. I passed. Considering how little meat was on the freshly grilled rats in Cambodia, a mouse seemed like utter desperation.
The road up to the lodge was not paved and took nearly 2 hours to drive. It wasn't terrible, but kinda bumpy, with a lot of hills. While on that road, I encountered two guys in military uniforms who flagged me down. They proceeded to question me (asking my name & profession), and wanted to see what was in the truck. I have no clue what that was about.
The lodge is nice. The main guy running it is German, and there's also a German family staying here (with two kids). After dropping off my stuff, I did a 3 hour balloon hike up the mountain into the rain forest. The hike was nice. I saw and heard monkeys, lots of ferns, and dense foliage. Eventually I reached a viewpoint where I could see for about 75 miles to the east.
Dinner at the lodge was fine, but the typical generic tourist food.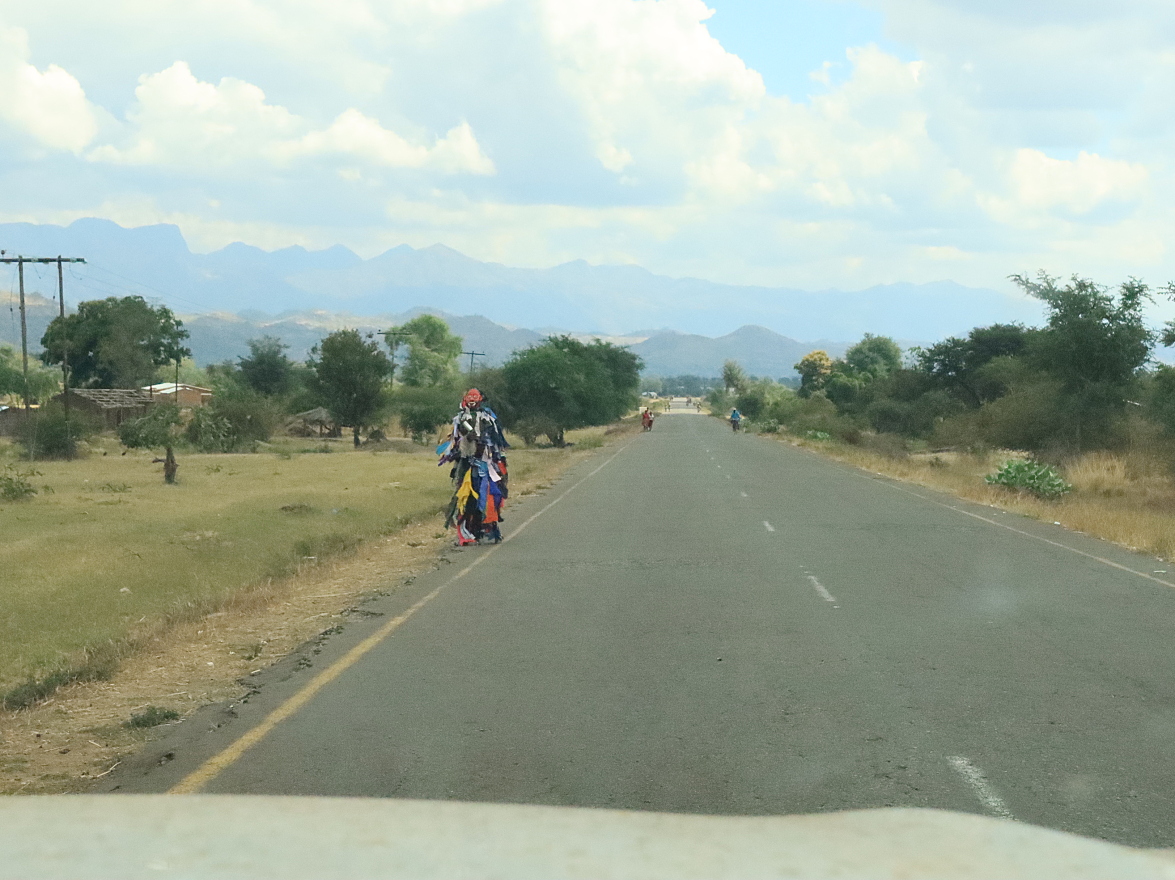 Day 14
Last night, after heading to bed, I started to feel unwell. Then came full bore diarrhea. Then more. I took immodium. I spent most of the night feeling either very warm, or shivering. I drank plenty of water, and that of course meant I woke a bunch of times to urinate. I don't feel horrible this morning, but not great either.
I ate breakfast, and was on the road by 8am. The drive to the Zambian border was uneventful for the first few hours. There were the stupid police checkpoints, but thankfully no one checked my brake light. The last 90 minutes of the drive were on dirt roads. I had one tiny bridge that was about to collapse, and another bridge that was so narrow that I barely squeezed across. The final road to the border was truly in the middle of no where. I was seriously wondering if the border post existed, as there were no signs and no traffic. Finally in the last kilometer I saw the post. This was the sleepiest of sleepy borders. The Malawian side had a few people literally sleeping at their desks. They stamped me out, cleared the truck, and then I drove to Zambian side. The immigration guy had never processed an eVisa before and called a friend on speaker for help. Next was customs, but the "bossman" was currently eating lunch, so I needed to wait a few minutes. The guy told me that he hates computers, and would be writing up my TIP by hand instead. They insisted that I pay all the fees in Zambian kwatcha, but I had none since I just got there. No problem, our security officer can exchange the Malawian kwatcha. Finally they made me add an entry in their ledger of all the vehicles who got a TIP. At 1pm, I was literally the first foreigner to enter Zambia today. Most days, they have 4 or fewer. They wished me a safe trip and I drove through their gate into Zambia.
Next was the 30km drive on the dirt road leading to the town of Lundazi. Once I got into town, the first stop was at the post office to purchase insurance for the truck. Just one sleepy employee in a building that looks like its not changed since it was built during the colonial era. After insurance, I swung by an ATM for more cash. Then I got gas (no cards accepted). Then I got a SIM card, which was a pain, since the law requires every phone number to be registered to a human. After all the chores were completed, I found a hotel for the night.
I was completely wiped out by that point and felt like crap. I started the z-pack, and took a nap.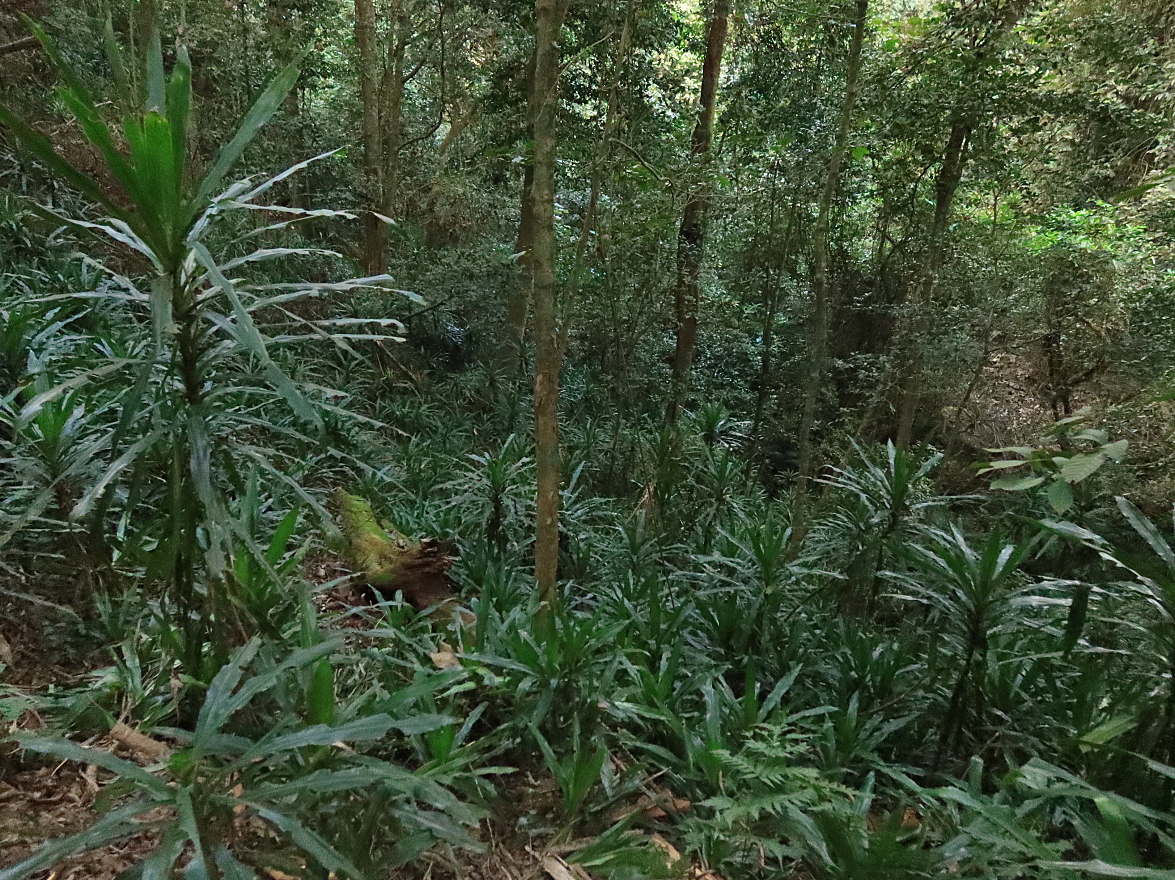 Day 15
I went to bed at 8pm and slept until 1am, when i woke in a pool of sweat. I eventually fell back to sleep, and so far I am feeling much better this morning.
Other than driving out of Lundazi, I was on dirt roads the entire way to North Luangwa National Park. Thankfully the entire drive was relatively easy and uneventful. Most of the time I was driving between small villages. I saw cotton plants for a while. There were a few shallow water crossings. Eventually I ended up on a road that ran parallel to the park, and there were no villages and virtually no people for a couple hours. While I was stopped for lunch, a truck approached from the opposite direction. It was from a tour company in Malawi. They stopped to make sure that I was ok, and asked me about road conditions.
Eventually, I reached the road that led to the park. While driving the road I saw an elephant cross up ahead. I caught up and stopped, but the elephant really wanted to be left alone. It spun around and flapped its ears and snorted aggressively. I drove off. I also saw a bunch of monkeys, a few warthogs, and guinea fowl. The Luangwa River forms the eastern border, and there is no bridge. During the dry season (now), there is a pull cable pontoon which ferries one vehicle at a time across the river. When I arrived at the pontoon, I was greeted by the pontoon operator, and a guy in military fatigues. I had to pay the park entrance fees (\$130 for me, the truck, and each night sleeping inside the park !) and get an entrance permit. As the military guy completed the paperwork, I heard hippos grunting. Since the park is undeveloped (no maintained roads, no services, etc), they track every vehicle entering and leaving. The ride across was sad. This poor man was grunting and straining to pull me across. If took maybe 2 minutes.
After that, I had a 45 minute drive south to the North Luangwa River Lodge, on some rocky, bumpy roads. But at least it was a real road. The entire lodge sits on the bank of a broad curve of the river. Everything is built on a raised platform, so that its not destroyed when the river rises 20ft during the wet season. I'm the only guest tonight, which is kinda creepy when there are like 8 guys working here. In total, today's drive took about 6 hours.
Dinner was mediocre. Tasteless cloudy soup with fragments of carrot, burnt steak with greasy fries, and dry tasteless apple cobbler.
Sleeping was nice. The hippos were making sounds, the river made flowing sounds, and there was a nice breeze.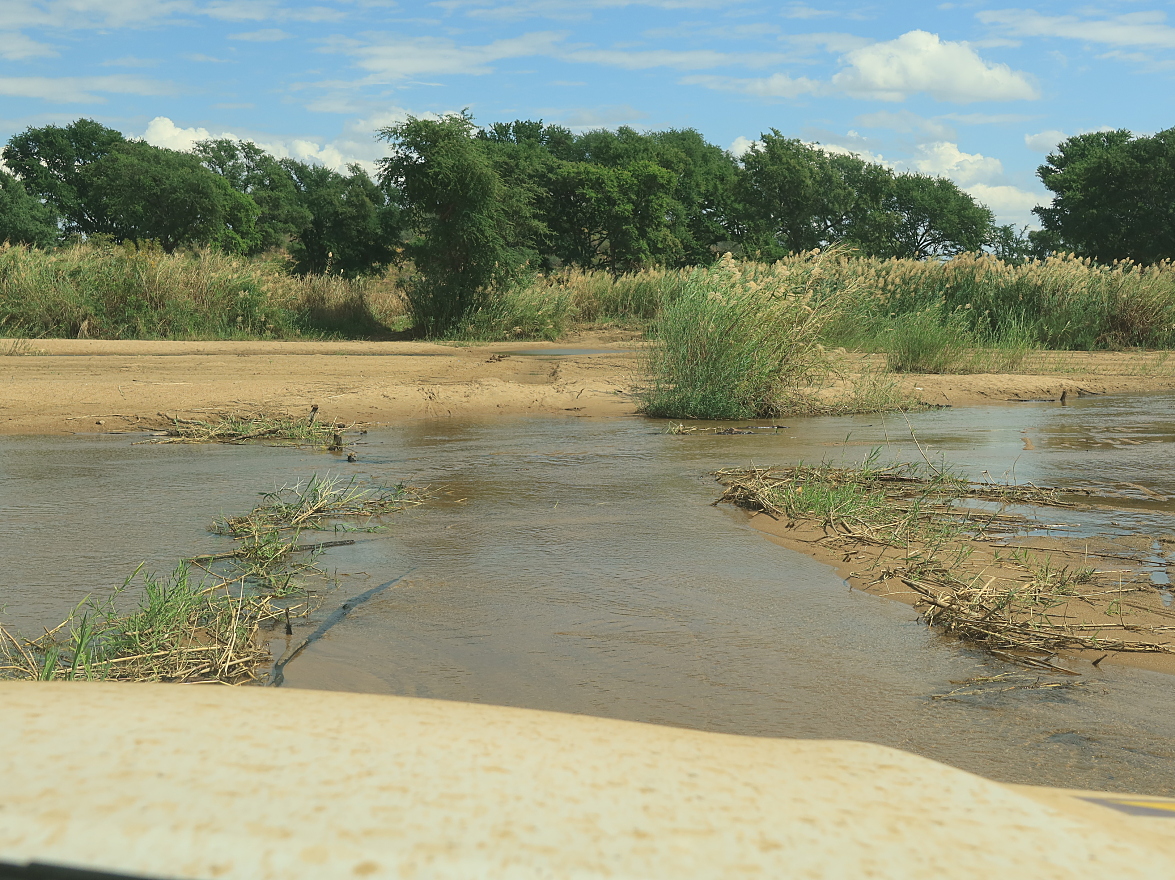 Day 16
Despite a lot of hippo noise during the night I managed to sleep until my alarm went off at 5:40am. Breakfast was at 6, and was generic eggs, sausages and grilled tomatoes with tea. At 6:30am we departed for a 3 hour walking safari. In addition to the guide was a park scout with a rifle and a porter carrying a bag with water. We started off walking on a bluff above the river where we saw tons of hippos making goofy sounds and splashing around. There were also tons of birds. Once we cut away from the river there were also lots of impala, kudu, monkeys & warthogs. After returning I got a warm shower, and relaxed until lunch at noon.
Lunch was a weird, pleasant surprise. They brought out this huge platter with BBQ chicken parts, a spiral of sausage, and french bread pizza squares, with a bowl of cole slaw.
In the afternoon we did an actual game drive, except I was the damn driver. Their truck was supposedly out for repairs, which completely destroyed all the enjoyment. I had to worry about not hitting animals, not veering off the road, not hitting rocks, not going too fast, not getting a flat, and not getting stuck. I was super annoyed, and will be complaining about this nonsense when I get back to civilization. Anyway, I had the same 3 guys with me as during the walk this morning. Also not sure how great I felt about knowing there was a dude with a loaded rifle sitting in the back of the truck. Also wondered why we needed the guy with the bag of supplies, when he literally did nothing beyond hand out water bottles. Anyway, despite all that nonsense, I did get to see a bunch of animals, including two elephants (one was trumpeting!), guinea fowl, impalas, kudu, waterbucks, monkeys, zebra (a special sub-species found only in Zambia that have a unique stripe pattern), and tons and tons of hippos in the river off lazing on sandbars (including a few pink babies). Total time was 2.5 hours, which would have been lovely had I not been driving nearly the entire time.
Dinner was meh. They served 'soup' that looked, smelled & tasted like watery brown gravy mix. I added a ton of hot sauce in a futile effort to give flavor. Then there was rubbery cubes of beef & carrots, smothered in more brown gravy with white rice. Dessert, I think, was supposed to be flan, but tasted like sugary quiche.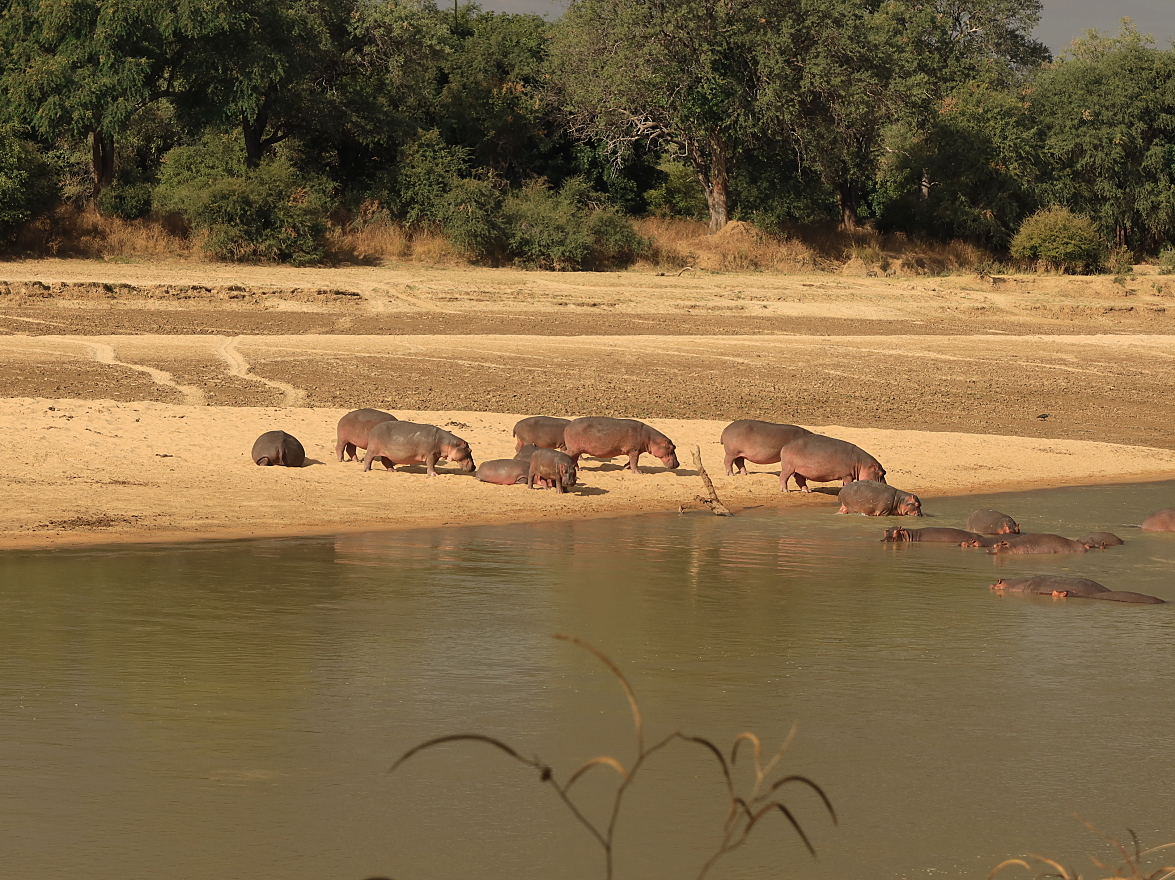 Day 17
I woke at 5am to use the toilet and never fell back to sleep. I packed up my stuff, loaded the truck, got breakfast and was on the road by 6:40am. I needed to drive west across the entire park to reach the paved road (T2) which runs southwest to Lusaka (or northeast to the Tanzanian border).
Thankfully the drive across the park was uneventful, even if it was very rocky and bumpy. I saw zero animals. I made it to pavement by 9:30am. The road varied from great condition to horrendous potholed war zone. I got to the town of Mpika just after 11, and attempted to get cash, but every damn ATM refused to work. I managed to find one gas station that took cards, and filled up. Only one checkpoint actually stopped me, and demanded to see my passport. Since I made such good driving time, I covered 40% of the drive to Lusaka today.
I am wild camping beside an abandoned stone quarry not far from the road. I can hear the traffic, but can't see it (or be seen from the road). Not long after I got setup, a van pulled in here too, and a French couple came by to say hi. They have been driving around Africa since January and won't be going back until the end of the year. It was kinda nice to talk to some overlanders.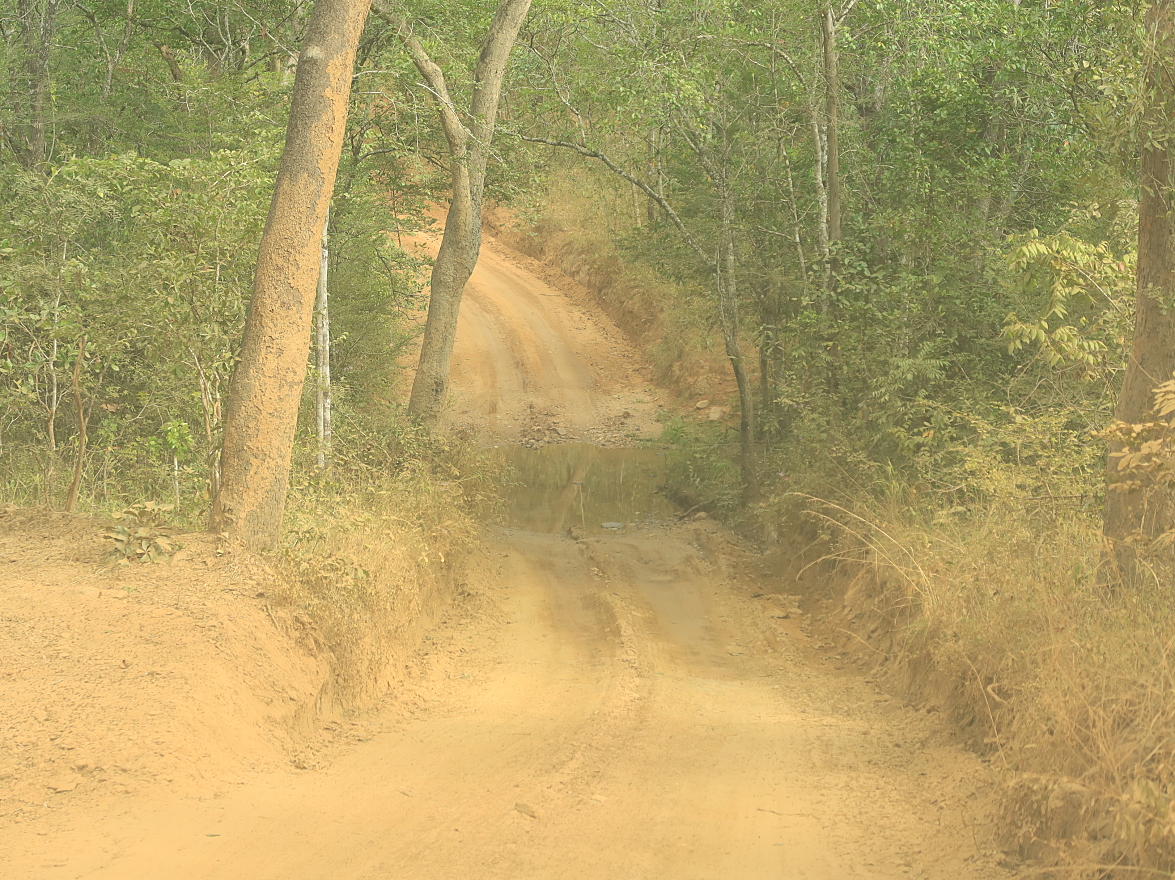 Day 18
I didn't sleep well, waking up nearly every hour either because I needed to urinate, or I was chilly. It was just 11C this morning, the coldest day since I arrived in South Africa that rainy morning. I gave up around 5:30am, and packed up camp. I was on the road by 6:30am. I found a gas station in the next town that took cards, and filled up. The drive was fairly easy for the first few hours. But as I got closer to Lusaka, traffic increased, and I found myself stuck behind slow trucks with few opportunities to pass. Then the road got really crappy with deep troughs carved where heavy trucks' wheels passed. And the final insult were corrupt police who pulled me over claiming that I was passing on a solid line. If this awful road ever had a painted line down the center, it faded away long ago. But arguing wasn't going to accomplish anything, so I paid the 450KW (\$17) fine, and got back on the road. Despite all the road nonsense, I got into Lusaka just before 1pm. Thankfully the hotel permitted me to check in early, and I got to relax for the remainder of the day.
I went to an "Italian" place for dinner. They had a local craft beer which was not half bad, and I got a pizza which was ok?
The next day I turned in the truck, which was an interesting conversation, considering all the issues from the chaos in Mozambique.
The flights home were very long, but thankfully, uneventful.
Was this a great trip? Definitely not. I don't know that I'd even call it a good trip. But I don't regret doing it. I definitely learned a bunch of lessons on this trip:
* if there's a choice between a paved road, and an unpaved road, and the conditions are unknown, take the paved road every time. Even if it supposedly will require hours more driving.
* just because maps claim that a road exists, doesn't mean there's any way to cross a body of water. the bridge might never have existed. it might have been washed out years ago.
* if the road degrades, turn back. don't keep pushing onward into questionable conditions, which might turn into a full scale disaster.
* If I ever attempt a 100% solo trip like this again, I need to bring/rent a satellite phone.
A GPX map track from the trip is:
This post is part 2 of the "southeastern-africa-2022" series: