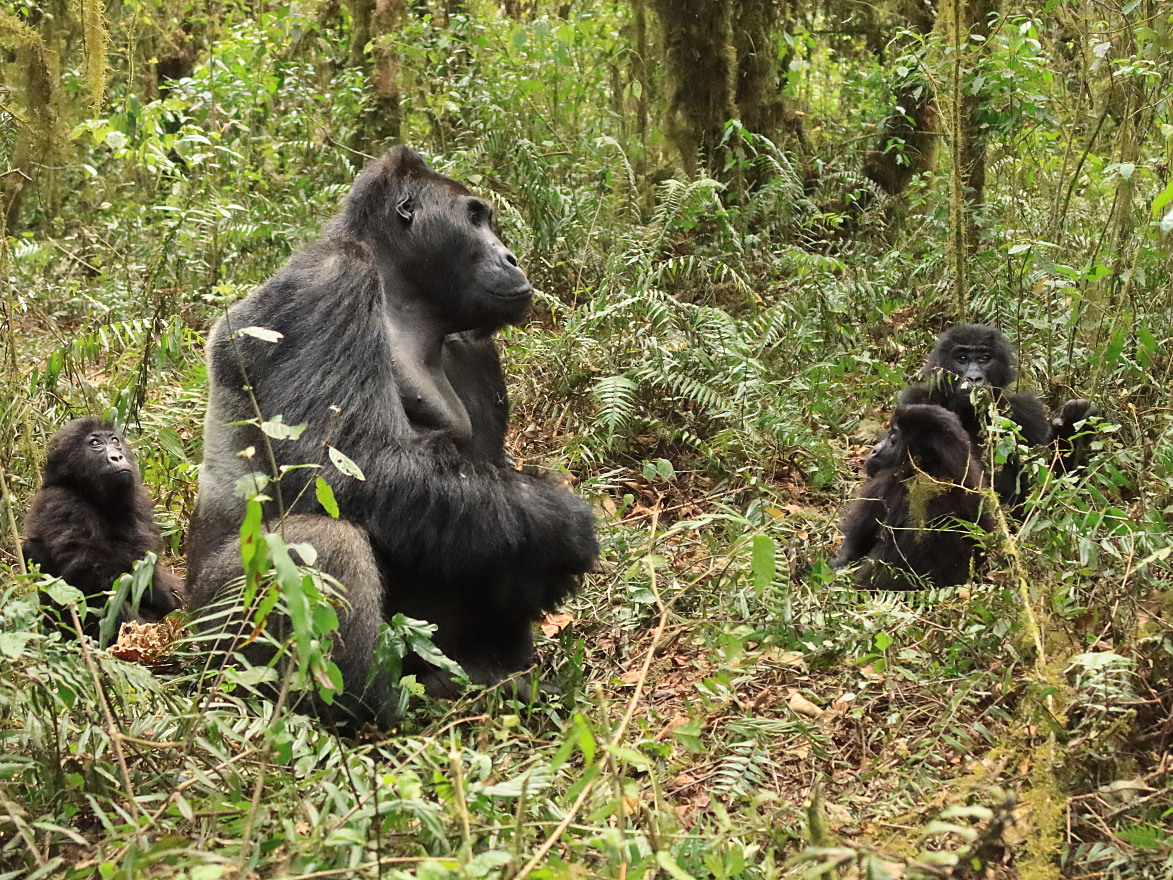 18:28 Thursday, August 08 2023
Burundi, Rwanda, DRC and Ghana (2/2)
This post is part 2 of the "bu-rw-drc-gh-2023" series:
I spent about two weeks exploring the African nations of Burundi, Rwanda, Democratic Republic of Congo (DRC) and Ghana. Overall it was a good trip, but not without its surprises, challenges and chaos. Each country was distinctive in its own way. What follows is the time spent in DRC and Ghana.
Day 9
I was up at 4:40am, and had breakfast at 5am. We were supposed to depart at 6am for the 5 hour drive to the DRC border. However the bus didn't show up, and then we learned there was a problem with the bus. Simon left to investigate, and returned 40 minutes later with the bus. We got on the bus and started driving. Less than 15 later the driver was already lost, and needed to call for directions and then u-turn. Eventually we got on the correct route, and spent the first few hours driving south through the mountains, past small farms & tea. We stopped for a toilet break at 8:45am at a shiny new Engen (a chain i've seen down in Mozambique & Milawi too) gas station. By late morning everything was tea. Entire valleys were carpeted in the dark green of tea bushes, and it was gorgeous.
We reached the border just past noon, and it was sheer chaos. Possibly Zimbabwe level chaos. There were 4 super long lines for emmigration, and randos kept cutting the line. Then when we got to the front of the line it took forever for simon, but relatively fast for everyone else. The immigration agent wasted a tiny exit stamp on a completely blank passport page for no good reason. Next was transferring all our stuff from the Rwandan tour bus to the Congo vehicle. Then we did currency exchange to get rid of Rwandan francs, which gave an awful rate. Finally we were done on the Rwandan side, and walked across the Rusizi river bridge/border to DRC.
First stop was inspecting & logging everyone's yellow fever cards. Our fixer took all of our passports. Then we grabbed our bags from the car, and were escorted around security. Someone from DRC got confused and demanded to search all of my bags before our fixer talked him out of it (all in French). Next was a ridiculous, pointless tour of the DRC immigration building, just to kill time. Then everyone got into a bunch of SUVs with a huge PRESS sign taped to the windshield for reasons, and we sat in the heat and waited longer. Eventually some DRC people started questioning wtf we were sitting around. Our fixer claimed we were all American journalists visiting for tourism. After a few minutes someone must have suspected that was a lie and a some military guy came over, and screamed a lot in french. the PRESS sign was removed, and then we drove out of the secure area, past the secure gate into DRC. Without passports. We parked at the side of the road, and waited more in the heat. Eventually we were ready to go (about 2 hours total).
Then we enjoyed driving down a narrow, chaotic street with hoardes of people selling stuff, stuck behind slow moving trucks. Eventually we entered the actual city of Bukavu, where it was mostly the usual urban chaos, plus ancient yellow taxis weaving all over. Once we got north of the city, we had some views of Lake Kivu again. After an hour we reached our lodging for the next 2 nights (and the last 2 of the tour), a convent. Its quite primitive, small rooms with a tiny window, although they do have wifi.
We were supposed to drive another 30 minutes north to a chimpanzee sanctuary. But while enroute we learned that the chimps are brought inside for the night at 15:00, and it was already 16:15. We continued driving anyway, to what was advertised as a monkey museum. For a while the road was paved and in reasonably good condition. But once we left a town, the pavement ended, and the road turned into an unholy nightmare of rocks, dried mud pits and deep deep ruts from the last wet season. Also, the standard of living crashed. Everything was wood shacks and very primitive mud. It sorta looked like a wild west town where all the signs were in French. Plus lots of people walking along the road hauling stuff (including very small children).
The museum was a single, unlit room in the basement of a Belgian colonial era massive, gorgeous building. It had arches, old chandeliers, fountains and huge wooden doors. The exhibits were some of the saddest taxidermy i've ever seen, plus a gorilla skeleton. We were there for maybe 10 minutes before making the wretched drive back to the convent.
The nuns made dinner which was pretty decent (all things considered). There was salad, rice, potatoes, cassava greens, goat meatballs, spicy fish, baked beans, roast chicken and tomato gravy, plus assorted cold beverages for sale. I got a bottle of the "wine" that the nuns make, which tasted more like a desert wine. It wasn't horrible.
Day 10
Last night was rough. It was so damn hot & humid, and there was no air moving. It rained hard for about 10 minutes which only made it worse. Then I heard bats, and was worried that they would enter my room through the open window, but thankfully they didn't. Plenty of insects did enter though, which the mosquito net did keep off me as I laid in the dark sweating. Then at 4am the nuns got up for the day, and I was subjected to bells and singing. I gave up at 5:30am, to enjoy an icy, cold shower.
Breakfast was decent. Baguettes (because former french speaking colony), scrambled eggs with onions & sausage, and sliced cheese.
At 07:00, we drove northwest towards Kahuzi Biega National park on "national road 3" (which was entirely unpaved). We got to the park visitor center about 40 minutes later. There were two sketchy white guys milling about and a large, white UN vehicle. We had to sign a registration form, and a bunch of armed park rangers showed up. We departed not long after to get moving before the sketchy white guys, who were apparently mercenaries doing something sketchy at the nearby diamond mine. We blasted up hill on a very rough road for about 10 minutes. Then we pulled off the road beside a military tent. The hike to the gorillas started here. The lead ranger told us that he's worked in the park for 29 years. Today, the gorillas were about 2 hours walk away.
The trail plunged into dense jungle immediately. Vines, trees, ferns and all sorts of other plants were growing everywhere. The first hour had a lot of elevation changes. There were always a bunch of vines trying to trip me, or branches trying to smack me. The rangers had machetes to cut through the jungle. About an hour and 40 minutes in, we got close enough to the gorillas. The split us into two groups of 8. My group got to spend time with the gorillas first. They were huge, and mostly ignored us. Some climbed trees, others laid about. I saw a silverback, several females, children and two babies. After about 40 minutes, we swapped out with the other group. But there were so many gorillas in the area, that we got to see a few more while waiting. Then they merged us all back together, and we tracked a silverback for nearly another hour. The hike back was exhausting, and we ended up walking over 5 miles. Once back at the vehicles, we returned to the visitor center and had lunch (sandwiches). After that, we drove back to the nunnery for the night.
Day 11
Another rough night. I had severe indigestion much of the night, in addition to the heat. Then at 1am, the water line to the toilet ruptured somehow. a geyser of water was shooting to the ceiling. I managed to shut the valve, but i could have done without that drama. the power went out at 4am, and i didn't even bother to get a cold, dark shower, and just packed up. The power flickered off & on a bunch of times over the next hour. Breakfast was sad. Stale baguettes, raw starchy plantains, and greasy sausages.
We departed just after 6am as the sun was rising. We got to the crazy, chaotic ferry terminal in Bukavu at 6:40am. Apparently a large delegation from USAID is also taking the 3 hour ferry to Goma.
The ferry was basically a small, old Chinese yacht with 80 seats crammed into a hot cabin. Every seat was occupied. Thankfully we departed on time at 7:30am, and waters were calm. About 100 minutes in, I decided to go outside at the rear of the boat for fresh air. It was so much nicer, that I spent the remainder of the trip there. We arrived kinda late in Goma, at 11:0am.
From there we piled into a bunch of vans, and bumped along a trash strewn dirt road into the center of Goma. Eventually it cleared up and actually looked nice with trees and pavement. We stopped for lunch, at a fancy touristy restaurant, where I got a bloody mary and a coconut curry. All prices were in US dollars, but they took credit cards.
After lunch we drove to the airport. A large traffic circle before the airport had huge signs with photos of dead, disfigured bodies from the civil war. Hooooly jebus, Goma's airport wins the prize for worst airport experience. Utter chaos, so many different lines. First a line to verify that I had a yellow fever card (nevermind that it was required to enter the country). Then a line to inspect & weigh my bags. Then a line to issue my boarding passes. Then a line to pay the US$55 exit tax (which must be paid in crisp, perfect notes). Then a line verify that i paid the exit tax. Then a line to check my boarding pass. Then a line to actually stamp me out. Finally a line to search my bags all over again and wand me. In total, it took over an hour to finish all this nonsense. Also its a terminal without windows, so its super hot.
Finally they started boarding, and of course, they had more lines. First to collect the receipt from the exit tax. then to verify the passport stamp, which I did not have! apparently the idiot whose only job was to stamp my passport, failed. i had to return to the terminal to get the stamp, then talk my way past all the other lines. finally back outside, i had a line to check my boarding pass. Then i was permitted to get on the plane, which was more than half empty. The last people to board was a UN IOM (basically their refugee management group) chaperone for a woman and her baby. I as literally on a flight with refugees. As we were taxiing, I noticed that the airport was basically full of UN stuff. Planes, vans, and buses. The UN apparently has their own fleet of baggage carts and tugs too. It was kinda surreal. DRC is so damn bleak.
We took off a few minutes early. The flight was ok. The plane was ancient and beat up. Armrests were broken, seats had the audio channel buttons from 20+ years ago. Food was mediocre. We landed in Addis a few minutes early. I spent the night at the airport hotel.
Day 12
I slept amazingly well for the first time in 4 days. i'm sure the AC and fairly comfy bed helped. I got breakfast, which was ok. Can't go wrong with some spicy injera. About an hour before my flight to Accra, I checked out and made the 5 minute walk to my gate. They actually started boarding on time, yet somehow there was so much chaos on the plane, that people still hadn't finished as we pushed back. Also for some silly reason the crew needed 3 people to close each of the overhead bins, so that took forever too. The flight was fine. The crew asked me to swap seats across the aisle so a 10 year old boy (which they referred to as a baby) could sit with his family. I agreed, even though it was ridiculous. The guy in my row kept requesting free beer, and the crew complied. I counted 7 beers, plus him needing the toilet 4 different times in the 4.5 hour flight. We landed about 30 minutes early.
Immigration was not awful, although they demanded my yellow fever card but didn't actually open it to read it. The only airport ATM worked ok once i figured out that it won't dispense more than 800 Ghanian Cedi's in a single transaction. The woman at customs tried to get a bribe with the good ole 'do you have anything for me?' routine. i offered her warm wishes from America. holy jebus, it is insanely humid here. feels like Dubai in August.
the tour company actually messaged me in advance with details where to find the guide at the airport. the pickup went fine. my guide was a woman, although the driver was a guy. the first stop was the national museum. the museum guide did a 1 hour tour, and she was really good. lots of historic & cultural artefacts. next was the Kwame Nukrumah Memorial Museum. this guy was their first president back in the late 1950s. the museum took maybe 10 minutes, and the memorial was kinda cool looking. after that was the crafts market which was a giant tourist trap. I walked around for maybe 10 minutes fending off all the 'hello friend' & 'hey mista' people. the last stop was Independence Square and the Black Star Arch. The square was commissioned by Queen Elizabeth after their independence in 1957. it is a huge parade grounds with grandstands on three sides, and the sea on the 4th. the arch is kinda a miniature Arc de Triumph about 4 stories tall, with a huge black star on top. there's a concrete stair case inside to the top which provides nice views. At this point it was nearly 3pm, and they took me to my hotel.
When I booked the hotel, it was back when I thought that I was doing the conference. its the hotel where the conference is being run, so its fancy & expensive. i booked the cheapest room they had for $175/night. when i checked in, I was told that due to the conference, my room was no not available, and instead they were upgrading me to a suite. with free access to the executive lounge (free food & drinks). I checked, and this suite runs $850/night. its nice, but i'm not sure its that nice. it has a living room with bathroom, the bedroom has a huge king bed, and the master bath has a bathtub, a huge walk in shower and a bidet. the hotel pool is so large that it has an island with three palm trees.
Day 13
I slept ok, and was up at 5am for my 06:20am full day Cape Coast tour. I was hoping to get breakfast in the lounge first. When I walked in at 5:55am, the food was out, but no serving utensils. The host claimed they would be ready at 6am. However, nothing was ready 10 minutes later and I gave up.
The tour pickup arrived at 6:29am, and there were 3 other people already in the van. We made one more stop to pickup two Americans who had no inner monologue. Every single thought had to be verbalized.
It started raining just after 7am. Then we dropped off one of the original 3 people somewhere random. Just after 8am the van hit a bicycle on the road. Thankfully no one was injured, but we ended up sitting at the side of the road, in the rain, for nearly an hour as they filed a police report and dropped the guy with the bike off at the next town. At 9am we pulled into a rest stop for breakfast. It was basic, but ok. I had a beef pie (basically a hot pocket with ground beef, onions and some curry powder) and black tea.
The rain finally stopped by late morning. The guide gave us a good 30 minute explanation of the history of slavery and Ghana's economic situation during the latter part of the drive. We passed the ruins of a 18th century British fort, now known as Fort Amsterdam (it was built by the British, then captured by the Dutch in retaliation for losing New Amsterdam).
Just after 11am, we reached the first stop of the tour, Kakum National Park. As soon as we parked at the visitor center there were tons of lizards scampering about doing pushups, including one with a bright orange collar. Humidity here is insane.
The big attraction here is the forest canopy walk, a series of 7 rope bridges over 100ft above the jungle floor. Unfortunately they require everyone to be guided up there. This meant that I was herded into a 30 person group, mostly of slow Americans. The trail up to the canopy is rocky and muddy, with 85 steps. You would have thought that people were being asked to climb a real mountain, there was so much drama. If it wasn't for the humidity, this wouldn't have even registered as exercise. So many people were gasping for air less than half way up. Once at the top, they set us loose in 6 person groups onto the first bridge. It was really nice, once I got past the stragglers.
Once back at the bottom, we got back in the van to drive 20 minutes to the Hans Botel Cottage. While driving, the sky opened up and there was a proper tropical downpour for about 5 minutes. This place was basically a tourist trap. Its a hotel, restaurant and lake full of pygmy crocodiles. They let people touch a crocodile's tail. Its sorta like that lake in Burkina Faso, but very full of tourists posing for photos.
Next was Elmina Castle, the 14th century Portuguese fort where 70% of all slaves were shipped out. The tour was very good, and appropriately bleak. It had an Auschwitz vibe. We saw the dark dungeon where the slaves were imprisoned, the 'door of no return', the quarters of the enslavers, and much more.
After that we had a very late lunch at 4pm at a place on the beach. I ordered jollof rice with chicken. It came with a sad salad buried in mayo, and a small cup of green hot sauce. the chicken was rubbery, the rice was greasy & tasteless, but the hot sauce was nice. It cost nearly US$16, so definitely a tourist trap.
The last stop of the tour was Cape Coast Castle, built by the British in the 17th century, for slave shipping. This tour was crazy bonkers. In many ways it was similar to Elmina, except that the guide seemed to be an aspiring actress, and repeatedly went on melodramatic rants about religion while snearing. To add to the hyped up atmosphere, An American woman on the tour (not from my group, thankfully) asked "how do caucasions respond to this?" Before anyone could answer, she went on a rant about how she feels that white people should not be permitted on the tour, as it makes a mockery of what happened there. Then a few others chimed in to agree. I wasn't the only white person present, but jeeebus.
We finished at 6pm (2 hours late), and had a 3.5 hour drive back to Accra getting back at 21:25, where i promptly passed out.
Day 14
I slept ok until 5am, and then gave up. I got a decent breakfast in the lounge.
I was supposed to be picked up for a tour at 9am. I checked out and was ready in the lobby at 8:45am. I pinged the tour company (Expedition Go!) on Whatsapp, just to let them know that I was ready & waiting in the lobby. At which point they replied that 2 of the sites don't open until 11am, so they would pick me up at 10:30am instead. I was not happy, but had no choice. At 10:20am, the guide pinged me to let me know that she was stuck in traffic and running late. I was very unhappy, as there was no excuse. Still nothing at 11am, so I asked for an ETA, and they claimed another 25 minutes due to a flat tire. I had enough at that point, and demanded that they cancel and refund. Initially they refused, but when I gave them a choice between the refund and a negative review, they agreed. I wasted the rest of the day in the hotel lobby.
As the day went on I noticed that my flight was already running hours late, and kept getting later. The inbound British Air flight from LHR had not departed yet, and eventually was many hours late. Enroute to the airport, I got a text and then email from British Air basically telling me that the flight was cancelled (although they never actually used the word cancelled). Once I arrived at the airport, it was crazy time. The BA counter had hand written, taped paper signs for "HOTEL" and a massive line. I chatted briefly with another passenger, who tipped me off that the BA ticket window at the far end of the terminal was rebooking people on other airlines. I raced over there to find a short line. I requested rebooking and the woman started typing and shaking her head. She told me that there were no free seats on United or Delta. I asked her to check KLM, and she found some space for me. Instead of flying BA to LHR and then to SJC, I would fly KLM to AMS, then to LAX and finally to SJC. And the best news was that I'd arrive at SJC about 2 hours earlier than if I had flown BA
Then I ran back across the terminal to the KLM counter to get my boarding passes. that line was super long with dozens of people. i joined the biz class line which only had 6 people. but it moved so damn slowly. Initially the guy acting as gatekeeper for the line tried to get my boarding pass for me, but apparently they needed my address & phone number (which wasn't transferred during the rebooking process), so I was forced to wait in line. still it was much faster than the economy line which likely would have taken over an hour. eventually I got my boarding passes, but the agent insisted that there were no aisle seats left.
I cleared passport control. i forgot that i had a bottle of water, and they flagged my bag at security (also required shoe removal). but the guy searching my bag failed to find the water bottle and let me go.
once at the gate, I asked the agent about aisle seats, and she found me some on all 3 flights. Boarding was a lot of group nonsense. Thankfully the seat beside mine was empty, and I was able to sleep for much of the 6 hour flight.
AMS was a long walk to my gate, and security flagged my bag for a "mystery liquid" that they never found with manual inspection. My LAX flight boarded on time and the flight was half empty (including the seat beside me).
LAX was an even longer walk to my gate, taking nearly 40 minutes, including going from the international satellite terminal to T3. Thankfully my flight to SJC departed on time. Amusingly, the tea bag that they gave during that flight was made with Rwandan tea leaves.
Overall, it was a good trip. I'm not sure that I'd want to return to any of these countries again. Maybe DRC, if only to see more of the insanity in a different corner of the massive country.
A GPX map track from the trip is:
All trip pictures are posted HERE.
This post is part 2 of the "bu-rw-drc-gh-2023" series: