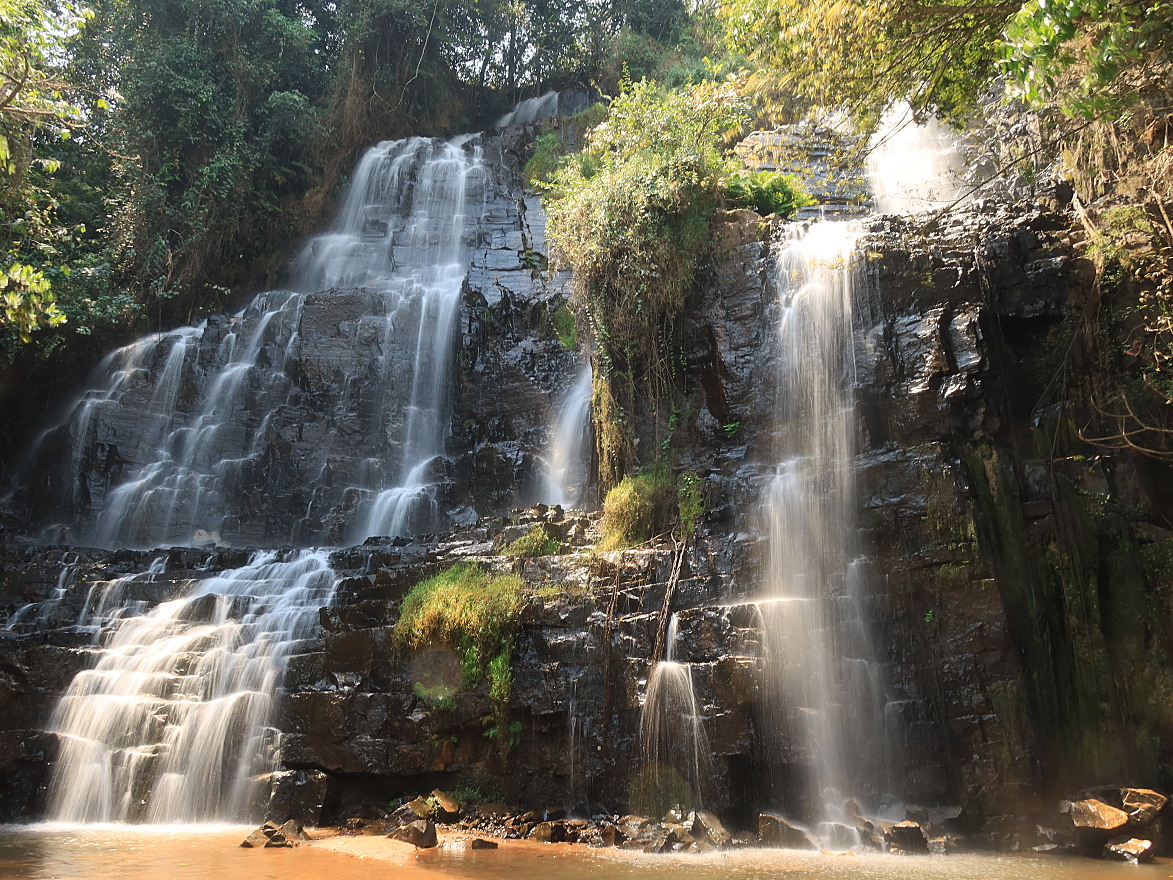 19:41 Thursday, August 08 2023
Burundi, Rwanda, DRC and Ghana (1/2)
This post is part 1 of the "bu-rw-drc-gh-2023" series:
I spent about two weeks exploring the African nations of Burundi, Rwanda, Democratic Republic of Congo (DRC) and Ghana. Overall it was a good trip, but not without its surprises, challenges and chaos. Each country was distinctive in its own way. What follows is the time spent in Burundi and Rwanda.
Day 1
Zero pre-check line at SFO. Boarding started on time. I stepped out of the aisle to put my bags in the bin, and this man behind me yells "you're in my way that's my row". I stepped back into the aisle, and the guy with his teenage son pushed past me to take the window & middle seats. Of course this guy was a jerk for the entire 4.5 hour flight. We pushed back on time, but took forever to get into the air. The guy was aggressively manspreading and elbowing me for most of the flight.Despite that, I managed to sleep (poorly) for most of the flight. At one point, this jerk was demanding that the flight attendant bring him a corkscrew to open a bottle of wine that be somehow brought with him. He refused to believe that its not permitted to bring your own alcohol.
We landed on time just after dawn, taxied for a while, then waited 15 minutes for the jetway driver to show up. Its been a very long time since I was in ORD, but jebus this airport is a dump. Its like a sad bus station with airplanes. I had to xfer from terminal 2 to 5, which required me to walk the entire length of T2, exit security, take a slow train to T5, and clear security again (without pre-check, yet they had old fashioned metal detectors). The sky is a depressing gray, which i guess matches the mood of the entire airport.
My plane to Addis arrived an hour late at ORD. We ended up boarding at 10:20, and the plane pushed back while people were still in the aisles finding seats. We started taxiing at 10:50am (70 minutes late).
Day 2
Overall, the flight to Addis was fine. Long, but fine. The plane was less than half full, and the (middle) seat beside me was empty. I slept a bit, but the seat was old, and beat up with very little padding. Despite leaving over 90 minutes late we landed only 20 minutes late. A bunch of passengers clapped when we landed. It was cloudy and wet outside. Taxiing took forever, and it was a bus gate. The bus almost crashed into other moving vehicles more than once on its way to the terminal.
Security was quick, but stupid (had to remove shoes). Then I had to walk the entire length of the terminal to get to gate A5 for my flight to Bujumbura, Burundi. In total, it took 25 minutes to get from the plane to my departure gate. This airport is still a dump 6 years later. Wifi exists but doesn't work. Everything is broken. I had to try multiple shops before I found a burger king that accepted cards to buy a $2 tiny water. ORD is somehow, barely better. There was an older guy wearing a hot pink suit at my gate, and a dozen Japanese. Boarding actually started on time, and they closed the door 15 minutes before departure time.
This plane was ancient. Only overhead tv, no power ports, and it was super warm. Thankfully it was about 2.5 hours in the air. By this point of 3 flights, I was utterly exhausted, and was dozing off at random. We landed in Bujumbura 10 minutes early. It was cloudy again, and very humid.
The terminal basically had no walls and just a roof. Every step of the process was a different crowded chaotic line. First was the visa, which was 3 different lines (one to apply, one to pay, one to get the actual sticker). Next was a guy checking everyone's passport and taking notes. Finally was the actual passport stamp. Then a line for an xray machine, and then I was done. total time was 40 minutes. I found the ATM and got cash with no problems. Then I found the local guide, and waited for everyone else to finish the process.
There's a total of 15 people, plus Simon the tour leader. Most everyone looks at least my age if not older. There are 4 americans, 1 danish, 1 romanian, 1 canadian, 1 italian, and the remainder are british. Simon seems like a nice guy so far.
The hotel for the first 2 nights is fine. the AC wouldn't even power on for me, so they moved me to a different room where it sort of works ok. we ate dinner at the hotel. it was fine, but generic salad, beef chicken, fish.
Day 3
Overnight was ok, but not great. I went to bed before 10pm, but there was loud music blasting. I slept until 12:28am when the power went out and people were screaming. The power came back 10 minutes later, but the AC didn't. I fought with the AC for a while and got it sorta working. Then the music started again, and it took a while to fall back to sleep. I slept until my alarm went off at 5:05am. I had hot water but poor water pressure in the shower (plus a hand held shower wand that had no mounting clip).
Breakfast was fine, but nothing special. We left at 7am. The terrain was very steep hills, with farms on the steepest slopes, and small towns. It was hazy and very humid. Eventually we passed small tea farms, and the road gradually degraded into random potholes. There are tons of huge brick churches everywhere, some with bell towers.
Just after 10am we reached the first stop, the source of the white Nile. First, we climbed a big hill to a pyramid monument, honoring the explorer who found the source. The pyramid was maybe 10ft tall, with a large plaque. Then we descended to see the actual source. It was a bit underwhelming, just a trickle coming from the hillside. However, I've now been to the source of the white Nile, blue Nile (Ethiopia), where the blue & white Niles meet (Khartoum), and the end of the Nile (Alexandria).
Next we drove another hour further southeast towards Karera Falls. Half the drive was on decent paved roads. But then we turned onto a dirt, steep road that was awful. It took 30 minutes to cover 6km. The falls were quite pretty, and quite popular with locals having picnics. After the falls we had lunch, which were supposed to be sandwiches. It was quite possibly the smallest sandwich that I've ever seen. Two bites and it was gone. It tasted nice though, with chicken, onions & peppers.
Afterwards, we drove nearly 2 hours north to a former Burundian king's palace. It was a bunch of thatched huts, and his 2017 gravesite. Then there was an elaborate drum ceremony with a dozen guys balancing huge drums on their heads as they sung and struck them. It seemed like most of the town also showed up to watch the show. Way more enthusiasm than I was expecting for something that could have been a tourist trap.
We drove a bit more into town and stopped for snacks. I got a bag of dates & peanuts. Then we stopped at a very small museum which had a bunch of historical cultural artifacts (tribal clothes, weapons, etc).
Then we had a 2 hour drive west, back to Bujumbura. The last 45 minutes of the drive were after sunset. We went to a semi fancy restaurant. they had cocktails, so i got a campari spritz. the food was ok, bot not great. i got this grilled beef thing that had a butter caper sauce. it was very tough and chewy.
Day 4
I slept ok, even though the power went out briefly yet again just before 1am. Lots of drama checking out of the hotel. I wanted to pay with a card. The guy kept getting an error in French on the card reader, and insisted it was due to some internet problem. But then I noticed that all 3 of the attempts went through, as I had been charged. Apparently the error was telling him the machine was out of paper to print the receipt. He claimed it would be refunded in a few days, but never was.
We departed Bujumbura at 7am. The first stop of the day was the Livingston & Stanley monument, where they met in 1870. It had a large inscribed boulder, and life size cartoonish statues of the men meeting.
Next we drove another 30 minutes north to Rusizi NP, to see hippos on lake Tanganikya. It was fine, but very humid and not remotely close to the best hippo viewing that I experienced in Botswana & Zambia. There were some birds too. Amusingly I picked up Congo cell service for a few minutes out on the lake.
We were back on land and driving by 10am. The drive was slow going through the city, and then climbing the road that snakes up over the mountains. At one point we were stuck behind a huge dump truck that had 2 guys on bikes hanging onto the back for a free ride. Later we passed a large bus that somehow backed off the edge of the road. It looked like it was going to fall over the side. All the passengers were standing on the roadside nervously waiting for help.
We reached the Rwandan border at 13:10. Simon, the tour leader took everyone's passport and got us bulk stamped out of Burundi. Then we walked about 100m across no man's land to the Rwandan side. First was a rigorous inspection of the content of all bags for plastic bags. Rwanda outlawed all plastic bags a few years ago, and they confiscate them at the border. It took nearly an hour to go through all 16 people's bags. After that we needed to pay for the $50 visa. Finally at 15:00 we finished at the border and drove into Rwanda.
Infrastructure is noticably better in Rwanda. Roads are shiny & new. Kids keep screaming mazungu as we drive past. The sky is mostly clear. As we pulled into Butare (tonight's hotel town), there were monkeys scampering everywhere. The hotel is this weird place owned by a catholic church. There are random nuns wandering around.
Dinner was nice. I had goat skewers with chips & salad, and passion fruit juice.
Day 5
Last night was rough. No AC and a tiny window meant a very warm room. I slept, but not well. Breakfast this morning was actually pretty good, even if they had beef stew with rotelle.
The first stop of the day was the Our Lady of Wisdom Cathedral, the oldest and largest cathedral in Rwanda. It was fine, but nothing amazing. The choir was practicing while we were there, which sounded nice.
After that we drove across town to the Ethnographical Museum, which was amazing. Lots of artifacts with great signs. I wish we could have spent more time.
Next was the King's Palace Museum. Its the grounds and buildings of the last king. This seemed lame in concept, but the guide really made it special. There were the traditional thatched roof structures, the modern 20th century palace, and the royal cows with the crazy 3ft long horns.
Lunch was good. It was a coffee shop that did sandwiches and all sorts of tea, coffee & fruit drinks. I got a grilled beef & caramelized purple onion sandwich with chips and an avocado smoothie. They brought out this chili oil which was really good too.
The remaining drive to Kigali took nearly 3 hours on mountainous roads. We stopped for a bathroom break at yet another fancy coffee shop (Stafford's) where the parking lot had EV charging stations. Before the hotel we stopped at an ATM, as kigali is likely the last place on the trip with working ATMs.
Day 6
Finally I had a good night's sleep. The AC worked, the room was quiet. I woke at 6am, but i'm calling it a win. Breakfast was kinda meh.
The first stop of the day was a mosque that Qadafi funded, and is now funded by UAE. It was kinda disappointing. Small, and ordinary looking.
After that we went to the Genocide Memorial. It was as bleak and depressing as you'd expect. The layout of the museum portion was a bit unintuitive though. The grounds are mass burial sites.
Lunch was... Mexican food? It was a place called Meze Fresh. It was honestly not bad, but desperately needed Tapatio or cholula, as it was very very bland. I had a pork burrito with rice, pinto beans, guac, onions and mango salsa.
Next we went to the Campaign Against Genocide Museum. This was really interesting. It detailed the military campaign to push out the government & military who were carrying out the genocide. The site of the museum was in a former hotel beside the current parliament building. A fierce battle was fought here, and the blast marks and sand bags from that event were still in place.
After that we weaved through some awful traffic to get to the Kimironko central market. The market was claustrophobic, with people and narrow aisles. We wandered as a group for about 15 minutes then left. No one in the group bought a thing.
The Canadian guy in the group has been to 177 countries. But he is losing his mind and keeps retelling the same stories.
Last stop was the Mille Collines Hotel, the real 'Hotel Rwanda' where the manager gave safe haven to fleeing Tutsi during the genocide. We ended up hanging out at the bar near the pool and getting drinks at sunset. I had a fancy gin, compari, lime & grenadine.
Day 7
Dinner last night was a fiasco. Many places take forever to prepare food, so Simon has been taking our food orders 2+ hours in advance to give the restaurant enough time. He did that for dinner yesterday afternoon. Yet tonight, when we arrived at 19:30, the food was not ready. And they also took a full hour to bring out drinks. When the food did come (over 90 minutes late), it was wrong for more than half of us.
Before the trip, I didn't know that both Burundi & Rwanda were former German colonies (until WW1) and then Belgian colonies until 1962. what is more interesting is the languages spoken in each of them today. In Burundi French is dominant, then tribal languages, then English as a distant third. But in Rwanda, tribal languages are first, then English, then French as distant third.
Last night I actually managed to sleep in for the first time (until 08:15am). it was nice, but then I had lots of emails to deal with (which is NOT your fault at all), and not a lot of time. also breakfast was garbage food.
We departed Kigalli at 10am. Once we got out of the city, we climbed in elevation, and the temperature dropped a lot to a really comfortable level. We stopped for lunch in Musanze, where I had a decent fish & chips, with a weird minty lemonade with a glass of sugar water on the side.
We entered the volcanic region, and there were rock walls made of basalt dividing the farms. Eventually we saw three huge volcanos to the west across Lake Kivu in DRC. We stopped briefly and a large pack of children showed up, all demanding money. Many of the homes are mud brick construction too.
We got to Kisenyi at 16:00, and went straight to the hotel. Its on the shore of Lake Kivu. The lake is huge. Sightly larger than Lake Erie. The hotel is pretty nice, and my room gas a balcony over the lake.
We drove across town to see a hot spring. We passed the Heineken brewery where the fermentation vats are outside, exposed to the air. it smelled wretched. The hot spring was 85C, and a bunch of locals were soaking. It was kinda unpleasant as there were goats everywhere, plus trash.
Day 8
Dinner last night was a fiasco again. Despite pre-ordering hours in advance, it took 40 minutes to serve everyone's food. And they managed to forget to make 2 people's food (I was one of the 2). Then they managed to make the two missing dinners in 15 minutes. Just to add insult to injury they were knocking on my door at 11pm because I didn't sign the dinner receipt.
I did sleep well despite all of that drama, and the breakfast buffet was good. They had fresh passion fruit, plus a new type that was crimson inside and much sweeter.
At 9am we went on a 3 mile out and back hike up the hill past a bunch of small villages. Lots of friendly people, plus kids demanding money. About half way we came to a Pentecostal church that was holding prayer service, and they invited us inside. It was kinda fun, with lots of singing and dancing. The halfway point of the hike was a mountain top with great views of the lake in all directions. We could easily see Goma (just over the border), plus the volcano that erupted last year.
We returned to the hotel for lunch. I got pizza, since I hadn't had any yet. It was fine, not amazing.
Following lunch we went to a coffee farm. Or at least that was the plan. It was supposed to be a 30 minute boat trip. However, there were high winds, and they insisted on squeezing all 16 of us onto 1 boat. The boat was small, and more than 9 was tight. As a result, the boat was very low in the water, and with the waves, it started taking on a lot of water. I was wearing sandals and the water was ankle deep inside the boat. Also, I was getting sea sick from the choppy water. After 25 minutes of struggling, they diverted back to land, and told us that they needed to wait for a second boat. Then they started bailing desperately. Thankfully, with a 2nd boat, it went much better, but still took another 50 minutes to get there.
The coffee farm was small, compared to what I toured in Colombia. Also a lot of manual labor. They demonstrated every step of the process, including manually roasting & grinding the beans. Then they made coffee for us to try. It tasted fine, but I am far from a coffee expert. Some people seemed impressed, but the Italian guy who claims to drink 5+ espresso every day thought it sucked. Thankfully the wind died down by the time we finished, and the boat ride back took 45 minutes total.
My dinner was goat skewers, and it was good. Also I tried banana beer which looked like sewage, but tasted ok (14% ABV).
All trip pictures are posted HERE.
This post is part 1 of the "bu-rw-drc-gh-2023" series: