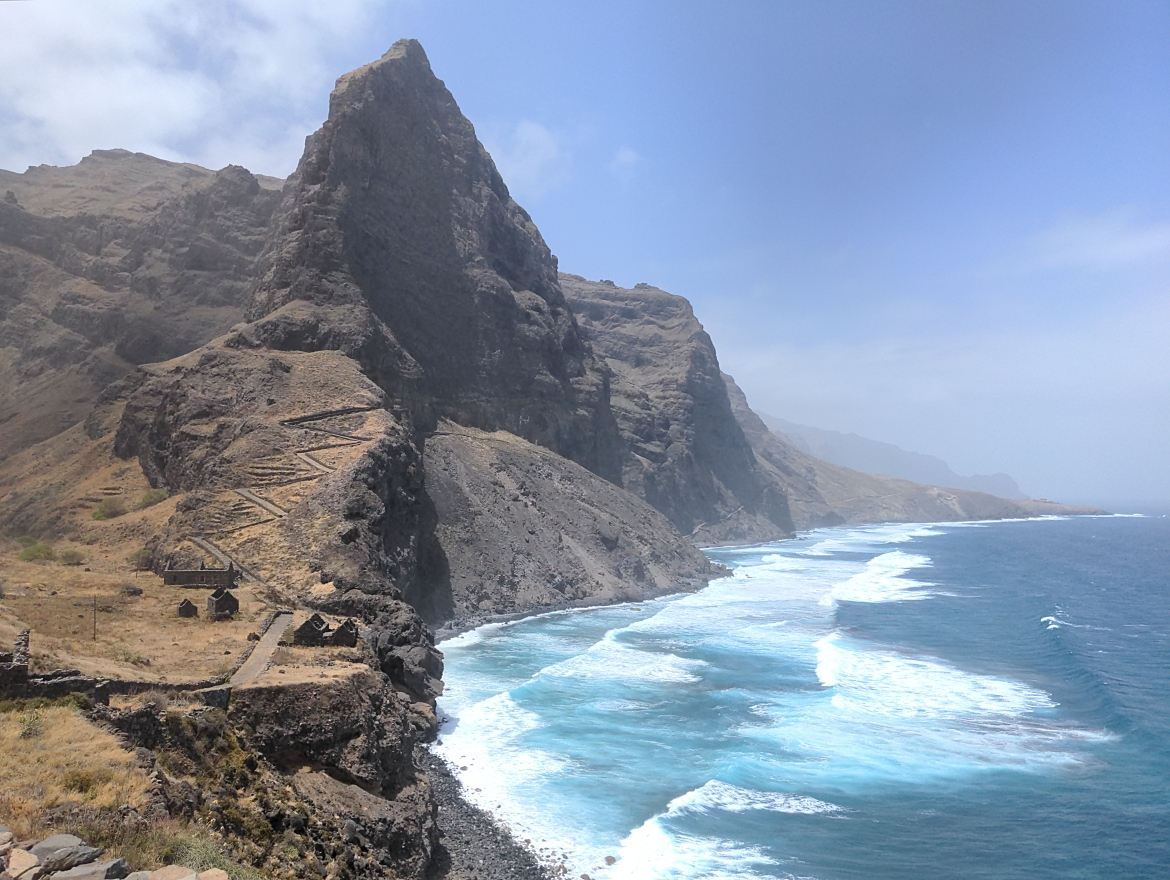 08:51 Saturday, April 04 2023
Portugal and Cabo Verde
I spent time exploring Portugal (mostly Lisbon) and the island nation of Cabo Verde. Cabo Verde is a former Portuguese colony, comprised of ten inhabited islands about 500 miles west of Senegal. Overall, the trip went well, and I had a good time. Lisbon is definitely all about the food, which is excellent. Cabo Verde was a scenic, friendly country, with lots of opportunities to eat tons of seafood, swim and hike.
Day 1
SFO was a complete circus, with security lines snaking everywhere. Someone lost their cat, as a freaked out cat was running around. I'm guessing that because it was a monday. it was extra busy and maybe security didn't open until 5am. Even the Precheck line was very long. Thankfully it kept moving and I cleared in about 25 minutes. Boarding actually started on time. Even though I was assigned to boarding group E, I boarded with C, and no one cared. I lucked out and no one was sitting in the middle of my exit row. We pushed back a few minutes late. The flight to JFK was fine. We landed 35 minutes early.
Getting to terminal 1 for my Lisbon flight was easy. Getting past security was not. The security goons refused to let me enter the security line because my 10pm flight was not soon enough. They ordered me to come back around 5 or 6pm. Of course they were rude too. I killed time in the landside food court, where the wifi mostly didn't work.
When I got to the counter in terminal 1 to get my boarding pass, they offered me a biz class upgrade for $650, and I took it. When I booked the flight back in January they wanted $3000 more for biz class, so this was a bargain. Security was a horrible mess. They didn't have a real Precheck line, but did let me keep my shoes on, and walk through the normal metal detector. Since I had biz class, I was permitted to use the star alliance lounge, which was fine. Not too crowded, mediocre food, but it was way better than sitting at the gate for another 5 hours. Of course it filled up, but at least I wasn't stuck at the gate. I wandered over to my gate at 20:30, and of course it was a circus. Mobs of people everywhere. We started boarding at 21:30, but then they held everyone in the jetway to board the wheelchair people. The plane had a bizarre pink & lime green color scheme. We pushed back 8 minutes late, then spent another 40 minutes taxiing.
Day 2
Despite taking off nearly an hour late, we landed in Lisbon on time. I managed to sleep about 3 hours. I ended up as a bus gate, then a 10 minute trip around the airport. Passport control was fast, and then a long walk the length of the terminal. I found Dylan, and we located the Metro. For some reason the signs name the next line instead the last station. We were briefly confused, but then figured out how it worked. The weather is nice, 70s and sunny. We got to the hotel just after 11am, dropped our bags and headed out again.
We rode an old street car to Belem Tower, a 16th century waterfront stone fort. That's when we encountered huge hoards of tourists. The tower looked really cool, but so crowded. The tourists seem to be mostly Spaniards, French and smaller numbers of others (fewer Americans than expected). After that we walked along the water front for a but, over to the Jerinimos Monastery. It was a huge, ornate stone carved building, with sculptures. Also very crowded with tourists. It was after 1pm, so we went looking for lunch. We found a street with lots of shaded cafes, and picked one at random. I got a plate of rich buttery olives, grilled sardines, and a salad. It was pretty good.
Following lunch we rode a very packed city bus about 40 minutes to Castelo de Sao Jorge, a massive 11th century castle. But first we had to climb steep, narrow, twisty cobblestone streets to get up there. The castle was huge and impressive. Lots of towers, passage ways and great views. Plus the long walk and huge grounds made it seem less crowded. For some reason there were lots of noisy peacocks. We wandered the neighborhood for a while afterwards.
By the time we finished it was nearly 6pm, so we returned to the hotel to rest before dinner. Portugal is one of those places that eats meals late, and the earliest dinner reservation was 21:30. The food was really good. It was a mixture of tapas and larger courses. The highlights were smoked beef tartar, octopus bean stew and tuna with boiled eggs.
Day 3
I slept like the dead until my alarm at 6:30am. We were out the door at 7:25am for the trip to Sintra. First was a bus to Rossio train station. Next was the 40 minute train to Sintra. It was fine, but boring, lumbering past suburbs. Finally was the 434 loop bus which goes up through the mountains past the major sites. We got the last 2 seats on the first bus of the day.
The bus left the center of Sintra and started snaking up the narrow, twisty, one way mountain roads towards the national park. Even though its a regular city bus, our driver was super enthusiastic and was basically giving an audio tour as he drove, pointing sites and cracking jokes. After about 20 minutes we pulled up to the stop in front of Pena Palace and literally everyone got off the bus. There was a crowd of people in front of the entrance gate. Initially, we assumed it was just a bit early. But a security guard was behind the gate talking to people in Portuguese. Eventually someone translated into English that nearly all the Sintra historical sites were closed until 12:30pm today for a worker strike. Since the palace tickets were timed, we were completely out of luck. We spent nearly 2 hours and close to $50 on tickets/transportation and it was all a waste. We wandered back up the road to the Moorish castle, hoping maybe the grounds would be open. The initial trail was open, but then we reached the fortress stone wall, and it was a locked gate too. We were pretty disappointed. We caught the next bus back to town. We found a small coffee shop near the train station and consoled ourselves with some crazy sweet pastries.
We caught the 10:40 train back to Lisbon. Not far from the train station were the ruins of Carmo Monastery. The roof collapsed during the 1755 earthquake, and now there's an archeological museum in addition to religious artefacts, plus a friendly cat! Next we wandered downtown towards the waterfront to see the Arch of Augustine's Road, which a massive stone arch behind a huge public square. Not far away was Conserveira de Lisboa, the canned, preserved fish shop. They had samples which were amazing (sardines, mackerel and cod). I bought 3 cans. For an 'early' lunch (at 13:15) we went to a tapas place, which was kinda meh and touristy.
Following lunch we took the blue line metro to the last stop to see Panteao Nacional, a massive domed cathedral where some of Portugal's notable people have been buried. It was very impressive, and they had a staircase all the way up to the dome. It was late afternoon at this point and we headed back to the hotel to rest before our 21:15 dinner reservation.
Dinner was amazing. It was a tiny place with just 6 tables called Taverna Sal Grosso. The entire menu was on a chalkboard. We ordered aubergine with smoked yogurt, garlic prawns, cod confit, oxtail with mashed celeriac, and braised rabbit. Everything was super delicious. I also had a green wine (from Allo Vineyards) which was highly acidic and great. Desert was bread pudding with creme Anglais. I also ordered a 10 year tawny port (because portugal), and they gave us a small pitcher of their own grappa too. The port was yummy. The grappa smelled amazing, very floral and fruity and smooth. Also, food is crazy cheap in this country. The entire bill tonight for both of us was about $85.
Day 4
We slept in until 8am, then got breakfast at the hotel. It was fine. We started the day going to the Calouste Gulbenkian Museum. The museum holds the collection of art owned by the oil tycoon. It was surprisingly large, with pieces from ancient Egypt, Greco-Roman, Persia, China and Europe.
Afterwards, we walked west across the city to the 18th century aqueducts & water museum. It was huge & impressive.
Next we walked south for a half hour to the meeting point for my Culinary Backstreets tour. I got there 30 minutes early, and the Basilica de Estrela was across the street. We went in and climbed a 6 story, stone spiral staircase to the roof. It wasn't fun climbing the steps, but the views from the top were nice.
The CB tour was good, although the others were two married couples, each with a baby. The food was pretty good. Prolly the best was a bunch of cheeses and wines. Wine is so cheap, like 40 euros for the high end special bottles, and most are under 10.
Day 5
we were up at 5:15am for our flight to Cabo Verde. The uber driver was super lazy and dumped us at the rental car station instead of the terminal. We got our boarding passes, but there was a brief panic when our flight wasn't on the board, and the boarding pass also had no gate number. But it showed up later.
Dylan let me into the lounge as his guest and we got some food. This airport has passport control only for specific gates (because EU), so we had to clear it after security. Amazingly, the electronic scanner actually worked on my passport, yet I still had to get stamped out by a human. This airport has very few power ports, and kinda feels more like a bus station. Boarding was a bus gate to the far edge of the airport. The flight was fine, about 4 hours.
We landed about 30 minutes late. They had e-Gates, which shockingly worked for both of us, and we never interacted with a human. The only ATM didn't work, so we found our driver. The island of Santiago (where we landed) looks like a rocky desert, and is quite warm & humid. The drive to Syd's Guesthouse took about 10 minutes. Its quite nice, with just 3 rooms. We had lunch, then walked into the center of Praia to explore. Along the way we passed a huge Chinese built hotel which was seemingly never finished. The town seems to be split between stuff at the top of a steep plateau (govt buildings, restaurants, churches), and everything else (markets, gas stations, banks, etc).
We swung by an ATM to get some cash, then a small market to buy water, and there were people everywhere. Then we climbed a crazy long painted staircase to get up to the plateau, and it was a creepy ghosttown. Most everything was closed, and we later figured out that it was because today is Good Friday. We walked past a church that was packed with people, and an old lady truid to lure us inside. We walked past the US embassy which might be the smallest I've ever seen, plus it wasn't behind a huge wall. We walked past the presidential palace, and a guard ordered us to cross the street. It was crazy hot at this point, so we decided to head back.
When we were nearly back, Matt from Scoot West Africa pinged us and invited us to meet him at a bar near the beach. We dropped off our stuff and walked another 10 minutes. It was great to see him again, and we had a few beers and chatted for nearly 3 hours. We'll formally meet him tomorrow after breakfast to begin the actual tour. It started to cool down a bit in the late afternoon.
We went to dinner at 8pm, and there were some open places but not a lot. We settled on Restaurant Avis which was busy, and had a decent menu. I got fish croquettes, bissap juice and what was basically seafood paella. The service was obscenely slow, taking over an hour to bring the food. And the food was mediocre at best. If I don't get food poisoning, it might be an Easter miracle.
Day 6
I slept ok, and was up for the day at 7am. We were supposed to meet the rest of the group at 9:30am, but our place didn't have any staff until 8am. They ignored us until I asked about breakfast at 8:45, and didn't bring food until 9:35. The food was fine. Then they screwed up the final bill, combining both rooms. Their solution was to split it in half, but the rooms were supposed to be different rates. But it was all an error in my favor, as my "half" of the bill was nearly $15 below what it should have been.
Matt swung by to get us and we drove back up the plateau to check into the other hotel. Then we did a market tour where we met the others in the group. There are 3 women, all working for USAID. Two are based in Bamako, the third is in Dakar. All 3 are actually returning on Monday. But there's a 4th woman who is here too, but she wasn't feeling well, and stayed behind in the hotel.
We walked around more, past the same area that Dylan & I explored yesterday, except it was packed full of people today. Eventually we ended up in a district with lots of huge, colorful murals (wildlife, famous Verdeans, etc). We had lunch at a small local place, and the food was great. In addition to drinks, there was a huge bowl of katxupa (the national dish, made with beans, squash, pumpkin, collard greens and chunks of pork with a stew consistency). Then everyone ordered whatever grilled meat dish they preferred. I got turkey which was good, but weird, as it was hacked up, bones & all, into large chunks. There was also bright orange hot sauce which gave a nice kick. It was pretty interesting chatting with the women, as they've been stationed all over Africa.
Following lunch, we returned to the hotel for about an hour to rest, before heading out to see the original 'old town' Praia. It took about an hour to drive northwest out of Praia towards the original Portuguese fort & settlement. The scenery was very hilly with lots of rocks and not many plants. The old fort is at the top of a cliff overlooking the ocean and town. We wandered through the restored fort, then down a steep, twisty road into the town below. The town has the first 'street' in the country, and a church built in the 15th century where both Vasco de Gama & Christopher Colombus visited. The church is rather plain. After that we sat down at the beach and had drinks (red wine from the island of Fogo was surprisingly good) and snacks as the sun set.
We stopped at the hotel for a bit to rest. There was some drama. Dylan had no hot water for a shower, so tried to use mine. I had hot water, but the shower drain was clogged. Eventually it all got fixed, and we left for dinner at 8pm.
Dinner was really good. It had live, local music. I got grilled octopus, and I shared a bottle of green wine with two of the women. After dinner we went looking for more music, and ended up at last nigh's place for an hour or so.
Day 7
Thanks to the magic of AC my room was too cold overnight, and I had no hot water this morning. I got a fairly mediocre breakfast and we left at 8:30am.
We drove north from Praia up into the mountains. The scenery was amazing, with sharp jagged peaks, and the sea in the distance. We stopped a few times to look at the views, then hiked a few minutes where we could see the island of Fogo (and its huge volcano). After driving back down we continued north, and just after 11am pulled over in a tiny town for lunch. The place smokes pigs and makes sandwiches & linguisa. Both were sooo good.
We drove a bit further down the road, entered a banana plantation where they were selling whole coconuts. We all got coconut water, and when we finished, they split them so we could scoop out the meat too. Yum!
We drove for another 2 hours through tiny fishing villages, and got to Tarrafal at 2pm. The hotel is fairly nice, with views of the mountains and the sea. We relaxed at the hotel for a while, then walked over to the beach. The beach was super busy. Lots of people doing everything (in the water, playing sports, at the bar, etc). We got drinks and hung out until sunset.
Dinner was pretty good. I had grilled tuna with veggies & smashed potatoes, and I shared a bottle of green wine again. After dinner we went for ice cream, and I had the most amazing coconut ice cream ever.
Day 8
I slept really well, but the church bells went off at 6am, and I was up for the day. Breakfast was pretty good with freshly baked guava cake and omelettes.
We had a change of plans this morning, as Matt found a place that rents out scooters, and we decided to do that instead of the hiking. Dylan had never been on a scooter before, and had a rough time, even before we left town. We drove down to the coast on some bumpy, rocky roads, and watched some surfers for a bit. Then stopped at the concentration camp museum. Before Portugal became a democracy in 1974, they sent all of their political prisoners to a prison here where many died of disease.
After that, Dylan ended up deciding to go back after an hour. Matt & I headed back into town to drop him off, then drove the twisty road up into the mountains and it was amazing. The views were so great. Ocean, jagged, rugged mountains, plus we could see 2 of the other islands. Wind was kinda crazy though.
The place we went for lunch was a mess. More than half the menu was unavailable. Food took 90 minutes to come out, and then they forgot to make 1 person's food. Mine was spaghetti with sardines (my 5th choice), and it was fine, but not worth the long wait.
After lunch 3 of the women departed to return to Praia and then Mali/Senegal. Matt, Dylan & I went snorkeling off the beach. There was a lot of coral & urchins, and some fish, but not much that was colorful. It was nice though and the water was warm.
Dinner was pizza, and it was genuinely great. Its a place run by an Italian expat. We shared 3 pizzas between the 4 of us, plus a bottle of red wine from the island of Fogo (which was decent). Afterwards we went back to the ice cream place from yesterday and got more coconut ice cream.
Day 9
I slept well, and had a nice breakfast. Then Matt & I took the bikes for one more short ride, got gas and returned them.
We departed Terrefal at 9:30, and headed south through the same mountains that we rode up to yesterday. The skies were much more clear and it was gorgeous. Around 10:30 we parked, and started hiking in Serra Malagueta NP. It was a fairly steep rocky trail initially, but so worth it for the views in all directions. A group of French hikers came along, and my bonjour was good enough for them to assume I was fluent, and then I had to admit how bad my French truly was. They were friendly though. We did about 9km total.
We drove for another 40 minutes to the town of Assomado and had lunch. I got grilled pork belly with very spicy rice, which was pretty good. Afterwards, we drove out to a tiny fishing village, hoping to take a boat to a sea cave to swim. However, the winds were crazy, with whitecaps, and we decided it would be a bad idea. Instead we went to a crazy huge 650 year old tree.
After that we returned to Assomado for our hotel. Dinner was octopus stew with onions, tomatoes and olives. it was good.
Day 10
Last kinda sucked. No AC or fan left my room quite warm. Then the damn roosters went off at 4am. Amazingly, there was hot water for a shower. The taxi for the 40km drive to the airport arrived at 6am. There was basically zero traffic, and we got to the airport at 6:45am. We stopped at the nearby Shell gas station for a surprisingly good katxupa (egg, beans, sausage) breakfast. Next, was the airport where ticketing just started for our flight to Sao Vicente. Getting my boarding pass was easy. Security were jerks and confiscated the canned fish from Portugal, despite being unable to explain why it was forbidden. I was really annoyed.
The BestFly flight was a turbo prop plane, 4 across, 25 rows, boarding from the rear, because all of the cargo ended up behind the cockpit. We departed on time for the 45 minute flight. There was a huge dust storm from the Sahara hanging over the island and 24C when we landed. The sky was gray and hazy and it was noticably more humid. The terminal is small but seems new. We took a taxi 10km into town, to get ferry tickets. Then found lunch. Its very touristy and prices for food are double what we were paying on Santiago. I had fish stew with mackerel and rice & beans, and it was very good.
We took a quick taxi to the ferry port at 13:00, and waited about a half hour to board. The ferry is all vehicles & cargo on the bottom deck, and passengers on the 2 upper decks. We departed on time and a guy started handing out vomit bags. I stayed outside in the shade, with my ear patch applied for the past 24 hours. Overall it wasn't bad, although a bit choppy. We arrived at 3pm.
Next we drove around to the north end of the island, along the coast. The views were spectacular. Rocky canyons plunging into the sea, with cute, colorful fishing villages and a few lighthouses too.
This island seems to be mostly French tourists everywhere.
Day 11
I slept fairly well, with the sound of the ocean. No hot water this morning, so I skipped the shower. We had breakfast at 7:30, and then wandered down to the market to buy water for the hike.
We departed at 8:20am, and immediately we were climbing, climbing, climbing on a cobblestone jeep trail, on cliffs above the sea. Despite insane amounts of elevation changes, it was a great hike. The first 3km was a real road leading to a small village clinging to the cliffs. After that, the trail narrowed, and was no longer passable by cars. It was still mostly rocks & stones, with a short stone wall on the outside. We always had the sea on one side, and the mountain on the other. Once again there were lots of French tourists. We reached roughly the halfway point (6.5km) just after 10am, and stopped at a tiny cafe for drinks and snacks. There was a small, friendly kitten there that ended up making biscuits on my lap.
After that it was another 3.5 hours of hiking. We reached an old, abandoned village made entirely of stones, and a crazy 8 way switchback up a cliff that was kinda hellish. I started to run low on energy about 3km from the end. It didn't help that the cliffs went away and the trail curved inland, eliminating shade & breezes. The last 2km were torture, with full sun and no wind. We got to the town of Cha de Igreja just before 2pm. My feet are kinda wrecked with blisters. In total we hiked 17.4km in 5.5 hours, with 4500ft of elevation change. I went to my room, got a shower, then relaxed while drinking tamarind juice with sesame crackers.
Dinner was a small buffet at the hotel. it was ok, but kinda weird. They had roasted chicken with melted cheese, grilled fish with melted cheese, salad (with no dressing) and roasted casava & carrots.
Day 12
I slept ok, but it was quite warm. Breakfast was kinda meh, with few options and the saddest scrambled eggs i've ever seen. We departed at 08:25am.
We drove towards the coast, and stopped at the stone ruins of a Jewish synagogue. Then we entered the Paul region and stopped at a rum distillery to tour & sample. The rums were pretty good.
We did a short hike in a pretty canyon, with taro, bananas, sugarcane & casava growing. Then lunch which was a buffet of pork, fish, chicken, salad, roasted veggies, fries & rice.
After that we started driving south towards Porto Novo for our 16:00 ferry. This was on the old, original ride that went up and over the mountains. The views were amazing. At one point we passed a dormant volcanic crater, which was once used for agriculture.
We finished the drive back to Porto Novo, and waited for the ferry. It boarded at 15:35 and pushed off at 16:05. the trip felt shorter/faster, although the ferry kinda crashed into the dock as we pulled into Sao Vicente.
The hotel for tonight seems very very nice (compared to where we stayed on Santo Antao). I've got hot water, AC & wifi in my room!
We did a mini bar crawl before dinner. I kept ordering gin & tonics, and they'd pour the gin until I told them to stop. So much gin. Dinner was at a place that had live music, and it was fun.
Day 13
I slept really well with glorious AC. I was up at 7, got a nice hot shower, and tended to my feet. Breakfast was easily the best of the entire trip, with lots of good options.
Everyone else went snorkeling with turtles, but it required an hour long boat ride. I had already used my motion sickness patches, and didn't want to risk getting sick during 2 hours of tiny boating, so I stayed at the hotel.
Matt convinced the hotel to let us keep our rooms for the day (at no charge). When Dylan was showering after snorkeling the water heater in his room caught fire due to sort of electrical issue. He managed to put out with a towel. No smoke detectors went off.
Dylan & I wandered around town for a bit before lunch. Lunch was fish, and it was ok. I relaxed in my cool room for the rest of the afternoon. We departed for the airport at 16:30. Same plane as last time, except I was auto assigned 1B, which will be the last off, since boarding is from the rear. Also saw a ton of people from the ferries on this flight. An Australian across the aisle had no shoes.
Next was waiting for the flight back to Lisbon for 4+ hours. There was an American woman whose husband is a diplomat that was carrying a cat. Of course, the TAP flight arrived late.
A GPX map track from the trip is:
All trip pictures are posted HERE.