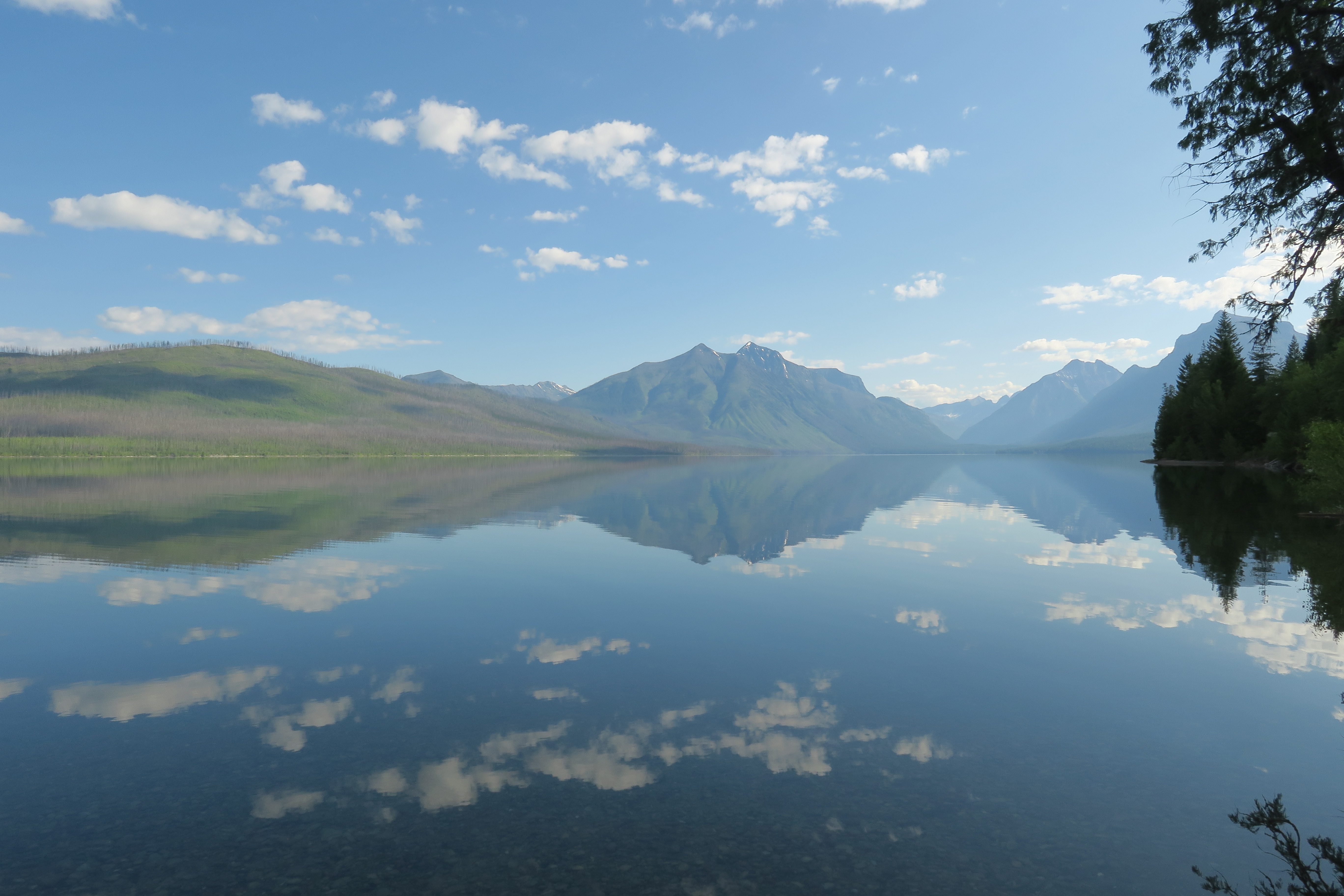 13:04 Tuesday, July 07 2020
Western USA
2020 has been quite the year, and its barely half finished. I had some truly spectacular travel plans for 2020, but the COVID19 pandemic has forced me to cancel just about everything. This trip report will likely be much more of a rant than most others, primarily due to some fairly significant frustration with my government, and many of my fellow Americans.
Over 3 months into the pandemic, we wanted to do something safe & responsible. After a lot of debating, we decided that a remote camping trip through the western US would be ok. It would limit our exposure to others, yet allow us to get out & explore. What follows is a report of that trip, spanning 10 states over the course of 10 days. We drove nearly 6000 miles, with significant portions on back roads, some of which were dirt.
The first day took us into the true northern California. We stopped at McArthur–Burney Falls Memorial State Park to view the falls. Despite California "encouraging" everyone to wear masks & social distance, greater than half the others visiting that day were not wearing masks at all. There were also those making a half hearted effort, either with the mask dangling below their chin, or some subset of a group wearing a mask while others did not. This was to become a frequent trend throughout the trip (only it got even worse in some states further east). The falls were gorgeous, and the loop trail was a nice way to stretch our legs after 5+ hours of driving.
We continued heading further north east into the (relatively) remote Modoc county (which occupies the extreme northeast corner of California, between Oregon & Nevada). Much of the afternoon was spent exploring & driving the roads of the Modoc National Forest. We stopped at the Blue Mountain (fire) lookout tower, where we were fortunate to get a (brief) guided tour from the kind man tasked with looking for smoke & fires. Afterwards, we headed east, and then drove around the southern perimeter of Goose Lake. After a brief drive up US-395, we re-entered the national forest's eastern section. We spent a few hours navigating some truly confusing roads which were either locked/gated or didn't go where the map claimed. Eventually we found a campground for the night. However, it started to fill with RV's, and their owners decided that blasting loud music, inside a national forest, was a great idea (also, not wearing masks). After dinner, we decided to leave the campground, as we were hoping for an isolated, peaceful experience that evening. We drove about a half hour up to the Sugar Hill lookout tower. From up there we the entire mountain top to ourselves, and had spectacular views out to the west as the sun set. We also watched a small thunderstorm gradually drifting northeast, towards us. There was some brief rain, but otherwise, the night was peaceful.
We woke the next morning, and drove a bit more around the forest. We stopped briefly to look for/at obsidian, then exited the forest, and drove north up US-395 into Oregon. After a few hours of driving, we reached the Christmas Valley area, and attempted to find Fossil Lake. However, we couldn't find the entrance, despite maps claiming that it was nearby. We gave up, and headed further north towards Prineville. Then made a clockwise loop to approach the Clarno unit of the John Day Fossil Beds National Monument from the west. This area felt remote, and desert like. We stopped to hike a few of the trails, which were nice, but overall, there didn't seem to be a whole lot out there, and it was quite hot.
Afterwards, we proceeded to spend a few hours attempting to find somewhere to camp for that evening. Most of the roads were narrow, twisty, and unpaved. While we had a few ideas of where we wanted to camp, getting there was time consuming and often frustrating. There were few signs. We tried Priest Hole first, but it was a massive disbursed mess, with lots of people & vehicles spread out everywhere. We drove further down Burnt Ranch Road, and found another, unnamed camping area, on a steep hillside above the river. There was one open campsite near the top of the hill, which worked out fairly well. It was a decent distance from the other camp sites. We setup camp, had some dinner, and then drove about 20 minutes south to the Painted Hills unit of the park. Due to the late sunset (after 9PM), we had enough time to fully explore the park. It was nice, with multicolored hills & other geologic formations. However, once again, almost no one was wearing masks. Despite multiple signs encouraging people to keep right on trails to social distance, few people heeded the request. Afterwards, we drove back to our campsite, and had a peaceful evening.
We spent nearly the first half of the following day driving north, into Washington state, towards Mount Rainier National Park. First, we headed west, across the Cascades, then north of Portland along interstate 5 for a few hours. The driving was a bit monotonous, with heavy traffic. Once we got off the interstate, and headed east towards Mount Rainier, the traffic situation improved. However, the last mile leading to the park entrance was heavily congested with a massive line of cars waiting to enter the park. It took nearly an hour just to reach the entrance gate. Once inside the park, traffic flowed better, and we made better time. The scenery, was gorgeous, with temperate rain forest at the lower elevations, and then alpine scenery as we climbed higher. We had plans to hike the Nisqually Vista Loop trail, but it was unfortunately still buried under a foot or more of snow. The mountain was also mostly obscured by clouds, but it did peak out occasionally for some lovely views. Crowds of people were once again everywhere, with few social distancing or wearing a mask.
We grew tired of the crowds, drove back out of the park, and proceeded to head east on US-12 towards White Pass. The scenery was nice, but then I was pulled over by an officer who cited me for speeding (76 in a 55). I'll hold off on the speeding ticket rant, and just say that if the best use of law enforcement during a pandemic is handing out speeding tickets on isolated roads, then priorities are seriously out of whack. We attempted to camp for the night at Leech Lake, but the entire campground was closed (blocked by a boulder) due to COVID19 restrictions. I don't quite understand the logic of closing rural campgrounds during the pandemic. The campsites are far apart, meaning that people who not be in close contact. Thankfully we drove a few more miles east, and found Dog Lake campground officially closed, but fully accessible. In fact, 6 of the 7 campsites were already fully occupied. We took the 7th site, and were able to camp for free that night just above the lake. Thankfully, all the other occupants of the campground were respectful (although yet again, few wore masks), and we had a relatively peaceful evening. This was also July 4 (Independence day), which meant that some people felt compelled to fire off illegal fireworks down by the lake at sunset, and then again at 3AM. Other than that, it was an uneventful night.
The next morning, we continued the drive east. We descended to the vast, dry hills that make up much of the eastern half of Washington. By mid morning we reached Palouse Falls State Park. The fact that there's a huge waterfall in an area that is primarily rolling farm land was a bit surprising. Yet the waterfall was huge, with a lot of flow. And yet again, almost no one else there was wearing a mask.
After the falls, we continued north east, driving across the remainder of Washington, then Idaho and into Montana. We finished the day on the western edge of Glacier National Park.
The next morning we drove into Glacier National Park. We knew in advance that much of the eastern 2/3 of the park was closed, due to COVID19 restrictions, and seasonal snow fall still not fully cleared. Even despite the closure, the park was quite busy early in the day. We were able to drive as far east as Lake McDonald. The scenery was still gorgeous, but just about no one was wearing a mask, or making any effort to social distance. After a few stops at pull outs along the main park road, we crossed a bridge, and drove a dirt road that ran along the northern edge of the lake. It was quite lovely, with almost no others out there. A large wildfire had burnt through the area a few years prior, wiping out most of the forest. After a few more stops along the park road we noticed people walking & biking the park road in easterly direction as we drove west. This was puzzling, as we drove that direction just a couple hours earlier. It soon became apparent that the main park had been closed shortly after we entered, due to reaching capacity. We started to drive north along the western edge of the park towards Kintla Lake. We made a stop at the Polebridge Mercantile for some of their amazing huckleberry bear claws. At that point, we were prevented from driving further north inside the park, as it had reached capacity as well hours earlier. It was a disappointing reality of the pandemic. Rather than giving up at mid day, we decided to drive up the North Fork Road, which runs roughly parallel to the western side of the park, right up to the Canadian border. The road is mostly unpaved, and has numerous side roads heading into the national forest area. Our first bit of exploration was a 6 mile road leading up towards the Hornet Lookout. The single track road sees little traffic, and we saw just one other vehicle as we gradually climbed up the side of a mountain. At the top, the views to the east into the park were stunning. After heading back down, we made a few more stops, checking out some remote cabins. Eventually we reached the closed/abandoned Canadian border post, and head to turn back south. It was a nice, fun day of exploring an area that we likely would have skipped altogether had the park been fully accessible.
The following day we woke to a heavy thunderstorm. We started driving east along US-2, around the southern boundary of the park. Thankfully once we reached the east side of the park (which is to remain fully closed for the remainder of 2020), we drove out of the storm, the skies cleared, and we had nice weather. It was good, as we had a very long day of driving ahead of us. We needed to drive east across the remainder of Montana, all the way into western North Dakota. While the western quarter of Montana has spectacular mountain views, the majority of the eastern portion of the state is flat, broad plains. We had effectively crossed the Rocky Mountains early that morning, and were now driving east across the Plains. Tiny, isolated rural farm towns & grain elevators dominated the scenery for much of the day.
When we eventually crossed into North Dakota, the scenery didn't change dramatically, except for multitudes of fracking stations dotting the landscape. It was a hideous scar on the scenery. There was absolutely no where that we drove in northwestern North Dakota where we couldn't see evidence of oil & gas mining. Road traffic, even many miles from a town was heavy & dominated by trucks associated with the oil & gas industry. Late in the day we eventually made it to our destination for that evening, Killdeer. The town was unremarkable, other than the fact that absolutely no one wore masks, or made any effort to even suggest that a pandemic was raging. It was as if we were in some alternate reality where the pandemic had never happened. People were packing bars & restaurants, and going about their lives in blissful ignorance of reality. A huge rainstorm blew through over night.
We departed the following morning, and continued south to the town of Regent. That was the starting point for the Enchanted Highway, a series of massive roadside metal sculptures. I'm not usually a fan of kitsch, but this was really great. Each of the 7 sculptures (spread across several miles) was whimsical and fun.
Afterwards, we drove nearly 2 hours northwest to the northern unit of Theodore Roosevelt National Park. There's just a single \~14 mile road leading into the park, and once past the first few miles, traffic thinned out significantly. We drove to the end of the road, then gradually worked our way back. Most of the stops were road side view points, although we did do one short hike out to a prairie dog town. That hike was nice, and we saw just 2 others. Neither of them were wearing masks, yet they had the audacity to praise us for wearing masks, in what seems to be an attitude of "i don't care about anyone else, but everyone needs to care about me". We were originally planning to camp just south of the park, but we finished up the northern unit in early afternoon. We decided we would attempt to camp south of the southern unit, after exploring it.
The drive down there took over an hour, with construction and a bunch of oil & gas traffic. Interstate 94 runs along the southern perimeter of the park, which is a bizarre engineering & planning choice. I can't think of any other national park property with an interstate highway so close to its entrance. There was a large rest stop for the interstate which included a viewpoint into the park itself. There were easily a few hundred people there, and very few wore masks at all, or made any effort to social distance.
After that we formally entered the park a few miles further west. This unit was far more crowded with people & vehicles. It technically had a loop road, but the road was closed about 20 miles into the park, turning it into a rather lengthy drive, especially when getting stuck behind very slow moving vehicles. At one point, one car blocked the road to gawk at the scenery, all while an official pull out area was less than 2 car lengths in front of them. Eventually we reached the end of the road, and started working our way back to the entrance. The scenery was nice enough, but nearly everywhere we could hear or see the interstate not far off in the distance, or there were fracking stations scattered just beyond the park boundaries. The park simply failed to impress as a result of not being in any way isolated from civilization.
We finished up by late afternoon, and drove several miles further west to camp just off the interstate at Buffalo Gap campground. This turned out to be the only campsite that we paid to use for the entire trip. It cost \$6, and included flush toilets & potable water. It was actually a really nicely designed & maintained campground, with lots of space between sites, and generally no significant noise.
It was at this point in the trip that Denise suggested that we adjust the itinerary. We were running several days ahead of schedule, and we had an opportunity to visit my 50th US state (Nebraska). Thus, instead of heading directly west, back into Montana, we would drive south towards Nebraska.
The next morning we woke, and began would would be a long day of driving across four states. We started off by heading south through North Dakota on dirt farm roads for several hours. The road was mostly labeled as "Old 16" (referencing the original North Dakota highway 16). The scenery was primarily the vast plain with some cattle here & there. After a while, we switched onto the Camp Crook Road, which was also dirt, and led us into South Dakota. Once we reached the Black Hills, the roads became much more twisty & mountainous. Eventually we ended up on dirt again, as we took South Dakota route 71 south into Nebraska. The scenery flattened out, and the plains surrounded us again. We took US-20 west from there, into Wyoming. That led to interstate 25, which we used to get into Casper, where we spent that night.
The next day proved to be yet another long one, with some last minute changes intended to optimize the itinerary. We departed Casper at dawn, and headed west on US-26. We passed through Grand Teton National Park at late morning, and got to enjoy the mountains that the park shares its name. Traffic congestion was quite bad until we eventually crossed into Idaho. We hopped on interstate 15 north all the way back into Montana. There were 17 miles of single lane construction on the Idaho side, but we made good time after that. We got off just north of Clark Canyon Reservoir, and drove along the Sheep Creek Scenic Byway. It was a dirt road which ran through a remote mountain valley, and created a loop back to the interstate. The drive was nice, but not nearly as remote as a number of online sources suggested. It was late afternoon by the time we finished that drive, and we decided to make dinner at a highway rest stop, then drive for a few more hours to take advantage of the late sunset (\~9PM). We managed to make it as far as the Fish Creek Reservoir campground in Idaho that night.
We started the next day driving a few hours further southwest towards Bruneau. About 18 miles south of town was a dramatic canyon carved out by the Bruneau River. After a brief fuel stop at "Jumbo's Beer, Bait & Bullets", we started the 100 mile long Owyhee Scenic Byway. This turned out to be the most disappointing attraction of the entire trip. Other than a 130 year old log cabin, hordes of locusts & a few slot canyons, the majority of the dirt drive was long & monotonous. While we had allocated the day for the drive, we finished up by early afternoon. We opted to continue driving all the way to Alturas, California by way of the Alvord Desert in Oregon. This remote corner of southeast Oregon is absolutely nothing like what most people typically associate with Oregon. It was extremely hot (around 100F), dry and remote. The highlight was the large dry, flat lake bed in the Alvord Desert. We made a stop at Fields to refuel. Then continued following the road south into Nevada, then west back into Oregon, and finally we took US-395 back into California.
We drove home the following day.