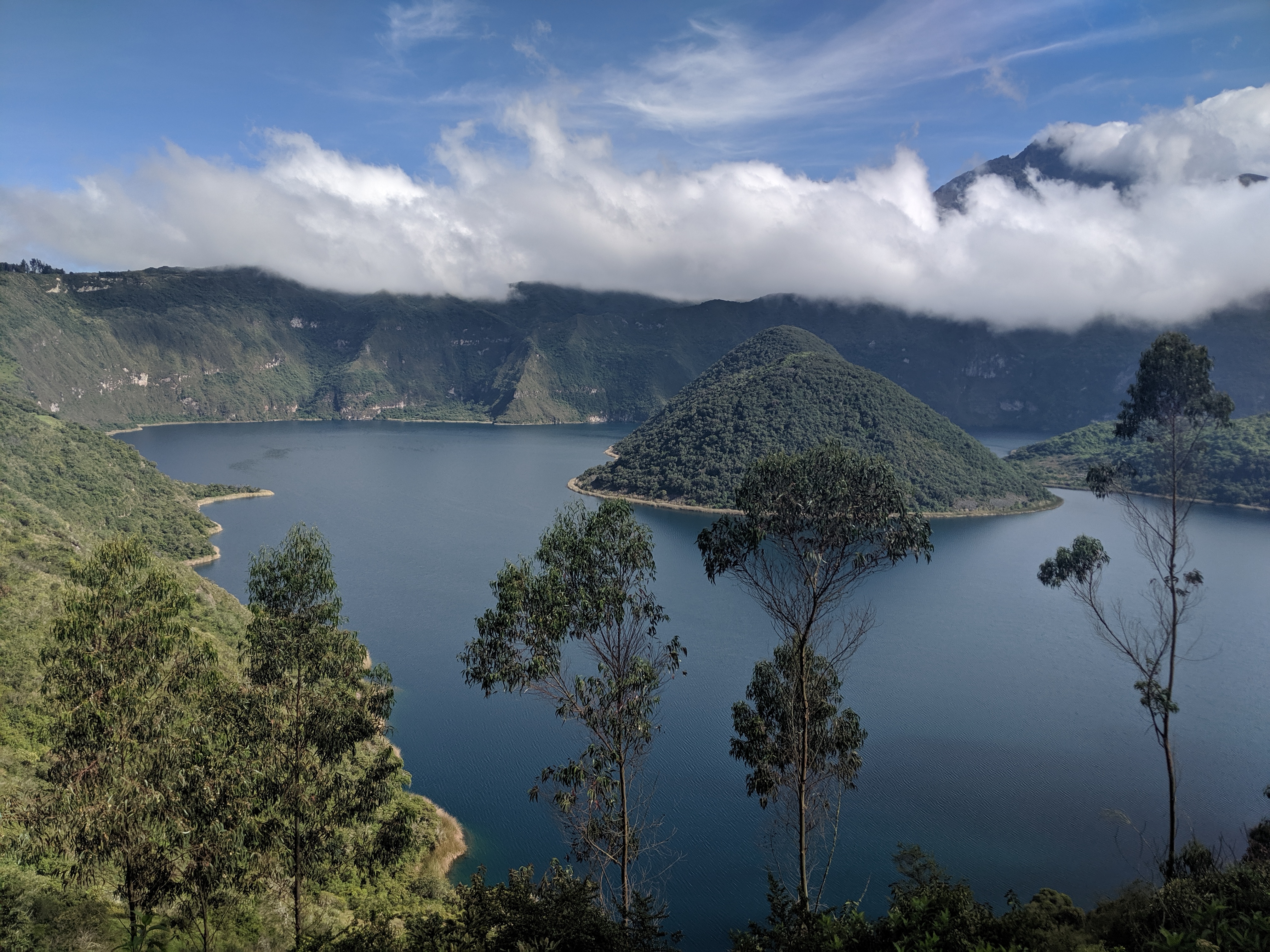 15:47 Sunday, March 03 2020
Colombia & Ecuador (2/2)
This post is part 2 of the "colombia-ecuador-2020" series:
I recently returned from spending three weeks exploring Colombia & Ecuador. It was a good trip, with amazing scenery, friendly people and great food.
Day 15
I went to bed before 9pm, and my alarm woke me at 4:30 for my flight to Quito. I checked out, and the hotel shuttle drove me the 5 minutes to the airport. Zero issues with emigration or security. Boarding started on time, but for reasons, they held everyone on the jetway for 15 minutes. The flight was barely half full, and we took off 15 minutes late.
The flight was fine. Upon entering the terminal in Quito they were forcing everyone to use hand sanitizer. Also saw lots of people wearing face masks. Immigration line had maybe 15 people, but was slow. No issues getting stamped in, and my driver was waiting. I got money from the ATM (they use US dollars), and then started the 90 minute drive to Otavalo. Immediately, the driver was pointing out all the volcanoes. Some had snow, or some smoke rising from them. I got into Otavalo just after 10am.
My only plan for the day was to explore the Saturday market, which is supposed to be the largest native peoples market in all of Latin America. It definitely was huge. Likely several hundred boots/tents setup along several blocks, plus an entire square. There seem to be two native groups. There's the black felt hat + shawl people, and the gold beaded necklace, white blouse + handkerchief as a hat people. As for the market, there was a large variety of stunning woven & knitted stuff, including scarves, ponchos, bags of all shapes & sizes, blankets, sweaters, bolts of cloth, fancy hats, carved woodwork, and bizarre bib overalls. Some of it was definitely cheap mass made imitations, as i saw the same exact thing at multiple stands. Not all the stands were run by native people though. a lot of the time, the people actually making their own stuff were sitting there working on more.
There was also a bunch of food. Some were pushcarts with all sorts of stuff, like fresh fruit, juices, grilled meat+stuff. there were also food tents making some variation of meat, plus starch, plus vegetables, sometimes on a plate or as a soup in a bowl. I ended up getting lunch from a tent that had roasted pig, potatoes, jumbo corn kernels, and a small salad, with a redish hot sauce on the table. The pork was really good, and they included the crispy skin candy too. It cost \$2.50 for a fairly large portion.
Anyway, the vibe here is definitely noticeably different than in Colombia. Feels less tropical, more raw, sorta like Peru. Lots of corn, exotic potatoes and quinoa.
My dinner plans didn't pan out. The place had a huge 'for sale' sign and wasn't open. I ended up eating at the hotel restaurant instead.
Day 16
I didn't sleep well. There was some night club or bar blasting music until 2am. Also the walls at the hotel are not insulated well, and every time someone coughed or used the toilet or a baby cried, i heard it all. I was up for the day at 6am.
The goal for today was to hike the trail around Lake Cuicocha. To get there, i needed to catch a bus to the town of Cotacachi (roughly 30 minutes north), then a taxi the rest of the way. The bus station in Otavalo made Colombian bus stations look like an oasis of calm & organization. I basically wandered around the bus parking area until i found a bus with a Cotacachi sign in its window. I got on, and it was nearly empty. the ride cost 35 cents. I feared it would sit until full, but thankfully, it pulled out a few minutes later. Then it stopped at each random person at the side of the road. At one point, an older guy got on with a guitar & pan flute, and proceeded to 'entertain' everyone for donations. Once we got to Cotacachi, I wandered the bus terminal & market area for a bit, then found the taxis. The first guy initially wanted to charge me \$6, but i pushed for \$5 and he agreed. He drove me to the park, and dropped me off near the trailhead. I got him to understand that I wanted him to return in 5 hours (at 2pm), and then off I went.
The lake was gorgeous, with a large volcano behind it at the far side, and 2 islands sort of in the middle left. the sky was mostly clear with clouds clinging to the summit of the volcano. the lake basically looks like a huge volcanic crater, with one side much taller & steeper than the other. What i couldn't initially determine was exactly where the trail went around the lake. What later became apparent was that, contrary to my expectations, the trail was almost never anywhere near the perimeter of the lake. Instead, the trail climbed far up the sides of the crater, and sometimes to the ridgeline of the crater, and for a while, on the outside slope of the crater (where the lake wasn't even visible). All of this meant a lot of elevation changes. At around 10k feet, this was not easy. Thankfully, the temperature was in the 60s, so heat wasn't a factor. Despite all the challenges, it was a great hike. Lots of gorgeous scenery & pretty wild flowers.
I managed to finish up just after 1pm, a bit more than 4 hours from when i started. The visitor center area was a circus of people by then (it was nearly empty when i arrived). The taxi arrived a few minutes late, but other than that no issues. I found a bus back to Otavalo easily, and relaxed for the remainder of the afternoon.
Currency in Ecuador is bizarre. They use US dollars for cash. But coins are a mixture of US and their own. Also they have Sakajewa dollar coins, and their own dimes and American dimes. I keep looking at the bizarre mixture of coins.
Day 17
There was no loud music last night, so i slept a bit better, but still was awake at 6am due to noises.
I had breakfast and then headed out to walk to the Peguche waterfall. Most of the walk was along a paved road that ran up the east side of town. It was a fairly easy walk. Once i got close, it got a bit confusing as my map and the signs didn't agree on where to turn off the road to get to the falls. I eventually figured it out.
The falls were nice, and for a while i was the only person there. Then this French guy who also spoke Spanish showed up, and wanted me to take his picture. I agreed and he wanted to chat first in Spanish, then French, and finally gave up when he couldn't speak much English.
The walk back was uneventful. I stopped at the outdoor market and got shrimp & rice for lunch, which was pretty good with a ton of shrimp in it. I spent the rest of the afternoon relaxing.
Day 18
I had a rough night. In addition to the usual noise, i have 2 new mosquito bites that are itching like crazy. I had breakfast, and the driver arrived at 7:45 to drive me to Quito's Quitumbe Bus Terminal.
The first 90 minutes of the drive went fine. Then the drive through Quito turned into a slog, as traffic was awful. And to make things extra fun, my driver apparently had never been to Quitumbe before, and had no clue how to get there. He kept stopping to ask for directions. At one point he attempted to dump me at a random, different, wrong bus terminal for local city buses. Eventually he sort of got it right, dropping me at the cargo entrance of the terminal at 10:30am. I had to walk clear across the terminal to the passenger entrance. I bought a ticket for \$4.50, and went out to the bus loading area. Surprisingly, my bus was already waiting for its 10:50am departure. We pulled out 4 minutes late.
Supposedly everyone had a seat assignment on their ticket, but there was already a guy sitting in my seat. The bus wasn't awful, but no where as nice as the one i took to Bogota. No AC, smaller seats, etc. It was less than a quarter full when we pulled out though. Overall the trip was fine. The bus stopped often to pick up or drop off people. It mostly filled up. Scenery was nice with massive green sloped volcanoes everywhere. We pulled in to Banos a bit after 2pm. I wandered the bus terminal to buy my return ticket for Thursday morning. I wanted a departure around 7am, but it was either 6am or 8am, so i bought the latter. In theory that should get me back to Quito by late morning.
The hotel is at the very far end of town, a solid 2.5km from the bus station. While that was a great idea for tomorrow's plans, it was a crappy idea for everything else. Anyway, thankfully the walk was all down hill, and the hotel staff speak fluent English, so it'll be fine for the 2 nights.
For dinner, i walked 10 minutes up the road to a Uraguayan BBQ place. They had a tv playing one of the Harry Potter movies, dubbed in Spanish. The food was good. I got grilled pork, sausage & beef with a salad, bread and a beer for \$17.
Day 19
I slept much better last night, although it was a bit warm. Breakfast was really nice with a buffet of good options. The hotel called a bike place and they brought the bike to me, which was nice.
I headed out a bit after 9am to do the Ruta de las Cascadas. The scenery was gorgeous, but the road kinda sucked. There was no bike lane, so I was often sharing the road with buses & trucks. Thankfully, they passed with a decent amount of clearance. The road has 4 tunnels. The first was the shortest, and thankfully while I was inside, the truck behind me did not attempt to pass. The remaining 3 tunnels were actually off limits bikes, but the old/original bypass road still existed. That road clung to the cliff side. I loved the bypass roads as they had almost no traffic, and amazing views. It rained a bit but it was light. The not fun part was when the sun started to come out, and the humidity shot up.
Once I reached the end of the route, there was one waterfall left, but it was not visible from the road. Pailon del diablo (Devil's Cauldron) required a 2km hike down into the jungle. It was truly impressive, with a lot of spray, and cable foot bridges for extra views.
After hiking back up, i went looking for lunch. Even though it was nearly 1pm, no one else seemed to be eating yet. I found a place promoting their empanadas. They were making them from scratch. I got one beef, and one chicken & cheese. They were served with a spicy, vinegar orange sauce that had onions chopped up. It was tasty.
Next i found the line of trucks who haul people & their bikes back to Banos. Unfortunately, it was one of those scenarios where they don't leave until full, and I was the first customer. I had to wait 40 minutes, and then they managed to cram 10 people and bikes into the back of the truck. Other than being packed in like sardines, the ride back was fine. I returned the bike, and wandered around town for a bit. I saw a funeral procession at one point. Someone holding a large portrait of the deceased, a lot of somber people walking behind with flowers.
I've seen so many wild avocado trees all over the place.
Day 20
A storm came through during the night, and the wifi was down in the morning. I checked out, and got a quick taxi ride to the bus terminal. I had a little time to kill, so i got breakfast of rice, chicken and a corn dumpling for \$2.50. My bus departed a minute early, drove 1 block, then pulled over to pick up 7 more passengers. The trip went fine, although took nearly 4 hours due to awful traffic in Quito.
Once the bus arrived, I was able to get wifi in the terminal. I tried to use Cabify, and it worked. Except that by the time I walked all the way out of the terminal to the road, the driver decided that I took too long, and cancelled. I ended up using a taxi, which took nearly an hour to drive 10km through awful traffic. I got checked into the hotel just before 1pm, then headed back out.
I had a decent lunch, then wandered around the old, colonial district for a few hours. It was pretty, but very crowded with tourists. I ended up walking quite a bit, passing lots of old churches, and other historic buildings. A storm passed through in late afternoon, and it rained hard for nearly an hour.
Day 21
I slept ok but great. It was a bit warm. I had breakfast and then attempted to get an Uber to the airport. After waiting a full 30 minutes the driver still hadn't managed to drive 2km to get to me. I gave up and took a taxi, which took nearly an hour to get me to the airport.
The airport is just 5 years old, so it still has that new airport smell. Security was a joke, as they couldn't speak any English, and gave up trying to get me to dump my water. Emigration was super friendly. The flight boarded on time. The woman sitting across the aisle from me held a dog in her lap for the entire flight.
The flight landed on time, but the immigration line was huge. Also, they were taking the temperature of each person as they cleared immigration. Definitely were not doing that when i entered the country 3 weeks earlier. It took me nearly an hour to get out of the airport. Cabify worked to get me to my hotel. But since traffic is always terrible, that took 40 minutes. And just to complete the theme, my room wasn't yet ready, as the official checkin time was 3pm, and it was only 1:30pm.
i spent the rest of the day sleeping
Day 22
I slept about 12 hours overnight, and feel much better today. The hotel has a fairly extensive breakfast buffet, which was nice. I spent much of the morning lazing in bed.
I eventually decided it was dumb to waste away the entire day. I ordered Cabify to drive me 11km south to the (free) Botero Museum.
The museum was nice. Lots of bizarro Botero pieces, plus a bunch of other artists (Picasso, Renoir, etc). Afterwards, I wandered around the neighborhood a bit. Apparently the national assembly, and a bunch of other govt buildings are in the same area. I saw police with huge guns on nearly every corner, but tons of people wandering around too. I guess the security is normal?
By mid-afternoon my energy was starting to wane a bit, so i got a Cabify back to the hotel to rest for a few hours before dinner. For dinner, i got a last minute reservation at Matiz, which is on a bunch of 'best restaurants in bogota' lists. It was about a 15 minute walk from my hotel. I got the 8 course tasting menu, with wine. Portion sizes were huge, and I had trouble eating it all. Overall, it was ok, but not amazing.
All of the trip photos are posted HERE.
This post is part 2 of the "colombia-ecuador-2020" series: