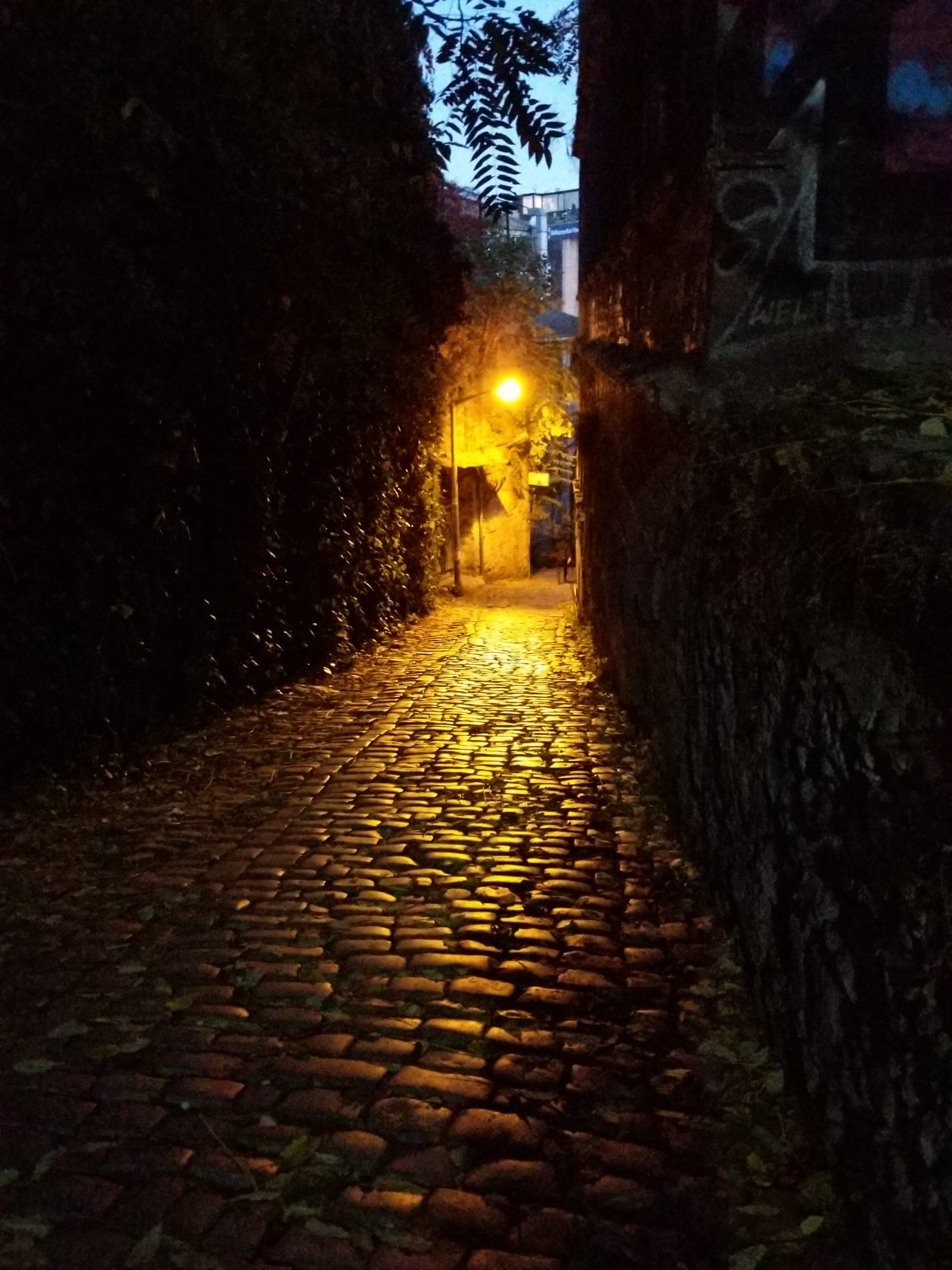 17:55 Wednesday, December 12 2020
Turkey & Sudan (1/2)
This post is part 1 of the "turkey-sudan" series:
Jebus, what a year its been. This trip was literally a year in the making, and nearly didn't happen. Back in November 2019, I put down a deposit to go to Sudan. At the time, I was hoping to take advantage of Saudi Arabia's recently announced tourist visa program, and combine Sudan with the gulf states. Of course, COVID19 put an end to Saudi and all the others, and for quite a while it was unclear whether Sudan would reopen either. Then Sudan announced that they would reopen their borders in early October, and there was a glimmer of hope. However, without the gulf states portion of the trip, it was a very long distance to travel just for a week or so in Sudan. Turkey was one of the few places (and airlines) that were still viable, so at the last minute, I bolted Turkey onto the beginning of the trip. Not exactly ideal, as Turkey was honestly never high on my list of countries, but it was making the best out of a not great situation.
Due to the vagaries of fate, 2020 ended up being the year that I hit both my 50th US state, and 50th country. There was a chunk of 2020 when neither of those milestones seemed likely.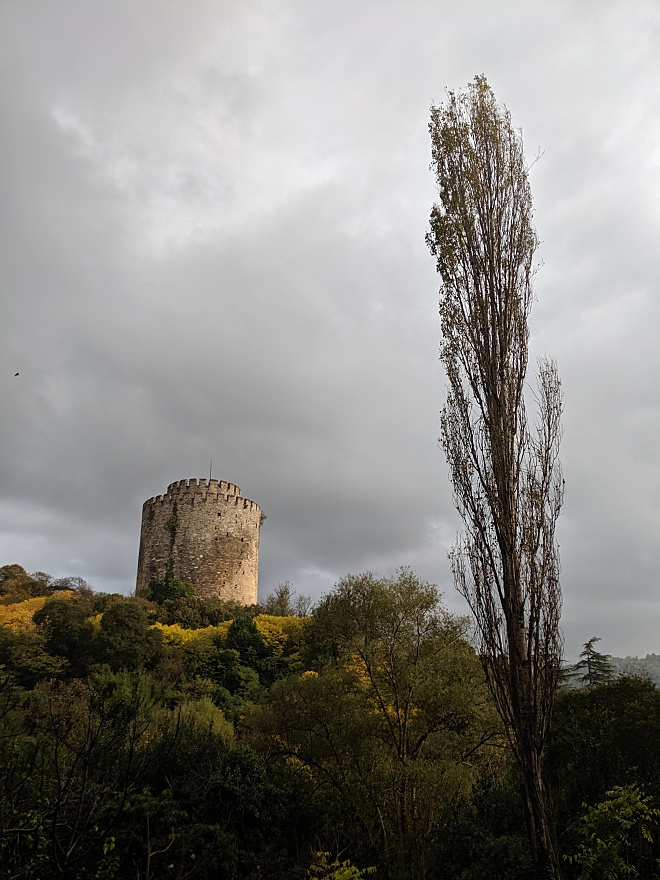 Day 1 and 2
SFO was mostly a ghosttown. Not that this made it any better. Checking in for my flight took forever because they were limiting everyone to a single carryon. They forced me to check my black bag. TSA precheck no longer exists, and i had to go through the awful remove all your stuff + shoes routine. The terminal is so damn empty, and almost nothing is open. Yet somehow my gate had tons of maskless eating & drinking people. I kept moving to get away from them all.
Boarding started on time, but was the usual chaotic mess, with everyone crowding the gate. They handed out kits with masks, hand sanitizer & wipes to everyone. The flight was ok. Nothing too awful. All the food was cold (as expected). The one super annoying thing was that every time there was turbulance, they made a super loud announcement, which woke me. The crew didn't make much effort to enforce masks though. Several people removed their masks to eat and never put them on again.
The flight landed on time, then taxied forever to get to its gate. Then i had a 10 minute walk clear across the airport to reach passport control. Lines weren't too bad, and thankfully my bag was already on the carosel when i got there. I had no problems with the ATM or getting a SIM card. After that nothing was easy. I wanted to purchase an IstambulKart for the public transit system, but i couldn't find the ticket machines. People kept directing me all over the place. Eventually i ended up outside the terminal, and couldn't get back in without a ton of walking, and i gave up. Next i tried to get an Uber to the hotel, but the app refused to load any data. After fighting with it for a few minutes i gave up and took a normal taxi.
The taxi driver initially insisted that he didn't know where the hotel was. After i showed it to him on google maps, he seemed to understand. It was raining earlier, so everything was wet. The ride to the hotel took 30 minutes, but was fine. No issues at the hotel, and i'm staying here until nov 22.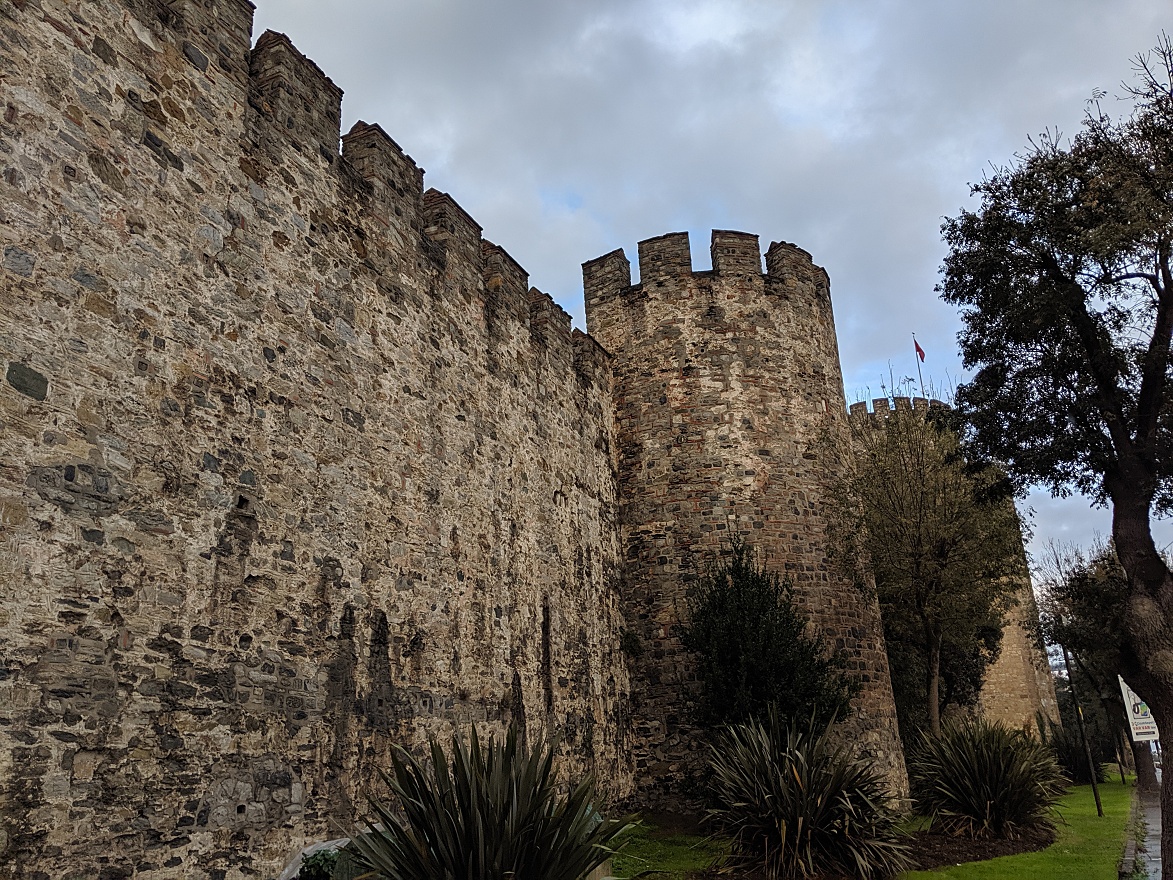 Day 3
Jetlag! I woke up at 1:30am, and laid in bed until 3:30am when i gave up. My room has a great rain shower, with high water pressure, which was nice. A bit after 6am, i heard the call to prayer rippling across the city. I went down for breakfast at 7am. It was a weird buffet where staff were serving everything. the food was ok, but not a huge selection.
The weather for much of the day was cold and rainy. My first destination for the day was Rumelihisari, which is a huge stone fortress overlooking the Bosphorous. Getting there was going to be a combination of walking & the metro. Google claimed that it should have taken about 75 minutes. However, it ended up taking me 2 hours. The biggest issue was that my glasses kept fogging up from the mask, because it was cold & raining. Also, the rain made it more difficult to walk, since there were steep hills. I'm talking San Francisco steep. Eventually i got to Taksim Square, where the metro station is. I was able to easily purchase an IstanbulKart, and found the train. The train was not that full (granted, it was 9am on a sunday). Once i exited the station, i had another 20 minutes of walking, mostly down hill. Thankfully, the rain had stopped. Unfortunately, google's directions took me to a dead-end. I ended up needing to backtrack, and walk even further.
Once I reached the fort, it was nearly empty. One thing that I noticed, during my walk was tons of stray cats everywhere. This became a constant for the entire day, with small clusters of cats everywhere. The fort was fine. In what might be a first, they refused to take the 100 TL bill, and asked for my card. Impressive medieval walls & towers, overlooking the Bosphorus, and steep, even, wet rocky steps. I wandered about for a bit, then started walking south along the river.
Google claimed it would be an hour of walking to my next stop, Ortakoy Mosque. Then the rain resumed my glasses fogged up, and i was kinda miserable. I checked the map, and there was a bus stop nearby that would take me 90% of the way. The bus showed up a few minutes later, and was less than half full. It had a screen showing stops, and was easy. Ten minutes later, i got to my stop, and walked a few more minutes to the mosque overlooking the river. I could tell this area was likely super popular in the warm months, with tons of small cafes setup. Today was just a tiny trickle of people, and the gates to the mosque were all closed. I still got a nice view from the outside though.
While the rain had stopped, and it was nearly 11am, i still had a choice between 30 minutes of walking or 5 minutes on bus. It was an easy choice to take the bus. The bus was nearly empty with just 2 other people. I got off at my stop for Dolmabahce Palace, or what i thought was the stop. I saw the huge walls for the palace grounds, but in reality, the entrance was another 1km further south. I walked and eventually found the entrance at the very southern end of the complex. First i had to clear security, which was more rigorous than an airport. They thought normal AA batteries were bullets, and made me pull everything out of my backpack. After that i was free to wander the grounds, which had lots more cats. The grounds were nice, and the building that used to house the sultan's harem was open as well.
By the time that i finished the palace, it was past noon, and i was hungry for lunch. The nearest well reviewed place was 10 minutes walk, mostly up hill. Of course, when I got there, it wasn't open. after walking another 20 minutes mostly up hill, I eventually ended up at a falafel place. It was busy, but a small outside table had just opened up. I ordered lime with mint, and a plate with salad (shredded lettuce, carrot, red cabbage, tomato & cucumber), hummus with fuul, and falafel. There was also a basket of arab bread. All of it was really yummy.
I walked another 15 minutes back to the hotel. I took a long, hot shower, and then a nap for an hour. When my alarm woke me at 3:30pm, i felt awful. I had a bad headache, plus i had severe indigestion, and i was nauseous. I was concerned how i would do a 5 hour food tour. I took advil, and got dressed. at 4pm, I went down to the lobby to inquire about their free shuttle to Taksim Square, which would get me 2/3 of the way to the meeting point for the tour. They claimed the shuttle would depart in 15 minutes. After waiting 20 minutes, i didn't see a shuttle, so i asked again. once again they claimed 15 minutes. I noted that's what they told me 20 minutes ago. The guy made a phone call, and the shuttle pulled up 10msecomds later. The ride took less than 10 minutes, and then i had another 10 minutes of walking.
My guide, Ugur found me at 5pm, and off we went. We ended up stopping 8 different places to try a wide variety of food & drinks. There was stuffed eggplant, dumplings in yogurt sauce, a casserole like thing with rice & anchovies, cured fish, turkish coffee, raki, baklava, and a bunch more. Most of it was really good.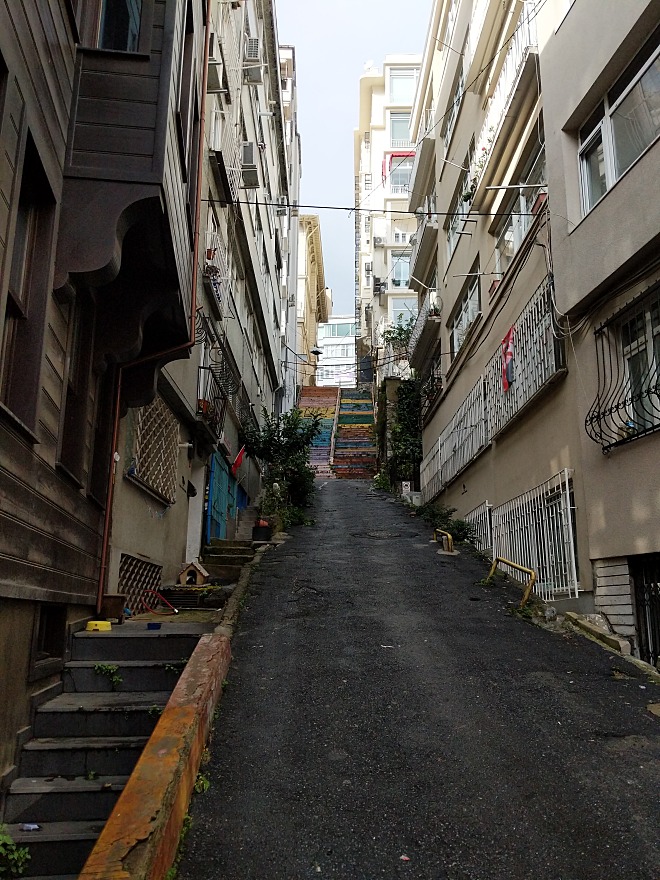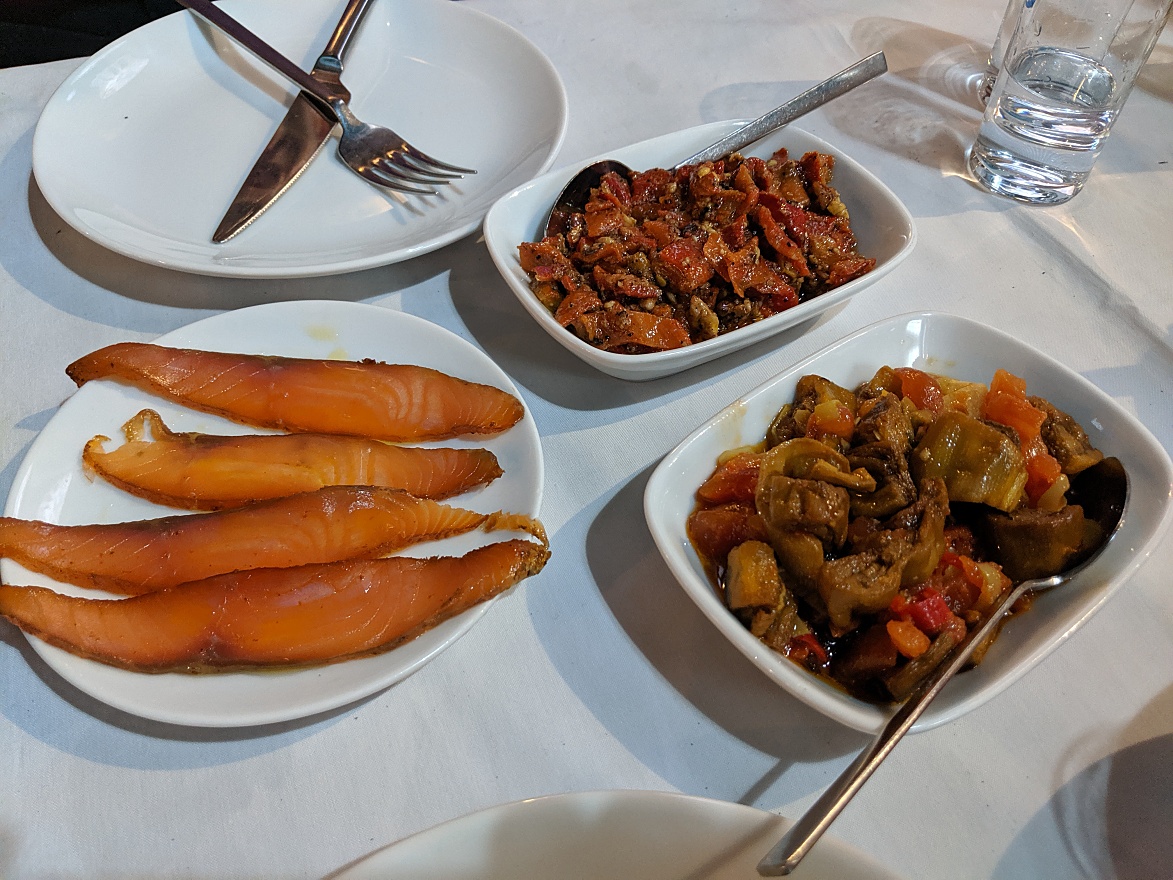 Day 4
Overall, i slept better, and woke at 4:30am (instead of 1:30am the previous night). I tried to sleep more, but gave up at 6am when the call to prayer happened. Breakfast was identical to yesterday, which was kinda disappointing.
the weather was much nicer today, with mostly clear skies. That helped a lot to reduce the fog mask effect.
I took the hotel shuttle to Taksim square, and then the metro south towards Yedikule Dungeons. However one stop before i needed to get off, they turned the train back, and i didn't realize if until we pulled back into the previous station. I'm guessing that they made an announcement in Turkish. Speaking of which, Turkish is dramatically different than any other roman alphabet language that i've ever encountered. There's not a lot of common root words with english, and the few that do exist have odd phonetic spellings such as sozal (social) & garaj(garage).
Anyway, the station was built on a bridge in the middle of the river, which is scenic, bht seems inconvenient for anyone was needs to use that station. I waited for the next train, and it took me all the way. After walking for a few minutes, i found the dungeon, but it looked much more like a fortress. There were huge stone walls & turrets, and no obvious entrance. I circled the entire thing, and eventually found one locked gate, and no one around. If was impressive from the outside, i wish that i could have explores inside.
After that i had a long way to the next stop, a 15th century mosque, that was originally a church. First i had a 20 minute walk, parallel to the ruins of Constantinople's original 4th century walls. This wall was absolutely insane. It was as tall as a 4 story building, and ran on for miles & miles. After walking, i caught a bus, to take me several more miles (still beside the wall). After 20 minutes on the bus, i had another 20 minutes of walking, still along the seemingly endless wall. eventually i veered down a maze of twisty, narrow streets, full of cats, and got to the mosque. In what became today's theme, it wasn't open. I did get to see all of the exterior, which was better than nothing. As i was leaving, this girl, who looked maybe 7, with a stump for an arm approached me and started begging. At least it seemed like she was begging, and i felt crappy for ignoring her. But there were other adults in the area, and she was clearly targeting me.
The next walk was towards an old synagogue, which of course was also not open. Plus i didn't even see the building, as it was behind a huge wall. At this point it was after 11am, and i was getting hungry for lunch. I found a cafe nearby that had turkish food, and i got a mezze plate, with lamb meatballs, and freshly squeezed pomegranate. overall it was pretty good.
Up next was the Greek Orthodox College, which a huge, hulking brick building on a very steep hill. It looks like it should be the setting for a horror movie. This was the one place that i didn't expect to get into today, as its not open to the public. It was pretty cool to look at, despite lots of tourists attempting selfies.
The final stop was Pammakaristos Church, which used to be a mosque. Getting there involved walking more steep, narrow, twisty streets, through what was clearly a devout muslim neighborhood. Lots of women in burkas, men with huge beards, etc. As soon as I saw the church, i knew that i was never getting inside. There was a large sign noting a multi-year restoration, with scaffolding everywhere. when i attempted to get closer, a guard waived me off.
Today was mostly a disappointment, although i did get a lot of exercise. At that point it was nearly 2pm, so i decided to return to the hotel to rest a bit before dinner. I caught a bus which got me 75% of the way.
I took a nap in the afternoon.
Dinner was at 6pm st Minkla, a modern Turkish place. It was good but not great. I had the tasting menu from their website, with the wine paring. The service was the biggest let down, as they made lots of mistakes. Lots of reaching across me, they missed the glass when pouring the first drink, and spilled it they brought an amuse while i was in the bathroom, and never explained what it was. The two best courses were the octopus and lamb. Both were tender & flavorful. Also, while there, i observed a table order Veurve Clicquot, and then ask for ice cubes added to their glass. Wtf.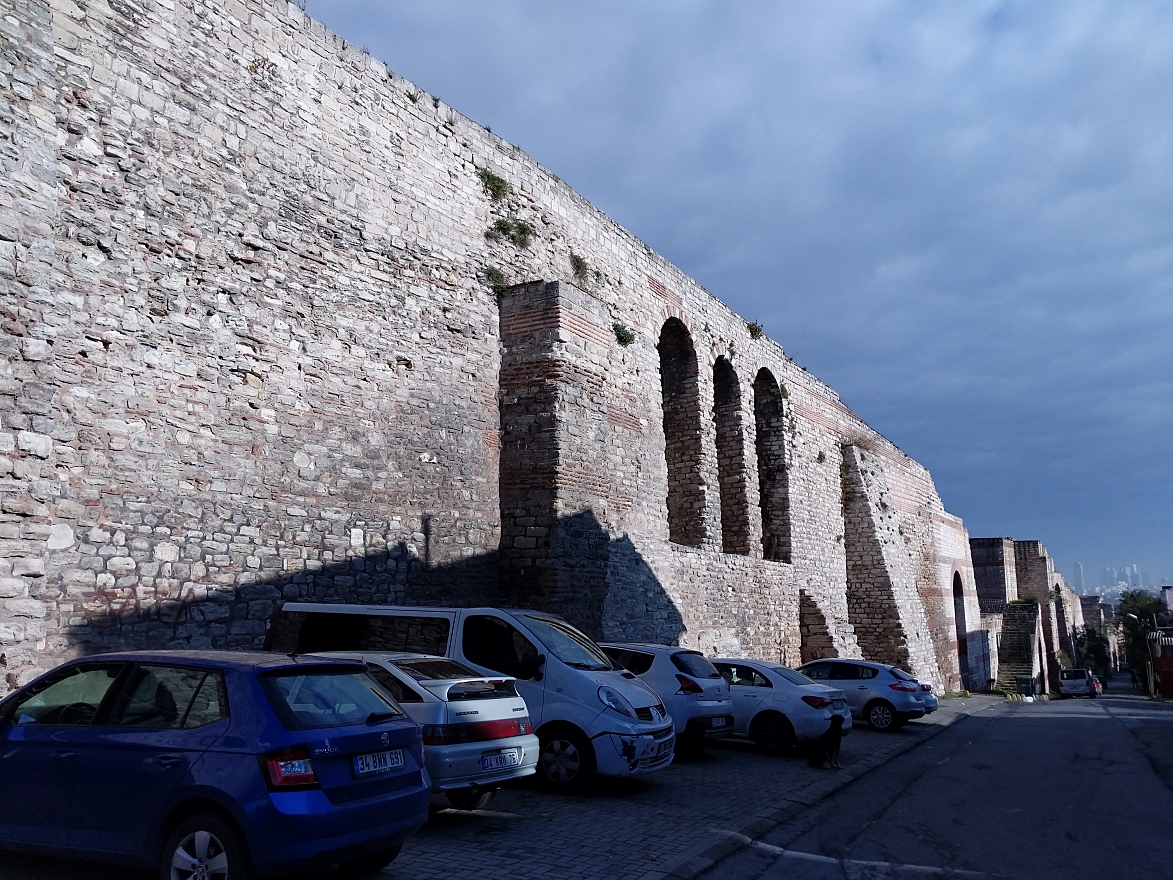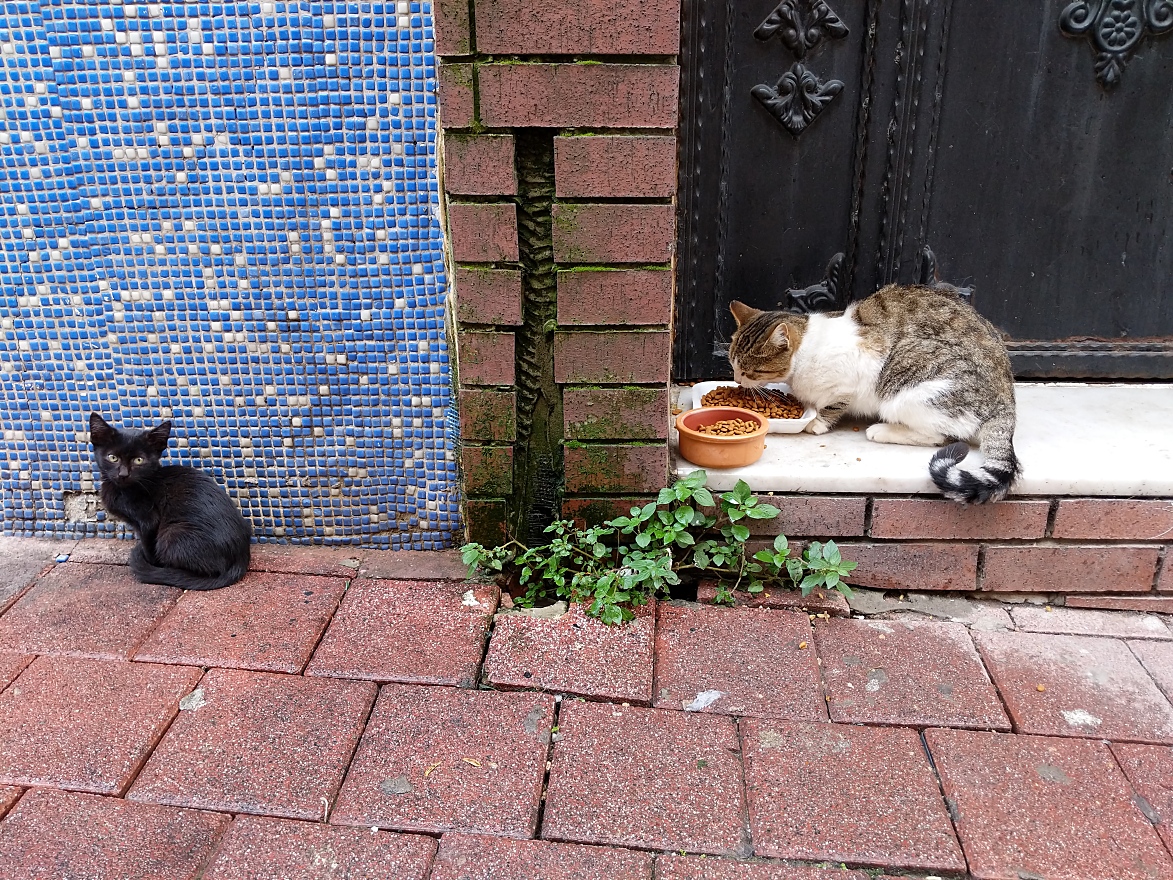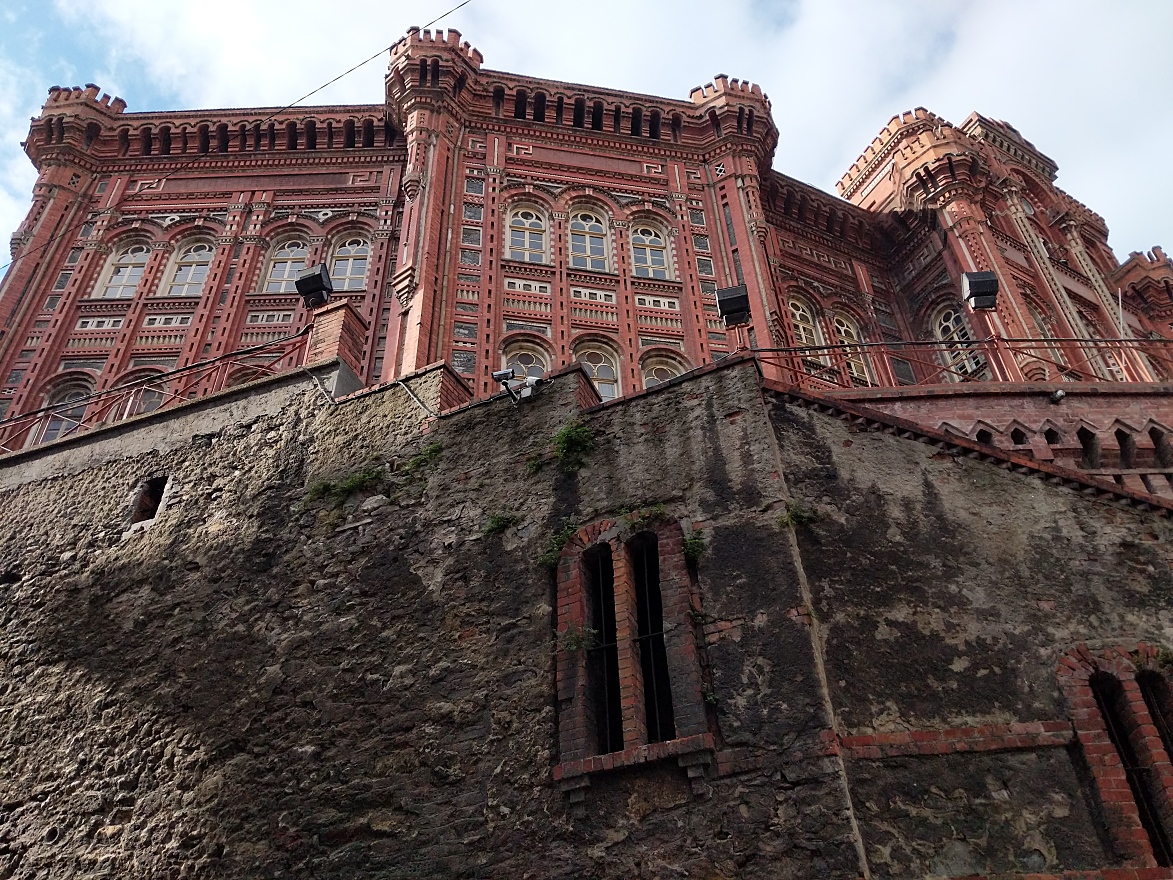 Day 5
I managed to sleep until 7:30am, which was good. But it gave me little free time, as i had my food tour in the old city at 9:30am.
I caught the hotel shuttle up to taksim square again, then took the metro for my food tour. This tour was good, but at the same time, it was very different than the last one. The guide was an older Belgian guy who has lived in Turkey for 30 years. He was fine, but not nearly as friendly or personable. There wasn't much in the way of conversations, it was mostly just him talking a lot about stuff. Also, so much food, which is not normally a complaint that i would have. But there were tons of brief stops to try random, obscure foods. It was great, and fascinating, but i was already full half way through the tour. By far, the best was the turkish breakfast at the start. I had an assortment of cheeses, bready things, olives, preserves, yogurts, honey and other things, and all of it was really good. Another stand out was pomegranate molasses poured from an old water jug by this old spanish jewish dude who runs a spice shop. Plus tons of old buildings with hole in the wall tea shops, a store that sood nothing but different types & preparations of garbanzo beans, a candy shop (who makes their own candies) that's been there for over 100 years, i had like 4 types of pide (turkish pizza), at 4 different places. A guy making doner kabobs on a corner for 25 years, all from scratch, every day. And on & on. Thankfully, the weather was gorgeous today, so i didn't have much mask fogging problems after the early morning chill cleared. Also, it was clear that my guide from sunday talked to todays guide, as he knew stuff about me, like my food preferences. He also knew that i was doing a 3rd tour on thursday.
Dinner tonight was a reservation at Murva. Oh your jebus, this place was amazing. when they seated me they brought out dark bread, with whipped sheeps milk butter & 4 soft cheese spread (2 different things). The bread was yummy, and both the cheese & butter were good. I ordered a pomegranate infused gin cocktail to start. For food, i got an app that was veal with pickled apples & sun dried tomatoes. It was very very good. for my main, i got a glass of a turkish malbec, with grilled lamb loin with carrot puree & wild mushrooms. the lamb had a slight char which went well with the mushrooms. It was very very good. one thing that i have noticed is that, at least good restaurants provide complimentary bottled water with the meal.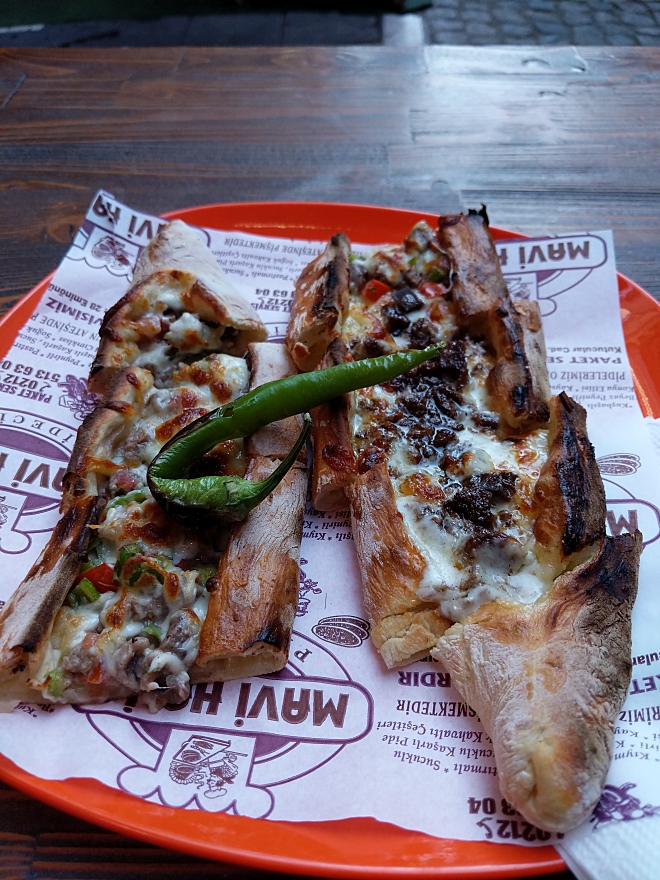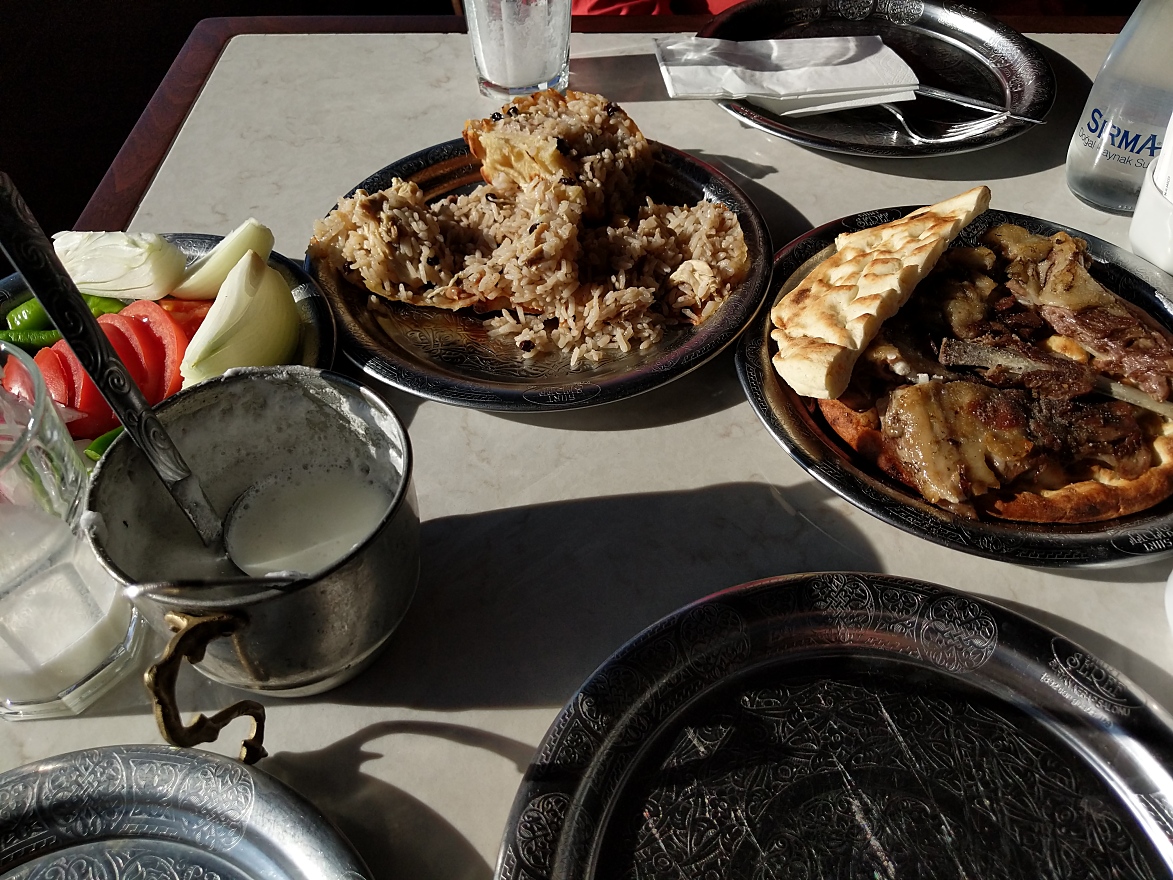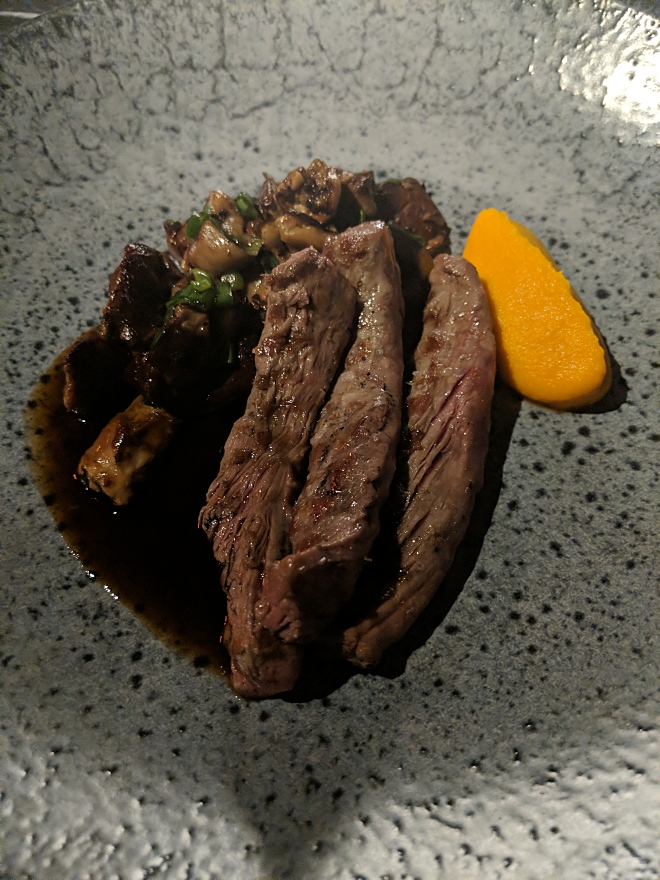 Day 6
I decided to skip the hotel breakfast, and grabbed the hotel shuttle to taksim square. From there i walked down hill to catch the T1 tram over to the old city. While the sun was out initially, the clouds rolled in by late morning. It started raining by mid-day, often hard.
My first stop was Hagia Sofia, which was originally a cathedral, then a mosque, then a museum, and very recently (this year), reverted back to a mosque again. This is likely the biggest tourist site in the entire country. It was definitely busy. The public park surrounding it was gated off by police with lazy security checks to get inside. Prior to returning its status as a religious site, the entire complex was accessible for tourists to explore. Now its mostly a tightly restricted disappointment. Only the main prayer hall is open to the public, and it had a hideous carpet. Its not even possible to roam the grounds, as the exit funnels everyone onto a side street full of obnoxious souvenir shops & hawkers harassing everyone to eat in their crappy cafe. That said, the part of the building that i did manage to see was impressive, and worth the visit.
As my time at Hagia Sofia was heavily truncated, i opted to visit all the other old city sites that i was originally planning for a different day. First was the Basillica Cistern. While the cheesy new age music being piped in was kinda lame, it was still cool to see this Roman empire underground space. After that, i had a bit of a walk, through a large park out to see a huge column that was placed there in the 3rd century to celebrate a Roman war victory. It also started raining as i walked, and generally got kinda miserable outside.
Next, i had to backtrack to the same park complex with Hagia Sofia, to see the Blue Mosque. I knew in advance that the interior was basically fully obscured by scaffolding for a multi-year restoration project. So i didn't bother attempting to get inside. Hawkers nagged me non-stop as I wandered around the perimeter during a brief break in the rain.
After that i walked a bit further into the park to see an outside trio of Egyptian & Roman artifacts. There were 2 obelisks (one that the Romans looted from Egypt covered in huge hieroglyphs), and this bizarre looking copper snake column.
At this point it was noon, and i was getting rather hungry. I found an alley full of kebab places, and had a decent lunch. As i was eating the sky opened up, and unleashed a torrent. It had somewhat let up by the time i finished eating, so i decided to visit the somewhat less famous/popular Theodosius Cistern. The route there required a single stop tram ride, and a short walk. As i reached where it should have been, i saw nothIng other than a cafe. but as i circled the cafe, it became clear that the entrance to the cistern was basically under the cafe. It was nice, but much smaller than the basillica from this morning. However, there were just 2 other people there, so i almost had the entire thing to myself.
Once i finished there, i made my way to the final stop, Suleymaniye Mosque. This was kinda much more distant, so i needed to ride the tram, then walk another 15 minutes. Thankfully, it was worth the effort, and i unintentionally saved the best for last. for starters the grounds were completely open without restrictions. There was a nice garden, a small cemetary, and of course the mosque itself. There were relatively few other tourists. I was able to explore the entire mosque (after removing shoes). It was pretty, with huge rings of lights hanging from the rafters. By the time that i had finished the rain had stopped, and it was mid-afternoon. I had to walk about 15 minutes down hill to catch a bus back to the hotel.
Now that i spent a full day at the top tourist sites, its clear that the majority of tourists are Russians, and easily half of them don't wear masks (at all, or correctly). also, no chinese tour groups anywhere.
For dinner, i.had a reservation at Sans, which was supposed to be modern Turkish. Its kinda far north of the city, but the metro went up there. One thing i've noticed is that some of the larger metro stations have multiple exits, but google's directions never specify which to use. The other times it was mildly annoying, but this time i chose poorly, and ended up in a huge shopping mall. For the life of me, i could not find the street exit. After walking for minutes, i eventually found an exit which was no where near where i needed to be for the restaurant. as a result, i had a ton of extra walking in cold drizzle, with few sidewalks, and no lights. it sucked.
Anyway, i eventually got to the restaurant with barely a few minutes to spare. Most places insist on taking everyone's temperature before entering. But since i was outside walking in the cold, both my face and hands were too cold to register. The guy was genuinely unsure what to do. of course it was mostly empty on a wednesday evening, so they sat me at a table for 5. Two nights ago, the restaurant was playing a ton of samba which seemed like an odd choice, but didn't think much of it until tonight. Again, it was samba (in english, no less), and worse, it was the same 2 songs in a loop. i ordered grilled octopus with grilled veggies on white bean puree for the app, and lamb neck with grilled vegetables for the main. I also got a 'naturally fermented' turkish cab sav to drink. The food was fine. Not especially great or bad. The wine was ok. The lamb neck was on the bone, and very tender, but the rest of the plate was boring, unseasoned vegetables.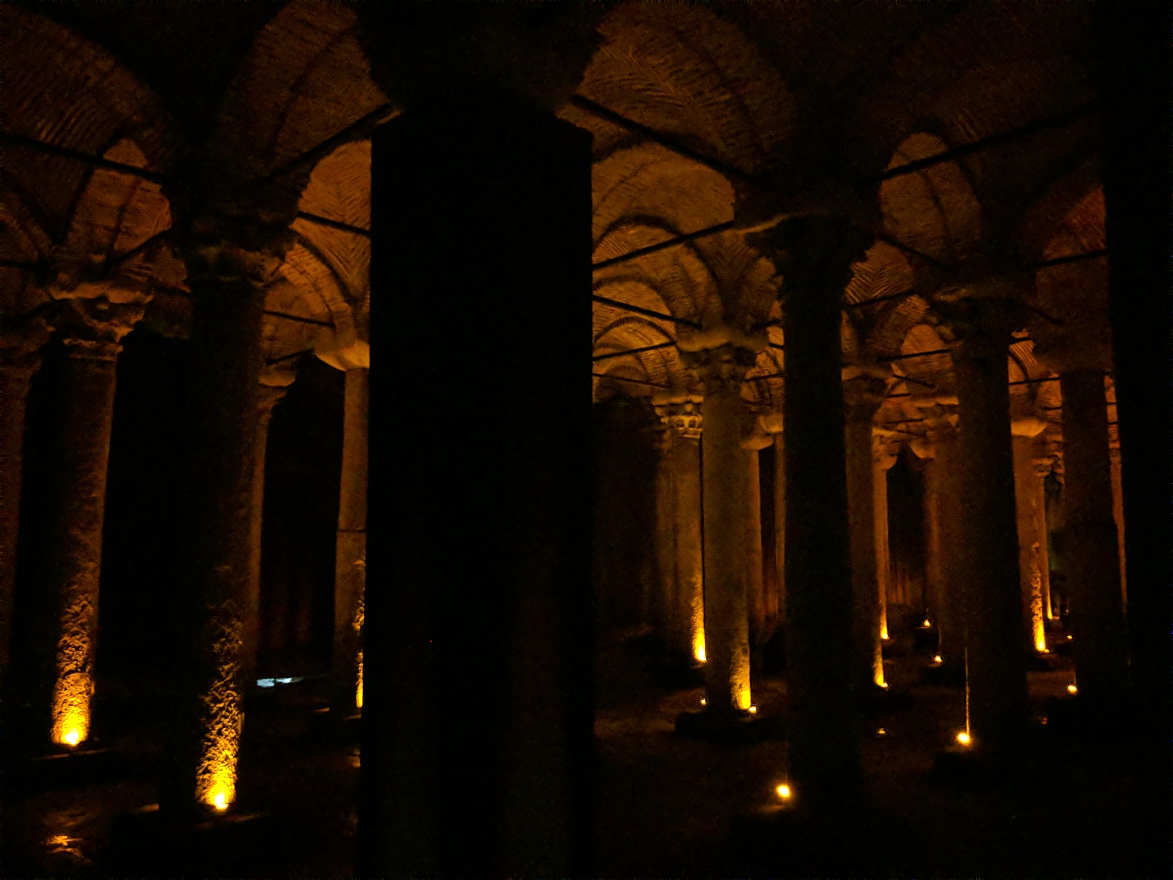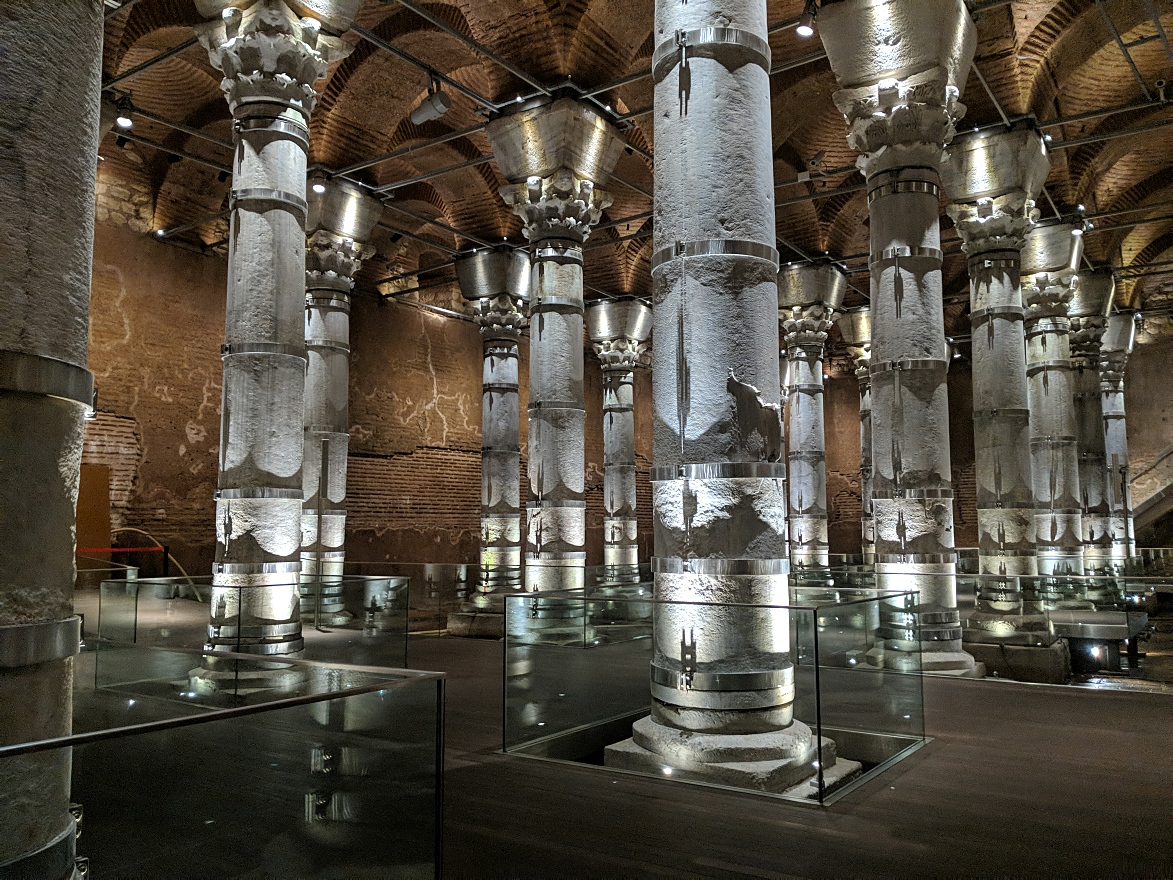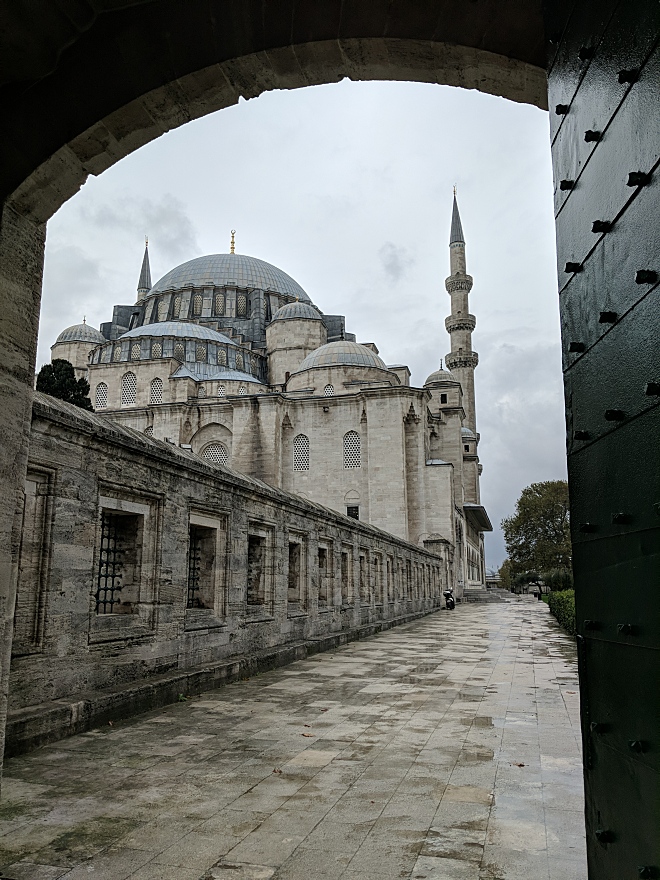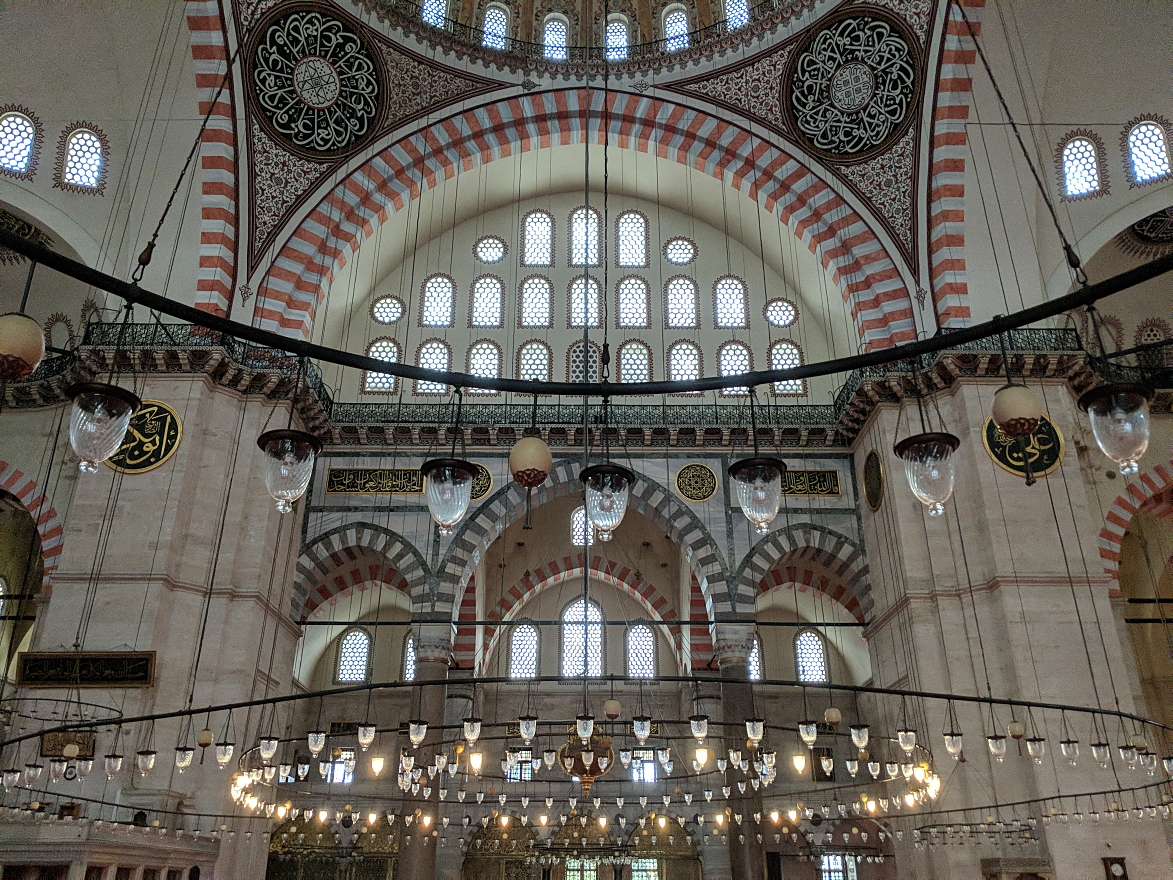 Day 7
I woke up just after 6am, but slept ok. I had some excitement when i was getting ready to leave. None of the elevators worked, and i heard a fire alarm. It took me a minute to locate the stairs. Thinking i'd just walk down the 4 flights to the lobby, i was instead dumped into the back loading dock. I ducked back inside to find all the lights off. A random person escorted me to the lobby where everything was normal. I have no clue wtf was going on.
The weather was cloudy, cold & windy, but.thankfully no rain.
I met my guide Senem, for the day at 9:30am. She's Turkish, married to an Italian. Overall, the tour was really good. There was a good mix of information, conversation & exploration. Also, lots of food. I started off with a huge fantastic breakfast, and then spent much of the tour wandering the back alleys of the bazaar, seeing where the merchants & craftsmen worked & ate. I had tea, turkish coffee, pide, several types of kebabs (including sweetbreads & liver). I saw cool, old architecture, silversmiths, diamond dealers, & where the entire country gets wedding gowns. It was a really nice experience.
I saw Chinese tourists, not in a tour group today. They were well behaved and i prolly wouldn't have noticed them at all, except that there were so few other blatantly obvious foreigners around. My guide kept commenting all day how utterly empty the city is.
Turkey announced a nationwide weekend curfew, effective friday(tomorrow for me) between 8pm & 10am, plus all restaurants are restricted to takeout & delivery. This is going to suck, but at least i finished all of my food tours & dining reservations already plus my friday day itinerary was done on wednesday, so i have some flexibility.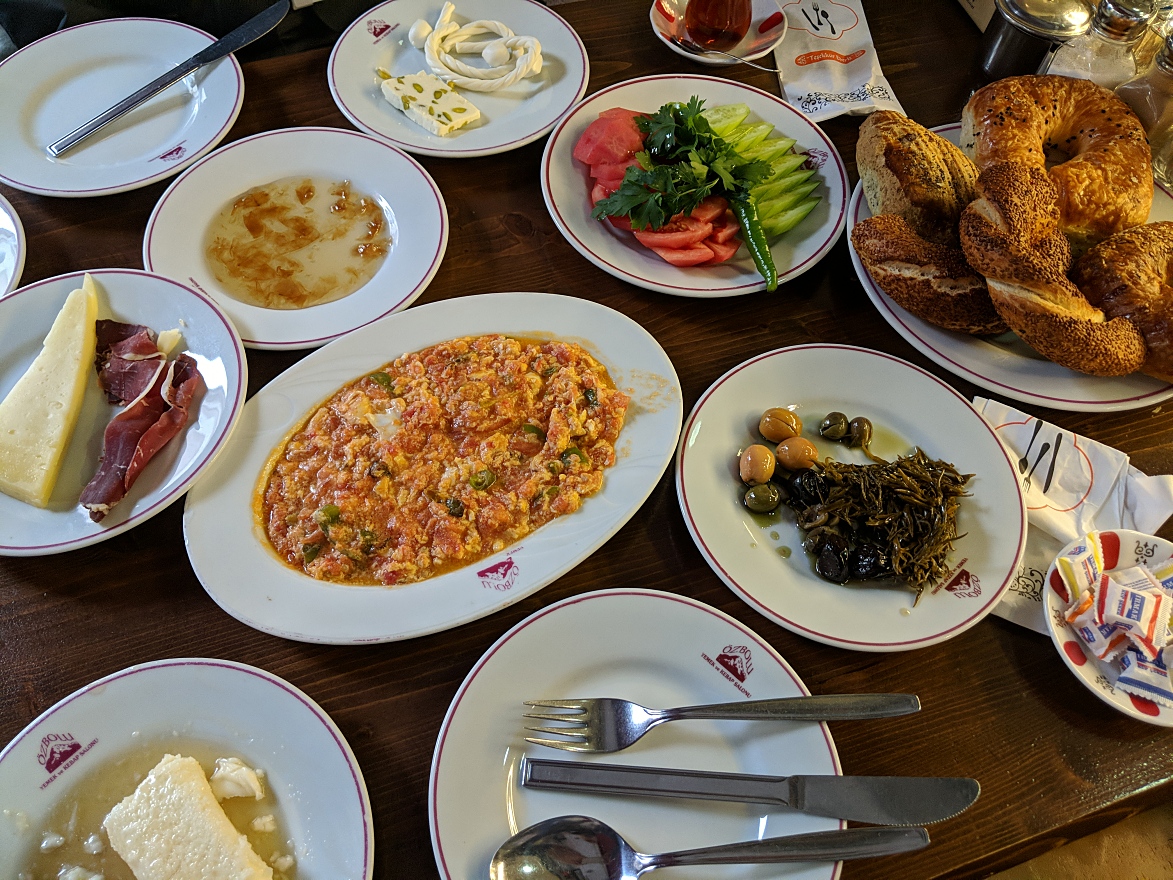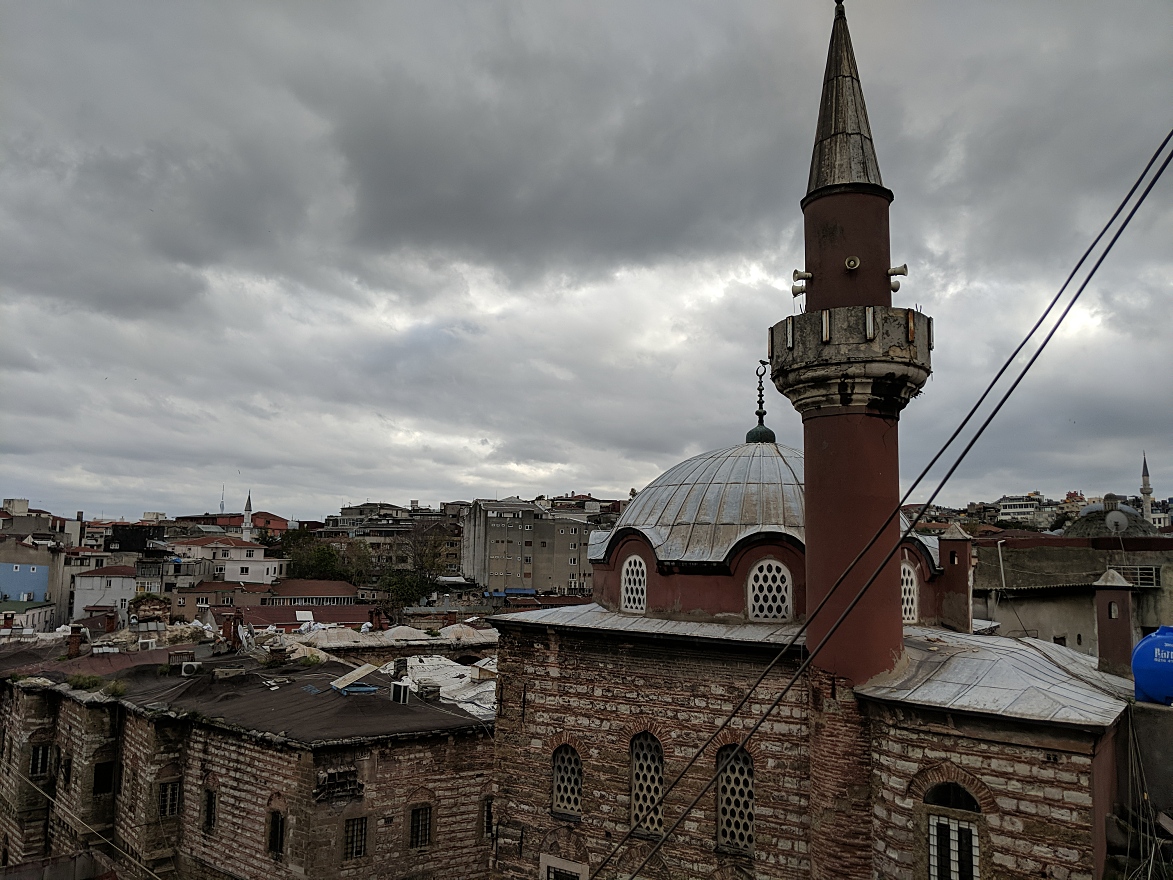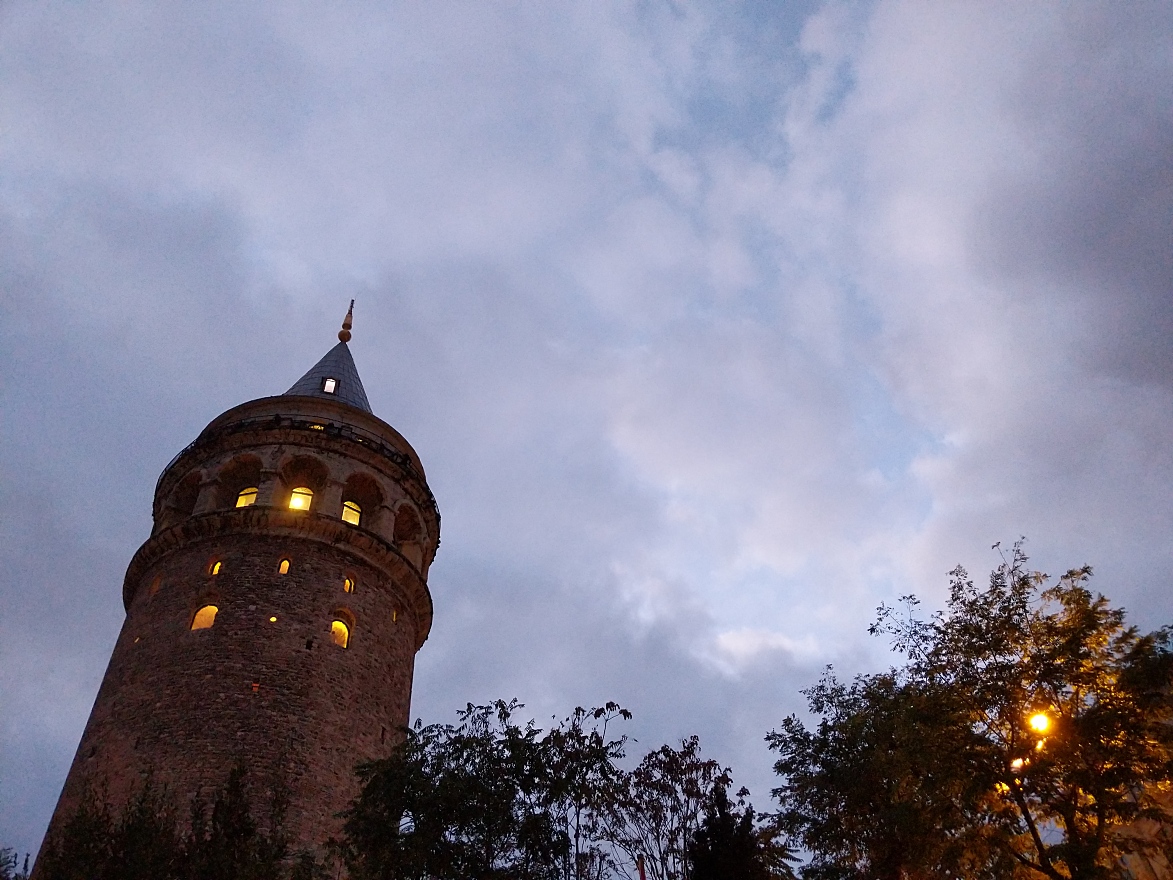 Day 8
I slept until nearly 8:30am, which was nice. Before heading out, i stopped at the front desk to inquire whether i could get a late checkout on sunday ( since my flight is not until 9pm). They gave me until 2pm.
To get to Kadikoy (on the Asian side), i needed to take a bus to the waterfront (15 minutes), then a ferry across. The ferry seemed easy enough, but the first one that arrived insisted it was not what i needed. I got on the next ferry (a minute later), and it was fine. The ride across the Bosporus was a bit windy, but otherwise fine, and took 20 minutes. i think this is the second time i have taken a boat to another continent (previously Antarctica).
Once back on land, i wanted to find a cat statue. It was a pain to get there. 30 minutes of walking through urban blight only to find that the statue no longer existed. An apartment complex now existed where the small park with the statue used to be.
It was nearly noon and I was hungry. I found a bus to take me 75% of the way to Ciya, the restaurant that my guide yesterday recommended. All the hassle to get over here was worth it. The food was very good. I got lamb head soup, and this mixture of chopped up veal & lamb shanks in pomegranate molasses, onions & apples. For desert i had what was basically candied tomatoes with pistachio & a soft cheese.
Random observations. Turkish seems to never use capital letter I, its always lower case, even in words where all the other letters are in caps. The metro syst
I headed to the airport after lunch to get the COVID19 test. I figured that since i had a lot of time, i'd take the metro as far as possible, to save money on Uber. 90 minutes, three metro trains & 1 tram later i called the uber, which took another 30 minutes to show up. clearly this was not worth it, as it took yet another 35 minutes on Uber to get to the airport.
I hate this stupid airport. Just to enter the terminal they were pulling that developing world nonsense of demanding to see the boarding pass. Of course i had none for today, and they were refusing to let me enter. Even after telling them i was there for a covid19 test, they refused. I changed lines, and just flashed a random flight email, and of course that was good enough. Security theater. Once inside, i had to clear security just to go further into the terminal. The idiot at the x-ray machine decided that my backpack had something horrible, and insisted on inspecting everything (bandaids, toilet paper, etc). it took forever to find a way to get down to the arrivals hall where the testing is performed.
Once i got down there, it was relatively straightforward to do the test. It was the insert the probe onto your sinus cavity test though, which felt about as uncomfortable as everyone has reported. They claim results will be available in 5 hours.
After that i started the miserable process of getting back into Istanbul. i was actually able to call an uber. However,the driver waited until he arrived to demand that i take an elevator back up to the departure level and meet him at the far end of the terminal. So i had to sprint just to reach him. Thankfully he waited. When i attempted to roll down the window, it was child locked. All attempts to get the driver to open any window failed, and i was trapped in a hot, unventilated car for 45 minutes. I guess i should be happy that the driver had a mask on.
It was after 5pm (yes, i spent the entire afternoon on this stupid covid19 test errand) by the time i was dropped off in the city. I decided after that frustrating mess, it was time to eat pizza. Real pizza, not pide (turkey's version). I found a place called 'miss pizza' (perhaps a distant relative of korea's 'mr pizza') that had good reviews. It was a hilly, circuitous 20 minute walk through several charming cat infested neighborhoods. Thankfully it was worth it, and the pizza was quite good. I got a really nice limonada, and the pizza was the thin, Italian style, with fresh mozz, anchovies, capers the size of grapes, and fresh basil. I also had a trio of cats flirting with me as i ate.
After that i had a long walk back up, over & down the hill to the hotel.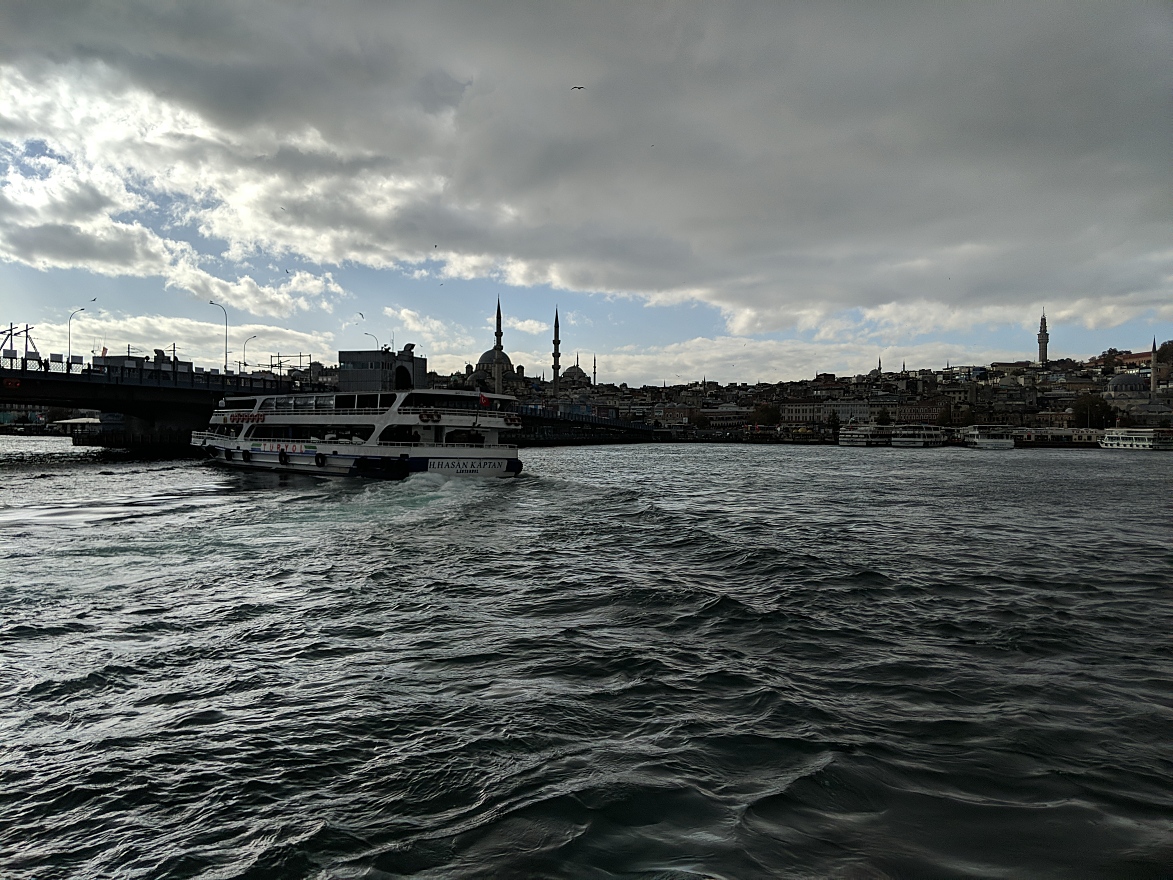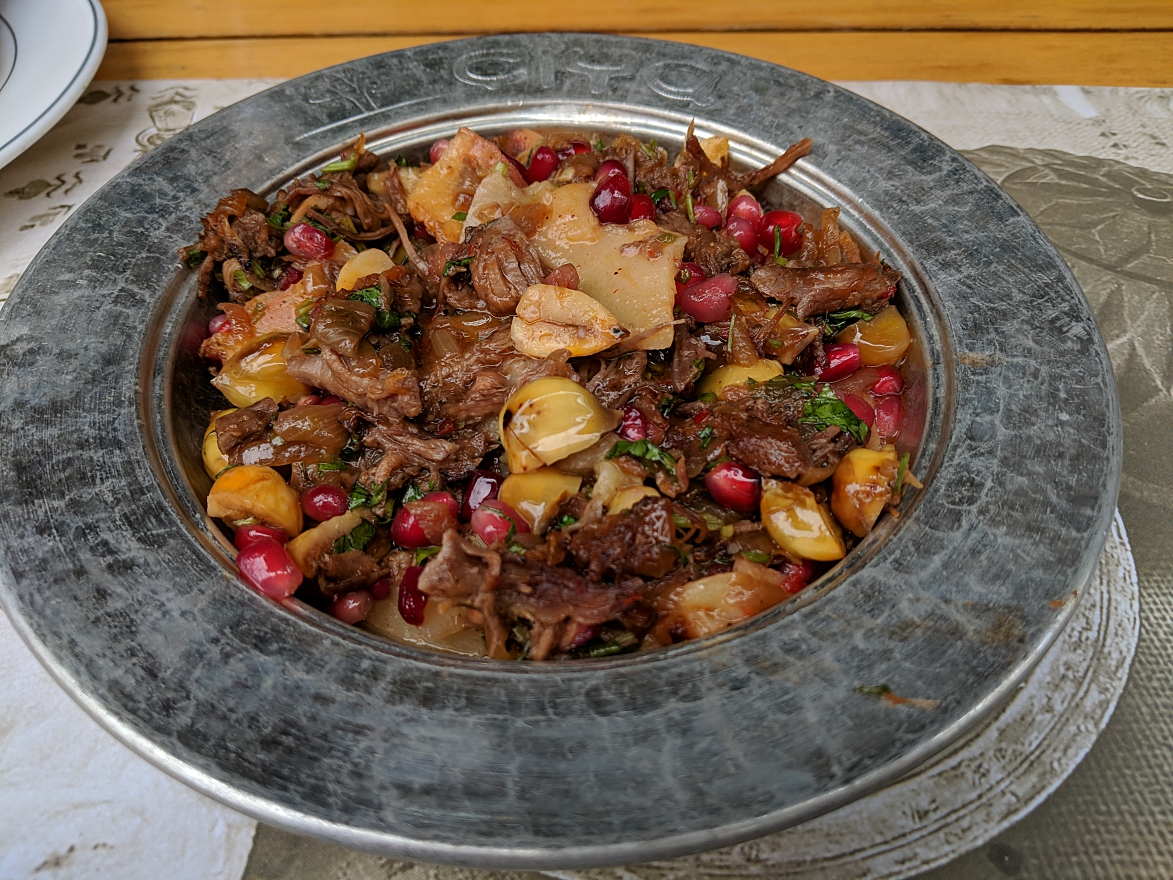 Day 9
I slept until 9am. Its raining again, and i didn't feel too motivated to go outside. I figured i'd swing through the hotel breakfast. Jebus, it was much busier than the other times.
It rained off & on for the majority of the day. I figured i would start the day by returning to the spice market area where i had my second tour, just to explore on my own. It was ok, and i did manage to find some of the spots that the tour highlighted. But the rain was annoying, and i was struggling to unfog my eye glasses often.
After that, i decided to return to the Cihangir neighborhood from my first tour. It was disappointing, as not much was open, plus more rain. Eventually, i did manage to find the manti place from the tour. I got some really yummy dumplings with yogurt, and it made my afternoon better.
At that point the rain was getting worse, and I decided that i had enough. I wasn't far from the falafel place where i had lunch last sunday. I swung by, got a togo order, and walked 20 minutes back to the hotel. That would be my dinner, and i'd spend the rest of the day relaxing in my room.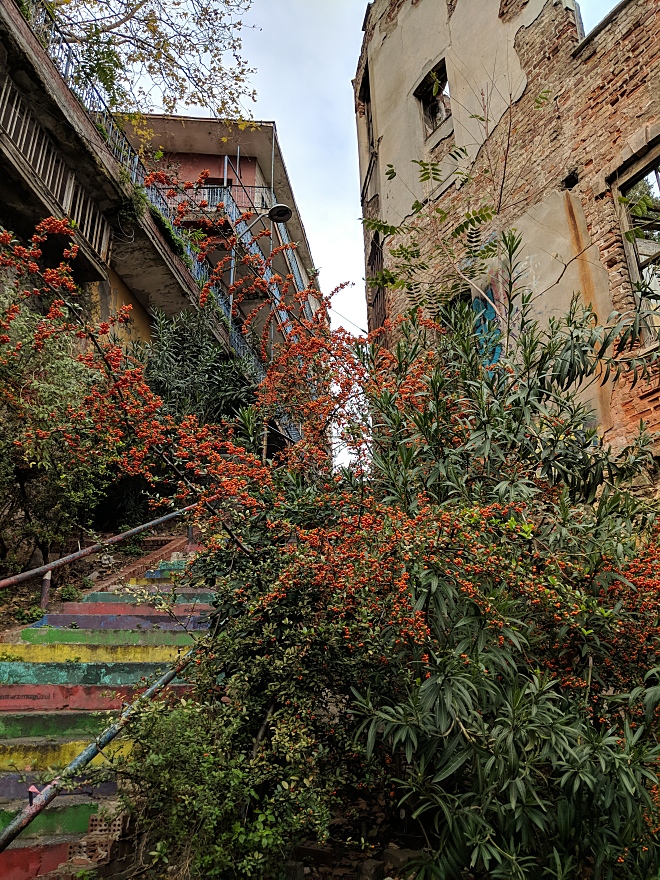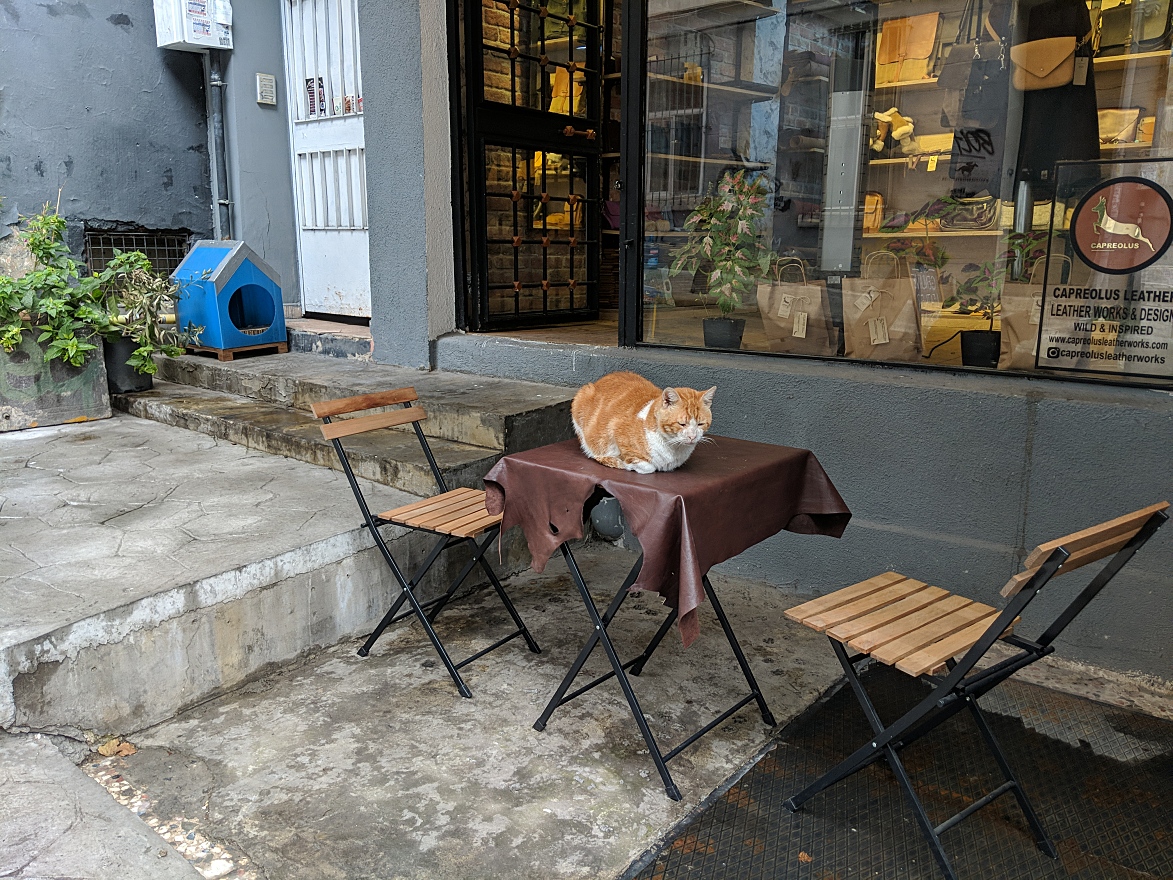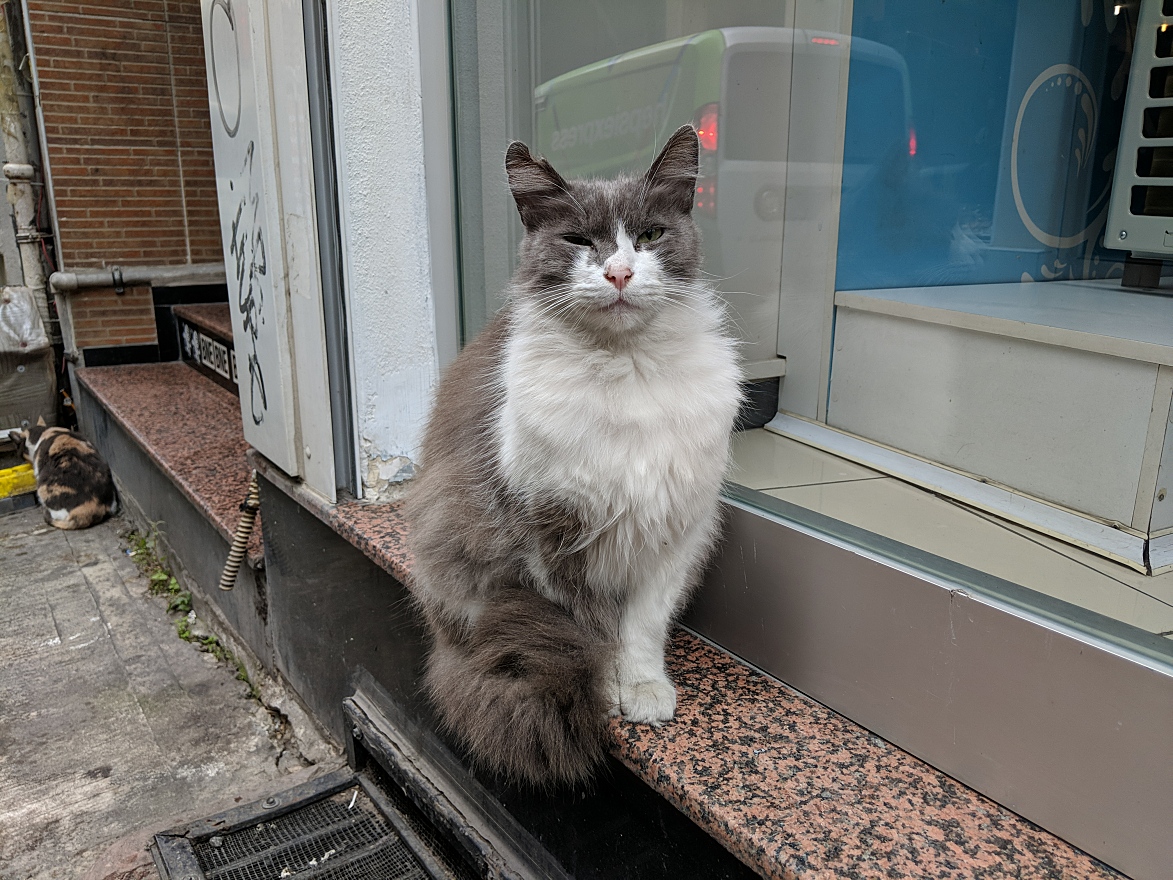 All of the trip photos are posted HERE.
This post is part 1 of the "turkey-sudan" series: