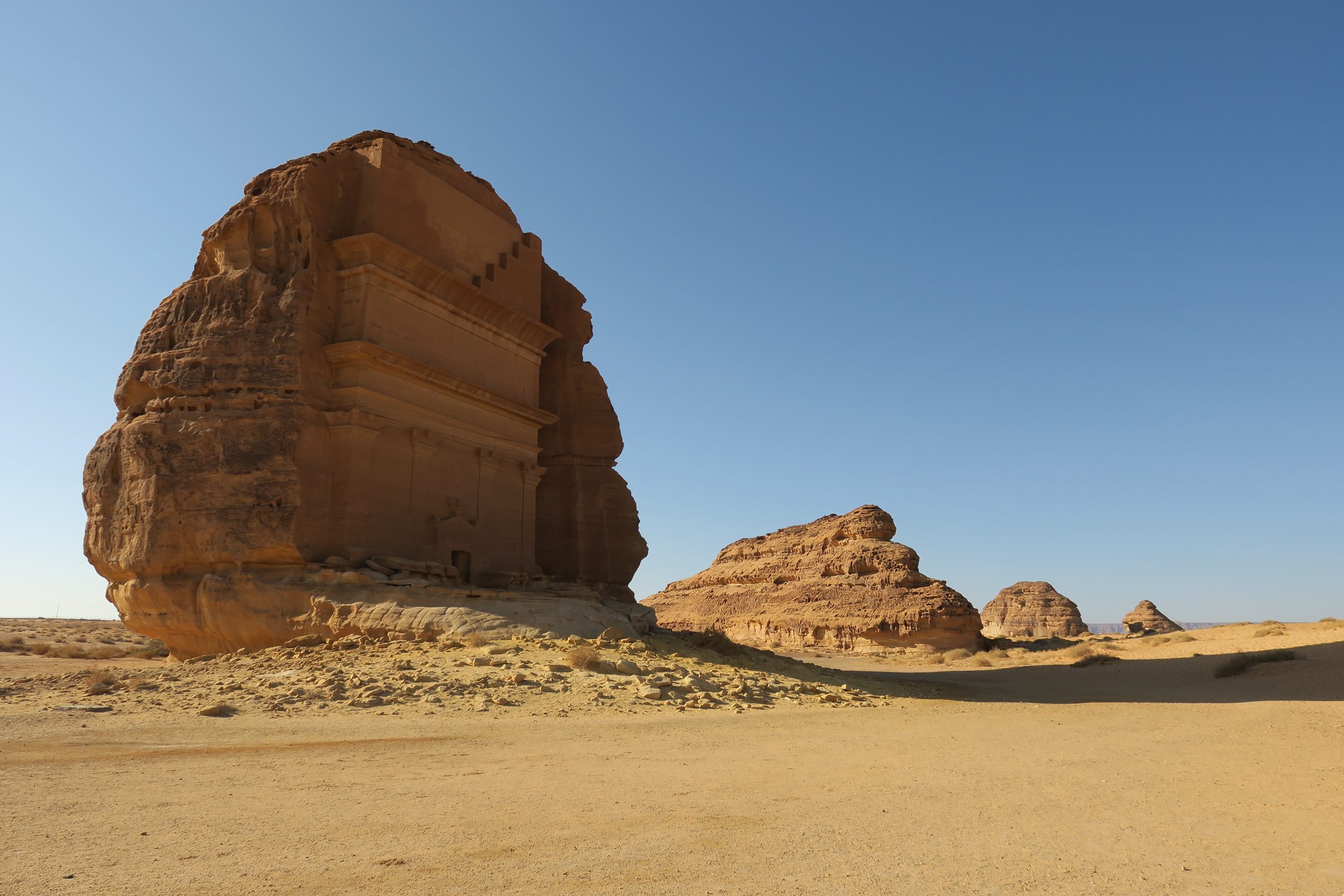 15:11 Wednesday, February 02 2022
France and Saudi Arabia (2/2)
This post is part 2 of the "france-and-saudi-arabia-2022" series:
Day 8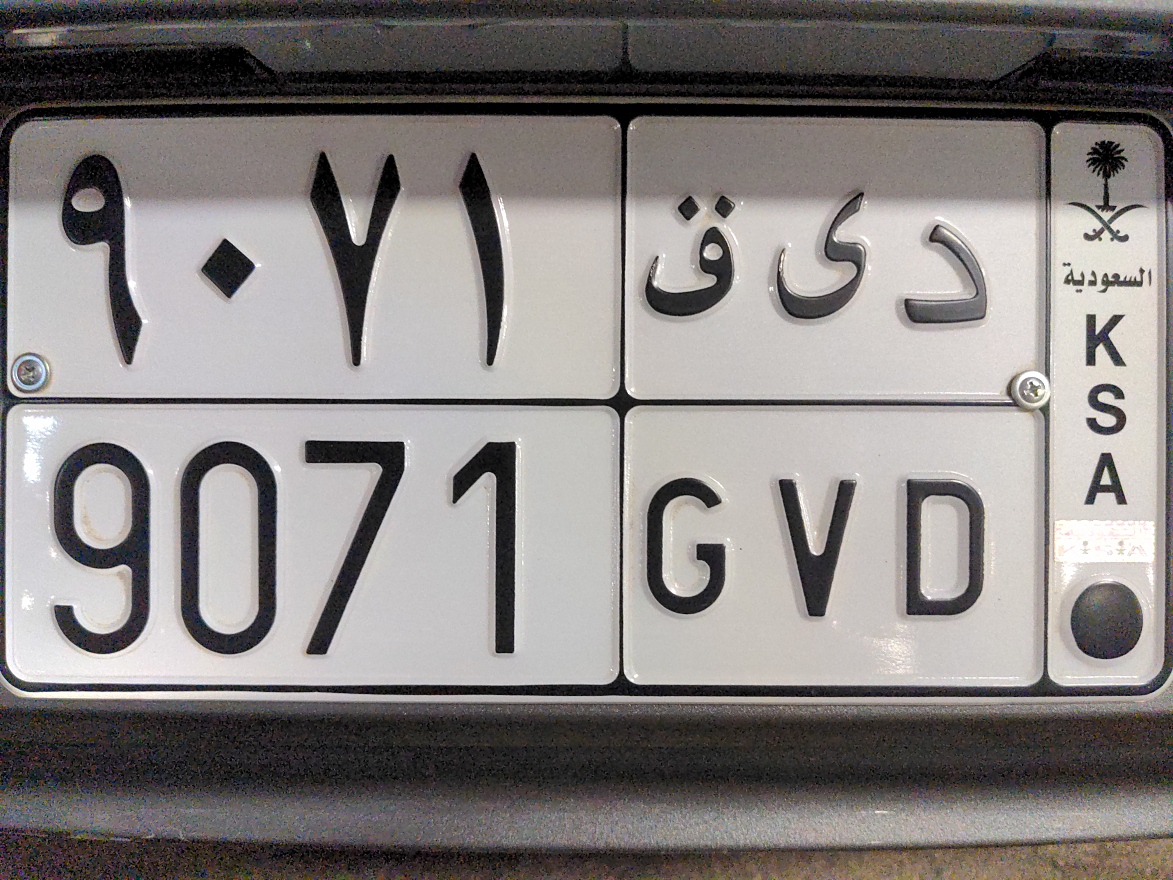 i slept ok, but not great as i kept waking up afraid that i would somehow miss my alarm, and miss my 11:25am flight to Riyadh. i was up for the day at 7:15. got a nice, hot shower, then went down for breakfast. it was kinda sad, with not much variety. they did have some great yogurt though. i checked out at 8:15 and had a blissful 5 minute walk to the terminal.
the ticket counter was open already, with a short line. the ticket agent went through all my paperwork (passport, e-visa, PCR test, KSA vaccine registration), and made a weird face. she told me that last week, KSA changed their test entry requirements, reducing test validity from 72 to 48 hours. of course my test was taken 64 hours out, and was therefore invalid. apparently the change was made on Feb 10, and took effect today. my test was on feb 10. but the good news was that they now accept Antigen tests, and the airport pharmacy does them. off to the pharmacy i ran, where i found a line out the door, and a guy behind the counter yelling in French. eventually, i learn that there are 2 lines, one for the vaccine/health pass registration, and one for antigen tests. of course its sheer chaos as most people don't know what the process is (do you pay first? which line is which?). after a nearly 30 minute wait, i have the honor of paying 40 euro (nearly as much as i paid for my now worthless PCR test from barely 60 hours ago). they keep my passport until i pickup the test. then a separate line to get the test done (where all they ask is my name, and scribble it on a paper). then back to the counter where i (thankfully) wait about 4 minutes, and i see them fumbling with a beat up American passport, and i knew it was mine. i get my negative test, and race back to the Saudia Air ticket counter. thankfully, the line is not too long. i restart the process, and finally got a boarding pass, nearly an hour after arriving.
then its off to emigration & security. zero issues getting stamped out. but security somehow flagged both me and my bag, separately for explosive residue scans. more waiting, and finally i am done, and walk to the far end of terminal 2C for my gate C91. i was exhausted and its barely 10am.
Boarding started at 10:45am. the female crew are dressed kinda sorta similar to Emirates, only in blue. The last 4 rows of the plane have no seats and are designated as a prayer area. We were subjected to a departure prayer from the Quran. finally pushed back at 11:31, and were underway at 11:41. The flight was ok. i had an aisle seat, and the seat beside me was empty. the plane seemed to be barely half full. They served cups of ice cream after lunch, and dates & chocolate with tea/coffee.
We landed just after 7pm, and then taxied forever to reach terminal 2. Current temperature was 18C. Passport control wasn't too bad (photo plus fingerprints). I found a working ATM without difficulty. Getting a SIM card wasn't too bad, although kinda expensive, and the guy had no interest in verifying that it worked. Everything went to hell with the rental car, starting with being able to find the Sixt rental counter. there were signs pointing to rental cars, and i kept walking forever. eventually i asked a guy in the Saudi tourism booth, and he was super friendly and explained that i needed to go down 1 level, then exit the terminal and enter the parking garage, then go up 1 level. Seemed easy enough, and i found the car rental booths in the garage, but none were for Sixt. I kept walking and walking, basically all the way back across the entire length of the terminal that i had walked to access the garage, but still nothing. i asked a different rental company, figuring that they either can't speak English, don't know, don't want to help, or they do help. thankfully it was the latter, and effing Sixt was literally at the far end of the damn garage. I found it, and the only guy there was busy with another customer. after waiting a good 15 minutes he started to process my paperwork, but then stopped and was chatting on the phone. turns out, they didn't have the size car that I booked, but he was going to upgrade me. until he wasn't, and instead decided to drive me to their other location at the airport's terminal 5 (which is apparently a 10 minute drive away). he swore to me that he already sent all my completed paperwork to the other location,and i could just pickup the car. of course he didn't. they had no clue who i was and i had to start all over again. eventually they handed me the keys, and sorta gestured that i needed to walk across the parking garage to find the car, with just the license plate to work from. or course, yet again Sixt was at the far end of the garage. i managed to find the stupid gray Kia and then another guy wandered over to do the world's slowest inspection. once that was done it was 9:30pm. i literally spent 90+ minutes trying to get a rental car.
i fired up the driving directions for the hotel, and headed off into the night. Overall, the 30 minute drive went relatively smoothly, despite some occasional questionable driving practices on the freeway. mostly it was a lot of tailgating and weaving between lanes without signaling. i reached the hotel, figured out where there underground parking garage was, and got checked in. Oh, apparently everywhere that i've gone wants to see the visa in my passport, but since its an e-visa, its just a printed page that i have to dig out repeatedly. so far people have been shockingly fluent in English, but i am sure that will change once i depart Riyadh tomorrow, and enter parts of the country that rarely get any foreigners. it has truly been a long day of things repeatedly going wrong, until they finally went right. hopefully the problems are behind me at this point.
Day 9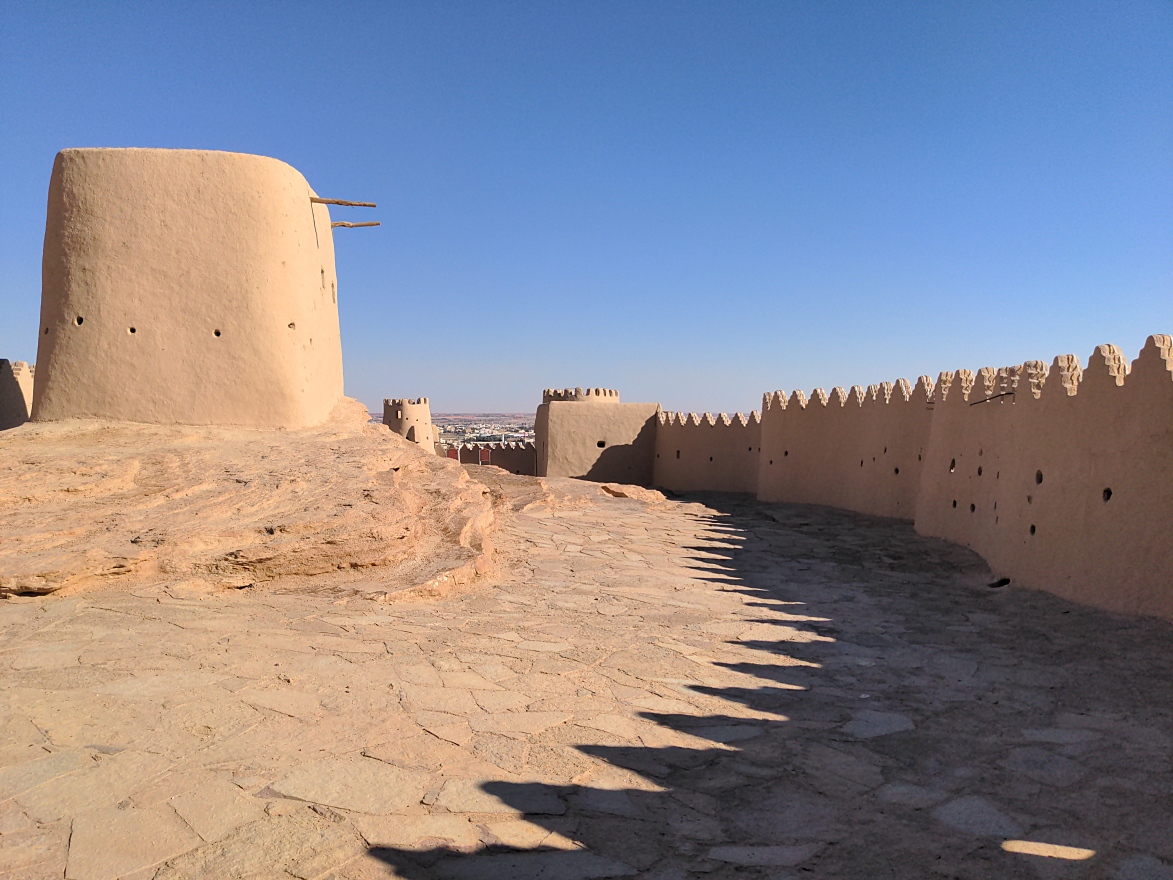 I slept ok, but not enough, and was up for the day at 6:15am. I showered and got checked out just before 7am. I had a very long drive today. It was 990km to Sakaka from Riyadh. Google estimated 9 hours. I did it in 8 hours.
For the most part the roads were in excellent condition. The first hour was mostly driving out of Riyadh with moderate traffic. The stupid Sixt rental company gave me a car with only half a tank of fuel, so I needed to fill it up. Thankfully, that went smoothly, and they even accepted a credit card. Also, since this is Saudi Arabia, gas costs about US\$1.25/gallon. Once I got sufficiently far enough from Riyadh, traffic thinned out, and the speed limit increased from 120kph to 140kph. The freeway was 3 lanes in each direction too. Also, they have speed cameras here, although I am unsure how many actually work. Cars going much faster than I, blasted past the cameras. The scenery was fairly boring, flat open desert for much of the morning. I did see random herds of camel, and they even had camel crossing overpasses for them.
There were also a bunch of police checkpoints. The first few were either only stopping traffic in the other direction, or not active at all. But eventually I got to one that stopped me. He didn't care about my passport, just where I was going, the paperwork for the car, and which country I was from. It took barely a minute. Thankfully, it was the only time that I was stopped all day.
By late morning it got more hilly and there were orange sand dunes everywhere. I was getting very hungry, plus the car was slightly below half. The frequency of towns had decreased a lot, so I decided to just stop at the next one, which was Hail. What I didn't realize was that was literally the last fuel for 250km. Thankfully, i filled up (but they no longer accepted foreign credit cards). but i wasn't having any success finding somewhere to eat. I ended up going into a market and buying a huge 5L jug of water, a bag of chips, a box of dates and a bottle of mango juice and called it lunch. It was obviously not great, but there would have been nothing else for hours. As I got back on the freeway, there was a "helpful" sign warning that the next fuel was over 250km.
Sure enough I spent the next 2+ hours driving through nothing but dunes. Traffic thinned out a lot too. Also, if I stayed on the same road long enough, it would lead to the border with Jordan. I still saw random cars and trucks, but it was more like 1 or 2 every minute. The dunes were pretty for a while, but got monotonous eventually. I spent most of the drive listening to podcasts. I finally reached the town of Sakaka at 3pm, and the first stop was fuel. After the long drive through the dune sea, I was down to a quarter tank. The spur road up to Sakaka actually leads to Iraq, which is the same road that I was on (from the Iraqi side) last November.
After that, I drove to Zaabal Castle. The castle was originally built by the Nabateans (the same people who did Petra up in Jordan), back in the first century BC. Its perched up on a bluff overlooking the city. When I got there, a guard greeted me and asked to see my health pass (Saudi has one too, which is a pain to setup, but i got it done last night). After that, I was free to wander. No one else was there. A stone stairway wrapped around the perimeter of the cliff, leading up to the castle. There isn't much left. A restored outer wall, and 4 towers. The views over the town were nice, with a number of mosques sprinkled around.
After the castle, it was nearly 4pm, and I drove across town to my hotel for the night. The hotel seems fine, although I am unsure whether there are any other guests, as the parking area was nearly empty. The guy behind the desk spoke decent English, and demanded my health pass, but generally seemed bored.
Something weird is going on with hotels in this country. Both now had signs cautioning against touching the ceiling. Why would people do that??
dinner tonight was my first real, cooked meal in the country! it almost didn't happen though. first i checked tripadvisor for ideas, and it basically had nothing with a review in the past 3 years, and even that stuff was awful. so i went back to google maps, and found a saudi place (Quzu) that does kabobs and other mid-eastern stuff. took 5 minutes to drive there, and while driving the call to prayer started. i found parking, except the doors were closed and lights off. i figured they would return from praying soon. 5 minutes waiting, then 10, 15, 20, 25, nothing. i am seriously annoyed, and start looking for an alternative. nothing else nearby has any english whatsoever. i get out of the car and walk up the block, but other than a scary seafood restaurant ( i am a few hundred km from water) there is nothing.
then i notice a door and a lit staircase beside the dark restaurant, and decide to see what is up there. of course, its the restaurant, with lights on and employees. i have no clue what was downstairs. of course the employees speak zero English, and a woman in a burka is frantically gesturing at the seating area. eventually, i figure out that she wants me to choose a "booth" before i order. also, its all traditional floor seating. so i choose #17, place my order by pointing at the picture menu, and all is good. i ordered a mixed grill kabob, and a mezze platter. it cost about \$11. i wandered back to my booth, remove my shoes and sat on the floor. after maybe 20 minutes, my food came, along with arabic bread, and i feasted to the sound of random Saudi families in the other booths. it wasn't amazing, but was good, and it was nice to eat a hot meal for the first time since leaving paris.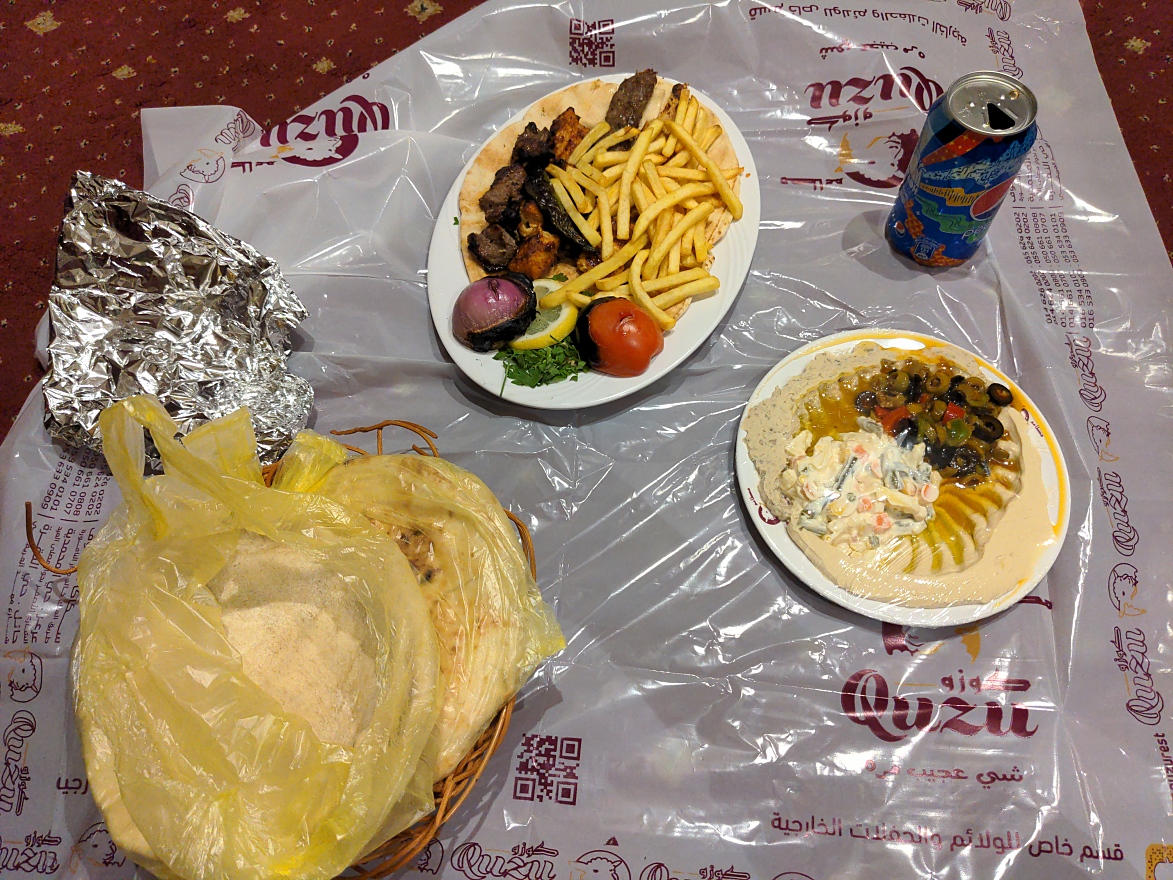 Day 10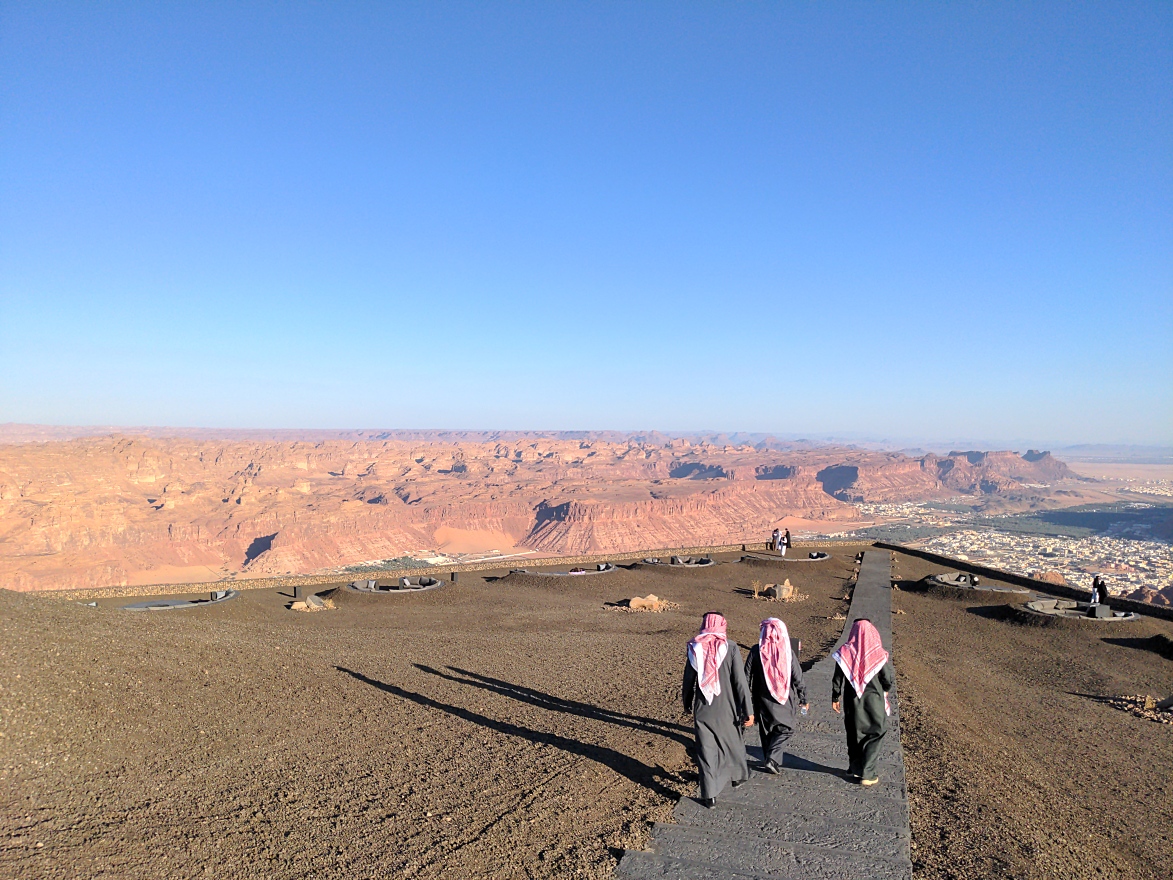 The call to prayer woke me at 5:40am, and i was up for the day. I was out around 6:30am, and it was cold. Like 3C cold.
Much of the route today was definitely out in the hinterlands. Road conditions were not great, and very few road signs had English. The first few hours the scenery was mostly flat emptiness. The freeway was just 2 lanes in each direction, and often had tons of huge pot holes. Much less traffic compared with Monday. I passed just one police checkpoint, where they glanced at my passport, then waived me through. I got gas just before 11 then turned onto a two lane road for the next 3 hours. The scenery gradually improved with huge red, black or gray rock formations. Also, there were old crumbling Ottoman era forts with fences around them. Eventually the scenery became a combination of Monument Valley and Arches NP, and it was amazing.
I got into Al Ula just before 3pm. I found the Airbnb, which is kind of a dump, plus they speak almost no English. I will manage, its 2 nights.
It was a bit after 4, and I wanted to drive up to a viewpoint for sunset. It took nearly 45 minutes to get there, as I had to first drive all the way through town. It was absolutely worth the drive. The government is throwing tons of money into tourism development in this area, and it showed up at the top (Harrat Viewpoint). They landscaped the entire area with black lava rock, fire pits with lounge chairs, weird new age music, and a fancy restaurant. The biggest surprise was western tourist women wearing "normal" clothes, and uncovered heads. Anyway, the views were spectacular, plus its a full moon, and i also saw the moon rise. I ended up having dinner up here too. All the staff spoke english, the menu was in English, the hostess was from somewhere in Europe. Oh and they had a bar for some silly reason. I ended up getting a salad, roasted chicken and a pomegranate mojito. The food was way better than I expected it to be.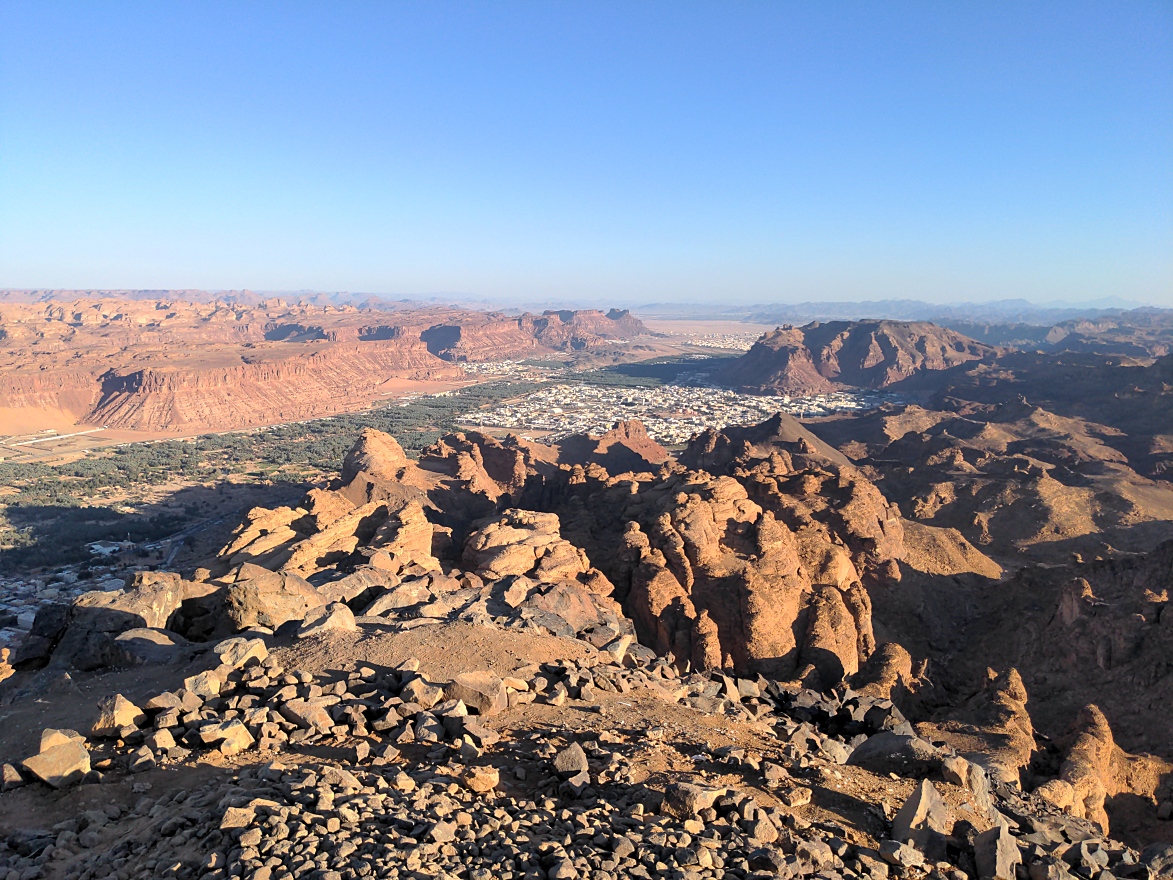 Day 11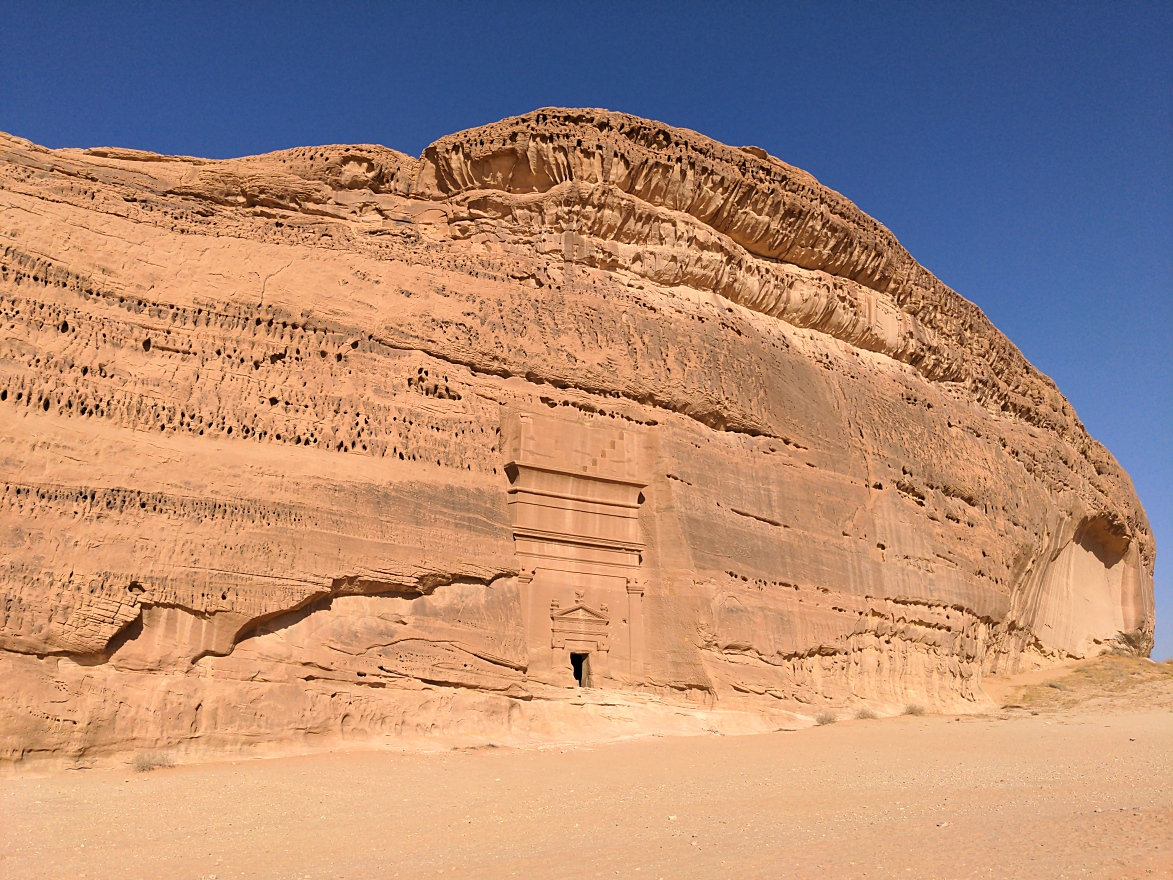 I slept ok but not great. the bed was kinda rocky, and of course the call to prayer woke me. i managed to fall back to sleep until nearly 7. i got a shower, and drove about a half hour north to the Winter Park parking area to catch the shuttle bus to Madain Saleh (Hegra). The Nabataeans built the site in the first century AD, and its the southern most and second largest after Petra up in Jordan.
I found the bus, and other than me its all retirees from Greece & Poland. Also there is a Dunkin Donuts here. The bus took about 30 minutes to reach the site north of Al Ula. While the site is huge, the bus only stops at 5 sites, and each site has a guide who tightly restricted where visitors were permitted to explore. It was frustrating as there was so much more that I wanted to see. Anyway, all of the site guides were women, which was a bit surprising. They would provide an overview of the site, and then 5 minutes to wander, then back on the bus. However, the second site had a (very fancy) toilet, and the bus left without me. This was a huge blessing, as I had the last 3 sites all to myself (plus the guide). It made photos easier. Also, I asked if its normally this devoid of visitors (the buses held like 40+ passengers, but initially it was me plus the 6 Europeans), and they said its very busy on weekends.
All of the rock carved sites were burial tombs around the perimeter of the city. I was permitted to enter one tomb, and it was fairly basic, with carved rectangular holes for the bodies. The exterior was definitely the most interesting to see. The weather was quite pleasant, although kinda windy. Most of the tombs were raided and empty by the time modern archeologists arrived. However they did find the remains of one family in a tomb that was buried under a sand dune. The bodies were wrapped in wool, linen and then leather.
I finished up at 11:30am, and took the shuttle bus back into town. I had a plan for lunch, but driving around Al Ula is supremely frustrating. Google is very confused, and all of their directions have insane 7km detours with u-turns. At one time, they had two large roads running through town, each one way, in opposing directions. They decided to convert one into a pedestrian mall, as part of their tourism promotional efforts. The problem is that there is no street parking anywhere, just two large parking lots at the opposite ends of town. But the parking lot at the south end is only accessible via the road that they closed. I drove in circles for a half hour trying to find parking that wasn't at the north end of town, when everything that I wanted was at the south end. Eventually I found space at a mosque parking lot. Also, I saw two women in burkas driving a golf cart. Maybe that's a good thing?
Lunch was pretty good. I got hummus and eggplant fateh (roasted chunks of eggplant, pomegranate molasses, yogurt, and toasted bits of pita on top). After lunch, I wandered around the old town. Its literally a maze of mud & straw dwellings, with palm trunks & fronds for structural support. It dates back to the 13th century, but the crazy part is that it was still occupied until the 1980s. Following lunch I stopped by a supermarket, both out of curiosity and also to buy some food for lunch during tomorrow's drive. Overall, it had a surprising variety, including Cholula, and lots of American candy.
Dinner was supposed to be at a nicer restaurant, but once again the stupid parking fiasco made life hard. Except this time, the mosque parking lot was full, and I gave up. Instead I went to a local hole in the wall place, and got camel meat with fancy rice. What made it fancy? It had saffron and other spices, but no raisins or carrots, so it wasn't biryani. Also, it came with spicy salsa. The owner was super friendly (he spoke a little English) to have an American customer. He kept checking to make sure I liked the food. While eating, the call to prayer started, and they immediately closed the metal rolling door. It was kinda surreal seeing this practice in action. Also they had a "family" entrance (women & children) and a "men's" entrance. I guess I got the full Saudi dining experience today.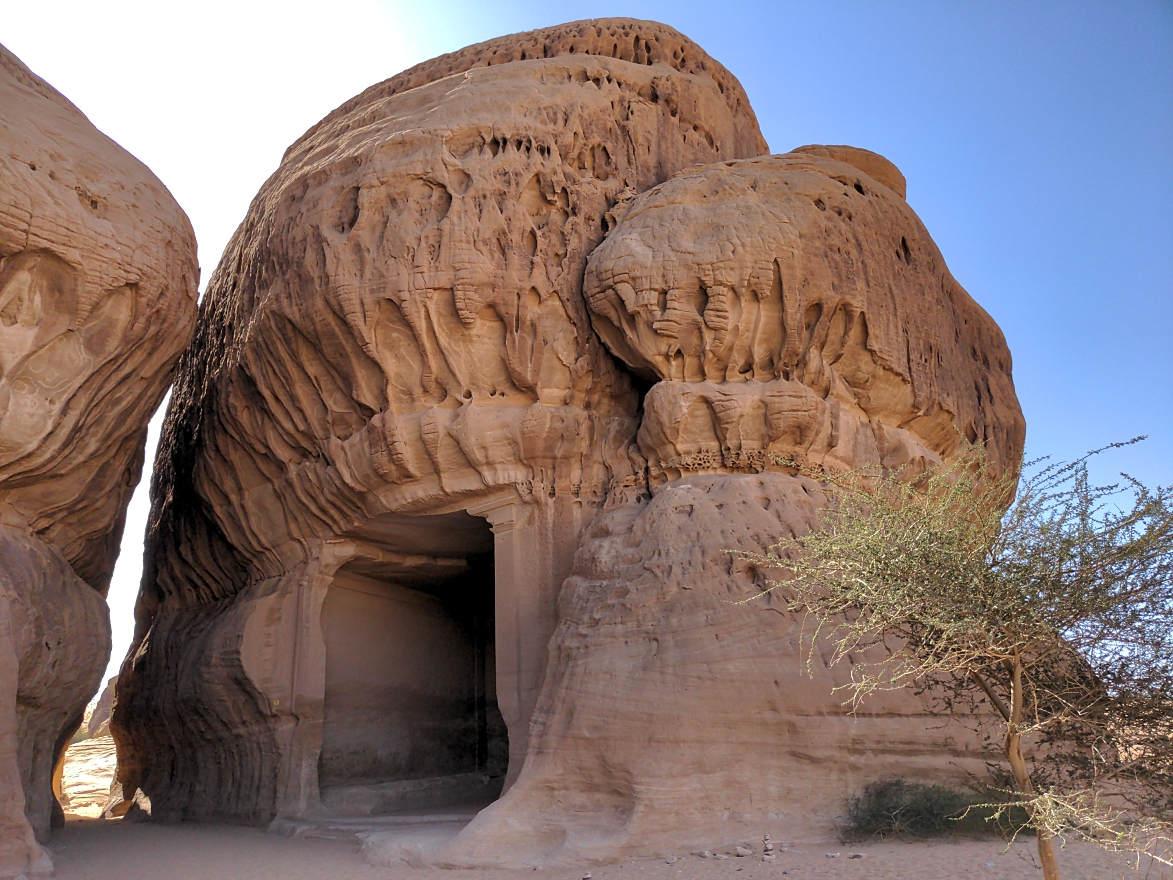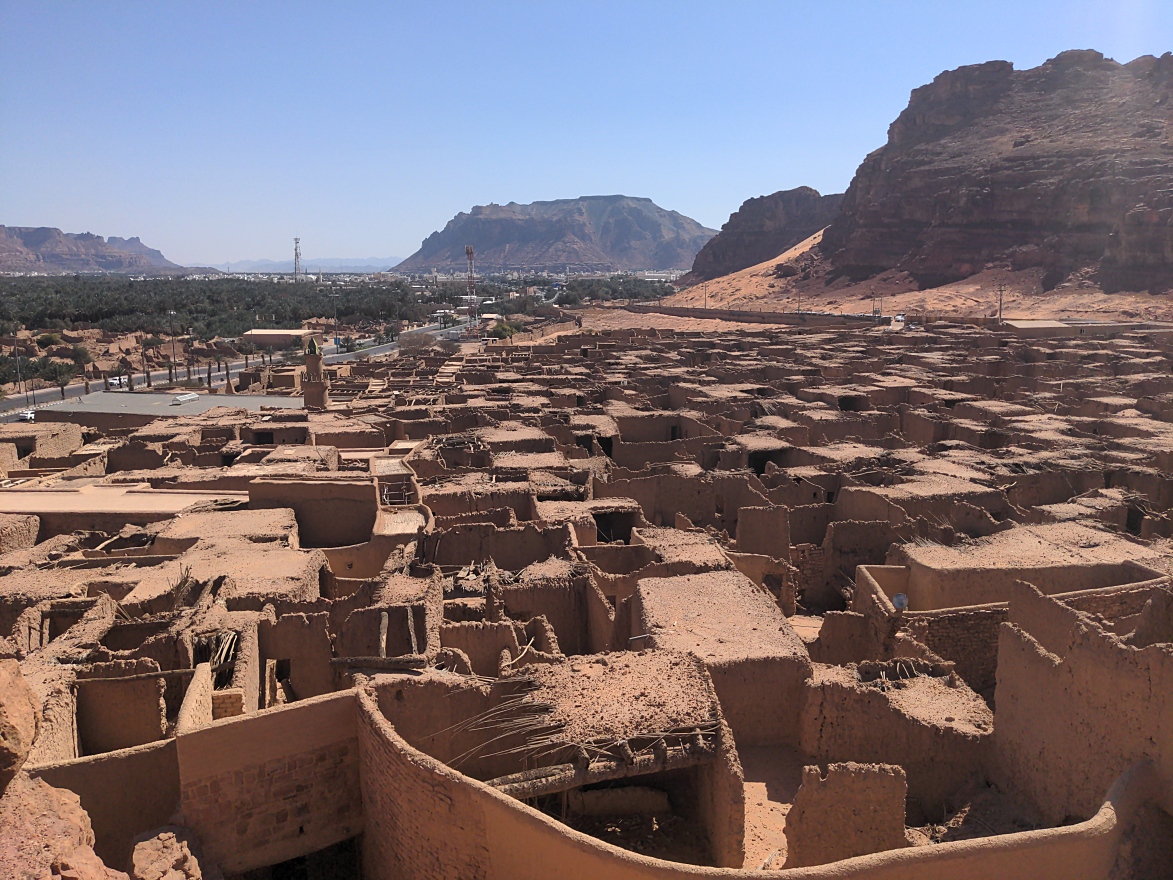 Day 12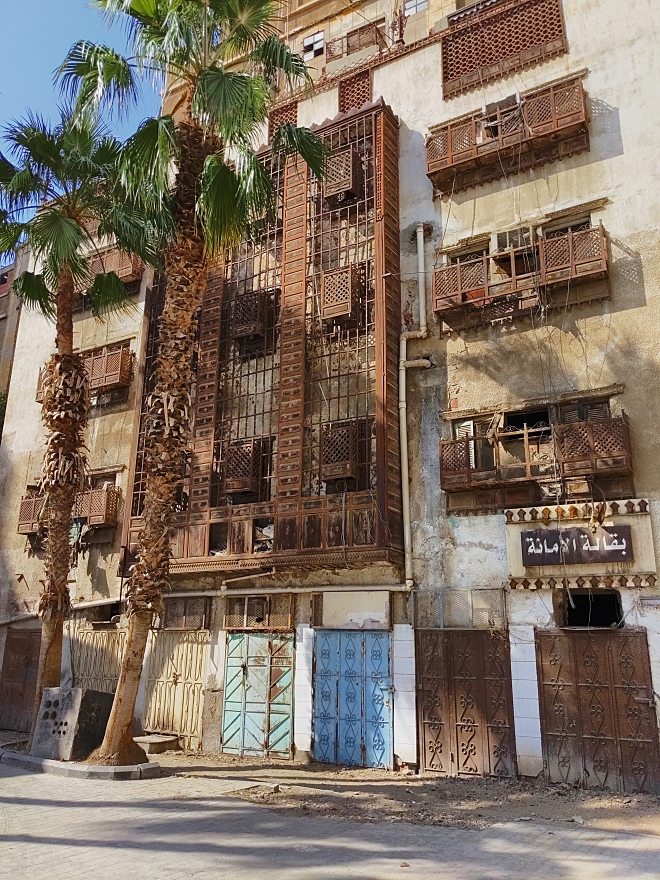 I didn't sleep well. The AirBnB's bedding was some crappy synthetic material which was literally shooting sparks of static electricity every time I moved. It was as if I was being shocked all night long. I was up for the day at the dawn 5:42am prayer call and on the road by 6:25am. The sun was just starting to rise, so I was still driving in the dark for another 30 minutes.
The theme for much of the first 3 hours of driving was tiny towns, black basalt mountains and speed bumps. The road was just 2 lanes, and I actually got stuck behind a few slow trucks. Also the towns were mostly super sad, with not much more than a couple mosques, a police station and sometimes a gas station or food market. Plus all the speed bumps. For whatever insane reason, Saudi Arabia rarely marks their speed bumps in any way. No signs, no colored markings. Just a big ole hump in the road with zero warning. I stopped for gas in a tiny town about 2.5 hours into the drive, and the pump attendant decided today was the day to practice his 5 word English vocabulary. One cute thing that I saw while driving was a baby camel with its mother.
Around 10am I descended from the hilly, curvy mountain roads to a vast flat empty void which stretched out to the coast. The road turned into a proper freeway first with 4 lanes at 120kph, then 6 lanes at 140kph. I also found where they put their oil refineries, as they belched smoke into the air. Oddly, the freeway was no where near any actual towns. Exits were 30+ km apart, and always referenced some town that I could not see anywhere. I stopped for lunch a bit after 11am. By noon I started to enter the Jeddah suburbs, and much more traffic. Traffic congestion was horrible for the last 5km to the hotel. I got there just after 1pm.
Thankfully, they let me checkin a bit early. This hotel is very over the top fancy, with gold everything in the lobby. My room is actually quite nice, and huge. I kinda wish that I was spending more than just a single night here. Also in late afternoon there was a knock on my door, and a guy had complimentary snacks, juice and a huge fruit basket. I told him that I did not order anything, but he insisted that was all free. I have no clue why.
Once I got settled, I decided to drive to the historic city center to explore a bit. Due to traffic, and the sprawl of the city, it took nearly a half hour to get there. Then, I had to park. Thankfully, their parking meters were easy to figure out, and it didn't cost much for a couple hours.
The old town dates back to the 7th century. The distinctive aspect is the architecture, with huge, ornate wooden windows and balconies. The buildings are in a mixed state with some abandoned and crumbling, others in the process of being restored, and some already restored. Due to going in mid-afternoon, it was a ghost town, with nearly all businesses closed during the hottest part of the day. The temperature today did peak at 33C plus its noticably more humid due to the proximity to the Red Sea. Also, there were cats everywhere, living hard lives. Most were skittish, but a few were super friendly and enjoyed some scratches & pets. I headed back to the hotel at 4pm to rest a bit before dinner.
For dinner I went to a place overlooking the Red Sea that does middle eastern food. I'm not sure what I expected but the Red Sea didn't have an exotic vibe. There were a few palm trees, but otherwise it just looked like a generic beach. I got kibbeh with labeneh, fried fish, and a mint lemonade. it was good.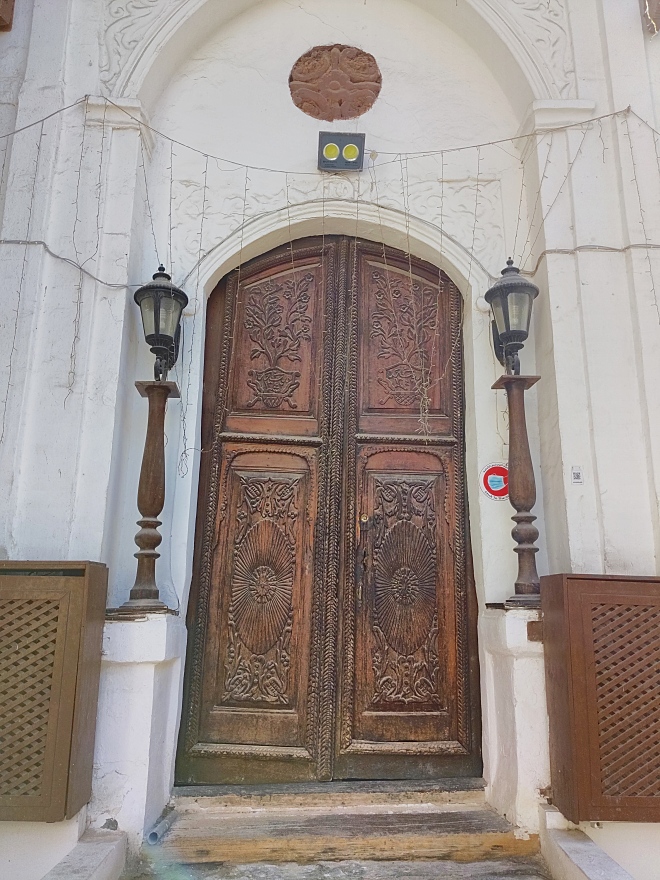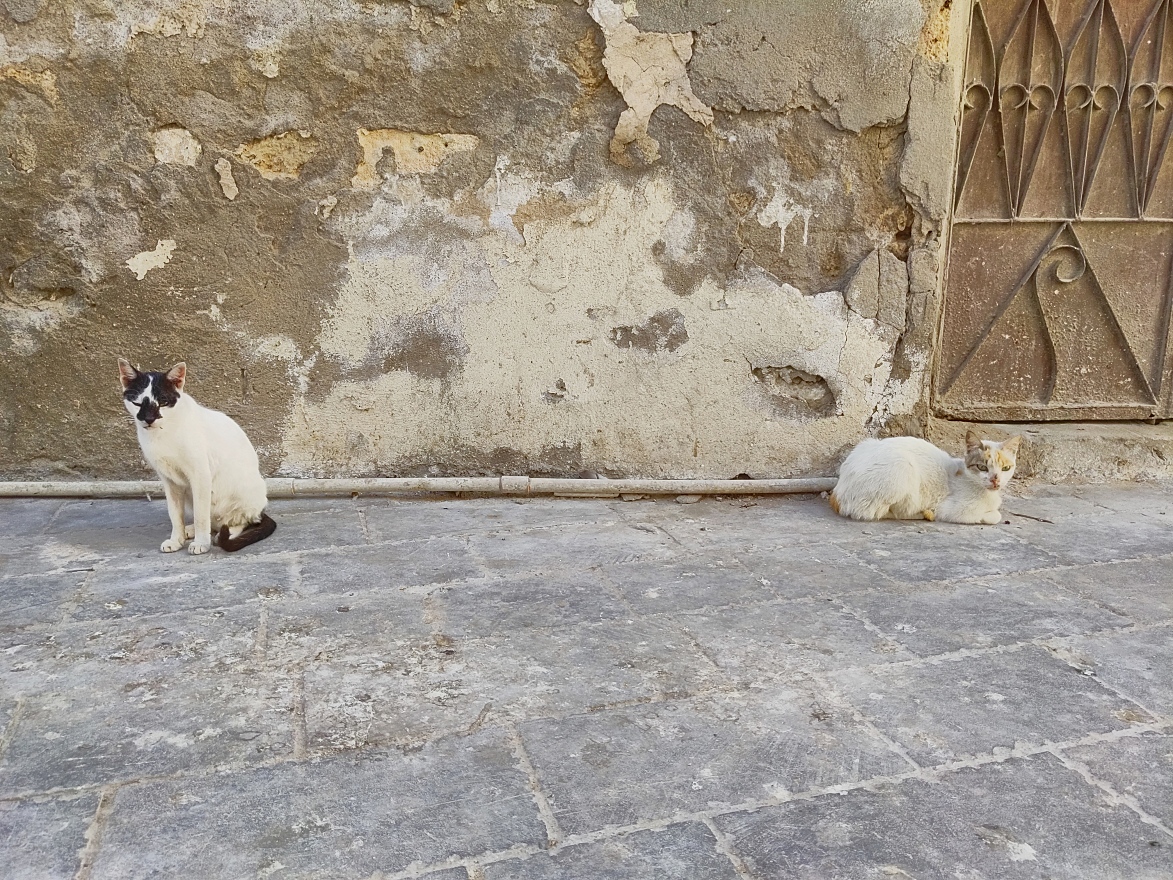 Day 13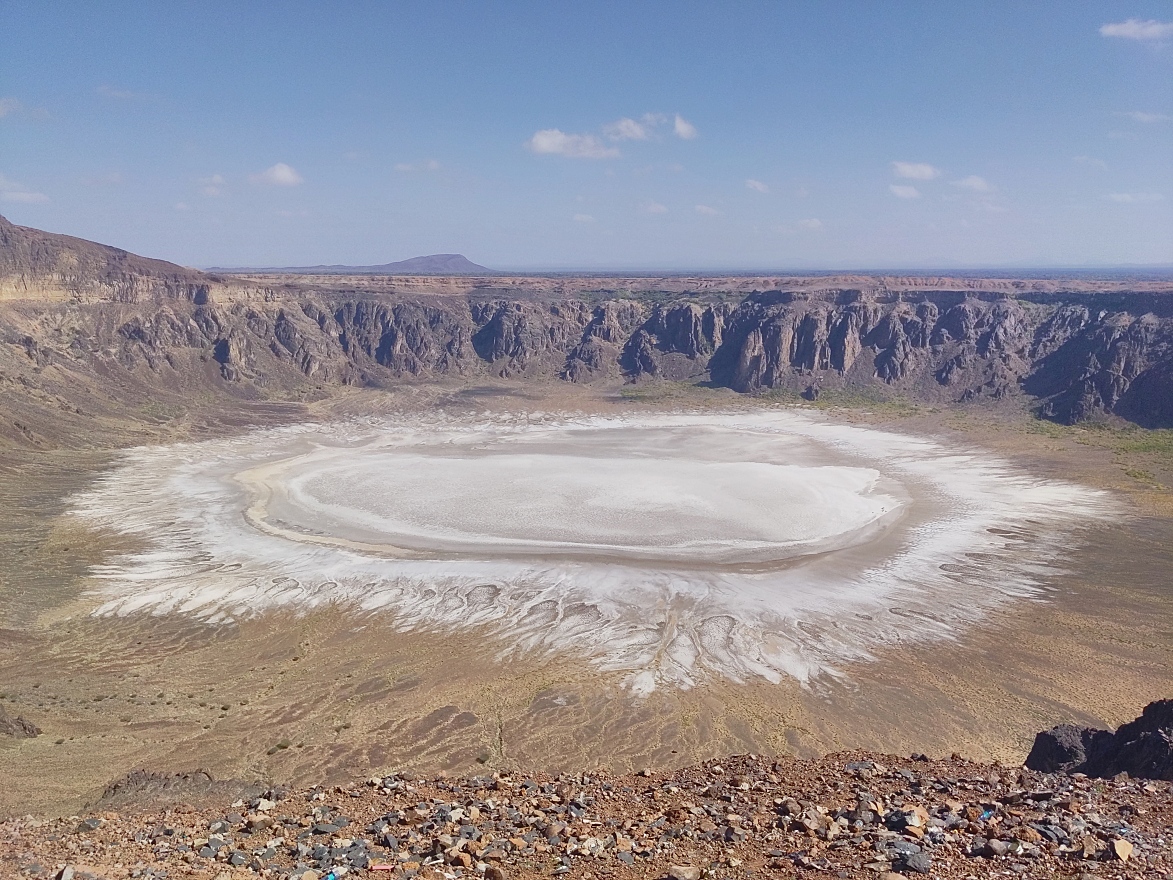 I woke just before 6am. This was the first hotel in KSA that included breakfast, so I gave that a try. It was pretty good overall.
I departed just before 7am. i had to drive east for the first time on the trip, and was staring at the huge angry fireball as it rose. because its friday, its the start of the weekend, and so there were almost no cars this morning. the road heading east from Jeddah runs past the landfill, and it smelled revolting for a good 10 minutes. also, there were huge, ridiculous signs posted which said "intentionally damaging the fence is a crime against society". also, since its the weekend, a lot of gas stations were closed, but i managed.
oddly, the sky clouded over for a while this morning, and I was genuinely convinced it might rain. but by mid morning the clouds cleared, and the temperature eventually climbed to 28C today. the first couple hours of driving had to cross the mountains, so it was twisty roads, and tiny towns. Eventually it opened into flat desert, with random camels, and distant black mountains.
I reached the Al Waba crater just after 10am, and it was surprisingly busy. All the trip reports that I had read mentioned how no one visits, and its out in the middle of no where. It was maybe 10 minutes drive from a small town. I guess all the people were because it was the weekend. The reminded me a lot of Ubehebe in Death Valley, except much much larger. Its about 4 miles across and half a mile deep, with salt deposits at the bottom. There was a (an apparently) new stone wall running along the rim, and 5 viewing platforms setup. Most people only went to the platform closed to the parking area. I read reports of a trail to the bottom. but I didn't see any signs of a trail, and the crater walls were nearly vertical, so I am unsure how that would even work. I walked to the farthest platform and had it to myself for a while before an old, beat up Hilux full of Saudis drove up. They all greeted me, speaking not awful English, and were very excited to have an American visiting. They also asked me to take their photo, and insisted on giving me a cold bottle of water. Overall, nice & friendly. When I returned to the car, yet another old Hilux full of Saudi men parked beside me. They were also super friendly, then they got creepy. Their English was super limited, and they just kept standing there, staring, as I was putting my hat awake and cleaning my hands. then they insisted on selfies with me, which I agreed to do, hoping they would finally go away. They stood around another minute, then finally got bored and wandered away.
It was after 11 by the time I finished at the crater. As I was driving towards the city of Taif, I passed a car with a Kuwaiti license plate. I stopped for gas at noon, and parked in the shade to eat lunch. The rest of the drive to Taif was uneventful, and I got to the hotel just after 3pm. Taif is apparently the third largest city, and is definitely sprawling.
Having driven nearly 2000 miles in this country, I have learned that they have a perverse love of u-turns. I am not referring to u-turns at a normal intersection. those would be great. i am referring to roads, streets and freeways that are divided, and there is a dedicated u-turn spot as the only means of crossing to the other side. at first, i thought google was insane forcing me to drive the wrong direction for one or even as much as three km. but its literally the only way to get to the other side of the road, and it happens everywhere. they just don't like building traffic lights, or under/overpasses for crossing roads. its infuriating.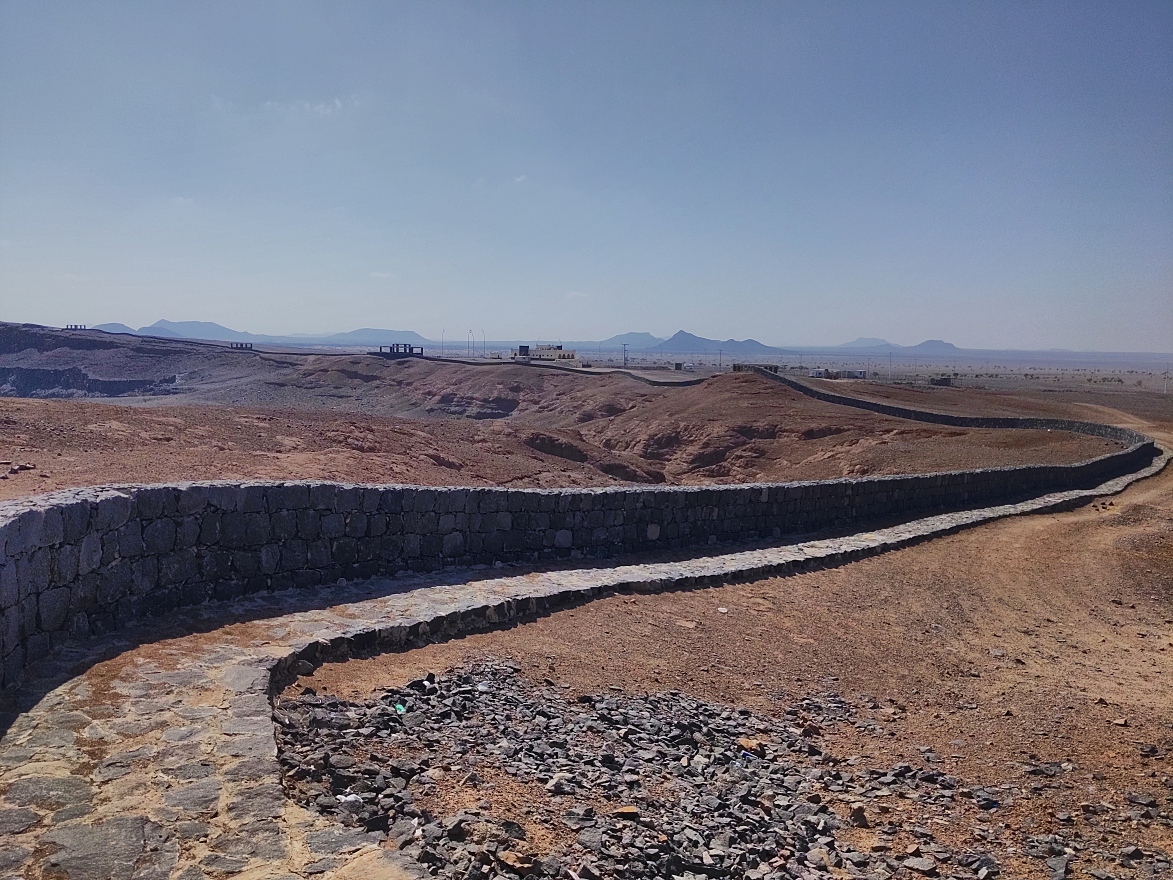 Day 14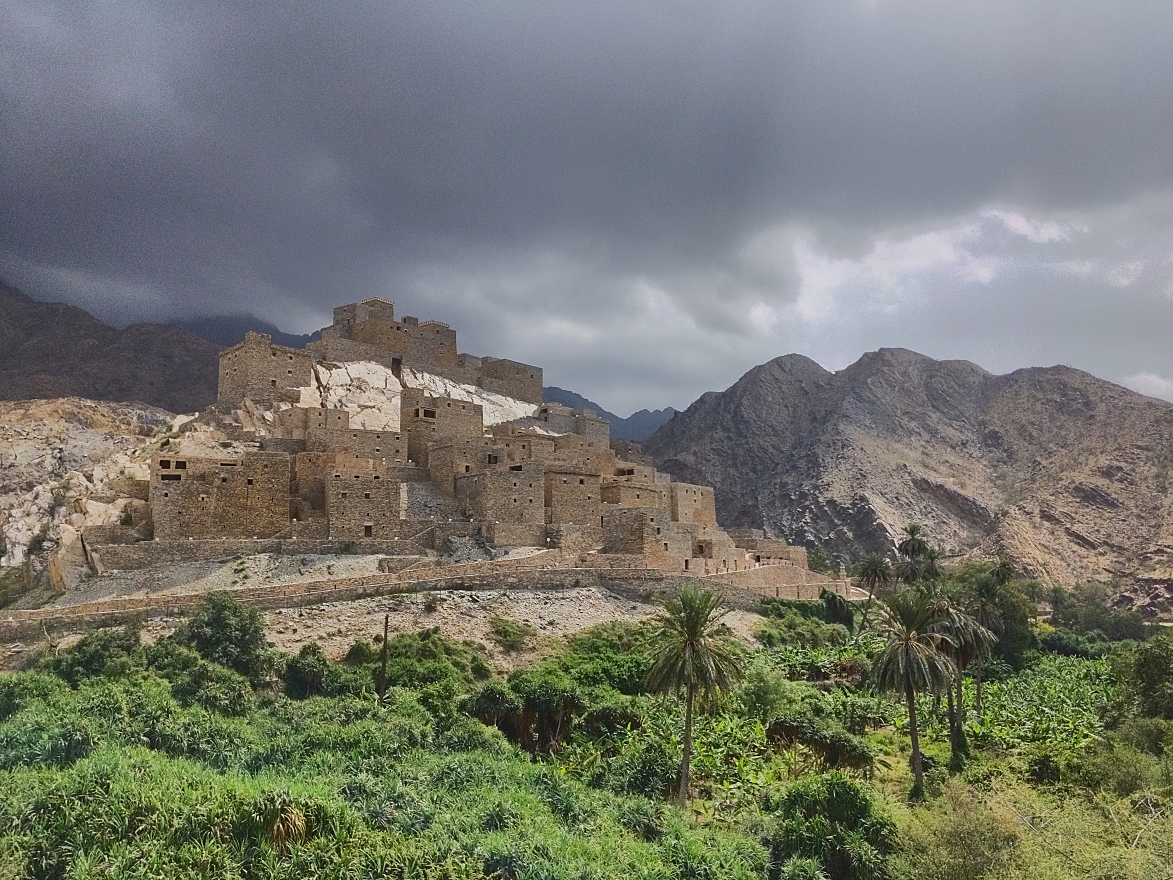 I woke up with a bad headache for no reason. breakfast at the hotel was ok, but nothing special (although they had almost no lights on, which was odd).
Today was a day full of the unexpected. Nothing bad, but also not what I anticipated. Wildlife & weather were the big themes of the day. Nearly all of the roads were in a rocky, mountainous region, so lots of curves & hills. At one point there was a construction zone, where they merged the 4 lane freeway into just 2 lanes, with concrete barriers on all sides. I came around a bend and found a mother & baby camel standing in the middle of the lane, looking very confused. I am guessing they wandered into the construction area, and didn't know how to get out. I honked a few times, and they wandered out of the way. A bit later I was driving with rocky vertical cliffs beside me when suddenly baboons started leaping off the rocks into the road and running away. There were dozens of them of all sizes. I kept seeing more baboons on and beside the road for a while. According to wikipedia, they are Hamadryas baboons.
As I continued heading south, the sky was growing cloudy and dark, and strong wind gusts started. As I passed through the town of Al Basha (which is at a high elevation), I noticed clouds were literally blowing through at ground level. And then the fog closed in, and it got bonkers. Visibility was near zero, the temperature dropped from 24C to 14C. All I could do was follow the painted lines on the road to drive, as I couldn't see anything. Some people were taking precautions (slow driving, lights on, 4 way flashers), but there were also idiots with no lights at all. At one point I was in a traffic circle, and missed the turn because I literally couldn't see it on the first pass. To make things more fun, I was driving over an 8000ft mountain pass, where the road was clinging to the edge of the cliff, and there were dozens of tunnels. Once I started to descend on the other side, I dipped below the fog elevation, and then visibility was ok again.
I reached the \~500 year old village of Zee Ain a bit after 11am. The village is a UNESCO site due to its unique stone architecture, built on the side of a mountain. It was truly a spectacular site, with square buildings and towers stacked nearly on top of one another. There were a few other cars when I arrived, but the sheer size of the village allowed everyone to spread out and explore via their own route. Exploring involved a lot of steps, as it was a maze of narrow alleys, dead end balconies and locked doors. Some of the doors were open (including a few multi level buildings) but most were locked. Not that it mattered much, as the insides were dark and empty. The best views were outside. I spent a solid 90 minutes wandering around and very rarely did I run into other visitors. As I was descending back down to the parking lot, I noticed a few drops of rain. By the time that I was eating lunch in the car, the sky opened up and it rained hard for about 10 minutes.
As I drove back up and over the mountains again, it resumed raining. I was kinda concerned how well people would drive in rain, when they experience it so infrequently. thankfully they were overly cautious. Plus the thick fog was still clinging to the pass. I reached Al Basha just before 2pm, and then there was a huge downpour, with strong winds too.
Checking into the hotel was an unpleasant adventure, as they claimed not to have any record of my reservation, and the woman at the reception desk had extremely limited English skills. At one point she was using Google translate on her phone. Eventually it got sorted out, and i got a room for the same price as the reservation.
For dinner, I went to a place that their entire menu in arabic & english, and i was even more surprised that most of their staff spoke english. Its not like i am in some tourist hot spot. anyway, i ordered Beiruti hummus (its got extra garlic), lamb & eggplant kebabs, and lime & mint to drink. it was all good.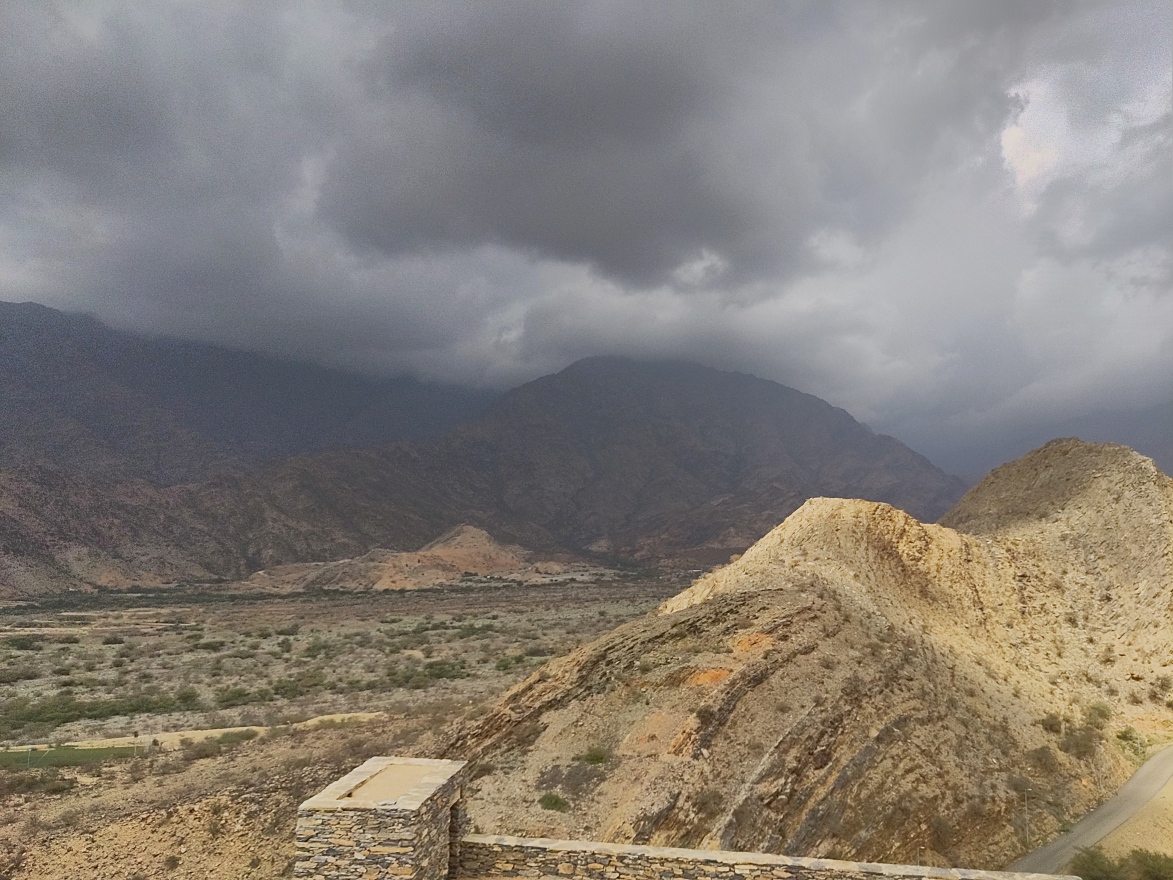 Day 15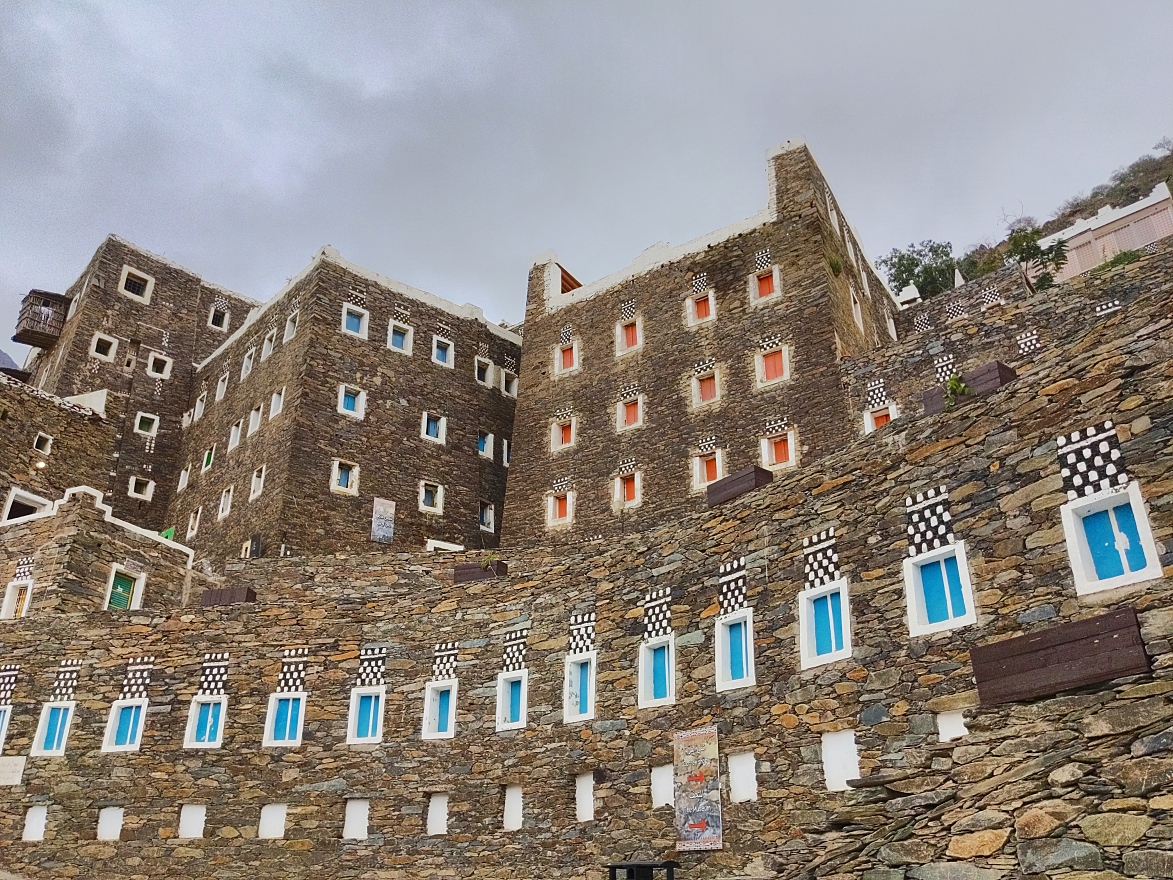 Last night's hotel had a call to prayer alarm clock in my room. I didn't realize what it was until it went off with a recorded voice at 2am. Apparently someone set it for some other timezone. That was not fun. I managed to fall back to sleep, but was up for the day before 6am. I had a brief shower as the hot water ran out after a couple minutes. I was on the road by 6:30am.
The weather was far less crazy. It was cloudy, but no wind, no fog and no rain. Instead I experienced lots of road work, as they were upgrading the roads from 2 to more lanes. Of course that made passing slower vehicles a challenge, as I was often driving in a concrete barrier tunnel. Eventually I got clear of the worst construction, and drove through mountain valleys with mostly cloudy skies.
I reached the old village of Rijal Almaa just after 10am. The village has existed for nearly a thousand years. What makes it special is the construction method used for the buildings. They are multi story (some as much as 4 stories tall) structures made entirely of stone, clay and wood. Its similar to the style used in Yemen (which is roughly 3 hours drive to the south). It was different than Zee Ain from yesterday, as the individual buildings were taller, and had painted windows in a variety of colors. Its also a much smaller village overall. There were no other visitors while I was there. There were more baboons scampering about though. There was a small coffee shop, and I had an Arabic coffee and date cake before leaving. The coffee had a ton of cardamom in it. The cake tasted mostly like sugar.
I left a bit after 11 for the four drive up to the city of Bisha. The road for the first hour was insane. Trucks were forbidden, as it was so steep, twisty and narrow as it crossed over the mountains. The road topped out at 8600 feet, which was actually above the clouds. Oddly, there was a huge playground up there, at the edge of a cliff.
After that, the drive went across a plateau for a while, then eventually merged with a freeway. Then google routed me onto a single lane, paved road across the desert. The scenery changed quite a bit, and now there were huge boulders scattered across the landscape, plus large boulder strewn mountains. It also got much hotter, and hit 32C. I ended up pulling over after noon to eat lunch. This weird road eventually ended at the backside of a large town where I got gas.
I reached Bisha just after 3pm. I am truly out in the boonies. The hotel didn't take foreign cards, which wasn't a big deal as it was just US\$50, so i paid in cash.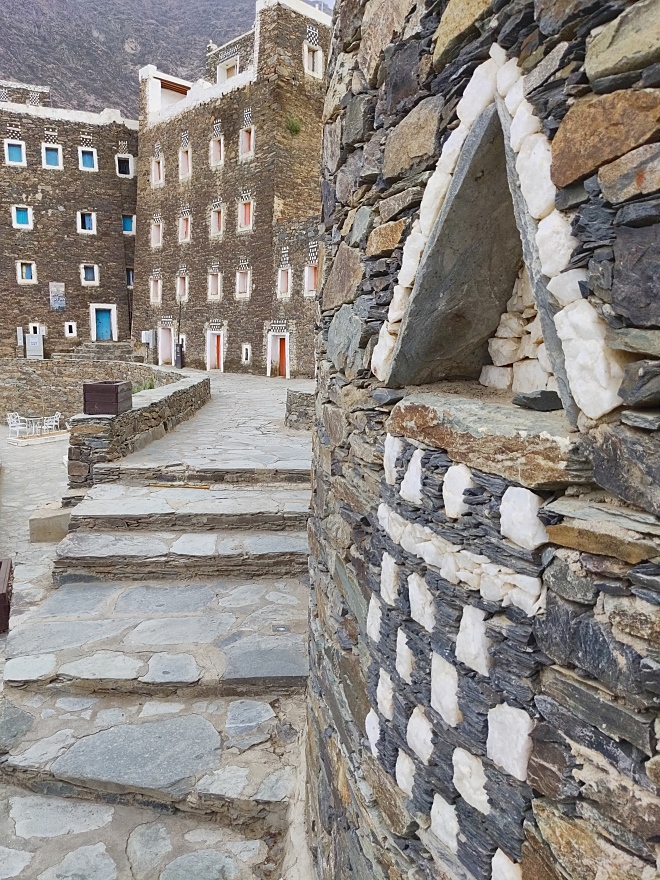 Day 16
I had a rather crappy night. The bed was asia/africa hard. the AC both didn't work and was extremely loud. and all the street traffic noise was loud. i was awake at 4am and gave up at 5:15am. the shower ran out of hot water after 2 minutes.
I was on the road at 6am. the drive was super long, and mostly very very dull. its not called the empty quarter for nothing. the few towns were full of speed bumps. then i hit horrendous Riyadh traffic. it took over an hour to drive the last 20km. in the end i got to the hotel just after 3pm. the hotel gave me a free upgrade to a suite. its no where near as fancy as in Doha, but its nice.
i can't tell if its smog or sand, but the sky is kinda brown in Riyadh. Also, every restaurant that I have eaten at in this country is open the entire day from lunch until midnight. yet whenever I go for dinner around 6 or 6:30pm, I am the only customer. I get that people have prayer time around 6:30pm, and don't want to eat until later. But why stay open for so many hours if no one shows up? its odd.
Day 17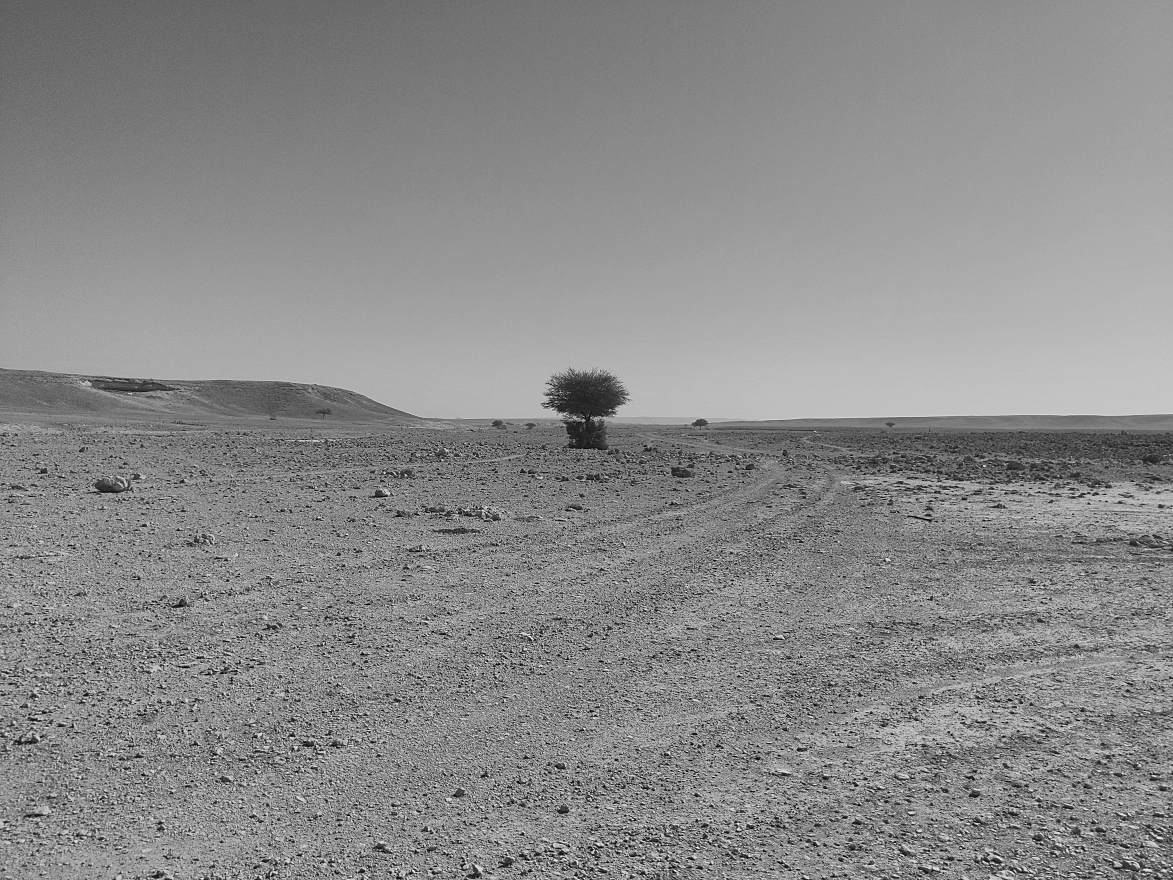 I slept much better overall. My PCR test came back negative just before midnight.
My plan was to drive out to the Edge of the World, a massive cliff over looking the desert, west of Riyadh. The drive was supposed to take about 2 hours. Most foreigners who go there use a guide/driver, so there's not a ton of info online about the route or driving conditions. The little info that does exist mentions two different routes. One is shorter, but has deep sand. The longer route is supposed to be preferable for vehicles without four wheel drive (like me, with a crappy rental car). The first hour of driving was mostly getting out of Riyadh, and then through a few tiny towns. Then came the actual turnoff, where pavement ended. Almost immediately, I needed to cross a steep wadi, which looked impossible without high clearance. But then, I noticed an alternate route, and made it through. For a a while, I was doing ok, averaging 20kph, mostly dealing with occasional washboarding, and swerving around large rocks. It was mostly flat, open desert with lots of tiny rocks everywhere. At one point I reached another wash that looked bad but then noticed an alternate route that was viable. Then I reached a wadi that was far worse than the previous, and I could not find any way to cross that didn't seem likely to end badly. I turned around and started to drive back. While driving, there was a steady trickle of cars coming towards me. Two even stopped to ask about road conditions.
It was after 11 by the time I got back to Riyadh. I was going to visit the Saudi National Museum, but first I wanted to find lunch. There was a Jollybee not too far away, so I drove to where Google claimed that it should be, but found nothing. There was a huge mall across the street, so I parked and went inside. It was a world unto itself. Nearly every shop, restaurant and business was targeted at foreign guest worker needs. Mostly Filipino. Signs were often in Tagalog. There were "Manilla Barber", "Pinoy Uniform" and "Filipino Seamstress". I passed multiple stores that were full of rows of people sitting at sewing machines making uniforms. I passed a few restaurants promoting "unlimited rice" or had all you can eat buffets, but the buffet was just 6 items. It was kinda sad. When I located the food court, I found the Jollybee (which made so much more sense). I got fried chicken and a huge pineapple juice, which was pretty good. While eating, the call to prayer was blasted, but literally everyone there looked Thai or Filipino, and could not care less.
After lunch, I drove 5 minutes away to the museum. I parked, walked to the entrance and was told that they were closed today, with no explanation. At that point, I drove 10 minutes further south to the Al Masmak Palace Museum. The museum occupies a 19th century mud brick fortress. When I arrived, the huge wooden door was closed, but lots of people were waiting around. Then, at 1pm they opened, so I'm guessing they closed for lunch or prayer time. The museum was super lame. It was a heavily propagandized version of the founding of the country (in the early 20th century), with a few glass cases of old artifacts (mostly weapons). The fort itself did look kinda nifty. I finished in about 20 minutes, and then made the 25km drive all the way through Riyadh back to the hotel.
I spent the rest of the afternoon packing and relaxing. For dinner I went to a different Italian place and got pizza again. Oddly, I showed up at 18:20, and most of the tables were full. I am so confused about how dining hours work in this country. The pizza wasn't as good as yesterday, but wasn't bad.
I had no issues driving to the airport. Returning the rental car was more drama & nonsense. The guy inspected the car with his cell phone light, and found some scratches on the underside of the bumper that he claimed were new. they may have been, but the only way anyone could see them was to literally look under the car. whatever, I wasn't going to argue. but he clearly had no clue what to do next, and was frantically calling half a dozen people. none of them answered, and after waiting 20 minutes, I insisted that we finish this up so that I could catch my flight. he tried to insist that I wait until he figured out the charge for the damage, but I pushed back and told him that he had 5 more minutes. of course that made no difference, no one was answering his calls. he suggested that they keep my deposit which was for the loss/damage deductible amount anyway (which he was too clueless to figure out), and I agreed. then he wanted to keep my copies of the paperwork, and I refused. he made photocopies of my copies, and called it done.
next was boarding pass fun. the ticket agent initially insisted that the antigen test was not acceptable. I pulled up the French govt website which clearly stated it was accepted. then she had a conversation with another person, and finally agreed that I was fine. then she asked for my vaccination card and clearly had no cue what she was looking at. she started reading my yellow card instead, still looked confused, and just handed me a boarding pass.
next was emigration nonsense. they insisted on taking my fingerprints, but it wouldn't scan. the woman asked if i have problems with my fingers. i wanted to say 'only in this country', but instead just said no. then she instructed me to go to a different lane with a guy that had a huge mustache. he was not happy that i interrupted his rest and demanded to know why I was there. i told him that the lady over there sent me here, but he asked me why again, as if i had any clue. he glanced at my passport then stamped me out.
security went amusingly smoothly, and then I found my gate. the terminal looks 75 years old, and there are just 30 gates. boarding started, shockingly, on time. We pushed back 5 minutes early. My row was completely empty. I spent much of the first half of the flight sleeping. They had some truly disgusting food on this flight. An hour after departure they handed out white bread cheese sandwiches and chocolate chip muffins. Two hours before landing they had a hot ground lamb thing with hot spinach and potatoes which I ate, but it was awful. We landed at CDG a few minutes early and taxied forever.
Next was transiting to the terminal with my AirFrance flight to SFO. First I had to clear security, which had a massive, slow line. They flagged my camera for secondary screening. Then I had to ride a shuttle bus from terminal 2C to 2E-L which took a good 15 minutes. Then walking for another 10 minutes to reach the actual terminal. So prolly about 40 minutes from deplaning to my gate.
The AirFrance flight was ok. I slept for a chunk of it. The food was good.
All of the trip photos are posted HERE.
A GPX map track from the trip is:
This post is part 2 of the "france-and-saudi-arabia-2022" series: