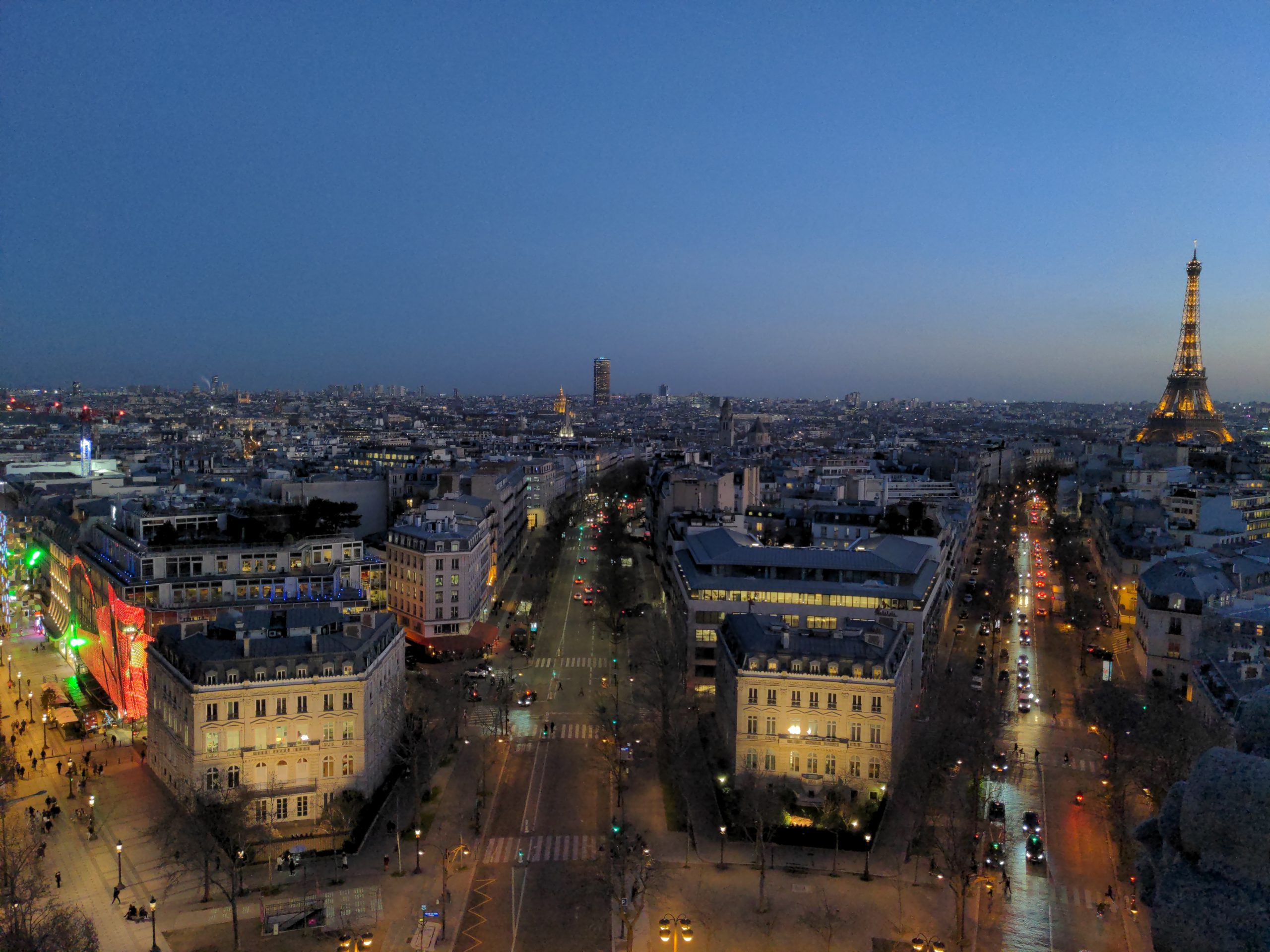 15:07 Sunday, February 02 2022
France and Saudi Arabia (1/2)
This post is part 1 of the "france-and-saudi-arabia-2022" series:
This trip was a fiasco and a half. The original, original, original plan was to spend 3 weeks in Algeria (1 week in the north, 2 in the south). After some kinda sketchy vibes from the guide for the south, I backed out of that, and changed plans to just do the 1 week in the north, and pivoted to spending the remaining time in Saudi Arabia. As the trip date neared in late 2021, every part of the Algeria trip started to go off the rails. Flight schedules were changing repeatedly, flights were being cancelled, and getting the tourist visa was a disaster. Algeria gladly took my visa application, but did nothing with it. It sat in their New York consulate for over a month. Every time I requested a status update, they blew me off claiming it was pending approval by the foreign ministry in Algiers. Barely two weeks before departure, they still couldn't tell me when or even if I would get a visa. At the same time, my flights from Algeria to Saudi Arabia got cancelled yet again, and there was no sane way to make that work without slicing one or more days off the Saudi Arabia itinerary. I gave up on Algeria. However, since by that point I already had a flight into Paris (to connect to Algiers), the most viable alternative plan was to spend the week that was supposed to be in Algeria, in France instead. That became the new plan, and is what this trip turned into.
Day 1
The ticket counter for Air France had a small line of people with a crazy number of bags. Also a random idiot in line wasn't wearing a mask until someone behind the counter reminded him. After 10 minutes of waiting I got my boarding pass. They glanced at my PCR test and CDC card. TSA was a ghost town for the PreCheck line, and I waltzed through with no line or wait. They were so bored that they flagged me for a "random" explosives residue check of my phone. The terminal wasn't too dead, but I still had 3 hours to wait. A woman showed up with her unmasked 4 year old, who was blasting random garbage music from a tablet. I moved when the kid decided to start screaming and climbing all over the seats. that worked until a huge Russian speaking guy with an American flag gaiter showed up, pulled it down around his neck and spent the next hour on the phone. Boarding started on time. The flight was very light. I had an entire row of 8 seats to myself. We pushed back 8 minutes early, and were in the air by 15:25. The flight was ok, but there was a lot of turbulence and the food was gross. they delayed both the lunch & breakfast due to the turbulence. this was likely the worst airplane food that i've had in a long time. they didn't even have any choices, it was rubbery pasta in a "Mediterranean sauce" or nothing. we landed about an hour early to thick fog and rain at 8C.
then we taxied forever, then there was a crazy long walk, plus an air train from terminal 2E-K to 2E-L, followed by another long walk. thankfully passport control was fast & easy. bless the EU.
i went looking for a SIM card and there was just one counter in the arrivals hall selling a single Orange plan, 20GB for 40 euro. that is extortion, so I passed. i found an ATM and got out 50 euro. then i went upstairs to the departures hall to find the pharmacy. France requires everyone to have a vaccination pass to enter public places (museums, restaurants, etc), so i had to get the 36 euro pass. it was easy enough, they printed me a page with a custom QR code that their COVID19 app scanned to make it all official. i now have a shiny EU COVID19 vaccination certificate.
next i started walking through the hinterlands of the terminal to the train station to get into Paris to my hotel. along the way i passed a convenience store, selling SIM cards for much more reasonable prices, and bought one. finally i reached the train station, which was a confusing mess of signs. I needed the RER B train, which is basically the Paris commuter train. but there were also a ton of long distance trains too, and it took me a bit to sort out where to find the RER B. thankfully there was already a train waiting on the platform, and i departed after a few minutes.
the train was mostly empty and uneventful, and passed through suburbs. i got off at Les Halles station, and transferred to the Metro line 14 for 2 stops to Madeleine station. Walking from there to my hotel (Maison Astor) was a bit of an adventure, as i hadn't inserted the new SIM card into my phone yet, so i had no internet for navigation. thankfully, it wasn't raining, and i sorted out the route after a few minutes of studying the cached map and street signs. the hotel is on a nice, quiet side street, and they have their act together. i purchased a 5 day, unlimited Metro pass sent to the hotel in advance (it can only be purchased online or at 3 specific stations), and as soon as i arrived and handed over my passport, they had the packet ready for me. check in was quick, and despite arriving over 2 hours before the official checkin time, my room was ready. the hotel is named after John Jacob Astor (the wealthy real estate investor, who died on the Titanic), because he owned the building. my room is small, but nice and overlooks a private courtyard.
Despite having a 7pm dinner reservation, i was starving by mid afternoon. I hadn't had anything to eat since the mediocre breakfast on the plane at 9am. So i decided to go out and explore for a bit. I stumbled on an alley with fancy shops all decorated for Valentine's day. Then a few blocks away a huge catholic church that looked like a greek/roman temple. cafes have parklets here! eventually i found a bustling cafe, Francois Felix, and decided to give it a try. even in the cold, windy drizzle people were sitting outside. i ordered onion soup and a glass of wine. It was yummy. despite wanting to order more food at 4:30, i didn't want to spoil my dinner, so i wandered around some more. i stumbled into the fancy store area, with tourists taking selfies. i changed directions, and found the British embassy, with heavily armed guards out front, and 2 huge posters of Daniel Craig (as Bond) for some reason. it was getting colder, so i headed back to the hotel until dinner.
Dinner was at the bistro, L'assiete, which was awarded best Paris bistro in 2017, and is famous for their cassoulet. Its located a bit south of the center of the city, and took about 30 minutes to get reach from my hotel. I arrived just as they were opening for dinner and there was another group ahead of me. when i was seated, they brought some amazing dark, crusty bread, butter and thinly shaved ham. it was yummy. thankfully they spoke enough english to walk me through the menu and specials. i started with a "cake" made from fresh crab, frothy cream and caviar. it was soooo good. of course i got the cassoulet for my main. to drink, i had a grenache with the crab and a provence red blend that was predominantly syrah with the main. omg the cassoulet was amazing. they brought it out in a cast iron bowl, and it was bubbly. so many meats: lardons, lamb, pork ribs, cured pork ribs, white sausage, cured pork sausage, and lots of beans. for dessert i got salted creme caramel. mmmm buttery goodness.
it was pouring rain when i finished dinner. i had an umbrella, but i was soaked from the knees down anyway.
Day 2
i slept like the dead last night, all the way until my alarm at 7:45. i got a quick shower, then headed out for the day.
first was Sainte Chapelle, a 14th century church. Getting there was supremely frustrating for 2 reasons. first my SIM card stopped working as i exited the Metro, so navigating was difficult until the GPS kicked. but also, the building is inside the same compound as the city court complex, and there were tons of guarded entrances for court buildings, but just 1 for the church with just a single sign at that entrance. eventually i found the correct entrance after walking in circles. i had to clear airport style security, then walk through an outdoor parking area. once inside, all the frustration paid off, as it was spectacular. i had to climb a narrow, stone spiral staircase up to the chapel. there was a huge, vaulted ceiling painted blue, with stained glass windows running nearly the entire way on all the walls. it was so pretty.
after that i walked sort of next door to Conciergerie, which used to be the prison during the revolution. it was full of school groups, likely getting a history lesson. apparently Marie Antoinette was imprisoned here before she was executed. it was ok, but not amazing. it had a ton of massive fireplaces big enough to park a car inside.
it was just after 10 when i finished there, and i needed to figure out why the SIM card wasn't working, because i needed internet to get all of my prepaid entry tickets to pull up. i found an SFR shop (the phone company for my card). they couldn't help, and had me call an english phone support line. they eventually figured out that my SIM registration was rejected because it didn't have my birthdate. i still have no clue how that happened. but of course they couldn't fix that over the phone. instead i had to email a photo of my passport and wait as much as 2 days. so now i play the waiting game. i may have to buy a new SIM card if its not resolved soon, as i need a working phone number for my COVID test on thursday.
also, not having internet made lunch planning hard, as i was hoping to just look on maps for nearby well reviewed places near wherever i was at the time. i eventually managed to find free wifi, and found somewhere along my walking route that looked good. I walked along the Sienne for a while, passing the Louvre. of course the place i was looking for was no longer open for lunch. i wandered a few blocks and found a cafe that looked nice and took a chance. it turned out fine. i had their plat du jour, which was mashed potatoes, a nice red wine sauce with onions and a large sausage. it was good. the place was nearly full by the time i finished.
after lunch i had a ticket for Musee l'Orangerie. i got there by walking across the Sienne (this may have been the 4th time today), then cutting through Jarden des Tuileries. The Louvre complex is at the east side of the park, and Orangerie is at the west. The park was packed with people, despite being a chilly winter monday afternoon. Thankfully the skies were clear today. the park was pretty, with lots ot random statues, fountains and nicely manicured trees. my ticket was for 14:30 but when I showed up at 13:00 they didn't mind and let me in. Also every indoor space that I have entered has rigorously demanded to see my health pass. the lunch cafe today even turned away some foolish tourists who didn't have it.
the museum itself was small, but nice. the lower floor had 2 large temporary exhibits. first was lessor known impressionists from the early 20th century. the second was a nice, recent David Hockney mural from 2020 that he created while on lockdown at his Normandy retreat. i think i may have mentioned this before, but i love Hockney's stuff. the top floor was the permanent gallery of Monet's Water Lillies, as designed by Monet. it was basically 2 giant ovular rooms, each with the paintings wrapped around the walls. i always thought the work was a much brighter, vibrant hue, but they were dark, and almost gloomy. apparently the earlier versions (before he developed cataracts) were bright, but the later ones were darker, reflecting his own vision at the time. i recalled seeing them last year when we went to MOMA. i finished up in about an hour, and walked 20 minutes back to the hotel.
i had a ticket for the Arc de Triomph for 18:10. i got there about 20 minutes early, and was a bit confused how to get in. crossing under the insane traffic circle was easy, but once i came up to the surface there were ropes everywhere. eventually i figured out that i needed to walk around to the opposite side to enter a security trailer. then was the health path, and finally the ticket scan. finally i entered and proceeded to climb an insane spiral staircase to the top. i had flashbacks of climbing the spiral staircase to the crown of the statue of liberty (oddly, another French creation). at the top was a small museum, gift shop, and yet another staircase to the terrace (roof), for the views. it was past twilight, and super busy, as the lights of the city were coming on. of course the big draw was Tour Eiffel, about 2km to the west. it was a great view. i stayed up there for about a half hour, then made my way back down, to head to dinner.
Dinner was clear across the city, on the east side, at Le Servan. they are known for doing asian inspired twists on classic bistro food. they recommended an acidic white wine to accompany my food. i got a bourgogne blanc which i swear tasted like the 2015 vintage of the Pax Buddhas Dharma. it was super acidic and crisp. i got a photo of the label, but i assume its not exported. i ordered a small plate with sardine fillets on toasted brioche, an appetizer with thinly sliced scallops, chili crunch, a rectangle log of sliced potato, and a dollop of creme fraiche. for the main, i had lamb shoulder comfit, with roasted cauliflower, crumbled almonds and a spicy butternut squash puree. the cauliflower was a bit bland, but everything else was delicious. also i learned that chou-fleur is cauliflower ( i think its in season, there are even ads in the Metro promoting it, because France). desert was a tamarind tartlette with shaved coconut on top with coconut ice cream. this was an amazing meal.
Day 3
i slept until my alarm again. first stop of the day was Musee d'Orsay. The Metro was packed. thankfully just 3 stops. as i exited the station at street level there was a boulangerie that was calling to me. breakfast was pain au chocolat and roule de pistache. they were good. its overcast today, but no rain forecasted.
i got to the museum 20 minutes before opening, and it was already mobbed with teenager (school?) groups outside. i got in the line for ticket holders as they milled about doing the teenager things. there's a weird bronze standing elephant statue with a person hiding(?) underneath in front of the entrance. also, a series of statues of women. the first is the french maiden of democracy in the flowy robe. the others are clearly foreigners, all topless. there's a generic asian, african, native american (feathers in her hair). its kinda weird.
The museum was nice. Mostly impressionist paintings, with some sculptures. It was very crowded, even without the school groups. I do have to give the French credit, taking 6 year olds, and somehow making them behave in a museum. I think the 2 best things that i saw were:
Gustave Guillaumet, Le Desert
Charles Angrand, La Grange sous la neige
I ate lunch in the museum restaurant, which had ornate chandeliers and painted ceilings. The food was ok, but nothing special. At that point i had finished at the Orsay in just under 3 hours. I crossed the Seinne, and headed over to Jeu de Paume (the photography museum). Its relatively small, and they had just one exhibit, on loan from MOMA. it was photos from the period between WW1 & WW2, which is considered the infancy of the modern photography movement. It was definitely interesting, and the museum was kinda empty compared to the Orsay. it only took an hour.
my stupid SFR SIM card was still not working after 24+ hours of waiting, so i decided it was time to find a new one. you'd think that should be easy, but of course not. i figured i would go to an Orange (the mega phone monopoly based in France, that operates in basically every French speaking country) store as that should be simple. nope. the clerk in the store sneered at me when i asked if he spoke English, and claimed that they had no SIM cards left. i assume he didn't want to deal with an English speaker. so i returned to the hotel, and asked the concierge for help. he suggested that I visit FNAC, which is apparently a huge department store chain in france. it was a 10 minute walk, and i was able to purchase a not crazy expensive SIM card for Free (another french mobile company). so far it works.
dinner tonight was at Arnault Nicolas, which specializes in French charcuterie. I didn't realize it when i made the reservation, but its literally a few blocks from Tour Eiffel, and i could see it looming overhead, as i walked to/from the Metro. they had a tasting option on their menu that i wanted to do, but it required 2 people. so i ordered an appetizer of Quail, Pork and Foie gras pie with dried fruits, and a main of scallops with thin caramelized onion pie, slices of Betroot and Comté cheese, Scallop sauce flavored with Truffle. Service was not great. they didn't even bring out the menu until i was sitting waiting for several minutes. i had to ask for water 3 times. the food was good, but really tiny portions. the main was more like an appetizer. it looked pretty though.
Day 4
last night, some super loud couple checked into the room beside mine. they woke me at 1am and it took a while to fall back to sleep. i was up at 6:30 for my alarm, to head out to Versailles today. i keep forgetting how dark it is in Europe in winter. i didn't see the sun until after 6am. i had to take the metro for 4 stops, then exit and cross over the Seinne and get on RER C the rest of the way to Versailles.
I arrived in Versailles at 8am and the sun was barely rising and it was 30F. I had a half mile walk to the palace grounds from the station. I was possibly the first person to arrive that day, and got to wander the grounds for an hour before the palace itself opened. The weather was weird. the sky was clear, but there was thick fog rolling in. then the sun started to climb, and it flooded through the palace. i could see the fiery light shining through the windows, sort of obscured by the fog.
once it got close to 9, i got in line. finally they let everyone inside (maybe 20 people), checked health passes, and did security, and then we were free to wander. i assumed everyone was going to clump together, but surprisingly the people all went off in their own route, and i mostly had the palace to myself. that was awesome in the huge, grand rooms where I could get photos without random people in the way. I literally had the insane hall of mirrors to myself for several minutes, which seems to be extremely rare based on some googling. Most of the signs were only in French. i made an effort to translate, but after a while I decided that I didn't care about all the King Louis's, their queens, and dauphins. I finished the main palace in about 90 minutes, and much of the remainder of the site was exploring the gardens and grounds (which is nearly 30 miles perimeter). the gardens were pretty, and ornate, and the fountains had cool statues. but since its winter, none of the fountains were turned on, some of statues had tarps over them, and a lot of the shrubs & trees had no leaves. after walking a certain distance from the main palace, it all becomes forested park with not much to look at (it used to be the king's hunting grounds).
The second, smaller palace, Grand Trianon, didn't open until noon. Due to the crazy size of the grounds, I basically didn't get there until a few minutes before it opened. This palace is no where near as ornate or large, and looks kinda trashy. The big design feature is crazy usage of pink marble everywhere. Also, for reasons, half of it was closed today. The portion that was open took about 10 minutes to walk through at a leisurely pace. It was disappointing, especially considering the time that it required to reach.
At this point, i was super hungry, having had nothing to eat yet. The cafe near Trianon only had sandwiches & snacks, so i walked onward. There was a fairly busy restaurant about half way between Trianon and the main palace. Service was super slow. I waited minutes to get a menu, more time to order, etc. I ended up getting a Baltique Salade, which was shrimp, salmon, hard boiled eggs, green beans (because France), tomatoes and lettuce, with vinegrette & lemon. I also ordered a chocolate gatteau with creme Anglais. the salad was fine, the cake was hot and yummy. of course, i waited forever to get the bill. the table beside me were 3 women, that I assume were Americans (spoke unaccented English, and spoke almost no French). they were struggling with the menu, and ended up giving up and ordering the "fish & chips" because it was the only thing on the menu in English.
after lunch it was nearly 2pm, and i decided that i had spent enough time walking through the forest, and headed back. the grounds were noticeably much more crowded. i definitely made the right choice to arrive early. i caught the 14:25 train back to paris.
dinner was at the Michelin 3*, Arpege. they had 3 options on the menu. ala carte, all vegetarian tasting, and 12 course pescatarian tasting. i went with the latter plus wine pairings. i started with a very dry blanc-de-blanc, and a plate of thinly sliced winter vegetables (carrots and radishes) with sea salt.
next was a white from the rhone valley with their "hot and cold egg". this is one of their signature dishes. it was served in the eggshell, and was a custard on top with raw egg yolk on bottom. they also had bread service where the bread was made with lemon flour (it tasted like sour dough). seemed like most tables were getting the egg too.
after that was a plate of scallop carpaccio with slices of 2 types of radishes (white & green) with a french olive oil, madras curry powder and lemon juice. i liked this one a lot.
i finished the first wine, and the 2nd was a Burgandy chardonny from 50+ year old vines. the next course was 3 herb stuffed dumplings in an herb broth. the dumplings were red, green and brown, and had distinct flavors. it was nice and flavorful.
next was diced celery root, crushed walnuts, parmasean and shaved black truffle. it was yummy.
next was a butternut squash soup with smoked ham whipped creme. also, the next wine was an Alsace riesling. the soup was very smoky and creamy.
next was a sweet onion gratin with shaved black truffle. it was very oniony, which was nice.
i got a new wine, a Loir valley white. next course was lobster, oyster and a lemon butter sauce. this happened after a random dude showed up at my table with a tray of the entire lobster, and i was confused. apparently he was just showing me the lobster that i would eat part of. it was good though.
next was a beet root and carrot puree. it was kinda earthy.
next was rack of lamb, with spinach & leeks and an oyster emulsion. really good flavors.
next was the first dessert course. Jerusalem artichoke macaroons covered in chocolate syrup. it sounds odd, but it worked.
throughout the entire evening, there was a cart in the middle of the dining room, with a glass bell jar and white gloves that had a pile of black truffles. servers would reach in there every time a course needed truffles. i saw them finish off the pile 3 times.
next was an ice cream sandwich. espresso ice cream, creme anglais and bay leaf infused caramel. very strong coffee flavor.
overall, it was a great experience, although i would rate French Laundry higher on service.
Day 5
i woke just after 8am. The first stop of the day was the Lois Vuitton Fondation (museum). Its on the west side of the city in a huge park. The building kinda looks like a huge spaceship with a river flowing under it. my ticket was for 10am (opening) and there was a huge line when I arrived 15 minutes early. they didn't start checking health passes or tickets until exactly 10, which of course meant the security checks only added to the delays getting inside. The museum itself was fully taken over with a special exhibit of the Mazarov collection, on loan from Russia. The Mazarovs were Russian art collectors from the late 19th and early 20th century. The exhibit was nice, with a mixture of famous impressionist's lessor known pieces, plus Russian artists from the same era. However it was ridiculously crowded, which made it a struggle to see everything. Despite that, I finished up in about 2 hours.
As it was getting close to lunch time, i decided to go to a bistro that I had on my list, but hadn't been able to fit into the schedule, Bistro Paul Bert. It was clear across the city on the east side, and took 45 minutes to reach. it was worth it. i had creme de saint-jacque au pimen d'espellete (cream pepper soup), onglet de beouff au poivre et frites, and a gorgeous apple tart.
i walked about 15 minutes towards the opera house district to get my PCR test done. thankfully it went smoothly (they spoke good english), and I should have my result by 6pm tomorrow (my friday). it cost about \$50, and most of that fee was for the certificate. i walked past the opera house on the way back. holy jebus, its crazy town ornate and gaudy. statues, gold covered everything, columns, domes. i kinda wish i had the time to see an actual show inside.
dinner tonight was at a bistro called Chez Michel, run by a Japanese chef, who is known for creative spins on traditional recipes. it started raining after i returned from the PCR test, and was pouring by the time i left for dinner. when i first arrived, i was the only customer, which i hate. but thankfully people started to trickle in over time. this may be the most French meal of the trip. right after they seated me they brought a plate with cold snails and a dish of mayo, with a tiny metal pick to extract the snails. to be honest, the snails were kinda tasteless and i ate about 5. i started with a terrine of foie gras, which came with pickled onions, herring, may and a fat slice of brioche. it was great. my main was grilled sweetbreads on smashed potatoes with a fricassee of chanterelles and onions all drowned in a sauce perigueux (red wine black truffle). oh your god, it was divine. dessert was a cheese plate which had comte, st. maure (goat's milk from Tourane), and a bleu from Auvergene (apparently the birth place of blue cheese). all 3 were tasty.
Day 6
i woke at 8am, and headed out for my Saint Germain district food tour shortly after 9. The tour starts in front of a fancy bakery, Poliane. I figured I would get something small to eat. They were super snooty, and sneered at me. i got a hot pocket looking thing which was filled with apples. it was pretty good.
The tour was me plus a couple from Miami, and a couple from Dublin. Turns out the snooty bakery is a big deal, as they have been making sourdough bouls for over a century. I got to try one of their apple tarts which was good. Although honestly the one that I had with lunch yesterday was much better. After that we walked a few blocks to a fancy chocolate shop (Chapon Chocolaterie), and got to sample a few items. they were very good. Next we spent time at the Saint Germain market, which is one of those food halls, with the fancy stalls. We picked up cheeses and charcuterie for later. We also got some mango passion fruit macaroons. the final stop was at a wine shop, where we went down to their 18th century wine cave. they had a table setup where we got to drink 3 wines and eat all the meats & cheeses. It was really nice. There were 2 different goat cheeses that i liked, plus a hard cow cheese with pressed, dried wild flowers on the rind which was also good. I also had a few runny/soft cheeses, which were ok, but not really my thing, and a rocquefort which was nice. For the meats, there was a salami with whole peppercorns, a preserved pork + duck fat thing, and some very fancy ham. the meats were good, but none really stood out. Of the wines, the first was a very buttery Chardonnay, the 2nd was a Beaujolais, and the last was a grenache syrah blend. i loved the last, but didn't care for the first two. finally we had the macarons, which were good. Overall it was a good tour. Not quite at the same wow factor as Istanbul though.
After that I headed west to the Marmottan Monet Museum. As the name implies, it mostly focuses on Monet's work, and is housed in a huge mansion previously owned by the wealthy merchant, Marmottan. Its a nice, smaller museum, spread across 3 floors. About 1/3 of the art were random pieces from the 18th & 19th centuries, a third was Monet, and the rest was a special/temp exhibit of Julie Manet. I spent about an hour.
My dinner reservation tonight was at Comice, but kinda late (20:30) because this 1* michelin is very popular, and that's all they had left. Somehow when I arrived, they lost my reservation. but I whipped out my phone and showed them the confirmation email from just yesterday, and they apologized and found space for me. After being seated, they brought me the most amazing, rich, cheesy gougères that I have ever had. I think that i have learned that i like wines from Burgandy and the Rhone valley. They sampled a full bodied red (2019 Champelrose Cornas) and it was really nice. Also, i learned that the reason I am finding black truffles on nearly every menu is because this is the season for them! I ordered their 4 course tasting menu, with wine pairing.
they served sourdough bread with what might be the most amazing butter i have ever had. it was perfectly salty, and so rich and creamy. i so badly wanted to eat it with a spoon. along with that was an amuse bouche of squash soup with lardons and a brioche log. the first course was scallop carpaccio with green onions and pears. it came with a Chablis, that was nice and light, but good acidity.
the 2nd course came with a grenache. this was the tagliatelle with shaved black truffle in a lemon brown butter sauce. this was spectacular. absolutely perfect in every way.
the 3rd course was some long named Chateau something red wine, with duck break, chanterelles and gnocci and a balsamic sauce. it was really nice a rich and flavorful. the wine was good too.
they served a palette cleanser of lemon sorbet with mint oil.
desert was a chocolate souffle with espresso ice cream. the souffle was perfect. they also served me a french desert wine, which was like a tawny port.
i finished with a passion fruit gellie, which was nice.
Day 7
I was up for the day at 8am. it was kinda noisy last night. Somewhere there was a barking dog at midnight, and then a guy in the room next to mine was talking loudly around 3am. i checked out at 9:30am, left my bags at the hotel, and headed off to Marais for my 10:30am food tour.
The tour was an older British couple, and then British group of the mother and her 4 adult daughters (2 of which were pregnant). They were kind of a lot. The tour was nice though. First stop was a boulangerie that won the best baguette in paris in 2015, and finished in the top 5 every year since. Apparently the prize is some money plus the honor of making all the bread for the president for the next year. we got croissants which were very buttery and good.
after that we walked a block and stopped at a very fancy chocolatier who also made gellie and flavored caramels. i tried the raspberry gellie, and a mango passion caramel. the caramel was amazing.
we stopped at the butcher who makes charcuterie and then a framagerie, and picked up a bunch of stuff for later.
next we walked to the neighborhood market food haul and wandered for a bit. then we headed into a wine shop that only does boxed wines from significant wineries. They sell 4L and 10L boxes. we all sat down, and sampled the meat, cheese, baguette (from earlier) and wines. the first wine was a chenin blanc, that was ok, but not great. we worked our way through the cheeses, starting with a young, ash coated goat cheese (really nice and light), then a washed rind which was good. we had an 18 month aged compte which had nice, crunchy crystals. after that we switched to charcuterie, which was some nice peppery salami, and something that translates into "grandmother's meat" (basically a bunch different pork products plus enough fat & gelatin to make a sliceable loaf). the salami was good but not really unique. the loaf tasted (and sorta looked) like chopped liver, and was yummy. last was a really rich rocquefort, which was good too. then we had some fancy chocolates from the store earlier, but they were honestly nothing special.
the tour wrapped up just before 2pm. my problem was that i was super full of food, so my secret plan to revisit the nice places from yesterday's tour was not going to work. i ended up going to the Musée Nissim de Camondo. its a mansion built in 1911 by this crazy rich dude (Camondo) who basically wished it was still the 18th century. the entire thing was designed and decorated with art and furniture from that era. eventually it was passed to the city, and turned into a museum. also, it had electricity and indoor plumbing. they hand out free audio guides which explain everything across 3 floors of the mansion. it was a solid 90 minutes.
after that i started googling for a good bar to fill some time before dinner. i ended up going to The Frog and Rosbif, who make their own beer. It was super packed inside (not surprising on a saturday afternoon), but i found a corner table outside on the sidewalk. I got a cherry porter, which was decent. Eventually i got too cold on the street, so i found a fancy hotel lobby to hang out in for a couple hours.
Dinner was at Restaurant Eels in a rather trendy part of town, where it seemed like half the businesses were fancy, small restaurants. They have an open kitchen I got their 5 course tasting menu, but i skipped the wine pairing, as I didn't want to go through 5 glasses. They did ask if i wanted a glass, and i asked for something dry with a lot of minerality. they brought out a wine from northern Italy (shock!) which was cloudy, and tasted almost like a very dry apple cider. it was nice. my first course was their signature dish, smoked eel, licorice, virgin apple, hazelnut, roasted butter sauce. it was really good. Second course was grilled endive, scamorza, chestnut jam, walnut wine dressing Meyer lemon. the dressing was nice but I didn't care for the bitterness of the endive. The first main course was roasted monkfish [Brittany], puntarelle, cauliflower, lovage coulis – jasmine. it was nice, but not amazing. The second main (4th course), was grilled porchetta [Aveyron], artichoke and sweet onion marmalade, pointed cabbage and Basque bacon, apple sauce – pepper jus. This was super tasty, rich and flavorful. Dessert was coffee crunch, citron marmalade, pistachio praline - rosemary condiment. It was fine, but not special. Overall, a nice dinner, but not amazing. Service was very friendly.
After dinner i went back to the hotel to get my bags. the metro was insanely packed to get to the hotel. No issues getting my bags. Then it was a longish walk to a different metro line, which thankfully was not that crowded. after that it was a long walk to catch the RER B train out to CDG. thankfully there was a train waiting, and i departed a few minutes later. i was checked into my room by 10pm.
All of the trip photos are posted HERE.
This post is part 1 of the "france-and-saudi-arabia-2022" series: