I recently returned from spending three weeks exploring Colombia & Ecuador. It was a good trip, with amazing scenery, friendly people and great food. This entry covers the first part of the trip, in Colombia. You can read about the second part of the trip (Ecuador) HERE.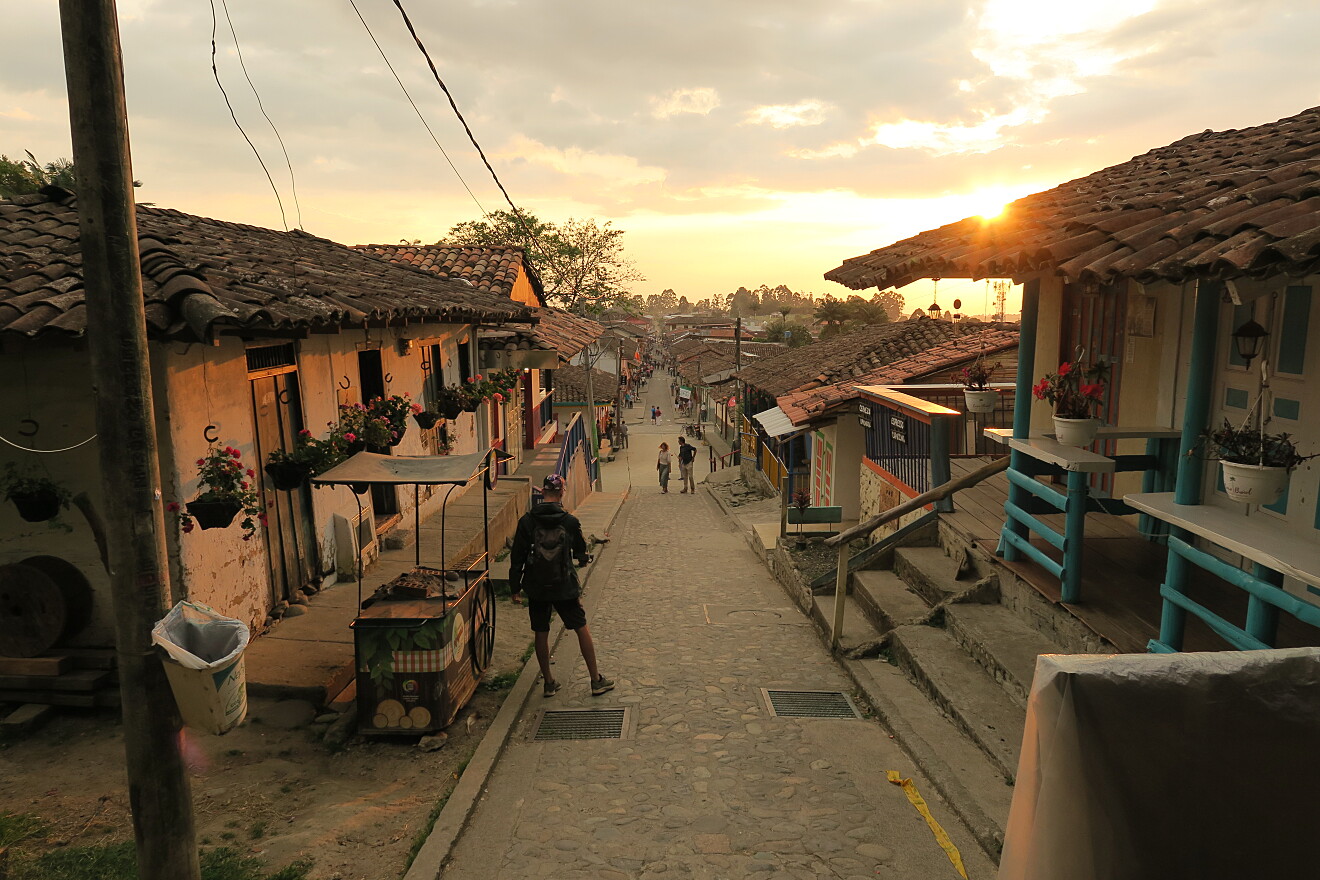 Day 1
The flight to Bogota was fine, but not great. we actually pushed back a few minutes early. The plane was old and junky. The biz class seat layout was 2-2-2. I had the window, and the guy beside me was not happy that i was unwilling to swap with him. This guy was getting up constantly, fidgeting and somehow managing to hog all of the communal space between our seats. the crew kept addressing me in spanish every time, despite me asking for english. The IFE had a barely functional map which updated maybe once every 30 minutes. The food was easily worse than what i've been served in economy on some of the world's better airlines. my seat did recline nearly the entire way, and i slept ok for a few hours, despite the fact that they never fully turned off all the cabin lights, and the crew was super noisy in the galley.
The flight landed a few minutes early. I had a long walk to immigration, and there was a line of about 10 people ahead of me. Thankfully it moved quickly. Immigration was easy, and the customs guy was super friendly, welcoming me to Colombia. I got cash from an ATM, then a SIM card. Took a bit of wandering around the terminal until i found where to get the boarding pass for the flight to Cartegena. Security was a bit chaotic, but no real problems. The terminal is ok. They have free wifi for 1 hour. I eventually found my gate.
LATAM is super militant about everything. They were enforcing carryon bag weight/size, boarding groups, and then they expected everyone to only use the overhead bin above their seat. I got scolded first in Spanish and again in English because i used someone else's overhead bin space. This plane was an oven. Beyond that, the flight to Cartagena was uneventful. the airport looks a hundred years old, with jungle growing up to the edge. No jetways, and we had to walk outside past much of the terminal. Thankfully the prebooked taxi was waiting for me. It was a short 10 minute drive to the hotel where i'll be staying for 2 nights.
Unsurprisingly, it is both hot & humid, with the Caribbean coast running along the northern edge of the city. Since it was barely after 9am my room wasn't ready yet. So i dropped off my bags, and headed out to explore. My primary goal was to wonder the old walled city, built during Spanish colonial times as a fort on the waterfront. my hotel was about a half mile away. The first big thing that i noticed is how many people are making and selling fresh juice from carts. On some blocks there are a dozen different people, all with slightly different fruits. Although small limes and orange seem to be the most popular. Additionally, the super annoying 'Agua amigo' guys, who are trying to sell bottled water but their entire vocabulary appears to consist of nothing beyond that one phrase. Despite that, its quite charming wandering the narrow streets. Most are lined with old colonial buildings, now painted bright Caribbean colors (pink, orange, etc) with balconies often covered in flowering vines. Plus massive churches and a beautiful cathedral. It helped that it was still mid-morning, so the sun was coming through these huge circular windows up high. Its been a long long time since i covered the Spanish explorers in school and all of a sudden i'm seeing streets named after them, or statues & busts scattered about. i guess 2nd (or was it 3rd?) grade history paid off 3 decades and change later.
In what will not be a surprise, coffee is a very big deal. There are shops selling the beans, and coffee bars everywhere. For lunch, i stopped in a very packed coffee bar/cafe. I had to wait 10 minutes for a table. I ordered what they labeled as a 'coffee cocktail', although it didn't have any alcohol in it. they called it a 'carajillo eppca'. There was a ton of other stuff, including cinnamon, & smoke from cotton embers. It was good. I also got chile quilles which were nice & spicy. What i've definitely not escaped are tourists. Lots of them speaking Spanish or English. I can't say i'm surprised. Colombia is the current hotness in South America. i'm catching the trend rather than leading. Hopefully the crowds thin out once i get away from the cities later in the trip.
i spent the latter half of the afternoon back at the hotel resting and cooling down. I went to a seafood place for dinner (Juan Del Mar). It was pretty good, but the service was slow. After that i walked around the old town at night looking at lights.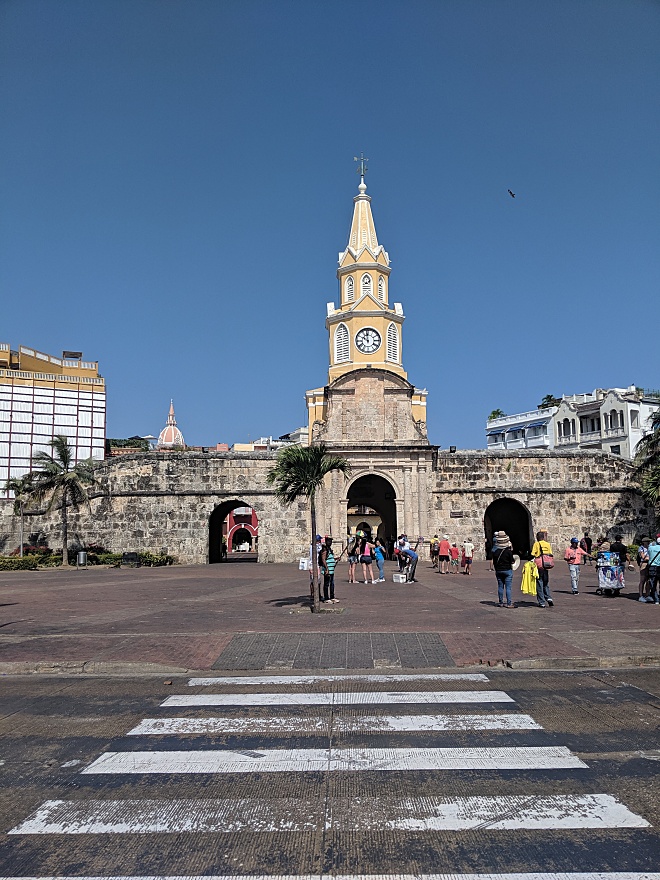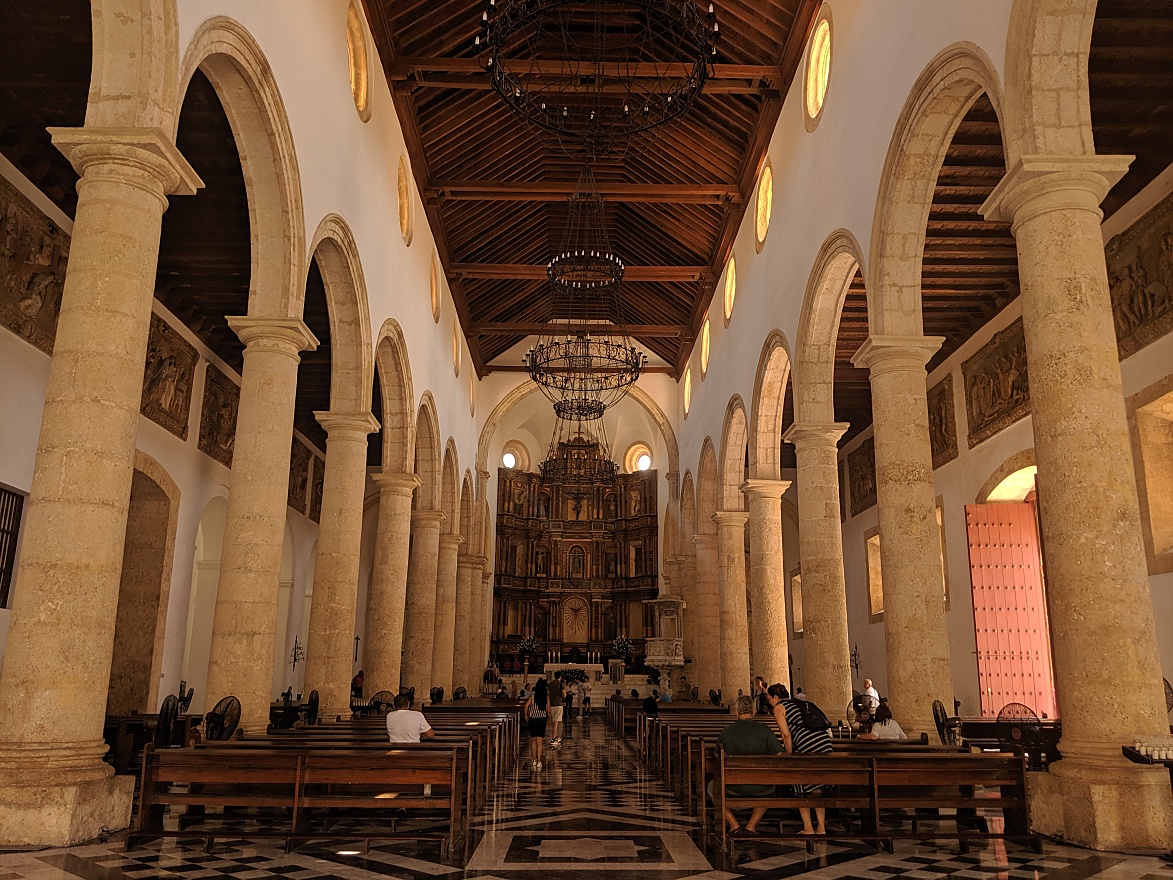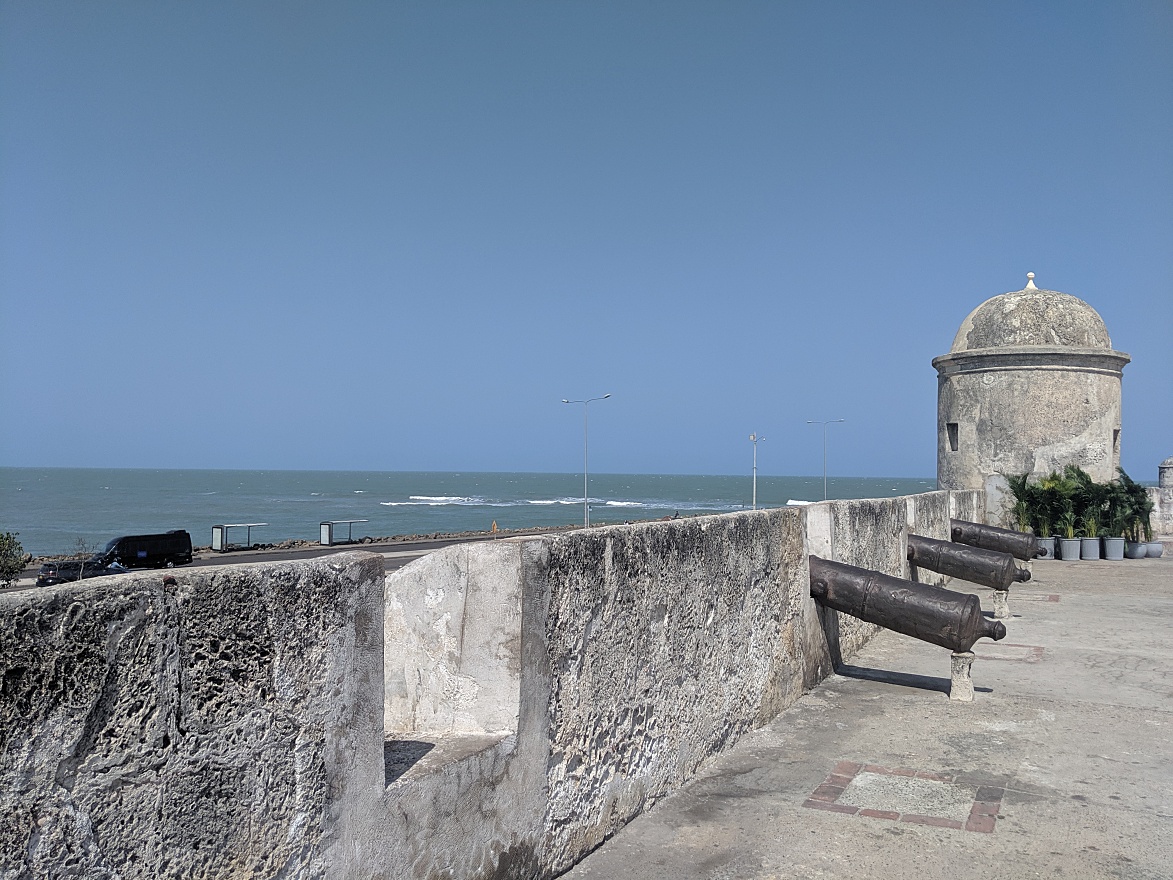 Day 2
I tried to sleep in this morning. But some annoying birds that sound like a fire alarm decided to have a party around sunrise. I still managed to cat nap until around 8am. I had a nice breakfast, then headed out. Unsurprisingly, its around 90f with equal humidity. I walked about a mile to Castillo de San Felipe, with is a 16th century fortress. I had to walk through a gauntlet of people selling hats, drinks & trinkets to get to the ticket booth. Its a fairly huge multi level fort, with narrow, dark tunnels running under across and between the different areas. Other than some rusting old cannons, there wasn't much else inside the walls. Some weirdo wearing what looked like an 18th century British redcoat uniform was blasting a trumpet, poorly. I could pick out the Americans, when they had the audio guide, and one of them complained "we can't listen and walk up this hill at the same time". After nearly 2 hours, i had explored the entire thing, and wandered back to the hotel to cool down.
Around noon i went out to get lunch. The place was about 15 minutes walk. When i got there they said that i had a 45 minute wait for a table. I agreed, as it was a well reviewed hole in the wall with just 6 tables. I killed time wandering around the neighborhood, but it was miserably hot. I got back to the restaurant at 1pm, and they said that they were running behind but it should be soon. Finally at 1:30pm, they seated me at a table with 2 other solo diners. It turned out to be a great thing as they were also solo travelers. One of them was a Korean UN Refugee Agency employee on a leave of absence. The other was Vietnamese born woman who is now an American living in Queens, NYC, and a huge foodie. Apparently this restaurant (La Cucina de Pepita) was featured in the NYTimes at one point, and she suggested that we order for the table which sounded great. We got fried plantain chips with a garlicy eggplant sauce, ceviche with shrimp & snails, grilled shrimp in a pepper avocado sauce, a fish soup in a coconut milk broth, and beef flank wrapped around cheese, tomatoes & peppers. Everything was amazingly delicious. After we finished eating, the foodie asked us what we had planned for the rest of the day. I had nothing (beyond dinner eventually), and the Korean woman also had no plans. The foodie suggested that we join her for the free walking tour of the old town, and we agreed. The tour was pretty good, and lasted 2 hours.
At that point it was 6pm, and starting to get dark. The foodie then invited us to join her for dinner at 'Carmen', which is apparently considered to be the best restaurant in the entire city (Bourdain ate there at one point). When we got there, they had no tables free until 9:30pm (it was nearly 7pm), other than seats at the bar. We went with the bar which worked out just fine, as we had the entire bar to ourselves. I ordered their tasting menu with wine pairings which was about $90 for 8 courses. It was really good, with a variety of Colombian inspired courses. Most of the wines were from Chile & Argentina (including a great Malbec). We also had great conversations about our jobs, and travel. The Korean has been posted in crazy places (where there are refugee camps) like Iraq, Afghanistan & Bangladesh (for the Rohinga). By the time we finished dinner it was nearly 11pm. Our hotels were all in roughly the same area, so we walked back, and then went our separate ways. I had a great time.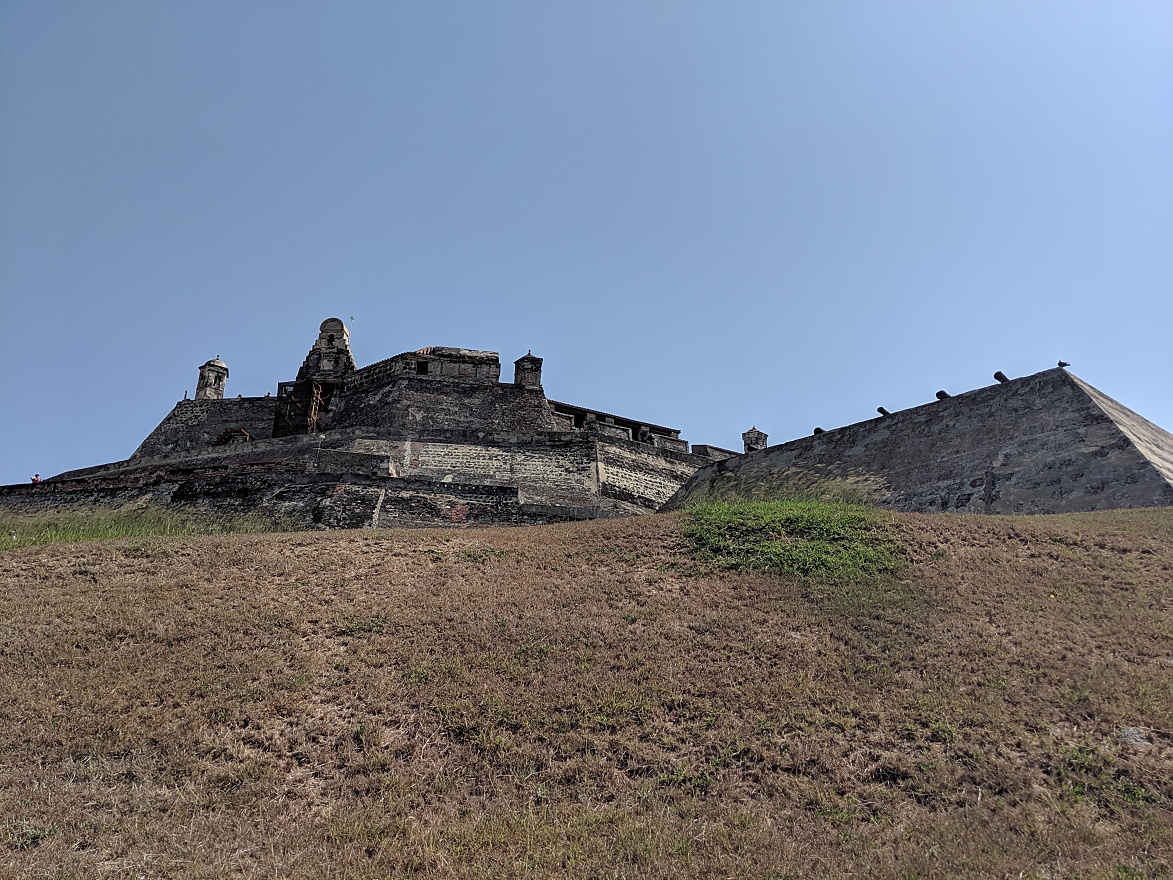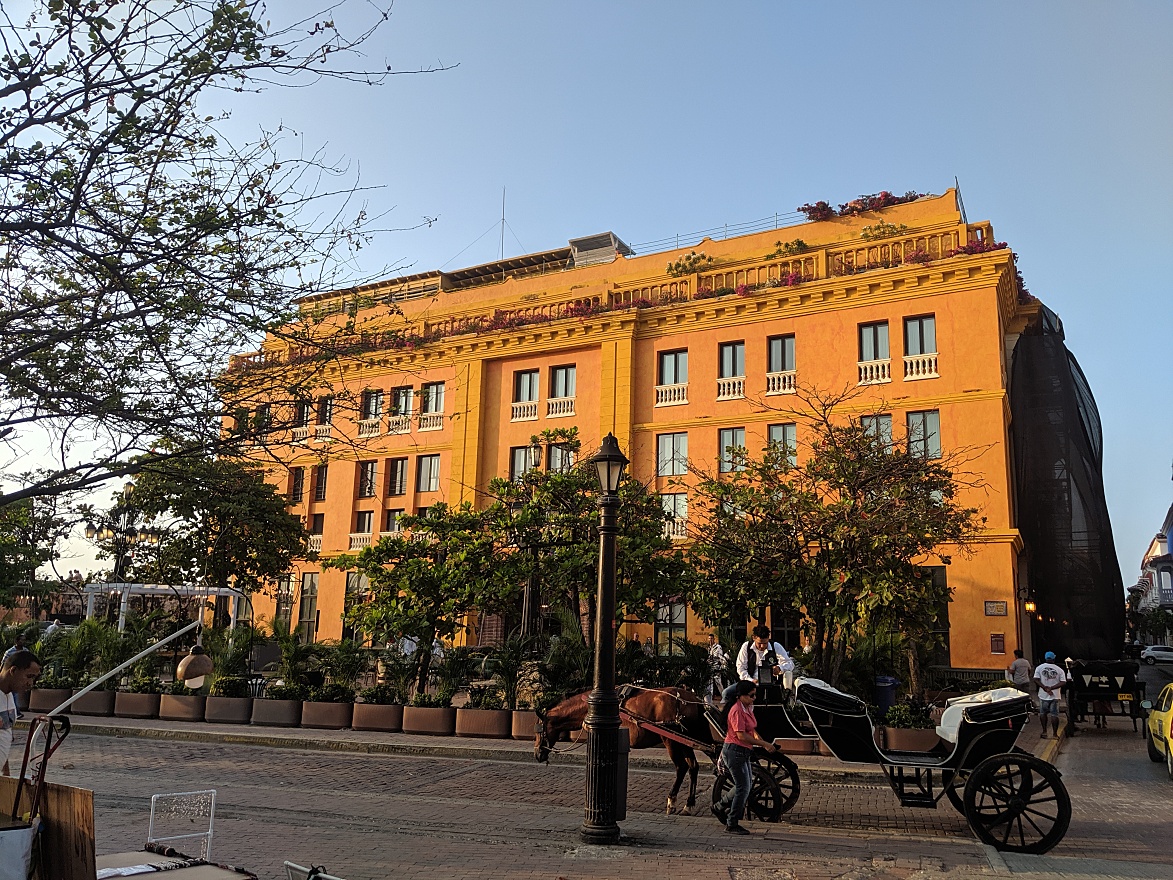 Day 3
I woke up in the middle of the night with horrible diahrea. I have no clue why, and am super frustrated. In the morning i felt exhausted from sleeping poorly, plus my feet are sore from all the walking yesterday. I skipped breakfast, hoping to give my insides a rest. I checked out, and tried to use the Cabify app to get a ride to the airport. Uber was kicked out of Colombia last month, and Cabify is the Latin American (plus Spain) equivalent. I say 'tried' as i waited over 5 minutes for them to find me a ride before giving up. The hotel called me a taxi for the 15 minute trip.
The airport thankfully had working AC, and was packed with people for the 8 gates. We boarded on time, and took off a few minutes late. The plane was blissfully cool. My hotel was supposed to have a driver meet me, but i never found him. Thankfully Cabify actually worked this time, and a driver picked me up a few minutes later. As soon as i exited the airport i noticed that it was far less humid. The new airport is nearly 30km east of Medellin, so it was a bit of a drive. At one point we drove through a 8km long tunnel. The city is in a large mountainous valley, with homes crawling up the sides. I got checked into my hotel, and then headed back out.
First was lunch. I thought i found a good place on google maps, but when i got there it no longer existed, and was replaced by a different small cafe. Half the tables were full, so i figured that i would give it try. I ordered the special of the day which seemed to be tripe with salad, fries & avocado. But what i was served was definitely grilled chicken. However the little old lady taking my order asked a bunch of questions in unintelligible spanish, so who knows. The salad was shredded cabbage with some citrusy dressing. I also got a large bowl of what i think was pumpkin soup, which was quite good. It was a decent amount of food and every table was full by the time i left. I paid about $3.50 for this meal.
After that i walked about 1.5 miles south to the regional art museum. Along the way i walked past the what must be the funeral district, as nearly every business for a few blocks was nothing but funeral homes. The museum is along a huge square and park, and was bustling with people. The park has about a dozen Botero bronze sculptures. If you aren't familiar with Botero, he is famous for having every living creature look like they are morbidly obese. People, animals, everything. Google him for examples. The museum itself was 3 floors, with the top floor being nothing but the paintings & sculptures that Botero donated over the course of 20 years. It was a really cool exhibit. The other floors were other art exhibits, which were ok. I spent nearly 3 hours there.
After that i was feeling exhausted from sleeping so poorly last night, so i walked back to my hotel to take a nap. I slept, but there noises that woke me a bunch, plus it was a bit warm. There's a large fan, but no AC. Its manageable without the insane humidity. Following my nap, i walked a few blocks to buy water, and then went out for dinner. I went to a restaurant that specializes in fish. I got a whole fried tilapia, coconut rice, salad and tostones. It was pretty good even if all the bones were annoying.
The big news down here is that the first Colombian has been diagnosed with COVID19. Also, they use North American power outlets here.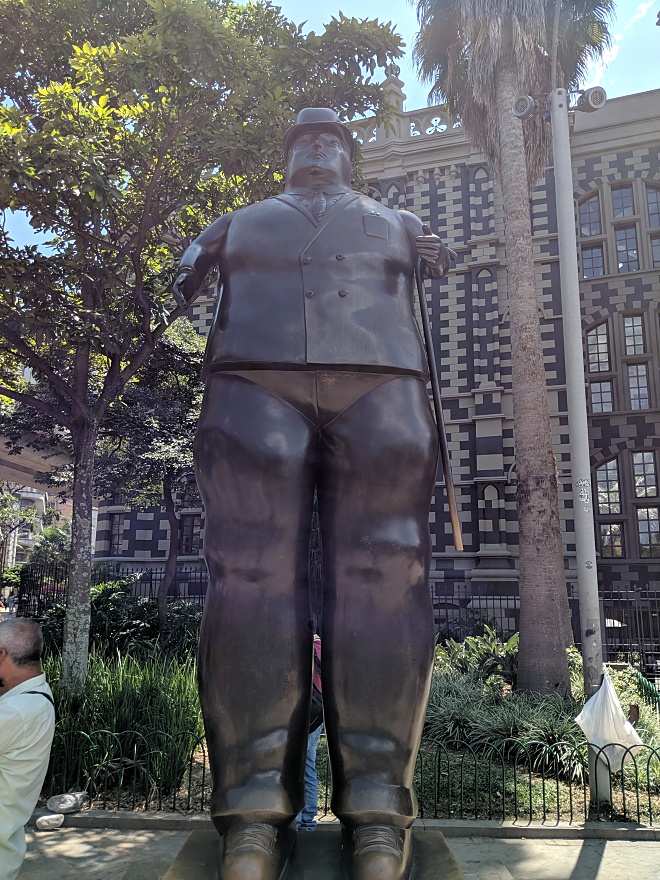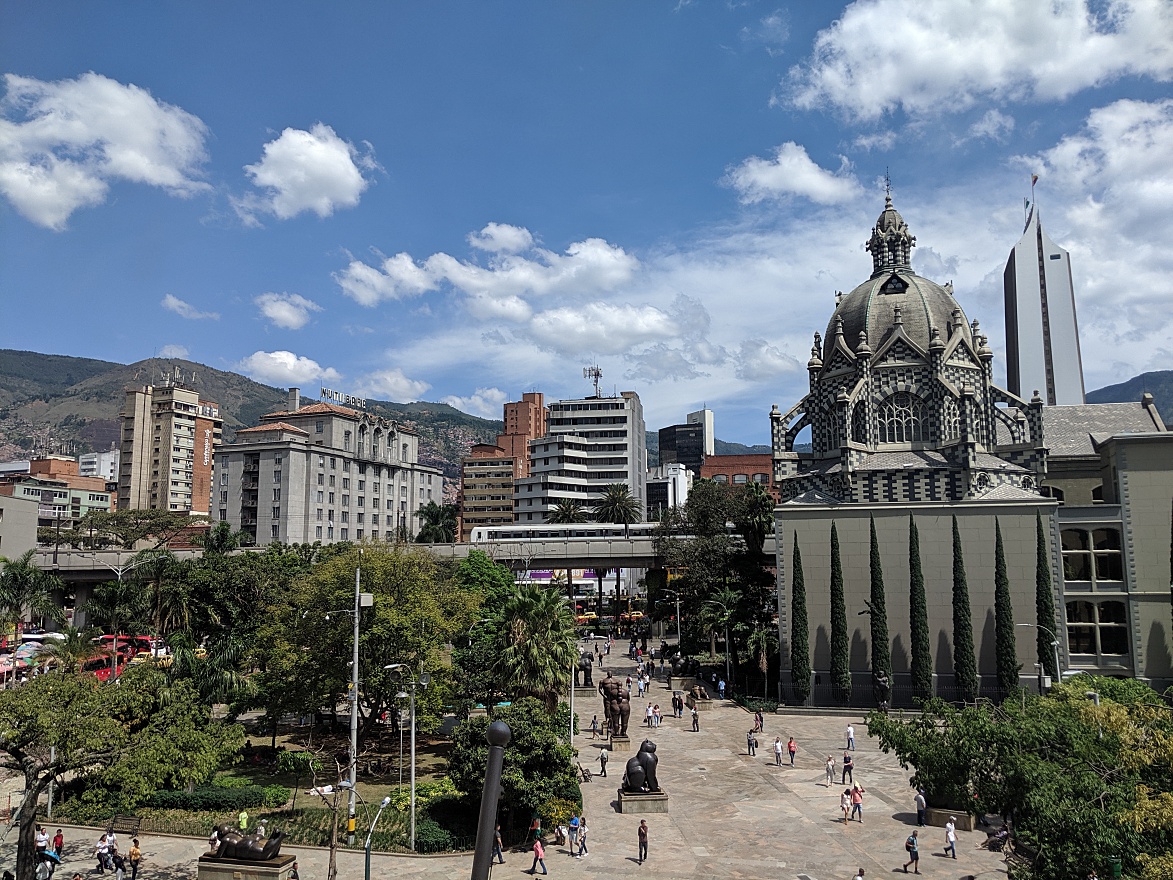 Day 4
Thankfully, i slept much better last night. I relaxed in bed until 9am, when the laundry ladies outside my window started making a lot of noise. I headed out just before 10am, for a 2.2km walk towards the Memory House Museum. Along the way i paid a little old lady about 60cents for a grilled arepa with cheese inside. Further along i stopped in a small cafe and got the breakfast plate which was scrambled eggs with onions & tomatoes, an arepa, and a thick slice of white cheese which was sort of like mozzarella, for $2.
The museum itself might have been great, except very little was in English. Since the purpose of the museum was to cover the violent period from the 80s through the present, not being able to read the exhibits was kind of a big deal. The TA reviews were rather polarized, with some claiming it was fine without translations. Thankfully it was free admission. After the museum, i still had much of the afternoon free, so i decided to explore the tram & cable car system. They also have 2 light rail lines which only run in the bottom of the valley. The trams covered the lower elevation hills, and the cable cars go straight up the mountains. I got some amazing views of the city. The only downside was that nothing was air conditioned, and as a result it was quite stuffy.
For dinner, i went to Barcal, which is one of the fine dining restaurants in the fancy Poblado district. I took the metro most of the way there. As i exited, the station the rush hour crowds attempting to enter were insane. Literally hundreds of people lined up, with police doing crowd control. I guess this is normal.
The meal was a 9 course tasting menu, of food representing different regions of Colombia. All of the other diners were tourists, as none of them seemed to speak Spanish. I also did the wine tasting. Most of the wines were Spanish, and i was pleasantly surprised by the diversity of wines. I always foolishly believed that Spanish wines were all heavy reds, but many were whites (one was a Grenache). i did get a Chilean Syrah which was really good, and reminded me of the Pax Syrah. I think i am getting a new appreciation for Syrah. However, not all the pairings were wine. One course came with a coconut sugar cane distilled liquid which was light caramel in color and was fairly smooth. I had kombucha made from fermented mushrooms. Prolly the most interesting course was a salad that had ants from the Amazon jungle. They were huge too, like nearly an inch long. They were tasty, crunchy and tasted sort of like almonds. Since i was the first seating, i got to observe the reaction of all the other tables, and it was hilarious. The desert course was amazing. It was literally every part of the cacao plant, with a blossom, cocoa nibs and a jelly made from the white goopy stuff inside the pod. The goopy stuff was slightly tart and really yummy. Cacao truly is a wondrous plant. The final bill was $100, which was quite reasonable for 9 courses with alcohol pairings.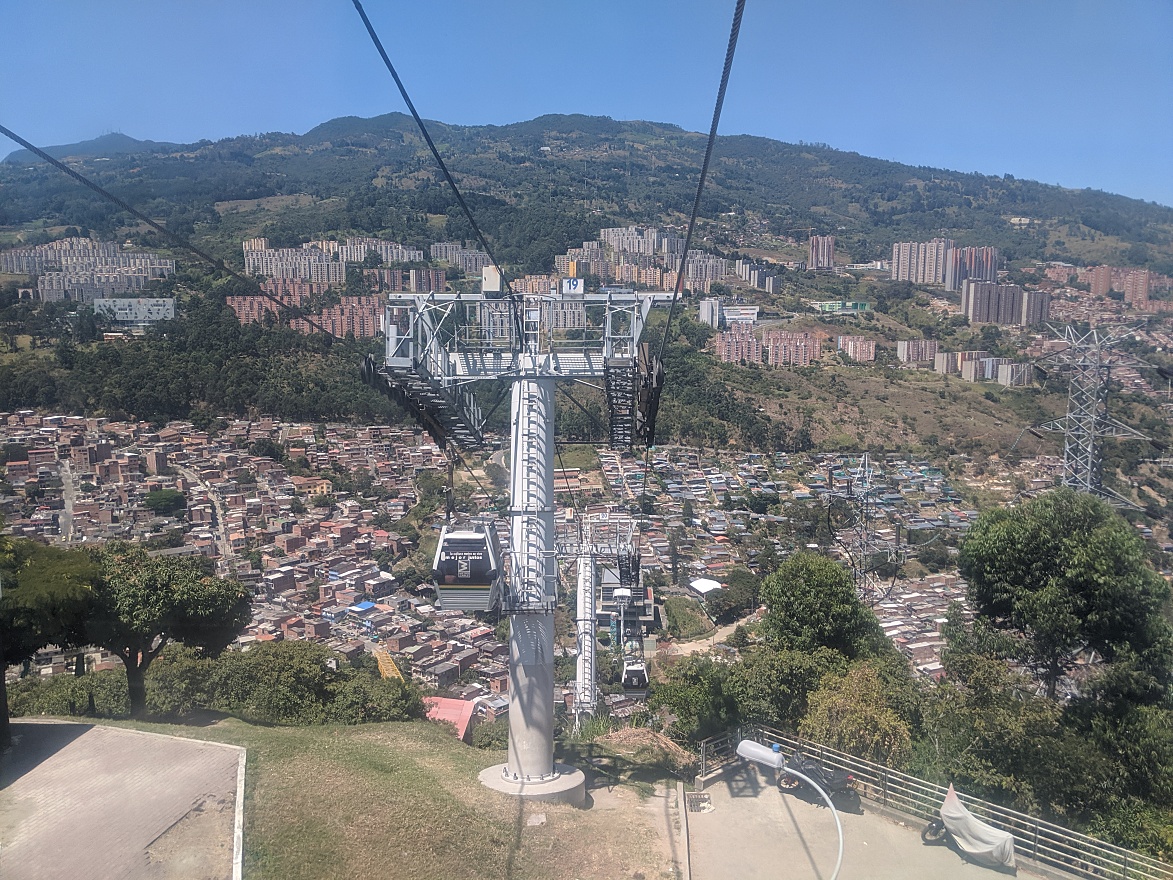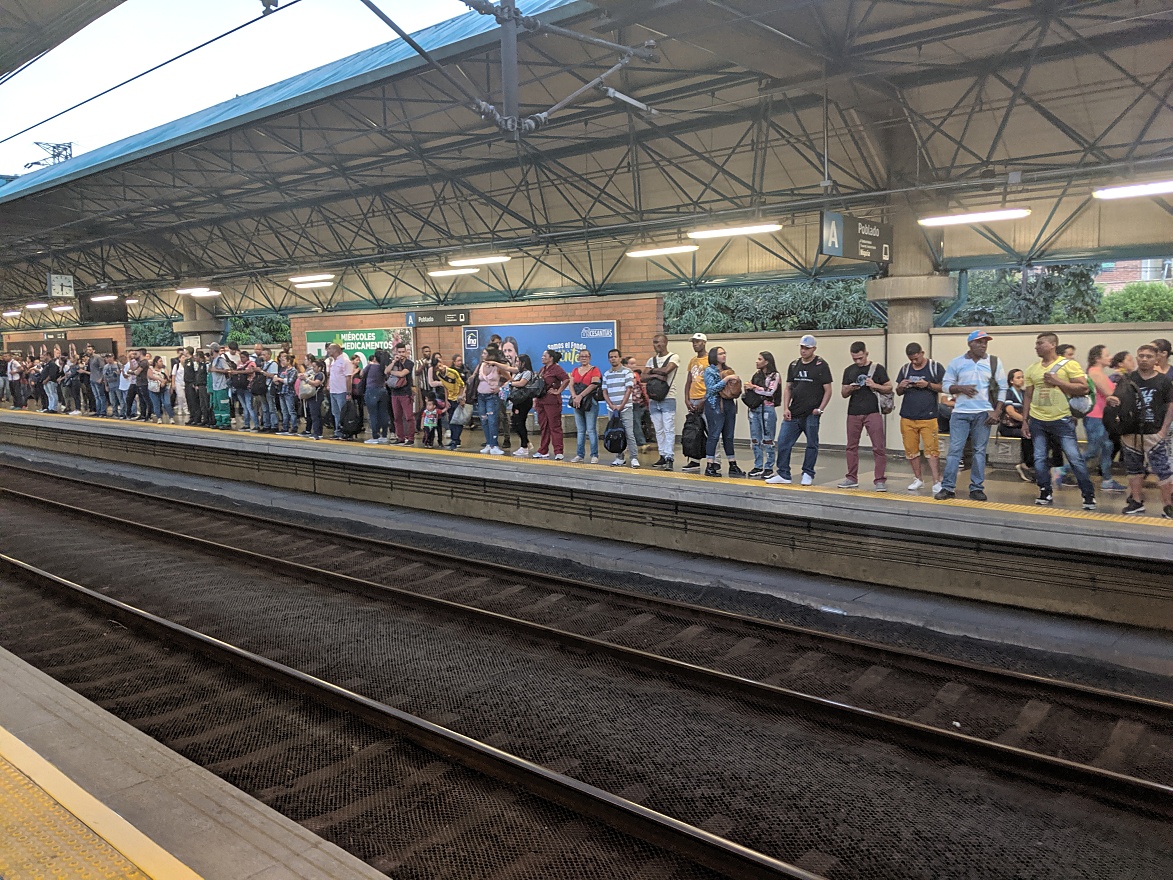 Day 5
I slept ok, but was up for the day just after 7am. I mostly relaxed for much of the morning. I checked out at 10:30am, and then headed out to find lunch. I found this trendy food hall online, and figured it would be great. I was wrong. First problem, was that i got there at 11am, and none of the food stands opened until noon. Second, the food options were a mixture of foreign foods (Indian, chinese, peruvian, pizza, sushi, etc), which i really did not want. I ended up getting a chicken arepa sandwich, which was fine, but not worth the 20 minute trip (each way). Oh well.
On the way back to the hotel to get my bags, i stopped in a juice bar, and got a mango, strawberry, pineapple which was pretty good, and cold. Cabify worked, and i got to the airport in 15 minutes. This isn't the same airport where i arrived 2 days ago (MDE), but the old original airport inside the city (EOH). Holy jebus this airport was old and quaint. The gate area looked like a mall food court, with sky lights, fake trees, and lounge chairs around tables. As i am waiting for my flight, there is a woman beside me eating vienna sausages out of a can with a chocolate smothered waffle. Also there was a Dunkin Donuts too.
The airline (EasyFly) only uses one gate for all 6 of their flights. And all their flights depart within an hour of each other. There's no jetways, so in theory it should be ok. But instead it was sheer chaos, as they put multiple flights on the sign at once. Then turned people away when their flight wasn't really ready to board. Also, there's a Canadian seniors group on my flight.
We actually boarded at a sane time. This plane (ATR 42-600) is some sort of freakshow. It has propellers, and boards from the rear. Seating was 2-2, which of course meant that i screwed myself when i selected 3C, meaning i'm going to be the last to deboard. Still we pushed back a few minutes early for the 25 minute flight to Pereira. The terminal in Pereira was ancient, although they were constructing a replacement beside it. It was some convoluted maze to get through the terminal, where there were multiple sets of stairs & ramps that i had to both descend & ascend. Thankfully the driver sent to meet me was waiting. I had yet another set of steps to get to the parking lot.
My driver drove like a lunatic on some twisty mountain roads. He was weaving around motorbikes, trucks and anything else going the posted speed limit. At one point it was raining briefly. Even so, it took an hour to get to my hotel in Salento. The scenery was pretty. Lots of verdant mountains growing coffee & corn, plus wild bamboo, and jungle. The hotel is on the edge of town (and it really is just a town), on a hill. Its gorgeous, with a panoramic view of the entire town. The town is laid out in a nice grid, with spanish tile roofs, a central square and a church beside it. Also, its much cooler here, which is likely due to the fact that i'm now at about 6500ft.
After i got settled in my room, the owner suggested a short scenic hike that would give me even better views of the town, plus views the opposite direction towards a 11,000 foot mountain range. The trail was steep, but not long. It started out in the jungle, with ferns, palms & vines. Then it climbed to this ridge where i saw another huge green valley, with a river at the bottom. Then the town again, with the setting sun in the distance.
I saw someone at the airport today wearing a hilarious "it's Colombia, not Columbia" t-shirt.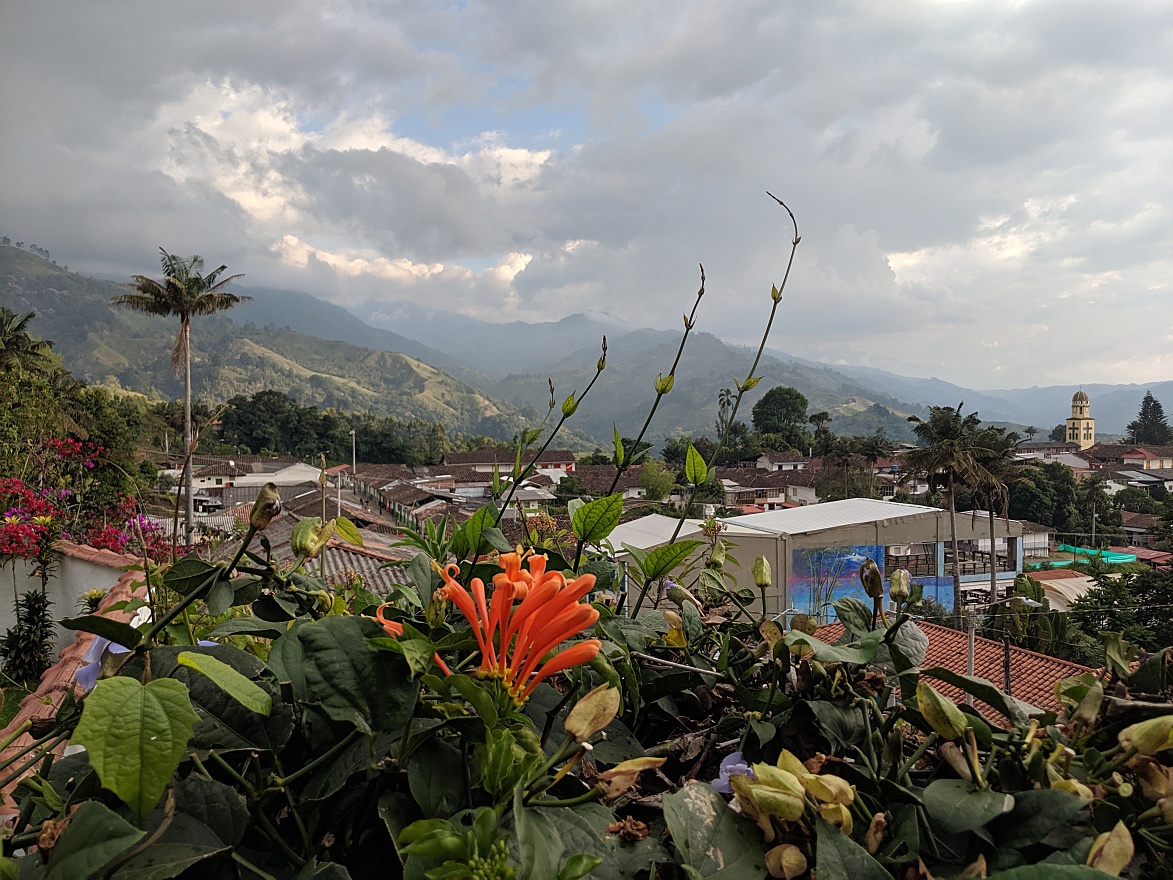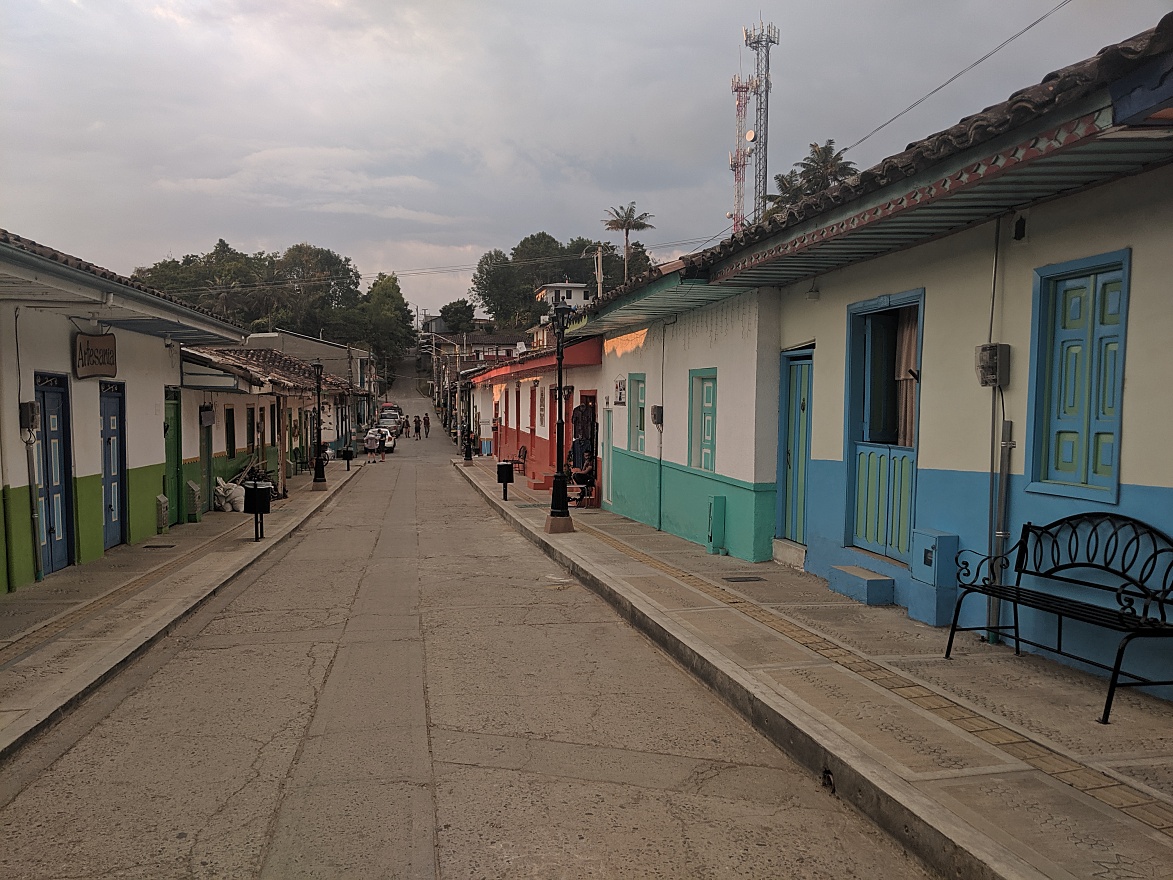 Day 6
I slept well until around 3am when every rooster in town decided it was wake up time. After that i cat napped until i was up for the day at 6am. I've got diarrhea again. I was ok for 2 days. I took another immodium this morning. I had a nice breakfast at 7am, and then headed into the center of town. Local taxis which are really Jeeps with 2 benches in the back, congregate in the square in front of the church. I bought a round trip ticket, and crammed in the back. They managed to squeeze 4 women & 3 men in the benches, 2 more women on the front seat, and 3 people standing, hanging off the back. The drive out to Cocorra Valley took about 20 minutes, where i couldn't see much of anything outside, and was trying not to smash my head on the metal bars of the roof.
Once we got there just before 8am, everyone unfolded themselves from the jeep, and started hiking. I knew it was not going to be a short or easy hike, but this was possibly the most difficult hike i've ever done. First, the elevation started at 8500ft, which is not trivial. Second, much of the first third was non-stop hill climbing, where i topped out at 9400ft. Nearly a thousand feet of elevation gain is a lot even if i started closer to sea level. That said, the scenery was gorgeous. Lots of green everywhere, huge mountains, and Colombia's national tree, the wax palm. Its literally the tallest palm, with spindly trunk shooting up hundreds of feet, and there were hundreds of them scattered across the hill sides.
After the first third, i descended nearly all the elevation that i had gained, via a series of narrow, very steep switchbacks, into the jungle. I went from mostly clear skies, fairly smooth trail and broad views to dense jungle, with rocky, uneven trail. At least it wasn't all up hill. Eventually i was walking beside a river, and small creeks would run across or over the uneven trail. A bit past the half way point, i started climbing again, towards the hummingbird preserve. I added another 500ft of elevation by the time i reached the preserve about 3 hours from when i started. This seemed to be the big rest stop for most hikers. They had toilets, a small cafe, and lots of hummingbird feeders to lure the birds closer for photos. All of this was still deep in the jungle. They did have quite a lot of hummingbirds buzzing about. I got a fairly mediocre lunch of scrambled eggs, white rice, a fried plantain, and chicken soup.
After that it was mostly going down hill, which would have been great, except that the terrain was rock scrambling, stepping over huge roots, and ducking around stuff growing into the trail. Also, lots of shaky, wobbly rotting wood board cable bridges. One of the bridges was literally missing every 2nd board, and 1 support cable had failed, leaving it sagging dangerously to one side. The only thing missing was Indiana Jones racing through the jungle with the Hovitos chasing after him.
Eventually i exited the jungle, and walked along the bottom of the same wax palm valley that i had climbed earlier in the morning. the trail was mostly flat, but super narrow for no good reason, making walking uncomfortable. About 5 hours after starting i got back to the road. Oddly, there are guys milling about in military fatigues carrying huge guns. One of them greeted me, and welcomed me to Colombia, so i guess they were the good guys?
At that point, it started to rain lightly, as i waited for the next jeep back to Salento. Another fun experience of cramming people inside, and the drive was ok. my feet were super filthy, so i cleaned them in the shower, and rested for the remainder of the afternoon.
There were far fewer other hikers than i expected, considering this is possibly the most popular day hike in the country. Based on my attempts to figure out which language people were speaking, it seemed like a mix of Spanish (from who knows where), Americans, French (which was a bit surprising, as i thought they rarely traveled to non-Francophone countries), and Germans (cause they are fearless and go everywhere).
For dinner i went to a Venezuelan restaurant. It was ok, but not great. I ordered orange blackberry juice and asado negro, which is supposed to have a red wine coffee sauce. But the sauce was more sweet than anything, and the pork was tough.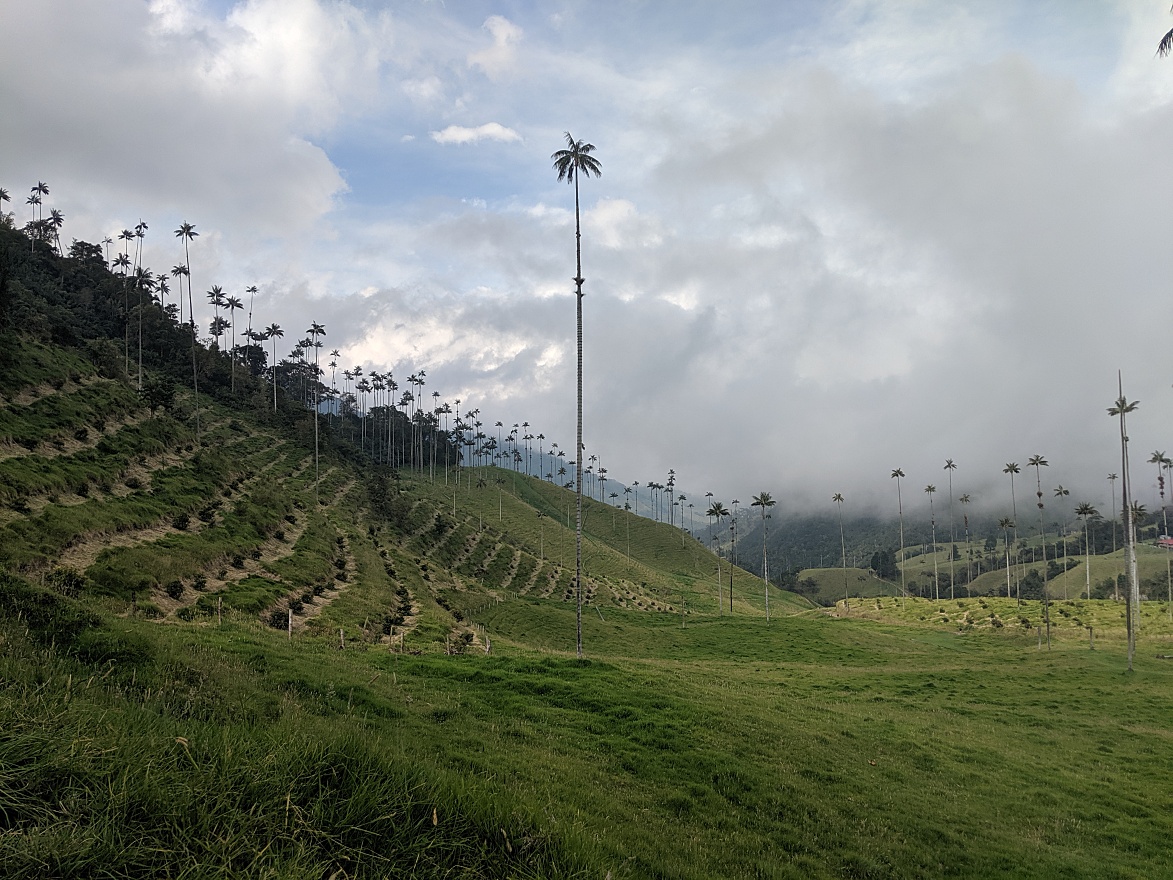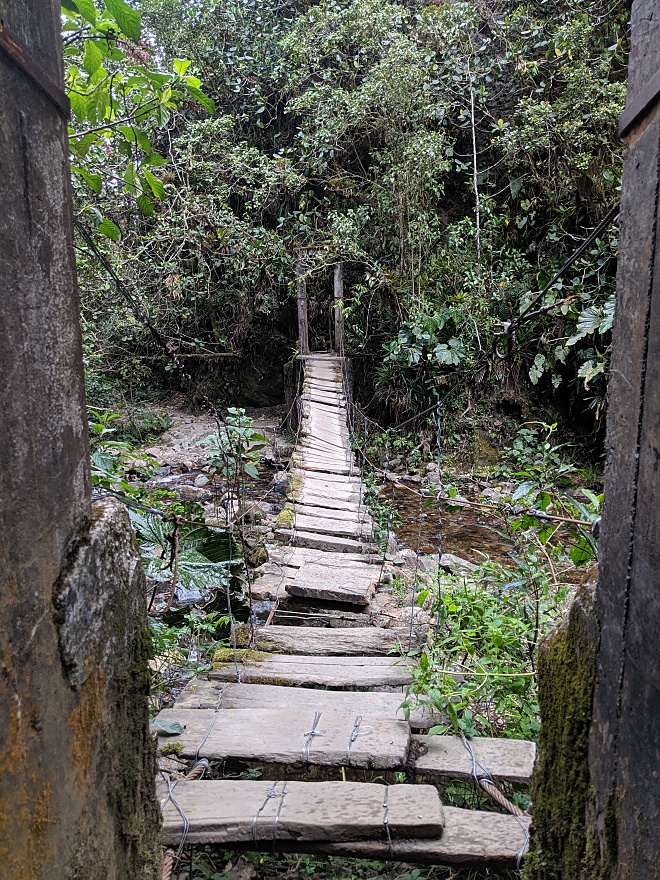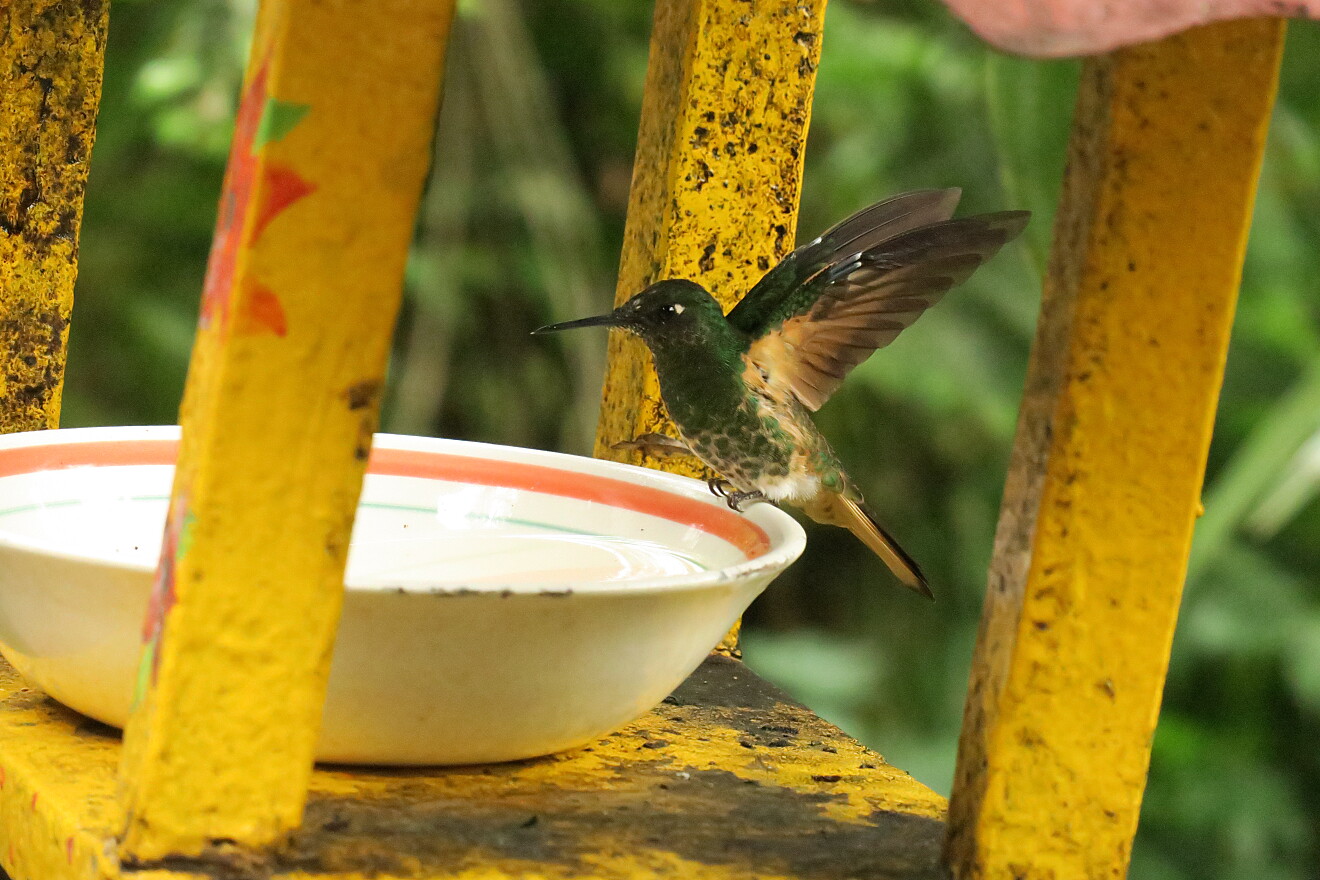 Day 7
I was exhausted last night, and went to bed before 9pm. I slept ok, but it was noisy overnight with music, barking dogs and roosters. I had a nice breakfast (omelette with avocado & cheese), and then walked to Salento Cycles for my bike tour. They are hardcore with the gear. They provided gloves & motorcycle helmets. A German couple also joined the tour.
They drove us in a truck up this rocky dirt road into the mountains. Apparently thus was the only road to Bogota until the paved route was completed about 20 years ago. Now it winds past green cliffs, dairy farms, and views of the wax palms that I hiked past the day before. The weather was gorgeous, with clear skies. Once we got about 25km from Salento, and near a ridge, we stopped. We enjoyed the views, which included even more wax palm groves, and a glacier capped, dormant volcano on the distant horizon. They got out the bikes, and we road (really coasted, since it was all downhill) for about another 9km further. After that, we went on a short hike down the hillside to a grove of trees. The guided pointed out hawks and a vulture soaring above, and also the unique plant life growing up at 11,000ft. After an hour, we stopped for a picnic lunch. I had a nice chat with the Germans (they live in Munich).
After lunch, we got back into the truck, and returned to the ridge. From there the clouds and fog had moved in, and there was not much visibility. We got on the bikes, and proceeded to ride down hill back towards Salento. It started raining lightly, and the guide handed out rain jackets. While there weren't many views with the clouds, it was still a fun ride. We got back into Salento at 12:30pm.
After saying good byes, i had an hour walk out to El Ocaso coffee plantation. The road quickly degraded from pavement to rocky mud shortly after leaving town. There was nice scenery, and occasionally people would come past on horseback. Eventually i made it to the plantation for the tour & tasting. The entire thing was 3.5 hours long, which wasn't a bad thing but still longer than i expected. first we toured the grounds, showing us the different types of coffee plants, and the entire coffee making process (from picking to roasting). After that, we went inside for the tasting, where they went into depth on flavor profiles, different preparation methods (french press, filtered, etc), and tasting/comparing each. It was extensive, and its a pity that i don't care much about coffee, as it would have been an amazing experience. Even so, it was a great tour.
Once it wrapped up at 5:30pm, it was raining a bit, and most everyone was waiting for a jeep back into town. Unfortunately, there were way too many people to fit in the next arriving jeep. The driver called for another. While we waited, we all started chatting. There were 2 guys from Ireland (i can't recall ever running into Irish before anywhere), the obligatory Germans, a French Canadian, and two Swedish women. Amongst other things, i learned that the bus from Bogota to Salento takes 10 to 12 hours. I am soooo happy i am flying. Eventually another jeep arrived, and i ended up hanging off the back with a German & the French Canadian. During the drive, i learned that the French Canadian is a sommelier at some fancy Montreal restaurant, and the German works for an NGO where she is posted in northern Iraq helping with the post-ISIS rebuilding effort. Other than having to occasionally duck when a random plant was hanging over the road, it wasn't nearly as harrowing an experience as i expected. I got back into Salento at 6:30pm.
I stopped at an ATM to top up on cash as i'm not sure how easily i will be able to find more over the coming week. Then i got dinner, which was ok, but not amazing. I tried a Colombian stout which was also ok, but not great (3 Cordilleras).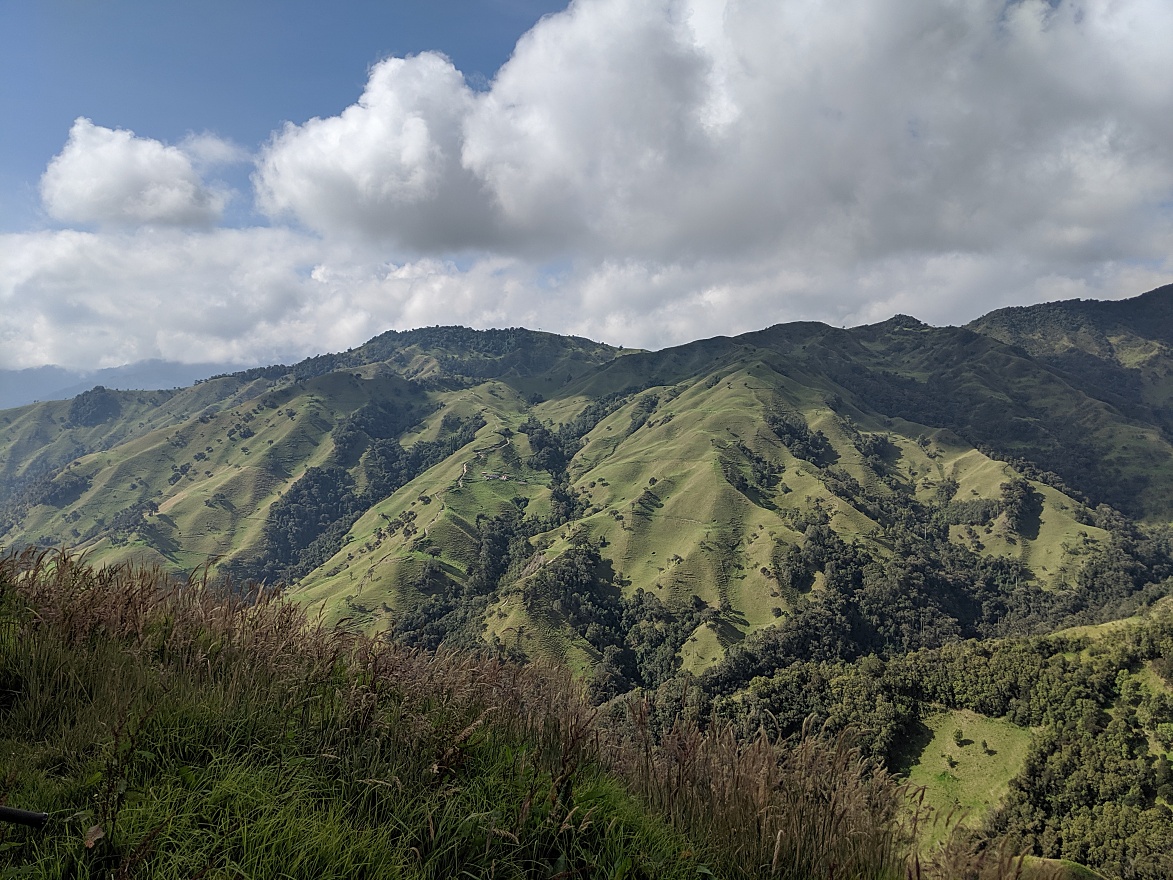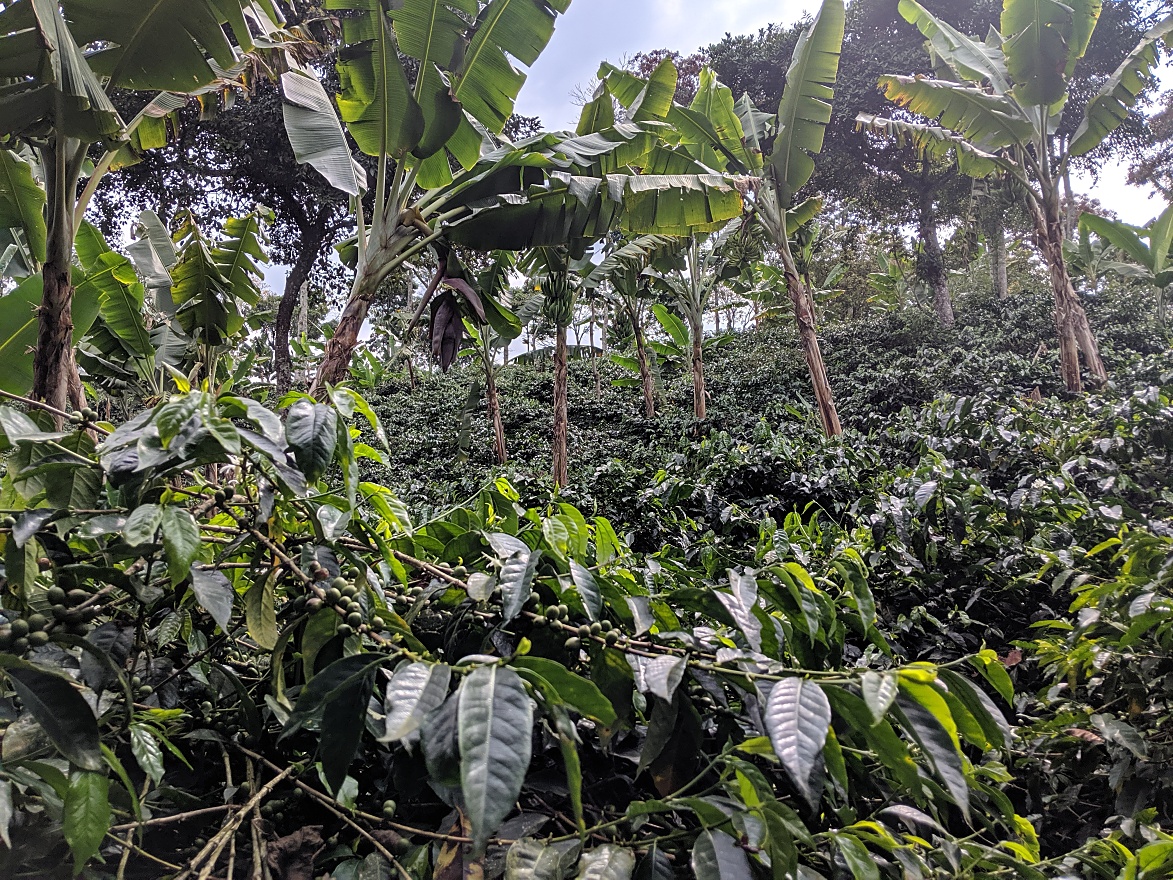 Day 8
A large storm passed through overnight, with thunder and heavy rain. It didn't stop raining until just before dawn. I was up for the day just before 6am when a thumb sized black beetle making an awful buzzing sound flew into my room. The sound alone freaked me out, but i managed to trap it under a cup.
My hour ride back to Pereira airport went fine. When i got there, i noticed 2 earlier Avianca flights to Bogota, and figured it wouldn't hurt to ask if they would move me. Thankfully they did at no charge and i was moved onto a flight departing about 75 minutes earlier. This airport is still an awful mess of concrete stairways & ramps, with no AC, and not even a real PA system (they had a portable speaker) or any electronic signs at the gates. And of course all announcements were only in Spanish. I was at my gate area (which was packed with people) just when the flight should have started boarding, yet i saw no plane. A couple minutes later an Avianca plane pulled up to the next gate over, and i'm left wondering wtf is going on. A few minutes later they announce something, and the crowd starts moving to the other gate. Sure enough they had a gate change. We started boarding, and for reasons, when they moved me to this earlier flight, they gave me the exit row. Do Colombians consider the exit row undesirable? So odd, but i won't complain even if its a 50 minute flight. The flight was warm, but otherwise ok, and we arrived in Bogota on time.
I was able to get Cabify to work, but somehow some other guy got into my car not far from where i was waiting. I still have no clue exactly how that happened (they provide the plate number, so its not like there is any ambiguity). Anyway i started waving my arms when i saw the car, so he pulled over again, and the errant passenger & driver said stuff in spanish, and then got out. The drive to the bus terminal should have taken 20 minutes based on distance. however it took 61 minutes because Bogota traffic is absolutely insane. We averaged maybe 10mph.
Once at the Del Norte bus station, i had to figure out from which counter to buy my ticket. The catch is that there are literally a dozen different bus companies, and each goes to a list of specific destinations. Also, just because more than one goes to your destination doesn't mean that the travel time is the same, as they might have more or fewer intermediate stops (or drive non-stop). I did some research on this in advance and had 2 bus companies that were supposed to be reliable (driver won't demand more money along the way), and go to my destination with no stops. I walked up to the counter/booth for the first, and the woman sighed, gave me a dirty look and mumbled something in spanish. Eventually she just pointed me at a different company which was not on my list. I have no clue why she wouldn't sell me a ticket. So i went to my 2nd company, and that actually worked. I trief to ask the guy what time the bus would arrive, and he kept saying dos (2) which I assumed meant 2pm. This was after he wrote 12 on a slip of paper, which i assumed was the departure time (it was 11:30am at the time). However this seemed wrong, as google's driving time estimate claimed it would take 3 hours, 45 minutes, and surely the bus couldn't finish that route in nearly half the time.
Since i had a little time to kill, i paid 1000 pesos (about 30 cents) to use the restroom, and then wandered outside to the bus loading area. My ticket had a bus number (534) and a departure area number(4). I had no trouble finding the area, there were 12 total, all side by side for the buses to pull in, load passengers, and back out. There was a completely different bus number currently in that spot though. Also, it was mass chaos, with tons of people either standing around waiting for their bus, or getting on a bus. There were also conductor guys scampering about, yelling out bus numbers, destinations, and checking tickets. When noon came and my bus wasn't there, i started to get concerned. I tried to ask one of conductors, but that failed when he didn't understand my spanish. A nice woman who seemed to know a little english overheard my butchering of spanish, and flagged down another conductor to ask about my bus. He claimed it would be there in 5 minutes. About 15 minutes later it showed up, but pulled into area 3 because 4 was occupied by a different bus. I assumed that Bogota was the starting or ending point for all bus routes, but when i boarded nearly all the seats were occupied. Also, the bus was super warm & stuffy. I pushed my way to the only vacant sears in back row, shoved my black bag in the overhead rack, and sat down with my backpack on my lap, trying to convince myself that spending 3-4 hours on a hot, cramped bus wouldn't be too bad. However just after i sat down, this teenage looking girl (who i noticed making out with a guy on the bus platform) wandered back with her boyfriend in tow only to find 1 empty seat beside me. She looked very unhappy, and turned around. Then her boyfriend wandered back and asked me, in fairly good english, if i would be willing to take his seat right near the door. SCORE! That was 1000% better. It had tons of legroom, and was close to the only window that opened. Plus i could put my backpack on the floor in the aisle beside me.
The bus finally pulled out at 12:35pm. After a few minutes of traffic insanity, we went through a toll booth, and pulled onto a decent freeway. I was periodically checking progress on my phone and noticed that we were making amazingly good time. That's because the driver was consistently going well over the posted limit, even when it was raining. He was determined to get there as fast as possible. Eventually we exited off the freeway onto a narrow, twisty mountain road. While he couldn't nearly as fast there, he still was passing other cars as often as possible. Along the drive, the scenery changed dramatically. No more lush, verdant, tropical mountains. Now it was fairly dry looking, with occasional cactus, and lots of rocks and erosion. At one point while on the twisty road the girl from earlier ran to the front of the bus screaming something at the driver. He quickly pulled over, and the boy dashed off the bus, and started vomiting. I suspect i would have felt the same way if i was stuck in the back of that hot bus on twisty roads. We pulled into Villa de Lleyva just before 3pm. That crazy driver managed to do the drive in under 2.5 hours.
I had a few blocks walk through town to my hotel. The town was founded in 1572, and nearly all the streets are still cobble stone, with Spanish colonial architecture. That's the primary reason why people visit, as its well preserved, with a huge square. Also apparently it was also mentioned in the book/movie 'Love in the Time of Cholera'. A thunderstorm came through in late afternoon and it was pouring rain for a few hours.
It was still raining lightly when i headed out for dinner at 6pm. There was a river of chocolate milk looking water running down the center of the cobblestone street. I went to a Colombian BBQ place and got blood sausage, beef ribs, and this plantain, cheese avocado thing with a red beer. All of it was amazing. i wish that i wasn't eating solo as i wanted to order 10 other things.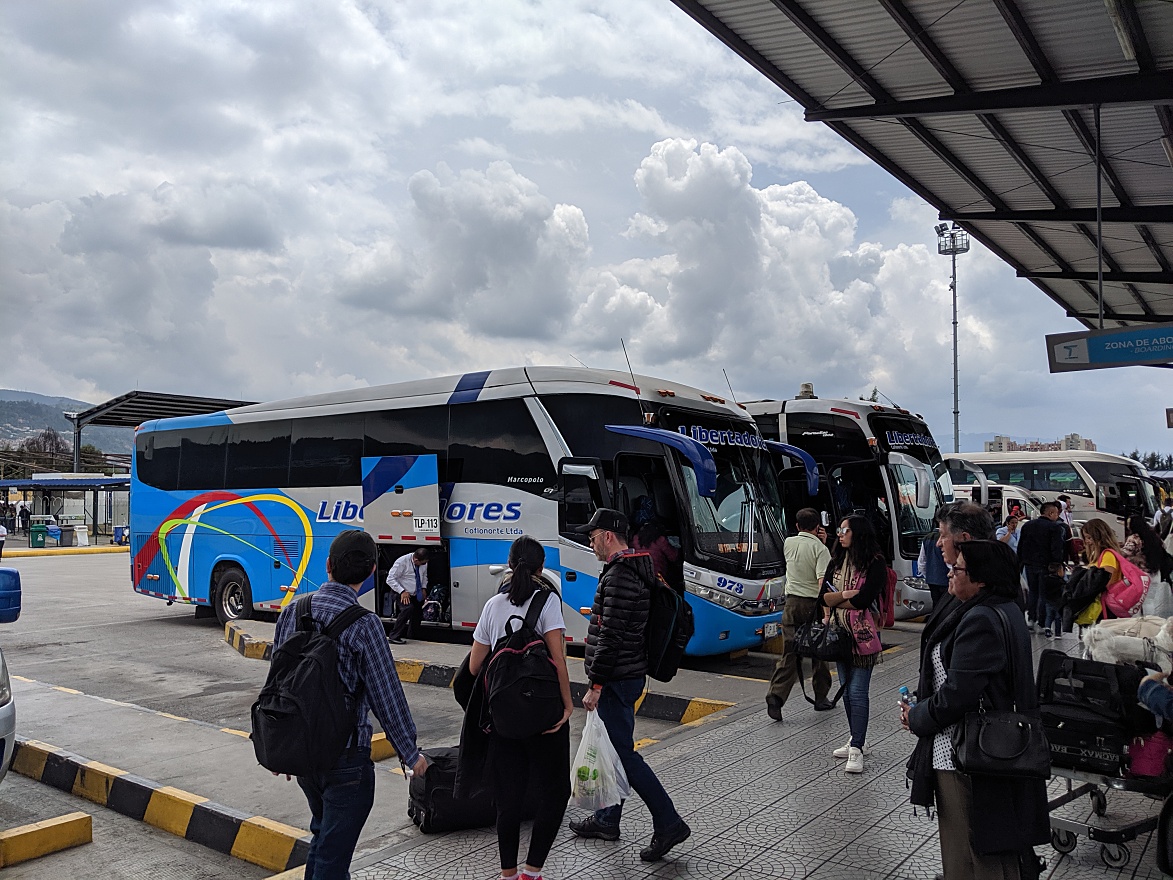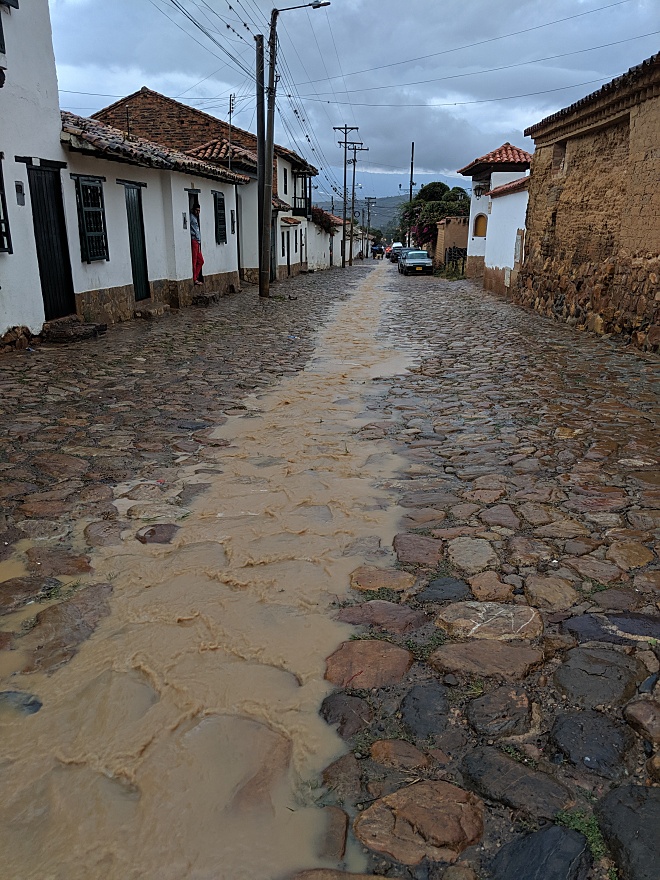 Day 9
I slept ok, but those silly roosters were making noise well before sunrise yet again. Not as many as in Salento though. Yesterday when i checked in, the guy (who spoke little English) was very clear that breakfast was 8-10am. Yet when i got up just before 7am, i already heard people in the courtyard. There was no hot water, so i skipped a shower, and wandered outside to find many people already eating.
Since the forecast was calling for more rain especially in the afternoon, i figured it would be best to attempt the hike up the mountain to the Jesus statue first. The ridiculously long Spanish name for it is Mirador El Santo Sagrado Corazon de Jesus. Despite reading several reports from others who claimed it was less than 2 hours round trip, this was definitely not easy. It was often more rock scrambling than anything else, and seemed to be that way the entire way up. I tried, i really did, but an hour in I was less than half way up. I gave up at that point, as it was just not worth the struggle, plus risk of falling. To add to the fun, it started to rain lightly on the way back down. It stopped after a few minutes, but that just made everything super humid. And for even more fun, the mosquitos are out in full force.
After the aborted hiking attempt, i did a self guided walking tour of the town. Its 'oh so charming', with pretty flowers, spanish moss hanging from trees, huge wooden doors with ornate knockers, and churches from the 17th & 18th centuries. It was late morning by the time i finished wandering around town, so i swung by the hotel to drop off my bag, and figure out lunch. I decided today was the day for pizza, and found a place that looked good on TripAdvisor. i got a mushroom pizza, and it was pretty good.
After that, i walked about 20 minutes west of town to see the architectural freak show that is 'Terracotta Casa'. Some insane architect decided to design and build a house entirely from kiln fired clay. It basically looks sorta like the Flintstones house. It was definitely unique & bizarre. On the walk back it started to rain, with thunder too. I didn't get too wet, and made it back to the hotel.
The hot water was working when i got back, so i had a nice long shower.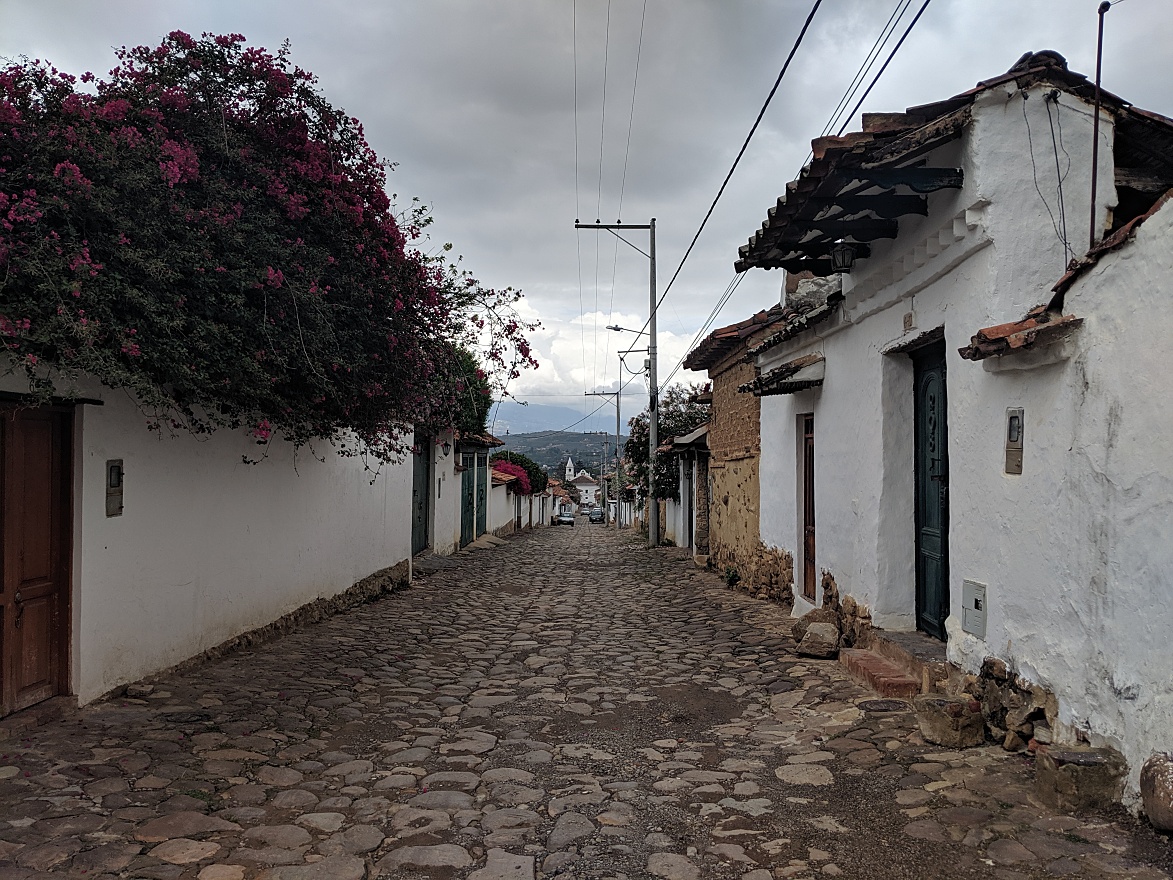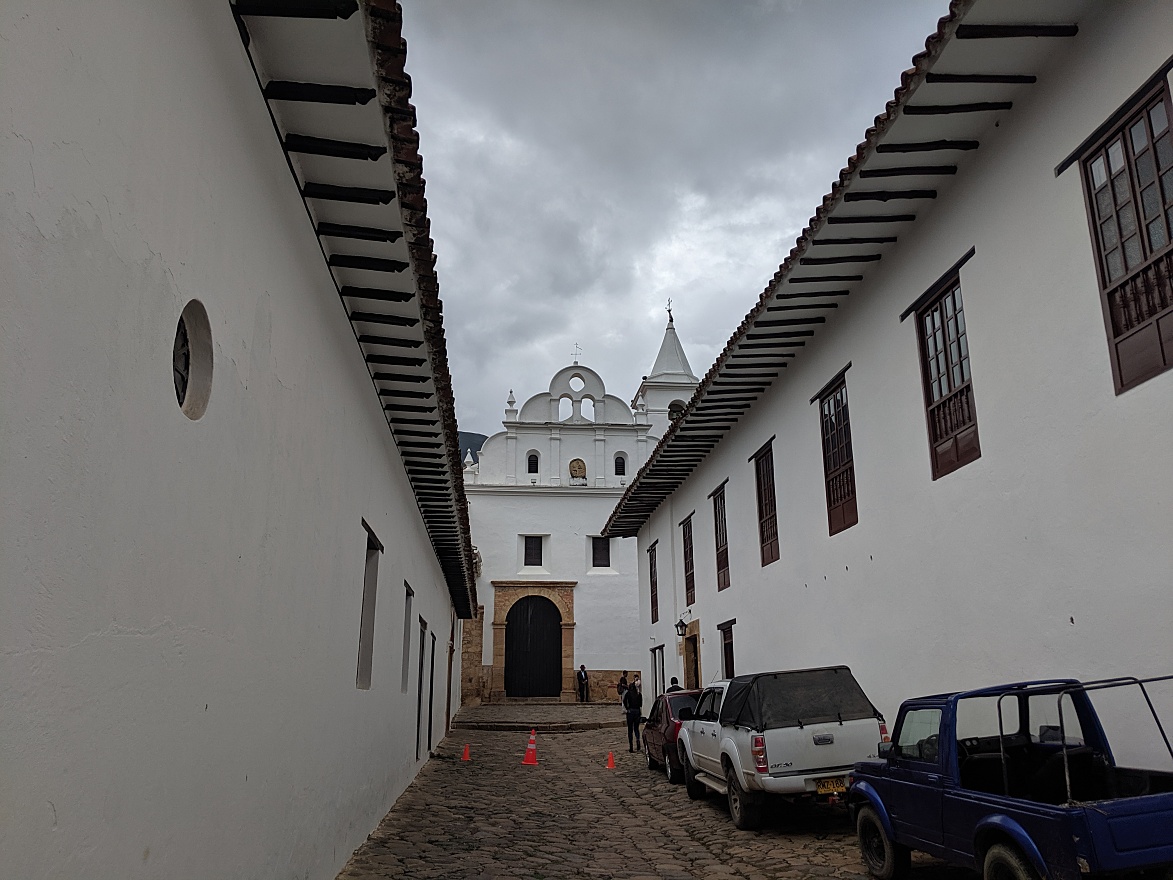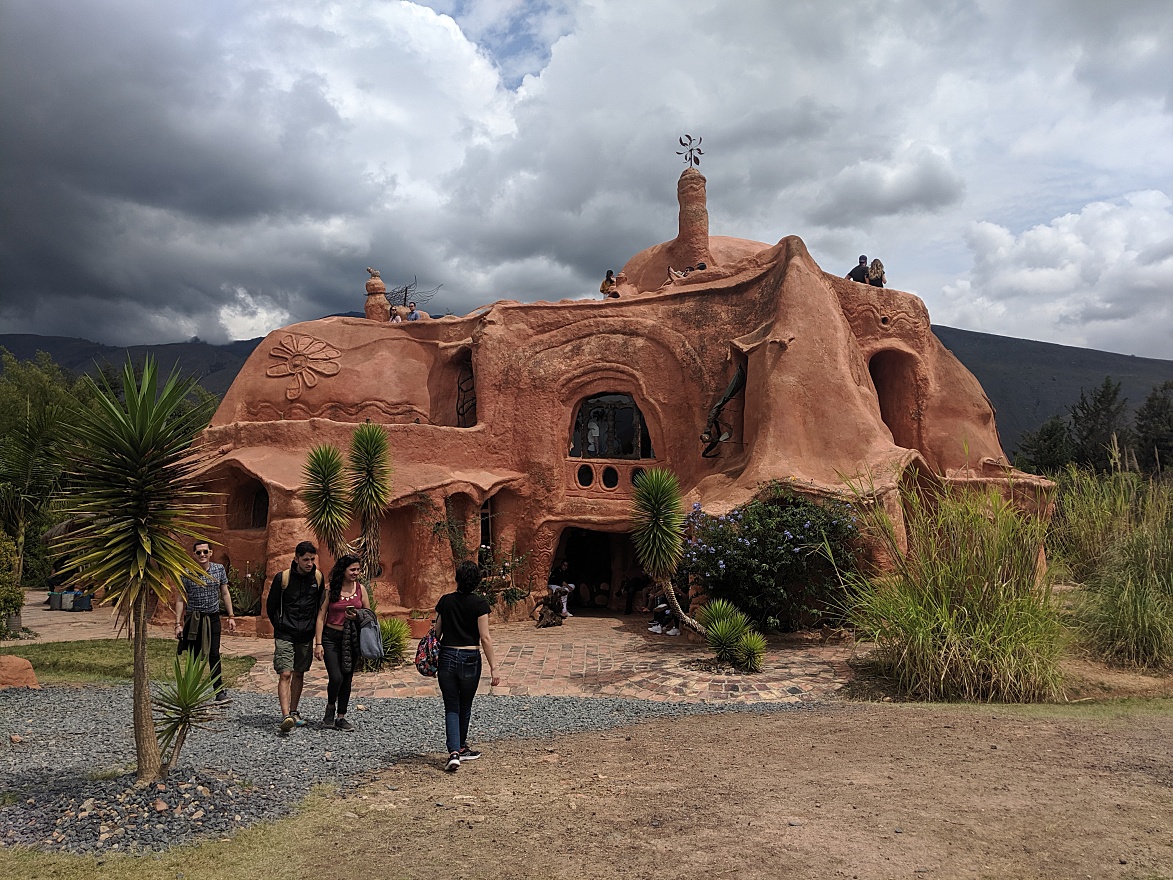 Day 10
It rained overnight, but i slept ok. I was up for the day just before 7am due to noise. I had breakfast and checked out. The taxi showed up 20 minutes late because he claims he got lost. I don't understand how that is possible in an urban area. Anyway, i am 1000x more convinced that not taking the bus was the right choice after doing that journey by car. It was rough. The first hour was on a narrow, twisty mountain road, that was not even paved for long stretches. Eventually we turned onto a better road, but that had tons of traffic, with slow moving trucks & motorbikes. The driver kept making crazy attempts to pass them. The temperature started off at a comfy 16C, but by the afternoon it peaked at a miserable 35C. The scenery was ok, but not amazing. A lot of farm land (sugar cane), some forests, and mountains. We pulled into Baricharra just after 2pm, so that was roughly 4 hours, with no stops. I can't even imagine how much more awful it would have been on a slow, hot, plodding bus.
Baricharra is definitely the smallest town that i've been to. Still has the typical Spanish colonial architecture, and street grid layout. No one at the hotel speaks English. The room is fine, if a bit spartan. There's a candle with matches on the nightstand. They did setup a huge hammock for me outside, which i'm debating using.
I wandered about the town on the way to dinner. Apparently the top 2 hangout spots for teenagers are in the town square under a tree, and, oddly, in front of a church (while playing with their phones). also they have tuktuks, which is a first for me on this trip. I ended up going to "Gringo Mike's" for dinner, which is a tex-mex/burger place. Yea, its kinda pathetic, but i wasn't in the mood to translate menus, and struggle with ordering food.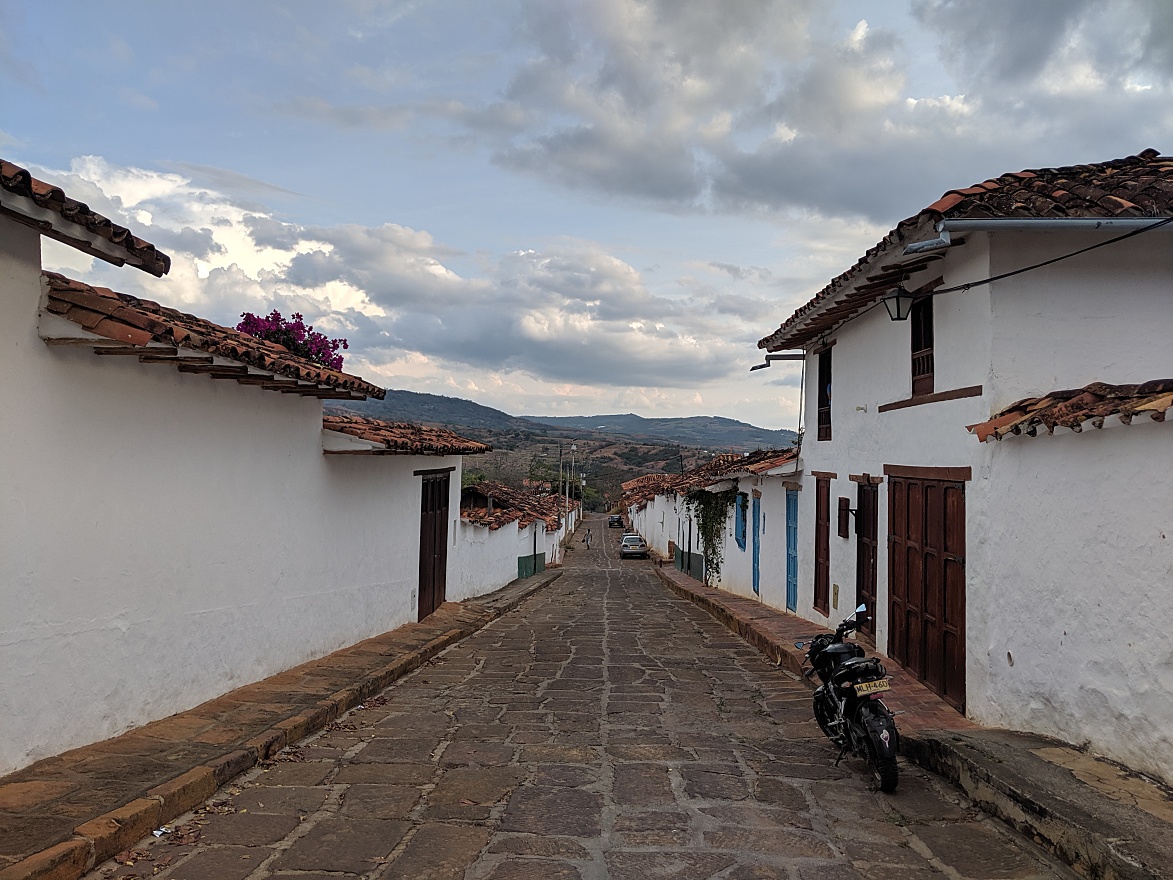 Day 11
I slept well, and oddly there were no roosters here. I had hot water in the shower for about 1 minute, then cold. I packed up all my stuff, had breakfast and checked out.
The trail that i'm doing is known as Camino Real, although much of if predates the Spanish. The part that i hiked today was 2 sections. First i did Barichara to Guane, and then I did Guane to Villanueva. The first section was 80% flat or down hill, and I saw 7 other hikers during the 2 hours it took me to reach Guane. The scenery was pretty with cacti, and trees, stone walls and spanish moss. There was usually shade from the sun. The only (minor issue) that i had was when i somehow stepped on a twig, and it punctured the bottom of my shoe. It didn't reach my foot, but i suspect its no longer water proof.
After wandering around Guane for a bit, i started the 2nd section towards Villanueva. This section was 70% up hill, had little shade, and I never saw any other hikers. It was hard, partly because of needing to climb, but also it was hot. The scenery also wasn't all that great much of the time. Eventually i made it to the top of a mountain, and ended up gaining over 1000ft. The rest of the hike was downhill at that point, thankfully.
I walked into Villanueva just after 2pm. First i bought 1L of cold water, then i bought a lime popsicle. Once i started to feel a bit better, i wandered around town trying to decide which hotel to stay in. This town has 3 hotels, but none had any online presence beyond appearing on google maps. The first one was over a bar, facing the town square. I rejected it fearing that it would be noisy. The 2nd looked very run down. The 3rd looked ok, so i went in, asked how much a room was, and they told me 20k pesos, which is barely $8. I agreed, but set my expectations low. the Hotel San Miguel is actually not bad. I have a room with a fan & bathroom. They provided soap, towels & toilet paper. they even had free wifi. The bed is all foam, but its not bad. This might be the surprise bargain of the entire trip.
This town comes to life in the evening. When i wandered through in the afternoon, the square had no one else. When i went out to find dinner, nearly every bench was occupied, and people were out & about. I thought that i had dinner figured out until i realized that the place is closed on Tuesdays. That began a tour of the town, where i was struggling to even find any restaurants. Eventually i found a place, but it was not easy. I had this crazy beef, chicken cheese burger with fries. It was decent.
Colombia has this super cheap (and presumably awful) beer called Poker, that i've seen advertised for as little as 50 cents for a 500ml bottle.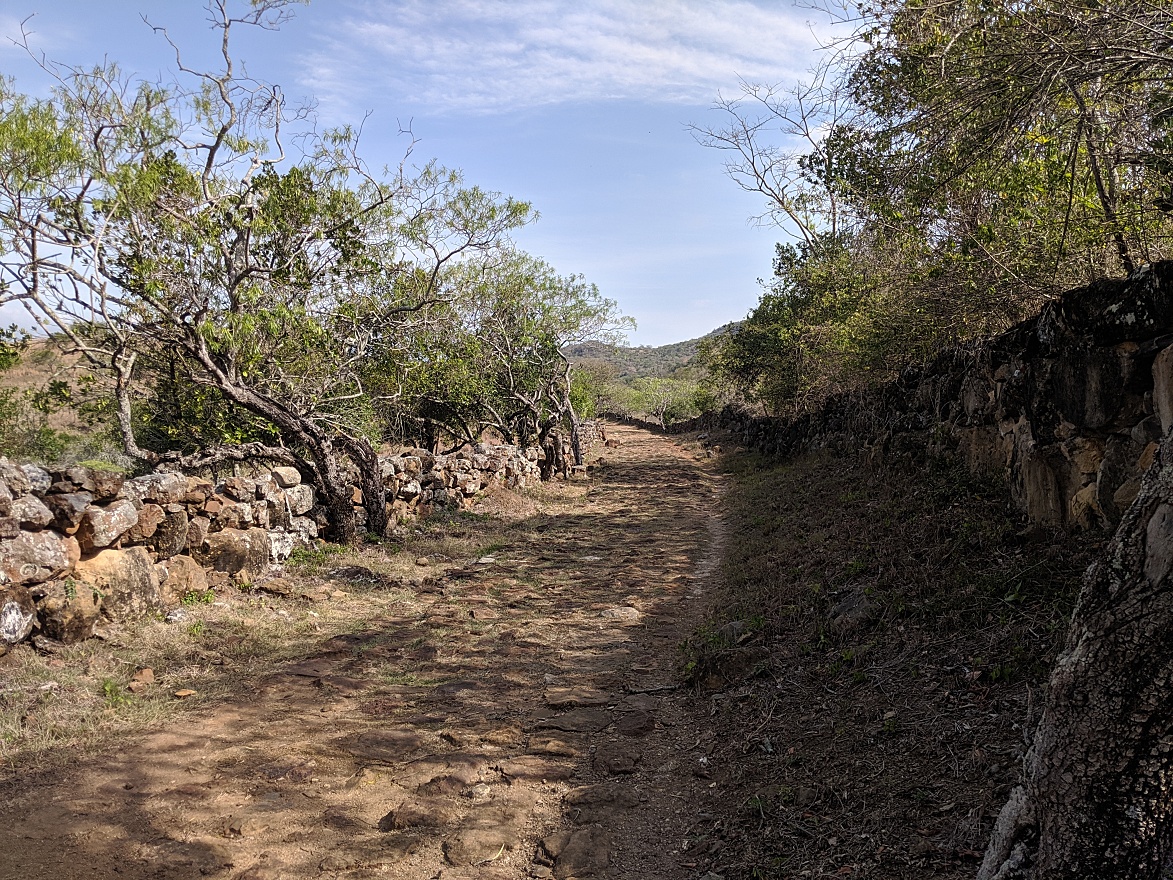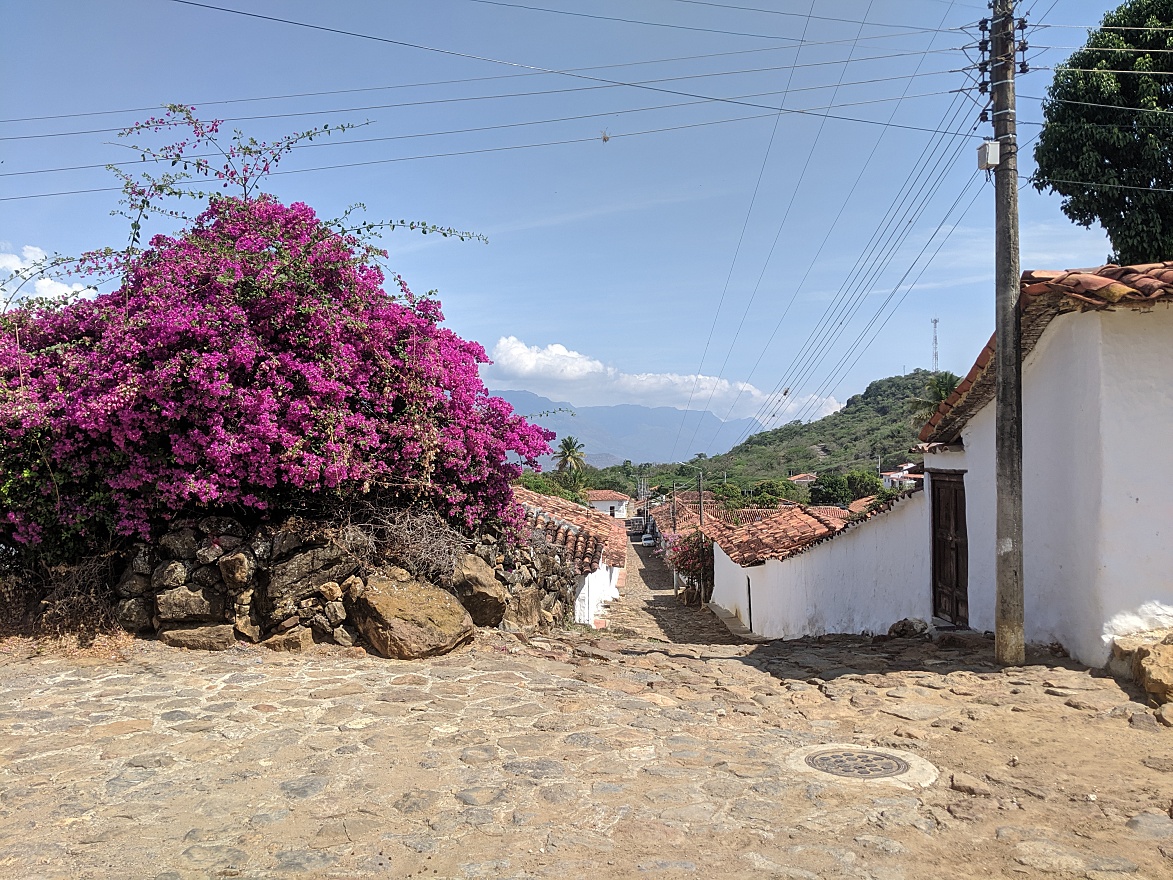 Day 12
I slept ok. When i got up for the day (no roosters!), it was cloudy, and everything was wet. Apparently it rained overnight, and was supposed to remain cloudy until mid-day. I'm treating it as a blessing, as hiking in the sun+heat was not fun yesterday.
I went to a bakery to find breakfast and lunch food. After that, i checked out, and started the hike just after 7am. The trail mostly went past farms, and was muddy in a few places from the rain. Thankfully, the weather was almost pleasant with the clouds, and i made good time. At one point a guy on a motorcycle stopped to say hi. Just after 10am, i came to the rim of a huge canyon. It was sort of like the grand canyon, with a river flowing through the bottom. All of the hike after this point was tortuous. First, the sun had come out, and the trail had very little shade. Second, the trail was quite steep in places, plus very uneven. At one point my feet slid out, and i landed on my left hand. I've got a huge bruise on my hand, but thankfully its not worse than that. The entire time i was descending, i could see the town of Jordan. Yet it took 3 hours to get there because of the extreme elevation i needed to descend. I saw one other hiker, who sped past me.
At about 2pm, i finally made it to the lodge. It is insanely humid. Just sitting still in the shade, i am sweating Unfortunately, my problems continued. No one spoke English, and when i started using google translate, they insisted that they were closed. I dug out the email confirmation (where i pre-paid), and then they said they needed to call the owner. They got him on the phone, and he spoke some english. He apologized, and gave me this story about a washed out bridge, and that they assumed no one would be coming. He agreed to honor my booking. Then i was left to play a thousand questions with the staff, as they setup my cabin. Asking for water turned into a 20 minute ordeal. they asked if i wanted something to eat, so i asked what was available. They handed me a menu (why they didn't start with the menu is a mystery). I pointed to what i wanted, and they proceeded to ask tons more questions, as apparently the menu is a rough suggestion, and they will custom prepare stuff. Its so frustrating and time consuming to translate back & forth, yet they make it worse with unneccesary questions.
They've got a pre-teen girl, who is doing most of the google translate interactions, who means well, but half of what she types is incoherent when its translated. Also they have no wifi, and i kinda sorta get a slow cell signal when i stand in one area.
dinner was this mediocre chicken & rice with canned vegetables. During dinner i did a marathon google translate session to figure wtf i need to do tomorrow to get back to Barichara (where i left my bag). I decided to skip the final hiking segment, because its all uphill, climbing back out of this canyon, and i just don't have the stamina for that after 2 days of grueling hikes.
After 20 minutes of discussion, i have to take something called a quadropuerto to Aratoca (about an hour). From there i can either take a bus or hire a taxi to get to Barichara. The catch is that i have to leave here at 5:30am. Once i get my bag in Barichara, i need to get to San Gil, where i will spend the night. That part should be another hour. The entire thing is bonkers, but i asked multiple times, and they insist there is no taxi that will do the entire thing.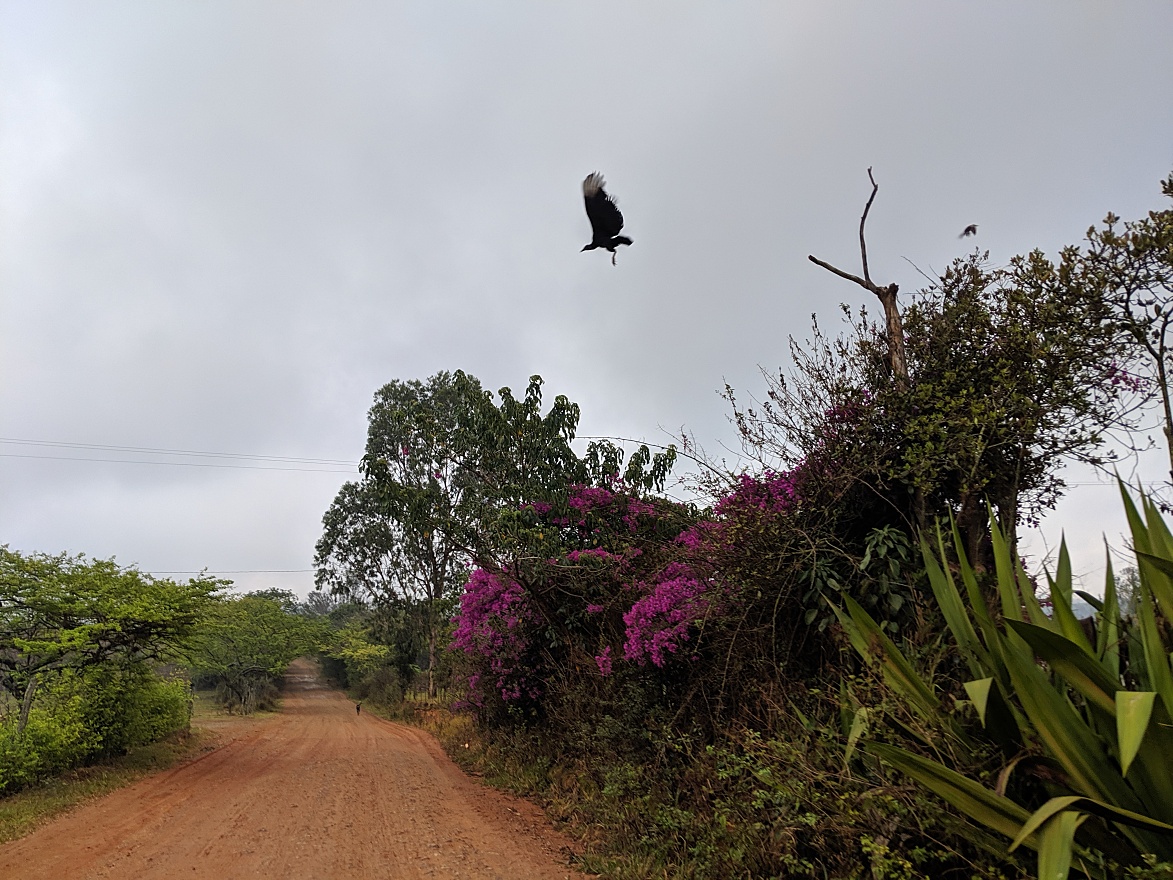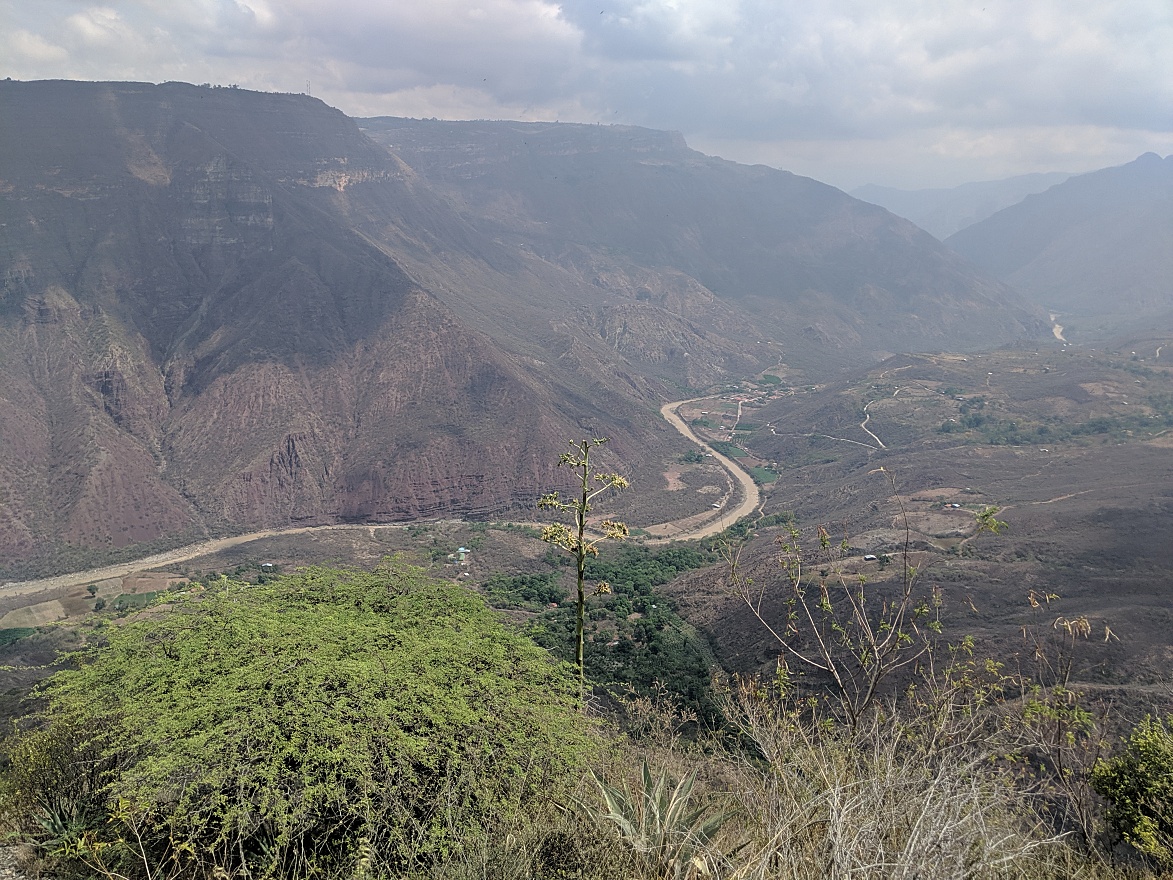 Day 13
Last night was rough. I was falling asleep watching netflix, so i attempted to go to sleep at 8pm. The humidity was insane. Even with the small fan, i felt miserable. I stripped naked, and that didnt help much, other than giving the mosquitos a buffet. I eventually slept, but woke up frequently sweating.
My alarm woke me at 5am, and i already had a bad headache. I packed up, and stumbled through the dark to the main area to wait for the quatropuente. it turned out to be an old guy driving a pickup with 4 doors, and benches in the cargo area. He was playing what i can only describe as Colombian folk songs on a CD player. Lots of guitar, sometimes brass, and a guy crooning. It wasn't awful. I climbed in the front passenger seat, and he drove. It was barely twilight. We drove into the tiny town of Jordan, and dozens of kids were walking to school. We picked up a few more people, and started driving a narrow, twisty road up the canyon. The steepest parts were actually paved. It took about 40 minutes to reach the top (the same distance that took me over 3 hours down hill the day before). Along the drive, we passed more kids walking to school on this crazy road. We stopped a few more times to pickup more passengers, who ended up sitting on the benches in back. After about an hour we pulled into Aratoca. I paid the driver, and wandered across the town square (because every town must have one with a church) towards a bunch of taxis.
I asked one guy, and he called over a different one. He quoted me 130,000 pesos ($40), which was kinda steep for barely an hour of driving, but i didn't have much choice. For a while the drive went ok, but then we got to a random toll booth (on a 2 lane road). Immediately, the driver is gesturing for me to pay. I played dumb, and he had cars behind him. He kept pointing at his money clip and giving me dirty looks, but had to pay the toll. He kept glaring at me for a while, for what was less than $3. I don't mind paying, but he should have either made that clear before i got into the car, or added it to the original price. I'm not paying surprise fees. A bit later we passed through a small town, and he pulled over for no reason. He pulled out his phone, and typed 140,000 which i assume was a retro-active attempt to include the toll in the fare. I pulled out google translate, and told him that we agreed to 130,000. He looked really angry, but started driving again. A few minutes later, he pulled over again, and motions for my phone (to use google translate). He is typing some cryptic thing that made no sense. I kept saying 'no comprende', and finally he types that he was hungry, and is it ok if we stop to get something to eat. I agreed, and i got this hot pocket thing that had cheese, ham & spinach. He got a donut hole and a pepsi (cause that's a great breakfast). I paid for his food & mine just to be nice (the entire bill was like $1). He seemed to be in a better mood after that, and the rest of the drive was uneventful.
Once in Barichara, i walked back to the hotel, and retrieved my bag (thankfully they remembered me, and no issues). Then i found the bus 'station', which was a tiny one room office with a desk. I bought a ticket for San Gil, which they claimed wouldn't depart for over an hour. There was a cafe next door, so i got something small to eat & drink, and used their wifi. About 10 minutes before the time on my ticket, a bus guy starts calling out 'San Gil', but the bus number doesn't match my ticket. I showed him my ticket, he nods, and i got on. The bus wasn't full, so i guess he didn't care. He made a bunch of random stops along the way, picking up & dropping off locals. We made it into San Gil about an hour later, which wasn't bad.
I went to the hostel where i was staying next. Even though it was barely after 11am, they let me check in. My room has AC! Its hard to believe, but i haven't had a hotel with AC since Cartagena way back at the beginning of the trip. The hostel is right on the square, so there's a ton of stuff in walking distance. Also, they were able to buy me a bus ticket to Bogota for tomorrow. 8am departure, and it likely will take 9 hours. I'm not really looking forward to that trip, but there's really no other way, and its the last bus i need in Colombia (Ecuador is a different story).
I got lunch (a salad with mango, blue cheese & chicken, or as they say in Spanish, salada con pollo, azul queso y mango), with a passion fruit smoothie, and it was yummy. Then i swung by a market to buy more water, and spent the remainder of the afternoon resting.
I had an amazing dinner at a hole in the wall Colombian place with just 5 tables. I ordered bandejo pais, which has pinto beans, chicharon, plantain, avocado, areppa, ground beef, blood sausage and rice. It came with a spicy salsa, and a tomato chutney. All of it was amazing.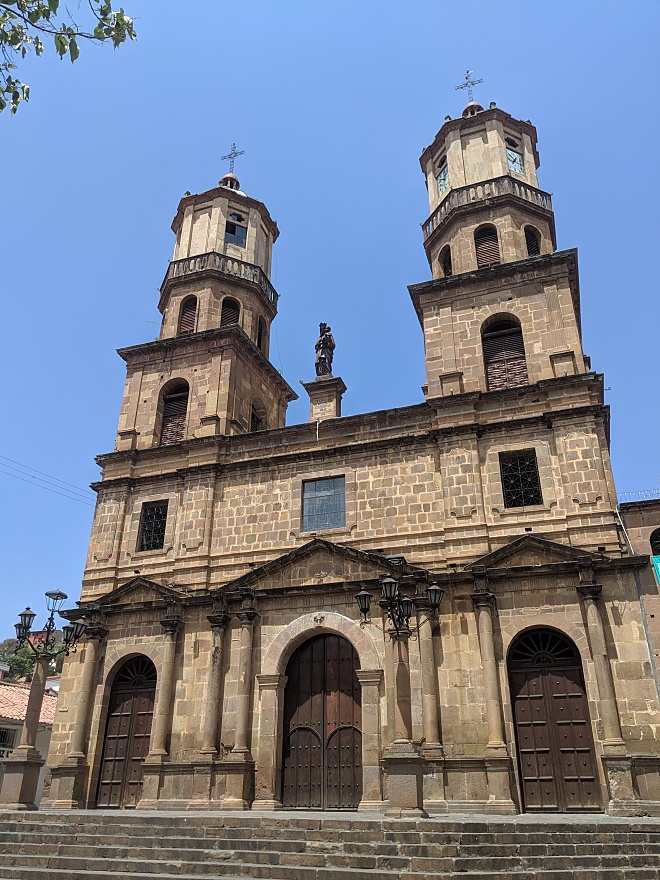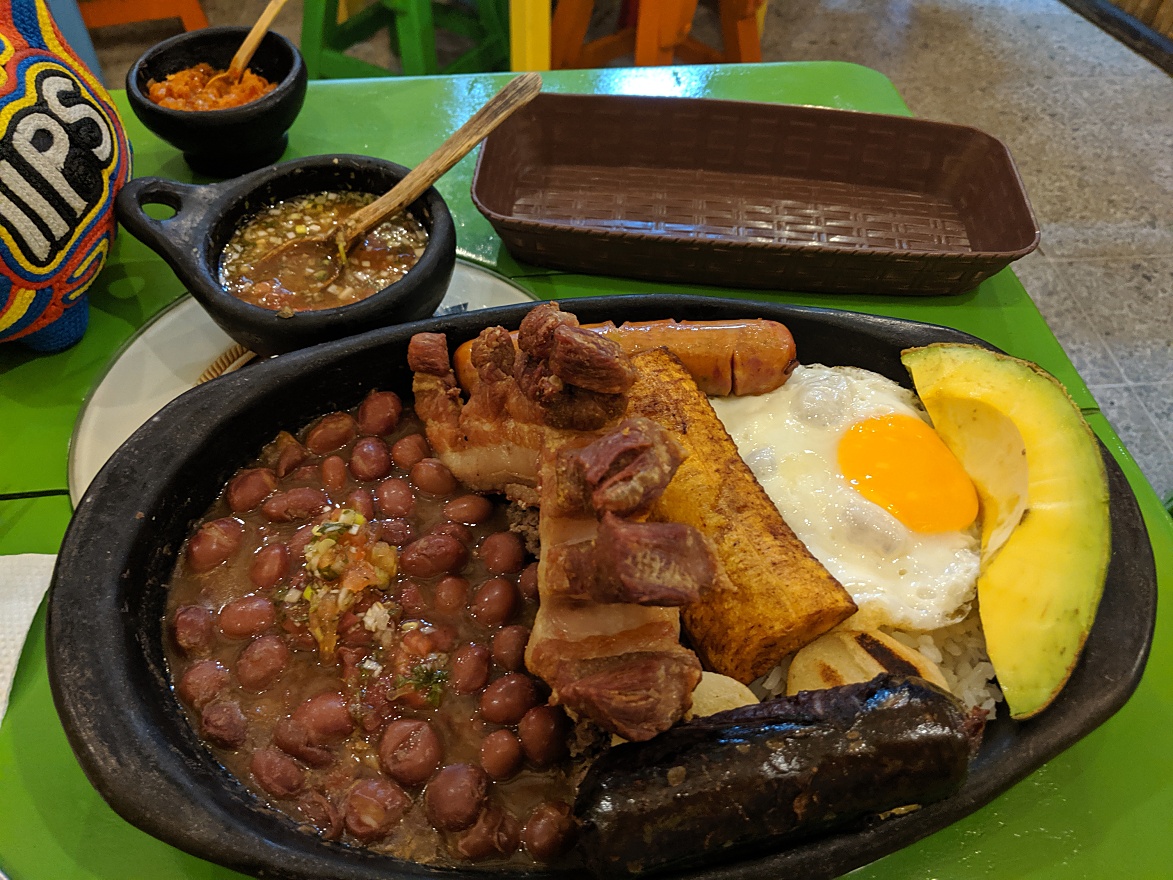 Day 14
I slept fairly well, and was up for the day at 5am. I showered (which had insane fire hose water pressure), and wandered out to find food at 6am. There wasn't much open. I eventually stumbled into the bustling produce market, spread across 2 huge warehouses. They had a few food counters, and i got a few empanadas. I ate a chicken & cheese as breakfast and saved 2 others for later.
I checked out at 7am, and went to the bus station. My bus pulled in at 7:55am, and the driver disappeared for 10 minutes. While everyone was waiting, a national police officer demanded to see everyone's ID. Then we spent 15 minutes boarding. Thankfully it was a decent bus with AC, and relatively comfortable seats. I didn't realize when i first boarded but the tickets had assigned seats. I ended up having to move, but thankfully it was beside a small woman, who never bothered me. We finally departed at 8:20am. There were a bunch of brief stops in random towns to pickup more passengers. Then at noon we stopped at a restaurant for people to get food & restrooms. The last 10 miles took an hour, because traffic was awful, and people kept asking to be dropped off in seemingly random places. Finally arrived in Bogota just after 4pm (nearly 8 hours after departing).
I attempted to use Cabify, but their app was estimating 20 minutes just to pick me up. So i went to the taxi queue, thinking that would be easy. The taxi driver apparently could not understand 'Hilton Garden Inn'. i pulled it up on my phone, and he still had no clue. He drove to the traffic police who played with my phone for several minutes. Then i showed the police what i wanted, they understood immediately, and explained to the moronic taxi driver. He then spent the entire drive mocking my pronunciation of Hilton. But it got worse. The idiot drove me to the wrong Hilton. I gave up, got out, and tried Cabify again. Finally got a driver who drove me to the hotel. 'Only' took 75 minutes from when the bus dropped me off to go 4km to the hotel.
I walked 3 blocks to a fairly boring, yet popular generic cafe to get dinner.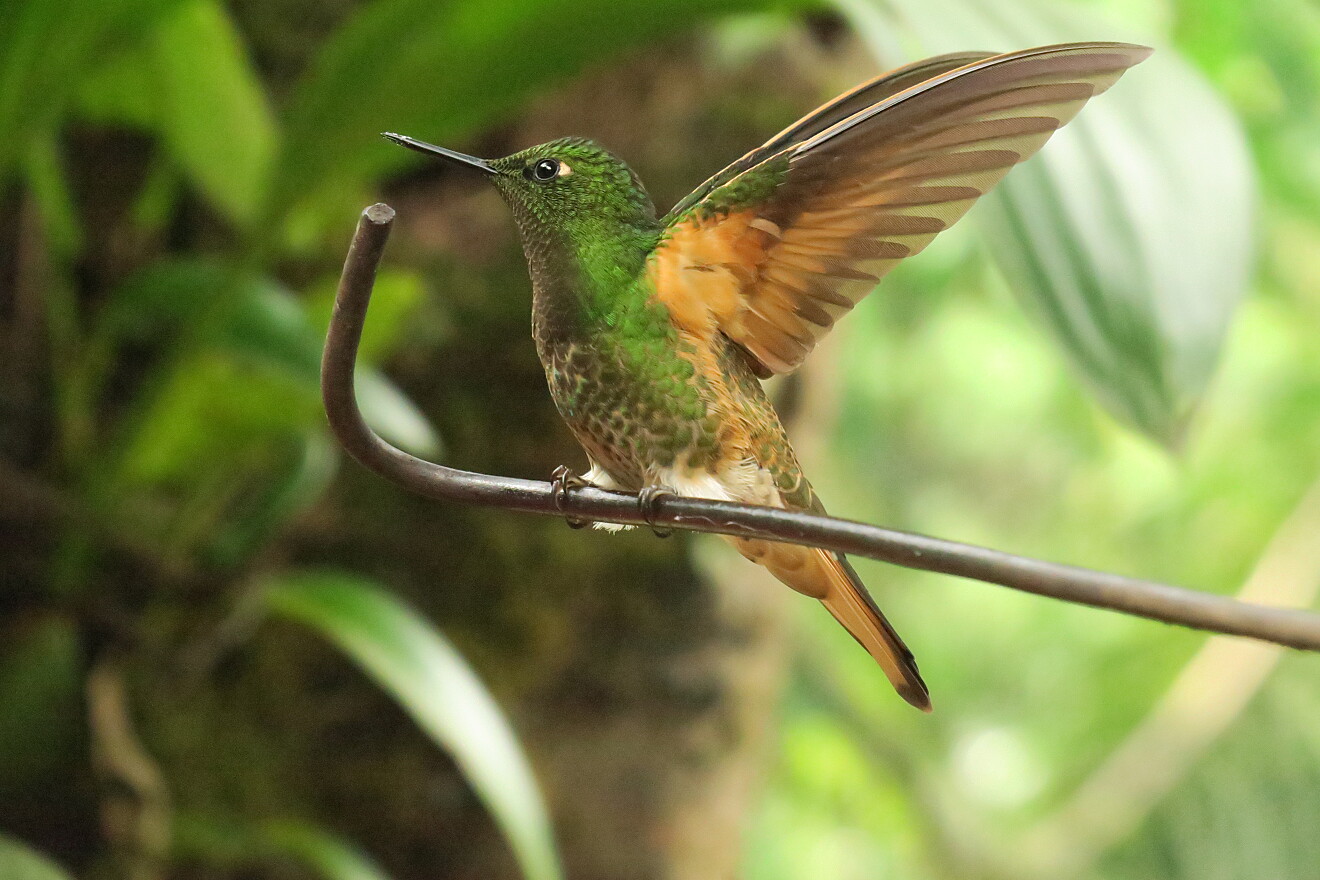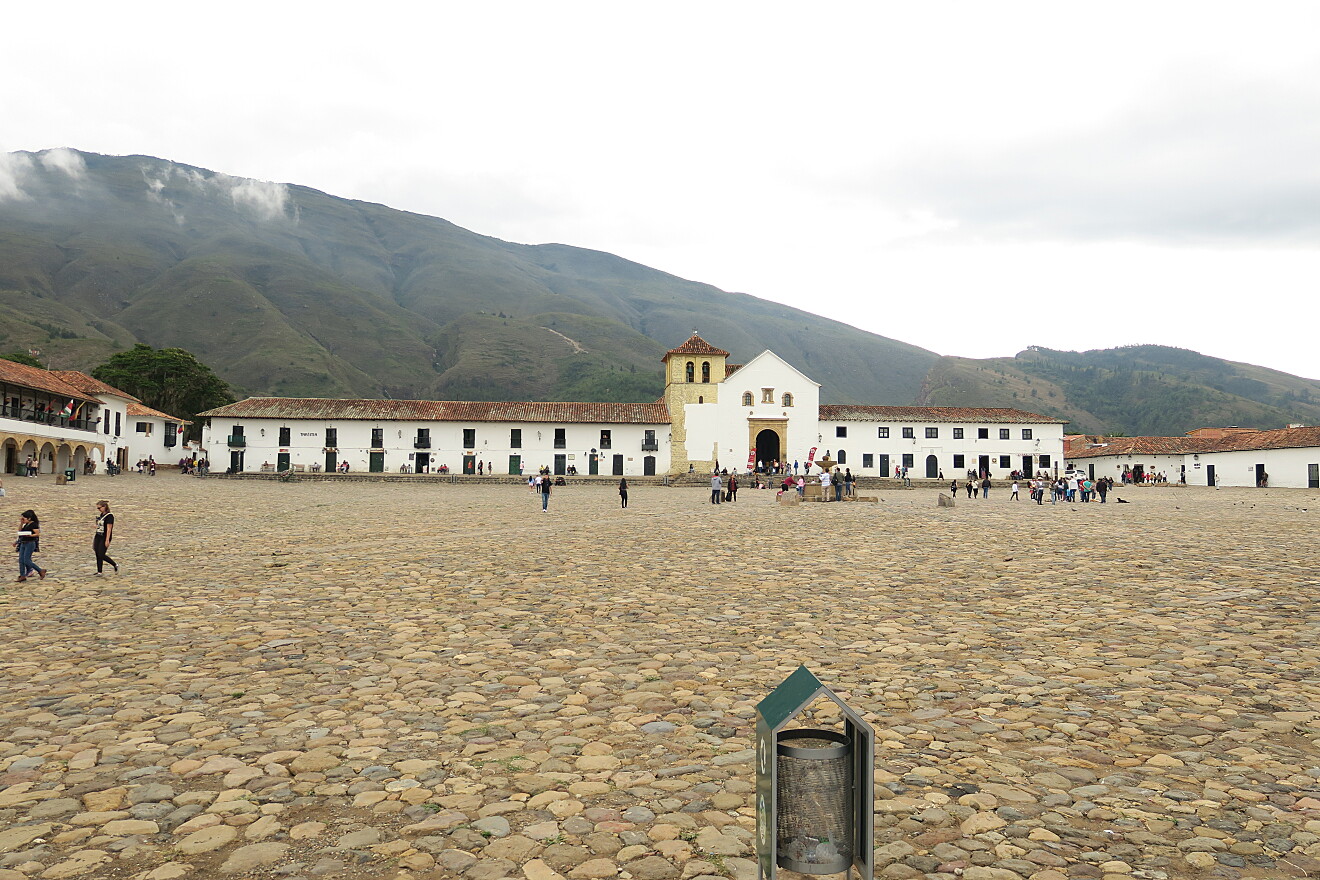 You can read about the second part of the trip (Ecuador) HERE. All of the trip photos are posted HERE.