We recently returned from spending three weeks driving around southern Africa (Namibia, Zimbabwe, Zambia & Botswana). It was a spectacular trip, covering over 6000km. Almost nothing went wrong, and a lot went very very well. This entry covers roughly the second half of the trip, in Zimbabwe, Zambia & Botswana. You can read about the first part of the trip (Namibia) HERE.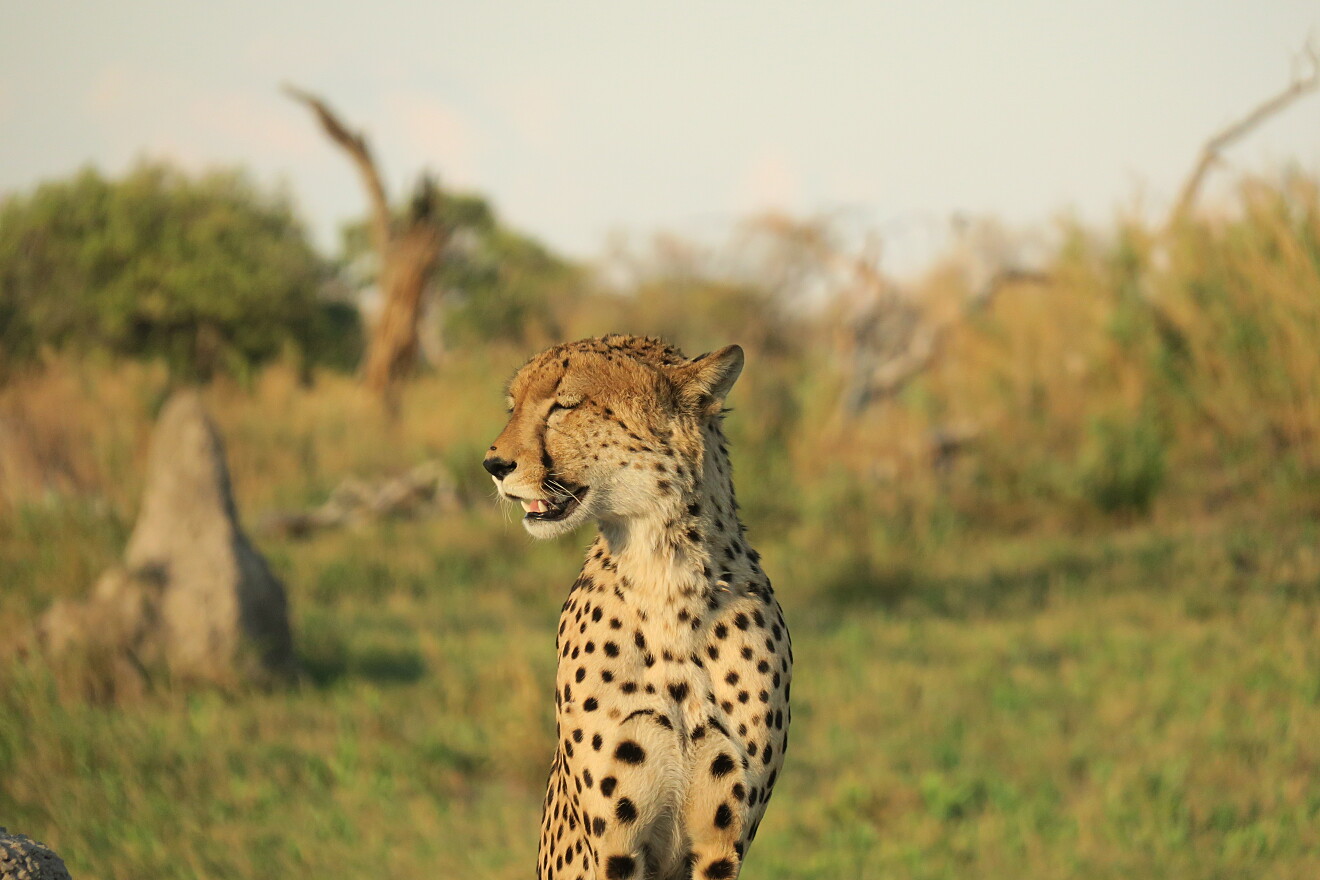 Day 14
What a day. Sleeping last night was miserable. it was quite warm & very humid. Also the bar next door was blasting loud music. A thunderstorm blew through which cooled things down a little, but it was still unpleasant. We were up for the day just after 5am. We broke camp just after 6am, for what should have been a 2.5 hour drive to Victoria Falls, Zimbabwe.
In reality it was about 4 hours because of 2 separate land border crossings. The first was from Namibia to Botswana. We pulled up to the border area at 6:45am, to find a long line of trucks and cars parked on the side of the road. I parked at the end of the line and wandered over to figure out wtf was going on. The good news is that the border officially opened at 7am. A few friendly truckers explained what was going on, and offered to let us drive ahead of them, since they would need far more time than us to clear customs. The gate opened on time, and everyone drove inside, and parked. We got out and walked into the building. We had to complete an immigration form. It actually went fairly smoothly, we were stamped out of the country. At the final gate, i had to fill out a ledger with details of the vehicle. I noticed then, that we were actually the first vehicle to cross that day. We drove about 2km through the no-man's land border zone, and then approached the Botswanan side. The road climbed a hill, with a ditch full of murky water. I drove around the ditch, and a guy in a shirt with 'INSPECTOR' in large letters ran towards me, and scolded me for not driving through the ditch. Apparently it had some kind of chemical for combating foot & mouth disease. I backed up, and drove through the ditch. At the top of the hill was the immigration/customs building. We parked and went inside. We were quickly stamped into the country. Then we stepped 3 ft to the Customs line on our right, and had to complete paperwork for importing the truck. We also had to pay $217 for the privilege of re-entering Botswana again. We paid the fee, and went back outside. We went over to the inspector again, and he just waved us through. it was a bit after 8am at this point, and we'd completed one full border crossing.
We drove just a few km into Botswana, and entered Chobe National Park. There was a guard post on the road, where I was required to pull over and register in a huge book. What made it extra fun is the column headings were all crossed out, and replaced with handwritten new headings. Its as if they ran out of ledger books for this purpose, and decided to use whatever they had sitting around. As we drove through the park, we spotted elephants by the side of the road. We had to register in yet another ledger as we exited the park. The remaining drive through Botswana wasn't as interesting, until we neared the border region. Then the road literally ended, turned to sandy gravel, and split with one side literally signposted 'Zambia', and the other 'Zimbabwe'. We drove on the messy non-road (they were literally building the real road parallel to the mess we were on) for 3km, and then we entered the border area. Exiting Botswana wasn't too bad. In fact it was fairly easy. Stamped out, signed a silly ledger, and that was all. We drove out of Botswana, expecting an unpleasant surprise, but all was fine.
Until we entered the utter circus that was the Zimbabwe side. Sheer chaos, with massive trucks parked everywhere. Cars and people weaving about. Then a random guy started waving for us to drive past much of this chaos and to park literally in front of the immigration & customs building (in what was definitely not a parking area). We figured that maybe he knew what he was doing, so we parked, got out, and entered the building. We waited in a crazy line behind a few obnoxious foreigners who were literally arguing that they didn't pay enough for their visas. Thankfully another window opened, and we were next. We got our KAZA visas (valid for both Zimbabwe & Zambia) relatively easily. Next was customs, where the insanity amped up. The helpful guy who directed us to park earlier, showed up again, and started filling out the customs forms for us. We were able to pay the actual $50 customs fee with a credit card. Then the guy demanded another $50 as his fee for helping us. And he wanted cash. In the stress of the situation, we didn't push back, and handed him our last $60 (we didn't have exact change). At first he seemed ok, but then started objecting that one of the $20 had a small hole, and wasn't acceptable. I pushed back, and told him that was all we had left. He hemmed & hawed a bit, and eventually got us our change, and we were done. We got back into the truck, and the guy then directed us to cut the entire massive line at the exit gate. We showed our paperwork, and drove out into Zimbabwe about an hour after starting the process.
Zimbabwe looked very different. The road had no shoulder, and often no painted lines either. The jungle often grew right up to the edge of the road, and the road was not in good condition much of the time. About 3km from the border we approached a weird roadblock with cones on the road. I saw several police sitting under a tree on the opposite side of the road. At first i thought i needed to stop on their (wrong) side of the road. But the officer started gesturing to stop on the correct side. I rolled down the window, and he proceeded to scold me for 'unsafely changing lanes' on a road that had no traffic, at a roadblock that made no sense. We apologized, and he demanded to see every document that we had (customs, passport, driver's license, authorization to drive the truck outside Namibia, etc). He wandered off, then returned, and granted us permission to proceed.
The remainder of the drive to Victoria Falls was through rolling jungle hills, with no signs of civilization. Eventually we saw a huge parade of elephants crossing the road ahead of us. There must have been more than a dozen, including babies. It was amazing.
We pulled into Victoria Falls just after 10am, and drove much of the way through town towards the falls. We parked, and crossed the road to enter the park. Its setup with 10 separate viewpoints along a 1.5km trail. Despite water levels being low from the dry season, there was still a lot of spray. It was impressive. We spent over an hour, then exited the park.
We had to walk further down the road to the border bridge with Zambia. It was extremely hot & humid. As we walked, two random Zimbabweans started chatting with us, ultimately trying to convince us to buy random bracelets. They would not leave us alone, despite multiple refusals to buy stuff. We quickly and easily got stamped out of Zimbabwe. Once we reached the bridge they finally gave up, but then another guy started bugging us all over again. Eventually he gave up, and we walked across the bridge, into Zambia. At this point, we decided to head back, as the heat was oppressive. Getting stamped back into Zimbabwe was a bit of a pain, as there was a huge line, and the officials were in a grumpy mood. They gave me just 3 days (i am leaving tomorrow, so its fine).
Once back at the truck, we drove back into town, got some lunch, and then went to the guesthouse for tonight to relax and cool off for the remainder of the afternoon.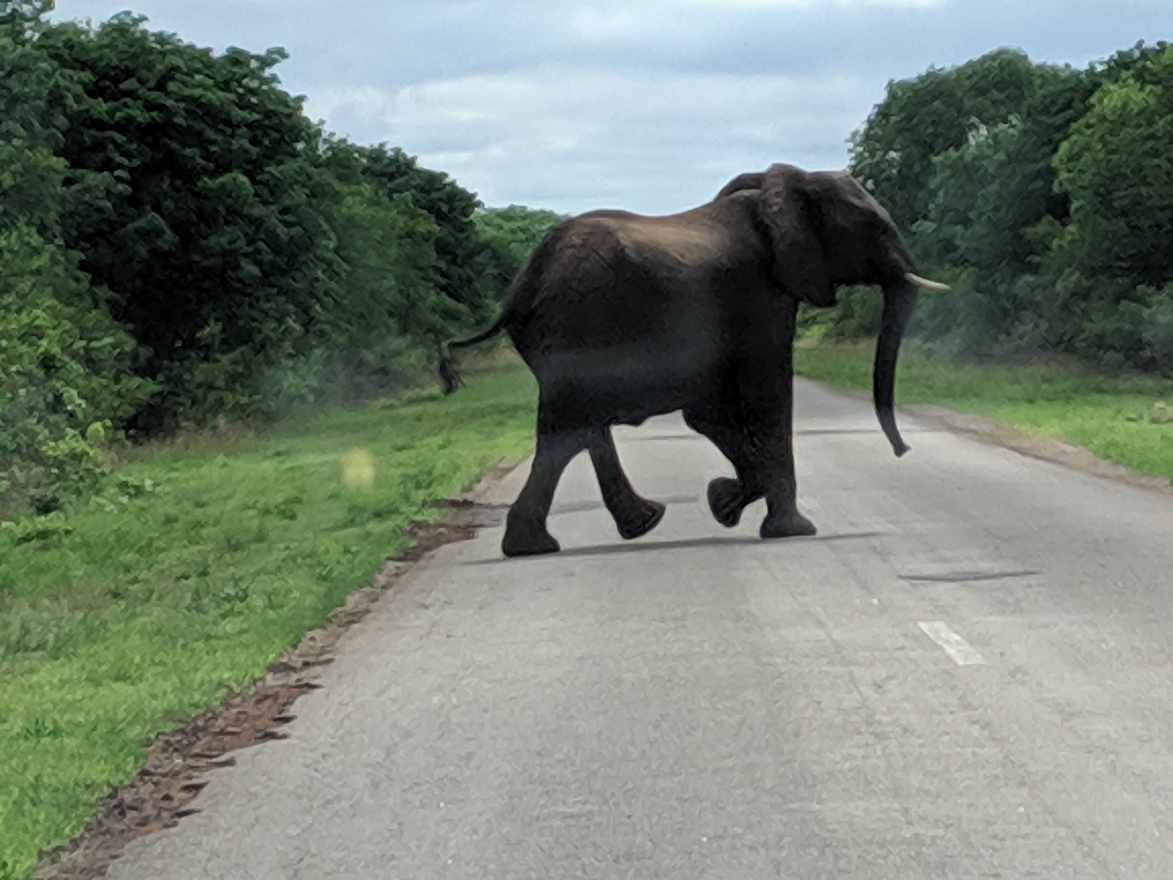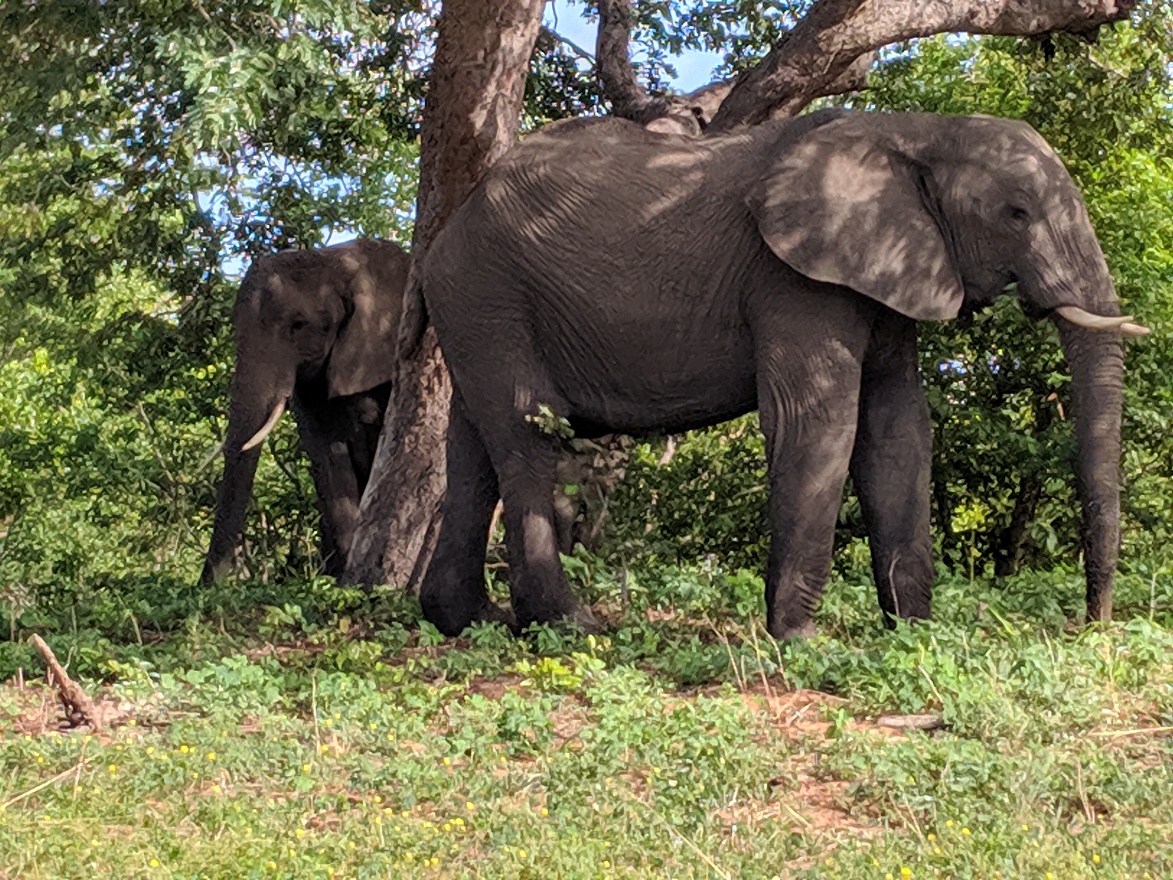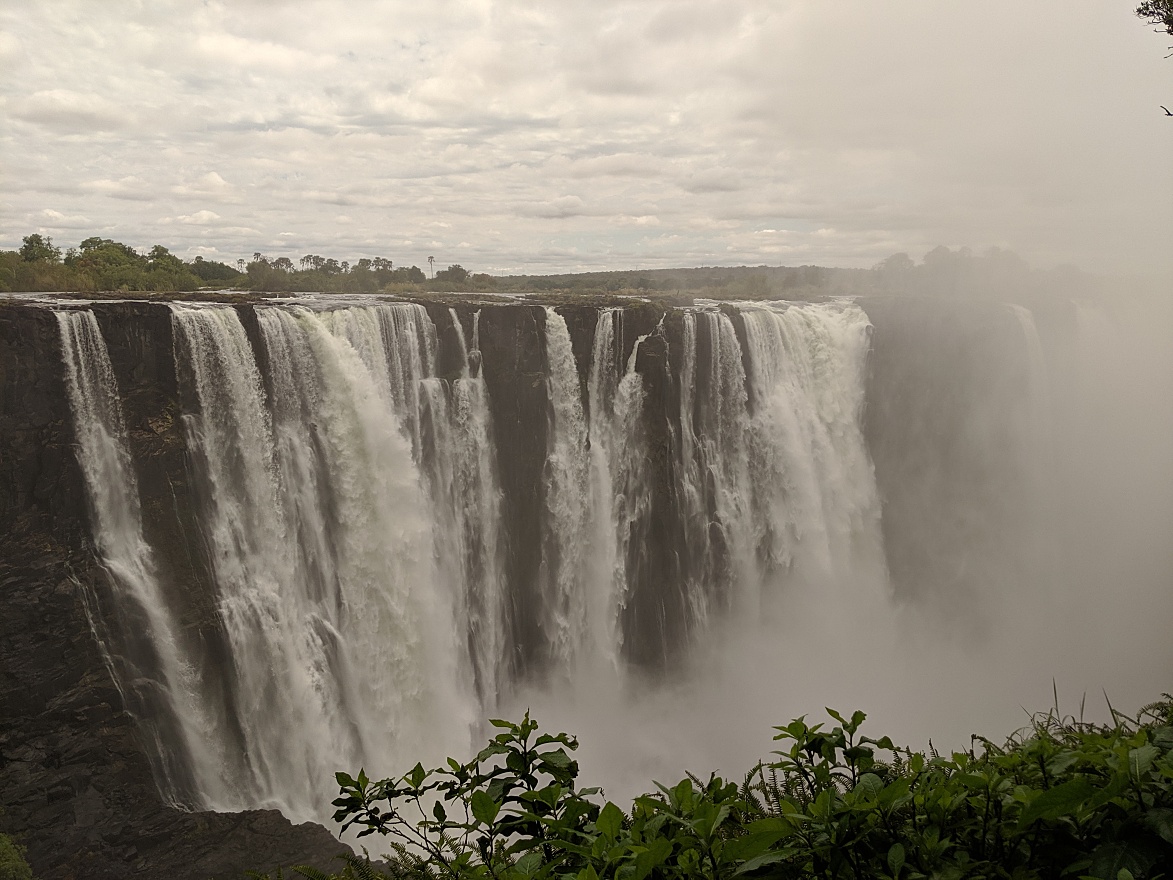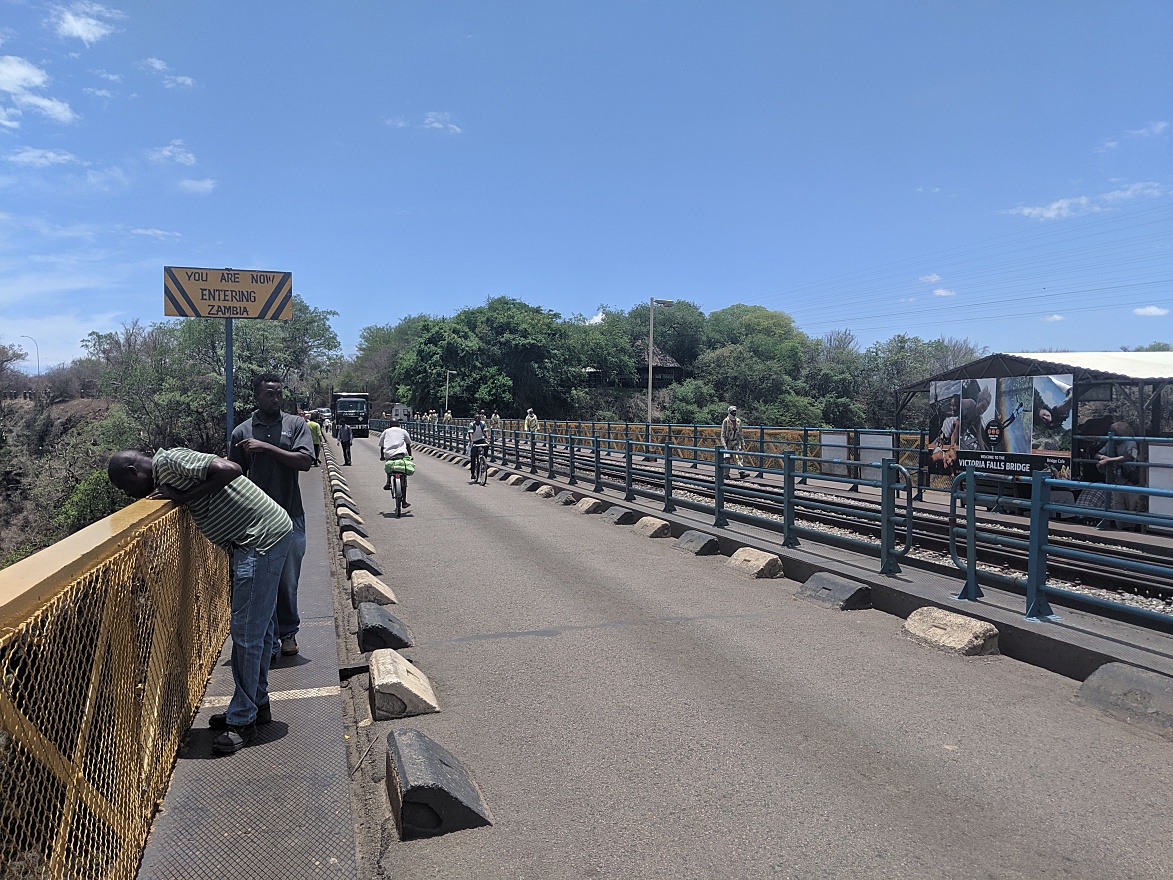 Day 15
We had a rather mediocre breakfast, and departed at 7:30am. Google claimed we had a 7.5 hour drive from Victoria Falls (Zimbabwe) to Maun (Botswana). The first 30 minutes were on a paved road out of the city. we had to go through a police check point, where the officer asked if we could give him a ride, and he seemed very serious. We commented that we didn't have any spare seats, and that wouldn't be safe.
Just after 8am, we turned off that road onto a 38km dirt road through a national park to the Pandamatenga border station. Initially the road was in good condition, and passed a few small thatched hut villages and people with donkey & ox carts. However, it eventually narrowed, got severely washboarded, and had multiple mud holes. It was slow going, barely hitting 40kph much of the time. The scenery was pretty with forest, plains, and occasional wildlife (impala, baboons, and birds). Nearly 90 minutes later we reached the Zimbabwe border compound. It was a ghost town, with no other cars. The staff were friendly, although complained that they didn't have power for 6 days. At one point they semi-jokingly asked if we 'brought them any gifts for the festive (Christmas) season'. We told them we brought our smiles & cheery disposition, which got a chuckle. We were stamped out in under 10 minutes, and drove across the border to pavement in Botswana. That side went fairly well too (and was also devoid of cars), and we were officially in Botswana just after 10am.
The drive in the morning was fairly easy on good roads with a 120kph speed limit. We did encounter elephants along & on the road a few times. Just before lunch, we passed through the town of Nata, and changed roads to begin the drive west to Maun. The road quickly degraded, and was a potholed disaster for many kilometers. It did eventually improve somewhat though. We reached Maun just after 3pm, with an outside sweltering temperature of 37C.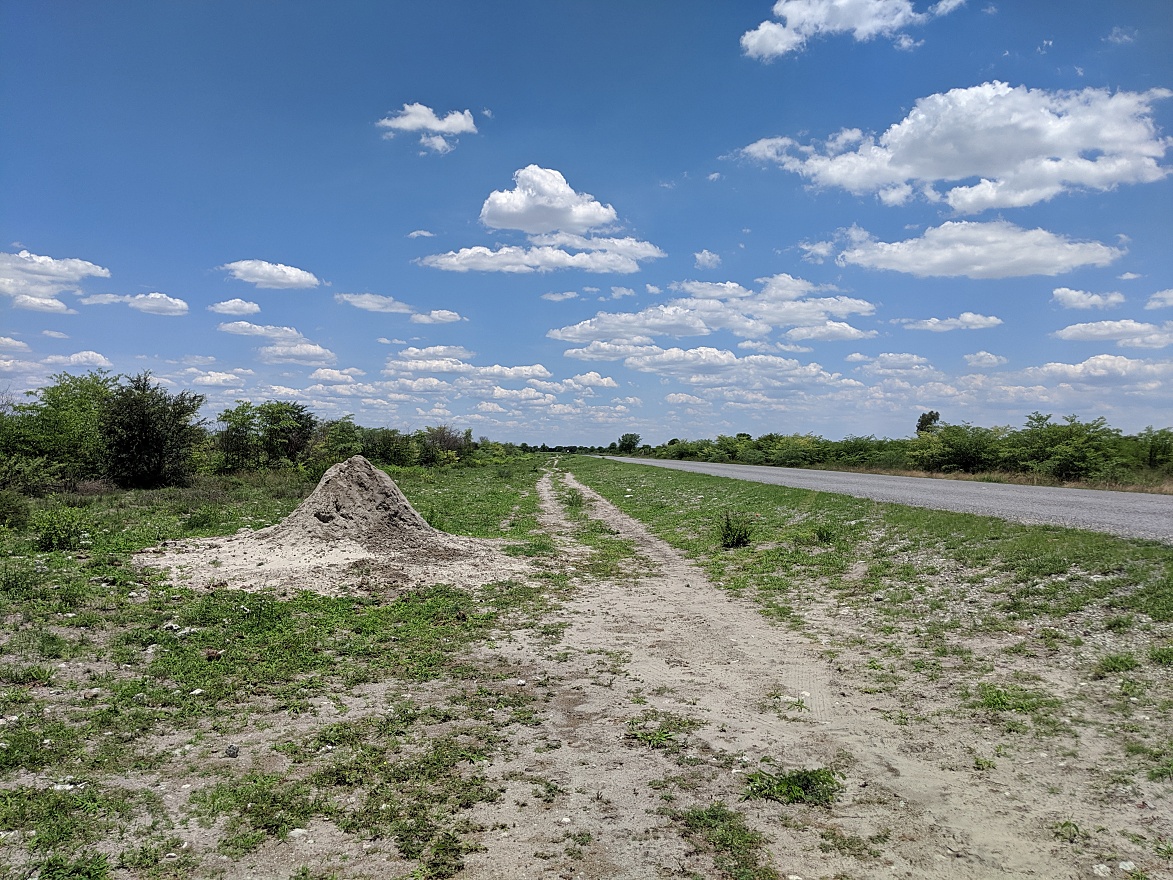 Day 16
We got to sleep in for the first time, as our flight wasn't until 12:40pm. We had breakfast, checked out after 10am, and drove into town. There was road work, so they diverted us onto random dirt roads for a bit. We got to the &Beyond (lodge) office just before 11am. They checked us in, and we were driven to the Maun airport (just across the road) at 11:30am.
The airport was small, but packed with people flying all over southern Africa. We were flying on Mack Air about 45 km north. We walked out of the terminal to a van. It drove us down the tarmac to a small 7 seat plane. It was the 2 of us, the pilot, and 2 other passengers. It was 37C outside, and the plane had no AC. We taxied, and took off. It was super hot inside, even with the small amount of air vents. We flew at around 5000 ft, so the views were great, but it was rather bumpy & hot. The landing on a dirt airstrip was also a bit bumpy. We saw zebras and elephants near the airstrip.
We quickly got our bags from a small compartment under the plane, and a landcruiser was waiting for us, to drive us 30 minutes to the lodge/camp. The scenery was dry, but pretty. Lots of large trees spaced far apart, with short dry grasses. The road was mostly a soft, sandy track. When we pulled into camp, much of the staff was waiting to greet us. The camp manager gave us a brief tour & orientation, and then we were served drinks & lunch. After lunch we had some free time to relax.
At 4pm we had afternoon tea with snacks, and then headed out for a game drive. We were out for less than 30 minutes and spotted a cheetah. We then spent much of the next 3 hours tracking & observing it, as it hunted. It was amazing, as we watched it stalking antelope, and made a poor attempt at chasing one. A bit before sunset, we drove to a more secluded area, and had drinks. As dusk came, we gradually returned to the camp, spotting some additional animals with a spotlight.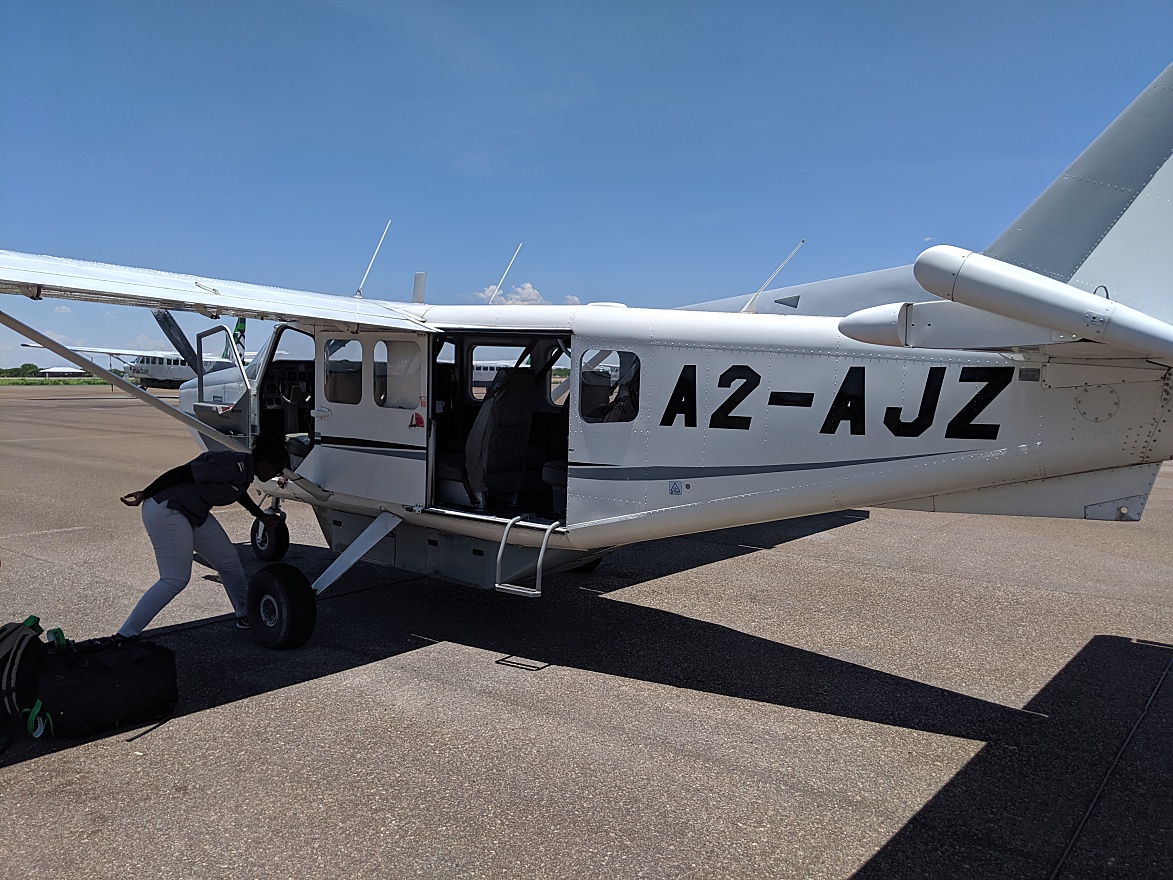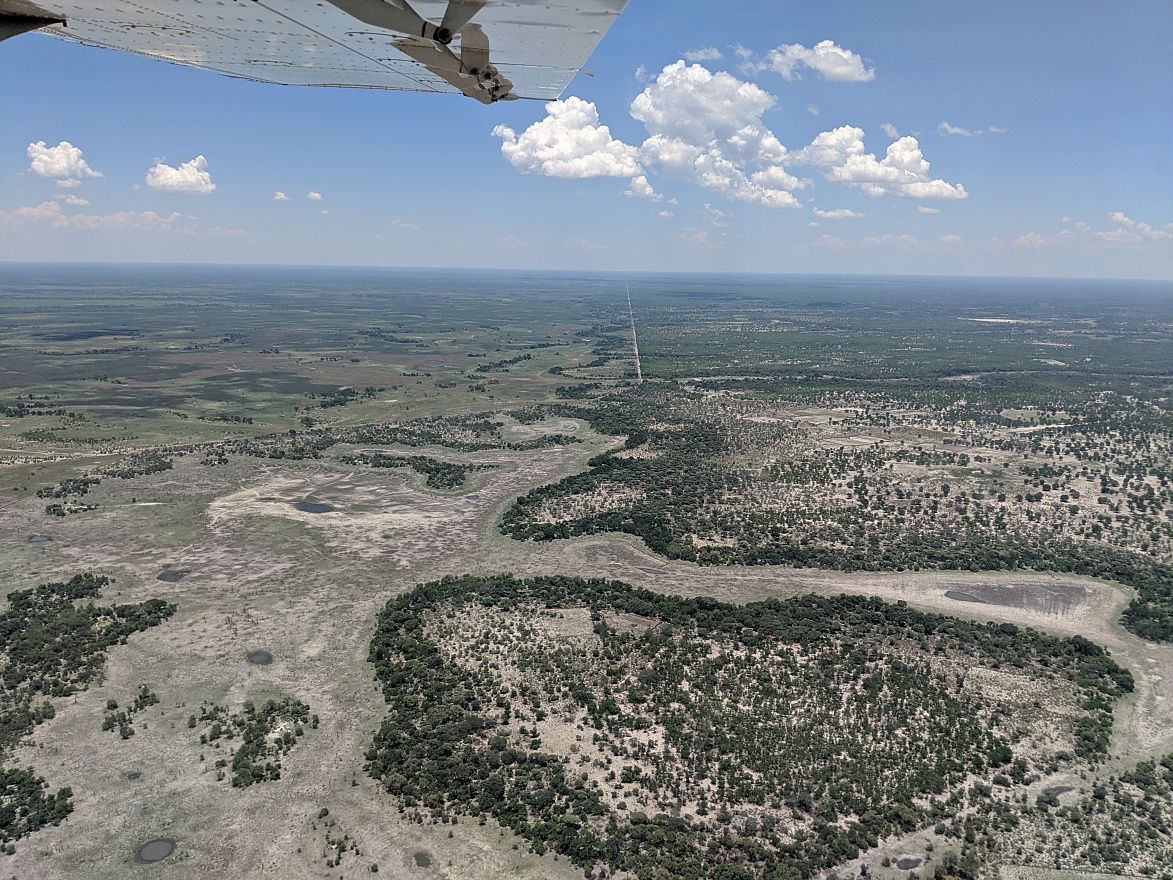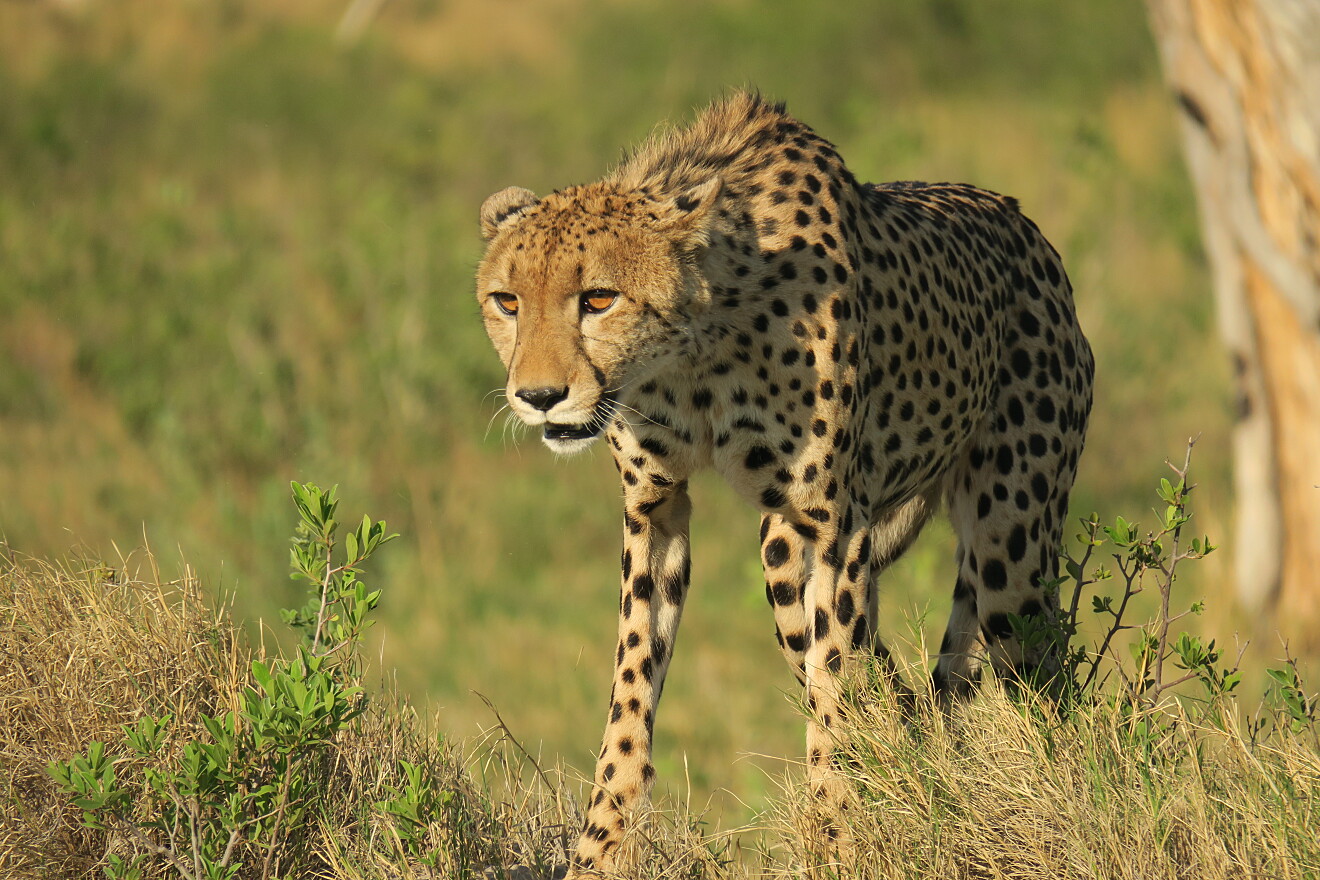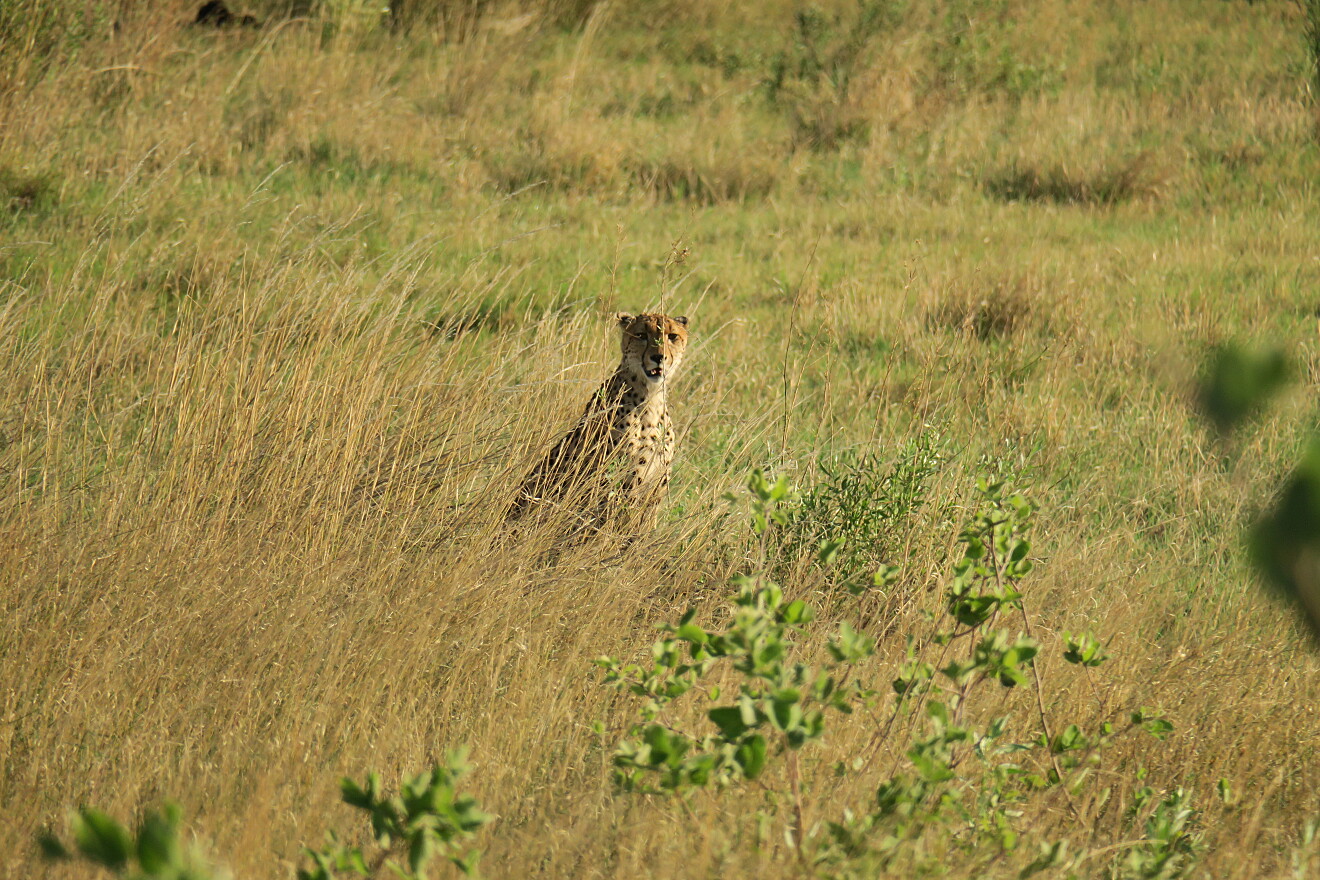 Day 17
We had to get up before 5am, to have breakfast, and then depart at 6am for a game drive. We were primarily searching for lions. Along the way, we saw zebras, ostrich, antelope, springbok, hippos, vultures, and a mongoose. While we did find lots of lion tracks, we never saw them. It was still a nice drive, and we returned to camp just before 11am.
We spent the afternoon relaxing. At 4pm we went out for another drive, trying to locate the lions. We were not successful, but we did see jackals, elephants, and a huge herd of wildebeest.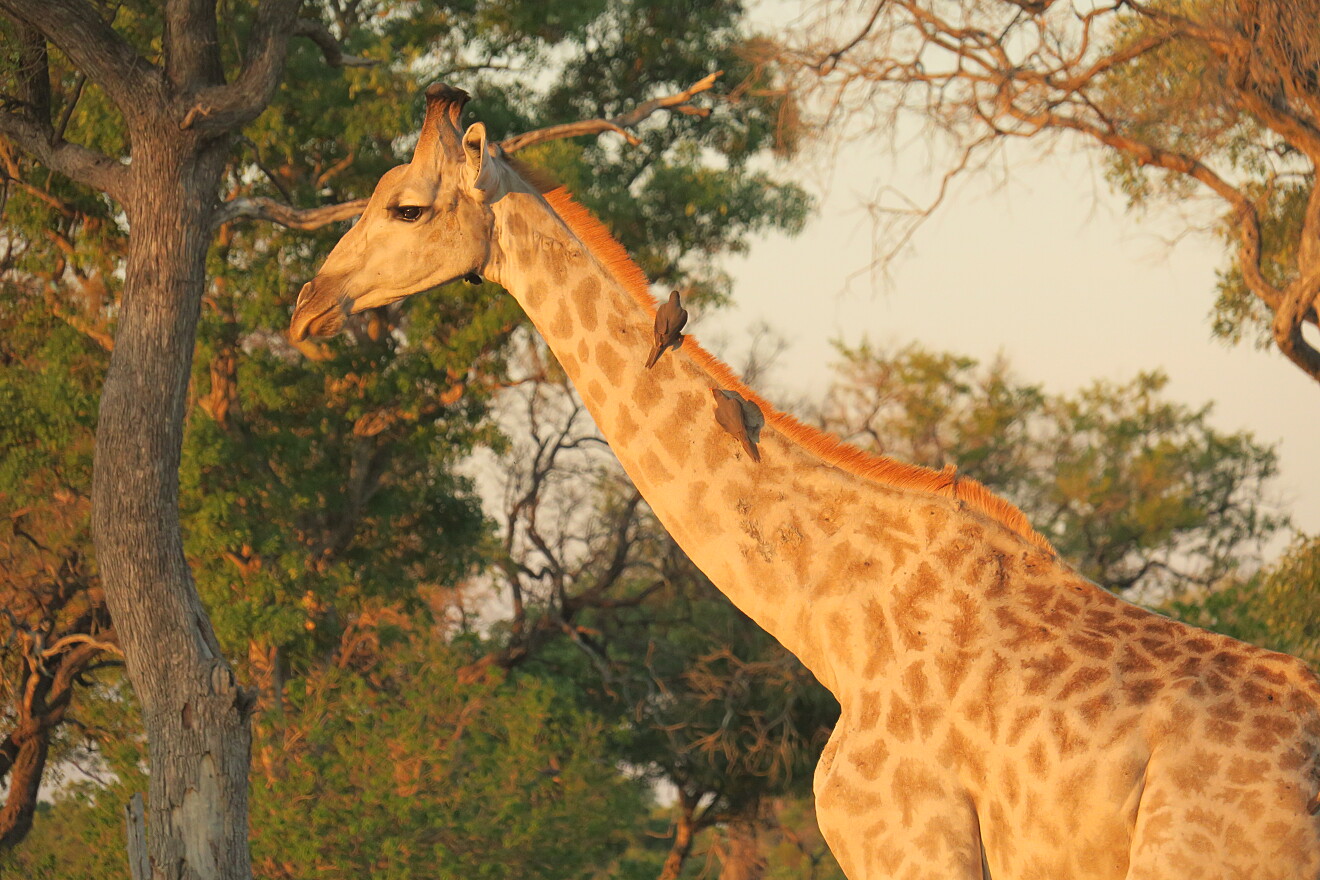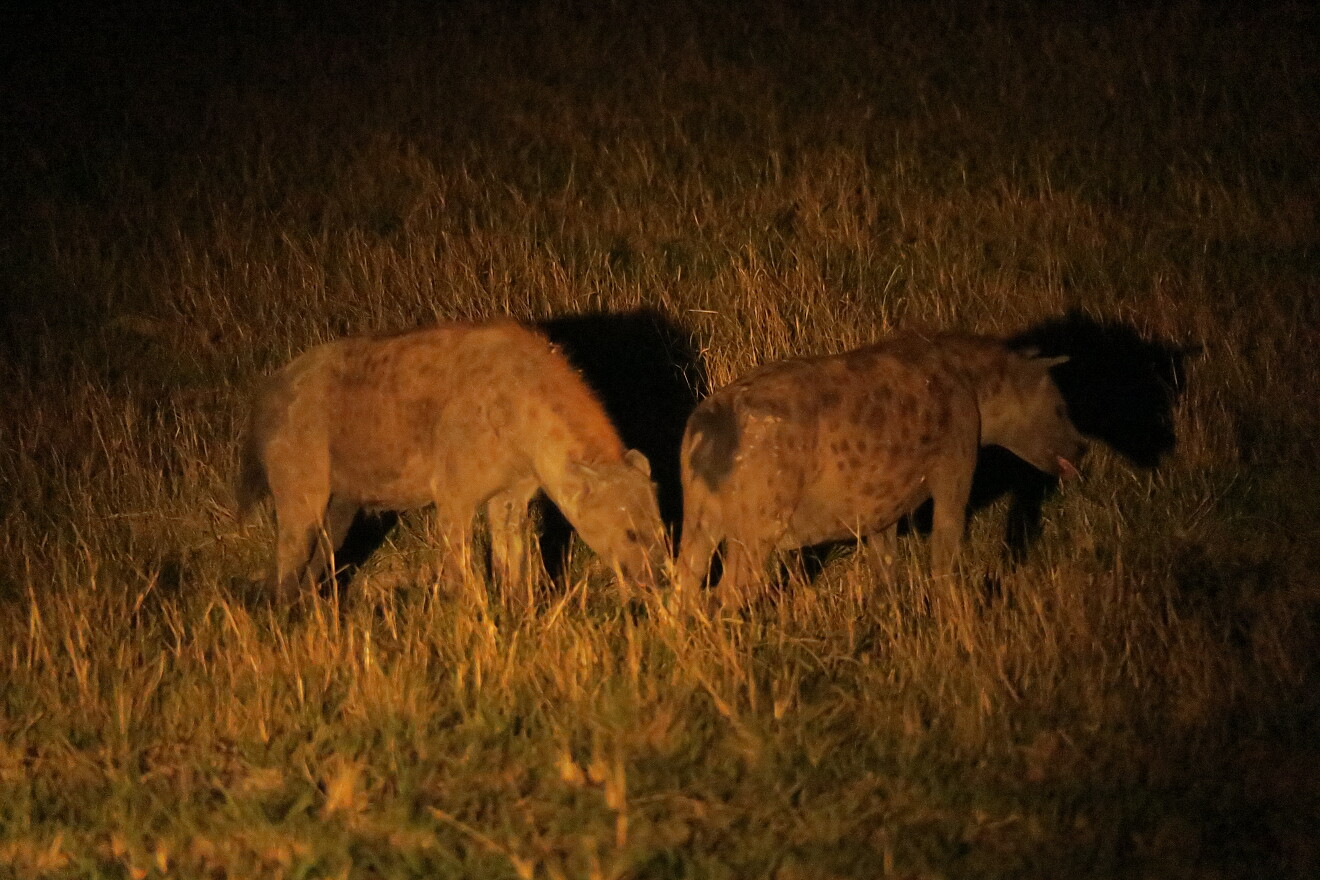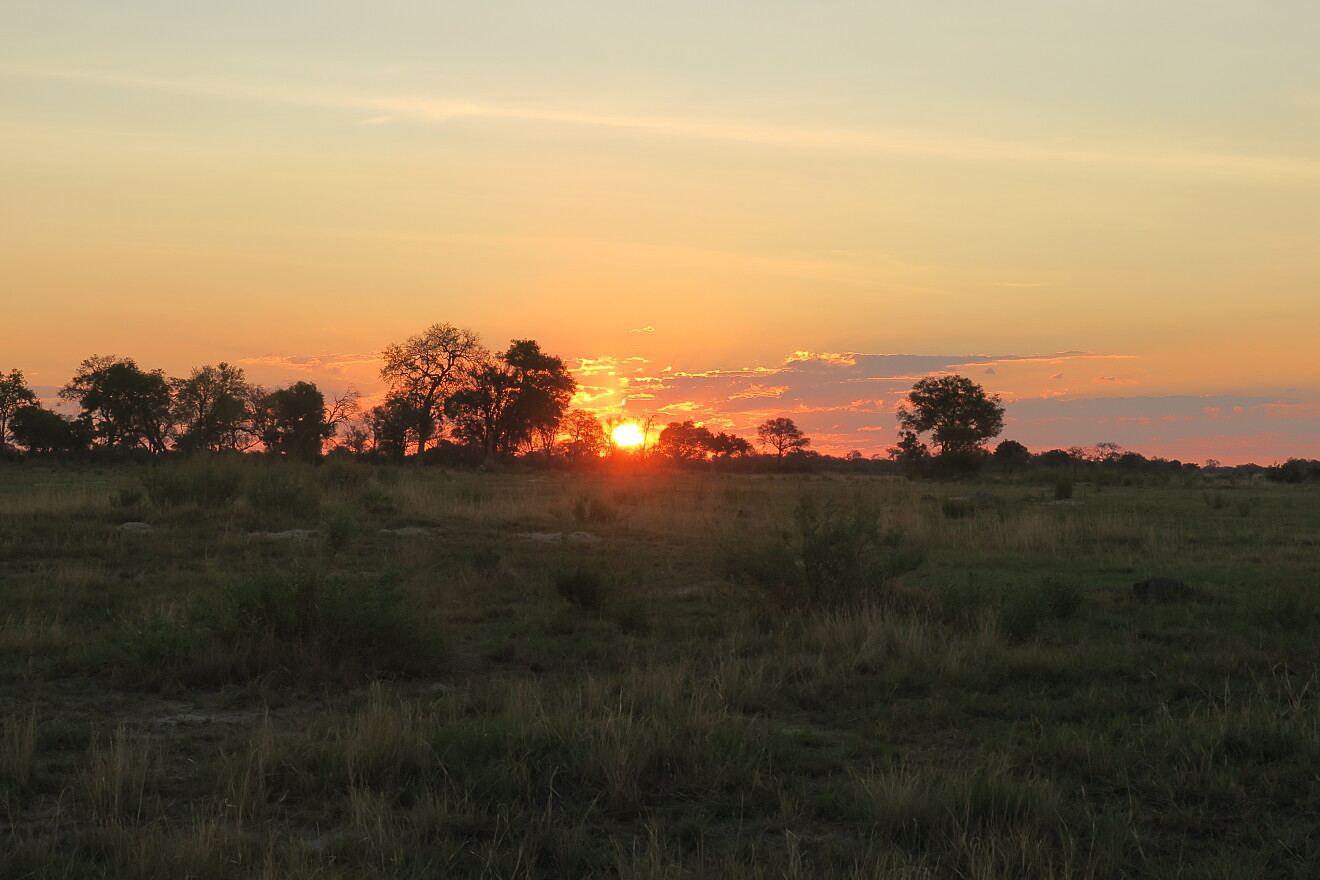 Day 18
We were up at 5am again for breakfast, and then departed for the drive at 6am. About an hour in, we finally found lions (2 female & 2 males). We followed them for over 2 hours, as they wandered around, making a few attempts at stalking prey.
The afternoon drive was spectacular. Less than an hour in, we found 3 female lions feeding on a killed buffalo. Eventually one of then attempted to climb into a dead tree, and laid down. We also saw a huge heard of hippos and later 2 families of elephants with babies. Then the grand finale were 6 lion cubs withe 2 mothers. The cubs were playing non stop and at one point made a hilarious attempt to stalk a bunch of birds. As we drove back to camp in the dark we also found a leopard. It was a spectacular end to the trip. This was the last day before we began the process of traveling home.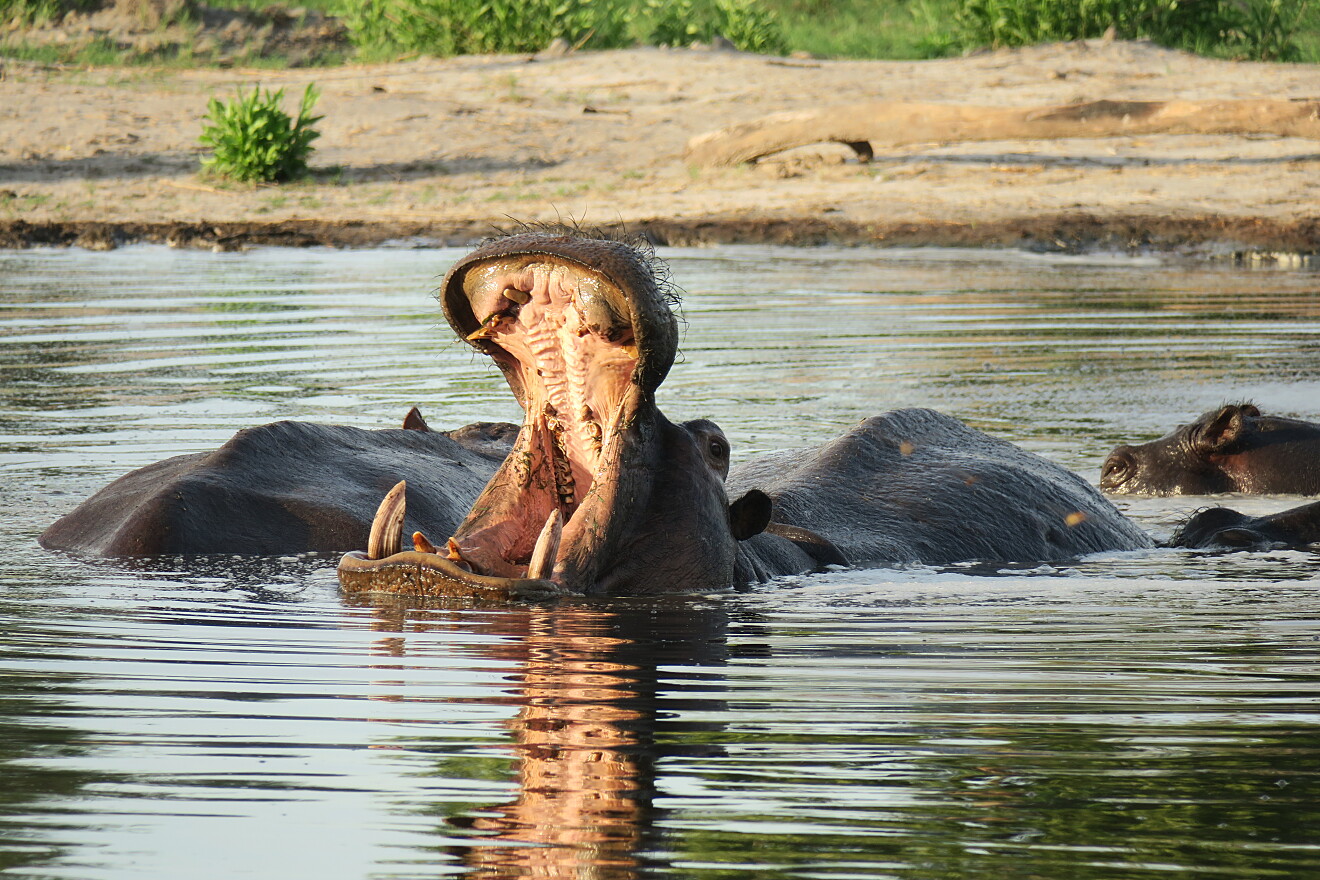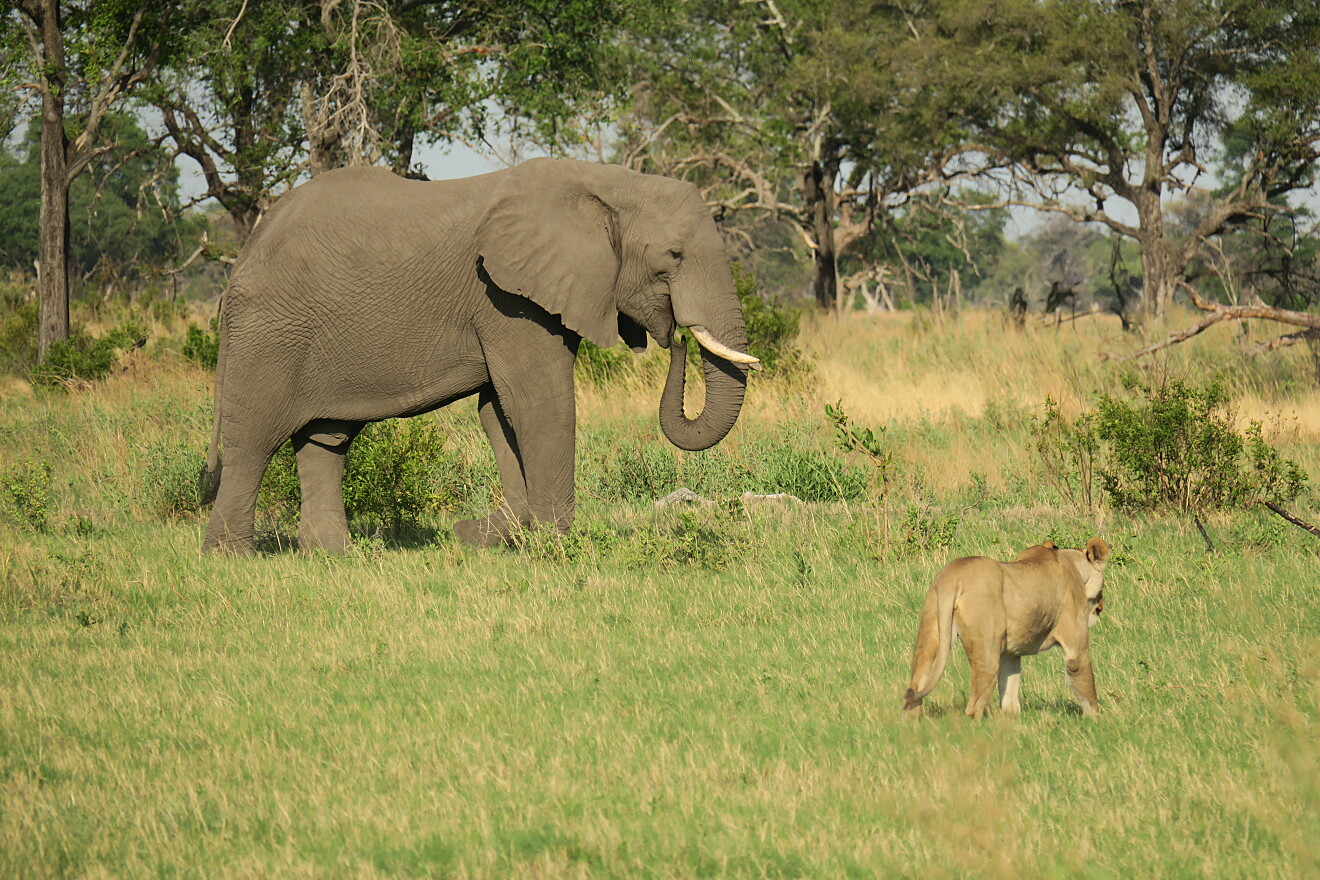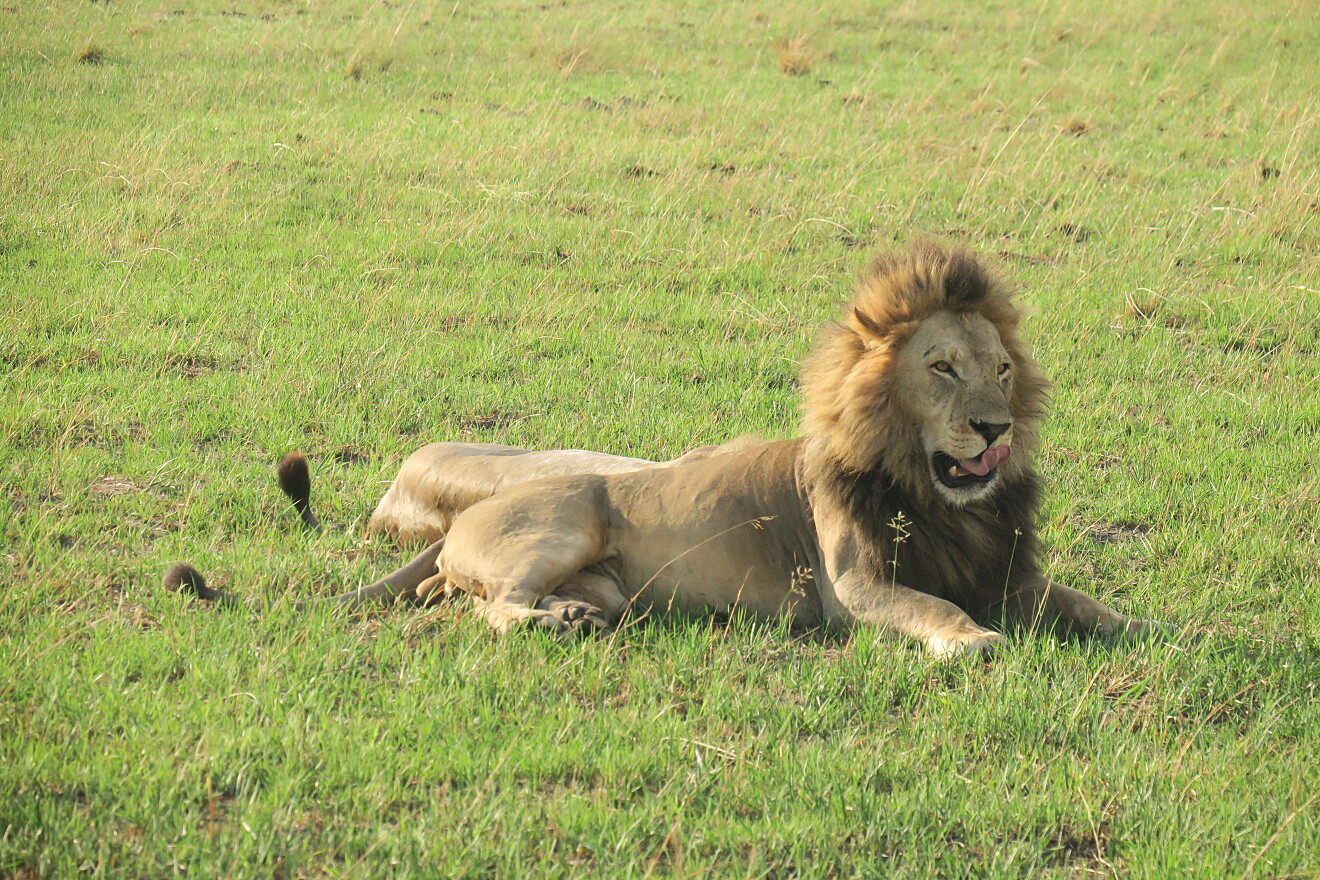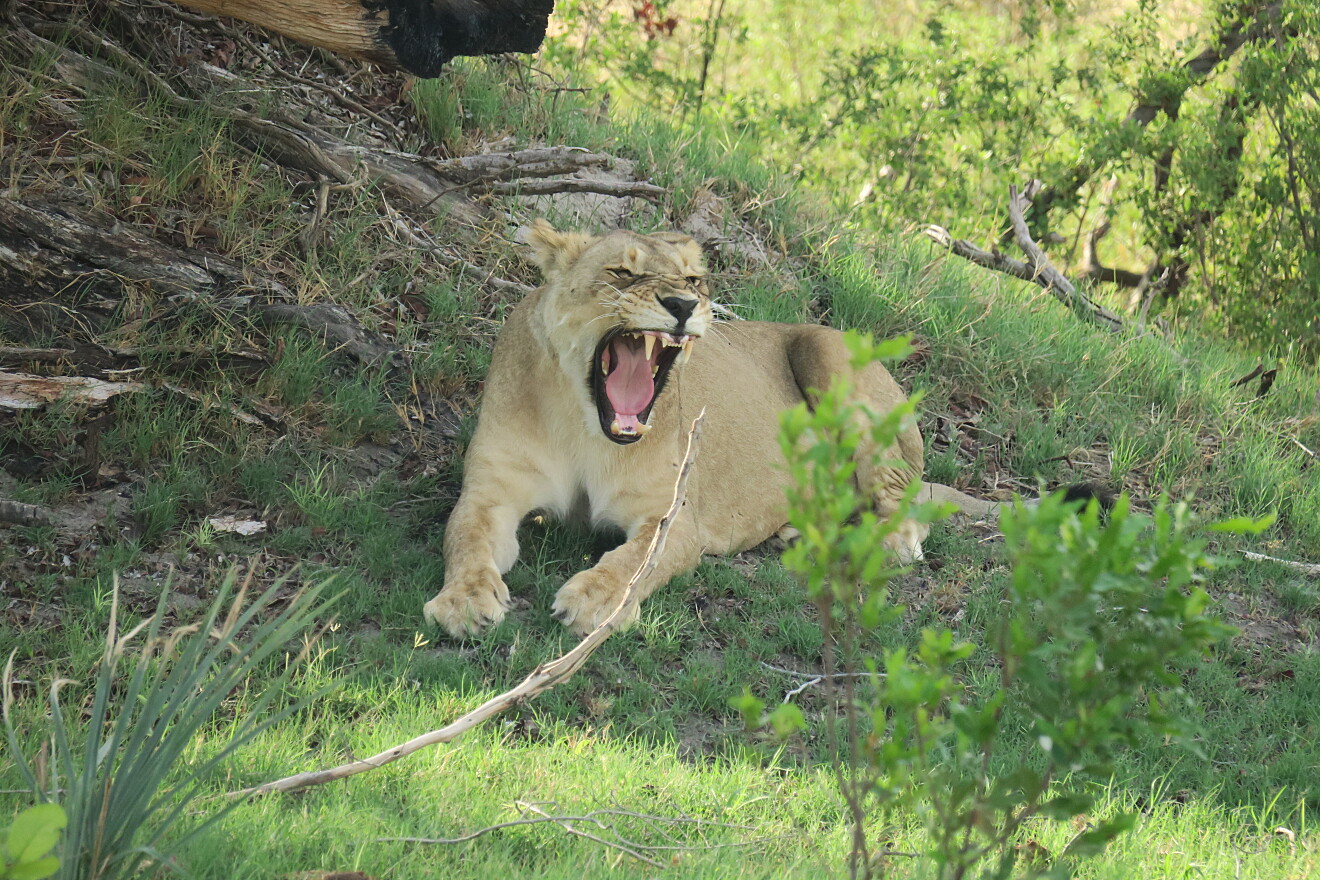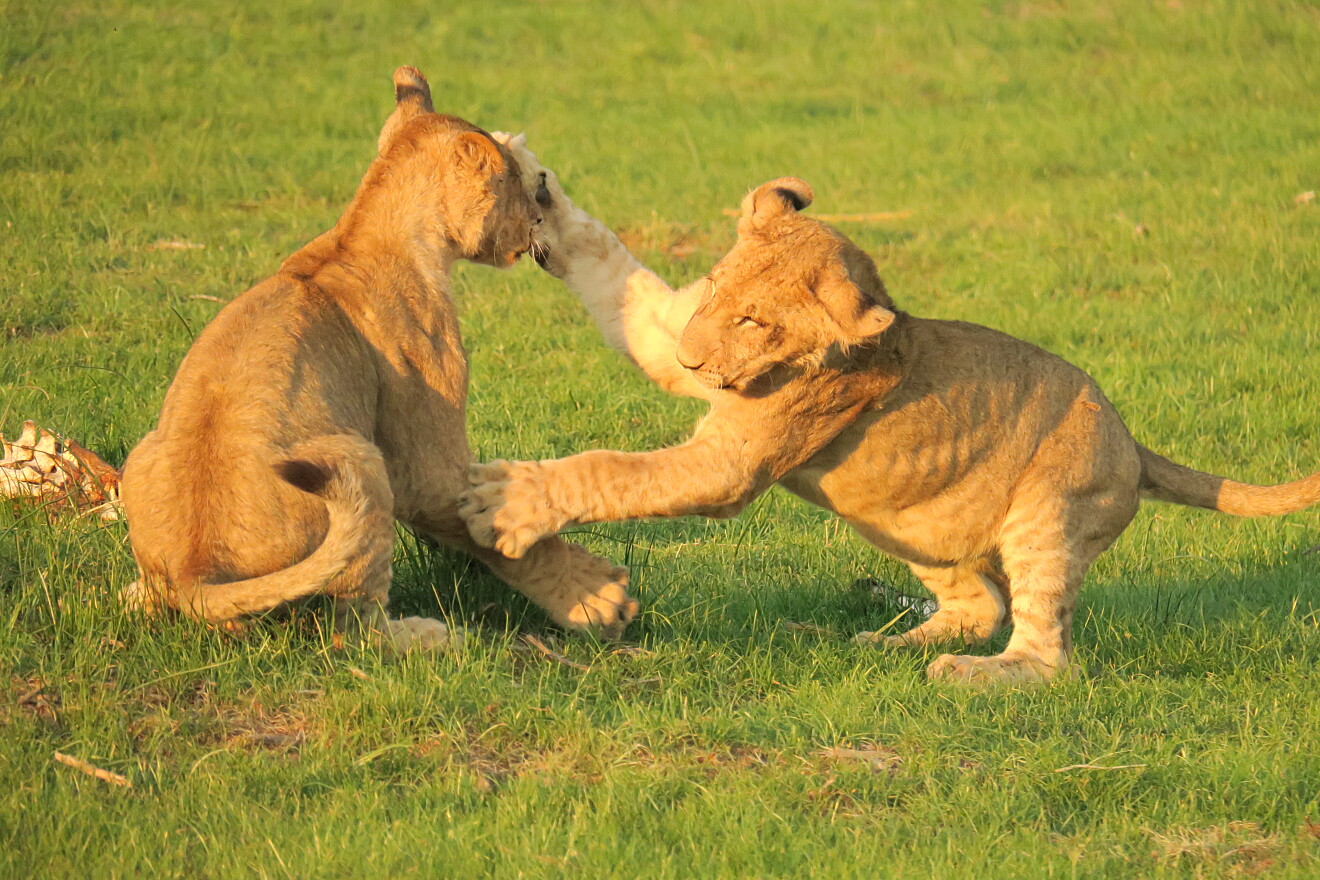 Day 19
We got to sleep in today, as we weren't doing a drive in the morning. Our flight back to Maun was 09:15am. We had breakfast, checked out, and had the 30 minute drive to the airstrip. The weather changed overnight, and there were some clouds, and it looked like rain in the distance.
The plane arrived a few minutes late. Four passengers exited the plane, then we boarded as the only passengers going to Maun. The flight was much less hot & bumpy this time. Midway through, the pilot turned to Denise (who was sitting in the co-pilot seat), and said "don't tell anyone, would you like to fly the plane?", and of course she agreed. She basically just kept it flying straight, although she did briefly have it turn slightly. She was thrilled. We landed just before 10am, got a ride back to the truck, and were on the road by 10:10am.
The drive was mostly uneventful, and long. We reached the Botswana/Namibian border just after 3pm. Getting stamped out of Botswana was quick & easy. Entering Namibia was surprising unpleasant. There was a long slow line. These 2 guys with Zimbabwean passports cut in front of us at one point. The immigration officers were slow & grouchy. We were finally done a bit before 4pm. Then we had a series of increasingly obnoxious police check points as we drove towards Windhoek. Then we caught up with a storm, and had rain too. We finally made it into Windhoek just before 7pm, nearly 9 hours after departing Maun.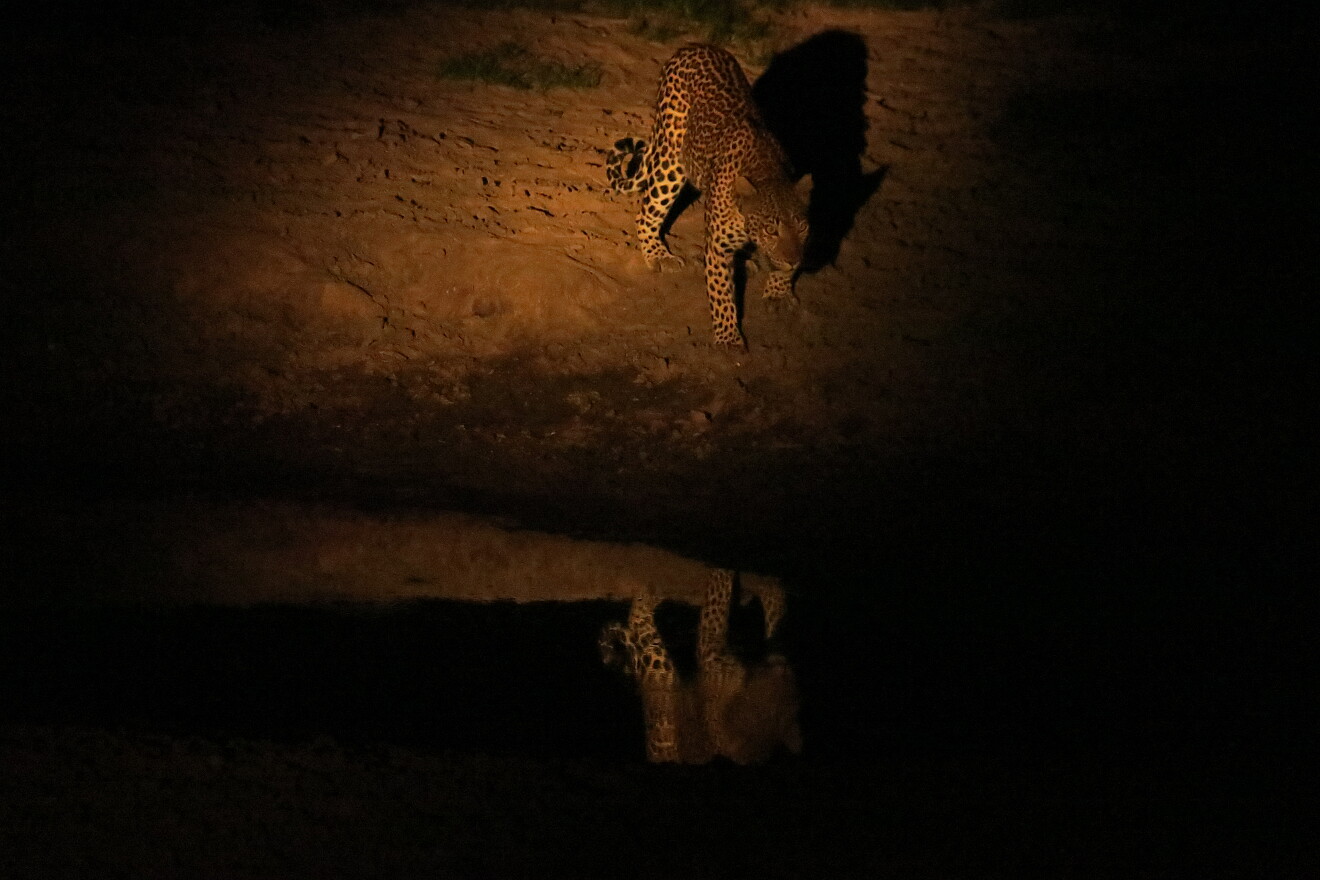 Day 20
We slept in a bit, and had breakfast at 8am. We departed for the airport at 9:30am. Skies were still a bit cloudy, but that helped to defer the extreme heat a bit. After dropping off Denise, i parked in the shade for a while. i noticed a long screw sticking out of the left rear tire, but it wasn't flat so i left it alone.
I drove the 45km back into Windhoek, and stopped for lunch in the Craft Cafe. I had an avocado shake, a salad, and a small sandwich. Afterwards I wandered around the Namibian Craft Center, and looked at the art for sale. Lots of nice stuff.
A bit after 1pm, i dropped off the truck. We ended up driving a total of 6059km. At 2pm they gave me my final trip to the airport.
A bit after 4pm a storm came in, and the terminal kept losing power repeatedly. It seemed to stabilize before 6pm, so i rushed to clear security and emigration. Thankfully, my flight departed on time. The flight was kinda meh. I was actually sitting in the first row/aisle of economy. But the temperature was extremely warm for the entire flight. The guy behind me was on oxygen and sounded like Darth Vader, with random beeping noises. I did manage to sleep, poorly, for much of the flight to Frankfurt. 'Breakfast' was the most disgusting egg salad sandwich i've ever seen. I didn't eat it, and just had black tea. We landed a bit early at 6:30am.
Frankfurt was its usual self. I had to change terminals, clear security, and then wait about 2 hours for my flight to SFO. The flight was fine. It was cool and pouring rain when we landed, on time, at SFO.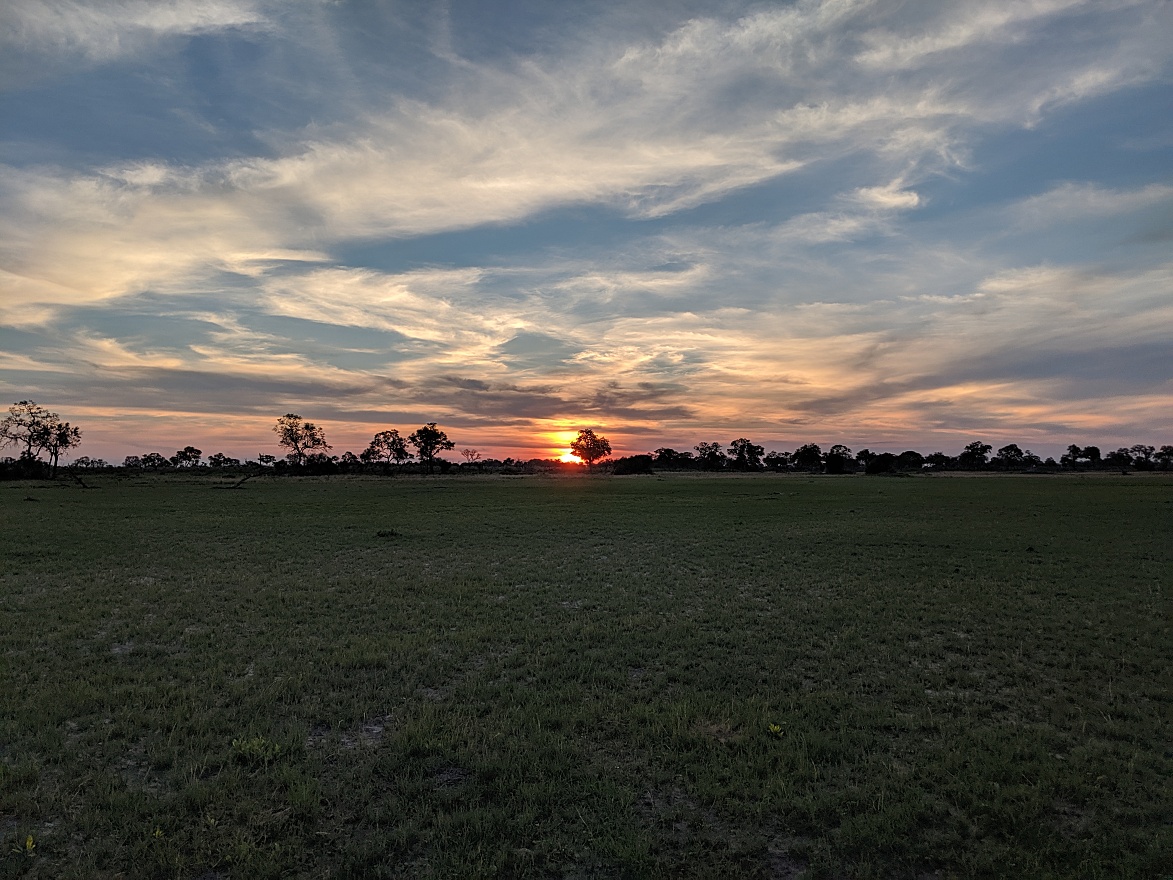 Here's the rough route that we traveled:
You can read about the first half of the trip HERE.