We recently returned from spending three weeks driving around southern Africa (Namibia, Zimbabwe, Zambia & Botswana). It was a spectacular trip, covering over 6000km. Almost nothing went wrong, and a lot went very very well. This entry covers roughly the first half of the trip, in Namibia. You can read about the second part of the trip (Zimbabwe, Zambia & Botswana) HERE.
This was not my first time in Namibia. I visited almost exactly three years earlier, in a trip that still ranks as one of the best I've ever done. In fact, much of the time spent in Namibia on this trip was a repeat of the same stuff from that first trip. I enjoyed it so much that I wanted to do it all again. However, its also interesting to see what changed over 3 years, and how much didn't change at all. Namibia is a country that is mostly a hot, dry, sandy desert. That environment promotes preservation, and so many things seemed exactly as I remembered them from three years earlier.
Day 1
The Lyft to SFO went smoothly and i got there in 40 minutes. When i got my boarding pass there was a sign on the counter promoting a special on biz class upgrades. I asked, but it was $425 which seemed too much. I got to my gate with no issues, and watched the sheer chaos of an Air China boarding process. About 20 minutes before my flight was due to board, i was paged to the gate counter. I went up and they told me to wait a few minutes. I wondered why they were paging me if they weren't ready, plus wtf was going. Just as they announced for everyone to queue up, they called me up again. For no reason, i was given a free upgrade to biz class.
It was interesting to compare Lufthansa's biz class with Emirates, as Lufthansa is supposed to be the best in Europe and one of the best in the world. the seating was a 2-2-2 arrangement, and i had an aisle seat. There was a lot of leg room, but the space was otherwise kinda cramped. There was almost no storage space for anything, and even my seat was barely wider than economy. plus the person sitting beside the window had to climb over my legs every time she got up, which was annoying. However, the seat did fully recline into a bed, and was fully adjustable. Emirates definitely had a much nicer and roomier seat setup, plus all their seats had direct aisle access. Where Lufthansa absolutely outshone Emirates was the service. The crew were all super friendly. All of them greeted me by name. I had a dedicated flight attendant who introduced herself to me and frequently stopped by to offer me drinks, snacks, and just to make sure i didn't need anything. we got a small amenity kit with French lotion, sox, and a tooth brush kit. The food was also really great, with 3 choices of appetizers, 3 mains, and 3 desserts. They also passed out mixed nuts, and offered champagne before we took off. The flight passed really quickly for 11 hours. About 4.5 hours before arrival i setup my bed, and slept for about 2.5 hours. The cramped seat was a bit of an issue again, as i literally had no room for my arms while lying on my back. Also a lot of other people were snoring. We were served breakfast 90 minutes before landing, and it was pretty good too.
Frankfurt airport was its usual self, and i had a massive hike, plus train to reach my terminal. I was definitely in the ghetto terminal (E), which had just 3 places to eat (2 of which were a Burger King & Starbucks), and flights to exotic places like Riyad (Saudi Arabia) & Baghdad, plus Windhoek. Security was for groupings of gates, and they were super strict. I got groped & frisked, and then another guy pulled everything out of my bag while giving me a stern lecture about liquids & electronics. There was absolutely no where to eat at this point, and so i played the waiting game.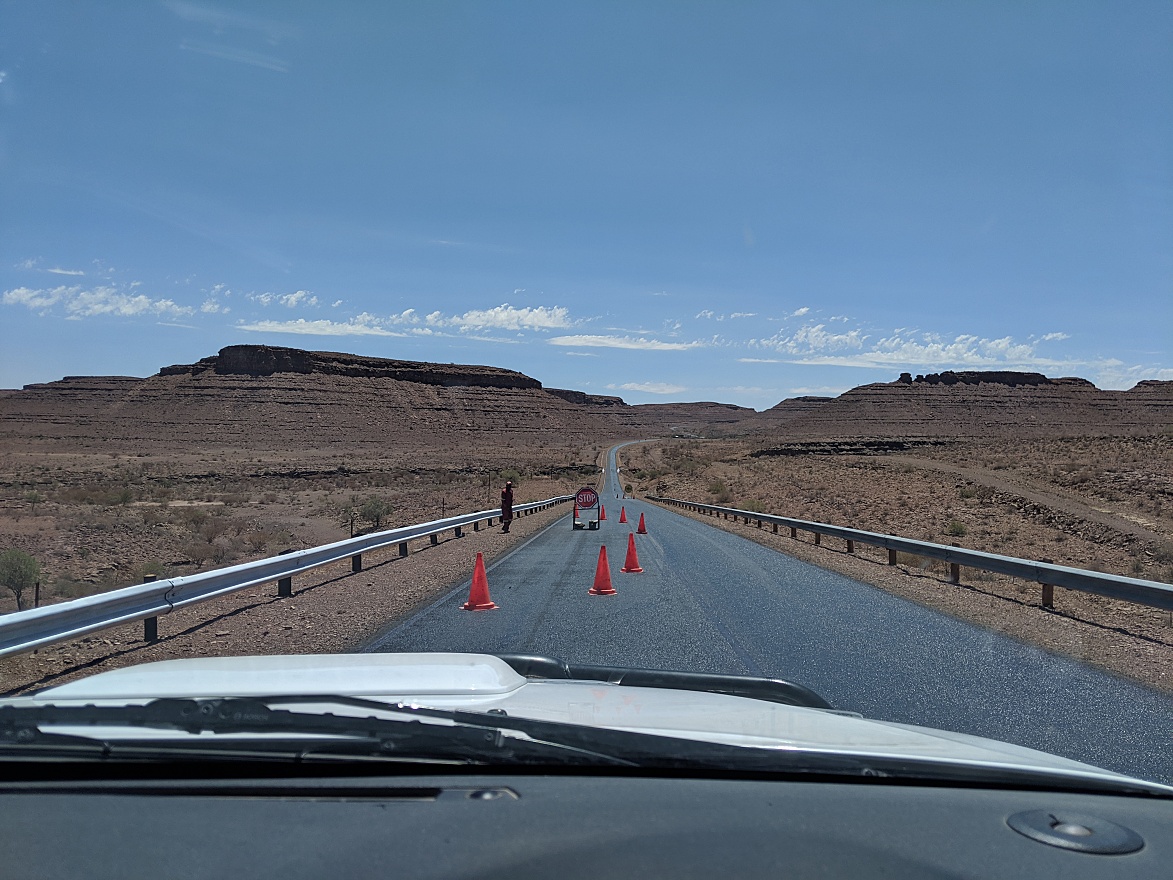 Day 2
My gate area finally opened up at 5:30pm. I went to the gate agent to inquire about switching to an aisle seat, and she proceeded to interrogate me. First she insisted that i had a German name, and refused to accept any answer other than yes. Then she insisted that i needed a visa for Namibia, and i had to demand that she call her supervisor before she finally accepted that she was wrong. Next she quizzed me on why i wasn't with my family for Thanksgiving. Finally she mentioned that the flight was nearly empty, and it wouldn't be a problem to move me to an aisle seat.
The flight was supposed to board at 18:10. 18:40 came and went and still nothing. I started to worry that something was wrong with the plane, but no it was fine. They finally started boarding at 18:45, and the crew was sitting around eating their dinner with startled expressions when they realized that passengers were boarding.
The flight was indeed more than 50% empty. Economy had a 2-4-2 layout. I had all 4 seats for myself. After takeoff they served dinner, then dimmed the lights. I was able to lay mostly flat and sleep for about 4 hours. About 90 minutes before arrival they turned on the lights, and made a loud announcement that breakfast was being served. The food was typical mediocre airplane food. About an hour before landing i got a great view of the sun rising.
We landed on time, and we walked across the tarmac to the terminal. Immigration was fast and easy. I stopped by an ATM to get cash (but had to do 3 transactions to get what i wanted). Then got a SIM card with data. I found the guy picking me up from the car rental place. But i had to wait a few more minutes for 3 other people on the same flight. Then he spent another 15 minutes paying for parking, and finally we drove the 45km into Windhoek. The drive was fine, other than some slow trucks, and baboons running across the road.
The vehicle pickup process went smoothly, until i noticed that it wasn't an automatic. Then there was chaos as i had to dig up the email thread from October 2018 to prove that not only did i explicitly request an automatic, but i even listed their vehicle model numbers which were specific to automatics. At that point they acknowledged that they screwed up. They said that it would take 3-4 hours to prepare the vehicle that i needed. That botched my plans, as i was going to do the grocery shopping and get lunch, but instead spent the rest of the morning waiting for the truck to be ready.
Around 11am, i realized that the place that i was planning for lunch (Craft Cafe) was actually just a 10 minute walk. I decided to walk there since i was starving, and it would be one less thing to do whenever the vehicle was ready. The walk was fine, although there are no cross walks anywhere, so it was always a fun game of frogger. The lunch was yummy. I got a kefir lime shake, butternut blue cheese quiche, and a salad. By the time that i finished and walked back, it felt significantly warmer.
As soon as i returned, they claimed the truck would be ready in about 10 minutes. After 10 minutes passed, they claimed 'in the next half hour'. I got to enjoy African time. Just before 1pm it was finally ready. I then learned the hard way that traffic is awful on friday afternoons. Also supermarkets are a circus. first i had to circle the parking lot just to find a space. The store was packed too. Also trying to shop off a list in an unfamiliar store, with an unfamiliar currency, when its crowded is not fun. i did manage to find everything, and pay (they charged for bags).
Afterwards it was nearly 2pm, so i drove to the guesthouse in more awful traffic. The place is in a nice, quiet neighborhood, and looks lovely. I hung out there for a bit, then drove out to the airport to pick up Denise from her fun flight from JNB.
On the way back into town we stopped for gas (they take credit cards now!) and then got dinner.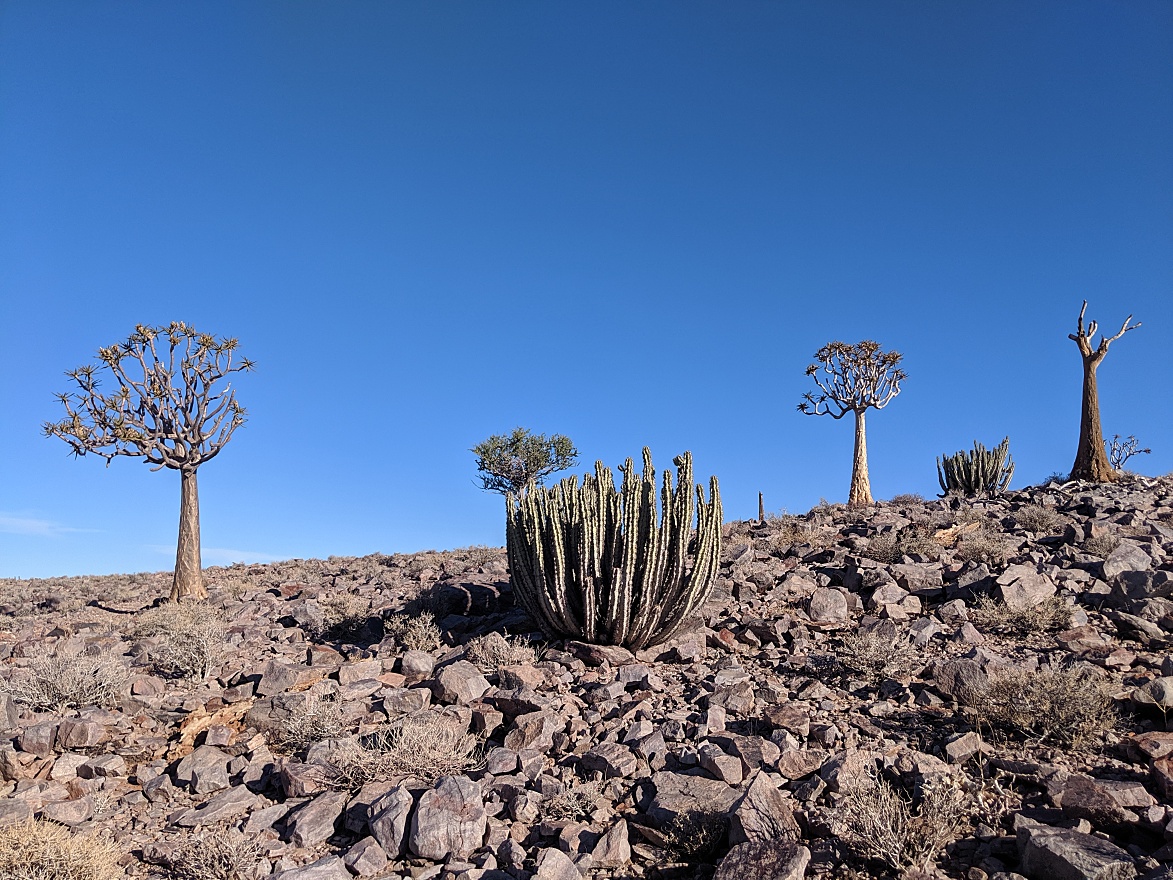 Day 3
We fell asleep before 9pm and slept until around 3am when jet lag had us up for the day. Breakfast was at 7am, and was a nice small buffet, plus eggs made to order.
The plan for the day was to drive way south to Fish River Canyon. We were on the road by 8am. The drive went fairly smoothly. We stopped to refuel in Keetmanshoop, and then pulled off at a rest area just after 1pm to make lunch. Following lunch we ran into some bizarre road work. Initially all we saw were signs indicating that we needed to reduce our speed. Then we saw 1 lane was blocked by a truck. Just as i was about to continue driving, i noticed a flag person behind the parked truck. She started gesturing wildly, and i had no clue what was going on. I decided to drive, and shortly afterwards, there was a line of cars approaching in my lane. Then it became obvious that i was supposed to wait back at the stop sign. I managed to pull over to the shoulder to allow the oncoming cars to pass. I continued driving to the end of that stretch of construction. A bit further, there was another, and this time there was an obvious stop sign, but no human. After a few minutes the human wandered up the road, and a few minutes later he flipped the stop sign to a Go sign. There was a third work zone similar to the first two.
A bit after 2pm, we reached the turnoff for Fish River Lodge, at which point we had 104km left. The remainder of the drive was unpaved, but was fairly easy. We reached the lodge at 4pm. The views of the canyon were spectacular. We got room 19, which was towards the west end of the property. There were crazy wind gusts coming off the canyon. Denise rested in the room while i went on a short hike to a cliff overlooking the canyon. There were noticeably fewer quiver trees than 3 years ago. We got drinks and dinner at 7pm. The food was kinda mediocre. Were exhausted and went to bed at 9pm. The wind howled for the entire night.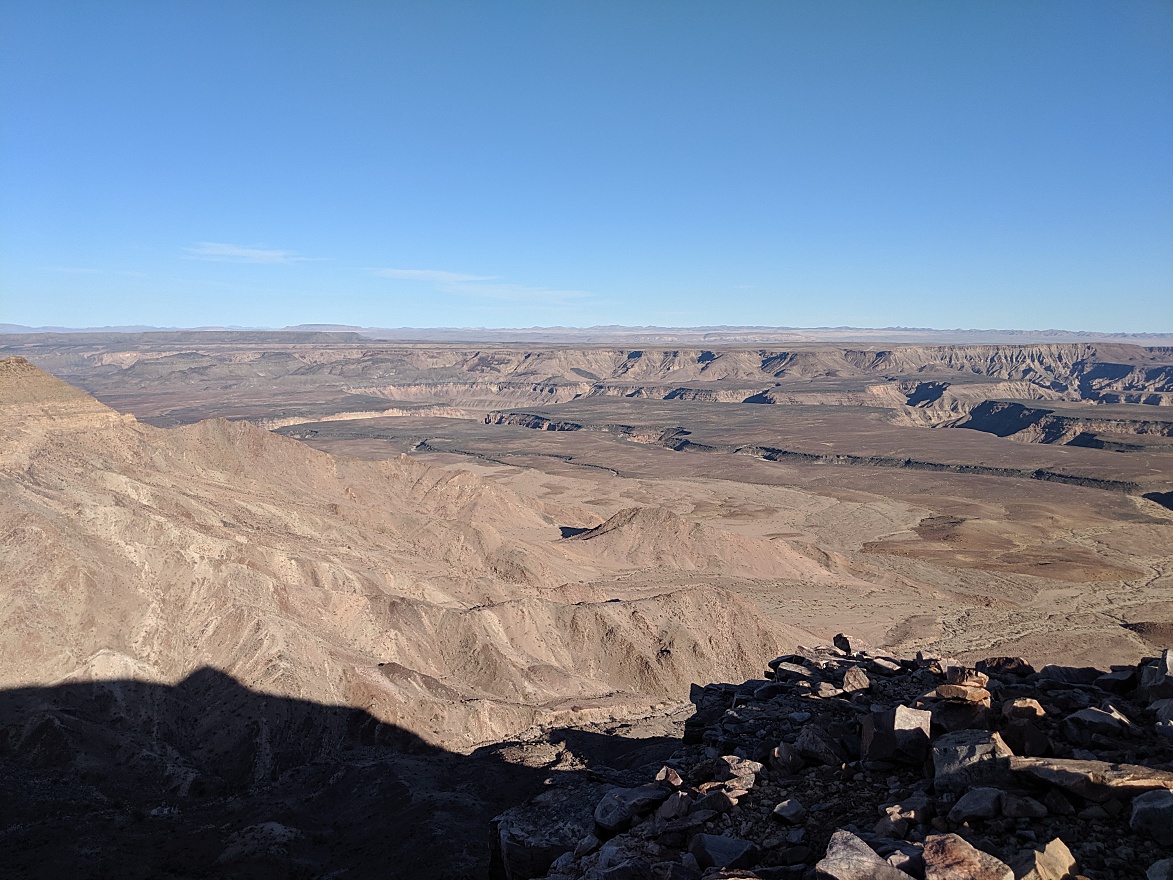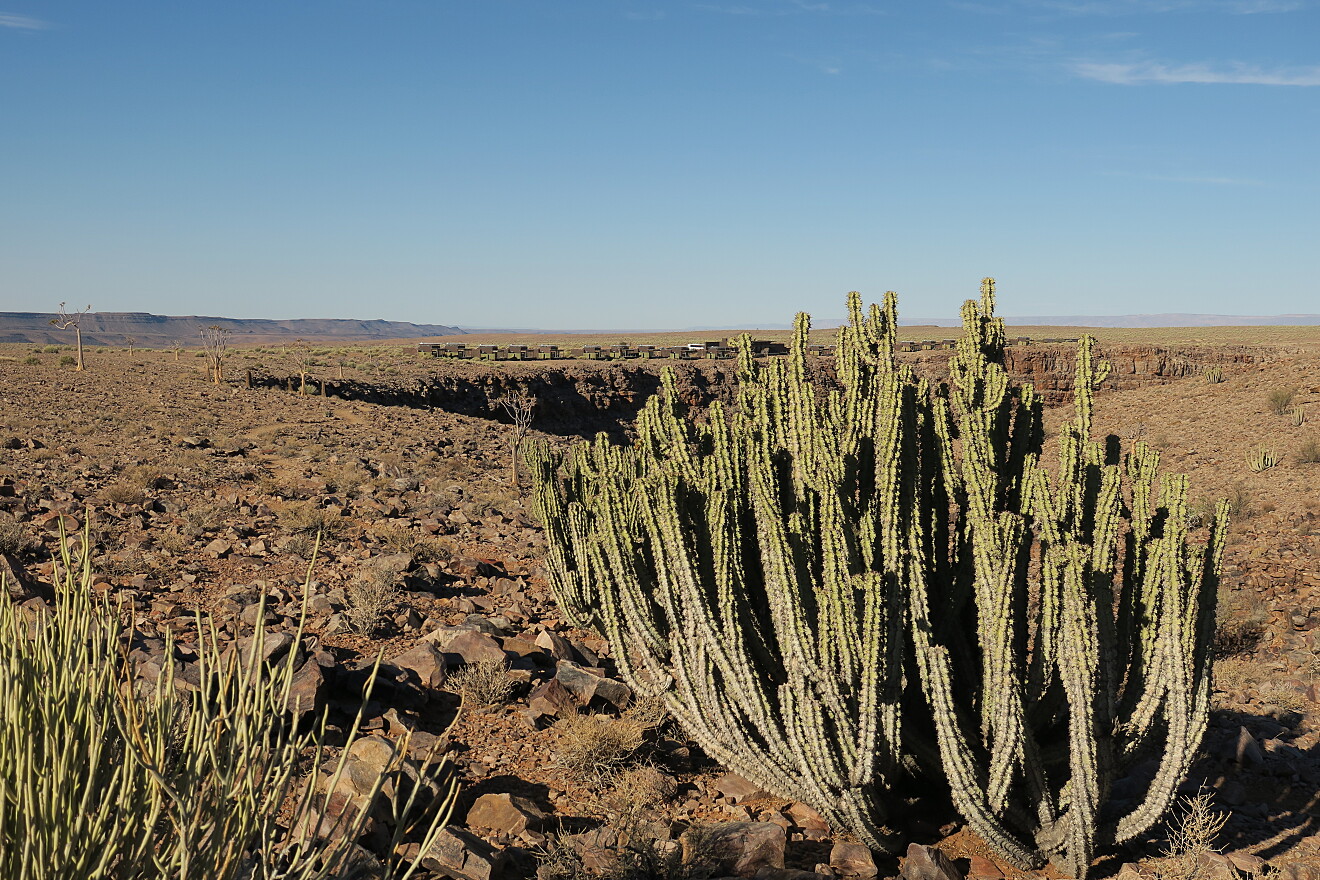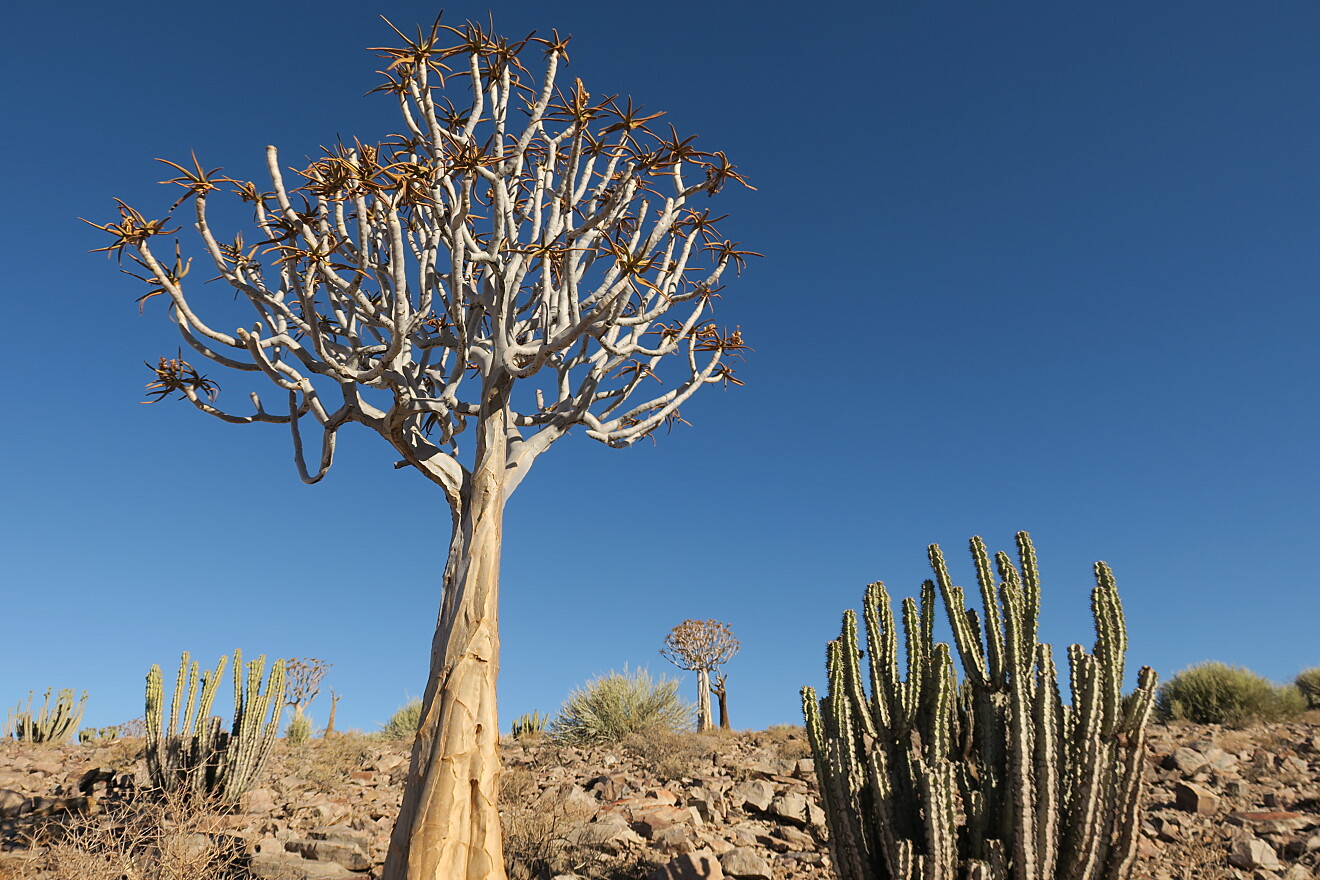 Day 4
I woke for the day at 4:20am. I watched the sun rise over the canyon, which was beautiful. We wandered down to the main building for breakfast a bit after 6am. It was pretty good.
We departed for a day drive into the canyon. There was one other couple, from South Africa. We saw a ton of wildlife. Ostriches, zebra, springbok, kudu, rock hyrax, baboons and social weavers. The scenery was spectacular too. We returned at 3pm. I ended up getting badly sunburnt on the right side of my face because i was an idiot and didn't use sunscreen.
We get to attempt to sleep in tonight.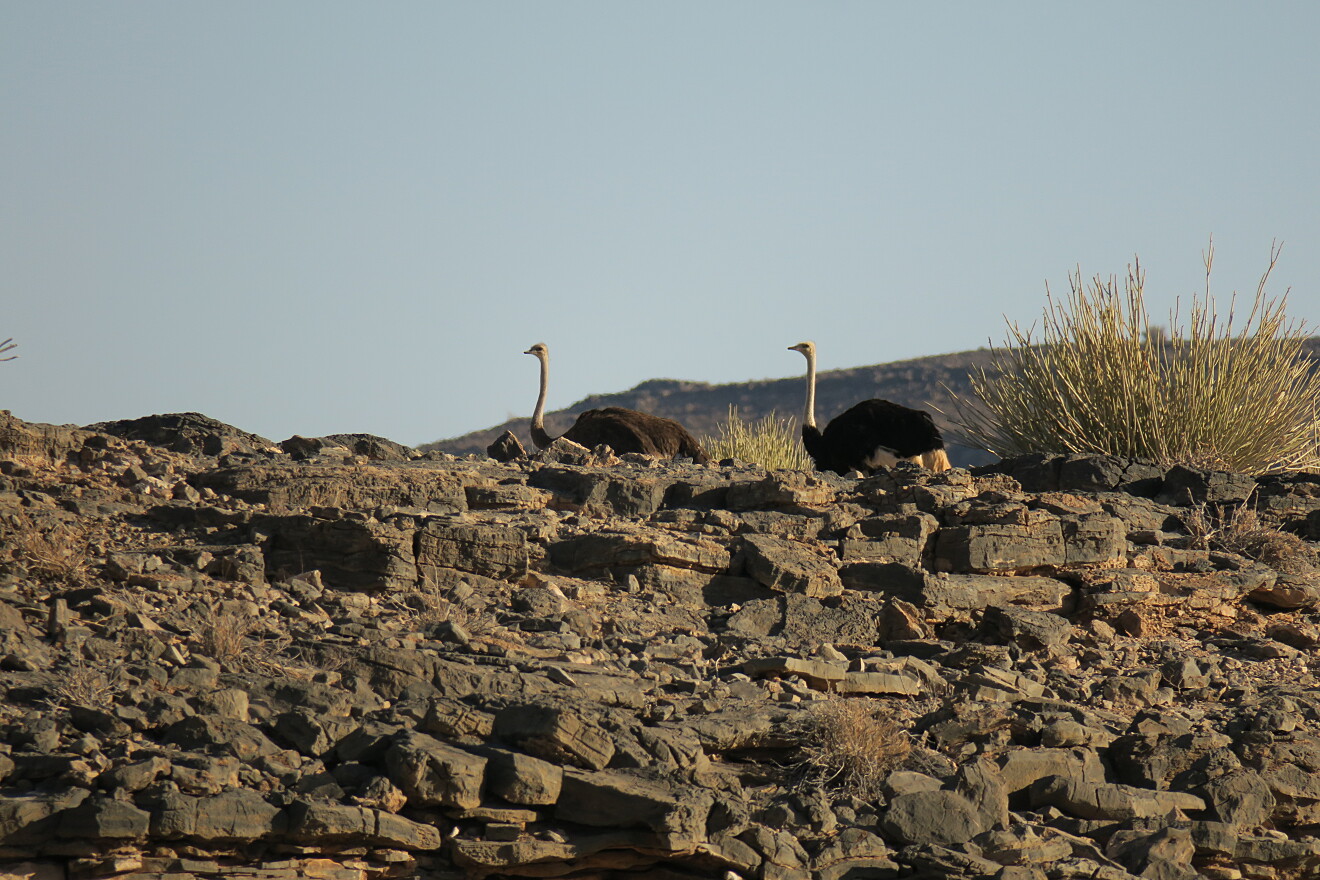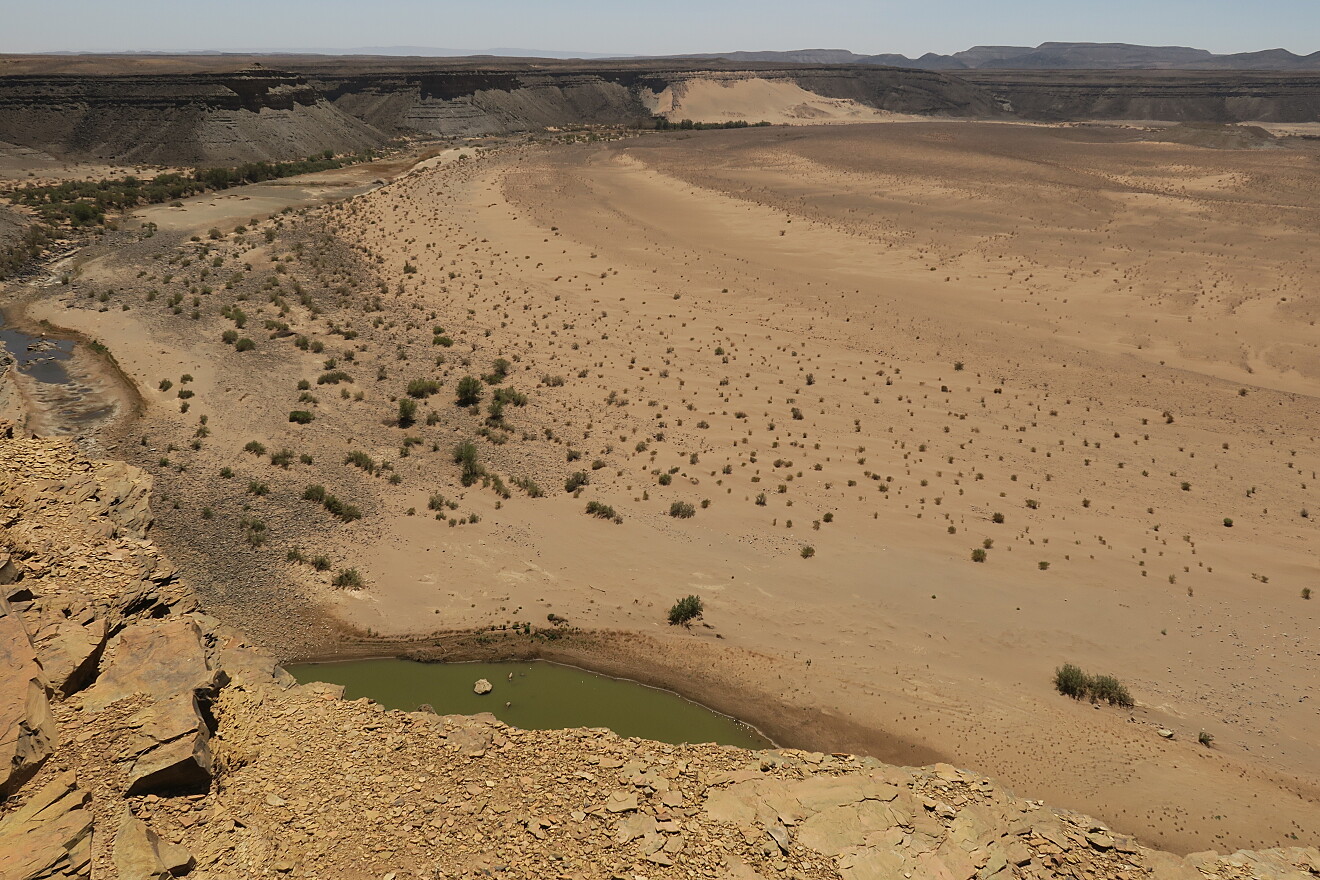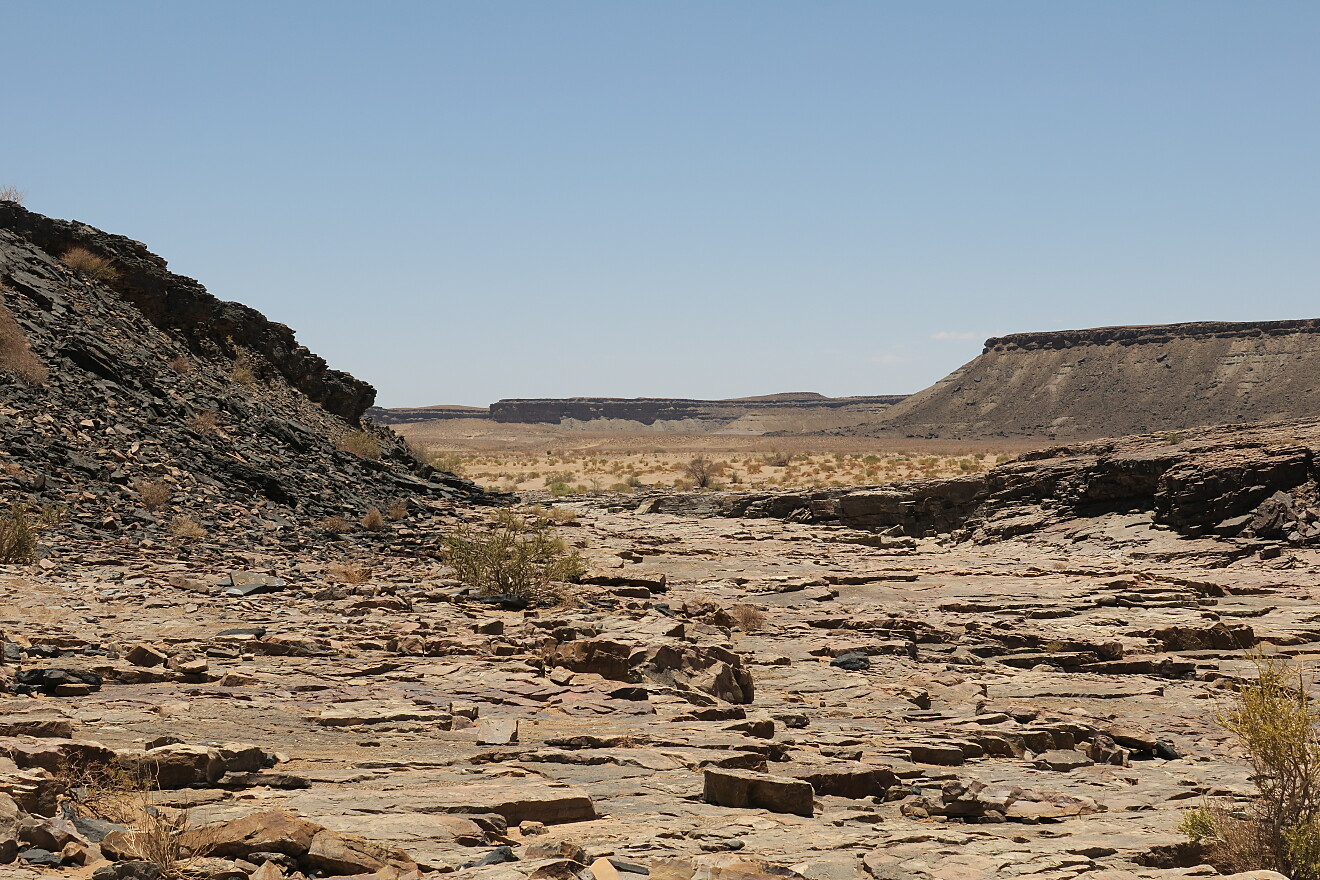 Day 5
We slept until 7am! We got breakfast and were on the road by 8:30am. The first 2 hours were retracing our route from 2 days earlier. Then we got back on B4 west towards Luderitz. The drive was pleasant with multi-colored sand dunes and distant rocky mountains dominating the scenery. Just after noon we pulled into the Kolmanscop, the old diamond mining ghost town from a century ago. Unfortunately, we missed the last tour of the day, but we were still able to wander about and explore most of the buildings. it was super windy, and the sand was blowing everywhere. I made tuna sandwiches for lunch. As i was cleaning up, the care taker asked us to leave, as they closed the property at 13:00.
Afterwards, we finished the last 10km drive into town, and stopped for gas. They claimed not to accept foreign credit cards, so i had to pay N$982 in cash. Our final stop was the Airbnb for the next 2 nights. Its in a nice, old historic building dating back to the German colonial days.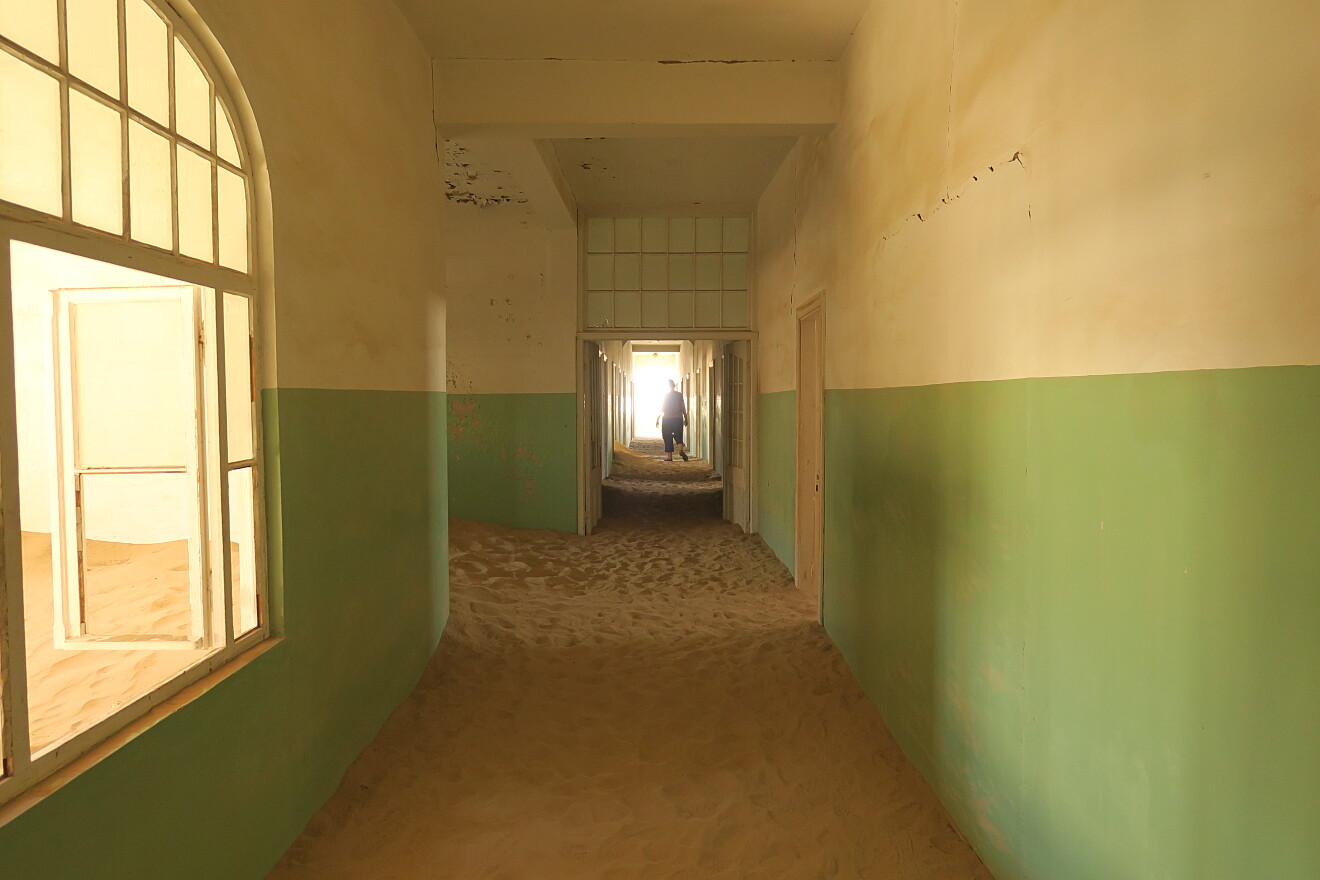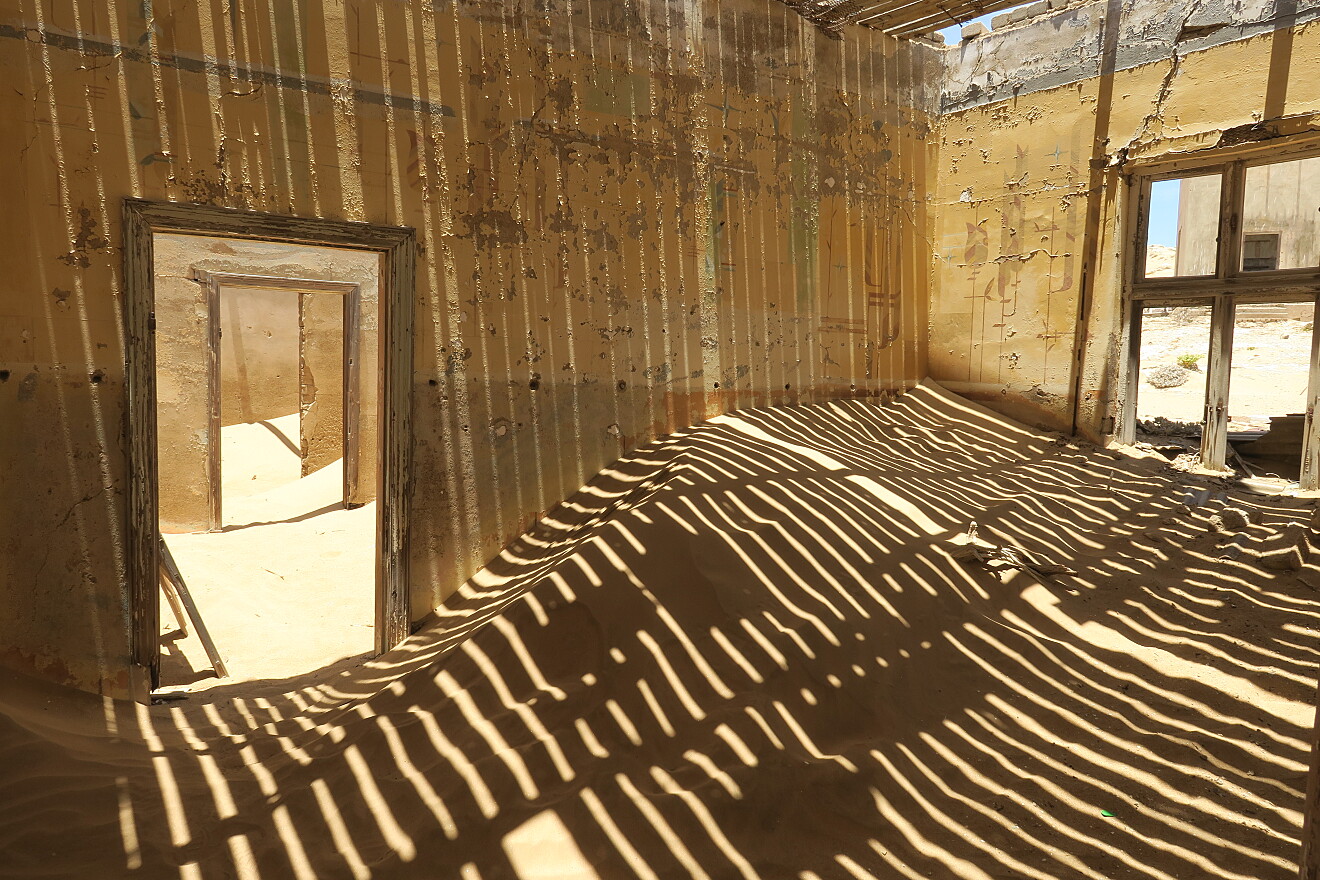 Day 6
I woke for the day at 6am. It was a bright clear morning. We had breakfast, and were ready for our 8:30am tour pickup. We were going to spend the day in the Spiergebeit (Forbidden Zone), where the diamond mines are. Our guide/driver Eric did a great job as we covered 260km over 7 hours. We stopped at a bunch of mining ruins from a century ago. The only issue was that there was insane level wind, which causes dust storms in a desert. Despite that we still had a great tour. It just meant that nearly every time we stopped and got out, we got sand blasted. Later in the day the dust storm kicked in too, reducing visibility significantly.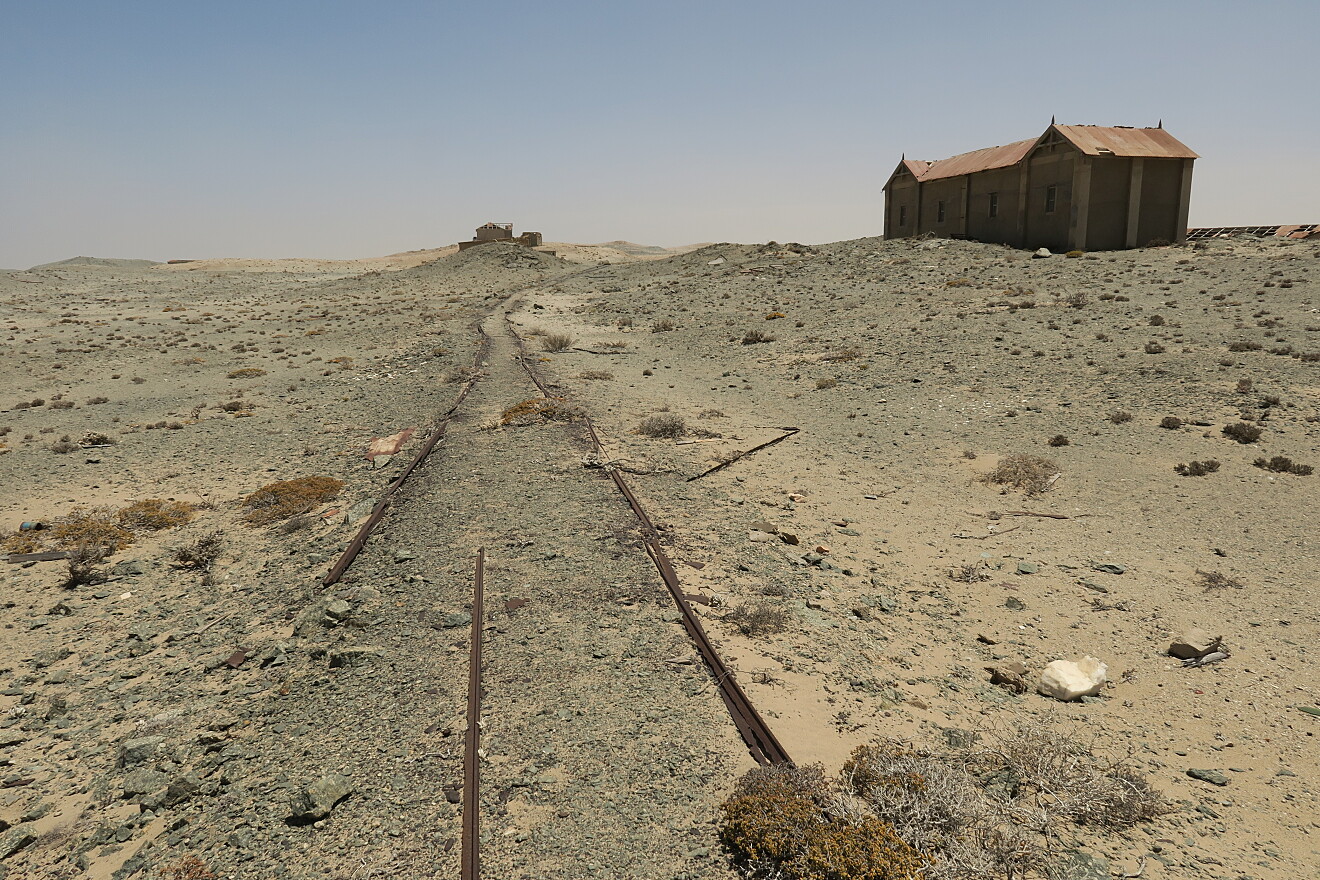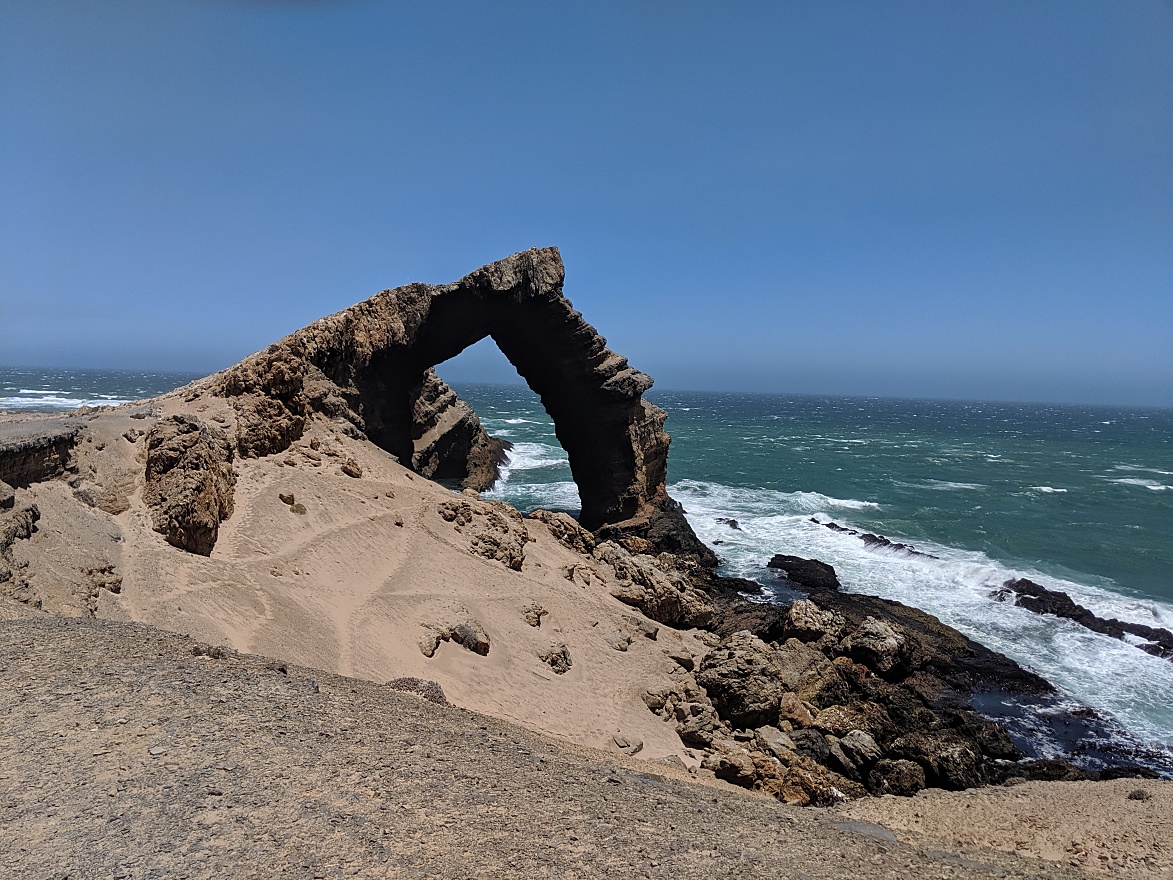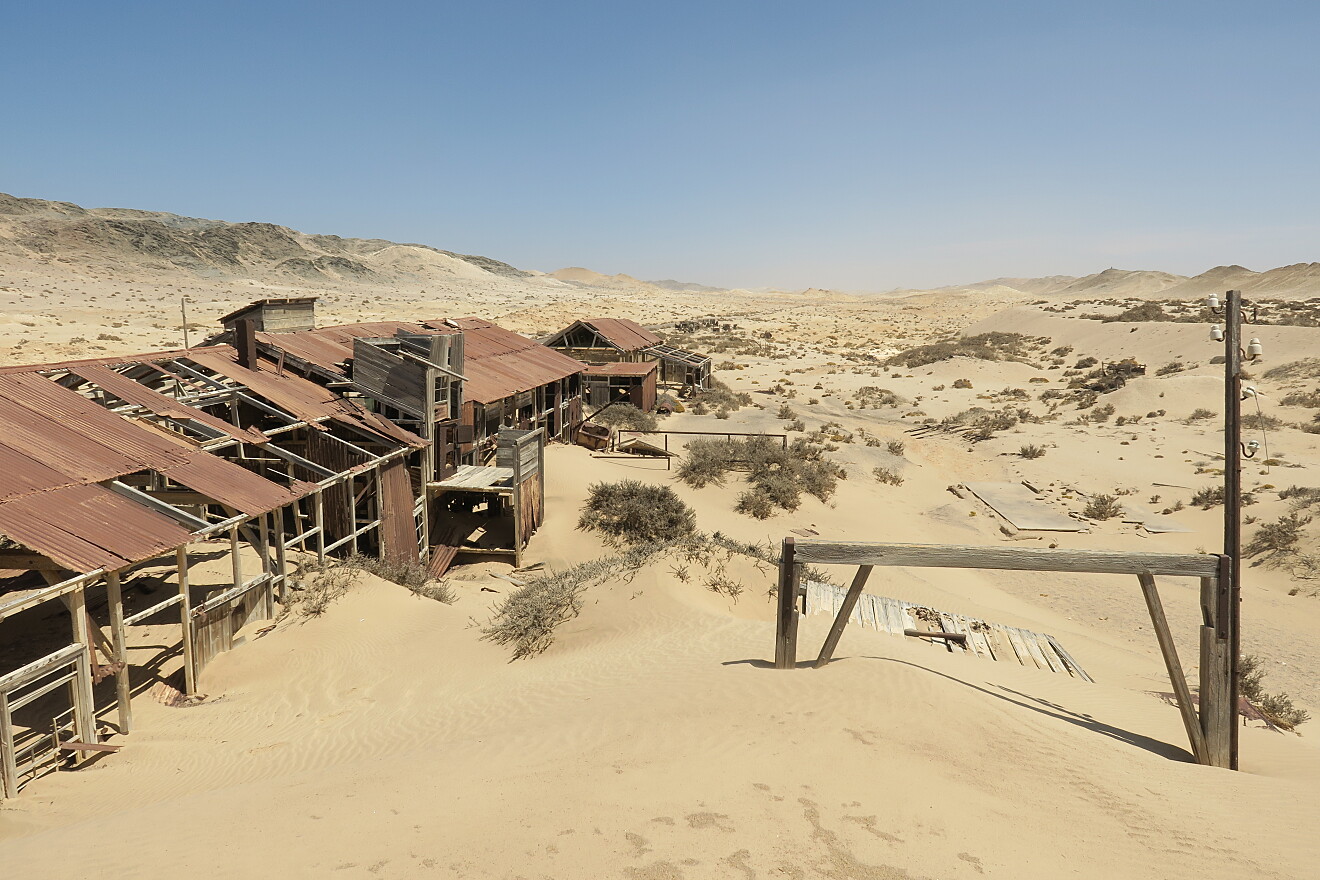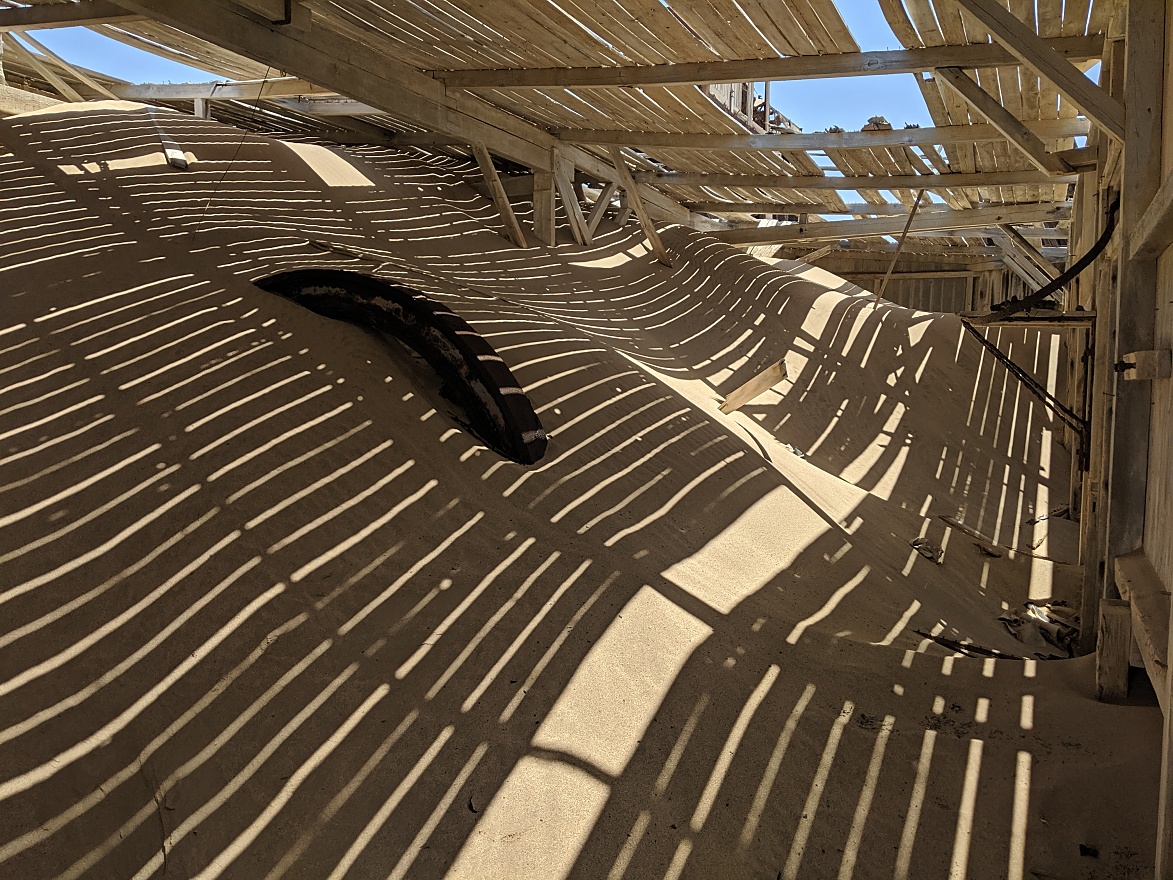 Day 7
We had a very long 10+ hour drive ahead of us, so we were up and on the road at 5am. Overall, the drive went ok, it was just long & exhausting. The scenery was spectacular in many areas. We even drove through a brief rain shower in the afternoon.
We got into Swakopmund just after 3pm. We stopped for gas, then swung by the supermarket, and finally the guesthouse for the night.
We had dinner at a restaurant called "The Wreck" on the beach which was in a building shaped like a ship. The meal was good, but the building was kinda weird.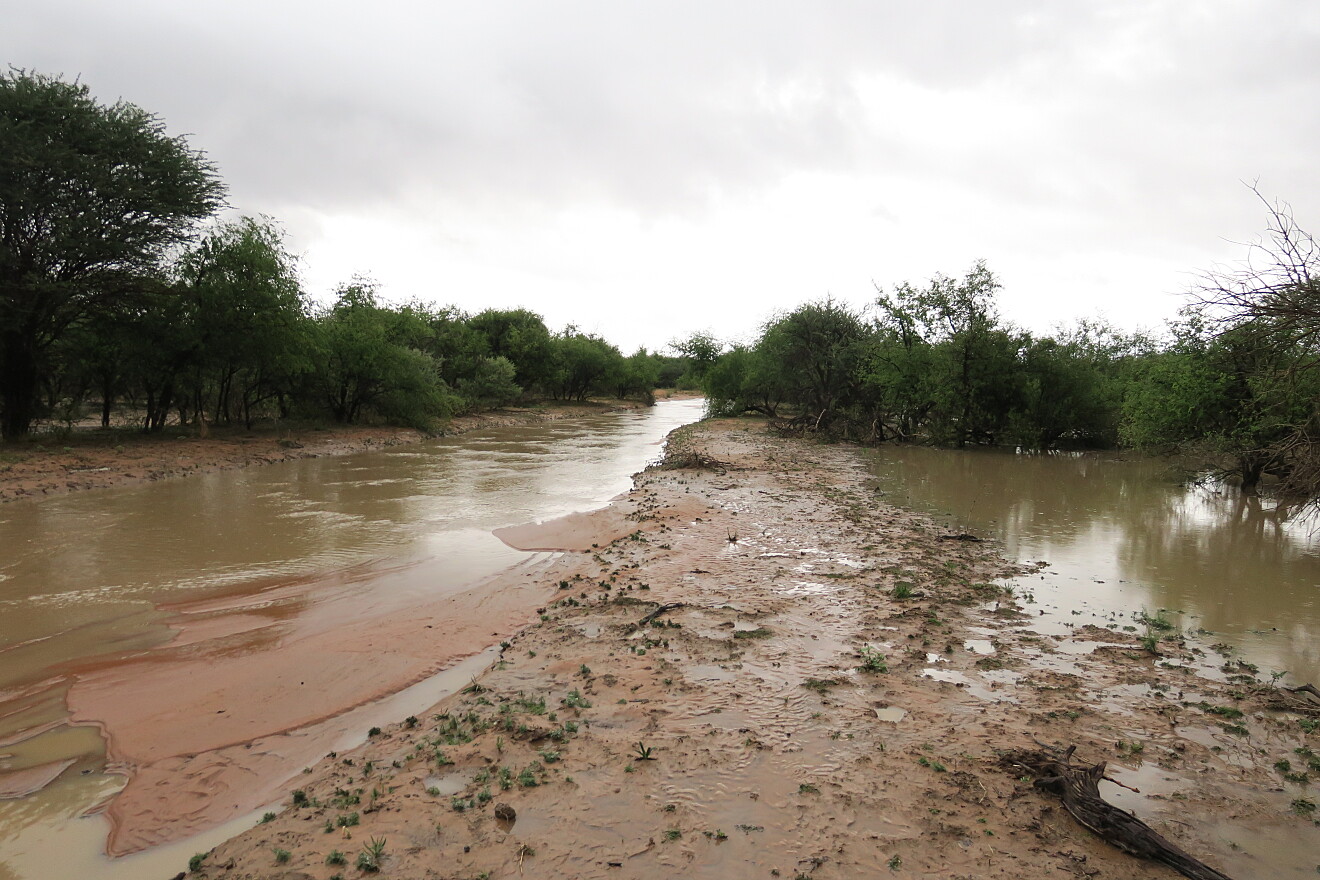 Day 8
Breakfast was really good in Swakopmund. We spent much of the drive today going through persistent rain showers.
At late morning we stopped at a vineyard where they produce wine, and other spirits made from grapes. We did a tasting, and also had a cheese & meat platter. The alcohol was kinda meh for the most part, but the food was decent.
After that we finished driving to the Okonjima Lodge. The 24km drive from the highway to the lodge was wet, muddy gravel. We checked in, and went to our room for a bit.
Then, at 4pm we left for a game drive in the pouring rain. This turned out to be eerily similar to the scene in Jurassic Park, where Newman is attempting to escape the park in a jeep during a hurricane. We had to pass through an electrified fence. we crossed swollen rivers. Despite all that, we did see 2 leopards, many giraffes, assorted antelope, and a few guinea fowl. At one point we got stuck trying to climb a muddy, sandy river bank. Our guide/driver made numerous futile attempts to drive out, but failed. Eventually he got out and had to gather logs and branches in an effort to give the wheels more traction. A bit later, on the drive back to the lodge, we had to cross a raging river that the guide commented would be impassable within an hour. 3.5 hours after leaving we made it back to the lodge.
Dinner at the lodge was pretty good, and then we headed to bed for the night.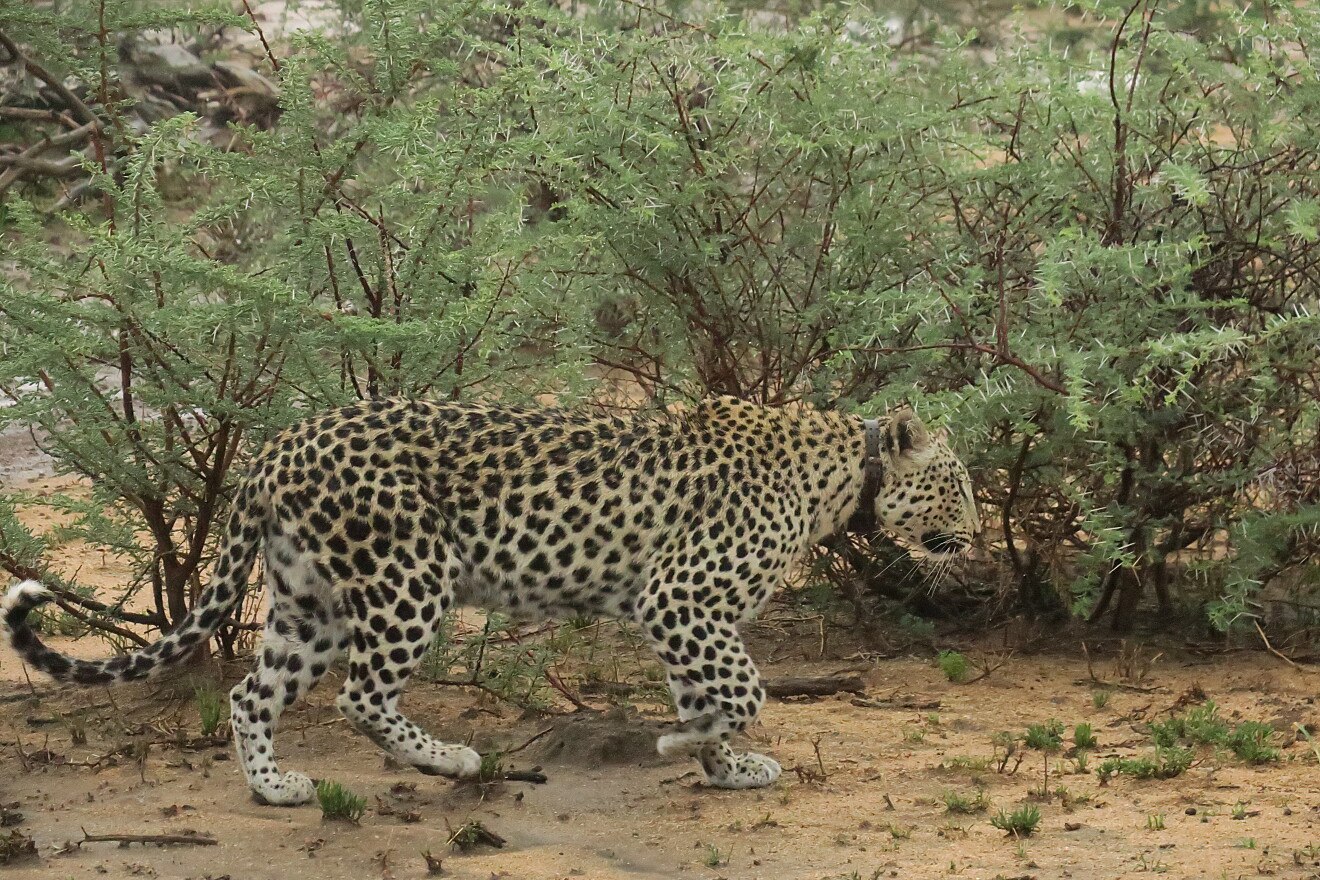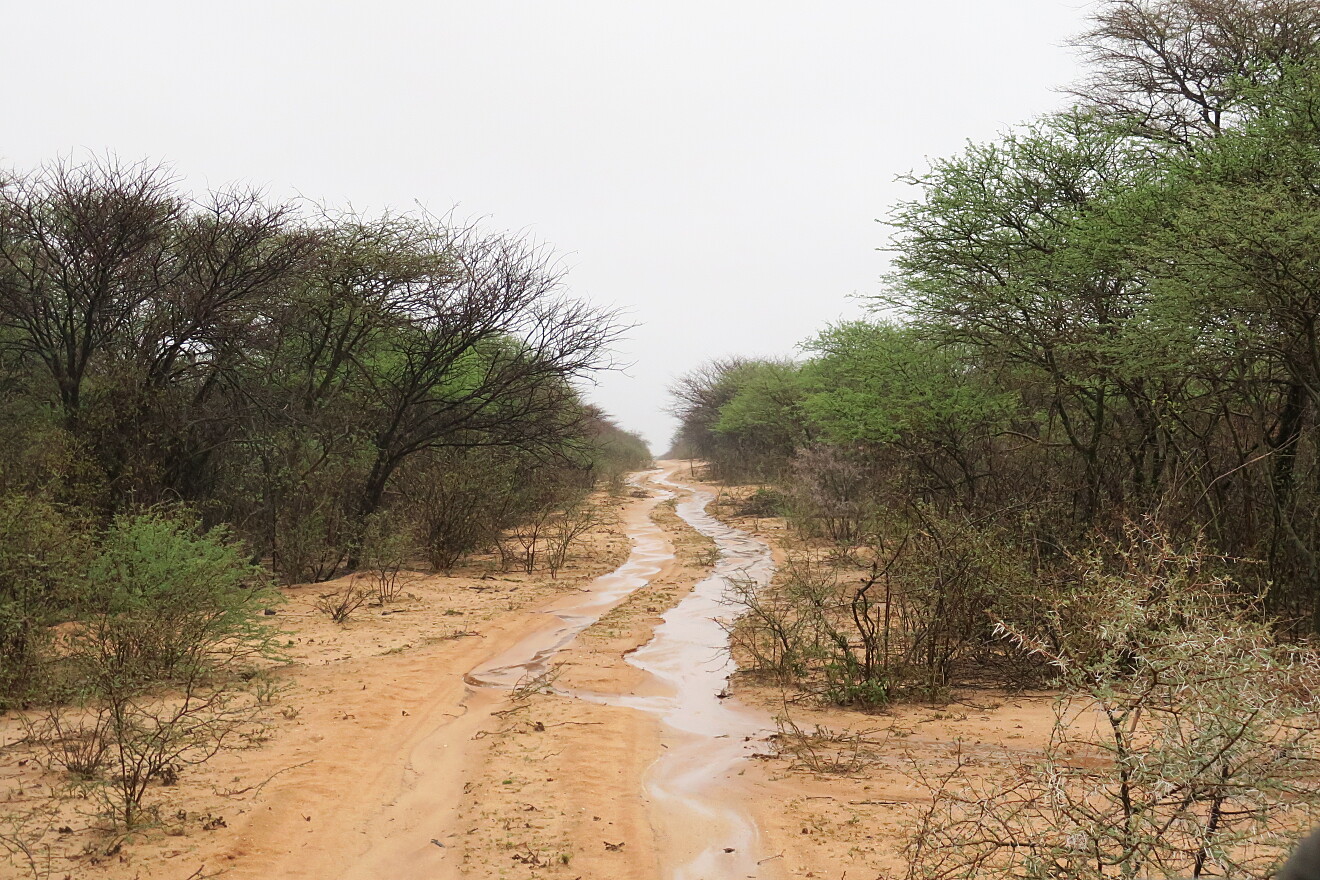 Day 9
It rained the entire night. Due to some mixup, we got an erroneous wakeup call at 5am. Thankfully, we both managed to sleep for another 2 hours. Breakfast was decent, and the rain started to taper off by mid-morning. We relaxed until noon, then departed for the 3 hour drive northwest towards Etosha National Park.
We stopped in the early afternoon in the town of Outja for fuel, and an ATM. We got to out lodging for the next 2 nights (Buschberg Guest Farm) just after 3pm. Thankfully the weather had improved considerably. We spent the afternoon relaxing and playing card games.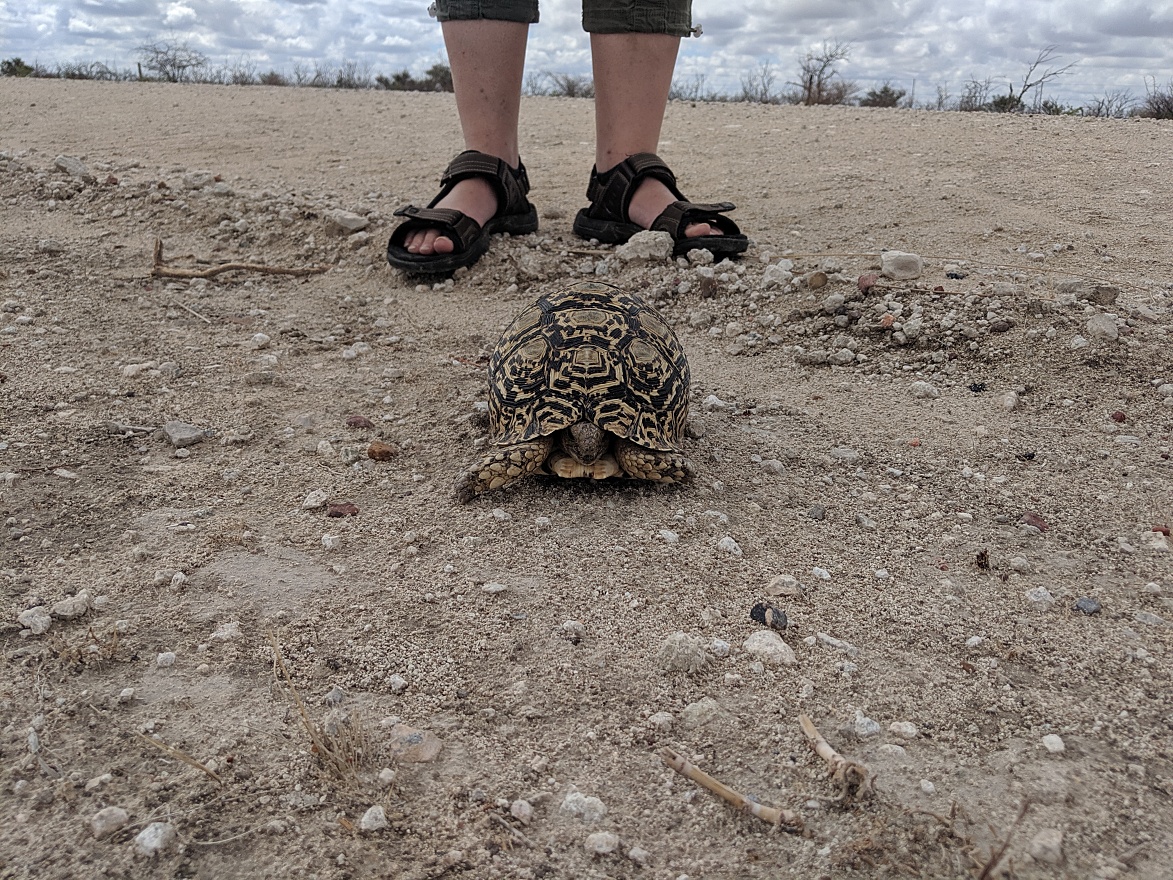 Day 10
We had breakfast at 7am, and hit the road for Etosha National Park at 7:30am. It took about 40 minutes to reach the park gate. We completed the form for a permit, then drove another 17km to reach the visitor center area to pay for the permit.
For the first hour of driving we didn't see much. A handful of springbock mostly. But after that we started seeing a lot of different animals. We saw kudu, impala, zebra, wildebeest, ostrich, giraffe, and 3 rhinos.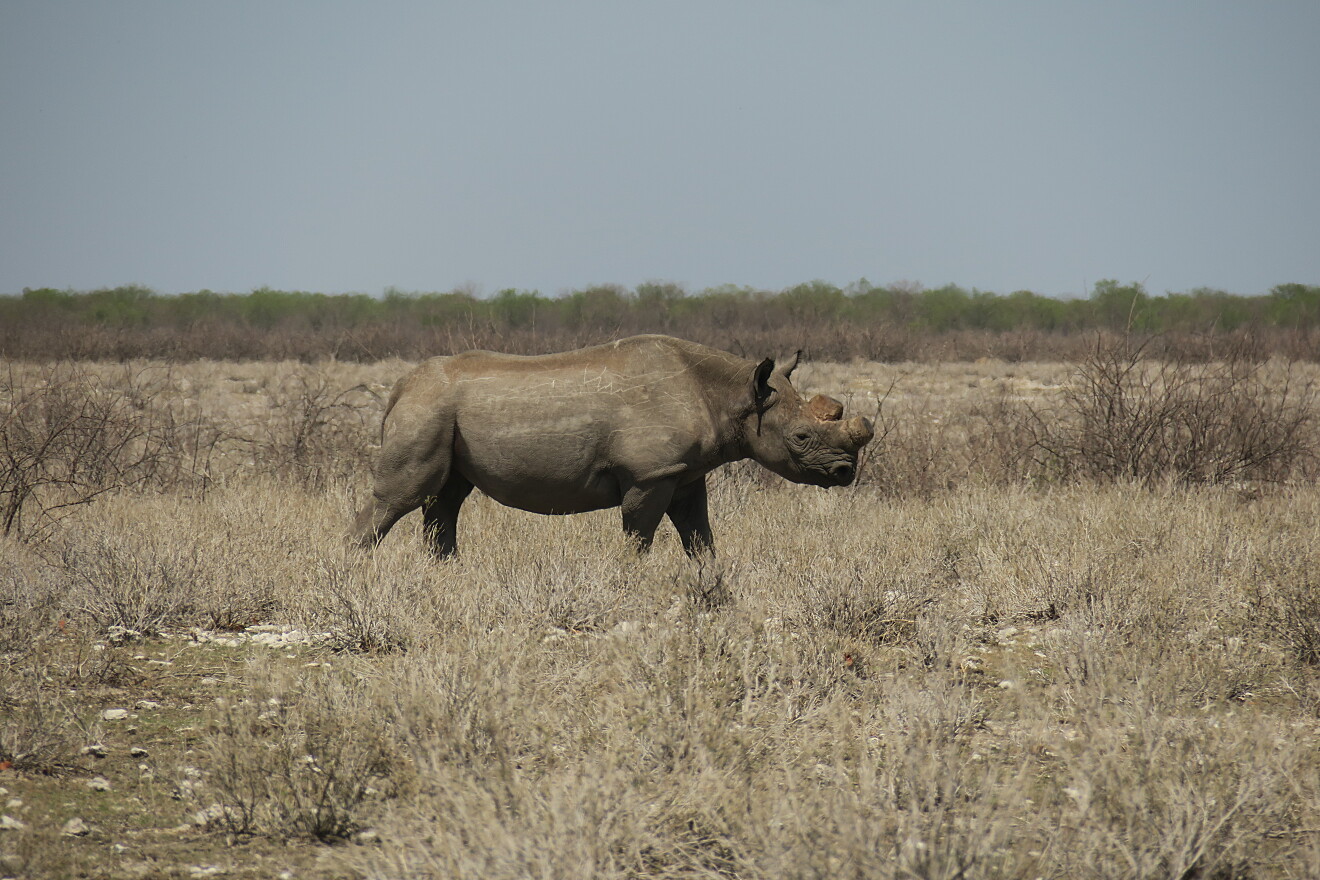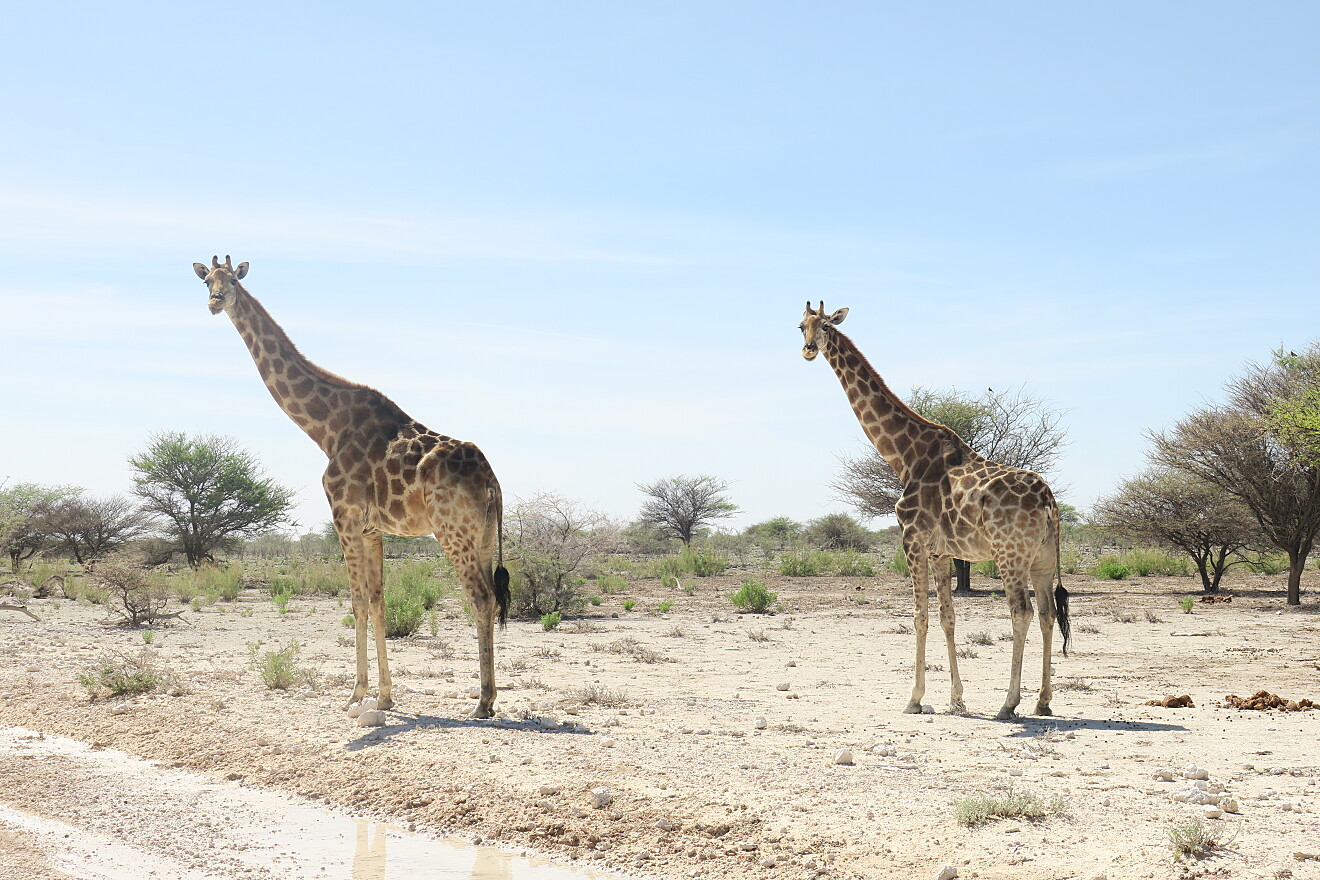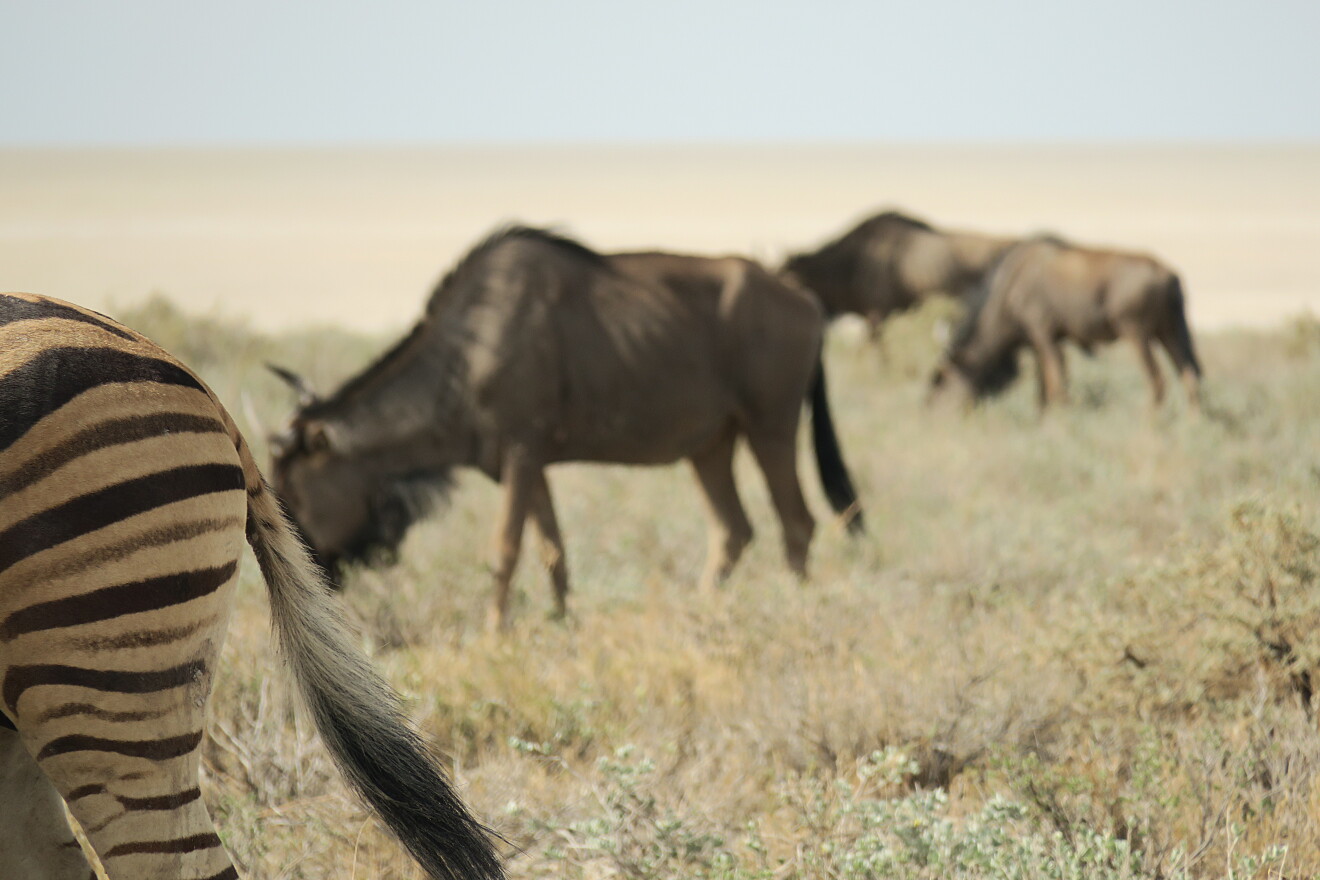 Day 11
We were up at 6:30am again, and breakfast was 7:15. We checked out and drove back into Etosha for our 2nd day. Overall, we saw fewer animals today, but it was still nice. We another rhino, and the same other animals as yesterday. At one point in the afternoon, we were driving on a remote road, and came upon a car that was stuck in the mud, facing us. I got out to offer them help, but they barely spoke English. I was going to attempt to winch them out from the truck, when they suddenly managed to get free. Of course, at that point, i still needed to drive through the same mud pit. Thankfully, i figured out a path that avoided most of the mud, and was fine.
We reached our lodge for tonight a bit after 3pm. Its really nice, with a huge private tent that has plumbing, AC, and wifi. We had cake in the afternoon.
Also, i forgot to mention yesterday, that a bird flew into the truck windshield while i was driving. Thankfully, no damage to the truck, but i suspect the bird died on impact.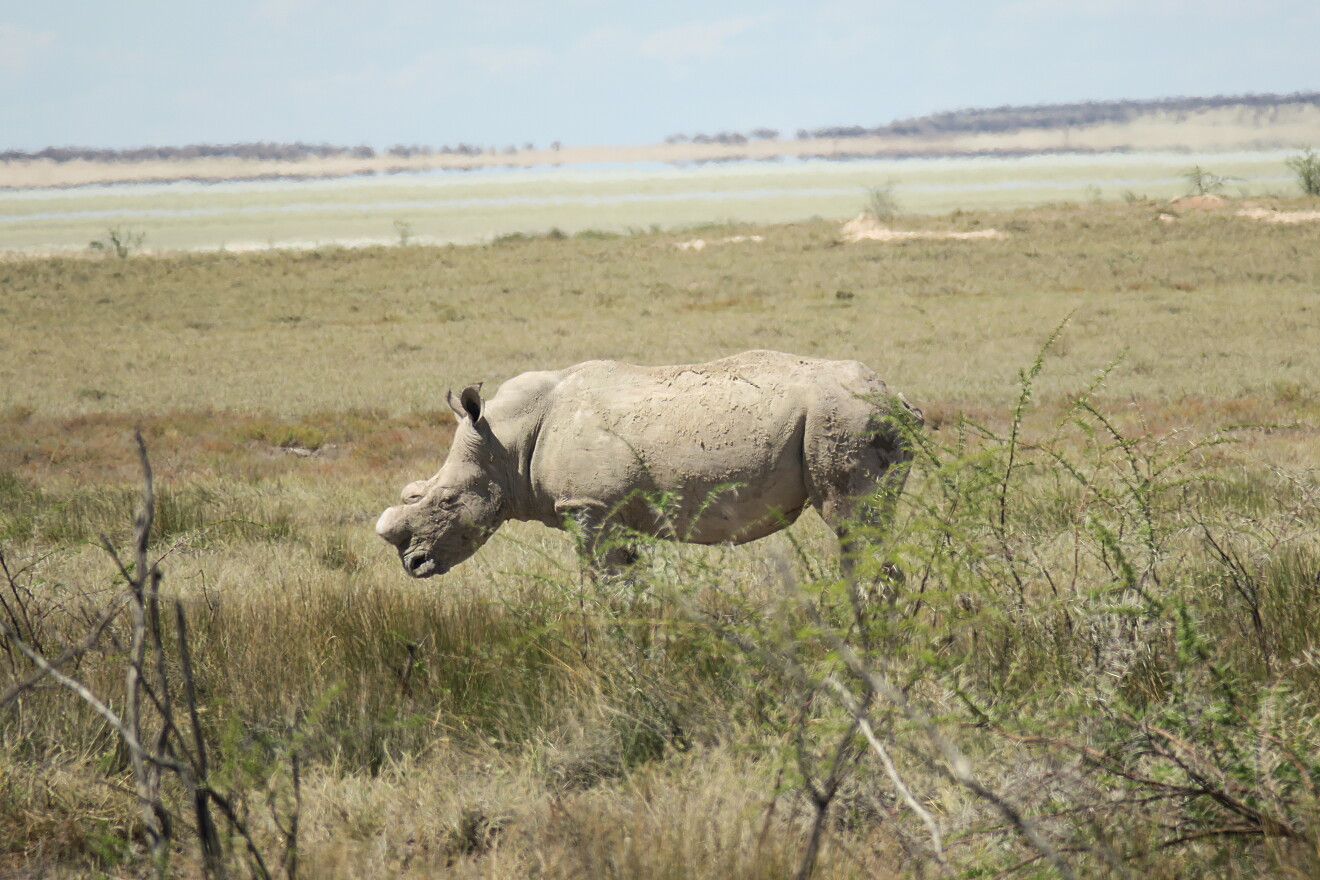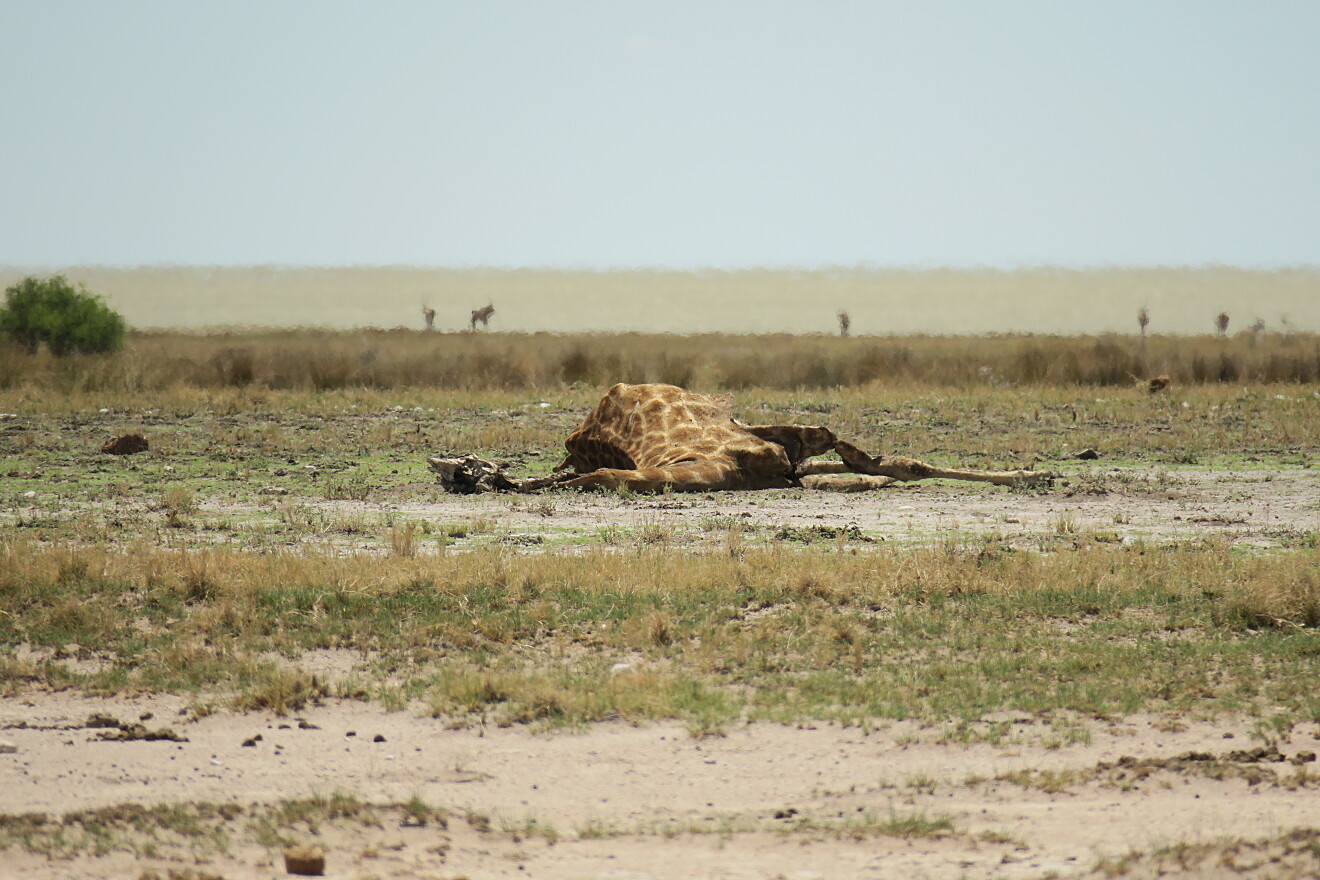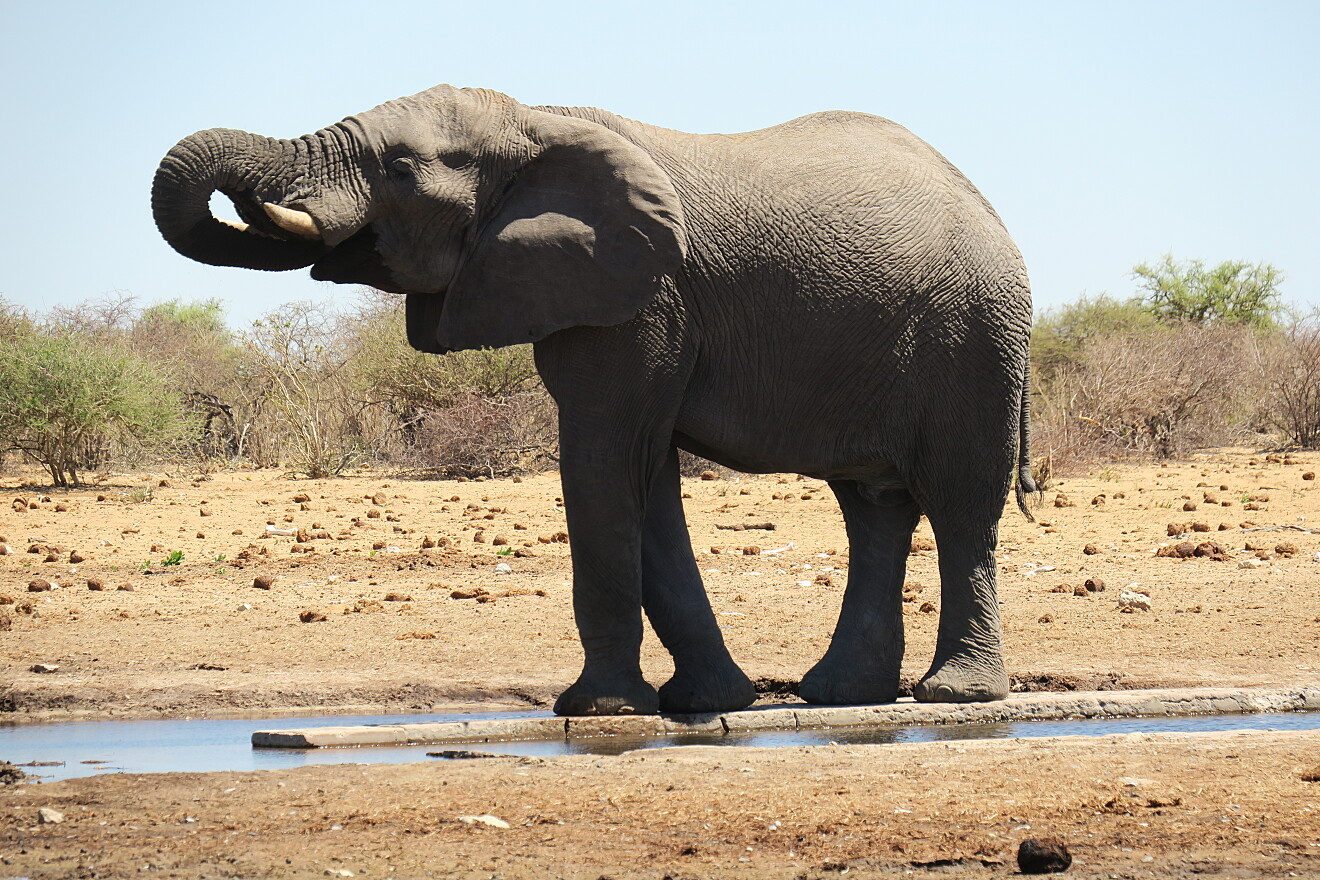 Day 12
We attempted to sleep in today, but an assortment of crazy, loud birds started chirping at sunrise. As a result, we were up for the day before 7am. We had breakfast, and then drove back into Etosha.
For first hour or so, we didn't see much of anything. But eventually we started to see animals as we focused primarily on the eastern third of the park. We saw 1 elephant drinking. We saw a lonely giraffe drinking. And we saw the usual assortment of zebras, wildebeest, impala, springbok, ostrich and dik diks. We finished up by mid-afternoon, and headed back to the lodge to relax.
Tonight's dinner is a bbq buffet.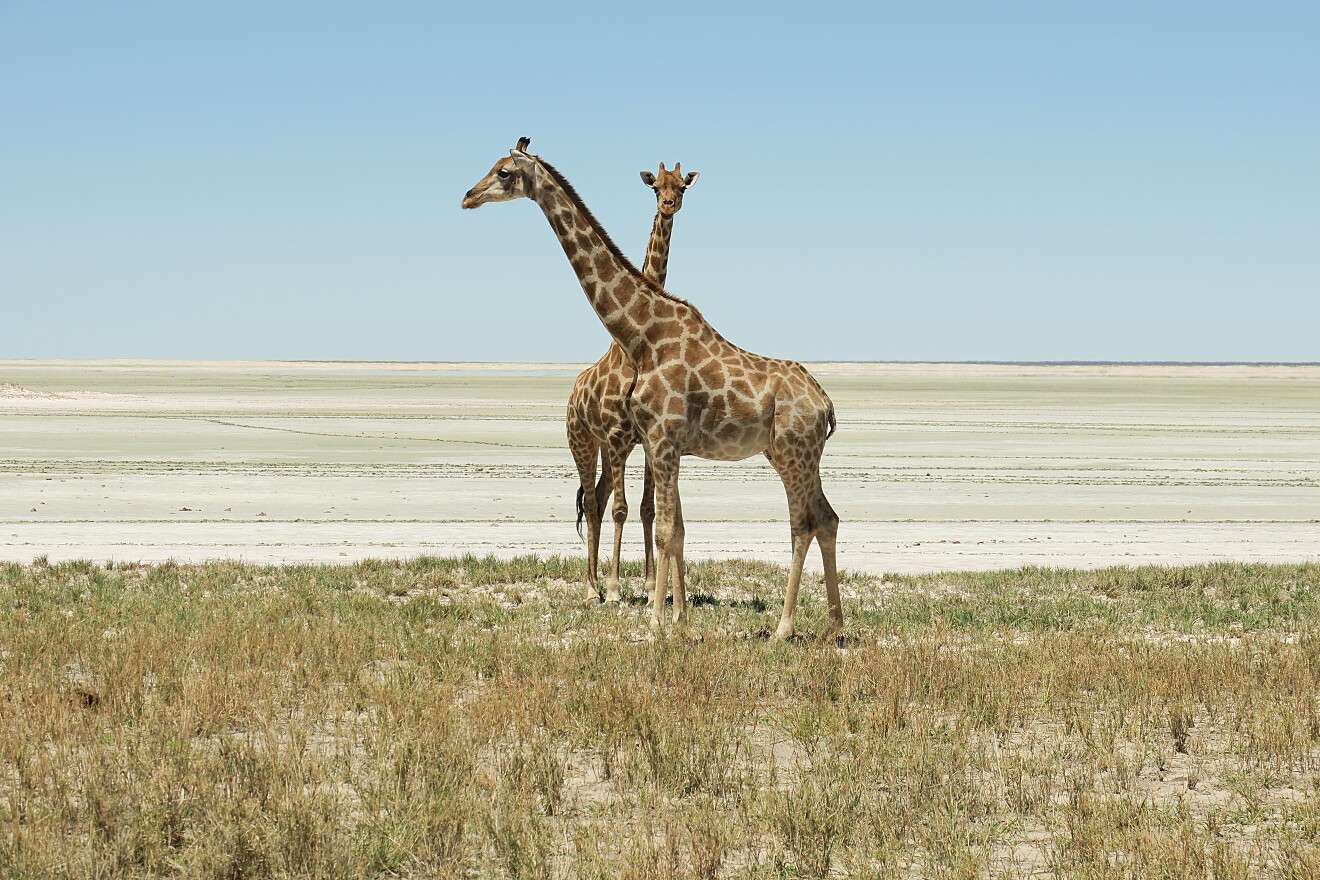 Day 13
We were up at 4:30am, with a long day of driving ahead of us. We had 5:30am breakfast, and were on the road just before 6am. The plan for the day was to drive all the way from Etosha to the eastern edge of Namibia, along the Caprivi strip. It would be nearly 1000km of driving.
Weather was great, and we made good time. There were a few notable changes from earlier in the trip. First, there were a lot of police checkpoints. Somewhere between 6 & 12. They were always friendly & professional, and thankfully not a long wait. Typically, they would ask to see my driver's license, where we were driving to/from, and our nationality. The second thing was the scenery. No more desert. Everything was green, wet & tropical. At one point we crossed a bridge that had an actual large, flowing river. The third thing was the people. Lots of 'classic' Africa stuff like mud huts, kids wandering & playing everywhere, and tiny villages without plumbing or electricity.
At one point we drove 180km across a national park, with signs frequently warning about elephants (we saw none). We pulled into our goal for the day, the small city of Katima Mulilo at 3pm. we got gas, bought some food for dinner, and then made our way to the campground for the night. Its situated right on the Zambezi river, with Zambia clearly visible on the far bank. Its also insanely hot & humid.
Our campsite is at the edge of the property, with a bar blasting loud music next door. It might be a long night.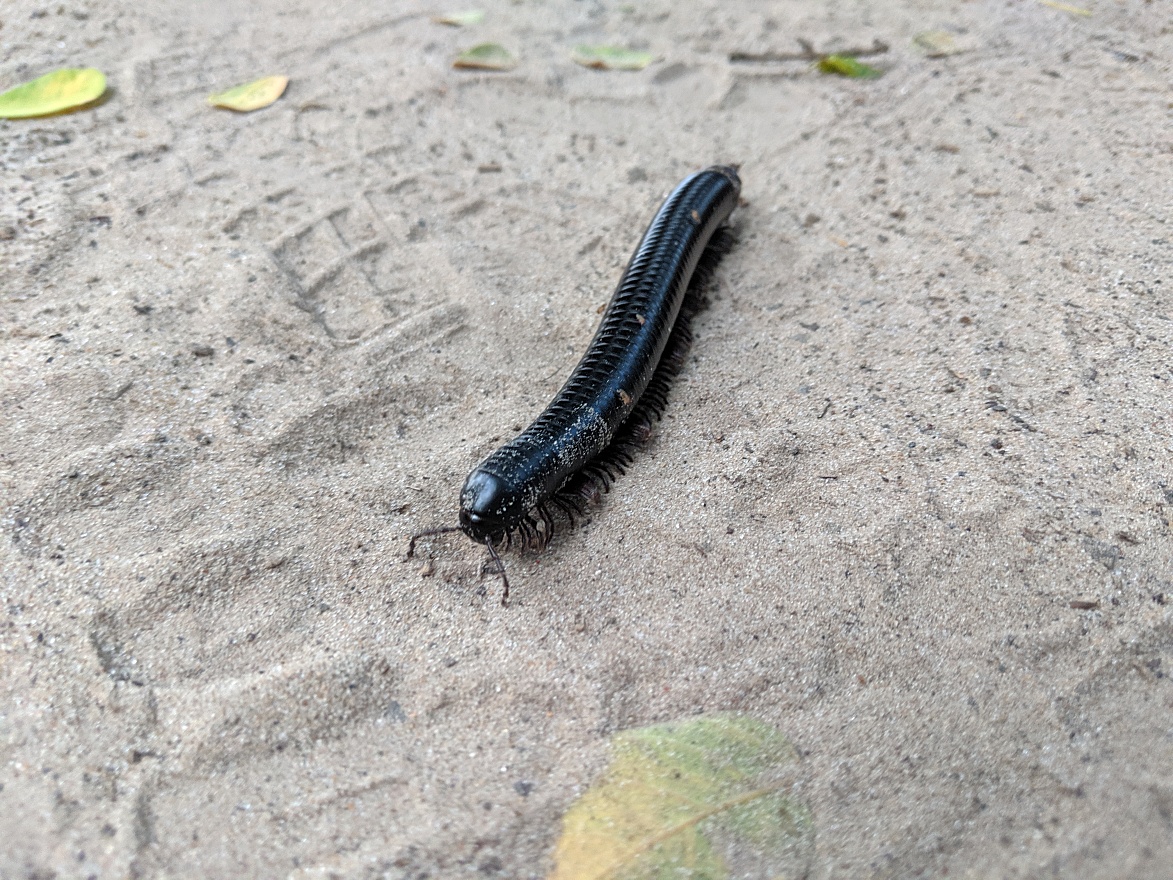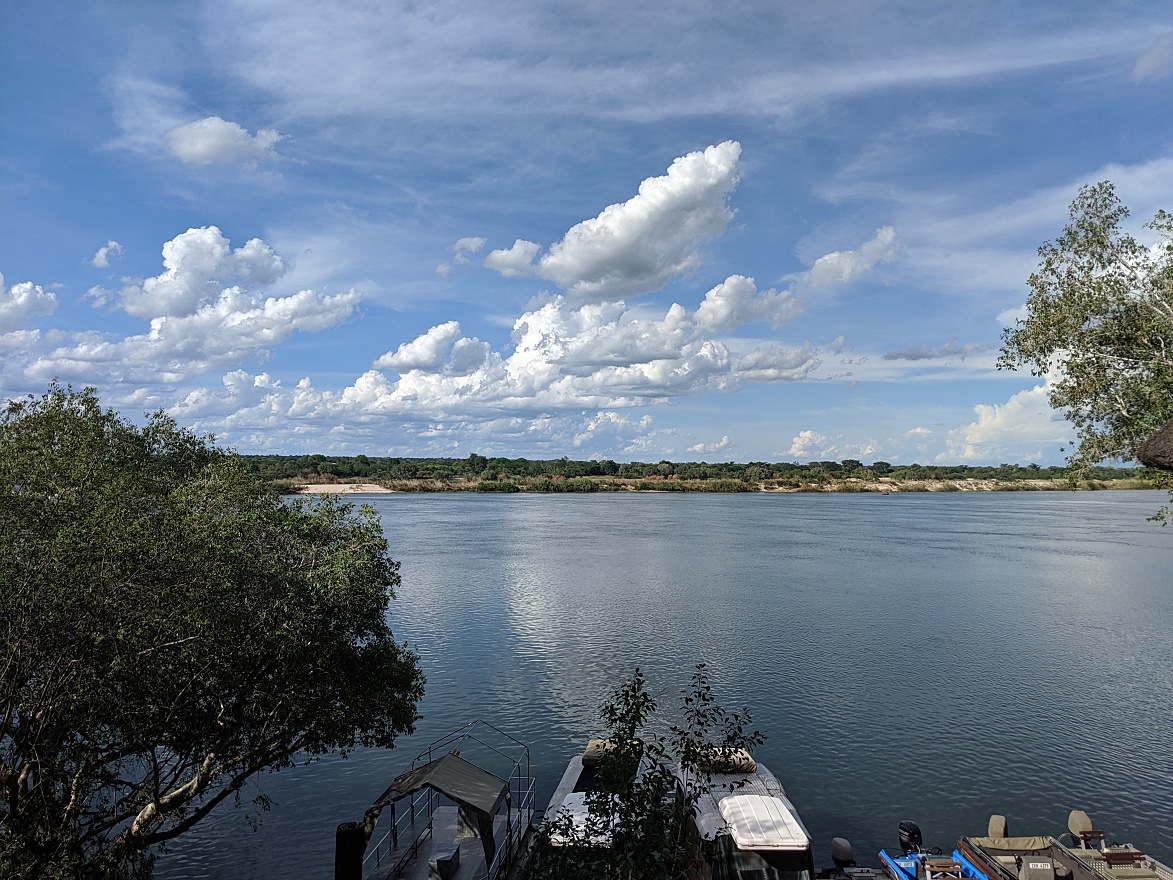 Hundreds of other photos from the trip are posted HERE.
You can read about the second half of the trip HERE.