I recently returned from a month long trip to several countries in West Africa (Mauritania, Senegal, The Gambia & Guinea-Bissau). It was truly an amazing trip, seeing places & cultures that I had never before experienced. Overall, the trip went incredibly well, especially considering the conditions of the places that I visited. What follows is a trip report for the first half of the trip, in Mauritania for 13 days. You can read about the second half of the trip HERE.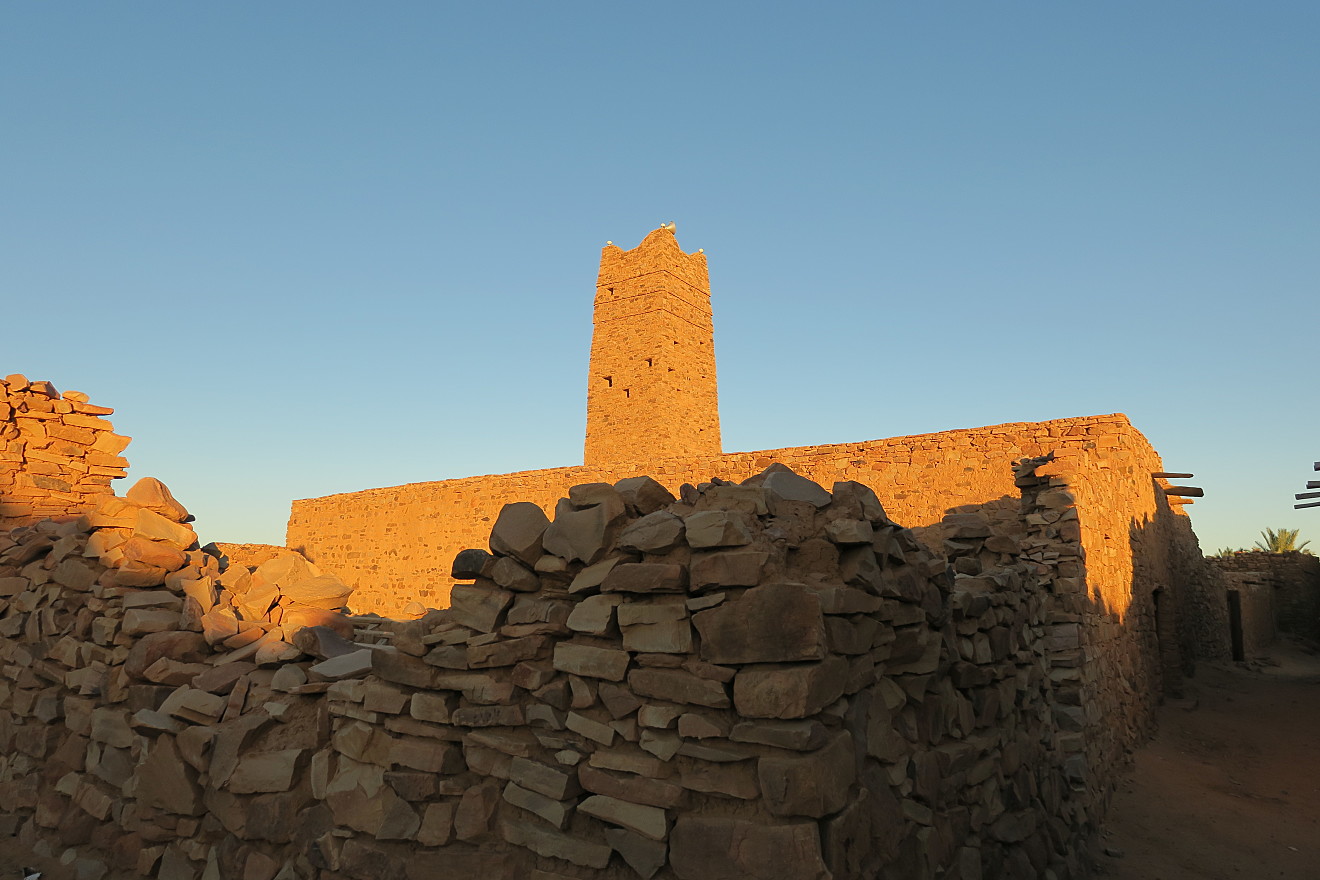 The plan for the trip was to use Dakar, Senegal, as the base for seeing the region. From there, I flew to the capitol of Mauritania, Nouakchott and started a 12 day tour of the country. But first, I'll rewind a big and start from the beginning. I flew Air France all the way to Dakar (with a connection in Paris/CDG).

Day 1
The flight to CDG was ok. Not even completely full, although i had someone sitting beside me. They did have champagne though. The food wasn't anything special. I managed to sleep a bit for a few hours. The crew absolutely hated speaking English. Every time that they came to my row with me or drink service they started in french, even though they should have known after the first time that we were all English speakers. The landing at CDG was really rough, and it briefly seemed like we were going to swerve off the run way. Then we taxied for about 20 minutes, and i got to hike to my connecting flight. I got some lunch, and then waited over 2 hours for my flight.
The flight actually boarded on time, and then we sat at the gate forever. Eventually the captain announced that 1 passenger with checked luggage never boarded, and they needed 10 more minutes to offload their bags. after 15 more minutes, they announced that the passenger was located, and now they required 10 more minutes to re-load their luggage. We finally pushed back 30 minutes late. The flight was fine. I saw the snow covered Atlas mountains in Morocco at one point. We managed to land in Dakar on time. The immigration line wasn't bad. But holy jebus the wait for my motorcycle helmet took 40 minutes. I never thought that a plane could have so many weird bags. After that nonsense, i found my driver, made a quick stop at the ATM, and then we drove into Dakar for my hotel.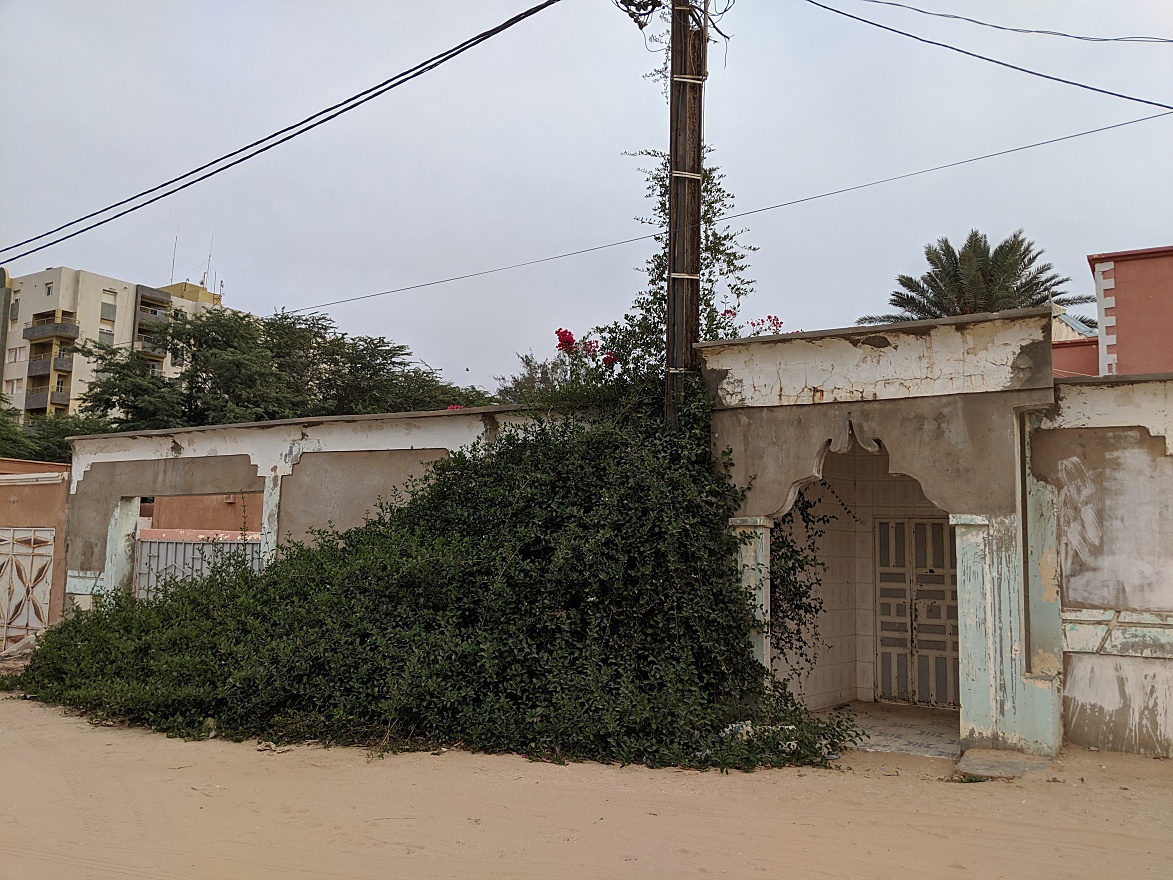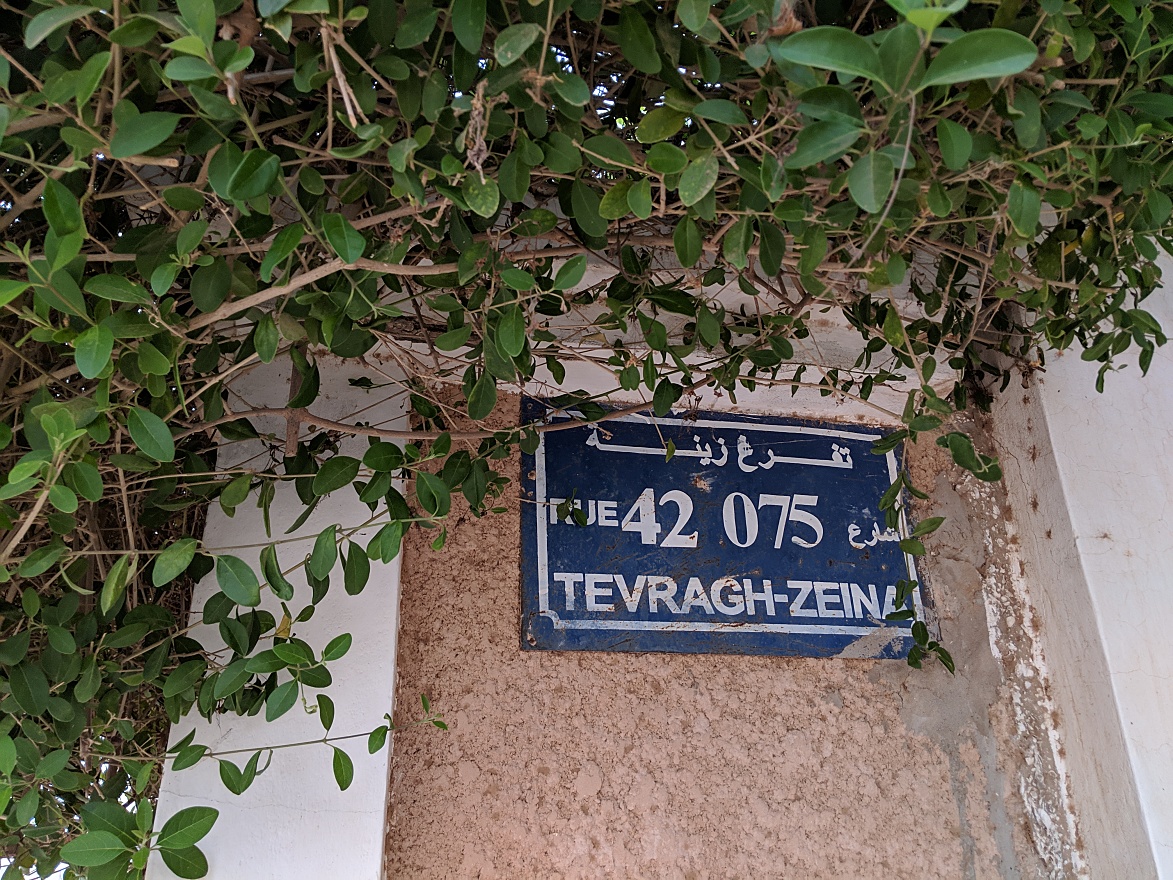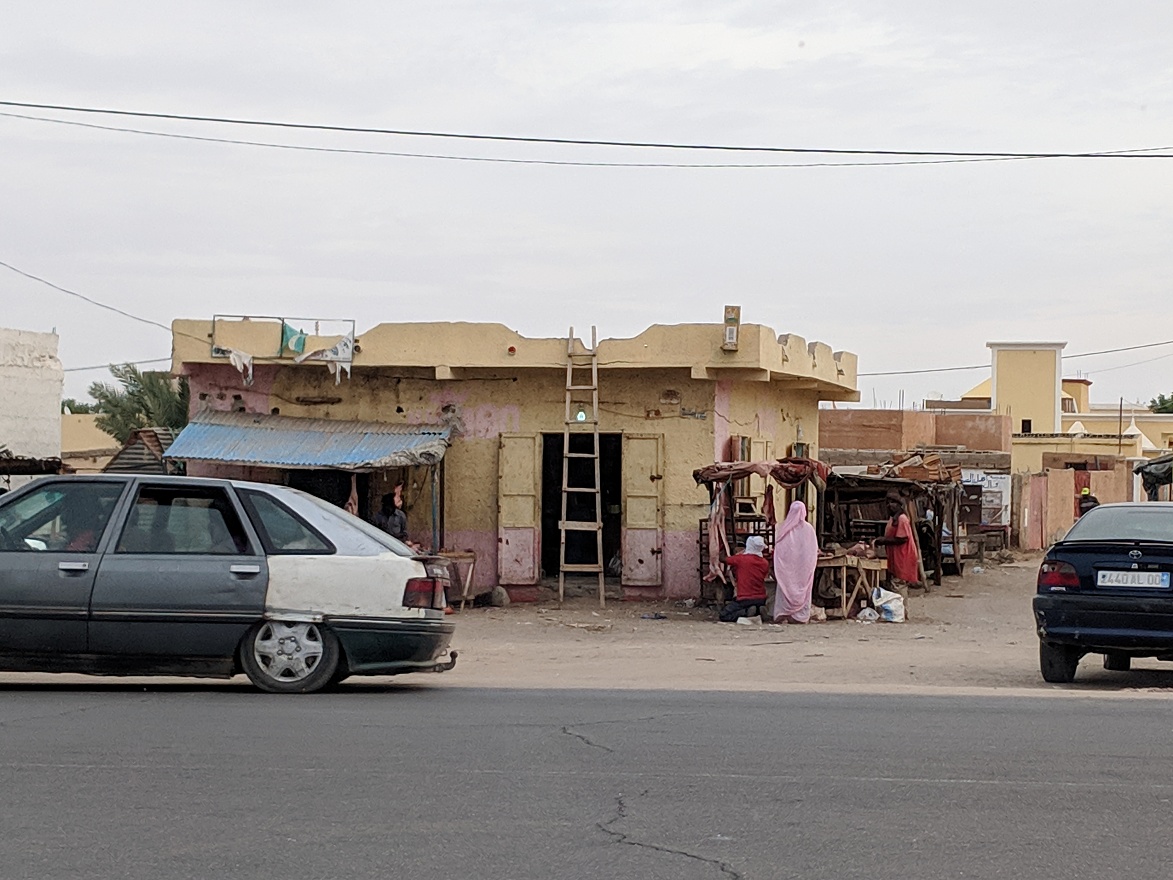 Day 2
I slept really well last night. I woke at 7:30am, and likely could have fallen back to sleep, but decided i'd rather have a relaxed morning, than more sleep.
Breakfast was decent (crepes, fancy bread with jams), but nothing special (little did I know at the time that I'd end up eating this stuff for breakfast nearly every day of the entire trip). I walked to the hotel where i dropped off my helmet (to pick up again when I returned from Mauritania). The guy there was supposed to be expecting me, but in reality he had no clue. I had to convince him to take it, but he seemed nice enough, so hopefully it works out. I emailed the Scoot West Africa guy too to let him know what happened.
I'm still trying to adjust to being immersed in French everywhere. I've got the bonjour & merci down, but people keep launching into conversations entirely in french, and i have no clue at all. Some know a little english, but most don't.
Once i returned to my hotel, i relaxed for a bit, and then decided to checkout around 10:30am. The taxi back to the airport took just under an hour (its around 50km away). Some of it was through urban Dakar, but most was open undeveloped land. I saw several dusty fields with people of all ages playing football. A ton of baobab trees. I also briefly saw the ocean. Very overcast, just humid enough to notice, but not hot yet.
The airport was kind of a ghostown. They only seem to have about 30 departures a day (and most are in the evening), so the departures screen listed nearly every flight. Of course mine didn't even have the ticketing counter open yet, so i had to wait. Once i cleared security, it was still empty. They have 1 or 2 flights an hour for the 6 gates. Also the airport lost power for a while as i was waiting for my flight to arrive. for so few flights, many of the airlines are completely new to me. Camair, Burkina Air and mine, Mauritania Air.
This flight was fine. Boarding was fast & efficient, and we pushed back 10 minutes early (guess you're out of luck if you show up in slightly late). I had an aisle seat in the first row of economy. Beside me was a woman in a floral print burka, and beside her was an elderly man wearing a fez (unironically). The safety announcement was performed solely in French. They handed out drinks and scary baguettes early in the 45 minute flight.
The airport in Nouakchott, Mauritania has 5 gates, all with jetways. First, i had to get my visa. That went fairly smoothly, and now i have a 2nd full page visa sticker with Arabic on (Iran being the first). Things got kinda rough after that. I had to complete one of those annoying entry forms, except it was only in French & arabic. Apparently i misunderstood a few questions, so when i handed the form to immigration official (who carried a huge gun), he got upset. He kept saying things in angry French, and i was struggling to understand him, which only made him more upset. Eventually he stamped me in, and i assumed the hard part was over. But no, this guy was checking everyone's passports for a valid visa before letting them go. He started in with more questions, in a mix of french and bad english. He finally got tired of me, and waived me through. The arrivals hall was huge, and mostly empty. There were 4 different ATMs, and i could only manage to get 1 to work with 1 of my cards. One was only in french, and kept failing to give me any money. A 2nd was broken. A third acted like it swallowed my card, and after doing nothing for minutes, it finally spit the card out. The 4th rejected the bank card, but took the visa card, but would only dispense smaller amounts than i wanted. I ran 2 transactions and then gave up after getting about 80% of what i wanted.
When i walked outside, i found the guy holding a sign with my name, and we walked to the toyota hilux, where he introduced me to the driver. They both look like tough grissled desert guys, in traditional outfits. The drive from the airport into the city was mostly barren desert, with random camels and tiny shrubs. The city itself is lots of 1 & 2 story buildings, all shades of light brown or gray. We passed the US embassy at one point, and it looked ridiculous. It was this monstrous 4 story sprawling compound, with a huge 15ft wall around the perimeter. Also at different times we passed a 'Texas Burger' place, & a 'San Francisco Cafe'.
The guesthouse (for tonight) is ok. It feels like it used to be some kind of apartment complex. Its on this sandy back street, with random goats wandering about, and a huge mosque a block away. The AC pretends like its doing something, but never blows any air. Its not oppressively hot, but it would have been nice if it worked. The guy running the place doesn't seem to speak any English. When i went looking for him to ask for the wifi password, i ended up using my horrid French to ask a random guest instead. 'Parle vous anglais' is becoming my favorite phrase, much to the consternation of nearly everyone else.
For dinner they took me to a kebab/burger/pizza/shwarma place, which was weird. First, the menu was entirely in french & arabic, so i immediately excluded anything that i couldn't easily translate. I ended up getting mixed kebabs, which had chicken, beef & lamb, with rice and fries. it was ok, but not exactly the exciting capitol city dining experience that I was hoping for upon arrival.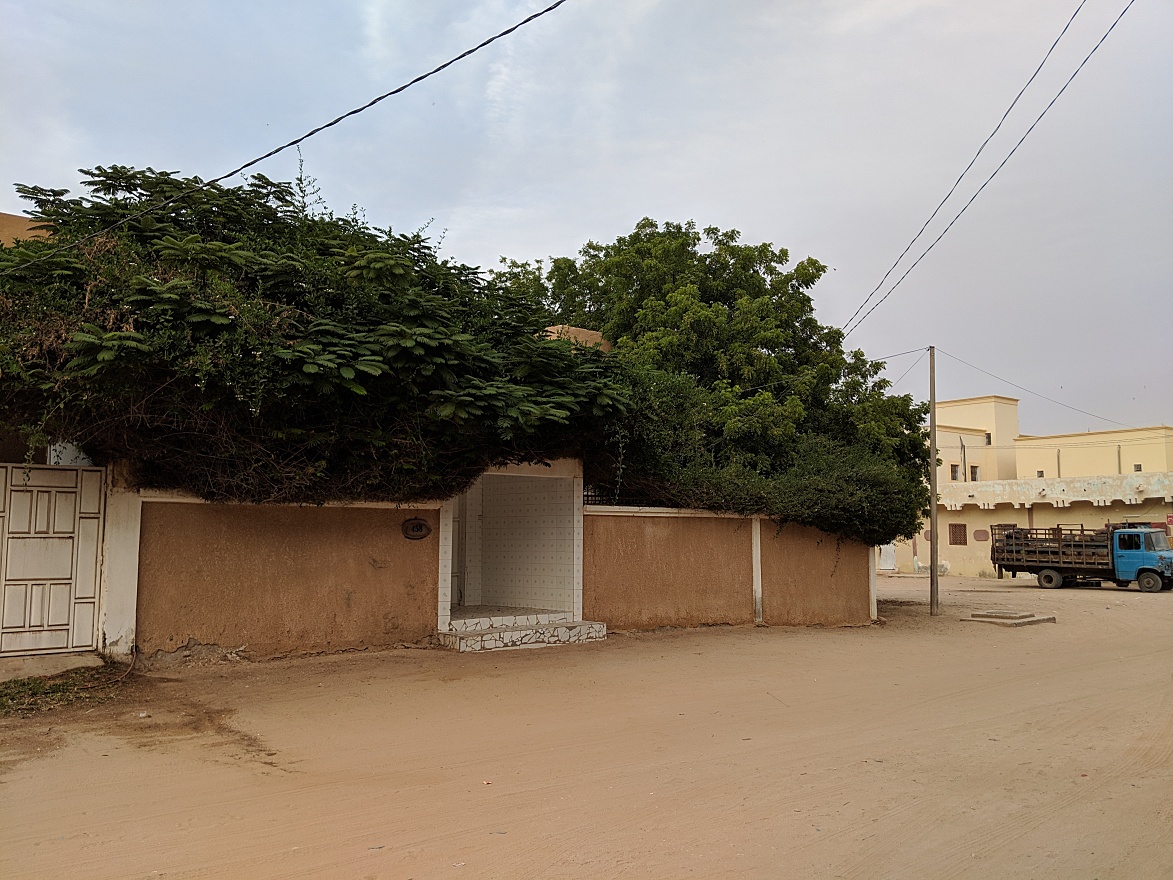 Day 3
I slept ok until around 1am, and then was wide awake due to jetlag for a few hours. I was up for the day at 6:15am, as i needed to be ready to depart by 8am. Of course, i learned the hard way that breakfast wasn't served until nearly 8am. When i attempted to ask the guy running the guesthouse about breakfast, it sounded like he said there would be croissants at 7:30, but when that came and went, i attempted to use google translate, but the guy didn't seem to be able to read french. I guess he spoke it colloquially, but could only read arabic? Anyway, a few minutes later the bread delivery guy showed up with an arm full of baguettes & a bag of croissants, and then breakfast slowly trickled out. It must be close to 30 years since i've had those laughing cow cheese wedges, and now i've had them 2 days in a row with breakfast (and of course, I'd end up eating them nearly daily for the rest of the trip). They're about as icky as i remembered them though. I ate a few tangerines, slurped some nuclear hot tea, and finished the croissant, and it was time to go.
The Hilux was full to the top in the back with supplies. We drove through town, then pulled over along a row of cell phone shops. I got a SIM for 100UM and paid 300UM more for data to charge it up. That's about $10. We resumed driving east out of town. For a while the road was in great condition, but there was a ton of traffic. Huge trucks, donkey carts, and so many ancient beat up Mercedes sedans. They all looked at least 20 years old, with massive amounts of damage (dents, missing lights, broken axles, missing windows, missing trunks). Eventually the traffic thinned out, and then we started hitting the police checkpoints every 10-20km. And so began the 'fiche' process, where the police expected us to provide a document (fiche) with my passport details, at every checkpoint. Thankfully the group had them prepared in advance, so it was usually just exchanging pleasantries, handing them the paper, and continuing on our way.
Not too far outside the city, the dunes appeared, and they were present in varying degrees for most of the morning. Oddly what was not present was the sun. It was overcast the entire time. I always assumed it would be blazing hot sun and clear skies, but so far, its all clouds.
The road quality degraded once we got an hour from the city. It varied from 50% small pot holes, to 25% on each side destroyed & missing, which resulted in everyone wanting to drive down the middle, playing a game of chicken with opposing traffic. Thankfully our driver was pretty good, and usually made safe choices.
We stopped for lunch at noon, pulling off the road into a mostly flat baked sand area, with covered, fenced in areas for picnicking. They started off with the traditional tea ceremony, which was like 2/3 dry volume sugar, and the rest green tea. Then they did multiple rounds of boiling, and high pours between cups, eventually finishing with fresh mint added to the pot. It was ridiculously sweet, and they did 3 cups/person. The food was decent. They made a fresh salad (beets, corn, tomatoes, lettuce), canned tuna, and baguettes. They also had bananas, dates, peanuts, and small (the size of a quarter) biscuits.
At 2:30pm, they pulled off the road for 'a break', but it was really for prayer. They did their thing for a few minutes, and then we got back on the road. As the afternoon went on there was less and less traffic, and the towns & villages were further apart. Sometimes we'd drive through small irrigated farms, or brown grassy plains. Eventually a mountain range appeared to the east, and around 4pm we reached the town of Moudjiera at the base of the mountains. The town was fairly large. From what the guide told me, its basically the last real developed town on this road for the next 300km, and the pavement ends in 80km. We drove up the road to the summit, and stopped to take in the scenery. It was really impressive, but i was kinda disappointed, as the light was awful with all the clouds. We drove another 10 minutes, then veered off the road into the dunes. For a while it seemed like they didn't know where they were going, but eventually they stopped at a flatter area, and they setup the camp.
I went wandering on the dunes for a bit. The sand is an orange-pink color, and super soft & powdery. I climbed the tallest dune, and could see most of the way back to the town. When i returned, they were making more sugar tea and working on dinner. But before dinner they started a camp fire, and went to pray. Dinner was a salty vegetable soup, and a beef stew (with very tough, gristly meat, potatoes, carrots & peas). It was ok, but obviously nothing special. I was happy that everyone ate the same food, as i hate it when they make separate tourist and local food.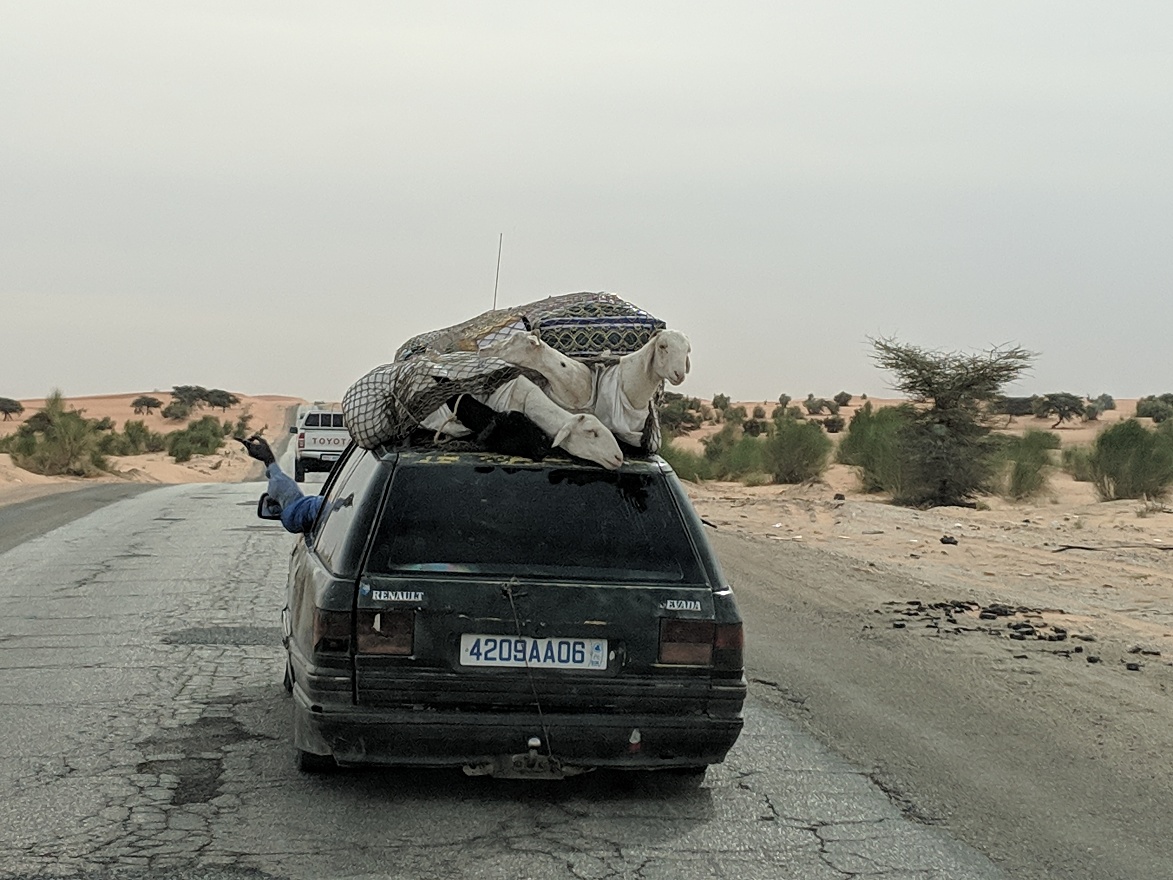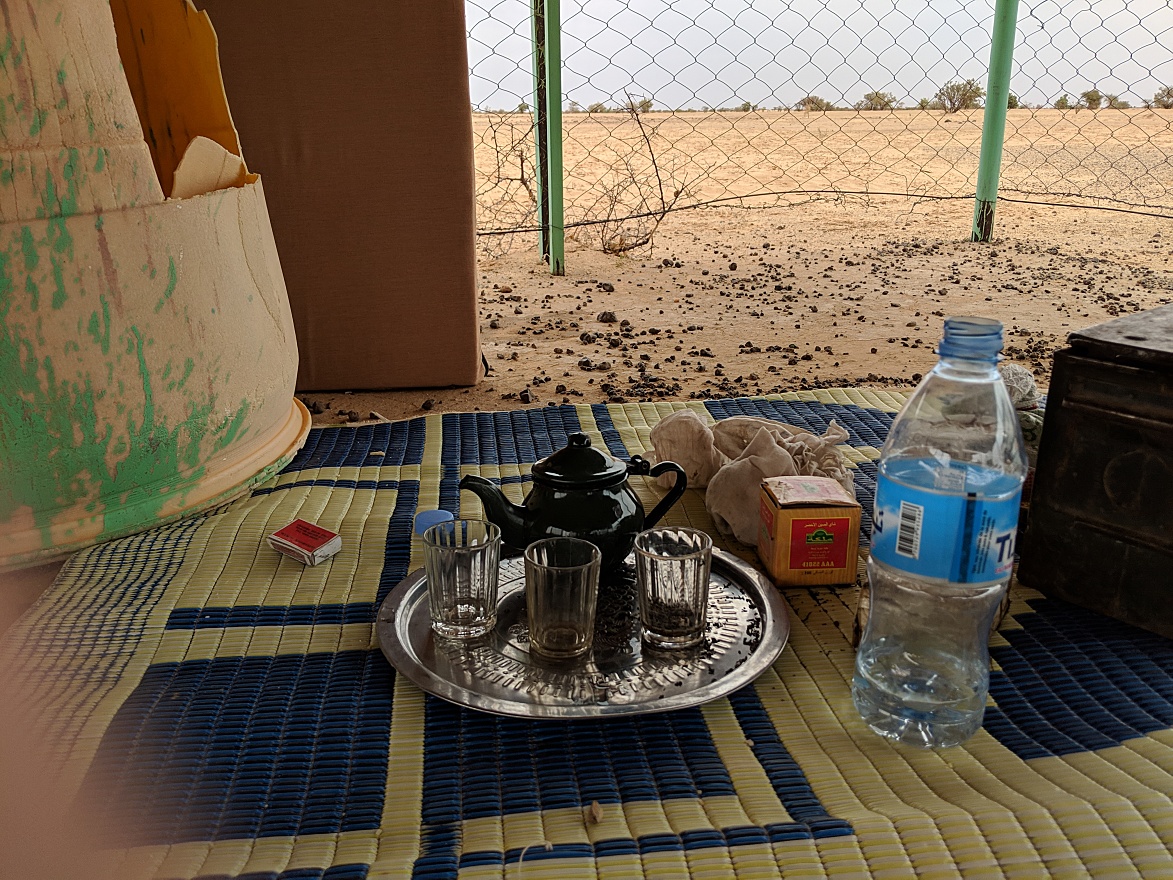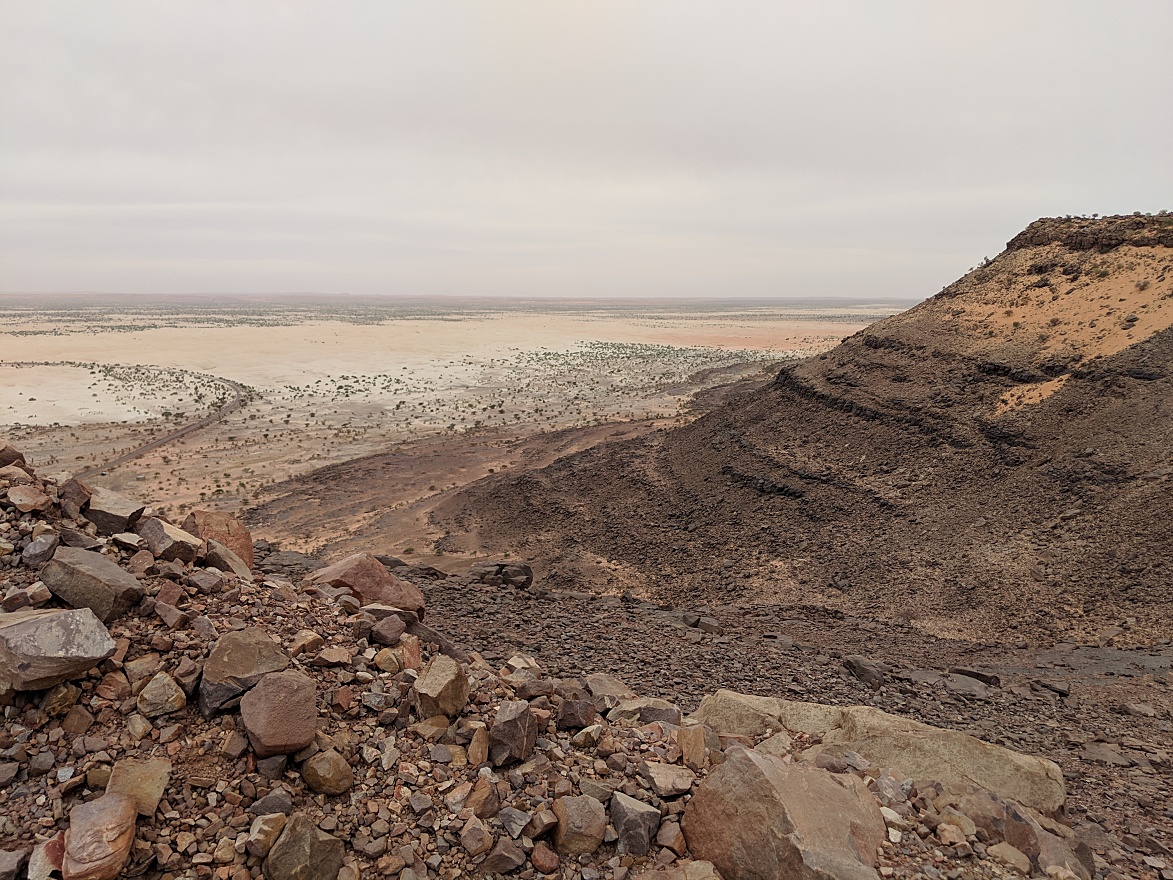 Day 4
Last night, I had a tent, sleeping pad, pillow, and sleeping bag. However, it was never cold enough to need the bag. I slept ok for the most part, and woke for the day at 6am, when i heard the call to prayer off in the distance. The sky partially cleared during the night, and i actually got some blue sky at sunrise. Breakfast was more sugar tea, baguettes, and jarred stuff (honey, jam , etc), and more laughing cow.
We were on the road just before 8am, and stopped in a small village for gas. At the far end of the village we turned off the road onto a sandy track. For a while we were chugging through deep sand, passing very small, primitive villages. Occasionally young kids would run over screaming 'bonjour'. Then we got to a massive, old lava flow, and crawled over it. Then we crossed an extremely wide, dry river, crossed an even larger lava flow, and then drove up a sandy, steep hill. at this point it had been nearly 90 minutes since we left pavement. We parked, walked for a minute, and a massive deep, wide canyon, with a lot of creamy brown water flowing at the bottom. It was quite impressive. They said that this was leftover from the 3 month rainy season, which ended just a month earlier. In other words everything that i'm seeing now is about as verdant as it gets. There were a few sand bars down below, and we spotted about half a dozen crocodiles sitting around. Then the guys insisted on making tea, despite a strong wind blowing sand everywhere. Eventually they found shaded rocky alcove, where they built a fire, and went through the entire tea ritual. After that, we hiked back up to the truck, and started driving all the way back to the paved road.
About 3/4 of the way, we pulled off under a large tree, and had lunch. While there, goats were wandering about, and i saw 2 goofy camels as well. Lunch was rice, with (canned) green beans, peas & sardines. There were also pretty good tangerines. I declined the tea, as we literally had some less than 2 hours earlier.
The next 3 hours were spent driving over barren terrain composed of reddish gravel and gray boulders. However, we also didn't have to deal with any police fiche checks, until we approached what the guide described as 'the last civilization that we'll encounter before friday evening'. This police dude must have been bored out of his mind, as he refused the prepared fiche, and demanded my passport and the id cards of everyone else in the vehicle. He then disappeared into his concrete bunker for 10 minutes before returning everything. the town definitely was the largest i'd seen since we left the capitol yesterday morning. We stocked up on supplies.
We drove for nearly another hour after buying supplies, past the town of Rachid. The scenery changed dramatically to bright pink sand with chocolatey mountains, and it was gorgeous. There weren't any dunes, mostly small waves of sand, which often spilled onto the road. As we were crossing a broad valley we saw a vehicle sitting in the middle of the road, where a lot of sand had completely covered the road. They were stuck maybe 20ft from pavement, and digging furiously. We pulled over, and all of a sudden it was like this party erupted, with everyone cheering and hugging. This older dude got behind the wheel, and everyone else (myself included) started pushing. It took 3 rounds of pushing and digging and we got them free.
We drove for a little longer, then veered off the road, driving across a broad sandy valley towards to mountains. They parked and started setting up camp. I went exploring. I found the mummified carcasses of 2 camels & 1 horse at different places along thus massive dune that spilled down the top of the mountain. One of them looked like a baby that likely died after its mother died beside it. The 3rd was much further decomposed, and was mostly just a skeleton with bits of skin hanging on. The views from the top were great, plus the sun was fairly low in the sky, which made all the colors super vibrant.
While i was waiting on dinner, this nomad/herder guy wandered over from i have no clue where, and just sat down. He chatted (in Arabic) for a while, as the sun set, and it became completely dark. Then, just before we started dinner, he got up, said his farewells, and wandered off into the darkness. I honestly expected him to stay for dinner. It was weird, and kinda awesome the way he disappeared into the night.
Dinner was a salty chicken broth 'soup', then somewhat soggy fried potato wedges, and a boiled chicken in a mix of sauteed peppers, onions and canned peas. The chicken was decent. Dessert was fruit cocktail (yuck). The stars out here are awesome. I also saw a few shooting stars too.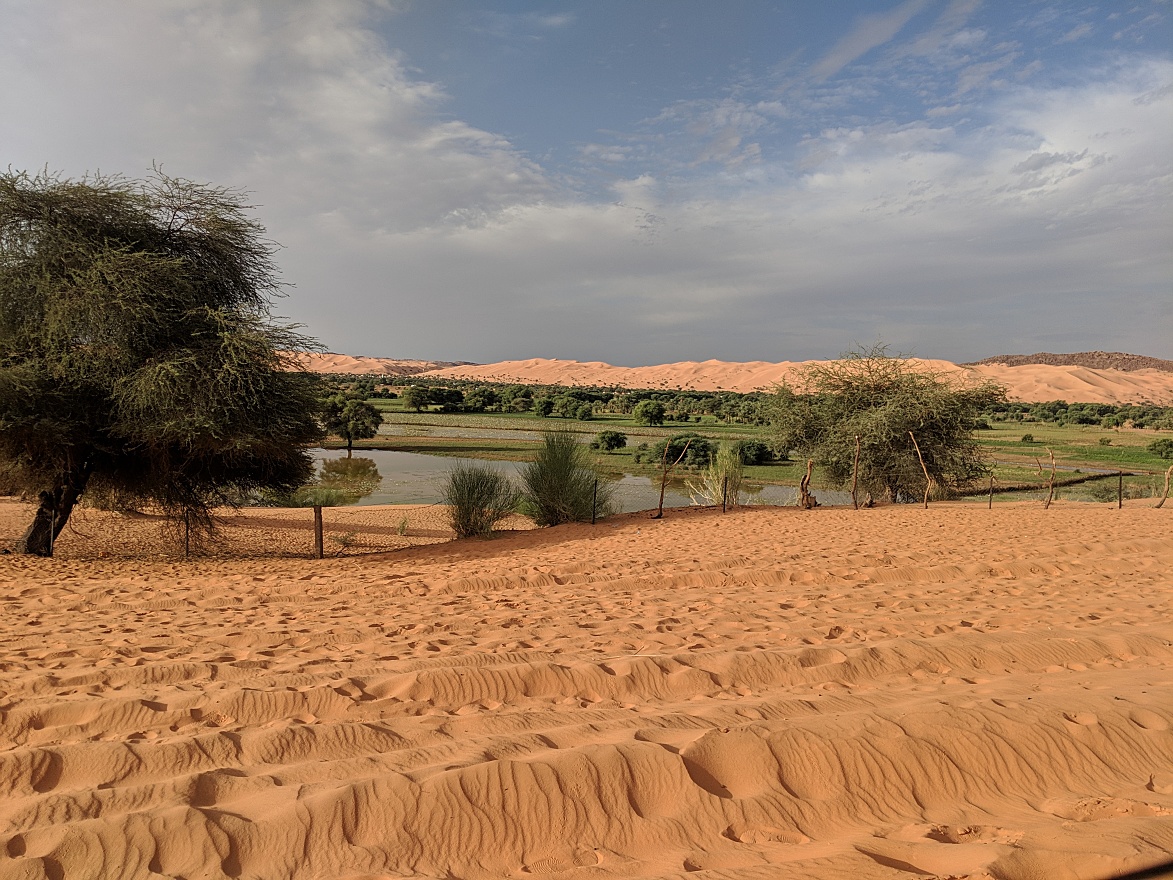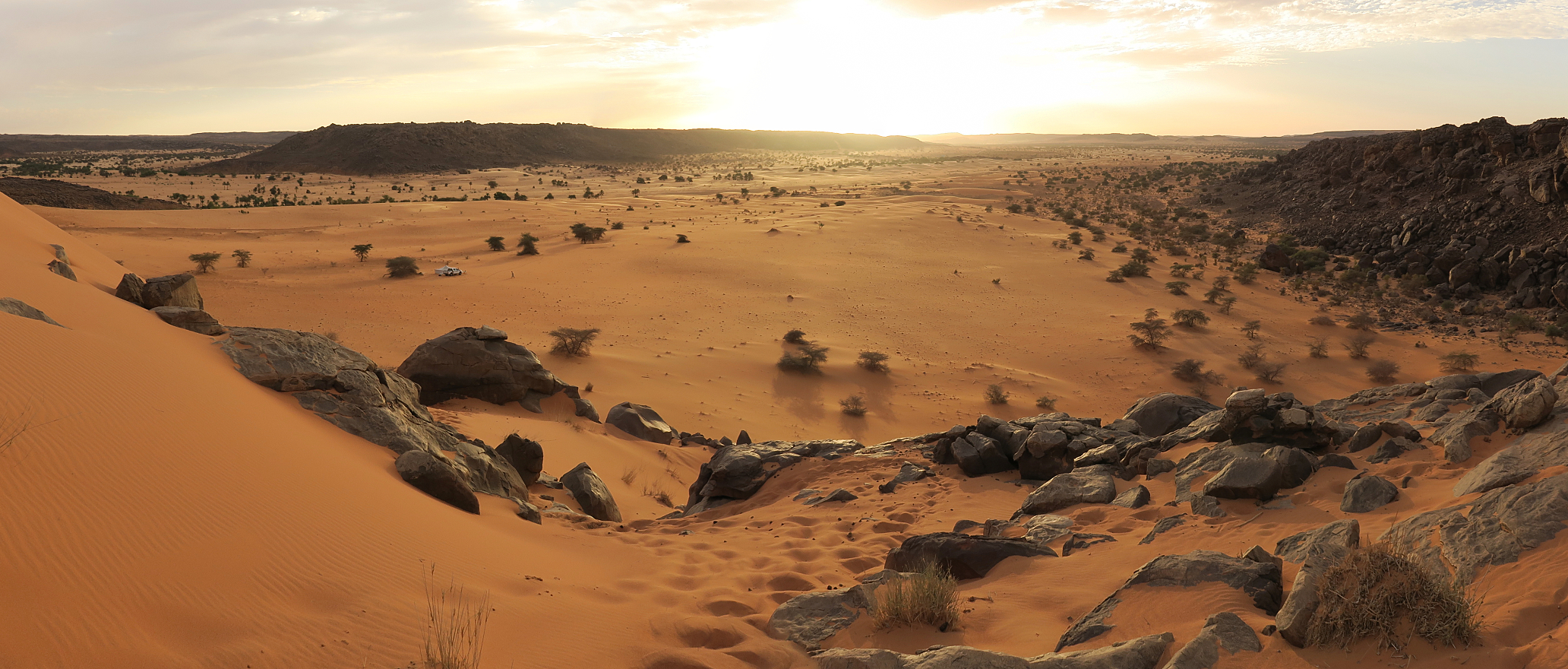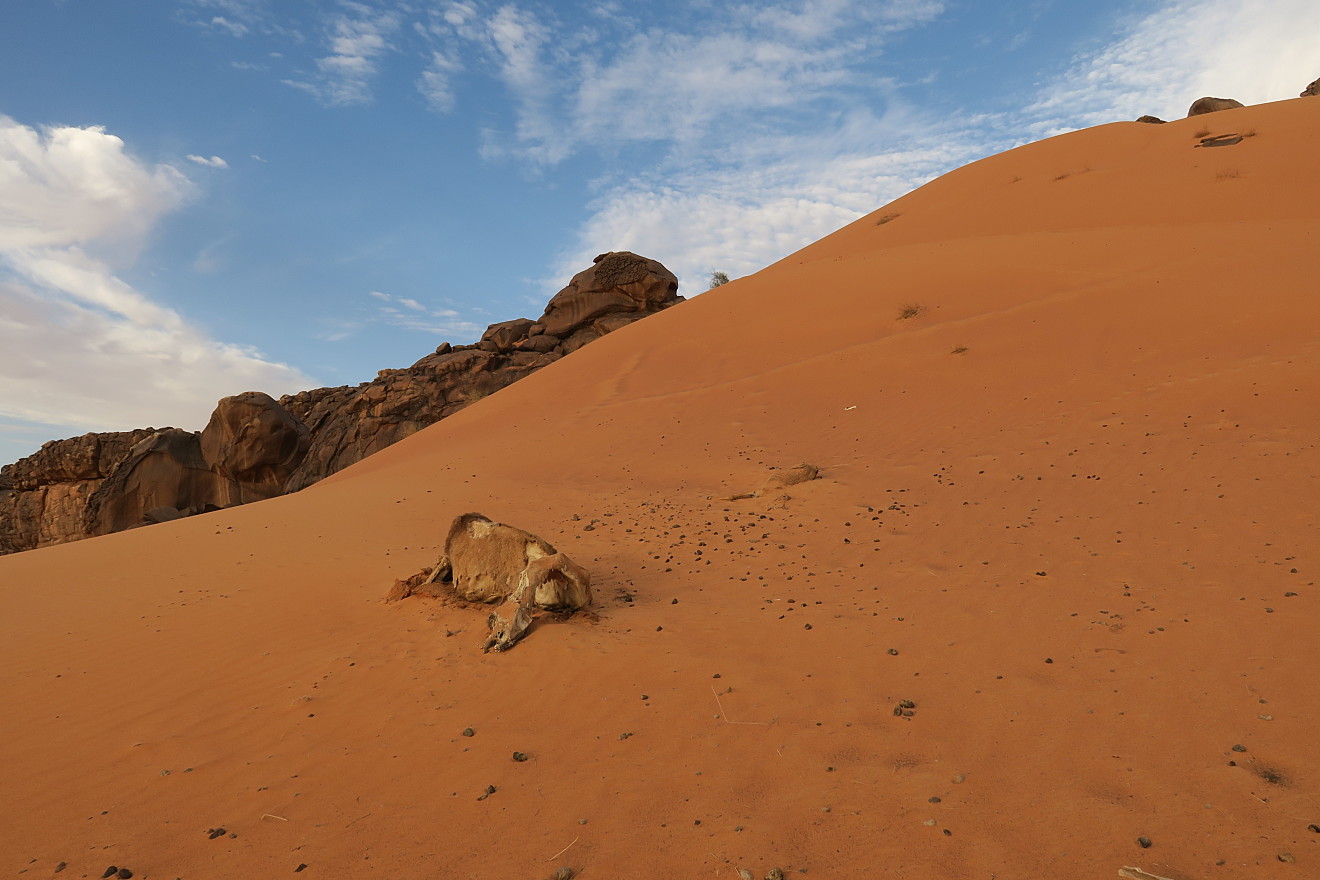 Day 5
It was windy all night, and sounded like the tent was being sand blasted. It was also a bit cooler, so i ended up draping the sleeping bag over my legs. I got up for the day at 6:30am, and the sky was completely clear for the first time. Breakfast was this weird deep fried baguette thing, crepes (which were good), plus the same stuff as yesterday. As the camp was being broken down, i heard voices off in the distance, and eventually saw several people walking in our direction. It turned out to be a woman with 3 children attempting to sell some stuff that they made. They had this vase-like thing made from the top of a water jug, a dinner placemat made from strips of plastic from a water jug, and these kindergarten arts-n-crafts style water bottle cozies. They got points for trying (plus hiking the mile plus just to attempt the sale), but it was kinda sad. it also left me wondering how these people even came up with the idea of making these specific items. I guess maybe they saw a picture somewhere?
I've reached the phase where there is sand in or on everything. Me, my stuff, everything. the road that we were on today is relatively new, and only half done. If you picture Mauritania on a map, and split it into 4 east-west sections, we are in the 2nd from the bottom, heading north to the 2nd from the top. Prior to building this road, the most efficient way to travel between these 2 regions was literally to backtrack west all the way we drove from Nouoakchott, then drive east again. It took 2-3 days of driving just to end up maybe 125 miles north of where you started. if you really wanted to drive the 125 mike distance, it would take 4-5 days because the terrain is an awful combination of massive sand dune fields & huge rocky canyons. With the new road, it should ideally take 7-8 hours. However, due to politics & corruption, the road is still not done after 8 years. Pieces are done here & there, so that you can drove fast for 20-30 minutes, then crawl along for another 20. That was the bulk of the day today.
When we started, the road was great, we were moving fast. Then the entire horizon filled with dunes, and as we got closer, they spilled across the road in varying amounts, until the road was fully buried under 20-30ft dunes, and we had to detour around. Later we came to sections of road that were in varying states of completion, and not yet open to traffic. There was always some awful track running semi-parallel, where we'd bump along at barely faster than walking speed. Sometimes the road was merely an idea, and there was no sign of any progress beyond moving large boulders out of the way.
Around 11am, we stopped for 'a break', which i initially assumed was code for 'prayer time', but it was actually a break. I followed everyone into a stone hut, where people were sitting on the floor doing the tea ritual, and eating some crazy looking melon. On the outside it looked like a watermelon. But the inside had translucent flesh, and was 90% huge seeds that looked like large white corn kernels. Everyone was eating the seeds. They cut me a slice. The flesh was pleasantly tart. The seeds were kinda sorta corn like in texture and flavor. The tea was 75% sugar, because why not?
After another hour, we descended into a long valley which had a small village, and massive tan dunes. We pulled off the road, and parked near a tree for lunch. A farmer wandered over to greet us. He stayed for lunch & tea. Lunch was macaroni, corn, beets & tuna.
Following lunch we were on the road for barely 5 seconds before turning on to a sandy track. That was the end of roads for today, and we spent the next 2 hours driving primarily in a wide, dry wash. There were a few small villages along the hillside, but it was mostly remote. At one point we pulled up along side a well, and they dipped a bucket down to fetch cooking water for later. Around 4pm we pulled up a sandy hill, and parked between a bunch of mesquite trees and set up camp. Today was noticeably hotter than the days with clouds.
Sunset was weird tonight. Instead of being bright and golden, it was muted and kind of brownish. There were no clouds, but maybe a sandstorm somewhere far away. Dinner was kinda awful. They must have used up the last of the bread, as there was none for first meal ever. What they did serve was plain spaghetti with a medley of overcooked vegetables (including more canned peas). No meat at all. Meh.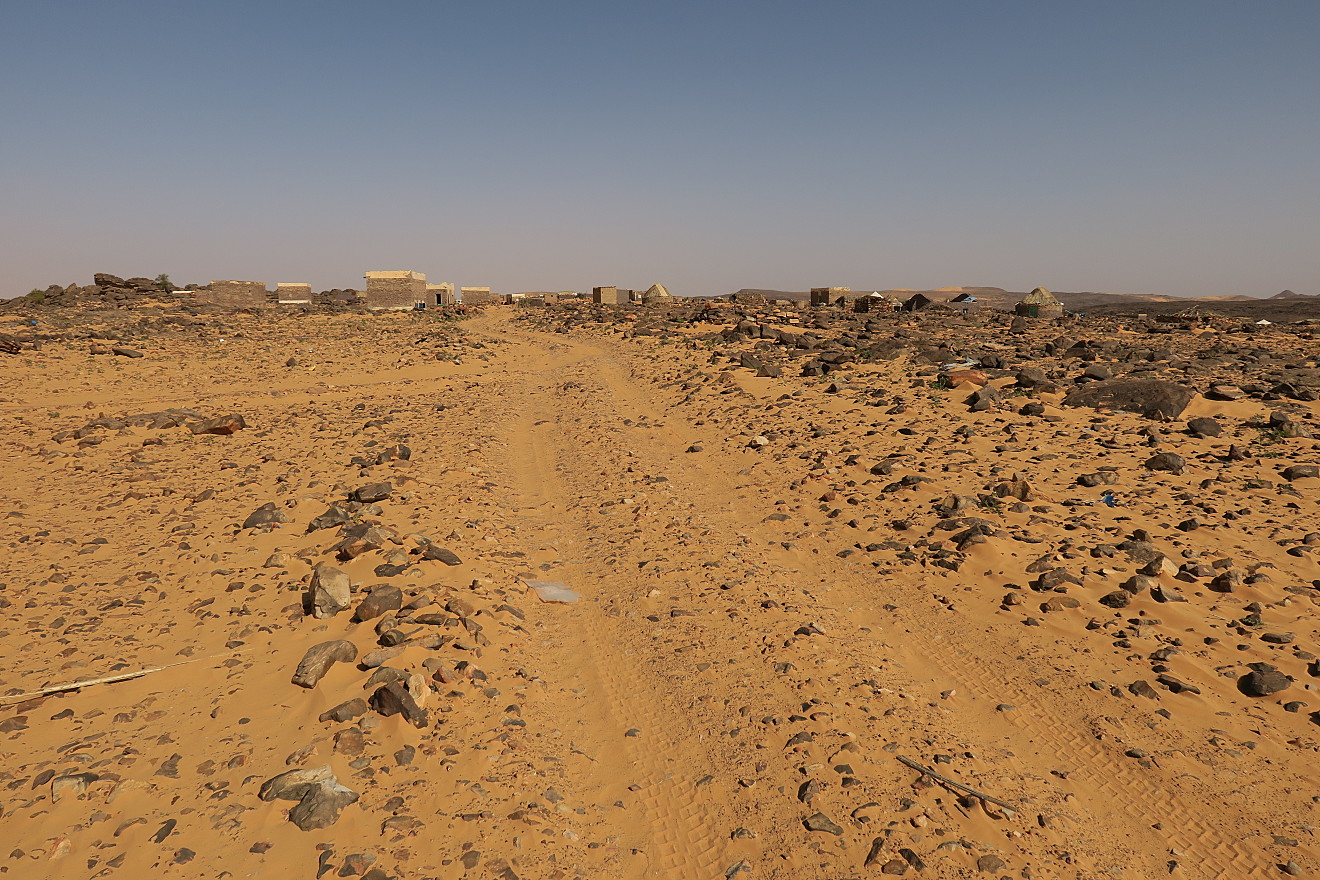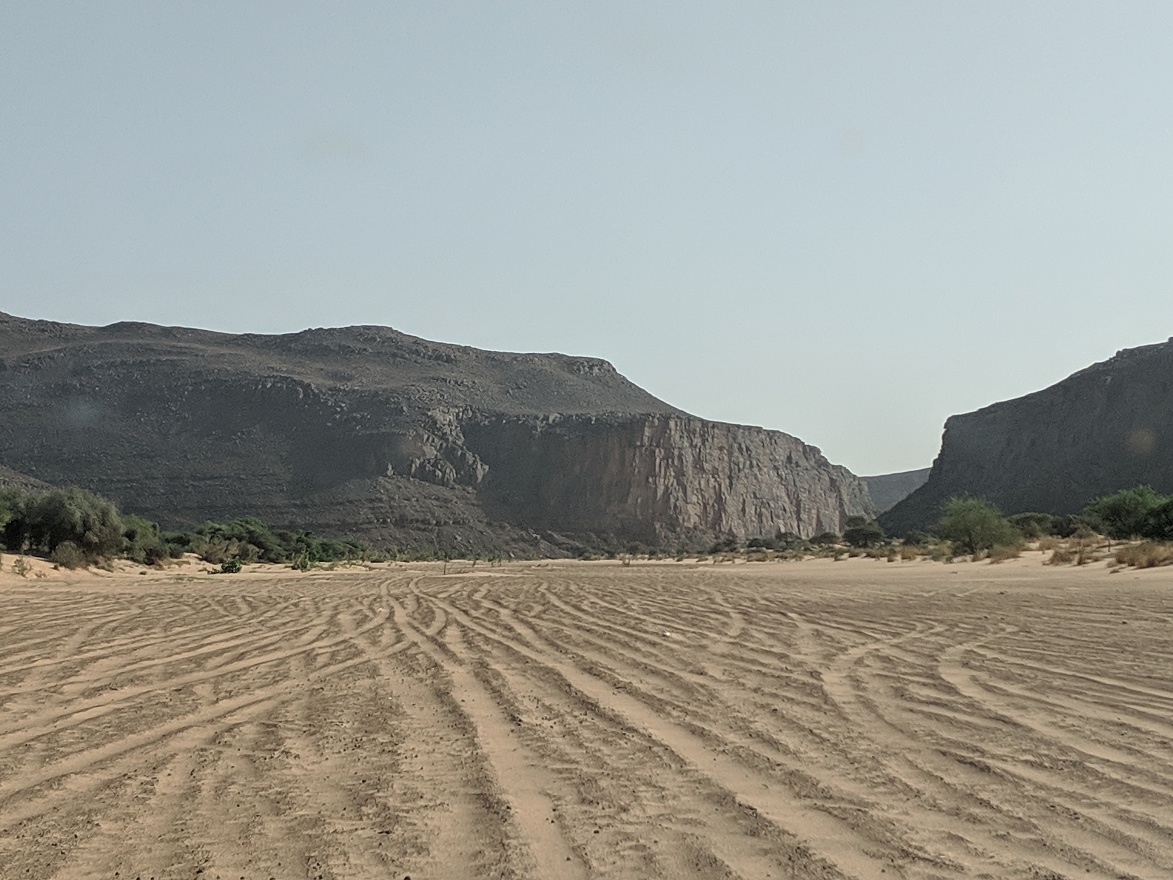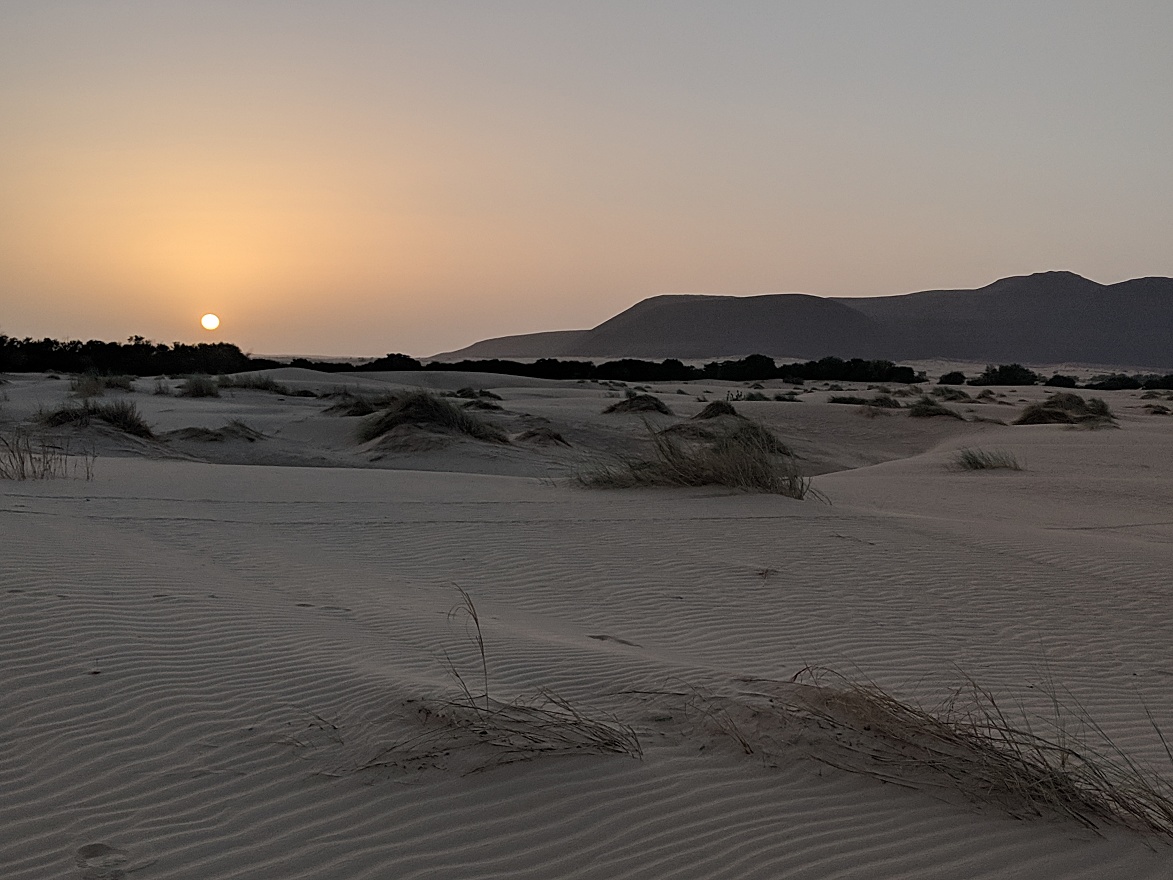 Day 6
I slept ok, and woke just after 6am. The funky sunset last night was due to dust in the air, and it persisted all day today, making visibility kinda crappy much of the time. Breakfast was crepes with the usual stuff.
We departed at 8am, and started off by backtracking much of the way we came yesterday afternoon. However, eventually we turned off directly across the big dune field, which seemed kinda nuts. I get that people drive across dunes, but I always assumed it was mostly for fun, or out of desperation. Of course we got stuck. We drove into a bowl about 20ft deep, and couldn't climb back out again. I assumed we were all going to need to push, but they insisted they would get out. I got out of the truck, climbed the dune, and watched from a distance. One guy wandered off to grab some bush branches for traction, another started airing down the tires, and the driver kept trying various reverse then gun the engine attempts. After maybe 6 attempts in 5 minutes they got out, and we continued onward.
After a while we exited the dunes, and came upon a small village where they bought more supplies. Then we climbed this huge stony mountain. As we descended back down the other side, i got cell reception from far across a distant valley, and sent out the emails that had been pending. We drove in a dry wash for a while, then climbed out and entered another village where they refilled on water from the well. While waiting a few locals wandered over to say bonjour, and the kids were giggling.
We drove further, entered an oasis full of palms, resumed driving in a dry wash, which eventually became a narrow sheer walled canyon. Towards the end, we pulled over near a cluster of acacia trees, and they started on tea + lunch. While they worked on that stuff i climbed a steep hill on the opposite side of the canyon. From the top, i could see most of the way back up the canyon, plus in the opposite direction, a long distance across the valley. It was impressive.
Lunch was rice, goat and diced tomatoes, with (red) watermelon. After lunch we continued driving north, and the terrain became much more mountainous, with huge canyons full of sand dunes. We turned onto pavement for the first time in 24 hours for a couple miles, until we arrived in the town of Terjit. On the map, it looked like a large town, but in reality, it was a few small shops and maybe 100 homes.
At the far end of town, up a canyon, was the Terjit oasis. It was quite nice, with a lot of flowing water, palms and much cooler temperatures. There were actual foreign tourists there too. A German & Austrian, who invited themselves to tea. It was actually kinda nice being able to talk fluently in English again. My guide can do slow halting English, but whenever i've tried to strike up a conversation its kind of painful, as he doesn't seem to always understand much of what i'm saying. The Austrian was very chatty, and was trying to convince me that i need to visit Sudan & Chad. On the way out this elderly lady was selling souvenirs, which my guide was sure to point out, as if i was oblivious to it. I looked it over, but nothing even looked that good, on top of the fact that i have literally no room for a foot long painted chunk of tree bark, or 18 inch carved wooden statues.
After the oasis, we passed through town again, and stopped to buy some more food. While waiting in the truck, over a dozen kids showed up and started demanding (rather vocally) cadeau (gifts) and bon bon (candy). It was sort of comical, especially when this old lady wandered over with and threatened them all with a large palm frond, and they scattered.
we drove about 30 minutes back out of town, and found a spot to camp for the night. We were parked barely 20 minutes when this guy wanders over from no where, and proceeds to spread out a blanket with dozens of random trinkets & crap. I just don't understand this sales strategy. Waiting in the middle of no where for some random tourist to show seems like an incredibly small chance for success. Anyway, i looked at his stuff, and at least half of it would never pass airport security. He had half a dozen ornate pocket knives. a few bullet keychains. And a foot long miniature rifle, which i'm not even confident wasn't a real gun. I politely thanked him, but i hate this crap. I look like a cheap jerk when the guys i'm with are watching me and see that i'm not buying anything. I wanted to tell them, anything that i spend on trinkets is coming out of your tip, but instead, i'm annoyed & frustrated. literally in the time that i wrote this paragraph, a woman with 3 small kids showed up trying to sell more stuff.
Dinner was cous cous with goat and a bunch of veggies. And canned pineapple for dessert. It was ok.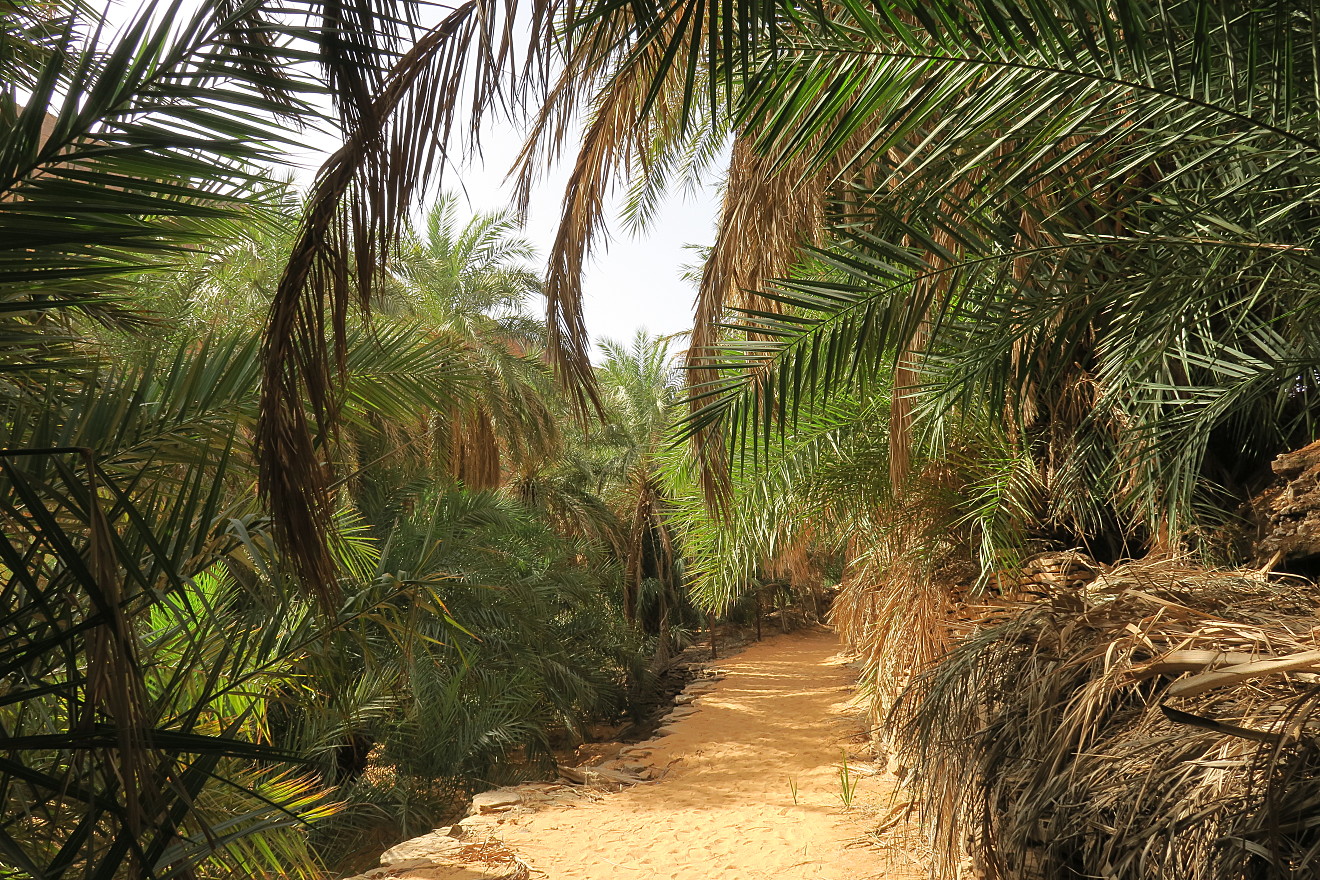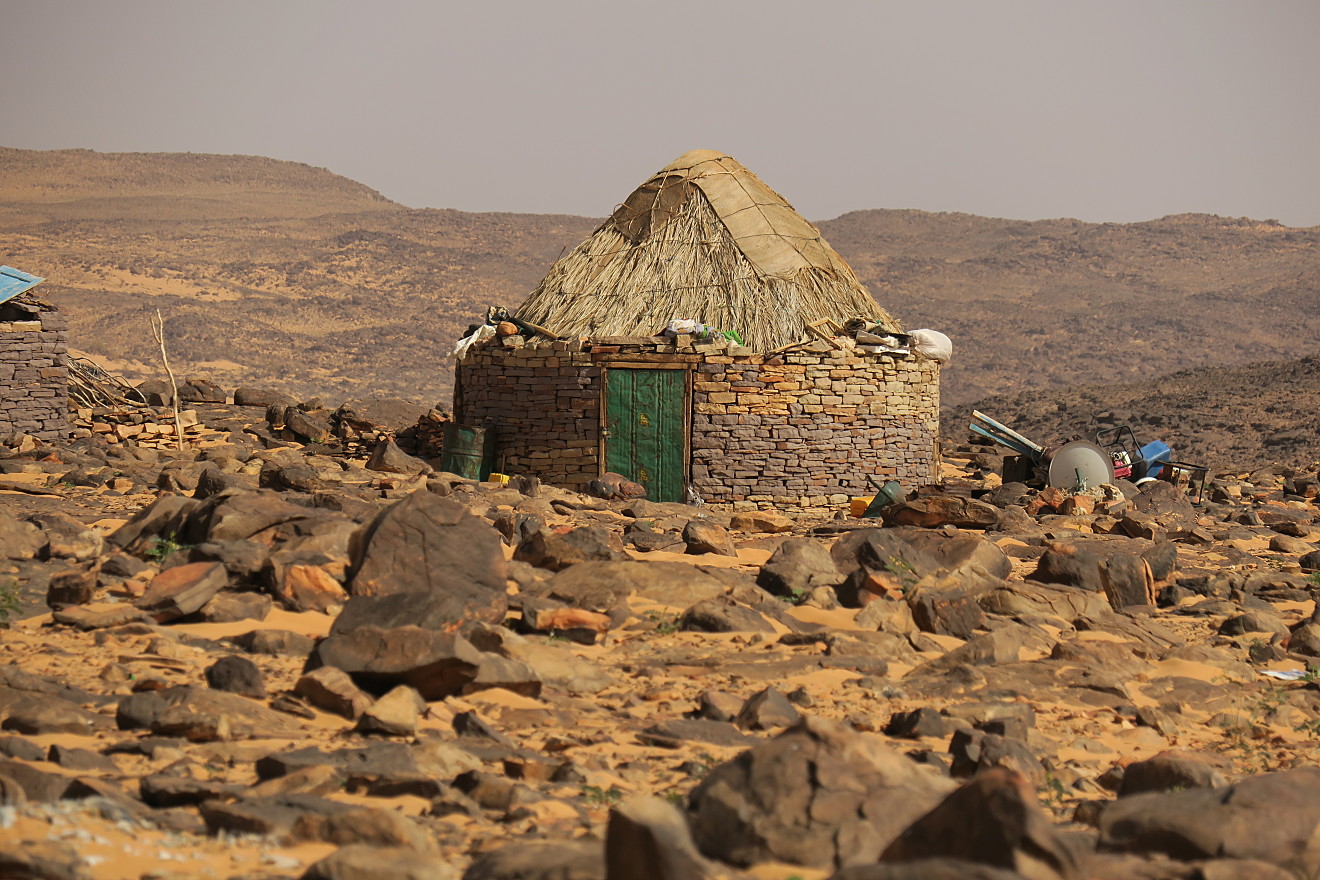 Day 7
It was quite windy overnight, and i woke often due the tent flapping around. Breakfast was the usual crepes, eggs & stuff.
We drove back through Terjit, and as we were on the edge of town, the road was blocked by a truck with a flat tire. The guy seemed close to finished changing, so we sat and waited. Then a truck came from the opposite direction, decided that he didn't want to wait and attempted to squeeze through. He ended up knocking off the mirror of the truck with the flat, and then knocking over the fence on the other side.
We drove for another hour at the top of a plateau, with huge buttes and canyons off in the distance. It looked a lot like parts of Utah. we eventually pulled off the road to a small rocky hill that had 5000 year old rock art. It was kinda sad though. Other than a giraffe looking things it was mostly amorphous blobs, and didn't look like much to me. afterwards, we continued a bit further up the road, and pulled off near the cliff overlooking the canyon. This was a choke point where all the north/south caravan traffic passed for thousands of years. A camel caravan passed while we were there. This elderly couple invited us into their tent for tea. She gave us these dates that looked like they were older than her, they were so dried out. They were also drinking goat's milk from a bowl.
After another hour we reached Chinguetti, the town where i'd sleep tonight. The guesthouse is awesome. its run by a french woman. From the outside it uses traditional stone architecture, but its fairly modern inside. I got an amazing hot shower (first since sunday), and then they made me lunch. Omg..real food with spices. I had grilled fish, fresh pasta with sauce and cheese. And freshly made yogurt for dessert.
In the late afternoon, we went out to see a few things. The first stop was a library of ancient Islamic manuscripts. It was a family owned library that has been handed down between generations for over 100 years. The owner showed me original books from the 9th century, perfectly preserved. He had an astronomy book from the 15th century, full of diagrams. It was amazing. He commented that i was the first American to visit this year. Afterwards we crossed over the dry river to the original old part of Chinguetti. We walked the narrow streets, and stopped at the old mosque, with a stone construction minaret. At this point it was after 5pm, so we drove out to the dune sea south of town to watch the sun set. There were a bunch of loud French tourists up there screaming "un, deu, toi" over and over for stupid selfies.
Dinner was good, although everyone else was french and ignored me. This one lady was wearing a dress at least 2 sizes too big that had watermelon slices all over it. Anyway, the food was a squash soup, then basmati rice with chicken cooked in a green curry & coconut milk. It was good. Dessert was flourless chocolate cake with orange marmalade. It was really good.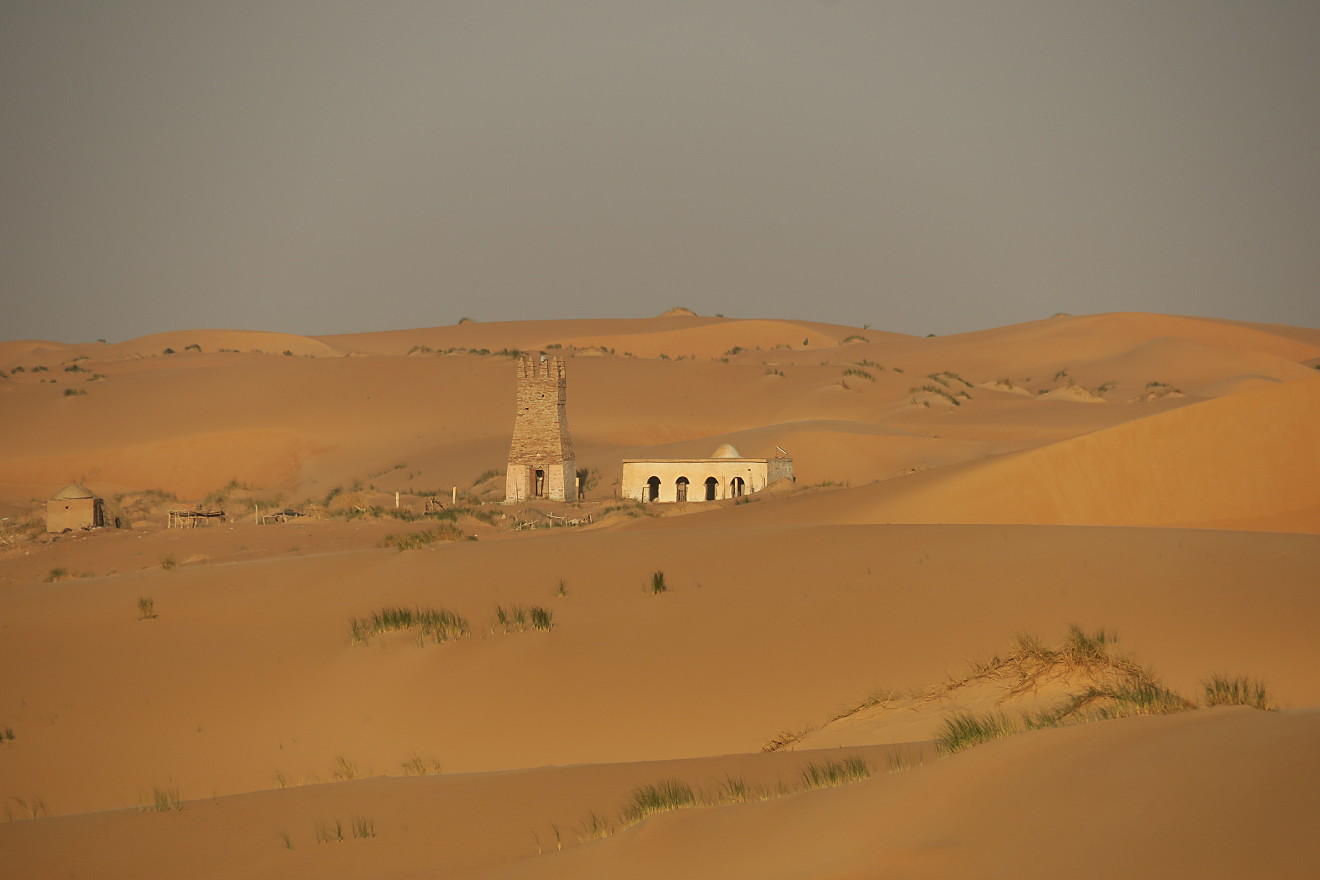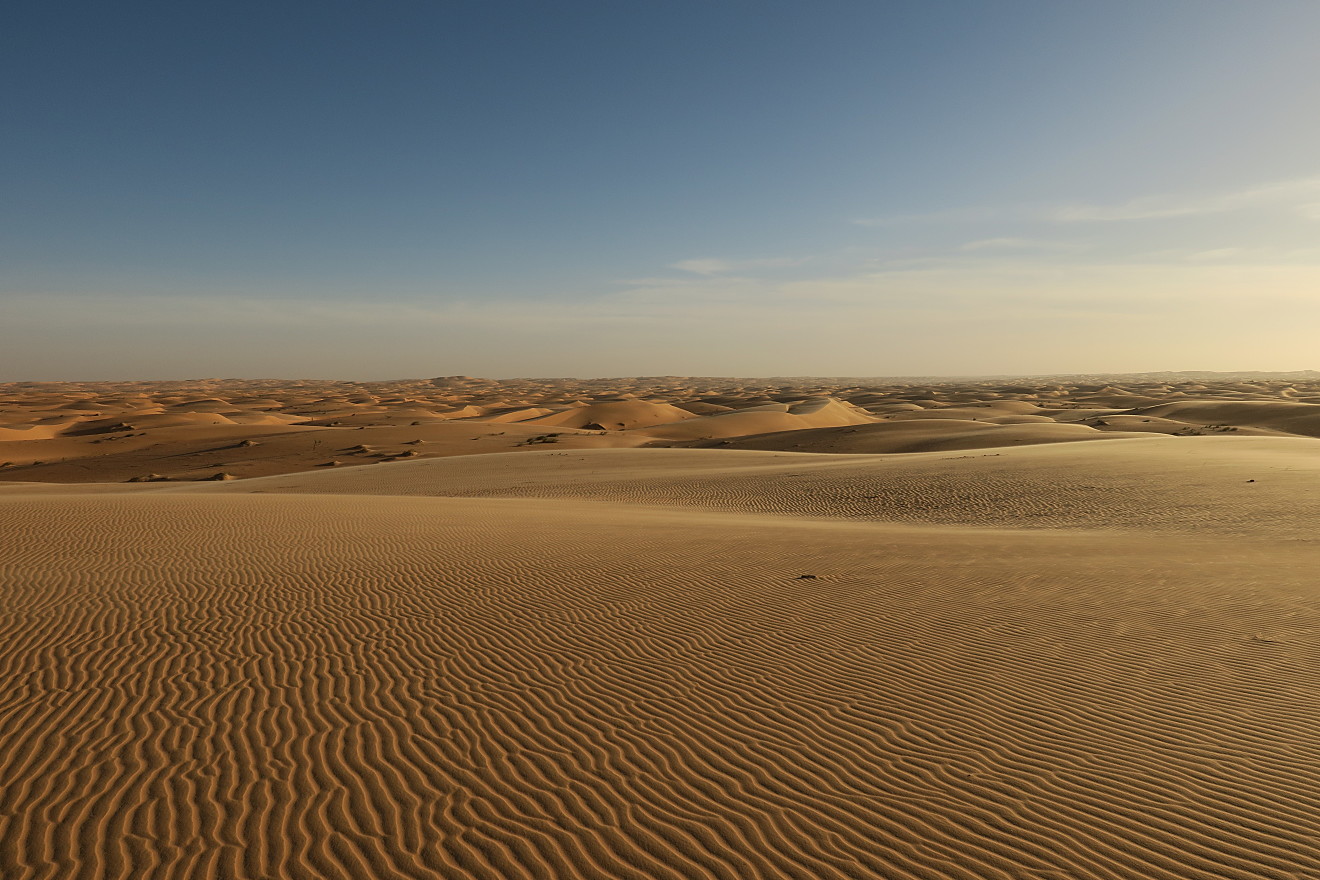 Day 8
I slept amazingly well last night. Nearly 9 hours. Breakfast was slightly disappointing. Not much different from what i had while camping, although the quality was better, and i got more of their yogurt. I departed at 8:30am.
The 'road' to Oudane was really just a deep sandy track through the open desert. We saw maybe 3 other vehicles along the way; we stopped at a nomad tent around 10am for tea. There were 3 older men playing something that sort of looked like checkers, in the sand, with sticks & small stones for the pieces. There were 2 older women, 2 younger, 1 teen age looking girl, 2 boys around 10-ish, and 2 girls that were maybe 4 or 5. The girls turned up the charm, and were smiling and making silly faces. We gave the adults some bread and refilled some of their water, and some candy for the children.
After that we drove another hour and came to a small oasis village, slowly being consumed by the surrounding dunes. We stopped yet again for tea, and this one was bleak. There was one guy, 2 women, and 2 small girls, maybe 3. There were swarms of flies everywhere. It literally was that African famine photo with the kids having dozens of flies on their face. It was awful. The flies were relentless, and i spent most of time desperately attempting to brush them off every part of me. As we were driving away, the guided pointed out a small mud hut with solar panels on the rood. He said that it had a small fridge inside, and the govt would subsidize the cost of fresh fish delivery out here, so that the residents would have enough food. I find it difficult to believe that any truck with fish is driving all the way out here with any regularity. We drove for another 40 minutes until we found a few large, yet sickly looking acacia trees, and stopped in their shade for lunch. Lunch was decent. A salad with fresh tomatoes, cukes, boiled eggs, and canned tuna, beets & corn.
The remaining drive to Oudane was surreal. We entered this area that was an empty void. There were periodic small dunes, but basically nothing else. No plant life, no nomadic tents, no aimless camels, no tire tracks, just stark emptiness. There were only 2 colors, the blue sky, and the tan sand, and nothing else. How anyone can navigate out there is a mystery. yet eventually the town appeared on a hillside on the distant horizon. Its more than i expected. Certainly not a bustling modern place, but it has lots of small buildings.
The guesthouse is a huge step down from last night. Not a dump, but very rustic. My room looks like a concrete cell, with a single bulb dangling from the ceiling. Also internet access out here is just about useless. Both the wifi & mobile data are painfully slow. Just sending a single email takes 15+ minutes.
In the late afternoon, we went to the ancient part of the city. Its huge. The city existed for nearly 900 years until the 15th century. Much of it is crumbling stone now, but they've restored much of the perimeter wall, the mosque, and some of the interior walls and key rooms. There was a sign claiming that the US funded the mosque restoration, which was kinda surprising. I was able to walk up the spiral staircase to the top of the mineret, although there was a huge hole near the top of the stairs, which could have dropped me down a good 12ft to the steps below. After the sun was setting, we returnee to the guesthouse for the day.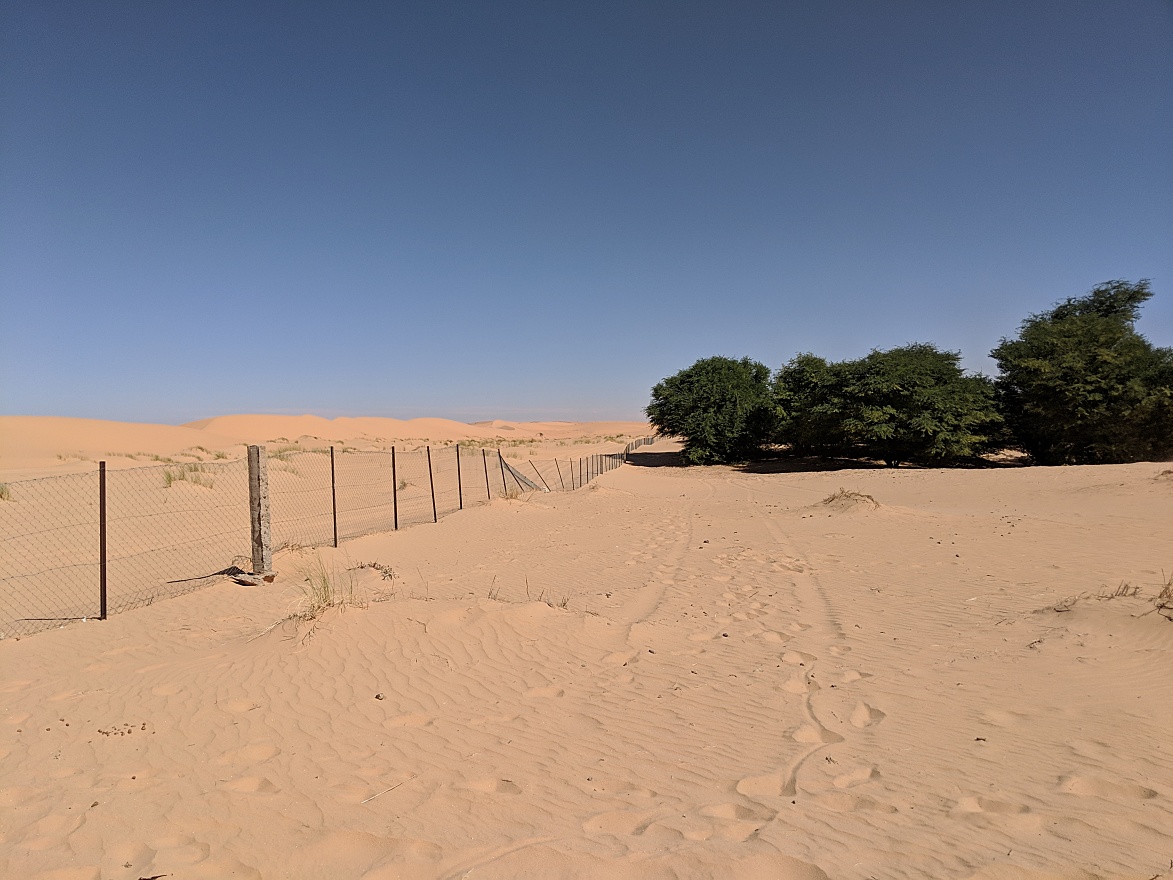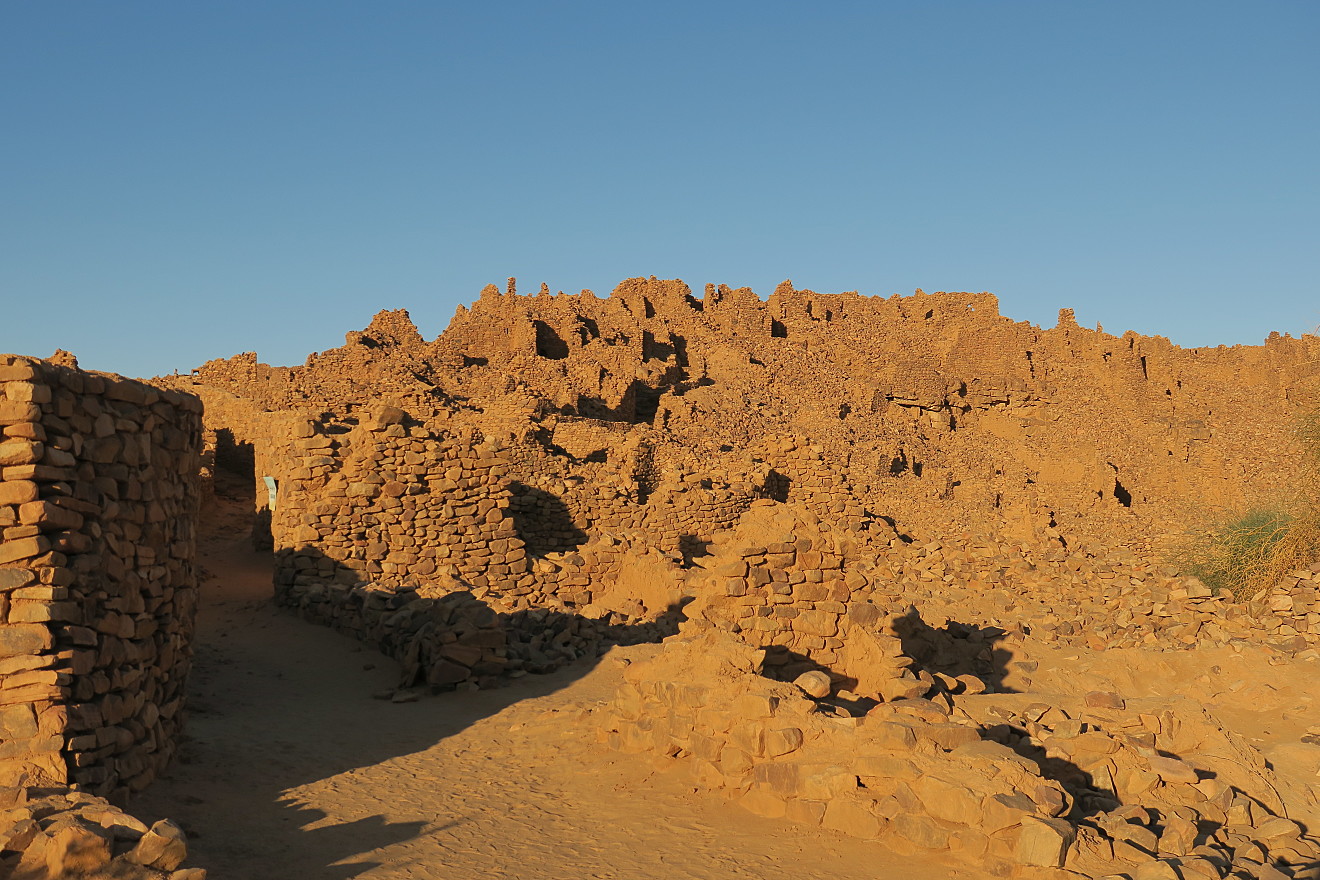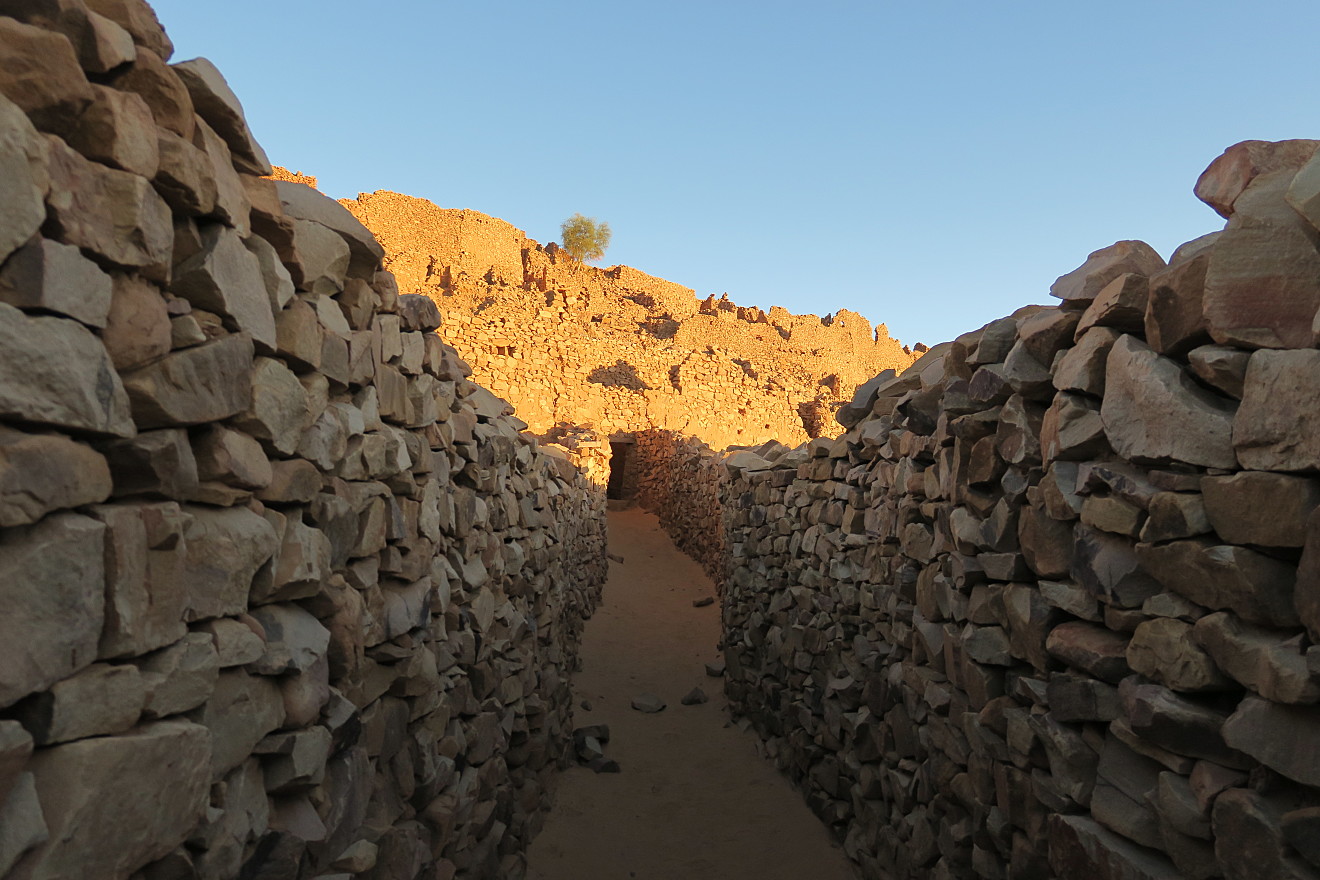 Day 9
Late last night i discovered that the water at the guesthouse was no longer working. I can't tell if it was the entire town of Oudane, or just the guesthouse. But of course that meant that i wasn't going to get a shower this morning either. Apparently the water pump was turned back on while i was eating breakfast. However, the power went out just minutes later, which took out the water pump again.
We started driving northeast towards Guelb El Richat (The Eye of the Sahara). Its a geologic formation, about 20 miles across, in the shape of multiple concentric circles. From high above, it looks amazing. On the ground, its much more difficult to make out fully, due to the scale & size. We drove roughly across the widest diameter. The outer most ring just looks like a mountain range with a slight curvature towards the farthest ends. the 2nd ring definitely looked like a well formed arc. The inner most ring had a large crater in the center, and was the only one that was clearly a circle. The terrain as we were exiting and passing back over the outer ring became extremely rough, with rocks of all sizes covering the landscape. We crawled slowly down for over an hour.
Once we descended into a broad, sandy valley, we stopped at a nomad tent. An old man and his wife lived there. This guy looked 900 years old. About 10 days ago, while he was chopping firewood, he was holding it in place with one foot, and he missed, and hacked his ankle. I don't understand how he didn't cut off his foot, or at least break the bone. But he had a strip of fabric wrapped around the wound, and he was hobbling about. He asked if i had any medicine, so i gave him a few alcohol swabs and some triple antibiotic ointment. But if its been 10 days, i doubt that's going to do him much good if its already infected.
After that, we drove further across the valley, to a 'museum' set up in a thatched hut, which had ancient artifacts that this guy has been collecting since the 1970s. He had stone age tools, a few fossilized ostrich eggs & elephant teeth, and dozens of tiny arrow heads. Next we stopped for lunch. The wind was crazy at this point and sand was blowing everywhere.
Following lunch we drove for another 2 hours. Much of the drive was across a gray, dusty gravel plain, directly towards the sun. It was unpleasant and tedious. A vast dune sea eventually rose in the distance on our right, with dark brown mountains running on the left. Eventually we started heading towards the dunes, and setup camp there. The wind was fierce, although we were nestled behind a cluster of acacia (and a desiccated camel carcass), which helped block a lot of the blowing sand.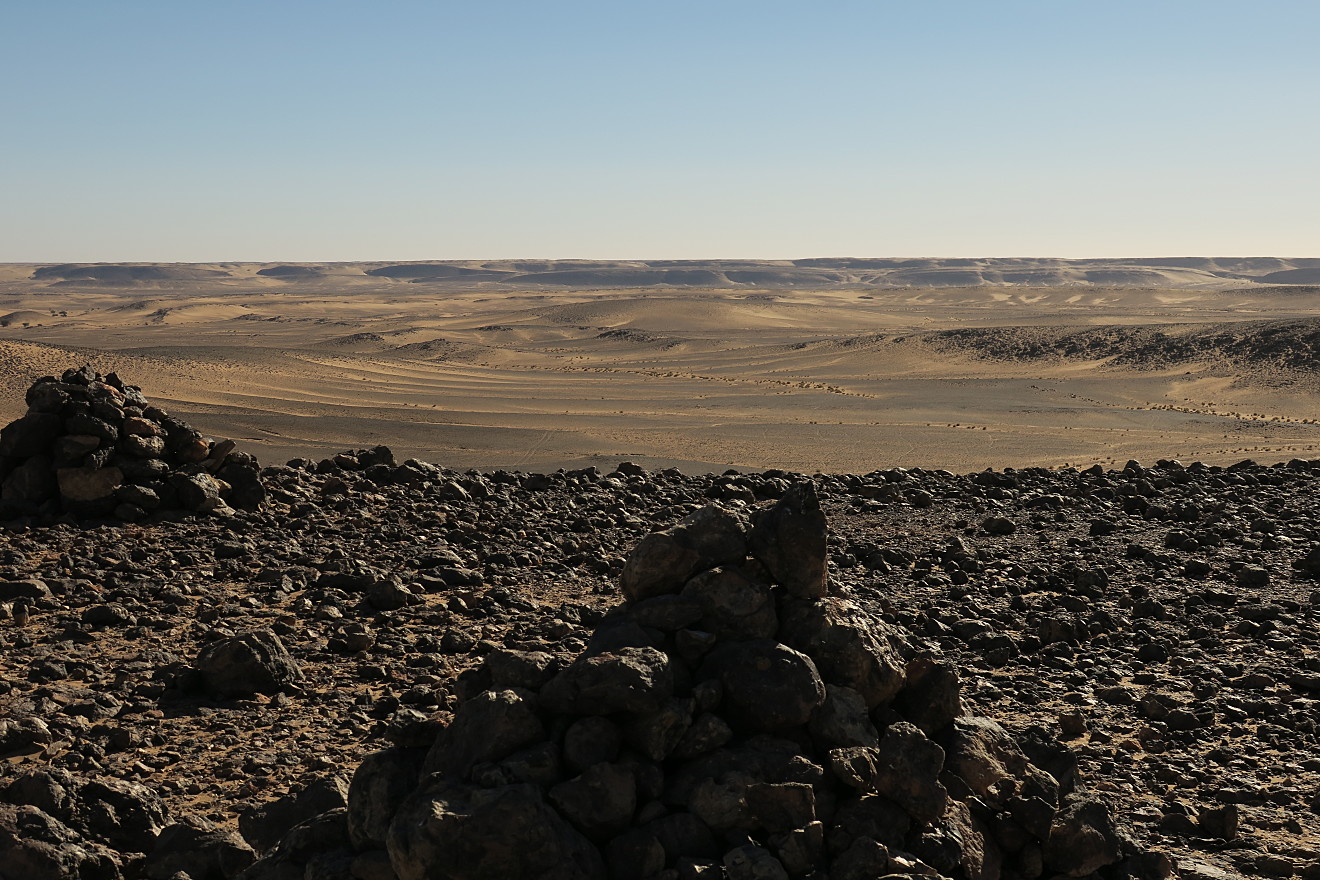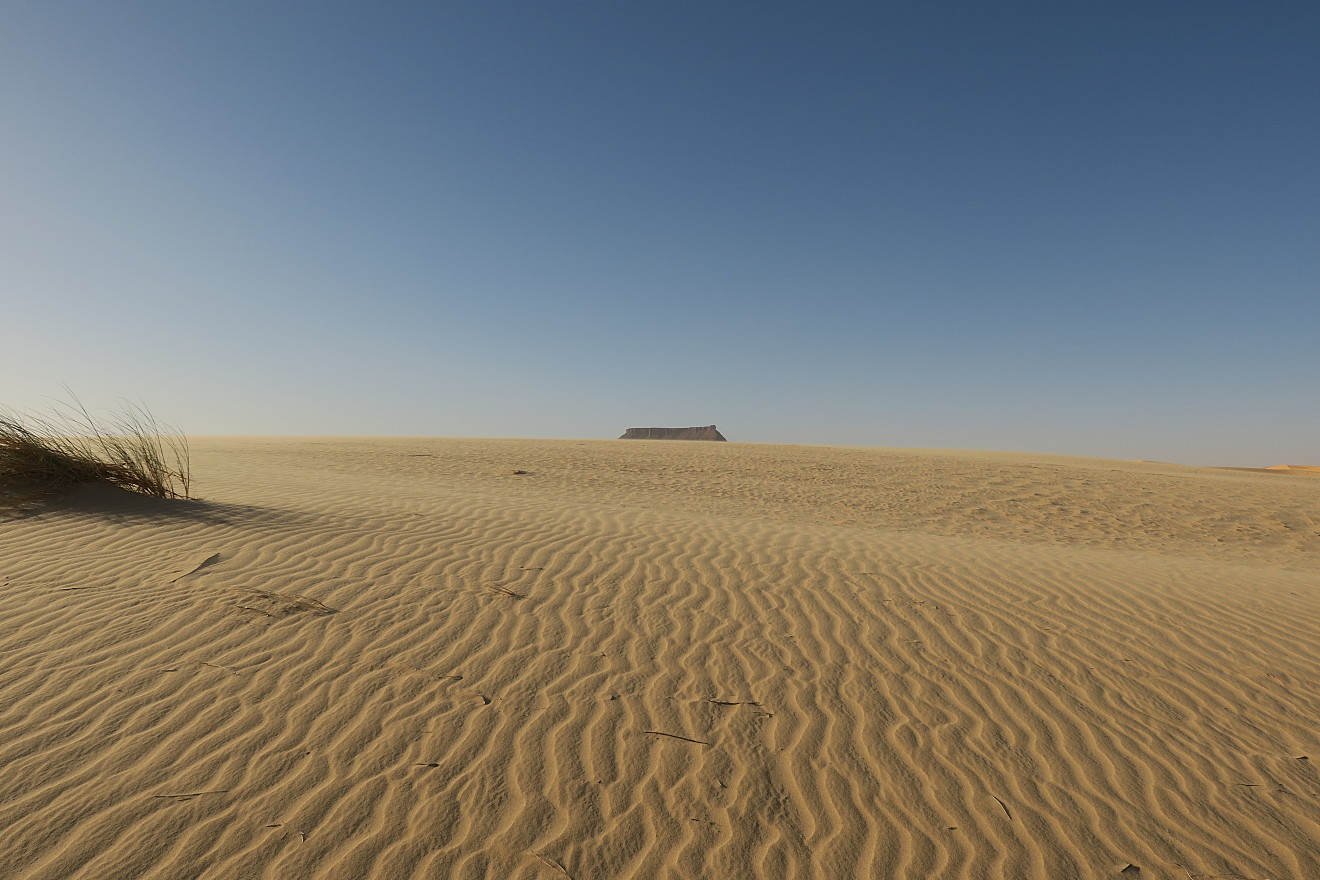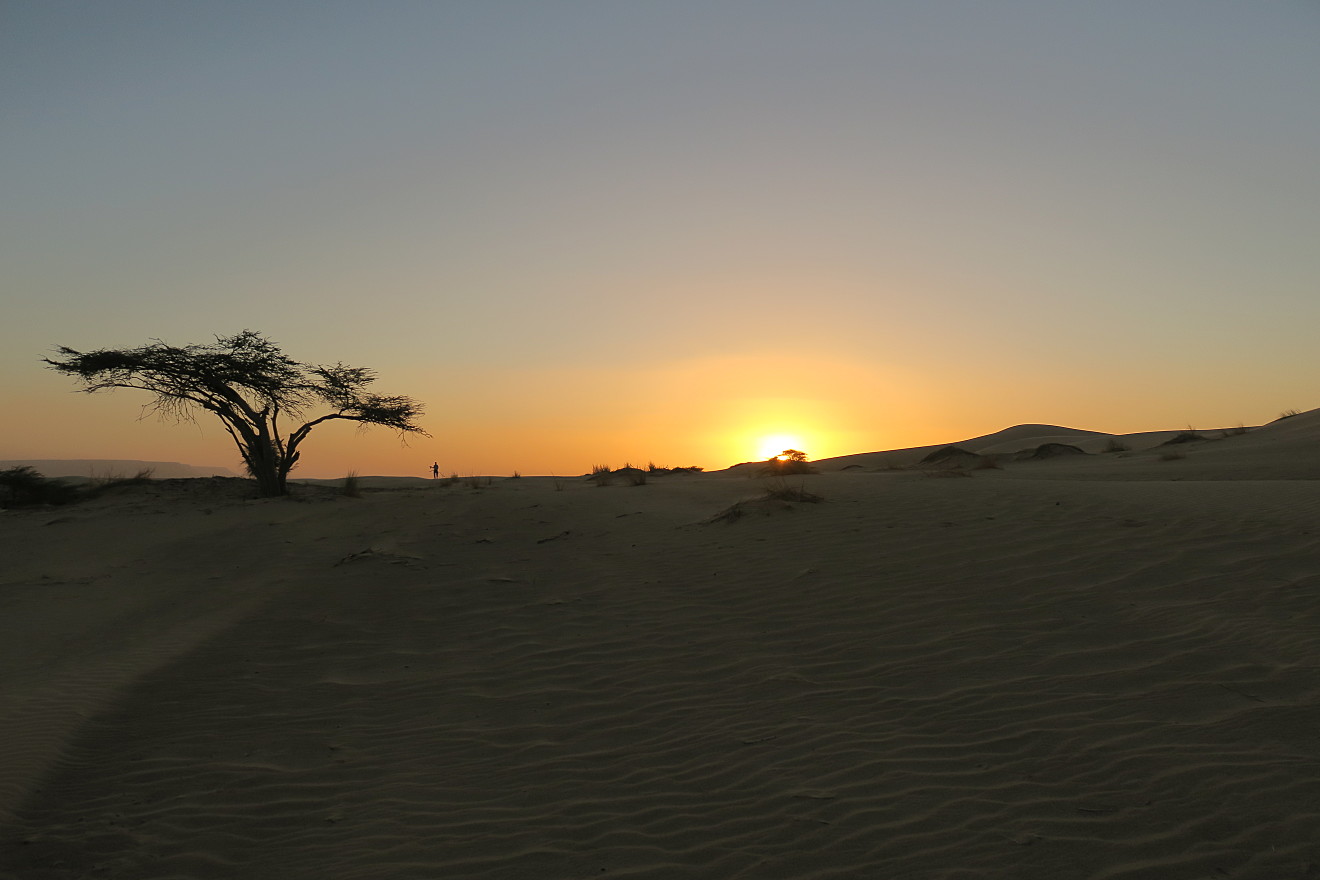 Day 10
Last night was quite chilly. When i got up in the morning the wind was blowing hard, and there was a lot of dust in the air. For much of the first half if the morning, we were driving over a flat, barren area, with salt deposits. For a while the dust was so bad that visibility was significantly reduced. When we returned to the dunes, it turned into a sandstorm. by mid-morning we entered a less barren area, and visibility improved slightly, but the wind persisted. We stopped for a little while to look at the ruins of an abandoned house.
I started to feel sorta crappy around this time. Initially, i was exhausted, and really wanted to take a nap. Then my stomach started getting crampy too. I felt better after lunch for a while. The exhaustion kinda makes sense, as i've not slept all that well since leaving (with the exception of the 1 night in Chinguetti). But my stomach started to feel weird again in the afternoon. At this point i don't know what to think.
Apparently apples are considered a 'fancy' fruit here, because they're all imported. Oranges are boring, because they grow them. Which sucks for me, because they keep giving me awful red delicious apples at lunch, and saving the oranges for themselves. I tried to convince them to eat the apples, but they seem to think i'm being polite.
After lunch, we drove to the large town of Atar. I bought more data for my SIM card, they got more supplies, and i tried to seem interested in a place that was dusty, run down, and full of trash. I did see a woman screaming at a vendor for some reason, which was vaguely interesting. Next we drove another 20 minutes to the ancient town of Azoughui. It was once an important trading center during the caravan period. We drove out into the dunes and setup camp for the night.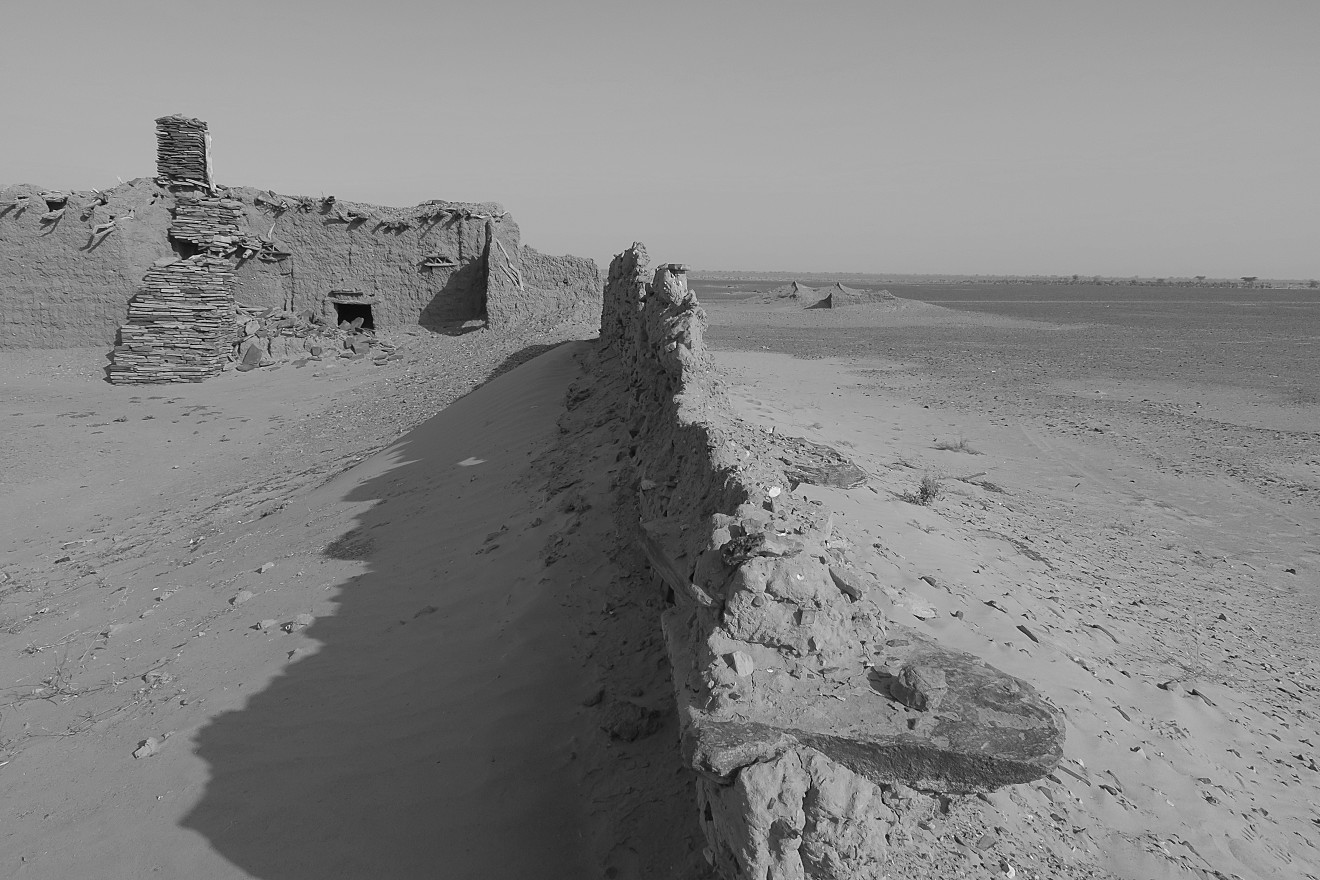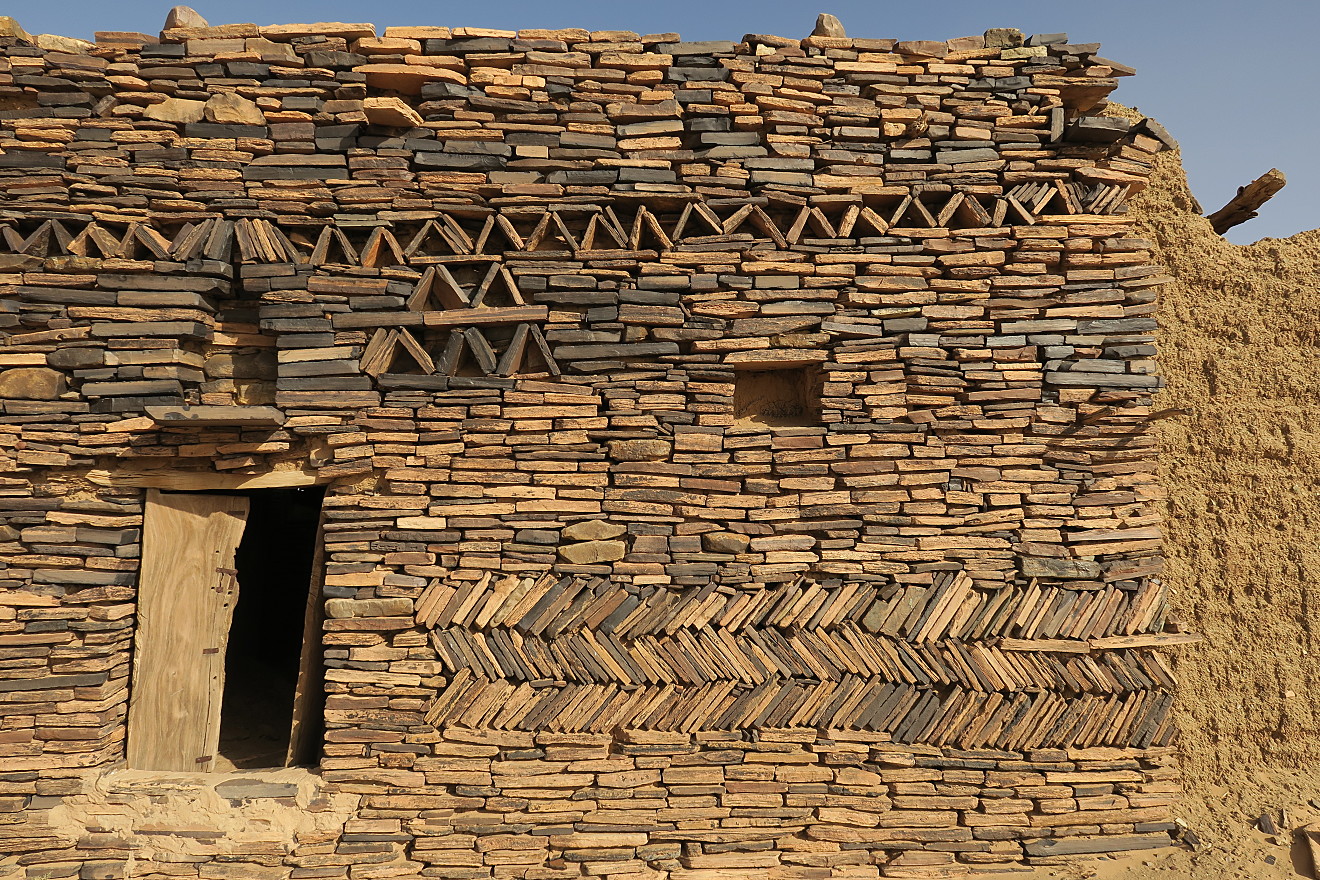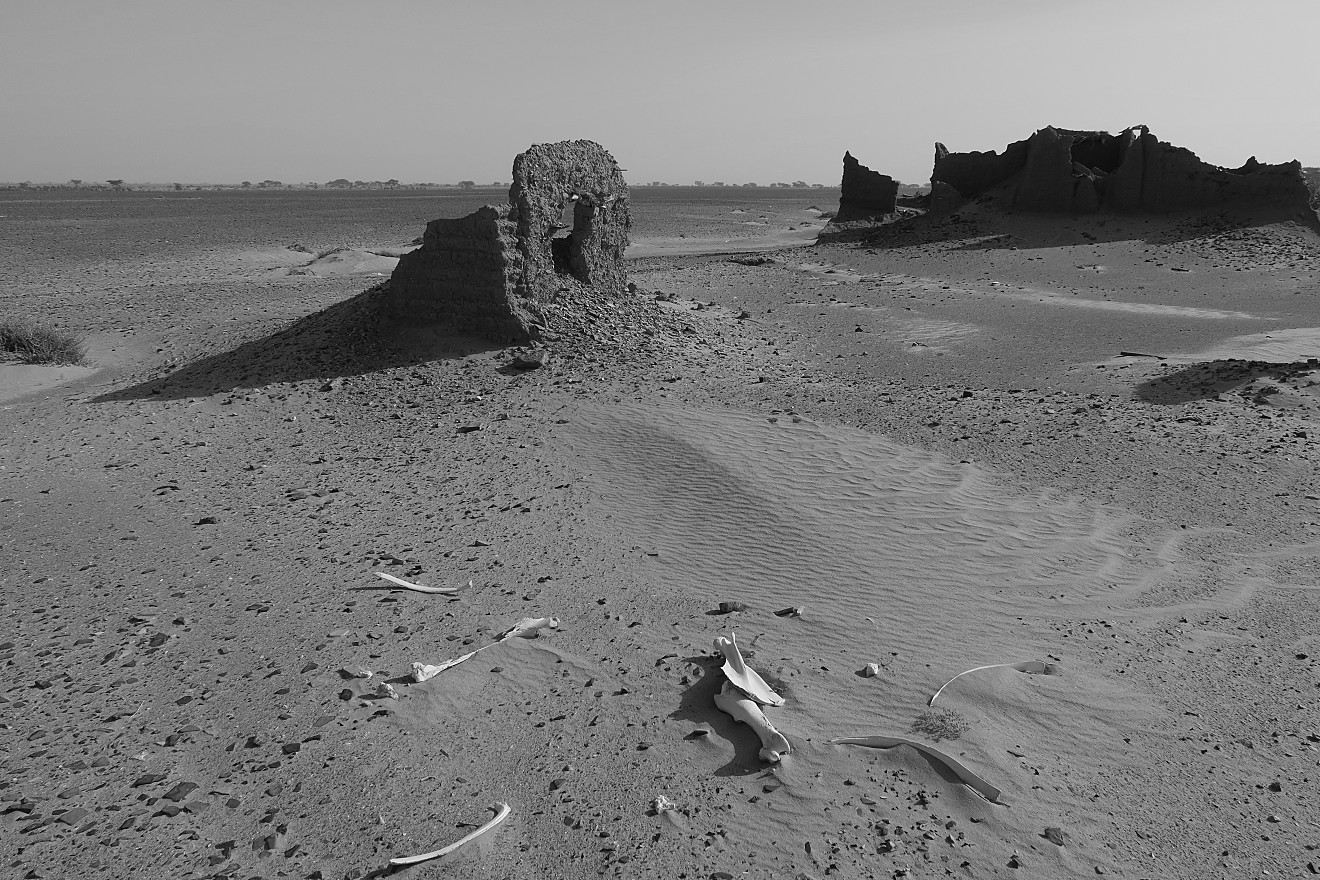 Day 11
I slept until 5am when a chorus of calls to prayer started. We departed at 8am, and drove through town where we eventually ended up on the paved road heading north. We made very good time. There were 2 fiche stops. The first was boring. At the second was a long distance van with a bunch of tourists taking forever.
We entered the town of Choum at 10am. This is generally where tourists catch the Iron train, as its the only town connected by a real road that has a train station. The Iron train runs once each day over the 1000km route from the iron mine (even further north & east in the desert) to the coastal city of Noadhibou. Adventurous tourists, and locals ride in the freight cars, full of iron ore, for the 15 hour trip to the coast (or ride the empty train in reverse). We only stopped in town for more supplies. I almost got yelled at by railroad security for photographing them. In reality, i was photographing a guy butchering a goat, and a railroad security guy happened to be standing nearby. I had no way to know he was security, as he wasn't in any obvious uniform, just green shirt & pants. Anyway, my guide kinda freaked out when he saw, and asked me to put my camera away before the security guy noticed what i was doing.
we drove west out of town, parallel to the railroad tracks for over an hour. The terrain was mostly flat, except for an occasional random distant stubby mountain surrounded by the sea of sand. Eventually the Ben Amera monolith came into view just to the north. We drove slightly further west, and reached a pathetic collection of buildings scattered on both sides of the tracks. We crossed north over the tracks for the first time, and headed towards the monolith. There were actually several other monoliths scattered across the horizon. We drove past Ben Amera, and continued northwest towards the next one, Aicha. This one had an assortment of different, quirky carved art in the boulders on the ground. Some were nifty, others weird, and some made no sense at all.
At this point it was lunch time, so we started driving looking for a shady spot. However, there are very few trees out here. Eventually we settled on a huge mushroom shaped boulder. It seems like they're trying to clean out the remaining food, as they offered me both tuna & sardines, and had a bowl with a dozen tangerines. The itinerary seemed really empty today, as there was literally nothing planned for the afternoon. We ended up sitting in the shadow of mushroom rock, as the wind alternated between gale force and dead. I studied the map on my phone and realized that we're currently about 3 miles from the Western Sahara (WS) border. I asked whether the border is marked in any way, and i'm told that its not. However the WS side is heavily mined, so crossing over would be very risky.
After lunch & tea, everyone else decides to take a nap. I decided to go for a walk. I ended up walking around Aicha. I saw a few small nervous lizards, lots of camel & donkey poop, and some small flowers growing on the shady side. I was back in roughly an hour. We eventually packed up and drove back over to Ben Amera. We circled it clockwise, stopping a few times for photos, and then setup camp just southwest.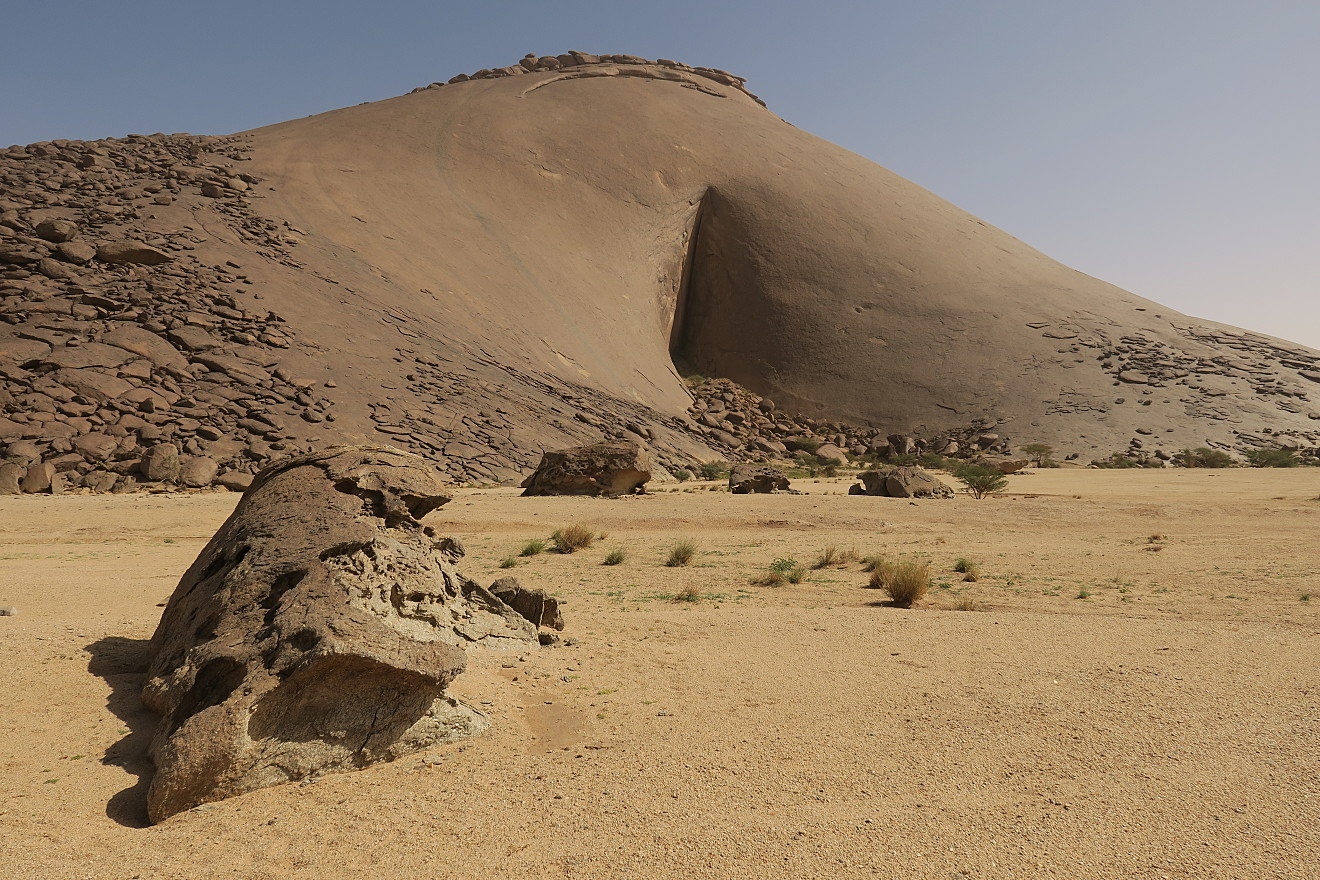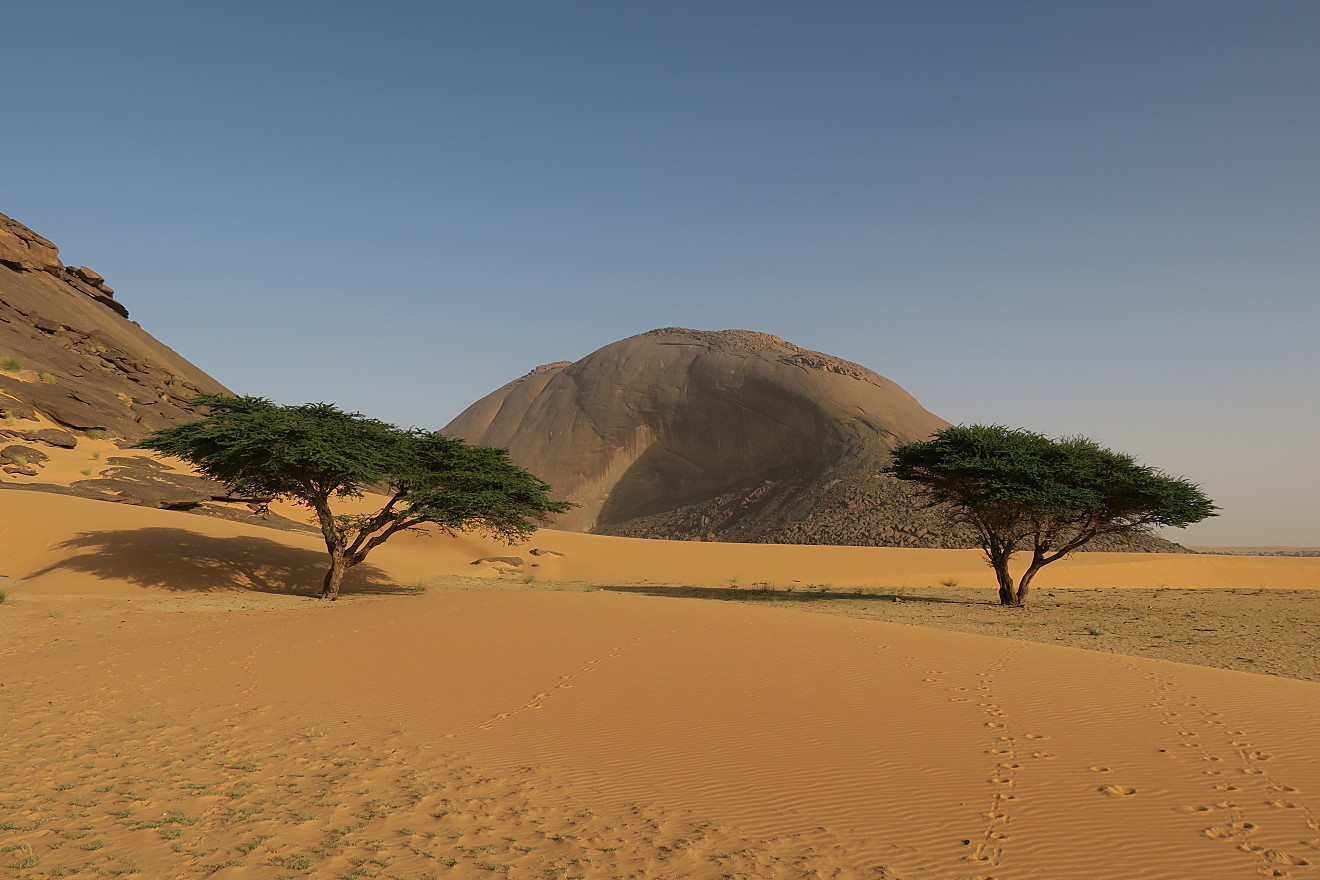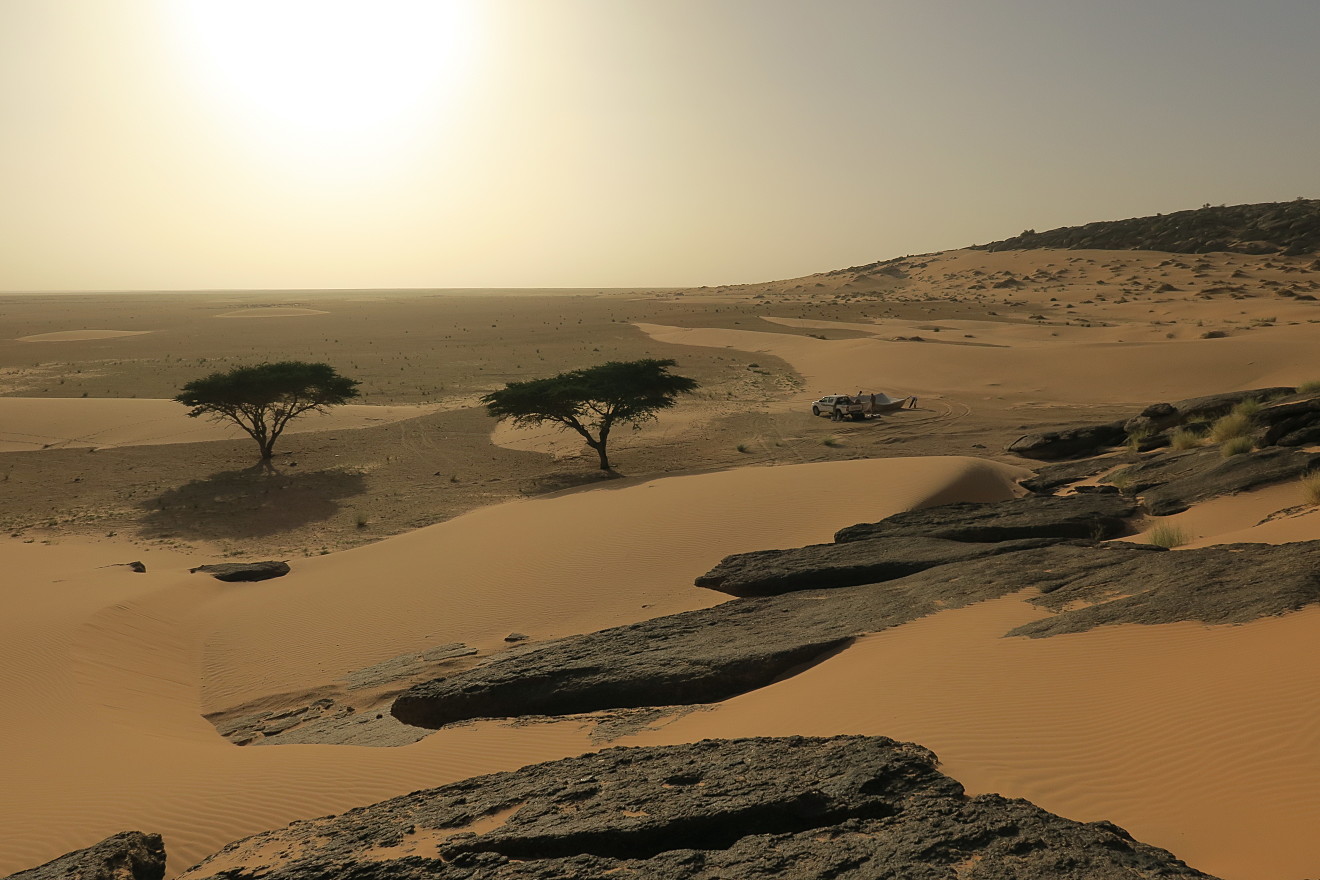 Day 12
Last night kinda sucked. The wind was unrelenting & insane. The tent was frequently blowing sideways around me (and waking me every time). Additionally, the railroad was making noises periodically all night long starting at 10pm. I was up for the day just after 5am, when it seemed like the tent had become unstaked, as it was literally folding over on top of me. Sure enough, the stake was laying in the sand, as the tent danced all over the place. I attempted to fix it, then decided that it wasn't worth the effort as i was never going to fall back asleep anyway.
When we departed we were about 400km away from Nouadhibou, which is a long long distance to drive when there's literally no road for 85% of it. Its just the railroad, and open desert for most of the way. It seemed kinda fun for a little while. But eventually, all the rough terrain took its toll, and i was getting car sick and bored with listening to people speaking arabic.
Also at one point we briefly went airborne. We were climbing a steep sand hill, and were attempting to accelerate so we didn't get stuck. We didn't get stuck, but we also didn't see that there was a steep dropoff on the other side of the hill. Thankfully no one was hurt, and nothing was damaged. I've got a photo showing tire tracks, then a 15ft gap with no tracks, then a huge dent in the sand where we landed.
We went nearly 4 hours without seeing another vehicle. Every 'town' (and there were only a few) along the tracks looked like the most bleak, depressing place on earth. A random scattering of mud brick huts, thatched tents, broken down vehicles on blocks, and men standing around.
We stopped for lunch, and the wind blew sand everywhere. A few minutes after resuming the drive, we got stuck in deep sand. After digging, letting air from the tires, and putting random bush pieces down, we got free. Just before 3pm we reaches the paved road, still 85km from Nouadhibou. It was blazing hot. And for some reason there were fiche stops 9 times in those 85km. At one point we passed the turn off for the road that went north to the land border with Western Sahara. Later, we passed a shanty town/ garbage dump beside a police check point. So many swarming flies, and the odor. Someone must have been punished to end up posted there.
The city itself was bigger than i expected, and went on for miles on a narrow peninsula beside the Atlantic. We drove the entire length to a national park setup to protect Monk seals. However, there were none there because they all preferred a different beach a few miles away. I guess no one notified the seals that they needed to relocate. At this point it was nearly 5pm. We started driving towards the guesthouse. Every block was a crazy assortment of chaos. Shops selling everything and anything. Cafes. Restaurants. Donkey carts pulling stuff. People begging at traffic lights. I kept looking everywhere wondering where the guesthouse would be. Eventually, we turned down a side street, then another. Then onto a road that aimed towards the coast and out of the city. We passed beaches, with no signs of civilization ahead. Then we turned down a gravel road towards a large walled compound, literally clinging to a cliff above the ocean. We pulled up to the gate, but it was locked. We knocked, honked The horn. Nothing. They phoned someone, and finally this small smiling French woman with tons of huge dogs opened the gate, and we drove into the courtyard. This place is both creepy & amazing. Its huge, and sprawling, and literally is on the ocean. My room feels like an army bunker, but is fine. I got a shower, with soap, and it was glorious. I shaved. I feel human. I just started dinner, and they served me a salad with fresh tomatoes, peppers, onions, with roasted garlic and squid, with lemon & olive oil. Omg! Its not prison food. It has flavor. Bless the French.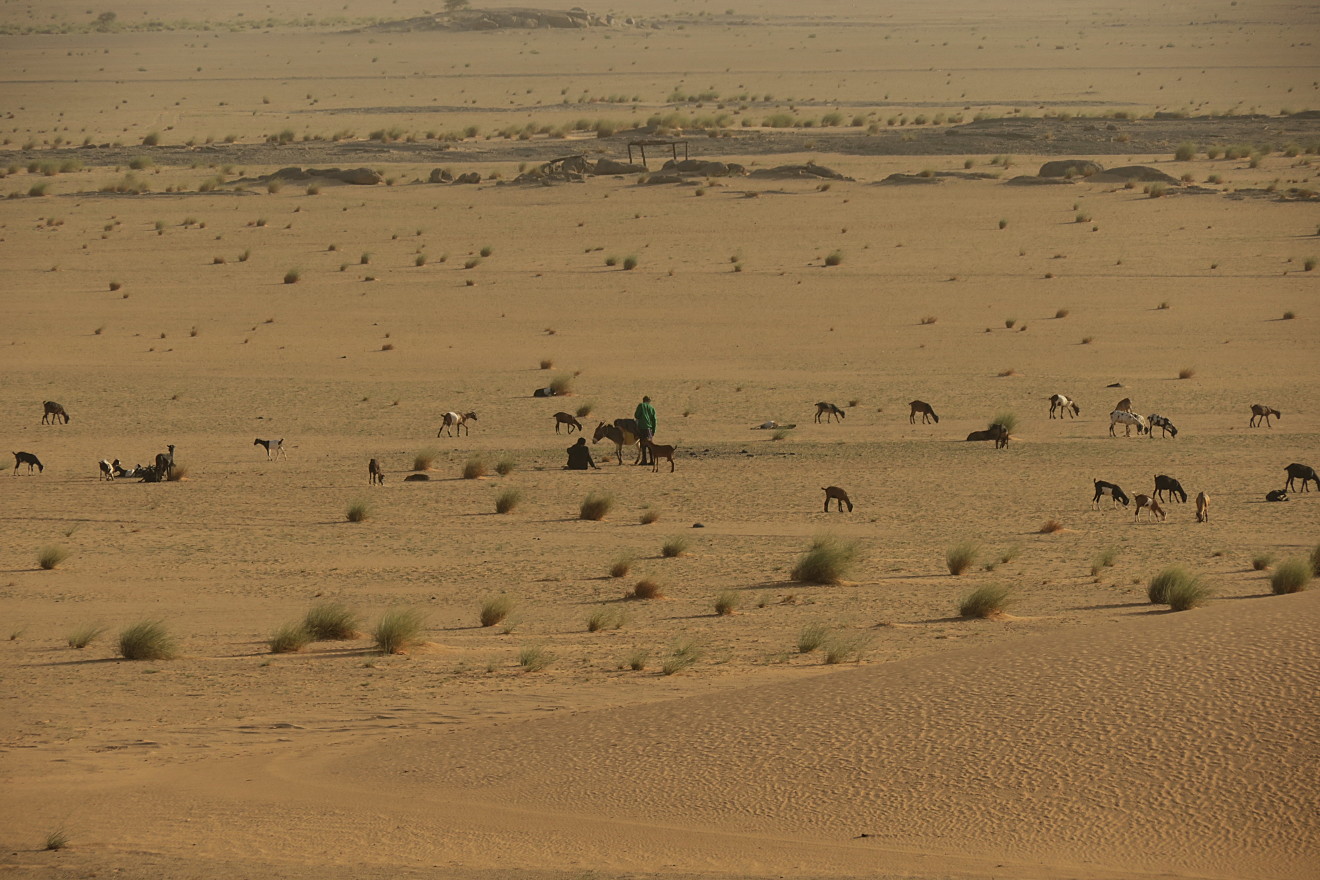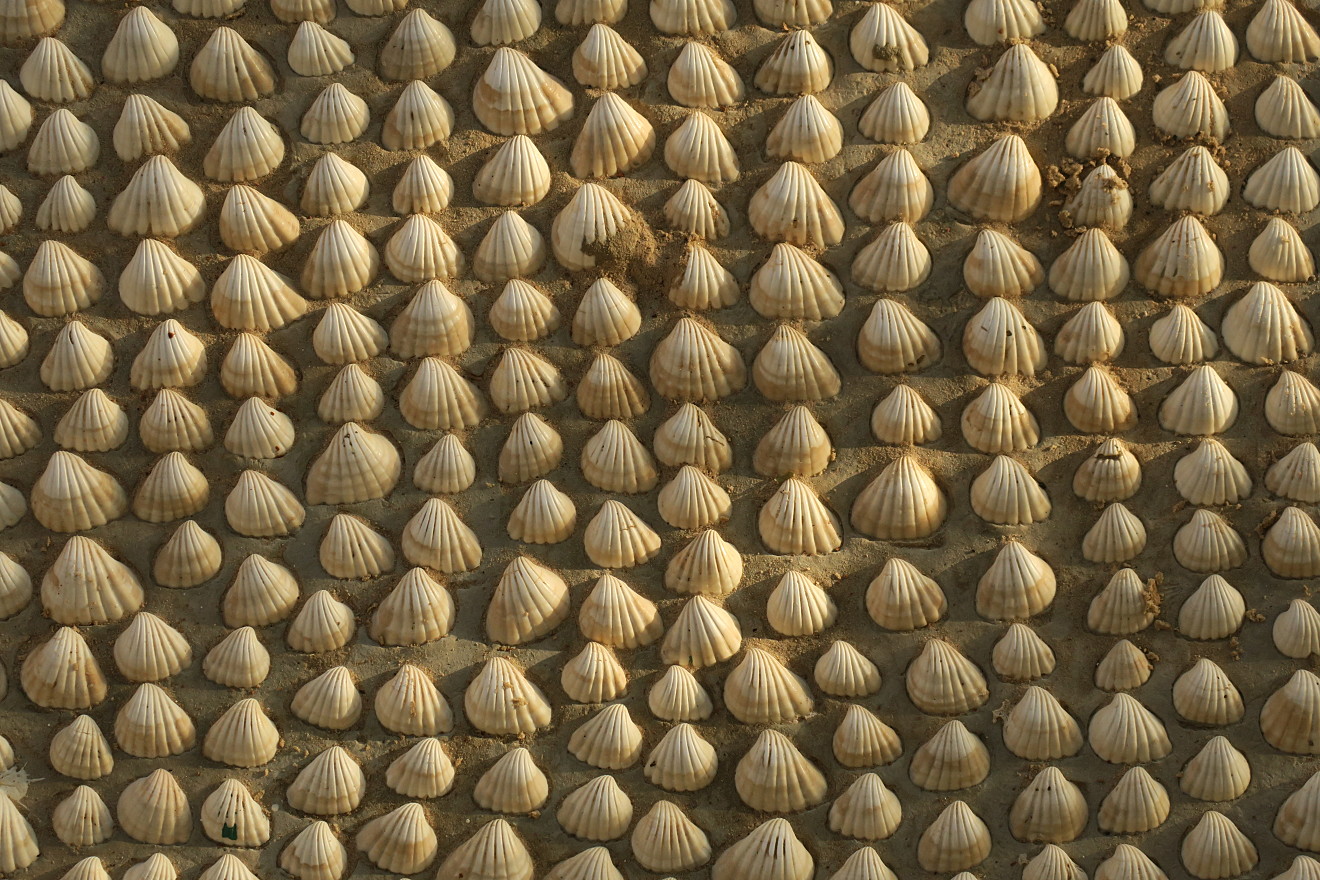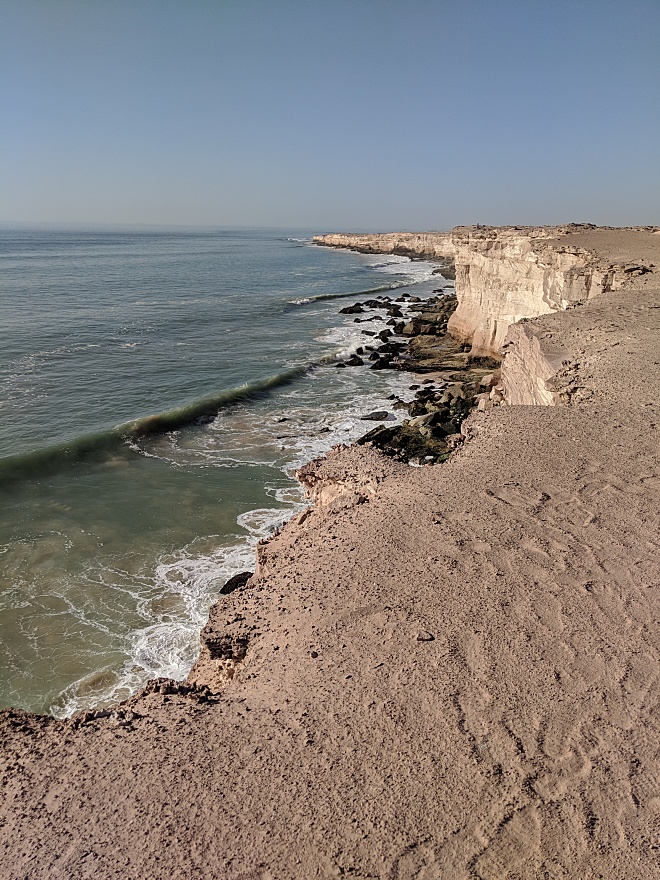 Day 13
I slept fairly well. Breakfast was decent, but not amazing. I had a hard boiled egg, and crepes. Yesterday when i was dropped off at the guesthouse, they reminded me 3 times that they would pick me up at 8:20am. So i'm ready to leave at 8:15am. Of course they didn't show up until nearly 9am. Their excuse was that it took extra time to copy more fiches for the checkpoints. I wasn't going to argue, but they could have done that last night after dropping me off. We finally pull out at 9am, but i noticed we're driving the wrong direction, heading back into the city instead away. They also needed to stock up on more food too. After puttering around, we don't get under way until 9:40am.
Initially the drive is uneventful, and we have 450km to Nouakchatt. The same checkpoints that we encountered yesterday while driving in. The sun is searing, and since we're driving south its cooking us, and making everything outside appear sepia toned. I also noticed the wind kicking up, and its growing increasingly dusty outside. After a while, its a full dust storm outside. Visibility is kinda crappy, and there's more traffic than i've seen since the first day. At each checkpoint, the police had their entire head wrapped, with sunglasses somehow sealing their eyes.
The road quality varies quite a bit, from good with painted lines, to heavily potholed. this is the highest traffic road in the country, both connecting its two biggest cities, and also the route for long distance overlanders heading north or south on Africa's west coast. There were so many completely wrecked vehicles at the side of the road. We also saw 2 fresh accidents. In the first, a huge truck carrying steel beams somehow flipped on its side, blocking the entire road. This forced everyone into the sand to get around. A truck was stuck in the sand, and was in the process of setting up sand ladders as we passed. In the 2nd accident, we were approaching a hill with a dip at the bottom to cross a wash. Each side of the wash had several 2m tall concrete pylons. This car started descending the hill too fast, slammed on his breaks, skidded badly, lost control, and crash straight through 4 pylons before coming to a stop half way up the side of the other side of the hill. As if the wasn't bad enough, another car rear ended the first car. All of this must have happened recently, as all the vehicle occupants were still present.
Just before lunch we passed through the town of Chami, which was purpose built by the govt to support recent gold mining discoveries in the area. The town looked half built, with partially constructed buildings, and huge industrial mining equipment everywhere. Lunch was the same old routine, although the dust storm required some creative effort.
The rest of the drive to Nouakchott was uneventful, and we arrived at 4pm. We went to the fish market, on the coast for a bit. unsurprisingly, it smelled awful. It was still bustling though.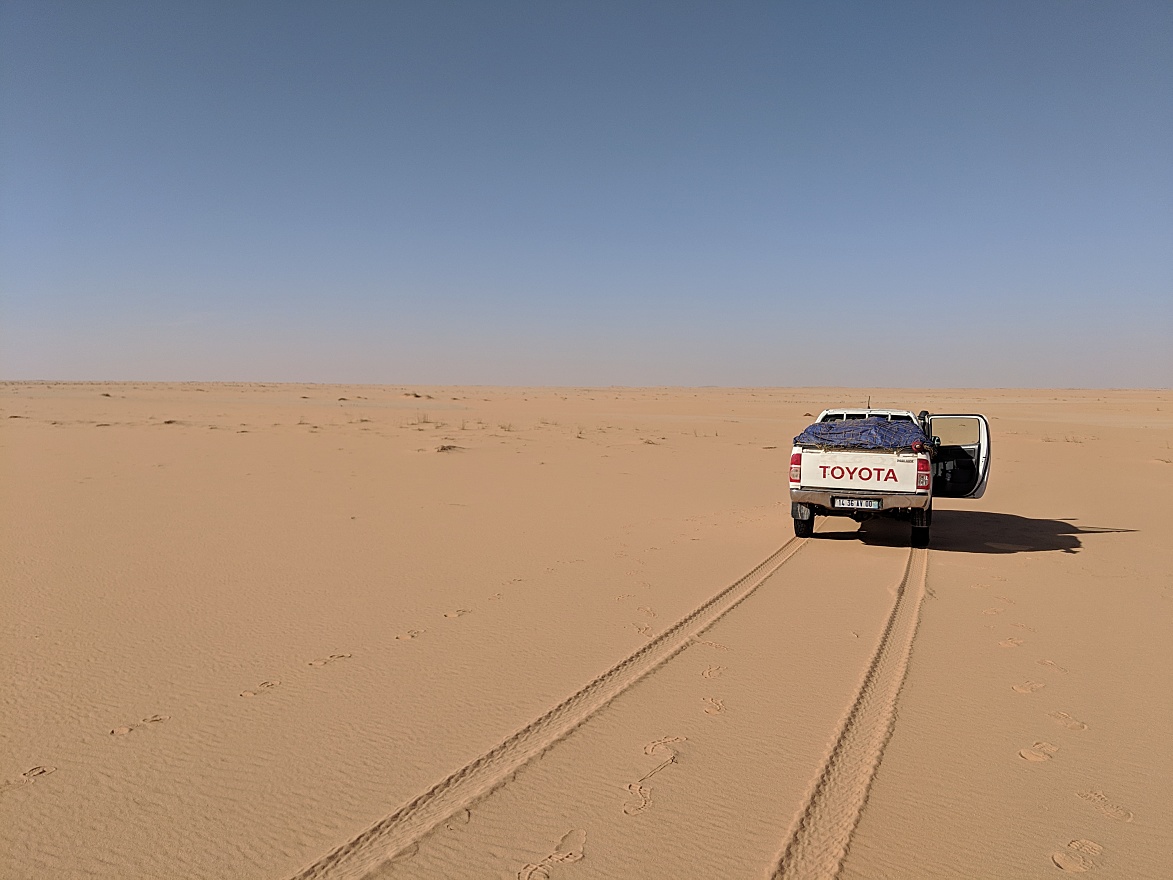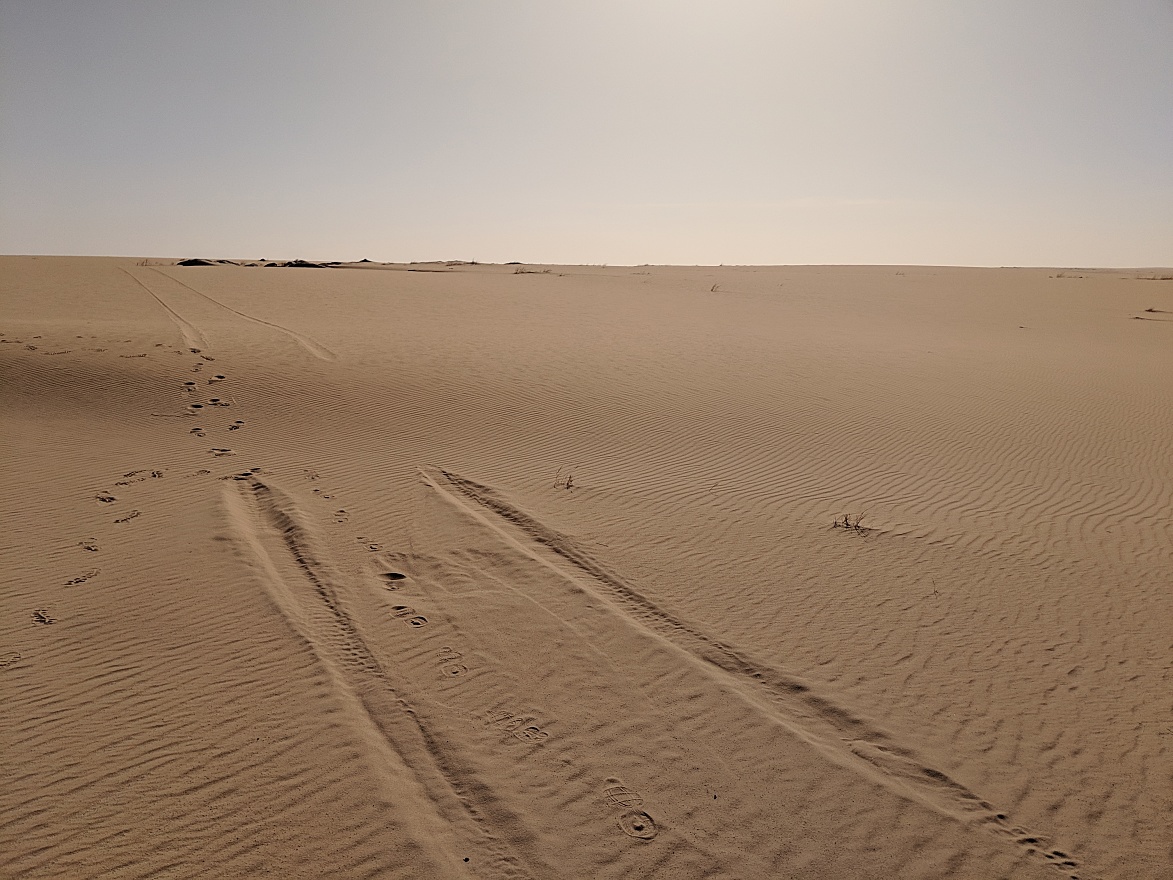 Day 14
I slept fitfully all night, worried that the 4am taxi to the airport wouldn't show up. Thankfully he did arrive on time, and drove like a lunatic the entire way to the airport. The airport was a chaotic mess of security theater. A guy checking id to enter the terminal, 'normal' security before getting a boarding pass. Some idiot who wanted money for 'guiding' me to the ticket counter. The airport itself is fairly new, but with just 7 gates, i doubt it gets many flights. I lost the seat lottery. They put me in the middle seat of the very last row. I guess its good that its a 45 minute flight. However before pushing back, the plane was at least a third empty, and the crew insisted that everyone in the last 2 rows, move forward for reasons that were only communicated in French. We ended up leaving 30 minutes late on the 45 minute flight, yet they still served 'breakfast' (the saddest looking croissant i've ever seen, and a warm cup of yogurt).
When i got into the terminal there was a but of a line at immigration, however it moved quickly. I had a few minor issues with the ATM, where it refused to dispense more than 100k CFA in a single transaction, and i wanted 250k CFA, so i had to split it into 3 transactions. Getting the SIM card was super easy, as the guy in the booth spoke fluent English.
The taxi situation seemed easy enough, but i should have known better. i showed the driver on my phone map where i wanted to go, and he seemed to understand. I had to ask him 3 times (first in English, then twice in French) how much the fare would be, and he eventually said 25 (in English), which I assumed meant 25k CfA. the drive started off ok, but as soon as we reached the freeway toll gate, he demanded that I pay the 5k CFA toll. I told him that meant that his fare would be 20k CFA, and he did not object. Once we got less than a mile from the guesthouse, he had no where to drive. I tried to show him the map, but he refused to even look, and kept pulling over to ask random people on the sidewalk, who had no clue. Eventually i gave him the phone number, he called them, and finished the drive. I handed him 20k CFA, immediately he demanded an extra 5k CFA. We argued back in forth in broken english & french for a few minutes. He had my black bag in the trunk, so i was kinda stuck. Finally i opened my door, and demanded that he open the trunk, and he complied. He started yelling at me on the street, but i ignored him, and went inside. He finally gave up and drove off.
The guesthouse is nice. They have a pool, and a lounge area on the roof (4th floor), where i could see much of the city. After getting organized, i decided to find lunch, and then walk to the African Freedom monument. The monument is the largest statue in Africa (nearly 6 stories tall), and was a bizarre gift from North Korea in 2010. The lunch place was less than 10 minutes walk, but when i got there at 11:30am, they were just setting up for the day. I attempted to ask when they would open, but french failed me. I figured i'd continue walking to the monument, and find somewhere else to eat. Apparently nothing opens for lunch before noon, and even the places that were open were empty. I stopped in a boulangerie, and got a pain chocolate for 500 CFA, which was actually pretty good. A bit further, i passed a large western supermarket, and wandered in to look around. most of the customers seemed to be french expats, and there was a huge refrigerated case full of different foie.
After walking for an hour, i got to the monument, and tons of tour buses. However, most people didn't want to climb the 2000 steps to the top of the hill. The monument is huge, garish, and weird. The views were nice though. I had the ocean on one side, and the entire city on the other.
At this point it was early afternoon, and super hot outside. The walk back was turning into a sweaty mess (and yes, i brought plenty of water). I passed a gelato place, and went in. I got some yummy citron & crema gelato, and enjoyed the AC for a while, as they blasted random assorted Christmas music (basically anything you could possibly think of, it was all american stuff from the past 60 years). They also had icicle lights, and lots of places have full decorations, with flocked trees too.
I spent the rest of the afternoon back in my room cooling off and just relaxing. For dinner i went to what people on trip advisor claimed was the best pizza in west africa. After 2 weeks of heating mostly tasteless crap, i wanted something good. I also got a gazelle, which is the popular beer in senegal (along with Flag). It wasn't anything special, but it was perfectly drinkable. What was odd, was the bottle was 63cl. Like wtf does that even come from? Anyway the pizza was good, not amazing. But apparently not drinking alcohol for 2+ weeks has reduces my tolerance dramatically. The 63cl 4.2% beer has me very buzzed.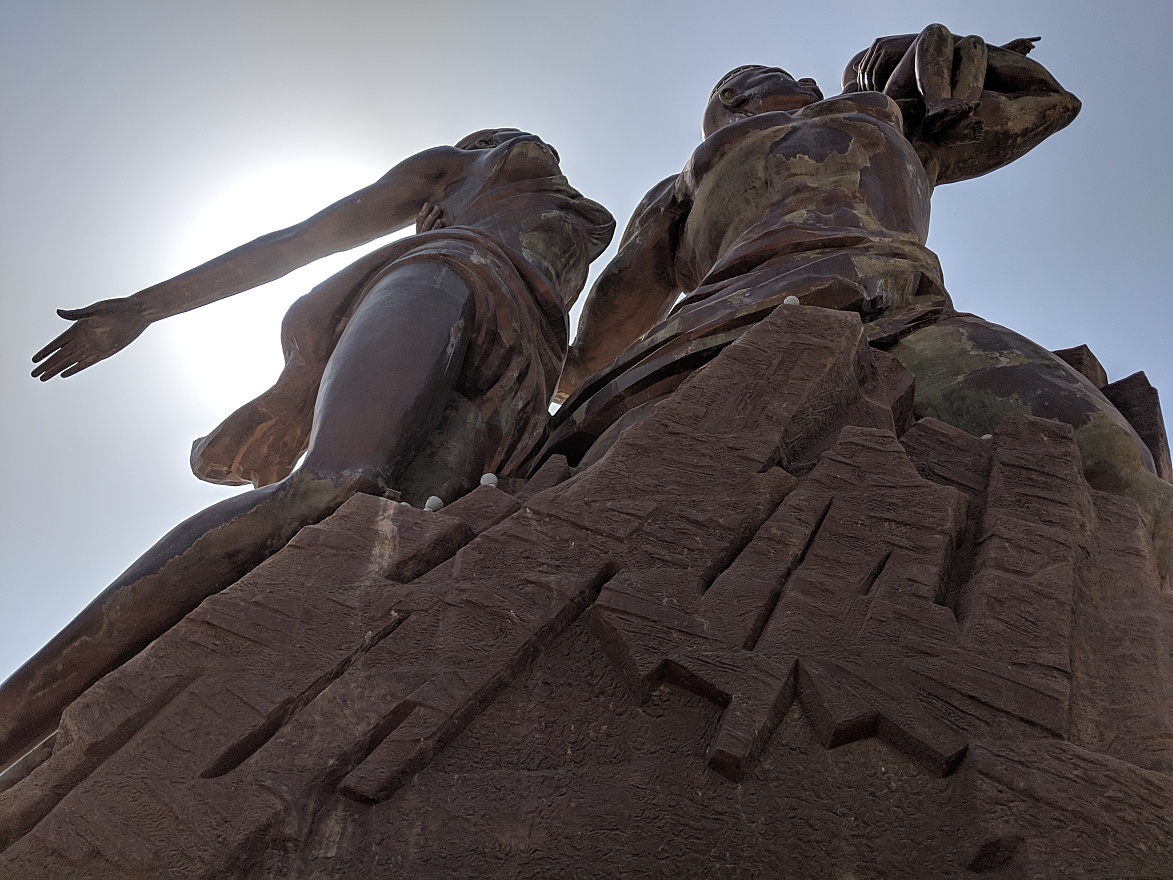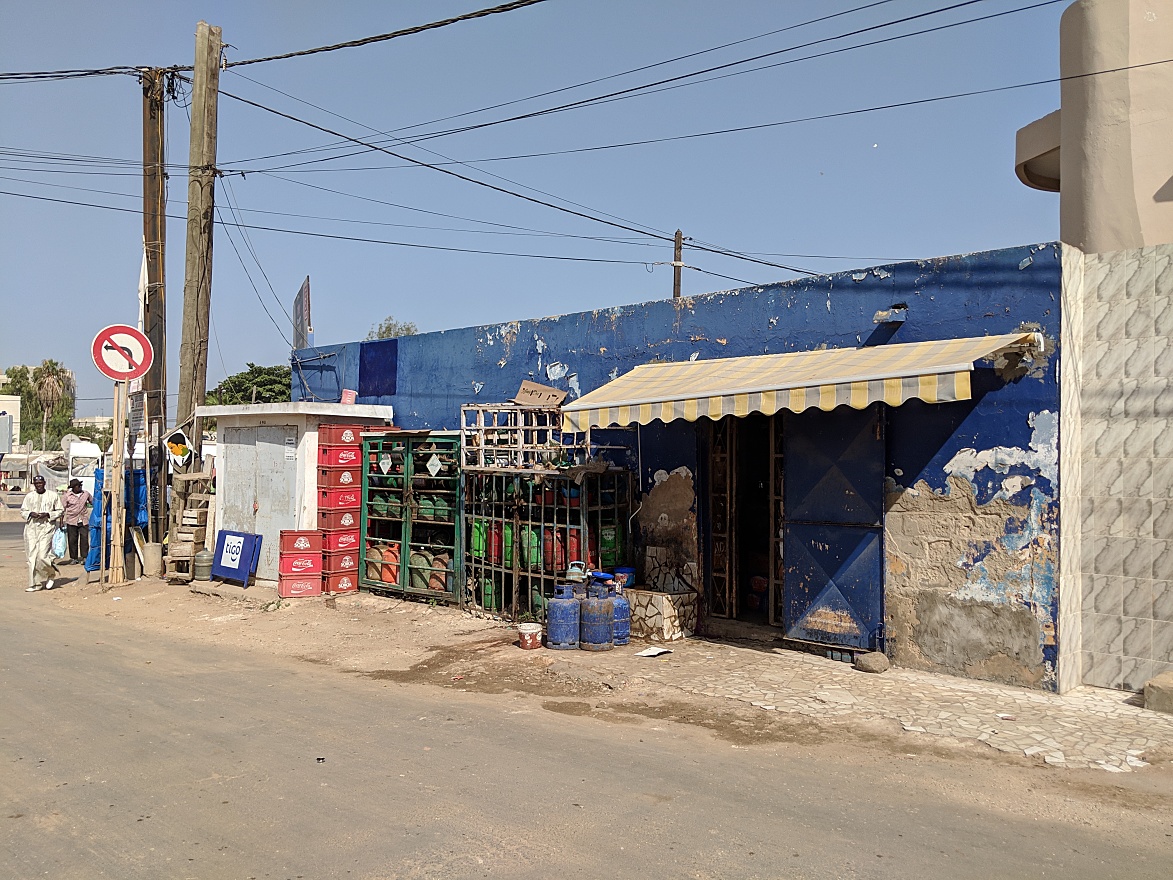 Here's the rough route that I traveled:

Hundreds of other photos from the trip are posted HERE. You can read about the second half of the trip HERE.