I've recently returned from a month long trip to Western Australia. I had an amazing time, exploring a vast area of the country. What follows is a trip report for the second half of the trip. You can read about the first half of the trip HERE.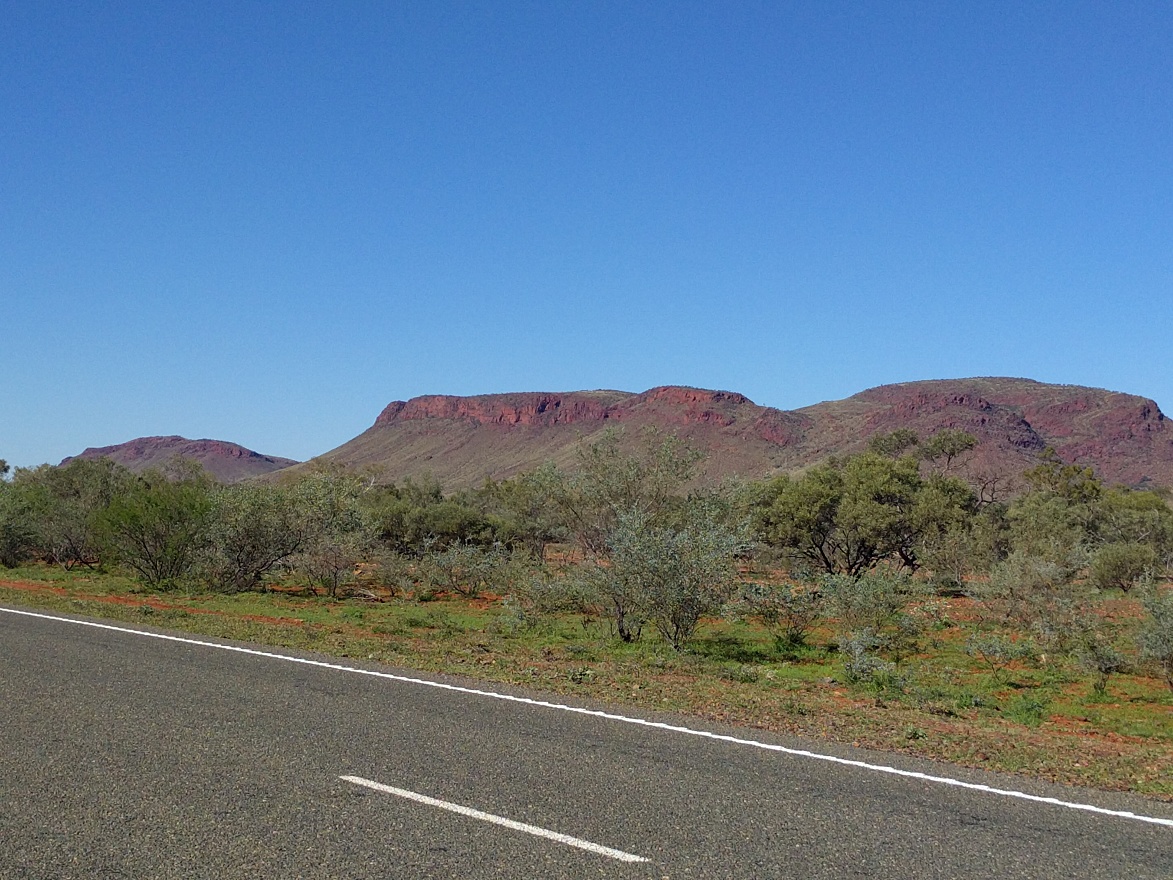 We got up at 5:30am, and were on the road by 6am. We got to Exmouth just before 7am, and i filled up on gas, filled the water tank, and got free t-shirts to compensate us for the previous day's tour delay. Most of the morning driving was uneventful. just before turning off the main highway to head east, i stopped for gas. After that the terrain started to change dramatically. Large deep red mesas started to appear, and the road was more curvy. Everything was going well until our lunch stop when david noticed that our gas cap was missing. Apparently when i stopped for gas a few hours earlier, i forgot to put the cap back on, yet the truck never complained. At that point there was nothing that i could do but continue driving.
We got to the turnoff for Mt. Nameless, and saw the huge sign warning about 4WD, and we started driving up. It wasn't bad. Lots of lose small rocks and it was very steep, but otherwise not bad. The views from the top were awesome. Tons of mesas in all directions, looking kinda like Utah, and a few huge mines. After coming back down, we stopped in a nearby gas station to re-fuel, and i bought a 'temporary' gas cap. We drove for another hour to Karijini NP. As soon as we passed the entry station, there was a sign warning that the campground was already full for the day. I continued to the visitor center, where i paid the entry fee, and inquired about the camping situation. They had an overflow campground setup, which still had some room. I headed over there, and it was literally a sandy weed strewn lot with a stink chimney at one end, and mass chaos everywhere. Random campers, RVs and tents were scattered all over. We found a spot, and setup. Random other vehicles continued to show up, and it was fairly crappy. On one side of us were these 20-something women who seemed like this might be their first time camping. They spent over an hour trying to build their tent, at one point using a carpenter's hammer on the spikes. Another group had some crazy stadium light which made their entire campsite visible from space. Another jerk tried really bad small talk with us (at one point he assumed we were canadians), just so that he could 'ask' our permission to park his monster RV beside us. There was a dude who converted a horse trailer into an RV. Plus so many other whacknuts, and so many noisy people.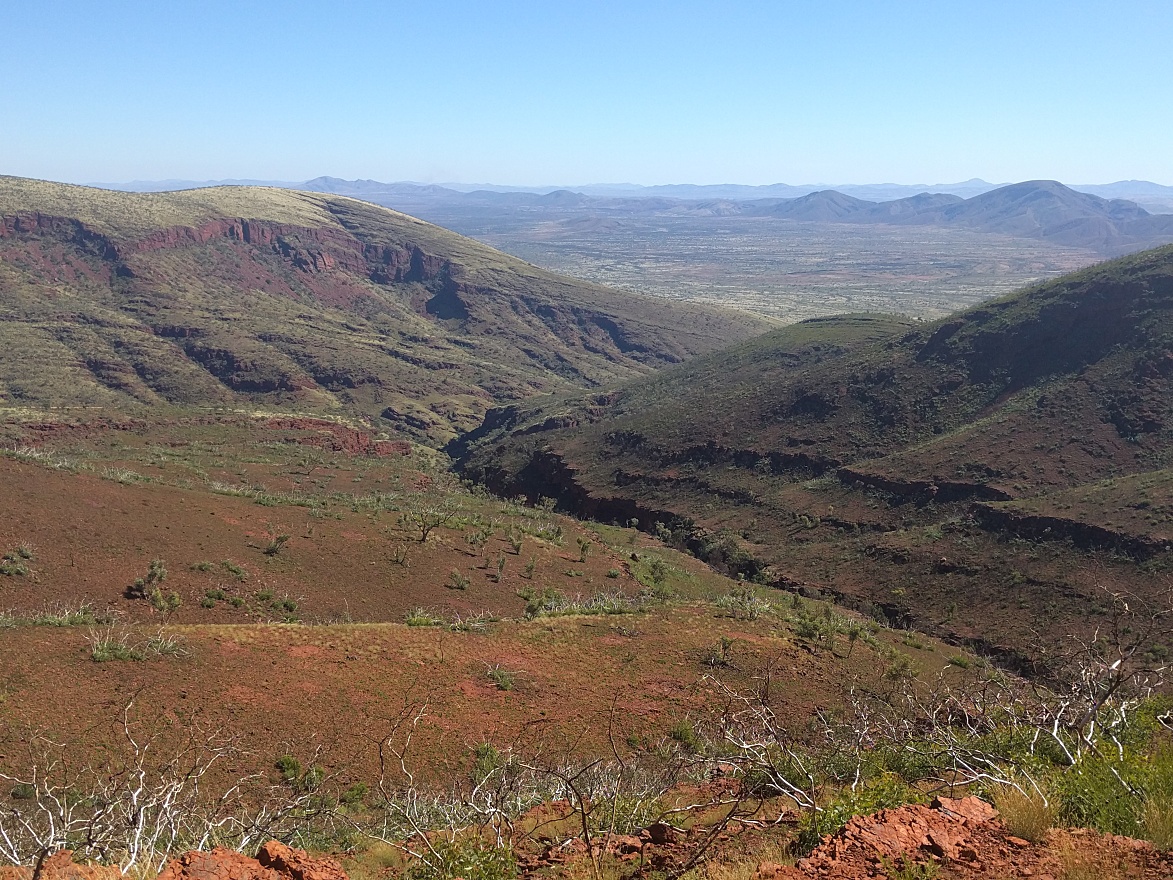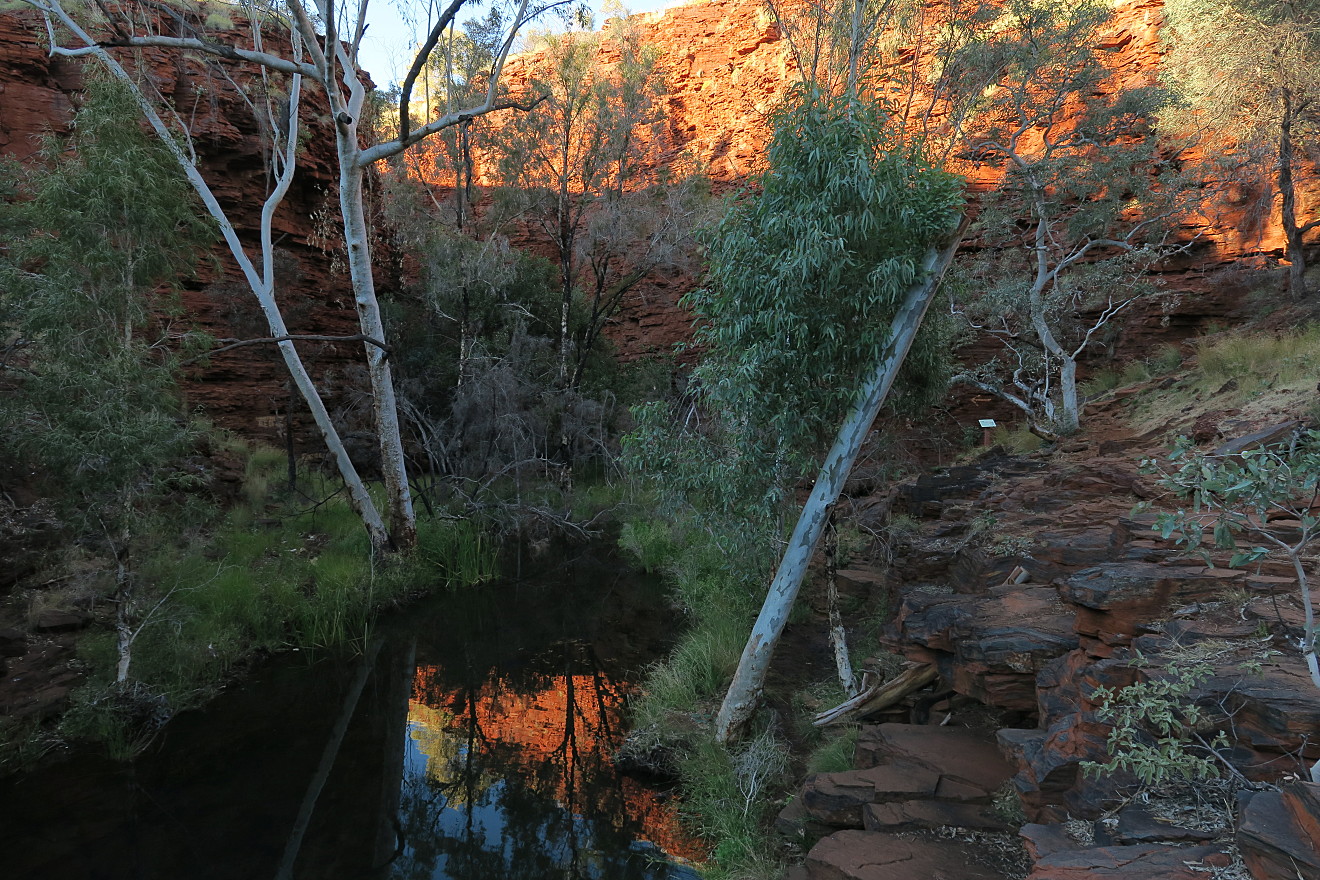 Last night was unpleasant for all the reasons that i expected (crowded, loud campground), plus the fact that it was very cold (4C). This was the coldest night of the trip, likely because we were at nearly 2k feet. Also, i had horrible indigestion for much of the night. we got up at 5:30am with the plan to see as much of the park as possible in the morning, and then drive as far as we could in the afternoon. we were on the road by 6am, just as the sun was rising. Its crazy how quickly the temperature rises once the sun is up. we started by driving 45km across the park on the '4WD' road (which is 33km less than the paved route). I had no clue what to expect from thus road. I aired down my tires at the start, and girded myself for the worst. What a huge disappointment. It was the most simple, flat, smooth gravel road ever. Any car could easily drive that road. Anyway, we got to the most distant end of the park just after 7am, and did all the short (less than 1km) hikes to overlooks. The park is known for these deep, narrow gorges with water running through the bottom. It definitely didn't disappoint. David was completely in awe. Deep crimson rock walls, plunging down a few thousand feet to the river below. Eventually david got gorge fatigue, and stopped caring. We finished the last gorge just before 10am, and started driving out of the park.
david was really hoping that we could some how make it all the way to Broome today, but i knew that would be impossible before sunset, as it was nearly 800km away. We pulled into a roadhouse at 11am for fuel and to make lunch. That's also where i got a cell signal for the first time since my saturday night. There was a long line of vehicles at the diesel pump, which was odd. We ended up waiting in line for a half hour because they were requiring everyone to leave ID to get the pump enabled, and their credit card machine was down, so they only took cash. The day we arrived in perth i got out AU$200, and david questioned why i needed so much. Today was that day. I would have been screwed if i didn't have enough cash to fill up, as its usually costs around AU$80, and the next fuel stop was 268km away, which i could not have made. Finally after fueling up, we made lunch, and i noticed how nearly every surface was covered in red dust. Even the satellite dishes on the roof of the building. No matter how careful i am, its getting all over me too, as we have to climb all over the truck every day to setup or beak down the tents.
We continued driving, and as we neared the coast the terrain gradually changed into flat grassy plains, kinda like kansas. Also, there are tons of huge mining operations, with 4 trailer long road trains all over the roads. once we got to the coast at port hedland, it was obvious that we'd never get to broome, as it was nearly 600km away, and it was past 1pm. David started studying the map for closer paid places to camp. We can always just stop at a road side rest area for free, but we'd been without a hot shower for 4 days, and really wanted something slightly better. There were just 2 caravan parks between us & broome, and the 2nd was nearly 350km, so we planned to try the 1st one at the Pardu Roadhouse.
We got there just after 3pm, to find yet another long line at the diesel pump. Thankfully it wad just a bunch of slow people this time, and after a 10 minute wait i was able to fill up. I went inside to pay, and got an unpowered site for tonight for just $12/person (which is cheap for AU). As i'm typing thus at 7:45pm, its completely quiet here, other than the mega huge generator powering the entire road house. There are maybe 10 RVs in the powered area (nearly all occupied by retirees), and just 2 other vehicles in the umpowered area. We got hot showers, we can see the milky way and thousands of stars. I wouldn't want to be stuck here for more than 1 night, but its pretty good for 1 night a few hundred kilometers from an urban area.
Also, we broke 5000km of driving today. And hit a new high temperature (32C) too, so i turned on the AC in the truck for the first time.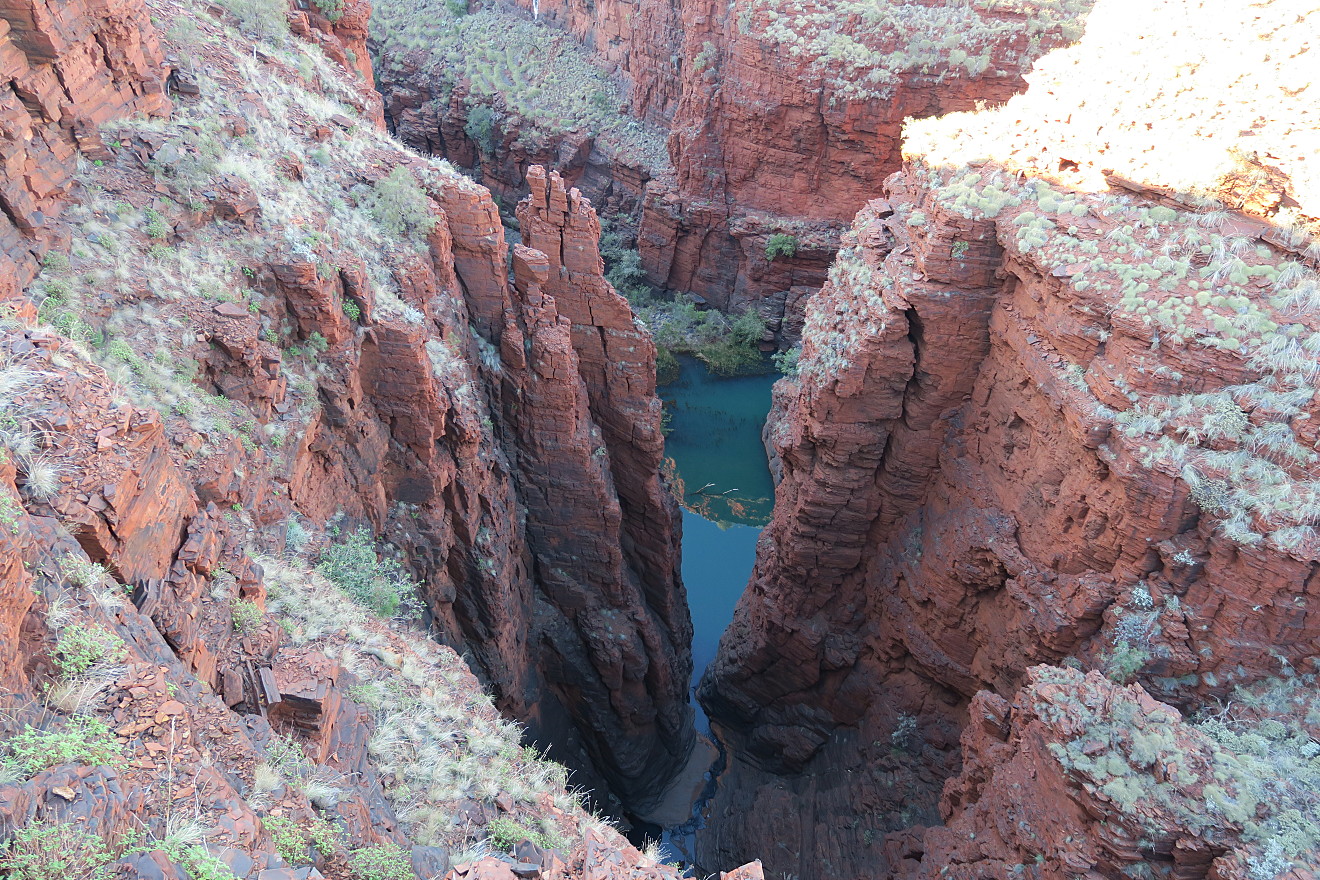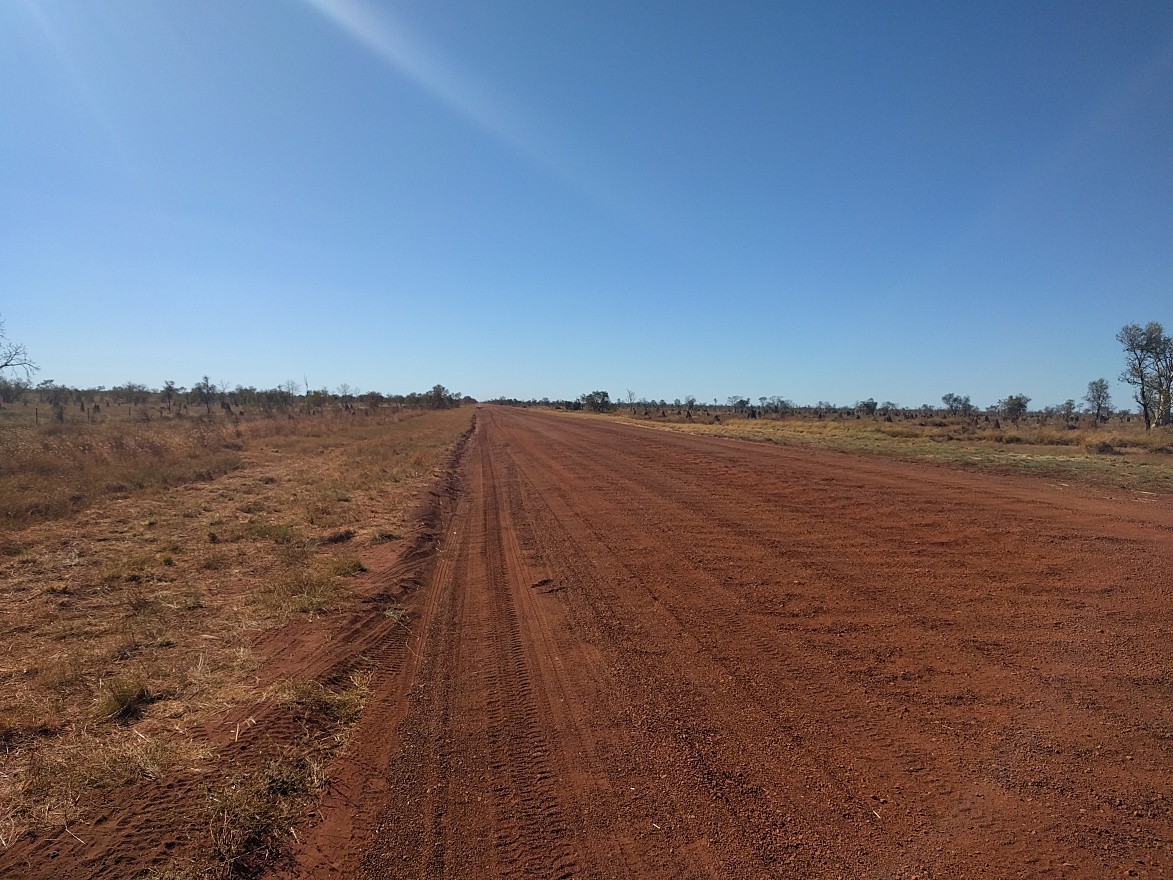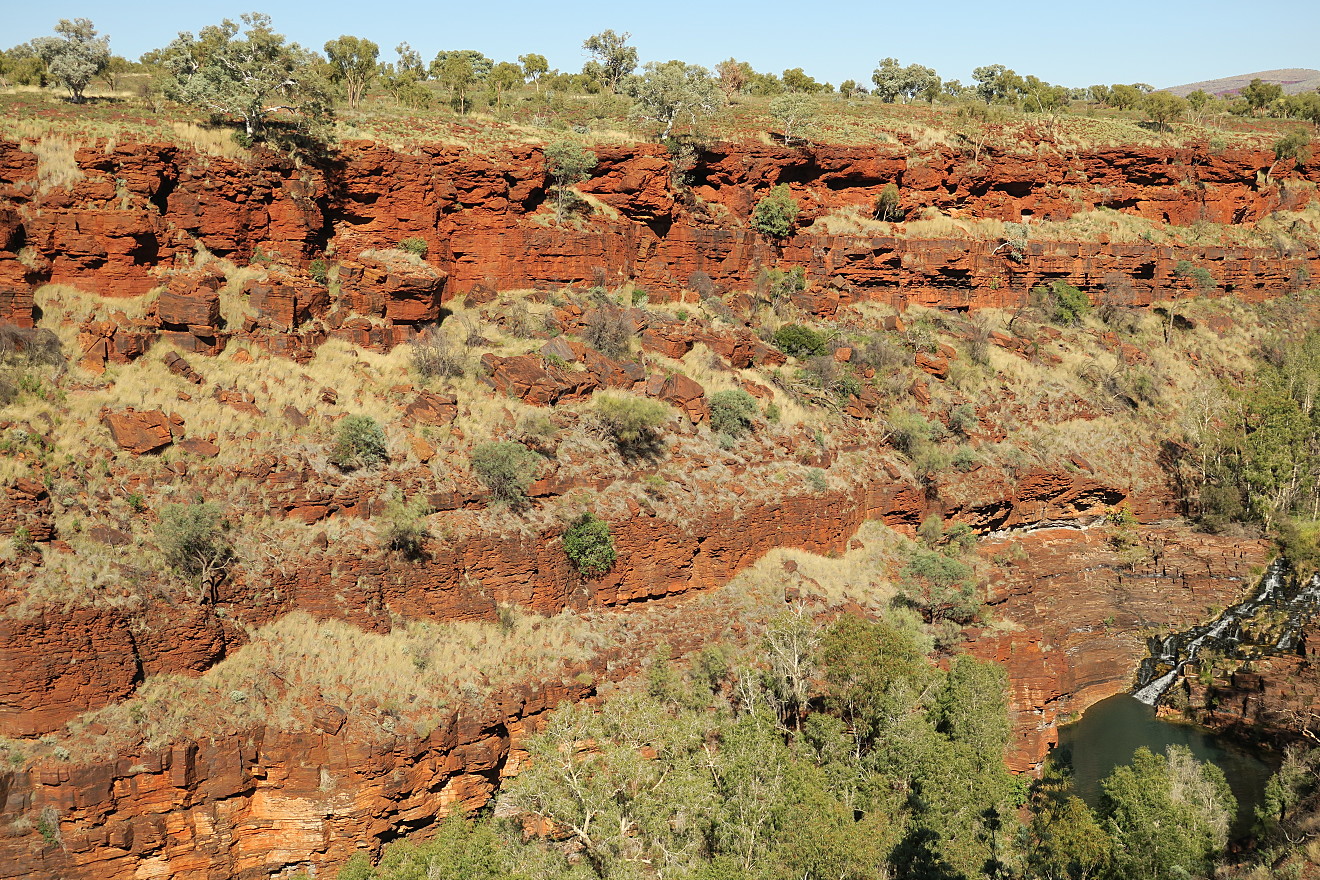 We slept well last night, with temperatures in he mid-teens. We were on the road by 7:20am. It was a long, boring drive out to Broome. Lots of shrubs and small trees, and not much else. In fact there was just 1 gas station in over 200km, at Sunfire. It did have some peacocks wandering about, but otherwise not much else. We got to Broome at 11:30am. First stop was Coles to restock on groceries for (hopefully) the remainder of the trip. After that, we drove across the street to the visitor center to top off the water tank. Then we drove to the hotel, checked in, and david commenced his YouTube orgy. I did laundry. the high today was 34C. A fairly boring day, but otherwise fine.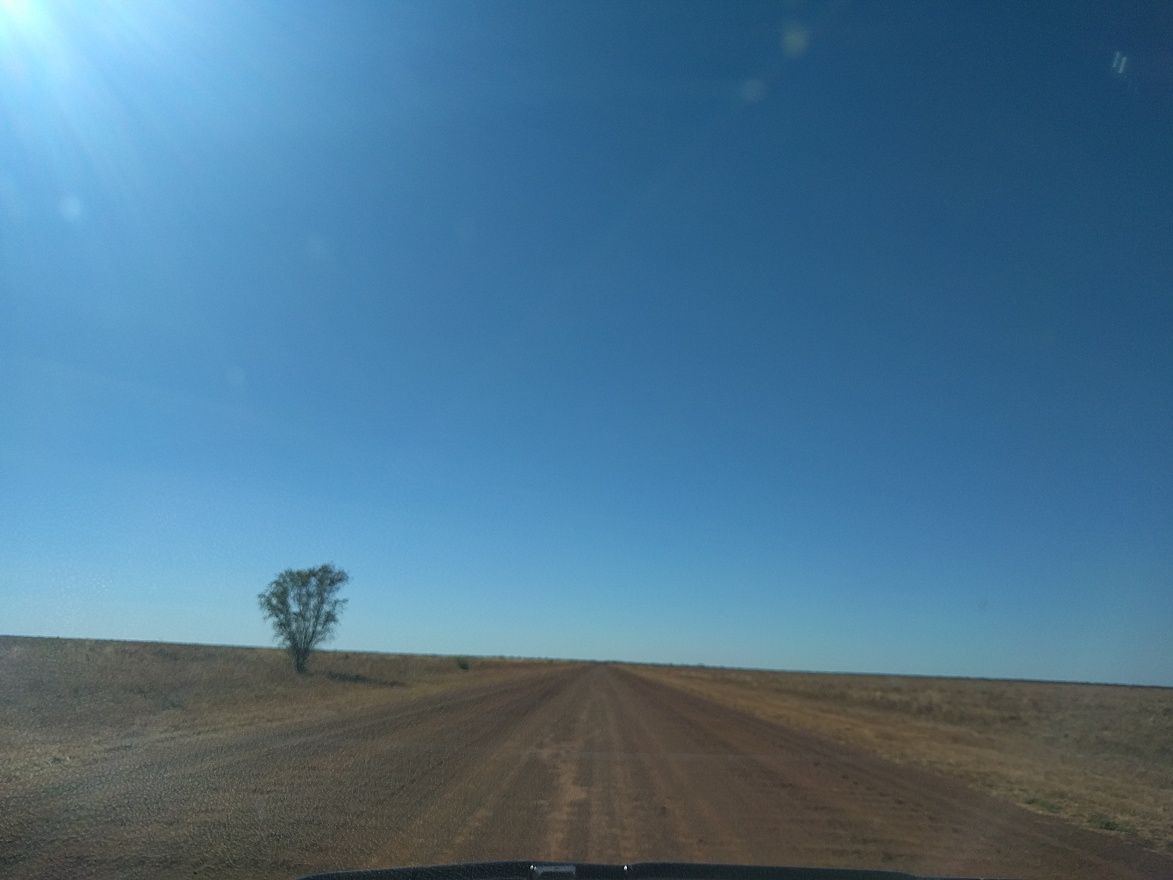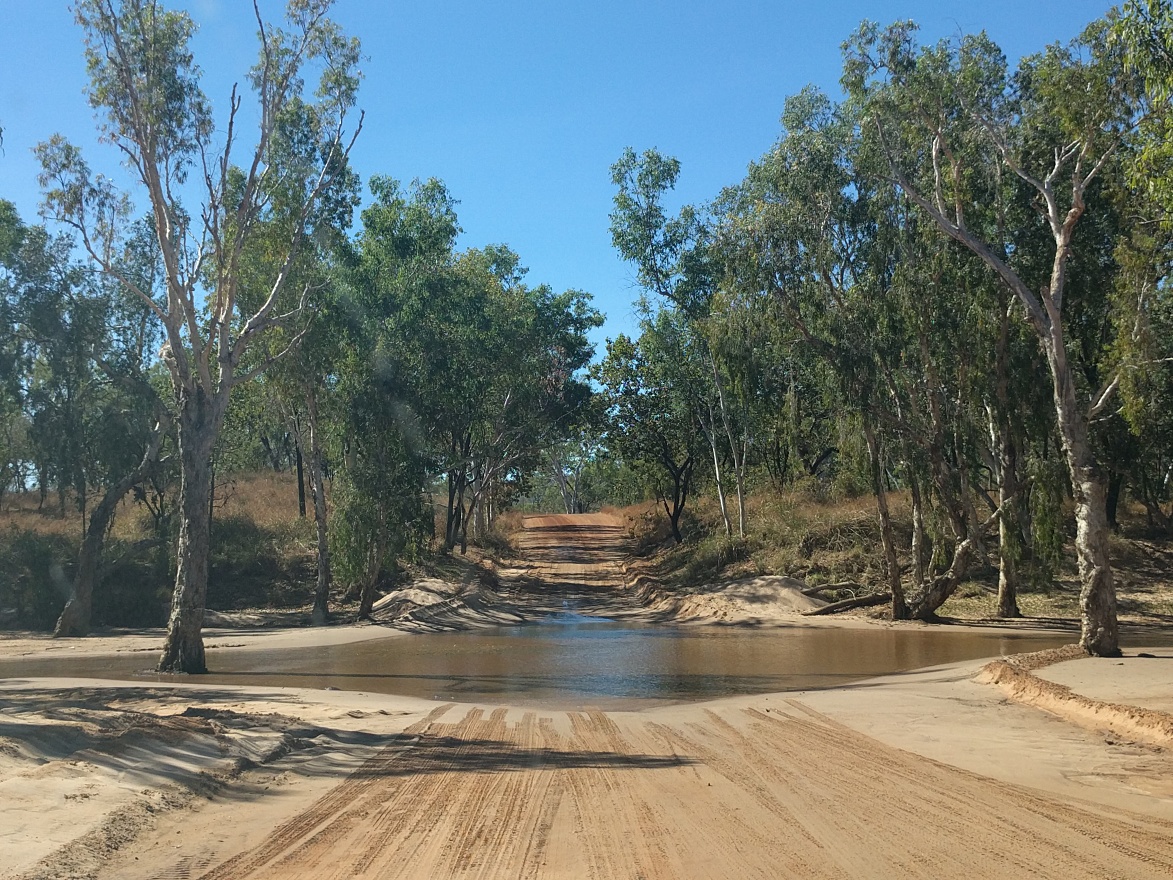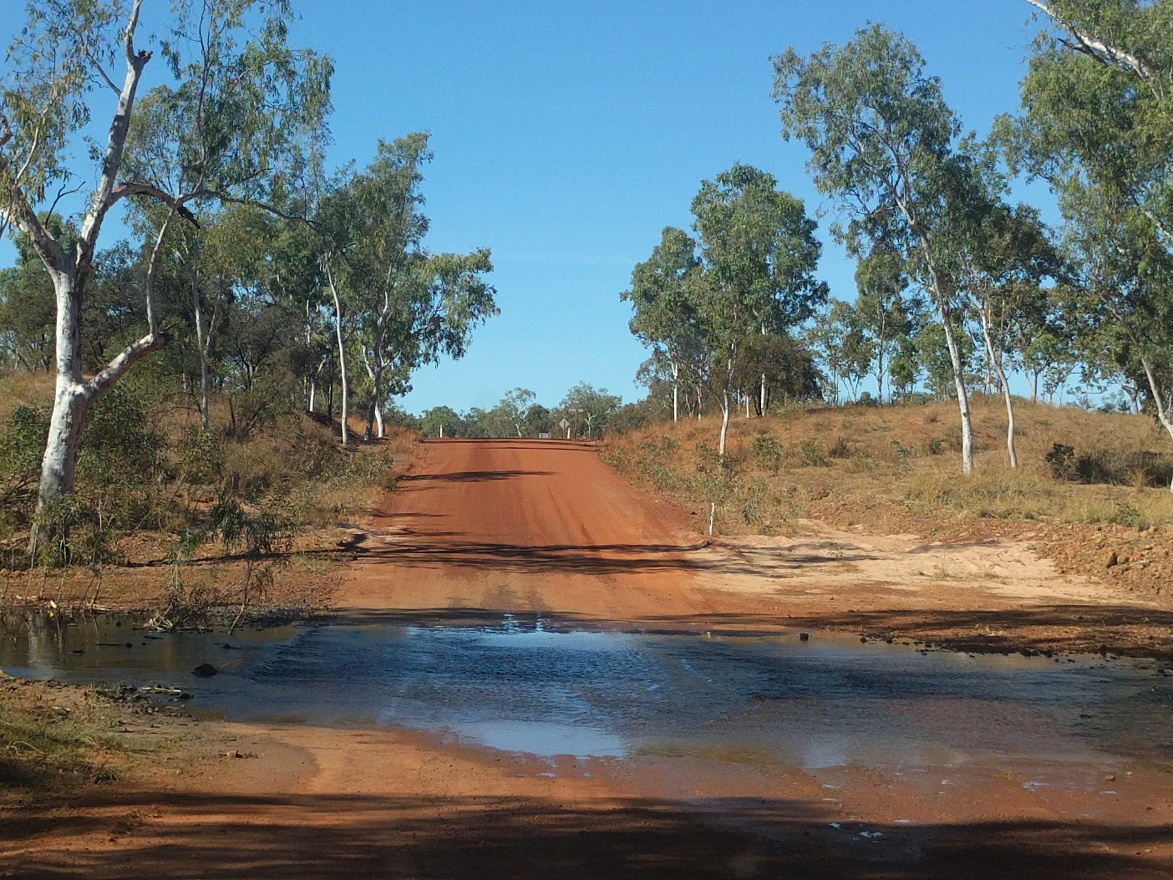 I didn't sleep all that well last night, as i had to share the queen bed in the hotel room with david. Plus the AC didn't work all that well. I was up for the day at 5am, but i didn't attempt to wake david until 5:45am, and he was in a foul mood. We checked out of the hotel, and were on the road by 6:20am.
The drive for the first couple hours was still on the (paved) national highway, but large chunks of the road were in awful condition and/or under repair, which slowed our progress a bit. We started to see random baobab trees, and rivers actually had water in them. We pulled into Derby just before 8am, and i stopped for gas for the last time before starting the gibb river road. The first 100km of the road was surprisingly paved, and we flew along at around 115kph. Then came a stretch of the road that they were attempting to pave, where we were detoured onto this temporary side dirt road, which would often weave around random baobab trees. Then we had pavement for a few more kilometers, finally it ended and the interesting part of the drive began.
I immediately stopped to air down the tires, and then continued driving. For a while, the road was flat, straight and relatively smooth, and i was averaging 80kph (which is what the rental company recommended). Then we approached a mountain range, and the road got twisty, rocky, and far less fun. However before 10am, david commented that we'd already done more than 1/3 of the planned road for the day.
We pulled into the rest area (March Fly Glen) that was originally intended to be our campsite for tonight just after 11am, and had lunch. It was obvious that google's driving time estimate was complete nonsense, and we pondered whether we could reach tomorrow night's campsite today. About 10km further was the first fuel stop of the road, Intji, and i filled up. We drove onward, and the road conditions varied, but were never bad. Sometimes it was sandy, other times gravel, and occasionally rocks smaller than my fist. Whenever there was oncoming traffic, it kicked up a huge opaque dust cloud that briefly completely obscured all vision. A few times i'd catch up to some slow moving vehicle, and trail their dust cloud for a while until i felt confident to pass them safely. The one time that a 3 trailer fuel road train came flying down the road, i just pulled over and waited for the dust and rocky shrapnel to subside. We had a few water crossings, left over from the wet season. Only 1 was more than a foot deep, and it was ok with 4WD enabled. Overall traffic was light, and other than a few clusters of caravans travelling together, we'd often go many minutes before seeing another vehicle.
Just after 3pm we made it to Drysdale River Roadhouse, tomorrow night's campsite. I filled up on diesel, and paid for an unpowered campsite for tonight. Considering how we're a solid 6 hours driving time from the nearest real town, it was nice. The campground was spacious. They had hot showers & flush toilets. They also permitted campfires, and nearly half the groups had one. So at this point we're now 1 full day ahead of schedule. Its 196km to our next campground, Mitchell River Falls (and then we turn back and retrace our route to Drysdale to get gas again). Our plan for my thursday is to attempt to sleep in, drive around 3 hours to Mitchell River, get a campsite, and relax. The following day, we'll do the 4-6 hour hike to the falls, and spend a 2nd night at that campground.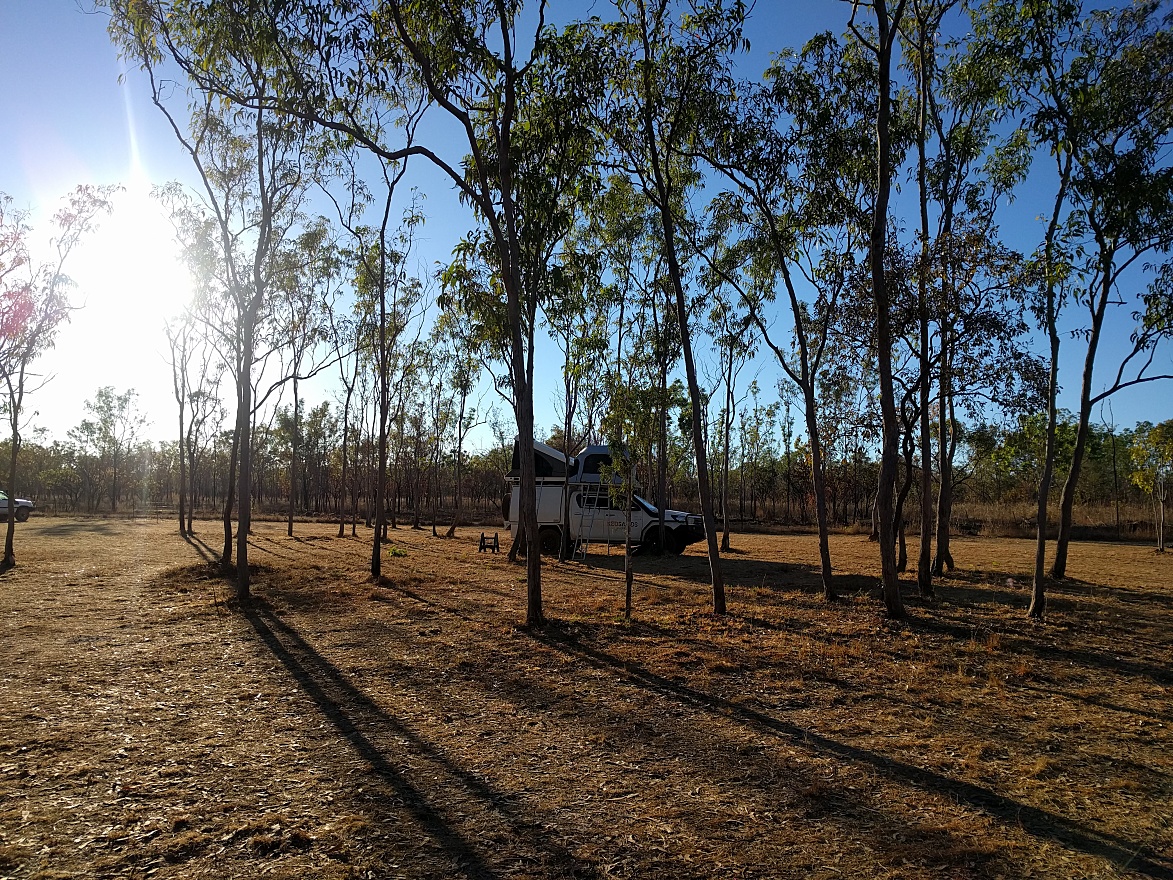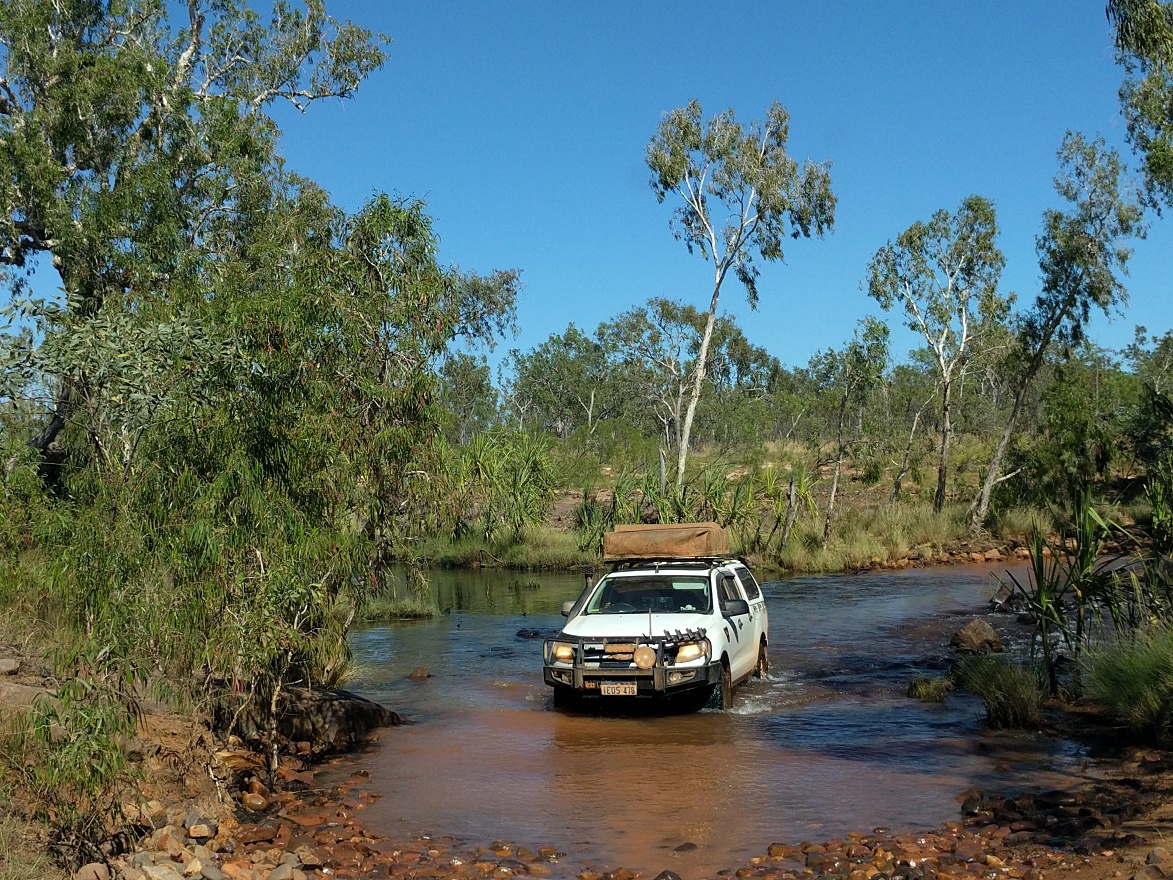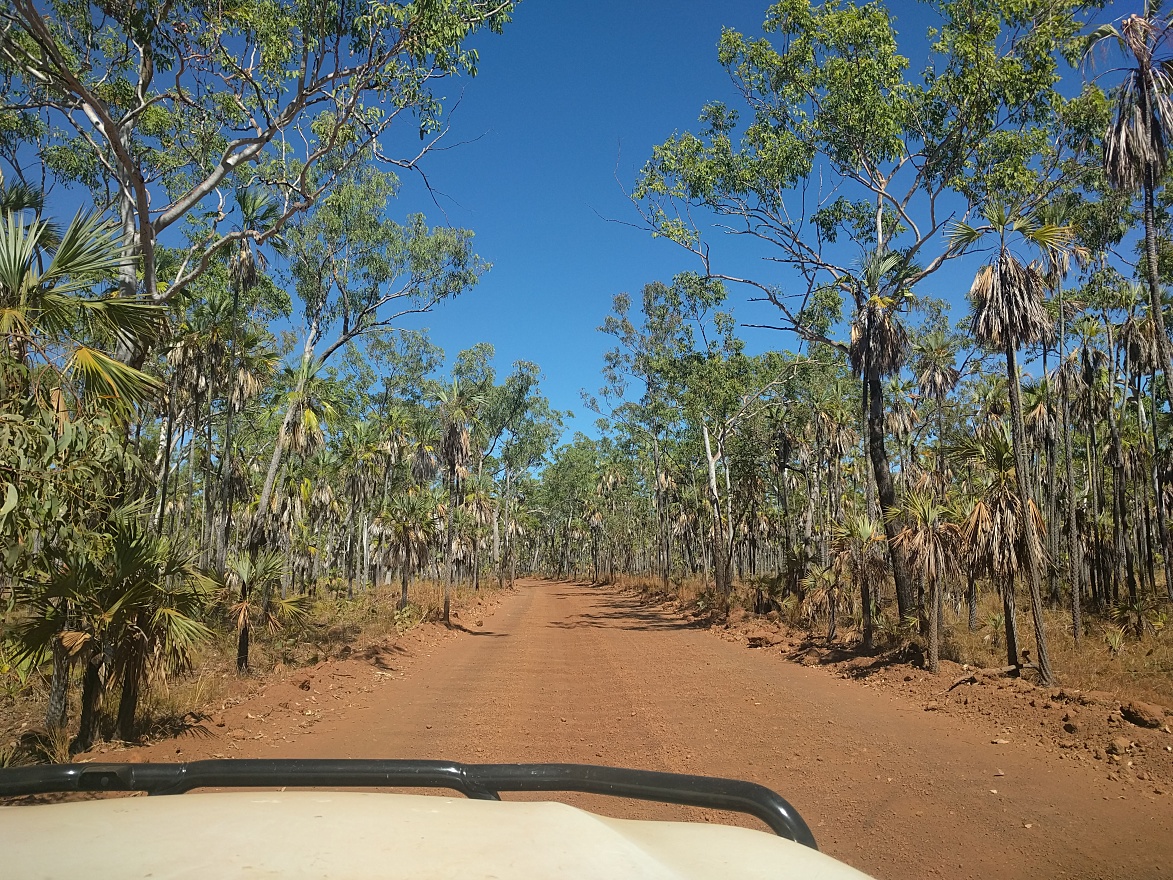 We slept in this morning, since i expected a relatively short drive up to Mitchell River NP. despite that, I woke at 6:30am to the sound of noisy white & pink parrots squawking. I had some meusli for breakfast, and finally at 8:30am woke david. We packed up, and were on the road before 9am. We spent the first 15km driving on some wretched washboarding, then caught up with the grader. After another 80km of relatively good road we reached the turnoff for the park. 87km further, which took nearly 2 more hours. we started with a sign warning that thus road was not maintained, and it was quite obvious. Over the course of the 87km, we experienced terrible washboarding, exposed bedrock, rocks larger than my fist, huge bumps, steep hills, and one fairly interesting water crossing. All of the previous day's water crossings were no longer than the truck, and slow or still water. Today's was about 3 times the length of the truck, nearly 2 feet deep, full of uneven rocks, and flowing briskly. The truck handled it well enough with 4WD, but i was a bit nervous. also, there were lots of palm trees today, so it actually looked kinda tropical, instead of just a hot & dusty forest. Where yesterday i averaged 80kph for much of the drive, today i struggled to get 55kph. We reached the campground after 3.5 hours of driving.
Also, i was somewhat concerned about fuel, as i needed to do the 196km drive both ways on a single tank. The truck had been averaging about 445km per tank. In theory, i should have been ok, but its still far less of a buffer than i'd preferred. When i reached the campground i still had more than half a tank left, plus the spare 20L gas can, so i should be ok.
i found a campsite, we made lunch, and i met with a park ranger to pay for the campsite, and get the orientation. we planned to do the hike out to the waterfall tomorrow morning, however there was also the option of doing an 8 minute helicopter flight, and hiking just 1 way. The ranger mentioned that along the hike there were several aboriginal rock art sites, and a bunch of safe (no crocs) swimming holes. I discussed things with david, and we decided to do the helicopter out to the falls, and then hike back. This way we'd have as much time as we wanted for the hike without rushing to catch the helicopter booking time.
we spent the rest of the afternoon relaxing in the shade, and people watching. I made beef burgers for dinner. We made a camp fire.
The stars out here are amazing.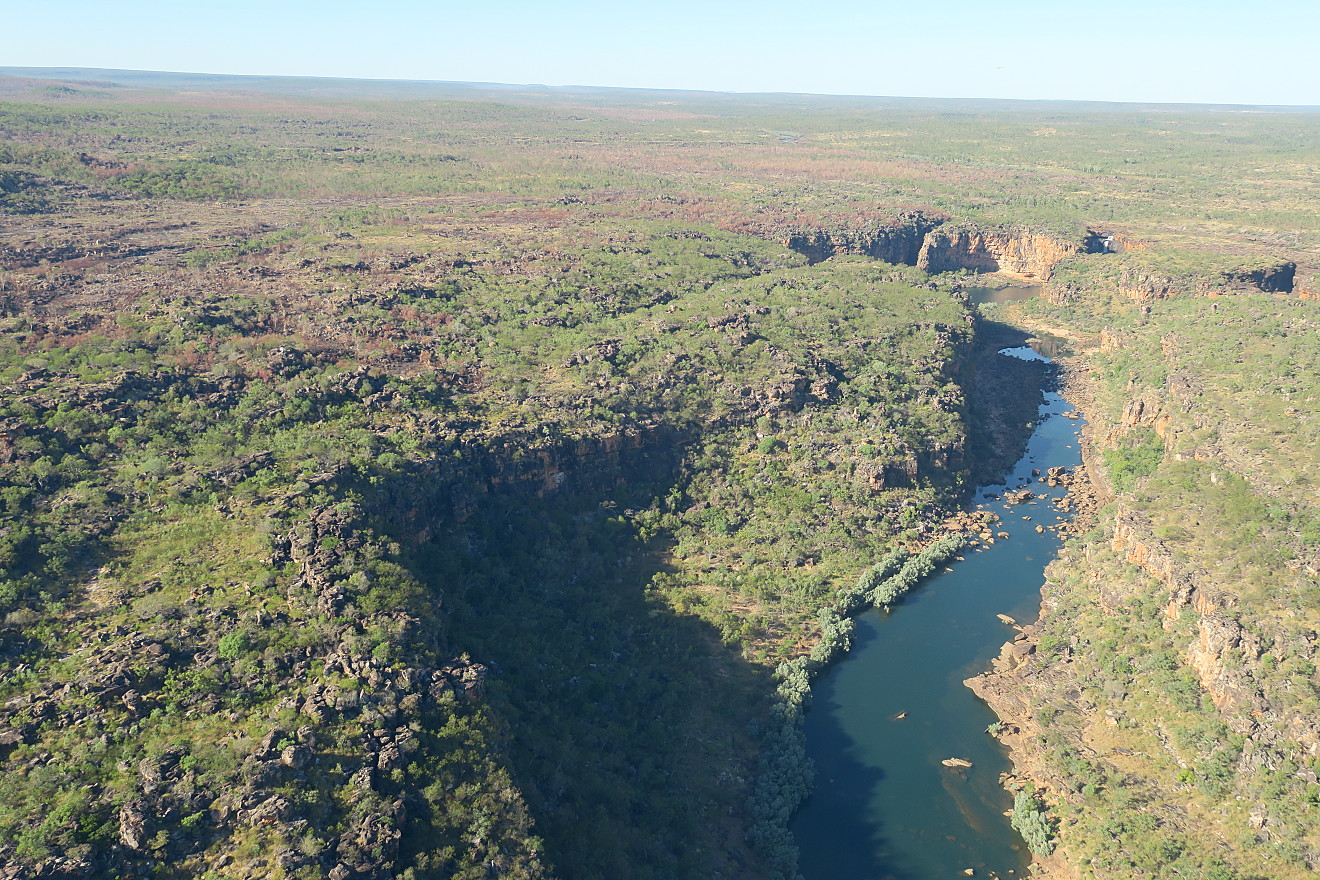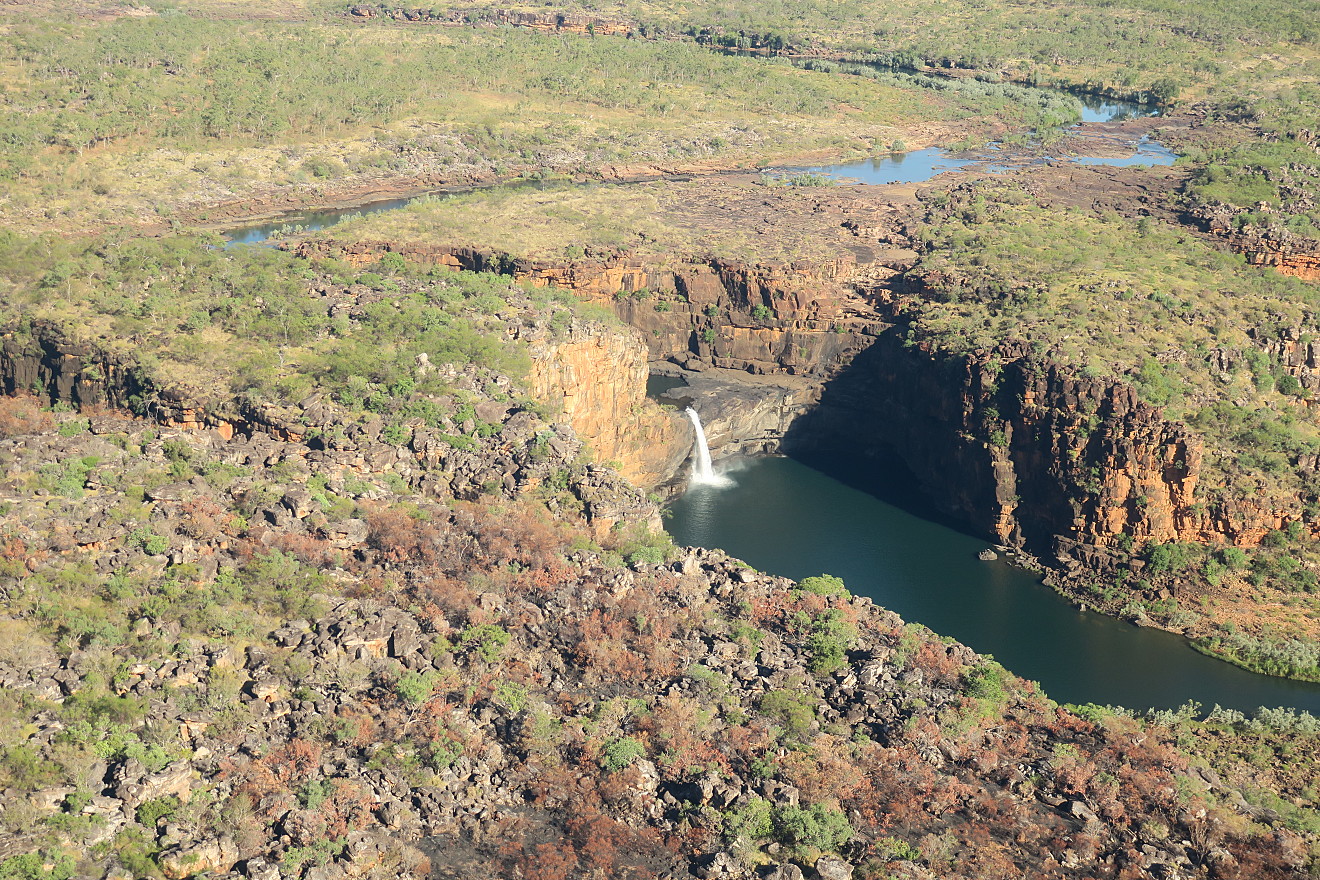 We slept well, and got up a bit before 7am. After eating breakfast and packing our bags, we walked over to the heliport. We paid for the trip, they weighed us, and did a safety briefing. After waiting a few minutes, we were escorted to the helicopter, and we took seats. Including the pilot, it held 7 people. There were no doors for the rear row, where david was sitting. They stored our bags in the baggage compartment in the tail. After the pilot spoke to us for a minute, he started the engine, and the helicopter started rocking side to side a bit. Then we lifted off, and accelerated very quickly. We climbed and within a minute we were in view of the falls. David had a huge grin on his face the entire time. We circled the falls several times, then gradually landed on a rocky shelf not far from the top of the falls. And that was it, all over in less than 8 minutes. It was worth it, because we never could have viewed the falls from the front at all via the hiking trail.
from there we started the return 4.3km hike back to the campground. The first obstacle was to cross the river just above the falls. It was wide, rocky & uneven. I brought a gallon size zip lock bag, and put my keys, phone, wallet & camera inside. David had zero issues, and was across quickly. Just before i started i saw a woman coming from the opposite side slip and fall into the water. She didn't seem to be injured though. I made across ok, but it was much more difficult than expected, since the rocky bottom was uneven & slippery. The water was about knee deep much of the way. After that was a bit of boulder scrambling up the river bank, and then we easily followed a dirt trail. One great thing about the water was it cleaned off my filthy red dust encrusted feet.
Eventually we came to another river crossing. It was also just above a waterfall, but fell into a narrow, deep gorge. We climbed above the river rocks to get a better view, then proceeded to cross. This one was not as deep, but the bottom was covered with slick algae. David sped across, but i took my time. A large chunk of the hike after that was either through a burnt out forest, or a small dense tropical area. Towards the end of the hike we came to the final river crossing, where there was a nice swimming area. a family with 2 younger boys was already in the water. David decided to dip his legs in, and i got in and sat down. It was cool, fast flowing water, and felt nice to get out of the heat for a bit. From there we were 10 minutes from the campground.
After making lunch, we spent the afternoon resting in the shade. every time i wipe any part of my body with a clean napkin or towel, there's red dust. Its disgusting. I'm getting tired of being coated in red dust.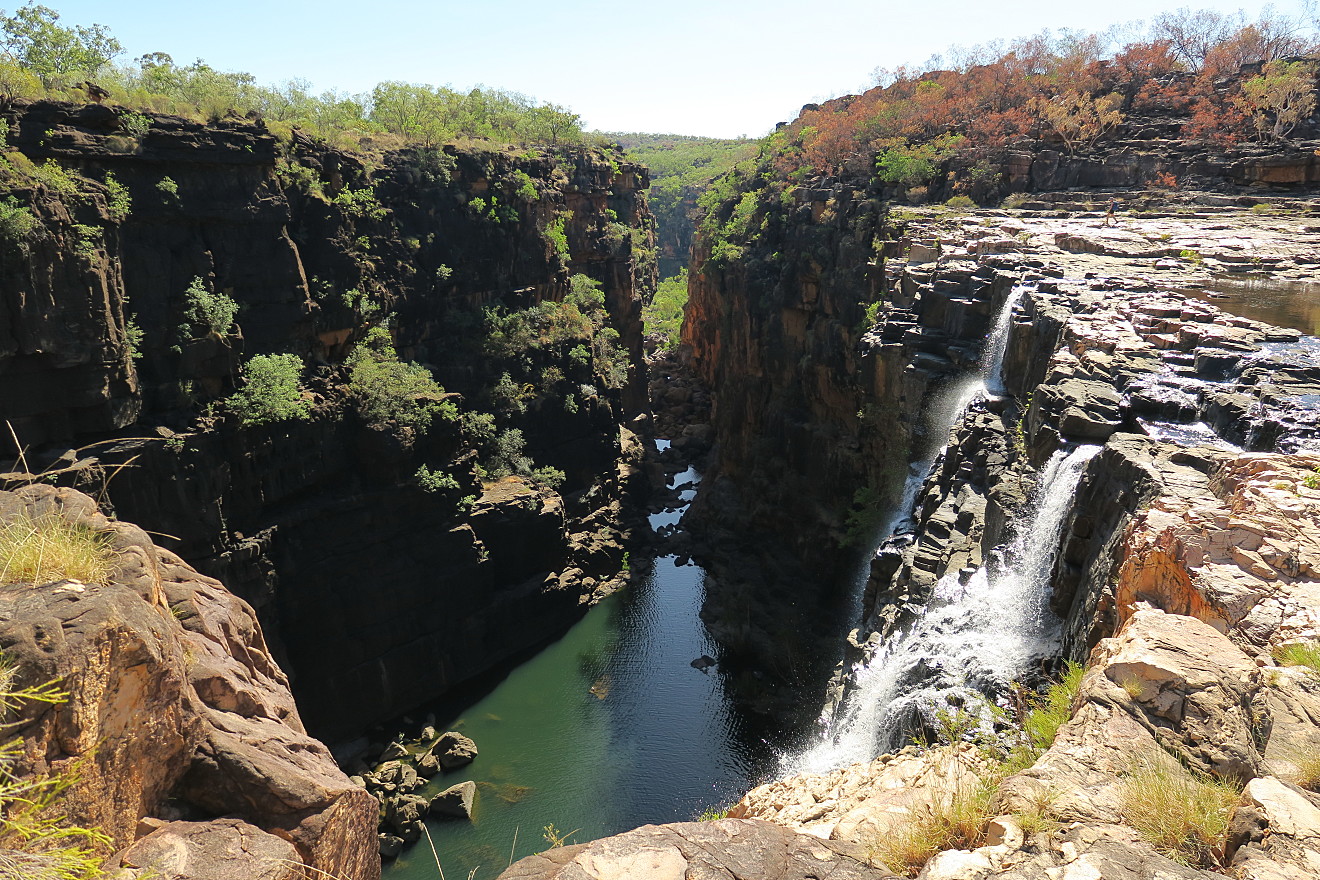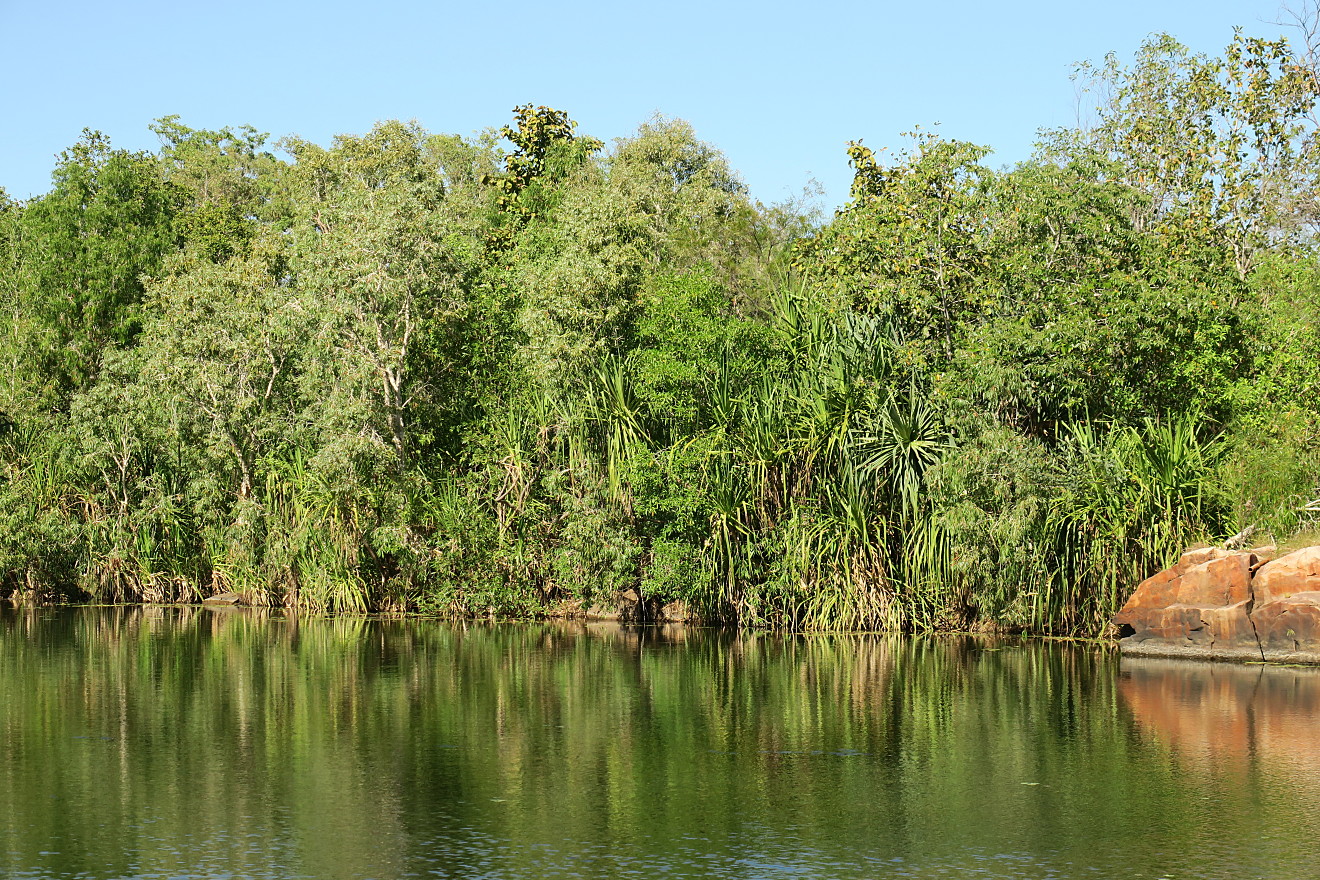 We woke at 5:30am, and the sky was already getting bright. It was going to be a long, rough day, although i didn't know it yet. The 87km drive on the park road was as miserable as the drive in. I finished it in 2 hours. Then i had another 106km south back to Drysdale Station for fuel. That stretch turned out to be the easiest of the entire day, even though i didn't know it yet. We pulled into Drysdale at 9am, and fueled up. Google claimed that i'd need 8.5 hours to get this far, so everything else was a bonus. Another 60km south to where i turned off the Gibb River Rd 3 days earlier, and then i was heading east at 10am on the gibb river road, on the first non-repeat stretch of road. At this point i'd been driving for 4 hours.
Immediately the road felt very different. It was gray, bumpy, and had lots of rocks smaller than my fist. These are the same kind of rocks that are notorious for shredding tires. Also, the landscape had changed. Gone were the dense shady eucalyptus trees, and now it was a parched brown grassy plain, with sparse trees. We made ok time for the first hour despite having to dodge rocks, bumps, and lots of curves. Just after 11am, i saw a sign for a rest area ahead, and i slowed so we could stop to make lunch. I pulled off at what i assumed was the rest area, but it quickly turned into deep sand before i got 20ft from the road. I tried to back out, but i was stuck. Thankfully, when i enabled 4WD, and was finally able to reverse, and get back to the road. As soon as i pulled onto the road, there was a dry river bed crossing, with huge, jagged rocks everywhere. I wasn't going more than 40kph, and bumped over it, then up the hill, where i saw the real rest area with 3 other vehicles. I drove to the far end, parked, and got out to start lunch.
As soon as i stepped out of the car i heard a hissing sound, and immediately saw the rear driver's side tire was already flat, and losing air rapidly. I told david what happened, and he started to panic. I tried to calm him, and said that we need to have lunch before we deal with the flat. It'll be just as flat after we eat. i was starving anyway, and needed to get some food in me before tackling the tire. We wolfed down our food. Then i collected my thoughts. I had david dig out the owner's manual from the glove box and find the spare tire replacement instructions. While he did that, i started digging under the back seat for the tools (jack, etc). Except that i couldn't get the jack out, it was wedged in, and wouldn't budge. Eventually i used a wrench to pry it free. Next we needed to extract the spare tire from the back of the truck. It weighed nearly 100lbs, and thankfully david was able to help me get it down. Then i had to loosen the lug nuts. At first i couldn't get any of them (6) to budge. Eventually i got them loose, but it was a struggle, and i was starting to panic. most of the trucks that were in the rest area when we arrived were gone now, except for 1. David started suggesting calling for help, but i had no cell coverage. Then he wanted me to use the emergency beacon, but that seemed wrong for a flat tire.
After that, was easily the worst part, getting the jack in place. It had to be directly under the rear axle, which was no where near the perimeter of the truck. I had to crawl under the truck, on my back. The ground was sand, gravel, and ants. It was awful, but i got the jack in place, and then had to attach the lever to turn it. I crawled out, david cleaned me up as best he could. Then i started raising the jack. At first it moved easily, but once it had to actually lift the flat off the ground, it got increasingly harder with every turn. It took all of my strength to turn, and it was already 30C outside. If there was anything good, the truck was parked so the flat was not facing the sun. It would have been sheer hell trying to do this in direct sun. Eventually i got the truck raised enough to remove the flat. Then we had to lift the spare into place. It took 4 attempts before we got it on, because it was so heavy that we were both struggling just to hold it. After that, the rest was relatively simple. The job took nearly 90 minutes, and by the time we finished we were the only vehicle out there. I have to praise david. He helped a ton, he was patient, and kept giving me water to drink. I definitely couldn't have done the job without him.
We were back on the road by 1pm. Thankfully we were already more than 1 day ahead of schedule at this point, so even with the flat we were doing ok. The road continued to be awful. Tons more rocks, washboarding, curves and bumps. Plus now i was always afraid of getting another flat. I do have a 2nd spare, but its under the rear of the truck, so in addition to the misery of what i already did, i'd have to get under there to release it, and put the flat in its place. Eventually the scenery started to improve, and a massive long red capped mesa came into view. Then at 2pm, we passed the turn off for the next day's camping, meaning that we were now 2 full days ahead of schedule. We continued driving, and eventually reached the Pentacost River, which was wide and flowing. It was easily the widest water crossing, by a huge margin. The water was about a foot deep, and the bottom was round fist sized rocks. It took me a full 10 seconds of continuous driving to cross.
Just before 3pm we reached El Questro Station. I have no clue why it has a Spanish name, but it had both fuel & camping, and that was good enough for me. Also, at the turnoff, the Gibb River Road appeared to become paved (even with a double line down the middle). We drove the 16km dirt road into the station. It had several water crossings, including one that forced me to drive in the river, in the direction of the flow, through this crazy dense jungle area. Finally i got to the station, and it looked like some civilized paradise, with green lawns, restaurant, bar, gas station, campground, and tons of people and cars. I got diesel, paid for a campsite, and we found a site, and setup. They had hot showers, flush toilets, potable water, and electricity. We both got an awesome shower, attempting to wash all the dust off.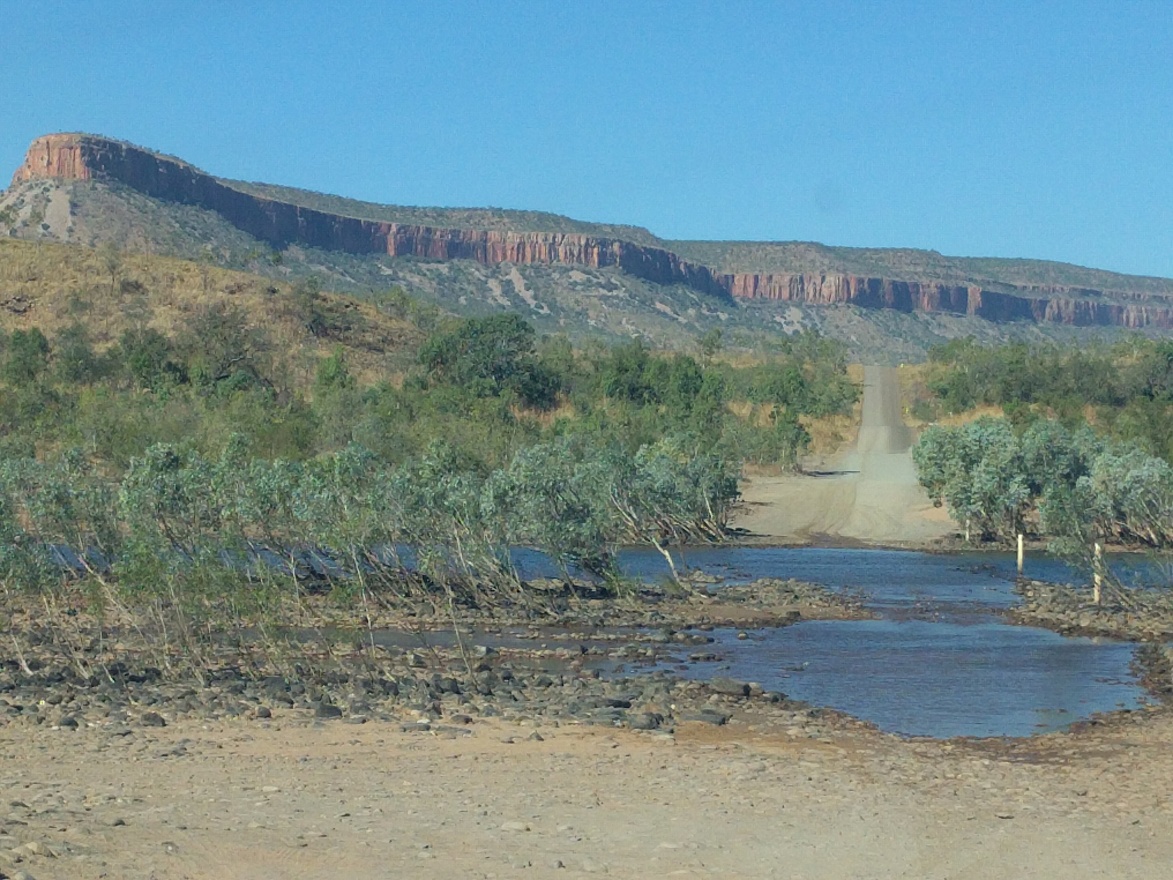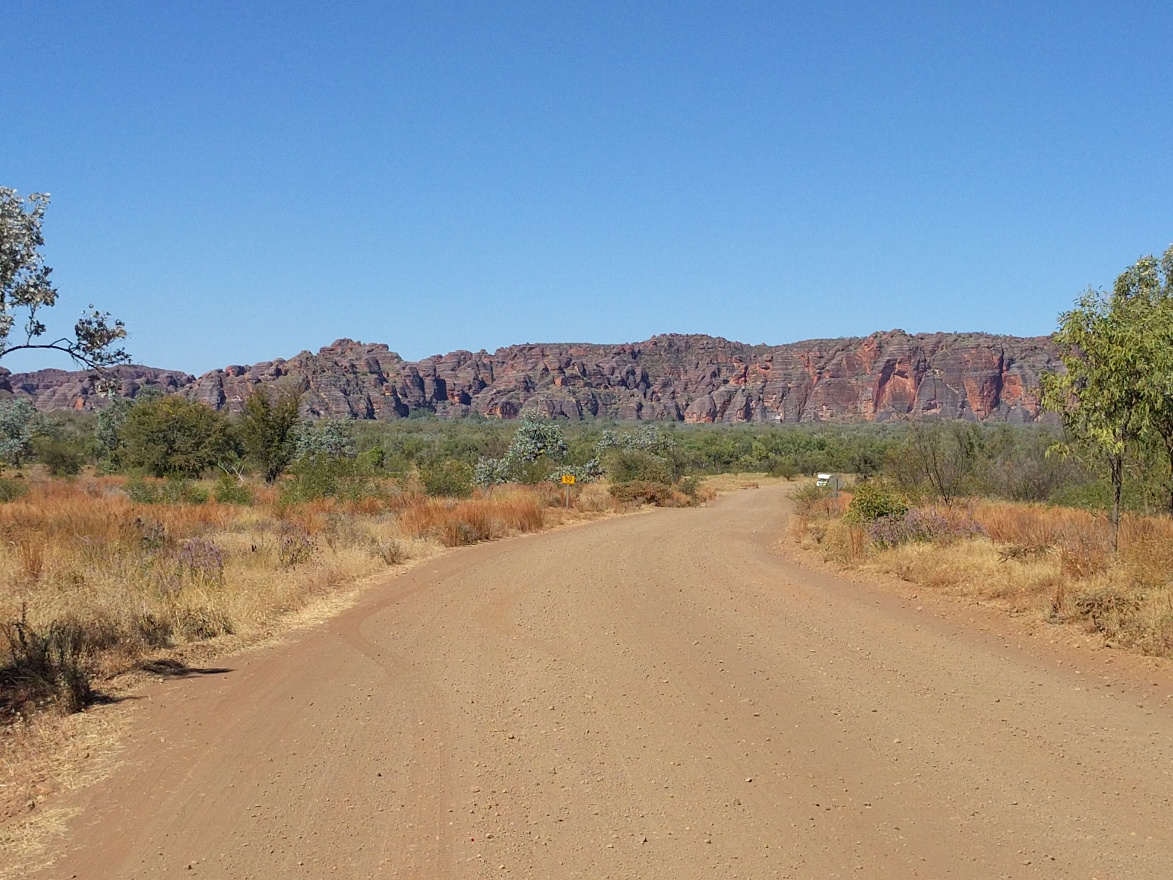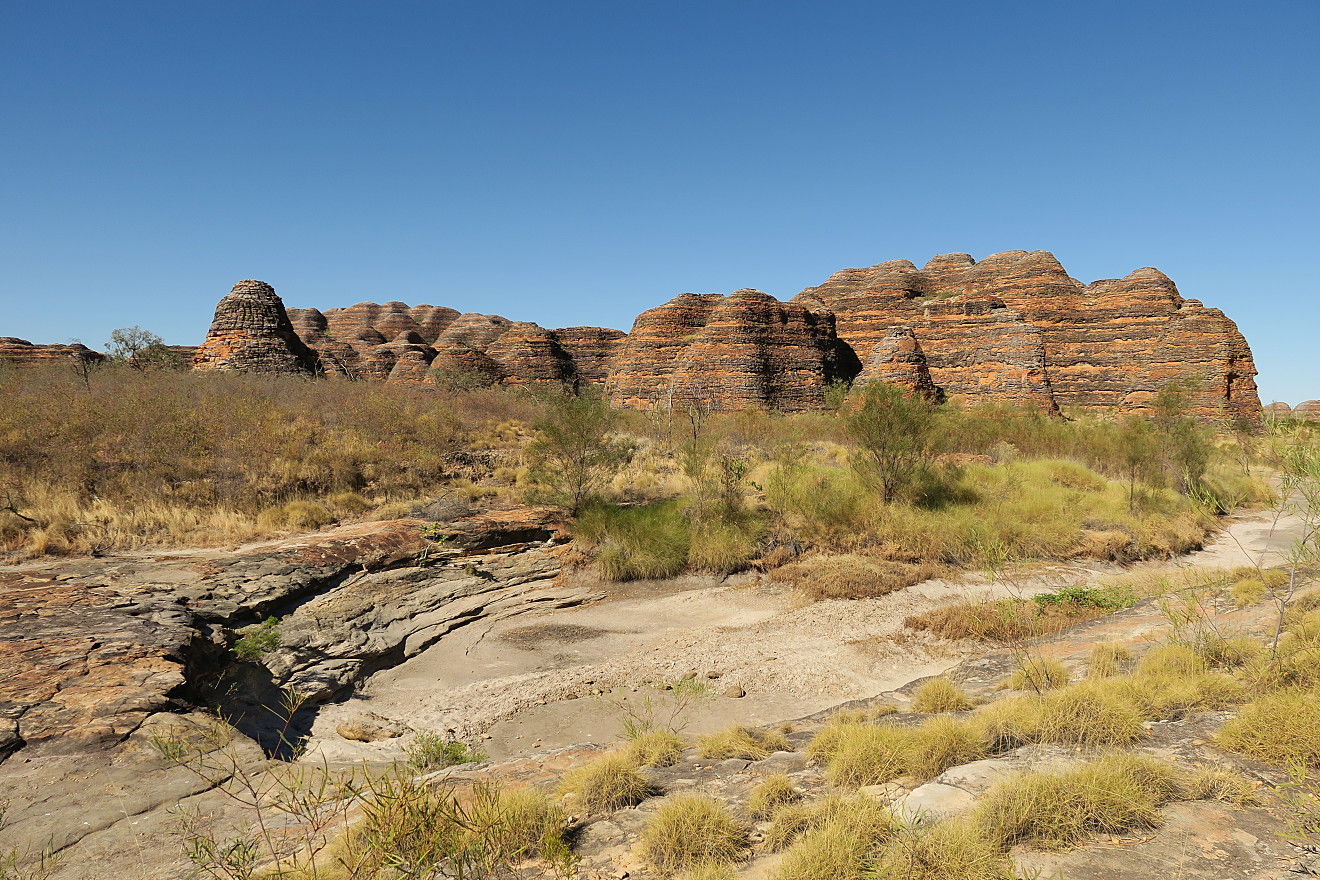 We woke just before 6am, and were driving less than 30 minutes later. The last 50km of the Gibb River Road were all paved, and we completed them by 7am. As soon as we turned onto the national highway, i saw a cell tower, and got service again. I emailed all of the pending messages, and sorted out the remainder of the trip. We'd camp at Walardi campground in Purnululu NP tonight & tomorrow night, then spend the last 3 nights of the trip in a hotel in Darwin. David was mostly pleased as it meant that he'd have wifi for several days in a row.
we got back on the road by 8am, and continued driving towards Purnululu. As soon as we reached the park road, it was unpaved, and i needed to air down again for the 43km drive. The road started off rough, and quickly became absolutely awful. Lots of rocks, huge bumps, curves, hills, and a road grader that left a mound of rubble down the middle of a road that was often not wide enough for 2 vehicles to pass each other. It was the worst road of the entire trip, and took over an hour. Even worse, i'll have to drive all of it again when i depart in 2 days. We reached the park visitor center at 12:30pm, and got the campground pass & entry permit. The park basically has stuff at the north end, and at the south end, and not much in the middle (where the park road enters). We decided to do the south end stuff this afternoon, and the north end stuff in the morning.
oddly, the road inside the park was mostly in decent condition, so the 45km drive only took about 40 minutes. There was a single parking area with a trail that split off to a bunch of different side trails (including a 2 day backpack trail). We started by going to cathedral gorge. Its only 2.2km, and follows a sandy wash into the gorge. The orange & black striped walls were hundreds of feet tall. eventually the trail ended in the cathedral, where there are huge, sloped walls running 270 degrees around a small pond, with its own sandy beach. It was amazing, and is easily one of the highlights of the entire trip. After that we did the Picaninny Creek lookout trail, which was 2.8km. It started in this broad, sandy wash, which turned into river rocks, and then massive long fingers of bedrock, eroded by water. Then we turned into a side canyon, and continued for a while until a window opened up in the rock, and overlooked the entire southern range of rock formations. It was quite pretty, especially since it was mid-afternoon, which put the sun in a good position.
At this point we'd been hiking for nearly 2 hours, and it was a bit after 3pm. We returned to the truck and drove 20 minutes to the campground. We chose a good site, got setup, and i started to prepare dinner. Then thus friendly German guy wandered over wanting to ask questions about our truck. He's been in AU since april, when he bought an old used SUV in Melbourne, and had been gradually driving around the country before he returns home in August. Then i returned to dinner prep, when the campground host came by to verify our paperwork. Finally i finished dinner, we ate, and called it a day.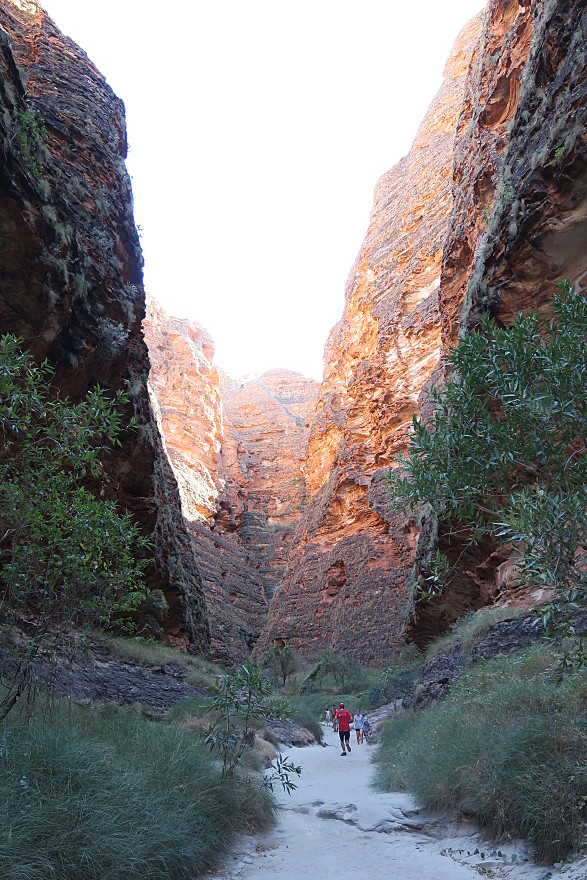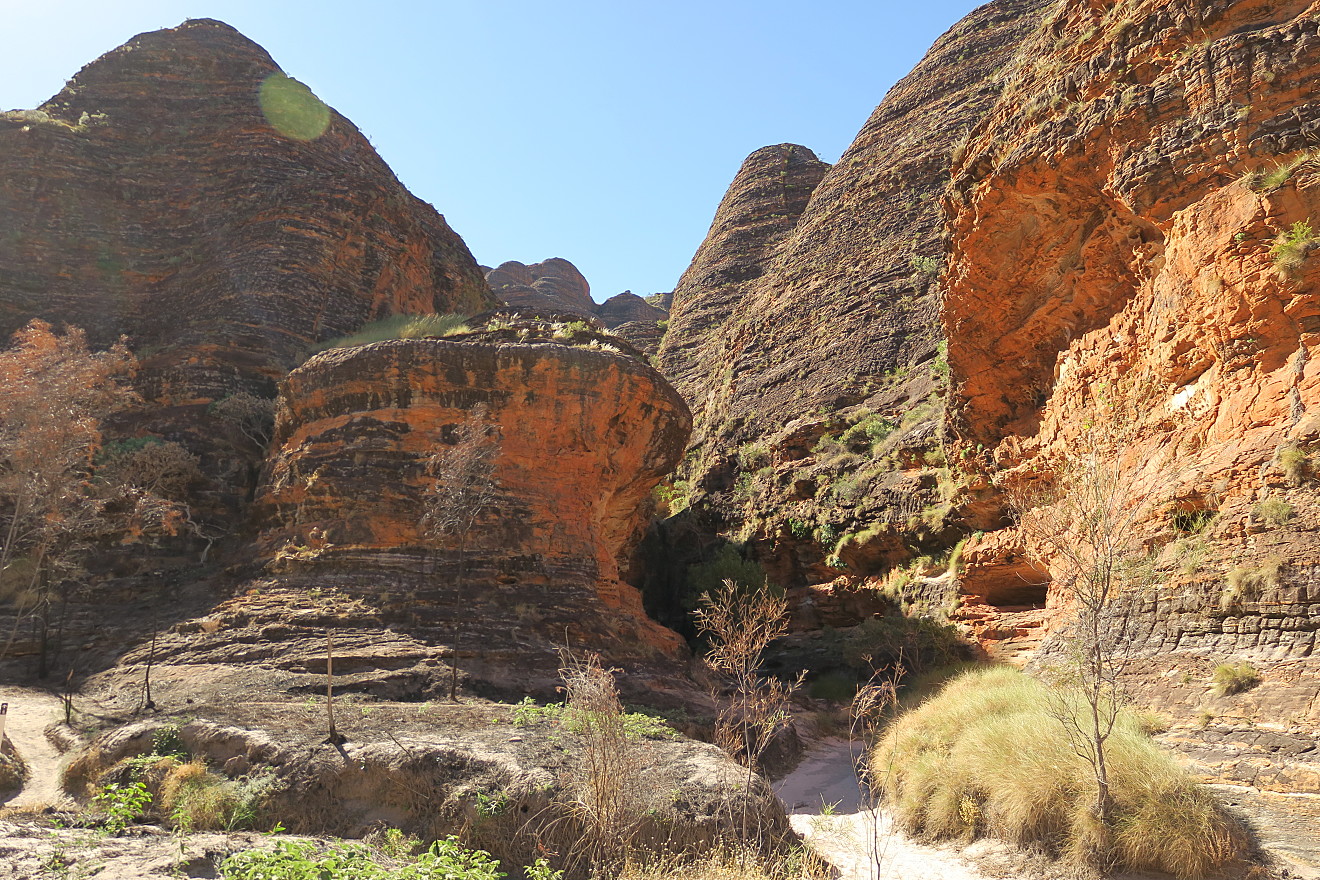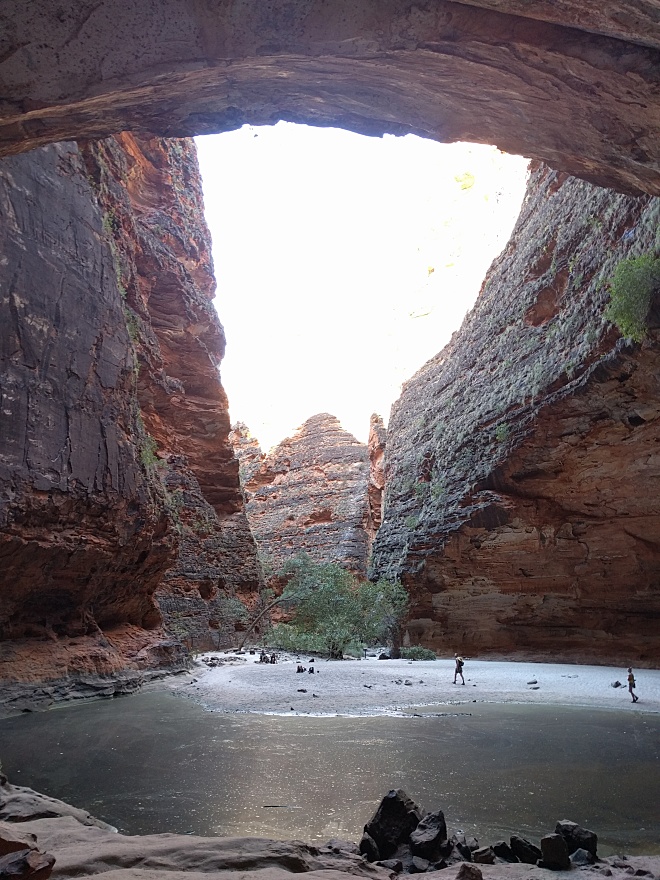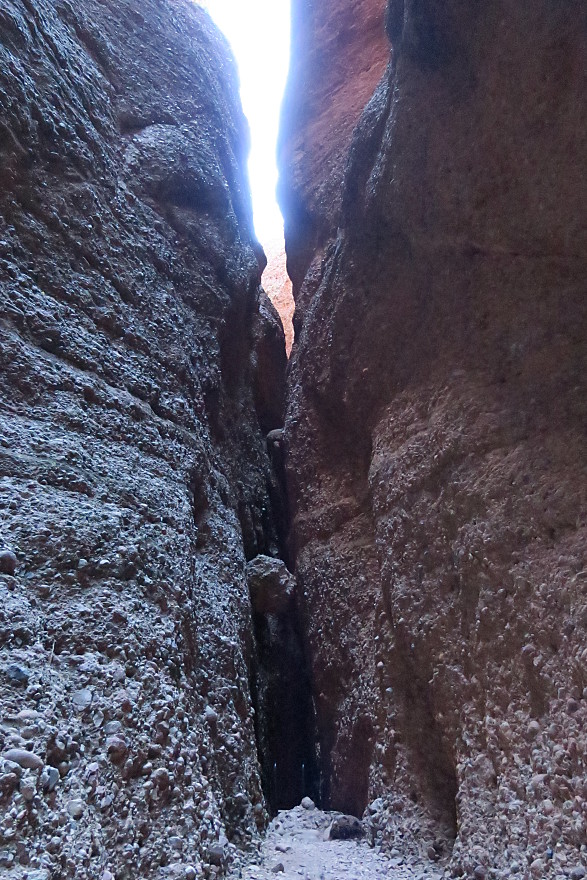 It was much colder last night, due to the elevation (315m), and i woke a bunch of times with cold feet. We were up for the day by 7am, with plans to explore the north end of the park. It took about 40 minutes to drive to the northern end of the park. We started at Echidna Chasm, which was a slot canyon. All of the rocks up here were orange red. The trail started in a wash, and then the walls gradually closed in. The canyon was several hundred feet tall, so just a little light reached the floor. The canyon was twisty in places, and only shoulder width for a long stretch. It eventually dead ended in an alcove that was maybe 15ft across. I thought it was really nice.
After that we drove a few minutes south to the bloodwood area, to hike the mini palm canyon trail. This canyon had lots of palm trees growing in it, and had violent flash floods that threw massive truck sized boulders everywhere. It was more challenging with a lot of boulder scrambling and a few tight squeezes. After 1.2km it ended at the top of a viewing platform where we could see the top of a huge dry fall that was the source of the canyon's water.
After hiking back to the truck, it was barely 11am, and i started to wonder if it made sense to spend the afternoon & evening sitting around the campground, only to get up at 5am and spend close to 12 hours driving up to Darwin. I discussed with david, and we decided to return to the campground, eat lunch, pack up the remaining stuff, and drive. Since i'd already paid for tonight's camping, i didn't want to pay again elsewhere, so the plan was to spend the night in a (free) highway rest stop. It wouldn't be great, but at least it would eliminate several hours of driving tomorrow.
we ended up driving for about 3.5 hours (including the 43km on the awful park road, and a fuel stop). We're setup in a rest stop about an hour west of Kununarra. When we arrived it was already 90% full of assorted RVs, but we found an ok spot along the perimeter between 2 RVs owned by retired couples. I've got about 880km of driving to get to Darwin, which is hopefully 9 hours. Although, i'm also going to lose 90 minutes due to the time zone change when we cross from WA into NT.
It feels weird to think that the trip is basically over. It flew by (although david has opposite feelings). I absolutely loved the Bungle Bungles way more than i expected. It had this Death Valley/Utah feel with all the red rocks and crazy geologic formations.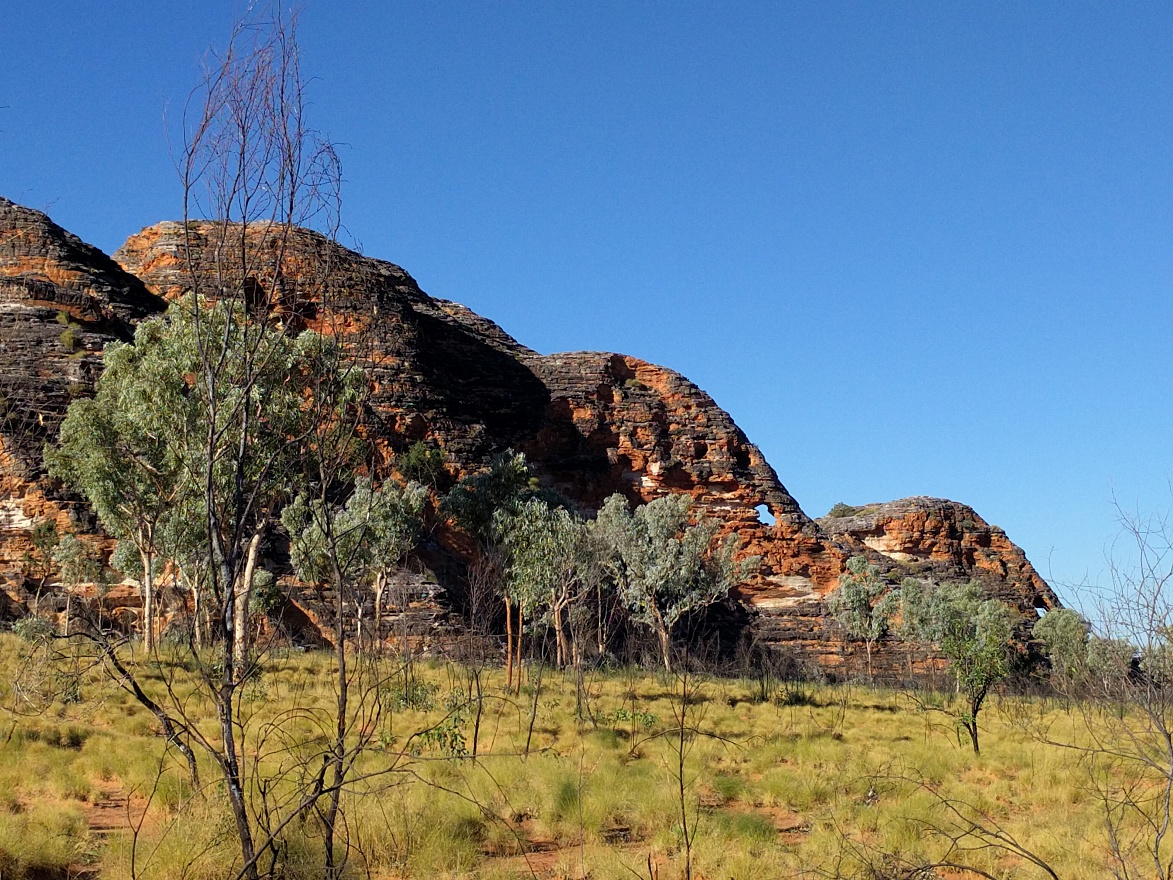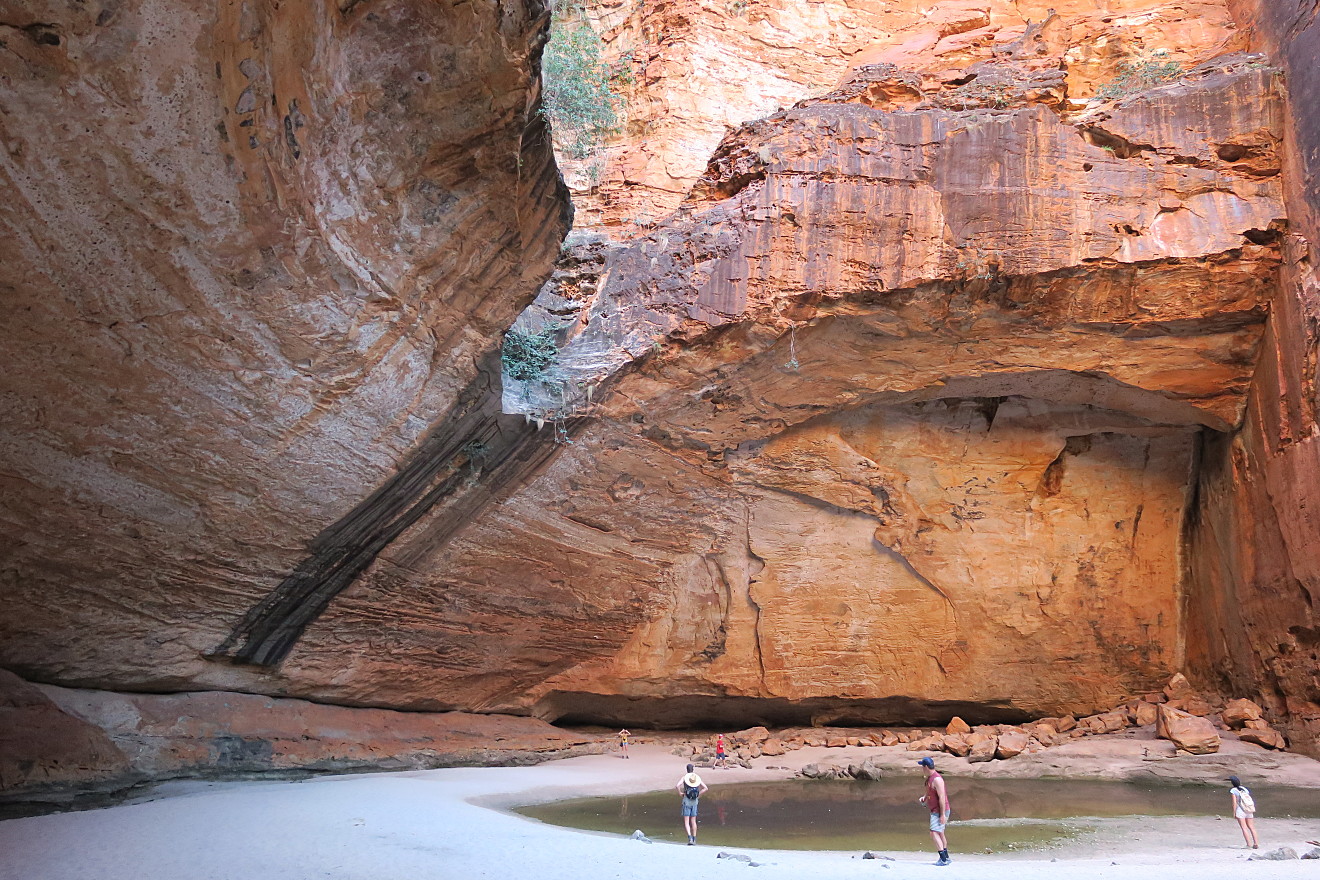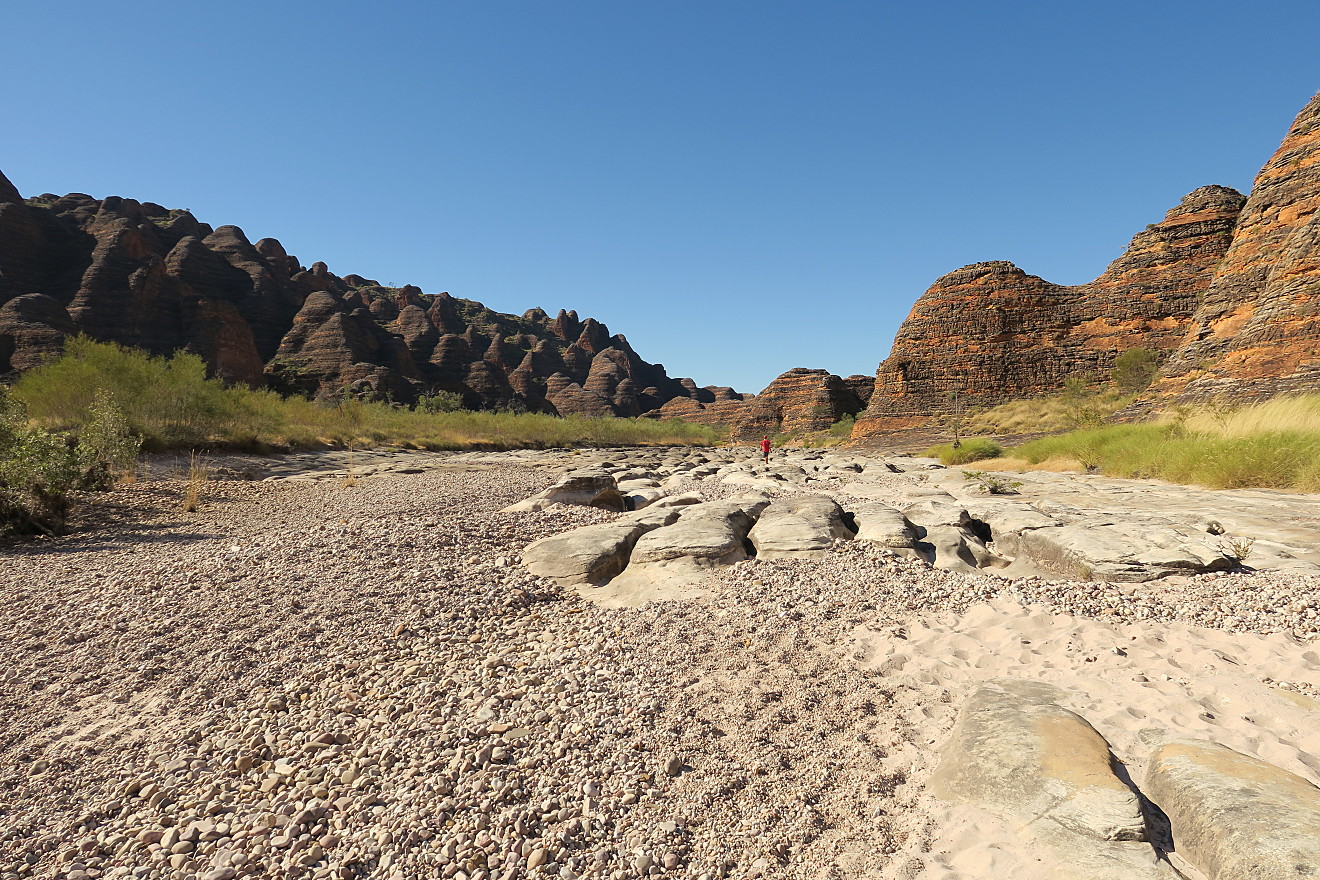 We got up at 6:30am, and were driving before 7am. The first couple hours were uneventful, and we were making good time. I used up the fuel in the gas can a bit after 8am. We crossed into the Northern Territory at 9:30am, and immediately the speed limit increased from 110kph to 130kph. I bumped up the cruise control, and we were doing ok for less than an hour when suddenly the cruise control shut off, and the dashboard lights lit up with a bad beeping sound. The check engine & traction control warning lights were on, and the digital display panel had a scary message about 'loss of engine power'. At first, there didn't seem to be any obvious sign of a problem. I drove a bit further until i could safely pull over, and david got out the owner's manual. I tried shutting off the engine and starting it again, but the lights were still on. I figured that i'd just keep driving as long as nothing seemed to be wrong with the truck (beyond the lights & warning msg).
I enabled cruise control, and continued driving until around 11am, when we stopped for fuel & lunch. When i got back on the road, the truck was behaving badly. It was refusing to accelerate above around 100kph, even with the gas pedal pushed all the way down. I continued driving, but it was quite bad. Any time i climbed a hill i lost speed rapidly, and was averaging around 90kph at this point. There was still no cell service, and the next fuel was 65km away. When we reached the fuel there was still no cell signal, and a sign warning that the next fuel was 220km away. I filled up, and was really worried about how i was going to reach Darwin at all today. Driving near the limit, i still had nearly 5 hours to go, and at the degraded speed it would take an extra 2 hours. Plus, i wasn't even sure if the truck would degrade further, or break down altogether.
When i got back on the road at 12:30pm, the truck seemed to have full power again. I accelerated very slowly, and got it all the way up to 125kph. i figured that i'd be gentle with acceleration, and hopefully i'd be able to drive at a normal speed most of the time. Also, i had to stop using cruise control, since it accelerates aggressively, and each time the truck had problems, it was while cruise control was enabled. I started to make better progress, until i hit a long 20km stretch of road construction with lane closures, and traffic lights. At one point we sat in a line of cars without moving for 10 minutes. Finally i got past the construction.
As i was climbing a curvy hill, a kangaroo hopped onto the road not far ahead of me. I tried to gently swerve to miss it, but the stupid thing just kept hopping further into my path. The left edge of the truck hit it hard, then i heard & felt it go under both he front & rear tire. David immediately freaked out. I was concerned about (more) damage to the truck. Thankfully the truck seemed to be unharmed. I tried to calm david, but he just kept talking about how i murdered a helpless animal. I encouraged him to cry, or scream or say whatever might make him feel better, but nothing was helping until i suggested that he turn on some of his music. Eventually he calmed down.
We pulled into Katherine at 2:30pm, and i got more gas. At this point i was gaining more confidence that the truck would make it to darwin, as it was 2 hours since the last power problem. We reached darwin at 5:30pm, and had to deal with rush hour traffic. We found the hotel, got dinner, and ended a super long rough day. Driving for over 6 hours without cruise control was awful for my foot, plus my concentration. I'm wiped out at this point. I emailed the rental company describ9ng the problen, and asking if they wanted me to bring the truck in early, or just use it (in Darwin) until i'm supposed to return it on friday afternoon.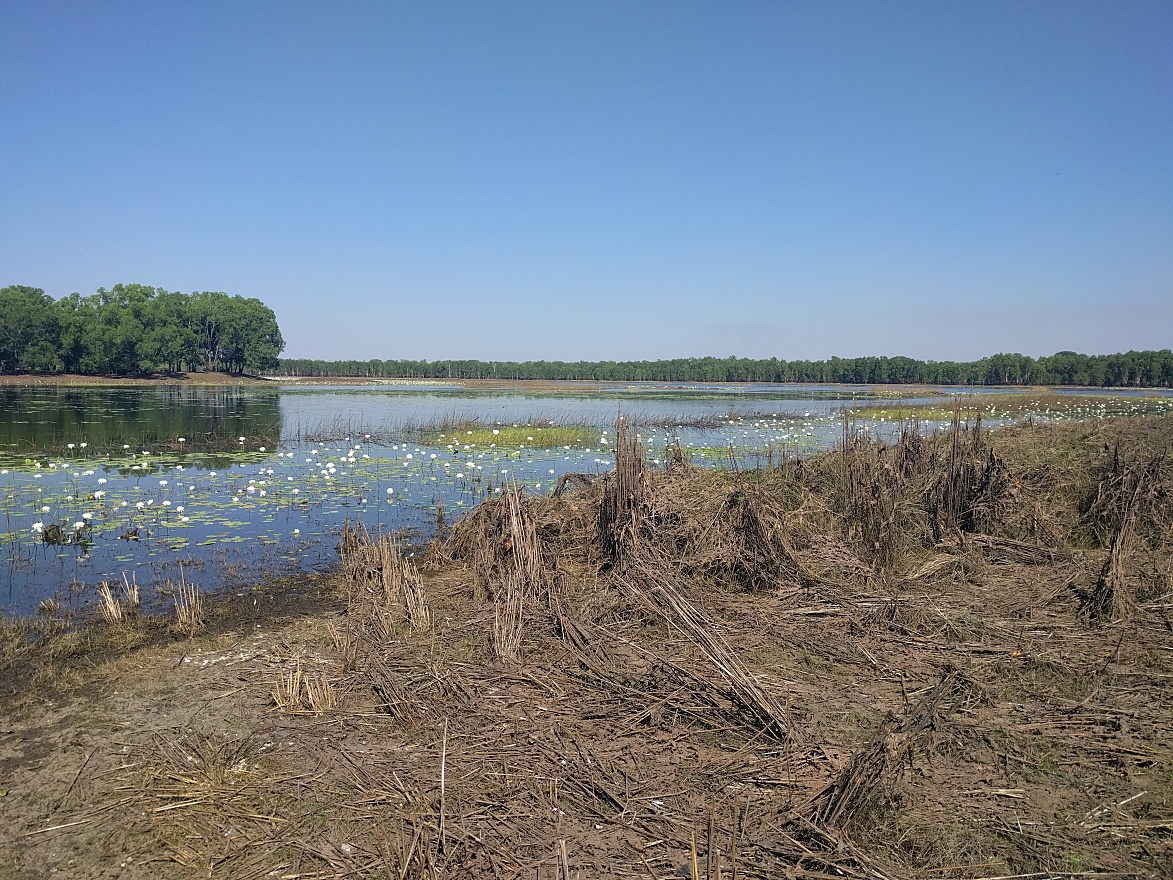 I slept until 7:30am, and it was glorious. I got a fantastic hot shower, and let david sleep until 9:30am. We wandered around downtown for a while, then went to a food court for lunch. David got beef, chicken & lamb sliders, and i got insanely spicy Indonesian fried chicken.
After lunch we returned to the hotel, and went for a short drive to the Museum & Art Gallery of the Northern Territory. It was free admission, and i wasn't expecting much. If far exceeded expectations. We ended up spending over 2 hours. They had modern aboriginal art, natural history (minerals, animals of the NT), a history exhibit on life in the NT in the early 20th century (it was a lot like the american wild west, only with more racism), an exhibit on Cyclone Tracy (which apparently was the worst natural disaster in AU history, destroying Darwin in 1974), and thus massive warehouse of boats from people who illegally arrived in AU from south east asia.
Once we finished at the museum, we drove to a self-service car wash to attempt to power wash all the red dust off the truck. It cost AU$1/minute, and i ended up spending $14. It was the role david was born to play, he got to play with a high pressured water hose. Following that we drove back to the hotel, and relaxed for a few hours until dinner time.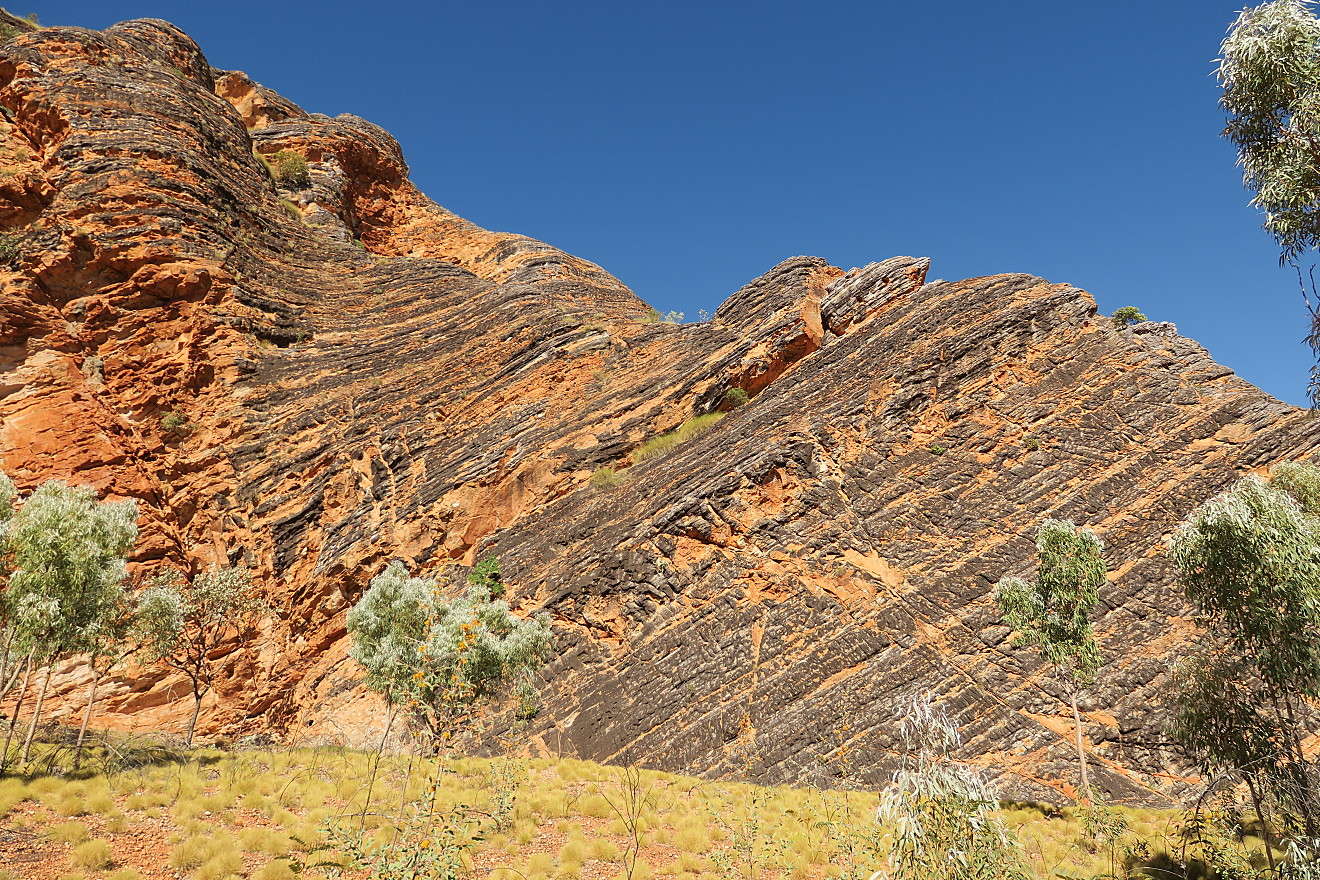 In total, we ended up driving nearly 8900km. The trip home went far more smoothly than the flight out.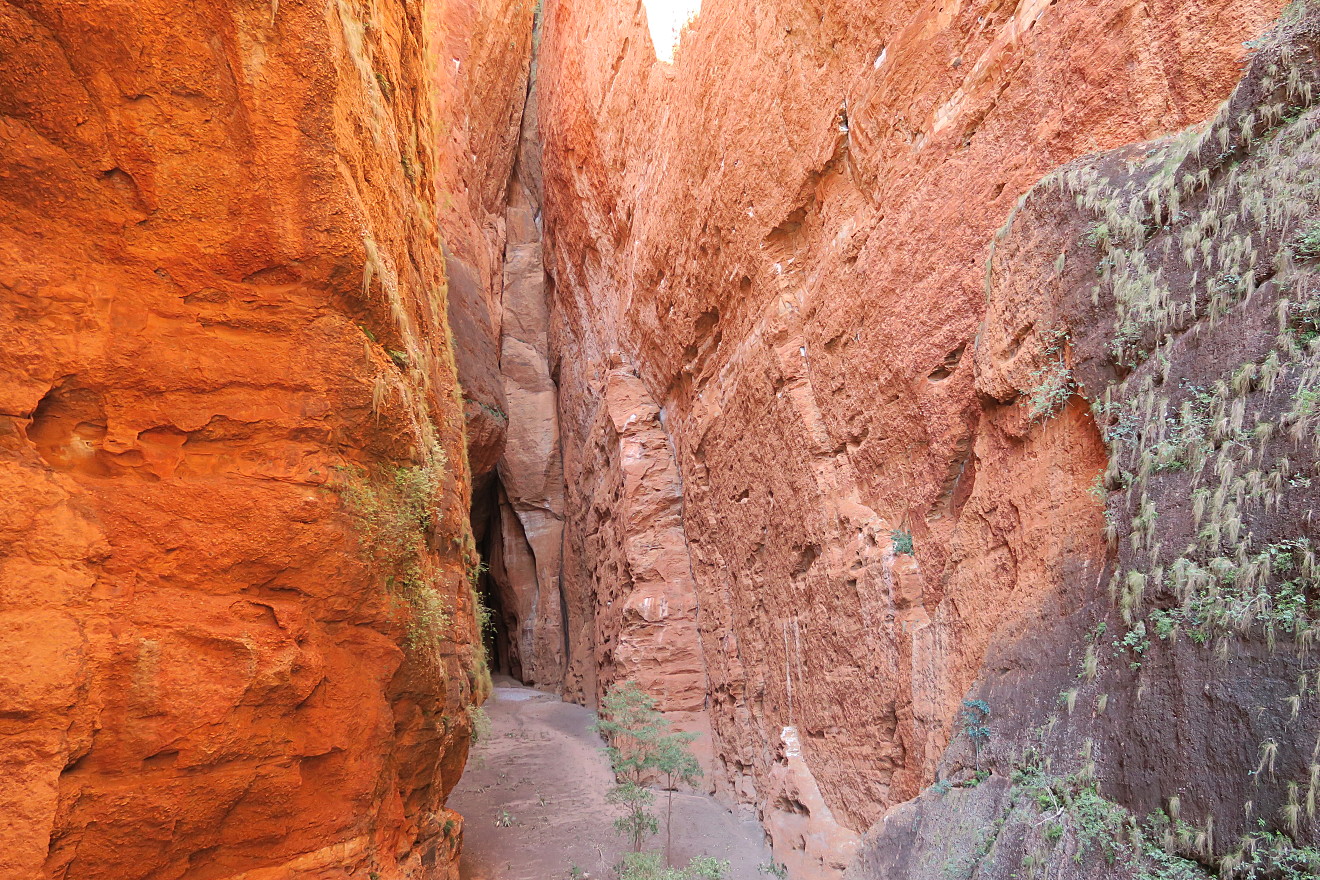 Here's the rough route that I travelled:

Hundreds of other photos from the trip are posted HERE. You can read about the first half of the trip HERE.