I've recently returned from a month long trip to Western Australia (with David). I had a great time, exploring a huge swath of the country. Other than coping with extreme heat & humidity, the trip went quite well. What follows is a trip report for the first half of the trip. You can read about the second half of the trip HERE.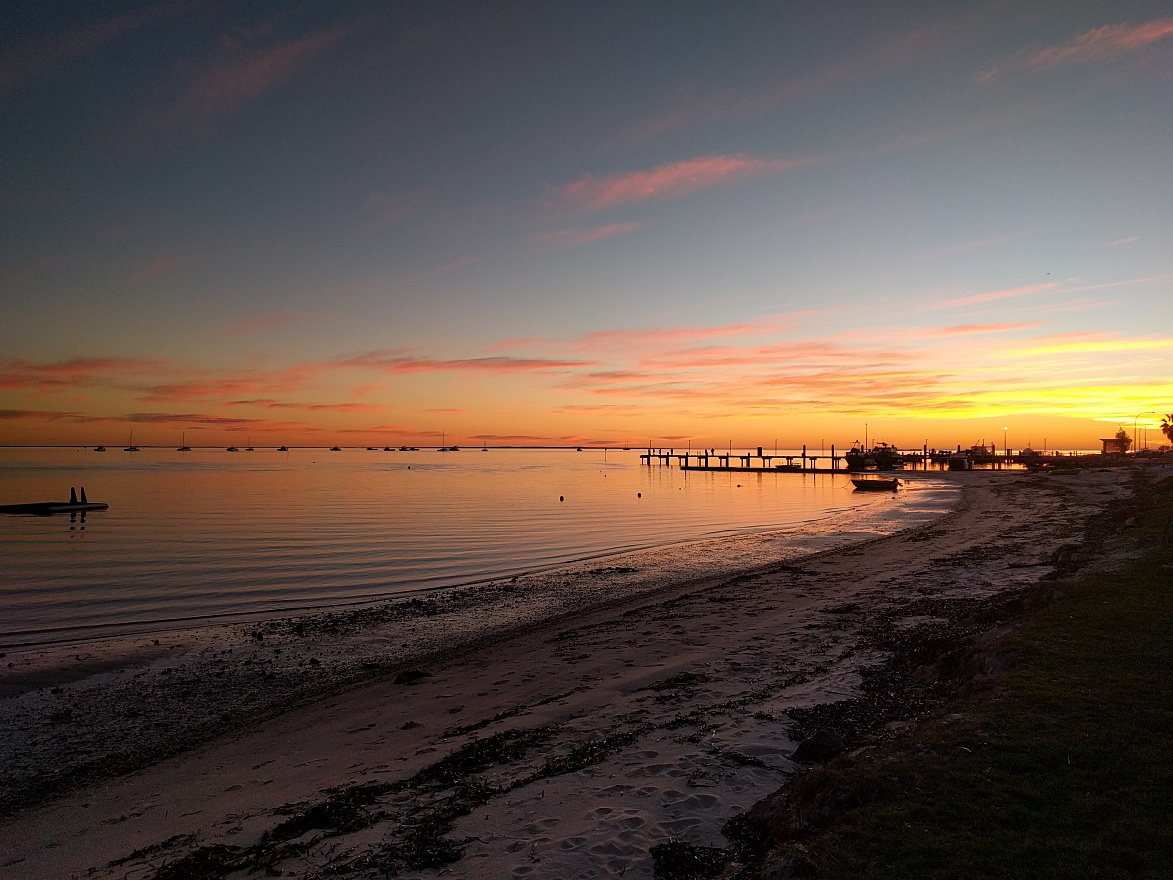 The plan for the trip was to fly to Perth, on the Indian Ocean (west) coast of Australia, rent a well equipped 4×4 truck with camping gear, and drive it up to Darwin over the course of 4 weeks. While it all worked out (mostly) to plan in the end, it started off a bit rough. We were to fly from SJC to LAX (on AlaskaAir), then fly Qantas from LAX to SYD, and from SYD to PER. However, when we arrived in LAX, I noticed that our flight to Sydney was already nearly 3 hours late. This would cascade to prevent us to miss our connecting flight to Perth, and significantly disrupt at least the first 24 hours of the trip in Australia. While attempting to sort out how to deal with this mess, I noticed that Qantas had a completely different flight departing from LAX for Melbourne, and that flight was still listed as on time. I figured that if I could convince someone to move me to that flight, I could fly to Perth from Melbourne instead. Thankfully, I had an incredibly helpful gate agent who was willing to make the change, and that solved the fiasco.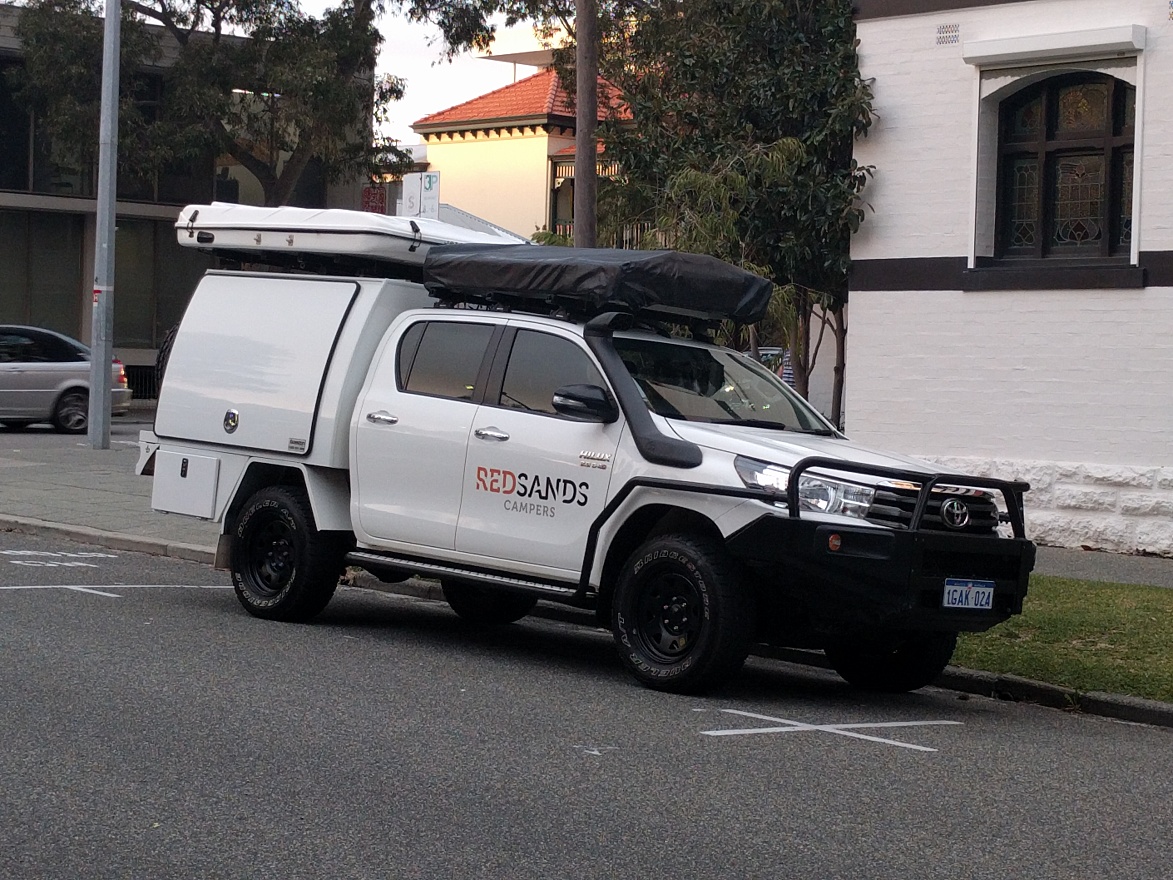 Once i got us switched to the flight to Melbourne, we waited another hour until boarding. We ended up at a gate that was trialing the new facial recognition boarding system. It was awkward, as each person had to stand in front of this podium while it attempted to identify them. Also we were on the Airbus 380 (the double level aircraft), which added to the boarding chaos. I ended up sitting in the 2nd row of economy beside 2 Australian grand mothers. David was 6 rows further back, and lucked out with an empty seat beside him. The flight still ended up departing 45 minutes late, but that's way better than my original sydney flight which ended up leaving nearly 3.5 hours late. Also the plane was kinda old, and the usb ports didn't provide enough power to charge anything.
Qantas does a weird meal service. Instead of the typical tray with a bunch small containers of food, they hand out a small platter with just the entree, and then the dessert is separate. If would kinda suck if it was the same entree portion size as other airlines, but its about 1/3 bigger. The food itself was ok. We landed in Melbourne about 5 minutes early, then taxied forever. The deplaning took forever, and wasn't helped by the fact that david was 6 rows worth of passengers behind me. We ran through the terminal, and immigration was a chaotic mess. They had these automated kiosks which we were allowed to use, but even they had super long lines. We then jumped into a line that just opened, and david was able to get his passport scanned at the kiosk. But my passport refused to scan. I asked one of the attendants, and they couldn't get it to work either, and pointed me at this line that they called the 'special assistance line'. After standing in that line for a few minutes, i realized that we were in the crew member line, and the line we needed was elsewhere. When we switched to the real special assistance line it had 20 people already there, and this grouchy agent ordered david to use the automated line, literally separating him from me. Thankfully i could see where he ended up waiting for me. Once i reached the front of the line it was 08:05am, and our perth flight was supposed to start boarding at 08:45am. The immigration guy in the booth also couldn't get my passport to scan, and had to send me to some secondary booth where they ended up entering it manually. I foolishly assumed that the worst was behind me at this point, but the customs line had a few hundred people, and wasn't even moving. After waiting another 5 minutes, they finally added more staff, and we got through. A fast dash across the terminal, and through security, and we made it to our gate with 20 minutes to spare.
The Perth flight was fine. We landed a few minutes early. I had a small panic attack when i couldn't get 2 different ATMs to accept my PIN. But then i realized i was an idiot, and using the wrong card with the right PIN. I got an Uber to pickup the camper truck, and spent nearly 2 hours getting a detailed demo of every piece of equipment. David was impressed. After that we drove a few km to stock up on groceries. Then to the hotel to get checked in. The hotel itself is nice enough. But the neighborhood is completely devoid of character, mostly just offices. We ended up driving about 10 minutes away for dinner. We went to an italian place which had good food but incredibly slow service. I got a working Telstra SIM card with 5gb of data.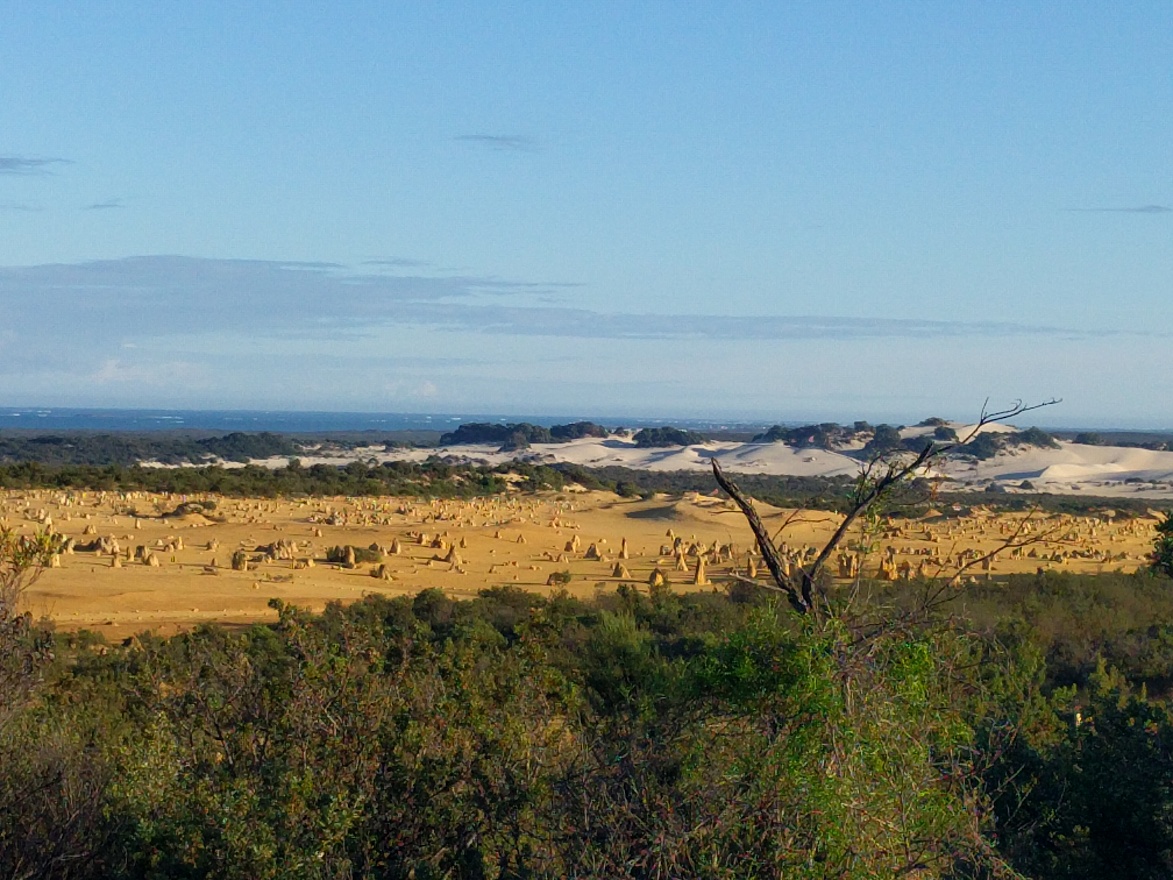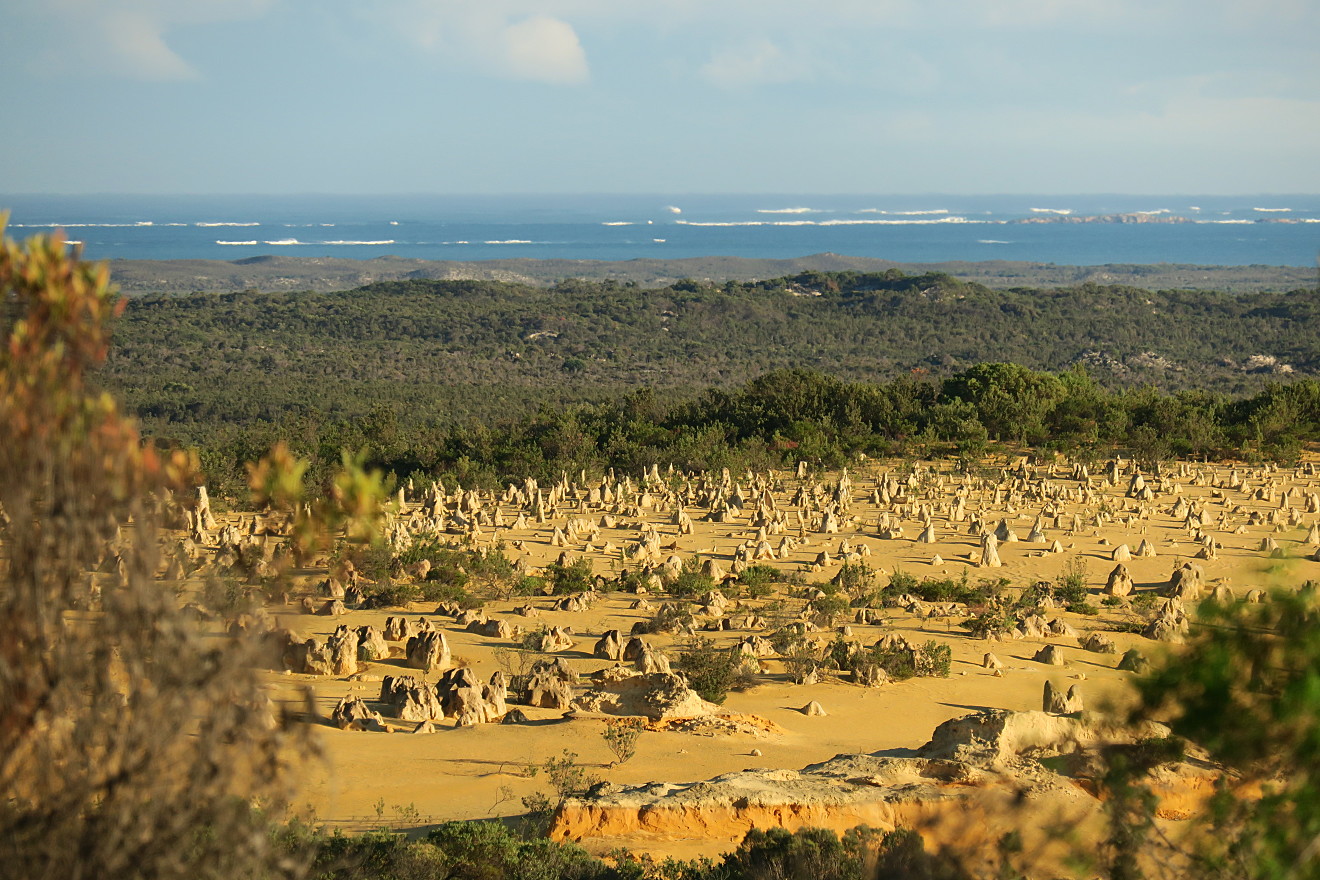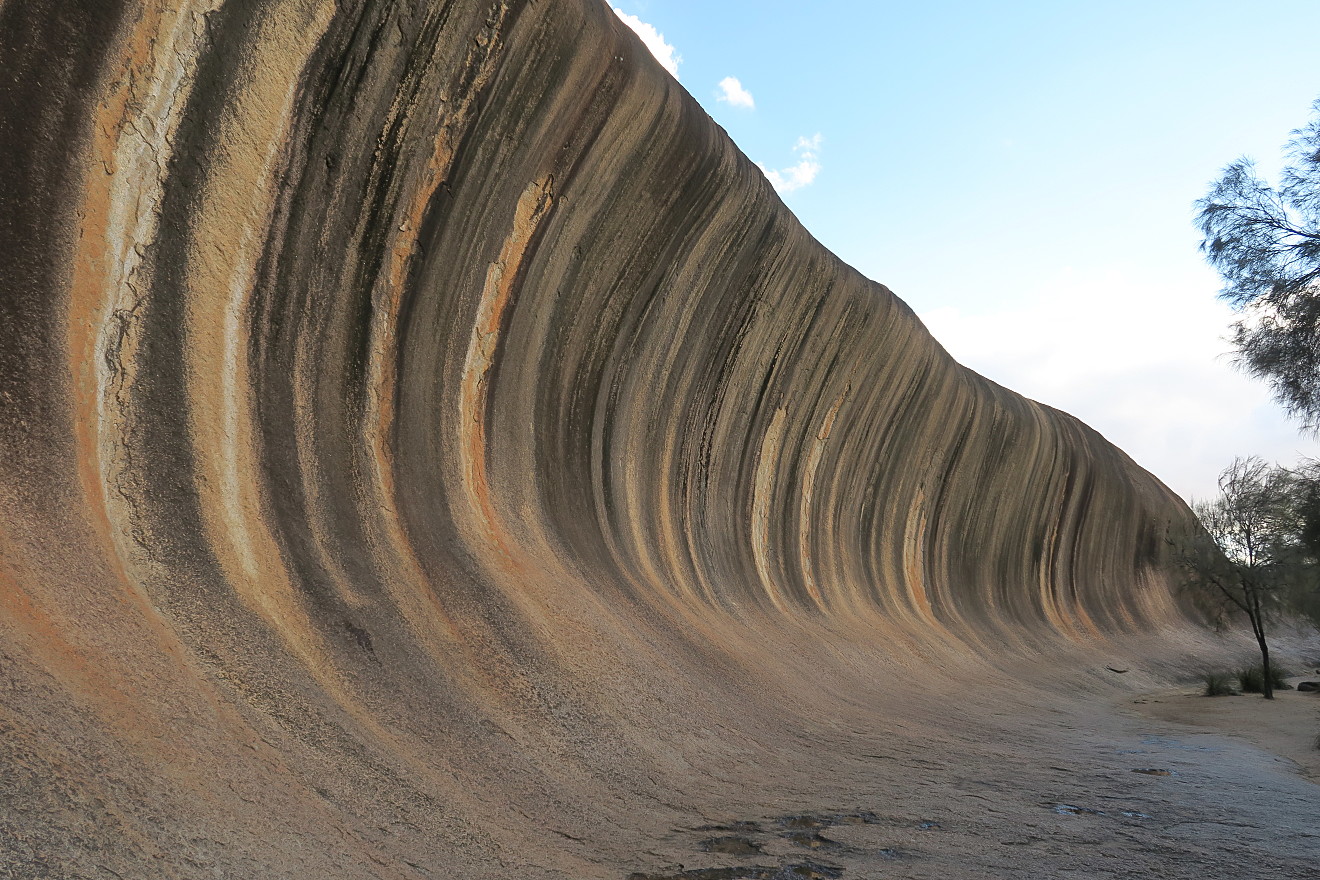 Overall we had a good first full day. I woke at 3am due to jetlag. At 5:30am i woke david, who was unsurprisingly super grouchy because his 9.5 hours of sleep was not enough. We were out of the hotel and on the road by 6am, enroute to Nambung National park. The first hour of driving was before sunrise. we were driving north from perth along the Indian Ocean Road, although the road wasn't close enough to see the coast until the last hour. Most of the drive was past small farms. As we got closer, we started seeing sand dunes, and finally the ocean waves. google claimed that the drive would take 3 hours, but i did it in 2, even going at the speed limit most of the time. The section of the park that we visited is known as the pinnacles. It has thousands of rocky spires jutting vertically out of the sand dunes. Some are barely a foot tall, but others were closer to 8ft tall. Also, since we arrived at 8am, the sun was barely up, and the park was nearly empty, which made dramatic shadows from the rocks. It was really pretty.
we finished after an hour, and then drove most of the way back towards perth. Along the way, i stopped for gas (diesel) for the first time, and also filled up the 20L gas can too. after skirting around the north side of perth, we headed east. Just before noon i pulled into a gas station and made lunch. We had tuna sandwiches and an orange. David shocked me by inhaling all of the food before i even finished. Then we continued driving east. For a while we were driving through a dense pine forest, but it gradually thinned out. The remainder of the driving was past very flat farm land, which the signs promoted as the 'wheat belt of Australia'. But since its winter, all the fields were already harvested. Traffic was very sparse, and the tiny farm towns were often an hour's drive apart.
When david picked up on the fact that we were running ahead of schedule, he suggested that we amend our plans, and keep driving instead of camping at our next stop. We pulled into Hyden at 2:30pm (about 2.5 hours earlier than expected). I got more gas, and then we went to 'wave rock', which is this massive eroded rock formation which looks like a huge ocean wave just before it falls. David was impressed, and we were able to explore both on top and along the base of the rock. Best of all, there was no one else there. Apparently in the summer, its a fairly popular attraction, despite being hours away from just about everything.
at this point it was just after 3pm. I scanned the route for the next day to see if i could find anywhere else to camp for the night. The very next town (about 85km away) had a caravan park, so we decided to go for it. The entire drive there was devoid of cars. Also there was thus odd stretch of barbed wire farm fence that had hundreds of random shoes hanging from it. We pulled into the park at 4pm. It was kinda odd. Half the park has tiny cabin, and RV hookups for a fee. The other half is completely free. It was a no brainer. They provided clean showers too.
We proceeded to setup the 2 tents. Overall the setup went fairly smoothly, and david seems to like his huge tent. Dinner took a bit longer than i would have preferred because i needed to figure out where everything was, and how it all worked. I made kangaroo cheddar burgers with tomato on them. David was thrilled. I thought that they turned out well too. After cleaning up from dinner i got a decent shower.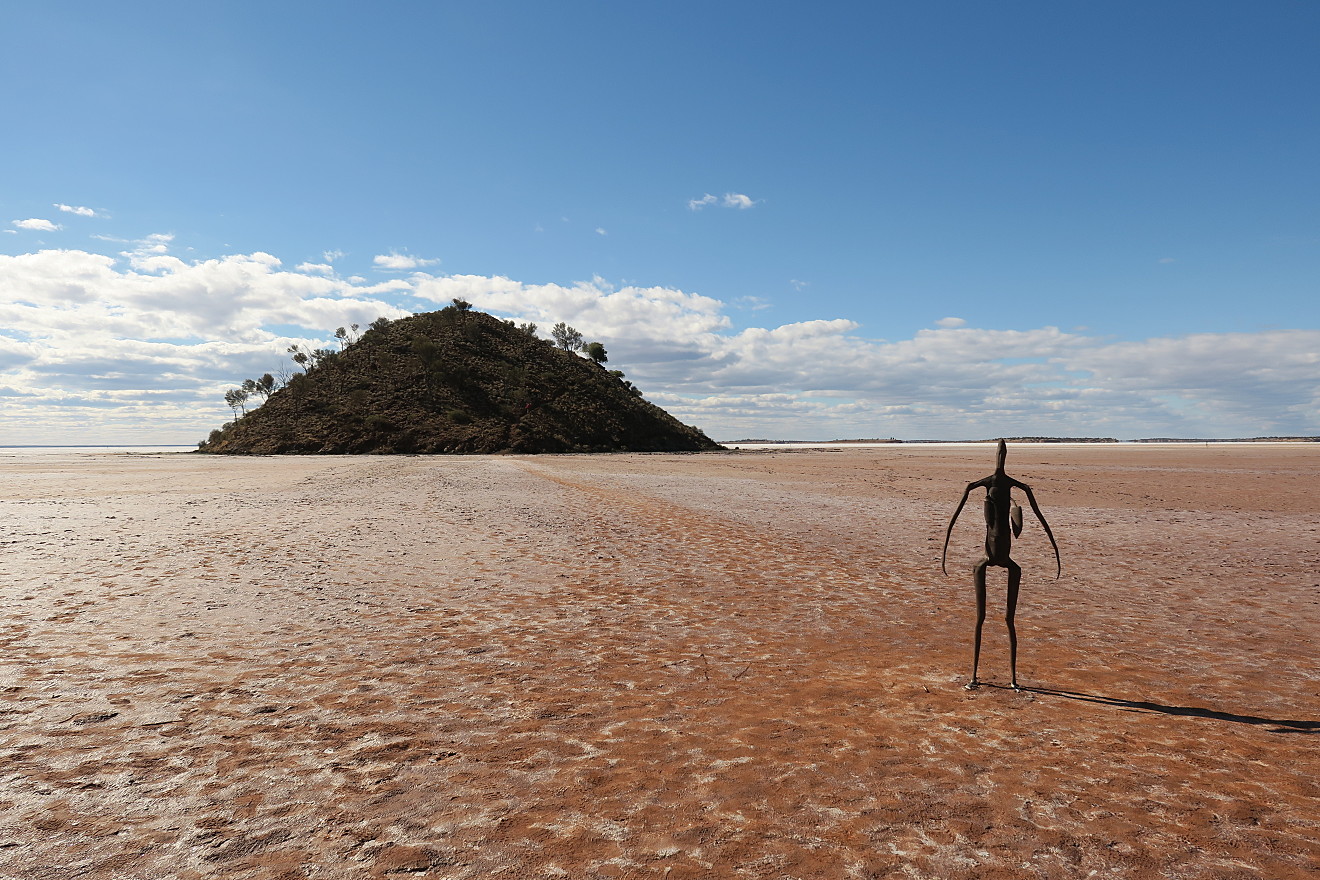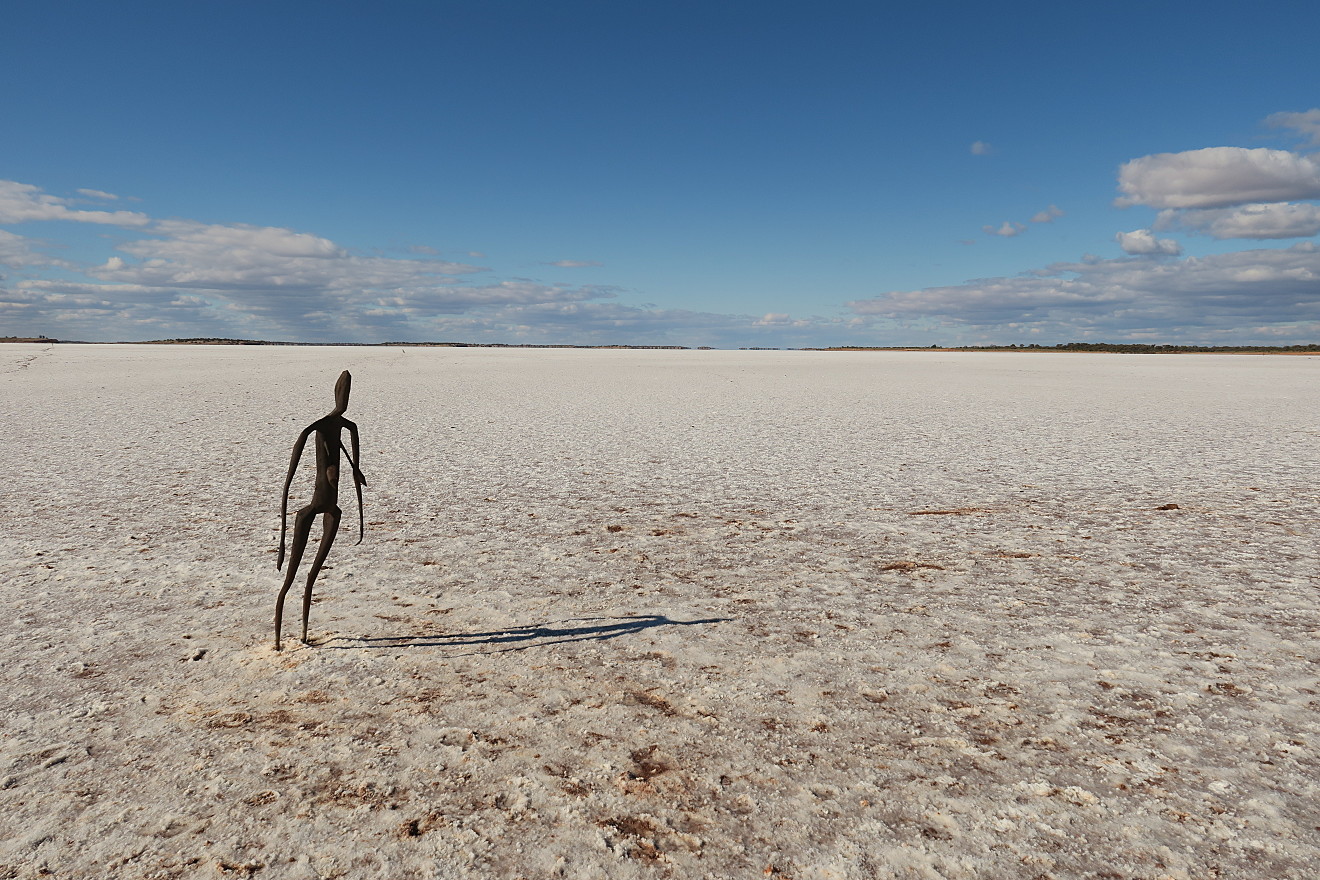 Last night was cold. It was 5C when we got up this morning. Apparently the only friday night entertainment in the town where we stayed last night is karaoke in the hotel/bar across the street from the caravan park. I was serenaded until midnight with every popular song you can think of from the past 20 years. In the middle of the night i got a bit chilly and needed the extra blanket, in addition to the sleeping bag. Other than that, i was comfy at night, and david said that he slept well. I woke for the day at 4:30am, and dreaded having to get up due to the cold and the early hour. Thankfully david got up without too much complaining at 5:30am, and then we had the miserable task of closing up both tents in the cold darkness. Of course every surface was wet (condensation) and most stuff was metal too, so our hands ended up numb as we fumbled around. It took nearly an hour to get packed up and on the road.
Initially it was foggy, but once the sun came up everything was clear. We drove through some more farm land for the first couple hours, but then we entered the 'goldfields'. The terrain changed, and was dryer, with fewer trees, and lots of creosote and sage brush looking shrubs. And lots of huge industrial gold mining operations. We also passed the rabbit proof fence, which david remembered reading about. We stopped for gas around 10am, and then pulled over at a roadside rest area to have lunch just after 11am. We were making excellent progress, and reached our 'final' destination for the day at 1:30pm. It was Lake Ballard, a huge, mostly dry lake, with metallic humanoid sculptures scattered about the lake bed. There was also a small island mountain a bit off shore, which david enthusiastically climbed as i wandered the lake bed. The ground was a damp mixture of red dirt and salt, which stuck to our shoes. We spent about an hour exploring, and then decided to drive further since it was barely 2:30pm.
we continued to the next town along our route, Lenora, which was 95km further. we arrived at 3:30pm, got gas, and headed to the caravan park. Its not free tonight, but other than that seems nice enough. We're going to have cheesy pasta for dinner tonight. David is excited.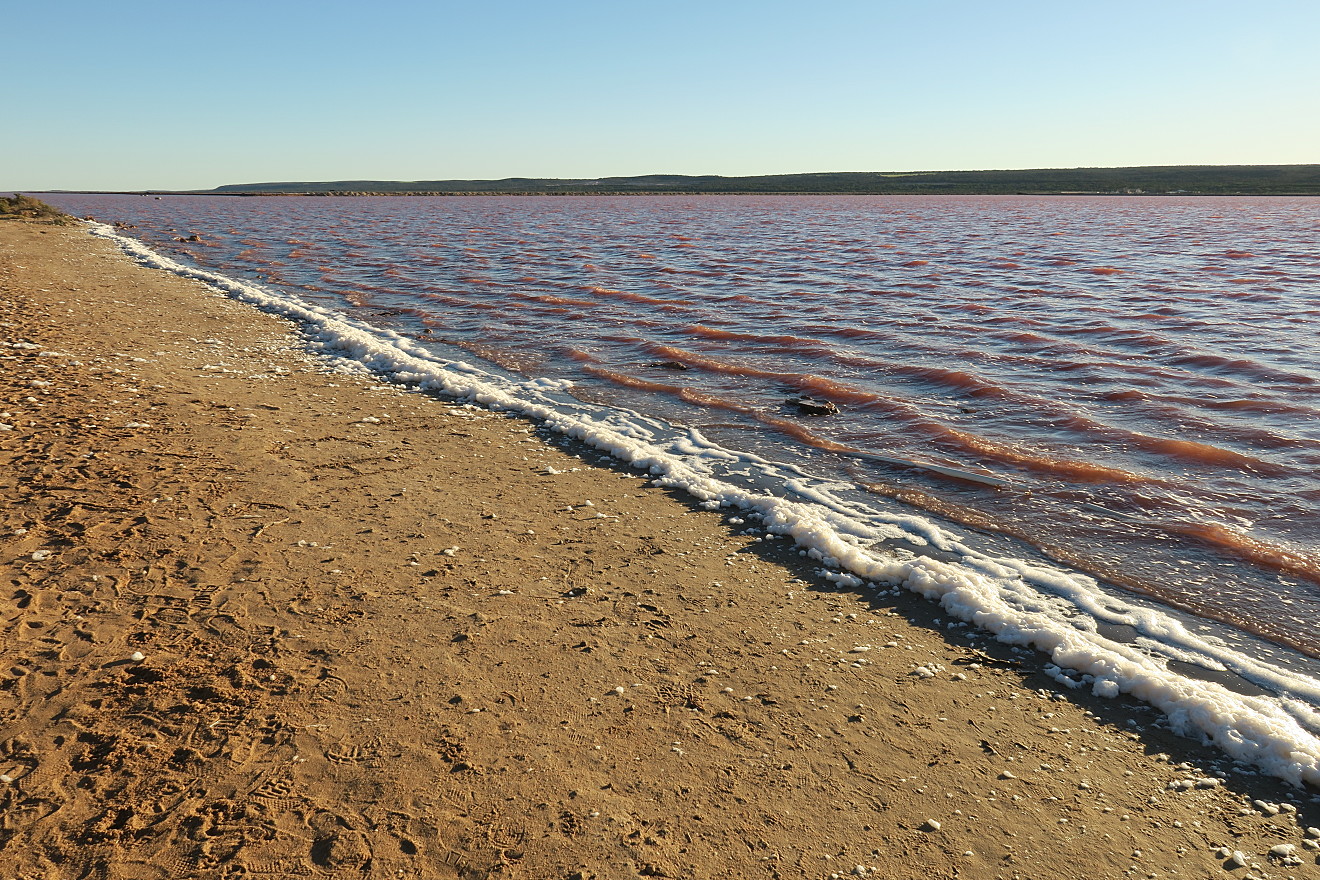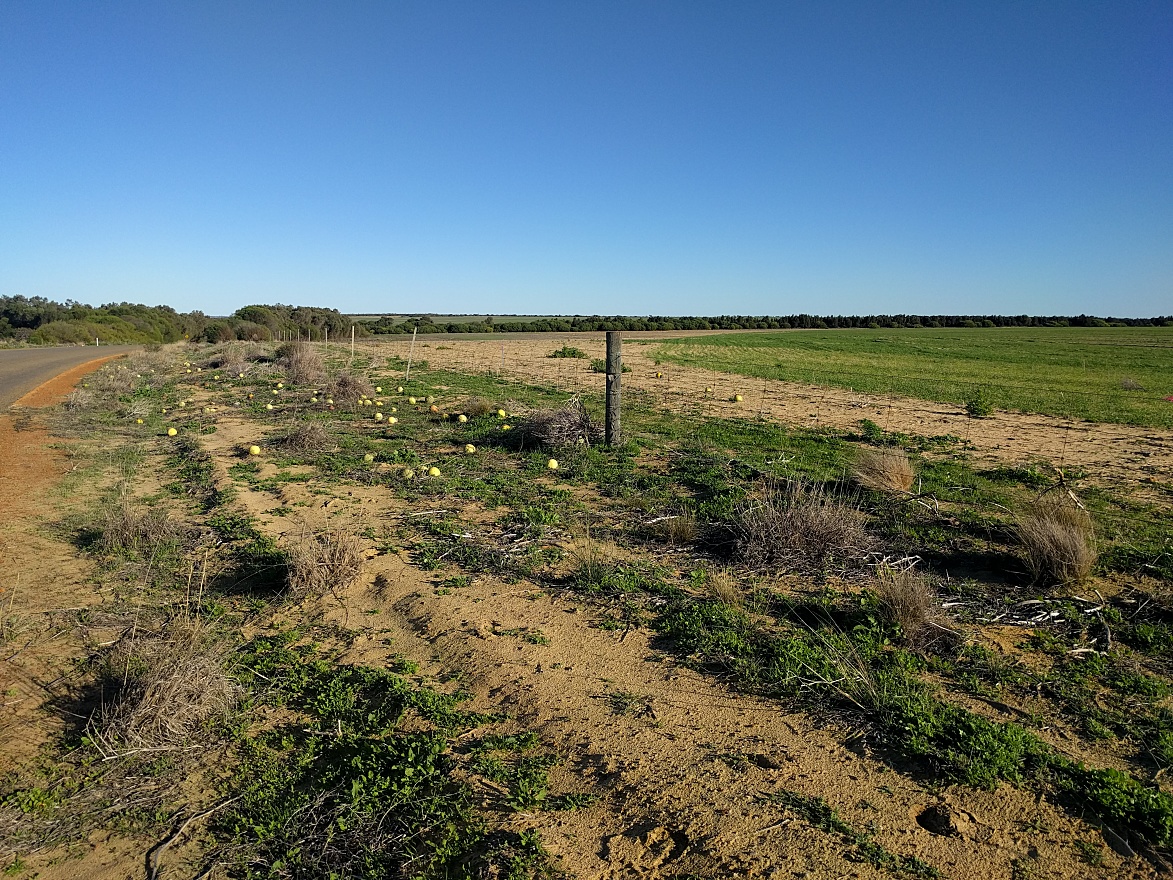 The cheesy pasta turned out well last night. I went to bed just after 8pm. At 2am some jerk started blasting loud music for a few minutes. Then again at 4am. I woke for the day at 5am, and it was cold again. David got up at 5:30am without too much grumbling, and we were on the road by 6:15am. For most of the morning we drove through a red dirt & sand landscape with short stumpy shrubs, and lots of road kill (we saw more than a dozen cows in varying states of de-composure).
At one point this 4 trailer road train travelling in the opposite direction blasted by, and somehow threw a rock into the windshield, immediately creating a 1 inch long horizontal crack on the passenger side. Over the next few hours the crack has grown in size, and is currently nearly as long as my hand. I've emailed the rental company with a photo of the crack to inquire if they want me to get it repaired. Since its on the extreme edge of the passenger side, its not obscuring my view at all.
We passed what google claimed would have required 8.5 hours of driving just after 10am, so we continued onward, seeing how far we could get today. We stopped at a road side rest area for a tuna sandwich lunch just after 11am. About an hour later we started to climb up this plateau, and at the top the scenery dramatically changed. It was all bright green rolling farm hills. The rest of the day was driving past huge farms. At one point we were driving on a 12km long dirt farm road, with a shallow stream crossing. At 2pm we reached WA's route 1 (their version of the PCH). We drove another hour north to the coastal town of Port Gregory, and we're spending the night in a caravan park here. The high temperature for today was 22C which is the warmest day thus far. I'm hoping for a warmer night, but who knows. So far the campground is mostly empty, and is quiet.
At this point we're nearly a full day ahead of schedule. I have no clue what kind of bonkers math google uses for driving time estimates in Australia. I had the same 'problem' 5 years ago. Any way, the plan for tomorrow (our monday), is to attempt to sleep in. Then see the nearby Hutt Lagoon, and drive (4? Hours) up the coast to the town of Denham, where we will spend 2 nights at a motel.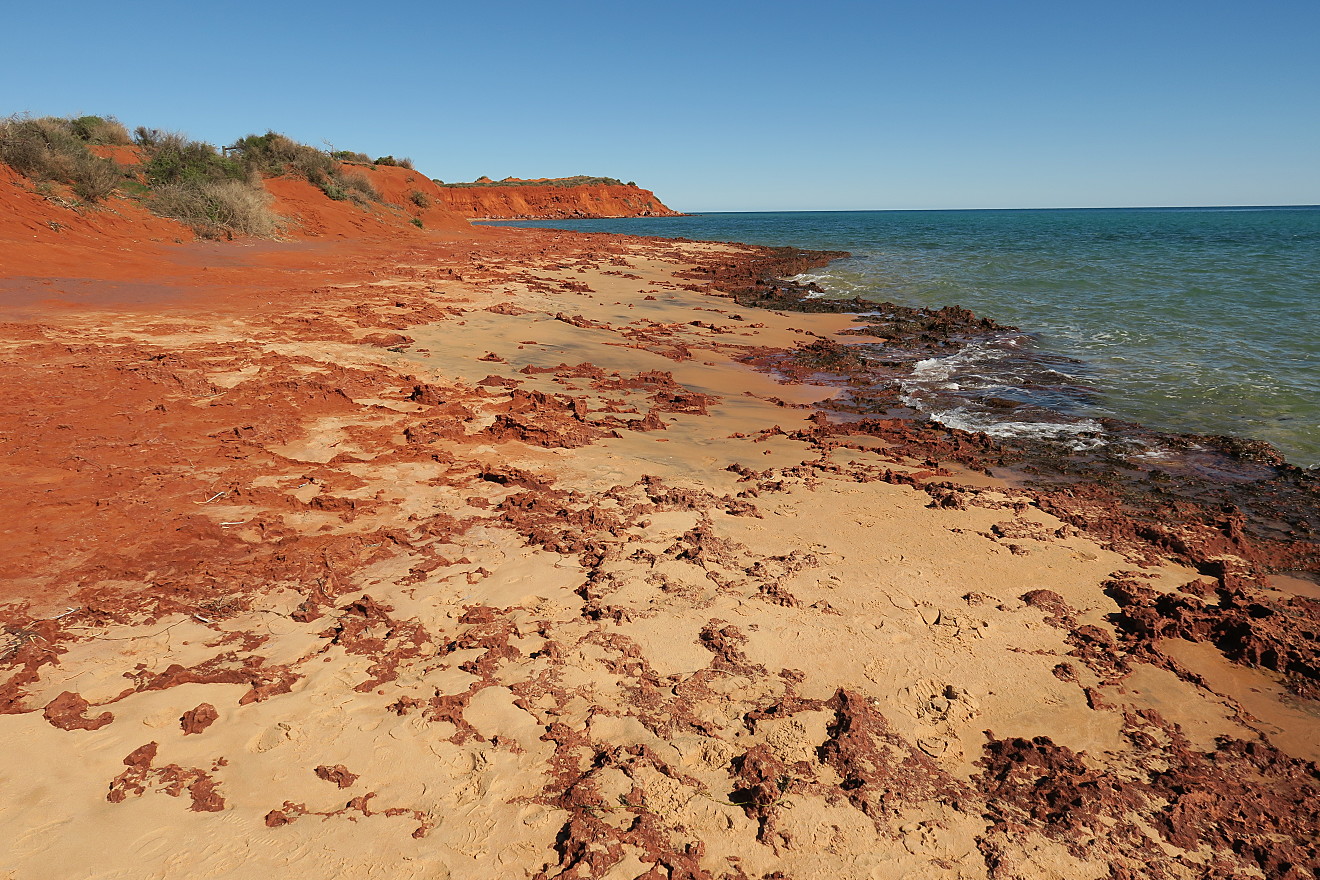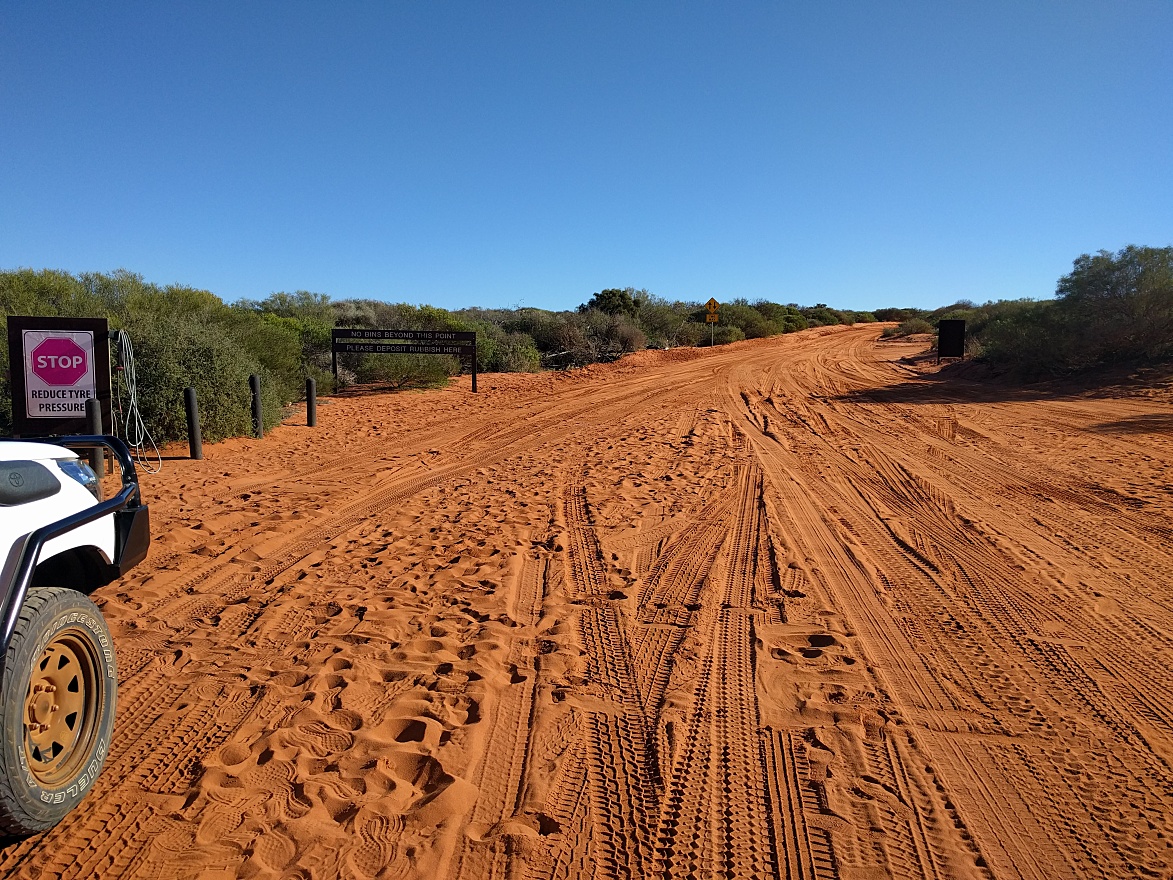 I slept well last night. No noise, no music, just the sound of the ocean. It was very windy in the morning. We were packed up a bit after 8am, and stopped at Hutt Lagoon on the outskirts of town. The lagoon is pink due to algae in the water, which produce some beta-kerotin. david was in awe.
after that it was driving north for another 2 hours until the turnoff for shark bay, which is an UNESCO world heritage site. We had lunch, and then started the drive up the narrow peninsula which also boasts as being the most western point on the continent. We stopped along the way at a site along the coast with stromatolites, which are rocky formations created by bacteria in coastal areas. After that we continued the drive to Denham for another hour. along the way we could see the coast at different times to the east or west.
When we arrived at the motel, we were greeted by the 80 year old grounds keeper, who was this ridiculously eccentric british guy who looked like an old sea captain. He proceeded to chew our ears off on every topic imaginable, including religion, politics, and his time living in san francisco in the early 1960s. Finally we checked into our room, which is fine, although a bit dated. Then we drove 2 blocks to the IGA to stock up on a few things. We got more cereal & cheese. While in the checkout line the guy in front of us started singing & dancing. The entire town sits on shark bay, only a few blocks long. We decided to walk to dinner. we passed the bottleshop, and this guy walked out with a 6 pack under his arm, hopped on a skateboard, and yelled to us "any cars coming?", and as soon as i said 'no' he blasted onto the road. People are kinda weird here. For dinner we went to the oldest pub in town. David got a scotch fillet in red wine sauce, with chips & a salad, and i got the fish of the day, 'blue bone' with scallops, shaved fennel & risotto. It was really good.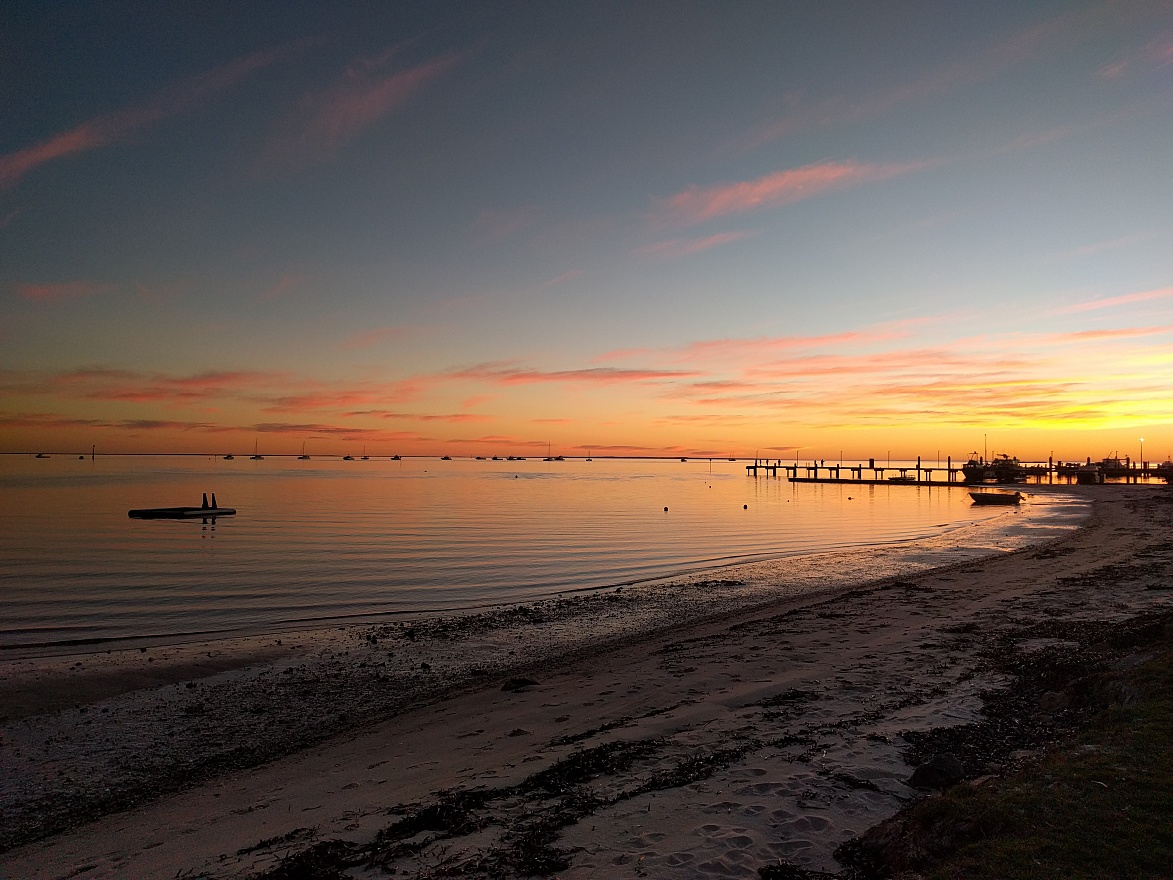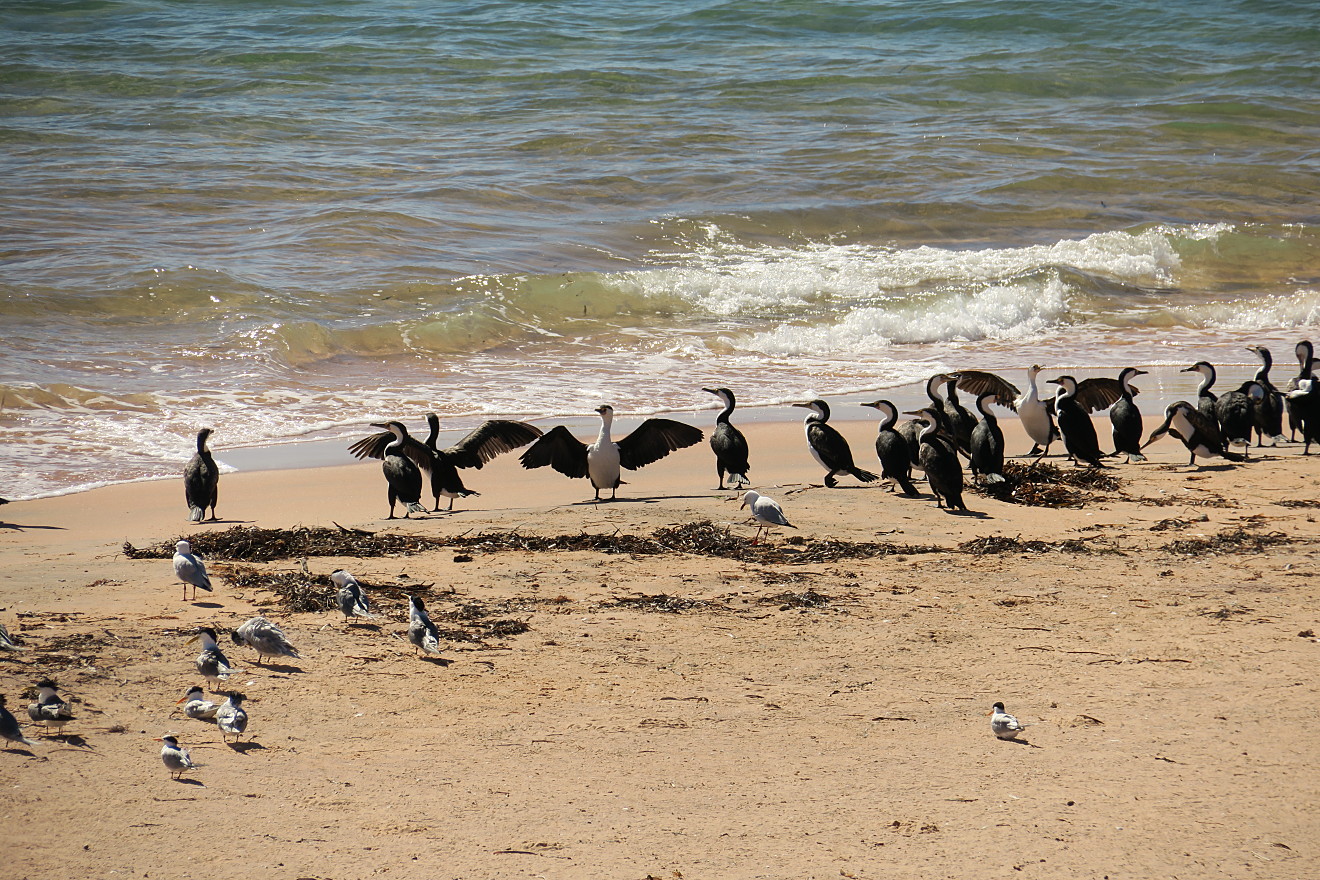 We both slept well last night. I woke for the day at 6am, but i let david sleep until 7:30am. After eating breakfast, we headed out of town, and further north up the peninsula into Francis Peron NP.
The first stop was the old Peron homestead, which was a sheep ranch until the late 80s. All of the buildings were mostly in the same condition. As we were wandering the grounds, we saw several kangaroos jumping around, and david was thrilled. Its the first live ones that we've seen (we saw some roadkill already). After that we got back into he truck, and entered the restricted section of the park. Only high clearance 4wd are permitted on the majority of the park roads, as they're almost entirely deep red sand. I know, i've had multiple bad experiences attempting to drive in sand before, but everything went perfectly today. The park provided an air down/up area with air pumps, and guidance on air pressure. However, the truck comes with an air compressor, hose and digital gauge so i was able to do it all myself.
The sand was deep, very deep in many places. However, i ended up driving over 100km on sand today, and never got stuck. I had 4wd engaged the entire time, and it definitely helped. I usually tried to maintain 50kph on sand. Our first stop was 'Big Lagoon'. It was a mostly sheltered lagoon on the west side of the peninsula. They've got some funky looking sea weed around here which grows in long, narrow strips, and then floats to the surface when it dies. Big lagoon had a ton of it all bunched up along the sandy shore. I commented to david, that it was difficult to tell where the sand ended and the water began. He ignored me, and proceeded to walk on the dead plants, until he sunk into the water up to his ankles (with his sneakers on). Of course then he blames me for not warning him more forcefully. Thankfully, he brought his sandals with him in the truck today, so he changed into them.
After that, we continued the drive all the way north to the top of the peninsula, at Cape Peron. It was absolutely gorgeous today. Clear skies, highs in the low 20Cs, and the ocean was a rich blue. The sand and cliffs were a deep rusty red, and there were tons of seabirds nesting along a sand bar jutting put into the ocean. We had some lunch, and then we explored along the cliffs for a while. David found a stick and was drawing in the sand, and finding random shells.
When we returned to the truck, i noticed that the cap for the potable water tank was missing. This is the 20 gallon tank that we were going to rely upon for drinking water later in the trip when we're up north in the wilderness for nearly a week. At that point my only guess was that the cap fell off as we were bouncing along on the sandy road. David suggested that we would look for it on the road as we drove back, but i had very low confidence that a small white water tank cap would be visible as we drove the 40+ km back on the sandy road. However, less than 20 minutes down the road, i saw the white cap sitting in the middle of the road. The cap actually has a key lock, but i don't think it was ever locked when i got got the truck, so it shook lose during the driving today. I locked it, and thankfully this was the only mishap of the day.
We drove the rest of the way south to the air up station, and i aired all the tires back to their required pavement pressure. Then we drove another 50km south to Shell beach. The entire drive south, david kept demanding to return to the hotel, with zero interest in the beach. it eventually turned into a heated argument about how i'm forcing him to do stuff that didn't interest him, and he should be allowed to 'relax' when on vacation. However, as soon as we got to the beach, and he saw how it was composed of nothing but shells of varying shapes and sizes, he loved it. It was gorgeous there. The beach itself was deep, and very wide, yet there were maybe 20 people total. The beach was bright white from the shells, and the sea was deep blue. David ended up taking off his sandals and wading into the water too. Finally we headed back to the truck, and drove the 40km back to denham.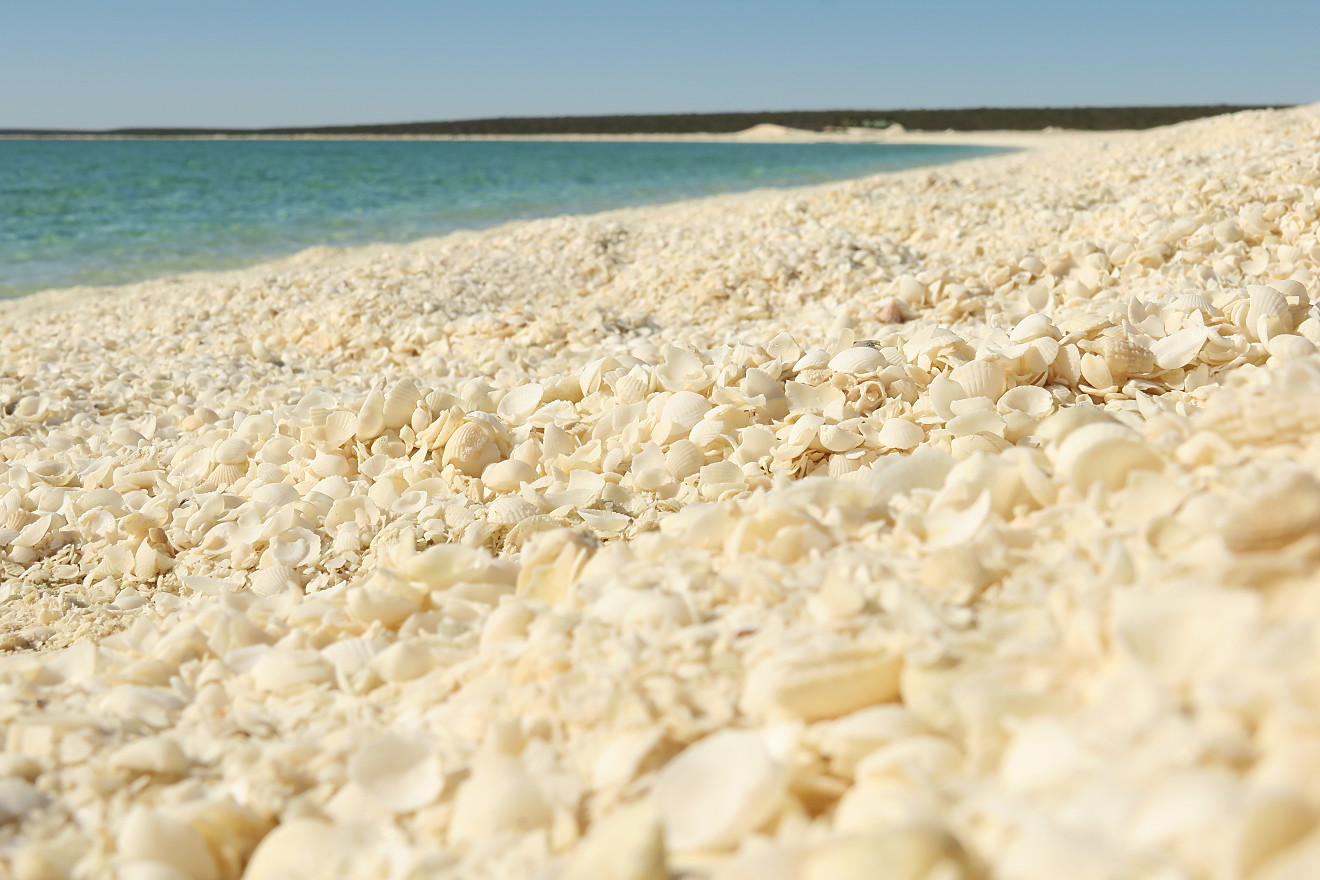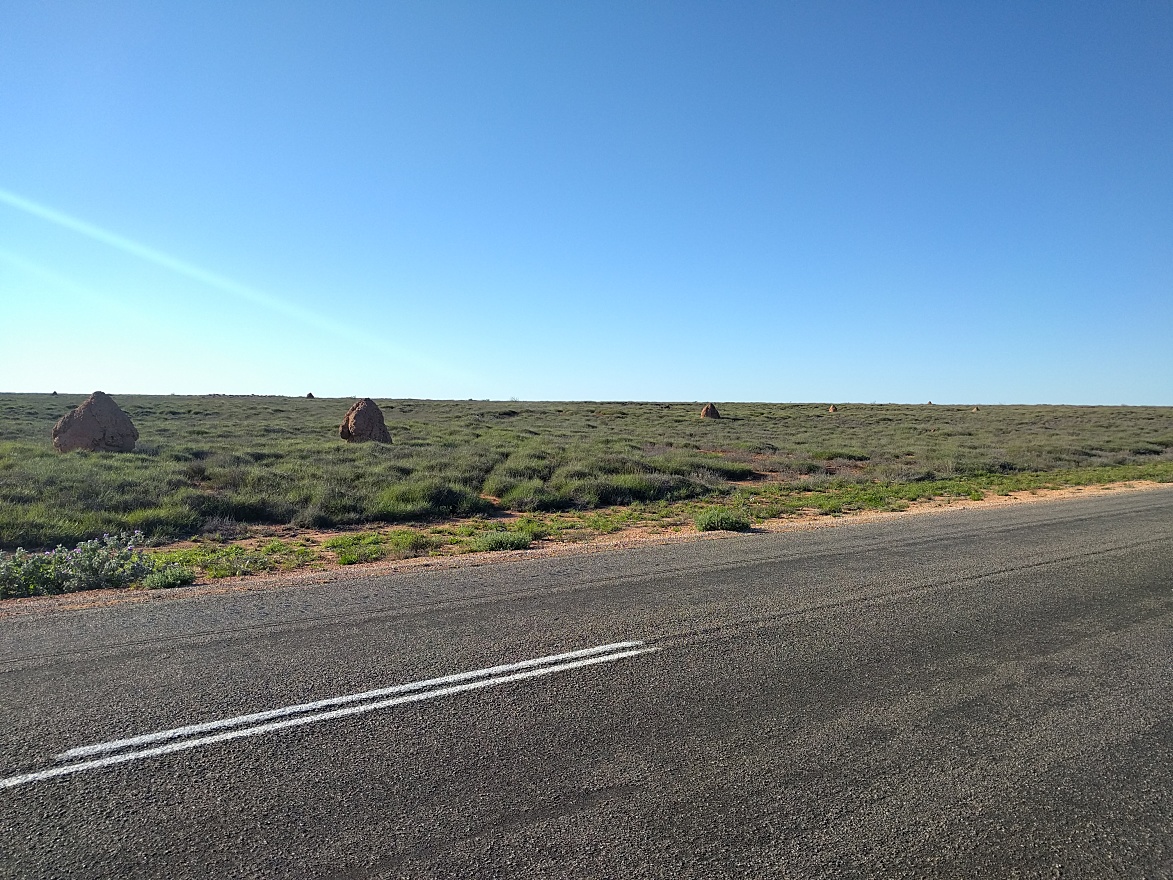 We were on the road at 7am. Not long after we saw an emu casually crossing the road. The rest of the drive to Carnarvan was uneventful, and we pulled into the auto glass place a bit after 10am, to get the cracked windshield replaced. They told me that it would take 3 hours (so much for American while you wait replacements), and offered us a ride into the center of town. They dropped us off, and we wandered around for about an hour. Its a small town, and fairly boring, so there wasn't much. A few small cafes, shops, a civic center, library, and supermarket, and that was about it. We got a rather mediocre lunch at one of the cafes , and people watched for a while. I saw an elderly man wearing a Metalica cap. The bank beside the cafe surprisingly offered free WiFi which kept us occupied for a while. When 3 hours came & went, i called and they said they needed another 90 minutes. I was annoyed, as even though i was already technically ahead of schedule, spending much of the day sitting in a boring town was not the best use of our time. I convinced david that if we walked the 2.4km back it might speed up the process. Google claimed it was just a 30 minute walk. The walk wasn't bad besides david's incessant complaining and the blazing sun overhead. They finished a bit after 2pm.
We wanted to get to wherever we'd spend the night early enough to get setup and have dinner before it got dark. which meant arriving no later than 5pm. we got the first possible campground a bit after 3pm, but it was literally beside a gas station on the side of the highway. We filled up and decided to keep driving. The next possible place was another 125km which was going to cut it close. As we drove the temperature continued to rise outside, and hit 26C, for a trip high. Also, we passed into the tropics just after 4pm, passing a rather dull, unceremonious 'tropic of capricorn' sign. We pulled into the town of Coral Bay at 4:35pm. The town has a huge 200 site campground, and it looked to be nearly full of RV's. Not really ideal, but we did get an unpowered site for the obscene fee of $45. Old El Paso is apparently what counts as 'mexican' food around here. The people in the site beside us broke out this elaborate fajita kit for dinner.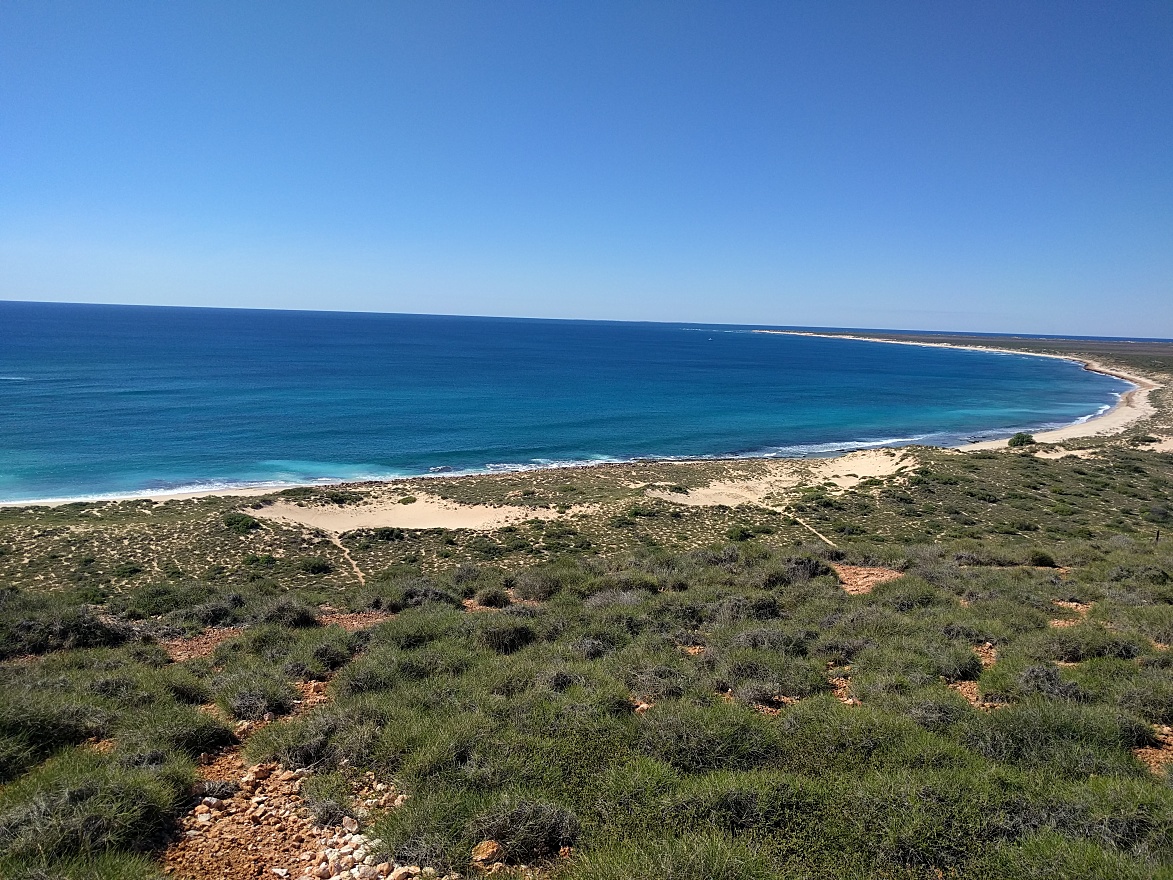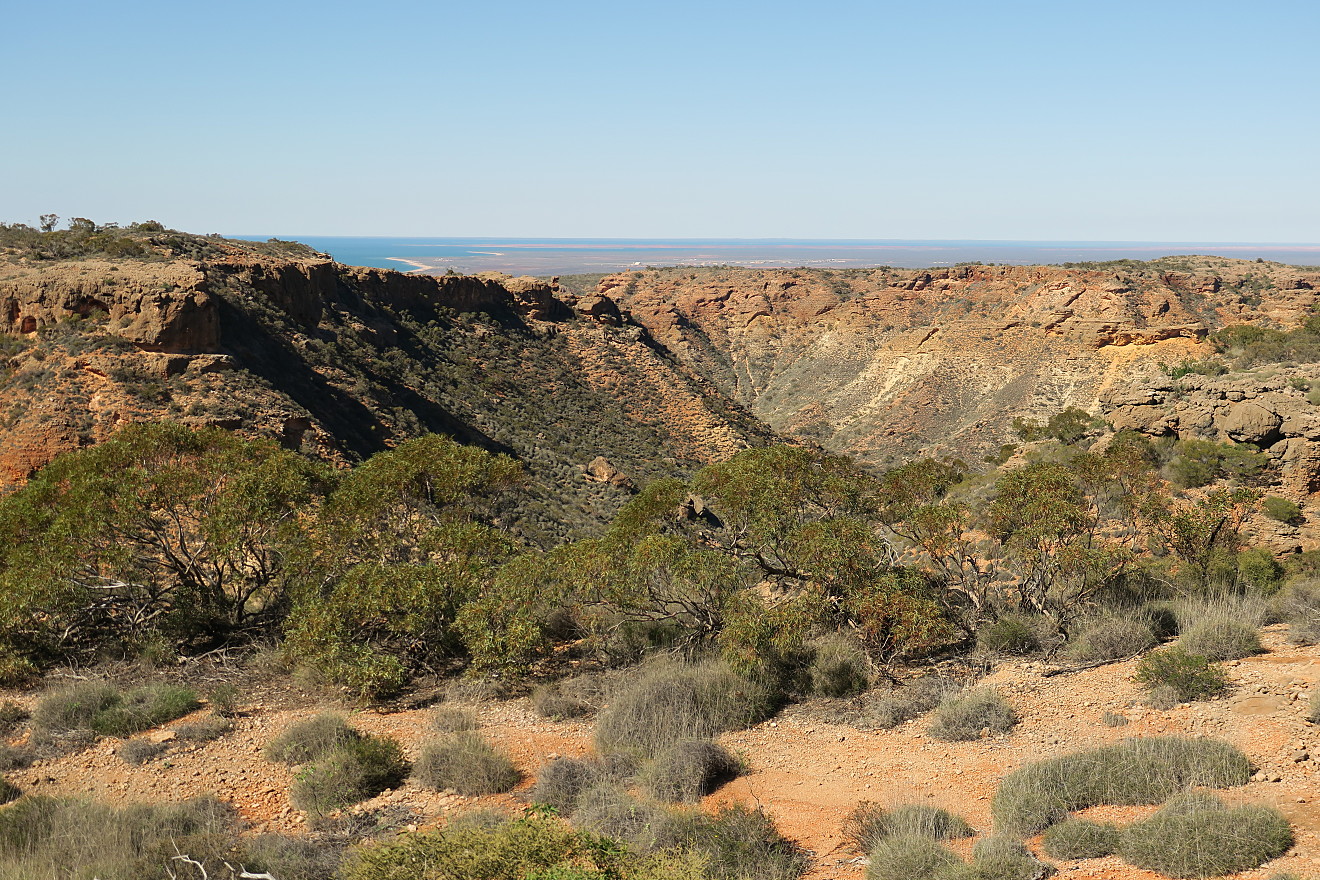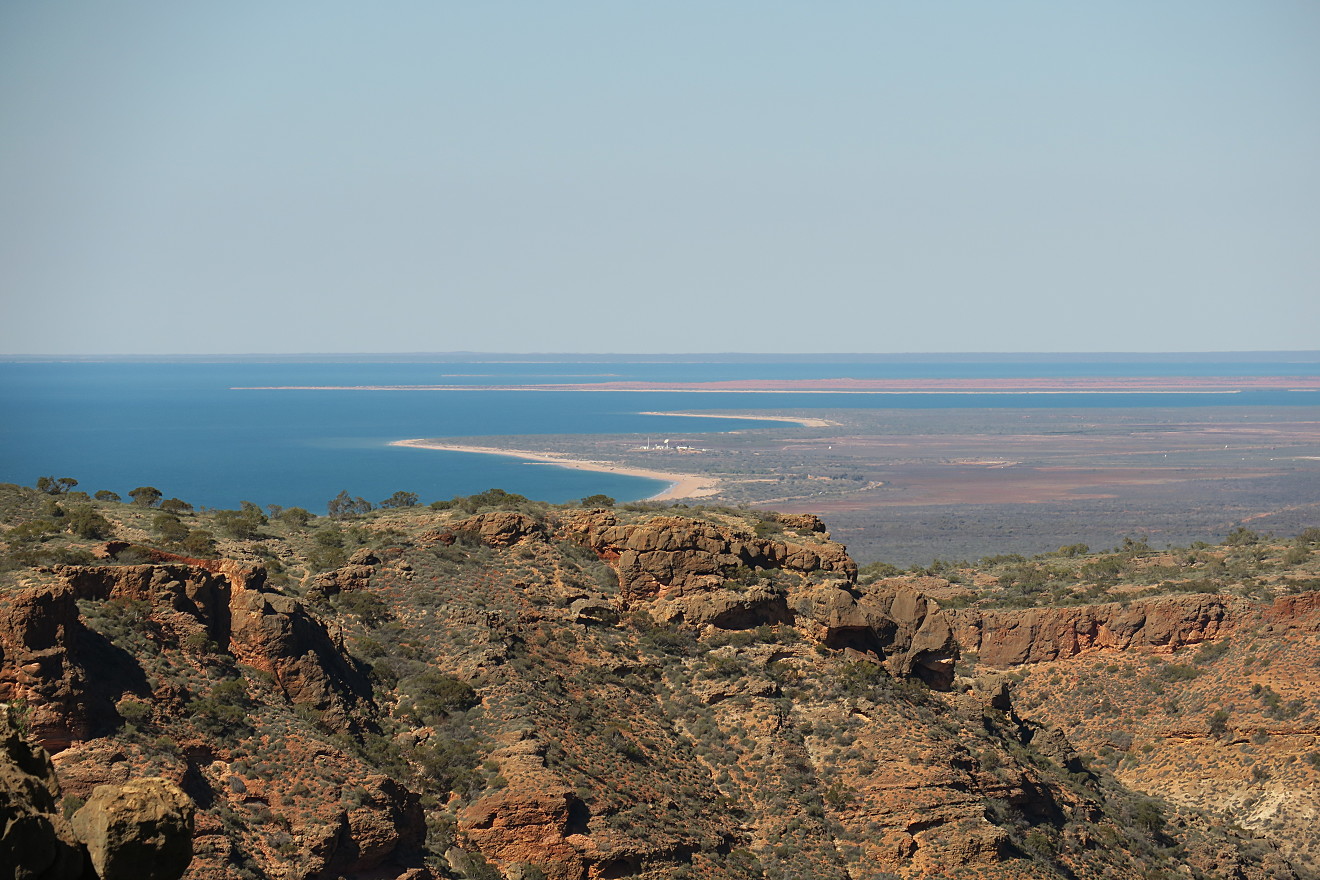 We departed the campground just after 8am, and started driving north towards Cape Range NP. A bit before 10am we turned onto Charles Knife Road, which headed west into the mountains that run up the spine of the peninsula. The road climbed quickly, and after a while went from paved to rocky. Eventually we came to a turnoff for the lookout & hiking trail. We could see the coast off in the distance, and started to follow the trail. It was 6.4km each way, and very strenuous, so we turned back after 40 minutes. As we drove back down, i pulled over a bunch of times to admire the views. There were steep, rocky canyons, with sheer walls, plus the coast off in the distance. We had lunch at one of the pullouts, then descended back to the main road, and continued north.
We reached the town of Exmouth around 1pm, and stopped in the IGA to get more food. Then we continued driving north up around the northern tip of the cape, where there's massive US Navy communications facility dating back to the 1960s. At this point the road turned south down the west side of the peninsula. There was a lighthouse on a cliff above the road, where we stopped for a while for the views and the exhibits explaining the history of the area. When we passed the park gate just before 2pm, there was a sign indicating that all park campgrounds were full tonight. I booked 3 months ago, and half of the sites in the campground that I wanted were already taken back in march. When we pulled into the campground, we found our site. It looked nice. this campground has only 8, large well spaced sites, generators are forbidden, and it has no running water, power or any conveniences that attract Rvers.
David noticed a sign that the park visitor center had wifi. Since it was only 5km further south, i agreed to go. We got there and sure enough there was wifi, but it was restricted to just the park's website, which is beyond ridiculous. We looked at a few of the exhibits. They had this goofy taxidermy cat in mid leap, a bunch of different animal skulls, and a quarter scale stuffed whale shark on wheels which looked amazing and ludicrous all at once.
We drove back to the campground, and got setup. Then david wanted to have fun on the beach (since its literally a 30 second walk over a dune away). I had him put on sun screen, and then we headed over. There's a ton of tiny bits of coral washed up, plus some rocky tide pools, and we can see the reef off in the distance as the waves break over it. It was a really pretty beach. Also it got up to 27c today. David waded into the water up to his knees a bunch of times. I pointed out how shallow the water was, as i saw these kids younger than him more than 100ft out, still only up to their knees. David played out there for nearly an hour, then I started making dinner. We had lamb tika masala with onions, carrots and rice. It was pretty good. As we were cleaning up from dimmer, the sun was setting over the ocean (in orange & pink), and the full moon was rising over the mountains to the east.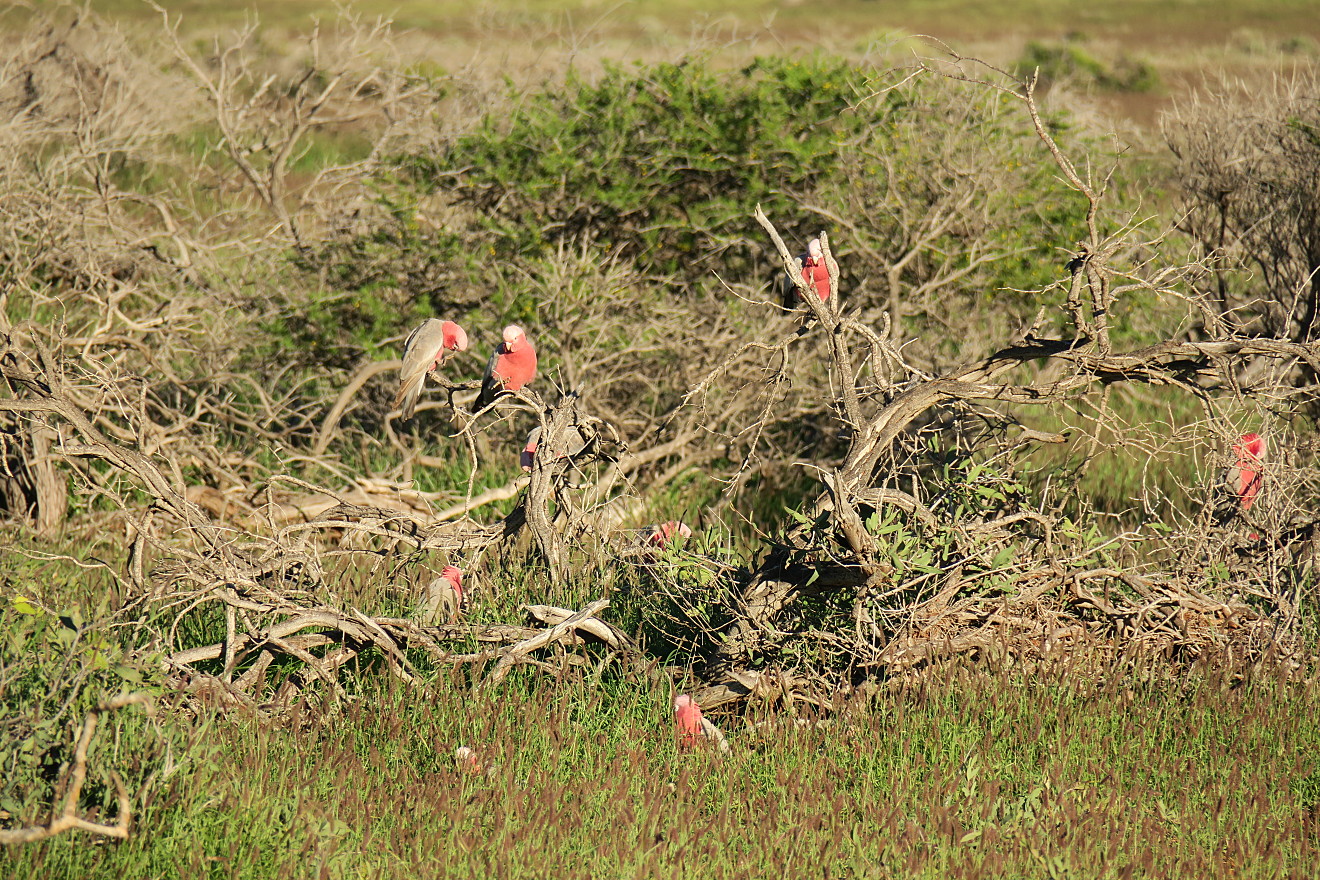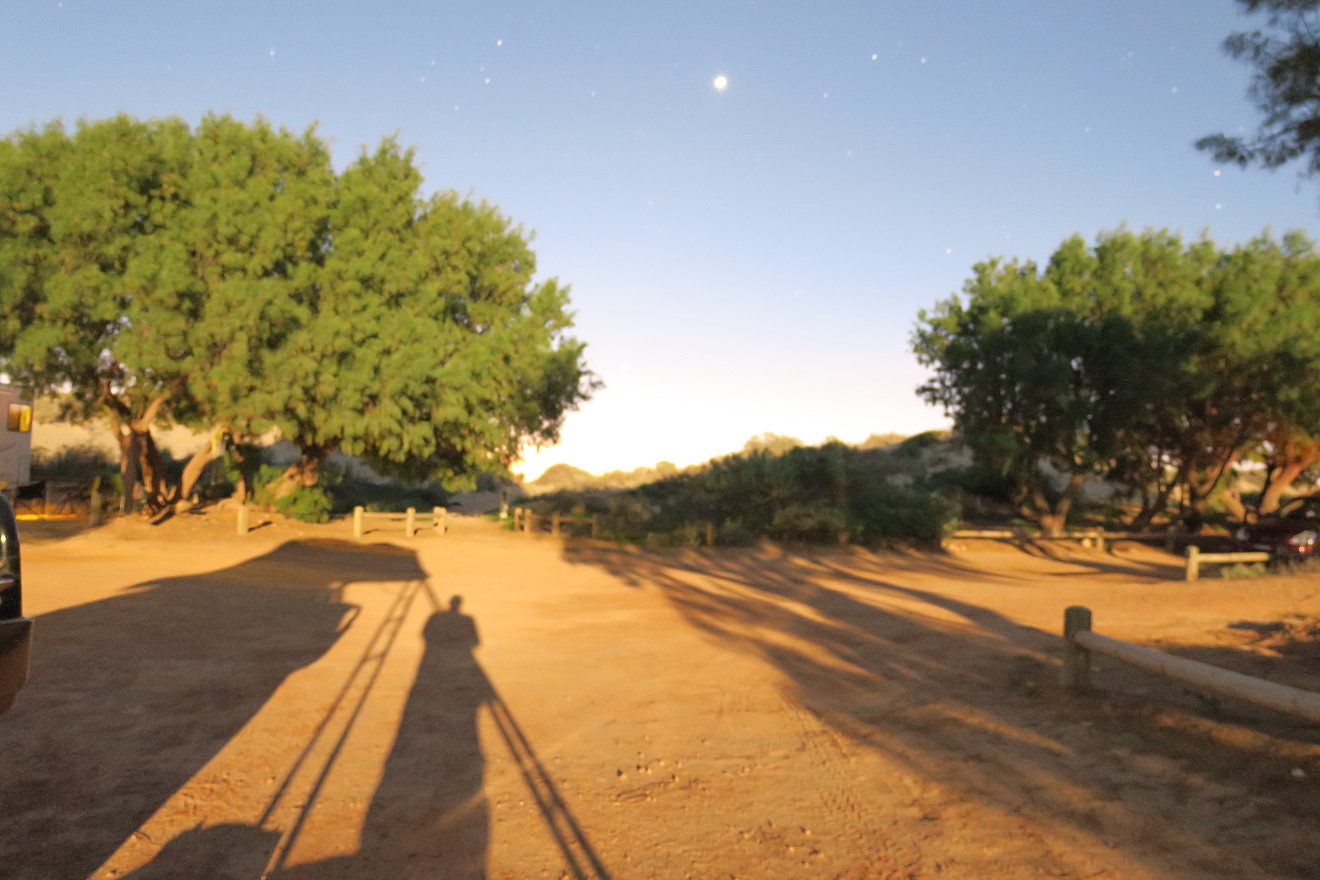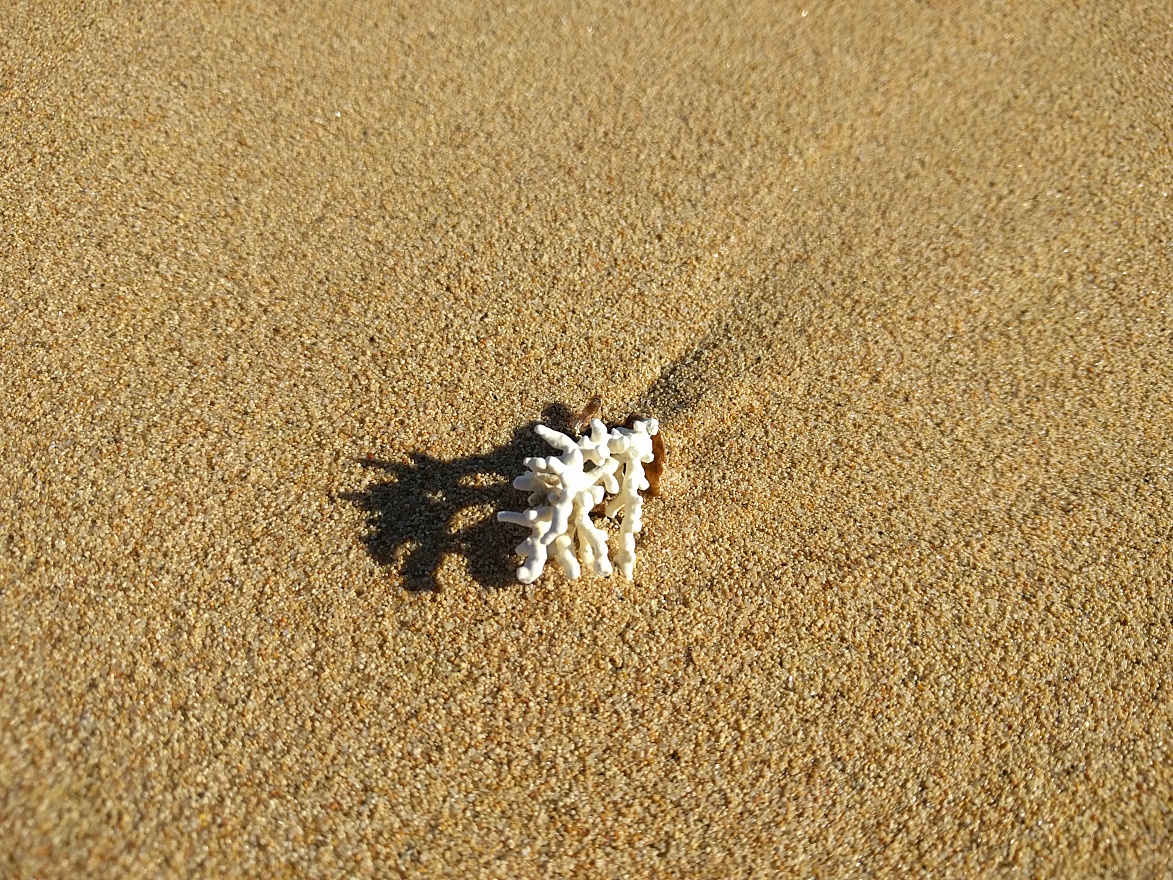 About midway through last night the wind showed up, and ramped up through sunrise, rocking the truck the entire time. I was concerned that they would cancel the tour today, but thankfully it was ok. We drove about 15 minutes south to the boat dock, and waited for the bus to arrive. We had the option of being picked up at a hotel in Exmouth (about an hour away), or just meeting at the dock. Tons of other tour buses arrived, and finally ours (Ningaloo Discovery) showed up. there were 15 people on the bus, and they ferried everyone out to the catamaran anchored not far off shore.
The reef itself is less than 30 minutes from the coast, but the whale sharks were outside the reef in the open ocean. They gave everyone wet suits, snorkel gear and flippers, and the first stop was just outside the reef. They wanted everyone to get accustomed to the gear & ocean before the whale sharks. The water beyond the reef is actually a few degrees warmer than inside the reef, due to a current coming down from Indonesia. Snorkelling outside the reef was nice. We saw tons of colorful fish, plus a lot of coral. After that we headed further out to find the whale sharks. Along the way we saw several pods of humpback whales breaching not far away, and a few sea turtles. They served 'morning tea' while we moved.
Finally they split everyone into 2 groups, since there shouldn't be more than 10 people near a whale shark at any time. The first group jumped into the ocean, then the boat moved a bit and our group headed in. What i failed to understand in advance was that the whale sharks don't stop moving, and i'm apparently an awful swimmer. While everyone entered the water not far from the whale shark, and i was able to see it close by initially, it kept moving, and then it was this aggressive swim to keep up with it. I was exhausted and struggling to breath after a minute. Most others seemed to be ok though. David had a pool noodle, and was being towed around by one of the super friendly guides. when i tried removing the snorkel from my mouth to get more air, the waves started washing over my head, and i was swallowing salt water. The guide noticed that i was struggling pretty fast, and ended up towing me (plus david). I felt terrible for being such a burden, but if the guide (tom) minded, he definitely didn't show it. When it was time for the 2nd whale shark, i did better (i learned not to remove my snorkel, since obviously i'm not going to breath any better if my lungs are full of sea water), but i still struggled to keep up with the group. I still did manage to see a massive whale shark less than 20ft away, which was incredible. By the 3rd swim, i stopped fighting the inevitable, and just let the guide tow me from the start. There were a total of 5 swims, and david did them all and seemed to be having a great time. I gave up after 3. lunch was decent, with pasta salad, a thai peanut salad, roasted chicken, vegetables, and these odd things that kinda looked like matzah balls.
After lunch we headed back inside the reef, where the water was barely 12ft deep, and we did another snorkelling activity. I saw tons more fish. Then they hooked up this huge mesh net to the back of the boat, and let anyone interested ride on it back to the dock. David was thrilled, and i think i got a few photos of him. The boat also had an official photographer taking underwater photos, who will be posting them online. We were back on land at 2:30pm, and back at the campground before 3pm. Overall it was a good experience, although i'm clearly not as strong of a swimmer as i used to think. Btw it got up to 28C today.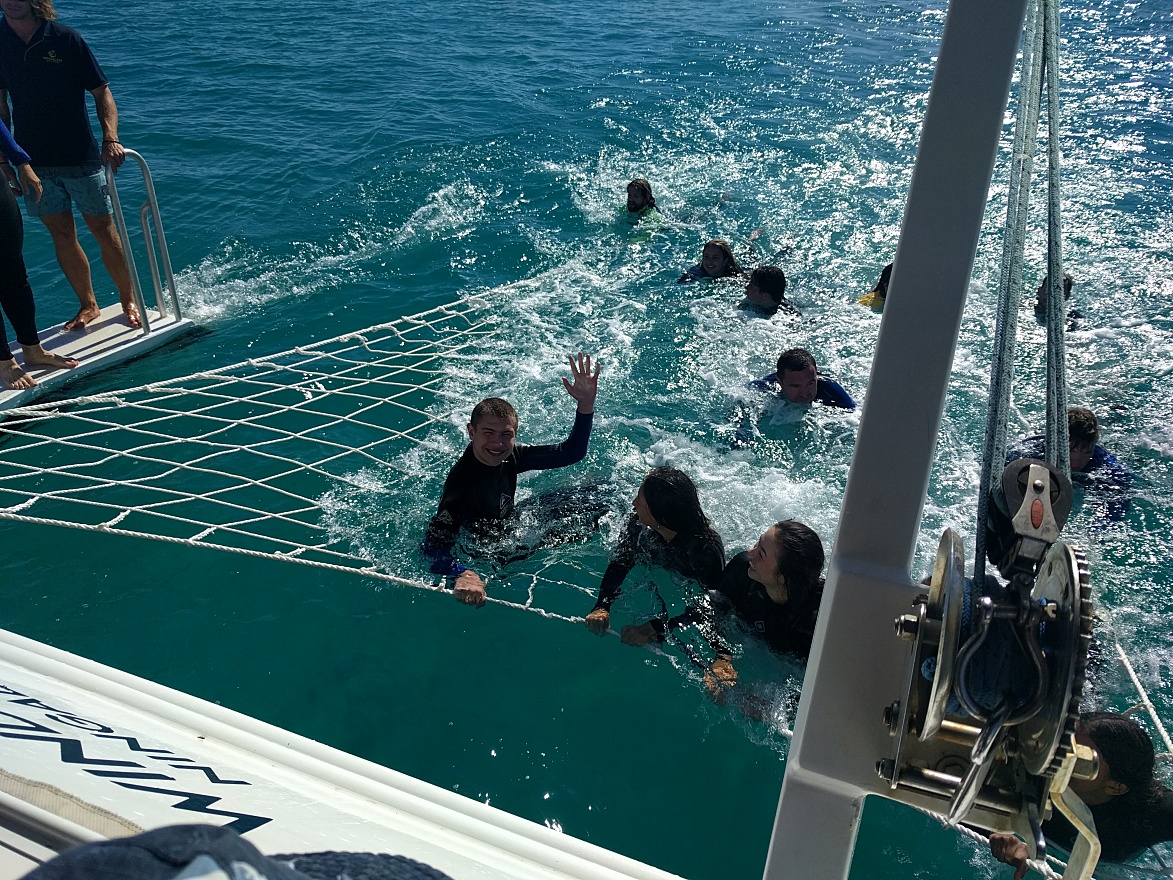 We got up at 7am, and packed up to drive 10 minutes down the road for the meeting point for our tour. 8:30am came & went and no one showed up. At 9am, i called, and apparently they mixed us up with another tour, expecting to pick us up elsewhere. they apologised profusely, and said that our guide would meet us in less than an hour. David was furious, and i was frustrated. The guide pulled up just before 10am, and apologised again, and we headed out. Our guide (alex) was originally from New Zealand, but worked winters in AU and summers in NZ. We drove about a half hour south to Osprey Point. At that point, a few things became obvious. First, we were getting a private tour, as no one else was signed up. Second, there was no boat. We were going to spend the day kayaking to get to the snorkelling sites. Thankfully, Alex was great, and he brought 2 kayaks, 1 single & 1 double. I convinced him to let david ride with him in the double. Also, these were sea kayaks, so it was much more challenging than any kayaking that i've done before. We loaded everything into the kayaks (snorkel gear, food, water), then we got life vests, a floppy hat, and rash vest, and we pushed out.
I was fairly nervous initially, as the kayak was difficult to maneuver both in terms of balance, but also with the waves + wind. It did have 1 nifty feature, a foot controlled rudder which made steering much easier. David & Alex were chatting up a storm while I was furiously paddling to keep up with them. We were fairly close to shore for the first hour, so the waves were actually relatively gentle. Even early on we saw several of the huge sea turtles swimming around us. I built up some confidence, and then we landed on a beach to take a break.
Alex setup lunch, and it was really nice. Nothing fancy, but a nice selection of meat, cheese, veggies (even avocado which impressed david), and crackers, biscuits and tortillas (to make wraps). Btw, after many times, david has finally decided that he loves british (tea) biscuits, and is begging me to buy some to bring home. Oh and there was also a huge bag of those Mission brand tortilla chips (with a sun roasted tomato dip), which david & alex somehow inhaled. We also learned that alex is 24 and has a vegan girlfriend. Alex was very confused by my age when heard david's age. He assumed that i was 30-something, but realized that i would have had david as a teenager for that math to work out.
After lunch we packed everything back into the kayaks, and headed back out into the water. This time, we paddled much further away from shore, and the waves started to get bigger. Maybe 2ft which is a lot when i'm trying to not tip over. There was a kayak buoy way out which we were paddling towards. After nearly an hour of non-stop kayaking, we finally reached that buoy, and my arms were sore. Alex got anchored to the buoy, and then we had to twist about to climb out of the kayak, put our fins on, and the other gear. David kept his life vest on the entire time. Then we jumped into the water, and started to swim. Not far away we could see a large area with coral. It was absolutely magical. This was easily the best snorkelling experience i've ever had. There was bright blue coral, hundreds of fish of every size & color. Alex spotted a reef shark attempting to hide under some coral. We swam through massive schools of tiny bright blue fish. We saw parrot fish. I saw a few sea snakes. I saw one fish that looked like a rainbow down its side. Everything looked like some fancy aquarium. Also, the water was between 6 & 10ft deep all the time, so there was tons of light, and i could see clearly even without my glasses. David started to complain about getting tired after while, so alex agreed to tow him around while i explored more. And of course, it was just the 3 of us out there, so i never had to compete for swim space.
Eventually we swam back to the kayaks, and had the fun experience of trying to climb into them with the gear on us. We paddled back to our starting point, and i was completely worn out. Other than the lunch break, we were out there paddling or swimming non-stop for 5 hours. We loaded everything back into the van, and alex drove us back to the pickup point. I had an amazing time. David seemed excited by the fish while we were snorkelling, but said the kayaking was boring. Granted, he was rarely paddling, and made alex do much of the work. Even so, david told me afterwards that he thought alex did a great job.
We got back to the campground at 4pm, and setup for the night. I made dinner, and then we watched the sunset over the ocean.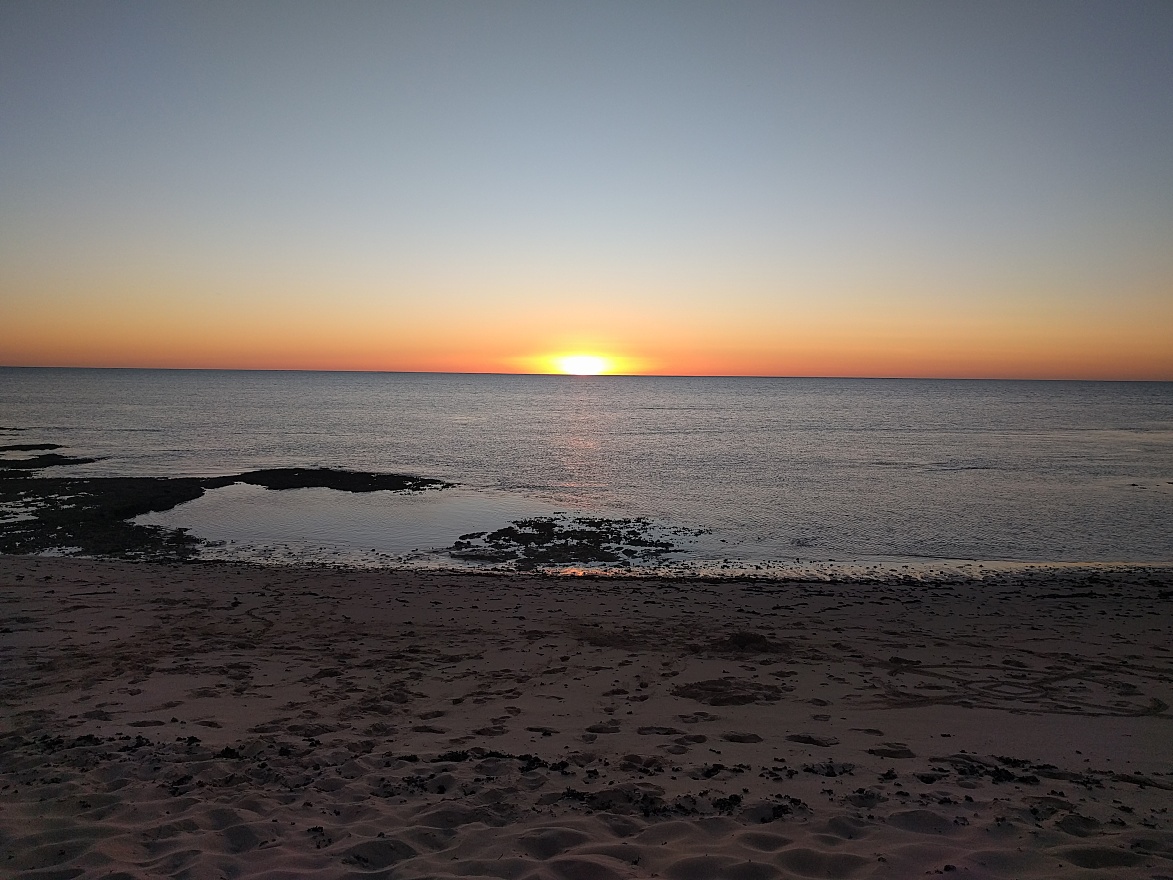 Here's the rough route that I traveled:

Hundreds of other photos from the trip are posted HERE. You can read about the second half of the trip HERE.