I've recently returned from a 3 week trip to Sri Lanka (ending with 24 hours in Singapore). I had a great time, eating a ton of delicious food, seeing tons of wildlife, and exploring much of the country. Other than coping with extreme heat & humidity, the trip went quite well. What follows is a trip report for the first half of the trip. You can read about the second half of the trip HERE.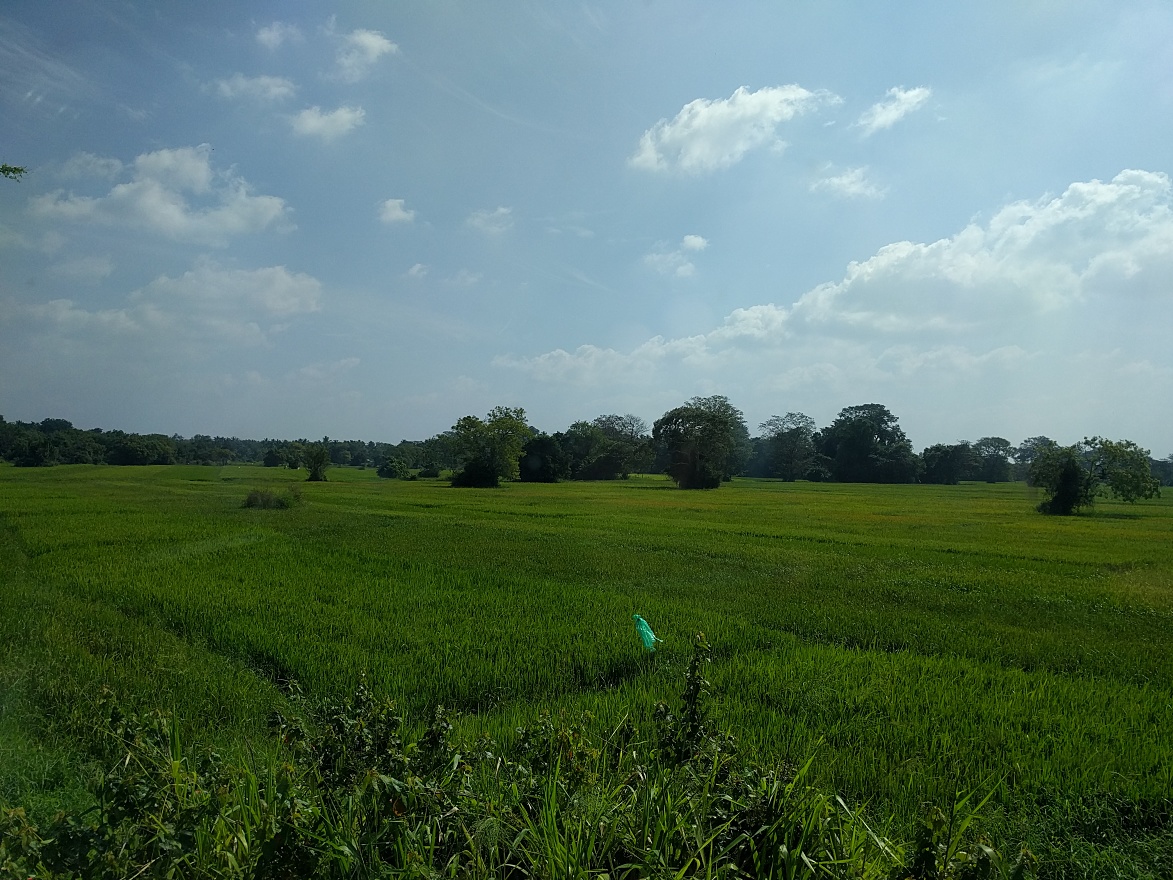 The airport in Colombo is quite possibly the worst arrival experience that i've ever had. My flight departed singapore on time, and i even had the 2 seats in my row empty. At a 'quick' 3.5 hours, it felt like absolutely nothing after the 16.5 hour flight from SFO to Singapore. We didn't taxi for too long, but for some mystery reason we had to wait a solid 10 minutes for the 1st class people to deplane. Once in the terminal, it was sheer chaos. Apparently midnight is when tons of flight arrive and depart, and everyone has to walk through the same narrow concourse. By the time i worked my way through the crowds to immigration there was already a mob of 10 separate long lines, with about 50+ people in each. I guessed at which seemed moat likely to move fastest, and chose poorly. After not moving at all for 10 minutes, it was becoming obvious which lines were fast and which were slow. I switched lines, and within 5 minutes i was already ahead of where my original line had progressed. Even so, i spent 45 minutes waiting to clear immigration. Next was waiting for an ATM. There were 4 in the arrivals hall, and a single line with 10 people in it. It rapidly became apparent that 1 of the 4 machines didn't work at all. Another 2 seemed to only work for less than half the people, and the 4th seemed to work for most people. I had another 20 minute wait until it was my turn, and thankfully i was able to withdraw the cash that i wanted. The last goal was getting my railway tickets. The national cell provider, Mobitel, handles that at the airport, and the booth already had just 2 agents already sealing with people trying to purchase cell plans. Another 15 minutes waiting in that line, then the agent struggled to get the printer working, and finally i was done. In total it was over 90 minutes of waiting in long lines before i got put of the airport.
i found the guy holding a sign with my name, and he drove me the ~30 km to the hotel where I arrived just before 2AM.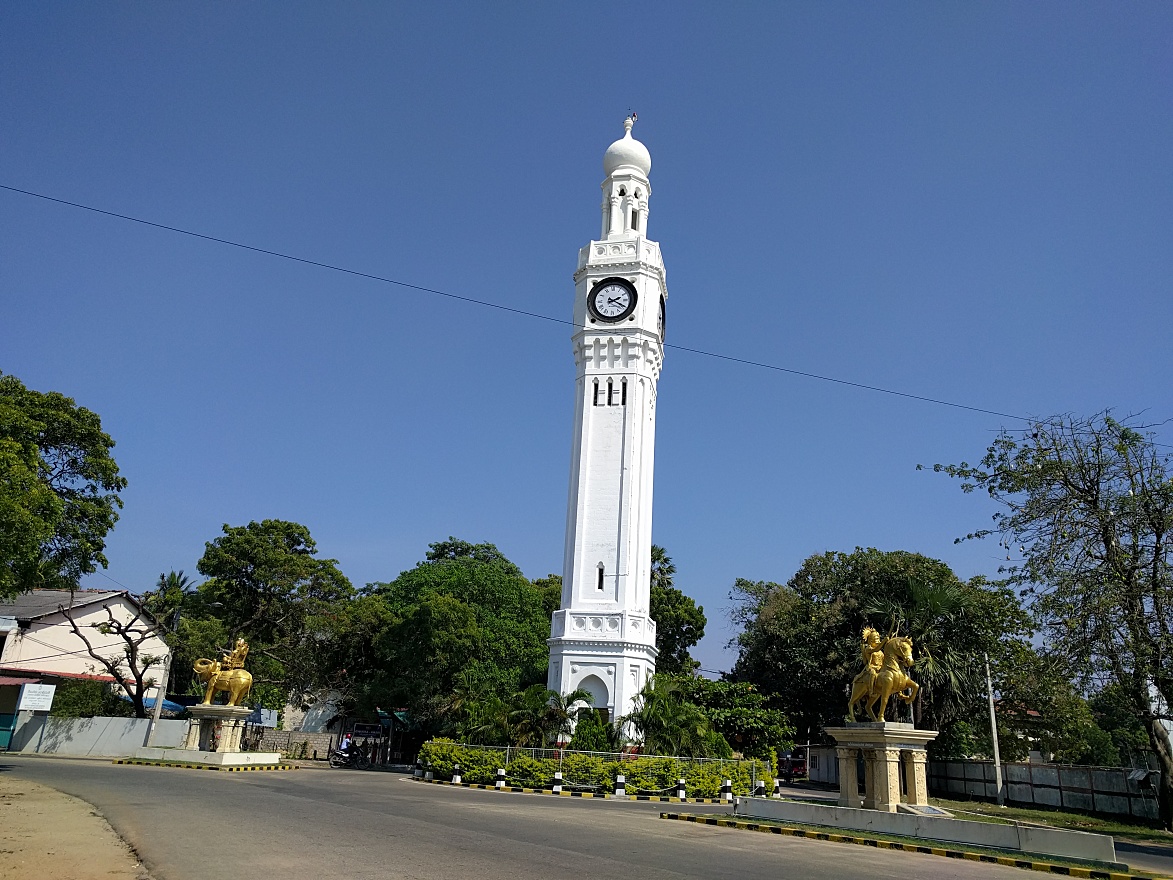 After getting barely 2 hours of decent sleep, i got up, showered, and checked out. The 'Colombo Fort' railway station was about a 10 minute walk from the hotel. Even at 5am, it was warm and humid. The station was already bustling, and it took me a while to figure out where to pick up my ticket. You might be wondering why i'm picking up yet another train ticket after the fiasco at the airport last night. The reason is because sri lanka's railway network doesn't provide any way to purchase tickets online. So the only way to purchase them before entering the country is from a very small number of travel agencies, and only 30 days in advance. However each agency doesn't let you purchase any route. As a result i had to purchase some routes from one company and other routes from a second company. But one of them forces people to go to the airport mobitel booth and the other lets you pick up reserved tickets at the station. Hence the fun this morning where i ended up having to wait in 2 lines, but did get my ticket. The train pulled in on time, and then it was this chaotic dash to locate my assigned seat (B23). I was in 1st class, which just meant that the car was air-conditioned, and i had an assigned seat.
the first hour was before sunrise, so i couldn't see anything outside, plus the guy sitting beside me in the window seat insisted on hogging the shared armrest, all while manspreading and reading a newspaper with as much spread into my seat as humanly possible. Once the sun came up, the scenery was really pretty. Very lush, verdant and tropical. There were also stupas, Buddhist shrines, and Hindu temples scattered about. Just past the halfway point, the guy beside me got off the train and 2 Chinese tourists got on. Somehow, they were split with 1 of them assigned beside me and the other 2 rows away. Initially they tried to convince me to move so that they could sit together, but then they just picked a random empty row. As we continued north the terrain changed, and it became drier and much more sandy. The last hour had a lot more palms and marshes, with tons of large birds. I also saw lots of old buildings with damage from the civil war.
once i got to the hotel, i got lunch. I had thali with 5 different curries. It was yummy, and just spicy enough for me. After lunch i caught a tuk tuk to Nallur Kandaswamy, which is a Hindu temple that is both the largest grounds in the country, and also the tallest goparum (those crazy towers with all the figures). This one was full of 9 levels of vampire octopus creatures. The only problem was that i had to remove my shoes, and the ground was all sand which was super hot. I don't think i cooked my feet, but it was rather unpleasant.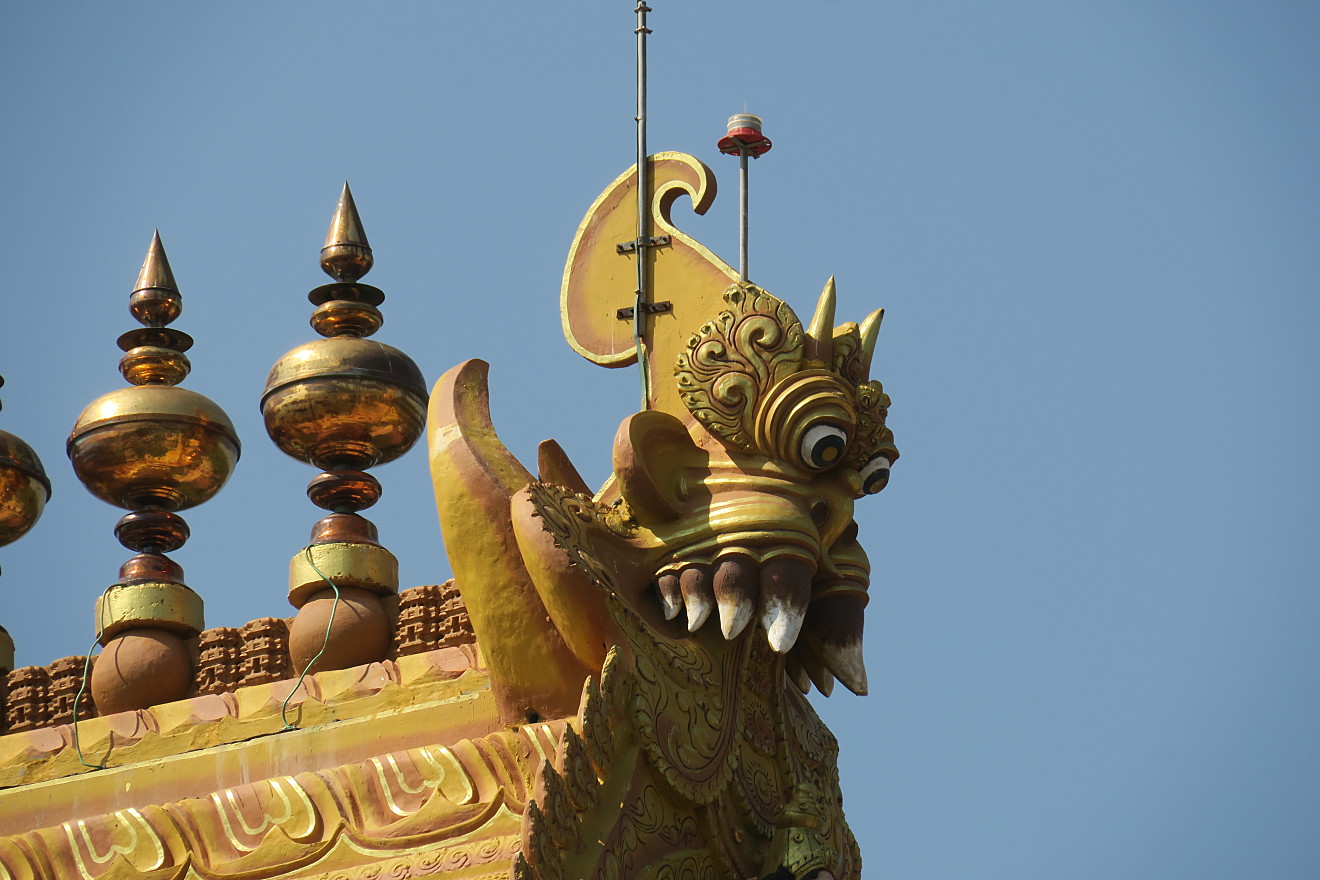 I finally got a decent night's sleep, but then woke just after 3an due to jetlag. The breakfast buffet at the hotel was huge, and amazing. they had the typical stuff (pastries, cereal, eggs), but also a bunch of sri lankan (which at this point seems to be nearly identical to Indian). There were parathas, yellow lentil dhal, a tuna fish curry which was amazing, coconut sambal, a brown lentil dhal with toasted onions and chillies, and string hoppers. I ate a ton of food.
My train arrived over 30 minutes early, making me think it wasn't even mine. But i asked the conductor, and sure enough it was mine. This time i wasn't in 1st class, but the 'observation' car. It was a clear step down, without AC, smaller windows, and really older worn out seating. Also, it was right behind the diesel locomotive, meaning that the smoky exhaust was occasionally filling the train car. My train yesterday had a real dining car, but not today. Instead random people with supermarket style baskets came through with random food for sale. At one point i went to use the bathroom, and holy jebus, it was like a toxic waste site. Also, the 'toilet' emptied straight onto the tracks. The train stopped at every tiny station the entire way, and arrived in Anuradhapura 30 minutes late. I found a driver who knew where the guest house was, and then it was a quick 10 minute drive.
The guesthouse is in a residential area with tons of trees, and its peaceful. I ended up taking a nap in the afternoon, which was nice. Not sure whether i will regret it later tonight though. I had dinner at the guest house, because its not really walking distance from the center of town, and i didn't regret it. Five other groups of guests also had dinner here. The food was good, although not as spicy as the previous night in jaffna. There were a bunch of different curries, rice, chicken, and vegetable dishes. The jackfruit was especially yummy. Lots of mosquitos here though, and it was quite warm & humid today (91f).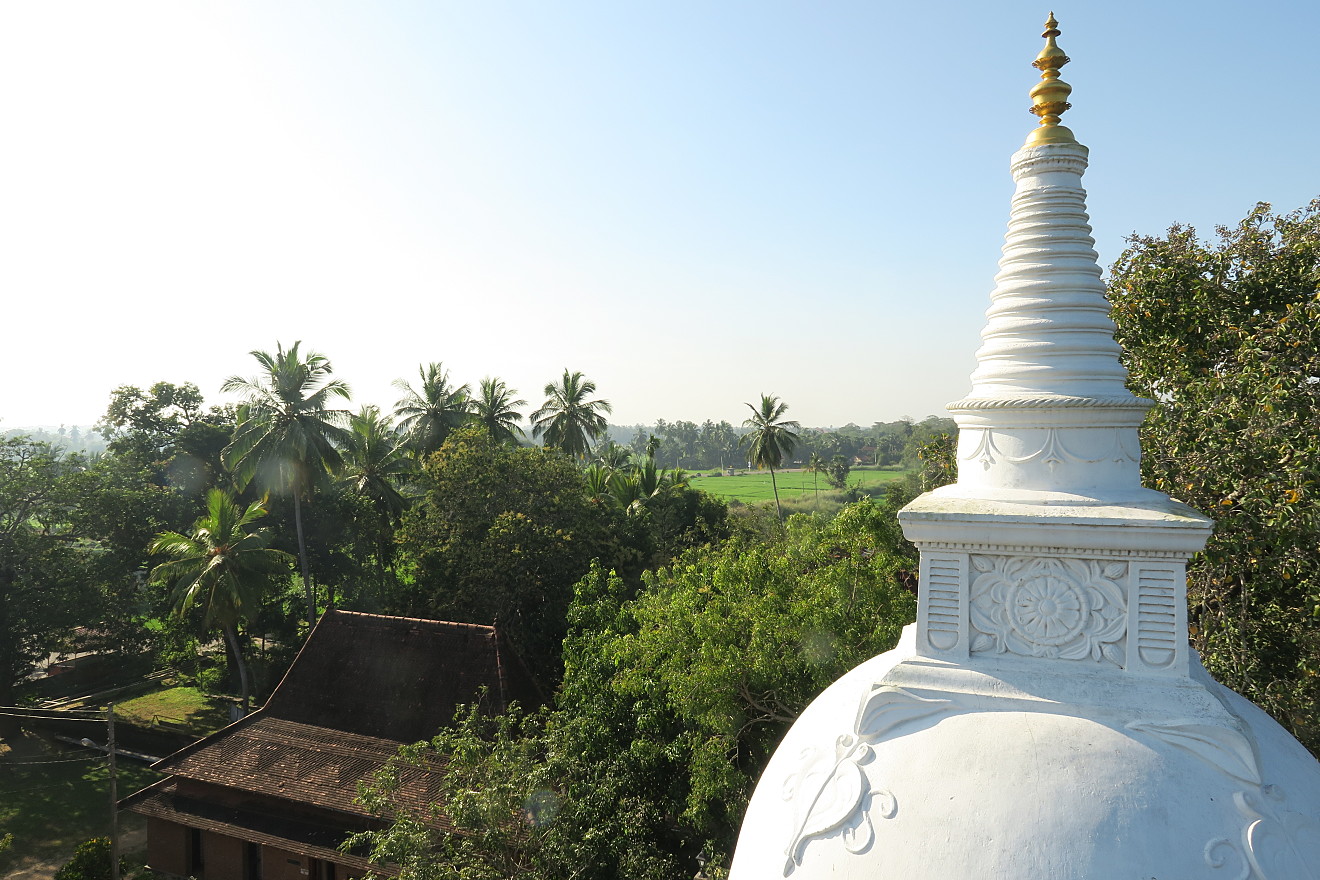 I slept fairly well despite the AC not really doing much of anything. I was awake for the day at 5am. Breakfast at the guesthouse was ok, but not great. There was a plate of fresh sliced papaya, pineapple, watermelon and banana. I had a choice of tea or coffee (i went with tea), and a choice of scrambled or fried eggs(i chose scrambled). it also came with 2 slices of white toast, and a pancake thing that had sugary coconut rolled up inside. The egg was literally just 1 egg, so it was like barely a mouthful. Anyway, it was fine i guess. During breakfast this woman at the next table started talking to me in french. I must have been giving her a weird look, as after rambling on for a bit, she finally switched to very broken english, and said "i guess you do not speak french".
immediately after breakfast, a tuk tuk driver picked me up at 8am to explore for the day. Overall, it was really nice. I saw a bunch of massive stupas (1 was the largest in the entire country, over 200ft tall), a few Buddhist temples, and the ruins of the civilization that built all of it nearly 2500 years ago. Also, at different places i saw a wild peacock, this lizard dragon thing which was longer and fatter than my arm, a bunch of monkeys with super long tails. oh, and a snake charmer too, with the cobras in a basket, and the annoying horn. The only part that sucked was the requirement at every stupa and temple that i remove my shoes. Now i'm already wearing sandals (without socks), so i had to walk barefoot on scorching hot sand and stones. It was really uncomfortable by late morning.
for lunch the tuk tuk driver brought me to this chinese/thai place that was as inauthentic as you could have imagined. I ordered this set meal thing that was half rice, and the rest was spicy vegetables & pork. It was kinda spicy, but was absolutely nothing like any chinese (or thai) food that i've ever had. After that i returned to the guest house to rest during the hottest part of the day.
At 4pm my tuk tuk driver came and we drove about 20km east to Mihintale, which is a mountain with a Buddhist temple at the summit. Its considered the birth place of Buddhism in Sri Lanka. The hike up wasn't too bad until they forced everyone to remove their shoes, and then it was awful. Lots of course sand, uneven rocky steps, and hot surfaces. However, it was kinda worth it, as the views from the top were amazing.
As i was eating dinner there was a boisterous game of cricket going on in this huge field just in front of the guesthouse. I tried to figure wtf was going on, but it made no sense. Dinner was great again. They gad a cucumber curry which was bright green, spicy and delicious. Plus cashews, prawns and curry leaves which was also great. For dessert, i had buffalo curd, which was basically if yogurt and ice cream had a baby, and then drizzled honey on top. It was so yummy. Also they keep calling it "curd & treacle" which sounds like some kind of horrible disease.
A few random bits of info:
There are tons of stray dogs everywhere. So far none have been hostile or aggressive.
they drive on the left here, which keeps messing with my head as a pedestrian or passenger.
it seems that the majority of tourists are French, which i wouldn't have expected. I've also noticed dutch, germans, russians, chinese & australians. No other americans yet.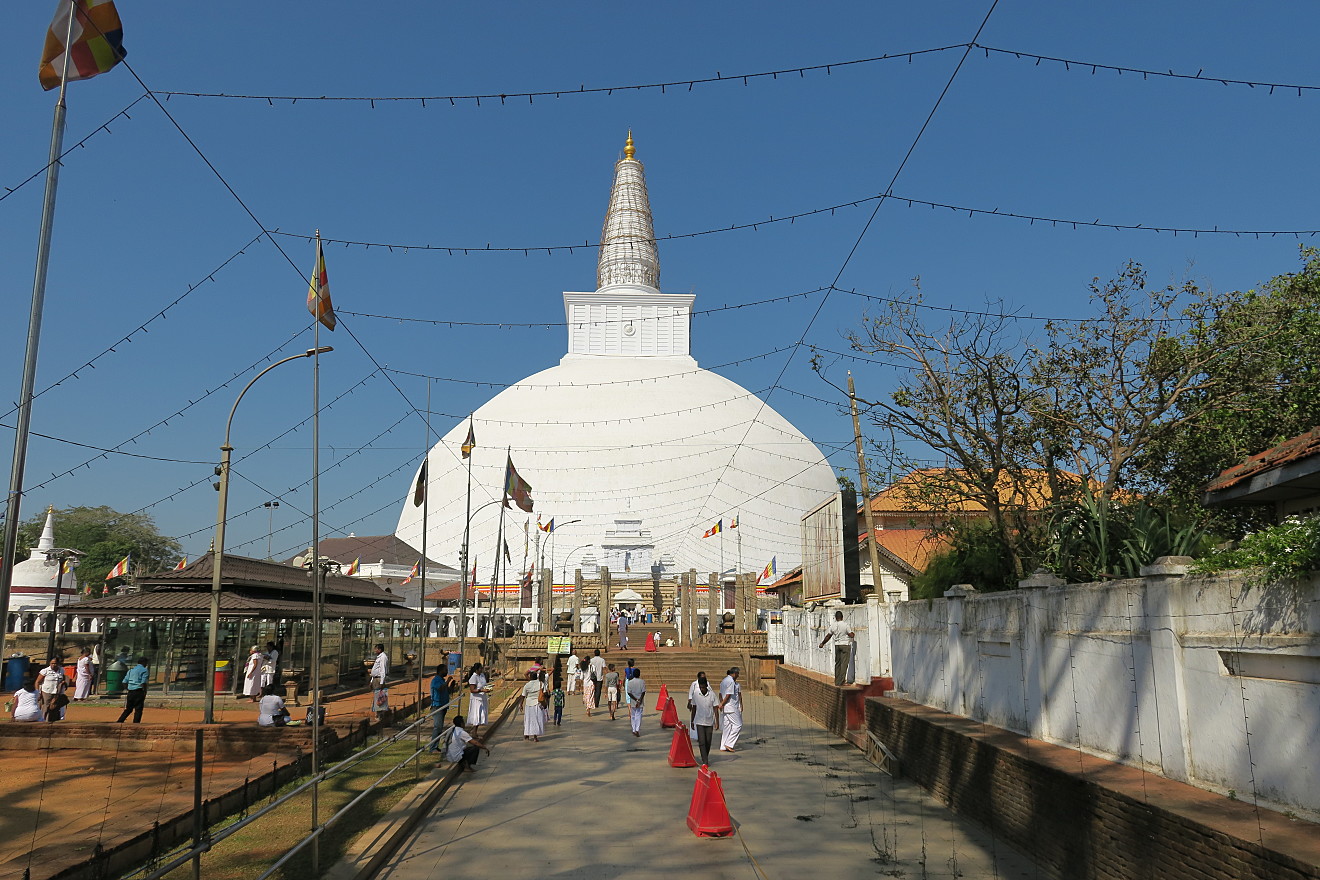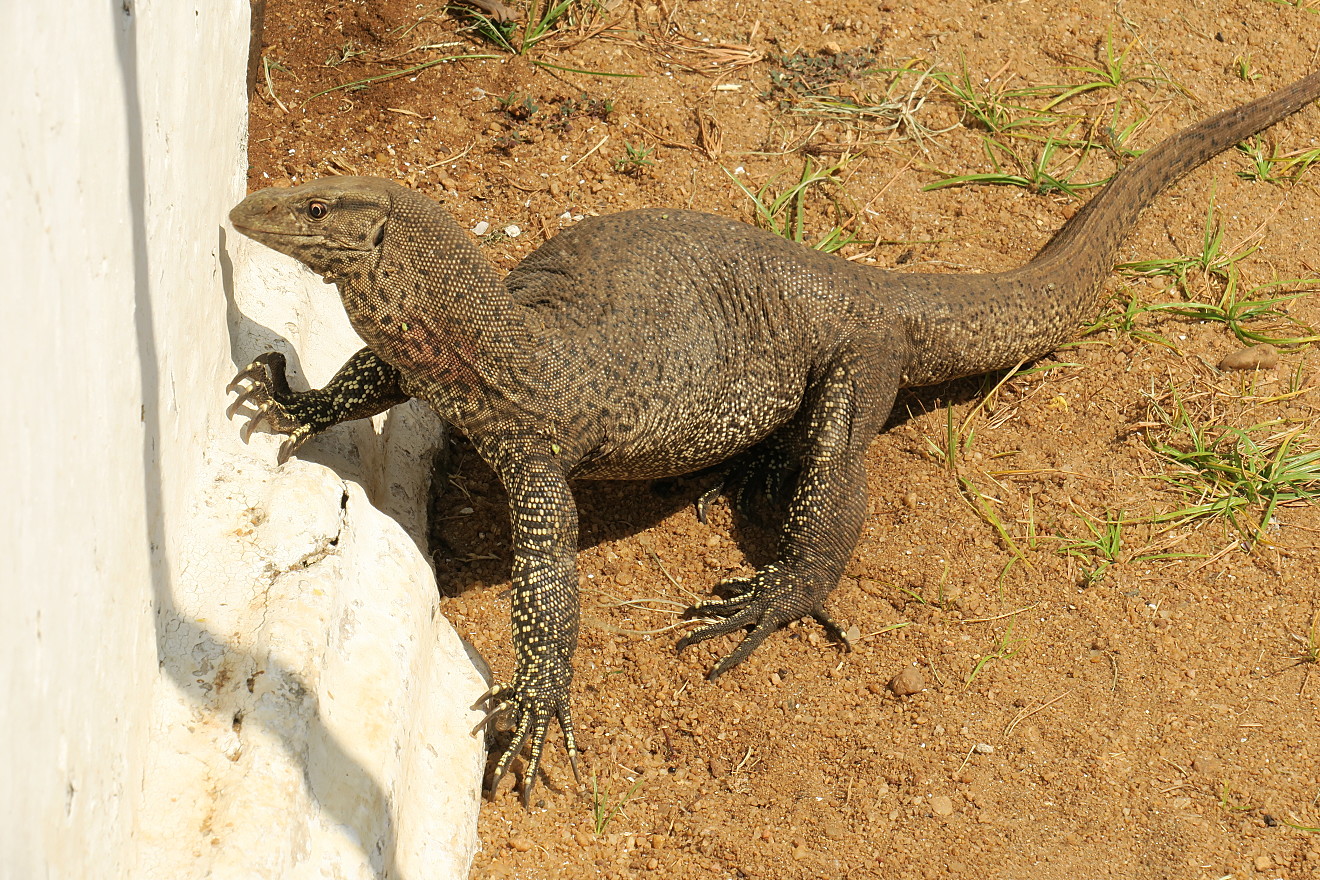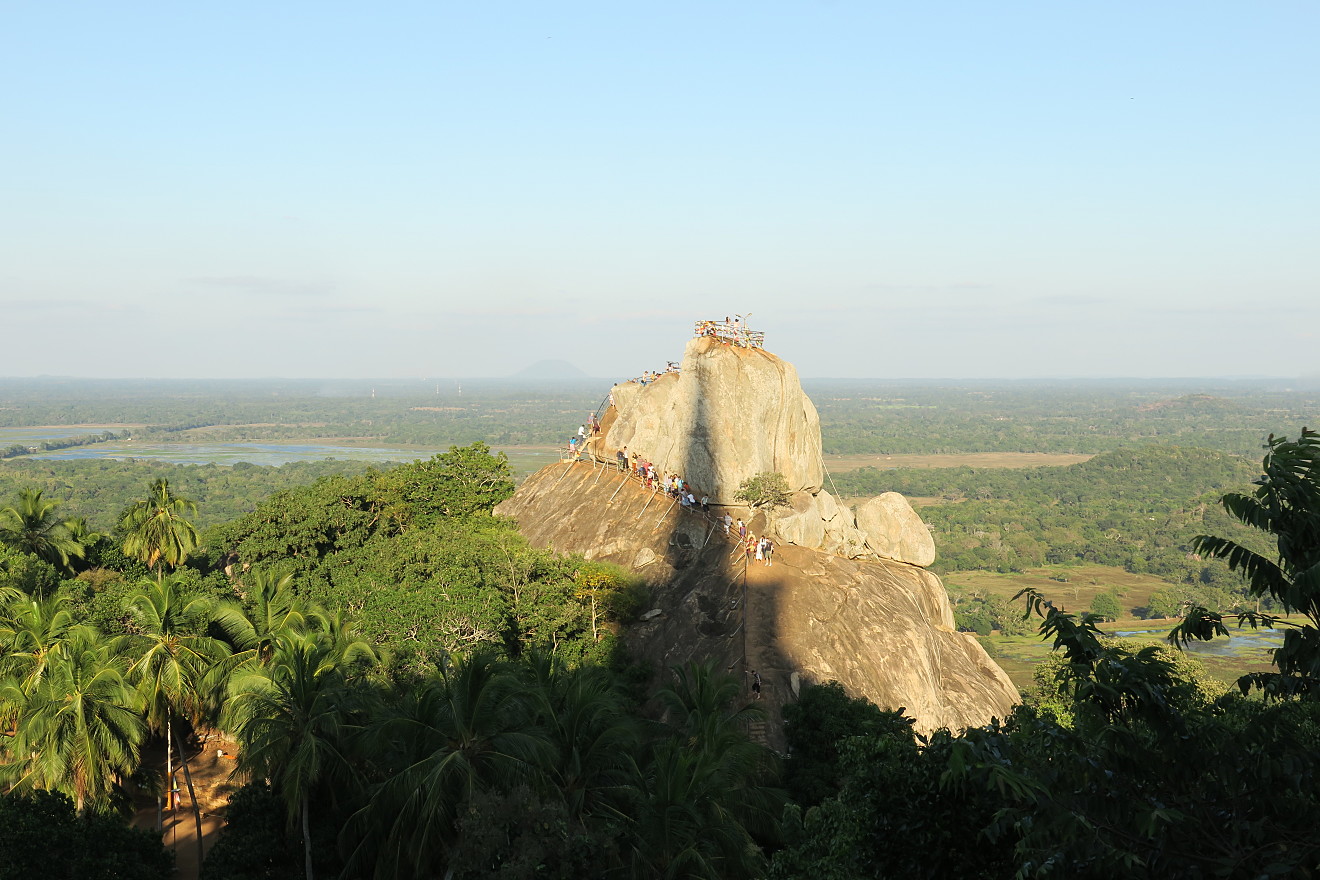 Thanks to jetlag i was awake at 4am. Breakfast was nice, with roti, some minced fish with peppers & onions, and a sunny egg. I checked out, and my tuk tuk driver arrived to pick me up. The drive south was pretty, with lots of lilly ponds. At one point my driver was trying to convince me that we should stop at some elephant sanctuary where i could ride an elephant around for an hour. I declined, as i had zero interest, and i can't believe that any elephant would choose to be doing that sort of thing.
We got to the big hike for the morning after about 2 hours. At first i saw a huge sign ordering people to remove their shoes, and i kinda freaked out. But my driver said that was just for the temple at the bottom, and i didn't need to remove my shoes. The first 2/3 of the hike was nothing but a super steep staircase winding its way through the jungle, with monkeys scampering about. Then it levelled out at a cliff, where a huge reclining Buddha was carved onto the cliff side. Opposite that was a massive view stretching out to the horizon. After that the trail became a boulder scramble. I followed it for a while, but eventually it got insane, becoming more rock climbing than hiking. At that point, i could see the top, but i didn't feel comfortable continuing further, because i was seriously afraid that i'd have serious problems attempting to climb back down. On the way down, i passed a mother with her baby strapped to her chest, and later a family with a 4 year old. I have no clue how they were going to do the boulders. After hiking back down, we drove another 30 minutes to my guesthouse.
He guesthouse is in the middle of a forest, surrounded by rice paddies. This isn't a bad thing, but when i chose it months ago, i looked at the map, and it was a 15 minute walk from town. So i assumes there were other random things in the vicinity. All that said its just 2 years old, has stellar tripadvisor reviews, with just 4 guest rooms. After checking in , they insisted that i have some (hot) tea. I don't quite understand the allure of drinking hot tea when its 85f outside. however it was very good loose leaf tea. After that i borrowed a bike, and rode into town to find lunch. The bike itself was a 30 year chinese bike (literally from china, it had random chinese stickers), but was in decent condition. The route that i took avoided nearly all the major roads, and instead was mostly dirt trails past rice paddies and forested areas. It was incredibly scenic. The place that i went for lunch has no menu, and does a single rice + curry set menu. It was glorious. I was serves 7 bowls 9 different meat & vegetable curries, and one heaping plate of rice. It was a crazy amount of food, and i left stuffed.
After that i planned to visit the temple cave, which, on the map, looked like a short simple ride away. What i failed to realize in advance was that both the road, and the temple itself are up a very step hill. Trying to peddle the bike up the hill was just about impossible, so i had to walk it. of course at this point its almost 2pm, so quite hot outside too. Finally i get there, parked the bike in a shady spot, and have to start climbing a truly massive steep staircase to the top if this mountain. It was literally more steps than i had this morning. By the time i reached the top, i was drenched in sweat. Of course, now came the final insult, where they required everyone to remove their shoes, and walk across the baking stone walkway. I wish that i could say that it was all worth the effort and pain, but it honestly wasn't. The so-called caves were fake caves. It was a rocky overhang, that someone decided to wall off on the open side, effectively making a room that you could pretend was a cave, as long as you didn't turn around to see the brick walk with a door. The religious artefacts were not really dramatically different or better than what i've already seen nearly a dozen times over the past few days at other temples. the most puzzling part of the entire experience is how popular the caves are. There were dozens of tourists up there, all paying $10/person to burn their feet. After all of that, i hiked back down. The bike ride back was fine, and at least my room has excellent AC, and plenty of cold drinking water.
My feet are a mess at this point. I think i actually did burn them today, plus i have a few small blisters from all the hiking/walking i've been doing. The good news is that i actually did 2 day's worth of activities today, so i'm seriously considering not doing much of anything tomorrow, so that my feet can rest a bit. Also i noticed that mosquitoes have been feasting on my ankles the past 2 days when i was eating dinner outside. I had dinner at the guesthouse tonight. It was decent, but not as good as the previous 2 nights.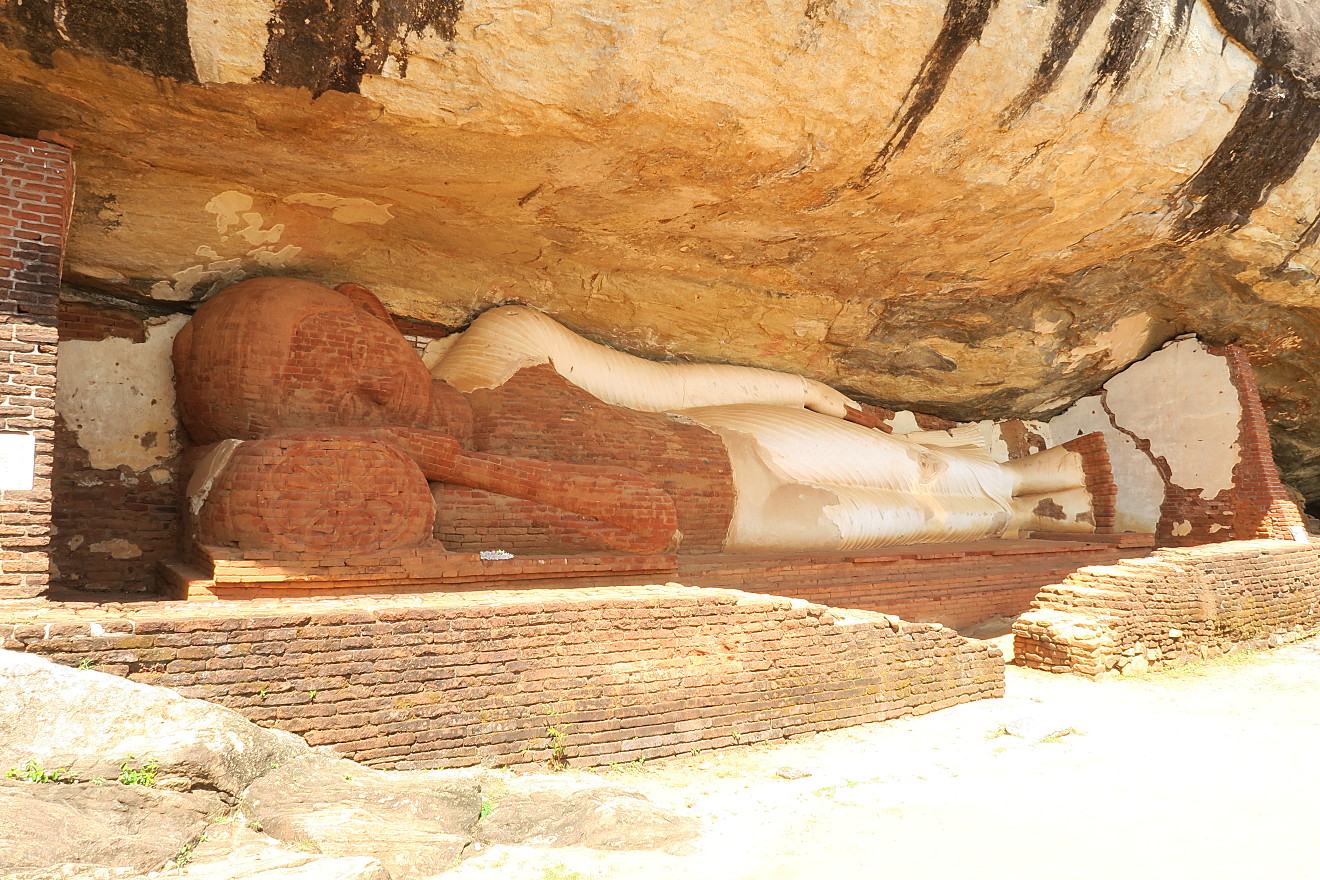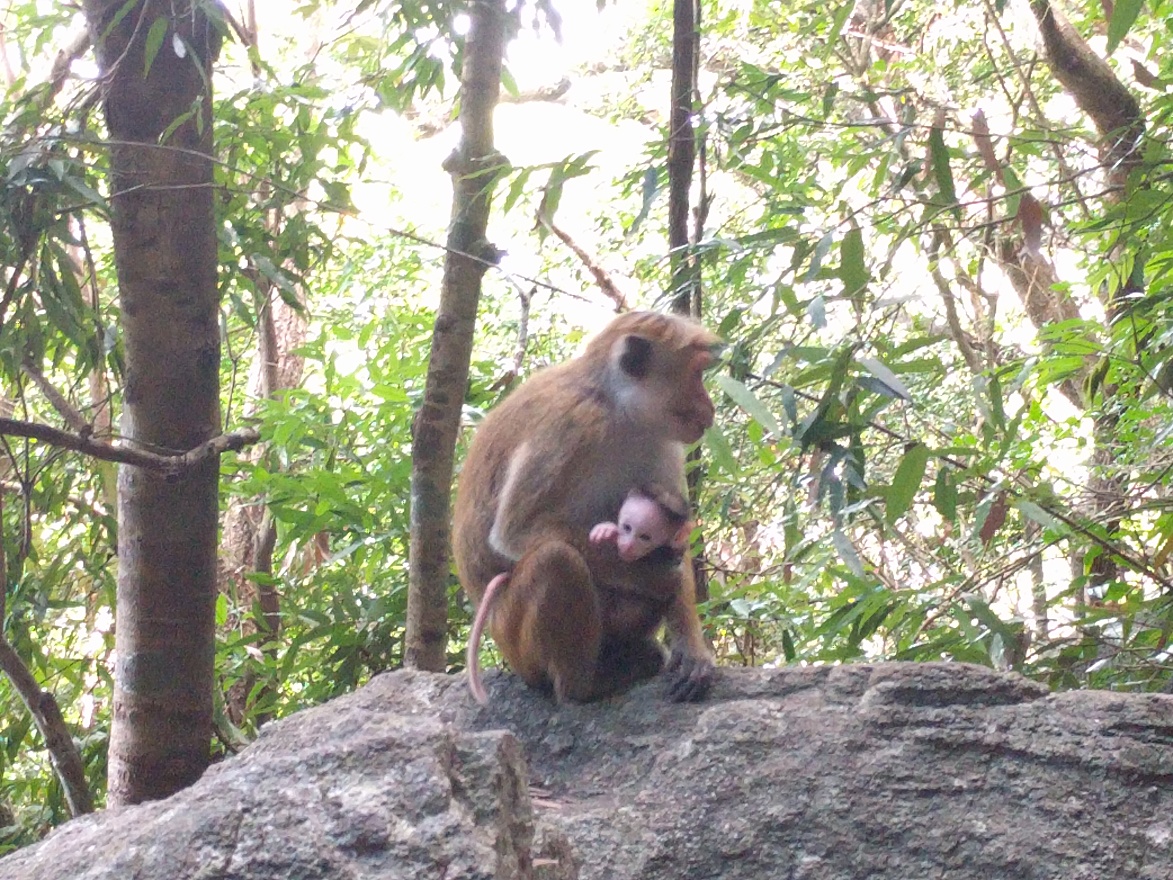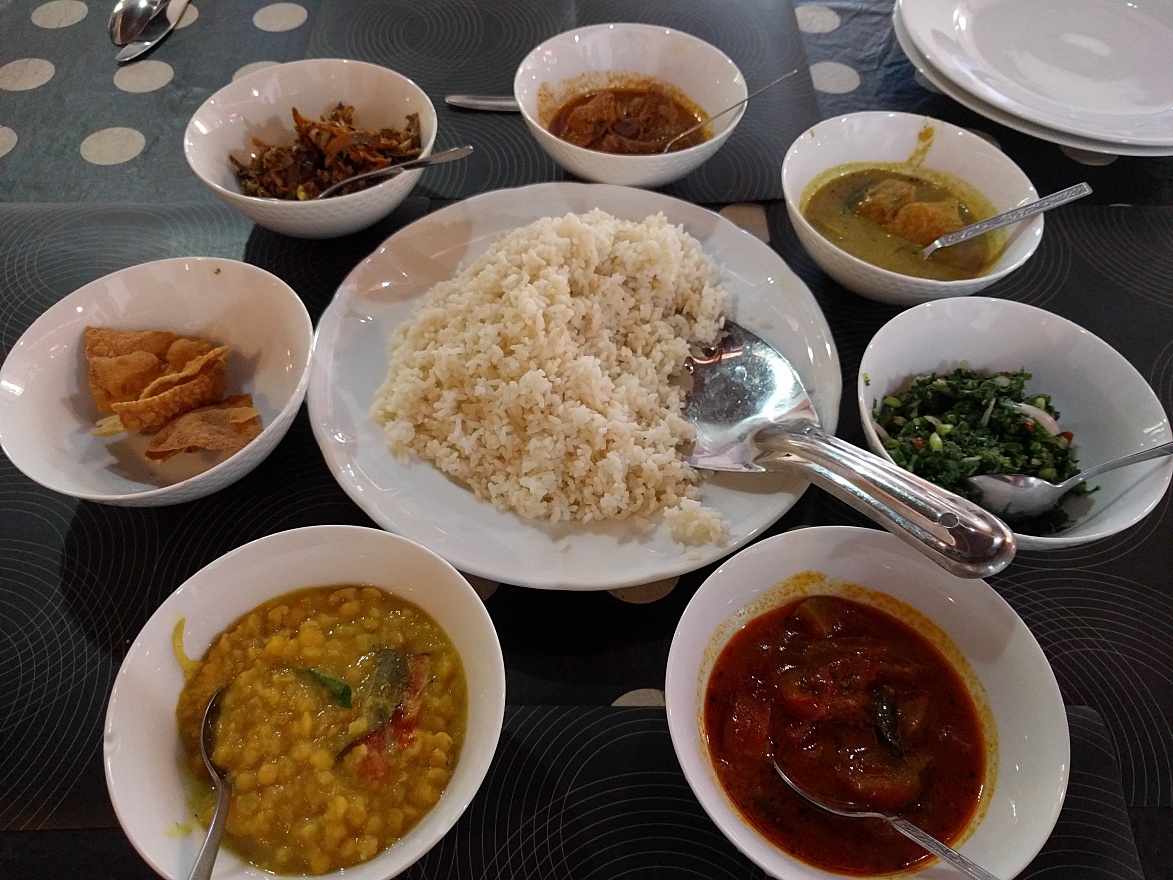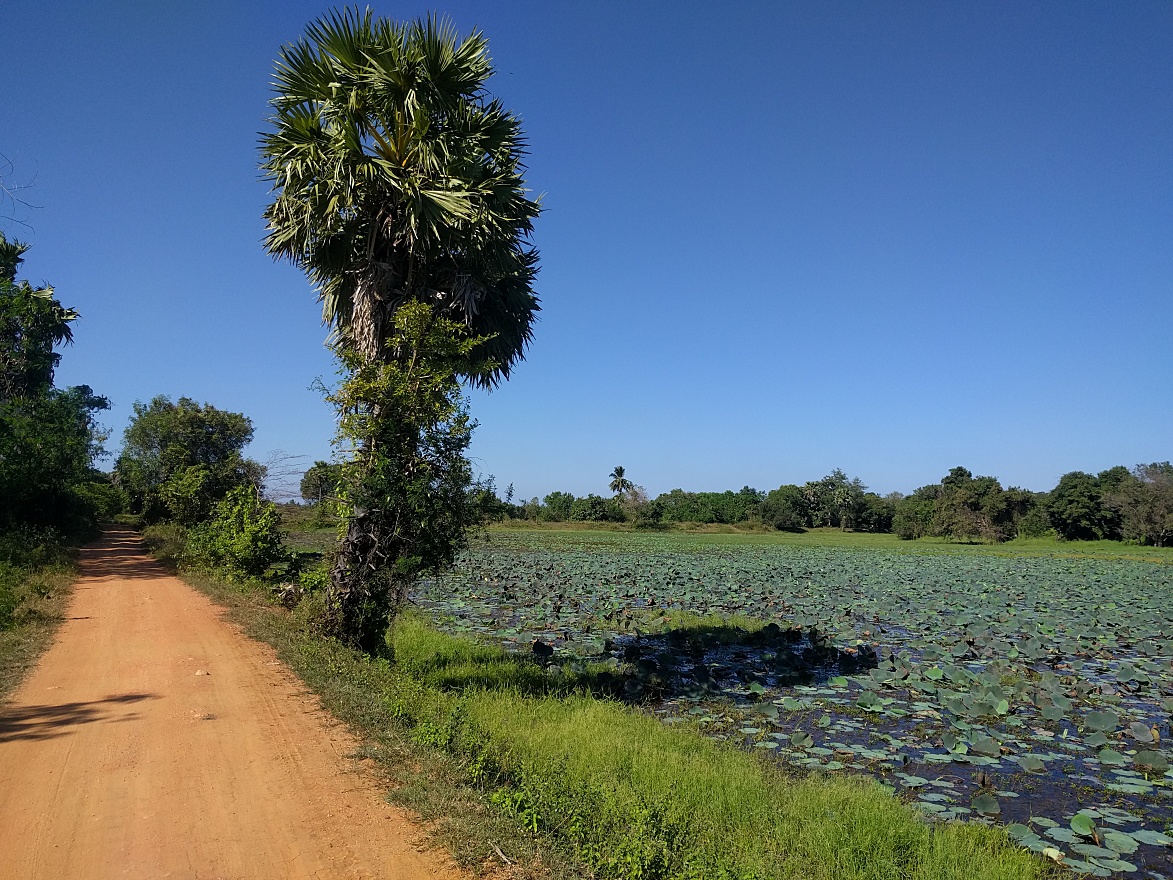 I slept well, and managed to sleep until after 5am for the first time. Breakfast was toast, another fruit plate (its always papaya, pineapple, watermelon & a small banana), and a omelette, with tea. It was fine, but nothing special.
I spent the morning lounging out on the patio, reading, and watching random colorful birds. There was 1 bird that had a white body, a long bright orange tail, with an iridescent blue head. At 11am, i grabbed a bicycle and headed out to get lunch. About 15 minutes away, at the south end of town, is a small rice & curry buffet restaurant, run by 2 older women. It wasn't at all fancy, but it was good. there was 2 types of rice, salad (tomato, cucumber onion), banana blossom salad, potato, breadfruit, yellow dhal, and chicken tika curries. And of course the obligatory fruit plate for desert. Also, i discovered that sri lanka has Ginger beer too (I had it with dinner, and again lunch today). After lunch, i headed north to find an ATM. I don't know why, but i didn't expect nearly everything to be cash only (even the guesthouses, which were reserved in advance). As a result, i'm going through cash quickly. i withdrew another 40,000 rupees today, in addition to the 60,000r that i've already gotten since arriving. Plus their largest note is 5000 rupees, which works out to about $33, so my wallet is always exploding. Thankfully, i've not had any problems with ATMs. After the bank, i headed back to the guesthouse, to find a french couple who had just arrived. So yet again lots of french here, which i never would have guessed. Overall, i was gone for just under 2 hours.
I spent the remainder of the afternoon doing the same as the morning. It was nice to have nothing at all to do. I'd likely go crazy if it was like this all the time, but for a day or so, it was fun. Later in the afternoon 2 Germans arrived, making all 4 rooms booked to tonight. The 2 british are kinda weird. They brought their own gin & tonic, and are drinking non-stop.
I had dinner at the guesthouse tonight and it was much better than yesterday. I had rice (with curry leaves), chicken, beets with lemongrass, kombucha squash, and a salad with greens, mint, lime, onions and tomatoes.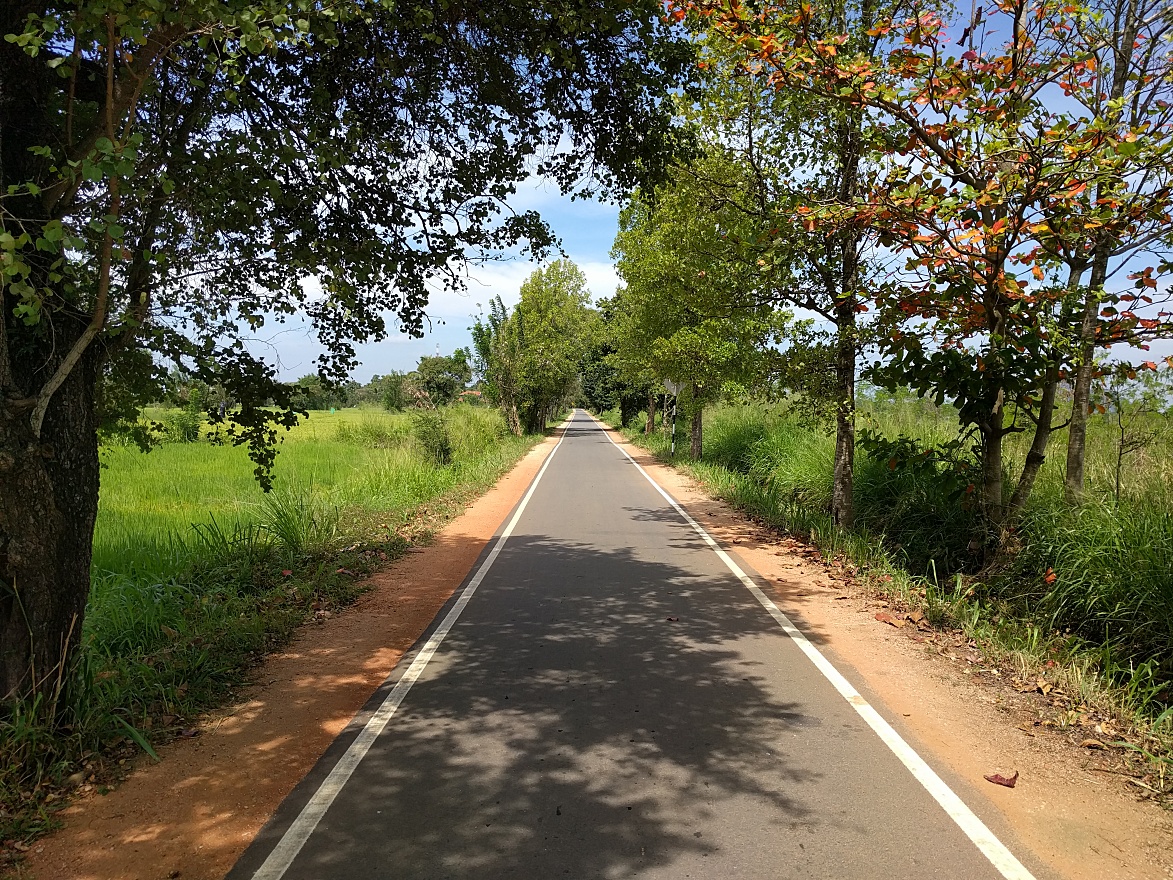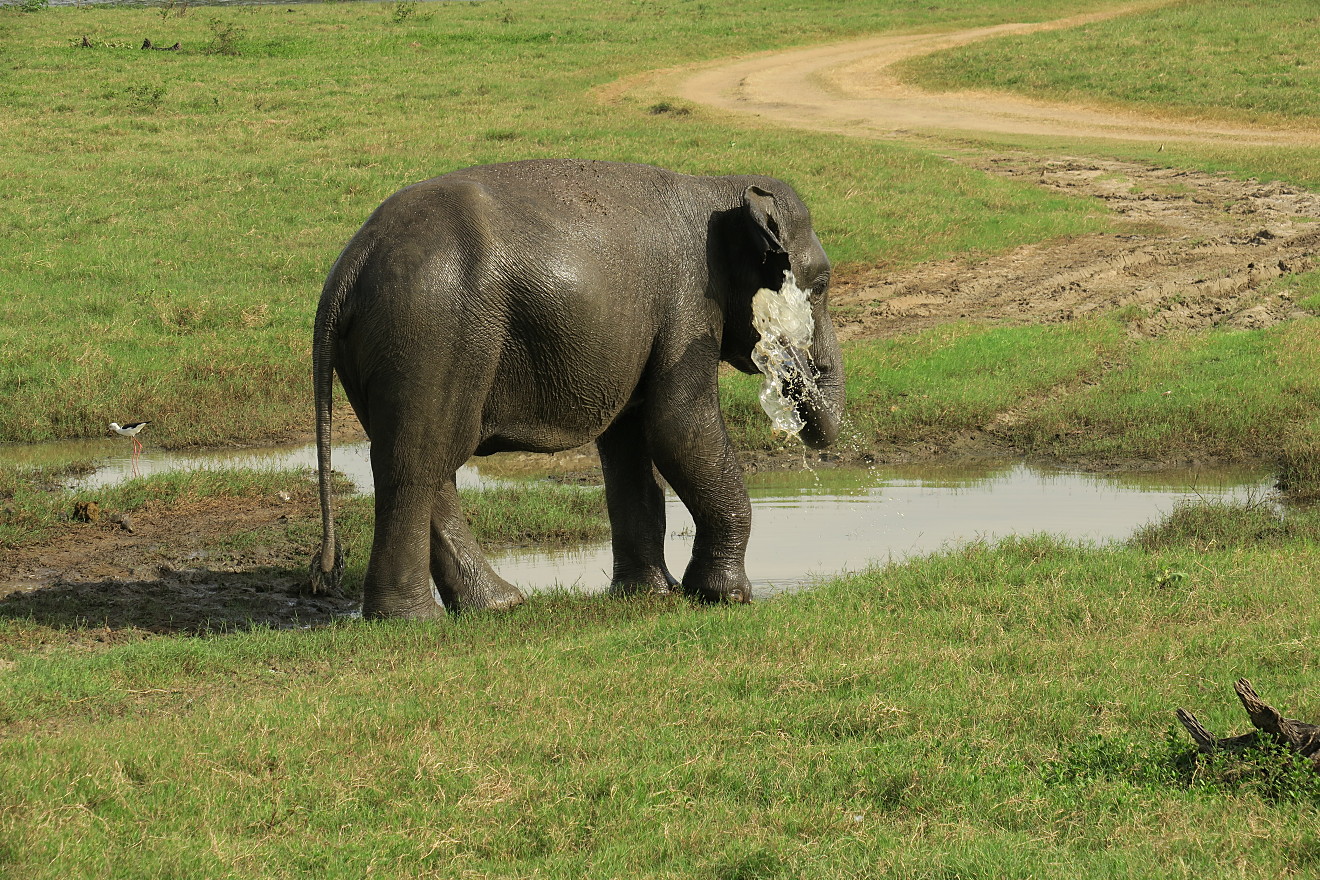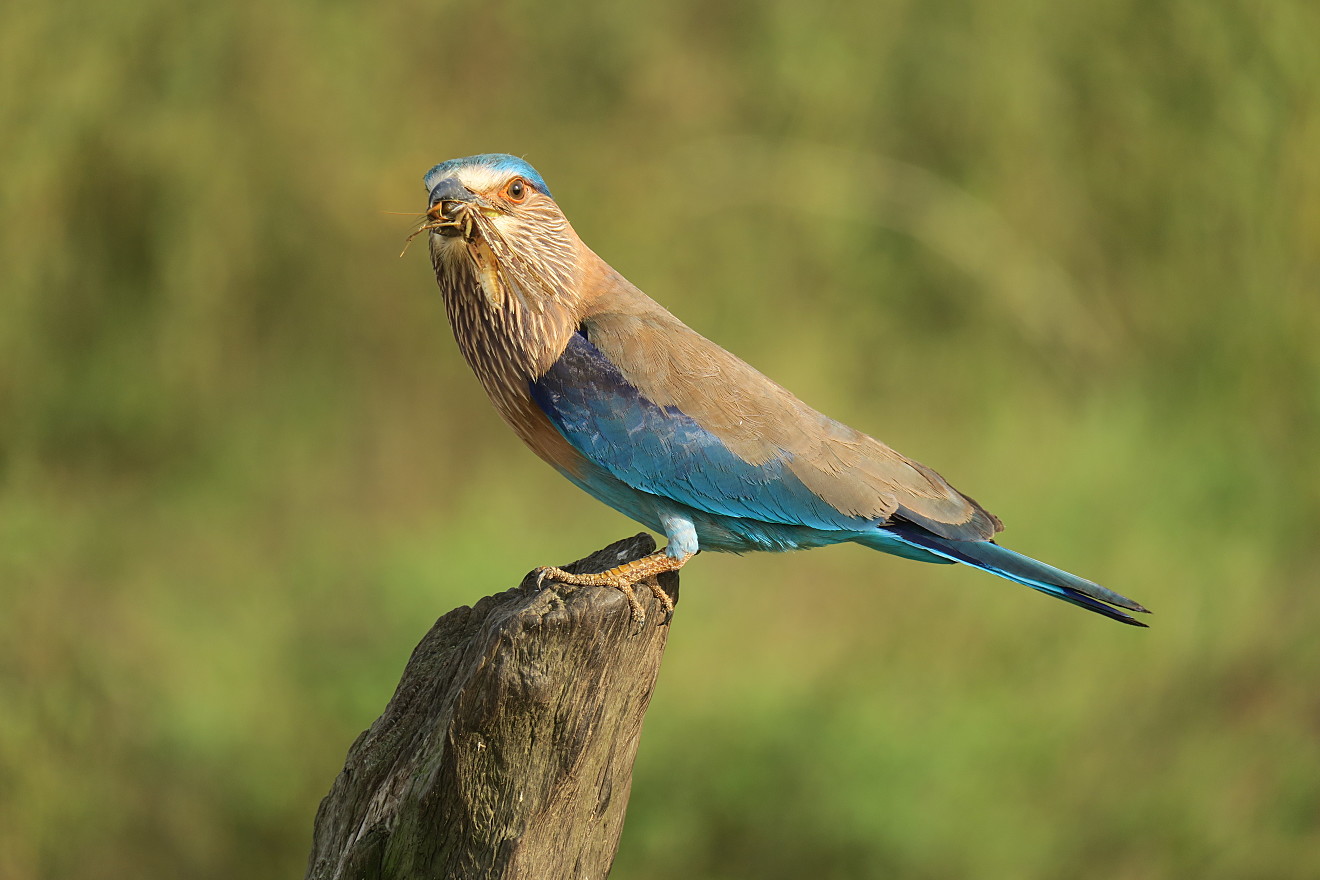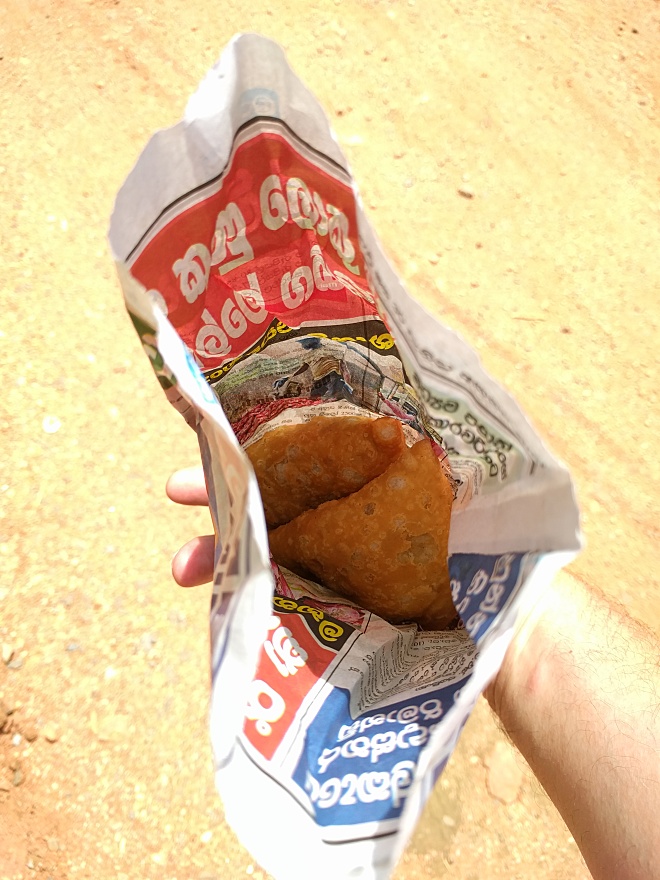 I slept until nearly 5:30am. Breakfast was identical to yesterday. I spent most of the morning relaxing. I was planning to ride a bike into town to get lunch, but the British took both bikes. So i ended up walking into town instead. I was going to look for some kind of bakery shop that had sweet & savory pastries. I ended up finding some food stands at the bus station. I bought 4 samosa like things. Two had this cornmeal like crunchy outside, with vegetables & hard boiled egg inside. The other two were similar but were just a fried dough on the outside. They were pretty good, and cost a total of about $1.
At 1pm a driver showed up with an Indian jeep which may have been older than I am. The drive out to the park took about 45 minutes. My driver was weird. He insisted that i sit up front in the cab with him, wearing a seat belt for the drive to the park. but once i paid for the entry ticket, he let me sit in the back. Initially we were driving on this windy dirt road through a dense forest. Yet the driver kept stopping to point out random birds. For a while all we saw were peacocks, and i was starting to wonder if i was on some bizarro bird safari. However once we exited the forest, we started to see elephants everywhere. Big ones, smaller ones, babies. Most of them were eating, some were bathing. In addition to the peacocks, i saw several amazingly colorful birds, and dozens of water buffalo. Towards the end, as we were starting to drive back out of the park, there was a huge jeep traffic jam near a cluster of elephants. There were 2 babies, and the adults were super protective. Any time a jeep tried to drive past them, the adults started snorting and raising their trunks aggressively. After a few minutes one of the other jeeps must have run out of patience, and floored it. One of the elephants got furious, and charged after them. The elephant never caught them, but it was moving faster than i'd ever seen an elephant move. After, all the other jeeps attempted to drive forward too, and the elephants just wandered away. After we had exited the park, and were driving back, we were maybe 10 minutes down the road when we saw an elephant crossing up ahead. This wasn't at all a low traffic area. There were tons of trucks, buses, motorbikes & tuk tuks, and any of them could have hit the elephant. my driver claimed that we saw over 100 elephants today. I'm not sure it was that many, but it was definitely several dozen. I got back to the guesthouse just around 6pm.
Dinner tonight was genuinely good. There was white rice (with curry leaves), chicken, curried green beans, salad, papadam, and curried jack fruit. The jackfruit was good, but it was super weird. It looked like super gooey mac & cheese.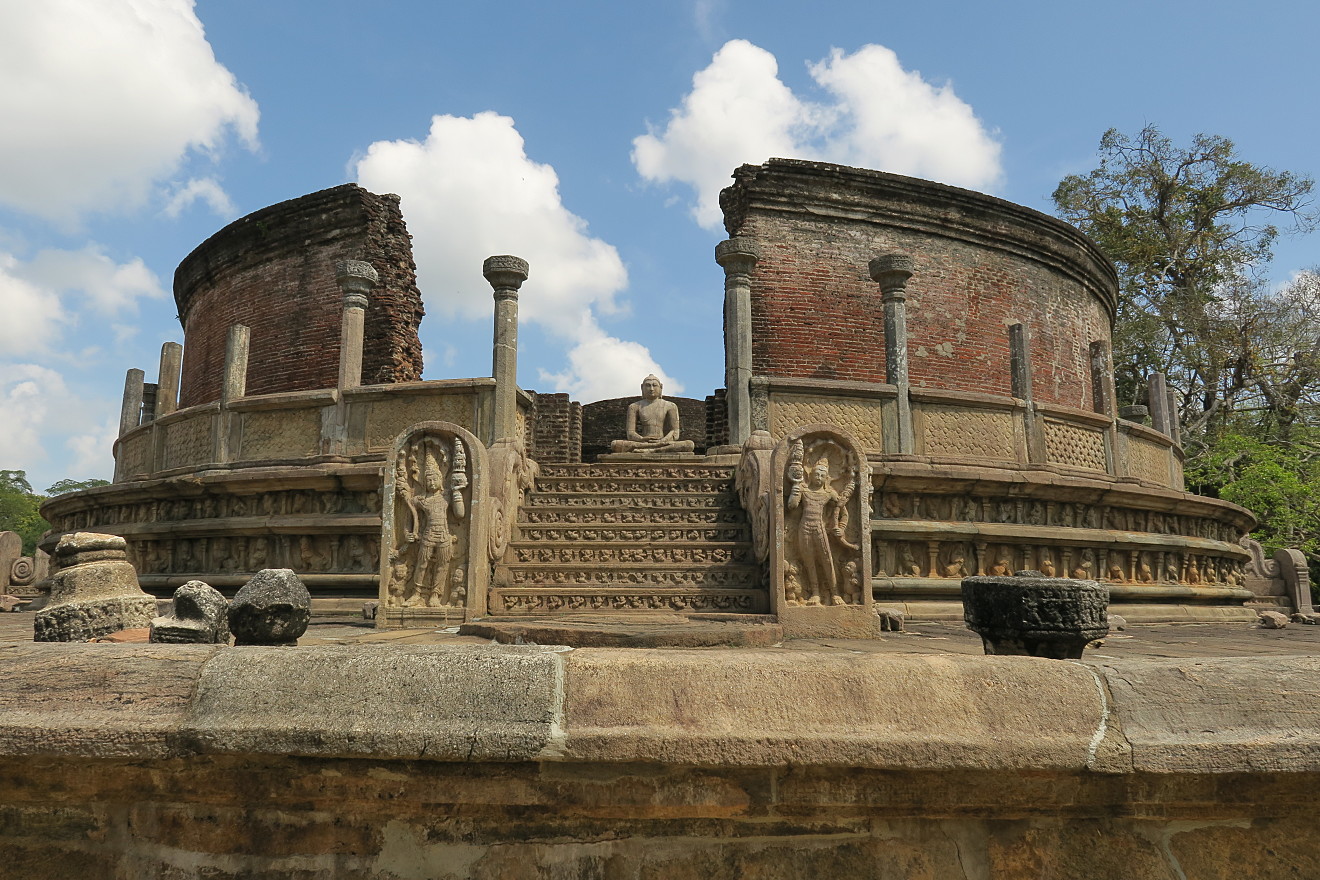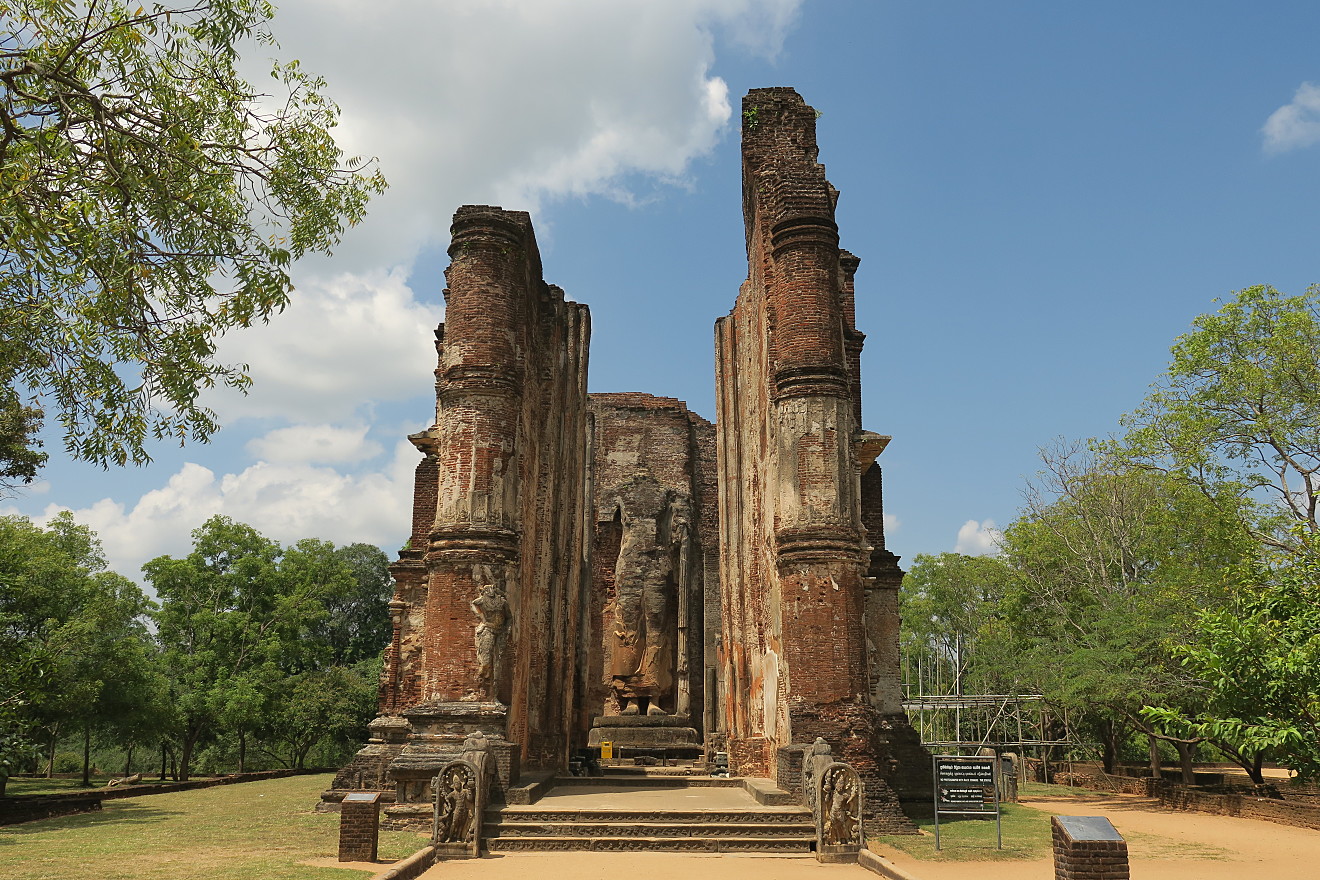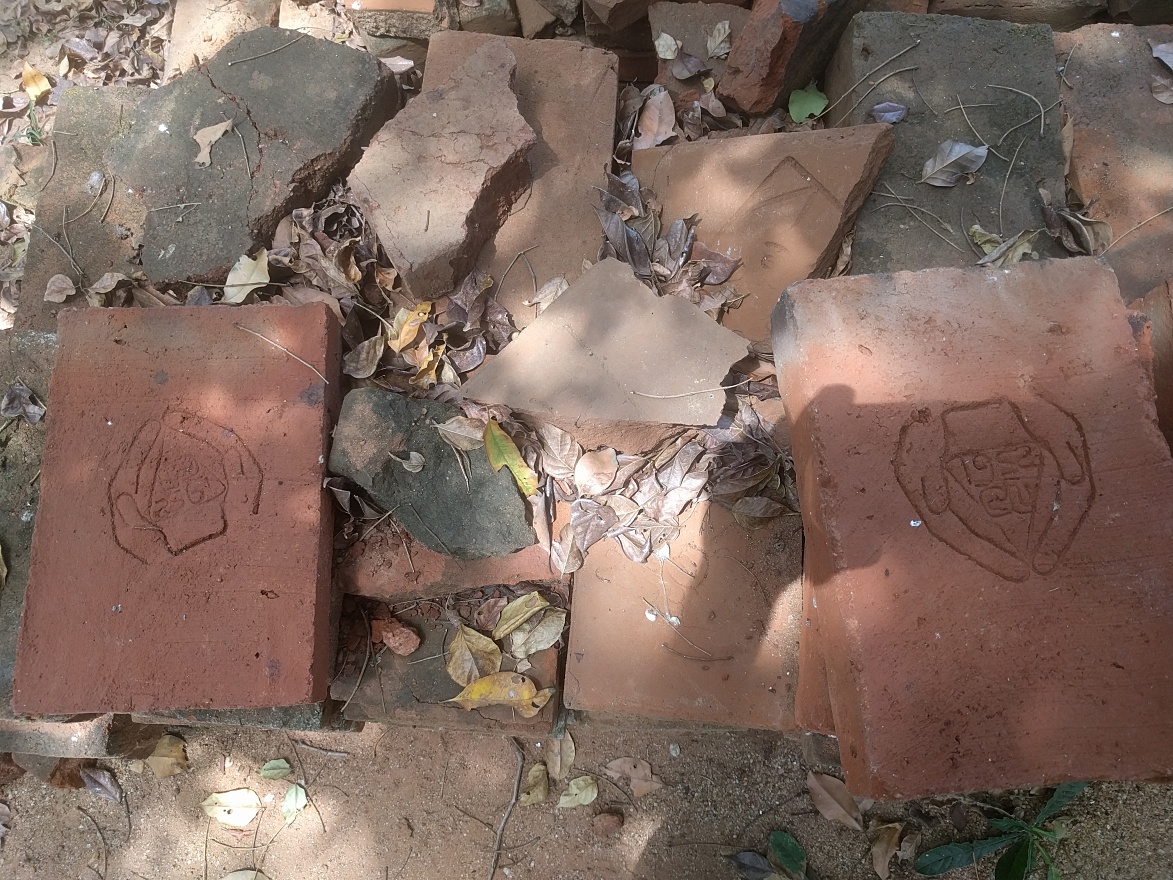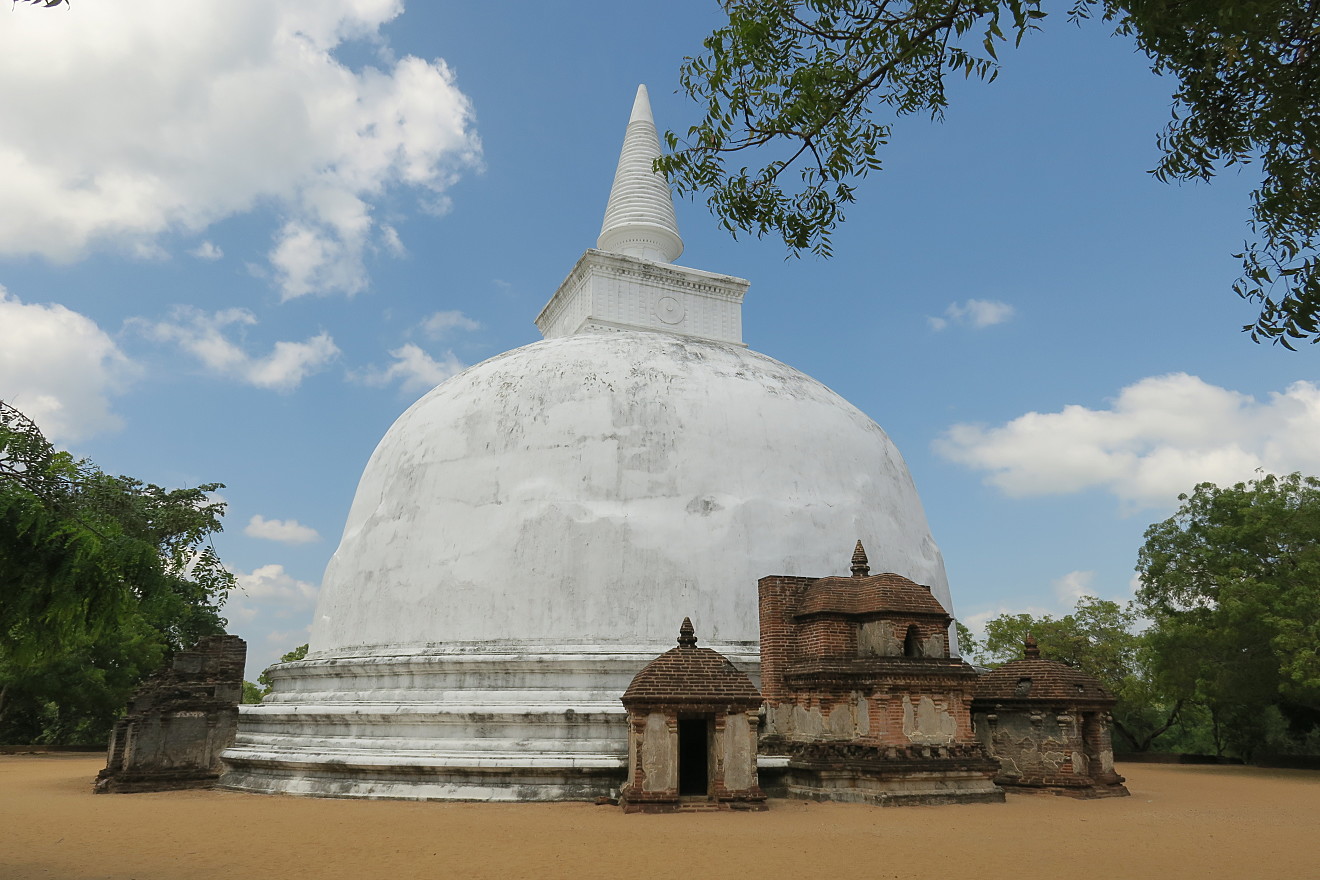 I slept until 6am, had breakfast, and headed out with the tuk tuk for the 90 minute drive to Polonnawura. While Anuradhapura was almost entirely temples & stupas, today was a more balanced mix of religious and secular ruins. It also reminded me a lot of Angkor Wat. However, it was much less crowded here. Other than a few huge school groups (who all are required to dress in white uniforms), and some obnoxious Chinese tour groups, it was mostly just a few other people nearly everywhere. I ended up exploring 10 distinct sites over 3 hours. Two really stood out as amazing. The first perfectly round brick walled temple, with a huge Buddha in the center. The second was a 6 story tall temple, with most of the original walls still in tact. It was rectangular shaped, kind of like some European cathedral, with a 6 story tall Buddha standing at one end.
Once i returned to the guesthouse, i decided to go into town for a bit. I took a bike, and ended up at a western style supermarket (Cargills). It had a shiny new parking lot, with 14 car spaces, and 10 bike spaces, and they were all empty. At first i wasn't sure if the place was open at all, but the lights were on, and i could see employees inside. Of course, being the only customer immediately focused attention upon myself, and being a white dude didn't help either. There were maybe 10 employees plus a security guard at the door, all staring at me, a few giggling too. The store itself wasn't that big, maybe Trader Joes size, but it was new, shiny, clean and all the shelves were stocked. I ended up buying a chocolate ice cream bar, a bag of 'hot & spicy' cassava chips, and a 1L bottle of water for about $1.65. The ice cream i ate immediately in their empty parking lot. It was ok. I returned to the guesthouse, and had the chips while reading. They were not at all hot or spicy, just sort of salty and a bit sour.
My dinner tonight was really good. I had rice, chicken, curried potatoes, 'snake gourd' curry, salad, and for dessert, buffalo curd.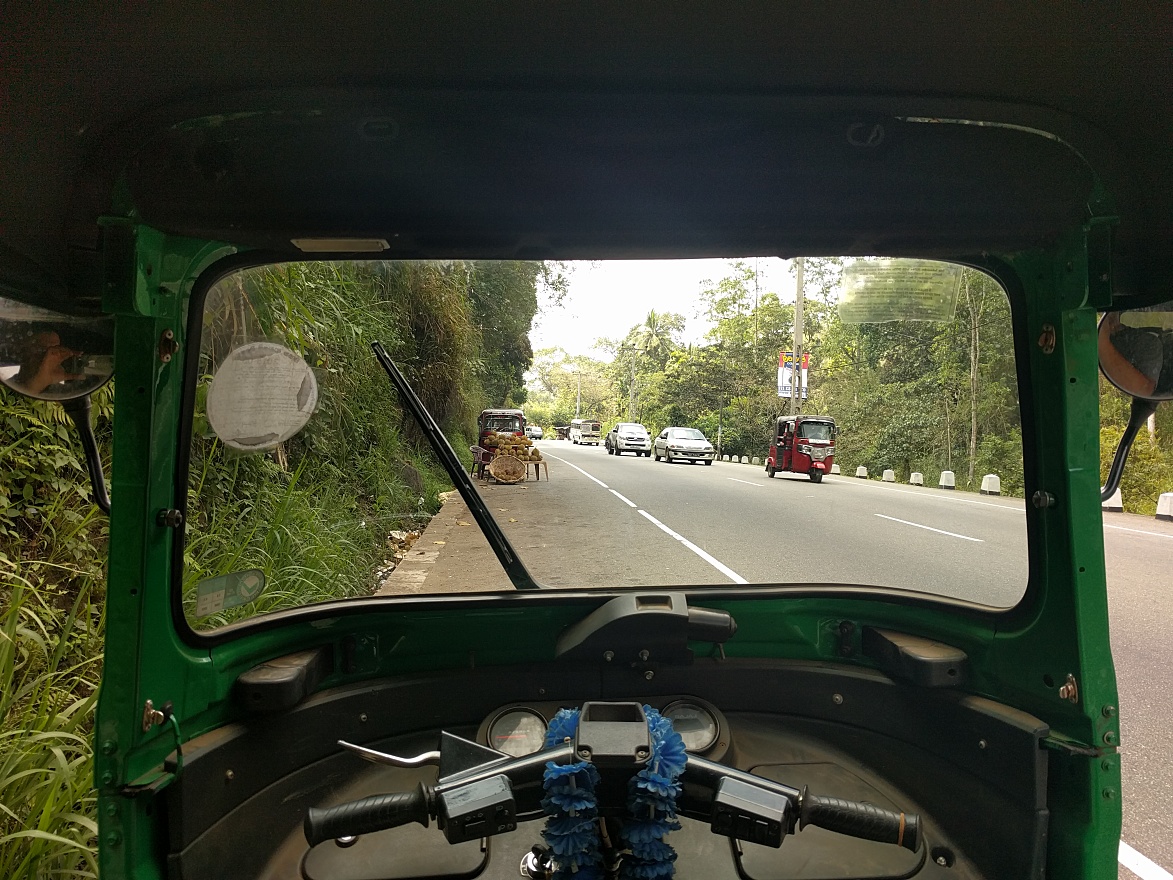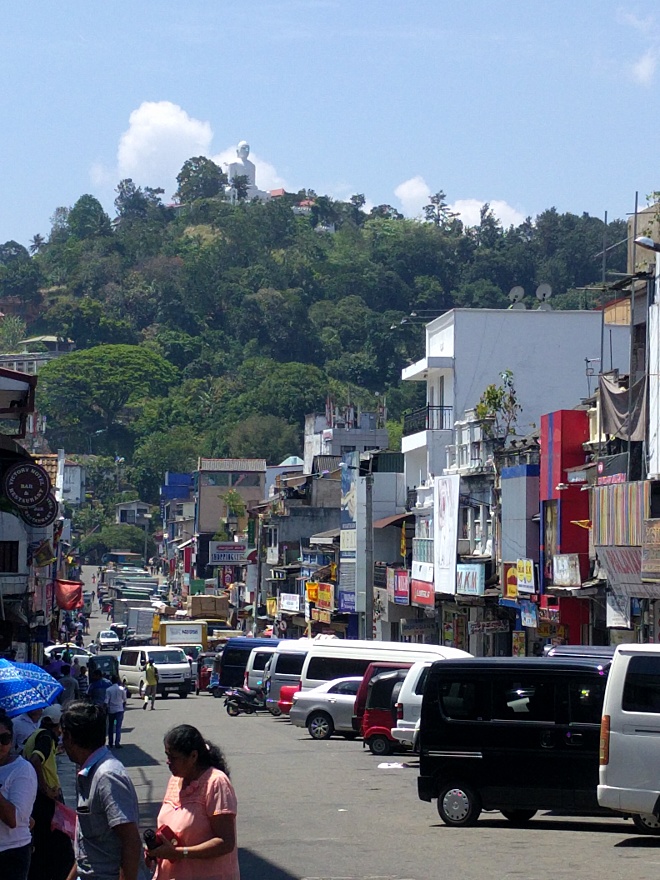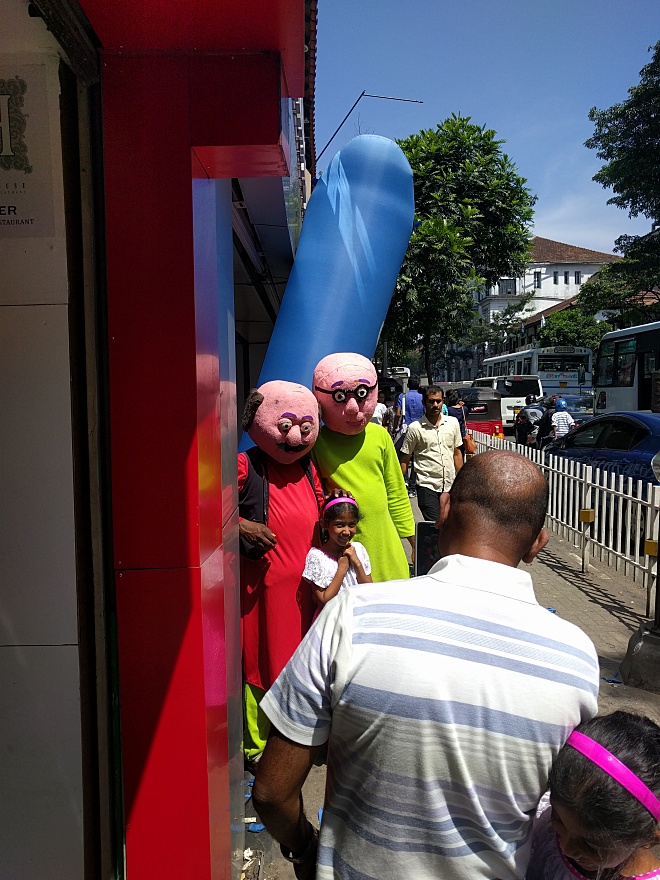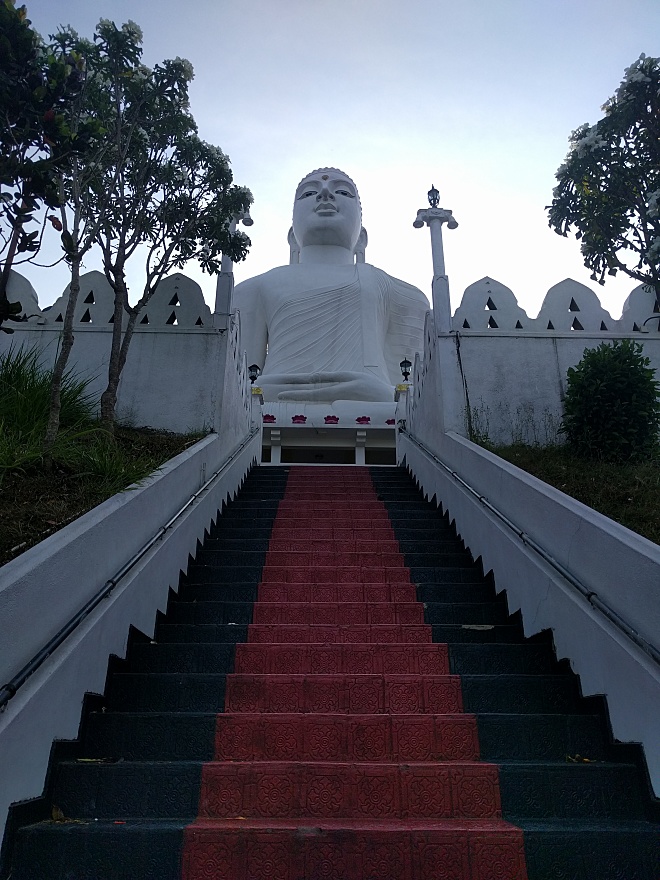 I slept well, and woke a bit after 5am. It seemed much more humid outside, and turns out its because a storm was moving in. Breakfast was surprisingly different today. I got 2 coconut roti with a large scoop of sambal, a rolled pancake with sugary coconut inside, and one of those fried doughy things with curried veggies inside. It was really yummy. I checked out, and started the tuk tuk trip south to kandy. Up until today, i had the impression that roads & drivers in sri lanka weren't too crazy. Apparently i hadn't been on the crazy roads yet. Everyone was swerving all over the place, passing in the oncoming lane of traffic, tail-gating, and being generally reckless. One other thing i noticed was a lot more religious diversity, as we passed a few mosques, several hindu temples, and many more Buddhist temples. Other than the Hindu temple up in Jaffna, i hadn't seen anything other than Buddhist temples, and the occasional Ganesh statue along the side of the road. Kandy feels like much more of a real bustling city, with tons of traffic, loads of pedestrians, and even the first traffic lights since jaffna. The weather also improved during the drive, and by the time i got to Kandy, it was sunny and hot again.
After checking into the hotel, i headed out to explore. The hotel is in the center of the city, so there was tons of random stuff within walking distance. I don't know if its just this part of kandy or what, but there are about 4 bakery shops on every block, and at least one dosa place per block too. I ended up going into a cafe for lunch, and it was great. I got a salad with breaded/fried paneer, greens, tomatoes and a mustardy dressing, with a mango guava lime smoothy. the place where i was eating (the empire cafe) had a backpacker/hippy vibe, and was full of people with goofy t-shirts, tattoos, and/or dreadlocks. While i was eating this blonde women hobbled in with crutches, and a massive bandage on her foot, and sat down. Then another random blonde woman wandered in and notices the first woman's foot, and they start talking. Apparently the one with crutches is Norwegian, and injured her foot while surfing on the coast north of the city of Galle. The other woman is Israeli, and is currently on military leave. Then the 1 of them, who had never met before 10 minutes earlier started planning to travel together for the next week. The entire struck me as kinda bizarre.
After lunch, i started to walk back to the hotel, and figured since i passed several banks, i should take advantage of an ATM. Apparently my luck ran out, and i had problems finding an ATM that would give me money. The first one that i attempted got as far as letting me enter the amount of money that i wanted, and then claimed the transaction was cancelled, but helpfully gave me a receipt showing the cancelled transaction. The 2nd ATM (from a different bank) claimed that my card was banned as soon as i entered the PIN. Thankfully the 3rd bank worked, but i had to wait in a long line in the sun for that one. Finally, i wanted to figure out where the train station was, since i was going to need to find it in the morning. This turned into a 20 minute walk in the sun, past a chaotic bus depot, cripples begging on the sidewalk, a lady selling bras from a small table, and a few dozen guys selling random stuff (grapes, lottery tickets, water, hats, etc). Eventually i found the station, and then returned to he hotel to cool off and rest.
Around 4pm i headed out to see a Buddhist temple, which is at the top of a hill, with a crazy 70ft tall white concrete Buddha. The walk up wasn't too bad, mostly because it was later in the day, and most of the road was in shade. They did require everyone to remove their shoes, but that also wasn't a problem, because most of the temple was in shade, and they painted the walkway, making it fairly smooth. Directly behind the giant Buddha is a staircase, which runs to the top. However, about 3/4 of the way up, it was locked behind a gate, which sucked. I read stories of being able to get inside its head, and look out over the city through its eyes (kinda like the statue of liberty).
The place that i went for dinner (divine street cafe)was a 15 minute walk from the hotel, and served both sri lankan and western food. The TripAdvisor reviews said that their burgers were really good. After 10 days of eating rice & curry, i was craving something different, so i got a lamb burger. The cafe was on the 2nd floor above a bustling street, so i people watched while waiting for my food. Directly below me were these 2 guys selling jackfruit out of a basket. One of them was completely bald but had one of those long beards which was died bright red (which seems to be a thing muslims do in some places). Later I saw this guy wandering down the street barefoot, with this huge gas powered lantern. I could never figure what he was exactly doing though. Directly across the street was a bake shop with a case full of fancy looking cakes. The burger was ok, the fries were not fully cooked.
Something that i hadn't mentioned earlier, because i assumed it was a fluke, is power outages. At the guesthouse in Dambulla, the power went out every day for at least 10 minutes. I'm currently sitting in the Kandy hotel, middle of the afternoon, and the power just went out. I guess it never occurred to me that there were power infrastructure problems here, but clearly there are.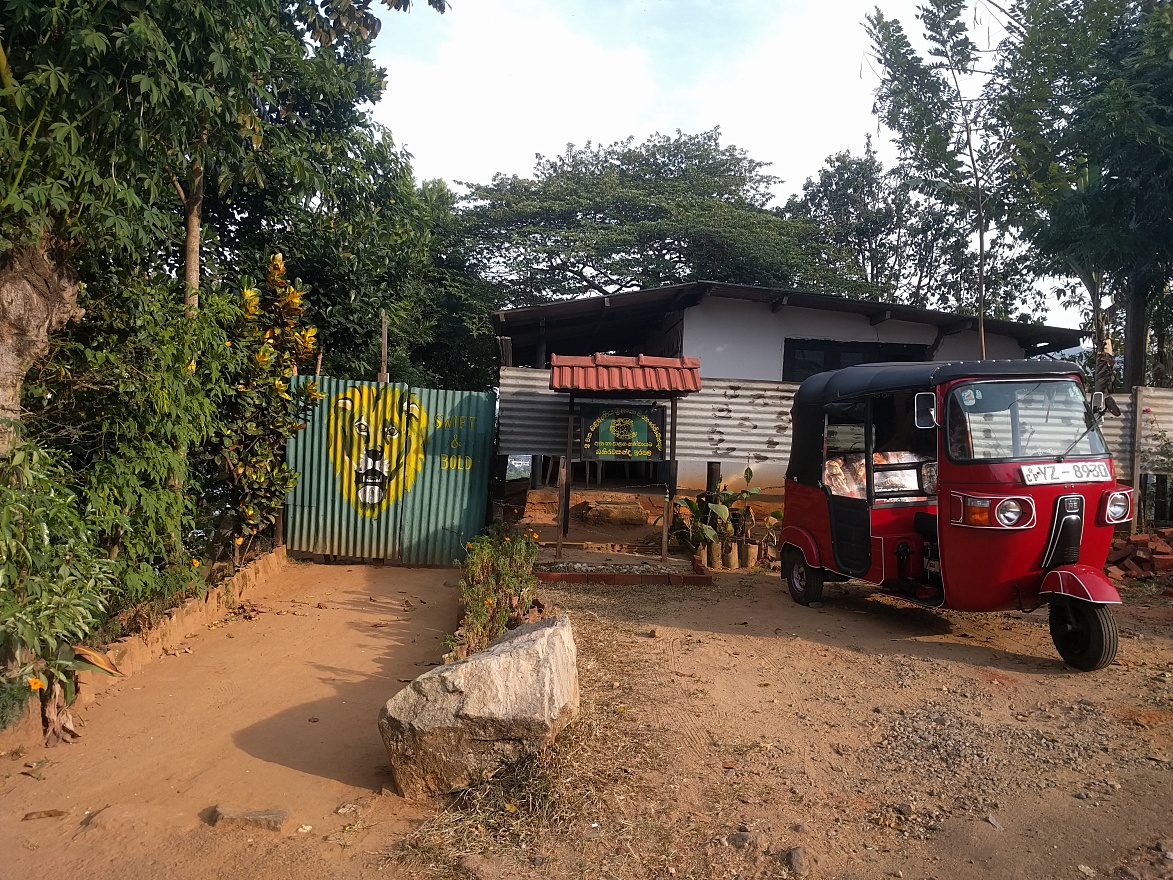 Here's the rough route that I travelled:

Hundreds of other photos from the trip are posted HERE. You can read about the second half of the trip HERE.