I've recently returned from spending nearly 3 weeks exploring Iran. It was an amazing, fascinating trip, and I enjoyed it thoroughly. What follows is a trip report for the second half of the trip (heading north the Persian Gulf back to Tehran). You can read about the first half of the trip HERE.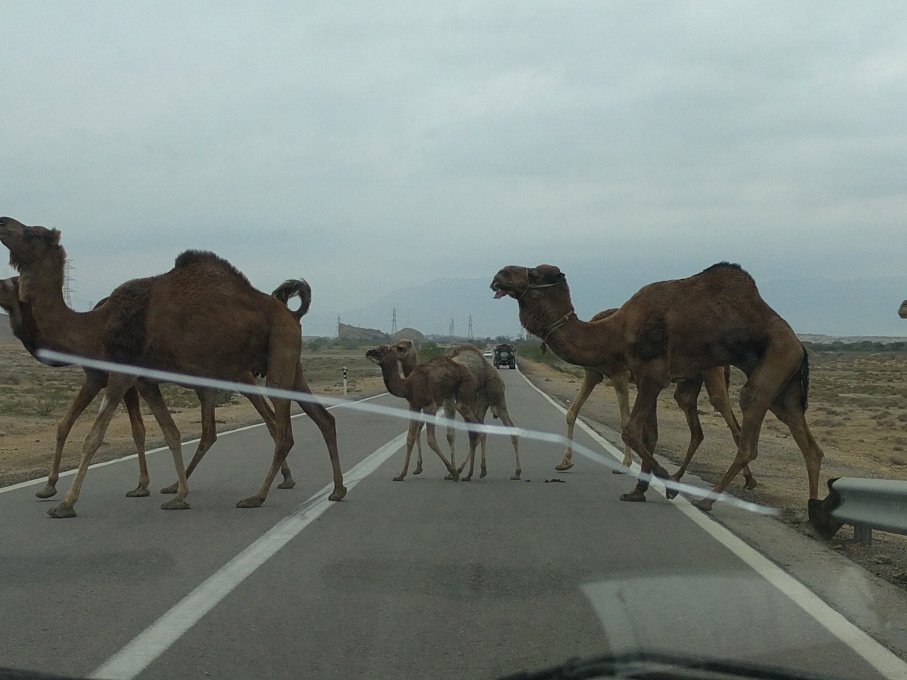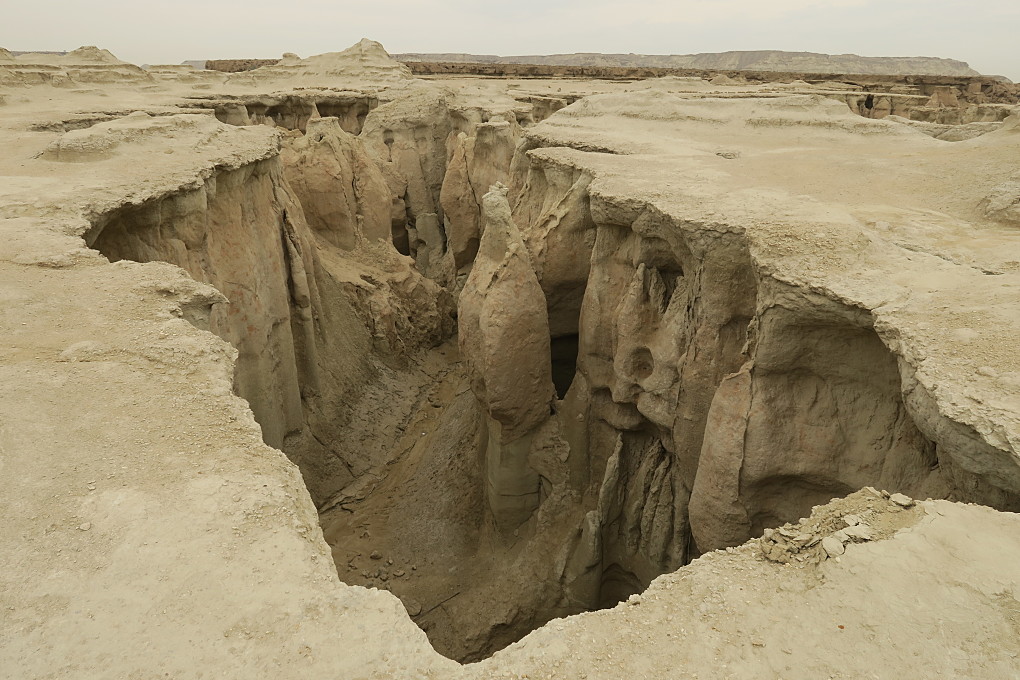 I woke up this morning and it was still overcast outside. Qeshm is basically the island of parks and geological features, so everything planned for today was going to be outside. First we drove nearly an hour across the island to Stars Valley Geopark. Its basically a huge geological formation consisting of mud hoodoos, arches, and buttes. There was a hiking trail that forks a few rimes leading to different areas of the park. It was quite impressive, and once i reached the top, i could see nearly everything. It also helped that most of the people there had no interest in climbing any hills, so i left them behind quickly.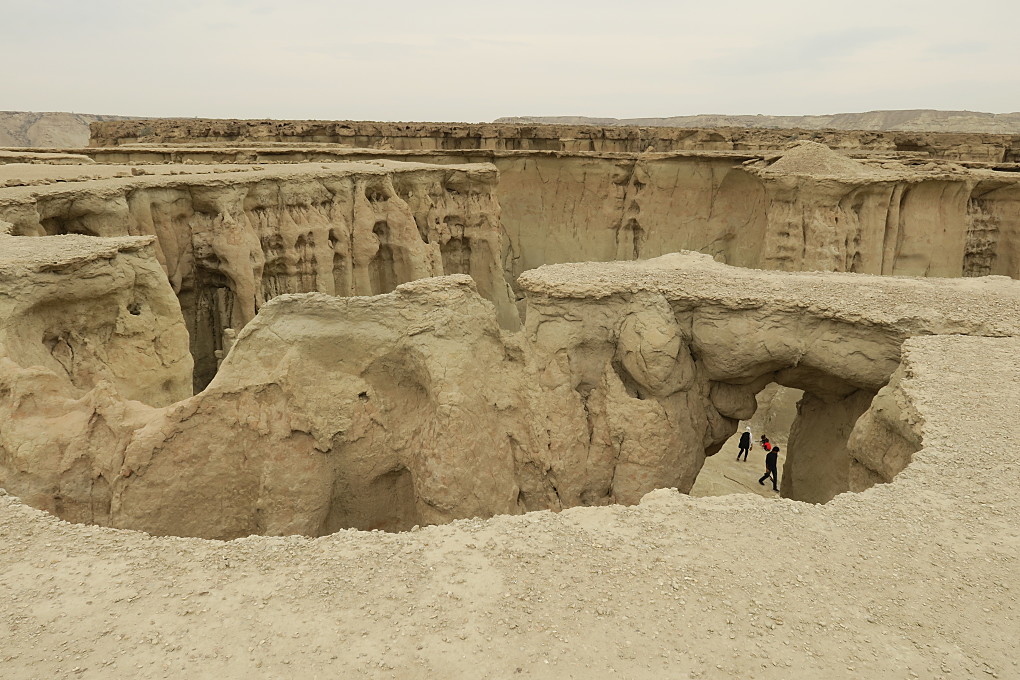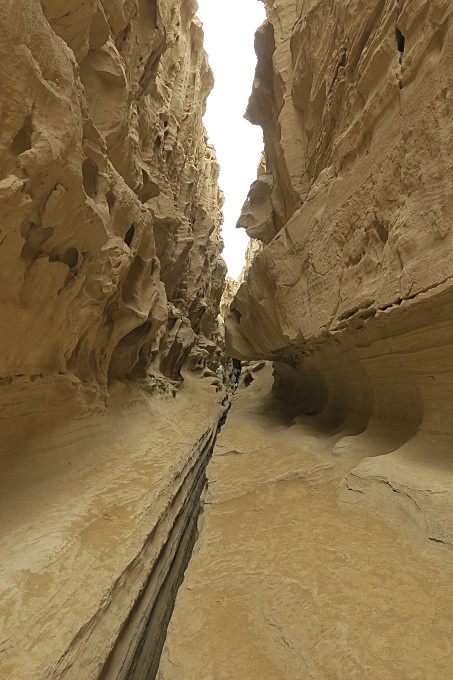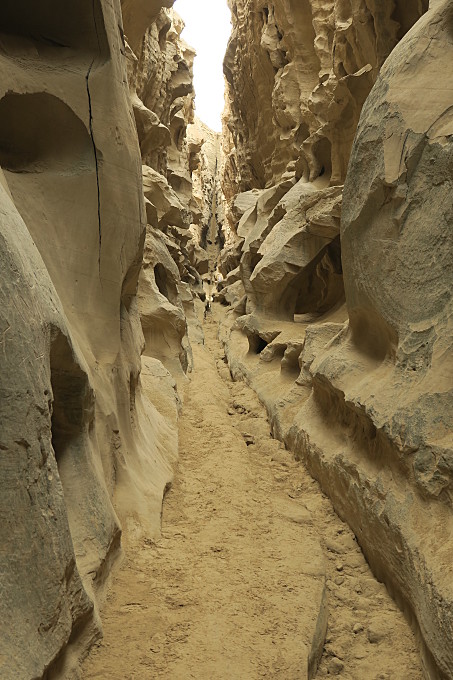 Next we drove further west to Chahkoo Gorge. It consisted of a series of slot canyons. Local villagers discovered them long ago, and dug deep wells to collect the water every time the canyon flooded. This hike was a lot of fun, as the 2 primary slot canyons intersected and ran perpendicular to each other. Unfortunately, it started raining while i was in the canyon, and everything quickly was coated in gooey mud. I didn't get dirty, but it kinda ruined the experience. After that we drove to the north coast and took a boat tour of a mangrove forest. I saw a lot of birds but again the rain made things unpleasant.
I went bowling before dinner tonight in the mall. Let me tell you, you haven't lived until you've seen a woman in a chadoor bowling. We played 5 games, and i won 2 of them. The bowling alley had the auto-score keeping computer, although the balls looked to be over a decade old. Some of them had chunks of plastic missing. for dinner i went to CFC. I have no clue what the C stood for, but it was definitely trying​ to be a KFC clone. The chicken was pretty good though.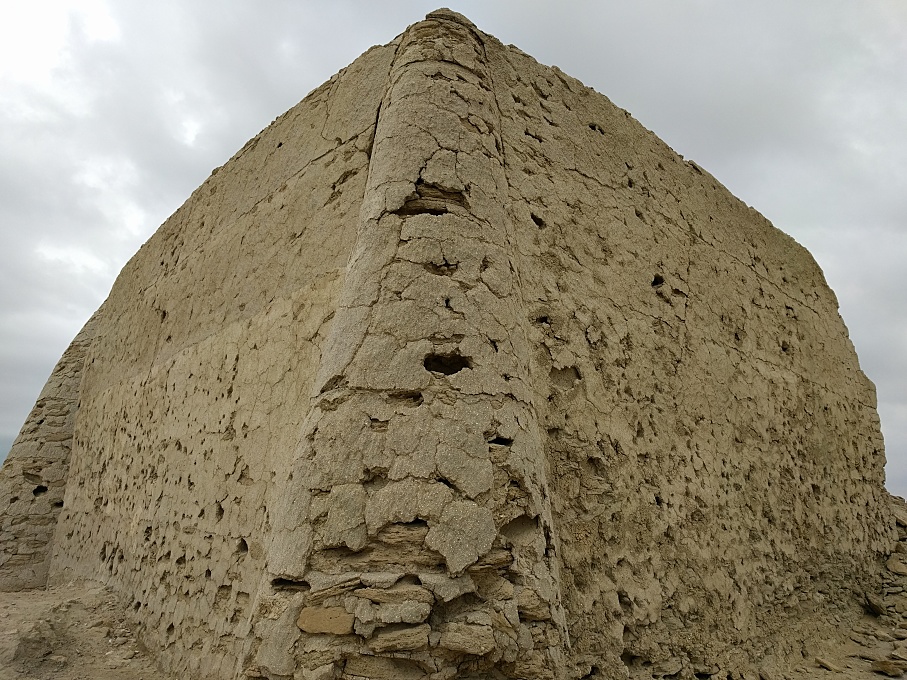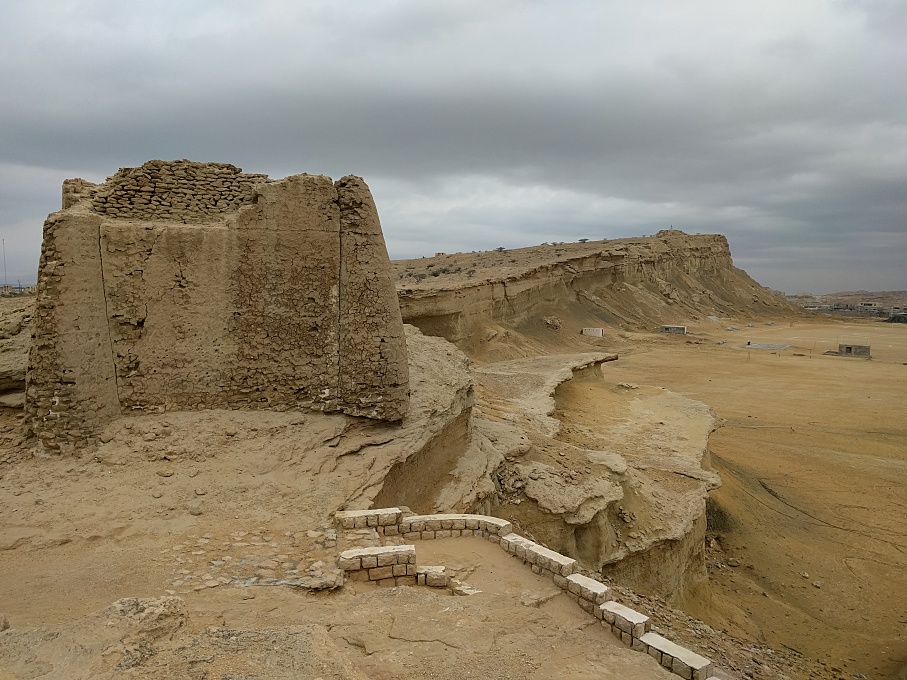 We departed the hotel on Qeshm, and headed west to an old village. Overlooking the village was a huge mesa, with the remains of an old mud brick wall, and two huge sentry towers. It was fun to explore up there, plus the views of the village itself, and the persian gulf beyond were great. Afterwards, we drove to the ferry pier. We sat there for nearly a half hour waiting for more cars to arrive to fill up the ferry. Once we departed it was a quick 15 minute trip back to the main land.
it took about an hour to drive into Bandar Abbas. Apparently the highway we were driving on (east bound), runs all the way to the border with Pakistan. Mehdi also said that less than 10km before the border there is a fork in that road, and if you take it north, it runs to the border with Afghanistan. Granted all of his is a long 10 hour drive from where we were at the time.
After dropping off our bags at the hotel, we headed out for lunch. We went to a seafood restaurant, that was absolutely packed. I ordered a BBQ'd fish whose name Mehdi didn't know in english, but it was amazingly good. The fish was white, and had a strong flavor. On the side was raw flat bread, slices of onion, a roasted tomato, roasted chilli peppers, and a spectacular sauce made with lemon juice, fish oil, and a bunch of spices. This was easily the best lunch of the trip thus far.
Next we walked to an old Hindu temple, and explored it a bit. Unfortunately the temple is no longer in use as all the remaining worshippers have moved to Tehran. On the temple grounds there were a bunch of merchant tents set up selling stuff. One of them was a pair of old women from some village an hour away, who were selling crocheted purses, bags and dolls for less than $10 each.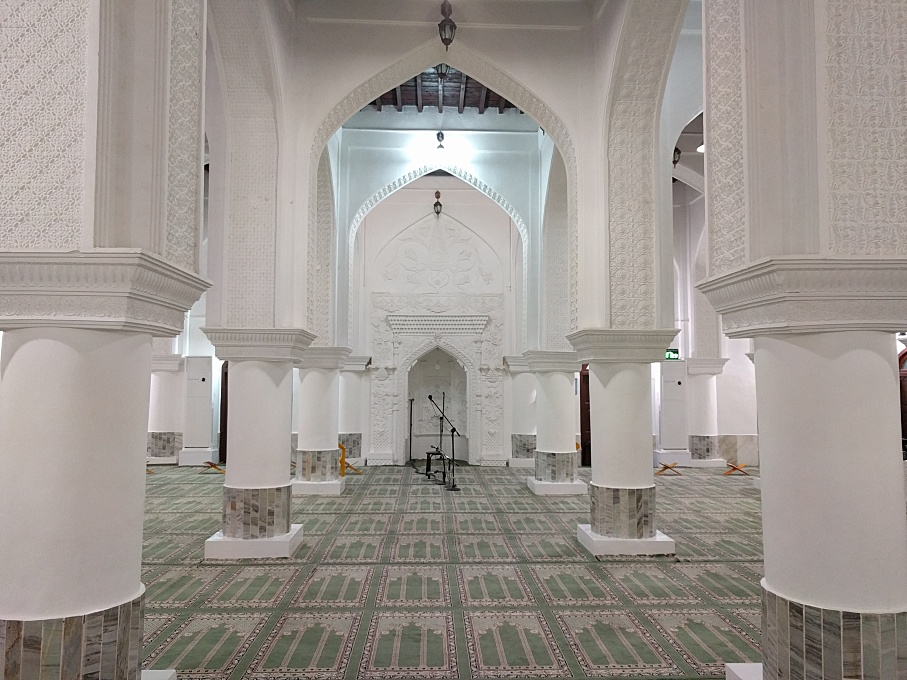 Afterwards, we walked a few blocks away to an old Sunni mosque run by some obscure sect who started off in a village a few hours away. When we arrived, there were these 2 guys playing badminton in the courtyard. Mehdi started chatting with them, and when he mentioned where i was from, they insisted that i join the game. I was beyond awful, but it was hilarious. They were laughing hysterically., and were super friendly afterwards. I later found out that they were the high mullahs of this mosque. So Yeah​, i played badminton​ with jovial mullahs today. The mosque itself was nice with a lot of columns that had stone carvings on them.
Next we started wandering through the old bazaar, which was mostly clothing, shoe and cosmetic shops. Then we wandered through a modern mall, and i observed Mehdi bargain on a new cell phone. We went to an Indian restaurant for dinner which was decent, but kinda weird. The Indian waiter spoke perfect English, but the iranian owner only spoke Farsi. The owner kept wandering over wandering why his waiter was speaking english, and he refused to believe that Mehdi & i could understand the waiter. Anyway, i got a mutton curry, which i requested as spicy, but turned out fairly bland. Mehdi got chicken biryani which he also requested spicy. He claimed it was extremely spicy, but when i tasted it, it was bland. So apparently iranians don't know what spicy food is, and can't handle it.
Something that i keep forgetting to mention are the poor. Apparently one way that poor people get money is to put a bathroom scale out, and request donations for people to weigh themselves. I've also seen a disturbing number of very young (maybe age 5) children (often barefoot), wandering the streets begging for money. Older women try to sell​ fortunes. And then there's the classic mother with a baby in her arms begging in high traffic area.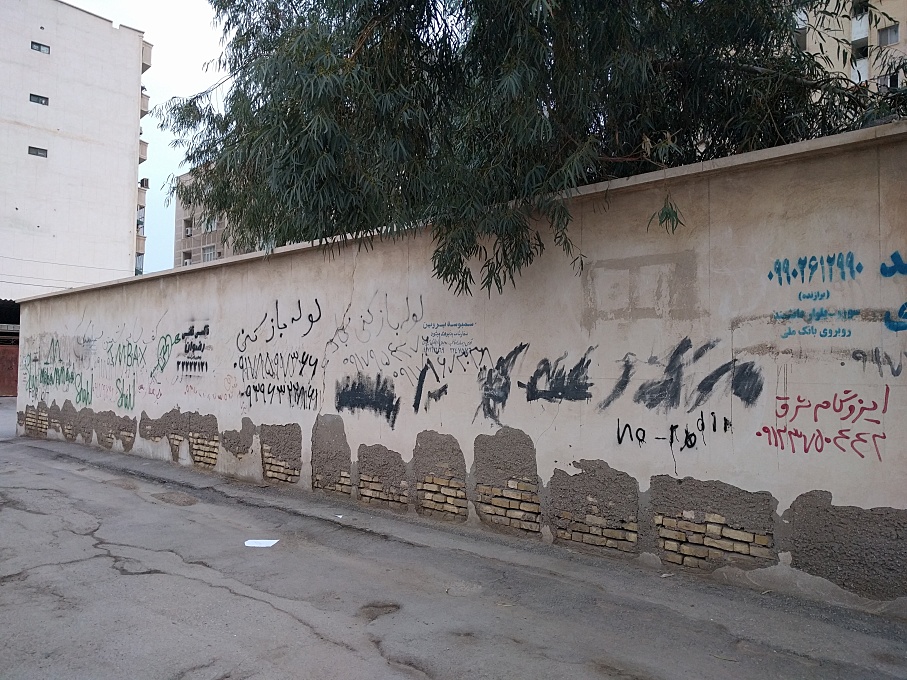 As we departed Bandar Abass, it had been raining for hours, and most of the streets were completely flooded. Once we got out of the city, it was obvious that the freeway was going to be a huge mess. Most people were driving like complete idiots, and we passed lots of crashes, including an 18 wheel truck that had completely flipped over. In addition to the pouring rain, karl decided to pay a visit. It wasn't the worst fog but it was enough to make things even more difficult. Also, since we were driving through the desert, all of the typically dry washes were full of rushing water, and occasionally some of it was spilling onto the road. We stopped just before 1pm at a highway rest area for lunch. I got a great chicken kabob with bread that was really similar to pizza dough. As we were finishing up, the guy running the place came over to chat. Initially he assumed i was german, but once i said 'american' he started saying 'trump' over and over. When i said 'trump bad' he started laughing hysterically, and shook my hand a bunch of times.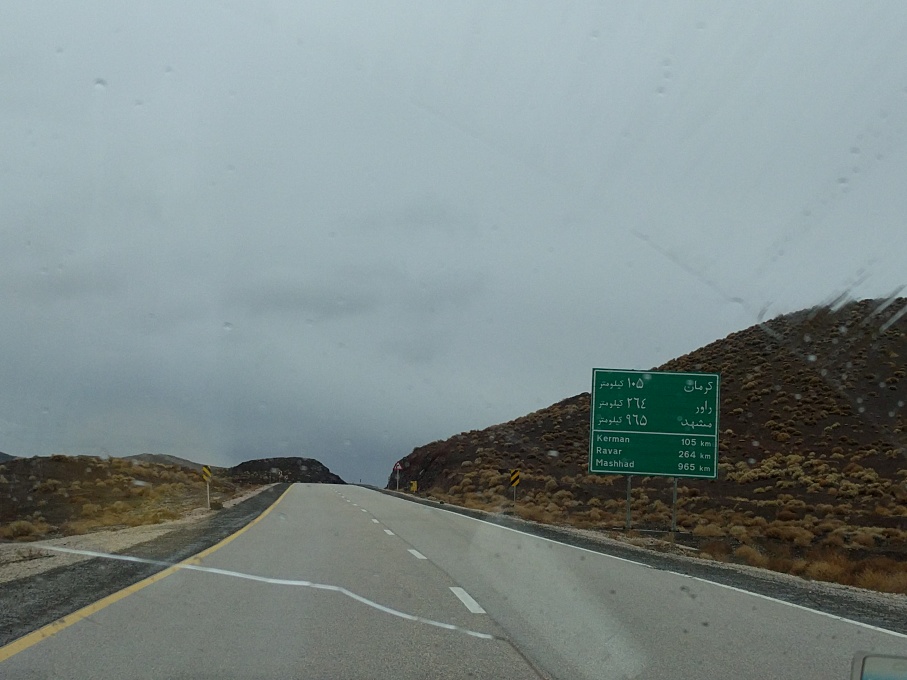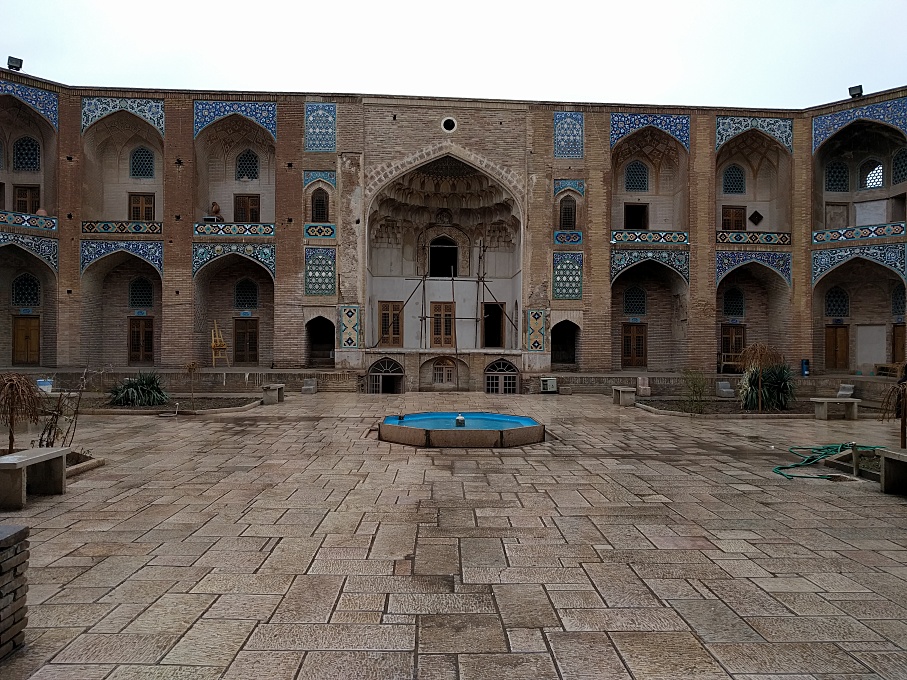 after lunch the route took us to a much higher elevation, and we started to see patches of snow. The terrain also became much more mountainous, with a very dark red colored soil. The raging rivers almost looked like blood. We got into Kerman just after 3pm.
we first went to the old part of the city. The bazaar and caravanserai were linked, and were huge and amazing. There was so much tile and brick art everywhere. underground was the ancient baths, which i was also able to explore. The bazaar felt like it ran on forever. There was also a shrine for a sufi about 3 blocks from the end of the bazaar complex that i explored, which had gorgeous art on he domes (both inside & out). The only disappointment today was the weather. It never fully stopped raining, and being nearly 6000ft up, its chilly here too, so the weather really sucks. I realize that you've been getting similar weather non-stop too, but its so frustrating that i can't take as many photos as i want, or good photos because of the weather.anyway, as we were finishing up at the bazaar, we passed a few spice shops (you know, the type with huge baskets of raw 'exotic' spices). mehdi mentioned that kerman province is where most of iran's pistachios are grown, and they had several types for sale. I sampled a few and purchased about a half pound for $1.50, which seemed like an amazing price. If not, at least they taste good. While i was there this old guy wandered over and started sampling the fresh cumin. How did i know it was cumin? Because he started taking small pinches in his hand and insisting that i smell each type, to help him decide which to purchase. next we drove to the hotel to check in. His hotel is kinda large, and almost feels like a western style hotel. Its got a huge lobby, my room actually has a real shower stall for the first time in iran.
For dinner we went to a buffet restaurant, which had about 50 items. It was decent, but not great. One of the items on the buffet was….. stuffed peppers. It was pretty much identical to the version your mother makes. I asked mehdi if it was a traditional​ iranian food, and he said it was.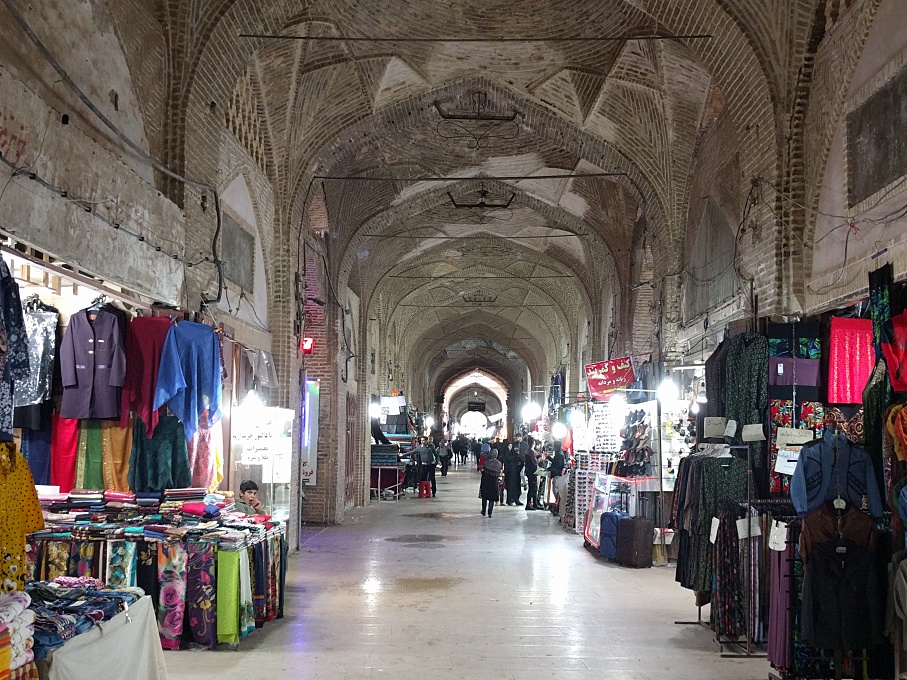 It was raining once again today. We started the day driving about 110km south to the ancient town of Rayen. The drive down was pretty, with a lot of fresh snow on the mountains. Oddly we had about 30 minutes of clear skies during the drive, before re-entering the storm. Rayen has a huge 1200 year old fortress built from mud bricks. Each of the 4 sides has multiple towers. The interior held living quarters for a few thousand people, a palace for the local ruler, a bazaar, and military baracks. As huge as this fort is, the similar fort in the nearby city of Bam (about an hour further south) is 10x bigger. While i was exploring the fort, i ran into a group of 5 Italians who were very happy to let me know that San Francisco was there favorite American city. They were the only other people there the entire time i was exploring.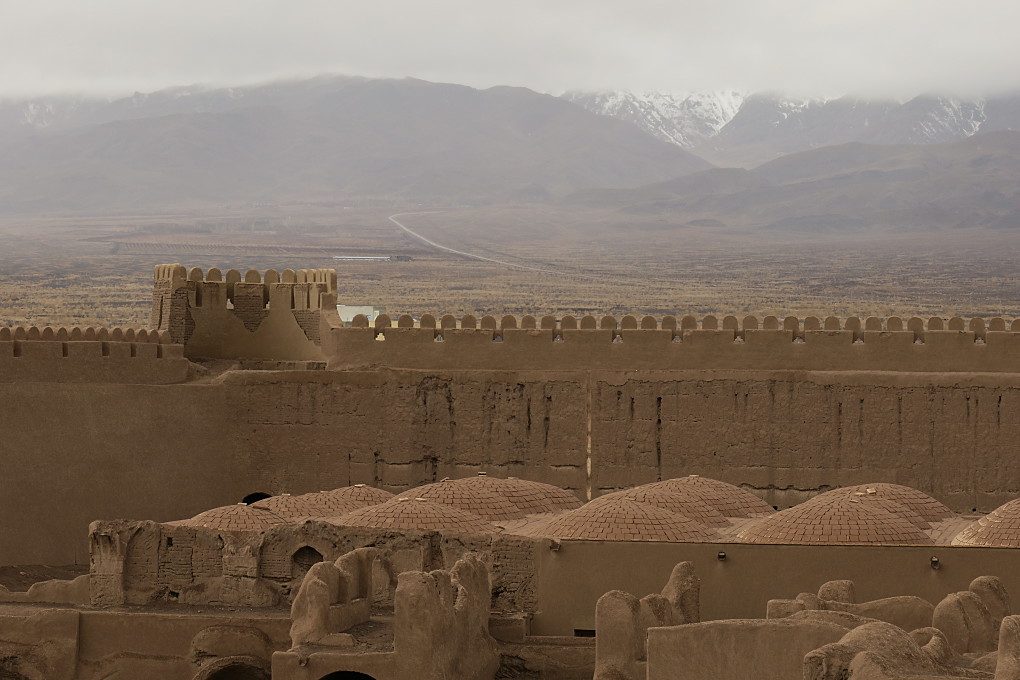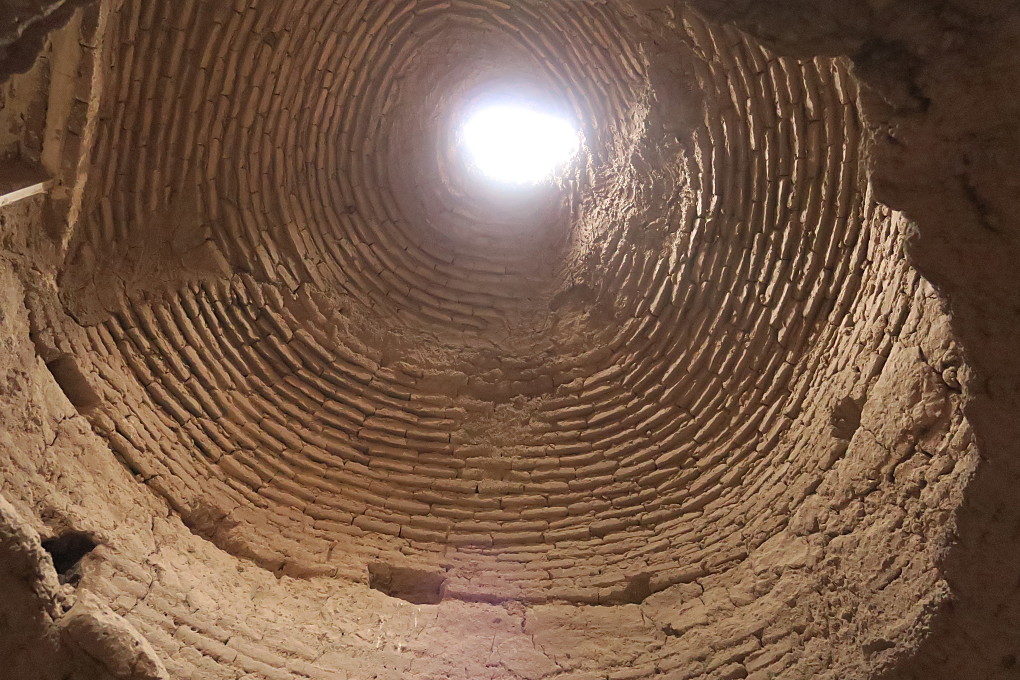 After the fort, we drove about 25 minutes back north, through more light rain, to the town of Mahan. We had lunch first (j had a really tasty eggplant, yogurt tahini stew), and then i saw a shrine from Sufi who lived in the 16th century. the ceiling was really pretty, plus they had the original 400+ year old doors, with derailed carvings and inlaid ivory.
next we drove a few more minutes to a huge walled terraced garden on a hillside, which was originally built for a prince nearly 200 years ago. it was pretty, and had running water from the nearby mountains, which allowed them to setup fountains too.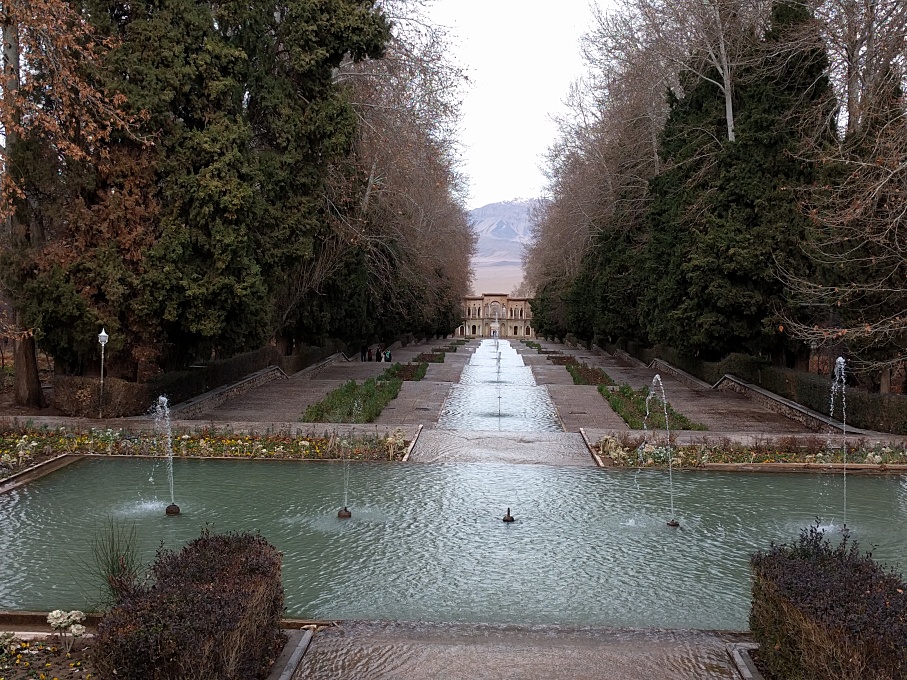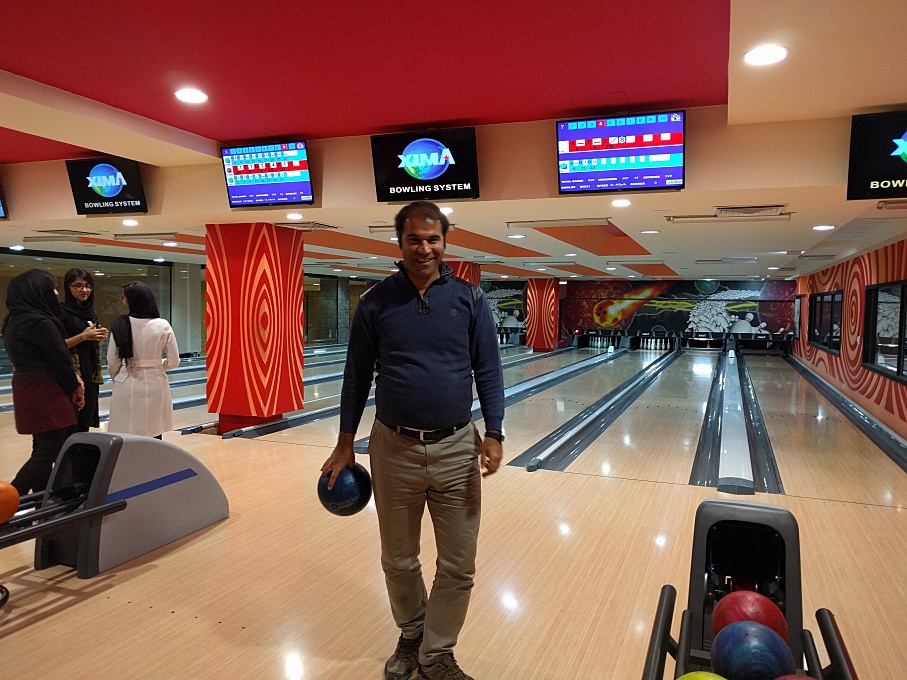 Before dinner we went bowling at what may be a more pathetic place than you went in DPRK. All the equipment at this alley was made in china. All the balls had dozens of knicks and dents.The electronic score keeper randomly switched between english & chinese. The best part was the pin machine. It randomly knocked over standing pins. It randomly put down 8, 9 or 10 pins. also the pins were bottom weighted too much, such that a pin that was knocked over might randomly stand up again on its own. This was the saddest bowling alley ever.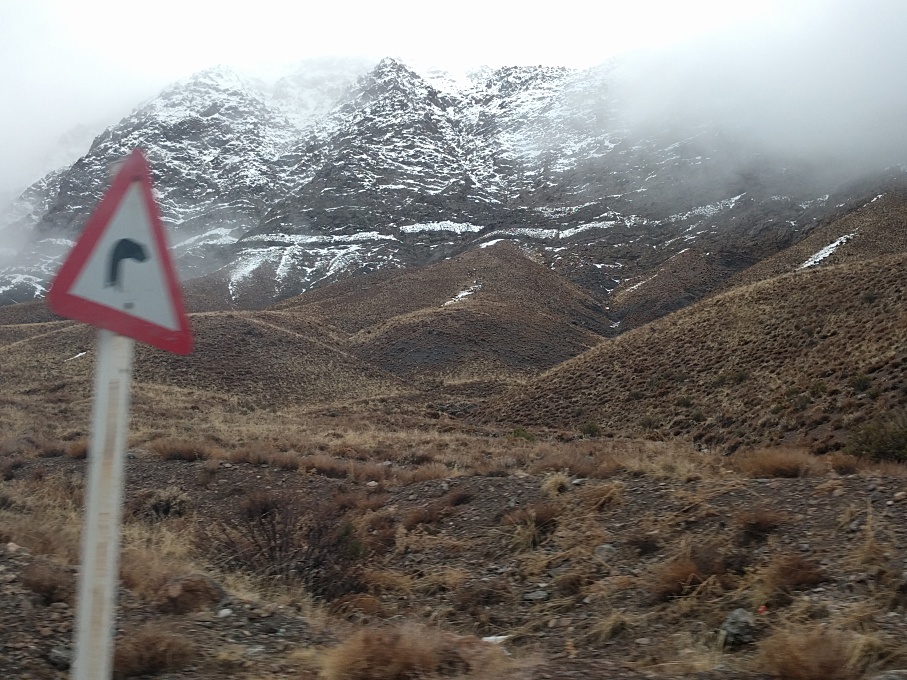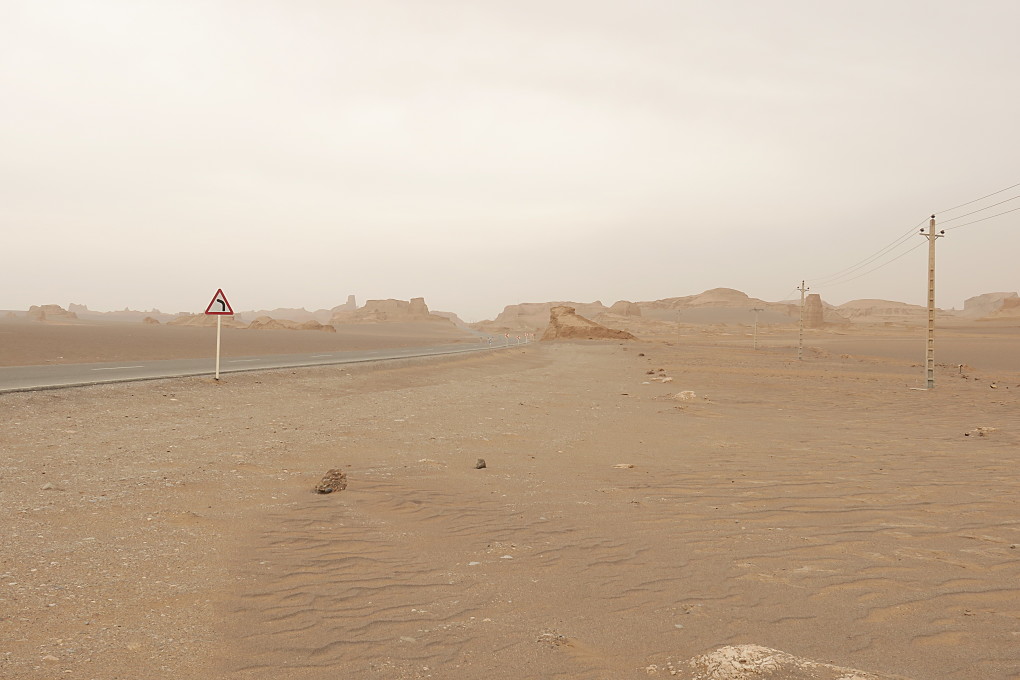 The drive out to the kaluts took nearly 2 hours. It was raining (yes, again) when we left kerman. Our route took us up over a 9000ft pass with a lot of fresh snow, then through a long tunnel (apparently the longest in iran until 2000). When we exited the tunnel it was no longer raining, but still cloudy. This road passed some of the most rural, primitive areas i've been through in the entire country. Lots of small villages with mud bric homes, and no signs of electricity. As we descended from the tunnel, the terrain quickly changed, and it started to look much like death valley, with huge mountains and a rather barren landscape, mostly devoid of trees or plants. By the time we reaches the valley floor, the sun was almost out, it was considerably warmer, and there was absolutely nothing to see ahead of us but a flat sandy expanse. Also, the road that we were on eventually leads to the Afghani border (after another 9 hours of driving). Eventually i started to see mud colored hills and buttes in the distance, and then they were all around us. We drove a bit further , and then pulled off the road.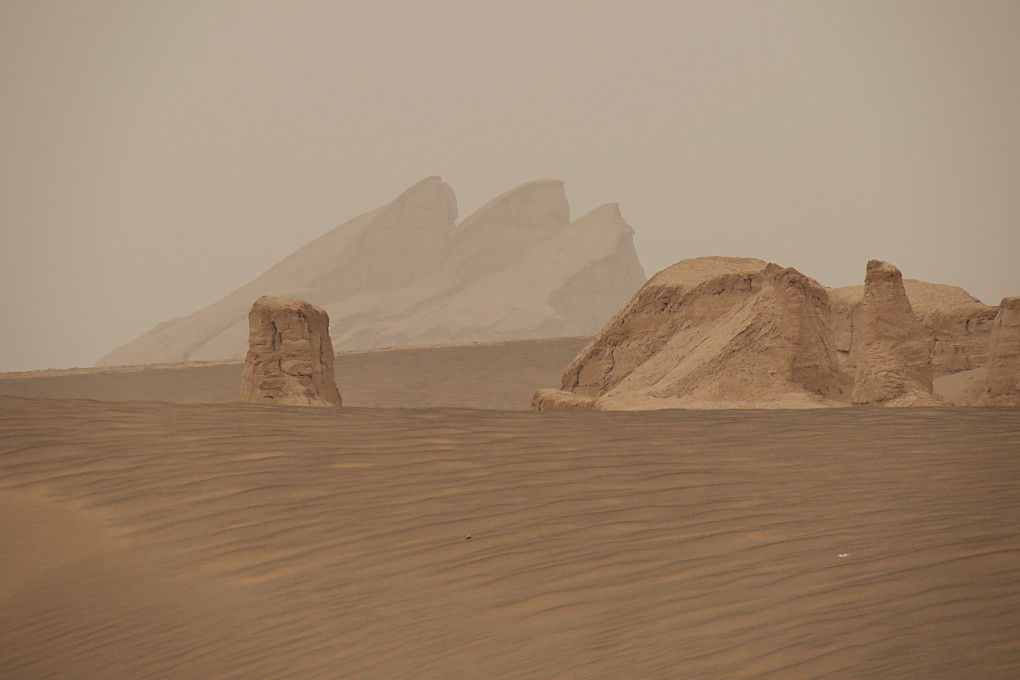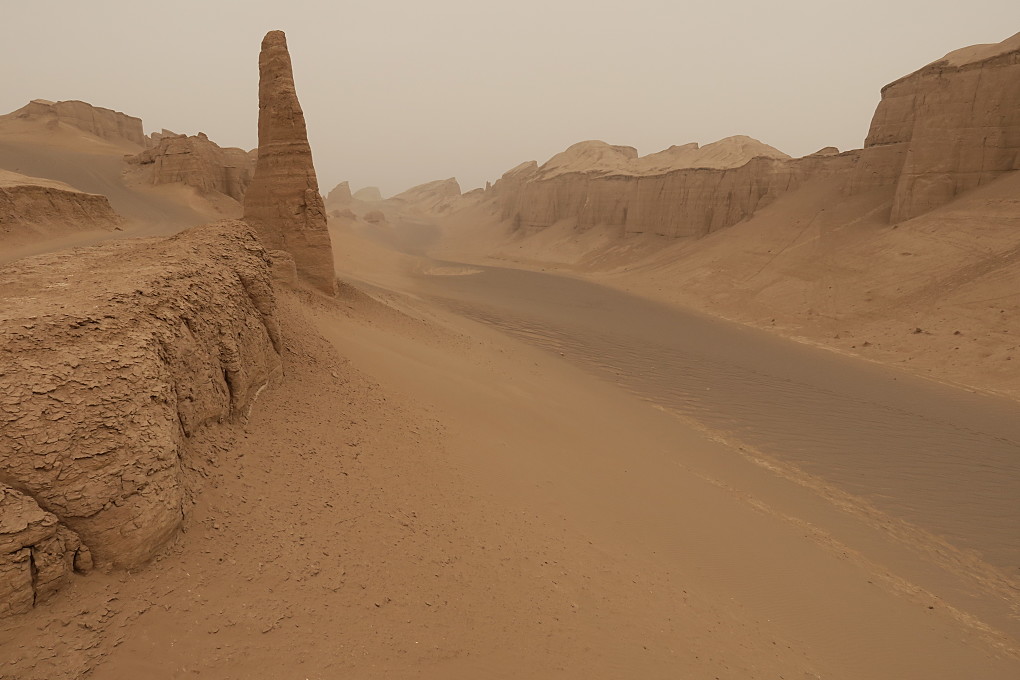 The landscape was now full of grayish brown fine sand dunes, mud brown mesas, and other weird sandy brown formations. Some were a few feet tall, others were hundreds of feet. It was a weird combination of monument valley & death valley. We starred hiking out and took a route that passed so much amazing scenery. I climbed huge sand dunes, and descended steep alluvial fans. My only regret was that the clouds never fully cleared, so it was, at best, rather dim light for much of the time out there. After over 2 hours, we had made a giant loop covering nearly 6 miles, to get back to the road.
as we were walking along the road back towards the car, this van coming up behind us (on the opposite side of the road) started honking and pulled over. It was the group of Italians that we ran into the previous day at Ryan Fortress​. They all climbed out and greeted us, and offered to give us a ride back to our car. They were so friendly and nice. We accepted their offer, and they offered us dates too. I also think they were jealous of me, because they contented that their driver spoke no english. They were firing questions at mehdi about random stuff they had seen thus far in iran. I'm glad we accepted the ride from them, because we were much further from the car than i thought, and it would have likely taken us at least 30 minutes of walking to get there. When they dropped us off, they all hopped out again to take a group photo, and to say good bye.
Next we drove a few miles down the road, then on a side road to this tiny village of mud brick homes and date palms, where we stopped at a family's home for lunch. They gave us so much food, it was crazy. There was this huge salad platter with cucumbers & tomatoes. Then more of the pizza dough-like flat bread. Then a huge platter of rice. Then smal bowls of yogurt. Then a stew made with tomatoes, yellow lentils, potatoes snd ting pieces of beef (which was super yummy). All that for about $4.75. Also, we all​ ate sitting on giant (persian, of course) rugs on the floor. The family had a boy around 7, and a girl around 10. The boy was mostly oblivious to us, but the girl was tasked with serving us the food, and she was very shy. Every time I thanked her for bringing something out, i'd thank her, she'd make a nervous smile, and scurry off. It was a really good lunch.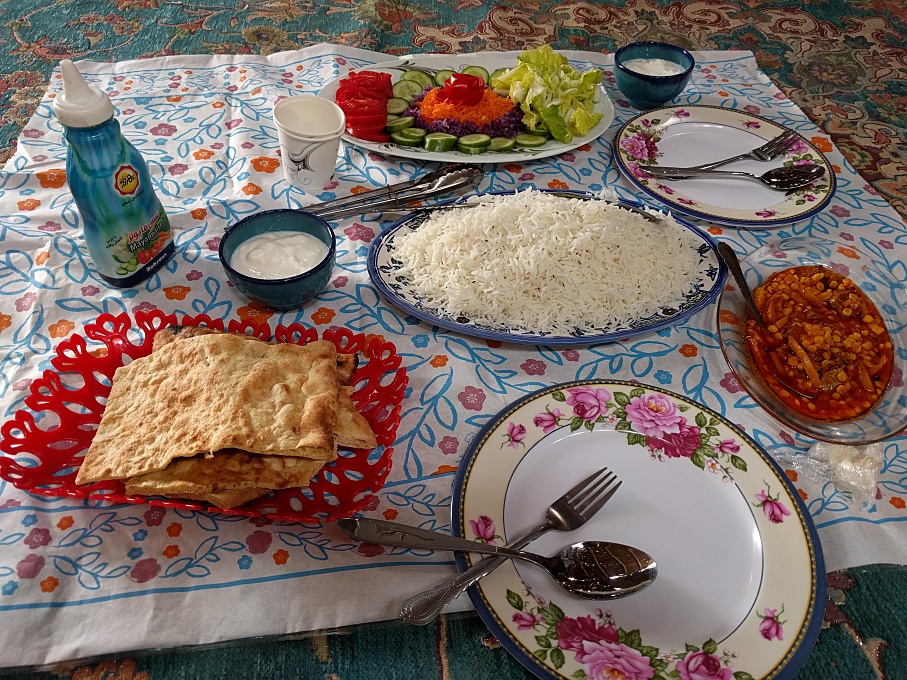 After lunch we drove to the far side of this village to explore an ancient fort which the local govt had just started to restore, so it was still in a very rough, primitive condition. The outside wall and towers were still​ in tact, and some of the interior bazaar was there, but the rest was mostly just random piles of mud bricks everywhere. Mehdi said that it was possible to climb the 'steps' inside each of the 4 corner towers to get a better view. We walked out to one of the towers. The towers were about 3 stories tall from the ground outside the wall of the fort. The 'steps' were not so much steps any more as badly erroded 2ft tall uneven ramps. Also it was a spiral staircase that was barely a foot wide. I made it to the first platform, still​ inside the tower, and gave up. Everything was dry crumbling mud. Mehdi made it all​ the way to the top. After he somehow came back down (in a huge pig-pen style cloud of mud dust), we wandered around the fort a bit more.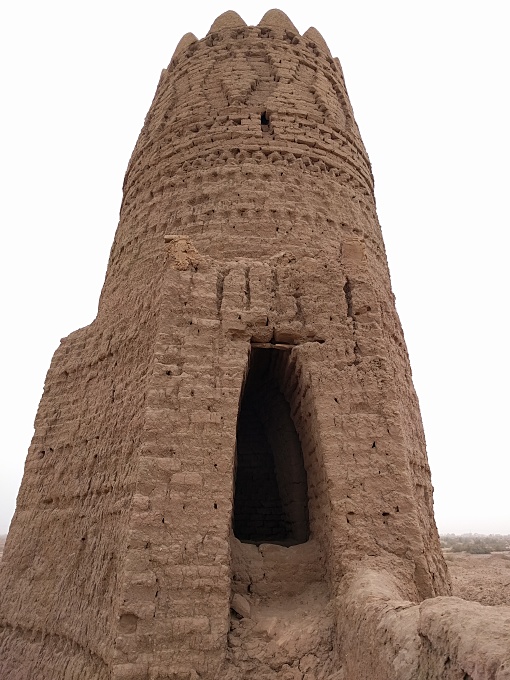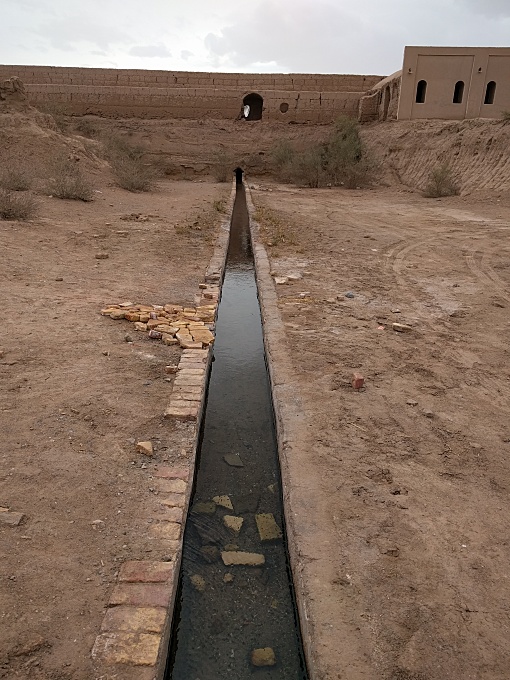 As we began the drive back to kerman, the sun actually came our for real, and we had amazing views of the snow covered mountains. And of course, as soon as we got close to the city, the dark clouds moved back in, and it was raining shortly afterwards.
We went bowling again, but at a different location. No malfunctions, and i won 3 of 5 games. They even had bumper bowling, and this 1 woman was bowling with a 6lb ball and the bumpers and she still was struggling to knock over pins.
We went to a pizza place for dinner. While there i saw a woman with the most amazing elaborate henna on her hands. It was like tree roots. The pizza was ok, although pepperoni made with beef is tasteless.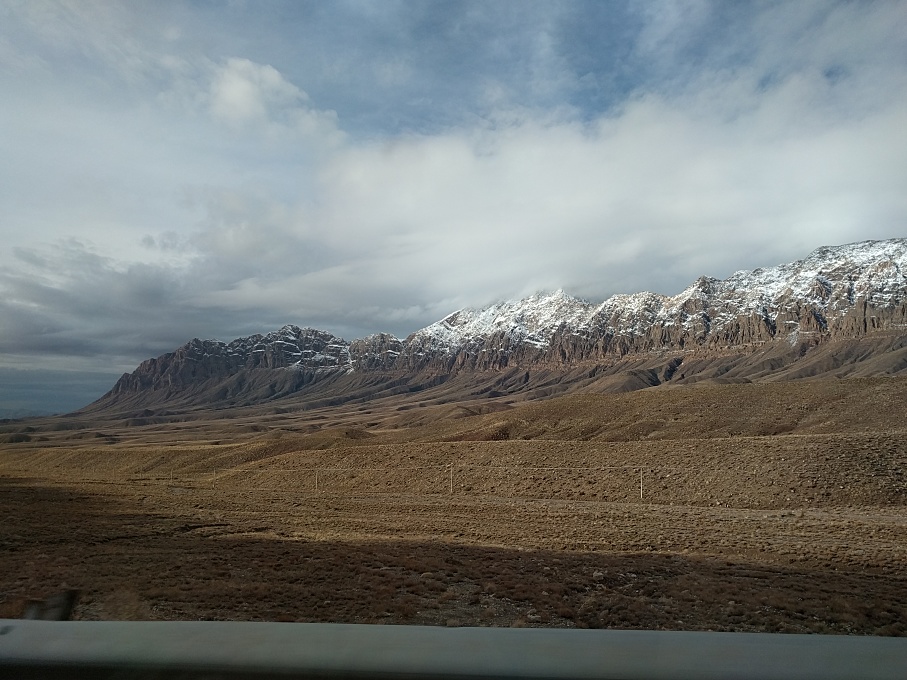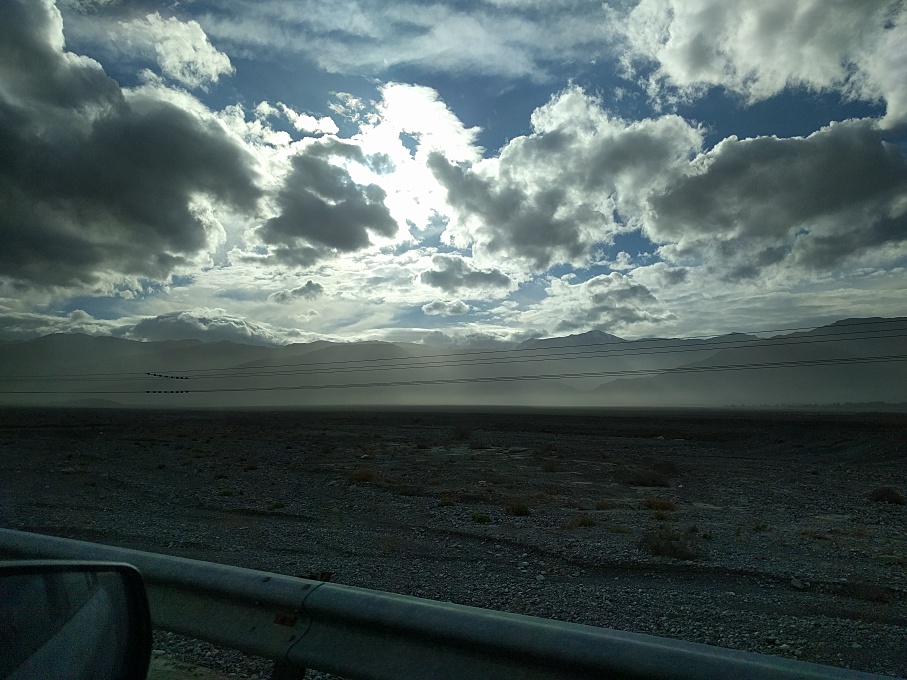 Ww had crazy wind as we drove north out of kerman. Then it started to rain, which turned into sun showers for a bit. Mehdi said that they refer to sun showers as 'the devils are making children'. After a while, we caught up with the storm and it rained hard for the remainder of the morning. about an hour before reaching Yazd we stopped at the Zeinadan caravanserei, which dates back to the 15th century. It was converted into a hostel nearly 30 years ago. It was really well preserved & maintained. There was lots of art & rugs everywhere. I was able to explore the entire building, including going up onto the roof.
Next we continued driving north, and came to a police checkpoint. We've been through lots of them already, and they've always been non-events, just waived through. But mehdi warned me that this one is notorious for stopping everyone and demanding papers. Sure enough they flagged over, and immediately demanded my passport. Then the guy walked off with it. He came back a few minutes later, still holding my passport, and proceeded to question mehdi. I could figure out that the guy was asking everywhere i've been in iran, because mehdi was naming all the cities. Then the guy walked off again. A few minutes later he finally returned my passport, and let us go. Mehdi said that the guy had never seen an american passport before, and was mostly curious about it.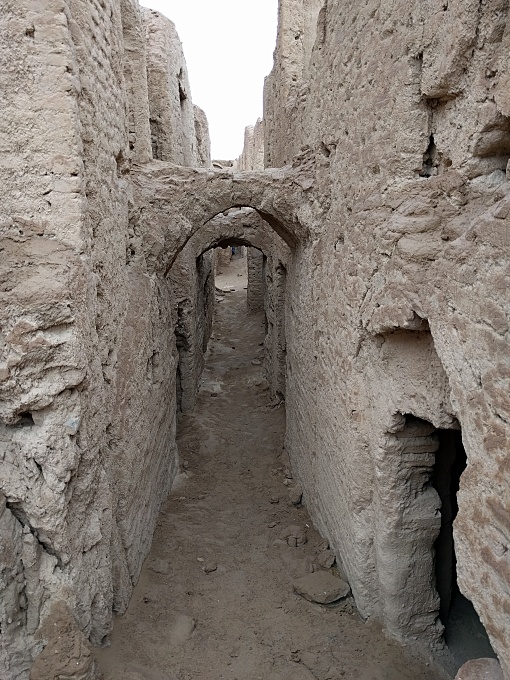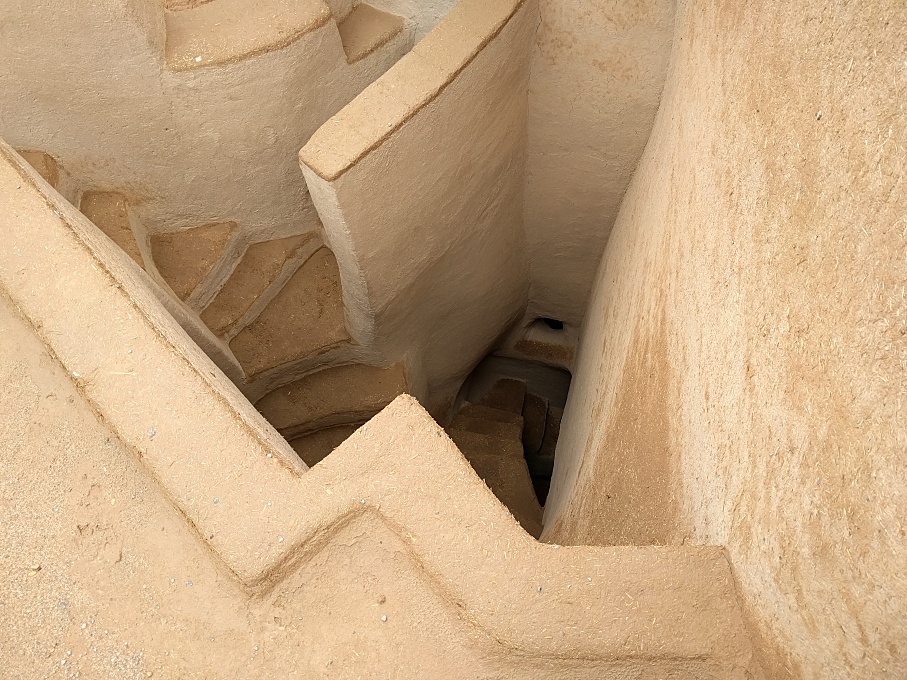 we drove a few more minutes into the village of Sar Yazd, and stopped in front of a large ancient fort. This was easily the most amazing, spectacular ancient ruins i've seen on the entire trip thus far. The fort was built in the 5th century, and was somehow almost entirely intact. Not just the walls, but the all 3 floors, all the ceilings, the stairs. 1500+ year old original pottery was still there, often completely undamaged, just sitting around as if it was still in use. But on top of that the entire thing was completely accessible, nothing roped off, gated or locked. There were a few areas that were partially restored, but easily 90% was completely original mud bricks. i was free to wander & explore all of it. It literally looked like those narrow, tight mid-eastern ancient city alleyways that are like a maze of pathways going off in a thousand directions. Since it was multi-levels, some of the paths were long dark pathways, with dozens of rooms on either side. There were barely foot wide stairwells going up & down. Sometimes the steps would fork half way up leading in two completely different directions. As i mentioned above, there was tons of pottery in the rooms, especially the completely dark rooms. I needed to turn on the torch on my phone to see anything, and then i saw these massive jars, big enough to fit a small child inside, with all the decorations on the outside. A few had a few pieces broken off, and i could see the bits of straw used to hold the mud together. I took this 1 staircase, which turned into a very narrow spiral, which then forked twice. I couldn't even tell where it led, and i was basically picking a direction at random, only to reach the top of one of the tall guard towers. It was this amazing surprise on top of everything else, and from the top i could see in all directions for miles. At that point the sun was coming out off in one direction, while the storm clouds were still visible in the opposite direction. At that mehdi started calling for me, because he couldn't find me. Apparently i had been exploring for over an hour, it was nearly 3pm, and we hadn't even had lunch yet. I could have easily spent another hour exploring, but i was getting hungry, so we left. I asked mehdi how this place remained in such amazing condition when everywhere else that we've been was mostly rubble. He said it was a few reasons. First, there haven't been any major earthquakes in the area. Second, its located in a fairly remote part of the village, so few people even knew that it existed, which especially helped after the revolution, when all the crazy mulluhs were encouraging people to destroy anything from the past empires.
We finished the drive to yazd, and got lunch. I had camel stew which was pretty good, and tasted kinda like beef. The hotel that i'm in (for 2 nights) is in the old part of the city, and i lucked out with a room on the 2nd floor, which mostly puts me above most of the city. That gives me amazing views of all the old, gorgeous mosques, plus the mountains in the distance.
Before dinner we walked around the narrow alleys, and explored. Yazd is super touristy in the old quarter. So many random cafes, gift shops and small hotels, and i've seen more western tourists today than all the days previous combined. And with that, i encountered rude tourists. We went up to a roof top cafe, to see the view. While there i overheard this loud conversation between some british and germans. They were complaining about how awful americans are, and defending their loudness because americans aren't allowed into iran now. I was super tempted to go over and call their bluff, but figured that nothing good would come from it.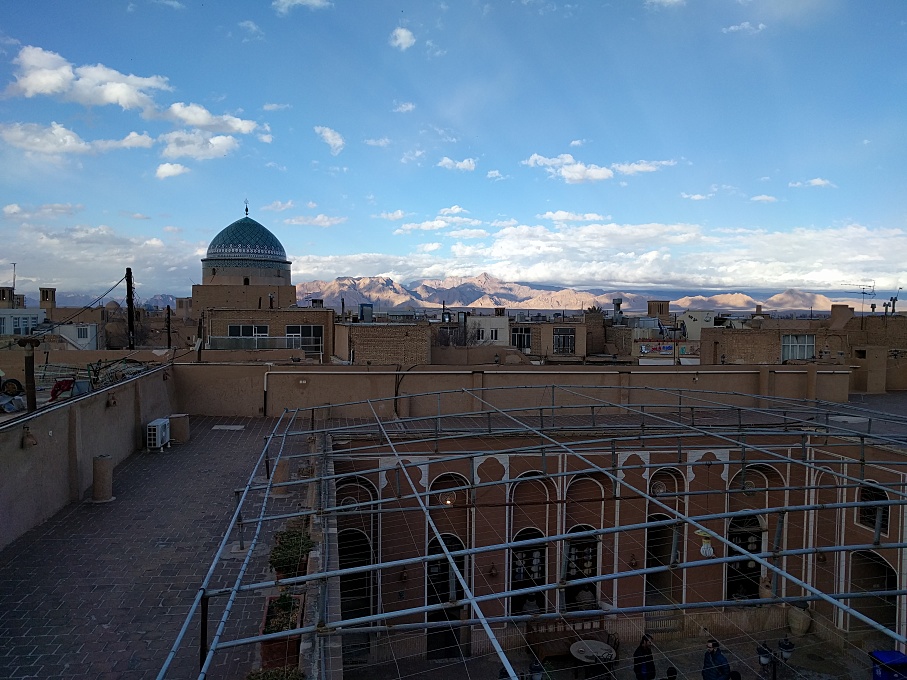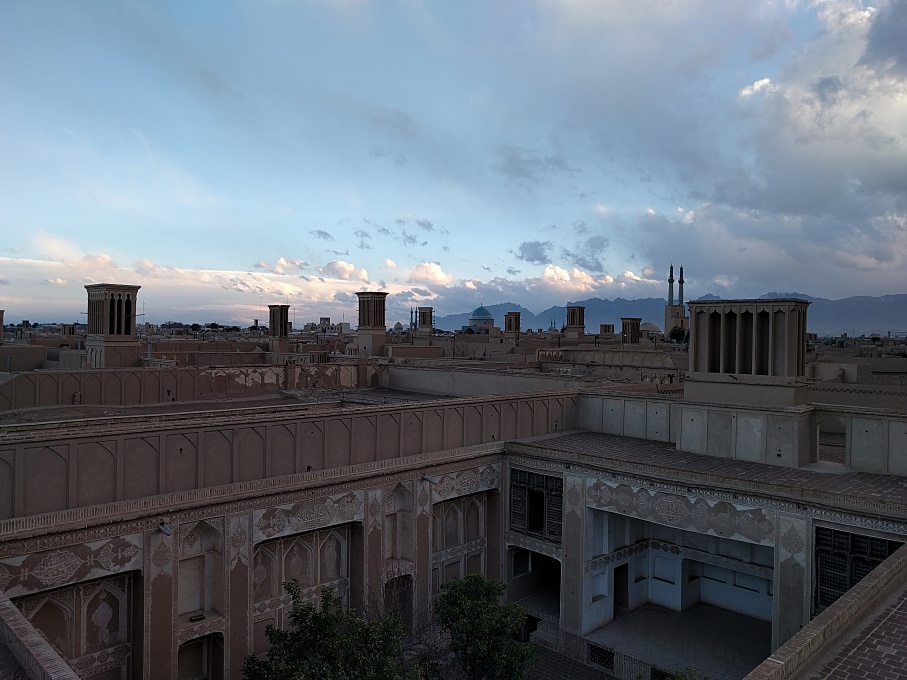 We had relatively nice weather today. No rain, mostly sun, although its much colder here. I don't think it got out of the 40s all day. Mehdi mentioned that schools were closed in Tehran today due to snow. Breakfast was kinda weird today. they had lemonade and mashed potatoes, plus the usual default options. Also there was this german family with 2 kids under the age of 6. They seemed relatively well behaved, bur still that seems like a handful.
after breakfast, we walked a short distance to the Jame mosque, which has the tallest minerets in the city, at over 200m tall. It was so beautiful, and initially i was the only person there.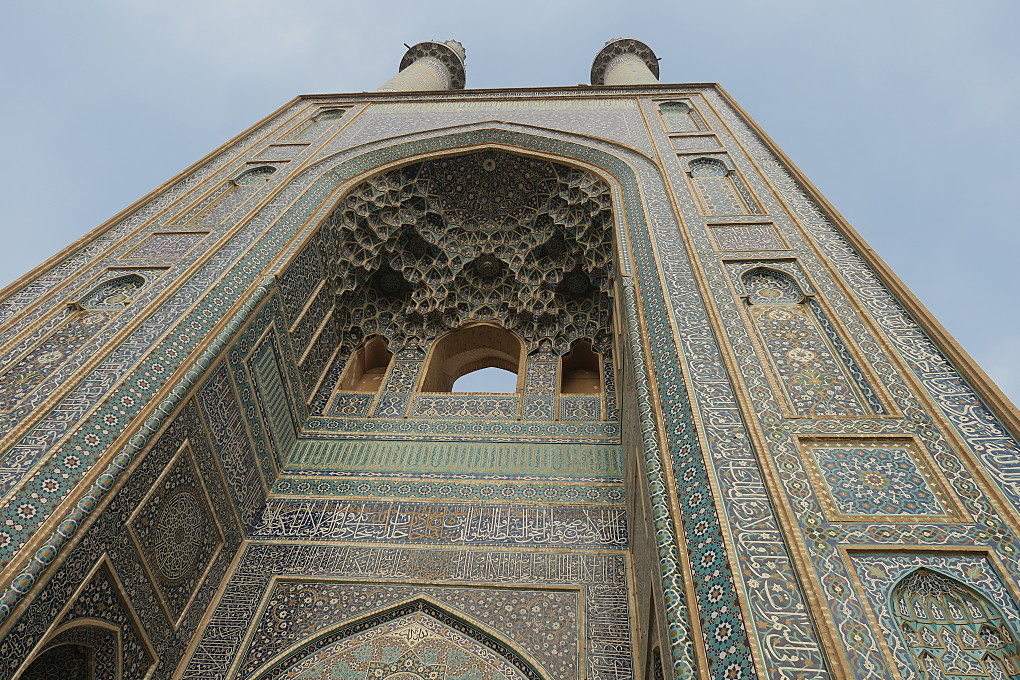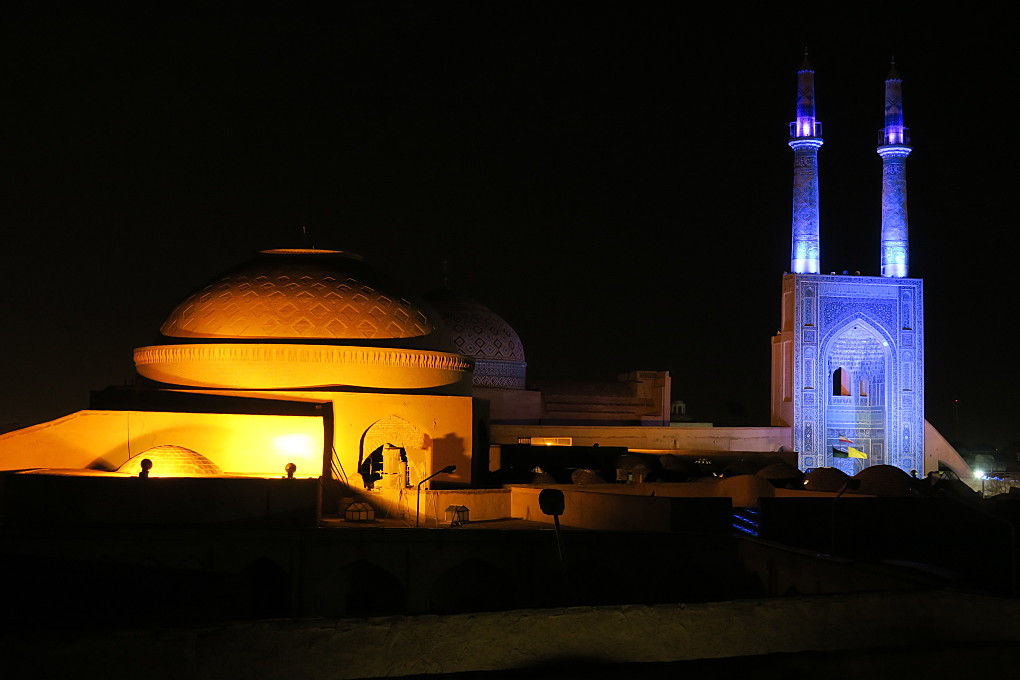 next we drove to the Zoroastrian Fire Temple and the Towers of Silence. We ran into the Italians again at the fire temple, plus a huge chinese tour group. The temple was ok, but other than the huge urn with fire, it was kinda boring. The towers of silence were great though. That's where they used to leave their dead to let birds pick the bones clean before burial. There are 2 towers, each on the top of a tall hill, with great views. I climbed to the top of the taller hill, and was the only person up there. The tower is really more of a round wall, than a true tower though.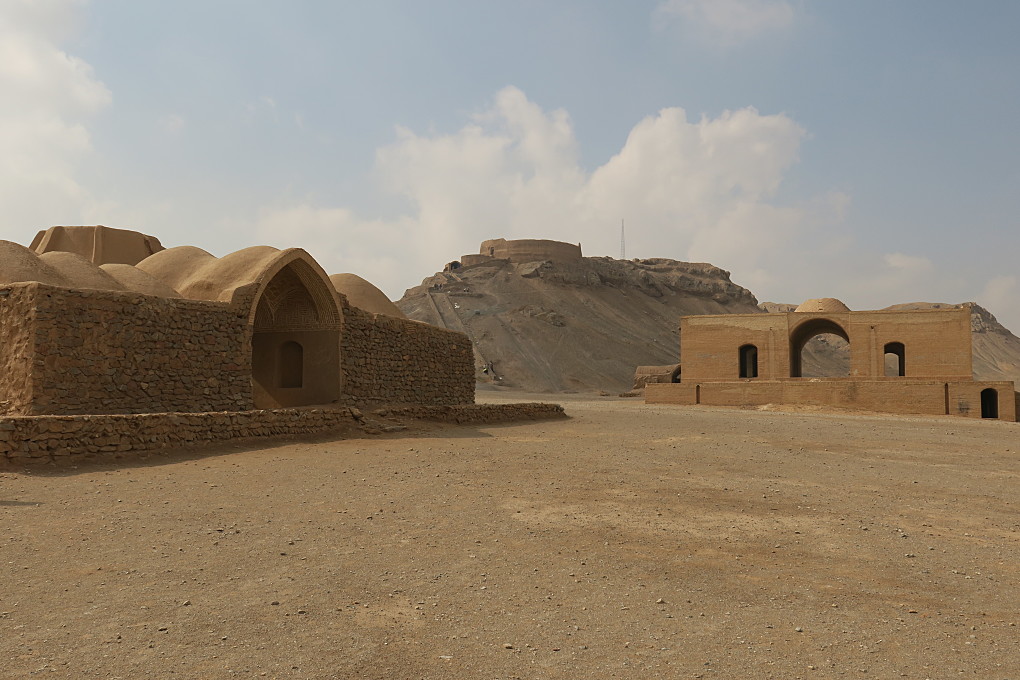 afterwards we went to the water museum, which sounds like the most boring concept ever for a museum, but was actually really interesting​. The purpose of the museum is to show how villages and cities in the deserts obtained water. Its basically the precursor to modern water distribution systems, where they dug very long tunnels from mountains to cities, sometimes going as far as 42km. There were special skilled men whose job it was to dig & maintain these tunnels. In some cases there are still villages using this system today. The museum had many photos and artefacts. Plus the building that it was in, sat above one of these water tunnels, and i was able to take a stairway down to see it. It was really fascinating,
After lunch we stopped by a henna factory, where they extract the chemical. It was basically this massive stone wheel that ran in a circle over the plant fibers. Then we spent the remainder of the afternoon visiting mehdi's friends house. the friend and his wife were also tour guides. We had tea, and played this bonkers card game, which was fun, but mostly based on chance.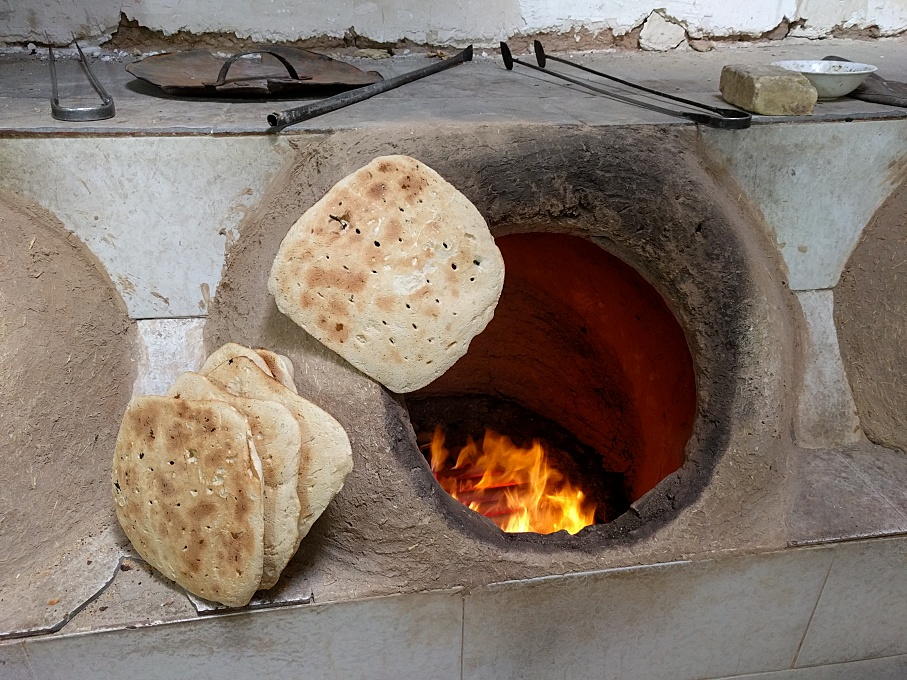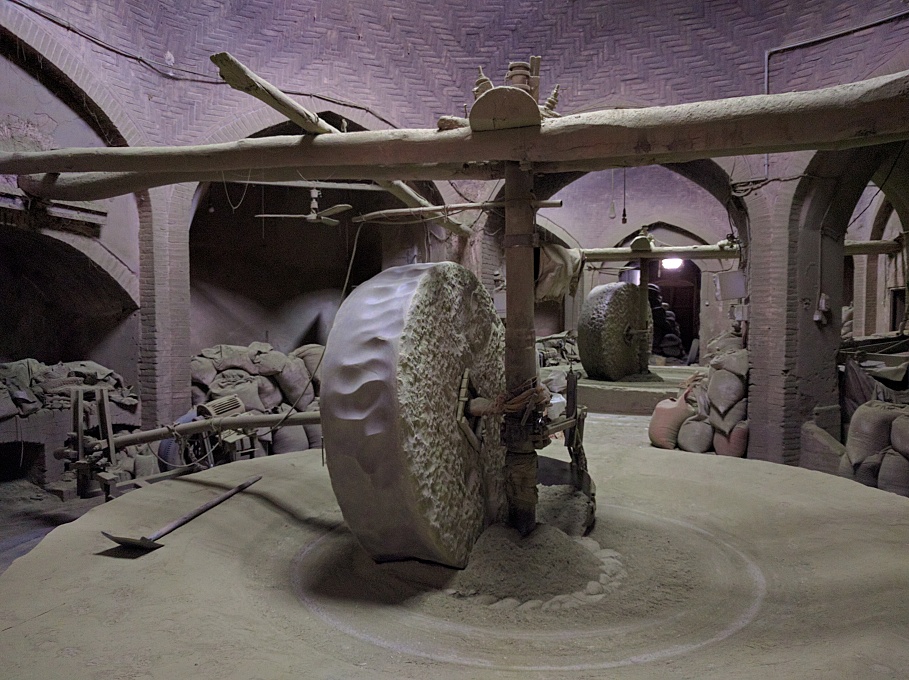 The weather today was sunny although cold. Most of the drive from Yazd to Esfahan was desert scenery, sort of similar to Nevada. Less than an hour from Esfahan, we stopped in a small town to check out a 15th century caravanserei that was mostly restored, and being used as a hotel. It was nice, but it felt a bit too perfect, and didn't feel authentic to me.
Once we got to Esfahan, we drove into the center of the city, to the huge square that has 3 mosques and a palace. This is the famous royal square that is the 2nd largest public space after Tienanmen square. Its fairly impressive, with lawns in the center, and small touristy shops around the perimeter (between the mosques). We went to lunch first, and it was really nice. It was a traditional style place, with everyone sitting on raised wooden platforms with rugs & pillows. my food was absolutely​ delicious. I got an eggplant stuffed with rice, walnuts & raisins in a thick pomegranate sauce, with 2 grape leaves wrapped around more of the same filling, all with a thick tart pomegranate sauce over the top. I also got the sour yogurt drink, which this restaurant makes from scratch (the previous times i had it wee from a bottle), and it was also yummy.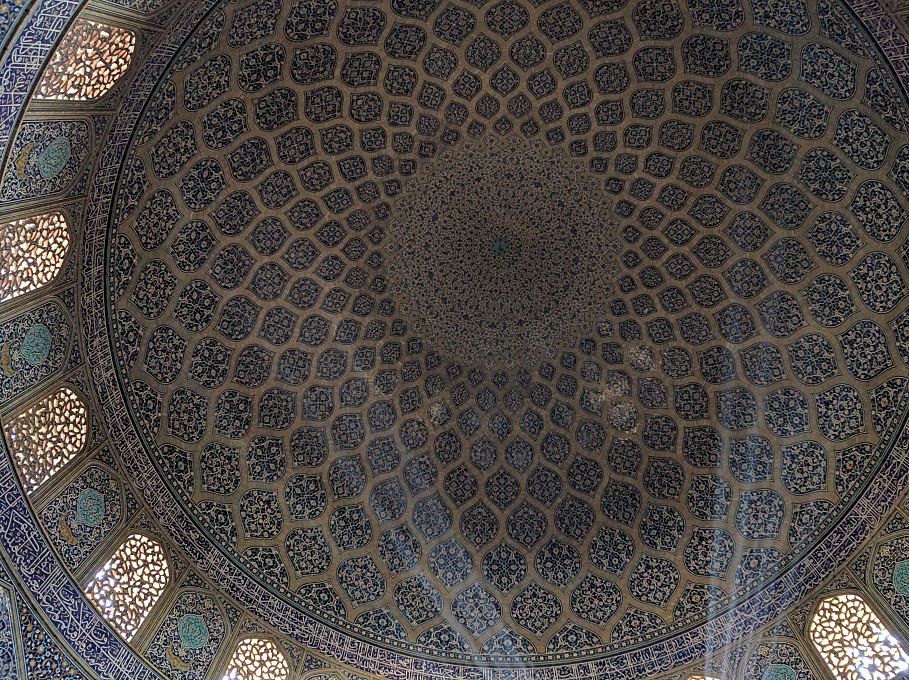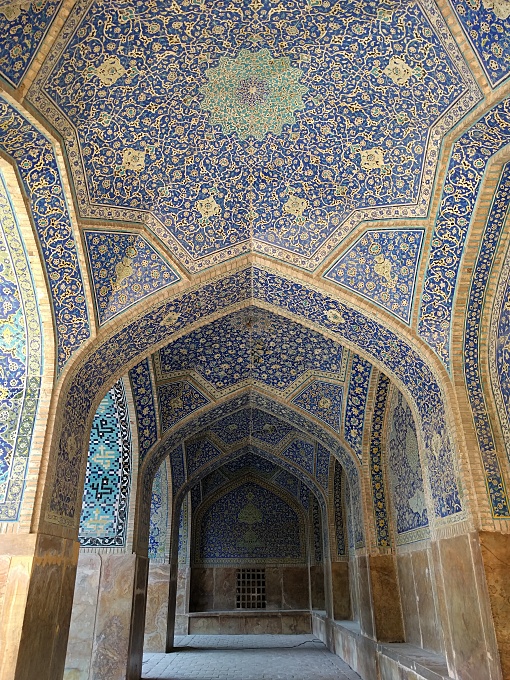 After lunch, we continued seeing the square, starting with the first mosque, which was absolutely amazing. I know i keep saying that about every mosque, but each one that i visit is more impressive than the previous. This one's interior dome was huge, and had windows just below, which let sunlight filter inside. The 2nd mosque actually had 4 domes, with a huge courtyard between each. The last stop was the royal palace, which dated back to the 17th century. it was ok. Right after the revolution, the mullahs encouraged people to deface the art on the walls of this palace, so much of it looks plain and boring. It did have a huge 5th story balcony that we climbed up to see the entire square from above.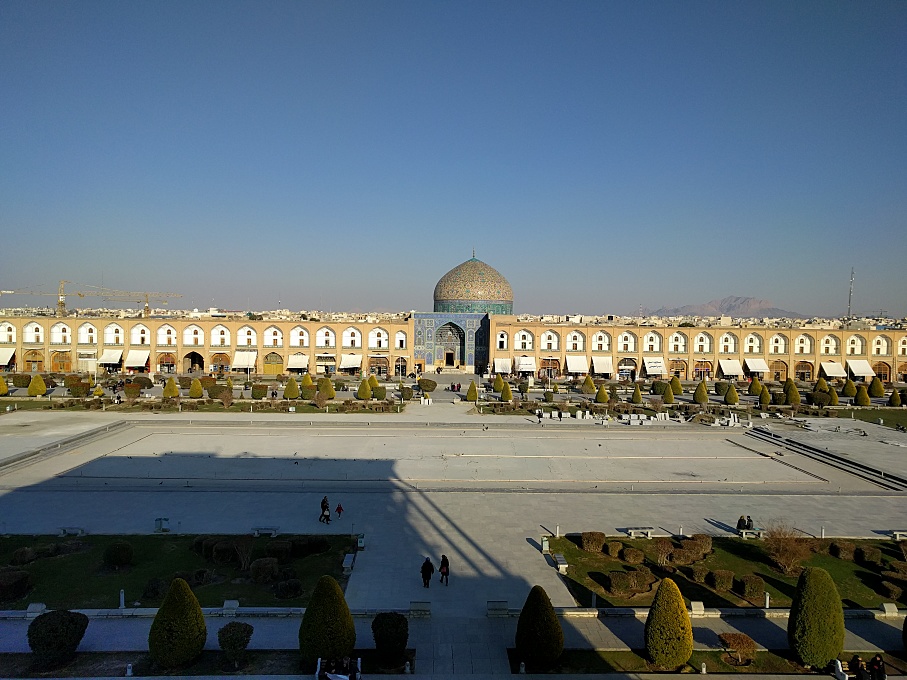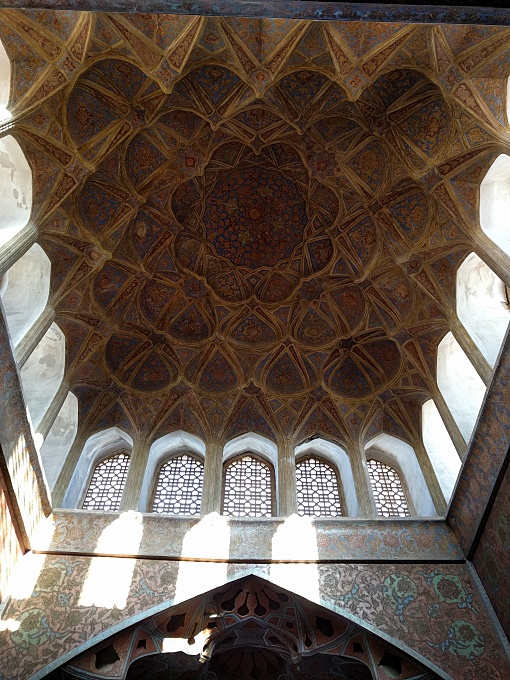 The first stop of the day was a palace from the 17th century. The palace wasn't that impressive, partly because it was allowed to fall into poor condition for decades, but also because there really wasn't all that much to see. Amusingly, just next door was the museum of natural history, which had these comically awful concrete dinosaurs outside. They were all about the size of a school bus, and painted silly colors.
Next we drove to the Armenian district, where we went to the Isfahan Museum of Music. This was another museum that sounded lame, but was actually great. The museum had examples of traditional and historic instruments from all over Iran. They had the precursor to the violin & guitar, plus a bunch of others (nearly 300 different instruments). That alone wouldn't have been so interesting. What made it great was a personalized guided tour, and then a live concert, demonstrating the instruments. And by concert, i mean a private concert just for me. It was really great. Afterwards, we toured the Armenian complex, which included their church, and a museum of random, mostly religious artefacts. It was ok, but not terribly interesting overall.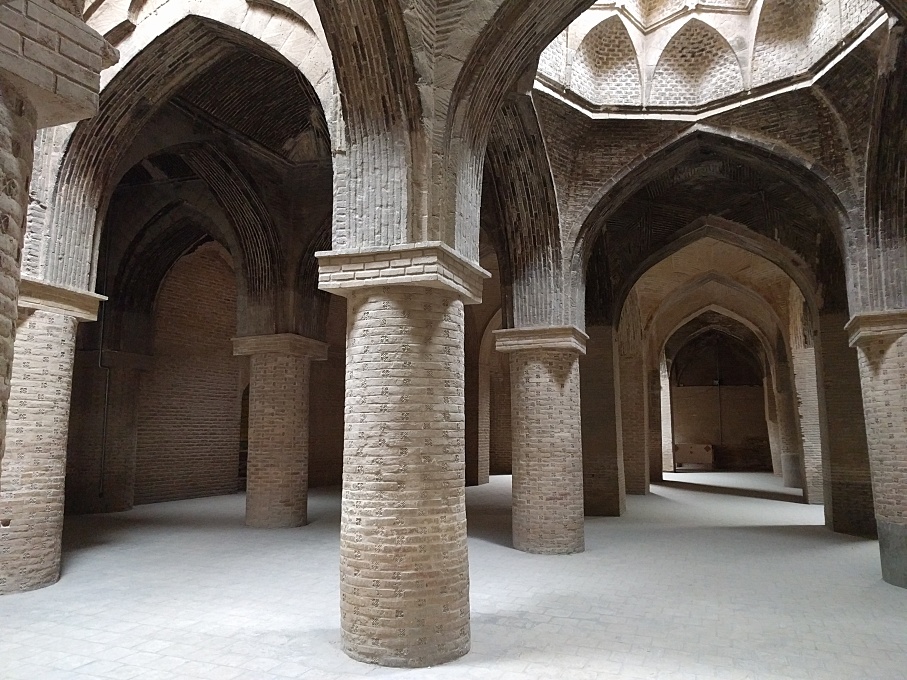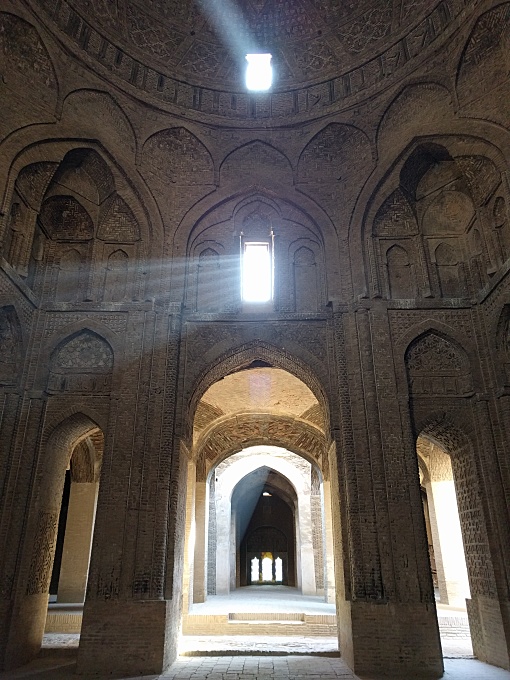 After lunch we went to the Jameh (Friday) mosque complex, which was 4 prayer halls around a square courtyard. This mosque dates back to the 12th century, and had a very different & distinctive look from most of the others that i've visited. It mostly lacked a lot of the color & mosaics, and instead relied on using bricks in patterns. It was still interesting to look around.
Before dinner we met up with a different guide who also had an American (from Florida), and we went bowling. The american guy was very anti-social, snd basically didn't want to talk with anyone. Afterwards we went to dinner at a restaurant that has been operating for 50 years. The food was pretty good. Following dinner, i walked the famous stone bridge, which was quite scenic at night. I saw a bunch of teenagers attempting to make out under the bridge which was kinda hilarious.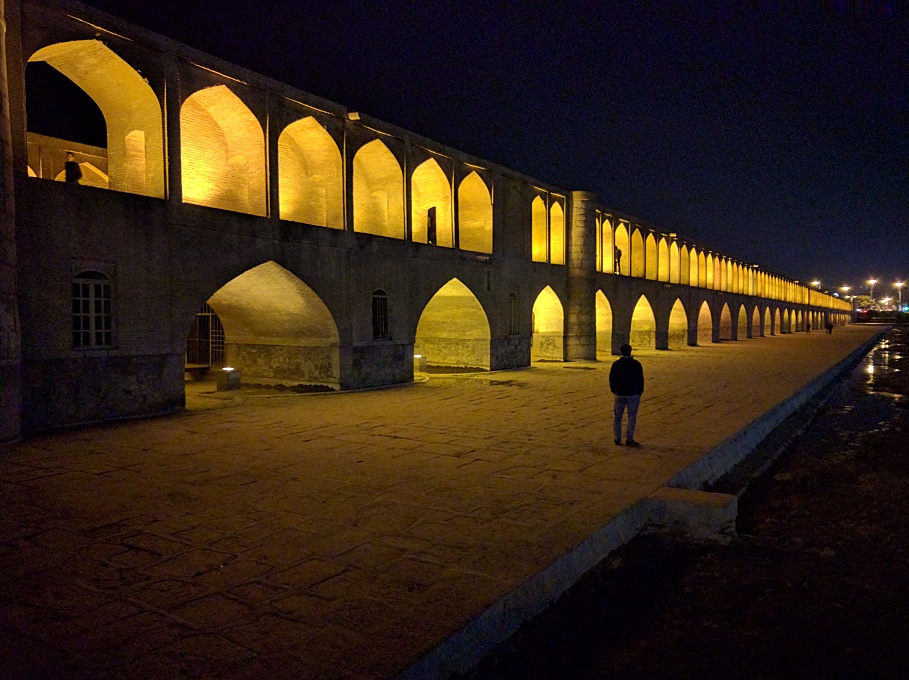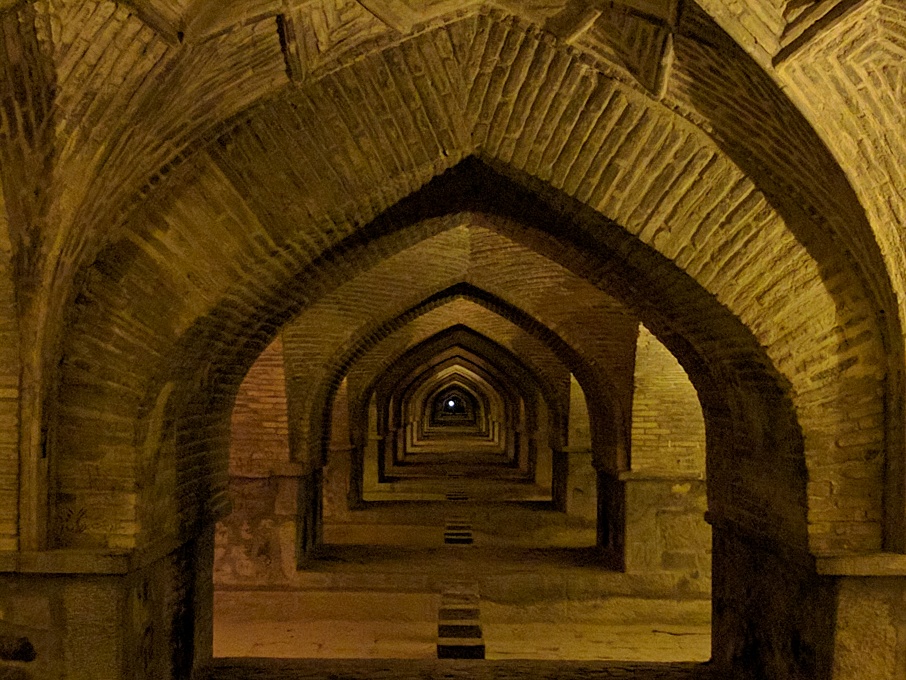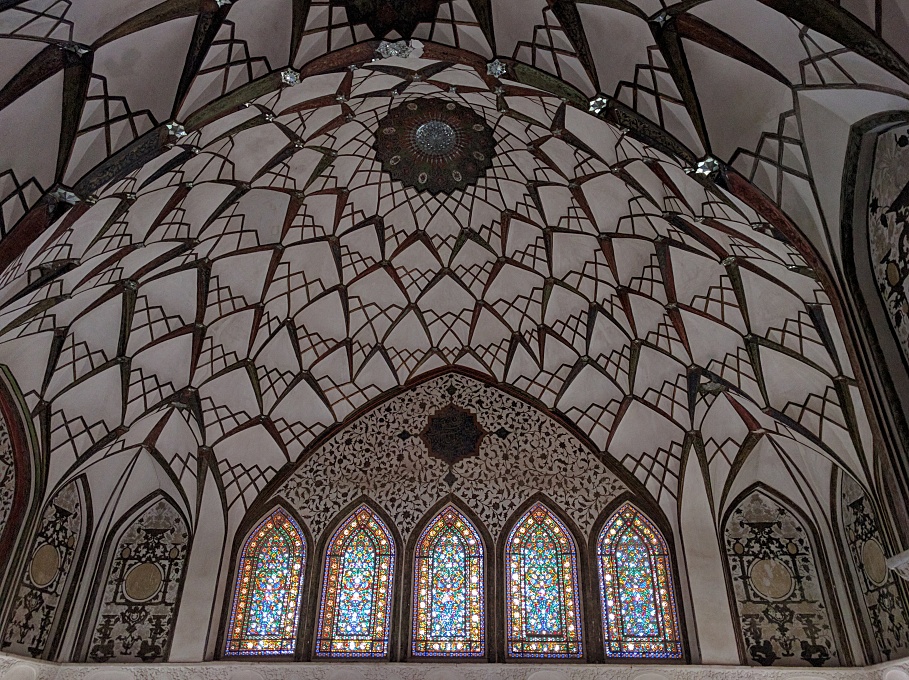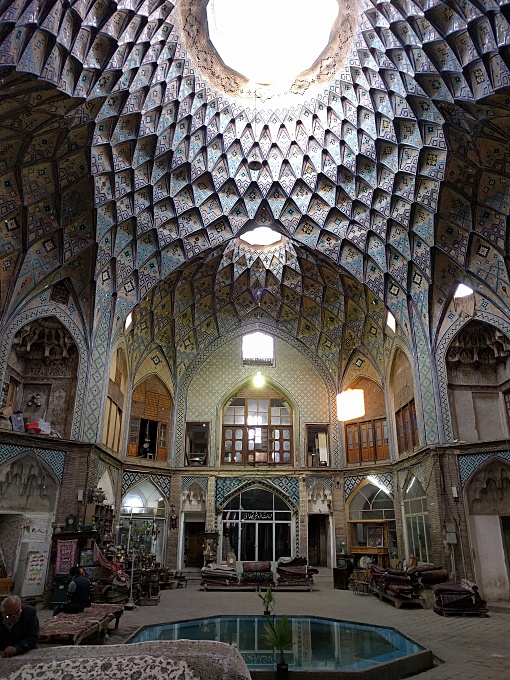 Here's the rough route that I travelled:

Hundreds of other photos from the trip are posted HERE. You can read about the first half of the trip HERE.