I've recently returned from spending nearly 3 weeks exploring (a little bit of) South Africa, and (a lot of) Namibia. It was an amazing, fantastic trip, and I enjoyed it thoroughly. For those unaware, Namibia is a country on the Atlantic coast of Africa, just northwest of South Africa. What follows is a trip report for the second half of the trip. You can read about the first half of the trip HERE.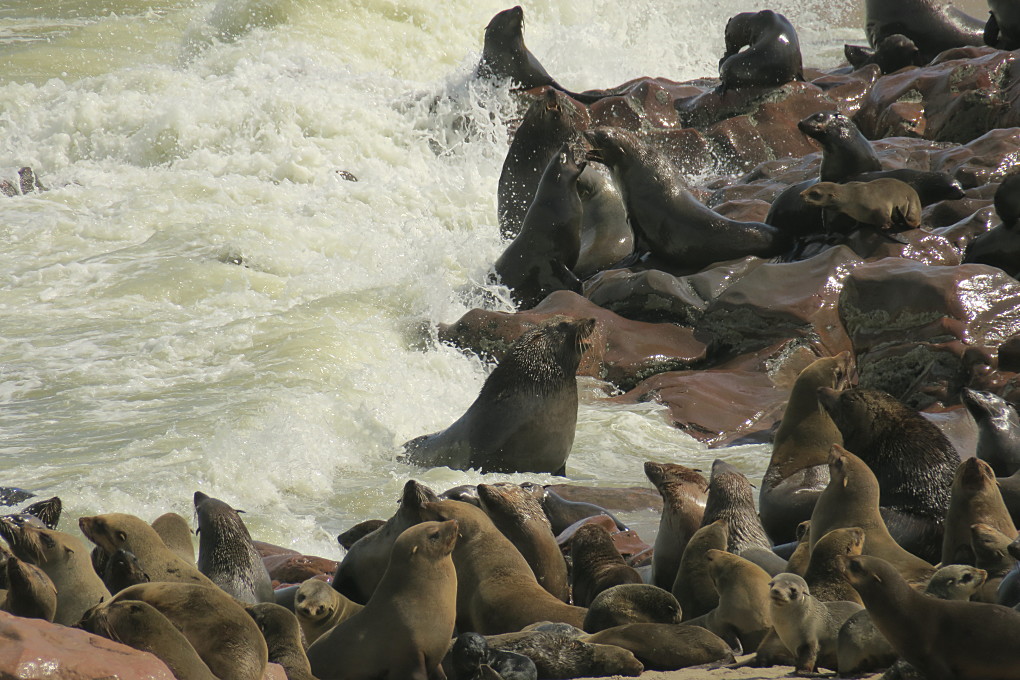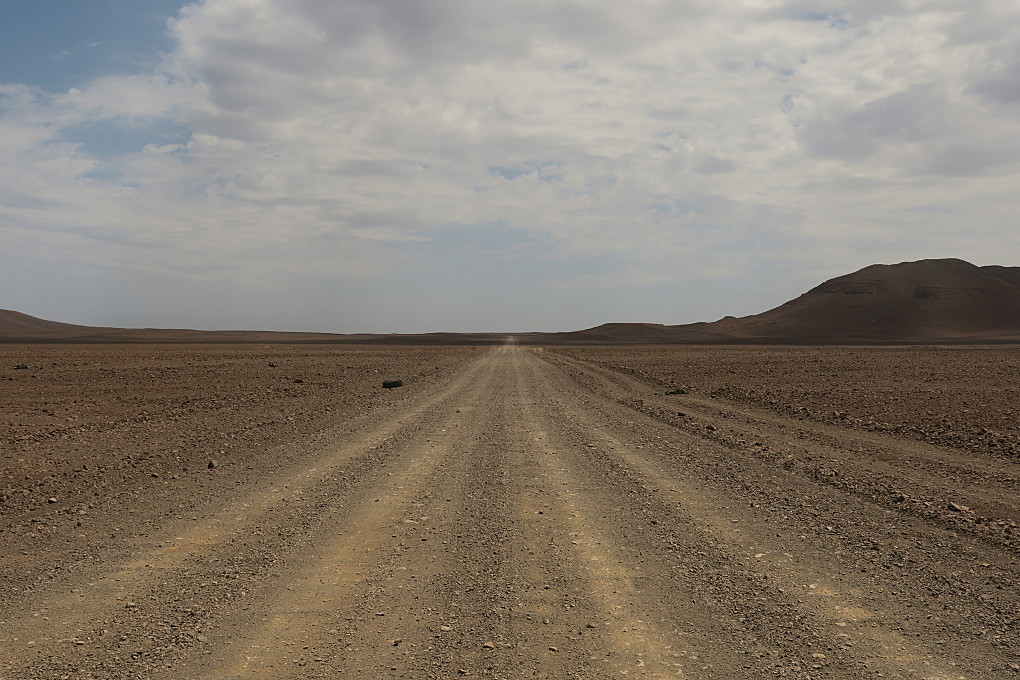 The breakfast this morning was really elaborate. there was a buffet of tons of cured meats, cheeses, multiple types of bread, yogurt, muesli, etc. I drove north out of Swakopmund on the coast road, which is also called the salt road, as that's what its made of. As long as its not wet, it feels like driving on pavement. Karl was still hanging around, making everything cool and gray. I got to the Cape Cross Seal Preserve at 9:20, only to find the entrance gate locked, with a sign that said it opened at 10am. I foolishly assumed that it was one of those pull to the side of the road, and see the seals things, so it hadn't occurred to me that it had opening hours. I attempted to duck under the gate and walk out, but 2 park employees in a truck drove out and yelled at me. Finally they opened at 10am, i paid N$90 for my permit, and i was able to drive down to the coastal parking lot. I must have lucked out, as the sign claimed that december/january is the birthing season, yet there were already lots of pups nursing. I also saw a few dead pups, and bloody pools of what i'm guessing is afterbirth on the beach. i finished watching seals grunt & bellow at 10:30, by which time Karl decided he had enough cold Atlantic surf, and i continued driving north. By 11am, i got to the junction for the road that i needed to head east, and that started 150km of the worst wash boarding and general bumpiness that i think i've ever driven on. While i normally can manage 80kph on gravel, this road was so bad that i often struggled to hit 50kph. It was pretty scenery though, looking kinda like Utah, with huge red buttes off in the distance. I pulled over to make lunch just after noon, and i'd seen just 1 car. the road was unrelenting in its crapitude, and i was concerned that something on the truck was going to break off from all the bouncing. Thankfully it behaved, and i finished that road at 2pm. At that point i saw a total of 2 cars in the past 3 hours. I still had another 2 roads to go, but thankfully they weren't bad, and i made much better time, including a fuel stop. I got to the campground just before 4pm. The campground is quite large, spread out, despite being so remote. It also looks like its in Joshua Tree NP, as those huge boulder hills are everywhere. Its also super hot, hitting 39C today. Btw this is also the campground that has the desert elephants, although all i've seen at this point are angry hot cows.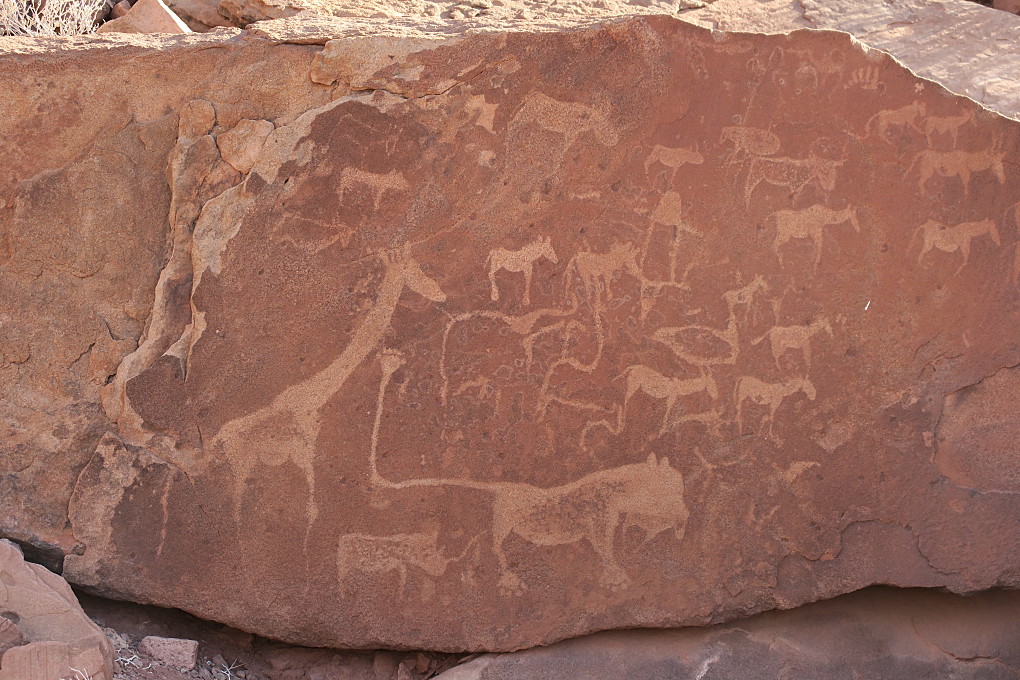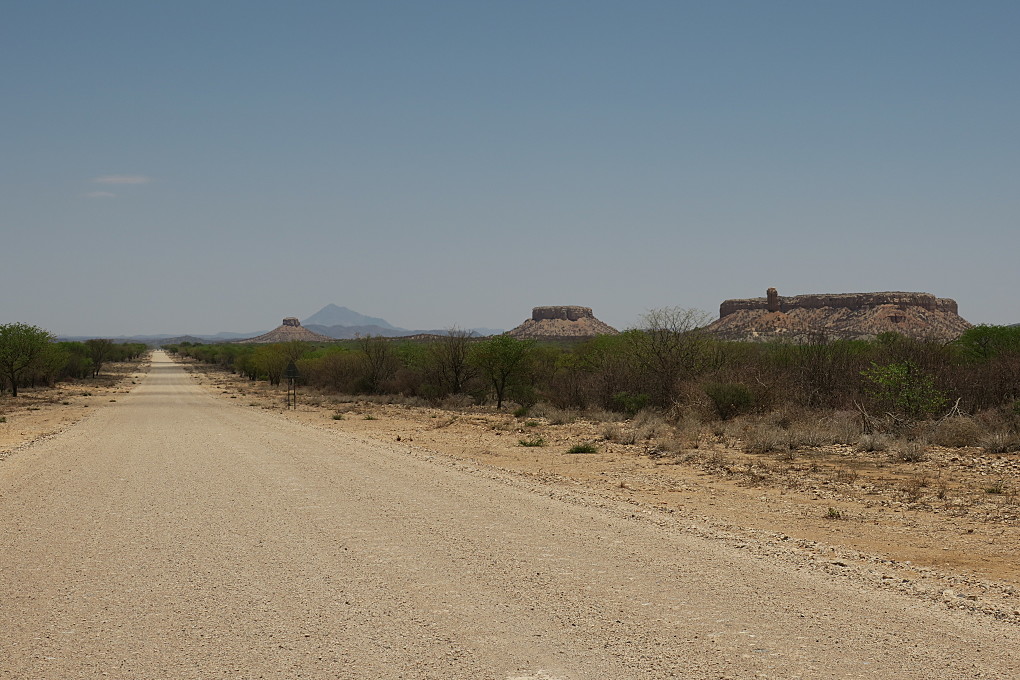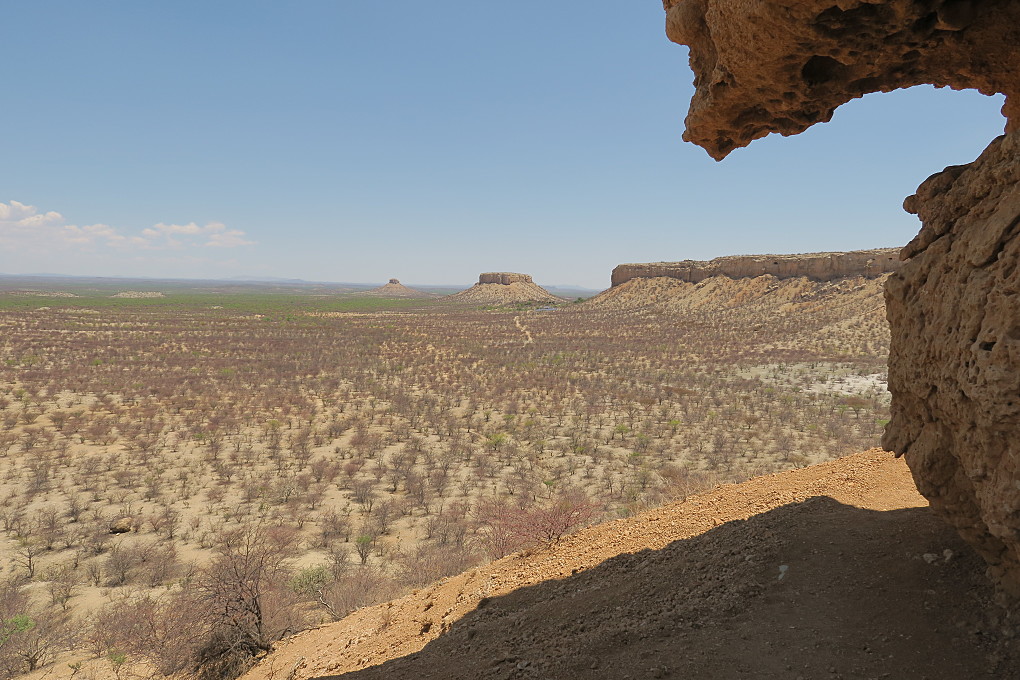 I slept well, and was on the road at 8am, for the 1 hour drive to Twyfelfontein. Its an ancient rock art site from about 8000 years ago, and a UNESCO site. The only way to see it is on a guided 1 hour tour, which kinda sucked because it only stopped at a small number of the rocks out of 2500. Also my tour was with this older French couple who could barely understand English, so they moved slowly, and had difficulty understanding what was being said. What i did see was interesting, so it was worth going. Afterwards, i drove 2 hours east to Vingerklip, which is this huge rocky butte that kinda looks like a finger. It was pretty cool, and i was able to hike up to the base of the rock too. Next i drove another 30 minutes to the campground for tonight. Its way more primitive than i expected, plus there's swarms of buzzing insects everywhere. Also its crazy hot here. Oh well, this is my last night of camping on this trip, i'll live.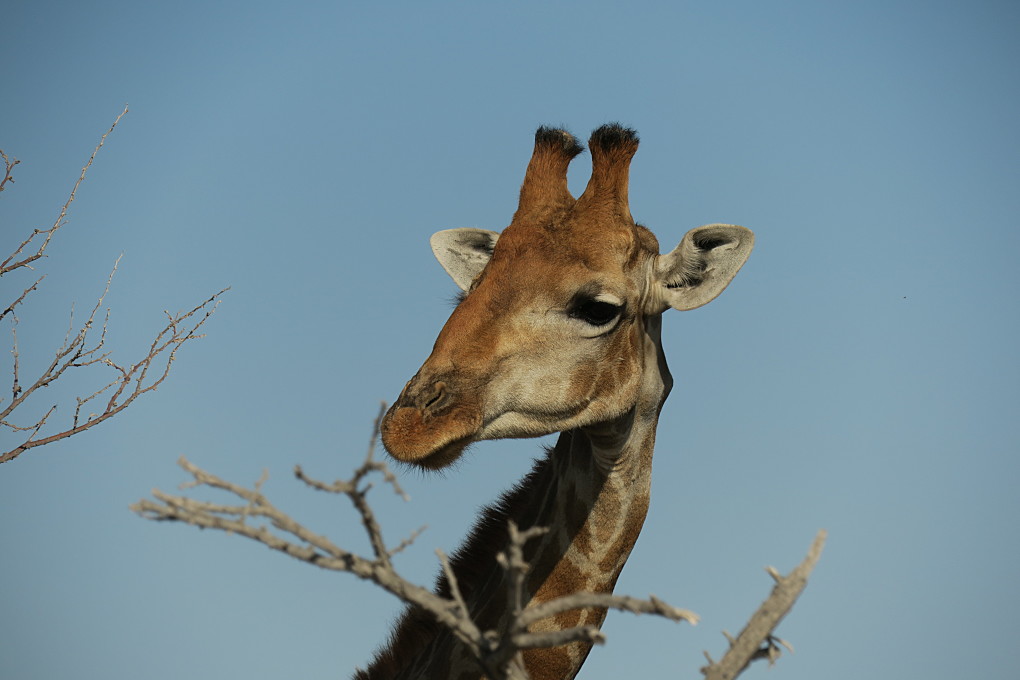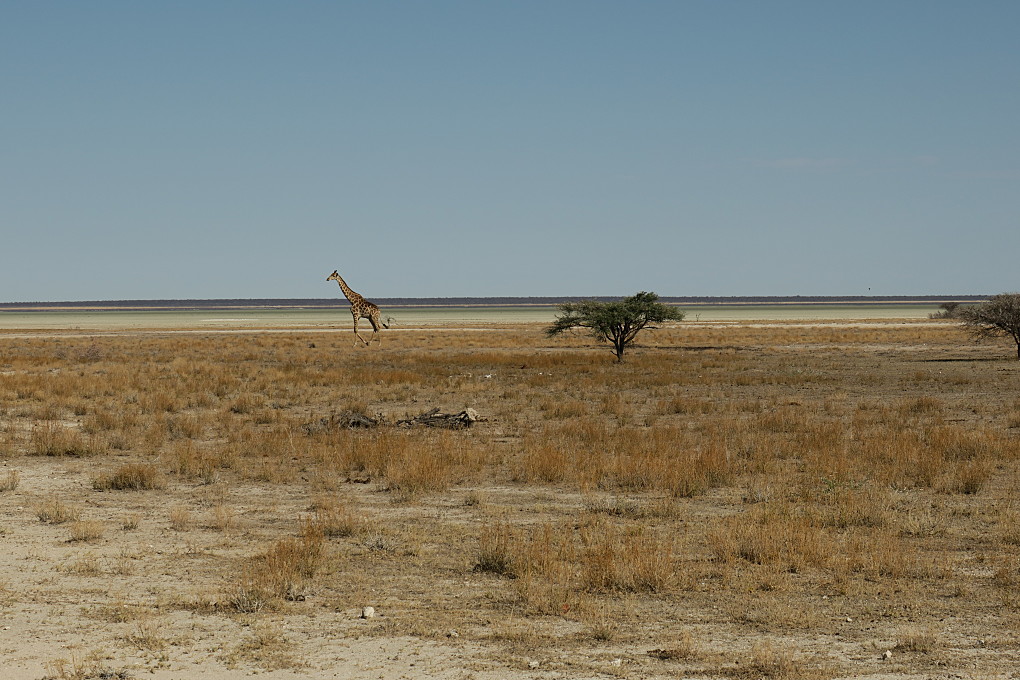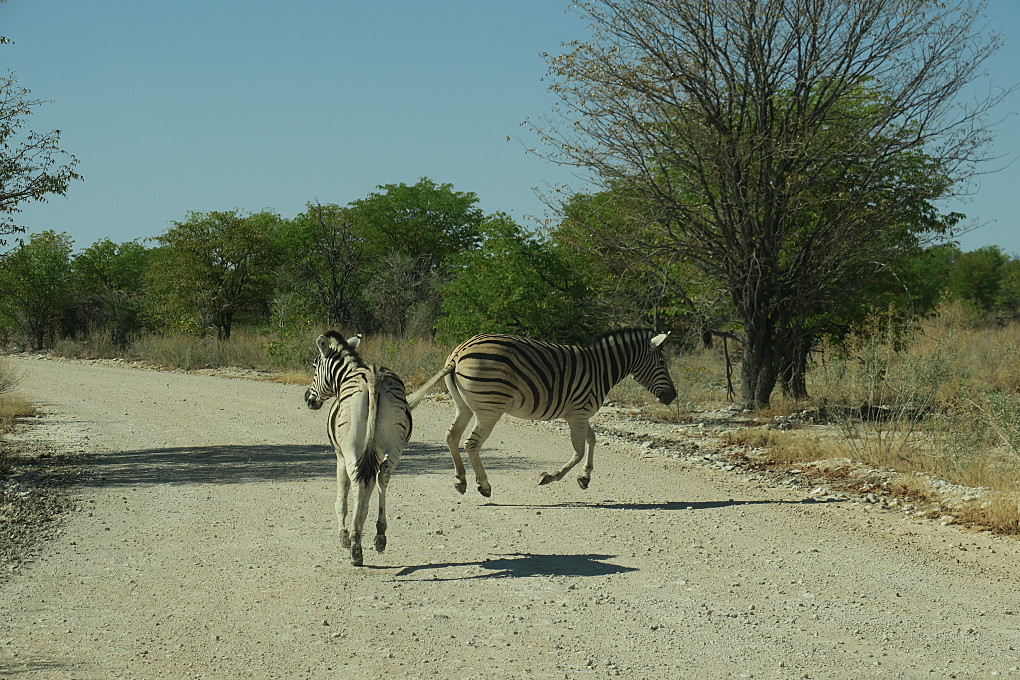 Today was a super long day as a result of mistakes that i made. I woke up to an assortment of loud crazy sounding birds just before 6am (sunrise). I got packed up, ate breakfast and was on the road by 7am. Today was the first day since entering the country that i was driving almost entirely on pavement, or at least it should have been that way. At 9am i came to the first highway junction, and i read the map upside down. Where i should have turned left, i went right, and proceeded to drive 170km in the wrong direction. It wasn't until i started seeing signs for Windhoek that i questioned where i was driving, and realized my mistake. Of course that 340km mistake ate up 2.5 hours of my day. Once i got back to the junction where i made the wrong turn, it was nearly noon. I stopped for lunch at one of the roadside picnic stops, then continued driving for another 2 hours to the Hoba meteorite. It was pretty much what i was expecting, a car sized block of metal, sitting in a field. After that i should have had another hour drive to the lodge near Etosha. But i screwed up when i created my map for this trip, and marked the lodge in the wrong place. As a result, i spent 90 minutes driving on tiny back country gravel roads, through cattle ranches, with closed cattle gates. By the time i figured out the real location of the lodge, and drove there, it was after 5pm. This made for a 10+ hour day, mostly driving. one thing that was new and different today was both the scenery and the animals. They get real rain out here. I saw large muddy puddles, and green grasses growing. Also i started seeing warthogs & baboons along the highway. I even saw one ostrich. Oh, and its both hot and humid now. The lodge that I'm in is really nice. I've got this 'tent' which is really a large cabin, with a king size bed, electricity, wifi, running water and comfy chairs. The only thing that makes it a tent is the roof is canvas.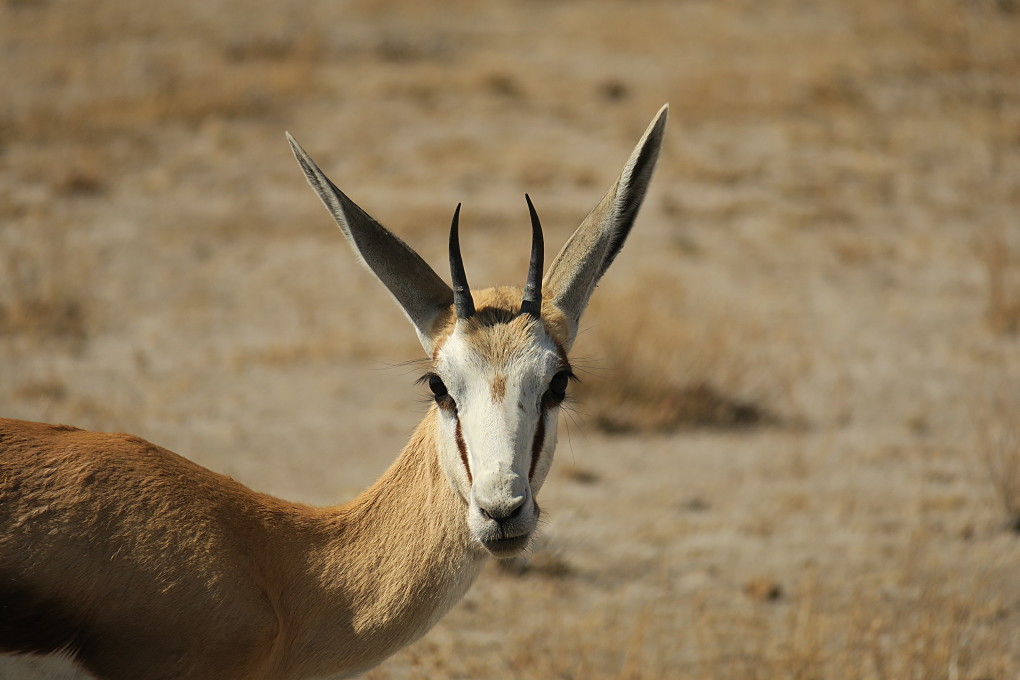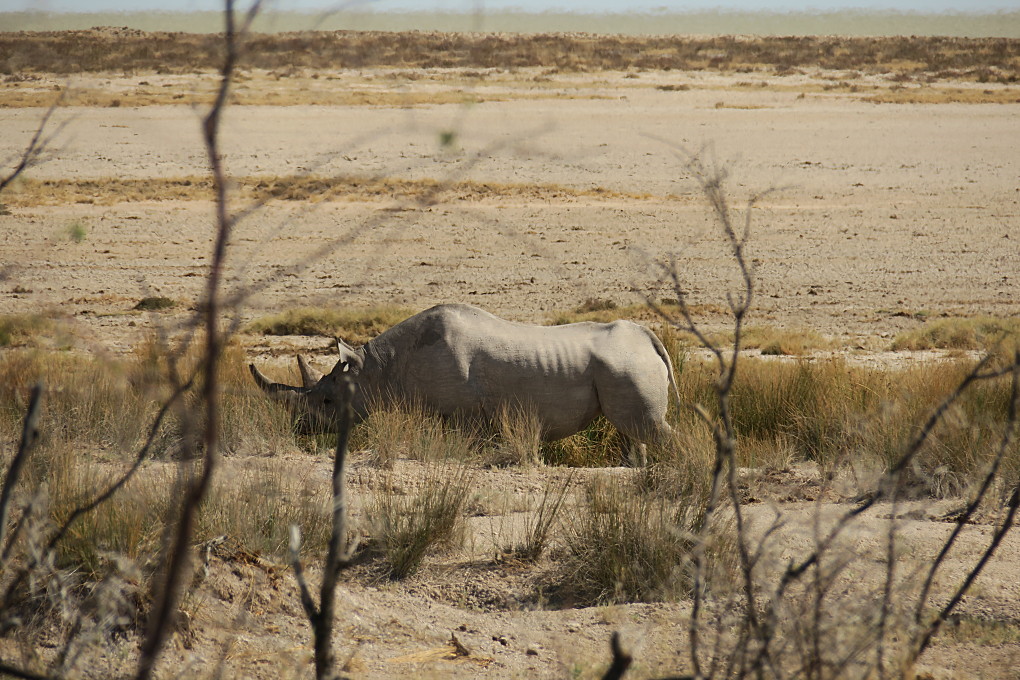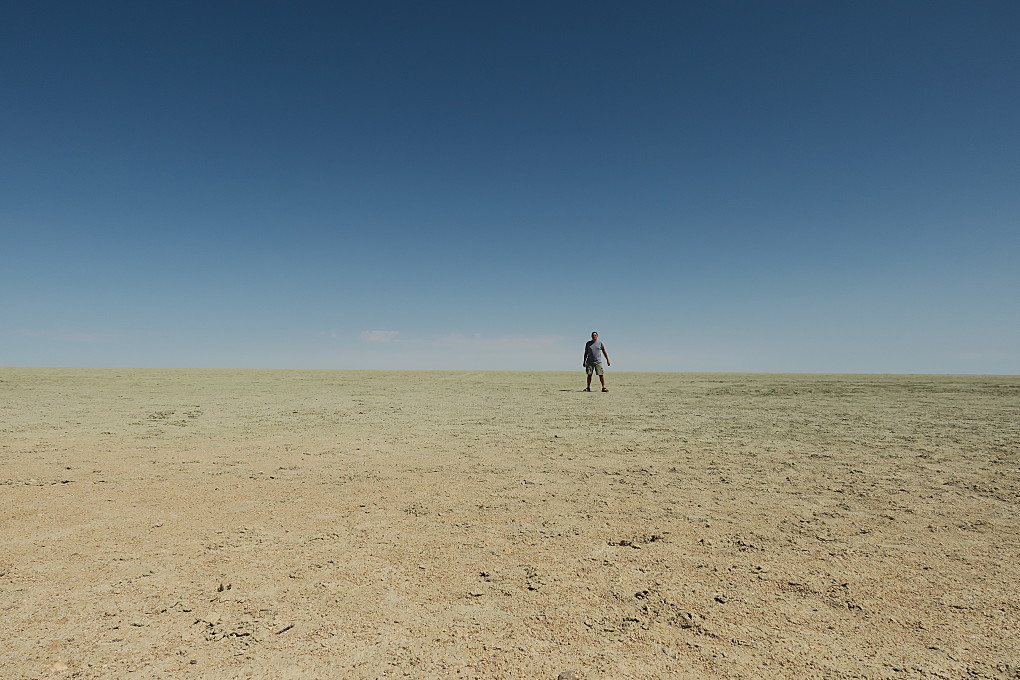 I had a nice day. I slept really well (there was AC for only the 2nd time on the trip), had a nice breakfast, and headed into Etosha. When i got to the eastern entry gate, there was a line of 2 monster safari vehicles just sitting there not moving. Finally after waiting nearly 10 minutes they pulled through and it was my turn. The woman in the booth was wearing this bizarre camo dress. She quizzed me on where i was from, how long i'd be in the park, how many people were in my group, and the license plate of the truck. Then she asked why i was alone, and if she could come with me back to America. She was kinda weird, but friendly. It costs N$80/person plus N$10/vehicle per day, but they don't collect the fee at the entrance. I had to drive 12km into the park to the nearest guest village to pay at the visitor center. Amazingly they accepted my credit card (the only place that i've found to consistently take cards are supermarkets). After stopping for gas, i started driving the main park road. I went less than 1km, and saw a massive traffic jam of assorted trucks, and knew immediately what that meant. There were 2 lions (male & female) sitting under a tree not far off the road. The rest of the day was basically like that. Lots and lots of animals nearly everywhere. I saw dozens of giraffes, zebras and springboks. I saw quite a few gnus and ostriches. I saw several oryxes. Its so weird because i don't recall seeing a large number of giraffes when we were in Tanzania, yet here there are so many everywhere. The only major animal that i didn't see at all were elephants, although i saw their poop everywhere. I do have to say that the scenery and flora in the park are quite ugly. Most of the grass and bushes are brown and leafless. Some trees have leaves, but many do not. I realize that i'm here at the very end of the dry season, which likely is the reason for all the dead plant life, but its still not at all appealing. Today I basically drove all around the eastern half of the park. The huge pan occupies much of the northern half of the park, and the main park road then hugs the southern border of the pan, running east/west. Every few km, there are spur or loop roads that branch off the main road, leading to waterholes, or closer to the pan. None of the roads are paved, but the main road was generally in good condition. The other roads varied from smooth, to massive mud puddles, ruts or wash boarding. i made it to the guest village in the middle of the park just after noon, and had lunch. Then i drove one of the secondary roads about half way back towards where i started this morning. I was hoping to find some interesting animals, but i only saw zebras, giraffes and lots of dead plants. Before leaving the park for the day, i drove a 30km loop road around a smaller pan on the very eastern edge of the park. At one point i could see clear across the pan to the other side (about 4 miles away), and i saw this solitary giraffe out in the open empty space just walking. I'm guessing it was hunting for water, but it looked really vulnerable out there. After that i drove back to the eastern gate. Before they let me leave, they insisted on inspecting the content of the truck's fridge, and quizzed me on its content. i'm guessing that they were making sure that i didn't poach an animal. In total i spent about 8 hours in the park today. i got to the lodge just before 4pm, and they showed me to my 'tent'. Its not nearly as nice as last night (no AC, just a fan), but its still decent. The wifi here is super slow though. I finally figured put where all the Americans are hiding. They're all at Etosha, and the 2 lodges that i've stayed in. They're not behaving too badly.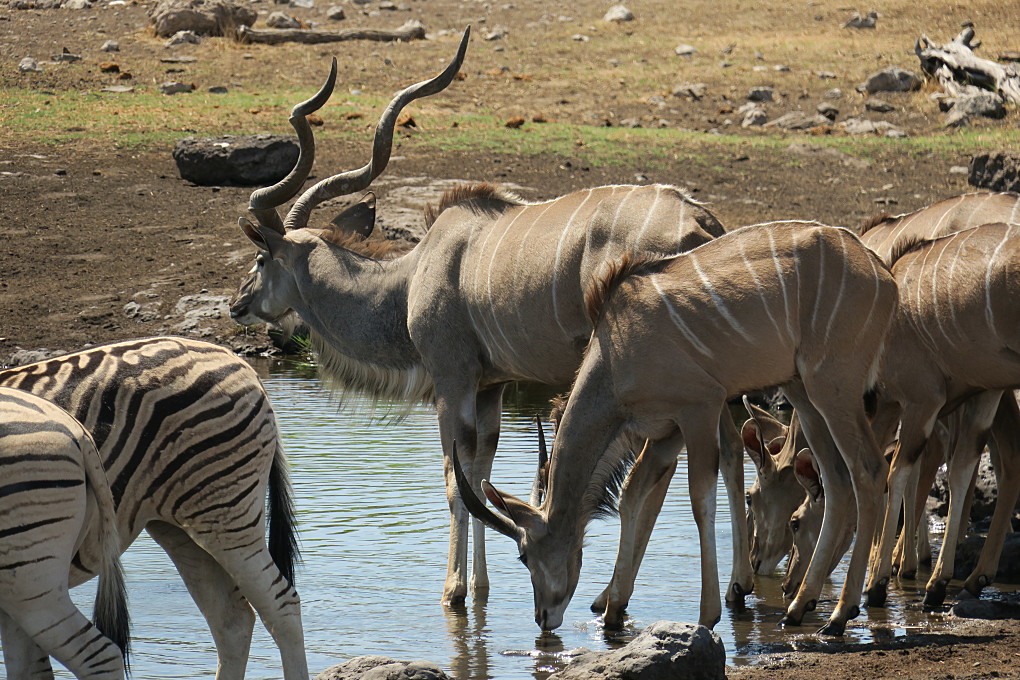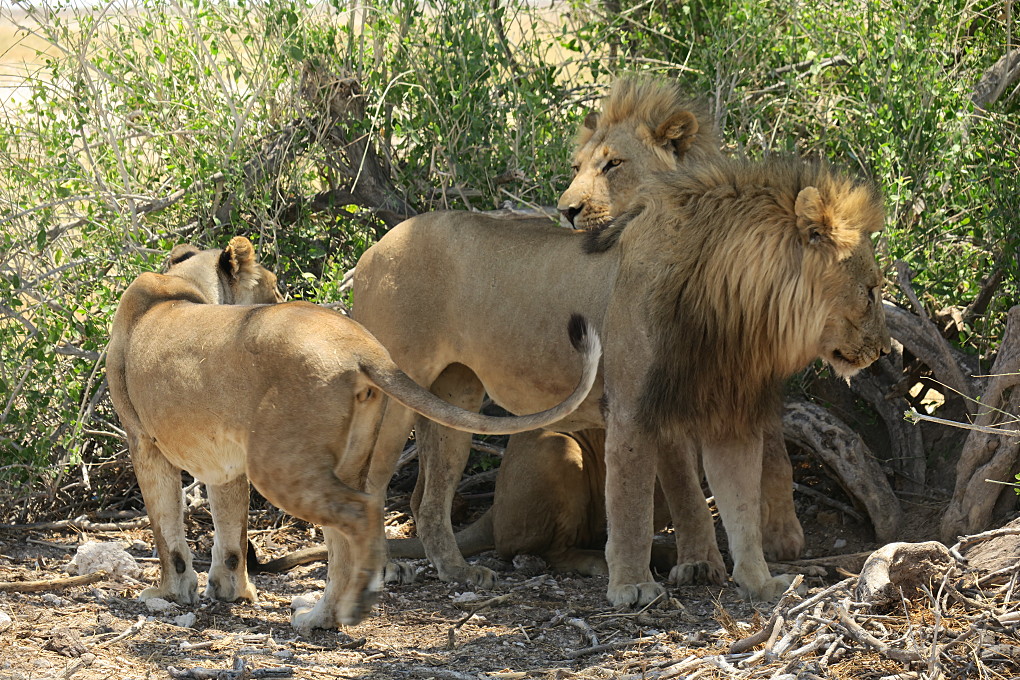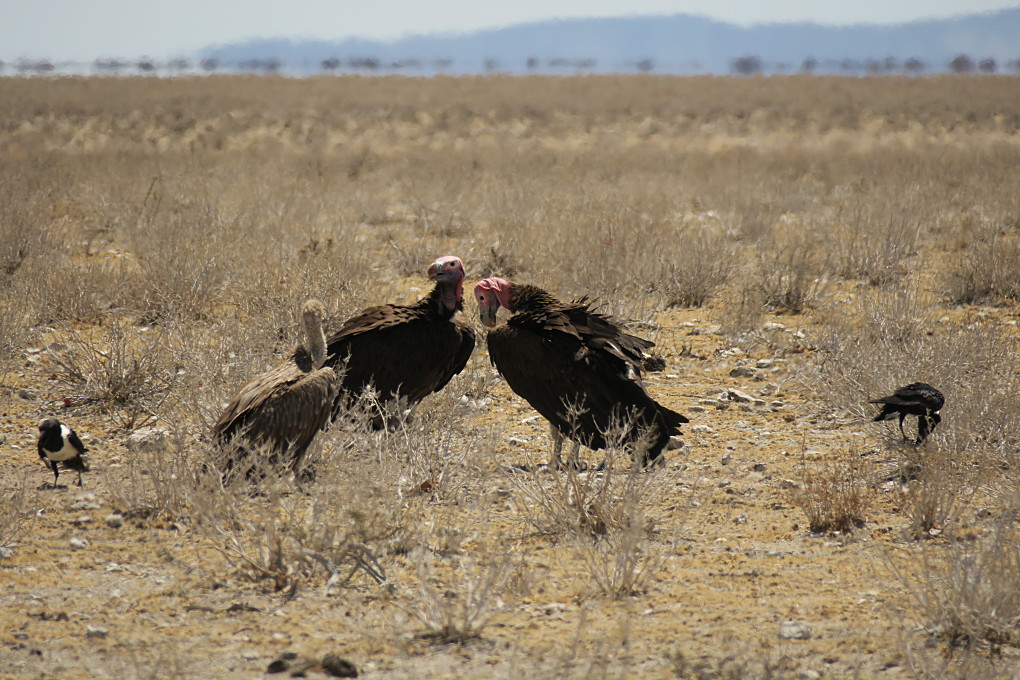 I had another nice day in Etosha, although jebus that park is huge. I had no issues driving there, and across the park to where i left off yesterday. I never found any elephants though, but I saw one lonely rhino. Interestingly, there seem to be very few giraffes on the west side of the park. While i saw maybe 2 dozen yesterday, i saw only 3 or 4 today. There were 2 highlights today. The first was when i happened to glance off to the horizon and saw a lion wandering not too far away. There was luckily a side road in that direction, so i headed over there, and immediately saw another truck parked there, right near where the lion was prowling. The people in the truck were gesturing frantically in the direction of the lion. I was thinking they must think i'm an idiot not to see a huge lion standing maybe 20ft away, so i pulled in front of them to get closer. That's when i spotted a lioness sitting in the shade of their truck. So i was an idiot, as that's what they were so excited about. at this point we were all less than 20ft from both lions. The lion attempted to wander into the shade of the other truck, and the lioness hissed at him, and he jumped away, right towards me. The lion was maybe 6ft away from me now. I decided this was a good time to roll up the window, before it got any ideas. Then the lioness got up, and the 2 of them were pacing and standing back & forth between the 2 trucks. After another minute they both wandered away, down a small hill towards a water hole. I assumed that was it, as they were mostly obscured by tall grass at that point. I drove the truck a bit back up the road, hoping for a better view, but it was still blocked by grass. I was about to give up when the lion came walking through the grass, heading right for the shade of a tree beside the road. He was once again perfectly in view, directly in front of me. Then suddenly a *third* lion, that none of us had seen, stood up from behind the same tree, and wandered over to sit down beside the first lion. At this point other trucks started to show up for the show. The 2 lions were just sitting in the shade, panting in the heat, and napping. Then the lioness emerged from the grass, and also walked over to the shade tree. When she got over there, the other 2 stood up, and all 3 were circling each other. I wasn't sure what they were up to. But then they all sat down, and started to bathe each other. That went on for a few minutes, then they decided it was nap time, and i gave up and drove off. the 2nd highlight was a few hours later as i was driving a loop road across this empty area devoid of plants. I jackal ran across the road, and then a bit further up i saw 2 more jackals, and several vultures. I couldn't get quite as close as i would have preferred, but i could still see they were all feasting on a carcass of something that wasn't too large. Then they all started fighting over the body. The jackals were pulling at the carcass with their mouths, and the vultures were flapping their huge wings everywhere. That went on for a few seconds, then everyone calmed down. The drive from the park to the guest farm took about an hour. It looks like a huge farm, with lots of cattle. They even have one of those weathervane water pumps. The grounds of the house are pretty with lots of trees and plants. The owners seem pretty friendly.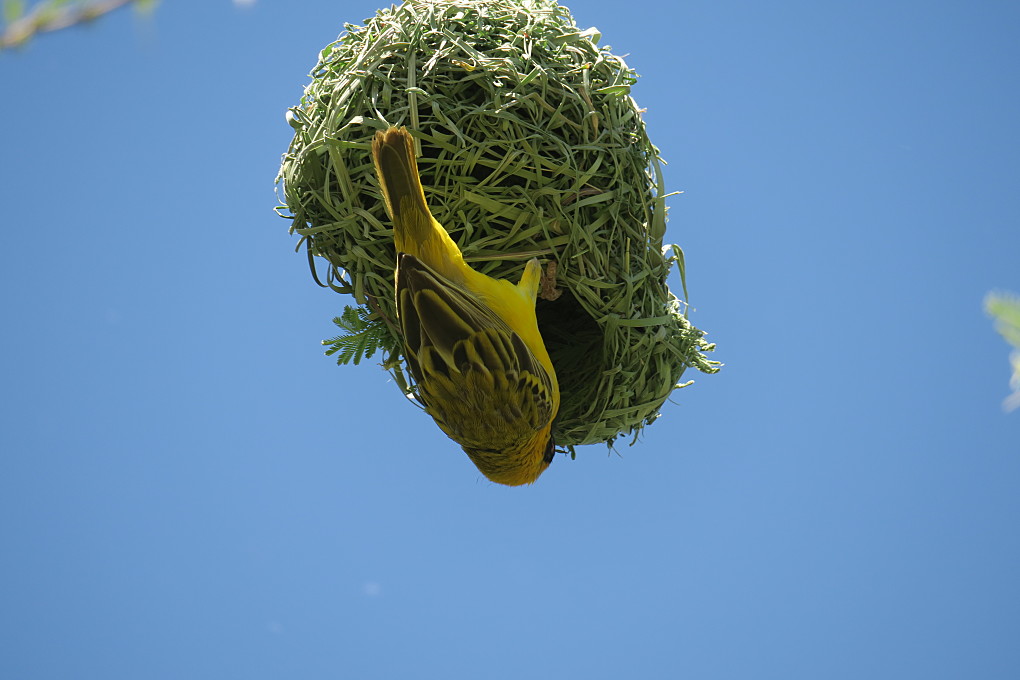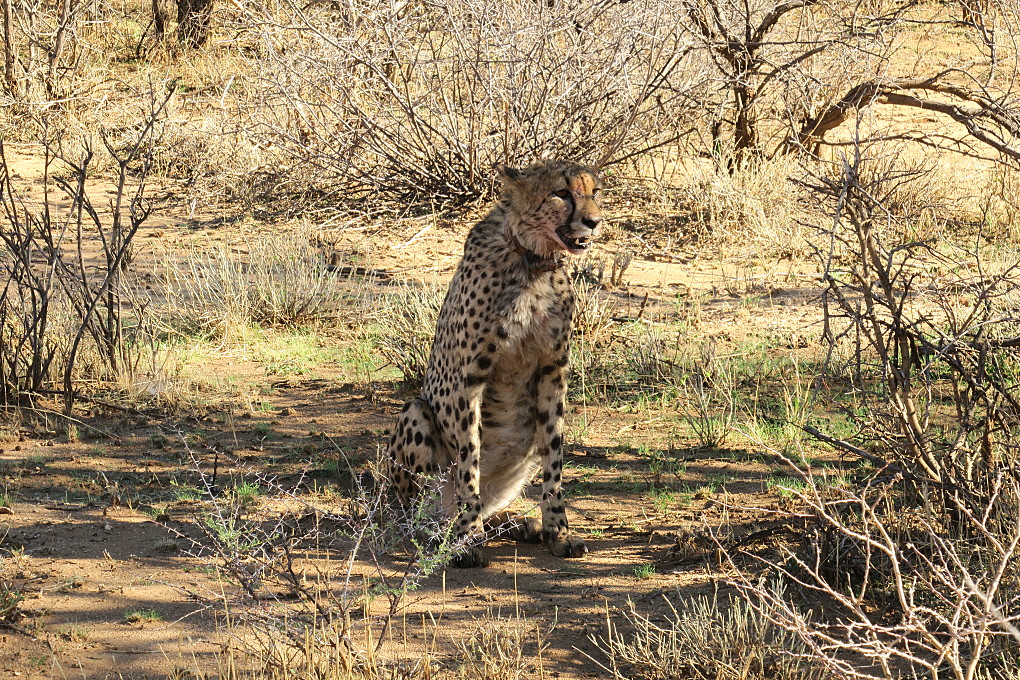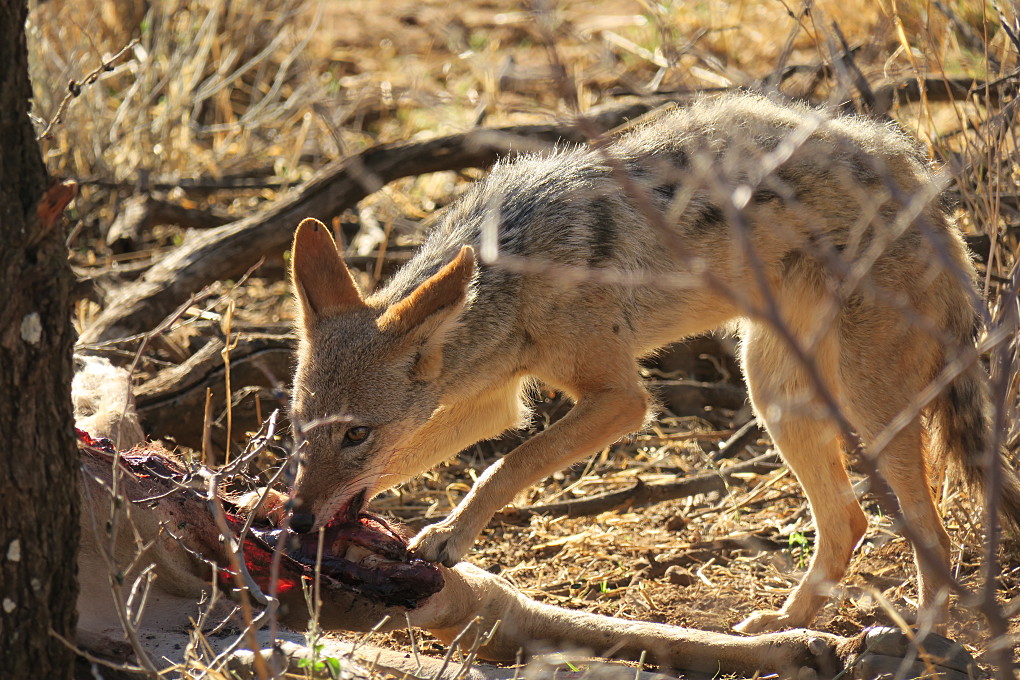 This was my luxury splurge lodge, and its crazy. The lodge is inside a cheetah preserve. My 'room' is this 2 cabin thing, out in the bush, where i can't even see the other cabins. One of the cabins is an open air sitting room, with a thatched roof & ceiling fan, which opens to the savannah, where i can watch random animals. They claim that giraffes often wander by, but at this point 'all' that i've seen are guinea hens, warthogs, spring bok and oryxes. Oh and this room has giant chaise lounges and a minibar. The main suite has 2 king sized beds, a desk, bathroom, and a couch, and also has wraparound windows. At 3:30pm i'm going on a guided predator tracking activity, which lasts between 3 and 4 hours. Apparently all of the cheetahs in the preserve have radio collars, so its easy to locate them. Then i have dinner after we return.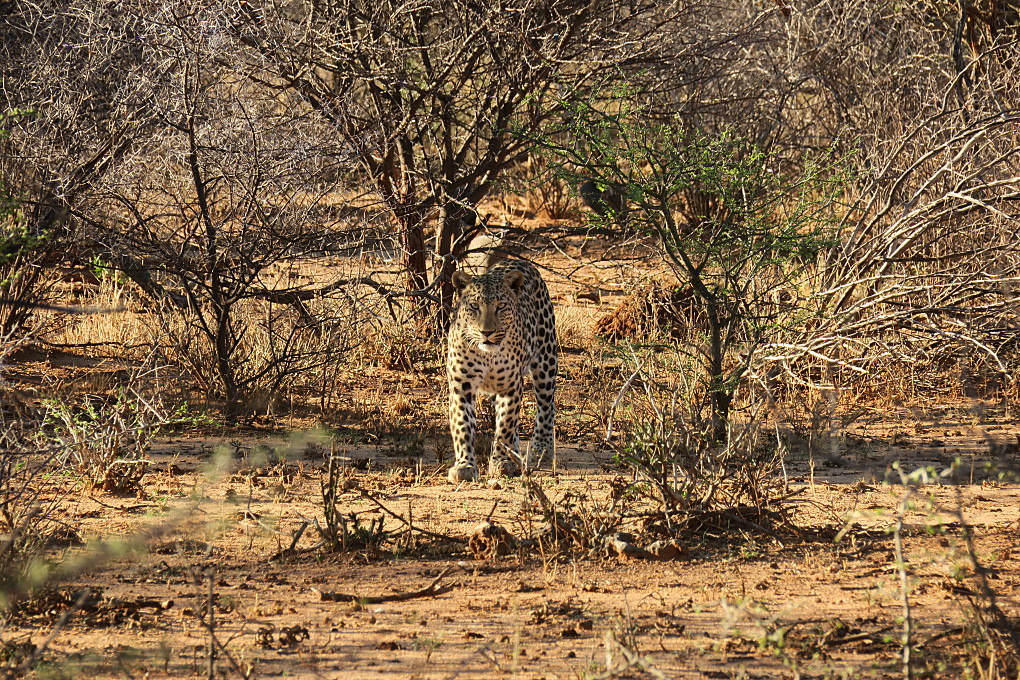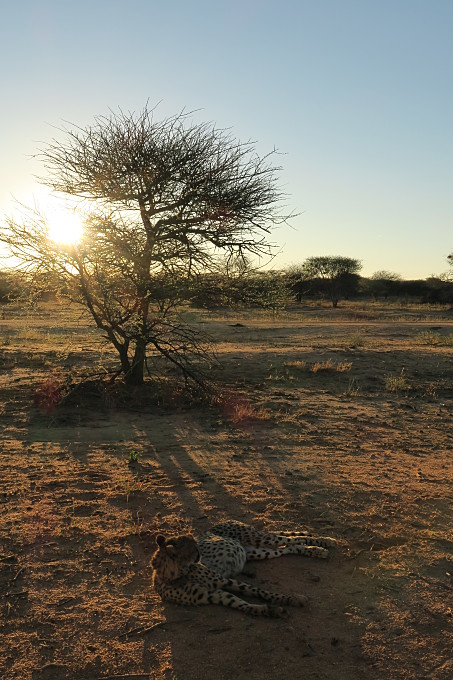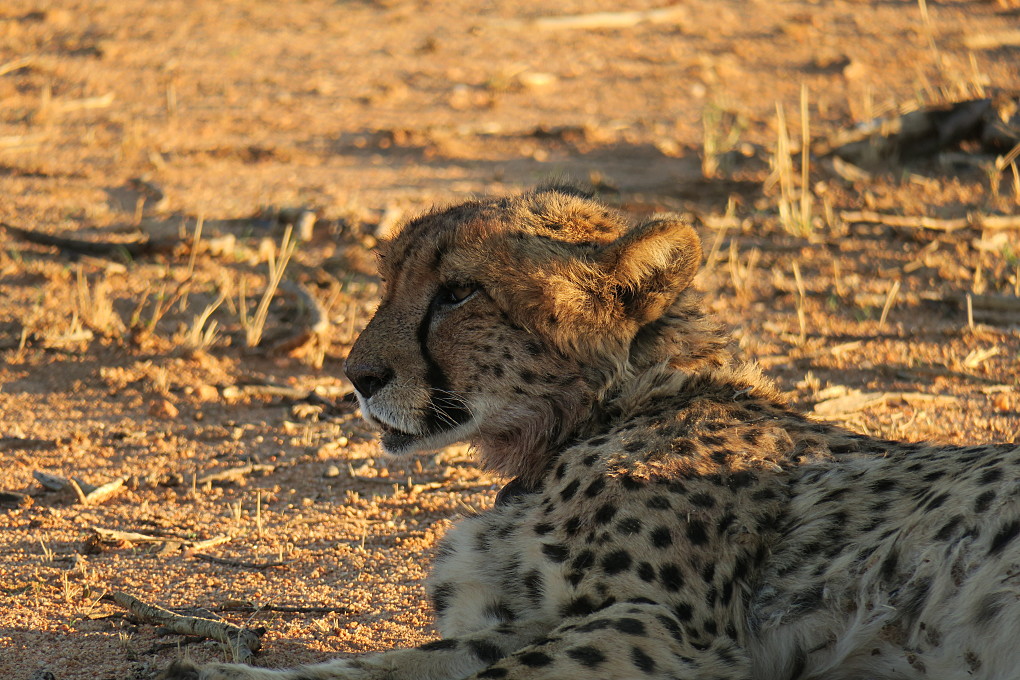 Namibia was absolutely amazing, and exceeded my expectations. The scenery was like a highlights tour of everything the American Southwest has to offer. The wildlife was great as well.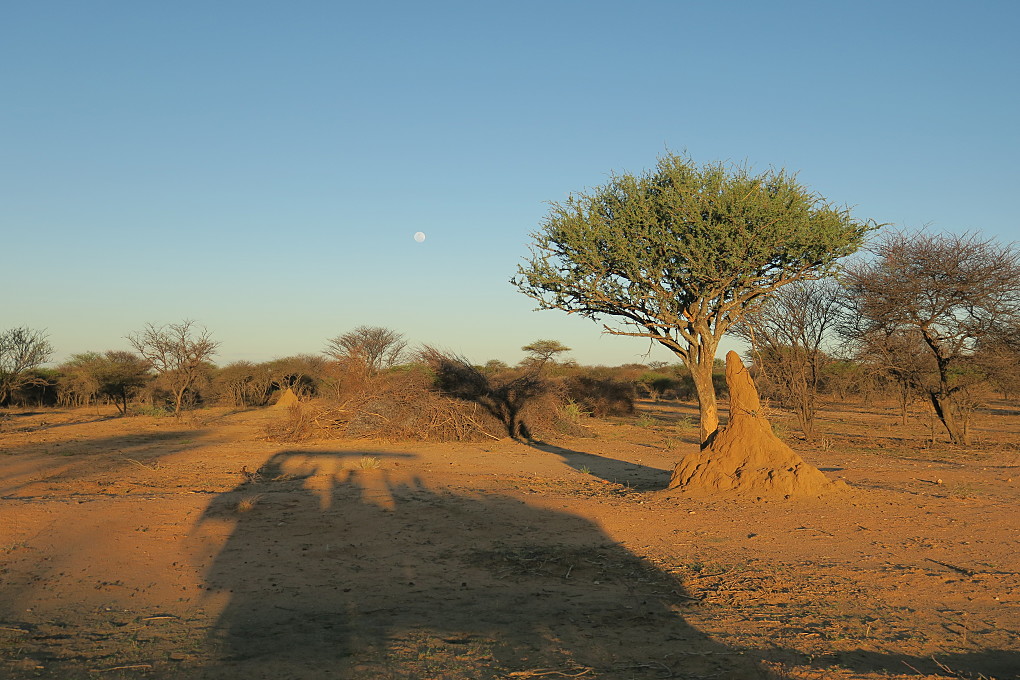 For the curious, here's the majority of the route that I drove in Namibia. I ended up doing over 4600km: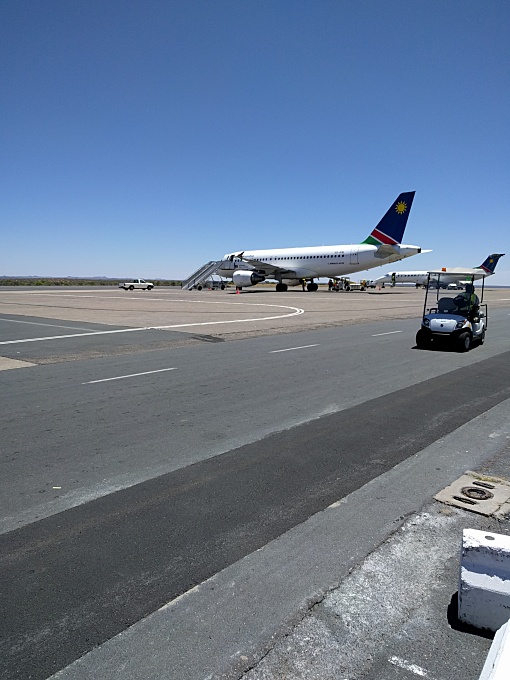 Hundreds of other photos from the trip are posted HERE. You can read about the first half of the trip HERE.