I've recently returned from spending nearly 3 weeks exploring (a little bit of) South Africa, and (a lot of) Namibia. It was an amazing, fantastic trip, and I enjoyed it thoroughly. For those unaware, Namibia is a country on the Atlantic coast of Africa, just northwest of South Africa. What follows is a trip report for the first half of the trip. You can read about the second half of the trip HERE.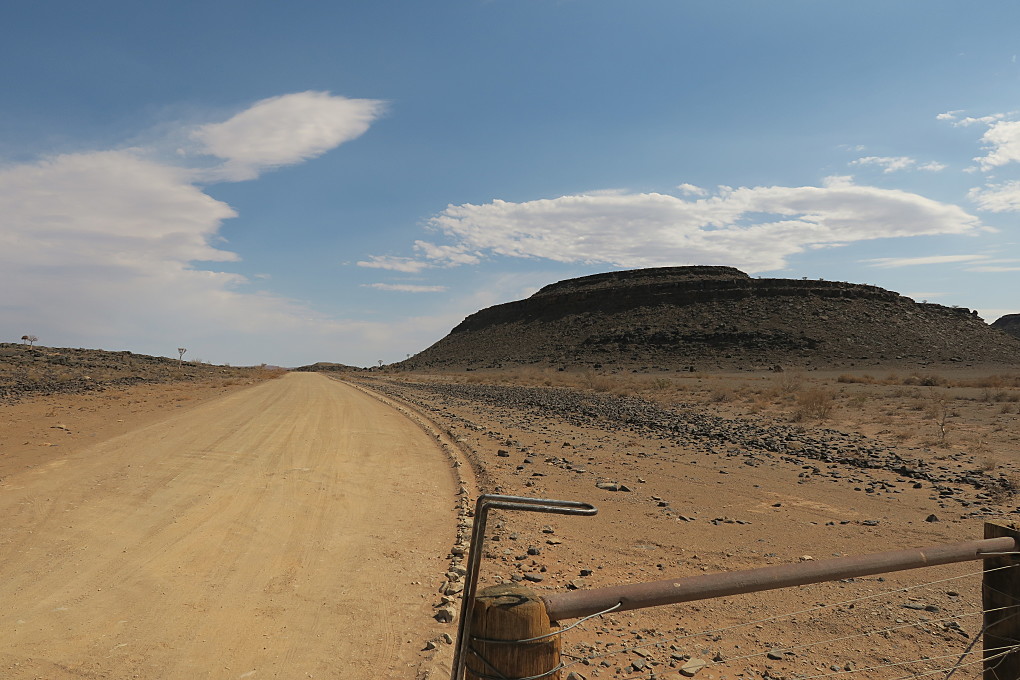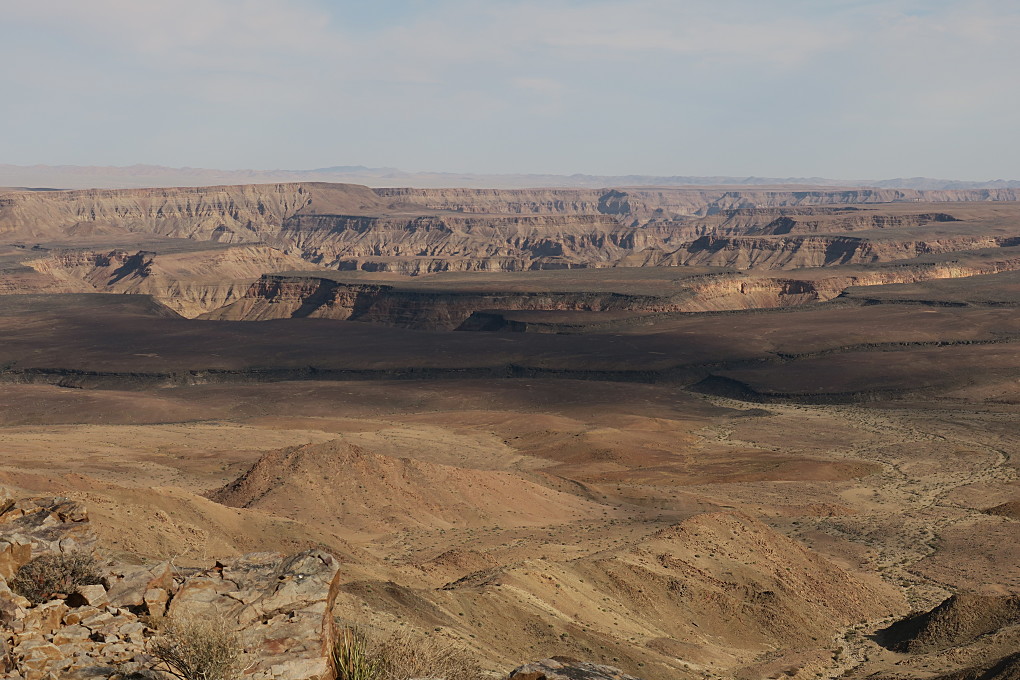 For some reason i thought that South Africa was going to be less 'African' (less chaotic and run down), but the airport in Johannesburg is an awful dump. It took over an hour to get through immigration, with hundreds of people in line ahead of me. Once it was my turn, the lady only asked why i was visiting, and then gave me 90 days on the visa. Then i had to run around the airport to find the ATMs, which of course had a long line. I got some cash, then tried to find the guy from the hotel who was picking me up. Just as i was about to give up, i spotted him standing in a corner. I tried to apologize for keeping him awaiting so long, but he didn't seem to understand me, or my lack of a south african accent. The drive to the hotel took about 20 minutes, mostly on huge 8 lane freeways. Its quite warm & sunny outside. There's this place called Arts on Main, about 5 blocks away that has a food festival every sunday berween 10am & 3pm. There's also a large number of small cafe's in the vicinity. I wandered around for a bit and ate a bunch of stuff which was fairly tasty. I had a soy milk flax seed cinnamon peanut butter shake, a lox+bagel, an ostrich burger, super strong ginger ale, and strawberry cheesecake. The neighborhood that i'm in has a quirky SF mission + NYC lower east side vibe. But as soon as i walked more than 2-3 blocks north or south or 6 blocks east/west it quickly became a super shady ghetto. Granted, from what i've read, nearly all South african cities are like that. It was quite warm here today getting up to 91f. It wouldn't have bothered me much except that nothing seems to have AC. even my room has nothing but windows for ventilation. By the time i finished eating, the lack of sleep was rapidly catching up with me, so i attempted to take a nap. I did manage to sleep fitfully for nearly 4 hours, but i was covered in sweat. It started to cool down a bit when the sun set just after 6pm, but its still not what i'd consider comfortable yet. Around 7pm, i wandered out to find dinner. Despite dozens of options at lunch, very few were still open for dinner. I went to a craft beer + pizza place, which was ok, but not great. I had Steph Weiss to drink which was decent, with a salami + mushroom pizza.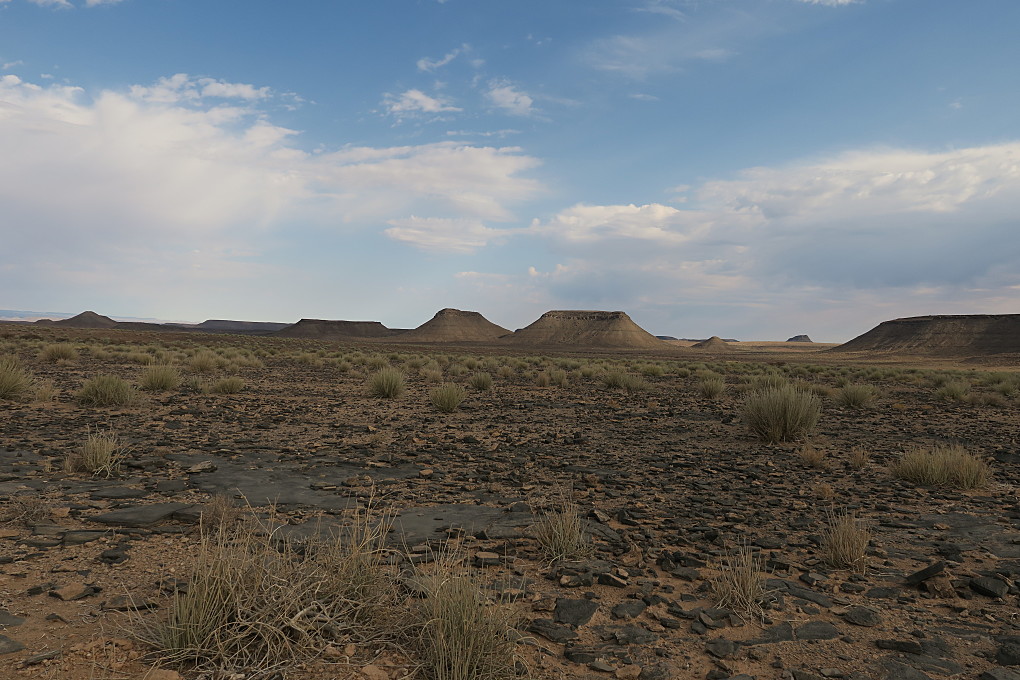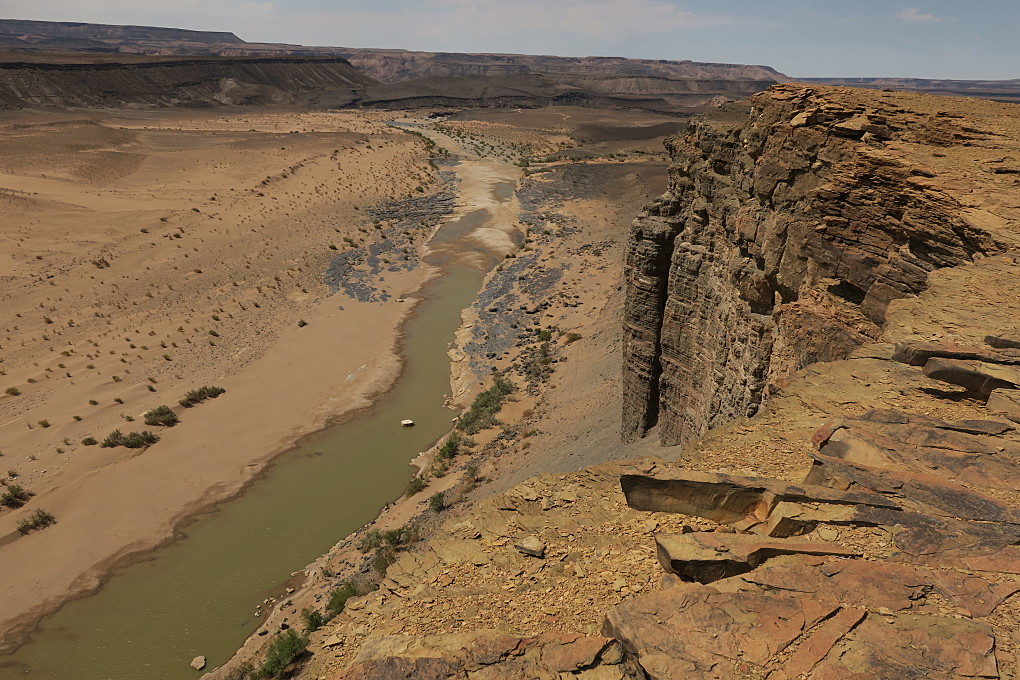 I had a nice day today. My Soweto tour was just me plus a Belgian couple. We were driven about 30 minutes in a minivan to Soweto. The first stop was in one of the few remaining areas that had not experienced any improvement. It was all still tin shacks, without any water or power, with trash everywhere. It was simply awful. Our guide said that he grew up in that area. We also toured a community center & orphanage, which received a lot of foreign aid. It was almost entirely constructed of recycled shipping containers. The kids were mostly between the ages of 2 & 6, and most of them wanted crazy play time, or cuddle time. The community center had a library of donated books, and computer lab with 16 computers, all with internet access. After that we got back in the van, and drove to a 'middle class' area, with well constructed homes. We first stopped at the Hector Pieterson Museum, which was setup to memorialise the 13 year old who was killed by the police during the June 1976 school protests. The museum was ok, but was mostly huge panels of text, with a few old photos. Then we walked a few blocks away to a shebeen (which is basically an illegal township bar), where we got to sample some 'beer' brewed in an old milk container. It tasted like old sweaty socks. it supposedly was around 2% ABV, and (mostly) men would start drinking the stuff in the morning, and by evening they'd be fully drunk. Afterwards, we walked further down the street past Nelson Mandela's house (now a museum run by his family). Then a few more blocks down the same street was Desmond Tutu's house, which he still uses a few days each month. Finally we stopped for a traditional sowetan lunch, which was kinda disgusting. It was two pieces of white bread with mayo, sliced sausages (hot dogs), salami, mashed fried potatoes, & pickles. Afterwards, we got back in the van, and drove a few minutes to the Apartheid Museum. It was really interesting, covering the past 125 years of South African history, with tons of exhibits that included artefacts, photos, interviews and movies. As i was leaving for dinner, a thunderstorm started rolling in. I saw real lightening! Anyway, i was originally hoping to go to an Ethiopian place for dinner, but it was closed. in fact just about everywhere that i was considering for dinner was closed. other than the beer+pizza place i ate last night, and a place (Pata Pata) that i researched yesterday, which had tons of negative reviews about poor service. But i had basically no options, so i went to Pata Pata, and hoped for the best. I drank a really good south african Wit beer from Darling brew, called bone crusher, and had a lamb shank with smashed potatoes. The lamb ended up coming with a few steamed vegetables, but also mashed yams with the potatoes. It was all pretty good, and the service was fine too. So i dunno what the deal is with the bad reviews, maybe i was lucky. I asked the guide earlier today if this weather is normal for this time of year, and he said its not usually this hot, but it does get hotter in their real summer (january-ish). The only place that i've been in this country with AC was the Apartheid museum. So i can only assume that everyone likes that heat.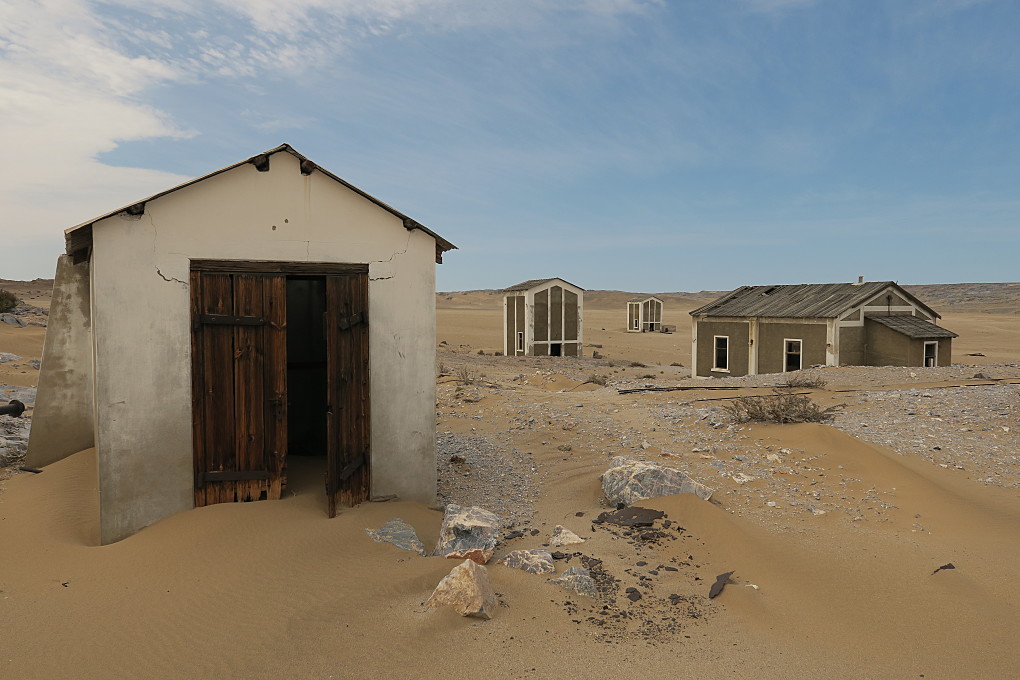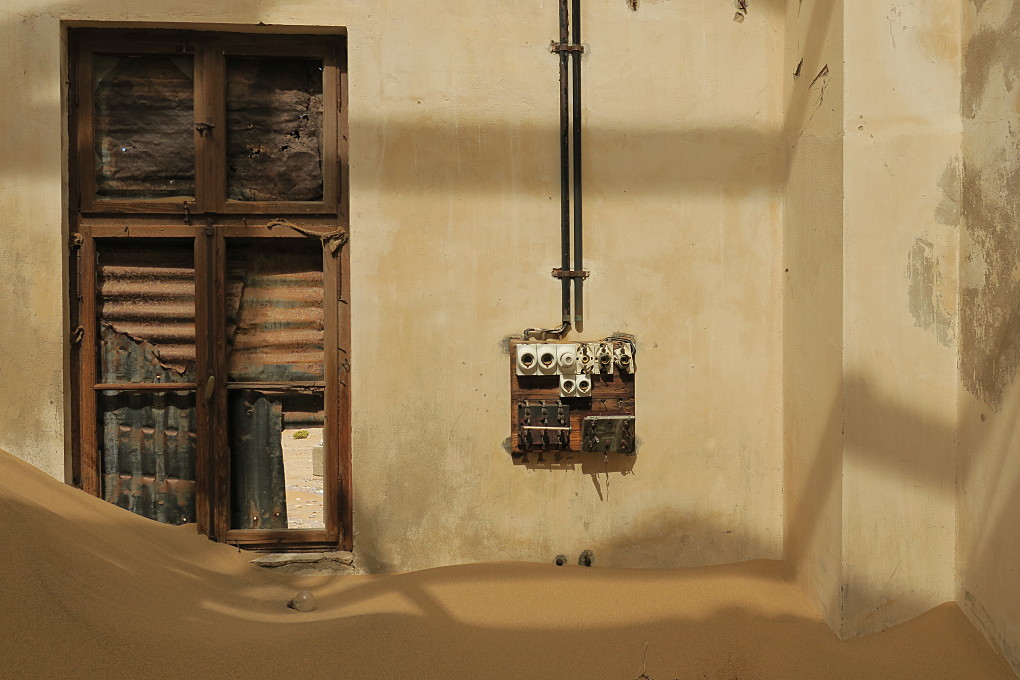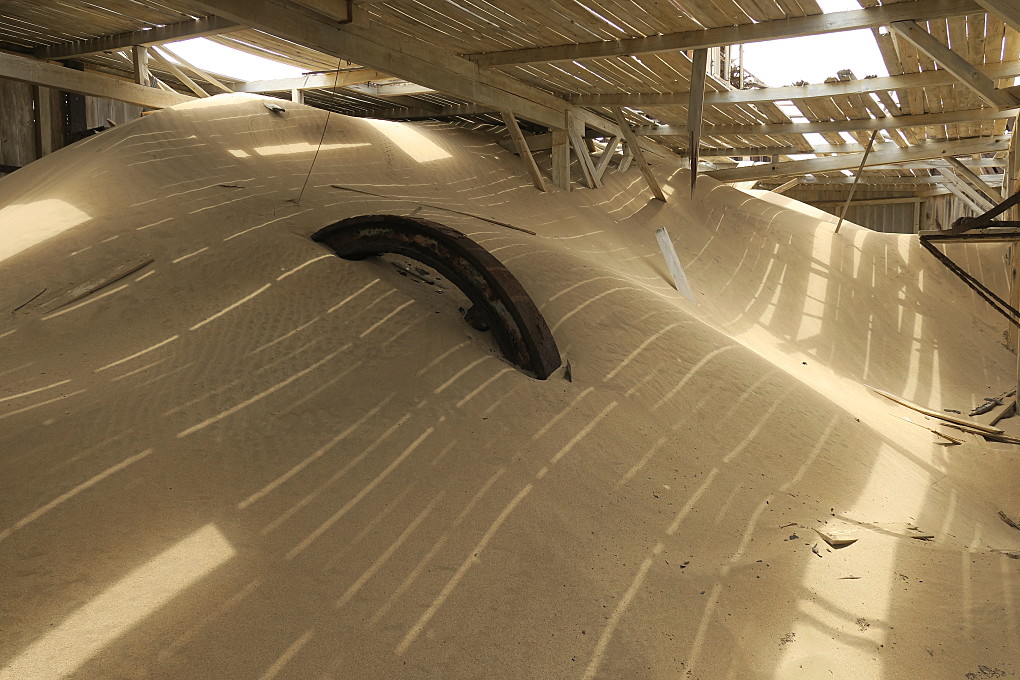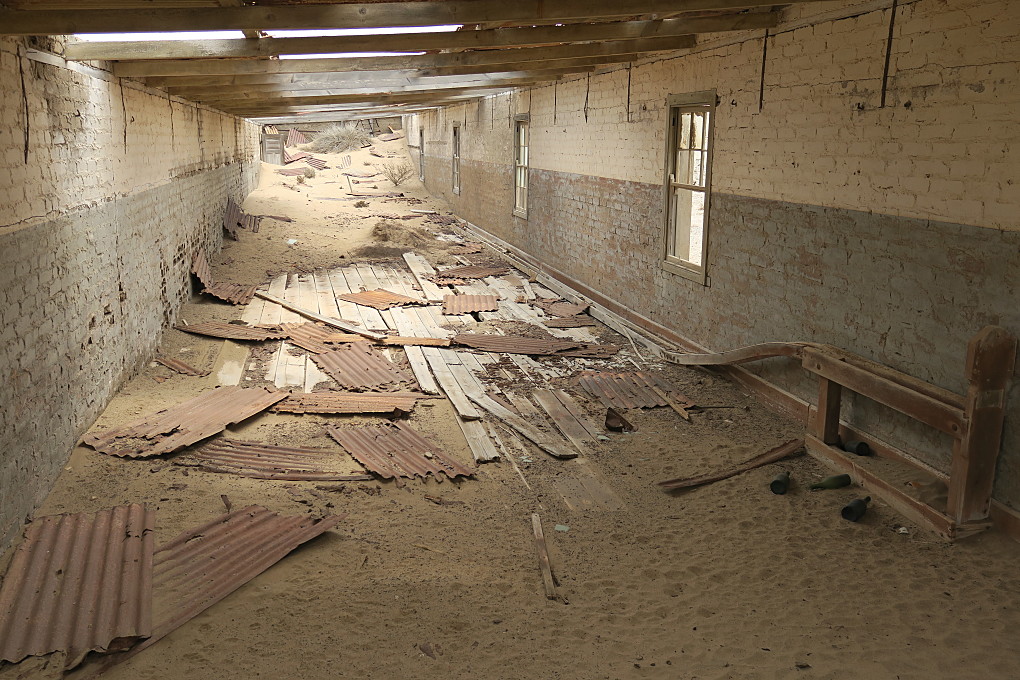 What a day its been. My flight from Johannesburg to Windhoek departed on time, and was about 2/3 empty. This was basically the same size plane as Southwest uses. They did a full drink+meal service on the 80 minute flight. Also, thankfully i was wrong about being a bus gate in JNB. The approach to Windhoek was very rough, with a lot of turbulence. The airport is so small its kinda cute. There are no jetways. All the planes park outside the terminal, and people walk down the stairs and into the terminal. For whatever reason the lady in immigration couldn't get my passport to scan, and she was super pissed because it meant that she had to transcribe everything manually. she gave me just 21 days on my visa, which i'm pretty sure was punitive, and not the standard duration for Americans. Once i got into the tiny arrivals hall, i got money out of the ATM (although it limited me to just N$2000, which was much less than the N$7000 that i wanted), but it dispensed south african Rand instead. i later learned that they take both in Namibia, as the Namibian dollar is 1:1 with the Rand. Next i attempted to get a SIM card for my phone, but their computer was down. I found the guy from the rental agency, and we headed to the parking lot. Oh, and the high today was 97f. The 35km drive from the airport to the center of Windhoek was kinda surreal. Ignoring the huge black baboon that ran across the road as we were driving, it looks very much like the Mojave desert around here. The mountains, the flora, the terrain, everything looks like some random valley near Mojave. Once we got to the rental company, i spent nearly an hour going over paperwork, and then being shown how to operate the truck. Its amazing, the truck is fully equipped for anything. Obviously it has 4×4, but its got a 2nd battery to power the fridge, air compressor, power outlets, and LED lighting. There's a full assortment of camping gear (utensils, pans, pots, 2 fuel canisters, folding table & chairs etc). The popup tent on the roof is really cool, and fully expands on its own in 3 seconds. There's tons of storage. Also it has a double gas tank, with about 660 miles of driving range. For whatever reason though the gas tanks were collectively less than 1/4 full, so i immediately knew that i needed to get more gas. Once they finished giving me the tour, i attempted to drive to a nearby supermarket for food, and got very lost very quickly. somehow the street that i thought that i was driving on, was a completely different street. I pulled over, and figured out where i was, and then found where i needed to go. For a relatively small city, there is a ton of traffic, coupled with left hand driving made it challenging initially. The supermarket was pretty good, and i found everything that i needed to last me at least several days. the place was packed though, so i was always in someone's way as I was browsing the aisles. One thing that was kinda bizarre is that more than half the stuff on the shelves had german labels. As an added bonus, they took credit cards, so i didn't need to spend cash. There was also an ATM in the same shopping center, so i was able to get out another N$2000 (and this time it dispenses actual Namibian dollars too). This being Africa, everyone has an expectation of getting a tip for performing the most nonsensical of tasks. The guy who bagged my groceries insisted on pushing the cart out to the truck, and then wanted a tip for doing so. Next i drove to the guesthouse, which took way longer than I anticipated, both because i was driving slowly & cautiously (being unaccustomed to the truck, plus left hand driving), and also tons of street traffic during rush hour. i got here just before 6pm, and the owner was super friendly. He showed me to my room, and then explained where i could get diesel for the truck, and a SIM card. Thankfully, both stops were in a shopping center not too far away, and right next to where i intended to get dinner. The first stop was to get gas, and that was far more of a hassle than it should have been. There's no self service, and the guy pumping gas couldn't do basic math. The pump stopped filling at around N$1179, but the guy just kept going. I assumed that he was going to round up to N$1200, but he just kept going. So i had to tell him to stop before he hit N$1400, as i was fully expecting the fuel to start running on the ground. The total was N$1368, so i first asked if they took credit cards (fully expecting them not to), but the guy said yes, so i handed him my visa card. He then gave it back and demanded cash, so i can only assumee that he didn't understand me initially. To be honest i've had difficulty understanding the south african (and today) Namibian accents too, so i wasn't holding if against him. I handed him N$1400, and then proceeded to argue that i owed him another N$160. It took 3 separate attempts of counting out the cash in front of him before he admitted that he was wrong. Now maybe he was trying to scam me, but he really seemed confused. When he returned with my change, he of course demanded a tip for over pumping my gas, and attempting to further over charge me. I handed him the random change that i had left (which was maybe the equivalent of $2), and he then thanked me and wandered off. Next i went to the cell phone shop, and i think i lucked out with a guy who was super patient and helpful. I was in there for close to 30 minutes, as he helped me figure out which plan to buy, verified that my phone was working right, and showed me how to 'recharge' it with more minutes & data. The short version is that i've got a Namibian SIM card (which lets me phone work with the MTC phone network), 60 minutes of calling, and 2GB of data, all for the equivalent of about $18. This means that if i have a problem with the truck, i can call to get help, if i'm camping somewhere that has no wifi (like the desert elephant camp), i can still email you. Hopefully i won't need to use any of that, but i think its worth the cost to have a safety net. Afterwards, i drove around the block to Joe's Beer House for dinner. If you're curious you should look up their website, its interesting. The place is really quirky in a good way. Its sorta like a beer garden, but with a fairly elaborate menu. They seated me at this huge round table that already had 2 guys and a woman. Shortly after i was seated, this other couple was seated there too. The 2 guys finished not long after everyone else was seated. The woman lives in Johannesburg, but was visiting Windhoek on business, where she trains financial auditors, and she looked at least a decade younger than me. The couple were Dutch, and the guy is a doctor, and his wife is an architect. they looked maybe 10 years older than me. We all hit it off really well, and throughout the evening we talked about travel, and the differences between our respective countries. I ended up drinking 2 0.5L glasses of Camelthorn Weizen which was really yummy.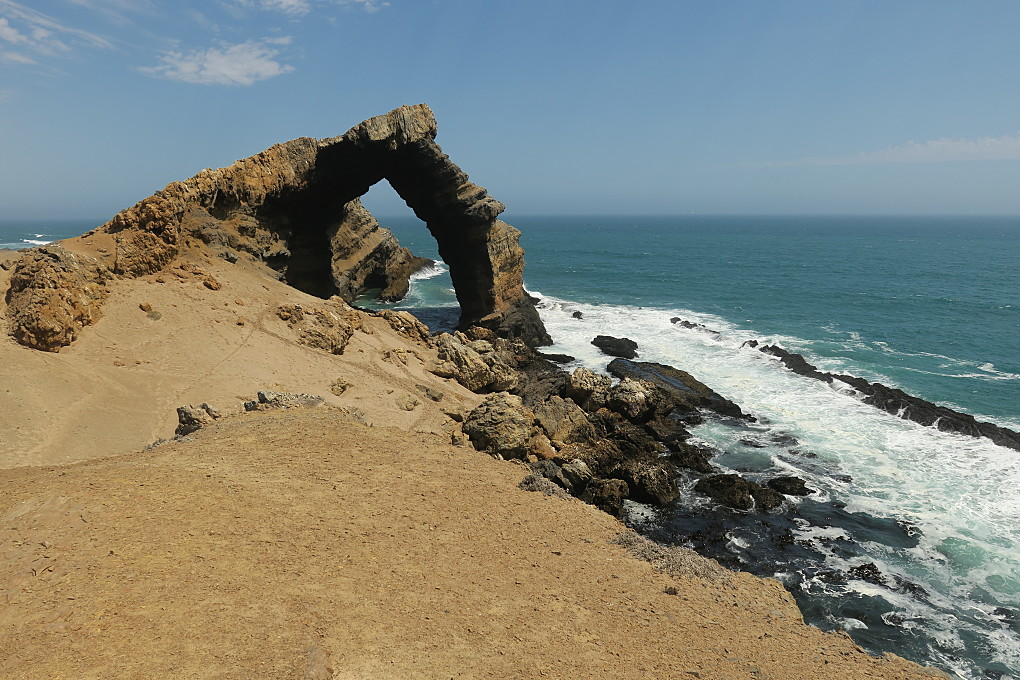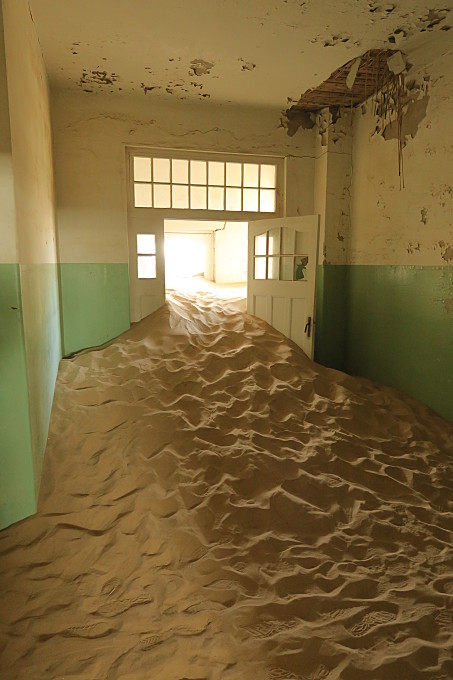 this morning at 7am, my guesthouse provided me with breakfast which was ok, but not great. Immediately after i checked out and started the 587km drive south to the fish river canyon. I had a ton of rush hour traffic navigating out of Windhoek, but it thinned out fairly quickly. Less than 30 minutes into my drive there were packs of baboons sitting along side the road, occasionally darting across. I also saw a few flocks of guinea hens here and there. About an hour into the drive i passed a huge 'Tropic of Capricorn' sign, and the terrain started to get more desolate. I occasionally saw goats grazing, or some random farmers(?) With donkey carts, but that was the extent of wildlife for the rest of the day. There are tiny 'picnic' rest stops every 5-10km beside the highway, which are nothing more than a single picnic bench, table, awning and garbage can. Considering how little traffic there is, i guess its sufficient. i've never been stuck behind a slow truck for more than a few seconds (to allow o[posing traffic to pass). Otherwise i've been able to drive at the limit (120kph) the entire time i was on pavement. The first 470km was fully paved today, and in fairly good condition. Just after 11am, i stopped in one of the few towns to use the bathroom in a gas station., and i got out another N$2000 from the ATM. At this point i should have enough cash so that i won't need to stop at another ATM For a few days. Just before noon, i pulled into one of the roadside rest stops and made lunch. yesterday, i got a loaf of dark brown grainy bread, and some goat cheese with cranberries, and i used it to make a sandwich, plus a granny smith apple. After lunch the scenery started to change, and got much more hilly & mountainous, looking kinda similar to Nevada. When i finally turned off the main highway for the lodge, i had 104km on gravel to go. The first 90km were fairly easy. The road was in good shape, wide, and mostly flat & straight, so i was able to go about 80kph most of the time. However, the last 14km was awful. It was narrow, hilly, curvy, uneven with tons of rocks. None of it was technically challenging, just annoying, as I had to drive much slower to avoid being bounced all over the place. Also the high here today was 108f. however, once i arrived at the lodge, it was all worth the 104km, as its absolutely gorgeous here. The lodge has just 20 chalets, and all of them are sitting right at the edge of the canyon rim. I can see over 100 miles to the east from my room. Once i got settled in, i went for a 2 mile hike along the rim. They've got these Quiver trees growing wild all over, which look kinda like anorexic Joshua trees, although they're apparently a member of the aloe family.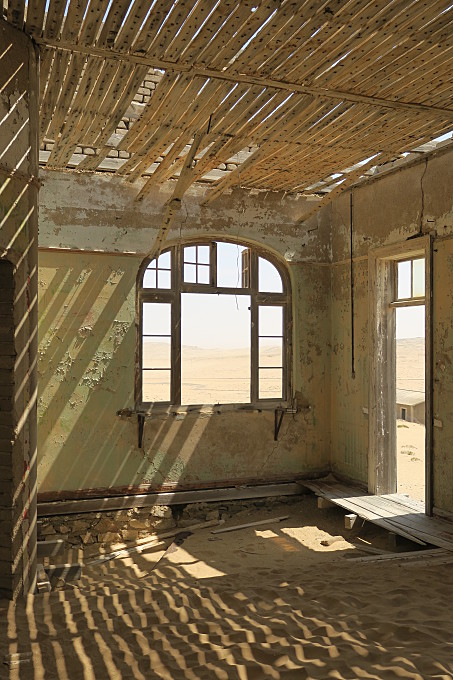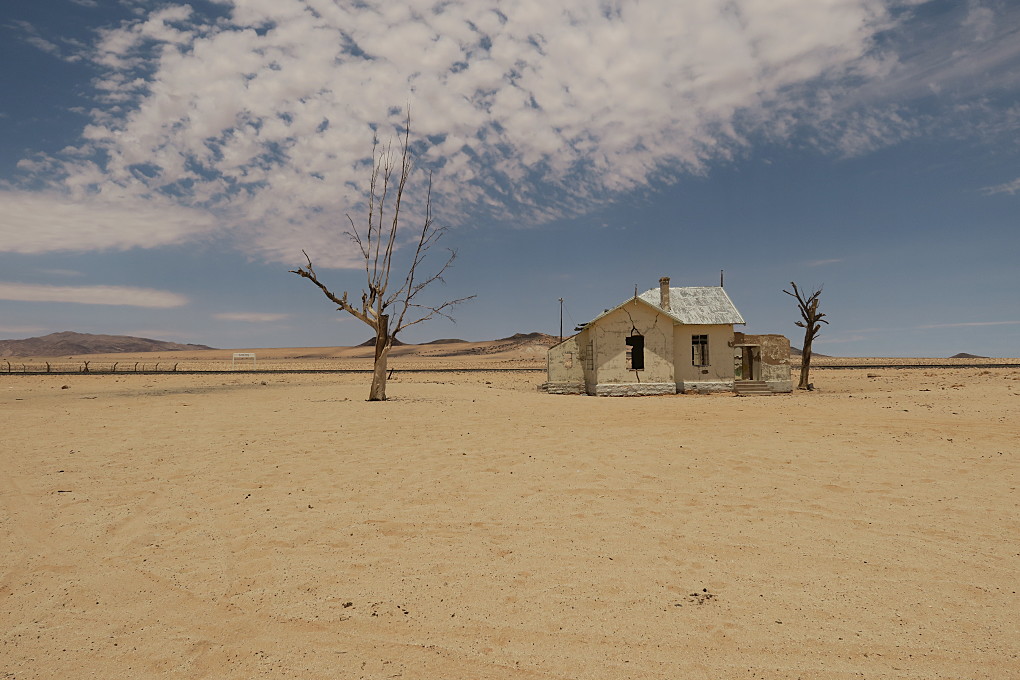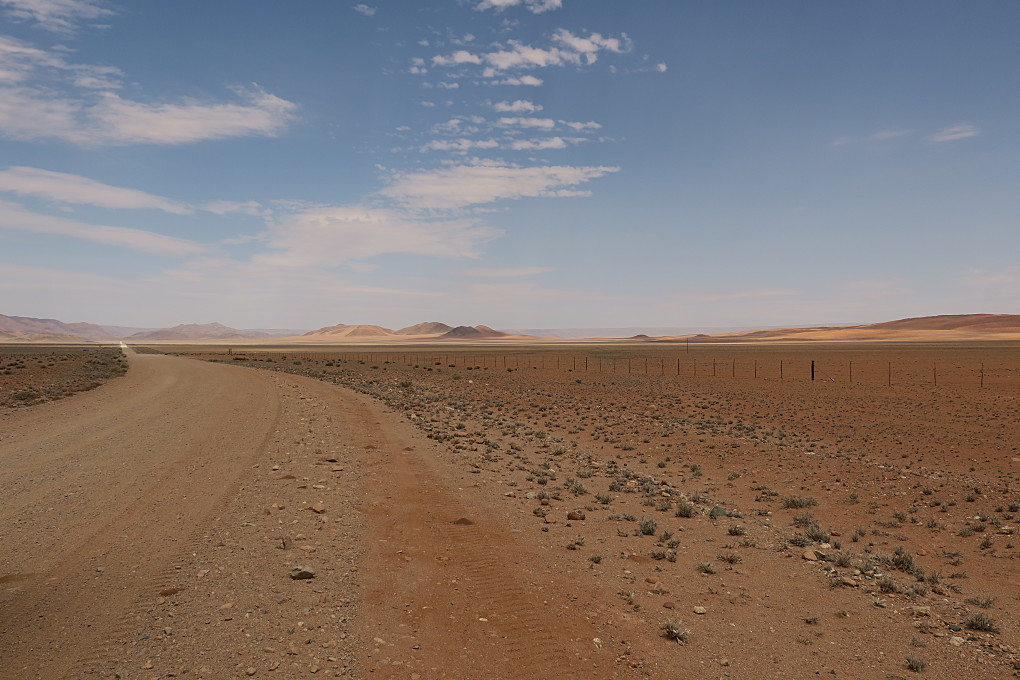 My day started at 5:25am, when my alarm went off to make the 6am breakfast. Breakfast was decent, and very German themed, with meusli, yoghurt, cured meats & cheese put out on a table. I checked out, and waited for the 7am tour. It turned out to be 3 middle aged German couples, me and our guide/driver. We had one of those crazy 4×4 safari trucks, with 3 rows of seats in the bed of the truck. The temperature was quite pleasant when we departed. Our guide was really good. He stopped frequently to point out unique plants or rocks, and helped with spotting & identifying animals too. We ended up seeing kudus, spring boks, steinboks and oryxes. He also did a great job driving, as the 'road' was quite rough, and incredibly steep in places. it was way more challenging than lippencott. over the course of the first 3.5 hours, we descended all 4000ft to the bottom of the canyon where the Fish River was still flowing (albeit quite slowly). He even brought towels, and people were able to go swimming, although i didn't part take. Although, let me say that you haven't lived until you've seen a 50-something German woman in a bikini. After the swim stop, we drove a few minutes back up the road, and had lunch. It was pretty decent, with ham & cheese sandwiches, cole slaw (the germans got super excited, i skipped it), real cooked sausages, hard boiled eggs, and these odd but tasty tiny meatballs. Oh, plus a cooler full of drinks, including beer. Which reminds me, i had Tafel Lager with my dinner last night, and it was meh. At lunch i had Windhoek Lager, and it was marginally better. I'm not sure if i just don't like lagers, or if most Namibian lagers suck. During lunch our guide told us about his life in namibia (one of the germans asked a bunch of questions). He works 3 months at a time, with 1 month off. He does the canyon tour 3-4 times/week. The days when he's not doing the tour, he has to do the 3 hour drive to the nearest town to replenish supplies for the lodge. He grew up in northern namibia (nearly 2 days drive), while namibia was still a south african colony. As a result, he was forced to learn Afrikans in school. His native language is Damara, which is basically his tribe. He didn't actually learn english until he was in high school. His grandmother speaks fluent german, because she was a child back when namibia was still a german colony, and it was forced on them in school. Once we finished lunch, we packed everything up, and resumed the drive back to the lodge, and got there just after 2pm. The canyon was amazing, with some spectacular views. It was extra nice to be the only people out there. I wish that it wasn't such a huge pain to hike down into the grand canyon. I'm guessing that its even more amazing than what i saw today, and seeing it from different elevations makes a huge difference in the experience. As soon as i got back to the lodge, i ran to the toilet, then hopped in the truck to start my 4+ hour drive out to Luderitz. I had that 24km rough road, then the 80km of not bad gravel. I finished all of that in just under 2 hours. i almost got into gas trouble today. The truck has 2 tanks, but only the 1st smaller tank is reflected in the gas gauge. But the truck uses the 2nd tank first, such that the gas gauge shows full for several hundred km of driving. Yesterday, about an hour before i got to the lodge, the gas gauge started to drop, and was about 1/8 used when i reached the lodge. i figured that was no big deal, there was supposed to be a gas station about 160km from the lodge (back on the main paved highway). However when i got there today, there was no gas station, and i was down to half a tank. the next town (Aus) was 100km further. By the time that i got there i was just above a quarter tank. Initially i couldn't find the gas station, and was starting to worry, as i didn't know if i had enough gas left to reach luderitz (which was the next town anyway, 125km away). Thankfully, i drove around the town for a few minutes and found the only gas station, and filled up. When i leave Luderitz 2 days from now, i actually have to backtrack all the way to Aus again, as there's only 1 road the goes to/from Luderitz, and it goes to Aus. So i'll plan to fill up on gas again when i drive through Aus, since i'll have driven 250km by that point. For the record, i did end up driving 859km on that first fillup. The drive from Aus to Luderitz was amazing, and it was so pretty. Roughly the first half went through the super wide & long broad valleys, with golden grasses growing in them (kinda like the dead grasses that grow on the hills at home). Then very gradually, everything was replaced with fine powdery sand, such that i was driving through these massive sand dune valleys, that stretched off in all directions. once i got fairly close to luderitz, i drove past Kolmanskop amongst the dunes. It looked much larger than i expected, with at least a dozen buildings. Also, the temperature dropped a lot as i approached luderitz. It was in the upper 90s when i left the lodge, and when i got into luderitz it was 71f, with a cool ocean breeze. luderitz is really quaint and quirky. Its full of 100 year old german colonial buildings. Other than the main street, all the others are sand. The air bnb where i'm staying is huge. Its literally an entire apartment in this 100+ year old german building. I've got hard wood floors, a full kitchen, living room, bathroom & bedroom, all occupying the 2nd root of this 3 story building. For dinner i walked 3 blocks to this pub called Barrels, which was pretty decent.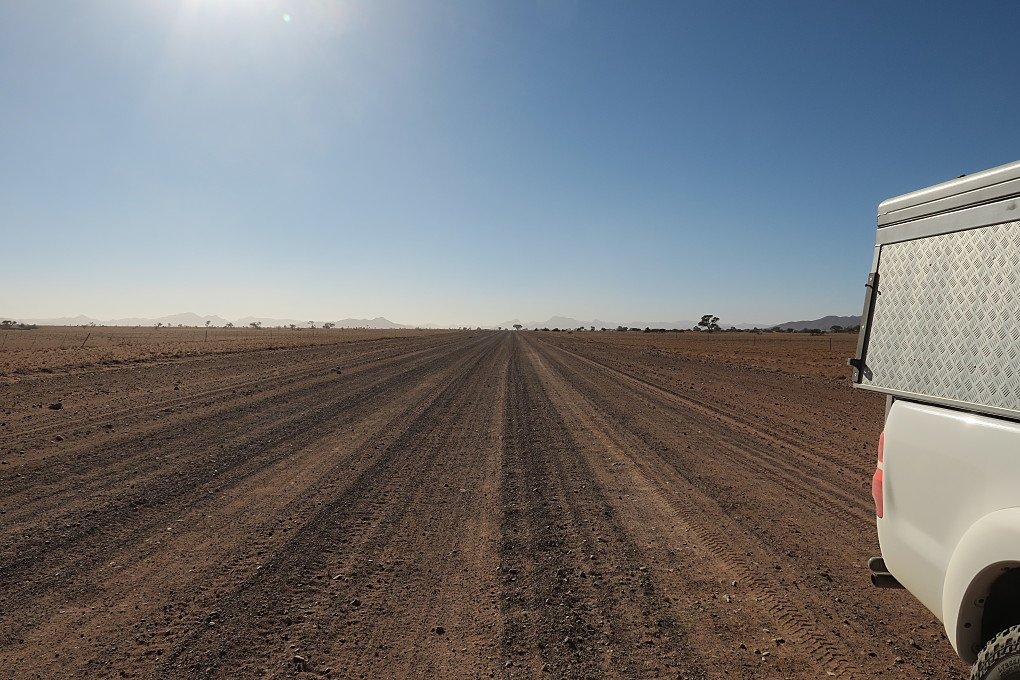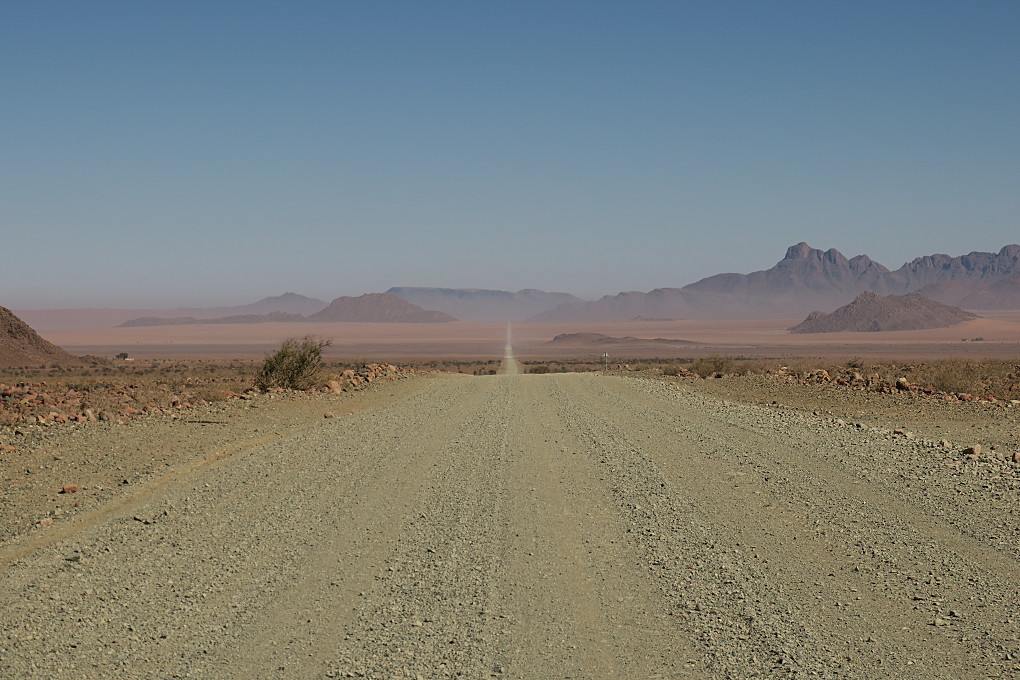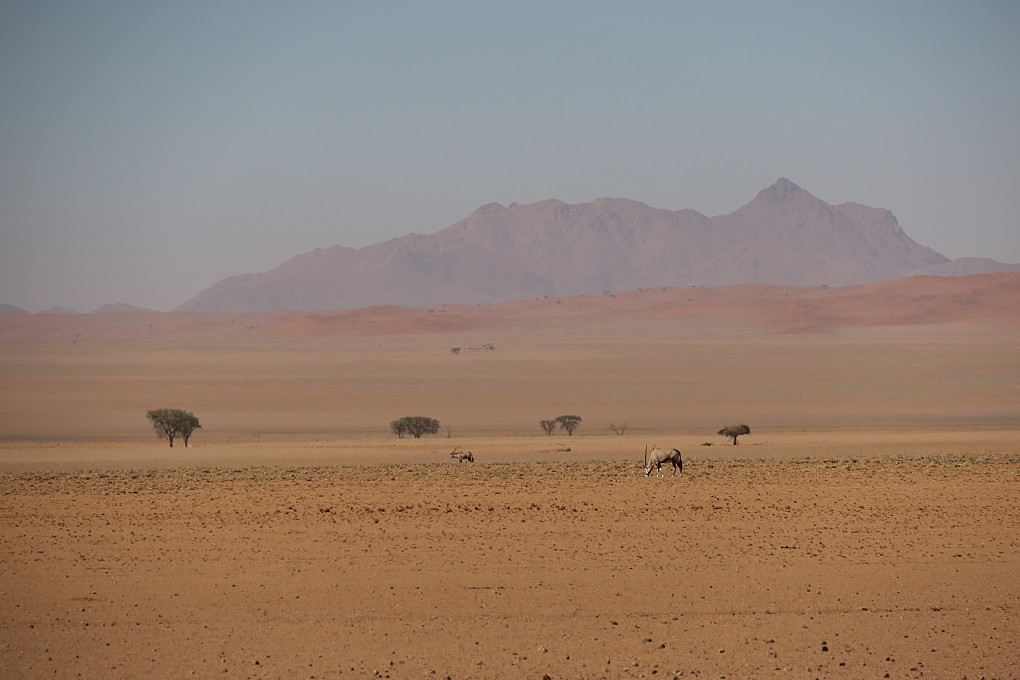 The guy from the tour company picked me up on time at 8:30, then stopped at a different guesthouse to pickup a German couple from Munich on their honeymoon. We were in this bizarre 20+ hear old Mitsubishi minivan that was somehow converted to 4×4, with comically large tires. We had a 15 minute drive out of town, past Kolmanskop, before we turned off the highway onto the gravel road that entered the restricted area (Sperrgebiet). This is a huge chunk of coastal land that is controlled by a few diamond mining companies. Its mostly comprised of sand dunes, and rocky mountains, which reminded me a lot of the desert in Arizona. While we weren't permitted to go near the currently actively mined area, we could go everywhere else, which is nearly 150 miles of roads. We ended up stopping to explore 3 different ghost towns and 2 mining camps which were over 100 years old, and originally built by Germans. In many ways they reminded me of the ghost towns that we've seen at home, with tons of broken glass & rusted metal artefacts scattered about. But they were also different in that nearly everything was constructed from brick or concrete, and had electricity too. There was also the Kolmanskop effect, where nearly every room in every building had sand dunes accumulating inside. Also it was ridiculously windy. As a result, the buildings were often in poor condition. If the wind didn't tear off the tin roof, or blow in the doors or windows, the blasting sand was eroding what remained. Also the first ghost town had a mountain range behind it which was composed entirely of sand polished blue marble, which was gorgeous. Only a diamond mining company would completely ignore a marble quarry. We also passed through a valley that had been so heavily mined over the past hundred+ years, that all of the sand had been completely removed, exposing the bedrock for the entire floor of the ~4 mile long valley. It looked awful, and of course nothing could grow there now. We stopped for lunch at the largest ghost town, Pamona. At its peak the town had over 2000 residents, a school house, and a bowling alley. The lunch was decent, with potato salad & schnitzel (ahhh, to be with Germans), and cold drinks. The last major stop was at Bogenfels arch, which is a massive rock arch the juts out from a a cliff overlooking the Atlantic. I had seen a few photos online and ignorantly assumes the arch was maybe big enough to drive a truck through. I was off by an order of magnitude. Its 180ft tall. After the arch, it took about 90 minutes to drive all the way back to Luderitz. I had a really enjoyable time.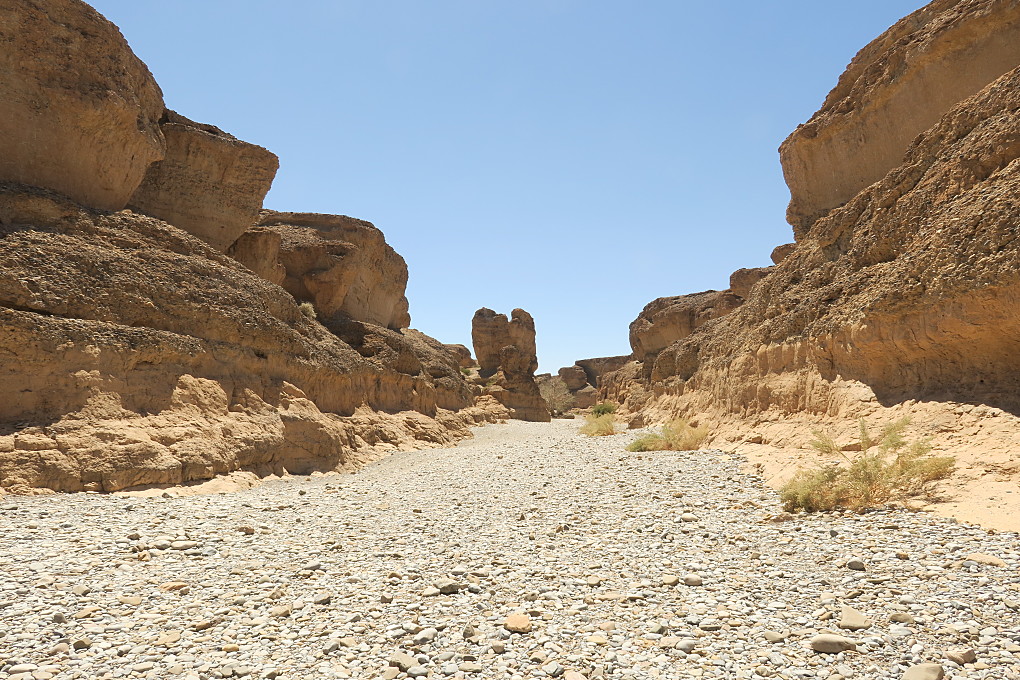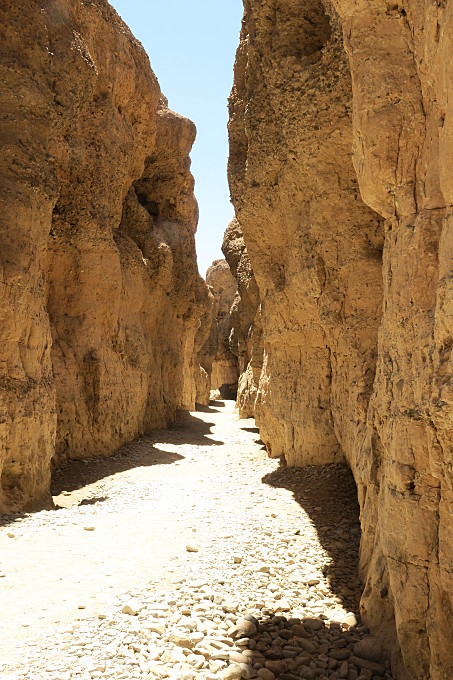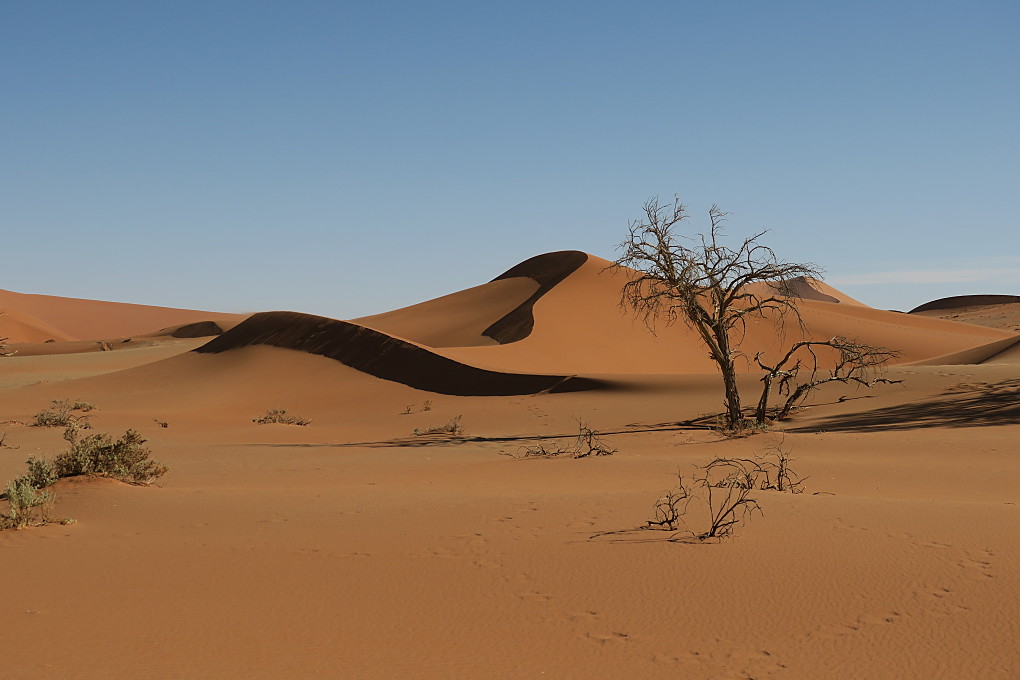 I drove out to Kolmanskop for the 9:30am tour, and they had the front gate open at 9am. There were already several other groups parked. Whenever i read trip reports, i got the impression that the site was still this obscure gem that few people visited. however, even if that was the case at one time, its no longer true now. They have a visitor center with a museum, gift shop, cafe and bathrooms. The parking lot could easily hold 100 cars. they offer simultaneous tours in English & German with 2 different guides. Prolly 75% of the people there today took the German tour. Even so, there were 12 people in my English group. The tour itself was ok, but not terribly interesting. The guy had clearly memorized a script, including some awful jokes. We went inside just 3 buildings, the community center (which had auditorium, bowling alley and banquet hall), the general store, and the butcher/ice factory building. Once the 30 minute tour was over, we were able to wander freely. The other buildings were in really bad condition, and i don't mean decay, but defaced with graffiti from tourists. People had carved into the walls, doors, and even the remaining glass window panes. I still tried to take some good photos, but it was disappointing and frustrating. I'd say the only interesting highlights was hiking to the top of the hill to see their in-ground swimming pool, and exploring the 2 story guest house. Other than that it was a lot of disappointment with the graffiti, plus attempting to get photos without other tourists wandering through. As a side note it was ridiculously windy this morning, such that i got a face full of sand whenever i was walking around outside. I guess overall i was happy to have seen the site, but it also made me appreciate the ghost towns that i saw the previous day. They were in many ways so much better, plus i didn't have to deal with hordes of other tourists. Once i finished exploring, it was 11am, so i had some lunch, and started driving. when i passed through Aus, i filled up on gas, which took 30 minutes because even though they had 4 pumps they were only using 2. After that, i turned north on a new road, and i was driving off pavement for the next 4 hours. Much of the route was incredibly scenic. For a while i had massive dark rocky mountains running beside me on the right, and huge red sand dunes in the distance on the left. Eventually the dunes got closer to the road, and it started to turn to deep soft sand. I had a few brief scares where i started to lose traction, but i powered through and never needed to enable 4wd. I also saw a lot of oryx running wild. At one point several ran across the road ahead of me, and then ran along side the truck for about 10 seconds. As the afternoon wore on, the sky started to cloud over, although it never looked like rain. I think i saw maybe 10 other cars the entire 4 hours that i was driving off pavement. When i got to the junction that was 20km from where i'm camping tonight, i saw the first 'town' since i got gas about 4 hours earlier. I did pass a few random wilderness lodges, but they were very far from the road, all i saw was the sign for the gated entry road. Its kinda crazy how empty it is here. The place where i'm camping (Duwisib Guest Farm) is next door to this stone castle (Duwisib) that was built by this German baron for his wife who never saw if because she died in Germany before ever coming to Namibia. At the moment, there's an older german couple in the campsite beside mine.
Overall the first night of camping did go well. When i first picked up the truck they did a demo of everything, but there were like 4 dozen things to remember. But i kept thinking, there's no way that i'm going to remember half of this stuff. Thankfully the stuff that i forgot, i was able to figure out. Its hard to describe, but the way it works, the bed (which is a thick foam mattress) occupies about 75% of the total length and sits at roof level. and the rest is a 'room' which drops down into the bed of the truck. So i have a small ladder to climb from the ground into the room, then a 2nd ladder to climb up into the bed bunk area. There are zipper screen windows, similar to a tent on 3 sides of the bed. i've got 2 not awful foam pillows, and a sleeping bag, which unzipped fully to use as a blanket. Last night i left all 3 windows unzipped, assuming that i'd be warm. However, the temp dropped down to 13C, and i ended up cold for much of the night. I do have a 2nd sleeping bag, so in the future, i'll close the windows, and keep the 2nd bag handy, and i think that I'll be ok. Granted its currently 33C here in Sessriem, so it might be sweltering tonight. The length of the bed is ok, about 6ft.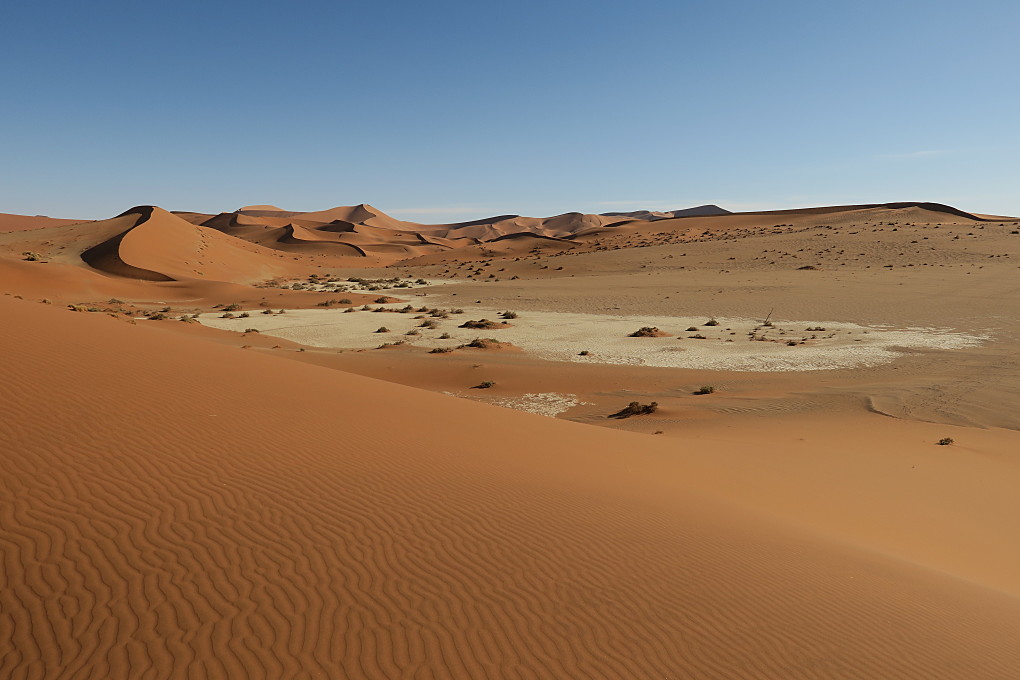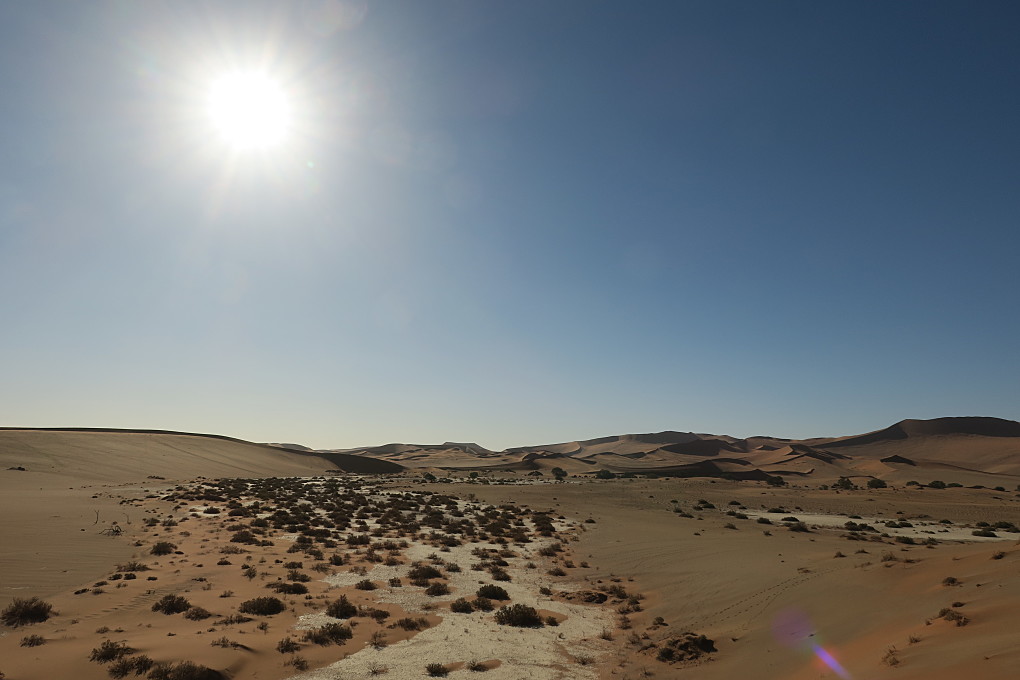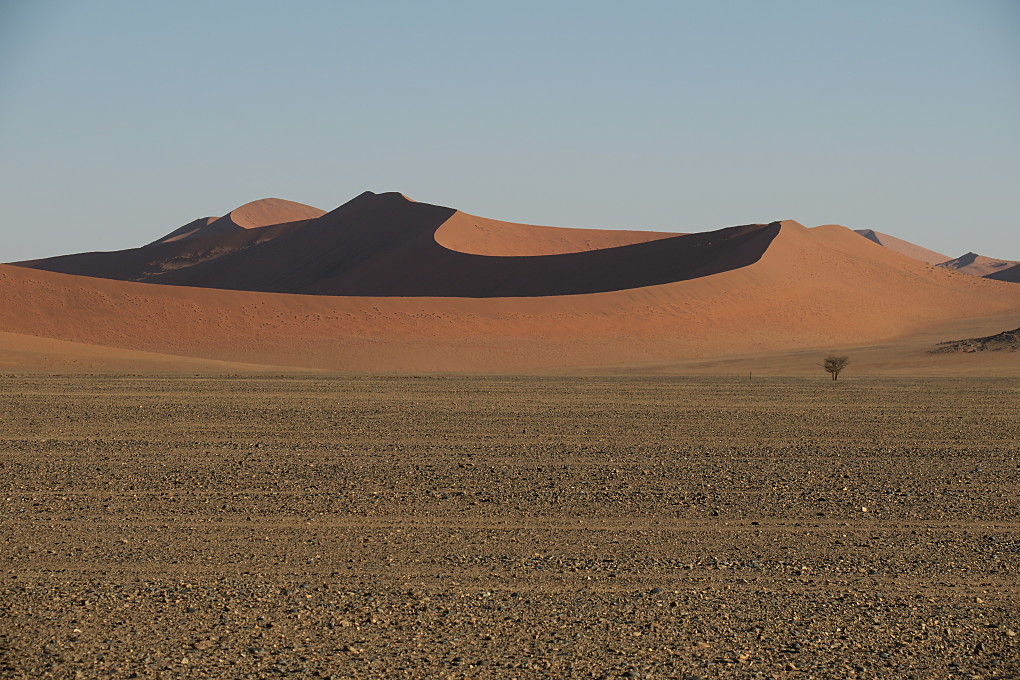 the guest form served dinner at 7:30pm, which was way later than i preferred, but it was either that or cook my own, i got lazy. Thankfully it was really good. Dinner was served family style, with all the guests, plus the owner of the farm sitting at one long table. It ended up being me, the owner, and 2 guys from northern Germany (near Hamburg). The germans were on their 4th trip to Namibia. The food was roasted carrots & potatoes, this Namibian meatloaf made from oryx meat which was called babootie, shredded beets, white rice and this thing they called goulash, which looked like a thick brown stew with lots of onions and chunks of oryx meat in it. The meatloaf was absolutely amazing. The goulash was meant to be put on the rice, and it was also delicious. As we were eating the owner of the farm was telling Us that his father emigrated from Germany to Namibia in 1938. He was born in Namibia, and has lived there his entire life. He bought the current farm in 1987. He mentioned that he very rarely has American guests, and the previous one was about 7 months ago. Of course every time someone learns where i'm from they mention Trump, and i have to apologize. Oddly, no one seems to know that election day is next week, and they're always pleased to hear that the end is near. Dessert was this weird yellow pudding with canned peaches on top. I think its some Namibian or south african thing, as i've seen something matching that description on a few restaurants dessert menus. I finished dinner at 9pm, and then walked all the way back to the campground, and went to bed. I woke up at 3am to use the toilet and the stars were amazing. Possibly better than in death valley. unfortunately the stupid roosters started making noise not long afterwards.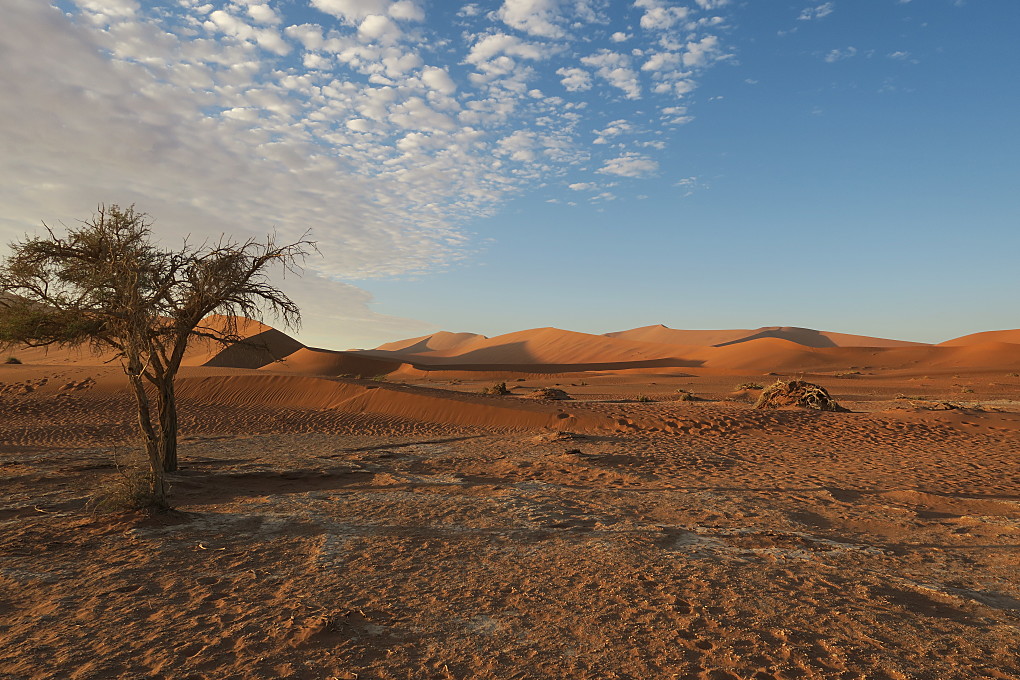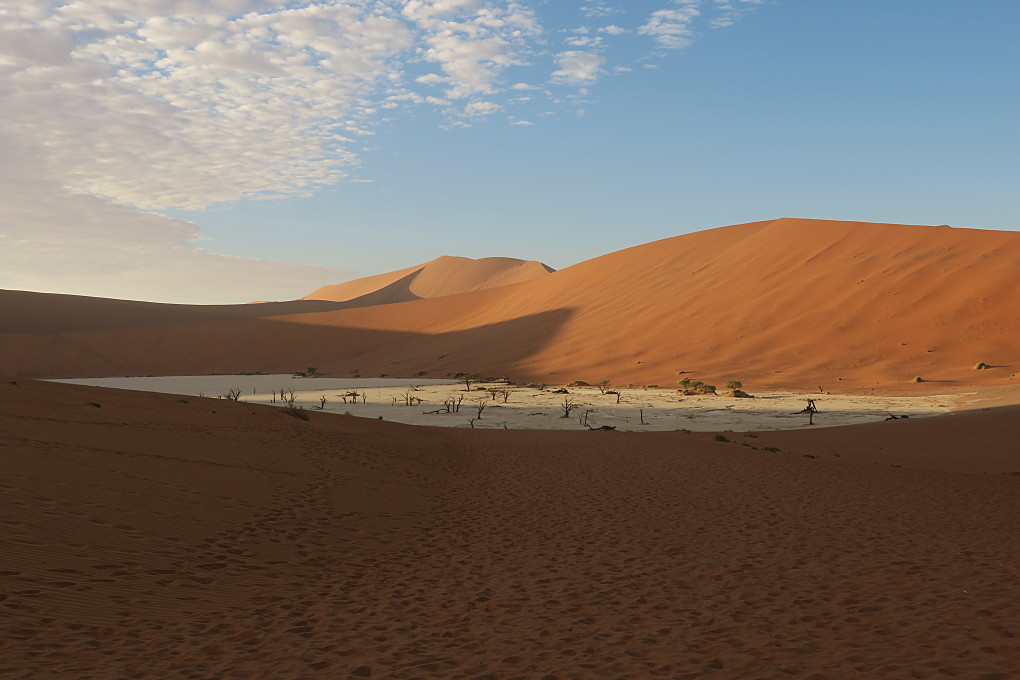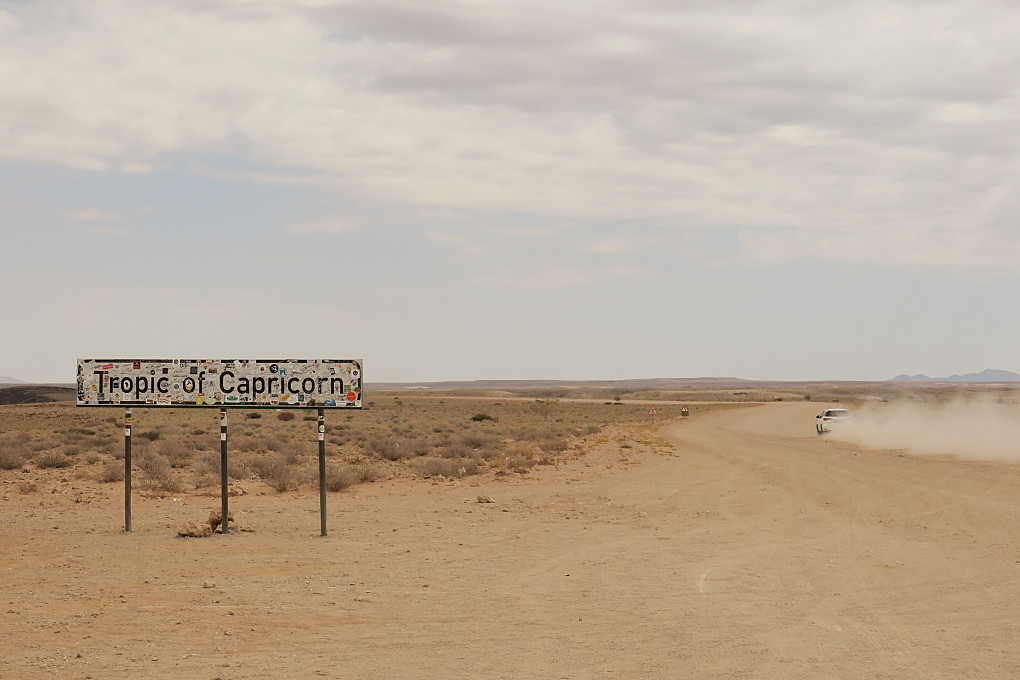 I was up for the day at 6:30, got everything packed up, and was on the road by 7:30. i filled up on gas in the first town, and the rest of the morning was spent driving. The scenery was absolutes amazing. Lots of rugged dark ,mountains with sand dunes in multiple colors (gray, tan, red, white). I also saw a lof of oryx both near the road, and way off in the distance. I could tell that i was getting close to Sessriem when there were lodges and campgrounds almost one after another. I pulled into the campground (which is inside the park gate) just before 11am, and got my campsite assignment. Then i drove a few minutes down this awful washboard road to Sesriem Canyon, which is a nice, relatively short slot canyon. I did the entire hike (out & back) in about 45 minutes, then made lunch. Afterwards, i refilled on gas, went to the ATM, and finally returned to my campsite, where i've been for the past 2 hours. I'm planning to drive out to the huge dunes (about 30km into the park) around 4pm to catch sunset, then come back, make dinner and go to bed. I've technically got until 8pm to get back to the campground tonight. The road then re-opens at 5:15am tomorrow, which is when i plan to drive the 60km to Deadvlei and Sousasvlei. after i caught up on emails, i read for a bit, but it was so hot, that even when sitting in the shade of a tree, i was cooking. I moved to the park restaurant, which didn't have AC, but had a real roof which did a better job keeping the sun off of me. At 4pm, i drove the park road to the end of where its paved, which was actually paved for the first 50 of 60km. The drive was nice. The road basically runs up the middle of a long valley with massive 1000+ft dunes on each side. The closer i got to the end of the paved road, the closer the dunes got. At the end of the paved road is a gravel parking lot, and the dunes are on the other 3 sides. The road technically continues for another 10km through the dunes, but more on that later. the dunes were really pretty pink, red & orange. I parked the truck, and started to hike out into the dunes. This may not have been my smartest decision, as it was still quite hot, and i was wearing sandals, so the hot sand was scorching my feet too. I did bring water & a hat, so i wasn't completely stupid. I hiked for about 30 minutes, up and down some huge dunes, cursed the heat, and turned back. My original plan to stay out there until sunset didn't work out, but it was still pretty. I then made the drive back to my campsite, setup the tent, and rushed to prepare dinner before it got dark. I'd say the one downside to having this all-in-one truck setup is that i can't set anything up if i'm planning to drive somewhere. Anyway, i made cheddar rice with sauce & vegetables for dinner, and it was yummy. I finished eating just as it was starting to get dark, which sucked, as i had to cleanup with the light of a lantern. I finally got everything done by 8:30pm, and went to bed. Of course if wasn't chilly at all, and i laid there for quite a while until i fell asleep. Also people in other campsites were noisy.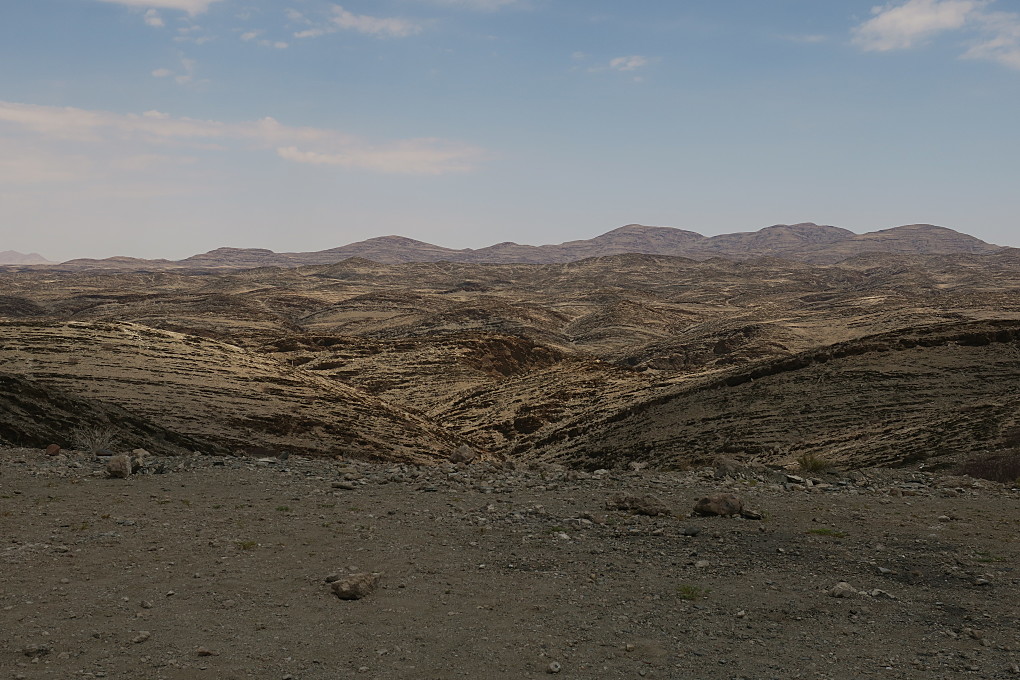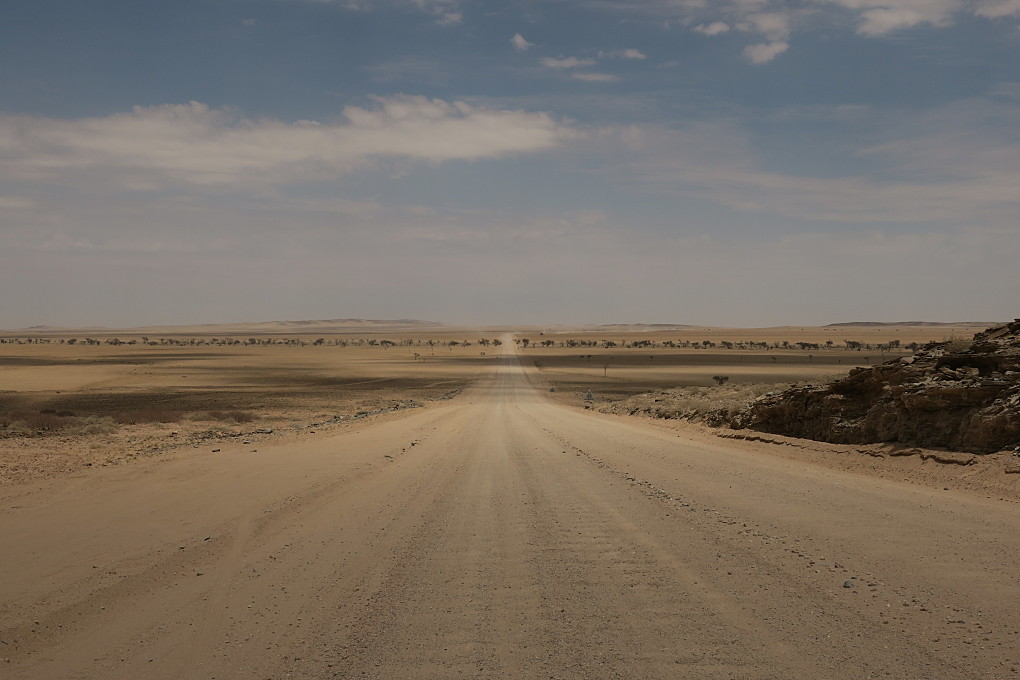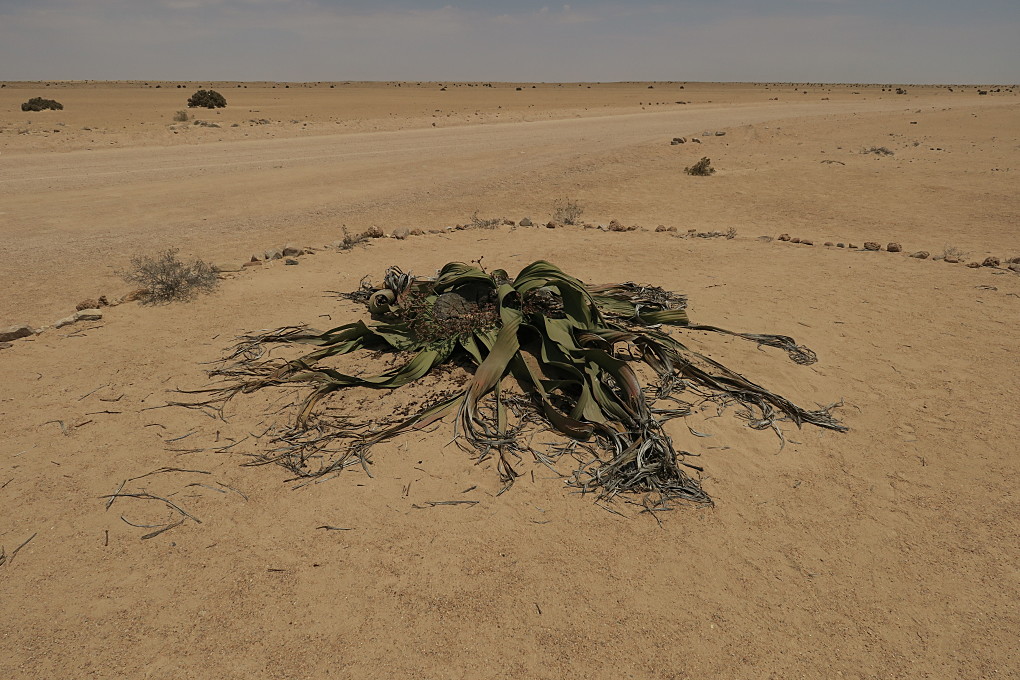 I set my alarm for 4:15am, because the park road was supposed to open at 5:15am, and i wanted to get out to Deadvlei at sunrise, and hopefully before the hordes got there. Of course my plans don't always work out as intended and this morning was a bit of a disappointing mess. First, i woke at 3:45am for no good reason, and once i checked the time i figured i'd just get up for the day rather than laying there for another 30 minutes. The only good thing about getting up so early was that i got to see the stars, and they were amazing. I could clearly see the Milky Way. Its a good thing that i did get up when i did, as the people in the next campsite were both noisy, and shined their ultra bright headlamps (which i forgot to bring, btw) in every random direction. I got packed up and ate breakfast in 40 minutes, so i pulled out and figured that i'd just park in the line that i assumed was already queuing to get on the park road. apparently the opening time is just a joke, there was no line, and cars were driving through. Keep in mind that it wasn't even 5am yet, it was still completely dark, and there are wild animals theoretically wandering around put there. I figured i'd just closely follow the car ahead of me, he'll hit the 600lb oryx instead of me. That plan worked fine. By the time that i got to the end of the road it was nearly 6am, and the sun was just barely peaking over the dunes. So you know how i mentioned that the paved road ends where the dunes all meet? The last 10km is a sand road, through the dunes, out to Deadvlei. The sand road is restricted to 4×4 vehicles. Anyone who doesn't have a 4×4, has to either hitch a ride with a generous stranger, or pay N$300 for the park shuttle. So i'm convinced that i can surely do the drive on my own, as i have a truck that is 4×4. I'm an idiot. I made it maybe 1/3 of the way before i got completely stuck in the sand. I managed to back up maybe 20ft at one point, but then i couldn't move at all. While i'm sitting there cursing my stupidity, another truck comes along, and gets itself stuck too, maybe 30ft in front of me. Then a 3rd truck gets stuck 20ft behind me. Its starting to look like a foolish tourists graveyard. Then one of the park shuttles comes by (on his way back to the parking lot to pick up more people). He stopped, got out, and drove 2 of the 3 stuck trucks (including mine) to the side of the road (with people pushing, because they were quite stuck). The 3rd stuck truck managed to dig in so deep that he couldn't get them free, and he said they, might need a 4×4 tow. Btw, in case its not already a given, the other stuck people were German. We all then got in the shuttle, and he attempted to drive us the rest of the way. I say attempted, because he drove maybe 100ft, and then the shuttle got stuck too. But he clearly knew what he was doing, let more air put of his tires, and got unstuck. Once we got tot the end of the sand road, we all got
out, and hiked out to Deadvlei. It was 2 dunes over, so it took maybe 20 minutes to get there. It did look awesome me, like in so many photos, but this cluster of clouds moved in, blocking the sunrise. So all of this effort, and lost sleep to get out there for sunrise was a waste. Also, the time that i wasted getting stuck allowed enough others to get there before me, so there were tons of people wandering around, further ruining my chances for some food photos. Despite all that, i'm still glad that i got to see it in person after so many years. And i've learned a lesson, never to attempt to drive in sand again. After that, i caught the next shuttle, back to the truck, managed to drive it back to the paved road, and then all the way out of the park by about 8am. You know how i've mentioned that i haven't seen any children, and no one is driving on the roads? All of that changed today. I saw lots of kids at Deadvlei. And there were easily 10x as many people out driving today than i'd encountered in the past week. my theory is that i've finally hit the tourist trail. Apparently almost no one visits southern Namibia, yet everyone drives between Windhoek and Sesriem, and i'm assuming Etosha. That said, its not like i had a traffic jam. But it was rare to go more than 5 minutes today without seeing another car, where earlier i went over an hour at one point without seeing anyone. my drive today was also quite different than the past week in other ways. The roads (which were still unpaved until the last hour coming into swakopmund), were in awful condition, with tons of severe wash boarding. I'm guessing that's due to the greater traffic levels. But also the scenery and terrain was quite different. Instead of driving through broad flat valleys with distant mountains or dunes, it was quite hilly almost the entire day. Plus the road was no longer straight due to all the hills, which meant that i couldn't even drive at the limit (80kph) much of the time. just before 10am, i pulled into the 'town' of Solitaire. Its really just a fancy rest stop, with a gas station, motel, restaurant & bakery. Its the bakery that has made it famous, as they claim to have the best apple pie in Namibia. I'm unsure how much competition there is for that claim, but i wanted to try it. Its not so much apple pie as an apple crumble, but it was pretty good. I also bought a few other baked goods that looked good, and had an early lunch. Afterwards, i filled up on gas, and got back 0n he road. About 3.5 hours later, i got to the turn off for the Welwitschia plant drive (which is about an hour east of Swakopmund). I've seen photos of this plant, and it looked like the desert equivalent of a Charlie Brown xmas tree. I can now say from personal experience, that it isn't any more impressive in person. Once i finished up looking for sad plants, i drove into swakopmund, made a brief stop for gas, and got to the B&B. Also, similar to Luderitz, being on the coast, ifs dramatically cooler here. The b&b is nice, and my hot shower was awesome.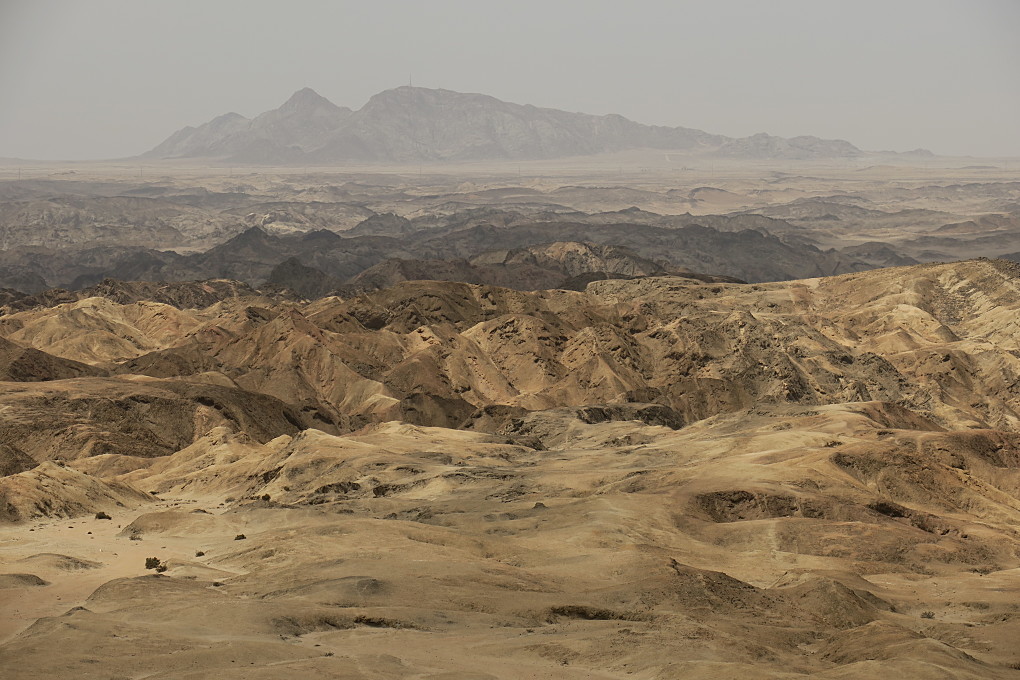 Hundreds of other photos from the trip are posted HERE. You can read about the second half of the trip HERE.