I've just returned from spending nearly three weeks on the east coast. Most of the time was spent in New York City & Washington DC, although we did spend a little time elsewhere. It was a rather nice trip, as its been many years since I spent any significant time on the east coast. Rather than detailing everything that we did & saw, day by day, I'm primarily going to touch on the stuff that stood out in one way or another.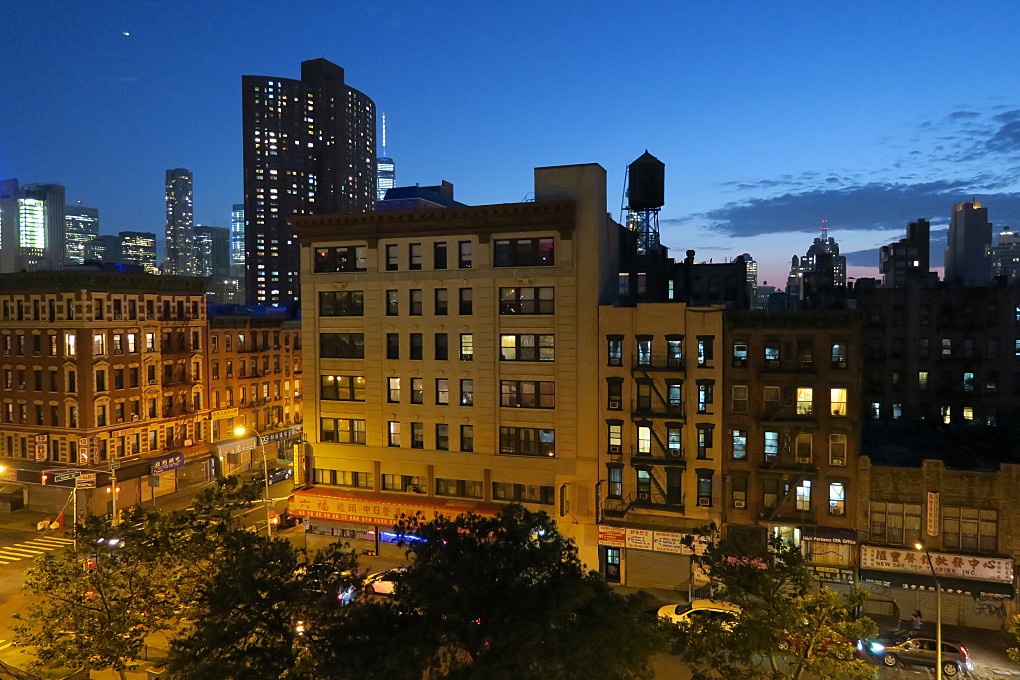 This was our first trip where we used AirBnB in any significant way. We stayed in one place in South Korea last year, but on this trip, every place we stayed was AirBnB. Overall, it worked out quite well, although some places were definitely better than others. In NYC, we stayed in a studio loft in Manhattan, on Orchard Street. The location was awesome, although at times frustrating, as the majority of things that we wanted to see or do were often not in that neighborhood. However, that's my fault for not thinking more about finding a centralized location. The place was basically on the border between China Town and the Lower East Side. This made for an incredibly vibrant neighborhood, with tons of places to eat & drink, lots of wacky hipsters everywhere (with absolutely ridiculous art galleries & shops), and interesting Chinese businesses too. The studio itself was also quite nice & comfortable, and made a great home base for an entire time in the city.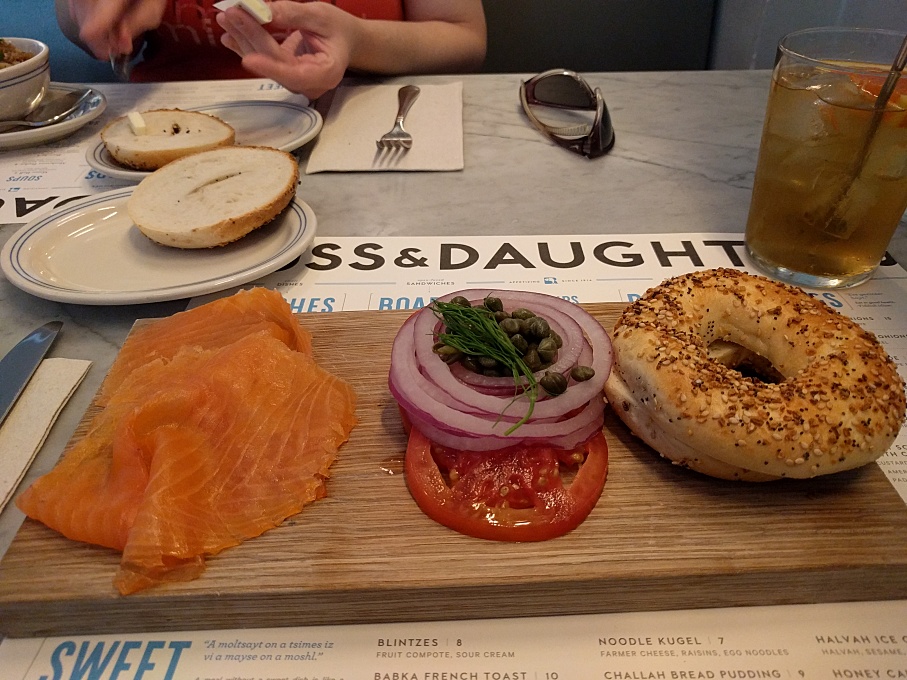 One of the (numerous) things that I've missed most from NYC is the Jewish food. Being based on the Lower East Side solved that problem right quick, as we were within easy walking distance of several legendary eateries. We actually spent half a day doing our own food walking tour to hit all the best places. This included Katz's Delicatessen, Yonah Shimmel's Knish Bakery, Kossar's Bagels & Bialys, and Russ & Daughters Cafe. We ended up going to Russ & Daughters for lunch twice, because it was just that good. We ordered so much food there (including the spectacular chocolate babka ice cream sandwiches).
We ended up going to four different Broadway shows (and eventually wishing we had time for more). Something Rotten (which was amusing, and fun, but mostly forgettable), Phantom of the Opera (which was visually stunning, but at this point old news), Hamilton (absolutely amazing, not enough words to describe what a tremendous experience it was), and Fiddler on the Roof (sort of disappointing, especially compared to the others as the production felt borderline amateurish).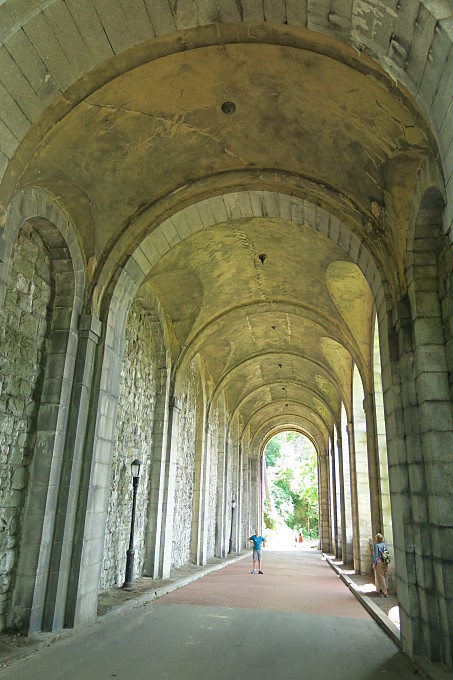 We hit all the big museums. The MET, as always, a great way to spend the day, with something for everyone. The Cloisters was beautiful. I had been once before as a child and remembered very little, until I entered the room with the unicorn tapestries and it all came back to me. Plus Fort Tryon park is beautiful this time of year, and we got to wander around & explore. The Intrepid was another place that I had been as a child, but it didn't hold up. I remembered it to be much bigger & grandiose, and was mostly disappointed. It didn't help that it was brutally hot & humid that day, and large chunks of the ship were miserable as a result. American Museum of Natural History was an odd mixture of awesome & sad. The dinosaur halls are still truly awe inspiring, and they've put a lot of effort into beefing up the supporting exhibits to make them even better than I remembered. However, much of the rest of the museum is just hall after hall of large dioramas, full of stuffed animals, or worse fake plastic & fiber glass creatures (although, I'll admit the great blue whale hanging from the ceiling is still impressive, even if its completely fake). I guess I'm jaded from seeing many of the real animals in the wild, such that my 10 year old self isn't impressed any more by a herd of elephants or polar bear inside a building. The Statue of Liberty & Ellis Island were great. As a child, I vaguely remembered climbing up to the crown on this cramped spiral staircase, and then experiencing the sheer awe of looking out on NY harbor. I made sure to get us crown tickets (that's now a thing, since 9/11), and the first ferry of the day, so that we didn't have to deal with massive crowds & waits. It worked out perfectly, as we basically had no one else in front or behind us on the staircase, and took our time. Even so, we all expected the climb to the top to be significantly longer & more strenuous then it turned out to be.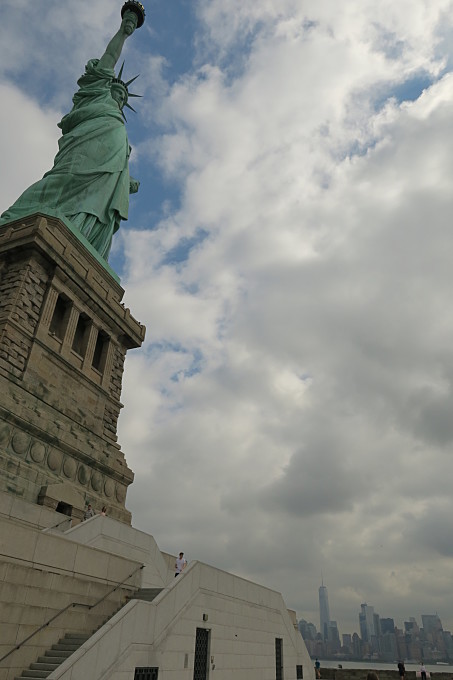 The High Line was one of the few things that we did in New York that I had never done before (because it didn't exist when I was a child, and I hadn't been to NYC since it was created). Its definitely worth all the hype, as its this magical mix of nature & urbanity in a way that no other park I've ever been to can match. We spent a morning casually walking the length (from north to south), and it was so much fun. It was like exploring this new world, with the views, the plants, and the sites & sounds of Manhattan. In a way, its becoming a victim of its own success, as in many places it was so incredibly crowded with other tourists (and we're guilty there too). Granted, its still a relatively new attraction, so hopefully with time it will become less of a tourist draw, and the locals will be able to enjoy it without fighting for elbow room, not to mention serenity.
In addition to the lower east side food extravaganza, we ate at a number of other stellar places (and one huge disappointment). The disappointment was Eric Ripert's Le Bernardin. We went with very high expectations, and left disappointed. I'm not sure if we went on an off night, or what, but the service was often amateurish, the food ranged from mediocre to amazing, and it simply didn't hold up as what we'd consider a three Michelin star dining experience. We did have one dish which did stand out as stunning, which was poached salmon, which we agreed was easily the most amazing salmon we've ever had.
The good/great places that we ate included Marea (fantastic high end Italian seafood, with top notch service), Xi'an Famous Food (delicious, flavorful, creative & fresh Chinese food), Sushi Nakazawa (the claim to fame is having the apprentice, now chef, from Jira Dreams of Shushi, and its oh so worth it, as they prepared us the most amazing sushi I've ever had), NY Pizza Suprema (high quality, authentic NY pizza), and Dirt Candy (making vegetarian food sexy & delicious, the Korean Fried Broccoli is a rockstar).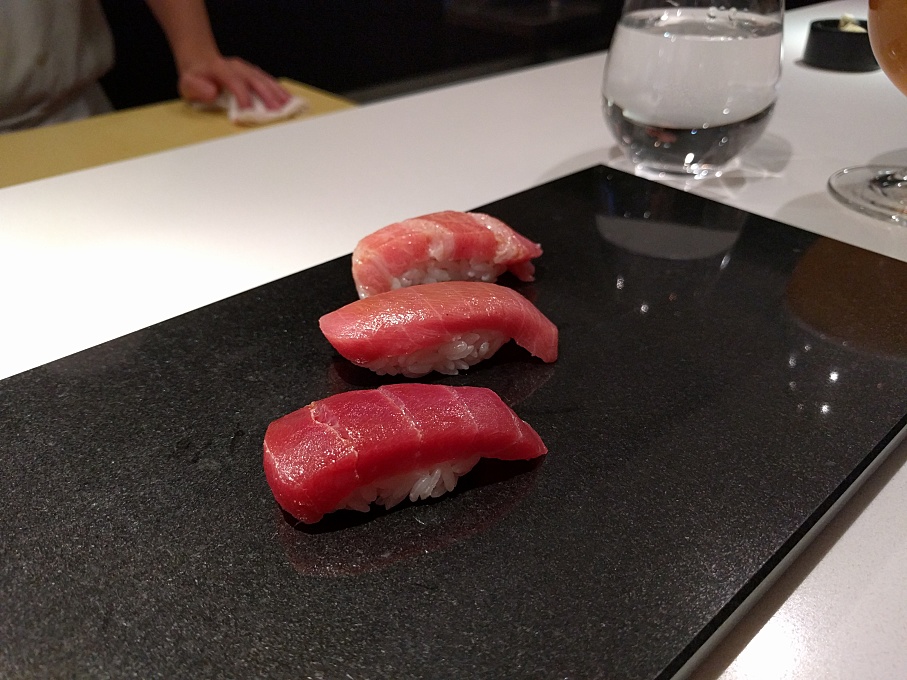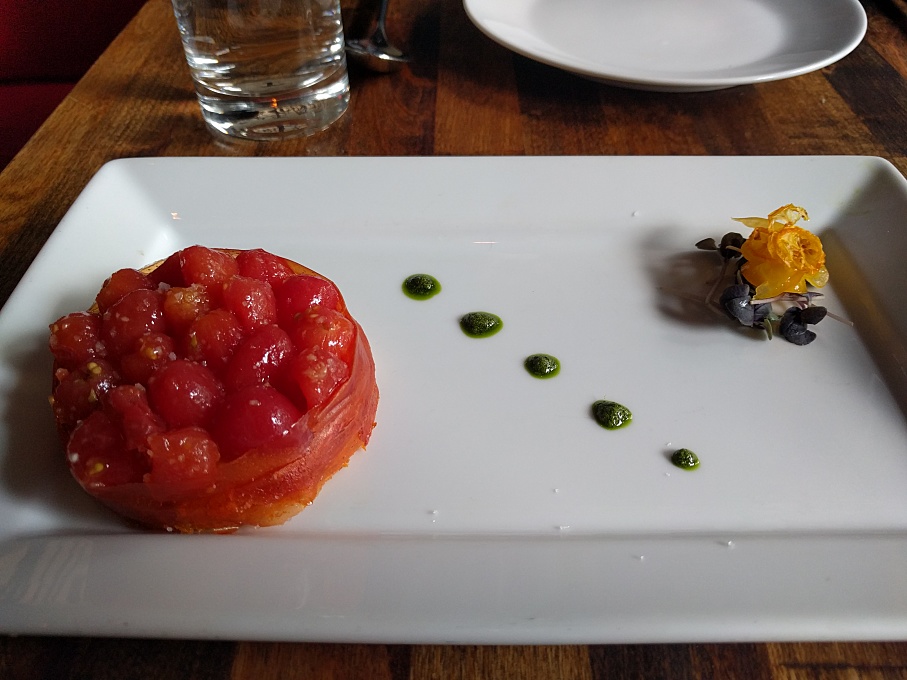 After our time in NYC, we rented a car, and drove up to Troy NY, to visit my alma mater for the weekend. The drive up the Taconic was great, although I remembered there being far less traffic in the past. This was the first time that I had returned to RPI since I graduated back in 1998. For the most part, not much had changed beyond the massive renovations of the student union, and a new building at the campus's southwestern edge. My only disappointment was that all the buildings were locked, with the exception of the student union. I was hoping to be able to revisit some of my old haunts, but it was not to be. Despite that, we still walked the entire campus, and also revisited Denise's old apartment.
We had a bit of undesirable excitement that evening, as we were driving out to our AirBnB, just over the stateline in Vermont. I was driving east on state route 7, when the hood of the car suddenly popped open, and smashed into the windshield. Thankfully there wasn't much traffic at the time, and I was able to quickly pull off the road. Amazingly there was only some minor cosmetic damage, and I was able to close & latch the hood again. The car rental company was not much help, telling us that we'd have to drive the car nearly an hour in the opposite direction to exchange it. We opted to slowly & carefully finish our driving that evening, and then return the car the following morning. That night turned out to be the worst of the four AirBnB properties where we stayed, with the host MIA, and mouse droppings all over the place.
The next morning we exchanged the rental car, and then drove back south to Yonkers. I spent time visiting the gave sites of my grandmother & father.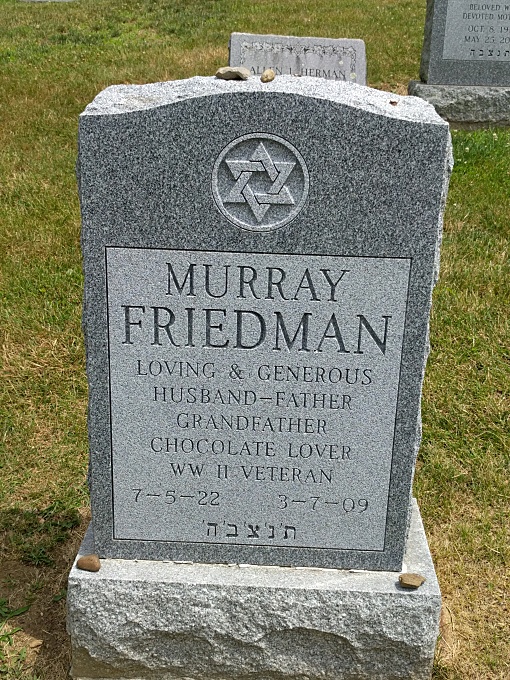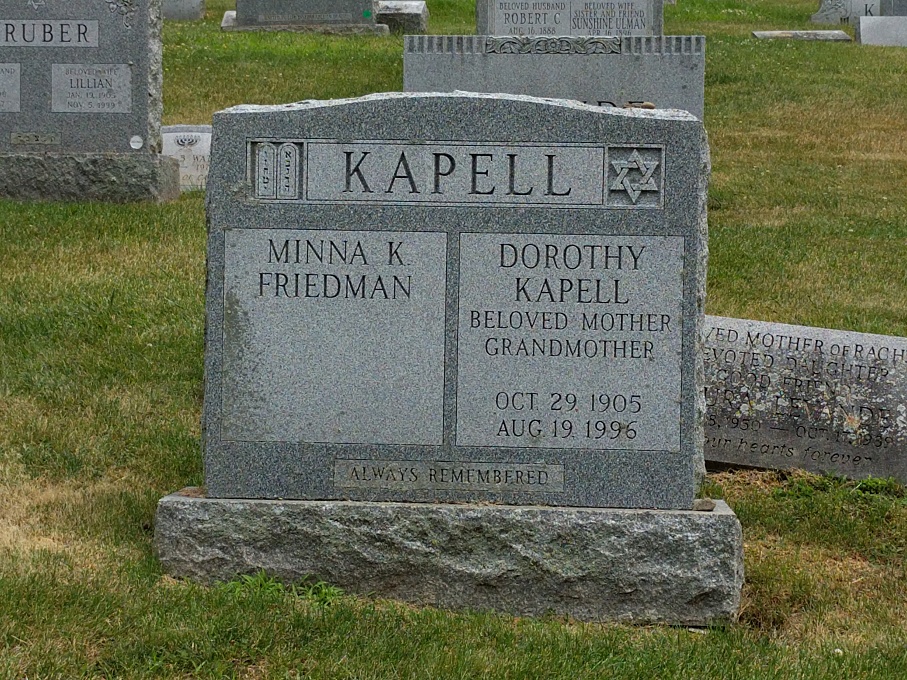 Our drive down to Washington DC was uneventful (and even took much less time than I expected on the dreaded New Jersey Turnpike). The weather during our time in DC was the dreaded hot & humid, with occasional showers. The AirBnB was a gorgeous, modern apartment, in the gentrifying Shaw-Howard neighborhood. Much of our time in DC was spent visiting the famous museums, monuments & memorials. David & I actually spent an entire day devoted to the monuments & memorials, as we walked & saw the Jefferson Memorial, FDR Memorial, out to Arlington, then to the Lincoln Memorial, Vietnam Veteran's Memorial, and finally the Washington Monument. Despite the truly brutal heat, we walked nearly 7 miles that day, and got to see everything we wanted.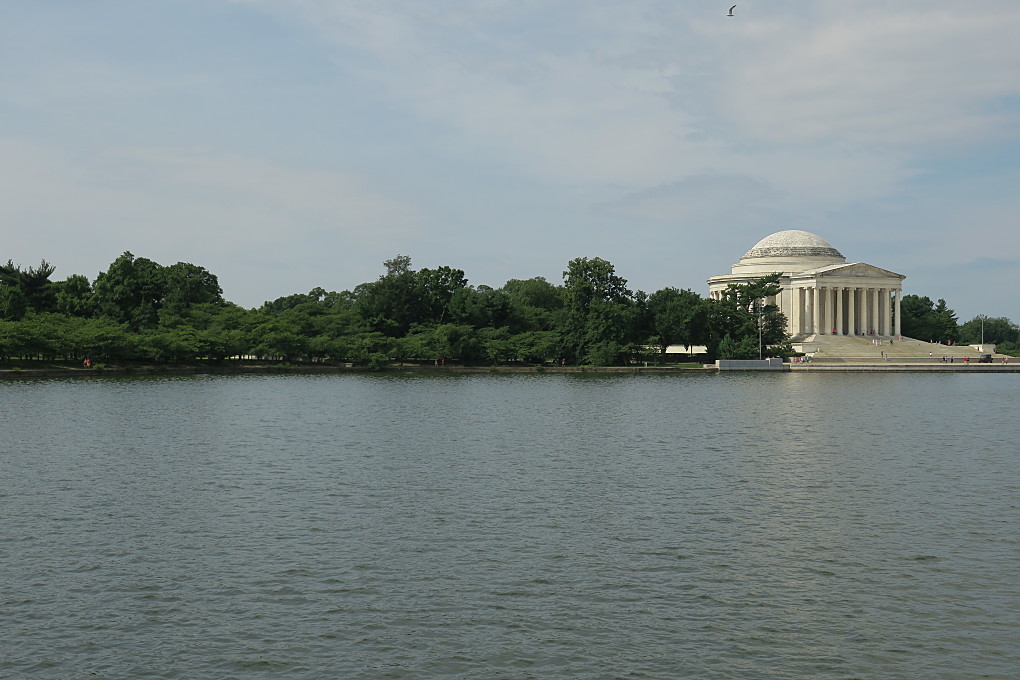 Perhaps the biggest pleasant surprise in DC was on our last day when we ended up visiting two museums as a last minute decision. First we went to the Hirshhorn Museum (the Smithsonian's modern art museum). While I enjoy most, or at least some modern art, David & Denise are generally not too enthused by it. This museum changed everything, as they absolutely loved it. After lunch we went to the Smithsonian National Postal Museum, which is pretty much what it sounds like. It was definitely a change of pace from super crowded museums, as there were likely less than 30 other people in the entire museum. It was interesting to say the least.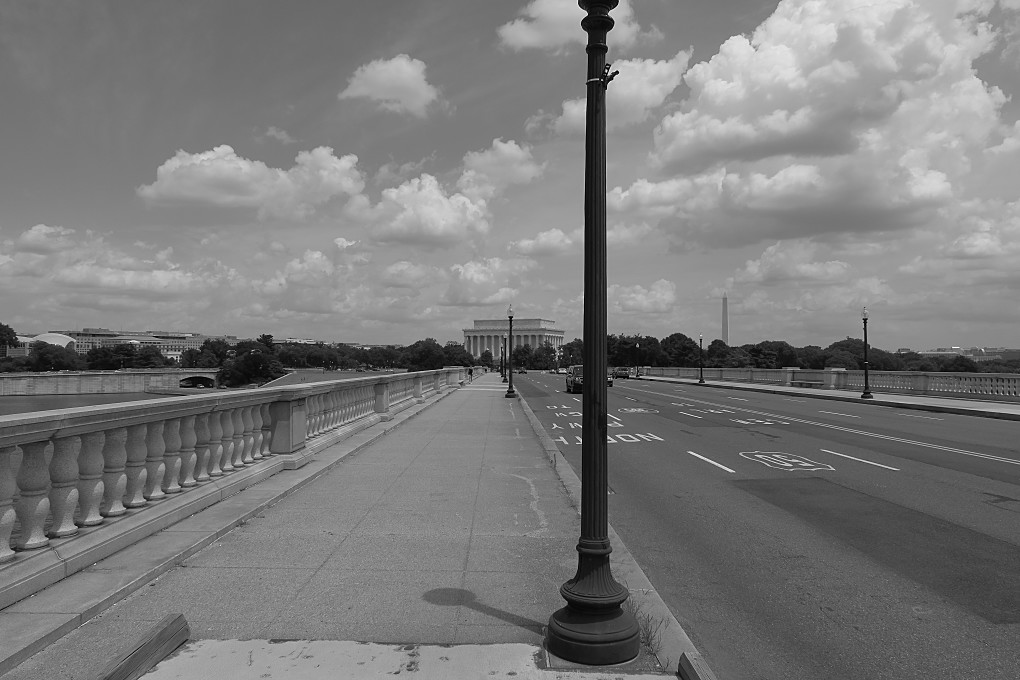 We also ate a number of really nice restaurants. Probably the two stand outs were The Red Hen (super friendly service, and delicious food) and Le Diplomate (incredibly elaborate menu, with great food).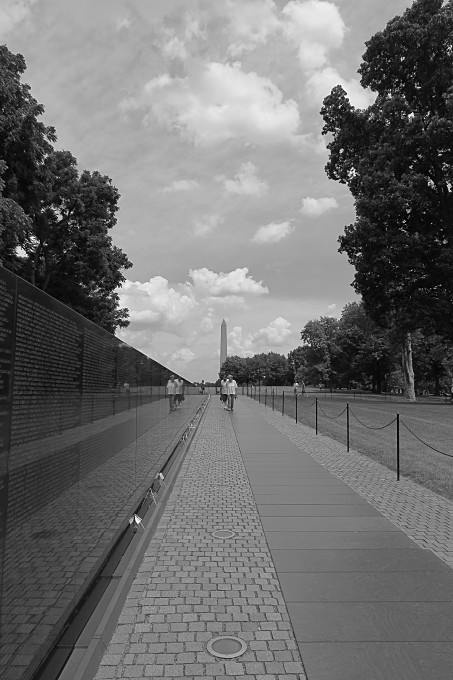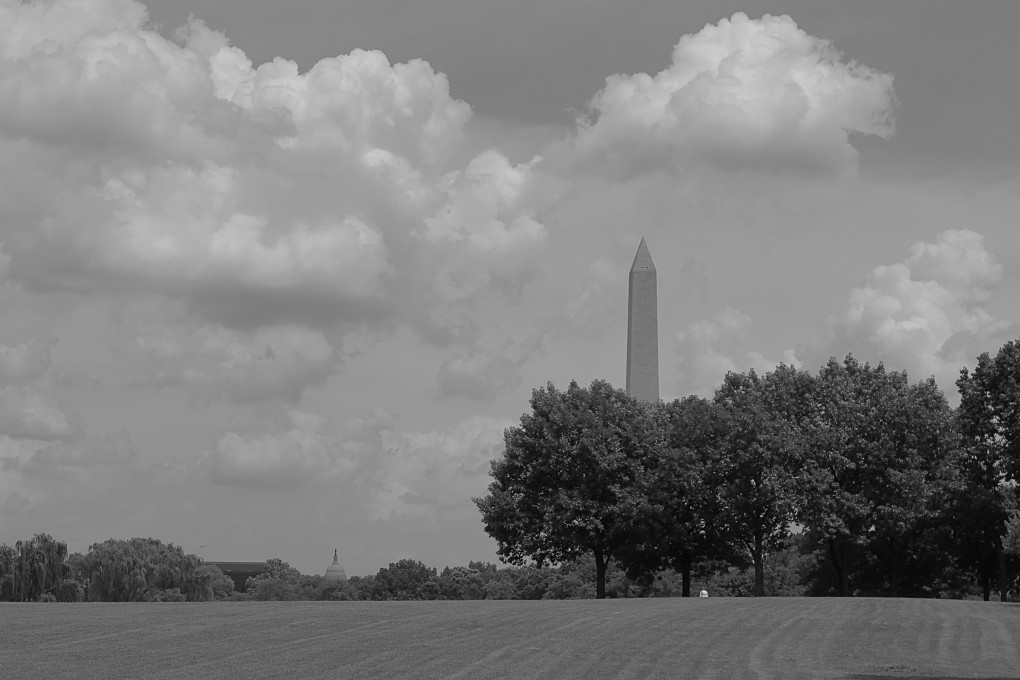 My flights home were mostly uneventful, despite some drama with my connection in LAX. We landed a few minutes late due to congestion approaching LAX, and then sat on the tarmac for nearly 30 minutes because our gate wasn't free. Then to add more stress, I had to change terminals via an airport bus. It all worked out in the end, but apparently LAX is always a chaotic mess, and is generally avoided at all costs. I learned that the hard way.
It was still a great trip, and a nice change of pace from the internationally focused trips that we've been primarily doing for the past few years.
All of the trip photos are posted HERE.