We spent the first half of February 2014 in the Philippines. The path to this trip was a rather bumpy one, as the Philippines was struck by several natural disasters in the months leading up to the trip. First was the huge earthquake in Bohol, and then the devastating typhoon which passed straight across the middle of the country. One of our booked hotels was actually completely destroyed by the Bohol earthquake, and we had to scramble to book a replacement. The typhoon was worrisome, as a number of areas that we intended to visit were impacted. Thankfully, it all worked out, and by the time we were in the country, there was little obvious remaining impact from the disasters. One area where we did luck out was the airfare, where ANA had an amazing sale into Manila (less than $900/person round trip), on their new(ish) SJC -> Narita Dreamliner route no less. Overall, it was a great trip to a part of the world that we'd never explored before (and receives relatively little American tourism, compared with other parts of Asia).
Flying internationally out of SJC was a significant change for us, as we've always started off at SFO. However, it worked out fairly well. The biggest plus was we saved well over $100 on airport parking, as we took VTA (light rail) most of the way to the airport, followed by the (free) airport flyer bus. That said, SJC is a sad, pathetic airport. It feels like some rural, airstrip, with relatively few flights. They have a grand total of two international gates. Thus, we had no difficulty finding the gate, and our flight departed on time. This was our first time flying ANA, and first on a Dreamliner (787). While I was quite pleased with the food on the flights, I can't really say that there was a significantly different or better experience on the 787. Sure, the windows are a bit larger, but other than that, it didn't seem all that different of an experience overall. We got into Tokyo-Narita about an hour early, which you'd think was a good thing. However the early arrival seemed to have completely screwed with some process, as they had no gate for us. We taxied around the airport for a good 20 minutes before pulling into a remote corner, and then having to get bussed a long distance to a terminal. Only then did we realize that we were truly screwed. We had to pass through security to transfer to our connecting flight, and the security line that we ended up in was an utterly broken clusterfsck. Somehow, they had just one working X-ray machine, yet three distinct queues, such that the security agents had to physically carry the possessions from two of the three lines over to the sole working X-ray machine. It was a mess, and as a result took an hour to get through the line. Once we did that, we had a bit of a hike to our gate. The flight to Manila was an an aging 767, and felt cramped and long (5+ hours). We landed a few minutes late (just before 10PM), and then had to stand in a very long & slow immigration line. Once we got stamped in, we were supposed to meet a driver (holding a sign with my name) to take us to the hotel for the night. However, the driver was no where to be found. I then had the added fun of trying to find a pay phone, getting Filipino peso coins for said phone, and figuring out how to dial the crazy long 14 digit phone number of the hotel. Once I cleared those hurdles, it was determined that the hotel sent the driver to the wrong terminal. Somehow, they thought we were arriving in terminal 1, even though we were in terminal 3. After waiting another 30 minutes, the driver finally arrived, and whisked us to the hotel in about 15 minutes. It was well past 11PM at this point, we had been awake for about 30 hours, and we were beyond exhausted. And to make matters more fun, we had to get up at 5AM to go all the way back to the airport to catch an 8AM flight to Tagbilaran (Bohol).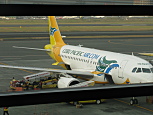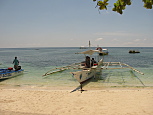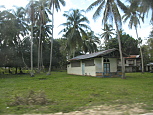 We woke super early, and got to the airport. Checkin at the Cebu Pacific counter went surprisingly smoothly. We'd read many horror stories about them imposing all sorts of ridiculous fees at checkin, and forcing everyone to pay extra for carryons, but we had no issues. The hour long flight to Tagbilaron was uneventful. This was, however, a really small airport. It was basically an airstrip surrounded by jungle, and a small building for the terminal. We exited the terminal searching for a driver to pick us up and take us to our hotel for the next 2 nights. Thankfully, we had no issues finding the driver, but it was over an hour's drive to the hotel. Traffic on Bohol was fairly bad, especially near Tagbilaran. The ride was scenic, passing through the city center (very crowded, urban), and then through rural areas of Panglao island, with coconut palms and rice fields. We were checked in without difficulty, and made arrangements for the next day's full day tour of Bohol. We then set out on foot to find lunch. The hotel was about a 10 minute walk from the beach, and there were numerous small restaurants along the road, and then lining the beach. We opted for one place on the beach, which was oddly mostly empty at mid-day. The food was decent, although they didn't have a number of items on the menu. Afterwards, we bought bottled water (tap water is most definitely not safe for drinking anywhere in the country), and then returned to the hotel to rest for a bit. Later that afternoon we were picked up to go kayaking along a river that was famous for huge swarms of fireflies at night. The drive out there was over two hours, partly because we had to stop to pick up two other groups enroute, and because we had to drive through 'rush hour' traffic in Tagbilaran. At one point we were stopped in traffic without moving for nearly 10 minutes. By the time we reached the dock at the river it was nearly dark. We were given a brief orientation, then escorted out to the kayaks. It turned out that the entire group was us plus the two other couples. Denise & I shared one kayak, and David had one of the guides sharing his kayak. The route on the river was about 2km each way, with numerous stops, and took about 90 minutes round trip. It was quite stunning. While the entire river wasn't covered in fireflies, specific clusters of trees were swarmed. It looked like a cross between very well synchronized Christmas lights, and a huge undulating blob of light. Once we were back at the dock, they had prepared an amazing dinner for everyone. There was soup, then roasted chicken with ground pork stuffing, coconut rice, assorted vegetables, and fresh fruit. This wasn't some reheated mess, it was clearly prepared fresh while we were kayaking. Afterwards, we had the ride back to the hotels. I was absolutely dreading another 2+ hour ordeal, but thankfully, the roads were much less congested, and we were back at the hotel in just under an hour (plus we were dropped off first). It was a long, but quite enjoyable first full day in the country.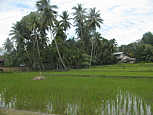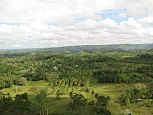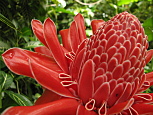 We awoke fairly early (4AM) the next morning, mostly because of jet lag. The hotel didn't serve breakfast until 7:30AM, so we had several hours to kill, which we spent mostly just relaxing. While the area around the hotel was fairly peaceful at night, during the day, there was a steady stream of noisy motorbikes, trucks & tricycles. The tricycles looked like scary death traps, little did we know that we'd have no choice but to be riding in them on more than one occasion later in the trip. The freshly prepared breakfasts offered by the hotel were some of the best of the entire trip. The traditional Filipino breakfast often includes freshly grilled fish, rice, fruit & vegetables. I had the milk fish both mornings, and it was excellent. Reminded me a lot of mackerel (dark, oily and flavorful). Once finished with breakfast, our driver for the day was waiting, and we got into his car. The way the full day 'countryside' tours of Bohol work, is that there are literally dozens of men with the same laminated card detailing the identical tours wandering around the touristy areas & beach front hawking the tours. The hotel basically just contracted out one of them for the day. Our driver did a good job for the day. He didn't speak much, basically just chauffeuring us around the island to the major tourist attractions. Over the course of the day, we spent time at the Bohol Butterfly Conservation Center, Chocolate Hills, Tarsier Sanctuary, Loboc Hanging Bridge, Loboc River Cruise, Python Sanctuary, Baclayon Church, and the Blood Compact Site. Well many of the stops were bordering on tourist traps, it was still a nice, enjoyable day. The earthquake damage from several months earlier was very obvious at both the Chocolate Hills and Baclayon Church (which was severely damaged). The visitor center at the Chocolate Hills was also severely damaged, with huge cracks in the walls (it was roped off), plus the view point had basically collapsed, and slid partially down the hill. The tarisers were kind of interesting, however there weren't very many of them, and they were difficult to view. Apparently the earthquake scared off many of them, and they are basically nocturnal animals, so they wanted to sleep during the day. The River cruise included a buffet lunch, which was ok, but it was mostly reheated food, and the quality was lacking. Still, the scenery was quite pretty (the river is mostly jungle, once outside of the town of Loboc). We were back at the hotel by mid-afternoon, where we rested up a bit. That night for dinner, we headed back down to the beach, where nearly every restaurant had an assortment of fresh seafood on offer. The way it worked was they had a huge table set out with several large ice filled trays that had different types of seafood. People would select what they wanted, and how they wanted it prepared, and would pay based on the weight, and then wander to one of the beach tables. We ended up getting two different types of prawns (one in garlic butter, the other in a chili curry sauce), a whole grilled fish, and a lot of rice. The food was absolutely amazing. Service was a bit slow, but the food was definitely one of the best dinners of the entire trip.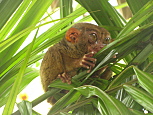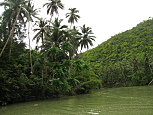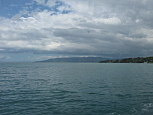 We awoke the next morning with a fairly relaxed day ahead. We were going to travel a grand total of 100 miles, in prepration for the following day, when we had a very long distance to cover. We slept in, got another nice breakfast, then lounged about for a bit. We had lunch down at the beach. Denise & I had buko (the whole coconut, with a straw in the top to drink the coconut water). Then checked out of the hotel, and caught our ride to the ferry terminal in Tagbilaran City. We needed to buy tickets, and then catch the 2PM ferry to Cebu City, which was less than 80 miles away on the neighboring island of Cebu. The ferry terminal was not quite what I was expecting, had taken a similar ferry between Finland & Estonia last May. The terminal in Tagbilaran was really just a bunch of tents & awnings beside the dock. It was unclear whether the earthquake was at fault, or if it was always this spartan. When we arrived, we got into one line under a tent to buy our tickets. The process was rather inefficient. We had to wait in one line to buy the tickets, then switch immediately to the adjacent line to get checked in for the ferry. Then we walked a bit further away and entered a huge tent, with several dozen rows of seats, and a few hundred people milling about. There are several different ferry companies operating, going to destinations all over the Philippines, so it was a bit chaotic to say the least. The process for announcing the departure of a ferry was mostly just some random guy standing near the far end of the tent screaming something in Tagalog. As the clock edged closer to 2PM, we assumed that the next ferry to board would have to be ours, so when a random guy started screaming, we headed over. They directed outside to a different awning area right beside the dock. After a few minutes, a boat pulled up, and a few dozen people got off. In a strange quirk of hyper-organization, we had assigned seats on the ferry. And the seats were cramped & uncomfortable, in a way that made many airplane seats seem luxurious in comparison. Thankfully the woman sitting in the seat beside mine eventually moved elsewhere when it became apparent that the ferry wasn't going to be full. We pulled out a few minutes late (better late than not at all) for the 2 hour trip to Cebu City. This route is notorious for ferry sinkings, as dozens died less than a year earlier less than 2km from Cebu City, when a ferry collided with a cargo ship. Thankfully, our trip was uneventful, if not a bit bizarre. First, they had a huge TV at the front of the ferry, which they initially used to broadcast prayers for a safe journey. We found this to be a trend in the country, as Cebu Pacific Air also engaged in prayer before take off. However, once at sea, they played a blatantly pirated copy of the movie Captain Philips. The fact that it was pirated was mildly amusing, but the actual movie was a truly bizarre choice. Seriously, a film about piracy on the high seas, while we're on a ferry? It was either a strange coincidence, or someone had a very dark sense of humor. Regardless, we arrived at the dock in Cebu City on time, and made our way to the front of the terminal to find a taxi to our hotel. It was sheer chaos out front, with taxis jostling for position, and people scampering about to catch an empty car. After a minute or two of confusion, we finally got one, and then engaged on a wild ride across the city to the hotel. Other than traffic being rather congested, we got to the hotel ok. Checked in without any issues, and then pondered dinner. Thankfully, there was a truly huge shopping mall just two blocks away. This mall was quite the contrast from the fairly undeveloped, third-world-ish experience that we had on Bohol. One somewhat disturbing oddity, was that everyone was being frisked when entering the mall. Heightened security theater seemed to be the norm throughout the country, as we always saw security guards in places that made no sense. We ended up having a truly delicious dinner at a Filipino fusion restaurant in the mall, where I had my first taste of calamansi juice (basically a tiny lime, native to the Philippines). Afterwards, we wandered around a bit, and bought some pastries from a shop for the following morning's breakfast.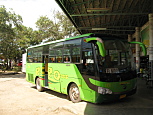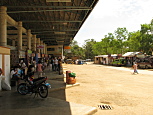 We got up at 6AM, to catch a taxi out to the Cebu airport. The previous evening the hotel's front desk told us it would take 60-90 minutes to get to the airport. In reality, we got there in about 40 minutes. It wasn't clear whether this was because our taxi driver drove like a lunatic, or if traffic was lighter than normal. Either way, we reached the airport much earlier than anticipated. The airport layout was a bit confusing, but eventually we figured out where to check-in for our Cebu Pacific flight to Puerto Princessa, and then made our way to our gate, where we had nearly 3 hours to wait. Eventually they called to board for our flight, and we ended up having to get on a bus to drive us way out to where the plane sat. The flight took off about 5 minutes early, and ended up landing 45 minutes later, getting us in nearly 30 minutes ahead of schedule. This worked out to our advantage, as if the flight had landed on time, or late, we would have missed the bus that we needed to catch (and been forced to wait until the next one, two hours later). We exited the airport, planning to catch a taxi to the bus San Jose bus station. However, there were no taxis, just long lines of the dreaded tricycles waiting. It quickly became apparent that it was a tricycle or nothing. We somehow managed to cram all three of us (plus the driver) into one (David sat backwards facing us, and Denise & I were crammed together facing forward, plus I was holding one bag on my lap). The ride reminded me a lot of the Disney World "Mister Toad's Wild Ride", as we bumped and lurched and swerved our way across the city to the bus terminal. We pulled into the terminal, and had little difficulty finding the huge green 'RoRo' bus that we wanted to catch for the 175 mile ride up to El Nido. We actually arrived about 40 minutes early for the Noon departure, and had some time to find the bathroom, and attempt to find something to eat for lunch, plus restock on bottled water. The bathrooms were serviceable. Food was another story. There wasn't much in the way of prepared food. In fact the best that I could find was this "hamburger" stand. There was the ever present risk of food poisoning, but the options were few, so I took a chance and got two "deluxe burgers". These turned out to be not really ground beef, but this weird roast beef looking sliced meat, fried up on a skillet, with an egg, and some scary yellow cheese. I ate one, David had the other. While they didn't taste horrific, they wern't something that I'd ever want to eat again, if given the choice. Thankfully, neither of us got sick from them either. We claimed a row of 3 seats on the bus. The catch was that the buses were not all air-conditioned. Every other bus (basically 4 hours apart) had air-conditioning, and every other bus did not have air conditioning. The Noon bus that we caught did not have air-conditioning. In of itself, that wasn't a big deal while the bus was moving. There was a decent breeze. The catch was that tickets on the bus without AC were significantly cheaper, which meant that locals tended to use the buses without AC. Locals used these buses as their primary means of long distance transportation between Puerto Princessa & El Nido. The buses literally would stop any time someone wanted to get off, and stop any time someone happened to be standing at the side of the road in the middle of no where wishing to board. All of this meant that they didn't have a strict arrival schedule, since the number of stops was completely unknown. It typically took anywhere from 6 to 8 hours to make the journey. Another added frustration was that they were quite willing to sell tickets to people even when all the seats on the bus were occupied. So people were crammed into the aisles as well, plus the rows of seats made many airplanes seem downright generous in their spacing. I literally couldn't sit straight without having my knees wedged into the seat back in front of me. To make matters more miserable, some hippy backpacker boarded just minutes before we departed, and plunked his huge backpack in the aisle beside my seat. I eventually managed to shift it a bit forward so that I had some room for my legs & feet. Also, the row in front of us held this family (two adults and a young girl), who happened to have a small dog sitting on their lap, wearing a diaper. Amazingly the dog was very well behaved, and this family road the entire way to El Nido. I wish I could say the same for the numerous small babies who would scream at various times throughout the day. We departed on time at noon, and seemed to be moving at a decent speed for the first 40 minutes. Then we suddenly turned off the (only) road onto this dirt path (which was in no stretch of the imagination wide enough for a large bus), and snaked past weeds and a run down farm. We stopped. It was unclear wtf was going on, as there didn't seem to be anything out here. Then the driver got out, pulled something from bus storage compartment and gave it to this old toothless man. We then back tracked to the road, and continued onward. This was to be the first of many many puzzling, frustrating stops & short detours throughout the day. About an hour into the trip, we pulled to the side of the road beside this small store & cafe quite literally miles from anything else. There was no announcement or explanation, so we asked the driver what was going on, and he said this was a lunch break for "15 minutes". We quickly learned that his idea of a 15 minute stop was usually a minimum of 20 minutes, and quite often more than 30 minutes. Thankfully the backpacker with the huge backpack actually got off the bus, and opted to never get back on once we departed. What he intended to do out here, a good 30+ miles from the nearest town was a mystery, but I didn't care, it freed up a nice chunk of aisle space for my legs. We continued on down the road, with its numerous curves, hills & bumps. Minutes stretched into hours. We stopped repeatedly, sometimes twice in the past of a few minutes. Sometimes we'd stop and the driver would get off for a self-proclaimed smoke break. The aisle started to fill with standing room only passengers. We made two much longer stops in the towns of Roxas and Taytay. Not much exciting going on there. We found some ridiculously cheap BBQ pork filled steam buns for sale in Taytay, which were intended to serve as a snack/dinner, as it was already approaching 4PM, and we had at least 60 miles to go. The scenery along the route was quite amazing. We were often driving beside the ocean for miles, or through dense jungle, over mountain passes. The scenery was definitely the highlight, everything else fell into that other 'jebus, this is an experience that I'll never forget, but for all the wrong reasons' category. Despite all of this, we pulled into El Nido just before 7PM, completing the journey in just under 7 hours. Oh, and how much did we pay for this 7 hour bus ride? About the equivalent of US$15 total for the three of us. We climbed off the bus, into the darkness. Based on the map, we had a half mile walk to the 'hotel' that we'd be using for the next two nights. Of course, walking down this road in the darkness, with motorbikes & tricycles whizzing past made the walk feel much longer & more disorientating. However we did find the hotel, and got checked in without any major issues. Our room was spartan to say the least. Just three single beds (with maybe a foot of space separating them), and then a rather primitive bathroom (toilet, shower & sink were basically all side by side, with nothing to separate them). However we did have functional air-conditioning. Denise was beyond exhausted from nearly 12 hours of continuous travel, and opted to skip dinner. David & I wandered into town in search of food. We found a place which seemed busy (usually a good sign), so we wandered in. Unfortunately, the reason why it was so busy was because the kitchen was seemingly incapable of getting any food out. So all of the occupied tables were a result of people waiting forever to get served. We ended up waiting over an hour for our food to come, and when it was served, it was a horrible mess. My burger was burnt black. David's breaded chicken was a soggy mess. Our fries were sitting in a pool of grease. We picked through the food, paid, and then headed back to the hotel for the night.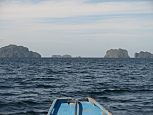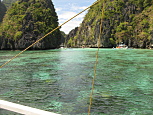 We awoke early the next morning, primarily because the AC (and power in general) shutoff promptly at 6AM, and then some religious chanting was being blasted over loud speakers throughout the town. That's one of the quirks of El Nido. They only have power between 2PM & 6AM. No clue about the religious chanting, but had the AC continued to run, we likely wouldn't have heard the music over the white noise of the AC. We showered, and got the hotel breakfast delivered to the porch outside our room. The food was ok, but nothing special. We then wandered down to the road to wait for our ride to the guided boat tour for the day. El Nido is somewhat similar to Bohol, with respect to many private operators all offering the same exact tours. However, while Bohol has just the one 'countryside' tour, El Nido has no fewer than four different boat tours, each visiting a different set of islands & snorkelling areas. We opted to take tour 'B' the first day. We wandered down to the beach, where we waited until someone announced that our boat was ready to depart. We wandered out into the water, where the boat was docked just a few feet out in the water. We boarded, and were pleased that the entire tour group consisted of the three of us, an American couple (with Filipino relatives), and three Chinese. Having an eight person tour group was definitely a huge plus, as it made the entire day run much more smoothly. The boat itself had a driver, and two guides. We had a really nice day. We stopped at a number of islands & snorkelling spots, saw a lot of fish & corral, and had an absolutely amazing lunch. One of the highlights of these tours is that they included a freshly prepared seafood lunch, with drinks, and fresh fruit & salads. The food was incredible, very fresh & flavorful. Also we had perfect weather, clear skies, and relatively calm water, so the boat wasn't getting tossed around. Neither David nor I had any issues with sea sickness during the tour (unlike several years ago in Hawaii when we both got violently ill). We were back in El Nido a bit after 4PM, and we then spent a chunk of time trying to find the office for the five day/four night boat tour that we were to join two days later. After wandering back & forth for a good half hour, we finally were led to the office, where we did our pre-checkin, and got details on what time we needed to arrive for the formal check-in the following evening at 5pm. After that, we went back to the day tour booking office to sign up for a different boat tour for the next day. Then we wandered for a bit trying to find somewhere good for dinner. We ended up nearly back at the hotel, and settled on a place that initially seemed like a huge disastrous mistake. We were the only people there. The majority of their menu was not available. They kept giving us dirty looks. Despite that, we placed an order, and waited for our food. To our complete positive surprise, the food was actually pretty good. Not amazing, not anything special, but it tasted good, the presentation was nice, and we didn't get sick afterwards. And to top it off, we ended up paying the equivalent of US$15 for dinner for the three of us, including drinks. Afterwards, we returned to the hotel, and settled in for the night.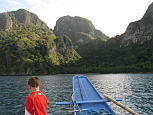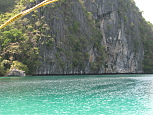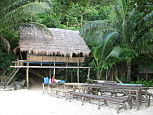 The next morning, we were actually awake before 6AM, so we beat the power going out, and religious chanting. We had to eat breakfast, get checked out, haul our bags to a different hotel that we'd check into for that night, then get signed in for our day boat tour. All of that went fairly smoothly. It definitely helped that our new hotel was literally just on the beach near where we would catch the boat tour. We were going to take boat tour 'A' that day. We were not quite as fortunate this time around, and there were 15 passengers on this boat. It wasn't horrible, but the larger group size definitely was noticeable, as every stop felt like it took longer waiting for people to get on or off the boat. Despite that, we still had a nice time, with numerous beautiful stops, and another fantastic lunch. We got back into town just after 4PM, and we immediately went to the hotel to get formally checked in. Then we scrambled to re-arrange a lot of our packed bags, as we needed to drop off most of our bags when we checked in for the multi-day tour (or expedition, as they called it), as they were going to load the boat with everyone's bags in advance. Once done with that, we had to catch another dreaded tricycle out to the official office of Tao to checkin for the following day's tour. It was yet another crazy, bumpy, wild ride. This time, I sat backwards, facing Denise & David. Denise claims I was lucky not to see what we were approaching. The checkin process at Tao went ok. We met the other 12 people who would be joining us on the expedition, and got some background on what was to transpire over the next five days. The Tao expeditions have picked up a reputation as the only way to see a dying way of life in the very remote islands of Palawan (the western most island chain of the Philippines). They spend five days & four nights travelling by boat from El Nido to Coron (or vice-versa). Think of it as a cruise on a fishing boat, with a crew of five, and (at most) 16 passengers. They've also gotten a bit of a reputation for running a booze cruise or party boat, as they very heavily encourage everyone to bring huge quantities of alcohol with them to 'last' the five days at sea. Anyway, that was the plan, the reality was somewhat different, but I'll describe that in a bit. After the checkin/orientation completed, we hopped into another tricycle for the short ride back into town. We decided to eat at one of the many beach front restaurants. The food was good, probably not quite as amazing as in Bohol, but still great. I did have an amazing buko shake, which tasted as if they had freshly harvested the coconut.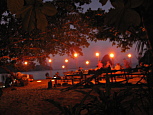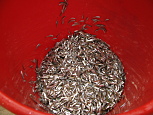 We awoke early the next morning, had the hotel breakfast (ok, but nothing special), checked out, and walked down to the small Tao office in the center of town. We were supposed to be there by 7:30am, for an "on time" departure on the boat at 8AM. The reality was that everyone milled about for over an hour before we wandered back to the beach, and waded out to the boat just before 9AM. Now, we're all on vacation, we definitely didn't have any need to be on a strict schedule, but why tell us about a departure time, we there was no intention of ever hitting it? They could have just as easily told everyone to meet up at 7:30, and not set any expectations of what time we were to depart. Anyway, this sort of thing happened repeatedly over the next five days. Or the opposite happened, where everyone was sitting around waiting for something to happen, without a clear idea of the time frame, and no one in charge made any effort to tell us what to expect or when to expect it. We eventually pulled out of the harbor, and spent much of the first day effectively revisiting many of the same islands, beaches & snorkel spots that we saw on the two previous day boat tours. While this is by no means the fault of Tao, I suspect this is how they always spend the first day out of El Nido, and they could have provided this information in advance. Sure, they were gorgeous islands, seeing them a second time wasn't a bad thing. However, it felt redundant to be repeating something that we already did, when we signed up for the Tao expedition with the promise of exploring remote islands, not the same batch of islands that were already semi-crowded with groups from the day boat tours. Anyway, by mid afternoon we finally started to pull out of the El Nido day boat tour circuit, and headed a bit further away (but still we were likely never more than an hour or two from El Nido), and pulled up to the beach of an island which seemed primitive. As we pulled closer, we could see a thatched hut up on stilts, fringes of palm trees lining the beach, dense jungle behind, and vast, towering cliffs further back. It looked like the ideal isolated island paradise, and this turned out to be the best, most amazing 'basecamp' of the entire expedition. The huts were all entirely made from bamboo, with thatched palm fronds for the roofs. The 'toilet' was really just a pit toilet with a bucket of water beside to use for flushing (this is by no means a complaint, this is what we expected, and anything more would have been an insult to the surroundings). We spent the early evening relaxing at some tables along the beach, while several women from a nearby village (which we never saw or heard) came by to provide free massages for anyone interested. Tao had apparently been training the village women how to do massage as a way of giving them more marketable job skills. I'm not sure that I fully understand how this is a long term sustainable tactic, as the women will effectively need to move away to a larger urban area from their small island village in order to find work. Sure, that's better than not having jobs or sustainable income in their village, but it also ends up ultimately contributing to the collapse of the village if everyone must move away to find employment. Denise actually got a massage and said it was amazing. Eventually dinner was ready, and it was spectacular. Grilled fresh fish, rice, vegetables. Huge quantities of food. Of everything we experienced on the expedition, I'd say that the food was the one thing that never disappointed, and was consistently of very high quality & quantity. Nearly all our meals (lunch & dinner) consisted of grilled fish and rice, which made sense considering how it was readily available. We hung out with everyone for a while after dinner, and eventually went back to our hut to sleep for the night. All of the huts had a foam mattress, foam pillow & hanging mosquito net for each person. It was by no means luxurious, but comfortable enough, and certainly no worse than when we've been tent camping. We slept fairly well that night.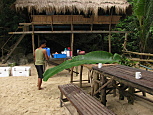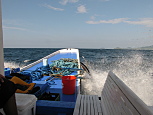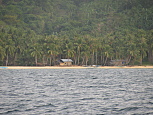 The next morning we awoke just after sunrise (around 7AM) not entirely sure what to expect that day. Our team expedition leader 'Jimboy' hadn't really provided much information on what the day's plans were, or even a rough outline. This became an ongoing frustration as it often seemed like he was just winging it much of the time, without a clear idea. While I understand that maritime conditions are highly variable, and can't often be predicted far in advance, that doesn't explain why we were rarely told anything at all about what was going on. We just about never knew (roughly) what time meals would be served (and the rare times when a time was provided it was never even closely adhered to), or what islands we were passing, or travelling towards. Anyway, we were amongst the first awake, however within an hour or so, everyone else was awake, and mostly milling about waiting for breakfast. Coffee was often served quickly, but the actual food usually lagged the coffee by an hour or more. That morning, some of the boat crew grabbed one of the mosquito nets, ran out into the ocean, and came back with what looked like fish in the net. As it turned out they found a large school of anchovies swimming just a few feet off the beach, and they dumped them into a bucket, to be made into ceviche before breakfast was ready. It was a truly awesome spontaneous thing, and certainly was worth the added wait time for breakfast. Breakfast itself was quite nice. They took these huge (football sized) banana flower blossoms, and hacked & minced them down into the consistency of grated raw potatoes, which were then fried up into hash brown like consistency. With that we had sunny side up eggs & fresh fruit for breakfast. It was all quite tasty. Once breakfast was done, the process of packing up everything (the mattresses, pillows, nets, and everyone's belongings, plus all of the supplies from the boat) began. It also started to drizzle off & on while everything was being packed back onto the boat. Finally, about 3 hours after we first got up, we waded back out to the boat, and pushed back out to sea. We spent a good chunk of the morning looking for fish. First we attempted fishing, but then we actually pulled up beside a large fishing boat. However, that boat turned out to have been stranded with a bad engine, and they had no fish to trade. Eventually we found fish, and had a nice lunch (on the boat). We also made a few stops for snorkelling & swimming, and that evening pulled up to a new island, which was far more developed than the previous evening. In fact, it easily had more than a dozen small huts, actual electricity, two larger toilets, and running water. This turned out to be the largest, and most developed basecamp of the entire expedition. This was likely due to the fact that Tao operated a large organic farm nearby, and donated financial resources to the nearby village. That evening, both before, and again after dinner, we ended up playing a few silly drinking games. David entertained himself on his phone back in the hut the entire time. It was mildly entertaining, and we stayed up relatively late.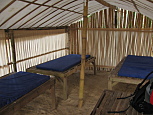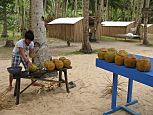 We got up at sunrise, and mostly sat around wondering what was going on for breakfast. After a while, some of the boat crew started climbing the super tall coconut palm trees, and cutting down coconuts. They emptied out the coconut water into pitchers to drink, which was nice and refreshing. Then they ended up using the coconuts as bowls for the breakfast of fried bananas & porridge, which was tasty. Afterwards, we were taken on a guided tour of the farm & village, which was interesting, although the non-stop "this is what Tao giving back" mantra got old after a while. Next we finished packing up, and headed back to the boat. We spent much of the afternoon on the water, heading towards our island basecamp for the night. While the island and the views were quite scenic, this was by far the most primitive basecamp. This beach did have the most diverse & numerous number of shells and corral of anywhere that we stopped. David found quite an impressive variety of specimens. The huts looked like they took a massive beating from the recent typhoon. They were constructed primarily of plywood and some bamboo, although we actually did have electricity after dark. The toilet was similar to the previous days, but was in far worse condition (the door didn't even up all the way). A very friendly elderly man & his wife wandered over after a while, and took a liking to David. He had a non-stop stream of questions. It was never clear whether there was a village nearby, or if the man was just living by himself with his wife. I'd assume it was the former, as that would be the only logical explanation for the electricity, but we never saw any other villagers. Again, this felt like a missed opportunity for Tao to let us explore or interact with the locals. We headed to bed shortly after dinner, as we were exhausted.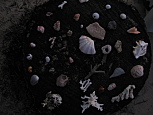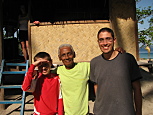 The next day we were up at sunrise, and we were pleasantly surprised when breakfast banana pancakes were served not long after everyone was awake. The old man on the island showed up shortly before we left, insisting that we pose with him for a few pictures. It was kind of sweet, and charming, and sad all at once. I wondered whether he did this for every group that spent a night on the island, and how long he had been there. We also saw a feral cat wandering around. Ever since we had entered the country, almost everywhere we went there were many wild dogs everywhere. They were always fairly harmless, mostly just begging for food, or sleeping on street corners or beaches. We left the island shortly afterwards, and spent a chunk of the morning at sea. We stopped briefly at a really pretty reef, with the intent of going snorkelling, however we spotted hundreds of fist sized jellyfish all around the boat. We headed near another, very pretty island. Initially it looked clear in the water, however after a while we saw more of the same jellyfish, plus several much larger (basketball sized). However, at that point, people were growing impatient, and dove in anyway. They swam to the island, spent about an hour there, then swam back. Many of them ended up with mild jellyfish stings, which apparently itched a lot the next day. After lunch, we continued onward to the last basecamp of the expedition. This basecamp was basically in the center of a small village, and had the most elaborate bathroom facilities we'd seen. Concrete slabs for the floors, electricity, running water in the shower stalls. The huts were quite large, and made entirely of plywood. This was the final night of the expedition and was intended to be the big party night. Dinner was a spit roasted pig, which looked amazing. However, with the exception of the very crispy skin, it didn't taste all that great. It was very tough and greasy. This was probably the only meal on the expedition that was somewhat disappointing. After milling about for a while, everyone decided to take advantage of the village karaoke bar (David stayed in the hut playing with his phone). It was agreed that everyone who participated would split the cost evenly. Overall, we had a good time. The song selection was kinda weak (there was a lot to choose from, but it was all at least 10 years old), but there was much alcohol, and it was amusing to watch some of the locals butchering the songs as badly as the westerners. I ended up going to bed with David shorty after midnight. Denise held out a few more hours.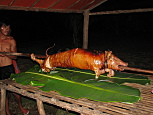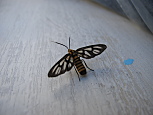 Everyone was dragging the next morning (apparently the last of them didn't go to bed until after 3AM). It took a while for breakfast (tasty fried eggplant omelettes), and then we spent some time visiting school kids in their one room school house. David was a prime attraction, as they rarely got to see any western kids close to their own age. There was also this group of Dutch people in our expedition who insisted on blowing up and giving out balloons, which seemed like a poorly thought out endeavour. The village was already far from free of trash. Giving them balloons which were sure to end up popping or deflating likely meant that random bits of balloons were going to end up littering the vicinity for months or years. We eventually pushed out, and started heading to the final destination, the city of Coron. Around lunch time, we dropped anchor just off a beach which had a small school house nearby. We could see a storm approaching on the horizon, and as we continued heading east towards Coron, the rain began. It wasn't horrible, but there really wasn't any part of the boat that was dry. About an hour from Coron, we dropped anchor near a sunken WW2 ship, and a few people went snorkelling. While we sat there the storm ended up passing us by, and by the time we left the sky was mostly clear. It was past 5PM, and it was completely dark once we saw the lights from Coron in the distance. The boat pulled into the dock, and spent a good 20 minutes manoeuvring about to find a good spot for everyone to disembark. We then had a long (2 minute) walk all the way up the pier, then up a hill to a line up of tricycles. Everyone climbed in and off we went bouncing & swerving our way through Coron to Tao's central office. Coron was easily the most cramped & chaotic city we'd been through. Very narrow, crowded streets, with tightly packed buildings full of tiny shops. People everywhere. It wasn't bad, but it was dark, and loud, and we were exhausted. We had a relatively short walk from the Tao office to the hotel for the night. Thankfully we were checked in there without any issues, and then headed back out to find dinner somewhere. We had no clue what we wanted to eat. There were many small places all over the neighborhood. At this point in the trip, we were a bit burnt out on fish & rice, and wanted anything else. We passed a pizza place that was completely empty, and decided that wasn't a safe choice. We looked down a long, darker street, and saw another pizza shop in the distance. We headed down there, and it was a fairly bright tiny take-out place, with several customers standing around. That seemed good enough, and we ordered two large pizzas, which ended up costing the equivalent of US$8. After picking up something to drink at a different shop, we headed back to our hotel room. The pizza was….awful. There wasn't anything wrong with it, other than it just not being what Americans think of as good pizza. The sauce was sugary sweet. The cheese was this white ooze that tasted something like a mixture of American cheese and cream cheese, and in no way good. The topics also tasted like they came out of can. The crust was this cracker like blob. As hungry as I was, I just couldn't eat much, it tasted so bad. We lamented the poor state of pizza in Coron, and went to bed a bit later.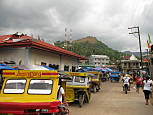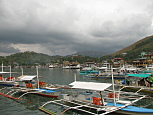 The plan for the day was supposed to be simple. Spend the morning mostly relaxing and killing time, get a ride to the airport in the afternoon, fly back to Manila, spend the night there, in preparation for flying home the next day. Coron, like El Nido, was super noisy. As soon as the sun came up, the sound of horns from trucks, motorbikes & tricycles was ever present. We went out in search of breakfast, and found what looked like the world's smallest Mister Donut franchise. It was literally about 4 feet wide, and perhaps 8-10 feet deep. We got a few donuts, and took them back to the hotel room. They were decent. After that we went out for a longer walk, mostly to explore Coron in daylight. We wandered the crowded, chaostic streets, heading towards the waterfront. We stumbled by the tail end of a Valentine's Day mass wedding (people eating cake). It was getting warmer & humid, so we retreated back to the hotel room to cool off. Before lunch we checked out of the hotel, and left our bags behind, and then headed out to find food. There was a place just a few blocks away that looked decent (at least it always had customers every time we walked past), so we went in. The food was actually surprisingly decent, and dirt cheap. We ordered a fairly crazy amount of food for the equivalent of US$12. We then walked off lunch, exploring a bit more of the area. Nothing terribly exciting, but it killed some time. We stopped in a shake shop which had AC and free fast wifi, and got a few shakes which were tasty. Once it was close to the time for our ride to the airport (2PM), we headed back to the hotel. The van came on time, but of course it needed to make additional stops to pick up others going to the airport too. We drove through the city, and then further into the outskirts. First stop was at a super fancy hotel, where two other people got in. Then we drove a few more minutes, and stopped, but whomever we were supposed to pick up never showed up. The rest of the drive to the airport was a bit odd. This airport was hella far outside the city. As in, it was like 15 miles down the end of a dead end road, which wasn't even fully paved, and had one stream crossing. This airport was easily the most primitive airport I've ever seen. While the terminal itself was financed by the Korean government just a few years earlier, it was pretty badly damaged by the recent typhoon, and the facilities inside were ridiculously simple. They had none of the typical airport security devices (metal detectors, X-ray machines, etc). Everything was being done manually by visual inspection. Also, several of the windows of the terminal facing the runway were gone (presumably blown out by the typhoon). While waiting for our Cebu Pacific flight, the Philippine Air flight just before ours (also going to Manila) was announced as running late. At the time, we didn't think much of it. However as the time for our flight crept closer, it became obvious that our plane wasn't there. Finally they made an announcement that it was delayed, but they failed to provide any details. Finally the Philippine Air plane arrived about 40 minutes late. Then just after they started boarding the Philippine Air, they made an announcement that our flight had been cancelled. And the next flight to Manila on Cebu Pacific? The next day, *after* our flight home was to depart Manila. Immediately Denise urged us all to run back out to the ticket counter to see what our options were. The Cebu Pacific ticket agents were completely useless. They just reiterated that the next available flight was going to be tomorrow, and there was nothing else that they could do. We scrambled down to the Philippine Air counter, and asked if we could get on the plane that was currently boarding. They confirmed that there were actually three remaining seats, but initially they refused to let us transfer our ticket from Cebu Pacific, and were demanding the equivalent of US$350 in cash per ticket to buy the tickets. Denise freaked out immediately, and the guy behind the counter then changed his story, and agreed to let us transfer our tickets at no cost. Amazingly, we got the last three seats out of Coron that day. The flight left a few minutes after we boarded, and we got into Manila about 5 minutes later than we should have, had we been on the cancelled Cebu Pacific flight. Of course the fun wasn't over yet, because we were now looking for the driver who was to pick us up and take us to the hotel for that night (the same hotel as our first night in the country). But no driver was to be found, so I called the hotel, and they didn't even seem to be aware that the driver was supposed to be there, and told me that he'd be out in a half hour. While we were standing around waiting for the driver, a super friendly random Filipino man wandered over and started chatting with Denise. He was apparently waiting to pick up his daughter from a flight. When he learned that we had been waiting for quite a while for our ride, he insisted on calling the hotel, and he chewed them out. Apparently the driver had been circling outside the terminal for some stupid reason, and never thought to come inside with a sign bearing my name. A few minutes later he came in, and we were off. Unfortunately, it was both Valentine's Day and a friday evening, which meant that the traffic was horrible. It took over an hour to go about 5 miles. But we did get to the hotel eventually, and got checked in. We then headed back out in search of dinner. There was a large shopping mall a few blocks away, and we headed there. Of course, since it was Valentine's day, everyone was out with their significant other, and lines were long everywhere. We eventually settled on a quaint little cafe in the mall, which had decent food, and no wait for a table. After that we got fancy shakes for desert at a bubble tea place. It was getting late, and we had to be awake early to head back to the airport in the morning for our flight home.
Thankfully, our final day of travel went smoothly. The ride to the airport went smoothly, our flight to Tokyo-Narita departed on time, and our connecting flight back to SJC also departed on time. Overall, it was a nice trip. Some parts were crazy, hectic & frustrating. Other parts were fun, amazing & wonderful. I certainly wouldn't rule out returning to the Philippines some day.