We've just returned from spending nearly two weeks travelling around South Korea. This was my third trip, and the second for David & Denise. While we flew in & out of Seoul, the majority of the trip was spent travelling in a giant loop, clockwise around the country. What follows is a trip report for the second half of the trip (mostly the southern half of the country). You can read about the first half of the trip HERE.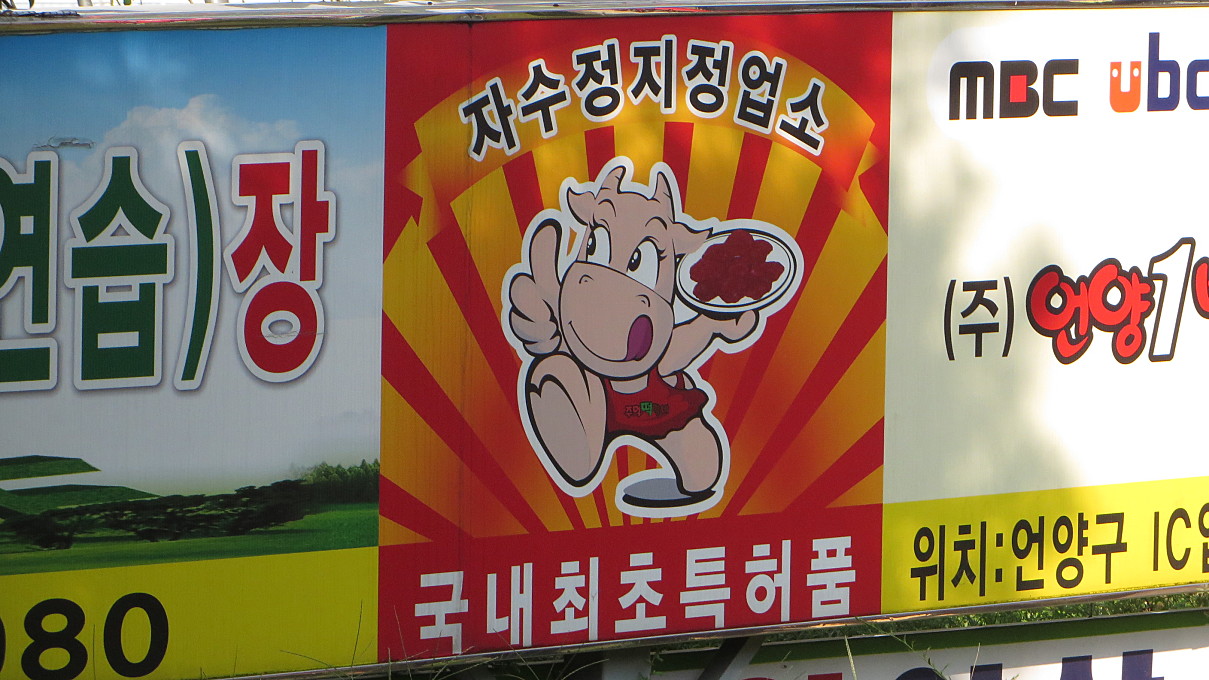 The next morning, it was time to depart Gyeongju, and continue south. We arose early, and caught the bus out to the KTX station, which was about 40 minutes southwest of the city center. We took the (fast) train just one stop, to the city of Ulsan. We dumped our bags in storage lockers at the train station, then caught a taxi for a 15 minute drive to the Amethyst Cavern Park (자수정동굴나라)>. We went here expecting another wacky bonkers Korean cave, similar to Hwaam. What we found was a sad, run down tourist trap, that was more pathetic than weird. Unlike Hwaam, the cave is really just one of several 'attractions' in what might be better described as an amusement park. They had a number of scary carnival rides, a hill for (winter) sled rides, and a weird looking restaurant. The cave itself was poorly lit, and had a labyrinth of passages between the 'exhibits'. These exhibits included an Egyptian section (with a fake mummy), a mining area which appeared to be populated with frozen zombies, and some other areas which defied description altogether. Did I mention the circus act (on a stage inside the cave)? What about gemstone exhibit? Its all as if they just had all these ideas and happened to have the added convenience of a cave to set them up, without really caring about the cave's significance at all. As a result, we saw the entire cave (and its multitude of mind boggling exhibits) in about 20 minutes.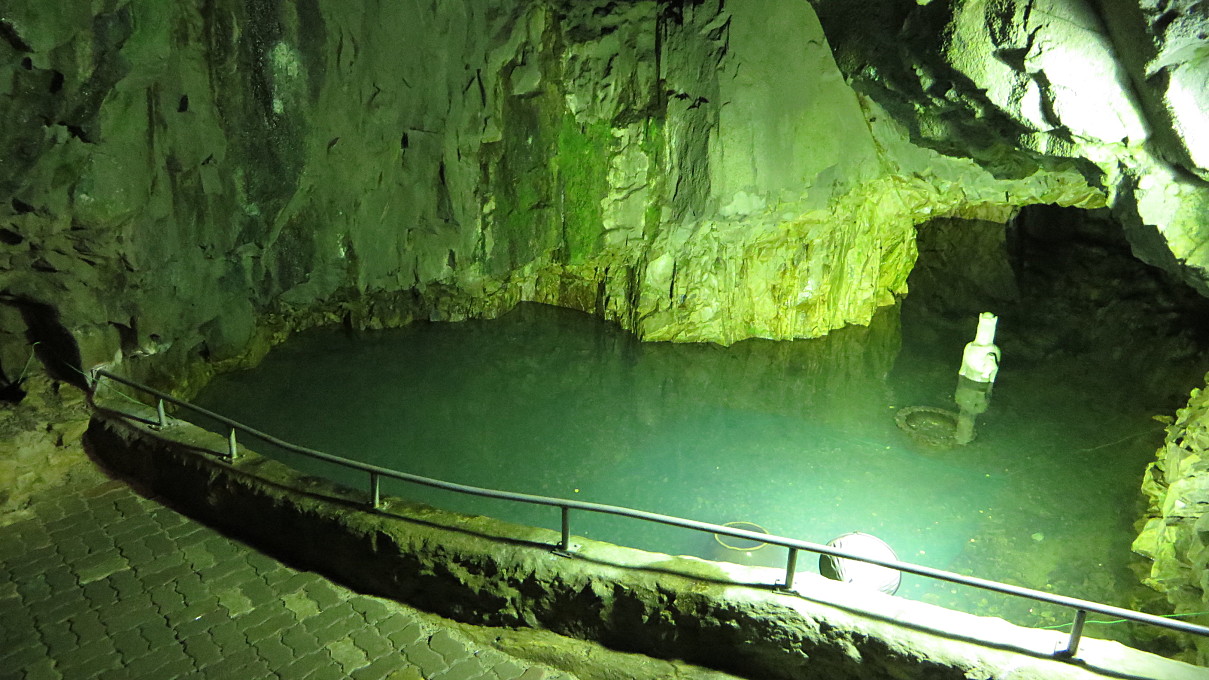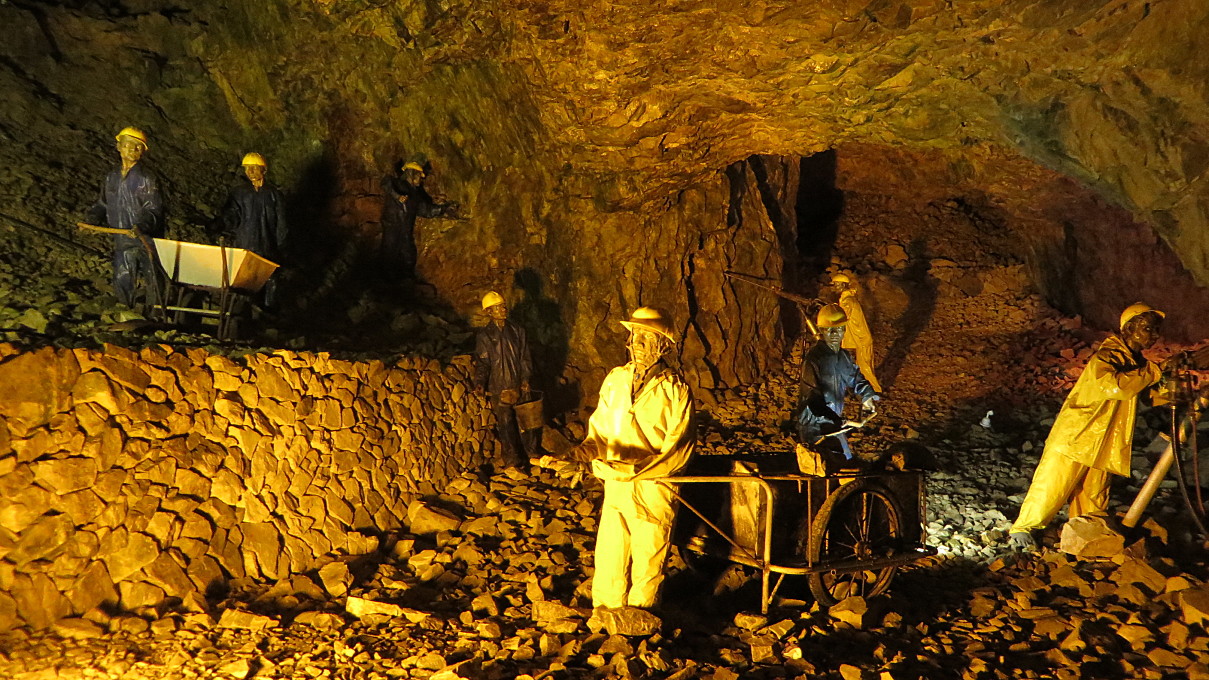 After getting a taxi back to the train station, we bought tickets to travel one more stop south to the city of Busan. Busan is Korea's second largest city (after Seoul), and actually a place we visited on a day trip nearly 5 years earlier. This time we planned to stay a night. We pulled into the station on schedule, and ate lunch there. It was ordinary Korean food, nothing terribly notable, but not bad either. Afterwards, we caught the subway out to Haeundae, where our hotel was for the night. Haeundae is rather famous (at least in Korea) as the most popular beach in the country. On most summer weekends, its absolutely crowded with people. However, as we were there on a Wednesday, it was relatively empty. The streets near the beach are almost entirely nothing but hotels, bars, clubs & restaurants. We spent the afternoon exploring the area a bit & relaxing in the hotel. That night we went to Bonchon Chicken, which was the first location of the (now) international Korean fried chicken chain. The chicken was quite amazing. Super crispy on the outside, and moist within. They also had a fairly impressive soju selection. An added bonus was that the restaurant overlooked the beach, so we had some awesome views.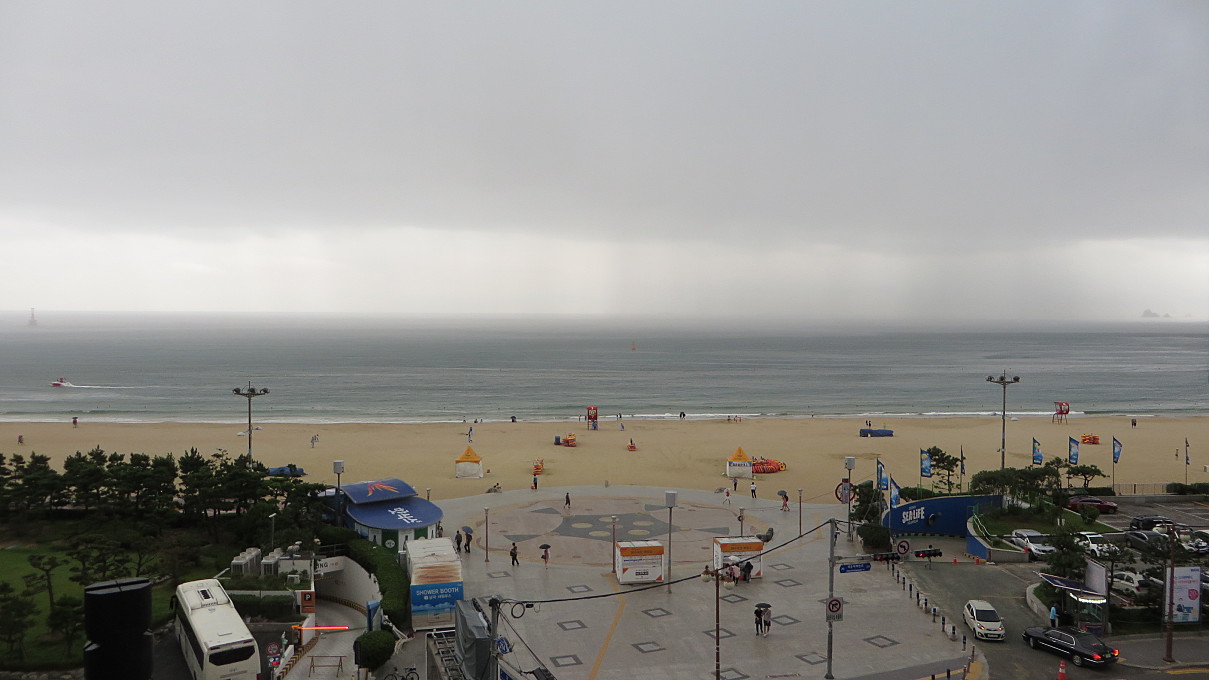 We awoke the following morning, got breakfast in the hotel, and then caught the subway west across the city, to the intercity bus terminal. We bought tickets for the next bus to the city of Suncheon. The bus ride was supposed to be about 2.5 hours, but ended up much closer to 3 hours, as the driver made a bunch of stops in tiny towns, plus a rest stop. Once we arrived, we had a short walk to our hotel, where we dropped off our bags, and then headed out again. First up was finding lunch. A few blocks away from the hotel we found a few fairly generic looking restaurants. However one of them had air-conditioning (and it was brutally hot that day), so we attempted to give it a try. Of course the only menu board was only in Korean, so we resorted to the look-and-point method of ordering. We ended up getting 3 dolsots with a soupy stew, plus an assortment of banchan. Two of them had random assorted pig parts, and the third had soondae. They were pretty good for the most part, and the woman running the place seemed to be highly amused by the silly westerners eating in her restaurant.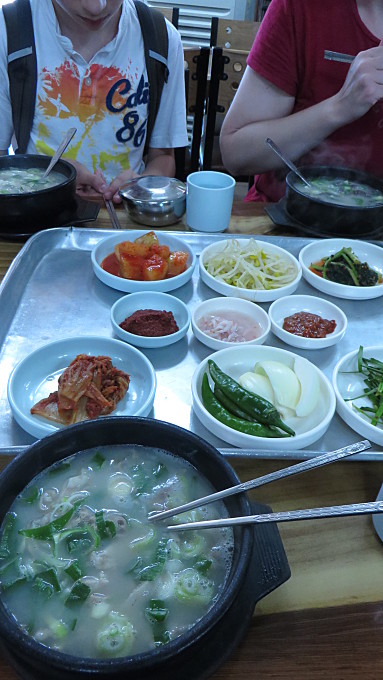 After lunch we attempted to find the local bus stop for the afternoon's activity. We wanted to visit Naganeupseong (낙안읍성), which is an ancient walled city, about an hour's drive west of Sunchoen. I thought I knew which bus we needed, and even found a stop for that bus. That stop was ridiculously crowded with Korean seniors (like over a dozen). However, Suncheon's bus stops were super fancy, and had embedded electronic signs telling you how much time until each bus route would arrive. The bus that I thought we needed (63) was never listed. Not even an hour away. I checked my notes, and apparently a different bus route (68) was specified for the return trip, so I speculated that maybe that bus would get us there too. Bus 68 was at least listed as due for arrival in the next 15 minutes. It pulled up, we boarded, paid the fare (which is often a roulette experience of dumping in around 5000W, and hoping we get some change back from the driver), and I proceeded to watch the route my phone's GPS showed we were travelling. After a few minutes, a super friendly guy on the bus who actually spoke fairly decent English, asked if we needed help. I showed him where we wanted to go, and he confirmed we were on the correct bus. Sure enough, after riding for nearly an hour, we pulled up in front of Naganeupseong. The village was awesome. They provided a nice color map brochure (in English), and we set out to explore. Roughly the northern half of the village was the government area (school, town hall, drum tower, open space), and the southern half was comprised of homes (and farms) and small businesses (coffin maker, paper maker, pottery, eateries, etc). An added bit of fun was that the village was full of wacky, hilarious looking Jangseung (kind of like totem poles). We spent about 2 hours exploring the village, and then caught the bus back to Suncheon.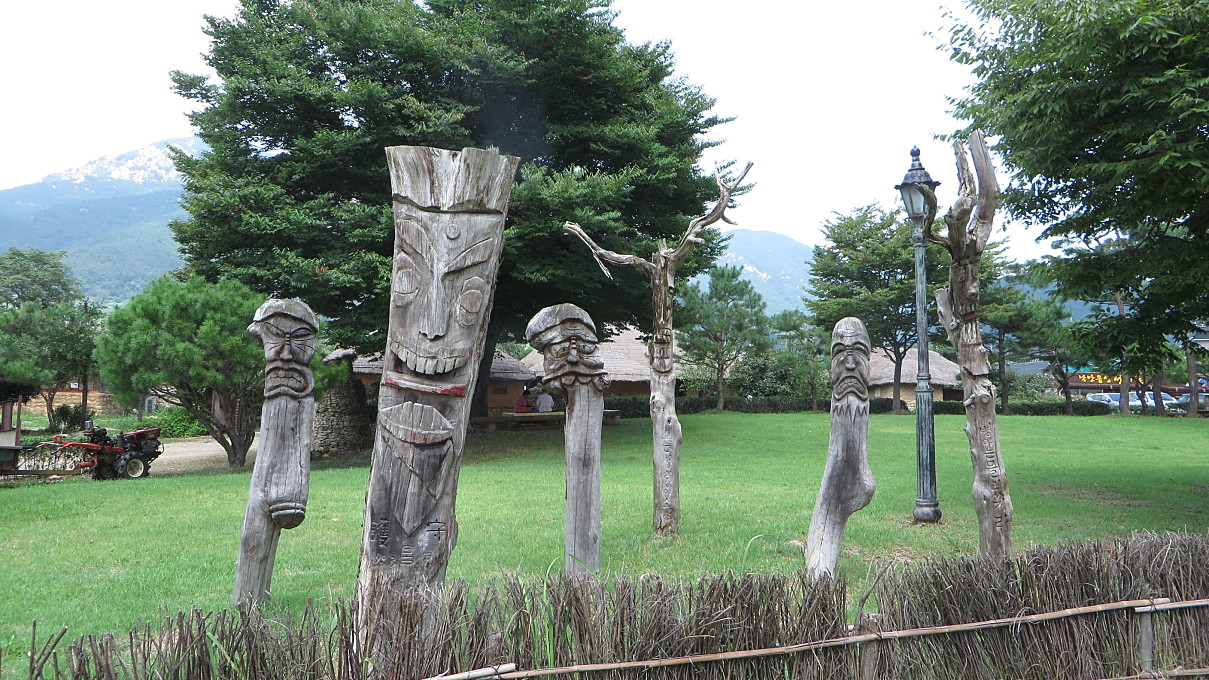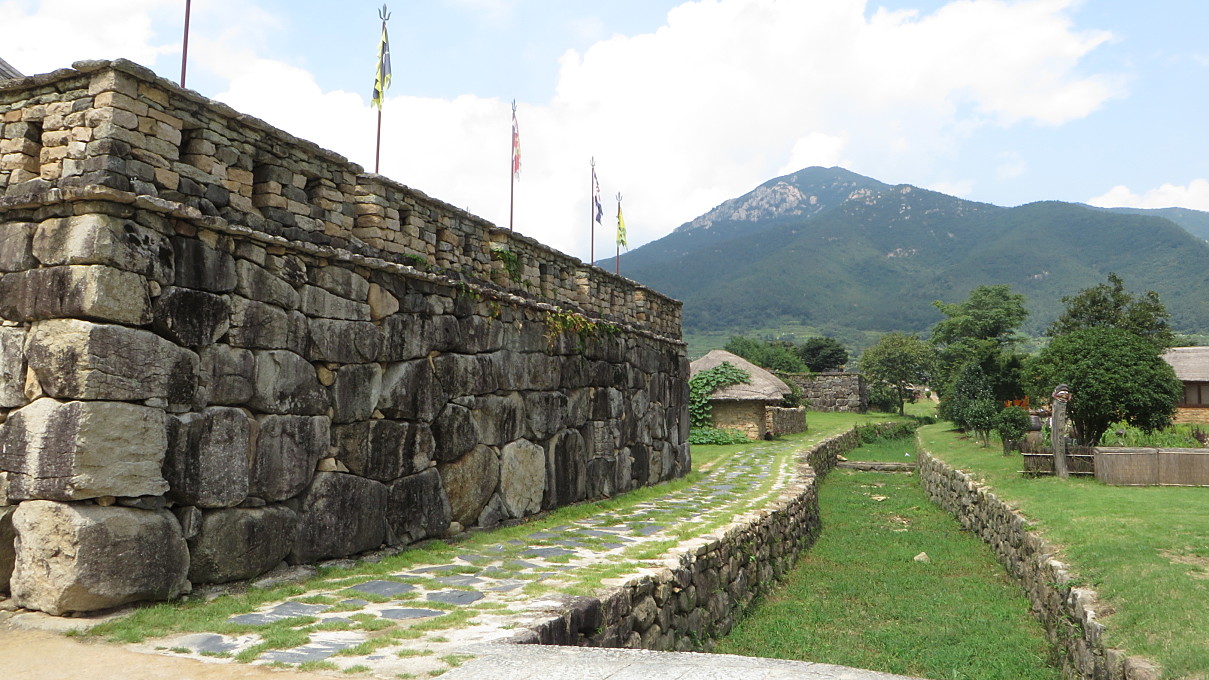 We got a slower start the next morning, as we didn't have a lot on our agenda for the day. This turned out to be arguably the weirdest, craziest day of the entire trip. We needed to catch a (slow) train about an hour southeast to the coastal city of Yeosu. We swung by a Dunkin Donuts a few blocks form the hotel, ate up, then checked out and walked about 20 minutes to the train station. The train ride was brief, and then we were in Yeosu. We had a 20 minute walk from the station to our hotel (for the next 2 nights). We dropped off our bags at the hotel, and then attempted to find the bus stop for the day's activity. We wanted to visit Hyangiram Hermitage (향일암), which is an amazing temple complex sitting on a series of cliffs above the sea. I thought that we needed to take the 111 bus for the hour trip down to the temple. We even found a bus stop claiming to be for the 111 just a block from the hotel. However, this was another town where they had a fancy electronic sign with bus arrival estimates, and the 111 was never listed as arriving any time soon. We started to doubt whether we were in the right place, or even looking for the right bus. Denise wandered into a small shop to attempt to ask for help. She found an older Korean lady, who seemed incredibly eager to help (despite not understanding a word of English). She kept gesturing for us to walk up the street (away from the direction we needed to travel). She even followed Denise back out to the bus stop, and went so far as to gently shove Denise in the walking direction. We assumed, she had to know what she was talking about, so we started to walk. All the way back to the train station where we started an hour earlier. When we got there, we couldn't find any bus stops, so we went inside seeking help. There was a tourist information booth, but they pointed us back outside (without making any attempt to speak English). We found another tourist info booth outside the train station, and went inside. They actually spoke fairly decent English, and told us that we actually needed to ride two different buses. The second of which was bus 111, but before that we needed bus #2. We boarded bus #2 right in front of the train station, and I showed the bus driver the name of the temple (in Korean). He seemed to acknowledge what we needed, and I assumed that all would be ok at that point. We rode the bus for about 20 minutes, and then the bus driver started gesturing that we needed to get off. I assumed that this was our connection stop for bus 111. However, the bus shelter at that point had no mention of bus 111. At this point, we had no clue where we needed to be, and were thoroughly frustrated. We decided that we had enough nonsense of trying to catch the mythical bus 111, and we hailed a taxi. Thankfully the taxi driver knew exactly where we wanted to go, and off we drove. The temple is actually on a large island just south of Yeosu, and the island is mostly rural. We drove past large rice fields, pretty bays ringed by mountains, and tiny towns. After about 30 minutes we reached the temple, and the taxi driver took us most of the way up the mountain to the very base of the temple staircase. It cost us nearly US$30, but at least we got there without any more hassles (also, every taxi we took in Korea accepted credit cards).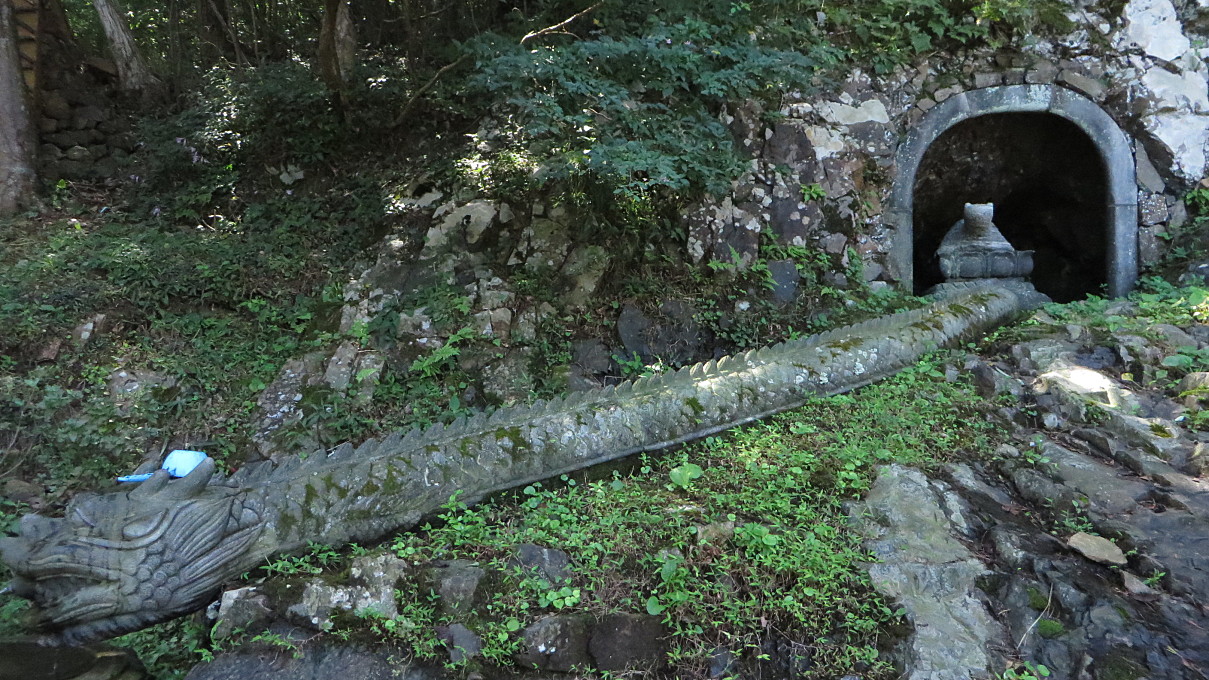 The temple itself was beautiful. Lots of stone carvings, and staircases all over the cliffs. And the views were amazing. It was a gorgeous clear day, and we could see across the sea for miles. It was a bit crowded there with worshippers, but not too bad. After exploring the temple for a bit, we started the (long) walk back down the mountain, heading towards the bus stop. The taxi driver pointed out where we could catch the return bus, so at least we were confident on that portion of the journey. Once we exited the temple property, the steep road was lined with small shops and restaurants. Nearly all the chops specialized in either kimchi or dried squid, and were eagerly offering samples. The kimchi was delicious, and incredibly fresh. The squid was kinda good too, almost like jerky. As we walked, we were also seeking out somewhere to get lunch. Once again, there wasn't any obvious English, so we selected a place that had pre-existing customers, and went with the look and point method. What we ended up being served was both amazing and a bit horrifying. They served what we ordered, but we clearly didn't fully understand what we had ordered. First the good. We got a spectacular seafood (really just squid) pancake, a plate full of dried squid with pepper paste for dipping, and a terrific selection of banchan (including quail eggs marinated in soy sauce). Next the ok. We were served a pot with miso broth and clams & squid, that we cooked on a small stove at the table. It was decent, but nothing special. Finally, the horrifying. They served a huge plate, stacked with small crabs, all seemingly marinating in soy sauce. However once we attempted to eat the crab, something was definitely not quite right. Instead of finding lots of firm white crab meat, all we found was gelatinous brown goo. Yup, the crab was completely raw. When the women running the place saw us fumbling around attempting to figure out what we were supposed to do with the raw crab, they came over and basically indicated that we were supposed to pack the crab's body with rice, and then scoop it out (along with the raw crab goo). We played along for a while, but it was just not at all enjoyable. Sure, much of it was psychological, but that didn't make it any easier. We've had both fish & even chicken sashimi in the past, and loved it. But the crab was just a step too far. In addition to the food, we also ordered a bottle of soju and makgeolli, which were both quite good. For dinner that night we were craving more korean fried chicken. We wandered around the area near the hotel, and found a place that looks kinda quirky. An added bonus was the manager spoke decent English, and they had a picture menu. We order boneless fried chicken (with a sweet chili sauce), and drumsticks with a spicier sauce. It came with a shredded cabbage salad that had a pineapple flavored vinaigrette, and diced pickled sweet daikon. All of it was fantastic. The chicken was perfectly fried, super crisp on the outside. It was such a weird, crazy day, but in the end, it was great.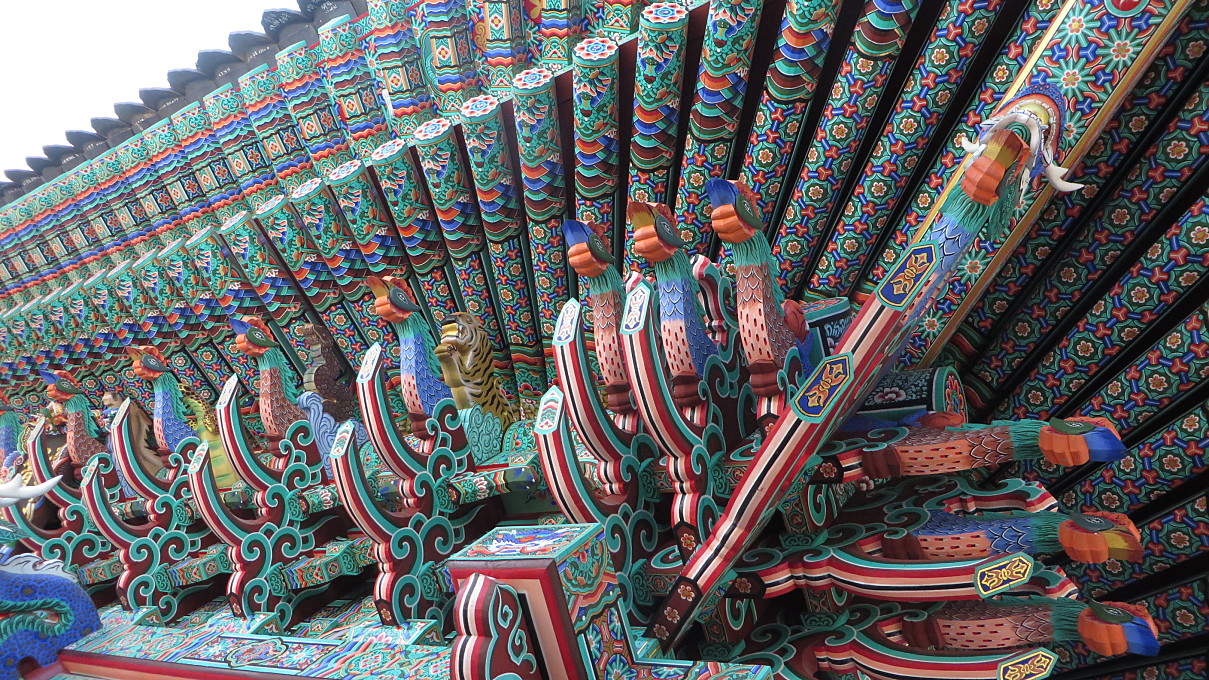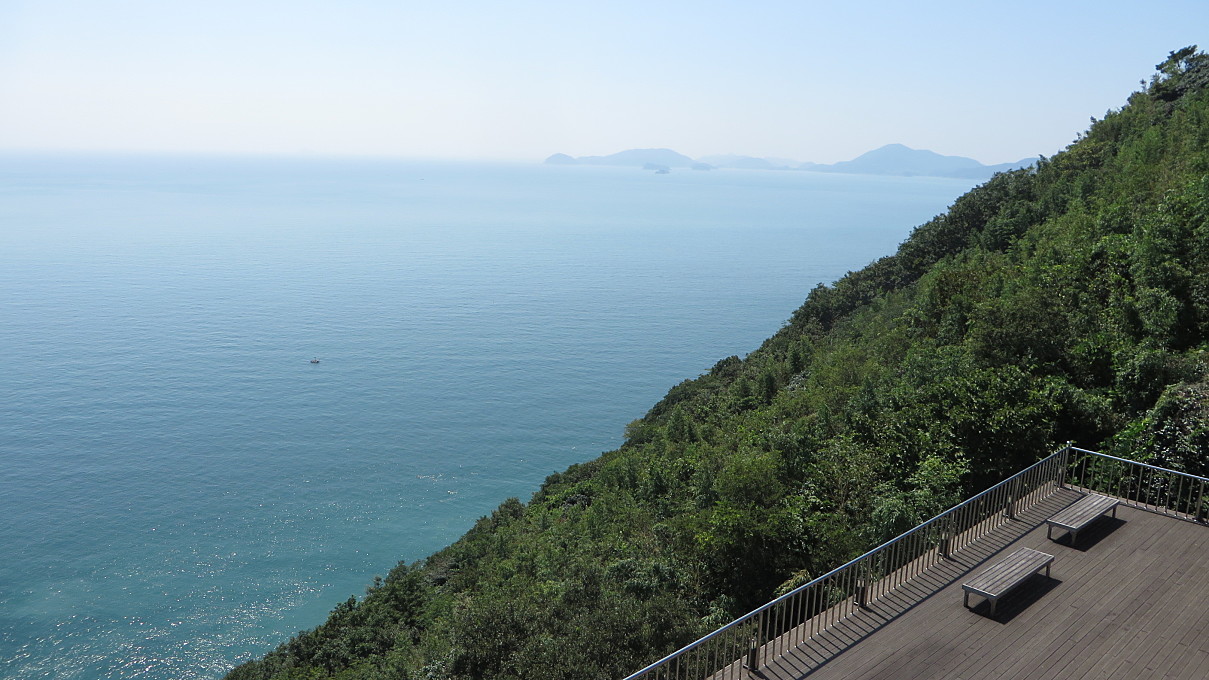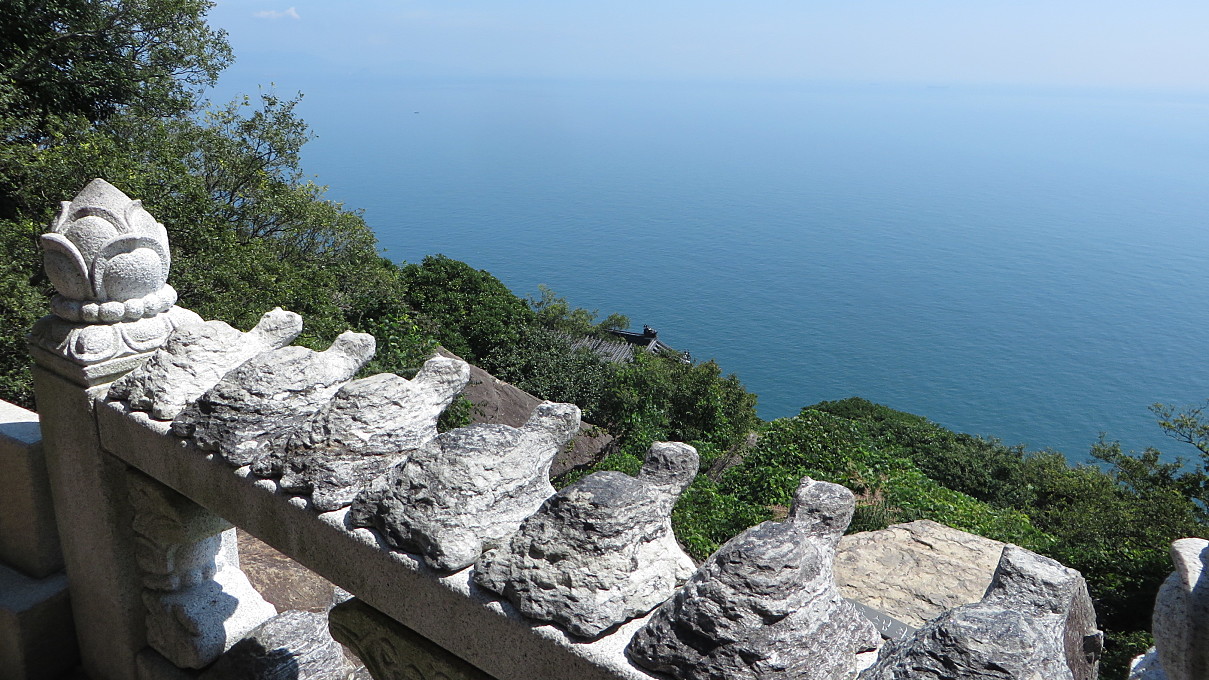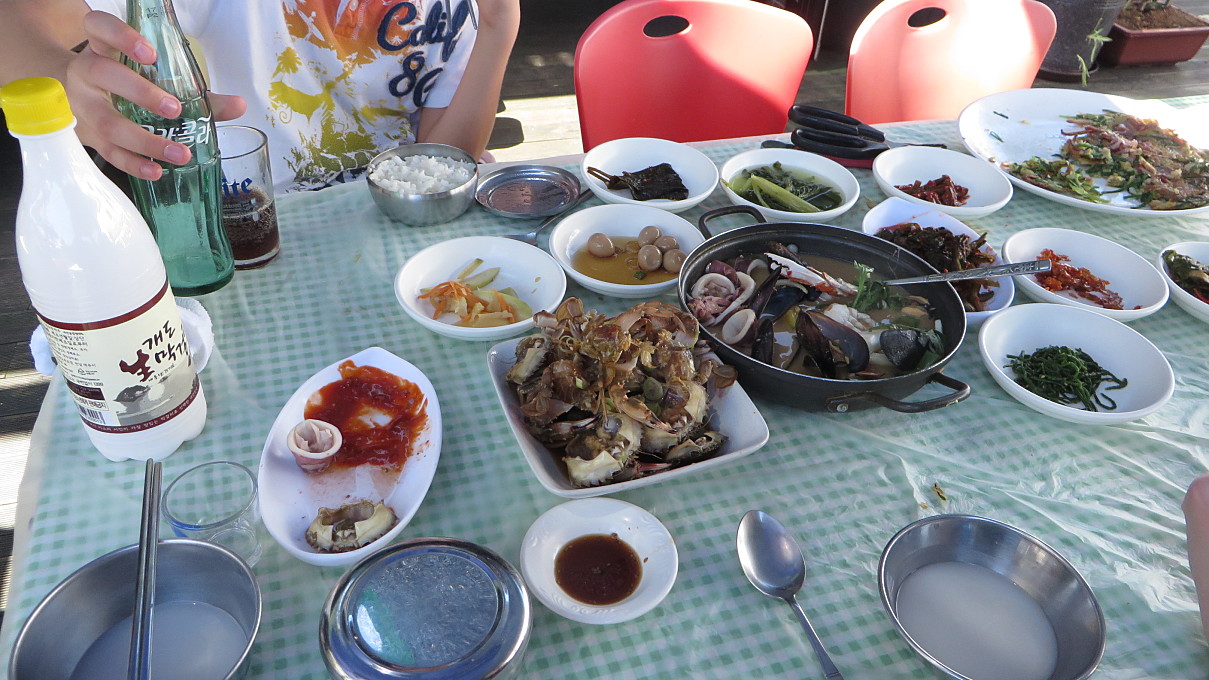 It rained hard that night, and it was overcast when we awoke the next day. After breakfast, we headed out towards Odongdo Island (오동도). The island is a self contained national park, accessible via a man made causeway from the city. The island has a loop trail, with a few spurs that lead to the major points of interest. Overall the island wasn't terribly exciting, although it did have nice flora (lots of dense trees and bamboo). The views were nice, but the points of interest were mostly meh. They did have a light house observatory which was somewhat interesting. We finished the entire island in less than 2 hours, and walked back towards the hotel, looking for lunch. We eventually went into a restaurant that had a huge photo menu on the wall. After some fumbling around attempting to order (since apparently our first 2 choices were not available), we were seated. We apparently misunderstood the way that portions worked, and ended up ordering way too much food. To make matters more interesting, we inadvertently had ordered more raw crab. Despite that the cooked food was quite good. We had a pork belly dish that was amazing. There was also a grilled mackeral dish that was great, although a bit frustrating to eat with just chopsticks, as it wasn't de-boned. There was also a miso based soup with crab in it, which was pretty good.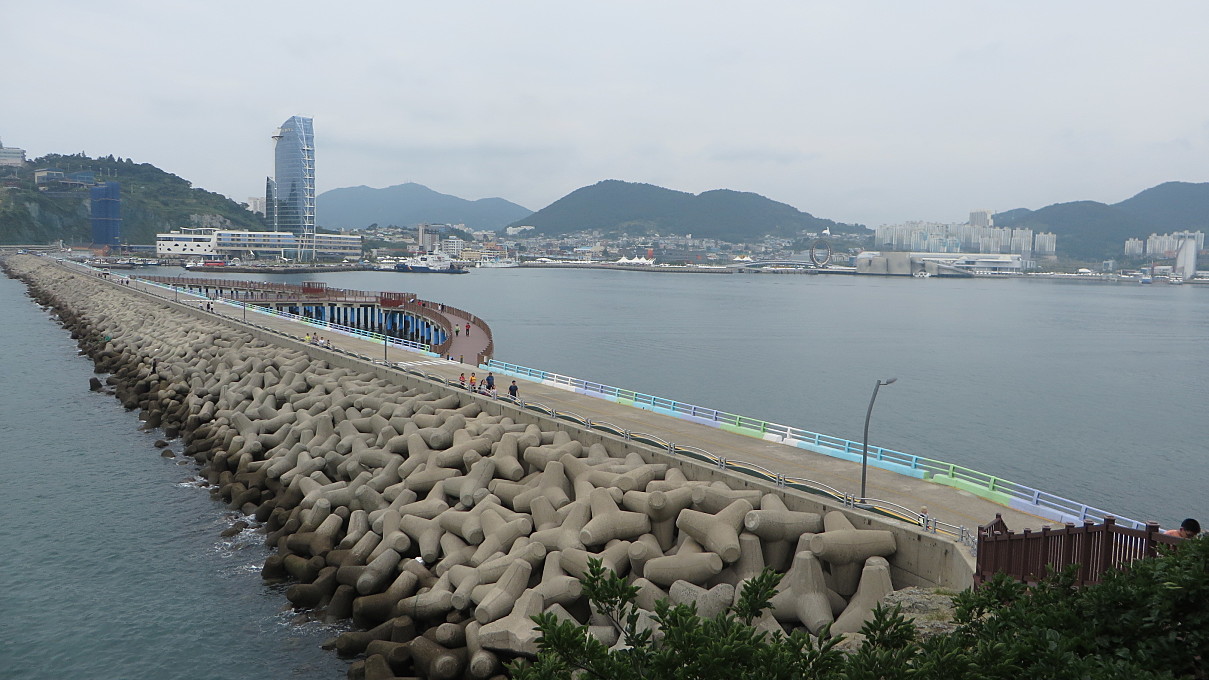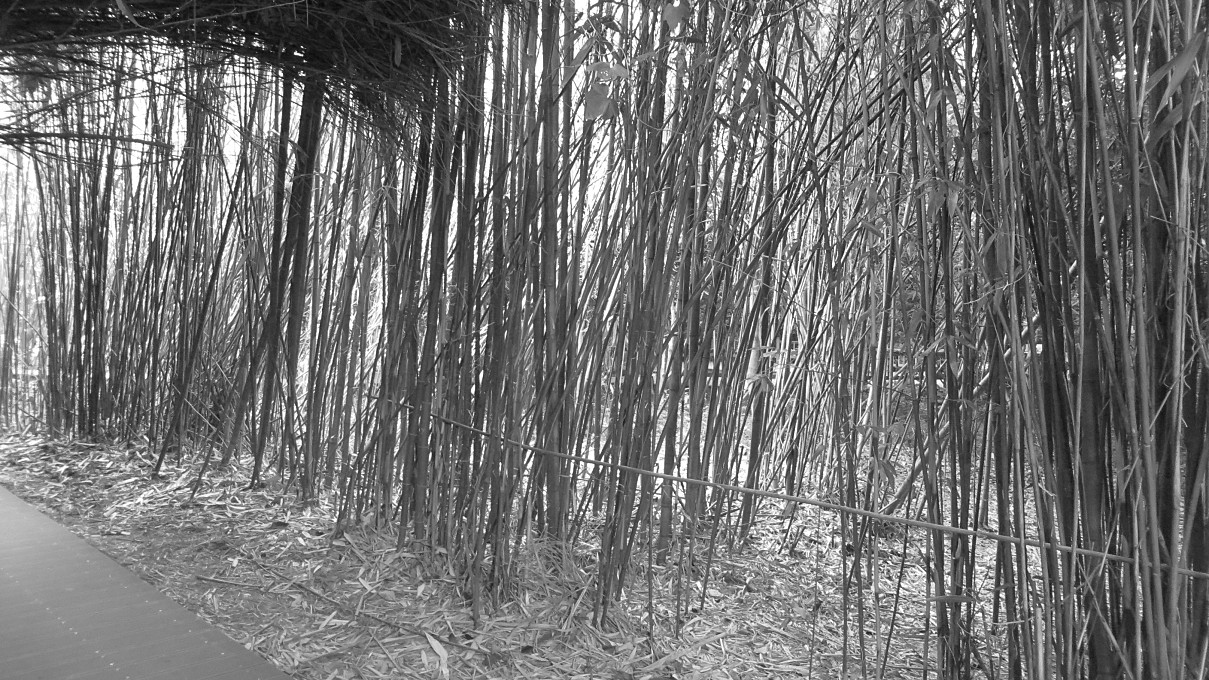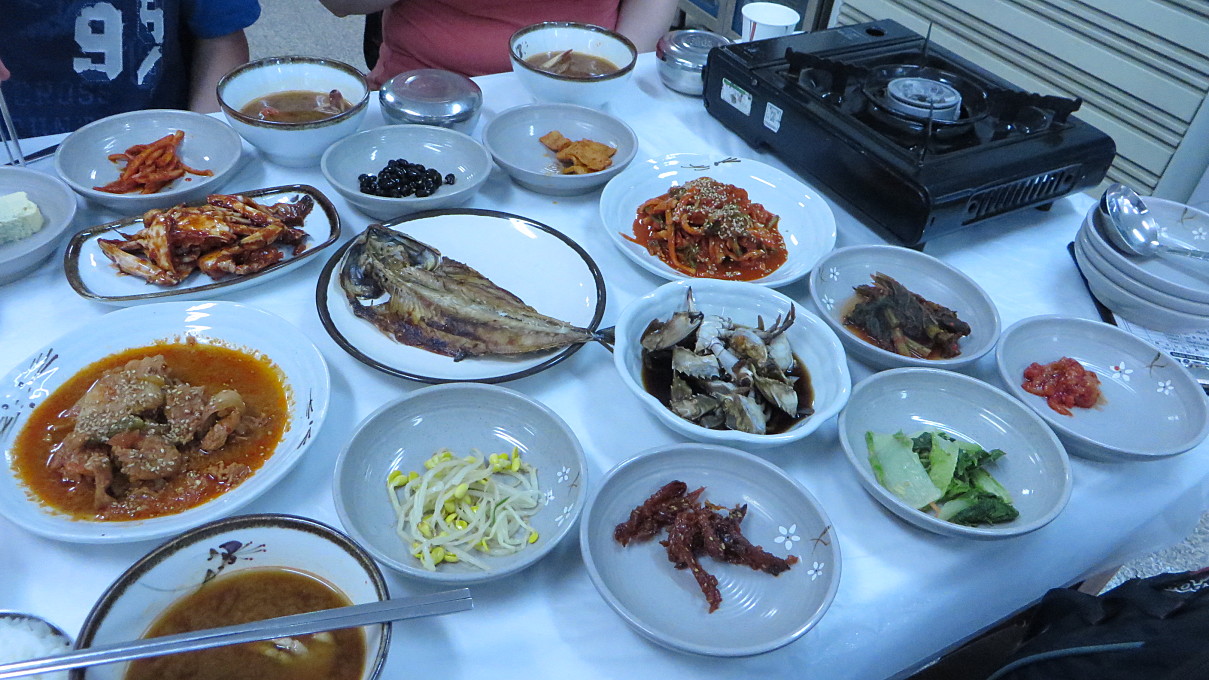 The next day we had to get up rather early to catch a flight to Jeju. It was still raining a bit, and due to the early hour, we had to walk back to the train station to find a taxi which would take us to the airport. As it turned out, the ride to the airport took just 20 minutes, instead of the 40 that we expected, and the airport was technically not even open yet. The doors weren't locked, but most of the lights were out. As soon as we stepped inside a guy stumbled out of one of the seats and scrambled to turn on some lights for us. After waiting about an hour, the ticket counter opened, we got our boarding pass, and waited some more for our flight to board. The flight was just 35 minutes long. The airport on Jeju was quite a bit larger than I expected, and rather chaotic. We eventually made our way outside to wait for the rental car shuttle. We ended up waiting nearly 40 minutes before the shuttle arrived, and actually departed. For an unknown reason, even after it arrived, it sat at the curb for nearly 15 minutes. Once at the rental car building, I had to complete a lot of paperwork (they were rather fixated on forms and paperwork). Finally I got the car, and we drove off. After driving for a while east out of Jeju City, the terrain opened up, and was mostly farm land, with views of the sea. After lunch, we stopped at Gimnyeong Maze Park (김녕미로공원). It was a cute, fun hedge maze, that David loved. After that we drove further east to Seongsan Ilchulbong (성산 일출봉). This was a great hike, up the side of a collapsed volcanic crater. The views from the top were spectacular. Both of the crater itself, but also we could see much of the northeastern side of Jeju.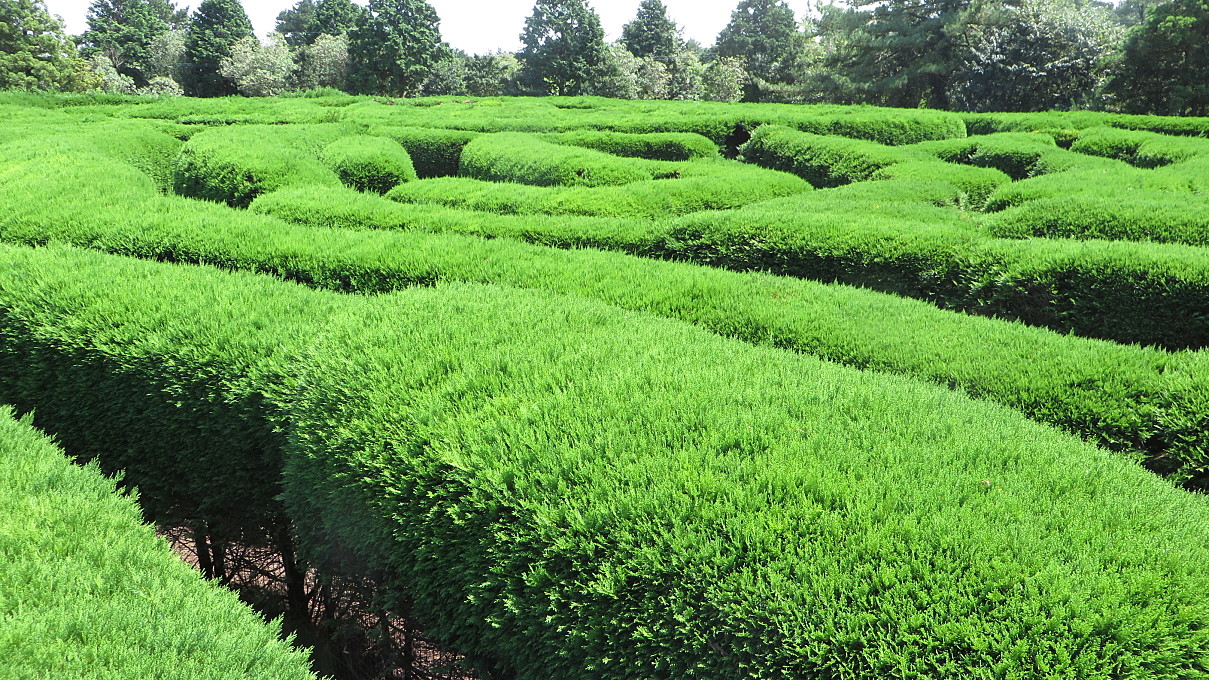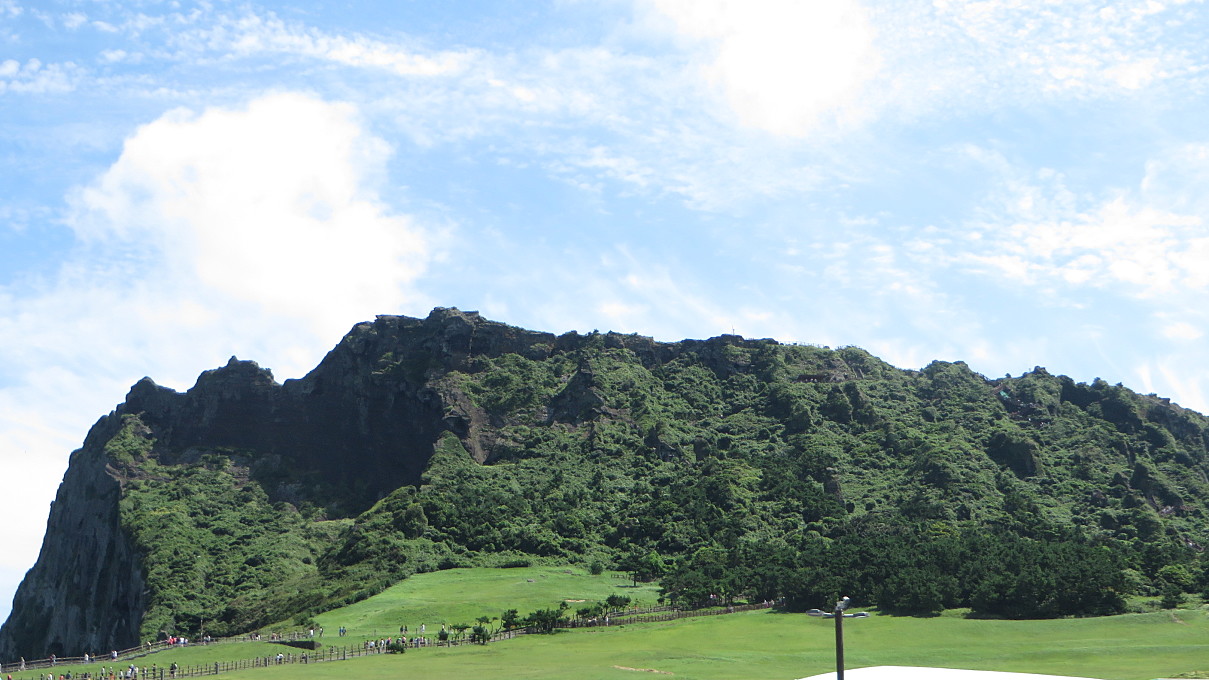 Afterwards, we started driving south, and stopped at the Trick Art Museum. It was basically a large warehouse, where they reproduced famous works of art, with comical changes made to look like different illusions. David was amused, but overall it felt like a cheap tourist trap. At that point it was nearly 3pm, and we were scheduled to meet our AirBNB host at 4PM. We started driving to the southern most city of the island, and arrived just in time. The site was really nice, and we wished that we could have spent more than just a single night there. After dropping off our bags, we headed out again to check out two nearby waterfalls. The first, Jeongbang was on the east side of the city. The area around the waterfall was urban, and teeming with tourists. It was an impressive waterfall, but the approach and surrounding area wasn't all that pleasant. The second waterfall, Cheonjiyeon, was much nicer. It was approached via a forested trail, with a stream beside it. It also wasn't nearly as crowded, and felt much more peaceful.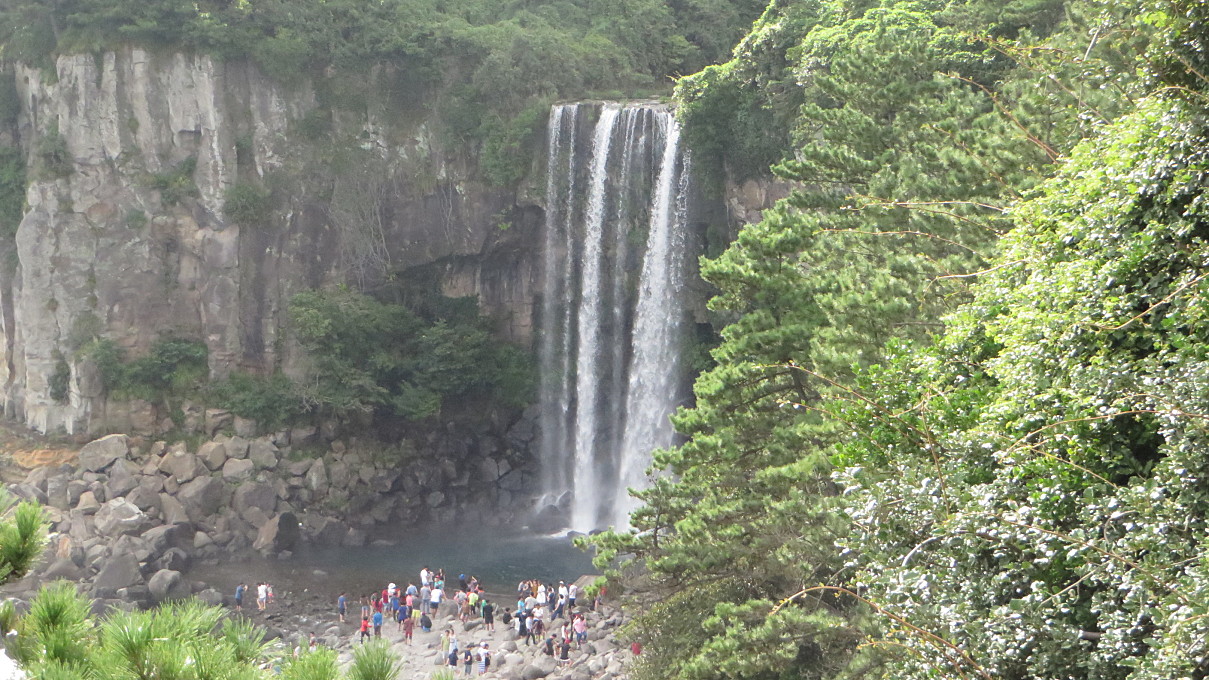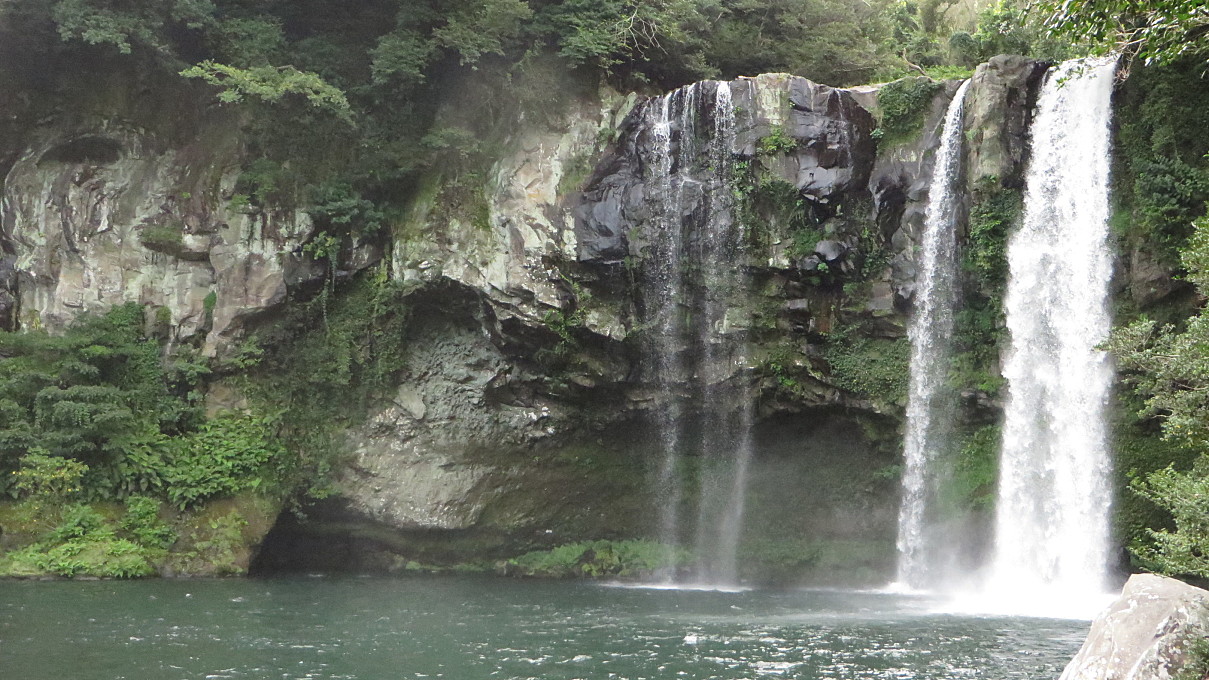 We woke the following morning, and started to drive further east, towards a geologic formation on the coast called Jusangjeolli. However, we arrived so early, that it hadn't officially opened. Somehow, this guy saw us standing at the entrance, and let us in early. It was kind of awesome, having the entire site to ourselves. I'm sure that its normally absolutely crowded with tourists. Once we finished up here, we needed to begin the drive back to the top of the island, to return the rental car and catch our flight back to Seoul. The airport was once again a chaotic circus. Super crowded, with flights seemingly boarding every 10-15 minutes from every gate. I'm not sure how they pulled it off, but they did.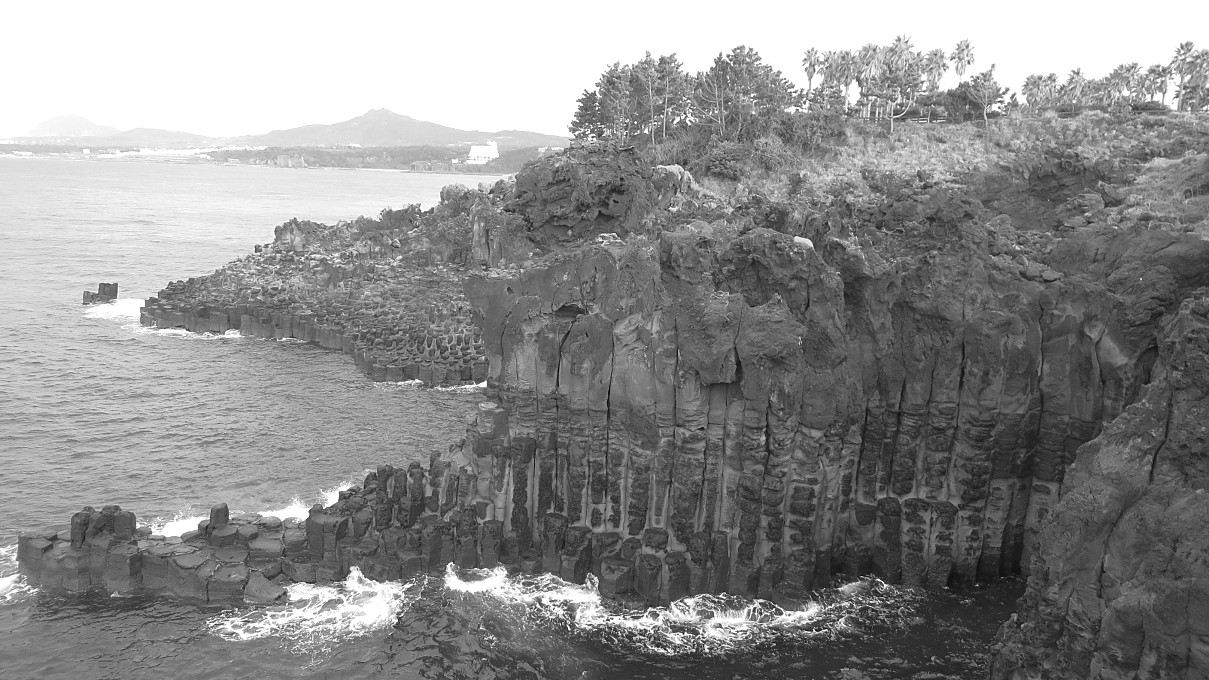 Our flight to Seoul landed at Gimpo Airport on time, and then we had the long subway ride into Seoul to our hotel for the night. After relaxing at the hotel for a bit, we headed out to join a BBQ Pub Market tour. The tour was great. So much amazing food, plus soju & makgeolli.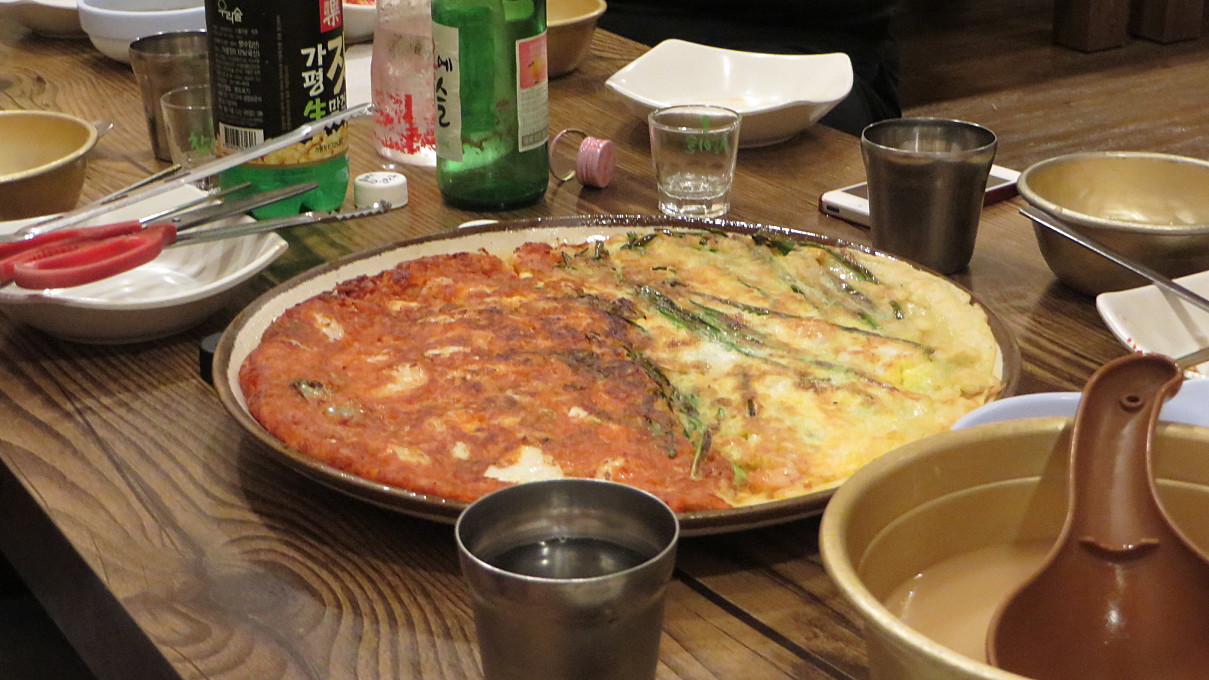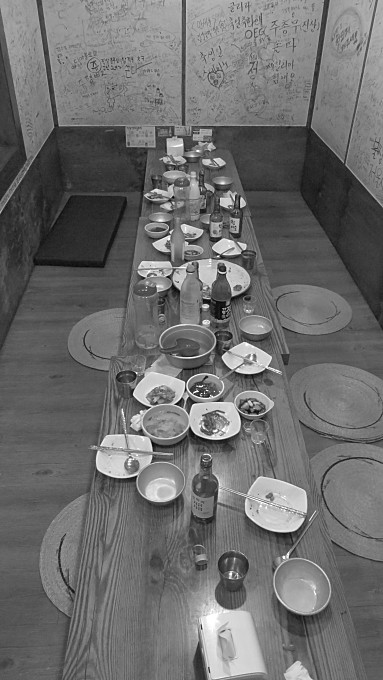 On our last full day in Korea, we visited the Seodaemun Prison (서대문 형무소) museum. The museum occupies the site of the prison which was used for much of the 20th century for imprisoning political prisoners (first by Japan, and later by the Korean government). The exhibits were pretty good, even mostly with English. Many of the buildings were accessible. One oddity, is that the prison complex is now surrounded on almost all sides by huge apartment complexes. Basically, all these people now look down from their windows at a prison where hundreds of people were tortured. Its a bit odd.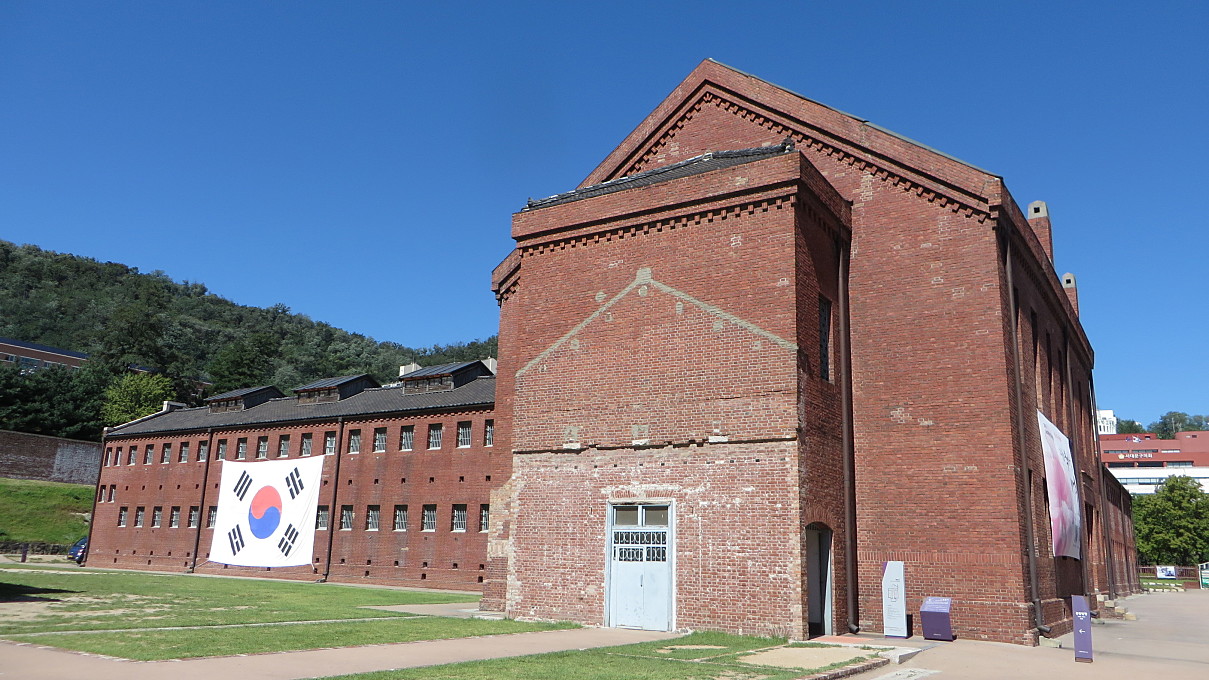 Once we finished up at the museum, we got some lunch, picked up our bags from the hotel, and made the long (nearly 90 minutes) train ride out to Incheon airport. Our flight departed on time, and we were home by mid-afternoon.

This trip was awesome. It had been nearly 5 years since we were last in Korea, and while I can't say that the country seemed dramatically different, there were a lot of subtle changes. The biggest of them was how much more widespread English had become. Not necessarily for people speaking it (although we were often surprised when we found people who spoke/understood English in the most bizarre places), but signs in general. Restaurant menus often had English in places that we never expected to find any. Many public/city buses had English sign boards, or even stop announcements. Another surprise was the how widespread credit cards were accepted. Taxis were somewhat surprising, but also in the smallest hole in the wall restaurants. One somewhat disappointing surprise was how difficult it was to find freely available wifi. I read all over about how all of Korea has open wifi access points, but in my experience they were quite rare. Tons that were password protected, but not much where I could connect and quickly check email or pull up a map.
Hundreds of other photos from the trip are posted HERE. You can read about the first half of the trip HERE.